Melbourne is a vibrant cosmopolitan capital city of the state of Victoria in Australia that offers a unique blend of culture, art, and natural beauty. With its stunning architecture, bustling laneways, and diverse culinary scene, Melbourne has earned its reputation as one of the most livable cities in the world. However, it is during the spring season when Melbourne truly shines, captivating visitors with its charm and beauty. So if you are wondering what is there to do in Melbourne in Spring, read on.
As winter fades away and the days grow longer, Melbourne transforms into a picturesque wonderland during spring. The city bursts into a riot of colors as flowers bloom, trees regain their lush foliage, and the sun brings a gentle warmth. The crisp air and mild temperatures create the perfect ambiance for exploring Melbourne's outdoor attractions, immersing oneself in its vibrant festivals, and indulging in the city's culinary delights.
The purpose of this blog post is to take you on a virtual journey through Melbourne in spring. We will explore the top attractions and activities that make this season truly special. Whether you're a local looking for inspiration or a visitor planning a trip to Melbourne, this guide will provide insights into the must-visit destinations, festivals, and experiences that capture the essence of this vibrant city during the springtime. So, let's dive into the enchanting world of Melbourne in spring and discover the best this season has to offer.
Melbourne in spring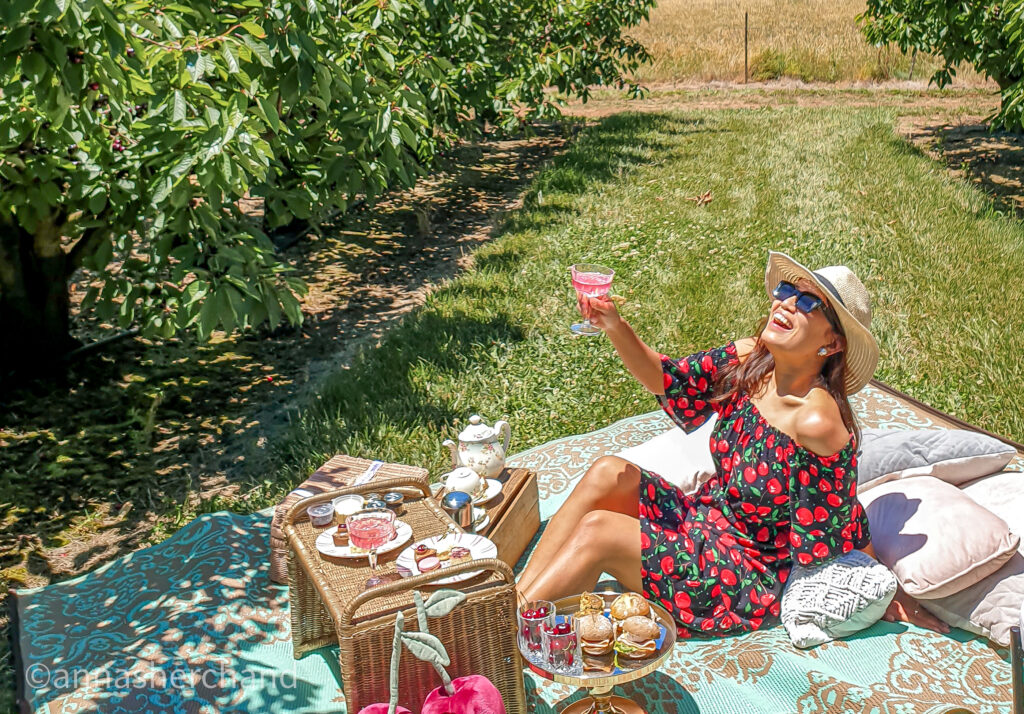 1. Embracing Nature's Colors
Blooming Gardens and Parks in Melbourne during Spring
Melbourne truly comes alive with an explosion of colors during the spring season, thanks to its magnificent gardens and parks. The Royal Botanic Gardens, a sprawling oasis in the heart of the city, showcases a dazzling array of floral displays. As you wander through its pathways, you'll be captivated by the vibrant tulips, fragrant roses, and delicate cherry blossoms that adorn the landscape. Similarly, the Fitzroy Gardens, with its manicured lawns and picturesque pathways, offers a serene escape where you can immerse yourself in nature's beauty.
37 Melbourne Bucket list that you can't miss
Outdoor Picnics and Leisurely Walks amidst Nature
Spring in Melbourne provides the perfect opportunity for outdoor picnics and leisurely walks amidst nature's splendor. The Yarra River, winding its way through the city, offers tranquil riverside spots where you can spread out a blanket, savor a delicious picnic, and soak in the picturesque surroundings. For those seeking a more serene ambiance, Albert Park Lake provides a peaceful retreat. Take a leisurely stroll along the lake's perimeter, breathe in the fresh spring air, and marvel at the reflections of blooming trees on the calm waters. These locations allow you to embrace the beauty of Melbourne's natural landscapes while enjoying moments of relaxation and rejuvenation in the great outdoors.

Few other notable parks for picnics
Royal Botanic Gardens Victoria
Carlton Gardens
The Abbotsford Convent
Flagstaff Gardens
Fitzroy Gardens
Queen Victoria Gardens
Treasury Gardens
Edinburgh Gardens
Read about 10 secret Melbourne walks which are perfect for Spring or here are the Best Day Hikes from Melbourne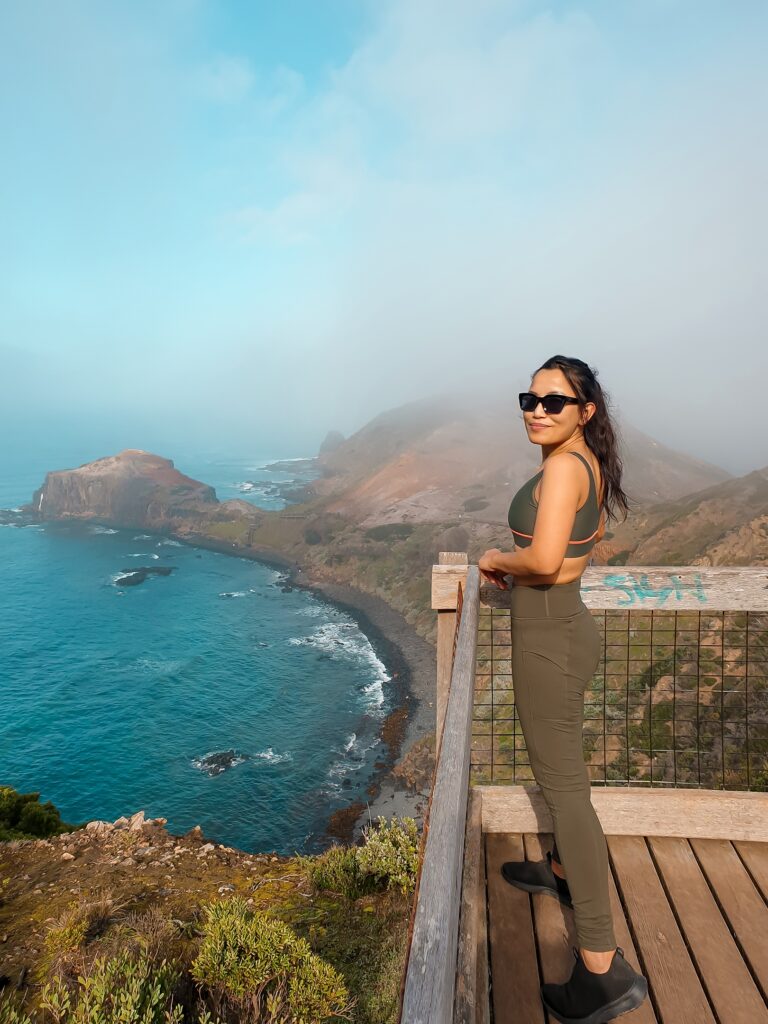 2. Spring Festivals and Events
Vibrant Festivals and Events in Melbourne during Spring
Melbourne in spring is a hub of lively festivals and events that cater to diverse interests. One of the most anticipated events is the Melbourne International Flower and Garden Show, where you can immerse yourself in a floral wonderland. This prestigious event showcases breathtaking garden displays, floral artistry, and gardening workshops, offering a delightful experience for nature enthusiasts and garden lovers.
Another notable event is the Melbourne Spring Fashion Week, a celebration of style and creativity. Fashion designers, models, and industry professionals come together to showcase the latest trends and designs through runway shows, exhibitions, and pop-up events. It's a fantastic opportunity to witness the cutting-edge fashion scene and be inspired by the city's fashion-forward atmosphere.
In addition to these marquee events, Melbourne hosts a variety of other festivals and celebrations during spring. Melbourne spring racing carnival, and Melbourne Food and Wine Festival, where you can explore culinary delights, attend cooking demonstrations, and savor the diverse flavors of the city. Cultural celebrations such as the Moomba Festival, showcasing art, music, and performances, or the Buddha's Day and Multicultural Festival, promoting harmony and cultural diversity, add to the vibrant tapestry of spring events in Melbourne.
Melbourne is known to have 4 different weather in one day so check out things to do in Melbourne when it is raining
Vibrant Atmosphere and Community Spirit
What sets Melbourne's spring festivals and events apart is the vibrant atmosphere and community spirit they evoke. These events bring people from all walks of life together, fostering a sense of unity and celebration. Whether you're strolling through the Melbourne International Flower and Garden Show, engaging in fashion discussions during Melbourne Spring Fashion Week, or joining the lively crowds at food and wine festivals, you'll experience a palpable energy and excitement that is contagious.
Melbourne's community spirit shines during these events as locals and visitors alike come together to appreciate and participate in the festivities. There's a sense of camaraderie as people share their passions, engage in conversations, and revel in shared experiences. From the enthusiastic cheers at cultural performances to the joyous laughter at food tastings, these events create an inclusive and welcoming environment where everyone can feel a part of something special.
Attending Melbourne's spring festivals and events is not just about witnessing the incredible displays or performances; it's about immersing yourself in the city's vibrant culture, connecting with like-minded individuals, and being swept up in the contagious enthusiasm that fills the air.
13 most Instagram worthy places in Melbourne
3. Exploring Melbourne's Art and Culture
Thriving Art Scene in Melbourne
Melbourne boasts a thriving art scene that attracts artists, enthusiasts, and cultural connoisseurs from around the world. The city is home to renowned art galleries and museums, including the iconic National Gallery of Victoria (NGV). The NGV showcases an extensive collection of artworks spanning various periods and styles, from classical masterpieces to contemporary installations. During spring, the gallery often hosts special exhibitions and installations that offer fresh perspectives and immersive experiences for art lovers to indulge in.
In addition to the NGV, Melbourne is dotted with a myriad of smaller art galleries and exhibition spaces. These galleries exhibit works by emerging and established artists across a diverse range of mediums, including painting, sculpture, photography, and digital art. Exploring these galleries during spring allows visitors to discover new talents, engage with thought-provoking artworks, and witness the dynamic and ever-evolving art scene that Melbourne nurtures.
Over 90 things to do in Melbourne at night
Street Art and Graffiti Laneways
Melbourne is renowned for its vibrant street art and graffiti culture, which adds a unique and colorful dimension to the city's artistic landscape. Exploring Melbourne's famous laneways is a must for art enthusiasts. Hosier Lane, with its ever-changing walls adorned with elaborate murals and stencils, is a mecca for street art. AC/DC Lane, named after the legendary rock band, is another laneway that showcases an eclectic mix of street art and graffiti.
What makes Melbourne's street art scene exceptional is its dynamic nature. Artists from around the world flock to the city to leave their mark, resulting in a constantly evolving outdoor gallery. From large-scale murals to hidden gems tucked away in alley corners, Melbourne's street art invites exploration and discovery. Strolling through these laneways during spring, with the sun casting its glow on the colorful artworks, creates a vibrant and visually captivating experience that encapsulates Melbourne's artistic spirit.
Whether you immerse yourself in the masterpieces displayed in galleries like the NGV or wander through the laneways adorned with street art, Melbourne's art and culture scene offers a rich tapestry of creativity and expression. Exploring these diverse artistic spaces during spring allows you to appreciate the city's commitment to fostering and celebrating art in all its forms.
4. Springtime Activities for Friends/Families
Family-Friendly Activities in Melbourne during Spring
During spring time or spring school holidays, Melbourne offers a wide range of family-friendly activities that are perfect for creating lasting memories with your loved ones. The city is home to several popular attractions that cater to both children and adults. The Melbourne Zoo is a favorite among families, where kids can marvel at a diverse array of animals from around the world. From playful primates to majestic big cats, the zoo provides an educational and entertaining experience for all ages.
Another must-visit attraction is the SEA LIFE Melbourne Aquarium, where families can embark on an underwater adventure. Explore interactive exhibits, walk through underwater tunnels, and witness the captivating marine life up close. From colorful fish to mesmerizing jellyfish and even penguins, the aquarium offers a fascinating glimpse into the wonders of the ocean.
For outdoor fun, Melbourne boasts numerous playgrounds and parks that are perfect for kids. Let them run, climb, and slide to their heart's content at places like Birrarung Marr Playground or the Ian Potter Foundation Children's Garden. These outdoor spaces provide ample opportunities for kids to burn off energy and enjoy the pleasant spring weather while parents relax and soak in the surroundings.
Yarra Valley Itinerary and the must-see in the Dandenong ranges
Best walks in the Dandenong ranges
5. Melbourne In Spring Events and Festivals
Melbourne's spring calendar is brimming with family-oriented events and festivals that cater to children of all ages. The city hosts a range of children's festivals, such as the Melbourne Kids Fest and the Kids Big Carnival, offering an abundance of entertainment, games, and interactive activities. From face painting to live performances and hands-on workshops, these events ensure a day filled with laughter and excitement.
Outdoor markets with kid-friendly activities are also a great option for families. Queen Victoria Market often hosts special family-themed events during spring, featuring attractions like petting zoos, pony rides, and craft workshops. These markets provide a vibrant atmosphere where kids can indulge in delicious treats, participate in fun activities, and explore unique stalls offering toys, clothing, and more.
Attending family-oriented events and festivals in Melbourne during spring creates a sense of togetherness and joy as you bond with your loved ones. These activities offer a blend of entertainment, learning, and exploration, ensuring that both children and adults have a memorable experience in the vibrant city of Melbourne.
6. Culinary Delights and Alfresco Dining
Melbourne's Food and Café Culture
Visiting Melbourne in spring would be unforgettable in fact throughout the year the city is a haven for food lovers, renowned for its diverse culinary scene and talented chefs. The city boasts a rich tapestry of flavors influenced by various cultures from around the world. From trendy cafes to fine dining establishments, Melbourne offers a wide array of culinary experiences to satisfy every palate. Renowned chefs showcase their skills and creativity, pushing the boundaries of gastronomy and delivering extraordinary dining experiences.
Melbourne's food precincts and markets are a treasure trove for culinary enthusiasts. Places like Queen Victoria Market and South Melbourne Market are bustling with vendors offering fresh produce, gourmet delights, and unique food finds. These markets provide an opportunity to explore local ingredients, taste delicious street food, and interact with passionate food artisans. Additionally, areas such as Flinders Lane and Brunswick Street are known for their vibrant food scenes, where you can find a plethora of restaurants, cafes, and hidden gems waiting to be discovered.
Secrets of Melbourne (hidden bars)
The Joy of Alfresco Dining during the Mild Spring Weather
Spring in Melbourne brings with it mild and pleasant weather, making it an ideal time to indulge in alfresco dining experiences. The city comes alive with outdoor dining spots that offer a delightful blend of good food, picturesque settings, and a lively atmosphere. Rooftop bars and restaurants provide panoramic views of the city skyline while you savor delicious cocktails and gourmet delights.
Notable outdoor dining spots in Melbourne include the iconic Federation Square, where you can enjoy a meal with a view of the Yarra River and the vibrant cityscape. The Southbank Promenade is another popular destination, offering a variety of riverside restaurants and cafes where you can dine while watching boats go by. These outdoor dining locations provide the perfect setting to soak up the springtime ambiance, bask in the gentle sunshine, and enjoy the company of friends and family.
One of the joys of alfresco dining in Melbourne is the opportunity to people-watch. Whether you're seated at a bustling café in a laneway or enjoying a meal in a vibrant open-air square, you can observe the city's diverse and vibrant community. Melbourne's multiculturalism is reflected in its street scenes, and alfresco dining allows you to immerse yourself in the vibrant tapestry of people passing by, creating a dynamic and lively atmosphere that adds to the overall dining experience.
In Melbourne, culinary delights and alfresco dining go hand in hand during the spring season. The city's diverse food scene, vibrant markets, and outdoor dining spots offer an opportunity to indulge in delectable cuisine while enjoying the pleasant weather and the lively atmosphere. So, grab a seat at an outdoor eatery, relish the flavors that Melbourne has to offer, and immerse yourself in the delightful world of culinary delights and alfresco dining.
Best Things to do in Portarlington, Victoria
7. Day Trips and Nature Escapes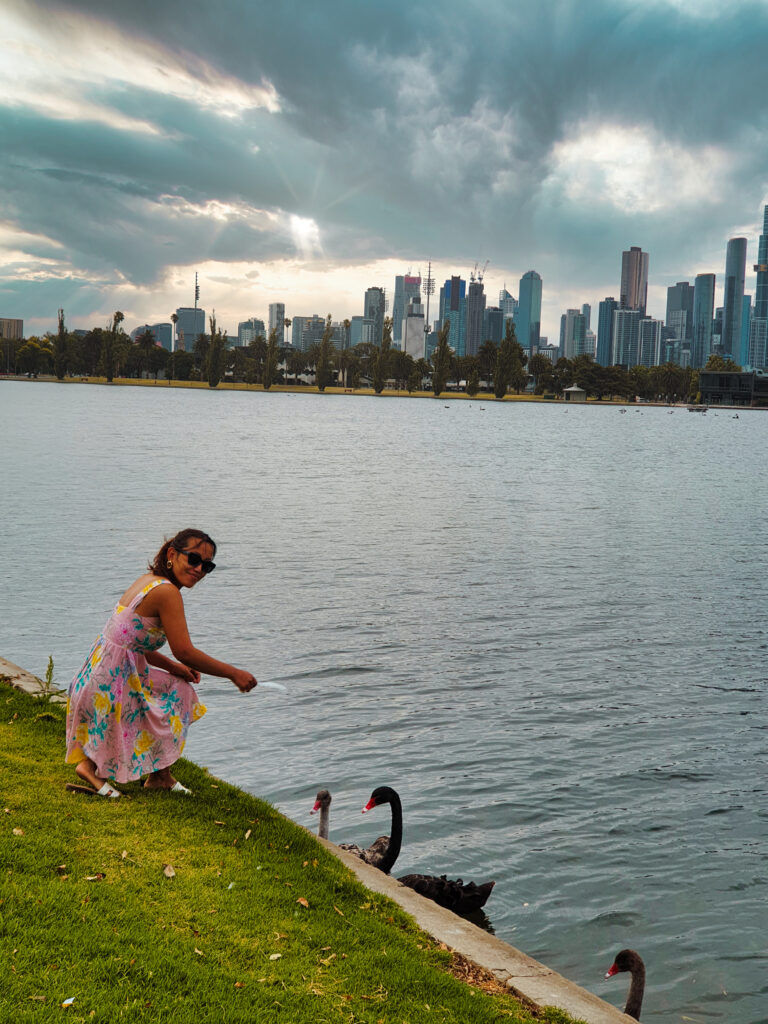 Day Trips from Melbourne to Nearby Natural Attractions
Melbourne in spring is a perfect time to explore its breathtaking natural attractions just a short distance away. When planning day trips or road trips from the city, two destinations stand out: the Great Ocean Road and the Yarra Valley. Read about more destinations to explore here.
The Great Ocean Road is a world-renowned scenic drive that stretches along the coastline, offering stunning vistas of the Southern Ocean. This iconic road trip takes you through picturesque coastal towns, rugged cliffs, and famous landmarks like the Twelve Apostles. While on the Great Ocean Road, you can embark on exhilarating hikes, witness diverse wildlife, and marvel at the dramatic landscapes that make this region truly awe-inspiring.
For a different experience, the Yarra Valley offers a tranquil retreat amidst rolling hills and vineyards. This renowned wine region is just a short drive from Melbourne and is perfect for a day of relaxation and indulgence. Take a leisurely stroll through vineyards, enjoy wine tastings at award-winning wineries, and savor gourmet delights at the region's renowned restaurants. The Yarra Valley also provides opportunities for nature walks, hot air balloon rides, and encounters with native wildlife, adding to the allure of this beautiful countryside escape.
Melbourne to Grampians road trip
A quick guide to camping on Phillip Island
Best spots for free camping on Great Ocean Road
Exploring the Scenic Countryside during Springtime
Spring is an ideal time to explore the scenic countryside surrounding Melbourne. The blossoming vineyards in the Yarra Valley create a picturesque backdrop as you wander through rows of grapevines adorned with vibrant green leaves and delicate blooms. The colorful landscapes come alive with bursts of wildflowers and blossoming trees, adding a touch of magic to the countryside.
Nature escapes during spring offer a sense of tranquility and rejuvenation. Immerse yourself in the peacefulness of the countryside, breathe in the crisp air scented with blooming flowers, and embrace the serenity that nature provides. Whether you're hiking along scenic trails, spotting native wildlife, or simply enjoying a picnic in a tranquil setting, the countryside offers a respite from the hustle and bustle of the city, allowing you to recharge and connect with the beauty of the natural world.
Exploring the scenic countryside during springtime allows you to appreciate the wonders of nature up close and personal. From the vibrant landscapes to the calming presence of wildlife, these day trips and nature escapes from Melbourne provide a refreshing break and an opportunity to immerse yourself in the natural beauty that surrounds the city.
Day Trip from Melbourne to Bendigo
Conclusion
The Beauty and Charm of Melbourne in Spring
Melbourne truly comes alive in the spring season, enchanting visitors with its beauty and charm. The city's blooming gardens and parks create a vibrant tapestry of colors, while its festivals and events foster a lively atmosphere and a sense of community spirit. Melbourne's thriving art and culture scene offers a feast for the senses, from renowned galleries to captivating street art. Families can enjoy a host of activities tailored for children, and food lovers can indulge in the city's diverse culinary scene. Day trips to natural attractions provide opportunities for exploration and rejuvenation, surrounded by breathtaking landscapes and tranquility.
What to do in Geelong, Victoria
Best Things To Do In Ballarat, Victoria
Explore the Attractions and Activities
If you're planning a visit to Melbourne during spring, I encourage you to explore the various attractions and activities mentioned in this blog post. Immerse yourself in the natural beauty of blooming gardens, engage in vibrant festivals and events, discover the city's art and culture, enjoy alfresco dining experiences, and embark on day trips to nearby natural attractions. Melbourne offers a wide range of experiences that cater to different interests and age groups, ensuring an unforgettable journey.
Share Your Experiences We hope this guide has provided valuable insights into the wonders of springtime in Melbourne. We would love to hear about your own experiences or thoughts on exploring Melbourne during this delightful season. Feel free to share your stories, recommendations, or any tips you have for fellow travelers in the comments section below. Let's continue to celebrate the beauty and charm of Melbourne in spring and inspire others to embark on their own adventures in this vibrant city.
Things to do in Lake Eildon, Victoria
Best Things to do in Wilson Prom
I hope this Melbourne in Spring guide helps you in making your time here fabulous!
If you are looking to travel further, 99% of readers found must see on the east coast of Australia helpful. Whether you are a backpacker, a family friend, or traveling solo hope you have an amazing time. Happy Spring!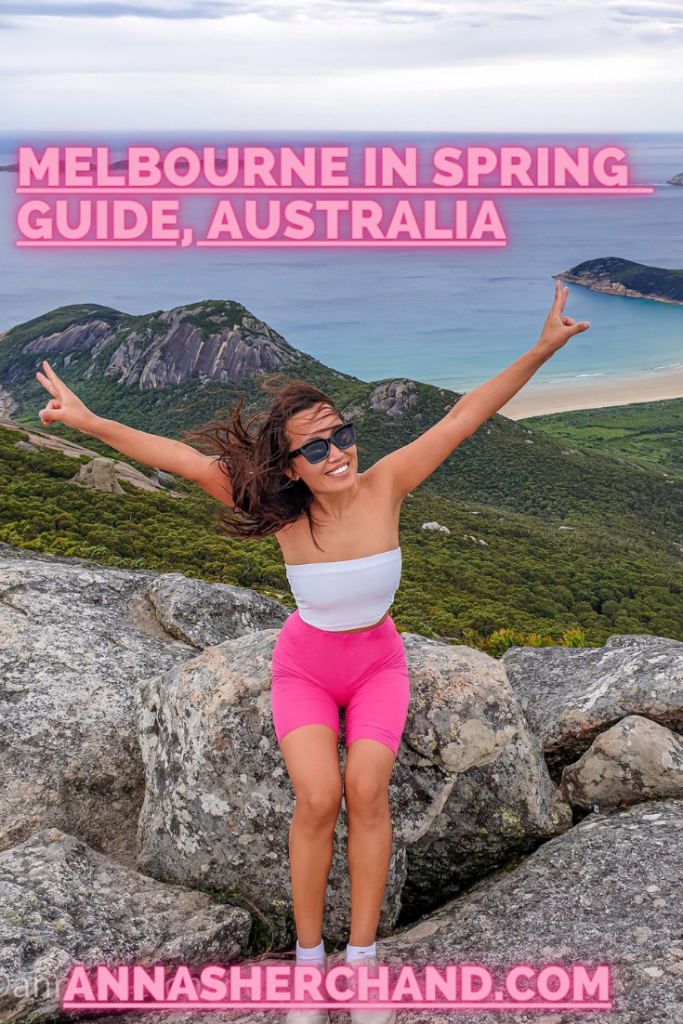 Let me know in the comments:
if you have any other questions on Melbourne in Spring guide
5 days in Apia Samoa itinerary
5 days in Nuku'alofa Tonga itinerary
3 days in Port Moresby
Grampians itinerary for 3-4 days
Best day trips from Hobart, Tasmania
Day trip to Stradbroke Island, Queensland
Weekend in Brisbane
Best places to visit in autumn in Australia
Backpacking in Melbourne, Australia
Digital nomad guide to Melbourne
Sydney itinerary 5 days
Best places to see autumn leaves in Adelaide
Exploring Adelaide the best way
All Adelaide travel blogs
10 hidden beaches and bays in Sydney
99% of readers found must see on the east coast of Australia helpful.
Sydney bucketlist things
Sydney itinerary for 5 days
Secret Sydney walks
Best places to take photos in Sydney
Pros and cons of living in Australia
where to stay in Sydney
Hidden beaches and bays
most instagrammable cafes in Sydney
where to eat in Sydney
most Instagrammable places in Sydney, Australia
Most beautiful places in New Zealand North Island
Check out the most beautiful places in New Zealand South Island
Going to Vietnam after Australia? Check out the 7 days Hanoi travel guide.
One month in Central America itinerary
Solo trip to Phoenix, Arizona
How about Colombia? Check out how to get from Medellin to guatape
Check out where to stay in Medellin, Colombia
Check hotel prices and book it through booking.com
Read the most wanted travel resource here.
If you like this article, read about my journey to becoming a solo female Nepali Australian travel blogger, follow my adventures on Instagram, Facebook, YouTube, Twitter, and Pinterest, but most importantly sign up for my e-mail list to keep up with updates and travel posts!
Melbourne In Spring For Locals and Visitors