As a passionate solo female traveler, I have embarked on countless adventures to explore the hidden gems of our beautiful world. Today, I'm writing about an extraordinary journey to my County #70 Papua New Guinea, a mesmerizing country brimming with rich cultural heritage, traditions, tribes, and warm-hearted locals. If you are considering visiting, here is 3 days Port Moresby itinerary, focusing on the capital city, Port Moresby, where we will discover the best this interesting destination has to offer.
To clarify, my trip was actually 5 days but the arriving flight got delayed, and luckily I had not booked anything for that day so it was just arriving at the hotel at night. Then the departing flight was mid-morning which was mostly spent sleeping in and having breakfast. Hence, I primarily spent 3 full days in the capital (It may seem like not a lot but it is just enough to see the city and the surrounding areas) so will cover that but first some important travel tips.
3 Days Port Moresby itinerary Papua New Guinea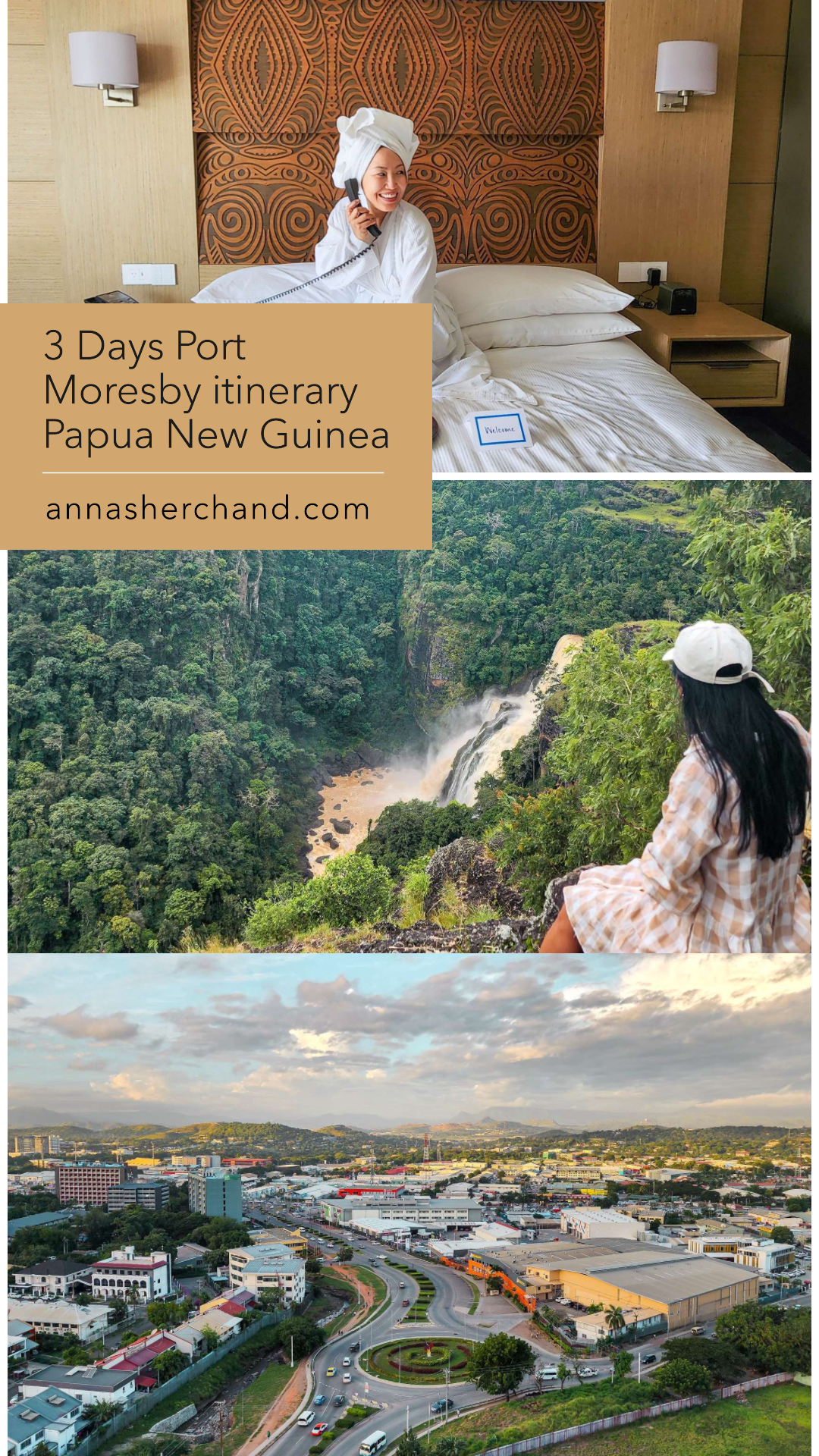 How to get around Port Moresby?
Getting around Port Moresby can be accomplished through various transportation options. While the city doesn't have a comprehensive public transportation system, there are still several ways to navigate its streets:
Taxis: Taxis are a convenient mode of transportation in Port Moresby. You can find them at hotels, major tourist attractions, and designated taxi stands. Make sure to negotiate the fare beforehand or ensure the driver uses the meter. I paid 300 PNG currency for 1 whole day.
Hire Cars: Renting a car with a driver or self-driving is another option. Several car rental companies offer services in Port Moresby. Keep in mind that driving in the city may require caution due to traffic congestion and unfamiliar road conditions. It's advisable to have a GPS or map application to navigate.
PMV (Public Motor Vehicles): PMVs are privately owned buses or minivans that serve as a primary mode of transportation for locals. They follow specific routes throughout the city, and their destinations are usually displayed on the windshield. However, PMVs can be crowded, and their schedules may not always be reliable for tourists.
Walking: Depending on your location and the proximity of your destinations, walking can be a viable option. However, it's essential to be cautious and aware of your surroundings, particularly in less crowded or poorly lit areas.
Hotel Shuttles: Many hotels in Port Moresby provide complimentary shuttle services for their guests. If you're staying at a hotel, inquire about their shuttle options for convenient transportation to nearby attractions or the city center.
When using any mode of transportation in Port Moresby, it's advisable to plan your routes in advance, allow extra time for potential delays, and ensure your personal safety by being aware of your belongings and avoiding isolated or unsafe areas.
How do you stay safe in Port Moresby?
Port Moresby, like any other city, has its share of safety considerations. It is important to exercise caution and take necessary precautions while visiting the city. While there are areas that may have higher crime rates or pose risks to personal safety, there are still many safe areas and enjoyable experiences to be had in Port Moresby. Here are some tips to enhance your safety while visiting:
Research and Plan: Before your trip, familiarize yourself with the city and its neighborhoods as much as you can. It is a good sign that you are reading this blog because the places I went to felt all safe but of course, be cautious about venturing into unfamiliar or high-crime areas.
Accommodation Selection: Choose accommodation in safe and reputable areas, such as those located in well-established hotel districts. Many hotels have security measures in place to ensure the safety of their guests. Recommended hotel below.
Transportation: Use trusted transportation options such as registered taxis, or hotel shuttles whenever possible. Avoid traveling alone at night and consider pre-arranging transportation with reputable companies for evening outings.
Personal Belongings: Keep your valuables, including passports, cash, and electronics, securely stored in a hotel safe or hidden on your person. Avoid displaying expensive jewelry or carrying large amounts of cash.
Stay Informed: Stay updated on current safety conditions by monitoring travel advisories issued by your country's embassy or consulate. Follow local news and be aware of any potential risks or events that may impact your safety.
Local Guidance: Consider hiring a reputable local guide, local friends, or joining organized tours when exploring Port Moresby. They can provide valuable insights, navigate the city, and enhance your safety by being familiar with the local environment.
Personal Awareness: Be aware of your surroundings, especially in crowded places or tourist attractions. Trust your instincts and avoid situations or individuals that make you feel uncomfortable.
By taking these precautions, staying informed, and being mindful of your surroundings, you can have a safe and enjoyable experience while exploring Port Moresby.
Where to stay in Port Moresby?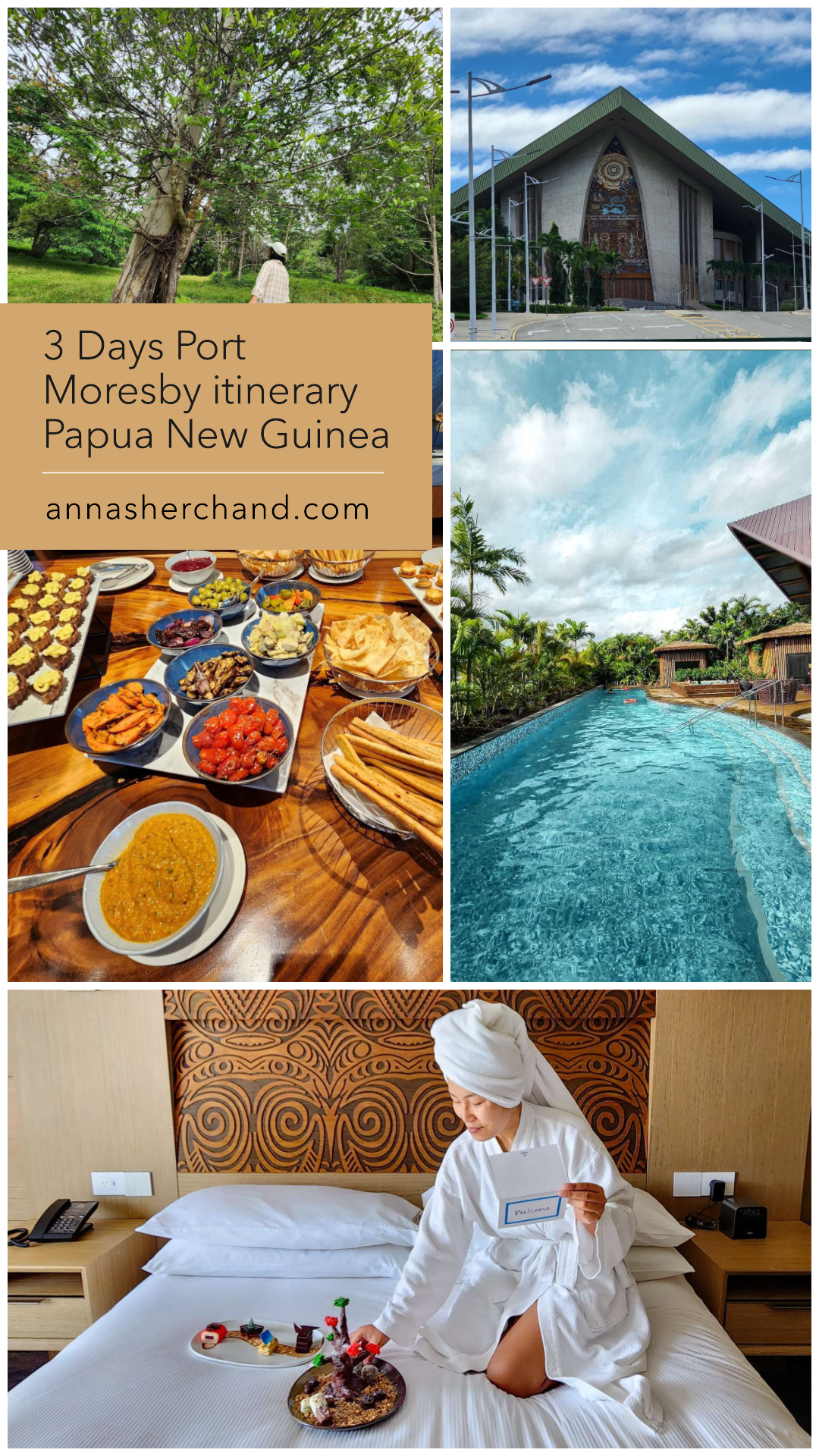 When choosing accommodation in Port Moresby, it's advisable to prioritize safety, convenience, and accessibility to major attractions. Here are some recommended areas to consider for your stay:
Before making a reservation, it's essential to research the reputation and reviews of the specific accommodation you are considering. Look for properties with good security measures, positive guest feedback regarding safety, and convenient transportation options. Additionally, consider reaching out to your country's embassy or consulate for any specific recommendations or safety advice for travelers to Port Moresby.
When is the best time to visit PNG?
The best time to visit Papua New Guinea (PNG) depends on your specific interests and activities, as well as the region you plan to explore. Here are some factors to consider:
Dry Season (May to October): The dry season in PNG generally runs from May to October and is considered the peak tourist season. During this time, the weather is generally more favorable, with lower rainfall and less humidity. It's an ideal time for activities such as trekking, diving, and exploring cultural festivals. However, keep in mind that temperatures can still be quite high, particularly in coastal areas.

Wet Season (November to April): The wet season in PNG, from November to April, brings increased rainfall and higher humidity. While it may not be the most popular time for tourists, it can offer unique experiences. The lush landscapes are vibrant, and the waterfalls are at their most impressive. Additionally, the wet season can be a good time for birdwatching enthusiasts.

Regional Considerations: It's important to note that different regions in PNG may have varying weather patterns and microclimates. Coastal areas, including Port Moresby, experience a tropical climate, while the highlands tend to be cooler and may have more distinct seasons.

Cultural Events and Festivals: If you're interested in experiencing PNG's vibrant cultural events and festivals, it's worth researching specific dates as they can vary throughout the year. Some popular festivals include the Hiri Moale Festival, Goroka Show, and Mt. Hagen Show.

Overall, the dry season from May to October is generally considered the best time to visit PNG for most activities. However, it's recommended to check the specific weather conditions and regional variations based on your planned itinerary.
3 days Port Moresby itinerary
This is what I did during my 3 full days but of course, you can change it around as it suits you. Day 1 – I had a local friend organize her family car for our day trip. I paid 300 Kina (PNG currency) for it.
Day 1: Discovering Nature's Masterpieces
Mid-morning:
Touaguba Hill
We started by driving to Touaguba Hill in the city because you know how much I appreciate good views 🙂 although I recommend visiting during sunsets so you can capture the panoramic vistas as the sun dips below the horizon, casting enchanting hues across the landscape.

Views in Touaguba Hill is better than Paga Hills because Touaguba Hill sits slightly higher and you can also see Paga Hills from there. The area has undergone significant development in recent years, with the construction of hotels, residential buildings, and commercial spaces.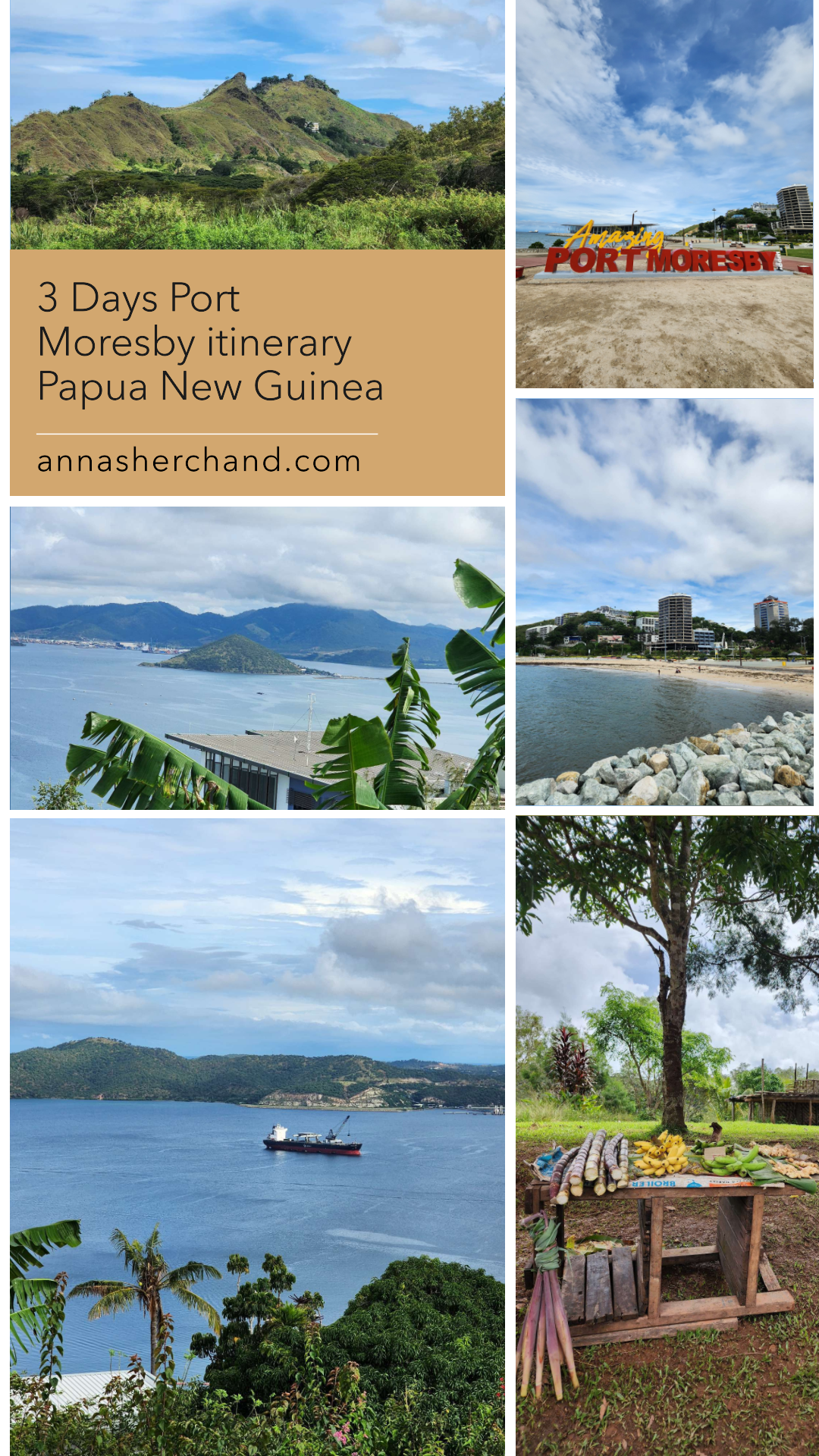 Ela Beach
The next stop was nearby Ela Beach: Enjoy the coastal breeze and views of the Coral Sea as you take a leisurely walk along this beautiful stretch of sand.
Sogeri Waterfalls
On the way to Varirata National Park, stop at Sogeri Waterfalls. It is pretty hidden and there are no signs but make sure the driver knows about it prior. No official ticket box but a local was there with a horse where locals had to pay 5 and foreigners 10 local currency. Pics of waterfalls above.
Varirata National Park
4th stop was Varirata National Park: Embark on an exhilarating hike through Kokoda Trail (well that hike needs to be planned ahead of time but you can still get to the start of the trail if you have a 4×4 vehicle), lush rainforests, where you can marvel at panoramic views of nature, and waterfalls and spot a variety of bird species.

Natural Beauty and Biodiversity: The park is renowned for its stunning natural beauty and rich biodiversity. It is home to a wide variety of flora and fauna, including numerous bird species, mammals, reptiles, and insects. Birdwatching enthusiasts will particularly enjoy the park, as it boasts a diverse array of birdlife, including species like the Raggiana bird-of-paradise and the Victoria crowned pigeon.

Scenic Lookouts: Varirata National Park offers several scenic lookouts that provide panoramic views of the surrounding landscape, including the coastline and the Owen Stanley Range. The viewpoints offer excellent opportunities for photography and appreciating the natural splendor of the area.

Nature Trails and Hiking: The park features a network of walking trails that allow visitors to explore its diverse ecosystems and enjoy its natural wonders. The trails vary in length and difficulty, catering to different levels of fitness and interests. Guided walks can be arranged for a more informative and immersive experience.

Picnic and Recreation Facilities: Varirata National Park has designated picnic areas equipped with tables, benches, and barbecue facilities. These areas provide a great opportunity for visitors to relax, have a picnic, and enjoy the peaceful surroundings of the park.

Conservation Efforts: The park plays a crucial role in conserving Papua New Guinea's unique flora and fauna. Efforts are ongoing to protect the biodiversity of the park, including the establishment of visitor guidelines and educational programs to promote sustainable tourism.

When visiting Varirata National Park, it's advisable to wear appropriate footwear, carry insect repellent, and bring drinking water. It's also recommended to check with local authorities or a visitor center for any updates on park accessibility and safety.

Varirata National Park offers a serene escape from the city and an opportunity to appreciate the natural wonders of Papua New Guinea. Whether you're interested in birdwatching, hiking, or simply immersing yourself in nature, the park provides a rewarding experience for visitors.
Afternoon:
Adventure Park
Driving back, you can stop at Adventure Park: Get your adrenaline pumping with activities like ziplining, canopy walks, and quad biking in the heart of nature. (activities weren't running at the time tho)
Port Moresby Nature Park
Stop by the Port Moresby Nature Park: Encounter native wildlife and lush flora in this beautifully maintained park. Don't miss the opportunity to witness the fascinating bird of paradise displays.
Koki fish market
The last stop for the day was the Koki fish market. The market provides a vibrant and lively experience. You'll find a wide variety of fresh fish and seafood on display, including reef fish, crabs, lobsters, prawns, and more. It's a fantastic opportunity to witness the local fishing culture and the importance of seafood in Papua New Guinean cuisine.
Evening:
Dinner at Mumu Hilton
Day 2: Immersion in Local Traditions, Culture, and Historical Insights
Morning:
National Museum and Art Gallery
Visit the National Museum and Art Gallery: Immerse yourself in Papua New Guinea's diverse cultural heritage through its impressive collection of artifacts, traditional art, and archaeological exhibits.
Attend a cultural performance at the National Capital District Cultural Village
PNG National Parliament House
Visit the PNG National Parliament House: Explore the architectural masterpiece and gain insights into the nation's political system and history.
PNG War Memorial Museum
Discover the PNG War Memorial Museum: Learn about Papua New Guinea's significant role in World War II through fascinating exhibits and firsthand accounts.
Afternoon:
Bomana War Cemetery
Explore the Bomana War Cemetery: Pay your respects at this serene resting place, which commemorates the soldiers who lost their lives during World War II.
Hanuabada Village
Delve into the Hanuabada Village: Experience the vibrant local life and interact with the indigenous Motu-Koita people. Learn about their traditions, lifestyle, and intricately crafted canoes.
Evening:
Dinner at Hilton Hotel
Day 3: Unforgettable Island Excursion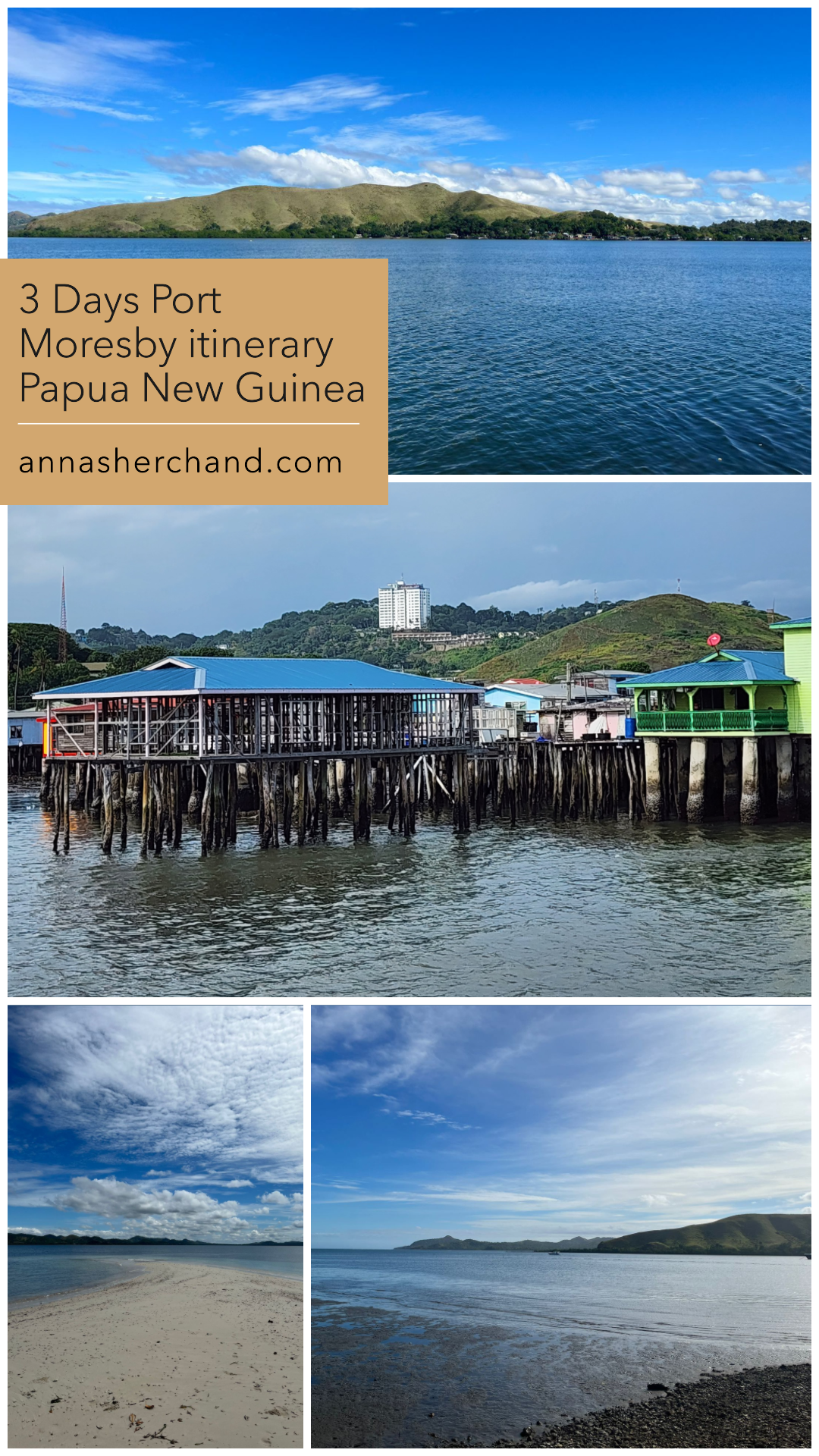 Morning:
Loloata Island
Embark on a day trip to Loloata Island: Discover this stunning island paradise just off the coast of Port Moresby. Snorkel amidst vibrant coral reefs, relax on pristine beaches, and savor a delicious beachside picnic. FYI, Contact the resort to book your visit at least a day before as no walk-ins are allowed. Ride a boat to Lion Island, snorkel to witness stunning corals and fishes, and after that enjoy the spa and food in the resort. If you book a tour they will pick you up & drop you off but if you are going by yourself, you can enjoy the whole day there as the last ferry leaves at 9 PM.
Afternoon:
Botanical Gardens
Visit the Papua New Guinea National Botanical Gardens: Explore the breathtaking gardens, teeming with native flora and fauna, and take a leisurely stroll through the peaceful surroundings.
Idlers Beach
Or Relax at Idlers Beach: Unwind on the pristine shores of this secluded beach, surrounded by crystal-clear waters and stunning coral reefs.

Evening:

Enjoy the executive lounge access for Hilton members with complimentary nibbles and drinks. Followed by a final dinner at the restaurant.
Is Port Moresby worth visiting?
Whether or not Port Moresby is worth visiting depends on your interests and expectations. Port Moresby, as the capital city of Papua New Guinea, offers a mix of cultural, historical, and natural attractions. Here are some factors to consider again:
Cultural Experiences: Port Moresby provides opportunities to immerse yourself in the country's diverse cultural heritage. Visit the National Museum and Art Gallery to learn about Papua New Guinea's rich history and traditional art forms. Explore local markets, such as the Koki Fish Market, to experience the vibrancy of daily life and the local fishing culture.
Natural Beauty: While Port Moresby is an urban center, it also offers pockets of natural beauty. Varirata National Park, located nearby, provides lush rainforests, scenic lookouts, and diverse wildlife. Ela Beach offers a pleasant coastal spot to relax and enjoy the sea breeze.
Historical Sites: The city features historical sites like the Parliament House and the Bomana War Cemetery, which provide insights into the country's governance and pay tribute to fallen soldiers. These sites can be of interest to history enthusiasts.
Gateway to Further Exploration: Port Moresby serves as a transportation hub, connecting travelers to other regions and attractions in Papua New Guinea. If you plan to explore other parts of the country, such as the highlands or coastal areas, Port Moresby can serve as a convenient starting point.
It's important to note that Port Moresby has faced security concerns in the past, and it's essential to take necessary precautions and stay informed about the current situation. Researching and adhering to safety guidelines, staying in reputable accommodations, and being mindful of your surroundings can help ensure a safer visit.
Ultimately, the decision to visit Port Moresby depends on your interests and comfort level. If you have a keen interest in Papua New Guinea's culture, history, and natural beauty, and are willing to take necessary precautions, Port Moresby can offer unique experiences and serve as a gateway to further exploration in the country.
In conclusion, Port Moresby, the capital city of Papua New Guinea, offers a range of sightseeing for visitors to enjoy over a 3-day itinerary. Despite being a bustling urban center, Port Moresby provides glimpses of the country's rich cultural heritage, natural beauty, and vibrant atmosphere. Hope this 3 days Port Moresby travel guide helped you with your trip planner.
Bonus: Things to do in Papua New Guinea
Finally, if you have more time to explore Papua New Guinea beyond Port Moresby, there are numerous captivating destinations and experiences throughout the country. Here are a few highlights:
Kokoda Track: Embark on the iconic Kokoda Track, a challenging trek that retraces the steps of World War II soldiers. This immersive journey through the rugged and picturesque terrain of the Owen Stanley Range offers historical insights and breathtaking landscapes.
Mount Wilhelm: Scale the highest peak in Papua New Guinea, Mount Wilhelm, located in the Bismarck Range. This trekking adventure rewards you with stunning views of the surrounding mountains, valleys, and cloud forests.
Sepik River: Explore the Sepik River, one of the longest rivers in Papua New Guinea. Take a boat trip along the river to witness traditional village life, intricate woodcarvings, and elaborate tribal ceremonies. Immerse yourself in the unique culture and art of the Sepik people.
Tufi: Visit the coastal town of Tufi, known for its stunning fjords, coral reefs, and vibrant marine life. Snorkeling, diving, and kayaking in crystal-clear waters provide opportunities to explore the underwater wonders of Papua New Guinea.
Rabaul: Discover the historical town of Rabaul in East New Britain. Explore the remnants of volcanic eruptions, visit the fascinating Rabaul Volcano Observatory, and explore World War II relics. Take a boat trip to the nearby islands of Kokopo and Duke of York for beautiful beaches and cultural experiences.
Madang: Experience the natural beauty of Madang, known as the "prettiest town in the South Pacific." Enjoy the azure waters, pristine beaches, and stunning coral reefs. Visit the Madang Lagoon and explore nearby islands, dive sites, and waterfalls.
Highlands: Journey to the Highlands region, where you can witness the unique tribal cultures, traditional villages, and breathtaking mountain landscapes. Engage in vibrant cultural festivals, such as the Goroka Show or Mount Hagen Show.
Milne Bay: Explore Milne Bay, a province known for its stunning coral reefs, World War II wrecks, and pristine islands. Snorkel or dive in the rich marine biodiversity, including the famous dive sites around the town of Alotau.
These are just a few examples of the many captivating destinations and experiences available in Papua New Guinea. The country's diverse landscapes, cultures, and natural wonders offer endless opportunities for exploration and discovery. Consider your interests, preferred activities, and time constraints when planning your itinerary to make the most of your time in Papua New Guinea.
What are the key tribes one can see in PNG?
Papua New Guinea is known for its rich cultural diversity and numerous tribal communities. Here are some key tribes you can encounter when exploring the country:
Huli Tribe: The Huli people reside in the Southern Highlands Province. They are known for their intricate ceremonial wigs made from human hair, elaborate face paint, and distinctive traditional dress. Engage in their cultural practices, witness traditional dances, and learn about their unique customs.
Asaro Mudmen: The Asaro Mudmen, from the Eastern Highlands Province, gained international recognition for their iconic mud masks and haunting appearance. According to legend, they used these masks to scare off enemies during tribal conflicts. Experience their mesmerizing dances and learn about their fascinating traditions.
Enga Tribe: The Enga people inhabit the Enga Province in the Highlands. They are known for their vibrant sing-sing festivals, where tribes gather to showcase their traditional dances, elaborate costumes, and body paint. These festivals provide a vibrant display of Enga culture and are a great opportunity for cultural immersion.
Sepik Tribes: The Sepik River region is home to various tribes, including the Iatmul, Abelam, and Chambri. Each tribe has its distinct artistic traditions, including intricate woodcarvings, vibrant masks, and unique ceremonial practices. Exploring the Sepik River allows you to witness the rich cultural heritage of these tribes.
Chimbu Tribe: The Chimbu people, also known as the Simbu, reside in the Chimbu Province. They are known for their colorful traditional costumes, intricate body decorations, and intricate face paint. Engage in their vibrant sing-sing celebrations and witness their unique cultural expressions.
Trobriand Islanders: The Trobriand Islands, located in Milne Bay Province, are home to the Trobriand Islanders. They have a rich cultural heritage and are known for their unique social system and elaborate yam ceremonies. Experience their traditional dances, and customs, and explore their picturesque island environment.
These are just a few examples of the diverse tribes and cultural groups in Papua New Guinea. Each tribe has its own unique customs, traditions, and art forms, making the country a fascinating destination for cultural exploration and understanding. It's important to approach these communities with respect, seeking permission and guidance when visiting to ensure an authentic and meaningful experience.
More impressions, videos, and pictures on my Instagram
3 Days Port Moresby itinerary 3 Days Port Moresby itinerary 3 Days Port Moresby itinerary 3 Days Port Moresby itinerary 3 Days Port Moresby itinerary
Let me know in the comments:
if you have any other questions on 3 Days Port Moresby itinerary Papua New Guinea
3 days in Honiara itinerary Solomon Islands
5 days in Apia Samoa itinerary
5 days in Nuku'alofa Tonga itinerary
Grampians itinerary for 3-4 days
Best day trips from Hobart, Tasmania
Day trip to Stradbroke Island, Queensland
Weekend in Brisbane
Best places to visit in autumn in Australia
Backpacking in Melbourne, Australia
Digital nomad guide to Melbourne
Sydney itinerary 5 days
Best places to see autumn leaves in Adelaide
Exploring Adelaide the best way
All Adelaide travel blogs
10 hidden beaches and bays in Sydney
99% of readers found must see on the east coast of Australia helpful.
Sydney bucketlist things
Sydney itinerary for 5 days
Secret Sydney walks
Best places to take photos in Sydney
Pros and cons of living in Australia
where to stay in Sydney
Hidden beaches and bays
most instagrammable cafes in Sydney
where to eat in Sydney
most Instagrammable places in Sydney, Australia
Most beautiful places in New Zealand North Island
Check out the most beautiful places in New Zealand South Island
Going to Vietnam after Australia? Check out the 7 days Hanoi travel guide.
One month in Central America itinerary
Solo trip to Phoenix, Arizona
How about Colombia? Check out how to get from Medellin to guatape
Check out where to stay in Medellin, Colombia
Check hotel prices and book it through booking.com
Read the most wanted travel resource here.
If you like this article, read about my journey to becoming a solo female Nepali Australian travel blogger, follow my adventures on Instagram, Facebook, YouTube, Twitter, and Pinterest, but most importantly sign up for my e-mail list to keep up with updates and travel posts!
3 Days Port Moresby itinerary Papua New Guinea