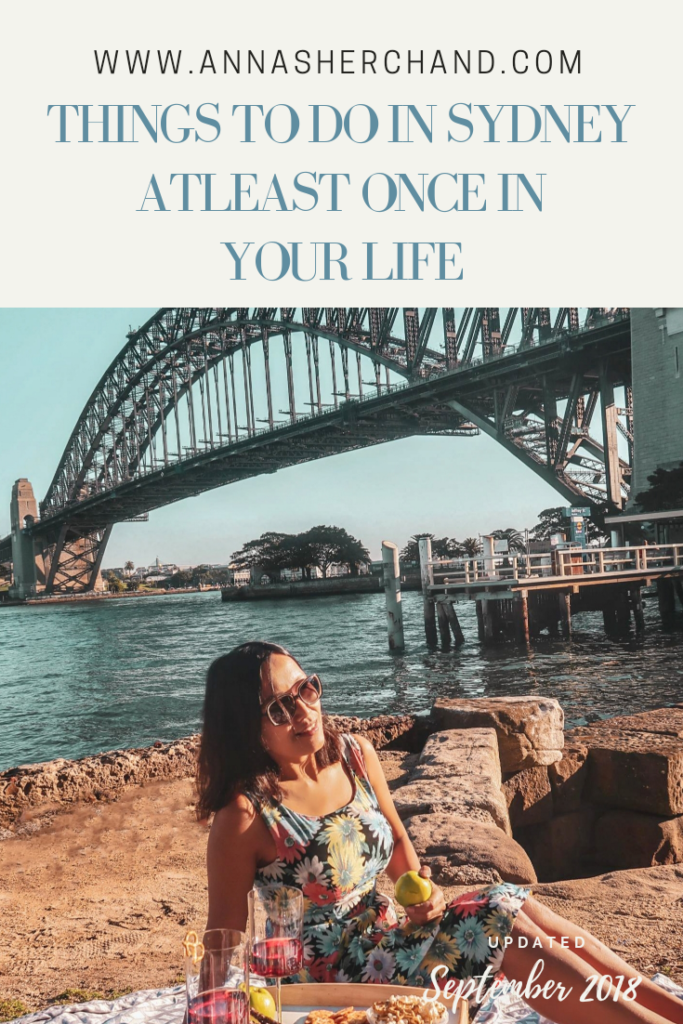 Last month I was occupied sharing my travel tips all about
Myanmar.
This month I am dedicated to writing about my home base Sydney and everything it has to offer. No matter how far and long I travel, every time I'm back, I find fun things to do here. Whether it's raining, winter or summer, here are some cool things to do in Sydney at least once in your life. I'm sure there are many more things I can experience in Sydney but just now, I'm sharing the ones I have done already. No more "I'm bored" statement when you have so much to explore and experience!
For the adventurous in you here is the most read east coast of Australia must-see travel tips.
You can watch quick videos from Sydney
here
. If you enjoyed it, follow me on my journey around the world!
How many of these AMAZING activities can you tick off?
In no particular order, I present,
The things to do in Sydney at least once in your life.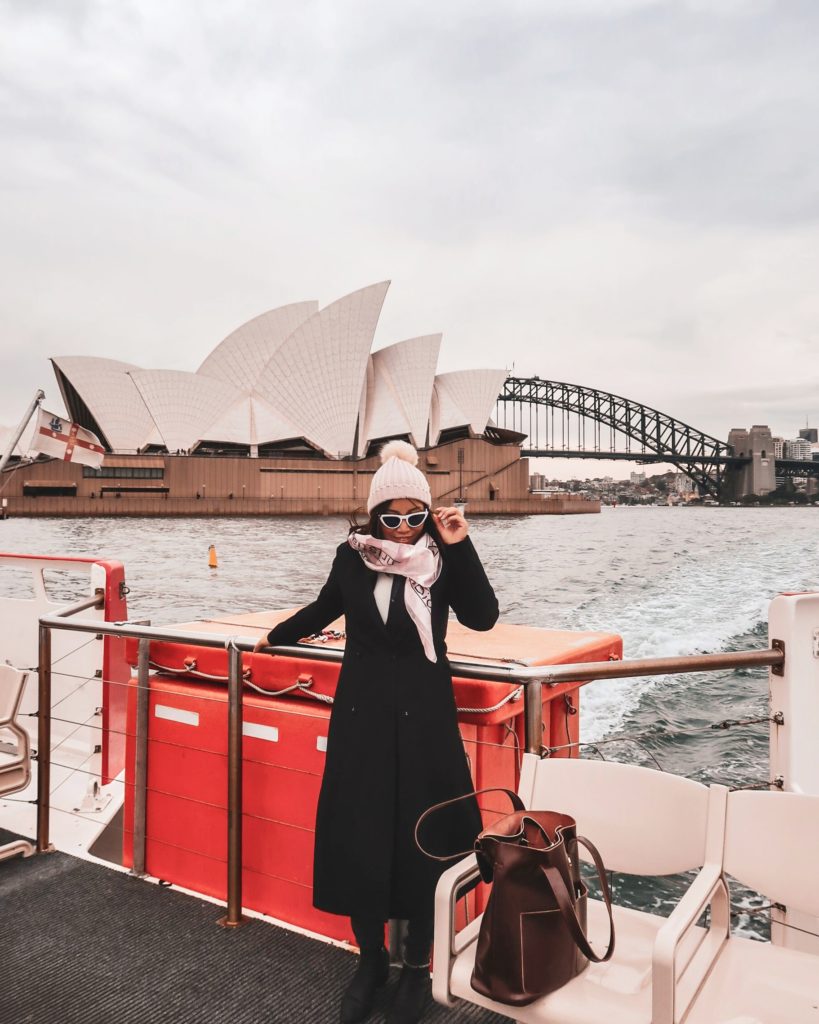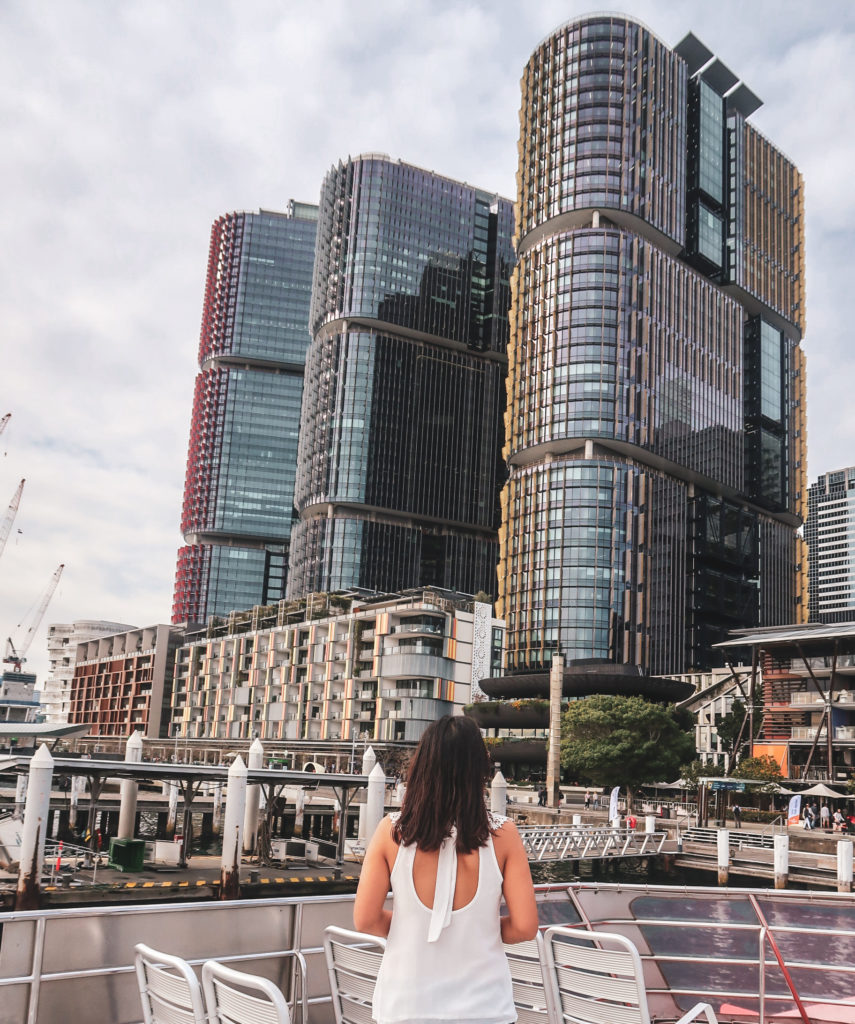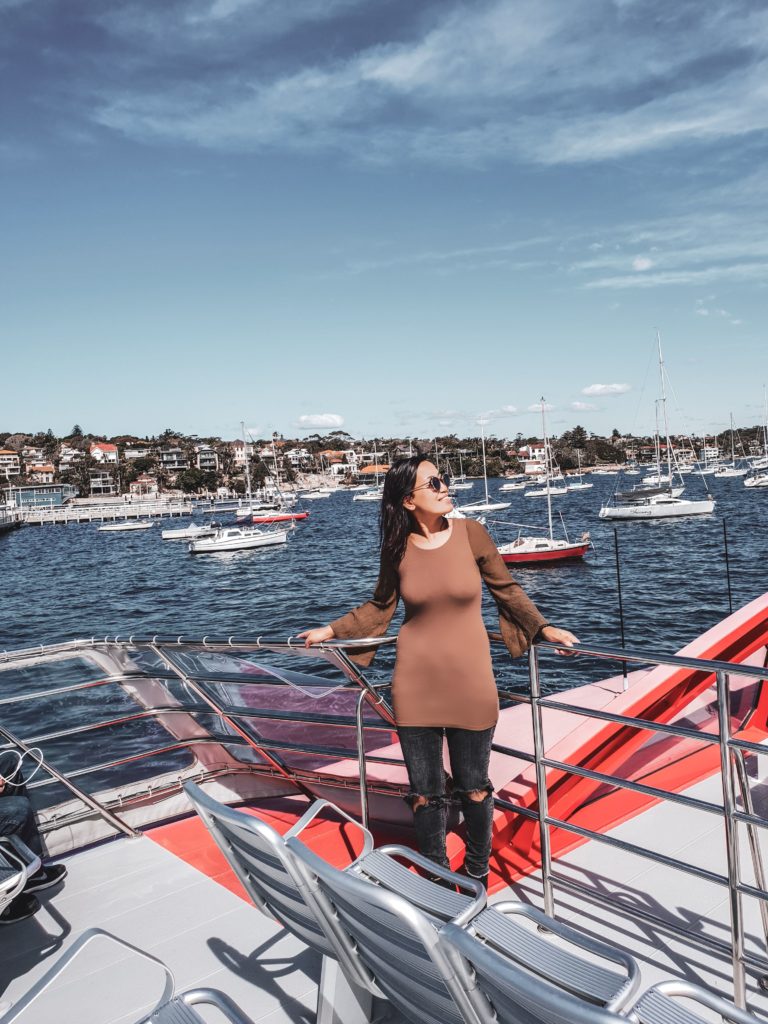 Cruising around the Sydney Harbour
I have recently realized one of the best ways to see Sydney is getting on the hop on and hop off cruise. I had heard about the hop on hop off bus but cruise sounded more fun and it was! You can cover 9 beautiful locations hopping on and hopping off the comfortable captain cook cruise. Tickets are reasonably priced and you get 2 consecutive days to use it! Whether you just arrived or a local, it is a fun thing to do in Sydney at least once in your life! If you have friends and family visiting from overseas and you want to show off Sydney in the best way possible, this would be an easy decision. Whether it be a gloomy day in winter or Sunny day in summer, captain cook cruise got you covered when it comes to discovering Sydney's iconic attractions. They can also arrange a cruise for your special occasions and celebration. You can see all the options and buy the tickets on their official website
here.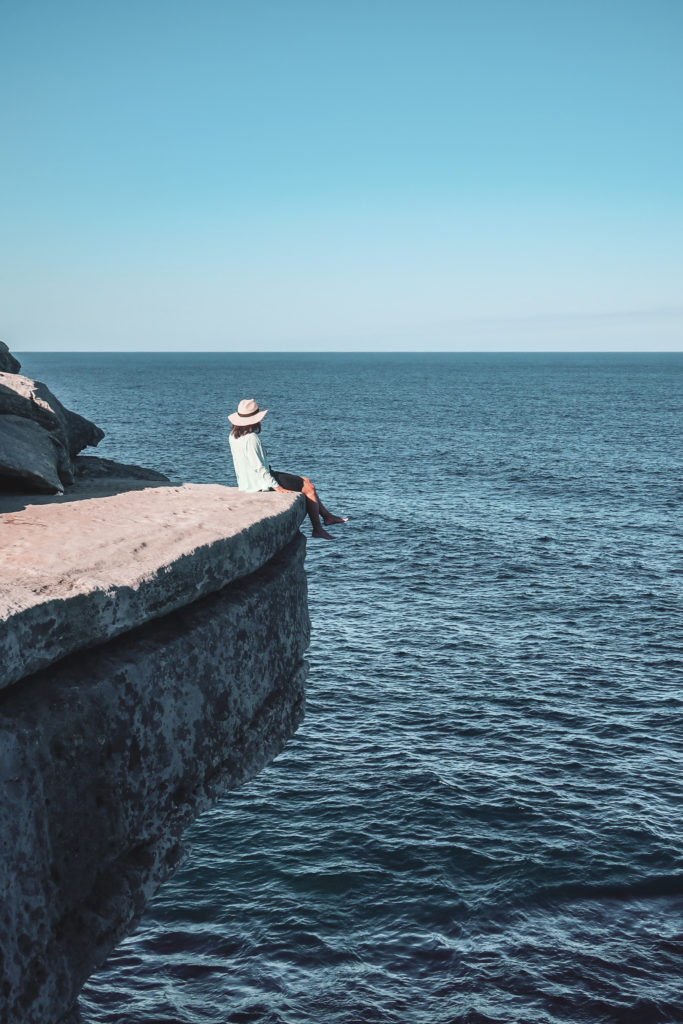 Walk off your lonesomeness
Nothing better than going for a walk when you are in this beautiful city.
I believe you can mix the famous things to do in any city, and also just walking around, experiencing the outdoors, the city, the life, the culture, the things that happen along the streets and taking it all in.
When you walk around on foot and see what's happening around you, you will feel the vibe and discover many things.
Just start walking around and who knows what you will find!
There are many beautiful walks and hikes that you can do in and around Sydney. I have created a list of my personal favourite walks
here.

Bondi Icebergs Pool
It is the most photographed ocean pool in Australia. The 50-metre saltwater pool is a popular spot for swimmers, photographers, sunbathers and a starting spot on the Bondi to Coogee walk. There is a fee of $7 to enter and you can enjoy the pool, and sauna all day.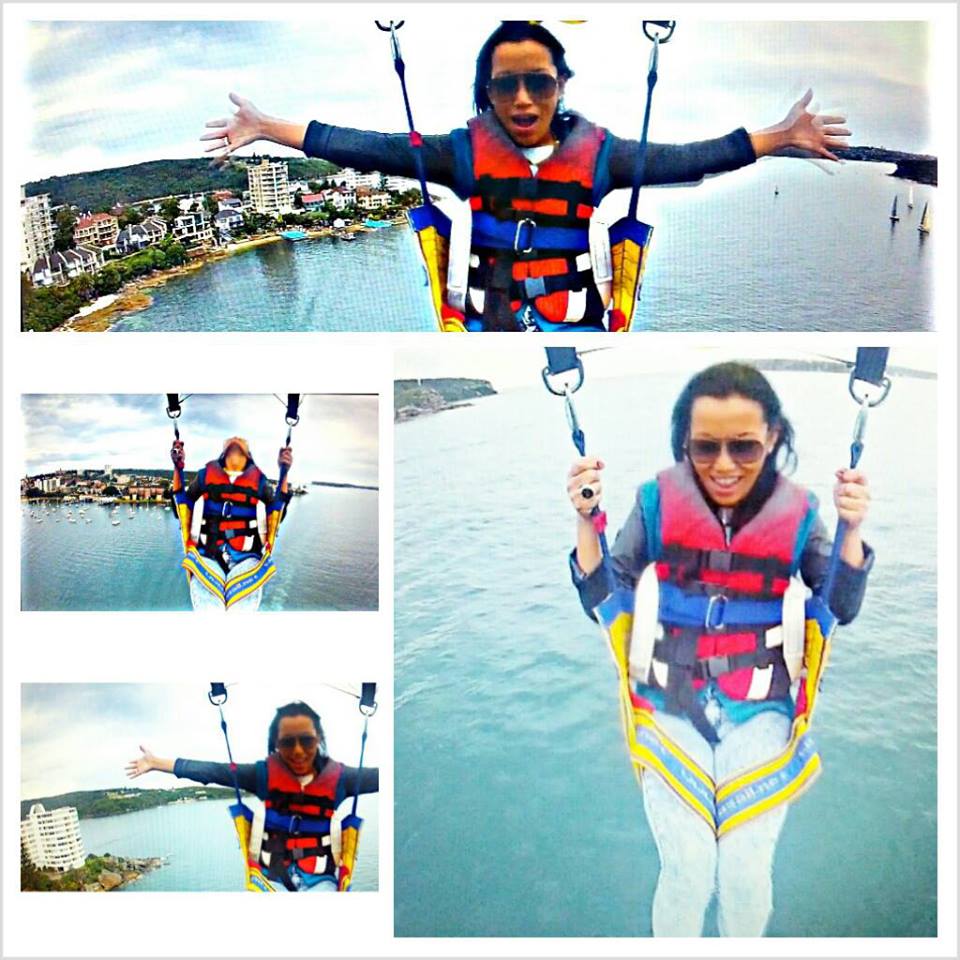 Parasailing in Manly
If you want to experience flying like a bird, but don't want to attach yourself to another human being then Parasailing in Sydney is for you. There would only be a rope between you and a boat and a parachute above. Then slowly slowly you go up in the air. I was thrilled to experience parasailing in Manly, Sydney and wouldn't mind doing it again. Their website gives an error atm! I will put up the link here for you guys once they fix it.
Surfing In Sydney beaches
Sydney boasts some of the beautiful beaches in the world. It makes sense many people have an agenda to learn how to surf. You can book a lesson to experience and see how you like it.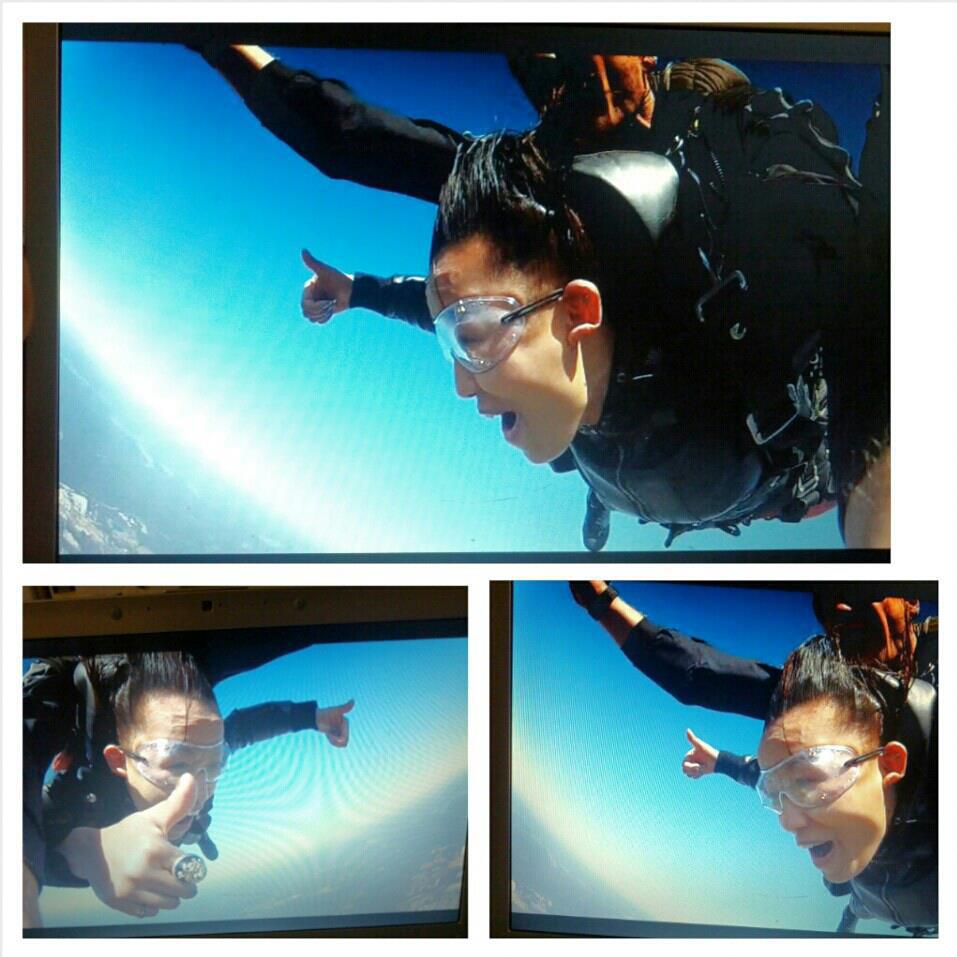 Skydiving in Penrith
One of the must-do Australian experience I can recommend is the Skydive in Sydney! You would be jumping off the plane or if you are lucky like me off the helicopter (with no doors) from 15000 feet above the ground! I couldn't sleep much night before with excitement and ended up sleeping more in the morning. That resulted in missing my ride and I had to take a taxi to get to the skydiving place on time. Just remember there is no refund policy. So, plan accordingly and don't forget to put the alarm on! Once I was inside the helicopter, my heart was racing with nervousness! But I was also a little bit relieved to know my instructor had 10 years of skydiving experience and he basically threw us out of the door! The free fall that gives you bird like feeling is the best in the world and then after few minutes, we came down to the earth. It is by far one of the best experiences I have had in Sydney. I recommend getting a DVD of your dive. It costs little more but I think memories you can share with your friends and family in the long term makes it worth it. I booked the skydive from their
official website.
Enjoy!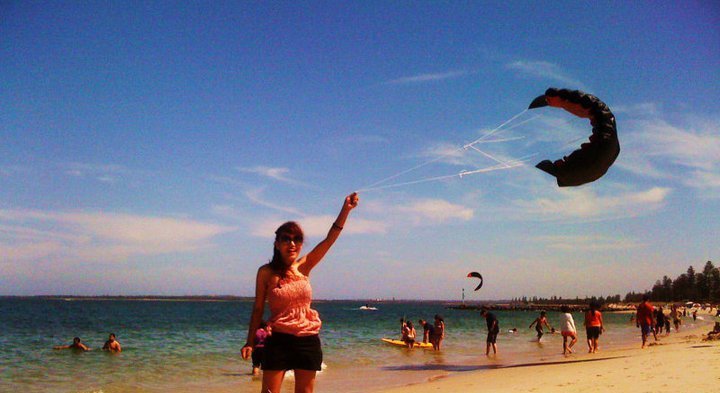 Kite flying in Brighten Le Sands
Sydney is famous for its beaches but if you are like me and get bored on the beach after 30 mins then flying a kite can be fun. You can buy these ones from IGA. Flying kite on a beach? Ticked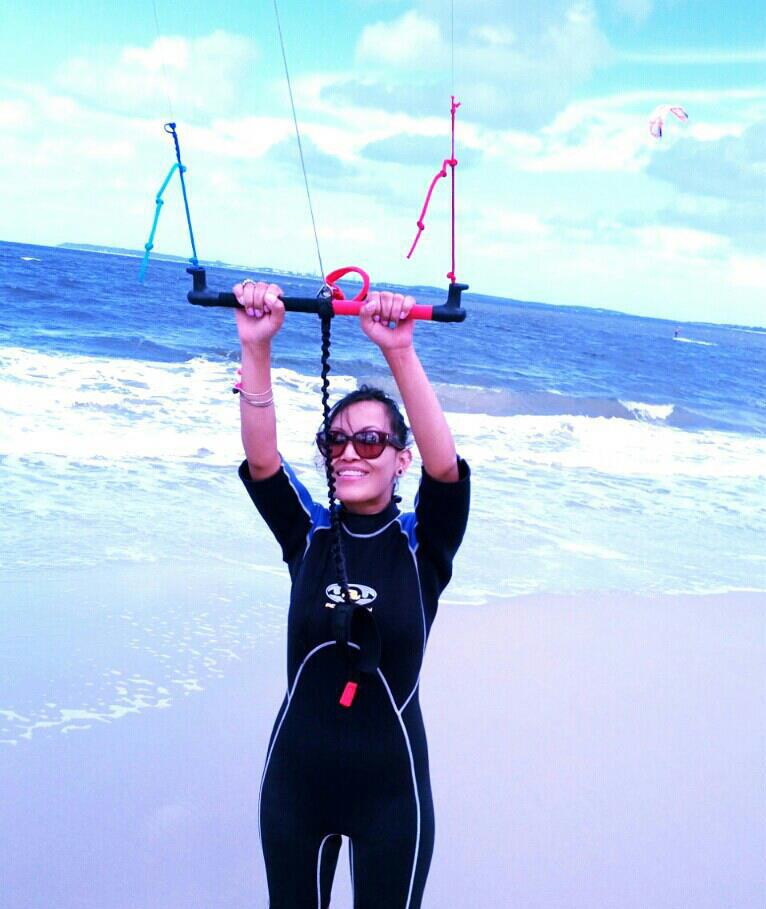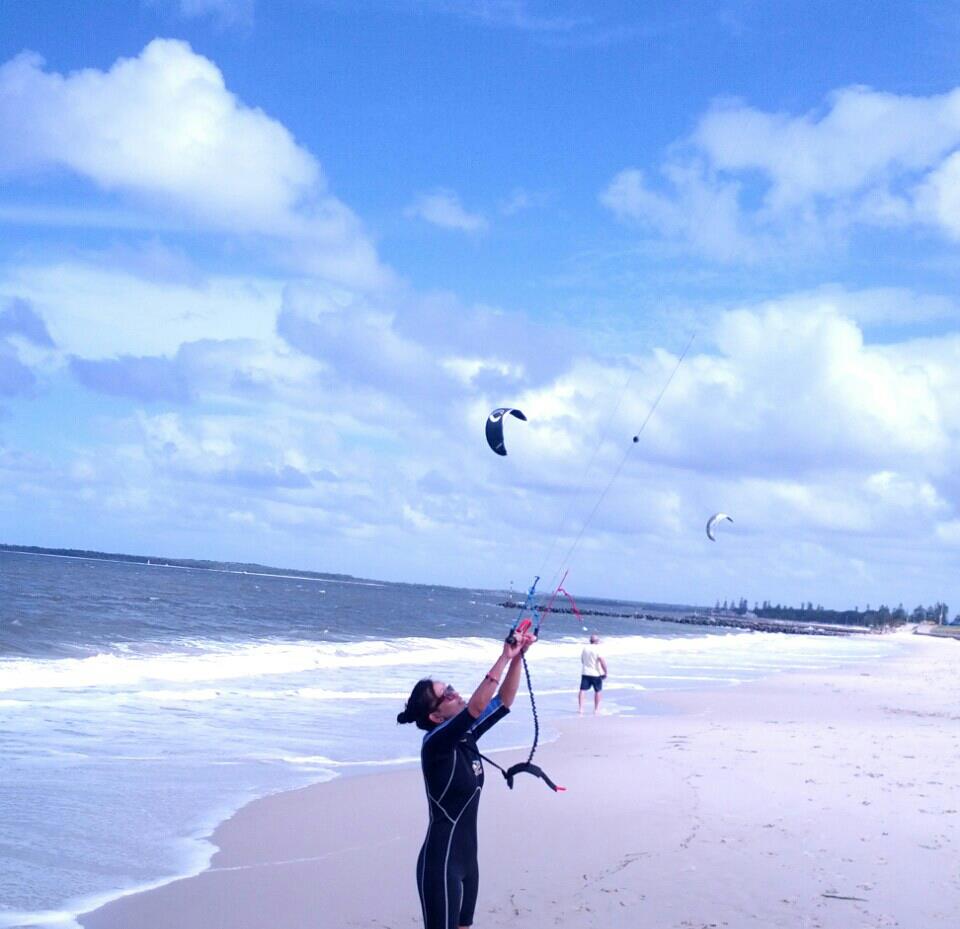 Kitesurfing/windsurfing
If you want to take it one step further then, kitesurfing can be for you. Kitesurfing requires strong fitness level though, as you will be paddling under water and balancing the kite in the air! And just when you need someone to take your photo in the water, no one was there. So, here's I am on the beach!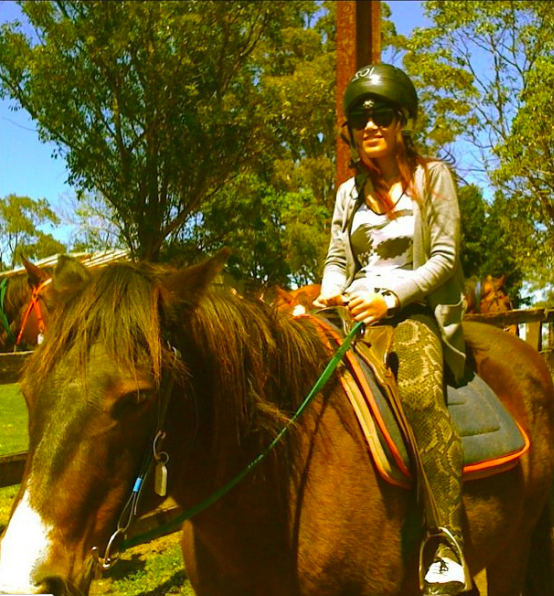 Horseriding in Centennial Parklands
This was something I always wanted to try. You don't need to have experience as there were trainers helping beginners. You can buy a horse riding lesson from Sydney horse official website
here.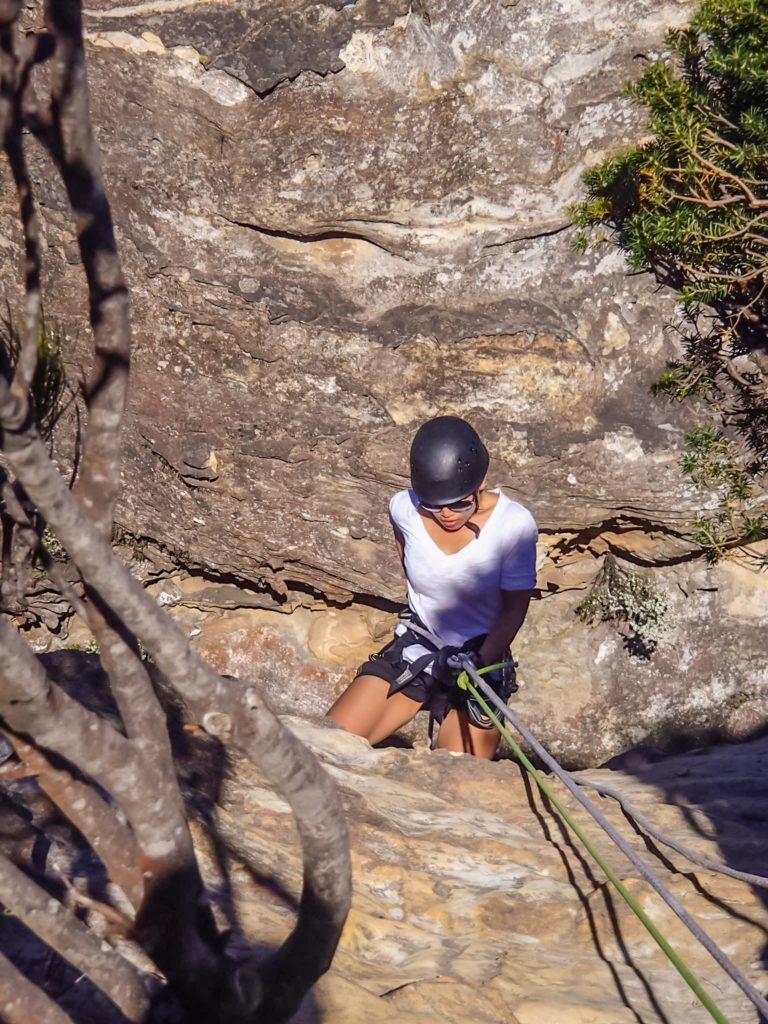 Rock Climbing in the Blue Mountains
I would say rock climbing is more adventurous than skydiving! Skydiving you are relying on someone expert and are attached to him/her. No doubt free fall is an amazing experience but in rock climbing, you are attached to a rope and if you miss 1 step, you are way down the mountain! I don't know I found this to be more of a scary thing. Perhaps because the thrilling feeling lasted the whole day whereas skydiving was over in 30mins. If you are looking for things to do once in your life in Sydney, consider rock climbing for a day which comes with abseiling too ( I loveeee abseiling and since the first time in Sydney, I have now done it in multiple countries). You can ask your hotel to book the day tour for you.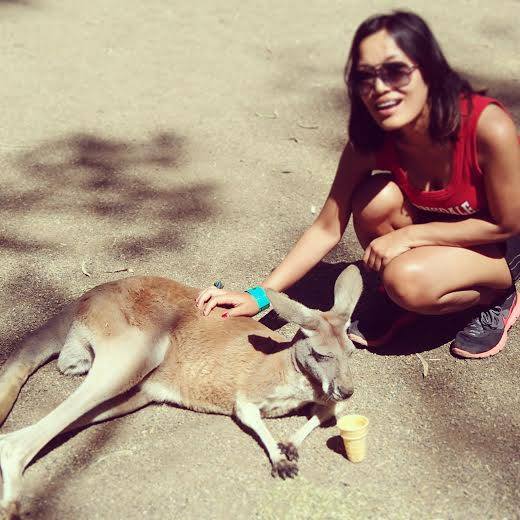 Kangaroos and Koalas
Who wouldn't want to see the Kangaroos and Koalas! You get the fun experience of watching kangaroos and Koalas in
Taronga Zoo Sydney and Wild Life Sydney.
They are in the heart of the city and easy to get to. However, if you fancy breakfast with the Koalas then 45 mins drive to
Featherdale wildlife
could be the answer. Then Morisset Park is where you see the Kangaroos up close, they usually come out more in the evenings or morning. No fee to see them. You can also enjoy a picnic by the riverside.
Outdoor Gym
I hated running on a treadmill. So, when I saw the work out spots in the outdoors area like
Observatory Hill or Bondi Beach
. I had to go. At least once! So if the sun is still shining, head to an outdoor gym for further self-development. These open gyms have most of the equipment and instruction manuals you could ask for and are conveniently located and under-used. If you go on the weekdays, most likely you will have the place to your self and won't have to constantly face off muscle men for the pull-up rings. There's also a public bathroom and drinking water nearby.
Contemplate life in the outdoors
If all buzz of the city is getting too much and you are craving some wide open spaces. The
Royal Botanical Gardens
is right behind the Opera House. You can relax with the birds, native flowers, and enjoy people watching. If you are in the Central area, you can walk around
Belmore Park
. All that requires is putting on your walking shoes and head to a park. If you are addicted to
Instagram
like me. There is a FREE WIFI in the park.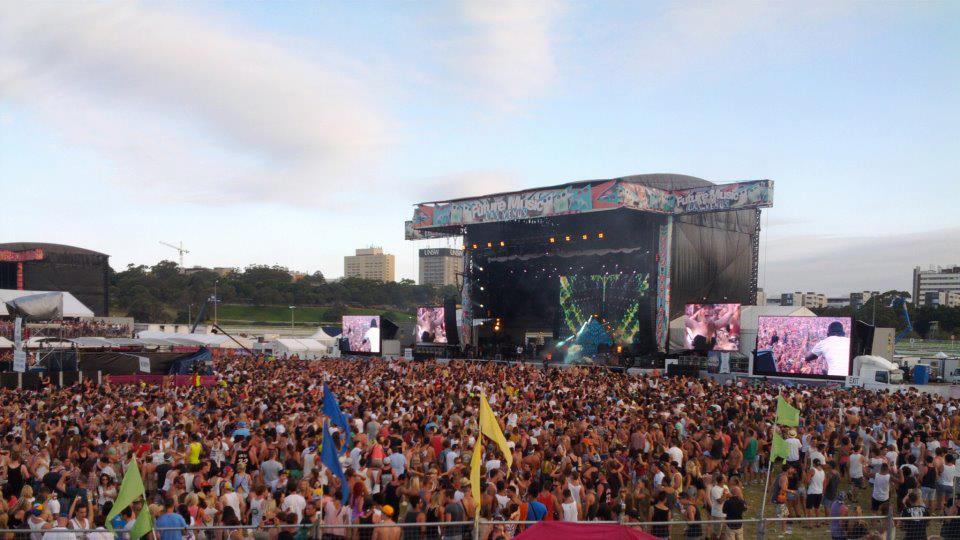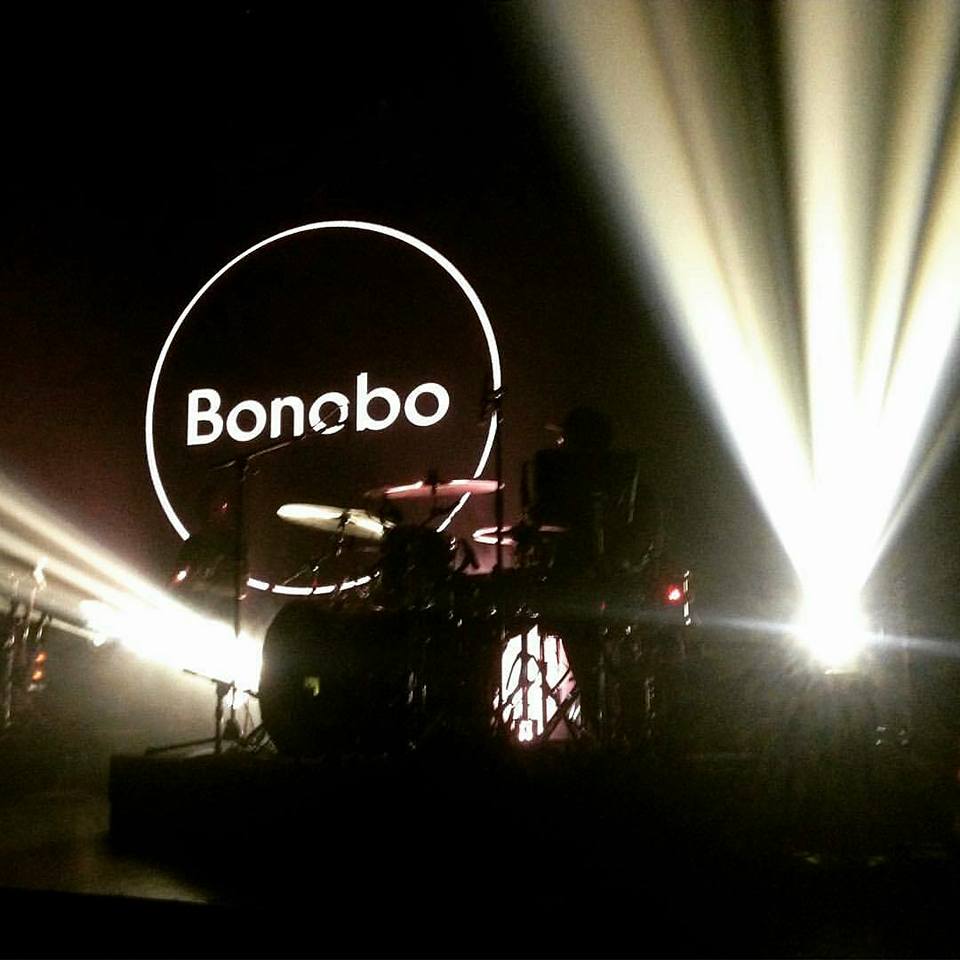 Music Festivals and Concerts
Sydney hosts some of the best music festivals in the world. Whether it's a summer music festival or festival by the beach for the New year. It is one of the perks of living in a beautiful city like Sydney as you get to watch some of your favourite artists locally. Usually these show run in
ANZ Stadium, showground in Olympic
Park or
Enmore theatre
and
Fox Quarters in Moore Park.
I have seen bonobo, ACDC, Linkin Park, Guns n' Roses, Jayz, and some more. If you are looking to do once in a lifetime things in Sydney, you should go to a live concert in Sydney. Google if one of your favourite artist is playing this weekend in Sydney!
Watch a musical in the Capital Square or in the Opera House
Capital square is in the south end of the city and easy to get to from Central or townhall station. There are Thai restaurants around for the after show dinners. I recommend Siam than Chat Thai. Musicals in the Opera house is another level! Though the musicals change all the time, it is always packed in the Opera House. The artists, the location and vibe will make you want to stay longer. Then you can head to the Opera bar and Opera Kitchen which is conveniently located downstairs. It is a must do if you are in Sydney.
Museums and Art Galleries
If you have never been to Art Galleries, try one in Sydney. I especially like going to
The Art Gallery of NSW and Museum of Contemporary Art
. They usually have interesting exhibitions happening. You can be an art critic as you see the gallery unfold different artists' meaning of art!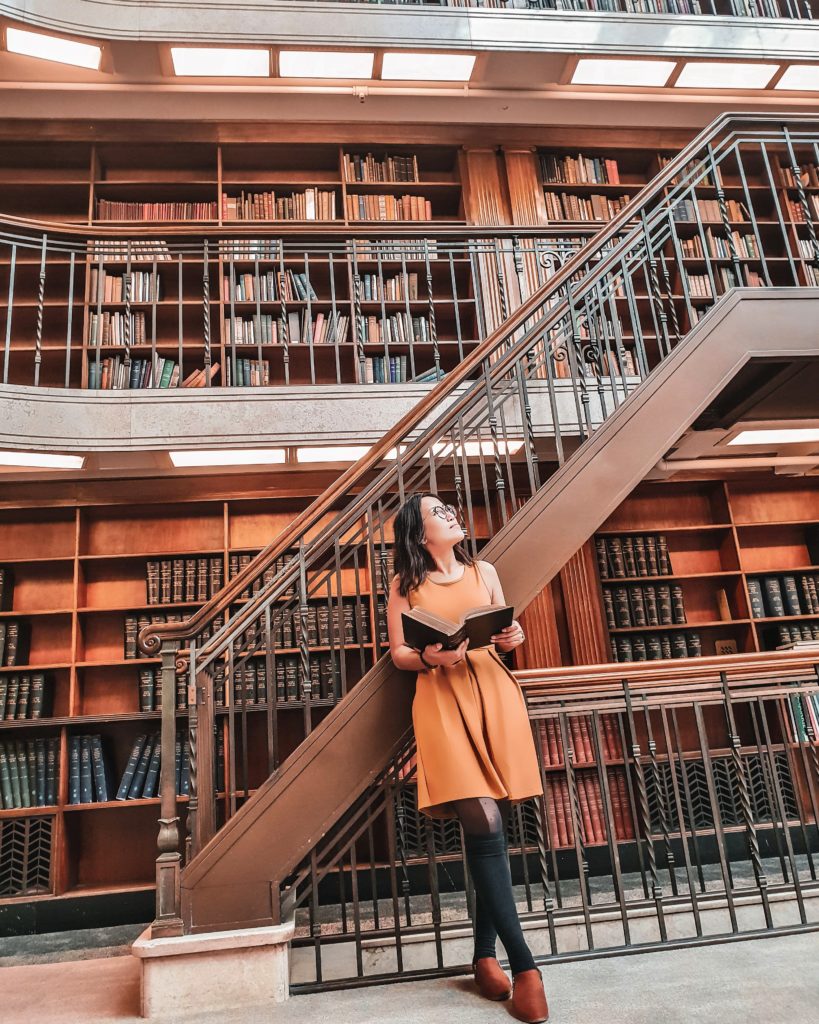 Libraries
Libraries can be a fun place to go if you are into books, peace and quietness. If you are in Sydney, pop in to have a look around the
State Library
in Macquarie Street. There is FREE WIFI to upload your
Instagram
pictures. You can also rub a statue Pig's nose couple blocks down for good luck!
Comedy Show
You will be laughing with the crowd at Sydney's many comedy clubs and open mic nights. There are some bars dedicated to comedy night like the stars bar in
George St, Cheers, Paddington RSL.
Street Art
It is easy to find creative street arts in
Newtown and Erenensville
. But if you look around, there are some good ones in the CBD, Central and Petersham too. It can be a fun activity to do if you haven't witness street art before.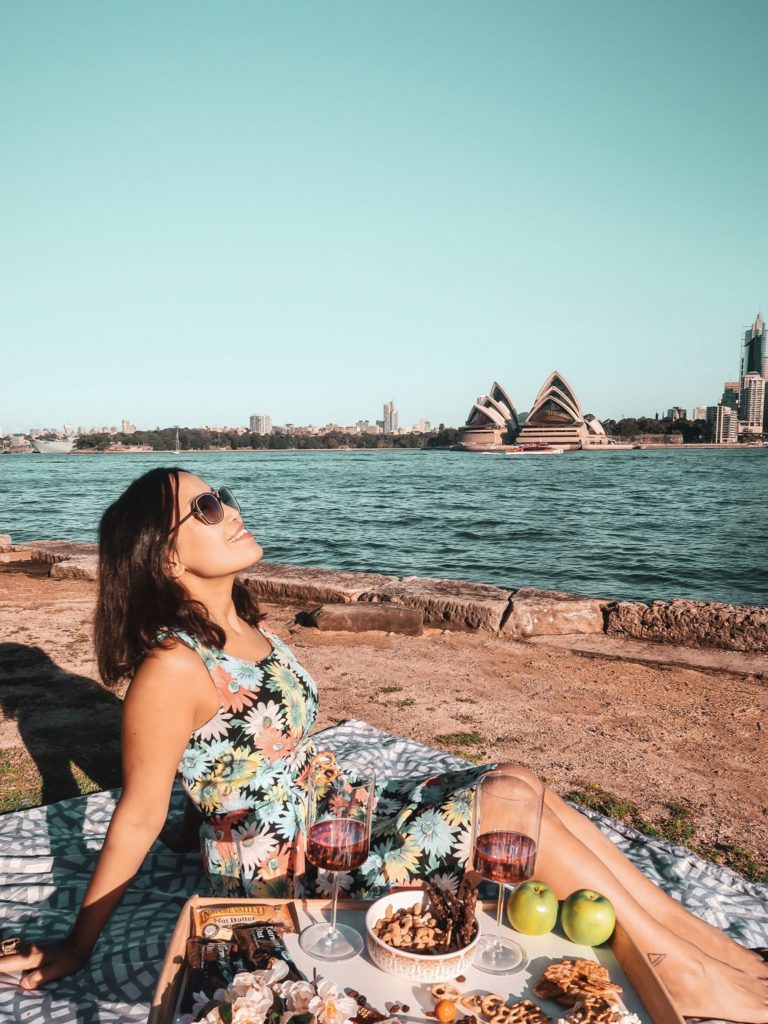 Picnic
One of the best ways to admire this beautiful city is by organizing a picnic and watch the world go by. I like the
Bradfield park
for a picnic as you can see both the opera house and harbour bridge from this area. There are other gorgeous settings too and I may create another blog post about that. Subscribe
here
to know when it's out.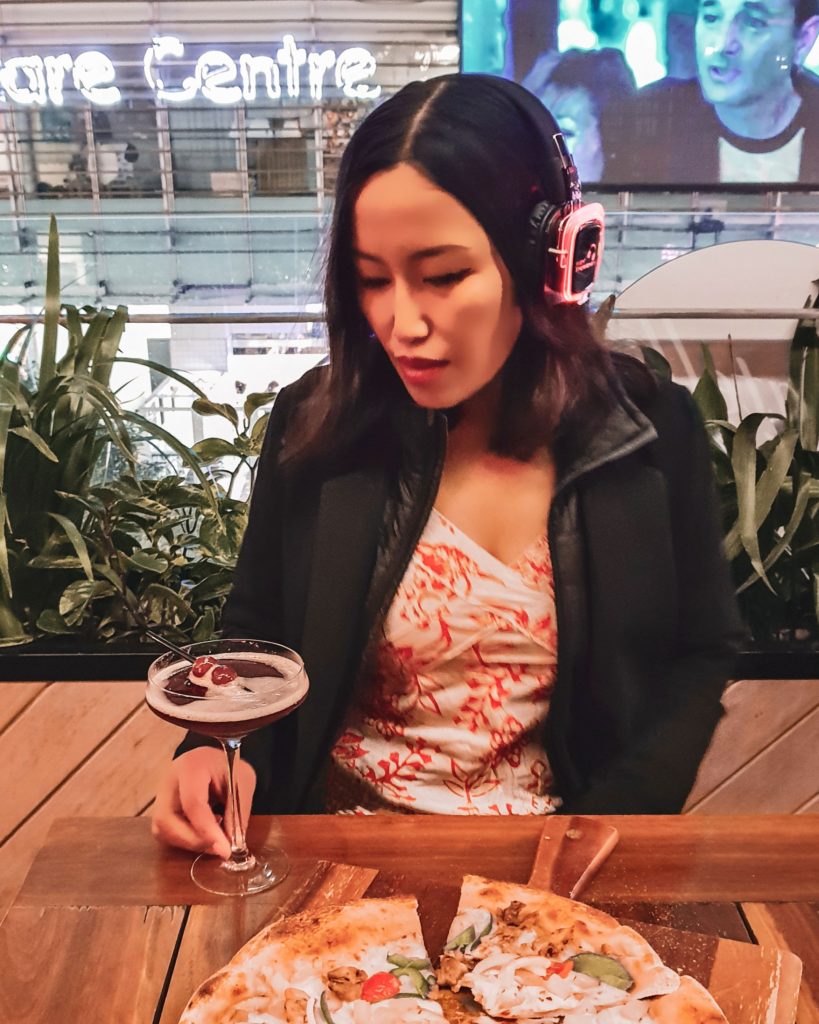 Shopping
Sydney is shoppers heaven! There are many places where you can shop top brands. Such as
Westfields
(there one in almost every suburb),
World Square, Arcades, Malls
and your usual supermarkets Woolworths, IGA and Coles for everyday groceries. Some busy shopping centres like Westfield and world square, usually have something fun going on as well. So, you can do your shopping and enjoy the place at the same time. The other day after shopping in the world square, I went to watch a
silent movie
with the cherry blossoms inspired cocktails and pizza!
Food and Fashion Markets
If shopping in the mall is not your style and markets is what you are all about. You won't be disappointed as there are many markets to choose from. Such as Glebe markets every Saturday, Northside produce market, Paddy's Market Haymarket, Paddington Markets, Rozella markets, Brewery Yard Markets in Chippendale, Surry Hills market, The Rocks Friday Foodie Markets, Sydney Fish Market, Chinatown Friday market, Bondi Markets, Kirribilli Markets, The Market EQ, Balmain Markets, Harris Farm Markets, Organic Food Markets (double bay and Lilyfield)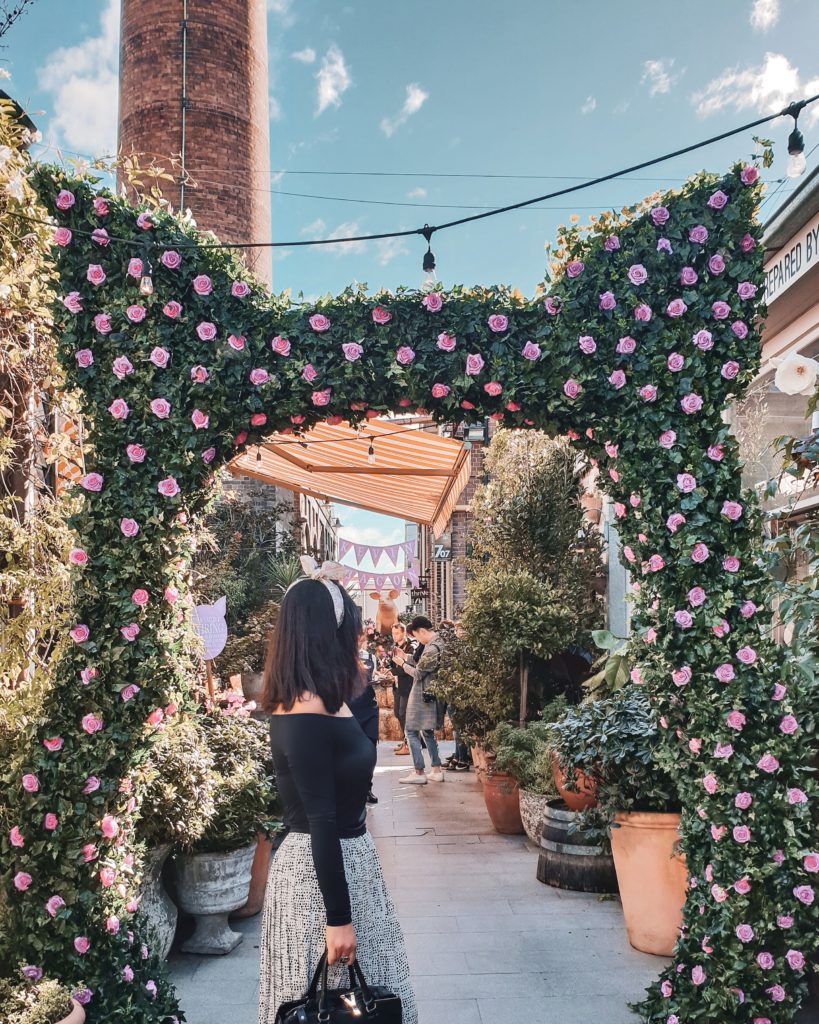 Cool Cafes
What better way to start your morning than a good cup of coffee and freshly baked pastries or breakfast! There is a certain charm and fun spending the better part of the day in a cafe. Not just any cafe though. Cafe with creativity, good coffee, and good food which draws the good vibes automatically! I find cafes like the
grounds of Alexandria or cuppa flower
gives a slice of inspiration and you just want to discover more of the cafe. Although cuppa flower is small their pancakes are the bomb and the grounds are one of my personal favourites in town for brunch or brekky. If Alexandria is too far for you, you can also get their staples goods in the city location.

Restaurants and Bars
Sydney is expensive but it is one of the most livable cities in the world. It's no surprise it comes with some of the best restaurants, and bars. Out of the 38 countries I have travelled to, and thousands of places I have eaten. Some of my favourite places to eat are still in Sydney. Such as
Quay, Crinitis, Sake, Satang
Thai,
Casa Asturiana,
Mejico, Mustang, Hacienda, & Blu Bar. One thing common between all these places is they have their own uniqueness in
the decor and the menu. Treat yourself at least once when you are in Sydney, you won't be disappointed!
Take a Speed Boat
This was one of the first activity I did when I first arrived in Sydney. Jetting around the harbour on a speedboat is one of the thrills you can enjoy so close to the Opera House – and the wetter you get, the better! The 30 minute Shark Attack Thrill Ride,
Oz jet boating
provides the red ponchos for the ride but I was soaked through and in need of a hot shower afterwards But, when I look at the photos captured on the boat's GoPro, I am glad I made the decision to experience it. If you are in Sydney and want to experience something adventurous but not skydive, this can be it. You can book the tickets online on their official
website.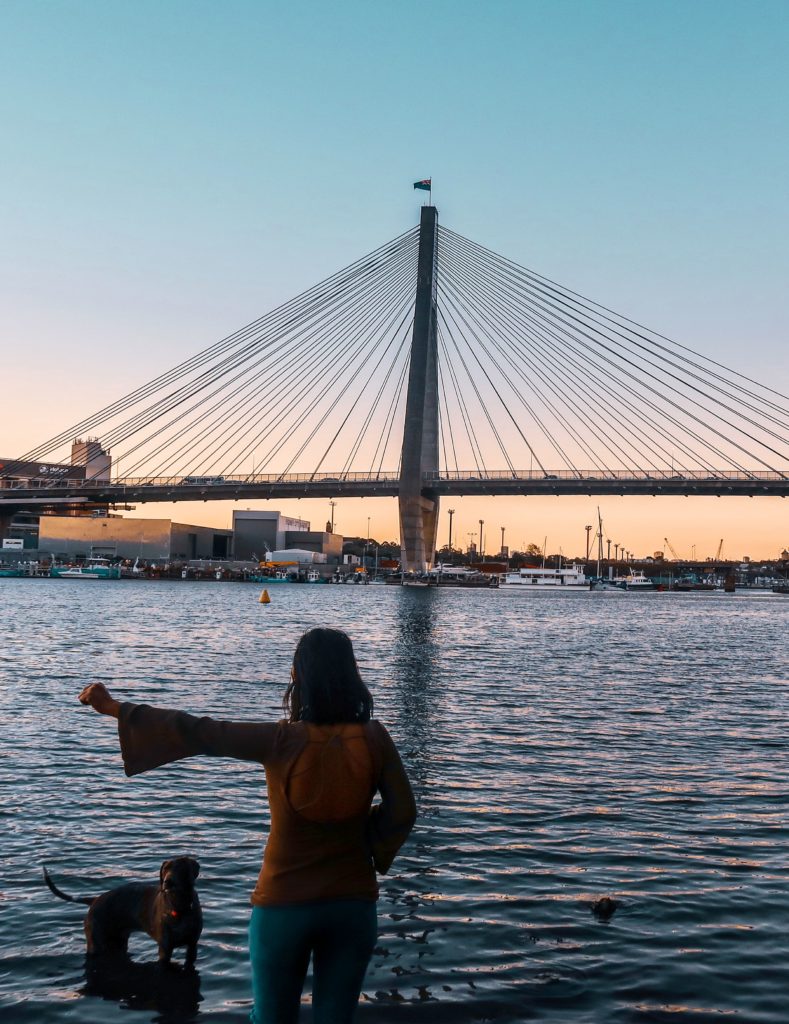 Sexy Sydney Sunsets
Nothing clears the mind like a brisk walk and sunset with a million dollar view! You have the best Sydney sunset view from the Mrs Macquaire Chair in the Royal Botanical Garden, the Blackwattle Bay in Glebe and also from the Harbour Bridge. I may create a separate blog post listing the best places for sunsets. So, subscribe to that at the end of this post. I believe watching Sunsets brings perspective and a great photography opportunity. If you haven't done it yet, consider it now as spring is here and before the good weather disappears.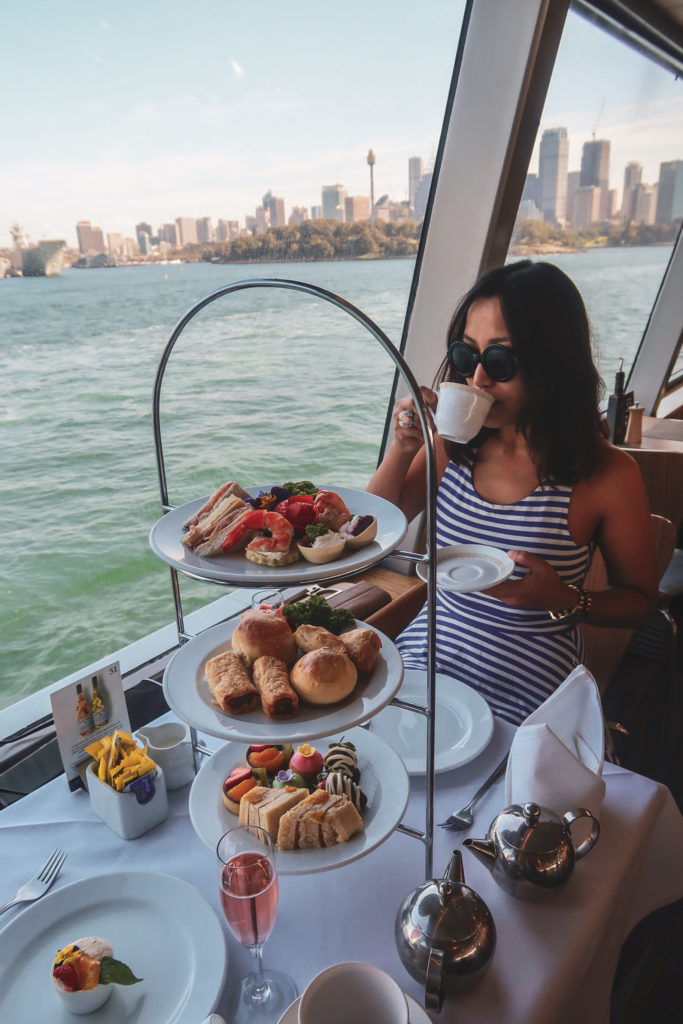 High Tea By the Sea
It was a great way to spend an afternoon watching the sunsets just after the tasty high tea. As you can see, the ticket came with a glass of Champagne, a choice of tea, and triple plate tower! It tasted great and the stunning Sydney harbour view was just the cherry on top! There are some hotels and restaurants that organise high tea or you can simply goto the captain cook website and book it there. I went through them too. Reasonable price, delicious food and attentive staff. I can't wait to go for another one soon! How many activities have you done so far? I also recommend Lager Tag, Virtual Room, Escape Room, Dart Room, GO Kart, Snorkeling and High Rope Adventure in Sydney. I am going to add more things to do in Sydney regularly. So, you can bookmark this page for your reference.
What I used to take these photos:
This has been my favourite Camera so far. I love how my pictures come out crisp and colourful. It also has a screen which is useful when vblogging. You can check out what I meant on my Instagram which is
here
.
Accessories For Canon GX7 Mark ||
Check it out
here
This is the good old Go pro that I take with me everywhere. I recommend it because it is small, lightweight and waterproof. I have had made many memories with this trusted item and looking forward to more.
Accessories For Go Pro Hero 4
Check it out
here
I have been using SanDisk since my first camera which was back in 2009. They build quality memory cards. I recommend getting at least two, just in case something happens to one of them.
Do you think it's a hassle of plugging your camera into your computer? This memory card reader will fit cards of all sizes and make an easy transfer to your computer. The reader supports all popular SD memory card formats, including SD™/SDHC™/SDXC™ memory cards, UHS-I SDHC/SDXC memory cards, and microSDHC™/microSDXC™ memory cards. It is also compatible with the latest UDMA 7-enabled CompactFlash cards.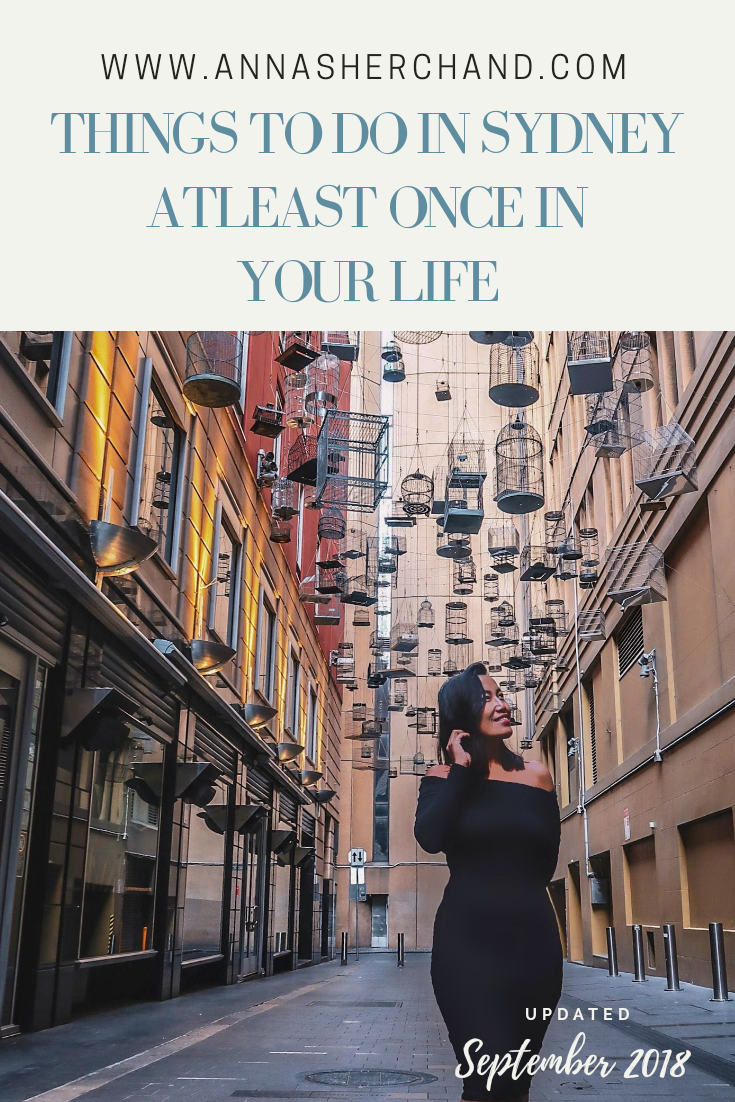 Let me know in comments if you –
would like to do or have done any of these activities?
have any other activity recommendations?
Subscribe for DAILY posts here
If you like this article, follow my Adventures on Instagram,
Facebook
,
YouTube
,
Twitter
and Pinterest, but most importantly
sign up to my E-mail list
to keep up with updates and travel posts!
Things to do in Sydney at least once in your life