After my solo travel to FIJI, I have become more open to traveling to other pacific countries. And as some of you may know I am on the quest to travel to all the countries in the world, so it only makes sense that I start traveling to countries closer to me now that we are in a post-pandemic world. With that being said, if you are looking for Vanuatu itinerary for 1 week read on.
Prior to my FIJI travels, I used to think only couples, honeymooners, or families go to these pacific islands. All about them package deals inclusive flight and hotels, kid's club, nanny, romantic walks on the beach, buffet meals, and breakfast on bed. But now that I have solo traveled to two beautiful pacific countries I can confirm that the above is absolutely true but I also met fellow solo travelers/digital nomads/ex-pats from around the world so there's that.
With that being said, if you are hesitating whether to go or not, I hope this Vanuatu itinerary for 1 week helps you make up your mind and that you will go and experience this magical island country. I will cover everything from current Vanuatu travel restrictions and what you need, things to do in Vanuatu, and more. It might suit some other digital nomads too.
Vanuatu is a stunning little country with roughly 80 islands and is known as the home to one of the world's most sought-after dive sites- President Coolidge, a 650ft shipwrecked luxury liner off Espiritu Santo island. If diving is not your cup of tea, there are other jaw-dropping sites that I will elaborate on further down below.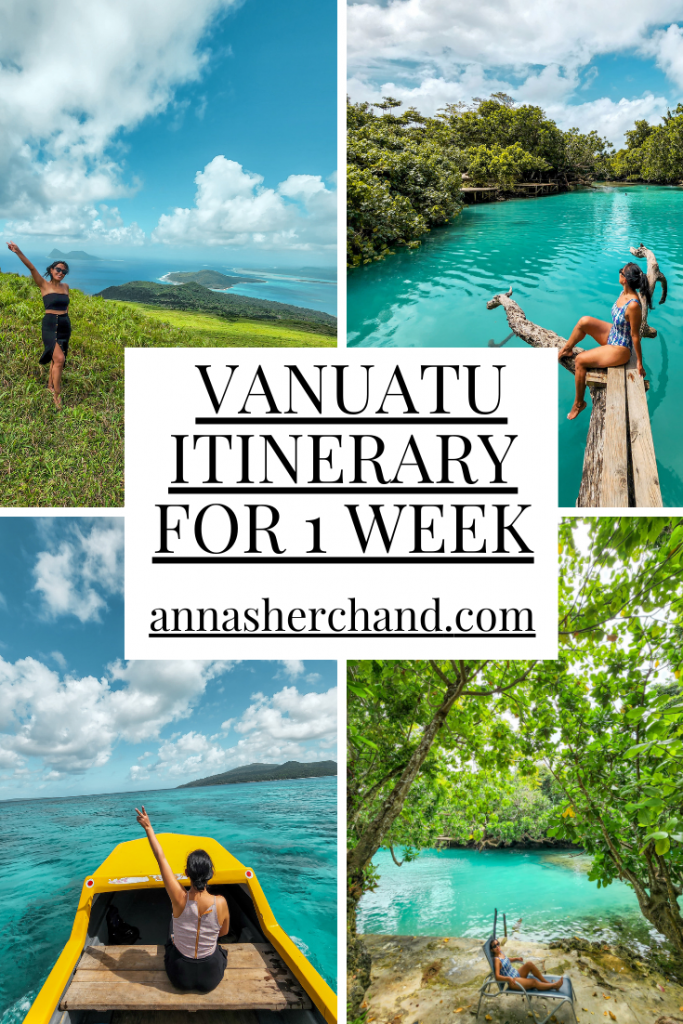 Vanuatu itinerary for 1 week
Traveling alone is quite different, as opposed to moving with a tour company. Hence if you are traveling alone, you have the choice to travel however you want via flight, bus, ferry, train, or cruise ship. It all depends on your preferred mode of traveling and budget.
Let's start with how to get there, what to do, eat, where to stay, and day trips followed by the islands.
How to travel to Vanuatu?
There are two ways to get to Vanuatu from Australia and around the world. 1. Stop over in New Zealand and fly to Port Vila or fly over from Australian cities such as Melbourne, Sydney, and Brisbane.
The major airport and gateway to the islands of Vanuatu is Bauerfield International Airport (VLI). It is located in Port Vila aka Vila is the capital and largest city of Vanuatu and is on the island of Efate. Depending on where you are staying, the distance to the airport may vary. Since I stayed in Pango Road it took about 20 minutes in a taxi. Suggest booking the international port vila airport to hotel transfer.
The second option is to get on the cruise to arrive in Port Vila, just make sure while booking that the cruise not only passes through but actually docks in Vila and that you will have the opportunity to get off the ship and explore. There are a number of cruise lines that go to Vanuatu including P&O, Royal Caribbean, Celebrity Cruises, Carnival, Holland America Line, and Norwegian Cruise Line.
If you have a large travel budget, consider chartering a yacht. Sailing from Australia to Vanuatu is a popular vacation option. Make sure to book through a reputable company in advance.
How to get around Vanuatu?
The easiest way to get around the country is to fly with Air Vanuatu. Once you arrive in town, you can either hire a car for exploring or use buses as locals do.
Remember buses (it actually looks like a minivan) have a B on their license plate and a taxi cab will usually have a T on their license plate. Usually, the fare anywhere you go within Port Vila is 150 vatu but if you want to go from say downtown to Blue lagoon and there aren't other people, the driver will charge you 3000 vatu for the empty bus just to take you there.
How many days in Vanuatu is enough?
Over the years I have learned that figuring out why you want to go to a certain destination will make it easier to plan your trip. For example, if you want to travel to Vanuatu for an adventure in nature, or you will want to make a plan to visit some of the more remote islands. Or perhaps you have enough time to plan a bit of both world?
Regardless, I would say a week is a minimum time to spend on your Vanuatu solo travel. You will most likely start your journey in Vila, explore major spots, activities then get around the islands of Tanna & Santo for a multi-night trip.
Do I need a visa for Vanuatu?
If your passport is from Australia, you can stay up to 90 days in Vanuatu just with a visa on arrival stamp. That said, the authorities may ask for the return air ticket. That being said, I highly recommend checking the official website online or with your local embassy to find out if your country requires a visa.
What is Vanuatu COVID requirement?
The current COVID requirement is you must have negative PCR or RAT pre-flight and return flight ticket or if have covid previously a fit to fly certificate. There is no on-arrival test or quarantine policies atm. But the pre-flight requirement may be dropped by the time you are reading this, so DYOR also.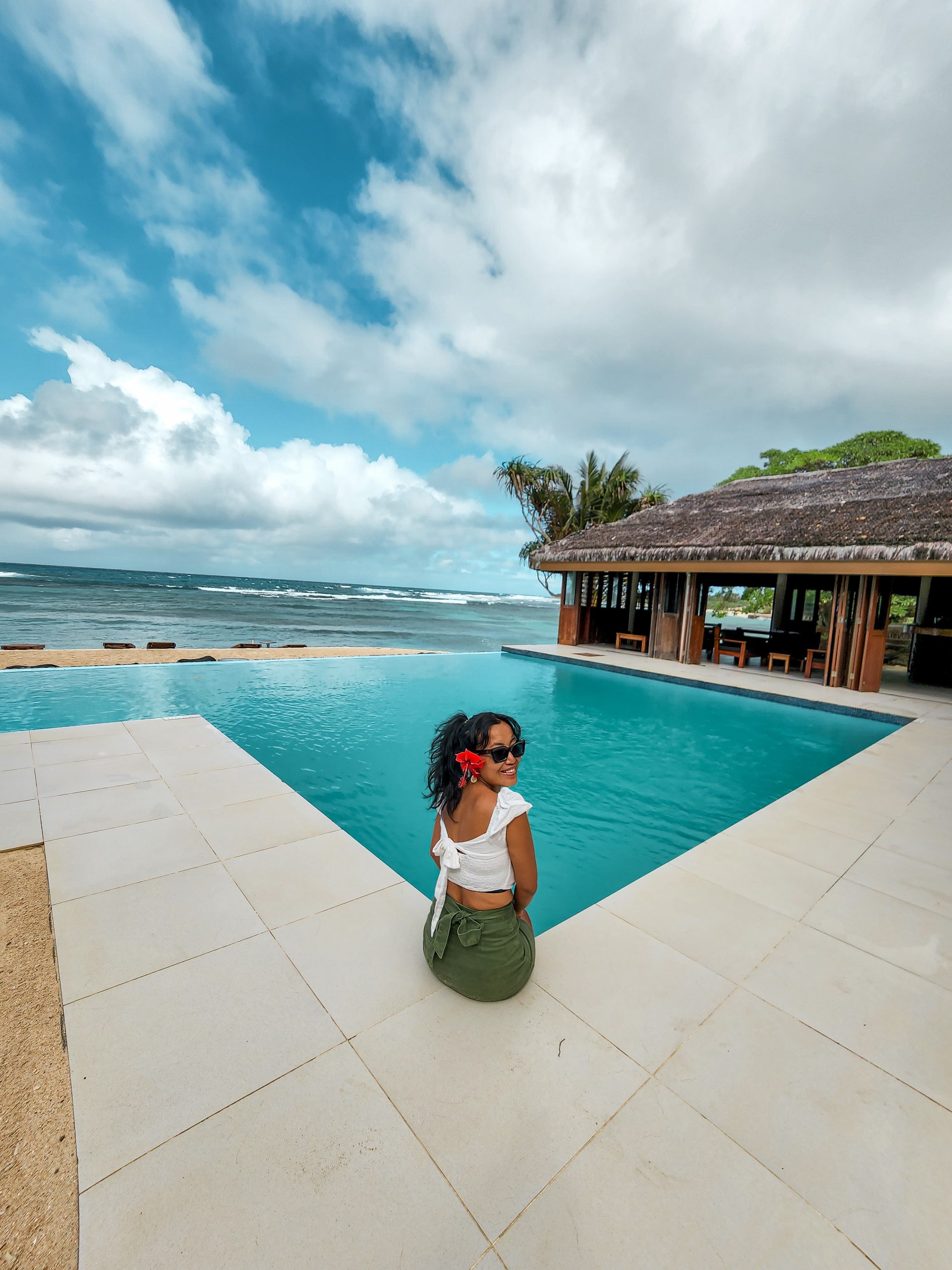 Where to stay in Port Vila?
There are numerous choices when it comes to accommodation in Vanuatu from all five stars hotels to hostels. Make sure to book with a legit website such as Booking.com If you are in the mood to meet fellow travelers/backpackers I sugges either of the two places below. Price range from $1800 Vatu for dorm bed to $2950 for basic private to $$$$$ for more fancy stays.
Blue Pango Guest House (near the Ocean, has basic private rooms with bathroom and cooking stove, and fridge in it like a lil studio) or Travellers Budget Motel (near the city 5-10 min with common kitchen)

Nasama Resort (Ocean right at the front, private sandy beach, infinity pool, 30 self contained rooms with full kitchen, views for days and balcony. But even if you don't stay here and are around Pango road for surf or stay, check out Cafe Vila at this resort. Highly recommend the meals there as they were all tasty af), Paradise Cove Resort, Eratap Beach Resort

Breakas Beach Resort (Another great spot near Honeymoon Beach, Pango road with Infinity pool, beautiful beach and good food), Ramada Resort by Wyndham Port Vila
Some of these family-friendly resorts may serve organic fruits and vegetables grown in their own gardens. You can even enjoy bird watching, hiking to the waterfall, kayaking, and snorkeling with rent-free gear.
How is the internet in Port Vila?
Download 9-12 Mbps and upload 7-10 Mbps. All in all it was fast enough for me as I actually bought a local vodafone sim card w data. An alternate option is Digicel. They both seem to have competitive offer.
Are there any coworking space in Port Vila?
If you are a digital nomad or looking for a place to work from. Check out Yumiwork. They offer half day free trial or Jill coffee shop next door but I perfer Yumi because it is quiet and they have meeting rooms as well. Daily pass is 4,000 Vatu per day, Hot desk 38,000 per month, your dedicated desk 48,000 per month and own suite from 98000 per month.
Where to stay in Tanna?
Tanna is well known for active Valcono Mt Yasur. If you are dividing your week with Tanna and Santo. An option is to book overnight trip to Tanna from Port Vila because the tour would cover your night stay. If not I recommned below accomodation providers.
White Grass Ocean Resort & Spa , Rocky Ridge Bungalows, Friendly Beach, Alofa Beach Bungalows, or Rockwater Resort
Where to stay in Santo?
Espiritu Santo is the largest island in Vanuatu and is known for its beaches, such as Champagne Beach and Lonnoc Beach, with coral reefs and clear, sheltered waters. The town of Luganville has WWII relics like Quonset huts at Main Wharf. Nearby, popular dive sites include the sunken SS President Coolidge cruise liner and Million Dollar Point's submerged U.S. war machinery.
Here are my suggestions on where to stay in Santo.

The Hidden Lodge
Hidden Cove Eco Retreat, Turtle Bay Lodge, The Espiritu, Aore Breeze
When is the best time to visit Vanuatu?
The best times to visit Vanuatu are between April to October when the weather is dry and the temperature is warm yet comfortable averaging between 18 degrees and 28 degree Celsius. This island country has a wonderful tropical climate which means there are mosquitoes so make sure to bring repellent and sunscreen.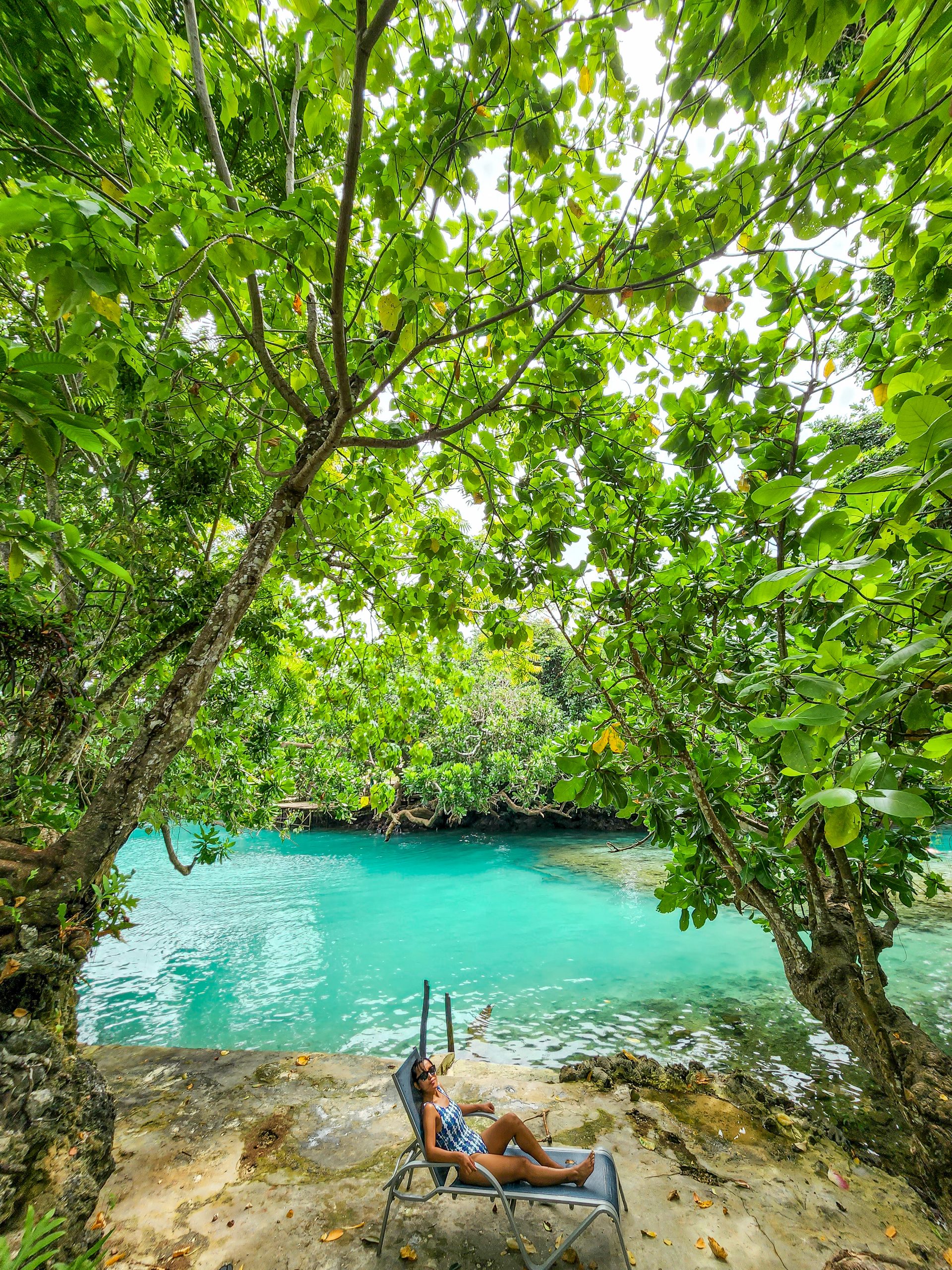 Is Vanuatu safe for a solo female traveler?
First of all, let's establish the understanding of traveling is brutality! It forces you to trust strangers and to lose sight of all that familiar comfort of home and friends. You are constantly off balance. Nothing is yours except the essential things – air, sleep, dreams, the sea, the sky – all things tending towards the eternal or what we imagine of it. If you are okay with it, you will adapt, and you will survive.
That being said, People in Vanuatu were generally friendly regardless of where you come from and the violent crime rate is quite low. Unless there is a drastic change in the country's political situation, pandemic, or some natural disaster it is safe to travel to Vanuatu. Just remember to apply a general rule of thumb i.e. Don't walk down that dark alleyway on your own, respect the culture, don't argue about religion, dress modestly, trust your instincts, and don't be afraid but be cautious. Recommend getting travel insurance as well.
Local currency
The local currency is called the Vatu, with the international currency code VUV. You could withdraw VUV from ATMs on arrival at the airport or in town. However, remember to consider bank fees from your bank and the ATM withdrawal fee while you do your budget.
People, language, and more
One of the smallest nations, Vanuatu is also linguistically the most diverse (100+ languages!) In addition to English, French and Bislama are widely spoken. Unlike many developing countries you don't need yellow fever or cholera vaccinations when visiting.
Most hotels and some hostels also offer free WIFI but if you'll be in Vanuatu for a while or think you'll use the internet a lot, buying a sim with data would be worthwhile. Vodafone and Digicel have some good offers and are available at the Airport, at convenience stores, supermarkets, and the operator's stores.
Must-Have Travel Apps for Vanuatu
Google Translate for easy communication in case you happen to travel to remote islands.
Google Maps for ease of finding routes, offline use, Google Drive for storing pictures and Calendar for time management.
What to eat in Vanuatu?
Here are my recommendations on must-try food in Vanuatu starting with Teluk (cassava with meat inside -could be chicken, beef, pork), Lap Lap (could be taro/pumpkin bed with meat on top), Simboro (s a steamed roll of grated banana, manioc, yam, taro, or flour that is wrapped in banana leaves and covered in coconut milk), Coconut fish curry, Tuna steak, Beef fillet, and Poulet fish.
For the best deals on fresh fruit and vegetables check out the local Micks food market in downtown and roadside stalls. At the market, I was buying daily coconut for 100 Vatu (50 Vatu for smaller ones) and you can also try out the above-mentioned food there as well. (food stalls are at the backend of the market. I had seafood with rice from the first stall with a lady with the name tag Miriam and the next day a nice gentleman at the third stall from the end on the last row of stalls cooked Proper fish curry with rice every meal is 500 Vatu here. I also tried Lap Lap, Teluk and simboro here)
When it comes to food costs it could be slighty similar to Western countries if you eat at 4-5 star hotels. Eg, I ate at Cafe vila few times (restaurant of a 4 star Nasama hotel) and it was $30 AUD w a drink. Another time I tried Exotic Thai and stone grill and they were all between $30 – even $45 per meal with drink.
Remember they also have a Au Bon Marche supermarket few places around town. Infact there is one right opposite the micks food market, So, i would buy coocnut and greens groceries from the market then water, eggs, etc from Au bon if you are planning to cook your own meals.
What to drink in Vanuatu?
If you are a beer person, recommend the Premium Tusker beer, and Kava (the traditional drink brewed from a tree root) Kava is a staple in the South Pacific islands and apparently, Kava in Vanuatu is stronger than the one in FIJI. It's made from yaqona that has been ground and mixed with water. This drink has an earthy and peppery taste.
Note: I found beer price fluctuate where you buy them although some do offer happy hours like at the Banana beach bar in the downtown. Recommned this place for sun downers as opposed to the beach bar one outside of town as it is quite far but if you have transport they do some cool fire shows on friday nights. Other than that, Ronnies Kava bar or Kava Lounge are pretty good spots for kava or a beer too.
Kava has also become a popular pass-time activity, a means to de-stress from the pressures of social, corporate, and personal life. However, in some social groups, the original function and etiquette that accompanies the activity have somewhat lost their reverence. It can be abused so drink responsibly.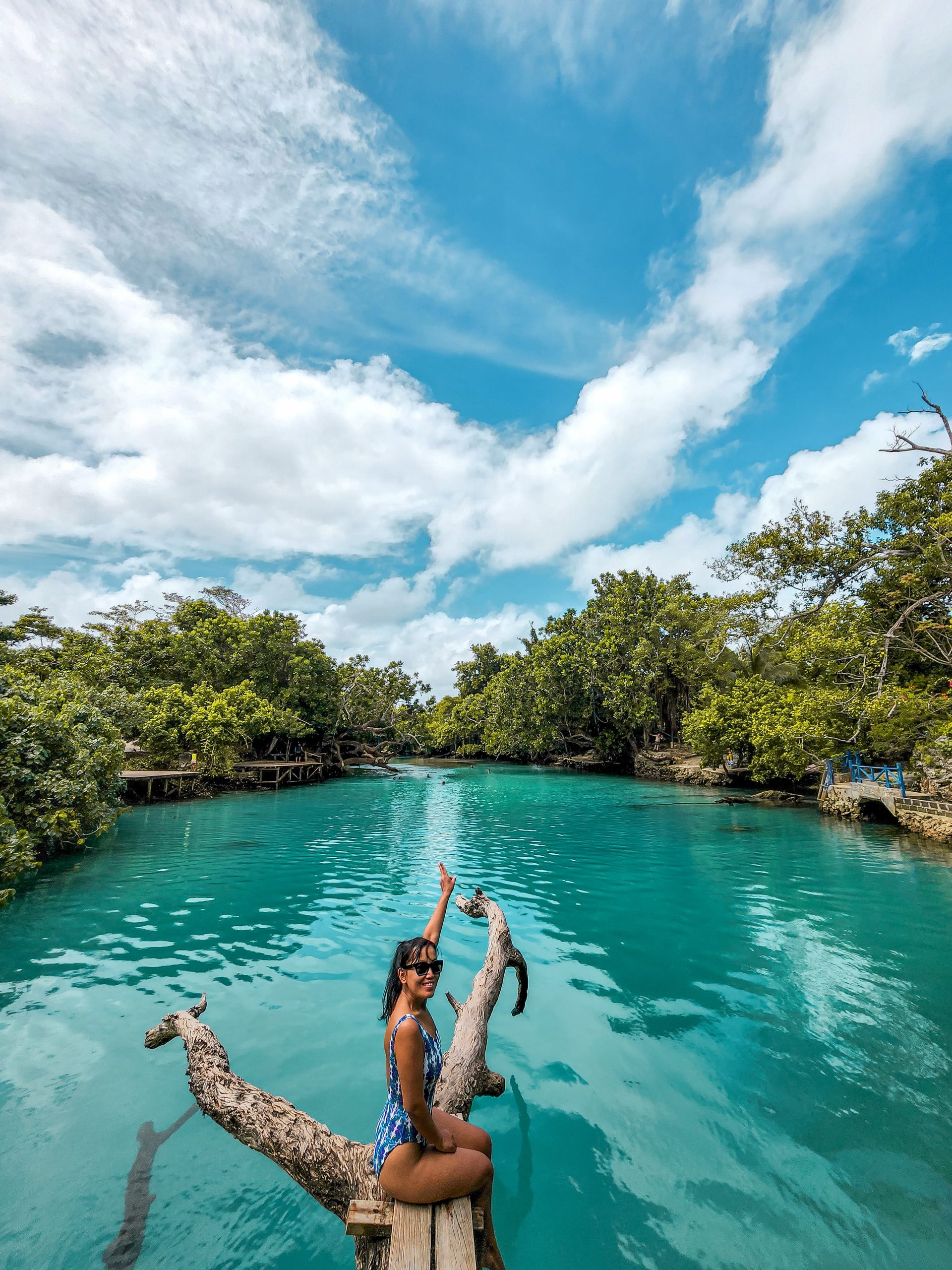 Vanuatu travel guide for 1 week
Now that we got the practical tips out of the way, let's get into the best places to visit during your solo trip to Vanuatu and day trips from it.
Where to go in Vanuatu
There are nearly 80 islands so if you have only 1 week I recommend visiting a few islands in Port Vila and making the most of it.
Alternatively, you can divide the week between Vila, 2 days in Tanna, and 3 days in Santo but note the internal flights are $188 one way.
Port Vila, Efate Island
If you decide to spend one whole week in Vila you can do 1 activity per day but even if you divide the week with Tanna and Santo you can still cover some key places in 3 days.
Remember buses have a B on their license plate and a taxi cab will usually have a T on their license plate. Usually, the fare anywhere you go within Port Vila is 150 vatu but if you want to go from say downtown to Blue lagoon and there aren't other people, the driver will charge you 3000 vatu for the empty bus just to take you there.
Port Vila full day tour
Nguna Island
Half day Kayaking
Bridges of Eden and zip line
Island tour with BBQ and swimming with turtles
Efate Island Tour
Mele cascades
Honeymoon Beach
Underwater post office
Hideaway island
Local Food port vila Markets
Blue Lagoon (I paid 2000 vatu one way from downtown (Lucky I know) so def negotiate and hitchhiked back – wouldn't suggest doing it alone but as I was with another traveller we decided to give it a go and it was a success)

For the Nguna island hike, I was in the mood for adventure again and had the time. So I took the local bus 150 Vatu to Au Bon Marche Supermarket at Manples, then waited for another bus going to Emua Whraf (another 150 Vatu), once at the wharf, it's really your luck how much you will pay!
If there is no one then you may have to take the whole boat and the standard cost for that is 3000 vatu but if there are some locals or travellers then you are in luck and your price may vary depending on the number of people. For me there were 3 other people so it was 700 one way.
In case you are after some ease, here are some direct booking options from trusted get your guide:
Day trips
Assuming you decided to stay a week in Vila and after seeing all of the above and you have a spare day or two, it is a perfect opportunity to get out of Vila to see more of what Efate has to offer. You can even visit the outskirt islands Such as The Pele Islands, Moso Island, Lelepa, Eratap Island, Ifira Island, or Iririki island. Go snorkeling and diving or chase waterfalls and go on hikes.
If you don't feel like exploring alone, you can join any of the private or group tours below.
Tanna Island
Mt Yasur Volcano
Accessible active volcano
The easiest way to get around the country is to fly with Air Vanuatu. Once you arrive in town, you can either hire a car for exploring or use buses as locals do. For the tours, I recommend asking your hotel travel desk or booking online by DYOR.
Santo Island
Nanda Blue holes
Champagne Beach
Blue cave
Port Olry
I hope this Vanuatu itinerary for 1 week gave you an insight into traveling to Vanuatu alone or with others. Discover and experience the beautiful Pacific islands, Happy Travels!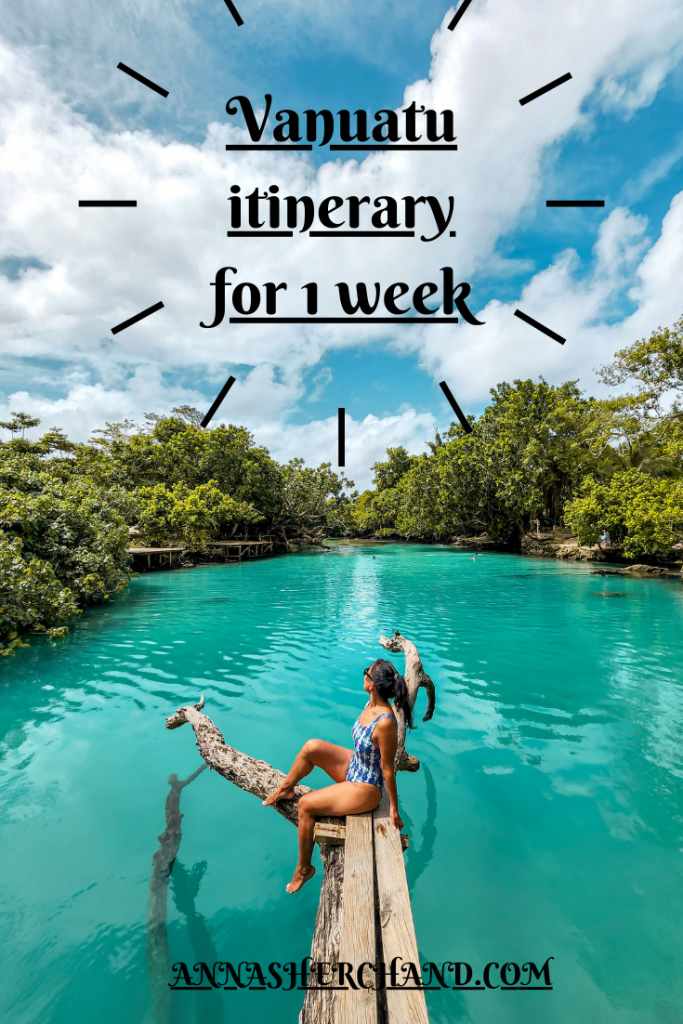 Let me know in the comments:
Vanuatu itinerary for 1 week