I can't wait to take you on a virtual journey to a place that often escapes the spotlight but certainly deserves your attention – Armenia, my 76th country! On my recent solo travel to Armenia, I added a unique twist to my travel tale. I opted to join a small group tour and trust me, it was a decision I won't soon forget. The beauty of the advice I'm about to share is that it's valid whether you're a solo wanderer or part of a travel squad. So, let's dive in and explore the land of ancient wonders together!
Armenia, a country steeped in rich history and culture, is famous for an array of remarkable attributes. It's renowned for being one of the world's oldest nations, with a heritage dating back thousands of years, making it a treasure trove for history enthusiasts. Armenia's claim to fame also lies in its captivating landscapes, from the serene shores of Lake Sevan to the dramatic peaks of Mount Ararat.
Moreover, it's a culinary paradise, celebrated for its delectable dishes such as dolma, lavash, and khorovats. The country's deep-rooted Christian traditions are exemplified by its stunning monasteries and churches, notably at Geghard and Etchmiadzin. And let's not forget the warm and welcoming Armenian people, who extend their hospitality to travelers with open arms, ensuring that visitors leave with hearts full of cherished memories.
This beautiful nation is nestled between Europe and Asia and is a place where you can explore centuries-old monasteries, hike in the rugged mountains, savor mouthwatering local cuisine, and connect with a culture that has stood the test of time.
With that said, Yerevan is the vibrant and historic capital city of Armenia, where the past seamlessly intertwines with the present, creating a city that's as lively as it is culturally rich. Located at the foot of the imposing Mount Ararat, it boasts a landscape of dramatic contrasts, where ancient churches, bustling markets, and contemporary architecture coexist.
Today in this blog post, I will be sharing travel tips to Armenia and a round-up of 10 must-see places in Armenia.
Solo travel to Armenia
I am on a mission to travel to all 193 countries in the world (but not in a race, more like in a slow and steady fashion) and so far have traveled to 76 countries on 5 continents solo! Crossing 70 was a big milestone I achieved earlier this year because I worked hard, saved, and did these trips, and feel the joy of sharing my travel tips here. I would appreciate it if you share this blog post or repin it.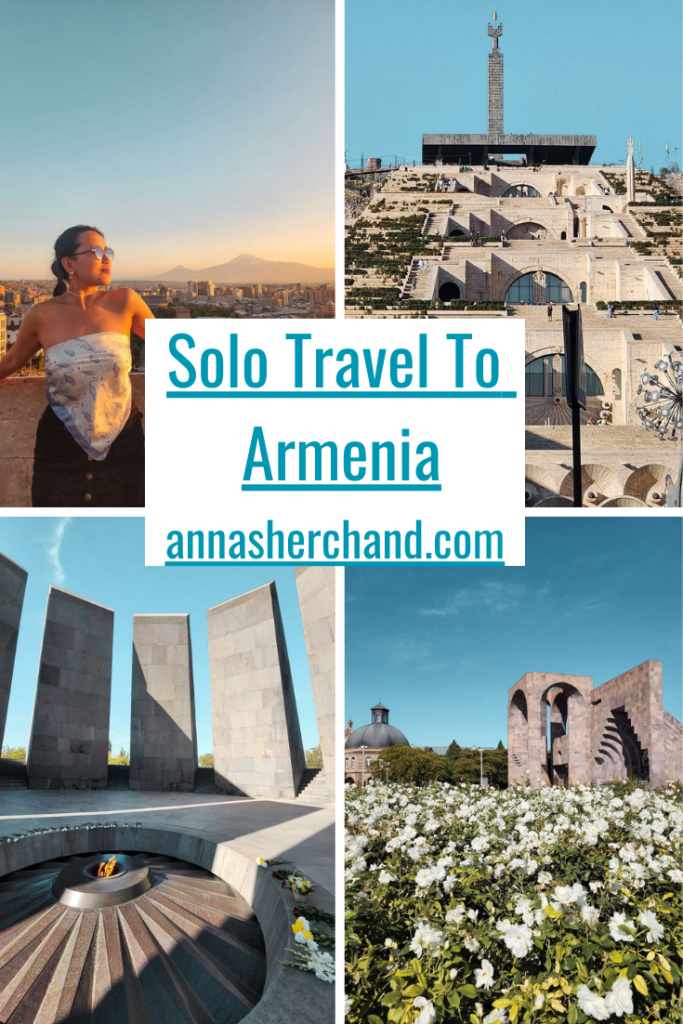 Travel tips to Armenia
1. How to get to Yerevan, Armenia
The flight duration to Yerevan, Armenia from Australia can vary depending on your departure location and ticket choices. There are no direct flights between the two countries, so your travel time will depend on layovers and connecting flights. I recommend checking flight options and costs through reputable platforms like Google Flights or Skyscanner. Once you find a suitable flight, consider booking directly with the airline for a seamless experience.
If you're planning to travel to Yerevan, Armenia from Georgia, you have the option to cross the land border. The journey by land offers a unique and scenic experience. To make this trip, you'll want to consider the following:
Border Crossing Point: There are several border crossing points between Georgia and Armenia. One of the commonly used ones is the Bagratashen-Sadakhlo border checkpoint. Be sure to check the current status and any entry requirements for the specific border point you plan to use.
Transportation: You can typically find shared taxis, buses, or private transfers that operate between Tbilisi, Georgia, and Yerevan, Armenia. These services can take you from one capital to the other, with a stop at the border for the necessary immigration and customs procedures. I was with the tour so they arranged everything from my 7 days itinerary in Georgia to Armenia.
Visa and Documentation: Make sure to have the appropriate visas for both Georgia and Armenia, if required based on your nationality. Also, have your passport, travel insurance, and any necessary documents ready for the border crossing.
Travel Time: The travel time can vary based on the specific border checkpoint and road conditions. Typically, the journey can take around 5-7 hours, so be prepared for a full day of travel.
Scenic Views: Along the way, you'll be treated to stunning views of the South Caucasus region. Don't forget your camera to capture the picturesque landscapes.
Crossing the border from Georgia to Armenia is an adventure in itself, and it's an excellent way to explore the diverse cultures and landscapes of the South Caucasus.
2. How to get a local SIM card in Armenia
I used Australian Vodafone roaming for $5 a day when I needed to run important banking tasks. The rest of the time, I just used free WIFI offered at the hotels, or restaurants because I like to travel without being constantly on the phone. Plus I was on a tour most days so just didn't feel the need.
That being said, acquiring a local SIM card in Armenia is a breeze if you would like to stay connected during your visit. Here's a straightforward guide to get you started:
Visit a Mobile Provider Store: Head to one of the local mobile provider stores in Armenia. Some of the major telecom companies in the country include VivaCell-MTS, Beeline, and Ucom. You can easily find their stores in cities and towns.
Choose a Package: These providers typically offer a variety of prepaid SIM card packages to suit your needs. These packages often include data, call minutes, and text messages. Make sure to pick a plan that aligns with your data and communication requirements. For example, Beeline offers tourist SIM cards starting from Armenian Dram (AMD) 1,000 with various data, call, and SMS packages available. ViviaCell's tourist package costs AMD 2,000 and includes 10GB of internet, 1,000 on-net minutes, and 100 SMS.
Identification and Registration: Be prepared to present your passport for identification and registration purposes. This is a standard procedure for purchasing a SIM card in Armenia.
Insert the SIM Card: Once you've obtained your SIM card and chosen your package, the store staff will assist you in inserting the card into your phone. They can also help you set up your device if needed.
Top-Up Your Balance: Most stores offer options for topping up your balance, or you can do this at ATMs, convenience stores, or online using your credit card.
Enjoy Connectivity: You're all set! Your new local SIM card will provide you with data, call minutes, and text messages, allowing you to stay connected and explore Armenia with ease.
3. How to get around Armenia
Getting around Armenia is relatively straightforward, and there are various transportation options to explore this beautiful country. Here's how to navigate Armenia:
Yerevan Metro: Yerevan, the capital city, has a single-line metro system that connects major areas. It's an efficient and cost-effective way to travel within the city.
Public Buses: Yerevan and other major cities have a network of public buses. They are a budget-friendly option for moving around urban areas.
Minibuses (Marshrutkas): Marshrutkas are shared minivans that operate on specific routes in cities and rural areas. They are a flexible and affordable way to travel, although they can get crowded.
Taxis: Taxis are readily available in cities like Yerevan. You can hail one on the street or use ride-sharing apps. Be sure to negotiate the fare before starting your journey or use a metered taxi.
Car Rentals: Renting a car is an option if you want more freedom to explore remote regions. However, be prepared for varying road conditions and driving standards.
Trains: Armenia has a limited but scenic railway network that connects Yerevan to Gyumri and the Georgian border. Trains offer a relaxed way to enjoy the landscape.
Domestic Flights: While Armenia is a small country, there are domestic flights connecting Yerevan with Gyumri and other cities. These flights are a convenient option for covering long distances quickly.
Cable Cars: In some mountainous regions like Tatev, Wings of Tatev is the longest reversible aerial tramway in the world, providing access to spectacular views.
Walking: Many cities and towns in Armenia, especially Yerevan, are pedestrian-friendly. Walking is a great way to explore and soak in the local culture.
Bicycles: Some cities are becoming more bike-friendly with dedicated lanes, and you can find bike-sharing services in Yerevan.
Tourist Shuttles: In tourist areas, you may find shuttle services that cater to travelers, making it easier to reach popular attractions.
Remember that while getting around Armenia is relatively straightforward, it's essential to plan your routes and transportation methods in advance, especially if you're heading to remote regions. Also, consider the varying road conditions and be prepared for a mix of modern and traditional transportation options. Alternatively, if you are on a tour like I was, all logistics would be taken care of.
4. Useful Apps
While traveling in Armenia, you can enhance your experience and make your journey more convenient with the help of several useful mobile apps. Here are some essential apps to consider:
Yandex.Taxi: This ride-sharing app is widely used in Armenia and allows you to book taxis quickly and efficiently. It's a great option for getting around the city.
GG: GG is a local ride-sharing app similar to Uber, which offers safe and reliable transportation services in Yerevan and other major cities. Or try Bolt that worked for me too.
Yerevan Metro: If you plan to use the Yerevan Metro, this app provides information about the metro system, including maps and schedules.
Menu.am: If you're looking for food delivery or restaurant options in Yerevan, Menu.am is a handy app that allows you to order food and explore local dining choices.
GGFood: Another food delivery app, GGFood, lets you order from a variety of restaurants and cafes in Yerevan.
Yandex.Maps: Yandex.Maps is a reliable navigation app that provides detailed maps and directions for various cities in Armenia. It's a valuable tool for getting around.
Armenian Keyboard: If you don't speak Armenian but need to type in the local language, consider installing an Armenian keyboard app for easier communication.
Armenian Currency Exchange: This app provides up-to-date information on currency exchange rates, which can be useful for managing your finances while traveling.
Google Translate: To bridge any language barriers, Google Translate is a valuable tool. It offers translation between Armenian and your native language.
Currency Conversion Apps: Any currency conversion app, such as XE Currency or OANDA Currency Converter, can help you manage finances and calculate exchange rates.
WhatsApp and Viber: These messaging apps are widely used in Armenia for communication, so having them on your phone can be helpful for staying in touch with locals and fellow travelers.
Google Maps: You can download offline map of places you are going to beforehand
Remember to download and install these apps before your trip to ensure a smooth and connected experience while exploring Armenia.
5. Is Armenia Safe for solo female travelers?
Armenia can generally be considered safe for solo female travelers, it has a low crime rate, and violent crime is rare. Travelers often report feeling safe and welcome in Armenia but it's important to exercise caution and take necessary precautions, as with any travel destination. Here are some factors to consider:
Use Reputable Accommodations: Choose well-reviewed and reputable accommodations for your stay. This can enhance your safety and provide a reliable home base during your trip.
Stay Aware of Your Surroundings: Like in any destination, it's essential to stay aware of your surroundings. Be cautious when walking alone at night and avoid poorly lit or deserted areas.
Use Licensed Transportation: When using taxis or ride-sharing apps, ensure you're using licensed and well-established services. Always negotiate the fare or use the meter before starting your journey.
Trust Your Instincts: If something doesn't feel right, trust your instincts and remove yourself from the situation. It's always better to err on the side of caution.
Secure Your Belongings: Keep your belongings, such as passports, money, and electronics, secure in your accommodation or use a money belt while on the go.
Local Contacts: Establish local contacts or friendships if possible. Locals can provide valuable insights and assistance during your trip.
Cultural Sensitivity: Show respect for local customs and traditions, especially when visiting religious or cultural sites. This helps you to blend in and fosters positive interactions.
Learn Some Local Phrases: While many people in Armenia, especially in urban areas, speak English or Russian, learning a few basic Armenian phrases can be helpful and appreciated by the locals.
6. Good to know
Currency = Armenian Dram (AMD)
Capital City = Yerevan
Official Language: Armenian
Population: Approximately 2.97 Million (2021)
Time zone: GMT+4
Driving side: Right
Calling code: +374
In the Armenian language

Hi/Hello = Բարև (Barev)
Yes = Այո (Ayo)
No = Ոչ (Voč)
Or use the Russian Da or Nyet.
Thank you = Շնորհակալ եմ (Shnorhakal em) – Pronounced as "sh-nor-ha-kal em"
You are welcome = Խնդրում եմ (Khndrum em) – Pronounced as "khn-drum em"
See you = Ցտե (Cʿte) – Pronounced as "tse-te"
Good morning = Բարի առավ (Bari arav) – Pronounced as "ba-ree a-rahv"
Good evening/good night = Բարի գիշեր (Bari gisher) – Pronounced as "ba-ree gi-shehr"
Where is the hotel? = Հյուրանոցը ուրեցից ի՞նչ է (Hyuranocʿy urəcʿicʿ iǰnačʿ ē) The pronunciation is as follows: "Hyuranocʿy ur-ets-ets iǰ-na-ch ē"
7. Where to stay in Armenia?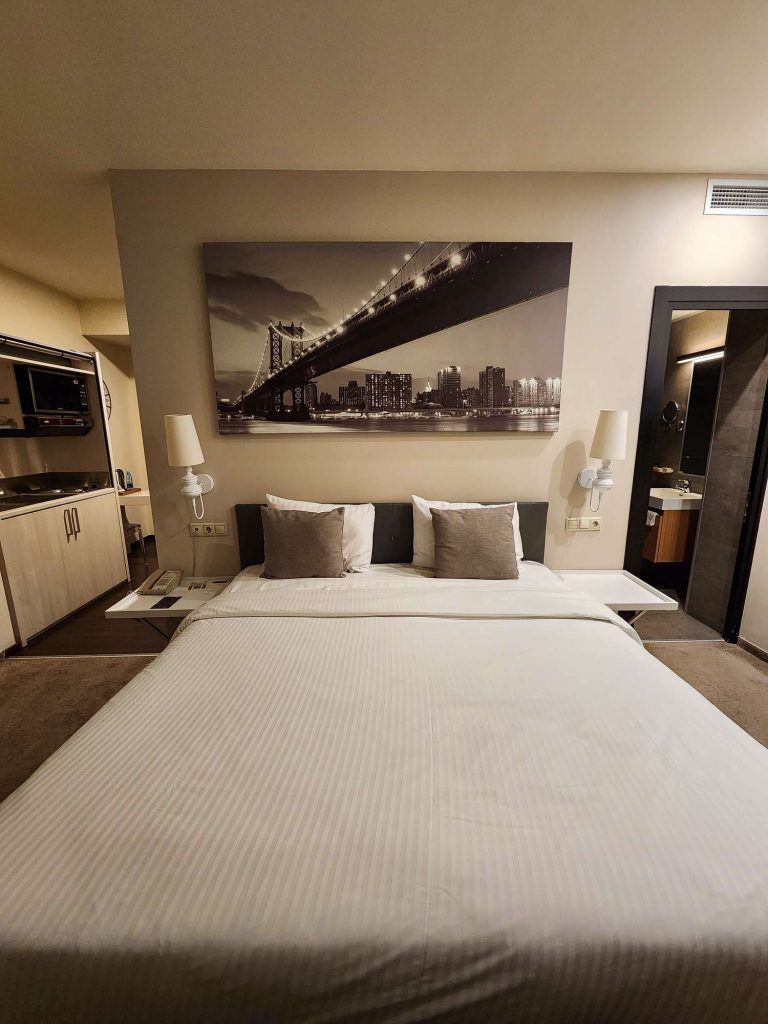 During my visit to Yerevan, I had the pleasure of staying at the Opera Hotel Suite, a fantastic choice for travelers. The Opera Hotel Suite is conveniently located, and it's within walking distance of must-see places in Yerevan, including the famous Cascade Complex.
I opted for the Luxury Suite, and I must say it was incredibly spacious. The room featured a large double bed with a stunning view of the Cascade, a comfortable couch, two TVs, and an ensuite bathroom. The daily housekeeping service ensured the room was always tidy, and they provided complimentary water. One of the highlights was the buffet breakfast, which offered a delightful selection of fresh croissants, a variety of bread, jams, cheese, hot dishes, fruits, cereals, tea, coffee and more. I am sharing all the daily stories on Instagram so check them out.
The hotel staff, particularly at the reception desk, were exceptionally helpful and welcoming, adding to the overall positive experience of my stay. I highly recommend the Opera Hotel Suite for your visit to Yerevan. It's an excellent choice for a comfortable and enjoyable stay./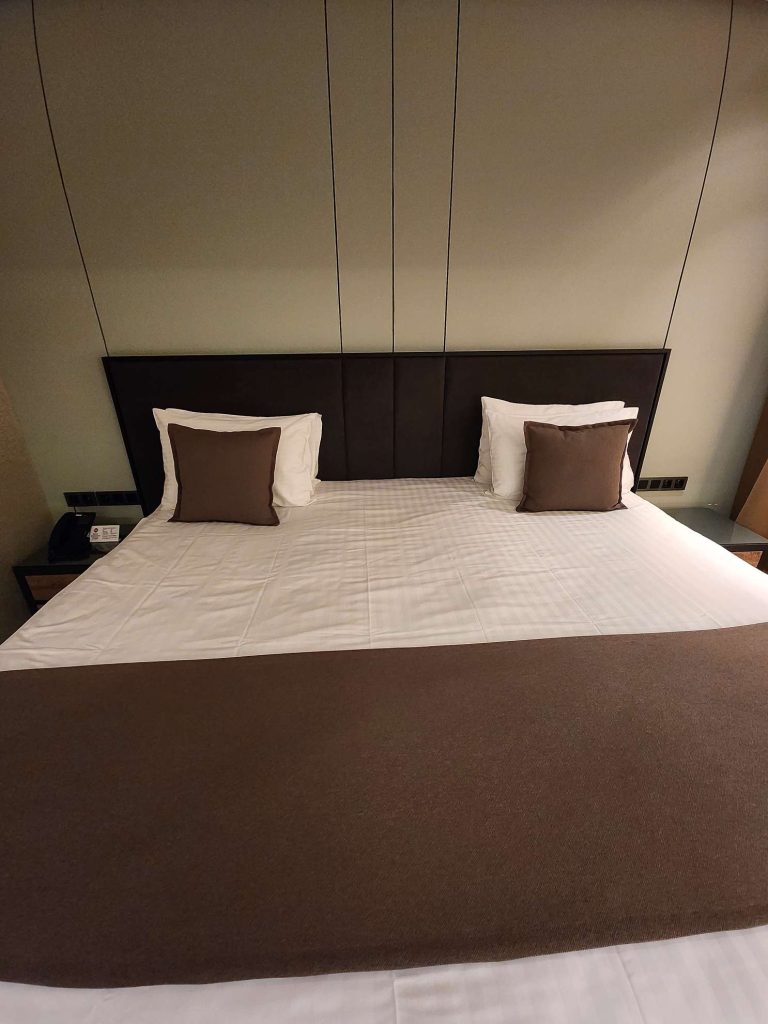 Another hotel I stayed at is Best Western Paradise in Dijian
Located in the picturesque town of Dilijan, the Best Western Paradise offers a peaceful and comfortable retreat in the heart of nature. The hotel is an excellent choice for those looking to explore Dilijan's lush forests, historic monasteries, and the breathtaking Dilijan National Park.

Also, this hotel had such elaborate breakfast, with many choices and 3 different indoor and outdoor pools with a spa, sauna, and massage.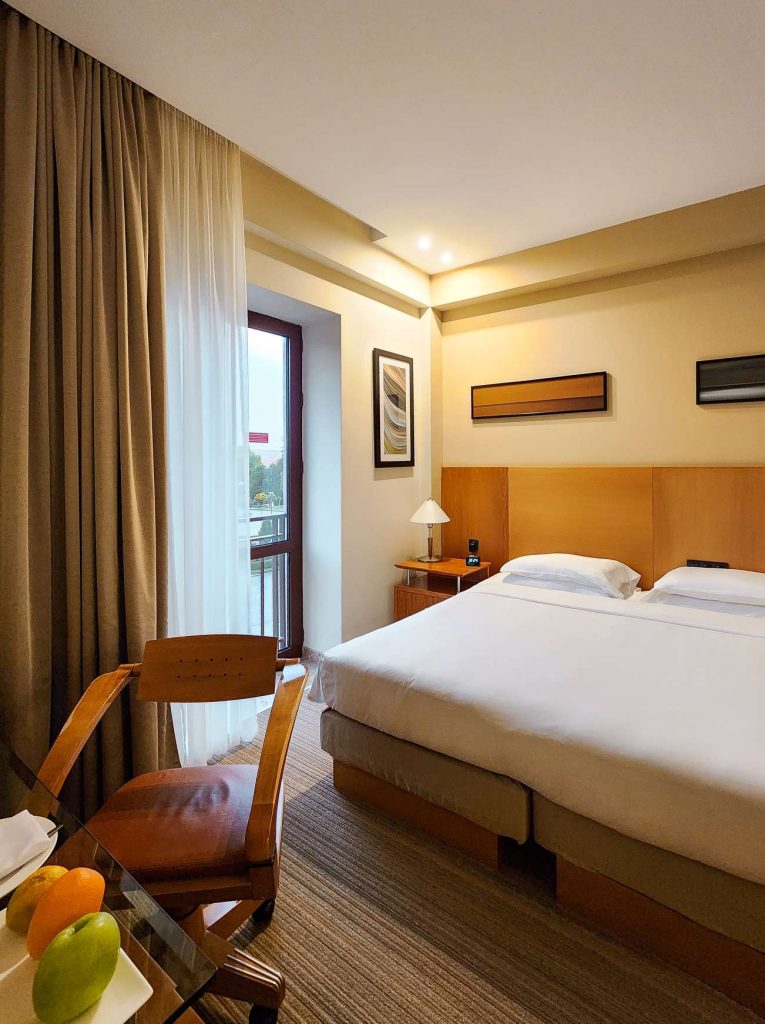 If you're planning to visit the spa town of Jermuk, the Grand Resort Hotel is a top pick. Nestled amid the stunning landscapes of Jermuk, this hotel provides a relaxing and rejuvenating experience with its spa facilities and beautiful surroundings. My room was spacious with a balcony plus fresh fruits on arrival were a nice touch.
Their breakfast was also welcoming and complementary tea was throughout the stay. Dinner was mostly Western food available which was a nice change for me as had been eating mostly Armenian food.
Whether you're exploring Yerevan, experiencing the natural beauty of Dilijan, or unwinding in the therapeutic hot springs or cool waterfalls of Jermuk, these hotels offer great options for a comfortable and memorable stay in Armenia.
8. When is the best time to visit Armenia
The best time to visit Armenia depends on your preferences and the type of experience you're seeking:
Spring (April to June): Spring is a fantastic time to visit Armenia. The weather is mild, and nature comes to life with blooming flowers and lush green landscapes. It's an excellent season for hiking, exploring, and enjoying outdoor activities.
Summer (July to August): Summer is the peak tourist season with warm and dry weather. It's an ideal time for outdoor adventures, and many festivals and events take place during this period. Just be prepared for larger crowds and higher prices.
Autumn (September to November): Autumn offers pleasant weather with cooler temperatures and beautiful fall foliage. It's a great time for sightseeing, and you can enjoy the harvest season with fresh fruits and local produce.
Winter (December to February): Winter is the best time for skiing and winter sports in Armenia. The country's ski resorts come to life, and you can enjoy the snow-covered landscapes. Just remember that some mountainous areas may be challenging to access due to heavy snowfall.
Ultimately, the best time to visit Armenia depends on your interests. If you prefer milder weather and outdoor activities, spring and autumn are ideal. Summer is perfect for festival-goers, while winter is a must for snow sports enthusiasts.
9. How many days in Aremina is enough?
When it comes to Armenia, the ideal duration of your trip depends on your travel goals and interests. While I always encourage going with the flow, having a rough idea of what you want to experience can help you plan better.
In Armenia, I would recommend a minimum of 5-6 days to truly appreciate the country's highlights and cultural richness. During this time, you can explore Yerevan, visit historical sites, enjoy the stunning landscapes, and even venture into the countryside. If you have more time, say 10 days, you'll have the opportunity to delve deeper into Armenia's history, experience more remote areas, and savor its diverse cuisine.
However, if you aim to immerse yourself fully in the culture, engage in extensive hiking or outdoor activities, and explore Armenia's hidden gems, I'd recommend dedicating at least 2 weeks to your solo adventure. This allows you to cover the major cities, iconic landmarks, and still have the flexibility to venture off the beaten path.
So, whether you have 5 days or 2 weeks, Armenia offers a diverse range of experiences for all types of travelers. The key is to align your time with your travel aspirations and make the most of your journey.
10 must-see places in Armenia
I did Solo travel to Armenia with the Arara tour and if you would like to book the same tour or a private tour or group Armenia tours check them out. For private tours, if you prefer men or women guides, or stay in 3 or 4-star hotels they can arrange it all for you. And sometimes they have promotions too, so good luck! Now, without further ado, let's begin 10 must-see places in Armenia
1. Explore the vibrant capital city of Yerevan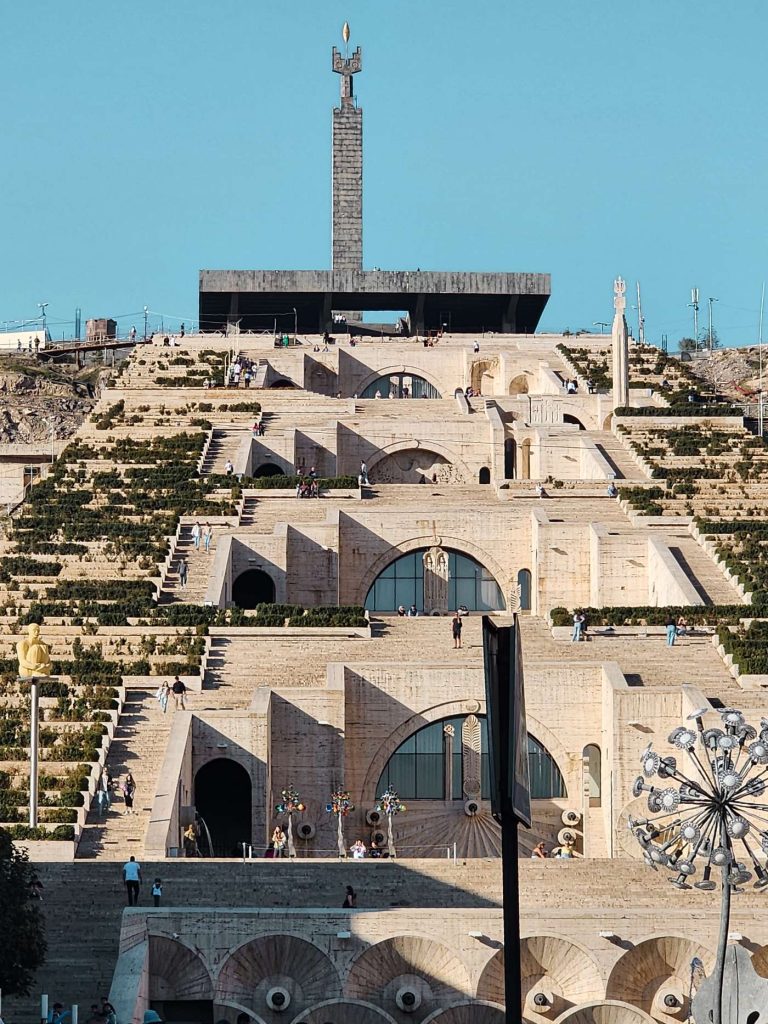 Yerevan is a city that invites exploration, whether you're strolling through its open-air markets, visiting ancient monasteries, or engaging with its friendly and hospitable people. It's a destination where history, culture, and hospitality come together to create an unforgettable experience.
Highlights in Yerevan, including Republic Square and the Cascade Complex
Republic Square's grand architecture and musical fountains
The iconic Cascade Complex with its outdoor art installations and fantastic views
The Cafesjian Center for the Arts, a modern art museum nested within the Cascade Complex
2. Geghard Monastery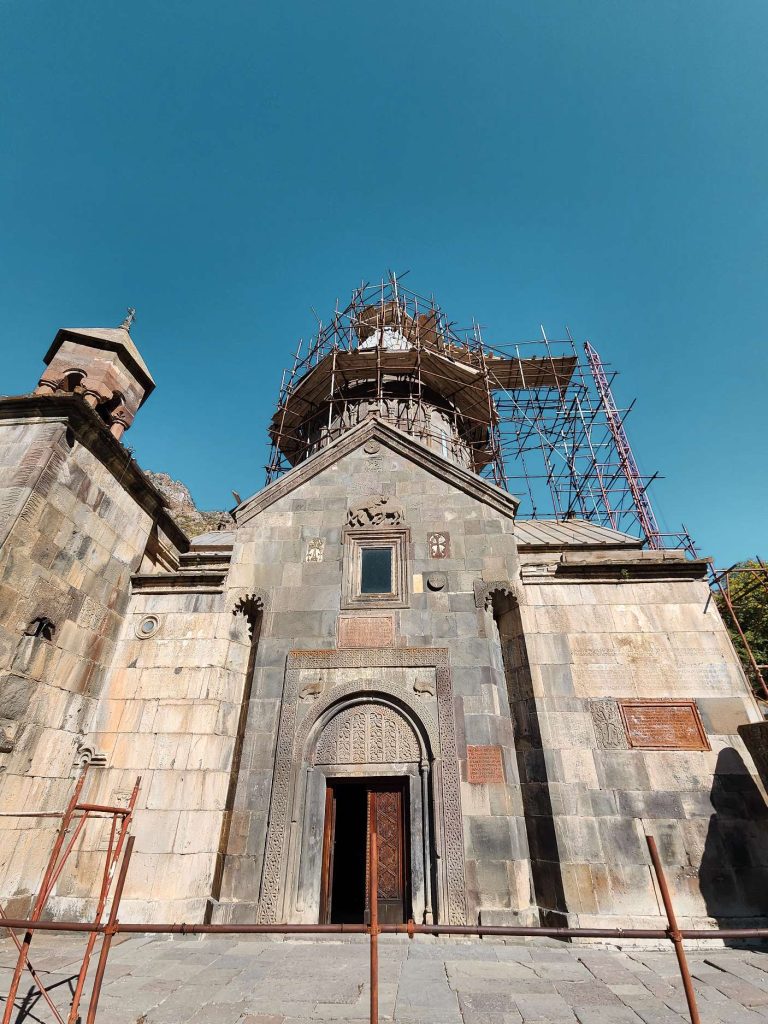 Discover the ancient cave monastery of Geghard, a testament to Armenia's spiritual heritage. Carved into the rock, this complex offers a unique blend of architecture and nature, making it a captivating site for exploration.
Learn about its UNESCO World Heritage status, recognizing the historical and cultural significance of Geghard Monastery. Delve into the tales of its founding and the legends that shroud this ancient marvel.
3. Garni Temple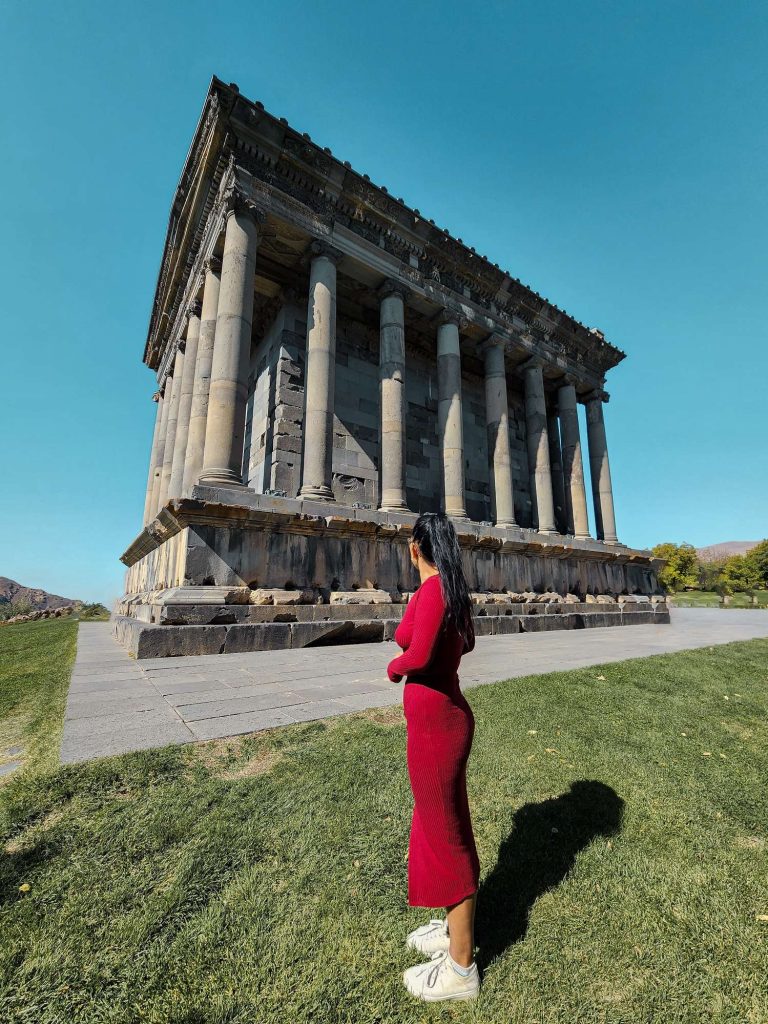 Visit the well-preserved pagan temple of Garni, a remarkable relic of Armenia's pre-Christian history. This ancient structure stands as a testament to the country's rich cultural heritage, offering insights into the beliefs and practices of its early inhabitants.
Explore the stunning surroundings and enjoy the views as you wander through Garni's picturesque landscape. The temple's perch atop a scenic gorge provides a breathtaking backdrop for your journey, and the ambiance is a perfect blend of history and natural beauty.
4 Symphony of Stones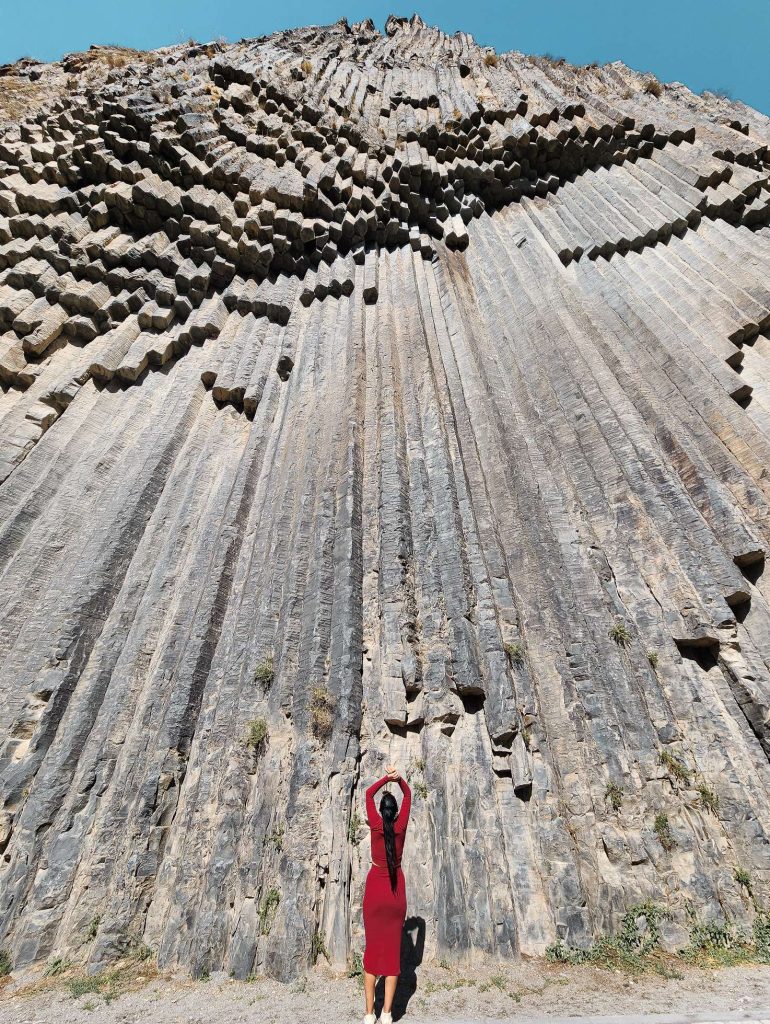 Experience the natural wonder of the Symphony of Stones, a geological marvel in Armenia's Garni Gorge. This extraordinary formation of basalt columns creates a breathtaking sight, resembling a symphony frozen in stone.
Take in the mesmerizing patterns and shapes of the basalt columns and discover the unique formations that have captivated visitors for generations. The Symphony of Stones is a testament to the Earth's artistic prowess and a must-see destination for those seeking natural beauty.
5. Echmiadzin Cathedral (Armenian Vatican)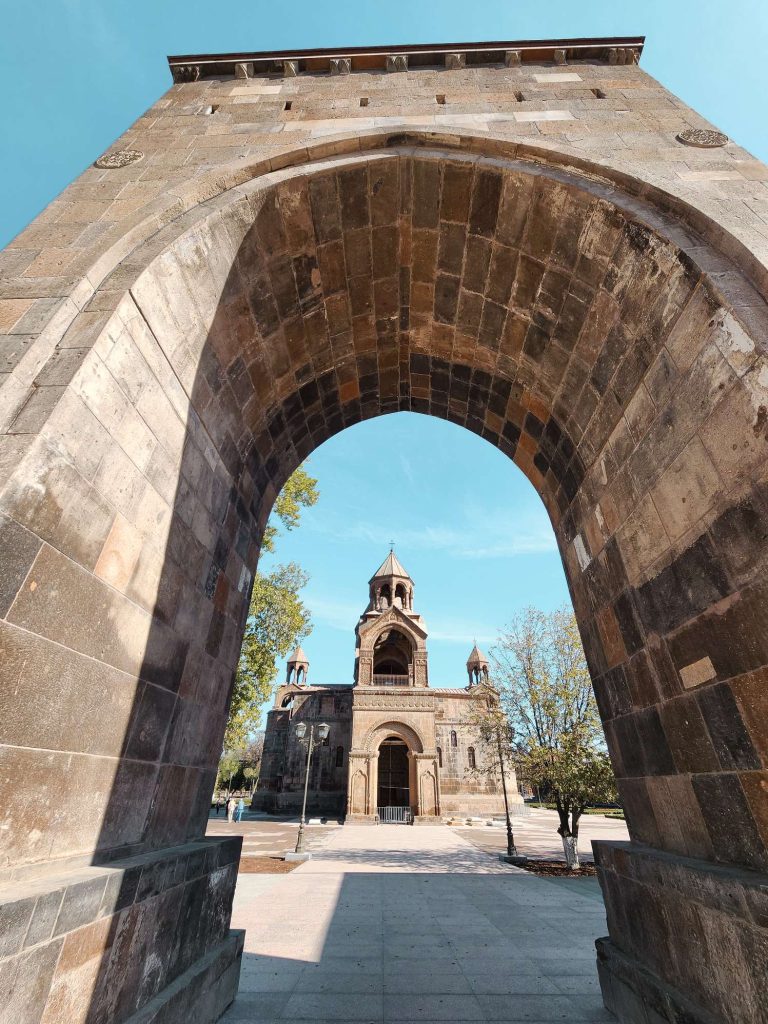 Visit the Echmiadzin Cathedral, often referred to as the Armenian Vatican. This grand spiritual center is not only the heart of the Armenian Apostolic Church but also a UNESCO World Heritage site, known for its historical and religious significance.
Explore the sacred grounds and the cathedral's majestic architecture, which has played a pivotal role in Armenia's religious history. Echmiadzin Cathedral is a place of pilgrimage and spirituality, making it a vital part of Armenian culture and heritage.
6. Genocide Museum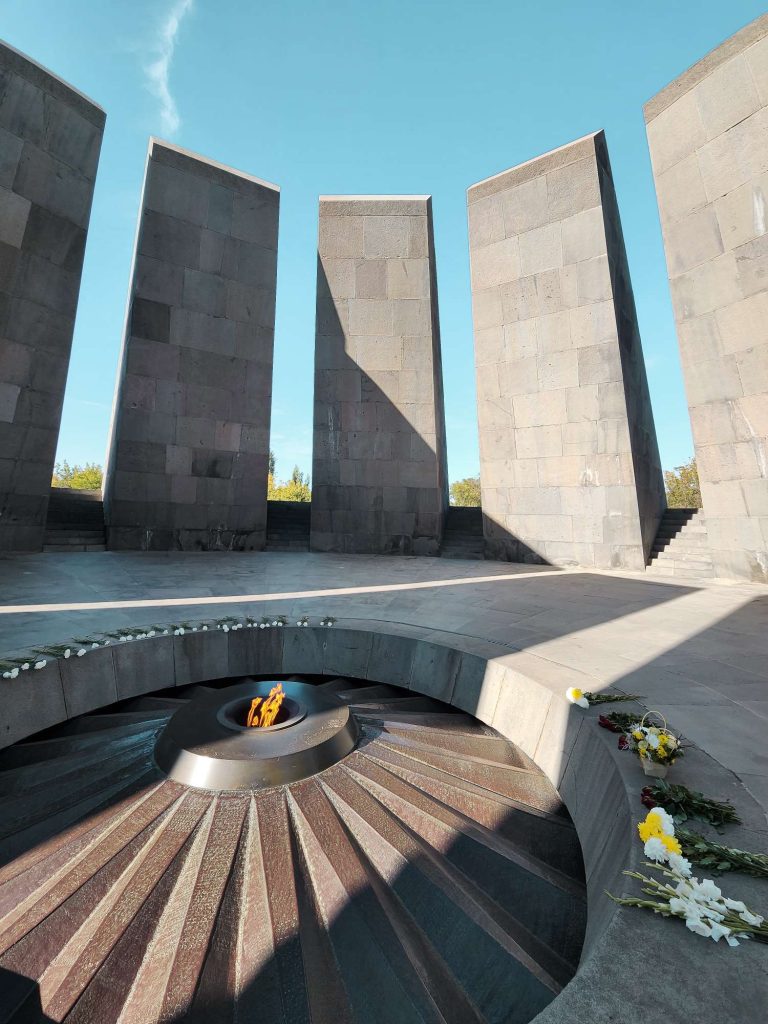 Pay your respects at the Genocide Museum, a solemn reminder of the Armenian Genocide. This poignant site serves as a tribute to the lives lost and the resilience of the Armenian people in the face of tragedy.
Gain a deep understanding of history and its importance as you explore this museum. The Armenian Genocide is a critical chapter in the nation's story, and acknowledging this historical event is vital to promoting peace, understanding, and empathy in today's world.
7. Tatev Monastery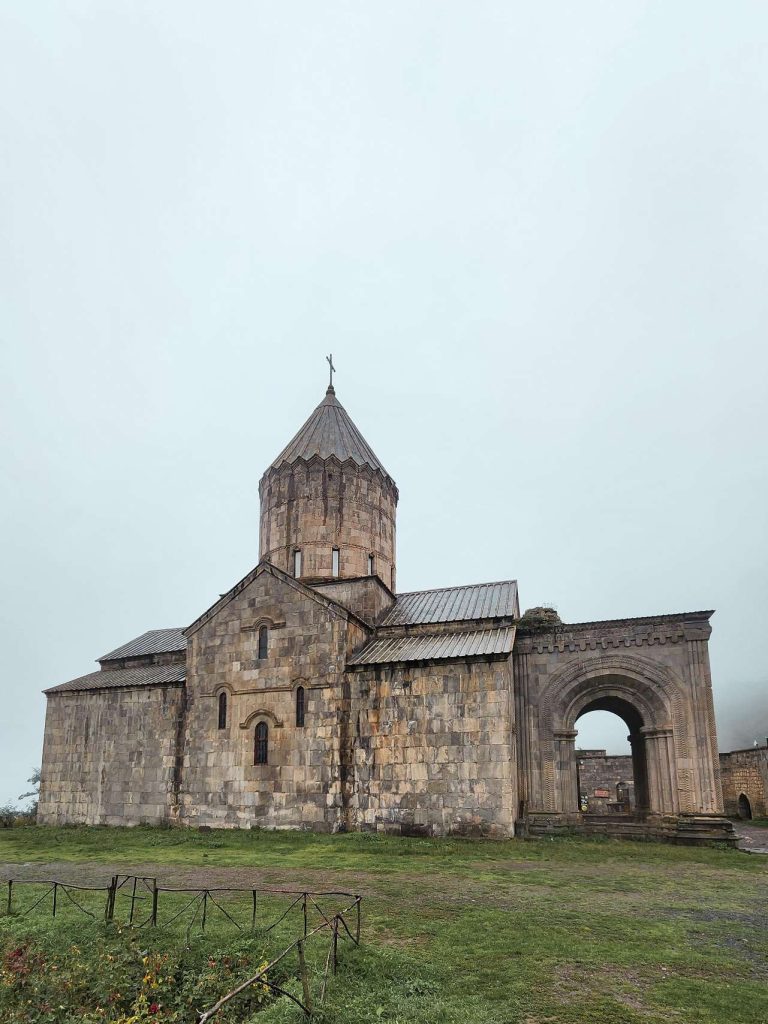 Go on a journey to Tatev Monastery a pearl of Armenian Medieval architecture, on the Wings of Tatev, one of the world's longest cable car rides. This exciting aerial tramway not only transports you to a historic site but also provides stunning aerial views of Armenia's dramatic landscapes.
Experience the breathtaking cable car ride as it stretches over the 320-meter-deep Vorotan River Canyon, leading you to the historic site of Tatev Monastery. Explore the spiritual and cultural significance of this ancient destination, uncovering its stories and marveling at its architectural wonders.
8. Jermuk Waterfalls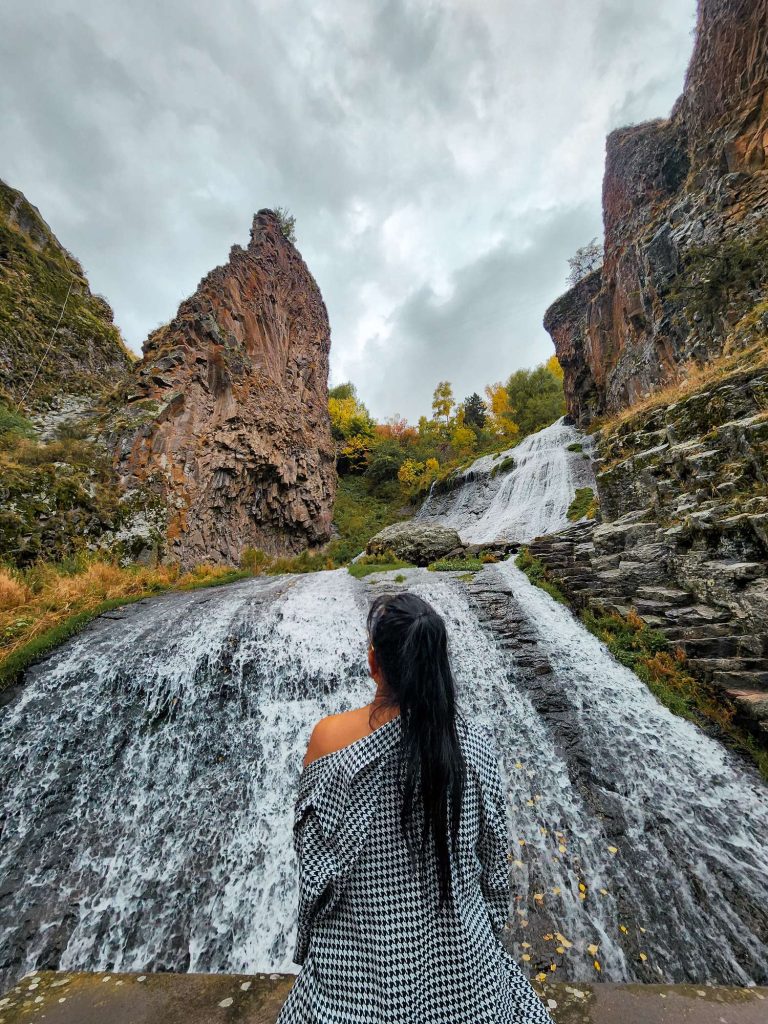 Immerse yourself in the natural beauty of Jermuk Waterfalls, a series of cascades nestled in the pristine landscapes of Armenia. This enchanting location offers a refreshing retreat for those seeking both relaxation and adventure.
Explore the trails leading to Jermuk Waterfalls and enjoy the sights and sounds of these picturesque natural wonders. The soothing rush of water and lush greenery create a serene environment for visitors to savor. If you have more time, head to nearby Dilijan National Park to see the beauty of Dilijan's lush forests and natural wonders. Visit the Haghartsin Monastery and Lake Parz
9. Lake Sevan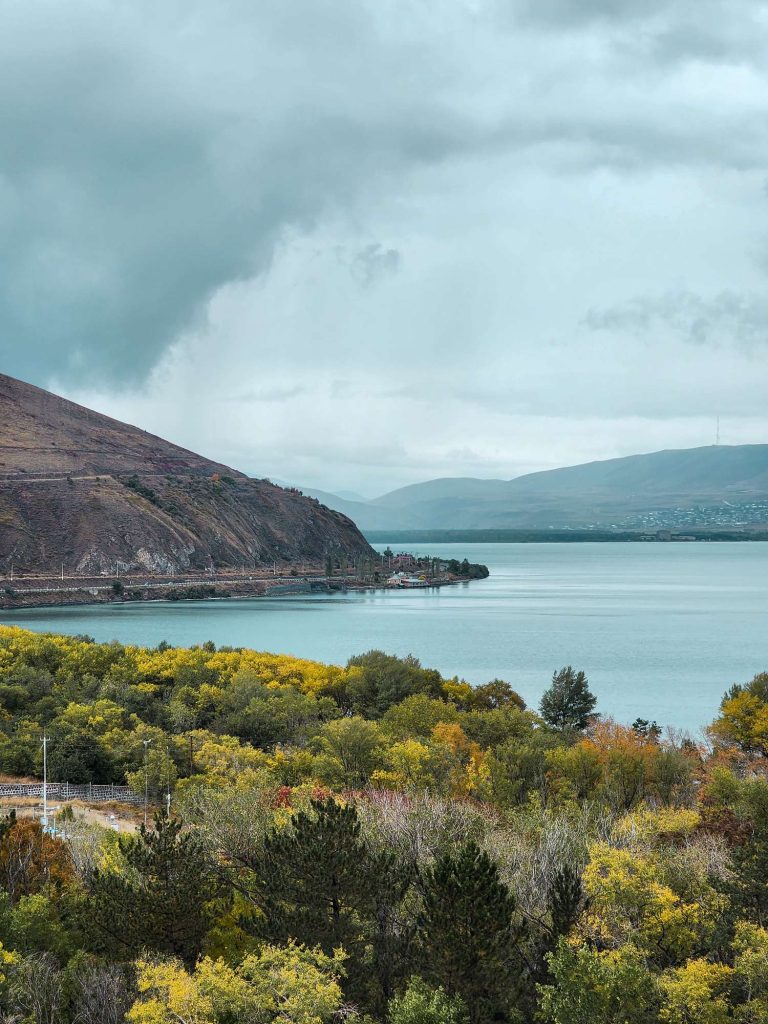 Head to the "Jewel of Armenia," Lake Sevan, a serene high-altitude lake that graces the country's landscape. Its crystal-clear waters and the surrounding mountains create a breathtaking setting for relaxation and exploration.
Relax on the lake's shores and visit the Sevanavank Monastery, perched on one of Sevan's peninsulas. This historic site offers not only cultural insights but also panoramic views of the lake, making it a must-visit destination.
10. Haghpat and Sanahin Monasteries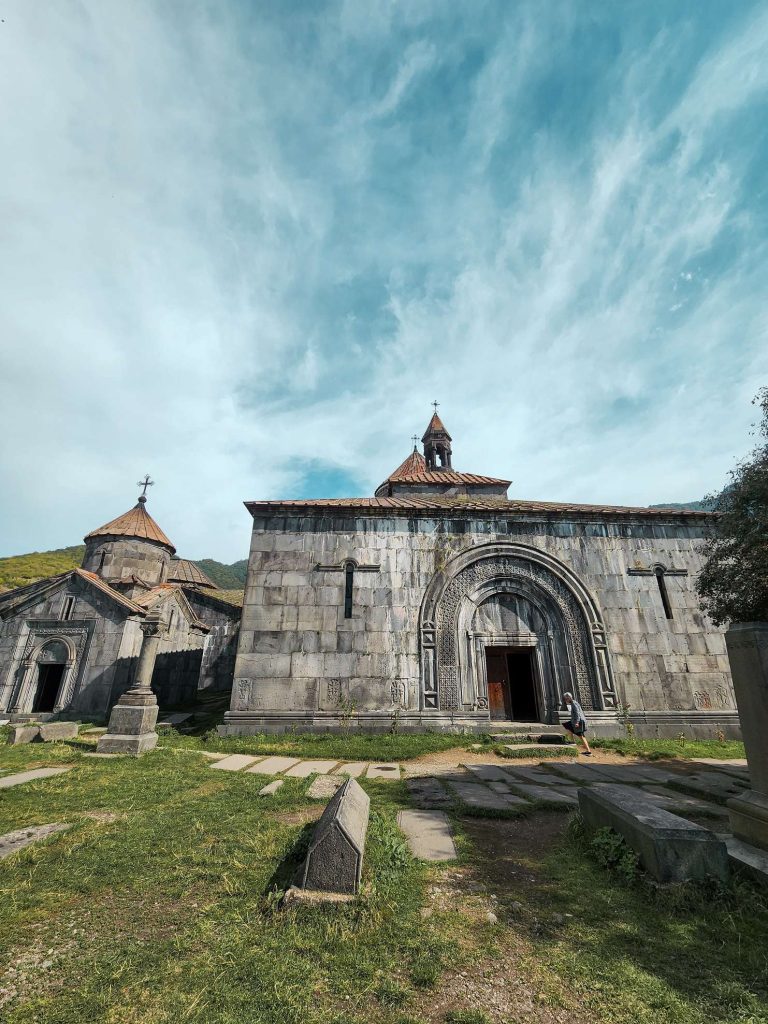 Embark on a historical journey to explore the monastic complex of Haghpat, a UNESCO World Heritage site. This architectural marvel is a testament to Armenia's rich cultural and religious heritage.
Continue your adventure by discovering the neighboring Sanahin Monastery, another remarkable religious site that showcases the exquisite craftsmanship and spiritual significance of Armenia's medieval monasteries. 2nd pic is at St. Maria of Akhtala
Bonus – Panoramic Views of Mount Ararat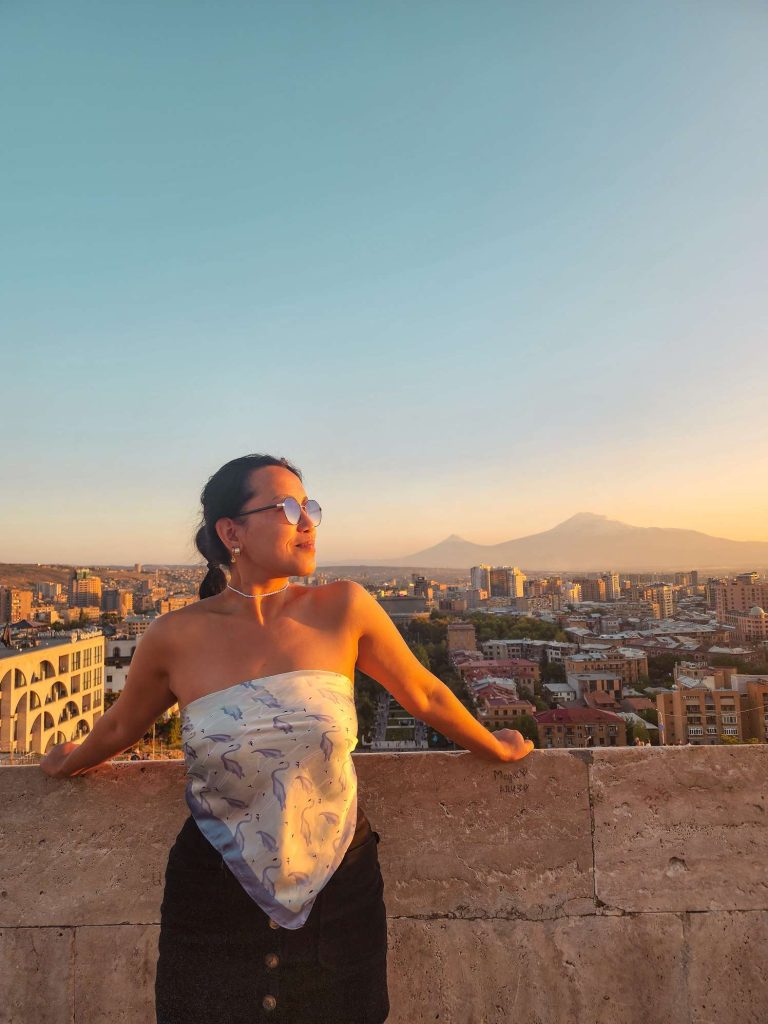 Enjoy breathtaking panoramic views of Mount Ararat, an iconic and majestic peak that holds immense cultural and historical significance. The best vantage points for these awe-inspiring views can be found at the Cascade Complex in Yerevan or along the scenic road that winds through the Armenian landscapes.
As you stand atop the Cascade Complex, a monumental stairway adorned with contemporary art and lush gardens, you'll be treated to an unobstructed sight of Mount Ararat. Its snow-capped summit rises dramatically in the distance, creating stunning pictures against the vibrant cityscape of Yerevan.
Alternatively, as you venture along the picturesque roads of Armenia, you'll encounter numerous spots where Mount Ararat graces the horizon. Each viewpoint offers a different perspective so it doesn't have to be Khor Virap, allowing you to witness the ever-changing play of light and shadow on the mountain's slopes. These views of Mount Ararat are not just visual feasts but also powerful reminders of Armenia's rich cultural heritage and the enduring spirit of its people.
I hope my solo travel to Armenia with a twist gave you enough insight and inspiration to travel Armenia yourself. Safe Travels!
Let me know in the comments:
If you have any questions about Solo travel to Armenia
7 days itinerary in Georgia
4 days in Azerbaijan itinerary
Philippines itinerary for 10 days
9 days in Guatemala
Solo border crossing from Guatemala to Punta Gorda Belize
2 Days in Punta Gorda, Belize
How to cross the border from Belize to Honduras
Solo female travel to Copan Ruins Honduras
Solo border crossing from Honduras to El Salvador
3 Days in El Salvador
Border crossing from El Tunco El Salvador to Leon Nicaragua
7 days in Nicaragua solo travel
Granada Nicaragua to San Jose Costa Rica border crossing
3 Days in Costa Rica Travel Guide
Puerto Viejo Costa Rica to Bocas Del Toro Panama Border Crossing
7 days in Nicaragua solo travel
Granada Nicaragua to San Jose Costa Rica bus
7 days backpacking in Ecuador itinerary
5 days in Oaxaca itinerary
2 days in Mexico City itinerary
Best places to visit from Split
2 days in Split, Croatia
Solo traveling to Mostar
Solo female travel to Kotor
Best places to visit from Split
2 days in Split, Croatia
Solo traveling to Mostar
Solo female travel to Kotor
Solo female travel to Budva
Solo female travel Albania
Warsaw by Train covers warsaw travel tips
Check out One day in Luxembourg, western Europe
Day trip from Zurich to Liechtenstein
Travel tips to South America
Fiji solo travel guide
Australia east coast must-see
Backpacking in Melbourne, Australia
Digital nomad guide to Melbourne
14 best area to stay in Melbourne CBD
Master Sydney travel guide
Solo travel guide to Brisbane
Exploring Adelaide the best way is a must-read
Important travel tips for Uluru trip
Melbourne day trips in winter
Day Hikes in Melbourne
Weekend getaway? Check out things to do in Ballarat
Perth solo itinerary
Top 5 must do in Darwin, Australia
How to go from Dublin to Howth
Solo female travel Romania
Read a recent day trip to Zaanse Schans from Amsterdam
How about a solo itinerary to Canberra– Australia's capital city?
Solo trip to Peru, travel tips to South America
Alternatively, book another accommodation through a trusted site such as booking.com
I have handy travel resources right here. Save money, learn what and how.
If you like this article, feel free to read about me – a Nepali Australian travel blogger, follow my adventures on Instagram, Facebook, YouTube, Twitter, and Pinterest, but most importantly sign up to my e-mail list to keep up with updates and travel posts.