Walking is really a 'hobby gone wild' for me, especially during this pandemic. In the past 18 months, I have spent every chance being in nature around Melbourne, Victoria. So if you are looking for some of the best walks in Dandenong ranges, continue reading as I start with the shortest and also give you one big 20KM one.
Melbourne also knowns as Naarm identifies with the Wurundjeri people who are the traditional owners of the land where the Yarra River runs.
From Melbourne city, it takes about an hour's drive and 1:30mins on public transport to get to Dandenong ranges. It is home to lush rainforests, waterfalls, bubbling creeks, and some of the world's tallest trees. With mountains around it, it also gives you that feeling of being far away from the city.
Dandenong Ranges National Park was the first national park I went to when I moved to Melbourne and I absolutely enjoy going back and again and recommend it. Some walks/hikes here can easily be done in a day whereas some take a bit of planning such as starting early so you can hike the whole length of the trail but of course, nobody's stopping you from returning halfway.
Without further ado, let me share
10 best short walks in the Dandenong ranges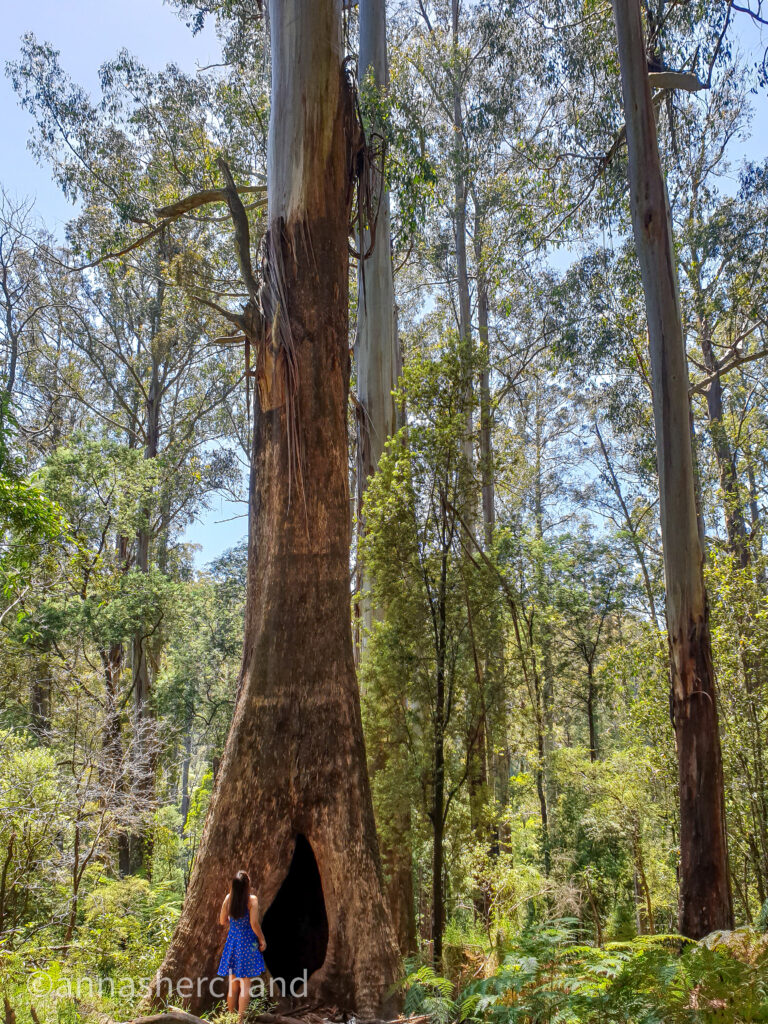 1. Hardy Gully Nature Trail – 700m
This is one of the shortest trails in the Dandenong ranges – 700 meters, and can be completed in 15-30 minutes. Expect the cool rainforest gullies and massive eucalyptus trees. If you want to spot some Lyrebirds, go early in the morning or in the evening when it is quiet for more chance of seeing them.
Park at the Grants picnic ground, walk to the left, past the Grants On Sherbrooke cafe, and a little further on to your right, the beginning of the track is clearly marked. It is a loop walk and joins the Lyrebird walking track. So, this walk can easily be extended if you want to.
While there, you could even plan BBQs or picnics at the Grants Picnic Ground. This area is open 7 days 9-5 pm where you can hand-feed white cockatoos (is it true if you see black cockatoos it'll rain?), Plenty of parking available and family-friendly picnic grounds.
If you are thinking of taking the Public Transport, there is a train that goes to Belgrave Station then local bus route no. 694 (to Olinda) or 663 (to Monbulk). Takes about 5 minutes by bus to Grants Picnic Ground or you can walk, following directions on walk no. 29 (a 12 km walk from Sassafras to Belgrave which passes through Grants Picnic Ground, use the reverse walk notes)
2. Steavenson Falls Trail – 700m
This is another easy 700 meters (return) walk to Steavenson Falls which is one of Victoria's highest waterfalls (84 meters). It would have to be one of the easiest short walks in the Dandenongs and the path is floodlit between dusk and midnight. The start and end spot are Falls Car Park on Steavenson Road.
3. Burkes Lookout – Under 1km
One of the other quick walks in Dandenong ranges is Burkes lookout. It is under 1 KM and offers spectacular views across Melbourne, Port Phillip Bay, the Macedon Ranges, and Kinglake.
Park the car at Osprey Road (off Ridge Road) then head left and follow Kyeema Track along the ridge to the viewpoint. Signage is clear and it's a short distance to visit the Kyeema Memorial site also where if you wish to visit SkyHigh it's about 2kms away, walking along Kyeema Track to the right from the car park and then turning up Trig Track.
Plenty of other tracks lead to this area such as Fire Trail (also known as Glasgow Track) and walks can be extended down to Doongalla Homestead or even all the way to Upper Ferntree Gully and the 1000 Steps (more on this below).
4. Sherbrooke Forest Falls – 1.2km
If you are after some tranquil forest walks, check out the Sherbrooke forest falls trail. It is an easy, flat 1.2KM, and can be done in 30 minutes (return) walk.
Surround yourself in the unique sounds of Australian nature, ferns, and the tallest gum trees you have ever seen! The eucalyptus trees, aka mountain ash, swamp gum, or stringy gum trees are medium-sized to very tall forest tree that is native to Tasmania and Victoria, Australia.
Park the car at the Sherbrooke Picnic Ground, corner of Sherbrooke Road & Sherbrooke Lodge Road, Sherbrooke. From there, follow the sign to the falls. The track is straightforward to follow, passing by a wonderful old tree with a hollowed center.
Check out the things to do in Melbourne at night
5. Olinda Falls – 600m-1.5km
This is one of the local's and visitors' favorite short walks. The distance can be 600m to 1.6 KM depending on the route taken and can be completed in approx 30 minutes. It gets busy on weekends so go on weekdays if you wish to have it all to yourself. It is a pretty walk but expects a few steep parts too. Also, best to go after heavy rainfall for that flowing falls look.
Park at the corner of Falls Road & Doughty's Road, Mt Dandenong
6. Keppel Falls Walk – 2km
This is a 2 KM walk that can be done in a 45-minute return. Meander through ferns and upstream climb to the cascading tiered Keppel Falls in the Yarra Ranges National Park. If you are looking for a challenge then you may want to extend the walk. Not to be confused with Keppel Lookout Trail which is a steep 11 KM, 3-4 hours hike with spectacular rewards. Expect the views across Marysville, the Cathedral Range State Park, and Steavenson Fall from Keppel Lookout, plus views from the top and base of Steavenson Falls.
7. Kokoda Memorial Track aka 1000 steps – 3km return
Another walks in Dandenong ranges that every local knows about is the 1000 steps. Start by walking along the main trail under the Memorial Arch until you see the signs for the 1000 Steps. The path is flat followed by the steep stairs, it also winds through lush fern gullies, while plaques dotted along the way tell the history and memorial of the Kokoda Track in PNG.
You can return down the stairs or return via the Lyrebird Track which will add roughly 1.3km.
Park the car at the Burwood Highway & Mt Dandenong Tourist Road, Upper Ferntree Gully.
Alternatively, you can park at One Tree Hill and come down following the Lyrebird track and then hike the 1000 Steps back up. Lyrebird Track has been upgraded with bluestone steps for a lot of the way and is quite a good surface to walk on.
8. Olinda Creek Walking – 5.6km
The Olinda Creek Walking Track is a 5.6km walk that takes around 4 hours to complete (return). The walk is of an easy grade, all flat with ok scenery.
You can start at Silvan Reservoir Park on this 4-hour walk. The cool temperature in the Olinda Creek valley is refreshing, offers a slice of history, with towering Mountain Grey Gums still bearing burns from the 1939 Black Friday fires, and encourages the ferns to thrive in the lush gully. If you want to hear echidnas and Black Wallabies plodding past the track, step lightly and keep an eye out for superb lyrebirds.
If you want a good coffee, stop at Olinda village on the way. At 569 meters, Olinda village is the highest village in the Dandenong Ranges. In Olinda village, the narrow streets are filled with galleries, quaint bed-and-breakfasts, wonderful restaurants, cafes, wellness centers, day spas, and boutique shops.
9. Mathias Walking Track – 7km return
Mathias Track is an easy grade, straightforward walk that is very popular with local dog owners and can be done in 2 hours as well as horse riders and mountain bikers. The path is generous and spacious with dense foliage on either side broken up by occasional views across to Silvan and the Yarra Valley. Along the way, you'll hear the calls of kookaburras, cockatoos, and parrots, while Japanese maple, birch, and eucalyptus trees tower above.
Park at the Falls Road ends or Silvan Road. Mathias Track passes below the National Rhododendron Gardens, the old Olinda Golf Course, and Hamer Arboretum. Numerous trails lead off in all directions, a whole day can easily be spent hiking the trails in this part of the Dandenong Ranges National Park.
10. Barlett/ Blackhole Track Loop – 6km
This is another wonderful loop walk in Dandenong ranges. Covering about 6km which was completed in approx 1.5-2 hours, was reasonably easy with the main uphill stretch on Blackhole Track being the only real challenge. But if you did the 1000 steps above, this one should be ok for you. If you want more, there are a number of trails branch off this track and the walk could easily be extended.
If parking at the Mathias Track car park, walk down Mathias Track about 50 meters and take the small, unmarked track to the left (Predator track) which joins into Bartlett Track (or walk down Falls Road to the junction of Bartlett track).
Turn right and follow Bartlett Track for about 500 meters until the junction with Rie Range Track, turn right and continue along Rie Range Track. Walk quietly and be on the lookout for Lyrebirds and other native critters.
At the junction of Rie Range and KC track, turn right and follow KC Track until it joins Blackhole Track and continue up the hill to meet Mathias Track. Head right and follow Mathias Track back to the car park, about 2 km.
11. Upper Ferntree Gully to Mt Dandenong – 20 km's one-way
If you are looking for one of the longest and most challenging walks in Dandenong ranges, look no further. The Mt Dandenong Hiking Trail from Upper Ferntree Gully is 20km and one way is 6-8 hours! So plan ahead but it can be broken up into two sections perhaps, or even three. All in all, it is a fantastic hike that covers a variety of terrain with stunning trails and gorgeous views. It's a breath of fresh air that makes it a perfect walk.
Park at Skyhigh, Mt Dandenong, or Upper Ferntree Gully Park. It may be long, but fairly even grading means it's never too much to handle. You'll wind your way through fern-filled gullies, forests of eucalypt, over creek crossings, and boardwalks. Conquering this walk is one of the best ways to see all the natural beauty that the Dandenong Ranges have to offer in one fell swoop.
When you walk around on foot and see what's happening around you, you will feel the vibe and discover many things. Just start walking around and who knows what you will find!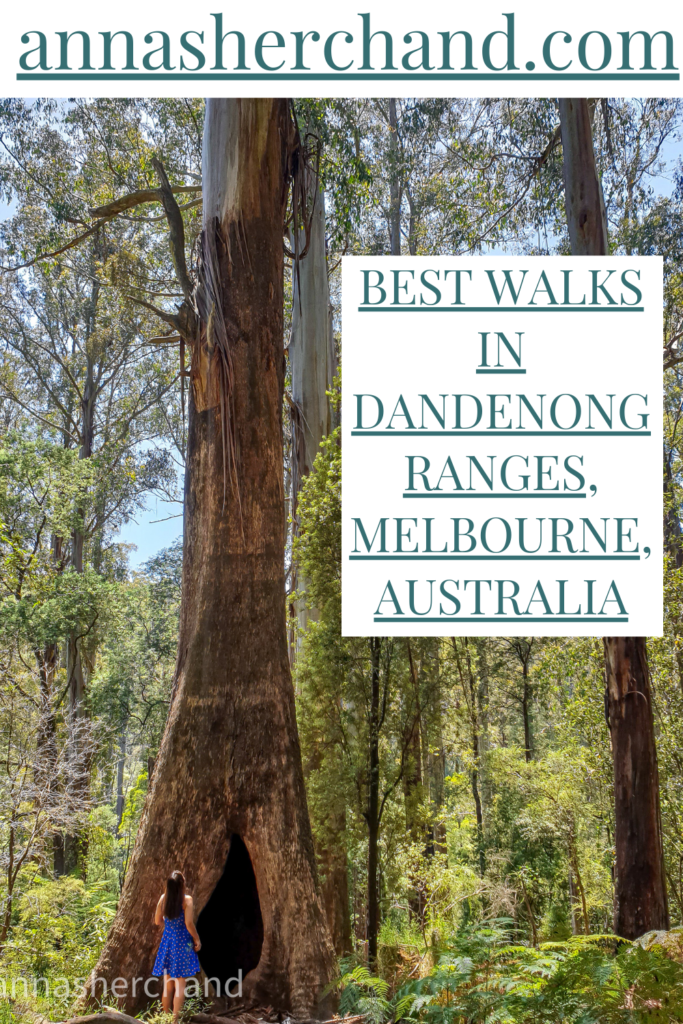 Let me know in the comments:
Best walks in Dandenong ranges