Grampians National Park is a must-see destination when visiting Victoria, Australia. An ideal way to explore the area over three or four days is by either taking a Melbourne to Grampians road trip or staying around the Grampians for a few days. The park is home to stunning waterfalls and hiking trails, making it an excellent option for an active trip. However, it also offers opportunities for relaxation. If you are looking for Grampians itinerary, continue to read on.
In addition to exploring the natural wonders of the Grampians, visitors can witness ancient Aboriginal rock art, explore the renowned wine region, and check out the unique attractions in Ballarat. This guide provides information about the best places to see in the Grampians and the most efficient way to do so. It also suggests options for visiting the spa town of Daylesford or driving the Great Ocean Road if you have more time.
Grampians Itinerary Summary
Day 1 – Begin your journey by exploring the popular tourist attractions in Ballarat. In the evening, head to Halls Gap for your accommodation.
Nights 1 to 3 – Stay in Halls Gap to experience the beauty of the Grampians.
Day 2 – Drive along the picturesque Mt Victory Road to discover the top highlights of the Grampians.
Grampians 3 day itinerary- Spend a leisurely day driving around and exploring other popular Grampians attractions.
Day 4 – Either return to Melbourne or make a stop at Daylesford to indulge in some self-care after all the hiking.
Night 4 – Stay in Daylesford or return to Melbourne.
Optional – If you have extra time, consider driving back to Melbourne via the Great Ocean Road. Refer to the guide's relevant section for more details.
To maximize your time in the Grampians, I recommend traveling to Halls Gap on Friday night. This will give you all of Saturday to explore before returning on Sunday evening or extend your stay if you've time. Book your stay in Halls Gap, as it is the only town in the Grampians.
Preparing for the Melbourne to Grampians itinerary: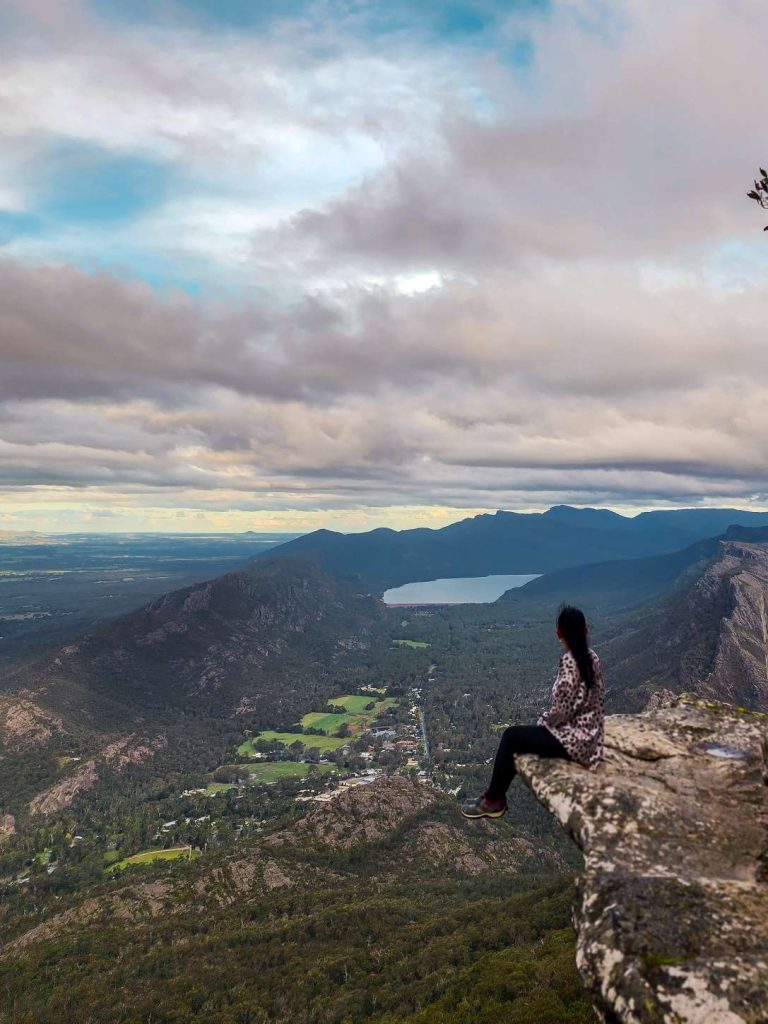 How far is the distance from Melbourne to the Grampians?
If you're planning to visit Grampians National Park from Melbourne, keep in mind that the distance between the two places is 250km. To fully explore the area, it's recommended to spend Grampians 5 day itinerary. However, if you're in a hurry, you can still see the main highlights in Grampians 1 day itinerary. One thing to note is that there's a lot of wildlife in the Grampians, so keep your eyes peeled for some unique encounters!
When is the best time to visit the Grampians?
The best time to visit Grampians National Park is during the Spring and Autumn seasons when the temperatures are cooler, making hiking more enjoyable. In Spring, the waterfalls usually flow nicely, and wildflowers bloom. However, there is a higher chance of rain during this time.

Alternatively, during the summer Dec-Feb is also equally visited by the locals and alike.
How to go from Melbourne to the Grampians?
By Public Transport:
Not everyone has a car or wants to drive, so if you are one of them you will be pleased to know it is possible to travel from Melbourne to the Grampians by train or bus, although it may require some transfers and additional travel time compared to driving.
To travel by train, you can take the V/Line service from Southern Cross Station in Melbourne to Ballarat, then transfer to another V/Line service to Ararat, which is the closest station to the Grampians. From there, you can take a taxi or arrange for a shuttle service to Halls Gap or another town within the Grampians.
To travel from Melbourne to Grampians bus, you can take the V/Line coach service from Southern Cross Station to Ballarat, and then transfer to another V/Line coach service to Halls Gap. The journey takes approximately 4 hours and 30 minutes.
Alternatively, you can also consider booking a private shuttle service or tour that will take you directly from Melbourne to the Grampians without the need for transfers.
Choosing a rental car:
When it comes to renting a car for your road trip, you want to make sure you choose the right vehicle for your needs. Consider the size of your group, the amount of luggage you will have, and the type of terrain you will encounter on the road trip. A SUV or a 4WD is recommended for the Melbourne to Grampians road trip as some of the roads can be unpaved and hilly.
Driving Route:
Distance and Time from Melbourne to the Grampians: The Melbourne to Grampians drive distance is approximately 260 kilometers, and the journey takes around 3 hours and 30 minutes. You can take the Western Highway, which is the most direct and fastest route.
Road Conditions and Safety Tips Visitors should be aware of the road conditions and safety tips when traveling to the Grampians National Park. The roads can be narrow and winding, so it's essential to drive cautiously and watch out for wildlife. It's also advisable to check weather conditions before setting off, as heavy rain and storms can make driving conditions dangerous. Visitors should always carry a map and plenty of water when traveling in remote areas.
Packing essentials for the trip
Pack light, but don't forget the essentials. Sunscreen, insect repellent, hats, and comfortable shoes are a must. As the weather can be unpredictable, pack both warm and cool clothing. Other important items include a first aid kit, snacks, water bottles, a camera, and a map or GPS device.
Grocery shopping for the trip
Stock up on food and drinks before hitting the road to avoid running out of supplies. Major supermarkets such as Coles, Woolworths, and Aldi can be found in Melbourne and some smaller towns along the way, but options can be limited in some rural areas. It's a good idea to bring a coole
Grampians itinerary
Day 1: Ballarat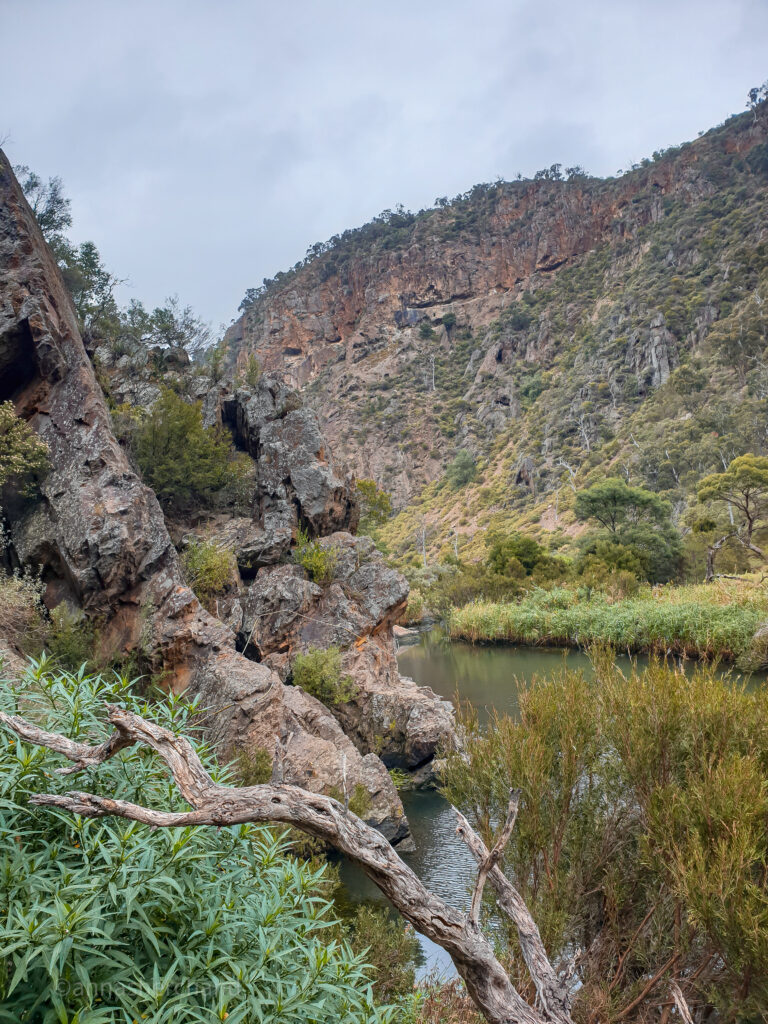 Welcome to Day 1 of your Melbourne to Grampians road trip adventure! As you make your way towards the stunning Grampians National Park, be sure to make a stop in Ballarat, a charming town with plenty of attractions to explore.
Lal Lal Falls
Start off by taking a 25-minute detour to Lal Lal Falls, a breathtaking waterfall set within a beautiful nature reserve. While best seen after recent rain, it's still worth a visit even in summer. Plus, with toilets on site, you won't have to rush to Ballarat.
Sovereign Hill Historic Site
Once in Ballarat, immerse yourself in history at Sovereign Hill Historic Site, a replica gold mining village that boasts costumed characters, coach rides, underground mine tours, and 1850s-style shops. It's the perfect place to learn about the region's gold rush era, and with numerous tourism awards under its belt, you won't be disappointed.
Open Tues to Sun 10 to 5 pm
Monday closed
The ticket costs $49 AUD
Ballarat Wildlife Park
Next up, head to Ballarat Wildlife Park, where you can get up close and personal with all the major native animals, including koalas and Tasmanian Devils. The hands-on encounters are particularly great for overseas visitors, so be sure to snap a classic koala selfie or take a walk on the wild side with a big snake draped around your neck.

Open Everyday 9 to 5 pm
Cost: $34 but have a look on Groupon as sometimes they are on discount
Kryal Castle
If you're traveling with kids, Kryal Castle is a must-visit. This medieval-style castle is a replica, but that doesn't make it any less fun. Daily live jousting shows, costumed actors, knight school, and a torture museum are just a few of the attractions you'll find here. Just be prepared to spend some time exploring, as you'll have a hard time convincing your little ones to leave.
With so much to see and do in Ballarat, it's unlikely you'll be able to do everything in one day. But don't worry, that just means you'll have an excuse to come back again and again!
Open Only on Saturday and Sunday from 10 to 5 pm
Cost: $36 for a day pass 
Read more on things to do in Ballarat
Day 2: Halls Gap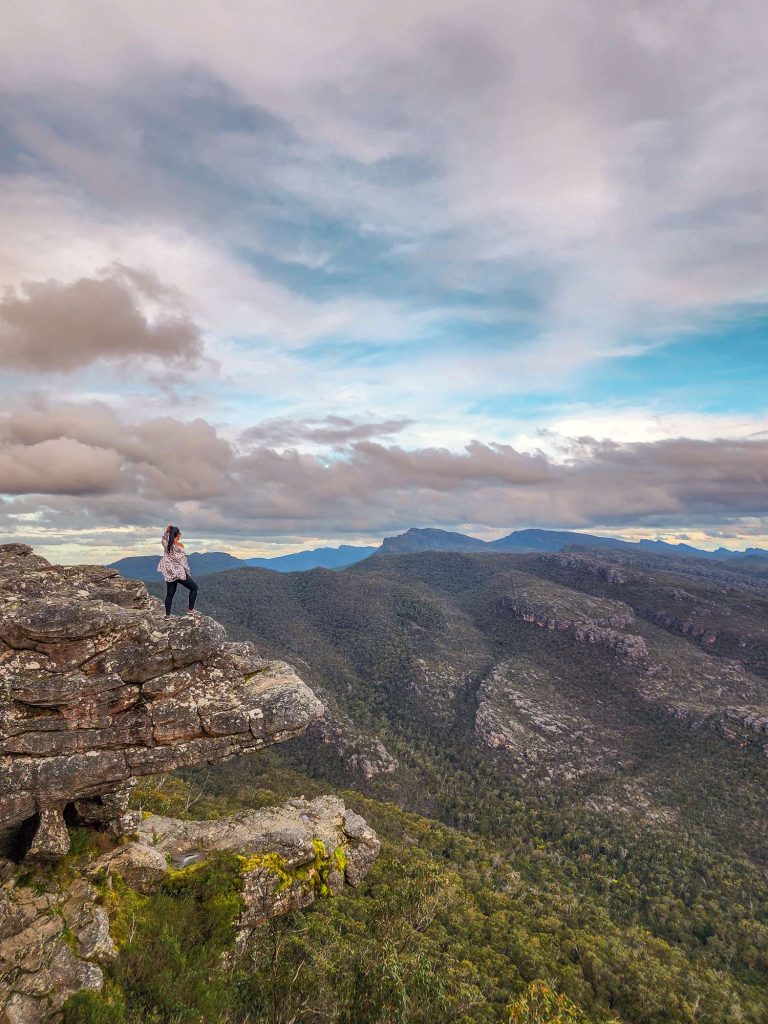 After exploring the charming town of Ballarat and its surrounding attractions, it's time to continue your journey towards the magnificent Grampians National Park. The next destination on your itinerary is the picturesque town of Halls Gap, nestled in the heart of the Grampians and surrounded by stunning natural scenery. From here, you can explore the park's many hiking trails, discover ancient Aboriginal rock art, and marvel at breathtaking vistas from scenic lookouts. There's plenty to see and do in Halls Gap, so make sure to plan your visit accordingly.
Top Accommodations in Halls Gap
Halls Gap is the perfect central hub for your visit to Grampians National Park. Whether you're a budget backpacker or a luxury seeker, there's something for everyone. And for nature lovers, camping at the picturesque Smiths' Mill Campground is an unbeatable option.
Looking for a place to stay, I recommend using booking.com and sorting with price, then consider the ones with the highest reviews just in case.
For tours, I recommend using get your guide and walking tours available in most places
Budget
Grampians Eco YHA – Just 1km from the town center, this affordable accommodation offers no-frills private rooms. The communal lounges are equipped with cozy wood fires and a kitchen for your convenience.
Mid-Range
Halls Gap Log Cabins – Immerse yourself in the mountain atmosphere with seasonal log fires and some cabins featuring hot tubs. The perfect choice for a comfortable and relaxing stay.
Luxury
Marwood Luxury Villas – Indulge yourself in these beautiful self-contained stone chalets. Surrounded by wildlife and forest, these villas feature wood fires and spa-baths for an unparalleled luxurious experience.
Camping
Smiths' Mill Campground – Perfectly located near the majestic MacKenzie Falls, this campground offers an incredible opportunity for stunning sunrise and sunset photography. Though town access may be limited, the proximity to top Grampians attractions is unbeatable.
Lookout in Grampians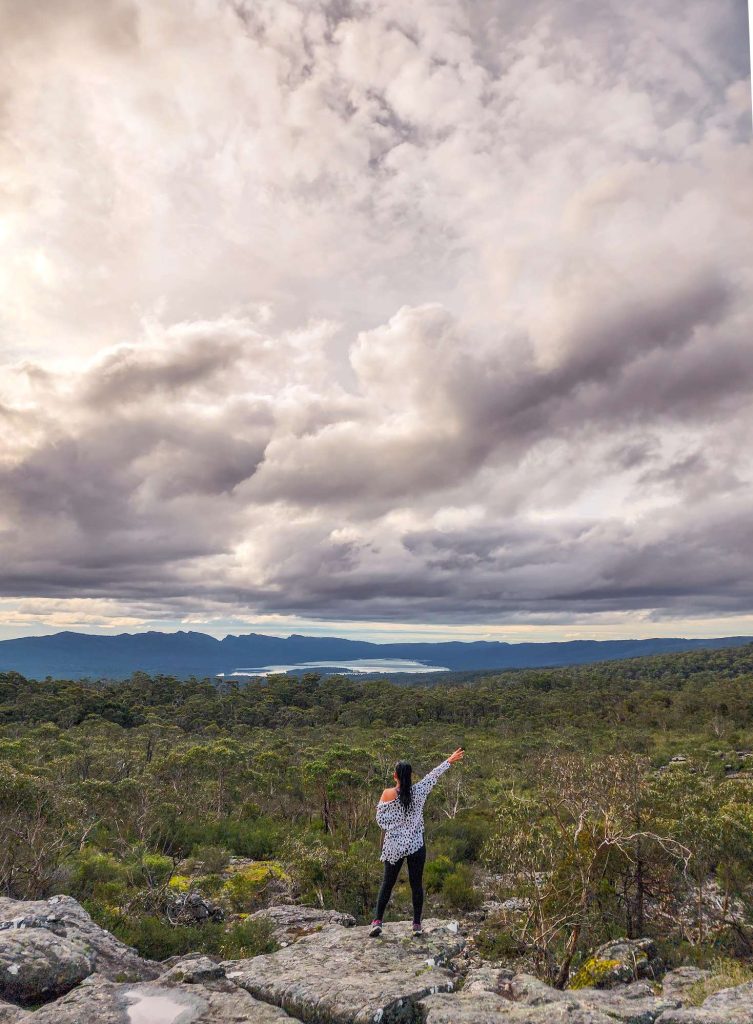 Exploring the Grampians There are many must-see attractions in the Grampians, but most of them are located along Mt Victory Rd. This road branches off the main road to the north of Halls Gap and offers stunning views of the mountains as you drive along.
We recommend following the order of attractions listed below, as it allows you to tackle the most challenging hike first while it's still cool. If you can't complete everything in one day, don't worry, you can always come back tomorrow.
Grand Canyon & Pinnacle Lookout Hike
About 3km from Halls Gap, take the turnoff to Wonderland Rd, which leads to a car park and the start of the best hike in the Grampians. This 5.5km return trail is moderately challenging, so it's best to tackle it in the morning before the heat sets in. Along the way, you'll pass through stunning rock formations.
At the end of the hike, you'll reach the Pinnacle Lookout, which boasts some of the most breathtaking views in the Grampians. The lookout sits on the edge of a large wedge of rock, offering panoramic views of the national park and the town below.
Unfortunately, the Grand Canyon route is currently closed due to issues with the staircase at the far end. However, there is an alternate route to the lookout, and you can still hike the Grand Canyon separately (from above, you'll enjoy spectacular views of it).
Boroka Lookout
The following attraction along the main road is Mt Difficult Rd on the right, which will lead you to Boroka Lookout. This lookout is one of the most popular in the park and is conveniently located near the car park, making it a great place to rest after your hike. From the lookout, you can enjoy a spectacular view of Lake Bellfield and the surrounding countryside.
The Balconies
After that, continue on the main road for another 2km until you reach the left turn for Reed Lookout. While the lookout itself is only okay, it's worth taking the trail leading to The Balconies, a stunning rock formation set against the breathtaking backdrop of the south and western sides of the national park.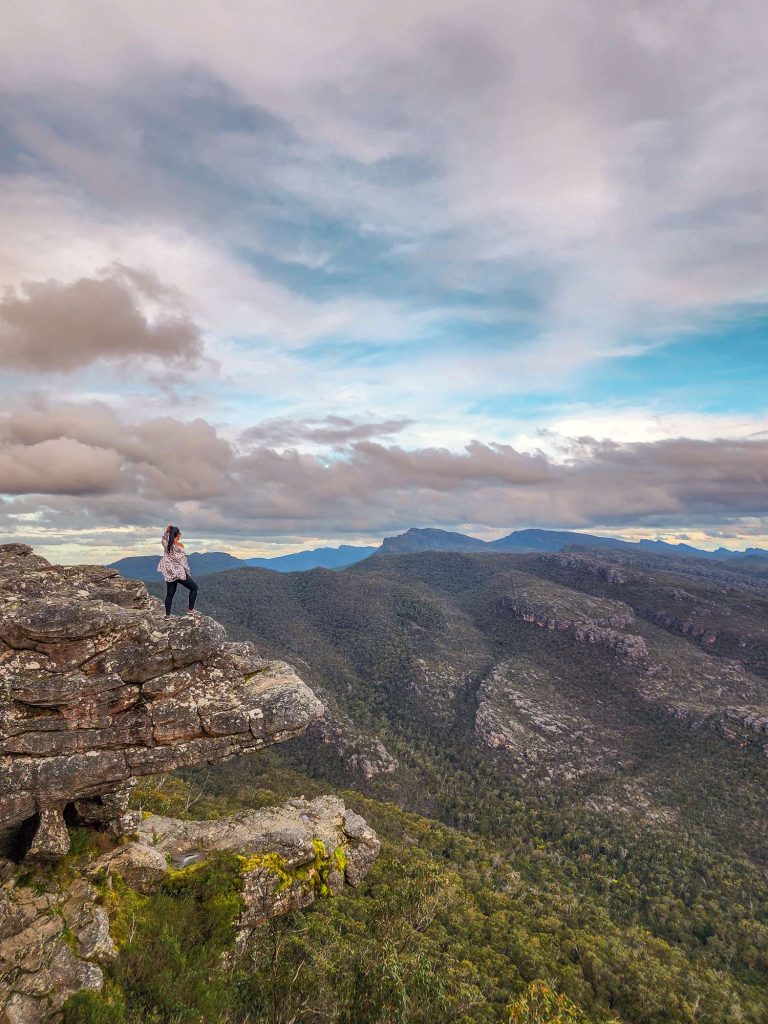 MacKenzie Falls
Finally, make your way to MacKenzie Falls, located a short drive away from the other attractions. This magnificent waterfall is one of the most iconic in the Grampians and a must-see for any visitor. There are a few different viewing platforms, so be sure to explore and find your favorite spot to take in the beauty of the falls. However, if you're up for a bit more adventure, take the 2km track from the car park which involves around 260 stairs. It'll lead you to the base of the waterfall, where you can witness the water's raw power and beauty. The rocks crossing the river also make for a great photo opportunity.
Grampians secret spots are Broken Falls and Fish Falls. The first is a pleasant hike through picturesque surroundings leading to the Broken Falls lookout, which is accessible via a walking track starting from the MacKenzie Falls carpark on Wartook Road and I'm yet to find the fish falls but some locals told me it exists!
There are also two easy and wheelchair-accessible paths that lead to lookouts offering splendid views of the waterfall and the valley.
Silverband Falls
For lunch, head to Zummstein Picnic Spot, where you may see wild emus. Then as you head back to town, you might want to consider making a stop at Silverband Falls. This involves taking a right turn down Silverband Rd and driving for about 10 minutes to the car park. Alternatively, you can save it for tomorrow since it's only 9 minutes from town. From the car park, follow an easy 1.8km trail that takes you along a creek line until you reach the falls.
To wrap up the day, drive out to Ngamadjidj Shelter along some typical Australian sand roads. Finish the day at Gulgorn Manja for a beautiful sunset view.
Day 3: Brambuk cultural center
Begin your day by indulging in the tranquil surroundings of the Grampians and exploring the charming town of Halls Gap. Afterward, make your way to the awe-inspiring Aboriginal cultural centre to gain insight into the rich history of Gariweld and the Indigenous people of Australia.
Grampians Adventure Golf/ Lake Bellfield
To add some fun to your day, enjoy a round of adventure golf at Grampians Adventure Golf. Afterward, take a leisurely stroll around Lake Bellfield before embarking on a scenic drive along the striking red sand roads that encircle the lake.
Halls Gap Zoo
You can visit Halls Gap Zoo after exploring Lake Bellfield and driving around the spectacular red sand roads around the lake. The zoo is located in Halls Gap, so it's a convenient stop before heading to Bunjil's Shelter (an ancient rock art site) and back to Melbourne.
The zoo is home to over 160 species of animals, including native Australian animals and exotic African species, all housed in open-air enclosures. You can plan your visit according to the zoo's daily feeding and interactive experiences or take a behind-the-scenes tour to learn more about the animals and their care. The Halls Gap Zoo is a great way to see some of Australia's unique wildlife up close and have an unforgettable experience.
Alternate Day 3 option
Mount William
This is the highest peak in the Grampians, which can be accessed via a road and a 4km return walk from the parking area. The climb up is steep, but it is worth it for the panoramic view of the Grampians from the peak. The park is also home to a concentration of Aboriginal rock art sites that date back over 20,000 years. Five of these sites are open to the public, and they are located in scenic caves and rocky outcrops around the park.
Beehive Falls
It is another must-see attraction located in the northern part of the park, just a 25-minute drive from Halls Gap. It's a unique waterfall with a rock pool at the bottom that gives the water a honey-like appearance.
Wine Region
The Grampians is also home to an excellent wine region that boasts over 150 years of winemaking history, with some amazing old cellars to visit and some of the world's oldest vines. You can tour the region via Stawell and Ararat in a 100km loop from Halls Gap.
Day 4: The Grampians' Iconic Cliffs
If you're running low on time, you can head back home this morning. Alternatively, if you have an extra night to spare, you might want to consider visiting Daylesford, which offers a great alternative route back to Melbourne. This spa town is one of the few in Australia that is famous for its mineral water. After two days of hiking and sightseeing, you'll certainly deserve some pampering!
As mentioned earlier, if you have a few extra days, you can choose to drive along the Great Ocean Road back to Melbourne. See the final section of this post below.
Daylesford
Today and tonight, it's all about relaxation and Daylesford is the perfect place for that. Check into one of the beautiful accommodations, indulge yourself in the mineral waters, and then head out for some amazing dining experiences!
Here are some recommendations on what to do in Daylesford.
Relax at a spa
Daylesford offers visitors the chance to unwind with mineral springs and spa treatments, making it a great place to combine your stay with a spa package.
Discover History and Art at The Convent
The town has several galleries, including the Convent Gallery, which is a former convent converted into a museum and art space. The property has a restored chapel, and a café, and is surrounded by beautiful gardens.
For those looking for highly-rated spa and accommodation options, Peppers Mineral Spring Hotel offers an extensive spa centre in a 1930s guesthouse, while the Shizuka Ryokan Japanese Country Spa offers a unique traditional Japanese experience with themed rooms, food, and spa treatments.
Craft Beer and Cider
Water quality plays a crucial role in the taste of beer. Hence, it is worth exploring local breweries that use the famous mineral waters of the region. Daylesford Cider, Daylesford Brewing Co, and Hepburn Springs Brewing Co are some of the popular options in the area.
read more for detailed Melbourne to Daylesford roadtrip
Day 5 – Return to Melbourne
Although it's time to head back to Melbourne, the journey doesn't have to end yet. As you make your way back, be sure to stop by a historic bakery and one of Victoria's most spectacular waterfalls.
Redbeard Bakery
Located in Trentham, this bakery has a rich history dating back to 1891 and has been restored with love. The original wood-fired oven is still used to bake their famous sourdough bread. Visitors can watch the process through a window while enjoying the aroma of freshly baked bread.
Trentham Falls
Just outside the town of Trentham, this waterfall is a stunning sight to behold. With a single drop of 32 meters, the waterfall is a magnificent view and a great spot for an early lunch as it is surrounded by the picturesque Coliban River Scenic Reserve
Alternative last-day Grampians itinerary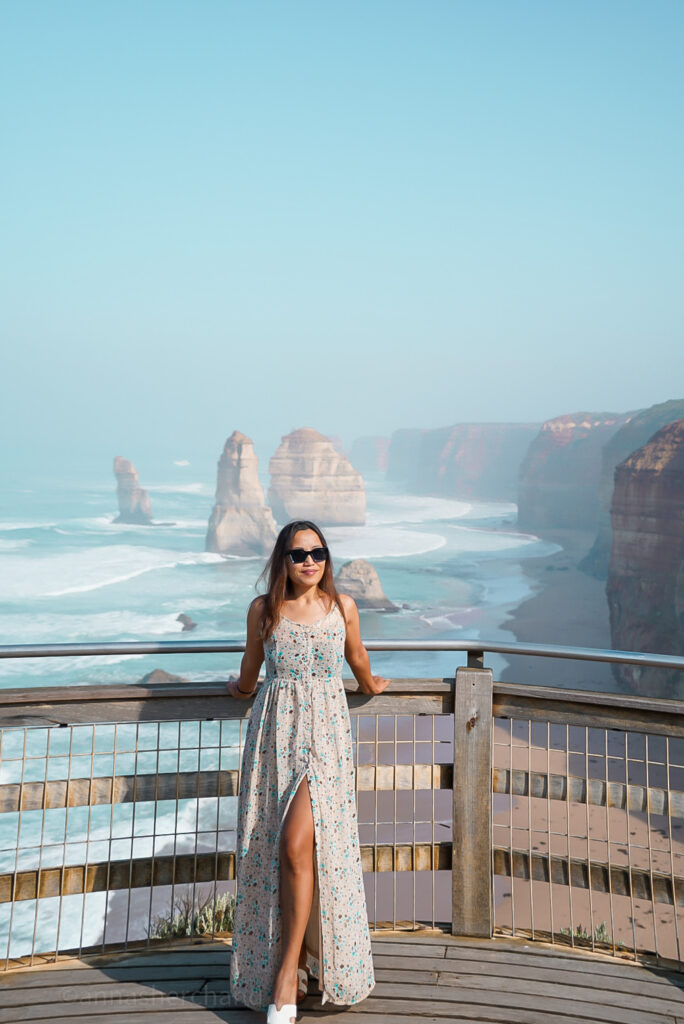 The Great Ocean Road If you venture southward from Halls Gap, you will reach Warrnambool, a coastal town that serves as one end of the Great Ocean Road, with Melbourne being the other. If you have a couple of extra days, you can take this fantastic drive and explore the many sights it has to offer. Check out the guide to the 15 best stops along the Great Ocean Road to plan the perfect trip.
Driving back to Melbourne via this route covers a distance of around 500km, so it's best to allocate at least two days to complete it. Many people prefer to stay overnight in Apollo Bay, which is roughly halfway through the journey.
On the way from Halls Gap to Apollo Bay, you can visit the 12 Apostles and other nearby attractions. The following day, you will have ample time to explore some of the highlights of Great Otway National Park.
Free camping on great ocean road
Hope this Grampians guide helped you whether that be a long weekend in the Grampians or a whole week. If time is a barrier, highly recommend a Grampians day trip perhaps consider some tours below. Either way, I hope you will have a great time at Grampian national park.
Personally, I went on this Grampians tour and enjoyed my full day out in nature. I found it punctual, informative, small group & convenient. Highly recommend it. Alternatively, check out this get your guide tour below.
Let me know in the comments:
If you have any questions on this Grampians itinerary
Hidden Gems in Australia
Backpacking in Melbourne, Australia
Digital nomad guide to Melbourne
Sydney byron bay road trip
10 hidden beaches and bays in Sydney
99% of readers found must see on the east coast of Australia helpful.
Sydney bucketlist things
Sydney itinerary for 5 days
Secret Sydney walks
Best places to take photos in Sydney
Pros and cons of living in Australia
Queenstown solo travel
Auckland solo travel tips
What to do in Tucson in December
Solo trip to Phoenix
Arizona solo travel guide
LA solo travel guide
New York solo travel guide
10 best places to take pictures in Dallas
Best day trips from Hobart, Tasmania
Day trip to Stradbroke Island, Queensland
Weekend in Brisbane
Best places to visit in autumn in Australia
Sydney itinerary 5 days
Best places to see autumn leaves in Adelaide
Exploring Adelaide the best way
All Adelaide travel blogs
where to stay in Sydney
Hidden beaches and bays
most instagrammable cafes in Sydney
where to eat in Sydney
most Instagrammable places in Sydney, Australia
Most beautiful places in New Zealand North Island
Check out the most beautiful places in New Zealand South Island
Going to Vietnam after Australia? Check out the 7 days Hanoi travel guide.
One month in Central America itinerary
How about Colombia? Check out how to get from Medellin to guatape
Check out where to stay in Medellin, Colombia
Check hotel prices and book it through booking.com
Read the most wanted travel resource here.
If you like this article, follow my adventures on Instagram, Facebook, YouTube, Twitter, and Pinterest, but most importantly sign up for my e-mail list to keep up with updates and travel posts!
Grampians itinerary for 3 – 4 days