During my Balkan trip, I went from Kotor to Mostar in Bosnia Herzegovina. So if you are also considering solo travel to Mostar I hope these Mostar travel tips help you plan it. Did you know Bosnia is the northern part of the country and the southern part is called Herzegovina?
Mostar is a city located in southern Bosnia and Herzegovina, situated on the banks of the Neretva River. The city has a rich history dating back to the Ottoman Empire and the Austro-Hungarian period.
It is a beautiful and historic city that's definitely worth visiting travel destination in my books. From the iconic Stari Most to the charming Old Town and beyond, there's plenty to see and do in Mostar. Whether you're interested in history, architecture, natural beauty or simply soaking up the atmosphere of this unique destination, there's something for everyone in Mostar. The city is also a popular destination for adventure activities, such as hiking, kayaking, and rafting.
Solo travel to Mostar Travel Tips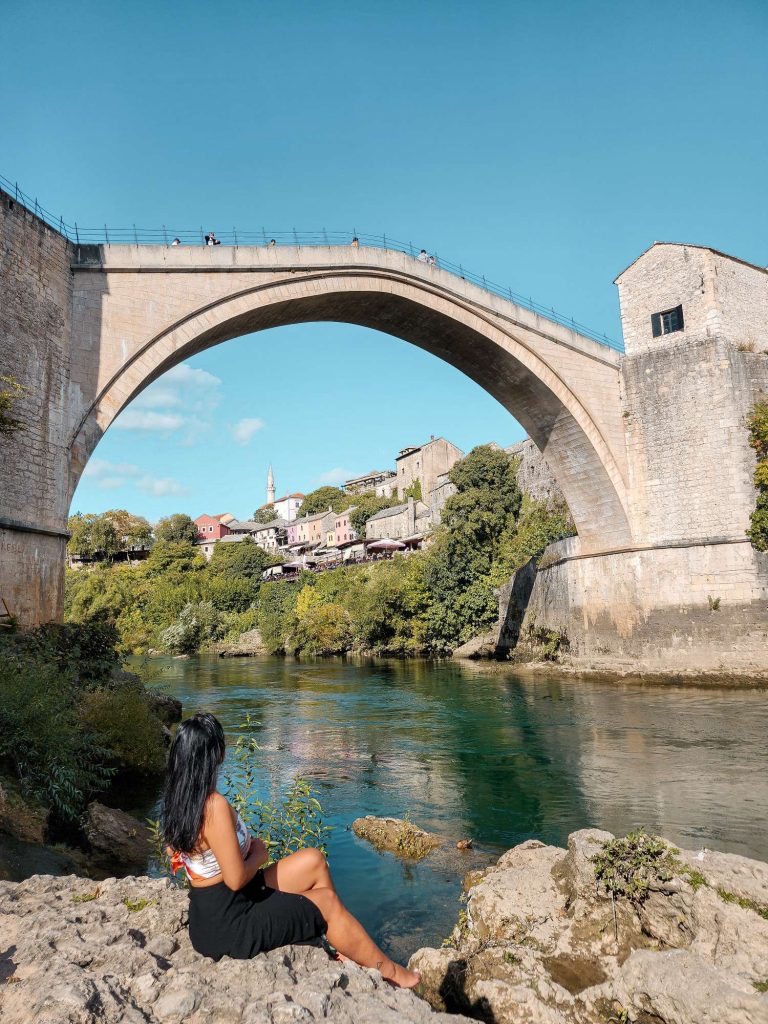 Is Mostar Town Safe for a Solo Female Traveler?
Mostar is generally a safe city, and solo female travelers should have no issues exploring the city on their own. However, as with any city, it's important to take basic safety precautions, such as avoiding dark alleys at night, staying in well-lit areas, not carrying large sums of money and being aware of your surroundings.
It's always a good idea to be respectful of the local culture and dress modestly. Bosnia and Herzegovina is a predominantly Muslim country, and while Mostar is a cosmopolitan city, it's still important to be mindful of local customs.
If you're not comfortable exploring on your own, consider joining a group tour or hiring a local guide.
When to Visit Mostar?
The best time to visit Mostar is between April and October when the weather is warm and dry. However, the city can get crowded during peak tourist season, so it is best to avoid July and August if possible. Spring and fall are good options for those who want to avoid the crowds and still enjoy pleasant weather.
How Long Should You Spend in Mostar?
Mostar is a small city and can be easily explored in a day or two. However, if you want to take day trips to nearby attractions, such as the Kravice Waterfalls or the city of Sarajevo, you should plan to spend at least three days in Mostar. (I will share more on these places down the blog)
How to Get to Mostar?
Mostar is well-connected to other cities in Bosnia and Herzegovina and neighboring countries, making it easy to reach by plane, bus, car, or train. I took the bus from Kotor to Mostar so the information below is based on my personal experience.
Rental Car
If you're comfortable driving in a foreign country, renting a car is a great way to get around Bosnia and Herzegovina. Most major car rental companies have offices in Sarajevo and Mostar, and there are plenty of rental options available. That said you can also rent a car from the airport or from one of the many rental car companies in the city.
Driving in Bosnia can be a bit challenging due to the narrow roads tho, so it is important to be cautious and drive slowly. However, having a rental car gives you the freedom to explore Mostar and the surrounding areas at your own pace. Also be aware that parking in the Old Town can be difficult, and the streets can be narrow and congested.
Public Bus
The most common way to get to Mostar is by public bus which i used. There are daily bus services from major cities in Bosnia and Herzegovina, as well as from neighboring countries like Croatia and Montenegro. The bus station in Mostar is located about 10 minutes walk from the old town.
There are several bus companies that operate in Bosnia, including Autoprevoz, Centrotrans, and Globtour. You can find the bus schedules and purchase tickets at the bus station or online.
If traveling from the neighboring country Croatia, there is an option to go to the local bus terminal and buy the ticket there in person (only takes cash) but I discovered there is more benefit in buying it online.
1. They take credit card
2. I had more departure options because I could compare ticket prices between 3 bus websites and buy one instantly that suited me.
3. These websites were also selling some last-minute cheaper bus tickets although they get sold in minutes so, you have to be quick in that regard.

There are many online bus companies to buy tickets from but I recommend three below that I personally used and had no problem with.
1. Busticket4.me/EN
2. geybybus.com
3. Flix bus
All 3 websites offer an English language option and take debit/credit cards. No need to go to the bus station.

Once I arrived at Mostar bus station, my accommodation was 7 mins straight walk and it was easily walkable from the old town also. Check out my recommendation below.
Where to Stay in Mostar?
During your solo travel to Mostar, it may get overwhelming on deciding where to stay as Mostar has a variety of accommodations to suit different budgets and preferences. So here are some of the best options for solo female travelers including the one I stayed at starting from backpacking options, to mid-range and high-end hotels. Click on the name of the hostels to read the recent reviews and book the one you like the most.
1. Hostel Musala, Hostel FM, or Hostel Mirror
These hostels are highly-rated hostels located within 5-10 mins walking distance of the old town area. They offer both private and dormitory-style rooms, and the prices are very reasonable. The staff is friendly and helpful, and they can provide recommendations for things to see and do in Mostar.
2. Shangri La Mansion, Apartment Perfect View, or Villa Diamond
These 3 options are all within 1km of the old town and Shangri even has Terrance with the view! The rooms are spacious and well-appointed, and breakfast is included in the price. The staff is very welcoming and can arrange airport transfers and other services upon request.
3. Lovely Bosnian Home, Hotel-Restaurant Kriva Ćuprija, or Penthouse with Old bridge view and jacuzzi
And here are some luxurious options located in the heart of the old town. Their rooms are elegantly decorated and feature all the modern amenities you could need.
Best Things to Do in Mostar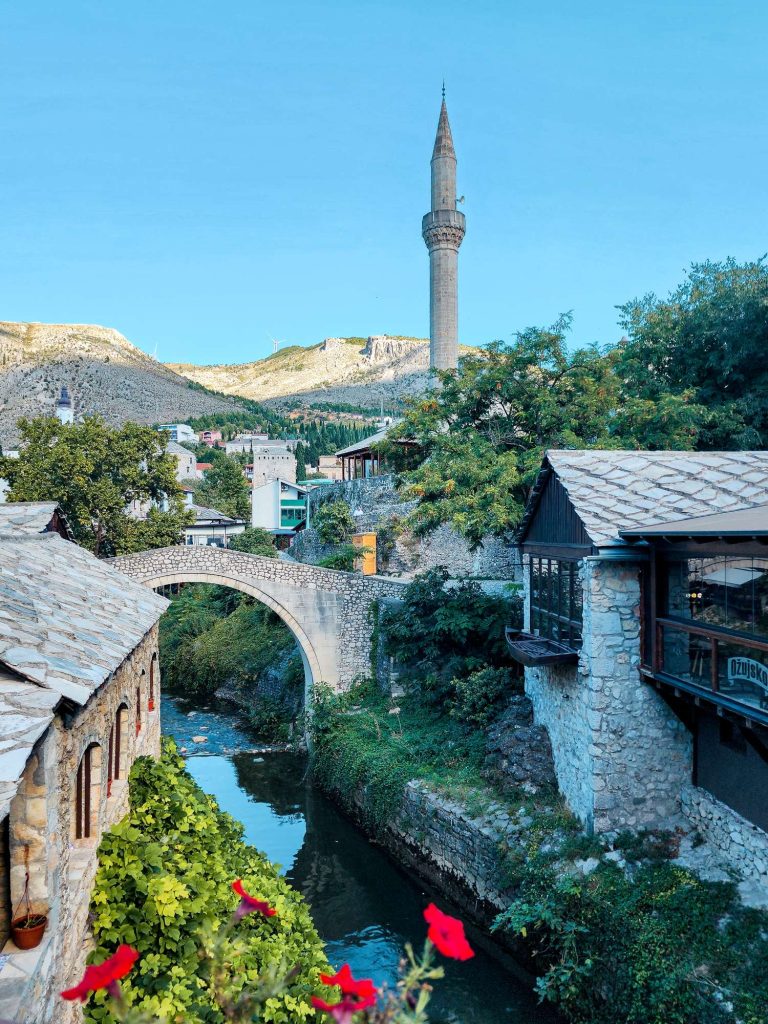 If you are in the mood to meet other travelers then join a free walking tour that gives you a broader perspective with stories about the city. It runs on a donation basis so just book yourself and arrive on time and tip at the end.
That said though some days you may not be in the mood to be in the group so in that case, you will be pleased to know Mostar old town is a walkable tourist destination, and the best way to understand the place is on foot.
I have written this Solo travel to Mostar travel guide exactly how I spent it. You may change it around to what suits you best. Probably a good idea is to head to the indoor museums if it is rainy or explore outside if sunny.
The top attractions to visit in Mostar are:
1. Stari Most – The Old Bridge
Stari Most, or the Old Bridge, is Mostar's most recognizable landmark and is a UNESCO World Heritage Site. The bridge is a stunning piece of architecture, connecting the east and west banks of the Neretva River. The bridge was originally built in the 16th century and was destroyed during the Bosnian War in 1993 and rebuilt in 2004. It stands as a symbol of hope and reconciliation. You can walk across the bridge, take photos, or even jump from the bridge if you're feeling adventurous (there are professional jumpers who will take you).
2. The Old Town
The old town of Mostar is a maze of narrow streets and alleyways lined with shops, cafes, and restaurants. You can spend hours wandering through the old town, admiring the traditional Ottoman architecture and soaking up the lively atmosphere.
Make sure to check out the Old Bazaar Kujundziluk, which is a covered market filled with souvenir shops, and the historic Caravan Sarai, which was once used as a trading post.
3. Koski Mehmed-Pasha Mosque
Koski Mehmed-Pasha Mosque is a beautiful Ottoman-style mosque located in Mostar's old town. You can climb up to the top of the mosque's minaret for a stunning panoramic view of the city.
4. Explore the Museums
Mostar has several museums that are worth a visit, including the Museum of Herzegovina, the Museum of War and Genocide Victims, and the Old Bridge Museum. These museums provide insight into the city's rich history and cultural heritage.
5. Koski Mehmed-Pasha Mosque:
The Koski Mehmed-Pasha Mosque is located in the old town and offers stunning views of Stari Most and the Neretva River. The mosque was built in the 17th century and is one of the most important landmarks in Mostar.
Make sure to climb to the top of the minaret for panoramic views of the city.
6. Crooked Bridge (Kriva Cuprija):
The Crooked Bridge is a smaller version of Stari Most and is located just outside the old town. It was built in the 16th century and is a popular spot for taking photos.
7. Old Bazar Kujundziluk
This is one of the most popular tourist destinations in Mostar. This bazaar is located in the old town and is a traditional market where you can find souvenirs, handicrafts, and traditional Bosnian products such as coffee, tea, and spices. The bazaar is located on a cobblestone street that has been preserved since Ottoman times, giving visitors a glimpse into the city's rich history.
The bazaar is also known for its numerous cafes and restaurants where you can relax and enjoy a cup of Bosnian coffee or try some traditional Bosnian food. This is a great place to visit during the day, but it's also a must-see at night when the streets are lit up and the shops and restaurants are buzzing with activity.
8. War Photo Exhibition
One of the most interesting shops in the bazaar is the War Photo Exhibition, which displays photographs from the Bosnian War. The exhibition is a powerful reminder of the city's recent past and the struggles that the people of Mostar have faced.
In addition to the bazaar, there are many other historic sites and attractions in the old town of Mostar. The area is also known for its beautiful architecture, with many buildings dating back to the Ottoman Empire. Some of the most popular sites to visit include the Koski Mehmed-Pasha Mosque, the Crooked Bridge (Kriva Cuprija), and the Old Bazar Kujundziluk.
Whether you are interested in history, culture, or just want to experience the unique atmosphere of the old town, Mostar has something for everyone. And with its convenient location and easy access to other parts of Bosnia and Herzegovina and Croatia, it's an ideal destination for travelers who want to explore this fascinating region of Europe.
9. Attend a Cultural Event or Festival
Mostar hosts several cultural events and festivals throughout the year, including the Mostar Summer Festival, the International Festival of Contemporary Art, and the Mostar Film Festival. These events provide a unique opportunity to experience the local culture and meet other travelers.
Also meeting locals is a great way to learn more about the culture and traditions of Mostar. Consider taking a guided tour or attending a cultural event or festival. You can also strike up a conversation with locals at a cafe or restaurant.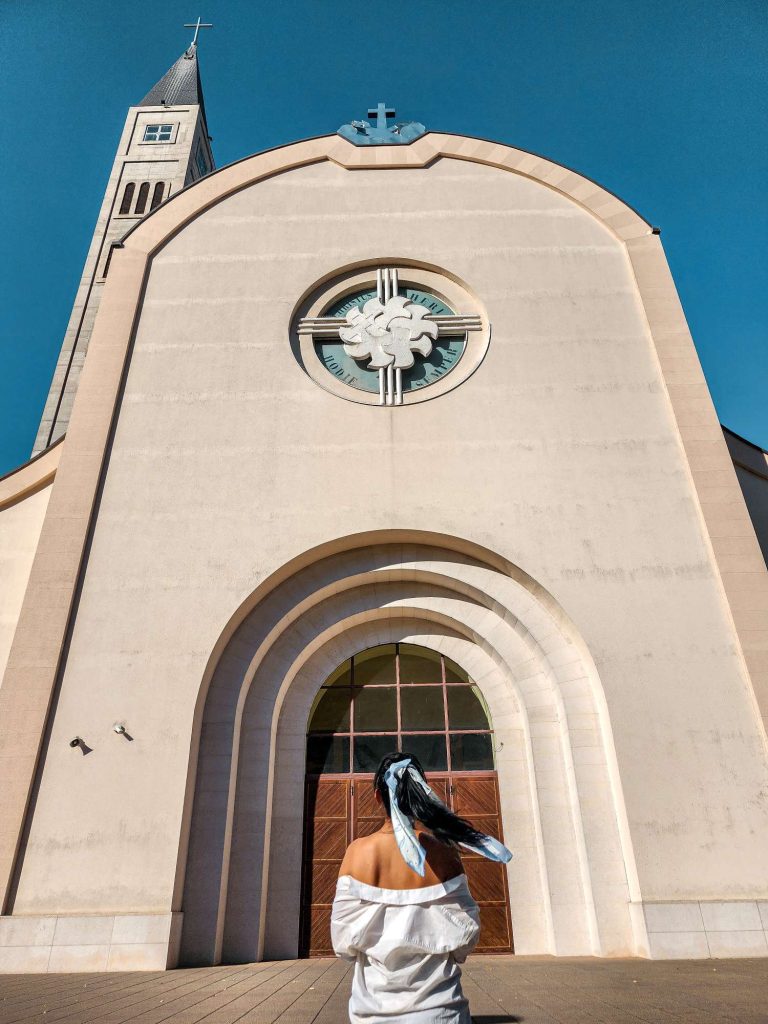 Just Outside of Mostar
While Mostar itself has plenty to offer, it's also a great base to explore the surrounding areas. Here are a few day trips you can take from Mostar:
1. Kravice Waterfalls
This stunning natural wonder is located about 40 kilometers from Mostar and is definitely worth a visit. You can take a bus or hire a taxi to get there. The waterfalls are surrounded by lush greenery and offer a refreshing escape from the city.
2. Blagaj
This charming little town is located just 12 kilometers south of Mostar and is known for its beautiful spring of the Buna river. You can visit the 600-year-old Dervish monastery built into a cliff, enjoy a traditional Bosnian lunch at one of the local restaurants, or simply relax by the river.
3. Medjugorje
This small town located about 25 kilometers from Mostar is known for its religious significance. It's believed that the Virgin Mary appeared to a group of children here in 1981, and since then it's become a popular pilgrimage site for Catholics around the world. You can visit the shrine and attend mass, or simply wander around the town and soak up the spiritual atmosphere.
4. Pocitelj
This medieval town is located about 30 kilometers from Mostar and is known for its stunning architecture and rich history. The town is built into a rocky hillside and features a number of impressive structures, including a fortress, a mosque, and a clock tower.
5. Sarajevo, Bosnia
Sarajevo is the capital city of Bosnia and is located about 2 hours from Mostar by train. It's a fascinating city, with a rich history and culture, and is well worth a visit.
6. Split, Croatia
While not technically a day trip, Split is located just 2.5 hours away from Mostar by car, and it's definitely worth a visit if you have the time. Split is a vibrant coastal city with a rich history and plenty of things to see and do. Some of the top attractions include the Diocletian's Palace, the Riva waterfront promenade, and the Marjan Forest Park.
Off-the-Beaten-Path Things to Do in Mostar
1. Visit the Spanish Square
While most visitors to Mostar head straight to the old town and Stari Most Bridge, there are other parts of the city worth exploring. The Spanish Square is a quiet and picturesque area located just a short walk from the old town. It's a great spot for taking photos and enjoying some peace and quiet.
2. Take a Cooking Class
Bosnian cuisine is delicious and unique, and taking a cooking class is a great way to learn more about it. There are several cooking classes available in Mostar, including ones that focus on traditional dishes such as cevapi and burek.
3. Visit the Sniper Tower
The Sniper Tower is a former bank building that was used as a sniper position during the Bosnian War.
Today, the tower stands as a symbol of the city's turbulent past and a reminder of the war that ravaged Bosnia and Herzegovina in the 1990s. The tower is not officially open to visitors, but it's possible to enter and explore it if you're willing to take a risk.
4. Explore the Blagaj Tekke
Blagaj Tekke is a historical Dervish monastery located on the outskirts of Mostar, near the town of Blagaj. The monastery dates back to the 16th century and is situated at the base of a towering cliff. The setting is absolutely stunning, and it's a great spot to relax and soak up the atmosphere.
5. Go Rafting on the Neretva River
The Neretva River runs through Mostar and is a popular spot for outdoor activities such as rafting and kayaking. If you're an adventure seeker, consider taking a rafting trip down the river. There are several tour operators in Mostar that offer rafting trips, and it's a great way to see the beautiful countryside surrounding the city.
6. Visit the Franciscan Monastery
The Franciscan Monastery is located in the old town area of Mostar and is home to a museum that showcases the city's rich history and culture. The museum displays artifacts from the Ottoman and Austro-Hungarian periods, as well as religious artifacts and artwork.
Attend a Concert at the Croatian National Theater The Croatian National Theater is located in the heart of the old town and hosts a variety of cultural events throughout the year, including concerts, theater performances, and dance shows. Attending a concert at the theater is a great way to experience the local culture and see some of Mostar's top performers in action.
How to Get Around Mostar?
Mostar is a relatively small city, so it's easy to get around on foot especially if you stay in or near the old town. Most of the attractions and sights are within walking distance, and the city center is small and compact, making it easy to navigate. The old town area is especially pedestrian-friendly, with narrow streets and plenty of shops and restaurants to explore.
However, if you prefer to take public transportation or a taxi, there are several options available.
Public transportation in Mostar consists of buses and trolleybuses. Tickets can be purchased from the driver or at kiosks around the city. Taxis are also available and can be hailed on the street or through an app such as Cammeo or Eko Taxi. If you flag one down in the street. Be sure to agree on the fare before you get in, as there is no metered system in place.
Bicycle: If you're feeling active, consider renting a bicycle to explore the city. There are several bike rental shops in Mostar that offer affordable rates.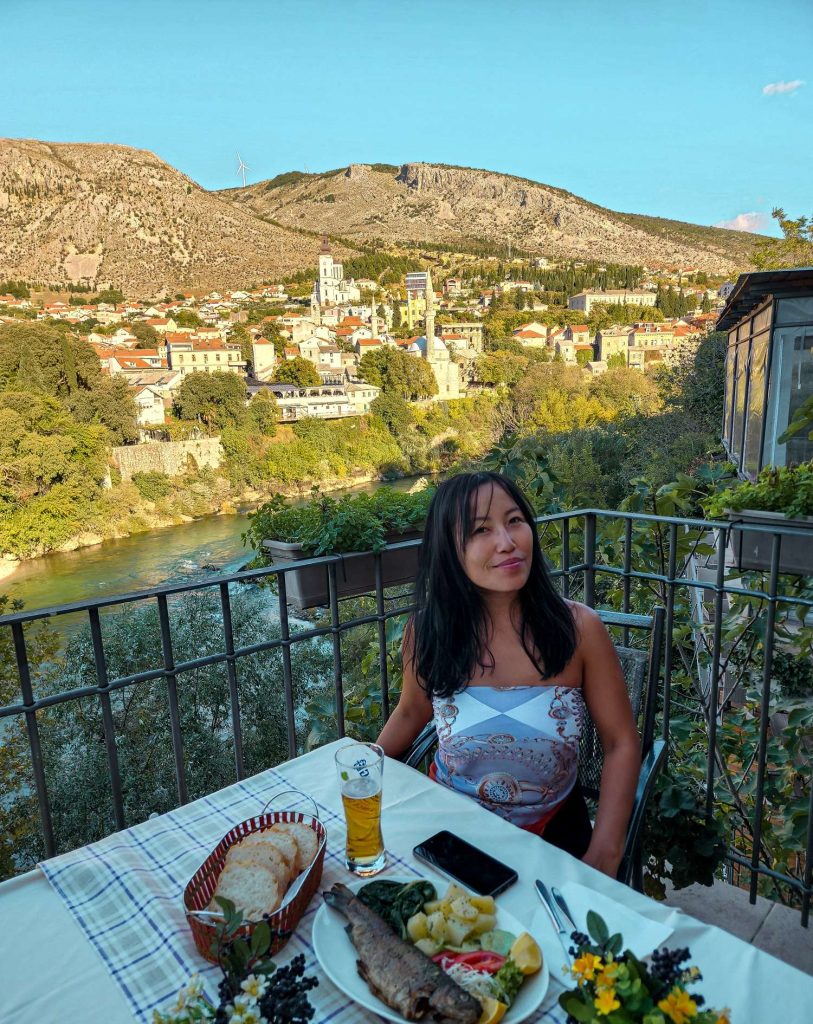 What to eat in Mostar?
Mostar, located in Bosnia and Herzegovina, is known for its rich culinary culture that blends influences from the Ottoman Empire, Mediterranean, and Balkan regions. Here are some traditional dishes and drinks you might want to try while in Mostar:
Ćevapi: These are small grilled sausages made of beef or lamb served with pita bread, onions, and sour cream. They are a popular street food in Mostar.
Burek: Burek is a savory pastry filled with meat, cheese, or spinach. It's usually eaten for breakfast or as a snack.
Klepe: Klepe are small Bosnian dumplings filled with meat and served in a hot broth.
Dolma: Dolma is a stuffed vegetable dish, often made with peppers or grape leaves, filled with rice, ground meat, and spices.
Sahan: Sahan is a traditional meat dish that is cooked in a clay pot and served hot. The meat is typically slow-cooked with vegetables and spices, resulting in a flavorful stew

For dessert, try baklava, a sweet pastry made with honey, nuts, and phyllo dough.
What to drink in Mostar?
As for drinks, you may want to try some of the local beverages, such as:
Rakija: Rakija is a strong fruit brandy made from fermented fruit, often plum or grape. It's a popular drink in Bosnia and Herzegovina and is usually served as an aperitif or digestif.
Turkish coffee: Turkish coffee is a strong, flavorful coffee that is brewed in a special pot called a cezve. It's typically served in small cups and is often accompanied by a piece of Turkish delight.
Jelen pivo: Jelen pivo is a popular Bosnian beer that is light and refreshing. It's often served cold and is a good choice on a hot day.
Herzegovina wine: Herzegovina is known for its wine production, particularly red wine made from the indigenous Vranac grape. You may want to try some of the local wines while in Mostar.
Overall, there are many delicious dishes and drinks to try in Mostar that reflect the region's unique cultural heritage.
Where to Eat and drink in Mostar?
Mostar has a variety of restaurants and cafes that cater to different tastes and budgets. Here are some of the best options to try above recommended food and drinks at:
Cevabdzinica Tima Irma: This popular local restaurant serves delicious cevapi and other traditional Bosnian dishes at reasonable prices. It's located in the heart of the old town and has both indoor and outdoor seating.
Sadrvan: Another great option for traditional Bosnian food, Sadrvan is a family-owned restaurant that serves homemade burek, klepe, and sahan. The prices are reasonable, and the portions are generous.
Black Dog Pub: If you're looking for a place to try local beer, Black Dog Pub is a good choice. They serve a variety of local and international beers at reasonable prices, and the atmosphere is relaxed and friendly.
Caffe Bar Vienna: For a traditional Bosnian coffee experience, try Caffe Bar Vienna. They serve delicious Turkish coffee and Bosnian sweets at reasonable prices.
Ali Baba: This restaurant is a bit outside the old town but is still easily accessible. They serve delicious Bosnian dishes like dolma and sahan at affordable prices, and the portions are generous.
These are just a few of the many affordable and delicious options for trying traditional Bosnian cuisine and drinks in Mostar. You can also explore the local markets and street vendors for more affordable options.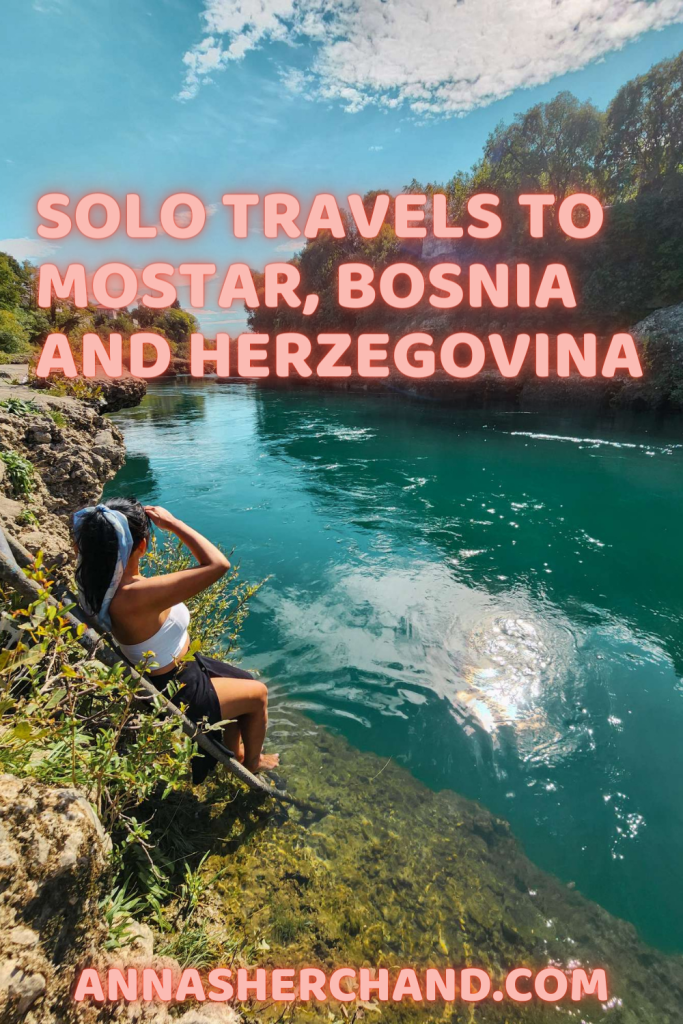 Let me know in the comments:
If you have any questions about Solo travel to Mostar
Solo female travel to Kotor
2 days in Split, Croatia
Solo female travel to Budva
Solo female travel Albania
Warsaw by Train covers warsaw travel tips
Check out One day in Luxembourg, western Europe
Day trip from Zurich to Liechtenstein
Travel tips to South America
Fiji solo travel guide
Australia east coast must-see
Master Sydney travel guide
Solo travel guide to Brisbane
Exploring Adelaide the best way is a must-read
Important travel tips for Uluru trip
Melbourne travel guide for first timers is here.
Melbourne day trips in winter
Day Hikes in Melbourne
Weekend getaway? Check out things to do in Ballarat
Perth solo itinerary
Top 5 must do in Darwin, Australia
How to go from Dublin to Howth
Solo female travel Romania
Read a recent day trip to Zaanse Schans from Amsterdam
How about a solo itinerary to Canberra– Australia's capital city?
Solo trip to Peru, travel tips to South America
Travel tips to Central America Solo female travel Serbia
Bucket list to Croatia travel guide coming soon
Going to Vietnam after Australia? Check out the 7 days Hanoi travel guide.
Check hotel prices and book it through trusted Agoda, or Booking.com
I have detailed travel resources right here. Save money, learn what and how.
If you like this article, follow my adventures on Instagram, Facebook, YouTube, Twitter, and Pinterest, but most importantly sign up to my e-mail list to keep up with updates and travel posts!
Solo travel to Mostar, Bosnia and Herzegovina