Firstly, when traveling to the South Pacific islands in Oceania, you have to be careful in planning it because the flights are usually once a week so if you miss it you will be stuck there for another week. So, after solo traveling to Papua New Guinea and spending 3 days in Port Moresby, my next stop was Honiara in the Solomon Islands. If you are thinking about going, here is 3 days in Honiara itinerary to help you plan.
The reason why I visited only the capital cities is because I don't dive so no interest in exploring the outer islands and I live in Australia which means when I travel I don't want to be chasing beaches as we have tons at home. Plus limited and expensive flights as well as being time-poor made me settled on those few days but you know what, it's better to be there for a few days focusing on 1 place than being there and spending 1 day on each island or not being there at all.
With that said, I was super anxious about visiting the Solomon Islands because of the remoteness and lack of internet with that. But it all went down smoothly in the end. So if you are a little worried, I hope this 3 days in Honiara itinerary with the hidden gems, and must-see attractions, plus my solo travel tips to Honiara, give you some reassurance that if I can do it, so can you!
Nestled on the northern coast of Guadalcanal Island, Honiara stands as the vibrant capital city of the Solomon Islands. Known for its rich cultural heritage, pristine natural beauty, and intriguing history, Honiara offers a captivating blend of experiences for travelers seeking an authentic South Pacific adventure. Let's delve deeper into the wonders of Honiara, where tradition meets modernity in a truly unique way.
3 days in Honiara itinerary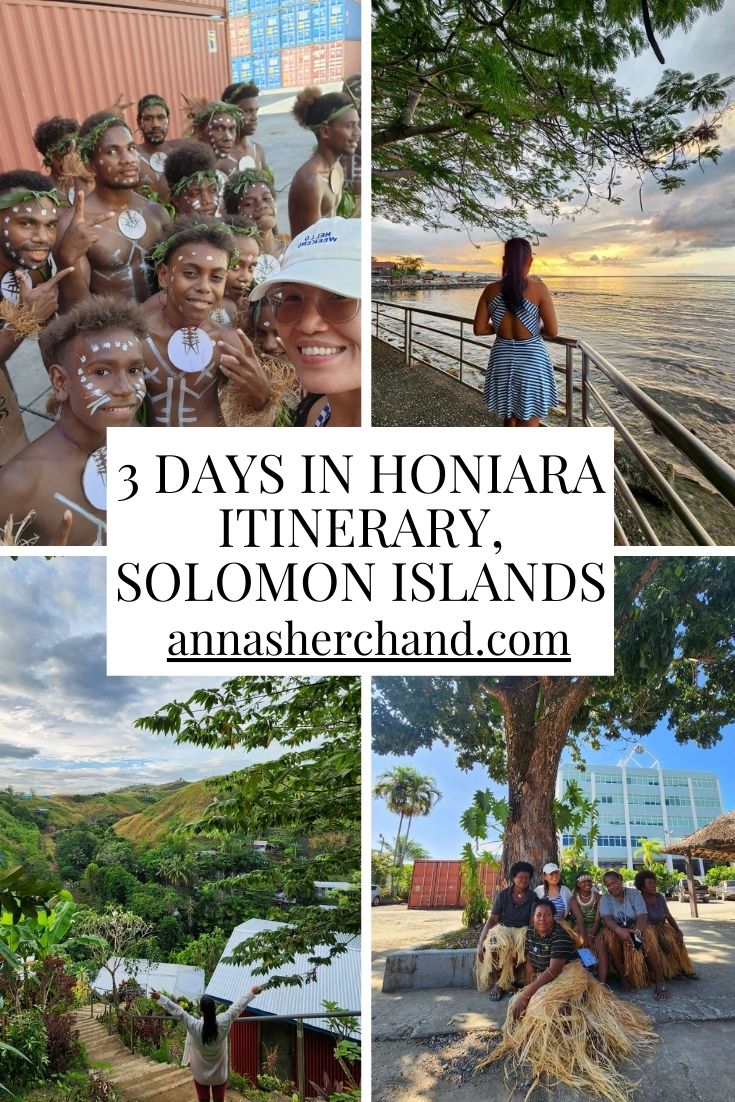 Day 1: Breakfast
I spent the 1st day in the town and planned outside-of-town activities for the two next days.
Start your day with good coffee/smoothies and breakfast at the Breakwater Cafe while enjoying the waterfront view. They don't have wifi so important to get your own (info on where to get data – scroll below for solo travel tips to Honiara). This became my favorite cafe in Honiara for food and clearly for other people too so, def couldn't work here due to a lot of people and noise.
Recommend Heritage Park Hotel or Mendana Hotel if you need to get some work done. Both hotels have restaurants and bring you your own internet as above.
2. Visit the National Museum
On the opposite side of the cafe is the National Museum, where you can discover the rich cultural heritage and fascinating history of the Solomon Islands. Uncover the tales of ancient traditions and marvel at the remarkable artifacts on display.
There are two halls showcasing the history of Solomon Islands and don't miss the cultural show at the back of the museum. The local ladies do a great job of demonstrating how they make different types of necklaces out of seashells and dance and you can buy the necklaces and other souvenirs there or at the gift shop.

I learned a lot about the historical significance of the Solomon Islands, including Guadalcanal, which played a crucial role during World War II. Honiara's strategic location made it a pivotal battleground in the Pacific campaign and they weren't even themselves fighting. You can explore remnants of the war, such as the Guadalcanal American Memorial, the Japanese Peace Memorial, and the Vilu War Museum tomorrow (itinerary below). These sites offer insights into the conflict's impact on the island and pay homage to those who sacrificed their lives.
3. Visit the National Art Gallery
Next door to the cafe is the National Art Gallery. It is small but does the job of telling the "red money story" in art forms and others. It's next to a plaza with lots of artisan booths where you can buy carvings, paintings, and jewelry.
Honiara serves as a melting pot of diverse cultures, with over 60 different indigenous ethnic groups calling the Solomon Islands home. From the Malaitan, Guadalcanal, and Central provinces to the smaller islands surrounding Honiara, the city embraces a vibrant mix of languages, traditions, and customs. Engaging with locals provides a glimpse into their warm hospitality, ancient rituals, and captivating stories.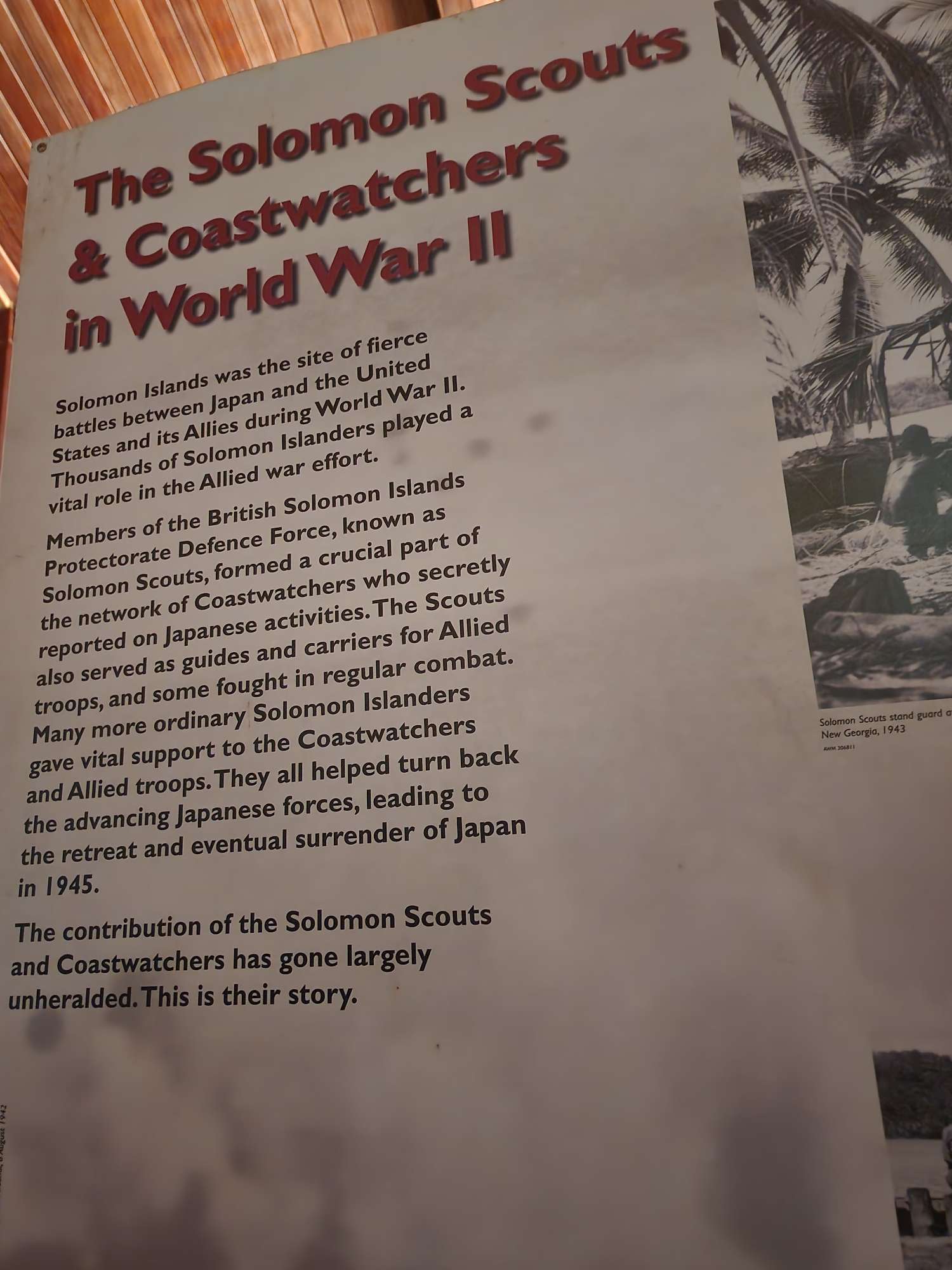 4. Visit Unity Square which is the Paficif's tallest flagpole
5. Grab Lunch at the Cafe Bliss/ Palm Sugar/Bethel Cafe
6. Central Market
For a true taste of Honiara, immerse yourself in the bustling Central Market. Here, vibrant displays of tropical fruits, aromatic spices, and traditional handicrafts entice visitors. Indulge your taste buds in the flavors of the Solomon Islands by savoring local dishes like kokoda (marinated fish salad), taro, fresh seafood, and exotic fruits. The fusion of traditional ingredients and modern influences creates a culinary experience to remember.
7. Honiara Botanical Gardens
Take a leisurely stroll through the Honiara Botanical Gardens, located near the city center. Enjoy the serene surroundings, lush greenery, and diverse plant species.
8. Speak to Dive Tulagi about arranging diving opportunities
9. Rent a car at Economy car rentals for the next two days
10. Explore the local shops at NPF Plaza
11. Point Cruz Yacht Club
Head to the Point Cruz Yacht Club for dinner. This waterfront restaurant offers stunning views of the ocean and delicious seafood dishes. Relax and enjoy the evening atmosphere.
Day 2:
1. Jacobs Ladder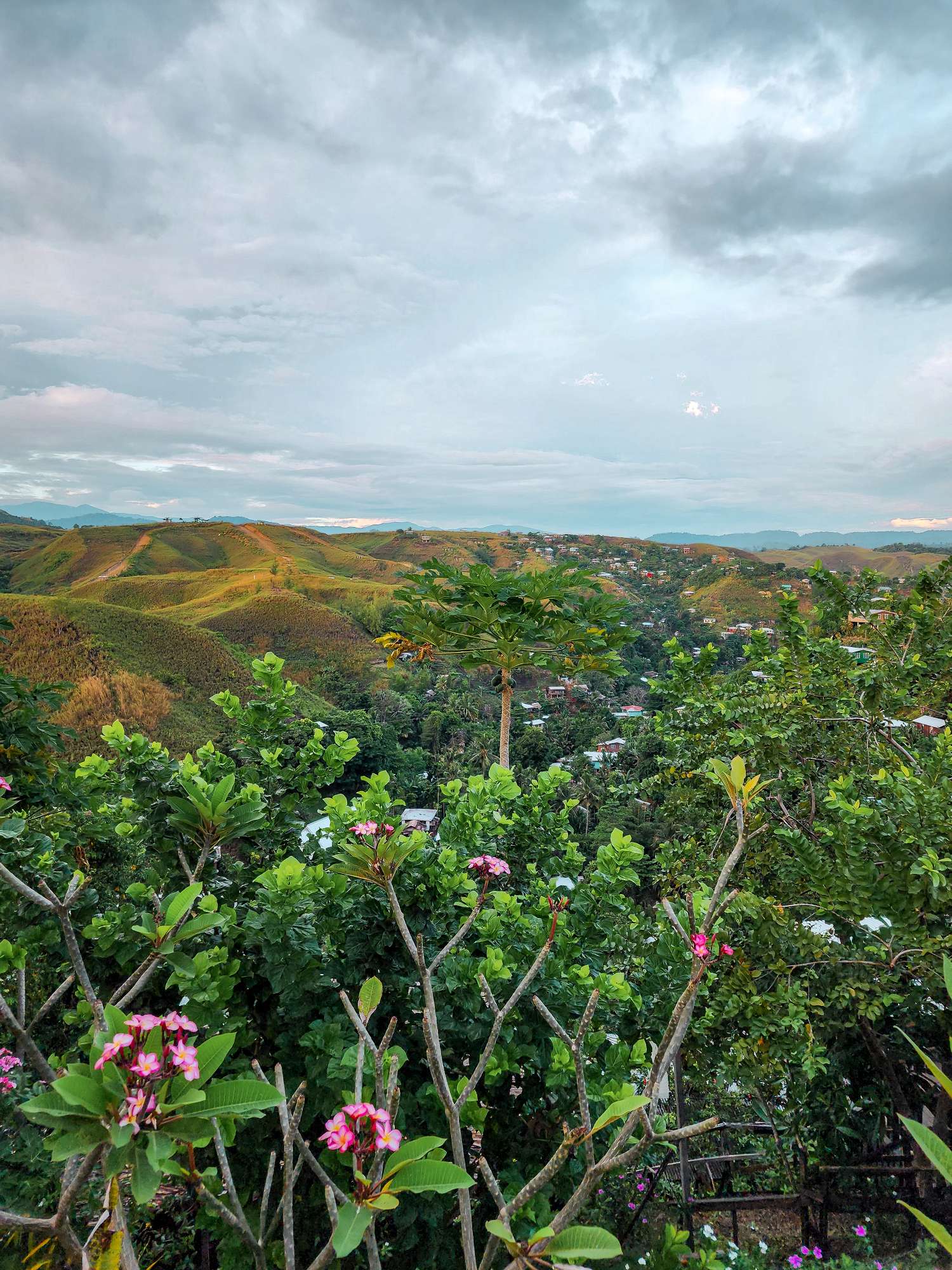 Believe it or not, this has been one of my highlights of visiting Honiara.
Jacobs Ladder is a well-known landmark for locals & hidden gem to visitors in Honiara. It is a steep staircase with approximately 800 steps that connect the upper part of the city to the lower coastal area. Here's some information about Jacobs Ladder:
Location: Jacobs Ladder is located near the city center of Honiara, specifically in the residential area of Point Cruz. It starts at the top of Murray Road and descends towards the coastline, ending near the Point Cruz Yacht Club.
Purpose and History: Jacobs Ladder was constructed during World War II by American forces as part of the Guadalcanal campaign. It was initially built as an access point for military personnel to move quickly between the hilltop area and the waterfront.
Fitness and Recreational Activity: Today, Jacobs Ladder has become a popular spot for fitness enthusiasts and visitors looking for a challenge. So obviously I had to do it & I was not disappointed. Started from the top & walked all the way down & around.

The only thing I would say is to be mindful of some stray dogs. Luckily I met a local girl who helped me distract 5 dogs at one point but the second time around there was no one and, the dog barked at me so bad I was nervous and tripped, fell down & landed on my hands hurting my wrist! Be careful out there. Other than that, highly recommend it.

Many locals have homes here and use the stairs for their daily commute. The steep climb provides a rigorous workout and is often used for fitness training but also offers beautiful panoramic views of the city and the sea.
Scenic Views: As you ascend or descend Jacobs Ladder, you'll be treated to stunning views of the Honiara skyline, the harbor, and the surrounding islands. It's a great vantage point to capture photographs and appreciate the natural beauty of the area.
Accessibility: Jacobs Ladder is open to the public and accessible to anyone who is physically capable of climbing the steep stairs. However, due to the high number of steps and the incline, it may not be suitable for individuals with mobility issues or certain health conditions. It's recommended to take precautions, stay hydrated, and go at your own pace while using the stairs.
Visiting Jacobs Ladder in Honiara can be a rewarding experience, providing a combination of exercise, scenic views, and a glimpse into the city's history. If you enjoy physical activities and want to challenge yourself, climbing Jacobs Ladder can be a memorable part of your visit to Honiara.
2. Breakfast at Breakwater again
because I definitely deserved it after all that morning hike. Plus you can rent a snorkel at the cafe or diving equipment from Tulagi Dive. Be sure to confirm if available ahead of time.
More pictures. on Instagram highlight "Solomon Islands"
3. Guadalcanal American War Memorial
Head to the Guadalcanal American Memorial, which commemorates the World War II Battle of Guadalcanal. Take a moment to reflect on the historical significance of this site and pay homage to the brave soldiers who fought here. The World War II Guadalcanal American Memorial is located on Skyline Drive overlooking the town of Honiara, Guadalcanal, Solomon Islands.
4. Solomon Peace Memorial Park (WWII Japanese war memorial)
Located near the Guadalcanal American Memorial, pay a visit to the WWII Japanese Peace Memorial, dedicated to Japanese soldiers who lost their lives during the war. The memorial provides a tranquil setting for reflection.
5. Visit the Willie Besi War Museum
6. Grab Lunch at Mambo Juice
7. Visit the Vilu Military Museum
Aka Vilu War Museum offers some wonderful displays of "relics" from the war here. Exhibits are collected from across the island and were a nice range of American and Japanese artifacts. It is a small open-air museum in Vilu open Mondays to Sundays 0730-1700, an entrance fee of 100 SBD p/p, and filming costs 1000 SBD.
8. Heritage Park Hotel for sunsets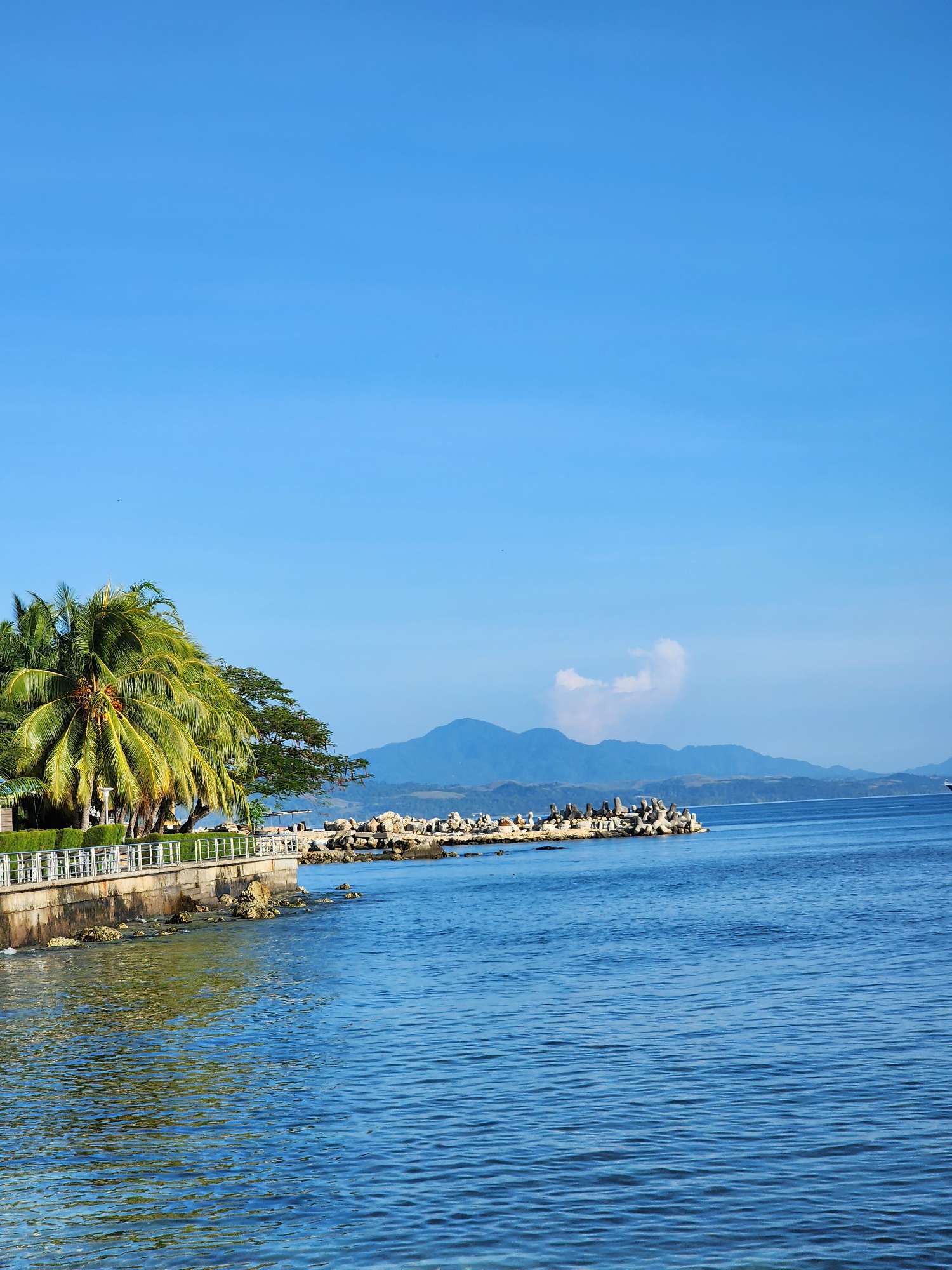 9. Tenkai Sushi Cafe
Pretty decent Japanese food, I had Katsu Chicken for dinner.
Don't forget to grab some snacks for tomorrow morning from the Chinatown Bulk Shop or others in town.
Day 3:
1. Tenaru Falls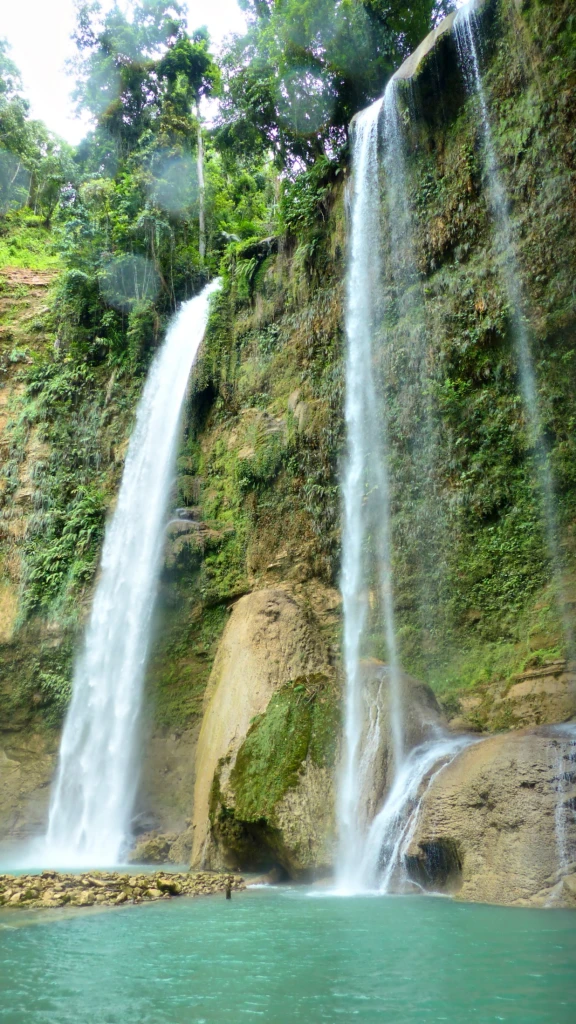 Honiara boasts breathtaking natural beauty, showcasing the Solomon Islands' unspoiled paradise. The lush rainforests surround the hidden gems like Tenaru Falls, where cascading water creates a serene oasis for nature enthusiasts to explore. Here's some information about Tenaru Falls:
You can either drive there or contact the Paranjiju Mountain Lodge (Amanda +677 71 01432) to align the guide to get up to the waterfalls as visitors are not allowed to go on their own. 600 SBD for it.
Location: Tenaru Falls is situated about 30 kilometers east of Honiara, near the Tenaru River in the Guadalcanal Province of the Solomon Islands. It is nestled within a lush rainforest, offering a serene and picturesque setting.
Natural Beauty: Tenaru Falls is a cascading waterfall that flows down a series of rock formations, creating a stunning display of water and natural beauty. The falls are surrounded by dense vegetation, including tropical trees and ferns, adding to the scenic charm of the area.
Hiking and Exploration: To reach Tenaru Falls, you can embark on a moderate hiking trail that winds through the rainforest. The trail takes approximately 1-2 hours to complete, depending on your pace, and stops along the way. The journey offers an opportunity to immerse yourself in nature and appreciate the biodiversity of the region.
Swimming and Relaxation: At the base of Tenaru Falls, there is a pool of clear water where visitors can take a refreshing dip and cool off. The pool is relatively shallow and provides a tranquil spot for swimming or simply relaxing amidst the natural surroundings.
Local Guides: It is recommended to hire a local guide to accompany you on the hike to Tenaru Falls. They can provide valuable insights, ensure your safety, and share interesting information about the flora, fauna, and history of the area.
Preparation: Before embarking on the hike, it is important to wear appropriate footwear, carry sufficient water, and use insect repellent to protect against mosquitoes and other insects. It's also advisable to bring a camera to capture the beautiful scenery.
Visiting Tenaru Falls offers a chance to experience the natural wonders of the Solomon Islands and enjoy a peaceful escape from the city. The combination of hiking, swimming, and immersing yourself in the rainforest environment makes it a popular destination for nature lovers and adventure enthusiasts.
2. Lunch at Breakwater again
because I like their food and giant smoothies or Red Cross cafe for a local meal.
3. Bonegi Beach
Snorkel at one of the many beaches west of Honiara by rental car or public bus. Some recommended beaches are Bonegi Beach, Lele, Turtle, Ginger, B-17, and Visale Beach with crystal-clear turquoise waters, perfect for snorkeling, swimming, and sunbathing.
4. Get a massage
at Jing's Spa
5. Pizza at the River House
Ps: make sure to arrive early at the airport – Honiara is hosting the Pacific games in November and they are currently fixing their roads etc so rain, bad roads, and traffic can lead to significant delays. Also, check out the memorial garden located right next to the airport- an excellent place to wait for your international flight after check-in or before. And Kuya cafe next door for last-minute pick-me-up coffee.
Note: Honiara comes alive during its colorful festivals and celebrations, providing a unique opportunity to witness the vibrancy of Solomon Islander culture. The annual Solomon Islands Arts Festival showcases traditional music, dance, and crafts, while the Guadalcanal Provincial Cultural Festival celebrates the province's cultural heritage. These events offer a glimpse into the locals' deep-rooted traditions and are a testament to their pride in their cultural identity. Pls, check with S.I. Visitors Bureau to get real-time info on when these are scheduled.
Honiara, with its rich cultural tapestry, intriguing history, and breathtaking landscapes, stands as a gateway to the wonders of the Solomon Islands. It offers an unforgettable journey that combines authenticity, natural beauty, and a warm sense of community, making it an ideal destination for adventurous solo female travelers.
Solo travel tips to Honiara, Solomon Islands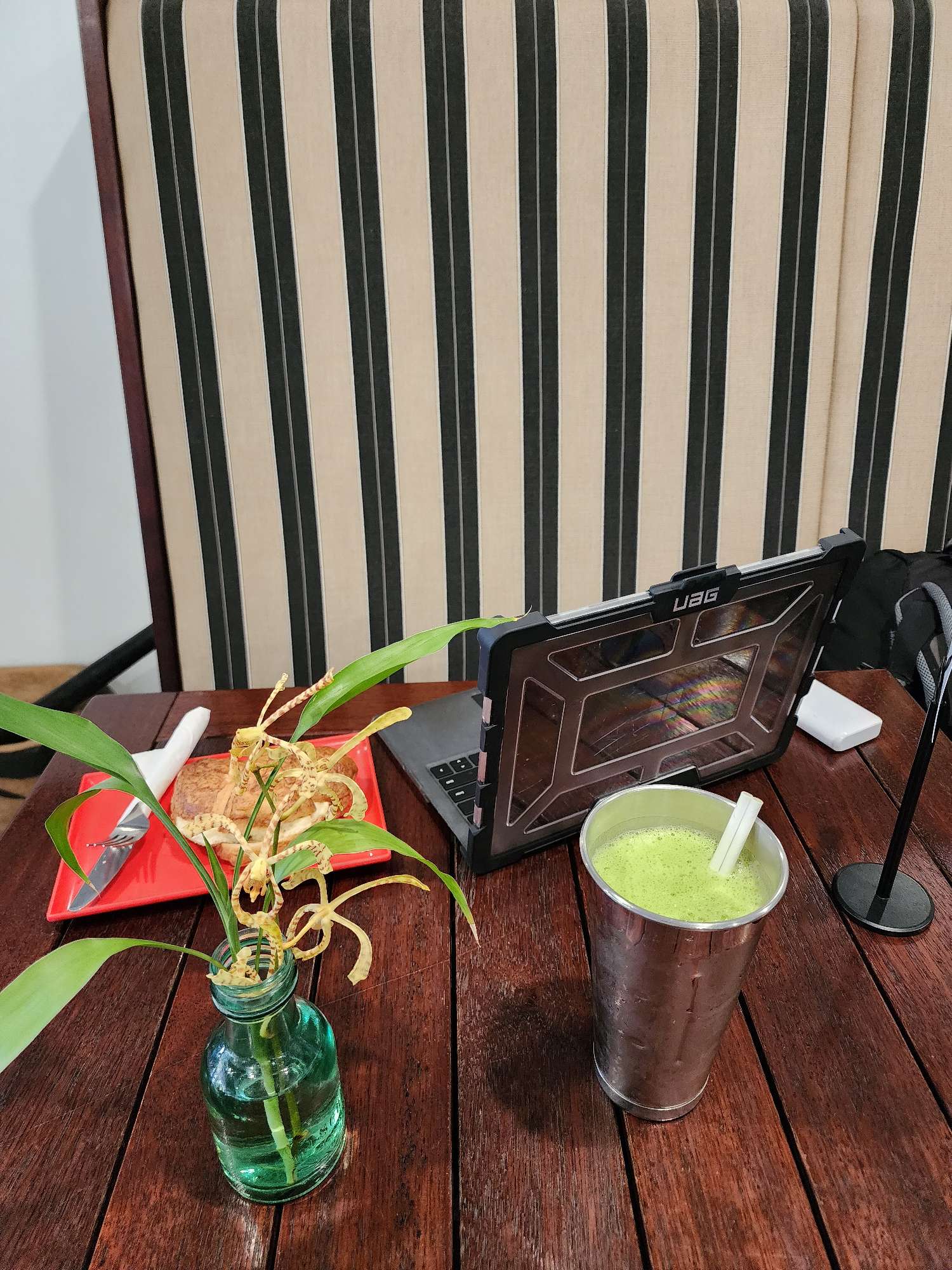 Where to get the SIM card?
As soon as you land you can pick up and top up your Telekom SIM card at the airport or at the Telekom office. And you can top it up in little roadside snacks/cellular top-up shops – I found one called Breezeland.
Where to get the local currency?
Unfortunately, there were no ATMs or currency exchange at the airport, lucky I had exchanged some PNG Kina for Solomon Dollars (SBD) prior to leaving PNG. It's always a good idea to have some cash on hand before you arrive or to ensure you have an alternative method of payment in case the ATMs are out of service or experiencing technical issues.
Alternatively, you can exchange currency after your arrival at the Post Office and pick up some Solomon Islands postcards too.
Where to stay in Honiara?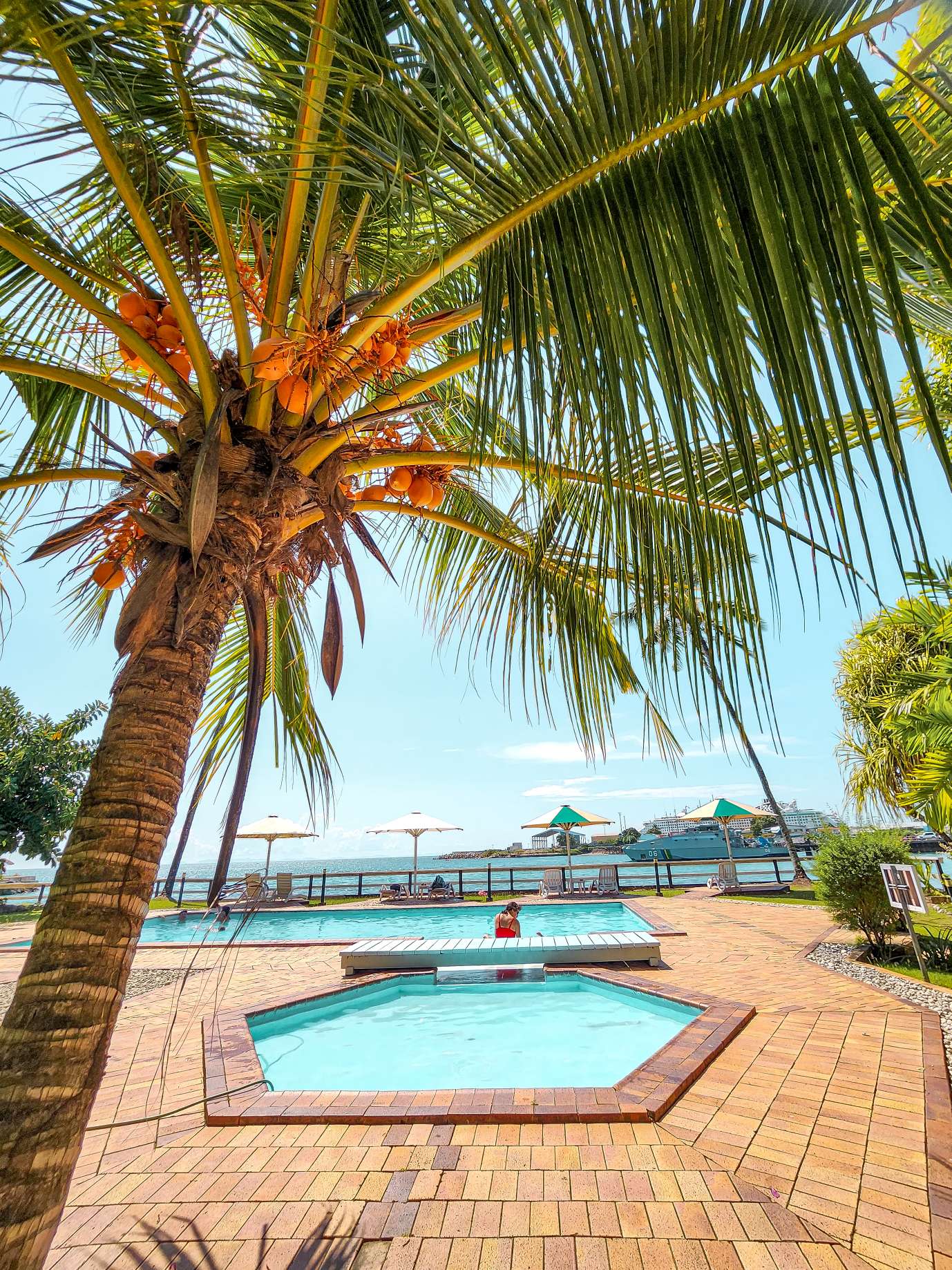 Honiara, the capital city of the Solomon Islands, offers a range of accommodation options to suit different preferences and budgets. Here are some areas and hotels where you can consider staying in Honiara:
Town Center: The town center of Honiara is a convenient location for accessing amenities, restaurants, and shops. Several hotels are situated in this area, providing easy access to key attractions and services. Examples of hotels in the town center include Heritage Park Hotel, Coral Sea Resort & Casino, and Solomon Kitano Mendana Hotel.
Kukum/NPF Plaza: The Kukum area, near NPF Plaza, is another popular area to stay. It offers a range of mid-range and budget accommodations, including guesthouses and hotels. Some options in this area include King Solomon Hotel, Pacific Crown Hotel, and Honiara Pacific Hotel.
Point Cruz: Point Cruz is a residential area located near the waterfront and offers a peaceful atmosphere. This area has a few hotels and guesthouses, such as The Pacific Hotel, King Solomon's Palace, and Iron Bottom Sound Hotel.
Tasahe: Tasahe is a suburban area located a short distance from the city center. It offers a more relaxed environment and is home to some upscale accommodations, such as the Coral Sea Villas and Honiara Hotel Motel.
Lungga/Naha: Located outside the city center, the Lungga/Naha area provides a quieter setting and is known for its beautiful beaches. Accommodation options in this area include Guadalcanal Beach Resort.
When choosing a place to stay in Honiara, consider factors such as your budget, preferred location, proximity to attractions or activities, and the amenities offered by the hotel. It's also advisable to book your accommodation in advance, especially during peak travel seasons, to secure your preferred choice.
How expensive are the solomon islands?
The cost of visiting the Solomon Islands can vary depending on several factors, including your travel style, accommodation choices, dining preferences, and activities. Here is a general overview of the expenses you can expect in the Solomon Islands:
Accommodation: Accommodation options in the Solomon Islands range from budget guesthouses to luxury resorts. Prices can vary significantly, with budget accommodations starting at around $55-80 AUD per night, while mid-range and higher-end options can range from $100 to several hundred dollars per night.
Internet: Range of options available in terms of how much data you want to buy. For example, 1GB was $9 SBD and 2 GB was $11 SBD so it made sense to get the 2 GB. *155# to get data plans & *121# to check the balance. The internet speed was a little spotty but surprisingly worked most of the time.
Food and Dining: Dining options in the Solomon Islands can be relatively affordable, especially if you opt for local eateries and markets. A basic meal at a local restaurant can cost around $10 AUD, while dining at mid-range restaurants may range from $15-30 AUD per person. Prices at high-end restaurants and resorts will be higher.
Transportation: Transportation costs can vary depending on the distance and mode of travel. Taxis within Honiara and short trips within the city may cost around $5-10 AUD. Public buses (PMVs) are a more affordable option, with fares ranging from $1-5 USD depending on the distance but not reliable. Rental car prices vary, starting from around $100 AUD per day.
Activities and Tours: The cost of activities and tours can vary widely depending on the type and duration. For example, diving and snorkeling trips can range from $50-150 AUD per dive or excursion. Guided cultural tours, visits to historical sites, and adventure activities can cost anywhere from $20 to a few hundred dollars per person.
Flights: International flights to the Solomon Islands can be a significant expense, depending on your location and the time of booking. Prices for round-trip flights can vary widely, ranging from $500 to $2000 AUD or more, depending on factors such as the airline, season, and demand.
It's important to note that these are rough estimates and prices can fluctuate. Additionally, remote areas or less touristy islands may have fewer accommodation and dining options, which can affect prices. It's advisable to research and plan your budget accordingly, taking into account the specific activities and locations you plan to visit in the Solomon Islands. Regardless, people do vacation in the Solomon Islands because it is secluded & beautiful.
How to get around Honiara?
Taxis: Taxis are readily available in Honiara and can be found at taxi stands or hailed on the street. Public transport is not the best, so my best bet was to get taxis to get around. However, if you stay right in the city must-see places are located in the town. So you probably won't need it unless for day trips.
There are two well-known taxi companies and they charge 10 SBD per KM
King Taxi and Crown Taxi +677 20777
Rental Cars: Renting a car can provide more flexibility and independence for exploring Honiara and its surrounding areas. Several car rental agencies operate in the city, and you can arrange a rental either in advance or upon arrival. Keep in mind that driving is on the left-hand side of the road in the Solomon Islands.
Walking: Honiara's city center is relatively compact, making it suitable for exploring on foot. Walking allows you to immerse yourself in the local atmosphere, discover hidden gems, and easily access nearby attractions. However, be cautious and aware of your surroundings, especially in busy areas or at night.
When is the best time to visit the Solomon Islands?
The best time to visit the Solomon Islands, including Honiara, is during the dry season, which typically extends from April to November. This period offers more favorable weather conditions and is considered the peak tourist season. Here are some factors to consider when planning your visit:
Weather: The dry season experiences less rainfall and more sunshine, making it ideal for outdoor activities and exploring the islands. The temperatures are generally warm and pleasant year-round, with average highs ranging from 28°C to 32°C (82°F to 90°F).
Diving and Snorkeling: The months of April to October are particularly popular for diving, Whale watching, and snorkeling enthusiasts. The waters are generally calm and visibility is excellent, offering great opportunities to explore the vibrant coral reefs and marine life.
Festivals and Events: The dry season also coincides with various cultural festivals and events in the Solomon Islands. These celebrations showcase traditional music, dance, arts, and crafts, providing a unique cultural experience for visitors.
Crowds and Prices: The dry season is the peak tourist season in the Solomon Islands, which means that popular sites and accommodations may be more crowded. It's advisable to book accommodations and activities in advance to secure your preferred options. However, it's worth noting that prices for flights and accommodations may also be higher during this period.
Wet Season Considerations: The wet season, from December to March, brings more rainfall and increased humidity to the Solomon Islands. While some travelers may still choose to visit during this time, it's important to be prepared for potential rain showers and plan activities accordingly. Some outdoor activities and tours may be limited or disrupted during heavy rain.
It's always recommended to check the current weather conditions and consult local resources when planning your visit to the Solomon Islands. Additionally, keep in mind that weather patterns can vary, and it's possible to experience rainfall even during the dry season.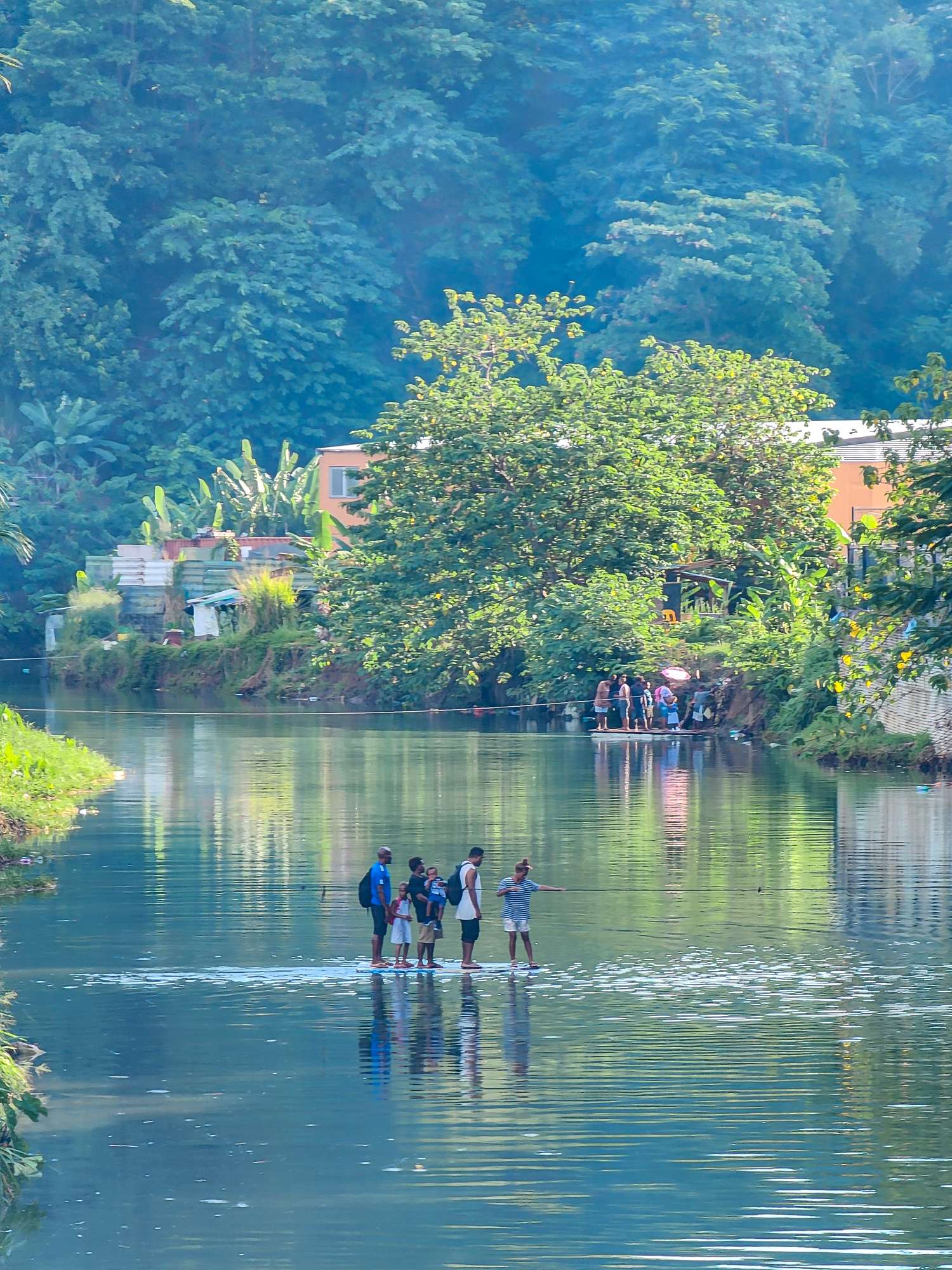 What is Honiara known for?
Honiara, the capital city of the Solomon Islands, is known for several notable features and attractions. Here are some things that Honiara is known for:
World War II History: Honiara played a significant role during World War II as the site of the Battle of Guadalcanal. The city is known for its historical significance and various war-related sites, including the Guadalcanal American Memorial, Japanese Peace Memorial, and Vilu War Museum.
Cultural Diversity: Honiara is home to a diverse population, representing various indigenous ethnic groups from the Solomon Islands. The city offers opportunities to experience and appreciate the rich cultural heritage through traditional music, dance, arts, crafts, and local customs.
Central Market: The Central Market in Honiara is a bustling hub where locals gather to sell and purchase fresh produce, seafood, handicrafts, and traditional artifacts. It's a vibrant place to immerse yourself in the local atmosphere, sample local cuisine, and engage with friendly vendors.
Pristine Beaches and Marine Life: Honiara boasts stunning beaches with crystal-clear waters and vibrant marine life. Places like Bonegi Beach and Visale Beach offer opportunities for snorkeling, diving, and enjoying the beauty of the Pacific Ocean.
Natural Wonders: Honiara is surrounded by lush rainforests and natural wonders. Tenaru Falls, located just outside the city, offers a serene hiking experience leading to a magnificent waterfall. The Honiara Botanical Gardens provide a tranquil escape with a variety of flora and fauna to explore.
Melanesian Art and Crafts: Honiara is known for its vibrant art scene and the production of Melanesian arts and crafts. The city offers a range of galleries and craft markets where you can find traditional wood carvings, shell jewelry, paintings, and other unique artworks.
Warm Hospitality: The locals of Honiara are known for their friendly and welcoming nature, providing a warm and hospitable atmosphere for visitors. Interacting with the residents offers insights into their way of life, traditions, and cultural practices.
These are just a few highlights of what Honiara is known for. Besides, the country's blend of history, culture, natural beauty, and warm hospitality makes the Solomon Islands worth visiting and an intriguing destination for travelers seeking an authentic South Pacific experience.
Is Honiara safe for solo travellers?
Honiara can generally be considered safe for solo travelers, but it's important to exercise caution and take necessary precautions, as with any travel destination. Here are some factors to consider:
Personal Safety: Like in any city, it's advisable to be mindful of your surroundings, particularly at night and in less crowded areas. Avoid displaying valuable items openly and be cautious of pickpocketing or petty theft. It's recommended to use common sense, trust your instincts, and take appropriate safety measures.
Local Advice: Seek local advice and information from trusted sources such as your hotel or reliable tour operators. They can provide insights into areas to avoid or precautions to take based on the current situation in Honiara.
Transportation: Ensure that you use reliable and licensed taxis or transportation services. It's recommended to agree upon a fare before starting your journey. Avoid hitchhiking or accepting rides from strangers.
Respect Local Customs: Familiarize yourself with the local customs and cultural norms. Respecting the traditions and sensitivities of the local population can help create a positive and safe experience for solo travelers.
Emergency Contacts: Keep important contact numbers, including your embassy or consulate, local authorities, and emergency services, readily available in case of any unforeseen situations.
Travel Insurance: It's always advisable to have comprehensive travel insurance that covers medical emergencies, personal belongings, and trip cancellations. Ensure that your insurance policy is suitable for the activities you plan to undertake in Honiara.
While Honiara is generally safe, it's essential to stay informed, use common sense, and take necessary precautions to ensure a safe and enjoyable solo travel experience. As with any travel destination, it's advisable to research and be aware of the local customs, laws, and potential risks before your trip.
Let me know in the comments:
if you have any other questions on this 3 days in Honiara itinerary
3 days in Port Moresby
5 days in Apia Samoa itinerary
5 days in Nuku'alofa Tonga itinerary
Grampians itinerary for 3-4 days
Best day trips from Hobart, Tasmania
Day trip to Stradbroke Island, Queensland
Weekend in Brisbane
Best places to visit in autumn in Australia
Backpacking in Melbourne, Australia
Digital nomad guide to Melbourne
Sydney itinerary 5 days
Best places to see autumn leaves in Adelaide
Exploring Adelaide the best way
All Adelaide travel blogs
10 hidden beaches and bays in Sydney
99% of readers found must see on the east coast of Australia helpful.
Sydney bucketlist things
Sydney itinerary for 5 days
Secret Sydney walks
Best places to take photos in Sydney
Pros and cons of living in Australia
where to stay in Sydney
Hidden beaches and bays
most instagrammable cafes in Sydney
where to eat in Sydney
most Instagrammable places in Sydney, Australia
Most beautiful places in New Zealand North Island
Check out the most beautiful places in New Zealand South Island
Going to Vietnam after Australia? Check out the 7 days Hanoi travel guide.
One month in Central America itinerary
Solo trip to Phoenix, Arizona
How about Colombia? Check out how to get from Medellin to guatape
Check out where to stay in Medellin, Colombia
Check hotel prices and book it through booking.com
Read the most wanted travel resource here.
If you like this article, read about my journey to becoming a solo female Nepali Australian travel blogger, follow my adventures on Instagram, Facebook, YouTube, Twitter, and Pinterest, but most importantly sign up for my e-mail list to keep up with updates and travel posts!
3 days in Honiara itinerary Solomon Islands