As some of you may be aware, I am on a quest to travel to all the countries in the world. So after Dublin solo travels, it was time to travel to my country #55 Liechtenstein- one of the smallest countries in Europe. So today I will be covering how to go from Zurich to Liechtenstein, what to see, eat/drink and more ideas for an extended stay.
Hoi means Hello in Liechtenstein and is probably one word you will hear the most while in town. Liechtenstein is the only country that lies entirely in the Alps. In the summer it is famous for hiking, wineries, and vineyards, and some of these can be reachable by foot from the main square of Vaduz. In the winter, Malbun the highest village in Liechtenstein becomes a favorite ski town.
Vaduz is the capital city of Liechtenstein and there are in total of 11 municipalities. Did you know more than 40% of the country is covered in forest and just 11% is used for residential purposes?
The place is so beautiful you can easily immerse yourself in the diversity of this small country. Explore its beautiful nature, discover its myths and legends, learn about local history and culture in the museums, enjoy the many outdoor activities and experience the vibrant economy. So if you are hesitating about whether to go or not, I hope this one day in Liechtenstein itinerary helps you make up your mind and that you will go and experience this magical European country.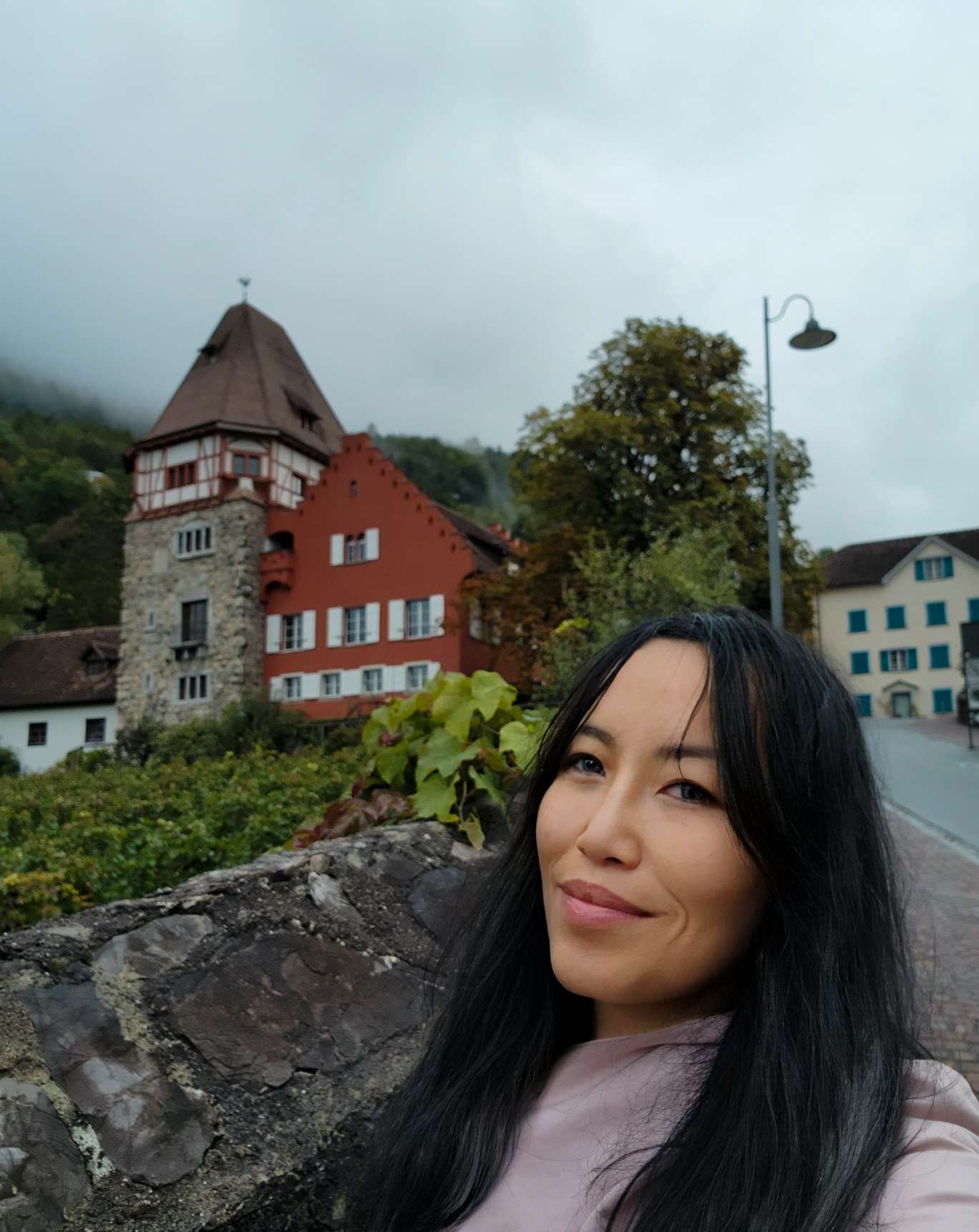 How to go from Zurich to Liechtenstein?
Traveling alone is quite different, as opposed to moving with a tour company. Hence if you are traveling alone, you have the choice to travel however you want via flight, bus, train, driving car, ferry or cruise ship (minus the last two options because Liechtenstein is a landlocked country like Nepal). It all depends on your preferred mode of traveling and budget.
I researched a lot and the best way for me to get to Liechtenstein in less travel time was from Zurich. So, first I booked the flight to Zurich.
Once you are at Zurich airport, you can buy the train and bus tickets all the way to Liechtenstein all at once. The ticket machines have an English option and takes card/cash.
If you plan to do a day trip make sure you purchase the return tickets, not just one way.
One way takes approximately 2 hours so keep that in mind when you plan your day. I used my credit card but you if have a Swiss travel pass you can use that to pay for the train tickets.
Buy the train ticket to get to the main train station Zurich HB in the city.
Buy the train ticket from Zurich HB to Sargans train station. The train is comfortable, and spacious and takes 55 mins to reach Sargans from Zurich city. The train also had a phone charging next to the seats, just don't forget your cable as I did!
Buy the bus ticket from Sargans to Vaduz. Once you are at the Sargans station, go outside and change to bus no 11, which runs to Vaduz Post, Liechtenstein in around 30 minutes.
While in Sargans station, you could store your bag in the locker. I had plans to spend a day exploring Liechtenstein so did not want to carry my backpack all day so I stored it in the locker. It was 5 euros, just make sure you have enough coins with you. To be honest I was a little concerned if it was a good idea because Sargans train station looked quiet and quite small but everything was fine. I mean it's Switzerland!
Public transport is right on the dot punctual so make sure you are on time for your return trip.
At Zurich airport, if you want a quick bite to eat I recommend coop to go shop. Kaffi Milch was my favorite coffee to go and they also had some really affordable meals etc.
If not, the train to Sargans also has a restaurant in it and there are plenty of places to grab food in Zurich city right next to the train station/platforms as well.
Sargans train ride offers a beautiful Rhine river view & mountain sceneries so maybe sleep well the night before so you don't miss out.
Day trip from Zurich to Liechtenstein
Now that we got the practical tips out of the way, let's get into the best places to visit in Liechtenstein and day trips from it.
Where to go in Liechtenstein?
If you are in the mood to meet other travelers then join a free walking tour that gives you a broader perspective and story about the city. It runs on a donation basis so just book yourself and arrive on time and tip at the end.
While on the road, some days you may not be in the mood to be in the group so in that case, you will be pleased to know Liechtenstein is pretty small and you can easily sightsee and walk around yourself in a one-day city tour.
I have written this one day in Liechtenstein travel guide exactly how I spent it. I started my day with the Church, Museum, bridge, and old town, then up to the hills and more sightseeing. You may change it around to what suits you best. Probably a good idea is to head to the museum if it is rainy or up the hills if sunny.
Feel free to check out/follow me on my Instagram for all the pictures and stories.
1. St. Florin Cathedral
St. Florin Cathedral is a small 19th-century neo-Gothic style cathedral featuring a soaring, & vaulted ceiling. Although I have seen much better ones, I liked the glass windows behind the altar, and the walk doesn't take much time.
The bus in Vaduz dropped me off in the middle of town but I wanted to start from the top. So after getting off the bus I walked to the St. Florin Cathedral only 5 mins walk past the Landtag des Fürstentums Liechtenstein and Regierungsgebäude des Fürstentums Liechtenstein. Both of these are local government buildings but are photo perfect from the outside.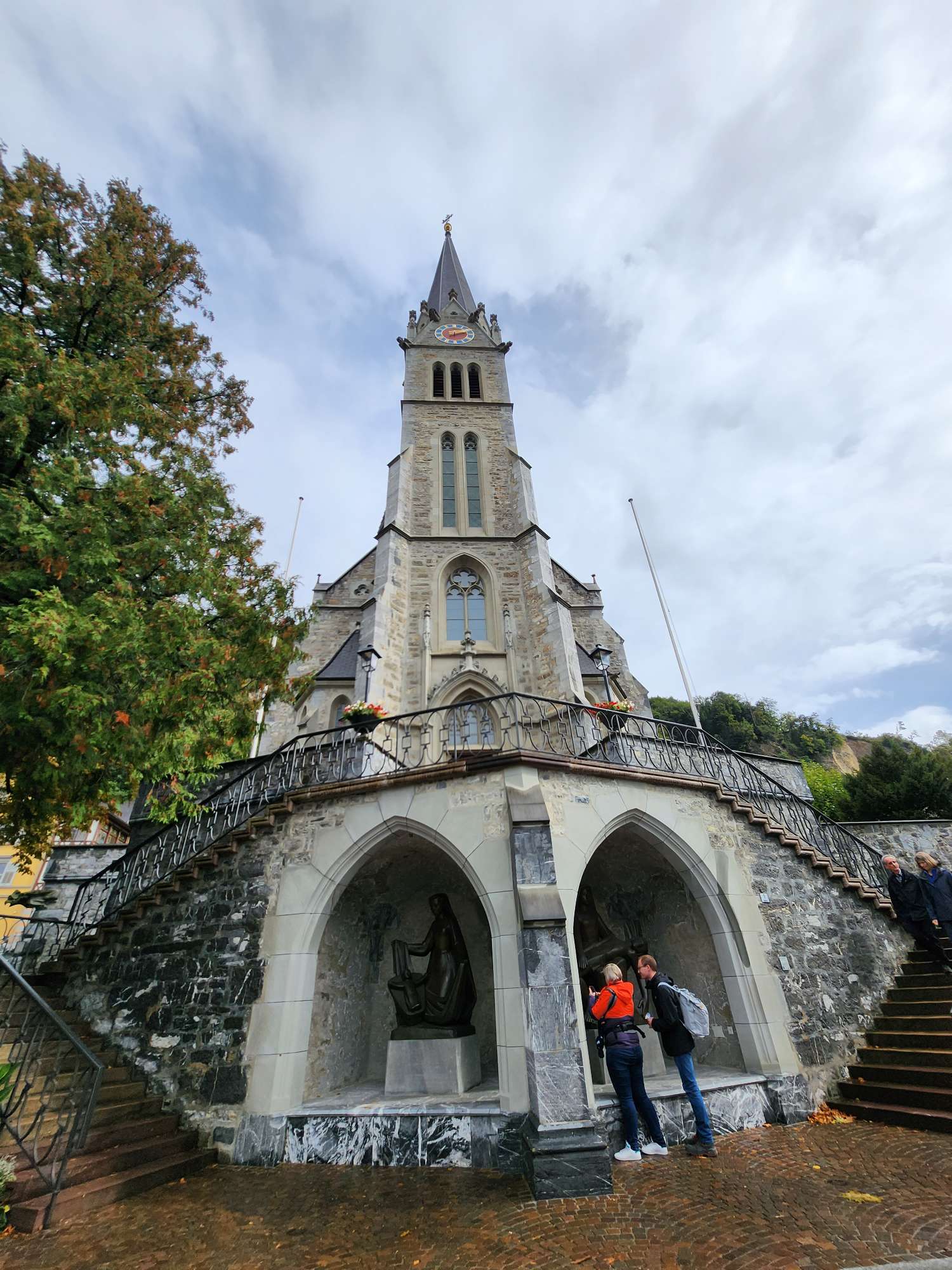 2. Liechtenstein National museum
The past two government buildings are the Liechtenstein National museum. This museum spreads over three different buildings, each well worth a visit in its own right, the exhibitions here invite visitors to travel through the history, culture, and nature of the country.
The museum also hosts special exhibitions on selected topics from time to time. It also has a souvenir shop and a self-service walk-in coffee shop. There is also audio available, and entrance costs €10.
As you come outside of the museum, the next building is the visitor center, and here you can get the souvenir passport stamp but it is available at all tourist offices in Liechtenstein also.
3. Liechtenstein Post Museum
A few steps down the road past the visitor center is Liechtenstein Post Museum. It's a small museum with more than 100 years of philatelic history told through numerous original designs, proofs, and historical documents. There's also a digital index of the stamps of Liechtenstein.
The top floor had a special exhibition when I was there which was interesting Modern art. There was audio available but no words, just different sounds to match the art pieces in front of you.
All in all, it's worth a visit, especially considering that there's no entry fee.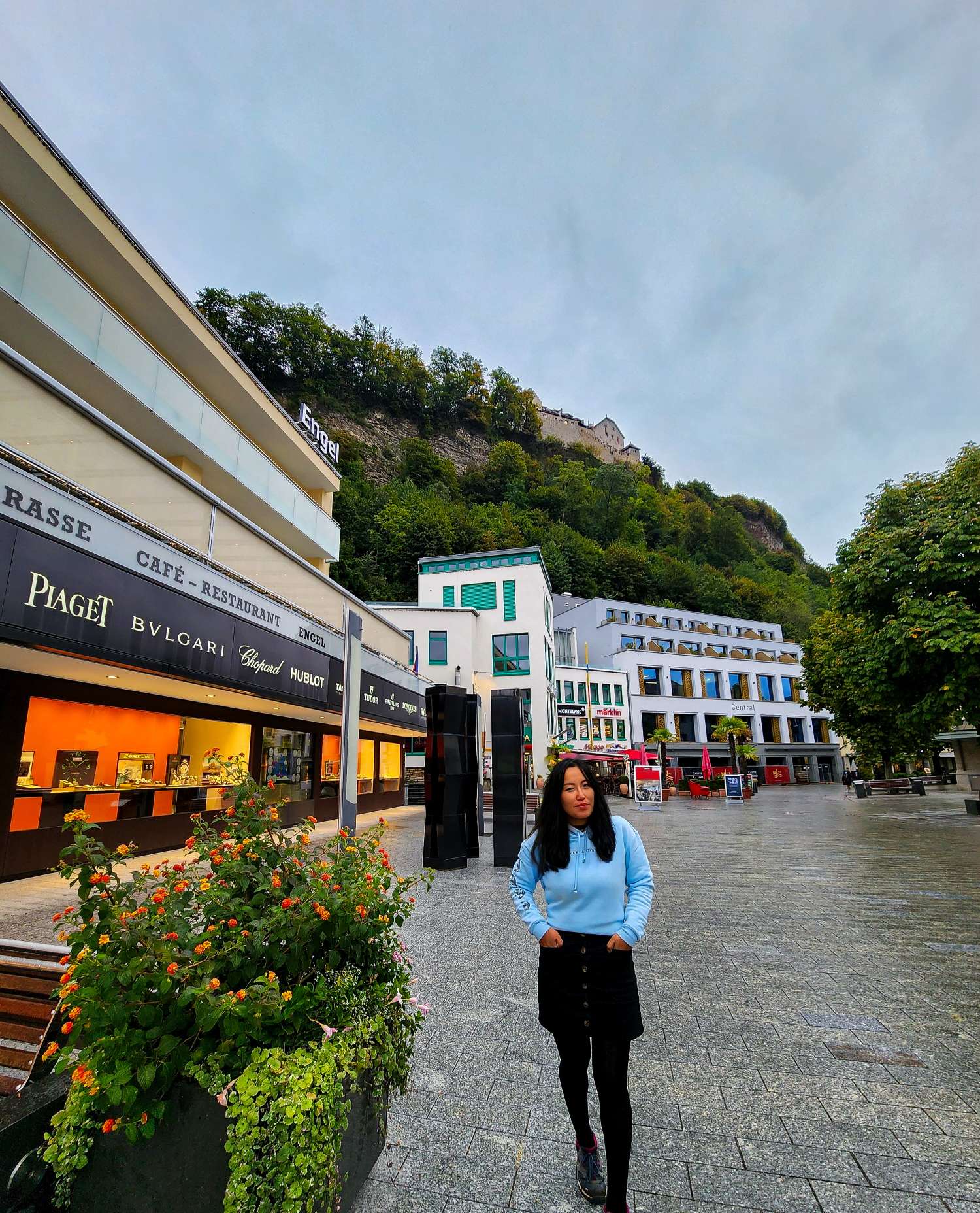 4. Treasure Chamber/ Schatzkammer Liechtenstein
The exhibition here displays unique and precious objects including the Princely Crown, original moon rocks from the Apollo 11 and 17 missions, a perpetual calendar by Erasmus Habermehl, and the famous "Apple Blossom Egg" by Faberge.
The Treasure Chamber can be visited by getting a coin from the nearby Postal Museum.
5. Kunstmuseum Liechtenstein with Hilti Art
A few steps ahead, you will notice the big black building on the left. That is Kunstmuseum Liechtenstein. The core of this museum focuses on arts from the 20th and 21st centuries, modern and contemporary. When entering the reception of the museum you can get the plastic locker key so your belongings can be kept inside. Then you are free to roam around to check out all the modern arts. It is FREE on Wednesdays and there is an onsite cafe too.
The Hilti Art Foundation is attached to the museum and displays outstanding examples of classical modern art.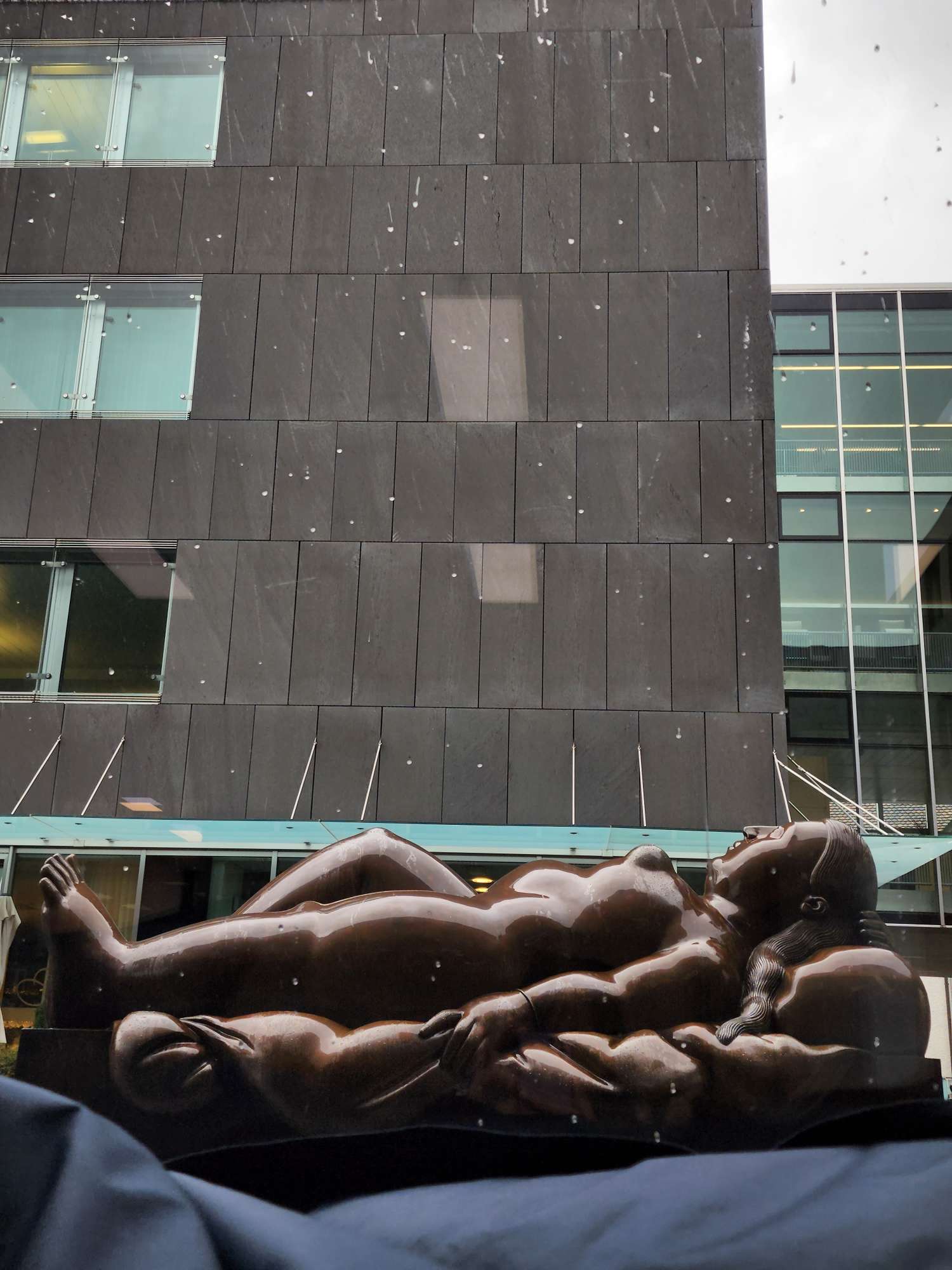 6. Statues
One of the coolest things that I noticed in this small capital city is various sculptures have been placed at certain distances. It's like you are in an open-air sculpture park among the renowned works by Fernando Botero, Nag Arnoldi, and many other talented artists. They all are unique and something that adds to the vibe of the city.
7. City Train
If you don't have enough time, consider the city train as the train brings you to the areas surrounding the capital city that you otherwise would not visit. It takes you through the residential area, the Red House, and the further stadium areas while providing commentary in different languages through headphones.
The route itself is also quite scenic, giving you different glimpses of life in Vaduz and providing a brief background to them. If you like a live crash course to life in Vaduz and Liechtenstein, this train provides that.
The prices cost about CHF11 for adults, but the price is definitely worth it for the 35-minute ride. Do, however, check for the tour timing, as it may vary, before purchasing your ticket at the counter.
The Red House in Vaduz is an excellent place for taking photos of the castle.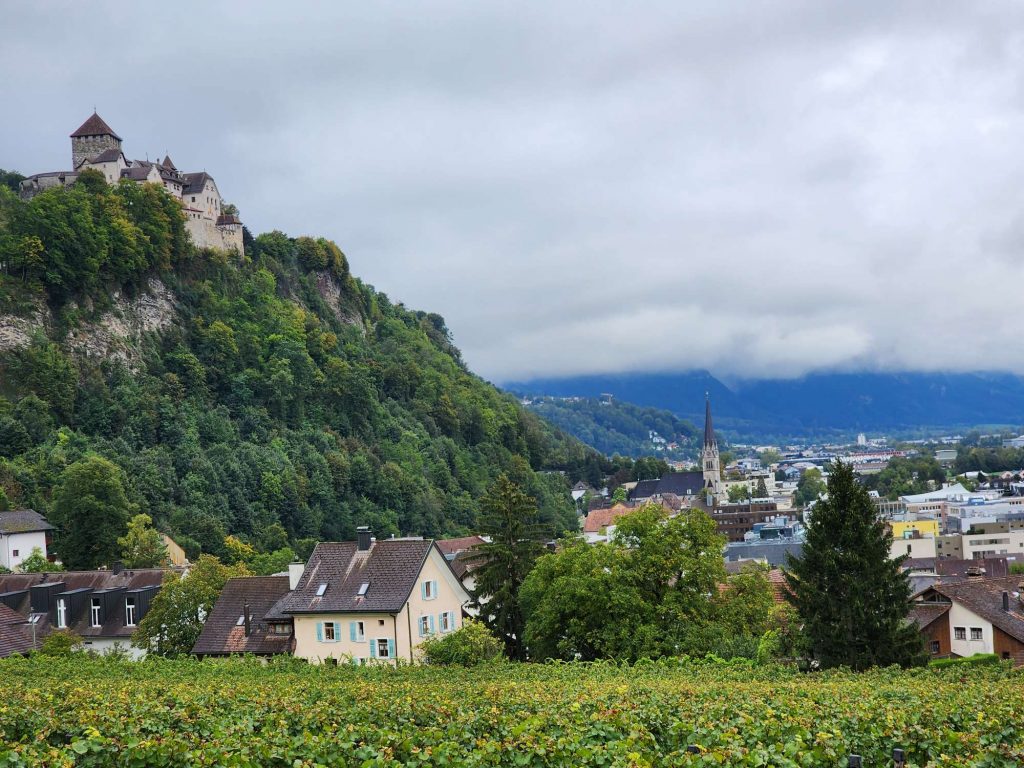 8. Vaduz Castle on the Hill
Once you are in Vaduz, you will notice this castle up on the hills from any corner of the city. It is in fact one of the most photographed landmarks in the whole country.
The Vaduz castle, originally a medieval castle is approximately 700 years old and has been owned by the Princes of Liechtenstein since 1712. Since 1938 it has been the official residence of the Princely Family and therefore cannot be visited. However, at Princely Theatre you can experience a cinematic insight into Vaduz Castle and take a look at life behind the castle walls.
The Princely House of Liechtenstein is one of the oldest noble families in Europe and a highly successful family of entrepreneurs. Its art collection is one of the most important private collections in the world. Prince Hans-Adam ||
is the first Prince to be born in Liechtenstein.
Did you know 'the city' of Vaduz is known as 'Städtle'?
9. Princely Wine Cellar
The Princely Wine Cellar invites travelers to walk through the Prince's private vineyard and sample his fine wines in a stylish setting. This would be a perfect way to wrap up a Liechtenstein day.
10. Hikes in Liechtenstein
If it is a sunny day and/or you want to skip museums, I would suggest taking a mini hike up to Vaduz Castle and seeing the old Vaduz from up there. Follow the signposts on the road and take enough water with you.
If you are there in the summer, note Liechtenstein is famous for hiking as it is the only country that sits in the Alps!
There are few places where this is more apparent than on the 400 KM of well-maintained and signposted hiking trails. Classics such as the Princess Gina Trail, the Three sisters (Drei Schwestern), and the Furstensteig are just three of the unforgettable high alpine hiking routes.
The following themed walking trails come recommended as well. Such as the Wals Fable Trail or the Detective Trail.
Liechtenstein offers not only the summit experiences at up to 2600 meters above sea level but also easy paths down in the valley leading through nature reserves, idyllic landscapes, and along the Rhine dam forming part of the border with Switzerland. Head to tourismus.li/hiking to download all the free hiking guide which covers 21 walks and hikes.
Apart from all of these things to do on the Liechtenstein tour. Here are some more ideas:
How about discovering a castle ruin yourself, swinging through treetops in the rope park, walking with alpacas, hiking with an eagle, or visiting the Birka Bird paradise?
11. Burg Gutenberg Castle
There are five castles in Liechtenstein, two of which remain intact: Schloss Vaduz, the seat of the country's monarchs, and Burg Gutenberg in the village of Balzers.
Burg Gutenberg is the main landmark of Balzers town and stands there since around 1300. After being owned for centuries by the Habsburgs and briefly by the municipality of Balzers, it was acquired in 1905 by the Vaduz-based architect and sculptor Egon Rheinberger, who rebuilt it in romance style giving it the present-day appearance. Normally it is not possible to visit the inside, but you could do it through the augmented reality experience of the Liechtenstein Trail app.
The castle provides a magnificent view of the surrounding area and the alps, with stunning views for photo opportunities.
I recommend visiting the St Nicholas church at the bottom of the hill first, before hiking up the trail next to the church to reach the castle. The hike is quite easy (about 30 minutes), though wearing good shoes is recommended.
You can take Bus 11 to drop nearby, though you should probably visit other places in Liechtenstein first, making this castle the end of your itinerary before heading back to Sargans.
How to get around Vaduz, Liechtenstein?
The easiest way to get around the city is on foot or use their public transport – the city train! I completed my day tour to Liechtenstein on foot and by the time I landed back in Zurich I had walked about 20,000 steps!
How many days in Liechtenstein is enough?
I would say 2 days is best not to rush but one day in Vaduz, Liechtenstein city is the minimum. You will most likely start your journey in the city, explore major spots, and activities then get up to the castle and to Blazers.
Do I need a visa for Liechtenstein?
If your passport is from Australia, you can stay up to 90 days in Liechtenstein. If you are from another country, but you live in Australia permanently, you will have to apply for a visa to enter and stay in Liechtenstein. I highly recommend checking the official website online or with your local embassy to find out if your country requires a visa.
When is the best time to visit Liechtenstein?
If you have limited time, anytime is best to visit Liechtenstein IMHO but if you are after the best weather to enjoy this magical and historical destination, it would be between April to October. Basically summer time but also shoulder seasons before and after summer when the weather is dry and the temperature is warm yet comfortable. Also, shoulder season would probably offer better hotel rates although the museum and public transport prices wouldn't change.
Is Liechtenstein city safe for a solo female traveler?
First of all, let's establish the understanding of traveling is brutality! It forces you to trust strangers and to lose sight of all that familiar comfort of home and friends. You are constantly off balance. Nothing is yours except the essential things – air, sleep, dreams, the sea, the sky – all things tending towards the eternal or what we imagine of it. If you are okay with it, you will adapt, and you will survive.
That being said, I felt completely safe in Liechtenstein from Zurich, Vaduz, and back. Liechtenstein has one of the lowest levels of crime anywhere in the world. Also, people in Liechtenstein were not open but kind in action and I say that because in my encounters with locals there wasn't much conversation like I would have in other countries but they were thoughtful in their actions which I appreciated very much.
Unless there is a drastic change in the country's political situation, pandemic, or some natural disaster it is safe to travel to Liechtenstein. Just remember to apply a general rule of thumb i.e. Don't walk down that dark alleyway on your own, respect the culture, don't argue about religion, dress modestly, trust your instincts, and don't be afraid but be cautious.
Local currency
The official currency is the Swiss franc, though euros are also accepted.
You could withdraw CHF/Euro from ATMs on arrival at the airport or in the city. However, remember to consider bank fees from your bank and the ATM withdrawal fee.
People, language, and more
One of the smallest nations, Liechtenstein has almost 40,000 inhabitants – in 2022 but welcomes more than 600,000 visitors from around the world each year!
And despite its small size, Liechtenstein is home to people from 108 nations.
The official language in Liechtenstein is German: Alemannic dialect – Spoken by most Liechtensteiners and is different from Standard German but closely related to dialects spoken in neighboring regions such as Switzerland and Vorarlberg, Austria. Walser German dialect – Spoken in Triesenberg.
English is also widely spoken especially in the tourism and hospitality industry.
Must-Have Travel Apps for Liechtenstein
I don't like using too many apps so all I use is
Google Maps for ease of finding routes, and offline use.
Google Drive, Calendar for time management, and storing pictures.
What to eat in Liechtenstein?
Liechtenstein offers food and drinks for every budget with its various cafes, restaurants, and takeaway shops. Here are my recommendations on must-try food in Liechtenstein starting with the Traditional Ribel, national dish Käsknöpfle, Kratzer, Dreikönigskuchen, Schnitzel, Hafalaab, and Torkarebl.
Käsknöpfle is a simple dough made of flour, eggs, water, salt, and pepper is the basis for this culinary delight. The finished Knöpfle is served with local cheese, fried onions, and apple puree aside.
There are tons of restaurants and cafes in the old town. Some recommended ones are Restaurant Maree, Restaurant Torkel, Made in Italy, Bistro, Café Amann or Restaurant Adler.
What to drink in Liechtenstein?
If you are a wine person, recommend the Liechtenstein – Blauburgunder. It is the German name for Pinot Noir which is one of a handful of grape varietals that has been made into wine for centuries in the mountainous principality. Other than that, Beer, Cocoa, and Coffee is consumed as a beverage by many Liechtensteiners.
Where to stay in Liechtenstein?
If you are considering staying overnight there are numerous choices when it comes to accommodation in Liechtenstein from all five stars hotels to hostels. Make sure to book with a legit website such as Agoda, or Booking.com Here are some places I suggest:
Park Hotel Sonnenhof – Relais & Châteaux, Residence Hotel or Penthouse Apartment in Vaduz
Most hotels and hostels also offer free WIFI.
Short trips from Liechtenstein
Assuming you have decided to stay longer in Liechtenstein and after seeing all of the above, you have a spare day or two. It is a perfect opportunity to make a day trip to the following places.
Zurich, Switzerland
Liechtenstein is a doubly landlocked country between Switzerland and Austria. In Switerzland, you could either follow the above steps to get to Zurich via Sargans – approx 2 hours, or go to St Gallen – bout 2 hours too.
Zurich is a capital city and is often at the top of any Switzerland itinerary. As the financial capital of the country, the largest city in Switzerland, and a picturesque setting on Lake Zurich and the Limmat River there are plenty of things to keep you busy. Here is my 5 days Switzerland itinerary.
Feldkirch, Austria
There is a direct train that goes to Feldkirch, a town, in western Austria. It takes only about 30-40 minutes from Vaduz. Feldkirch lies along the Ill River, near the Liechtenstein border. You can discover charming, historic Feldkirch which is a perfect backdrop for a magical city trip! In the medieval Old Town, one of the most beautiful in the wider region, you can marvel at storied old buildings, charming fountains, and the historic Schattenburg castle.
Lindau, Germany
Approx 1 hour and 45 minutes drive and you will arrive at Lindau from Vaduz. Lindau is famous for its architecture and outdoor attractions such as cycling, sailing, hiking, swimming, and camping are also popular. It is a picturesque medieval town well worth a visit. Here are my other german travel tips if you are interested.
Munich, Germany
The train journey from Vaduz to Munich takes about 4-5 hours depending on if you take the express or all-stops train. Munich offers so many amazing tourist attractions, important historic sites, beautiful parks and castles, an active nightlife, good shopping opportunities, and amazing festivals.
The city also has several of the largest breweries in Germany and is famous for its beer and its annual Oktoberfest celebration. Read 2 days in Munich itinerary.
If you don't feel like exploring alone, you can join any of the private or group tours below.
I hope you now got an idea of how to go from Zurich to Liechtenstein, what to see/ eat/drink, and all the Liechtenstein travel tips.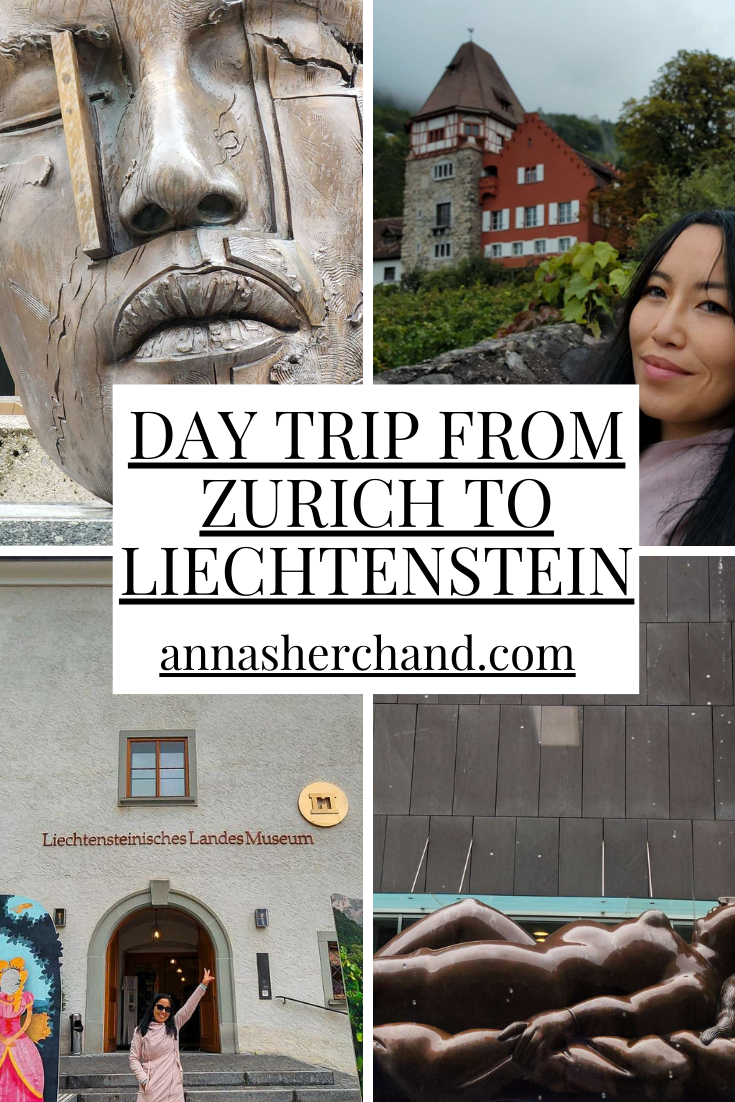 Let me know in the comments:
If you have any questions about the day trip from Zurich to Liechtenstein
Solo travels from Podgorica to Tirana
One day in Luxembourg
Fiji solo travel guide
Australia east coast must-see
Master Sydney travel guide
Solo travel guide to Brisbane
Exploring Adelaide the best way is a must-read
Important travel tips for Uluru trip
Melbourne travel guide for first timers is here.
Melbourne day trips in winter
Day Hikes in Melbourne
Weekend getaway? Check out things to do in Ballarat
Perth solo itinerary
Top 5 must do in Darwin, Australia
How to go from Dublin to Howth
Read a recent day trip to Zaanse Schans from Amsterdam
How about a solo itinerary to Canberra– Australia's capital city?
Going to Vietnam after Australia? Check out the 7 days Hanoi travel guide.
Check hotel prices and book it through trusted Agoda, or Booking.com
I have detailed travel resources right here. Save money, learn what and how.
If you like this article, follow my adventures on Instagram, Facebook, YouTube, Twitter, and Pinterest, but most importantly sign up to my e-mail list to keep up with updates and travel posts!
Day trip from Zurich to Liechtenstein