This 3 days Dubai itinerary for solo travelers will have you dreaming about and packing your bags straight away! I solo traveled to Abu Dhabi and Dubai after summer in Europe and before heading to Pakistan. Although it was a short stay and seems like many moons ago but was one for the books! (or blog in this case)
Abu Dhabi is the capital and Dubai is a modern city in the United Arab Emirates country in the middle east. It is famous for sleek skyscrapers, luxury shopping, ultramodern architecture, a lively nightlife scene, and is home to the tallest building in the world – Burj Khalifa. It is going to be a jam-packed 3 days Dubai itinerary but first, let's start with the travel tips for Dubai.
3 days Dubai itinerary
Where to stay in Dubai?
Dubai is one of the most visited countries in the region with millions of tourists visiting every year. Hence booking in advance is highly recommended. You could definitely stay in a hostel or hotel or an Airbnb. Recommend booking it through trusted Agoda, or Booking.com
Do you need a visa for Dubai?
Check if you met the essential visa requirements before you go because every country has different rules and regulations that we have to follow. As an Australian passport holder, the visa wasn't required because basically, it was an arrival visa stamp on the passport but you may need a visa depending on your passport.
Travel apps for Dubai?
Something that I am starting to recommend in my travel itineraries prior to departure is downloading the must-have apps. However in this 3 days Dubai itinerary for solo travelers, along with must-have apps, I have also included some optional apps that you may find useful.
Google Maps
You can also pre-downloaded, either the entire map of Japan or the places that you prefer to visit and you can actually follow that map offline as well as long as you download it beforehand.
Google Translate
Usually, people are good with English in Dubai but this app will help if you want to understand what is said in the local language.
Careem
Forget Uber, Dubai has its very own carpooling app called Careem. Download this app to book rides and get picked up and dropped off wherever they want in Dubai.
Dubai Metro2
If you prefer getting around via public transport, download the Dubai Metro2 app because it is the ideal way to stay informed and on time for the next train schedule.
Alternatively, you can also download Wojhati Journey Planner. It is the Roads & Transport Authority's journey planning app. With its real-time map and GPS support, you can plan public transport journeys while visiting Dubai.
Talabat
In case you feel like ordering in, you can download Talabat. This is a great food delivery app for all foodies that can be used in actually several other Middle Eastern countries as well.
Alternatively, you can download other great food delivery app in the UAE, as well as in 23 other countries, which is Zomato.
Dubai Calendar
In this 3 days Dubai itinerary you may not need it but if you want to look up the latest updates on events around the city, Dubai Calendar will come in handy.
The Dubai Mall
The Dubai Mall is the biggest mall in the world, with 1,200 retail outlets! Hence this venue comes with its own GPS and its own free app! It helps everyone explore all that the mall has to offer.
When is the best time to visit Dubai?
Unlike in Asia, Dubai has 2 seasons. Summer and Winter.
April to October is considered the summer season. The temperatures start to rise by April and May and during peak summers such as in August, even start hitting the late forties! Summer months in Dubai are really, really hot and humid, making it almost impossible to explore the outdoors. Unfortunately, I ended up visiting in August as well and the city was a full-on oven! Hence I highly recommend avoiding traveling to Dubai in August unless you can handle the heat or don't mind keeping cool indoors.
November to March/April is winter in Dubai and is considered the best to visit. Temperatures are hot enough but not overly roasting heat and lots of things can be enjoyed outdoors. January and February are peak seasons. If you can manage I recommend flying just starting in November or the end of April as loads of tourists wouldn't have started to come or have gone by then and prices would be normal.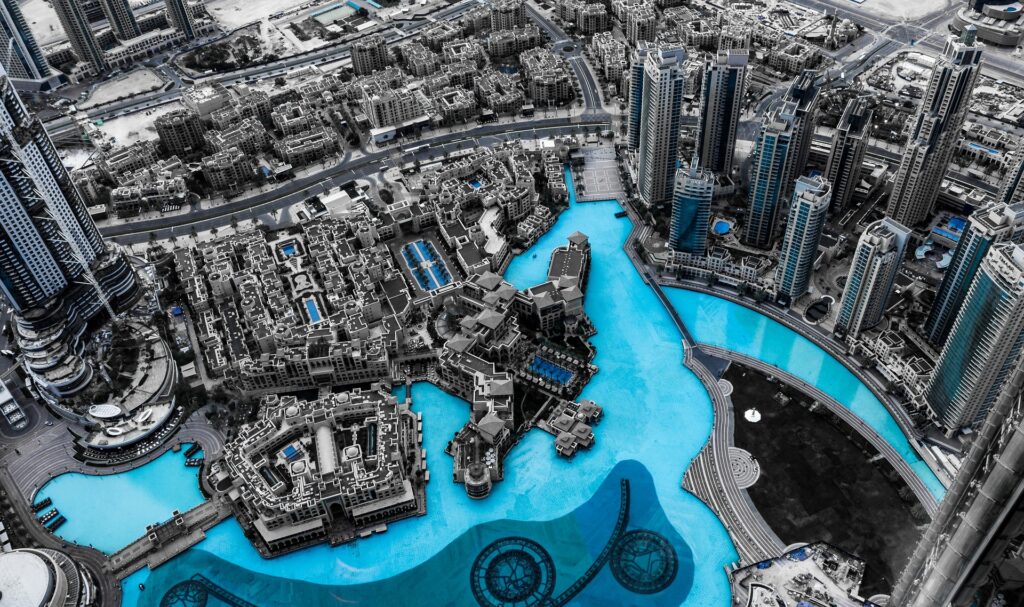 Buy a hop on hop off Dubai Pass
You can discover all of Dubai's stunning sights on an unlimited hop-on hop-off bus tour. With a 24, 48, or 72-hour pass, you can explore this fabulous destination in your own time frame. You'll have access to a staggering 46 stops and 6 routes across the city, ensuring easy access to every corner of Dubai, on a thoroughly comprehensive and unmissable sightseeing experience. Also with this pass, you don't have to use a taxi because you can get around Dubai efficiently with hop-on hop-off pass.
Along the way, you'll discover all of the major landmarks, including the Burj Khalifa, Burj Al Arab, Dubai Marina, the Palm Jumeirah, the Dubai Mall, the Dubai Frame, and much more. Enjoy unrivaled 360-degree views from the open-top deck, and learn all about Dubai's heritage by listening to the multilingual audio tour commentary as you cruise around on the double-decker bus.
I recommend doing your research in advance to ensure you stop at the best stops for you. Only you can decide that right. And download the tour bus app in advance because the app allows you to track the bus and avoid spending too much time waiting for it.
Now that we got the essential visa, flights, accommodation, and travel hack out the way. Let's focus on making this trip one to remember a lifetime! I will start with one day in Dubai, then the second day and the last one.
3 days Dubai itinerary for solo travelers
Before you land at Dubai international airport, you can book this Dubai Meet and Greet Airport Assistance if you want. In a nutshell, with this premium service, you will receive full escort through airport related formalities, special hand baggage trolleys (on request), and a priority buggy car transfer through the airport terminal (on request and in areas where access is permitted by Civil Aviation Authorities) to make your airport experience a calmer one! You will also receive assistance through Immigration, a quick clearance through the dedicated fast track counter, and an escort through security and all other airport formalities.
Now, let's talk about exploring this modern city. Starting with the world's tallest tower Burj Khalifa, an 830m-tall tower (2717ft). You can purchase Burj Khalifa tickets in advance and there is also a cafe you can get your breakfast with a stunning Dubai view.
Alternatively as mentioned above, if you buy that hop on hop off pass, it will be an easy way to explore Dubai. You can choose unlimited hop-on hop-off access for 24, 48, or 72 hours.
The ticket includes a stunning panoramic night tour, giving you the chance to enjoy a unique perspective of Dubai's bright lights and skyscrapers. Suggest to opt for a Premium Pass and save up to $270 on entry to some of Dubai's best attractions. The Premium Pass includes Dubai Museum entry, Global Village entry, 2 boat tours, Dubai Aquarium entry, and many other perks depending on the ticket you choose.
Historical Route Highlights:
• Dubai Mall
• Dubai Museum
• Al Seef Heritage Area
• Old Souk
• The Dubai Frame
Modern Route Highlights:
• Dubai Opera
• Etihad Museum
• Jumeirah Mosque
• Burj Al Arab
• Mall of the Emirates
Marina Route Highlights:
• Dubai Marina Walk
• Marina Promenade
• Dubai Media City
• The Pointe
• Atlantis The Palm Jumeirah Island
Palm Crescent Route:
• Atlantis The Palm
• Sofitel Dubai The Palm
• The Retreat Palm Dubai
• Anantara Dubai The Palm
• Rixos The Palm
• Jumeirah Zabeel Saray
Cruise Terminal Route:
• The Dubai Mall
• Queen Elizabeth 2
• Cruise Terminal 3
• Cruise Terminal 2
Global Village & Miracle Garden Route:
• The Dubai Mall
• Mall of the Emirates
• Miracle Garden
• Global Village
Hop between 46 stops across 6 routes throughout the city. Then at night, you can go on a dinner cruise that takes you through the Jumeirah beach, different Dubai hotels, and iconic Dubai buildings.
Second day in Dubai
The second day in the morning you can visit Bur Dubai known as Old Dubai in Dubai creek. Followed by a wild ride over Dubai's thrilling sand dunes where you can experience the beauty of the Dubai desert first-hand. On this Dubai desert safari, you can discover an authentic Arabic camp and take part in henna painting, or simply relax with a sheesha! They also have belly dancers and fire dancers that enchant you with their moves! Followed by a nice BBQ dinner buffet at the Bedouin campsite.
If the desert safari tour is not your coffee or tea, consider Dubai sunrise on a hot air balloon flight with Breakfast & Falconry then visit the old Dubai later in the day.
Third day in Dubai
From Dubai, you can take a day trip to Abu Dhabi, the capital of the United Arab Emirates. You can either take a local bus/train to get there or book this full-day trip to meet fellow travelers and enjoy the Sheikh Zayed Grand Mosque -a masterpiece of Islamic architecture, marvel at the opulent Emirates Palace, and admire the Etihad Towers. Whichever you choose to visit, just remember women must wear long, loose clothing and ensure that their arms, legs, and heads are covered at all times. An abaya with a scarf (long black attire) may be borrowed from the tour operator. And men must not reveal any skin above the knees and their shoulders must be covered. Failure to do so may result in refused entry. Please note that no clothing will be provided to men.
If checking out a Mosque doesn't vibe with you and you would much prefer to do something else. I recommend Aquaventure waterpark! It is located at Atlantis, The Palm and, the Aquaventure Waterpark provides one of Dubai's best family days out, although no one stopping to go solo. You can discover relaxing beaches, immersive aquarium tours, and an eatery for every taste. Don't ride any of these on a full stomach though! The Leap of Faith, Shark Attack, The Rapids and you can even go on a Poseidon's Revenge one of the most terrifying waterslides! If that is not enough fun for your last day in Dubai, you can go on a Atlantean Flye which is the longest zip-line in the Middle East! It offers great views over Dubai and the Atlantis resort. There's an additional charge for this attraction but the adrenaline rush is worth it!
Dubai is well known for its city life, shopping mecca, Burj Khalifa, and delicious food which brings us to the must-try food in Dubai. As promised here are my recommendation for must eat food in Dubai,
Khuzi, or ghuzi, Stuffed Camel (can find only on special occasions), Shawarma, Al Harees, Kanafeh, Fattoush, Lokma, Tabbouleh, Mehalabiya, Matchbous, and Esh Hasarya (dessert)
Also, if you are wondering what souvenirs to buy for your loved ones consider getting the following things as they are mostly locally produced in Dubai. Camel Milk Chocolate, Dubai Dates (Dried Fruits), Persian Rugs & Carpets, Oudh and Bakhoor, and Arabic Attars (Perfume Oil).
I hope this 3 days Dubai itinerary helped you.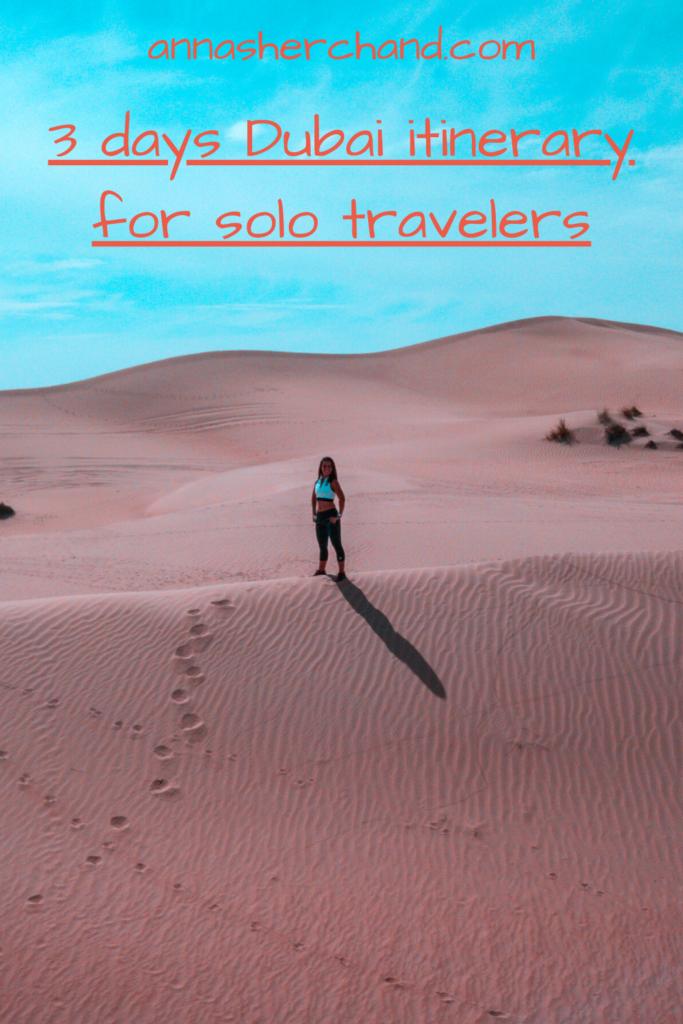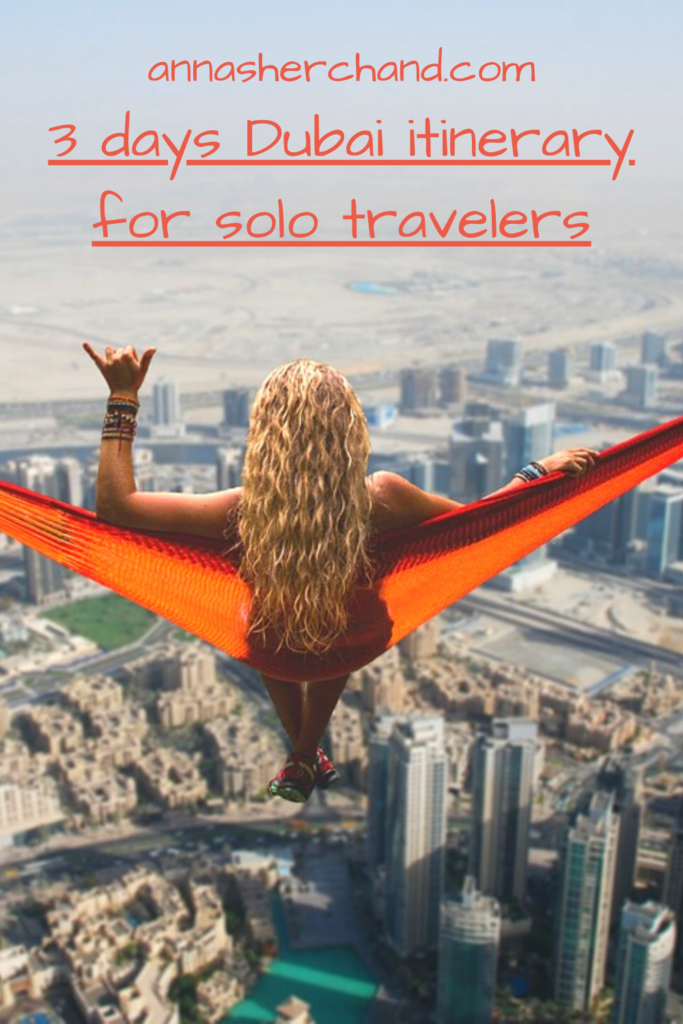 Let me know in the comments:
3 days Dubai itinerary for solo travelers