Phoenix is a welcoming and safe destination for solo travelers, and there are many reasons why it's a great place for a Solo Trip to Phoenix. For solo female travelers, safety is always a top concern, and Phoenix has a reputation for being a safe city. Additionally, the city offers a variety of activities that are perfect for solo travelers, such as hiking, biking, and exploring the local museums.
In this article, you can expect to find a comprehensive guide to planning your first solo trip to Phoenix. We will provide you with tips and recommendations for everything from getting to Phoenix to staying safe during your trip. You will also discover the best neighborhoods to stay in, top activities to enjoy as a solo traveler, and delicious dining options. By the end of this article, you will have all the information you need to plan an unforgettable solo trip to Phoenix.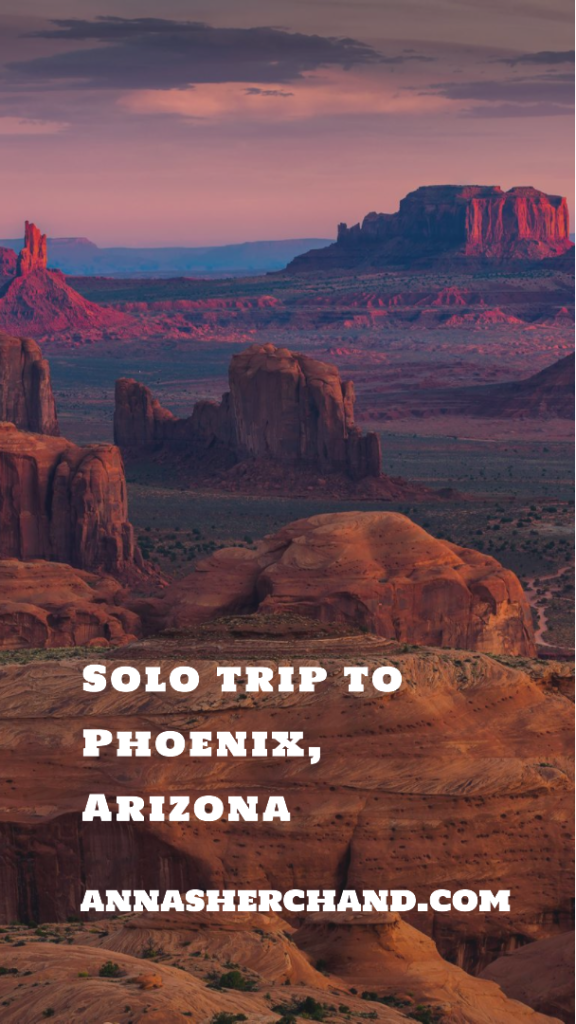 The best ways to travel to Phoenix
If you're planning a solo trip to Phoenix, there are several transportation options to consider:
Plane: Flying into Phoenix Sky Harbor International Airport is a popular and convenient option for solo travelers. With its many flights to major US cities, it's easy to find affordable flights and convenient connections. Be sure to research airlines that prioritize safety and offer flexible booking options.

To avoid the stress of rushing through security and potentially missing your flight, aim to arrive at the airport at least 2 -3 hours before your scheduled departure time.
Bus: If you prefer a more affordable and scenic route to Phoenix, consider taking the bus. Greyhound and other bus companies offer service to Phoenix from many major cities in the US. This can be a great option for solo travelers on a budget, but be sure to take necessary safety precautions.
If you're on a budget or want to avoid the hassle of renting a car, Phoenix has several public transportation options, including the Valley Metro Rail and bus system.
Train: Another option for solo travelers is taking the train. Amtrak offers service to Phoenix from several cities in the US, including Chicago and Los Angeles. Train travel can be a relaxing and comfortable way to travel, but be aware of potential delays and disruptions.
While Phoenix is generally a safe city, it's always a good idea to be aware of your surroundings when using public transportation and stay vigilant. Keep your valuables close to you and avoid flashing expensive items like jewelry or electronics.
Drive: If you prefer the freedom and flexibility of having your own transportation, renting a car or driving to Phoenix may be the way to go. However, keep in mind that driving in a new city can be stressful and requires extra precautions. Always be aware of your surroundings, and choose a rental car from a reputable company. Also, be sure to research parking options ahead of time. Some hotels offer free parking, while others may charge a daily fee.
Use ride-sharing services: Uber and Lyft are both available in Phoenix and can be a convenient and affordable way to get around the city.
Best Neighborhoods for Solo Travelers:
Here's an overview of the best neighborhoods to stay in Solo trip to Phoenix, along with recommendations for hotels, hostels, and vacation rentals:
No matter which area you stay in Phoenix, I recommend using booking.com and sorting with price, then consider the ones with the highest reviews
For tours, I recommend using get your guide and walking tours available in most places
Downtown Phoenix:
This vibrant neighborhood is a great choice for solo travelers who want to be in the heart of the city. You'll find plenty of dining, shopping, and entertainment options here, and it's a convenient location for exploring other parts of Phoenix.
Scottsdale:
If you're looking for a more upscale experience, Scottsdale is a great option. This neighborhood is known for its high-end shopping, art galleries, and luxurious resorts.
Tempe:
Located just east of Phoenix, Tempe is a popular destination for younger travelers and students. You'll find plenty of affordable dining and nightlife options here, as well as proximity to Arizona State University.
Recommendations for Hotels:
FOUND:RE Phoenix – This modern hotel in downtown Phoenix offers a hip, artsy vibe and a convenient location for exploring the city.
Hotel Valley Ho – Located in Scottsdale, this mid-century modern hotel offers stylish rooms, a luxurious spa, and multiple dining options.
Graduate Tempe – This budget-friendly hotel in Tempe is just steps away from Arizona State University and offers a fun, quirky atmosphere.
Recommendations for Hostels:
Phoenix Hostel and Cultural Center – Located in the historic Coronado neighborhood, this hostel offers affordable dorm-style rooms and a welcoming community vibe.
HI Phoenix – Downtown – This centrally-located hostel offers private and shared rooms, as well as a rooftop terrace with stunning city views.
Recommendations for Vacation Rentals:
Modern Phoenix Home – This stylish vacation rental in the Arcadia neighborhood offers a private pool, outdoor dining area, and sleek modern decor.
Charming Guest House – Located in the Willo Historic District, this cozy guest house offers a private entrance, a full kitchen, and access to a shared pool and hot tub.
No matter your budget or preferred style of accommodation, there are plenty of great options for solo travelers in Phoenix.
Things to do on a Solo trip to Phoenix
Here are the top activities for solo travelers in Phoenix starting with exploring Museums and Cultural Attractions:
A. Top Tourist Attractions in Phoenix:
1. Arizona Science Center
This interactive museum is a great option for solo travelers interested in science and technology. The Arizona Science Center is located in downtown Phoenix, just a few minutes walk from many popular hotels and restaurants. The center is open daily from 10 am to 5 pm, with extended hours until 8 pm on Fridays and Saturdays. You can explore interactive exhibits, watch live demonstrations, and catch a show at the on-site planetarium.
2. Desert Botanical Garden
The Desert Botanical Garden is about 15 minutes drive east of downtown Phoenix, located in Papago Park. The garden is open daily from 7 am to 8 pm, with special events and exhibits throughout the year. You can enjoy walking trails through a variety of desert landscapes, as well as indoor exhibits featuring plant and animal life unique to the region.
3. Musical Instrument Museum
The Musical Instrument Museum in North Phoenix is a must-visit for music lovers, featuring instruments and artifacts from around the world. It is located about 30 minutes drive north of downtown Phoenix, near the border with Scottsdale, and is open daily from 9 am to 5 pm, with extended hours until 9 pm on Tuesdays. With over 15,000 instruments and objects on display, you can explore the history and diversity of music from around the world. Interactive exhibits and live performances make this museum a must-see for music enthusiasts.
4. Frank Lloyd Wright's Taliesin West
Architecture enthusiasts should add Frank Lloyd Wright's Taliesin West to their itinerary. This stunning property in Scottsdale was the winter home and architectural studio of the renowned architect Frank Lloyd Wright. You can take a guided tour of the site to learn about Wright's unique design principles and see some of his famous works firsthand. The tour lasts around 90 minutes and includes a visit to the living quarters, private studio, and outdoor spaces of the property. The site is open to visitors from November to April, with tours available daily except for major holidays.
5. Phoenix Art Museum
Phoenix Art Museum is a must-visit for art lovers. Located in downtown Phoenix, this museum showcases an extensive collection of art from around the world, ranging from contemporary pieces to ancient artifacts. In addition to its permanent collection, the museum hosts temporary exhibits throughout the year, making each visit a unique experience.

You can also take advantage of the museum's many educational programs, including lectures, workshops, and guided tours. The museum is open daily except for Mondays, and admission fees vary based on age and membership status.
6. Heard Museum
The Heard Museum is a must-see destination for visitors interested in Native American art and culture. Located in downtown Phoenix, the museum features an extensive collection of art, artifacts, and other cultural objects that celebrate the history and traditions of the Southwest's indigenous peoples. You can explore the museum's permanent collection, which includes jewelry, pottery, textiles, and other artworks, as well as rotating special exhibitions that showcase contemporary Native American artists.

The museum also offers cultural performances, lectures, and workshops throughout the year, providing visitors with a deeper understanding of the Southwest's rich cultural heritage. It is open daily, with admission fees varying based on age and membership status.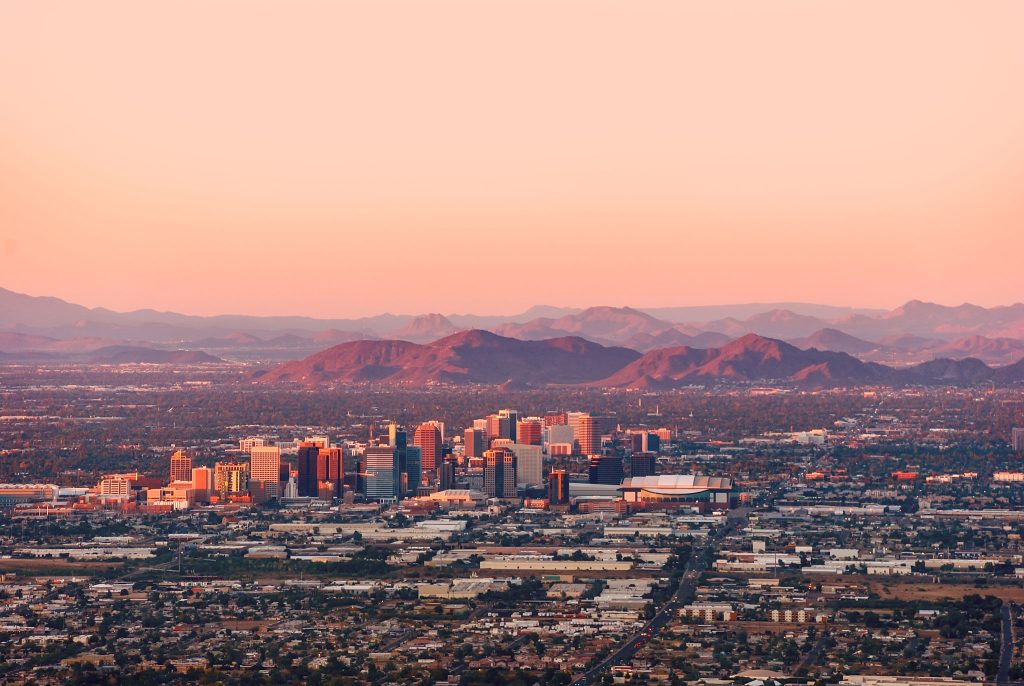 B. Hiking and Outdoor Adventures:
1. South Mountain Park
South mountain park is the largest municipal park in the United States, covering more than 16,000 acres of rugged desert terrain. The park is a popular destination for outdoor enthusiasts and offers miles of hiking and biking trails, as well as stunning views of the city from its various lookout points.

You can explore the park's diverse landscape, which includes rocky peaks, deep canyons, and desert vegetation, and keep an eye out for local wildlife like coyotes, javelinas, and rattlesnakes. The park is located just a few miles south of downtown Phoenix, making it a convenient option for solo travelers looking for outdoor adventures. The park is open daily from sunrise to sunset, and admission is free.
2. Phoenix Mountain Preserve
It is a beautiful natural area located in the heart of North Phoenix, offering a variety of outdoor activities for solo travelers. The preserve covers over 7,000 acres and features several hiking trails of varying difficulty, from easy strolls to challenging climbs. You can take in the stunning desert views from the preserve's many scenic viewpoints or enjoy a picnic in one of the designated areas.

The preserve is also home to a diverse range of wildlife, including bobcats, coyotes, and a variety of bird species. The preserve is easily accessible from downtown Phoenix and is open daily from sunrise to sunset. There is no admission fee to enter the preserve.
3. The Grand Canyon
Located about 3.5 hours north of Phoenix, the Grand Canyon national park is one of the most popular natural wonders in the United States and comes highly recommended. While it is a bit of a drive, it's definitely worth the trip for solo travelers looking to explore the great outdoors.

You can take a scenic drive, hike along the trails, or even take a helicopter tour to experience the stunning views of the canyon. Keep in mind that temperatures can vary widely depending on the season, so be sure to check the weather and pack accordingly.
4. Phoenix Mountain Preserve
It is a natural park located in the north of Phoenix and is popular with locals and tourists alike, offering a variety of hiking trails, picnic areas, and scenic views of the surrounding area. The phoenix mountain preserve is home to several mountains, including Piestewa Peak, Camelback Mountain, and Lookout Mountain, each offering a unique hiking experience.

Piestewa Peak is one of the most popular hiking destinations in the Phoenix area, offering a challenging climb and stunning views of the city. Camelback Mountain is another popular destination, offering two different trails of varying difficulty.

Lookout Mountain is a great option for those looking for a less crowded hike, offering a moderate trail and beautiful views of the city. The park also features a visitor center with information on the park's trails and wildlife, as well as a gift shop selling souvenirs and snacks.
From the iconic Camelback Mountain to the peaceful Desert Botanical Garden, there's no shortage of awe-inspiring sights to discover on a solo trip to Arizona. And with its vibrant food scene, exciting nightlife, and world-class shopping, Phoenix truly has something for everyone.
C. Off-the-Beaten-Path Experiences for Solo Travelers:
1. Jerome
Venture out on a day trip to the charming hillside town of Jerome, located approximately two hours north of Phoenix. This town is renowned for its eclectic art galleries, scenic wineries, and well-preserved historic buildings.
2. Superstition Mountains
Located east of Phoenix, the Superstition Mountains offer a variety of outdoor activities such as hiking and camping. One popular destination in the area is the Lost Dutchman State Park, which features several hiking trails and stunning views of the surrounding desert landscape. Solo travelers can also explore the nearby Goldfield Ghost Town, a restored mining town with tours, museums, and shops.
3. Mystery Castle
Mystery Castle is a unique and quirky landmark located in the foothills of South Mountain. Built-in the 1930s, the castle was constructed by a father for his daughter using found and repurposed materials, such as automobile parts and salvaged wood. You can take a tour of the castle to learn about its history and explore its eclectic design. It's a must-visit destination for solo travelers looking for an off-the-beaten-path experience in Phoenix.
4. Old Town Scottsdale
It is a vibrant historic district located just a few miles from downtown Phoenix. It's a popular destination for solo travelers thanks to its charming atmosphere and abundance of things to see and do. You can wander through the many art galleries and boutiques, sample local cuisine at the area's many restaurants and cafes, or simply soak up the lively ambiance of this unique district.

Some popular attractions in Old Town Scottsdale include the Scottsdale Museum of Contemporary Art, the Scottsdale Historical Museum, and the Scottsdale Fashion Square Mall. Additionally, the area is home to several annual events and festivals, including the Scottsdale Arts Festival and the Scottsdale Culinary Festival, making it an exciting destination for solo travelers year-round.
5. Phoenix Walking Tour
A popular option for solo travelers, the Phoenix Walking Tour provides an opportunity to discover the city's rich history and unique architecture. Led by experienced guides, the tour takes visitors through downtown Phoenix's landmarks and highlights, including historic buildings, public art, and interesting cultural sites.
The walking tour is typically two to three hours long and covers a distance of about two miles. Comfortable shoes and weather-appropriate clothing are recommended, as the tour takes place outdoors. The tour schedule and pricing can be found on the official website of the tour company.
D. Recommendations for Cultural Experiences and Nightlife:
Experience the nightlife in downtown Phoenix, with plenty of bars, clubs, and music venues to choose from.
First Fridays – On the first Friday of every month, downtown Phoenix comes alive with art, music, and food at this popular event.
Crescent Ballroom – This popular music venue and bar in downtown Phoenix is a great spot to catch a live show or grab a drink.
FilmBar – This independent movie theater and bar in downtown Phoenix offers a unique cinematic experience.
E. Shopping and Dining in Phoenix:
Roosevelt Row – This trendy neighborhood in downtown Phoenix is a great place to shop for local art and handmade goods.
The Churchill – This hip food and drink complex in downtown Phoenix offers a variety of options for every taste and budget.
Pizzeria Bianco – This famous pizza spot in downtown Phoenix is a must-visit for foodies and pizza lovers.
As a solo traveler in Phoenix, you'll never run out of things to see and do. From hiking and outdoor adventures to exploring museums and cultural attractions, there's something for everyone. Plus, with a variety of dining and nightlife options, it's easy to make new friends and have a great time in this vibrant city.
Food and Drink
Phoenix's dining scene offers a wide variety of options for solo travelers to indulge in. From local cuisine to international flavors, there's something for everyone. The city is known for its Southwestern cuisine, which incorporates flavors from Mexican and Native American cultures.
For a taste of local cuisine, head to places like Pizzeria Bianco, Barrio Cafe, or The Breadfruit & Rum Bar. These restaurants serve up delicious dishes like wood-fired pizzas, tacos, and Caribbean-inspired cuisine.
If you're looking for a great spot to grab a drink, check out the numerous bars and breweries in the downtown area. The Phoenix Ale Brewery Central Kitchen, Valley Bar, and the Bitter & Twisted Cocktail Parlour are just a few popular options.
For coffee lovers, Phoenix has a thriving coffee scene with many independent coffee shops scattered throughout the city. Some recommended coffee shops for solo travelers are Cartel Coffee Lab, Lux Central, and Press Coffee.
Dining alone as a solo traveler can be intimidating, but there are some tips to make the experience more enjoyable. Choose a seat at the bar or counter for a more social atmosphere, or bring a book or journal to keep yourself occupied. And don't be afraid to strike up a conversation with the staff or fellow diners – you never know who you might meet!
Safety and Logistics
When traveling solo in Phoenix, it's important to stay aware of your surroundings and take necessary precautions to ensure your safety. Here are some tips to keep in mind:
Be cautious when walking alone at night, especially in less populated areas. Stick to well-lit, busy streets and avoid poorly lit areas.
Stay aware of your belongings and keep them secure at all times. Consider carrying a cross-body bag that zips shut and keeping important documents and cash in a money belt.
Use common sense when using public transportation or ride-sharing services. Make sure you're getting into the correct vehicle and confirm the driver's identity before getting in.
Familiarize yourself with local laws and customs, including alcohol and drug laws, and dress codes for certain areas.
In case of an emergency, dial 911 for assistance.
When it comes to logistics, here are some practical tips to help you navigate the city:
Renting a car is a convenient way to get around Phoenix, but be aware of rush hour traffic and parking restrictions in certain areas.
The city's public transportation system, Valley Metro, includes buses and light rail and can be an affordable option for getting around.
Consider taking a walking tour or using a bike-share service to explore the city on foot or by bike.
If you're staying in a hotel or vacation rental, make sure to keep the address and contact information handy in case of an emergency.
Take pictures of wifi passwords and of the hotel.
Phoenix, Arizona is a fantastic destination for solo travelers due to its sunny climate, diverse attractions, and friendly locals. With a wide range of outdoor activities, cultural experiences, and dining options, solo travelers are sure to find something to suit their interests. From hiking in South Mountain Park to exploring the art scene in downtown Phoenix, there is no shortage of things to do in this vibrant city.
Final thoughts and recommendations for a successful solo trip to Phoenix:
To have a successful solo trip to Phoenix, it's important to plan ahead and take precautions to stay safe. Research the areas you plan to visit and avoid walking alone at night in unfamiliar neighborhoods. It's also a good idea to familiarize yourself with local laws and customs to avoid any cultural misunderstandings.
When it comes to activities, be sure to take advantage of the outdoor adventures and cultural experiences that Phoenix has to offer. From hiking and exploring the city's museums to sampling local cuisine and nightlife, there is plenty to keep Phoenix solo travelers entertained. And don't be afraid to strike up conversations with locals or other solo travelers, as Phoenix is known for its friendly and welcoming atmosphere.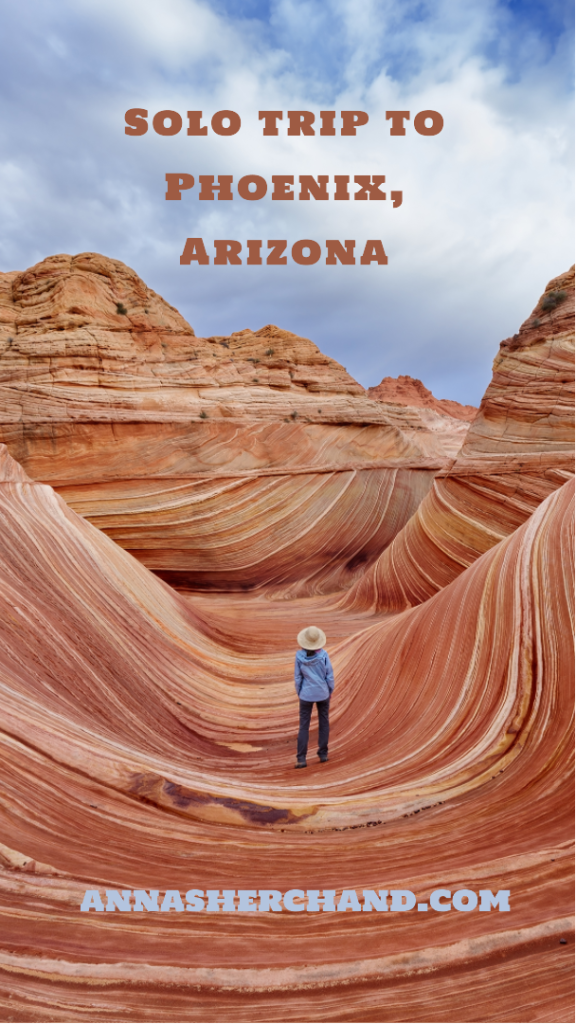 Let me know in the comments:
if you have any other questions about this solo trip to Phoenix
What to do in Tucson in December
Arizona solo travel guide
LA solo travel guide
New York solo travel guide
10 best places to take pictures in Dallas
Best day trips from Hobart, Tasmania
Day trip to Stradbroke Island, Queensland
Weekend in Brisbane
Best places to visit in autumn in Australia
Backpacking in Melbourne, Australia
Digital nomad guide to Melbourne
Sydney itinerary 5 days
Best places to see autumn leaves in Adelaide
Exploring Adelaide the best way
All Adelaide travel blogs
10 hidden beaches and bays in Sydney
99% of readers found must see on the east coast of Australia helpful.
Sydney bucketlist things
Sydney itinerary for 5 days
Secret Sydney walks
Best places to take photos in Sydney
Pros and cons of living in Australia
where to stay in Sydney
Hidden beaches and bays
most instagrammable cafes in Sydney
where to eat in Sydney
most Instagrammable places in Sydney, Australia
Most beautiful places in New Zealand North Island
Check out the most beautiful places in New Zealand South Island
Going to Vietnam after Australia? Check out the 7 days Hanoi travel guide.
One month in Central America itinerary
How about Colombia? Check out how to get from Medellin to guatape
Check out where to stay in Medellin, Colombia
Check hotel prices and book it through booking.com
Read the most wanted travel resource here.
If you like this article, follow my adventures on Instagram, Facebook, YouTube, Twitter, and Pinterest, but most importantly sign up for my e-mail list to keep up with updates and travel posts!
Solo trip to Phoenix, Arizona