Further to 10 exciting weekend getaways from Sydney (0-3 hours away), today I present you 10 other fun weekend getaways close to Sydney which are 3-6 hours away from Sydney CBD.
Feel free to bookmark this page for your future domestic travel plans. I hope you will make it to at least some of these beautiful destinations. Let's get started!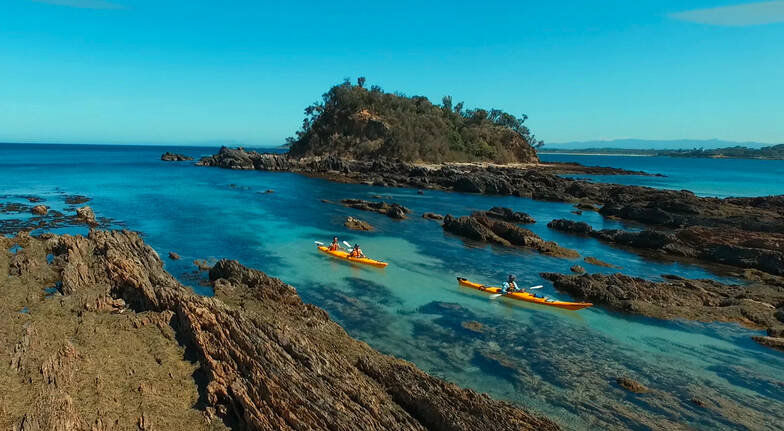 But first, here are some important FAQs.
1. Where to stay in these Sydney weekend getaways?
Alternatively, you can go the traditional way and book your weekend stay with either the most trusted Agoda, or Booking.com
2. How to get around Sydney? or How to get to these weekend getaways in Sydney?
Here's is all you need to know about getting around Sydney.
Sydney is well serviced by public transport across buses, trains, ferries, and light rail. Public transport inquiries number is 13 15 00 or transportnsw.info
If you are using public transportation, I recommend buying Opal card which is the ticket to ride the train, ferry, light rail, and bus services around Sydney and in the neighboring areas of the blue mountains, the central coast, the hunter and the Illawarra. You can buy an Opal card from retailers including news agencies, 7/11, supermarkets, and some pharmacies. Just load dollar amounts onto the Opal card and tap on and off at Opal card readers.
Buses
Bus routes service most of Sydney. Check the website or your google map for convenient and current routes.
Trains
Rail lines service much of the city plus inner and out suburbs. Airport lin train is the most convenient method of transport between Sydney Airport and the CBD.
Taxis, cars, and Rideshare
Taxi ranks are available around the city and at the airport. Ride-share service Uber operates in Sydney, with a designated pickup area at the airport. Car hire is available at the airport and points around the city from companies including Avis, Budget, Thrifty, and Hertz.
Light Rail
Sydney's Dulwich Hill light rail line operates in the inner west of the city. A new light rail route is being constructed in the CBD between Sydney's southeast too.
Regional Travel
Regional NSW is accessible via an extensive train and coach network. For more info, you can call 13 22 32 or go to transportnsw.info/regional
10 weekend getaways close to Sydney
I got you! Here are the 10 fun and relaxing weekend getaways close to Sydney. Let's go!
1. Canberra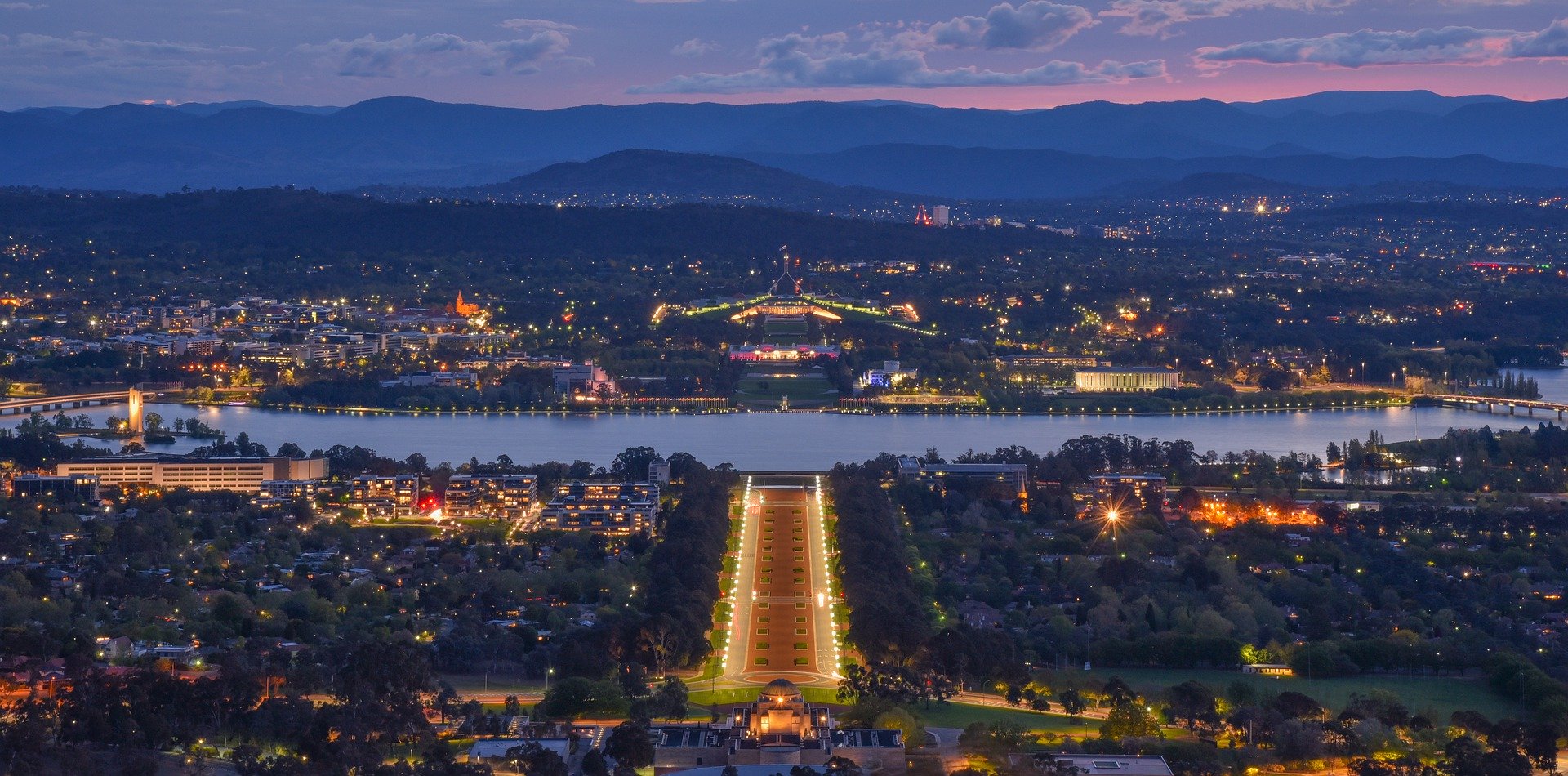 Canberra is the capital of Australia and only a short 3 hour drive south from Sydney, New South Wales. If you are interested to see Australian history (National Museum of Australia, Australia's Parliament House, the National Gallery of Australia, and the Australian War Memorial), and culture it is a perfect place. Comparing to Sydney there are lesser things to see but there are enough none the less. I enjoy heading over to Canberra for long weekend getaways especially during the Floriade flower festival. It is definitely a must-visit for people interested in chill flower show, usually open day and night! Entry to most of the city's major attractions is free!
Read this for a solo itinerary to Canberra
You can also take a hot air balloon flight over Australia's capital for the best view of Canberra. Then head to Capital Region Farmers Markets, where you can buy fresh produce directly from the growers and enjoy a delicious local breakfast or brunch on Saturdays. Then on Sunday as Canberra's tradition, you can visit the Old Bus Depot Markets. It is a great spot to pick up some tasty treats, a bunch of flowers, some fashion gems, and local artwork.
There are also wineries, Lake Burley Griffin, Namadgi National Park, Tidbinbilla Nature Reserve to spot five famous native Australian animals that call the area home: the koala, platypus, kangaroo, emu, and wombat, Mount Ainslie and Jerrabomberra Wetlands. If you don't mind a drive Canberra is only two hours' drive to the NSW south coast for its unspoiled beaches, stunning scenery, and quaint towns.
2. Batemans Bay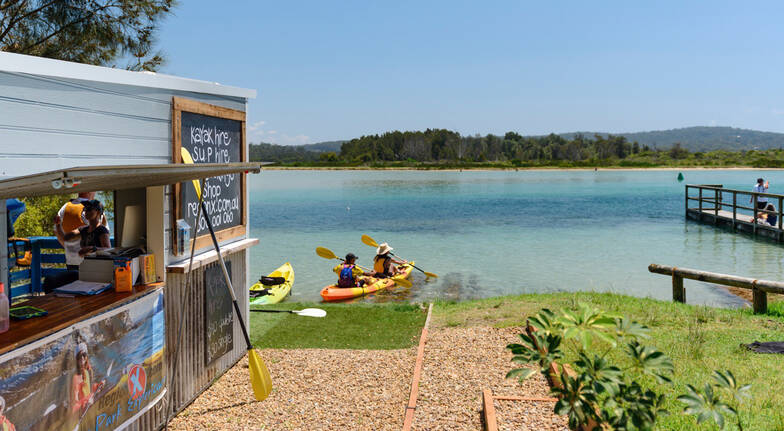 One of the local's favorite weekend getaways close to Sydney is Bateman's Bay. It is just a little over 3 and a half hours drive away and sets in a beautiful location. I and my friends have been there for weekend camping, fishing, and just a relaxing long weekend. It is perfect for that.
But if you want to do or see something more than just chilling, here are some of the must-sees in Batemans Bay- Mini Golf, Catalina Country Club, Eurobodalla Regional Botanic Gardens, Birdland Animal Park, Batemans Bay Heritage Museum, Marine Park, Batemans Bay Sunday markets (every 1st and 3rd Sunday of every month) and Clyde River National Park.
There are some side trips you can do from here which are to Mogo Zoo, Jervis Bay, Dolphin & Whale Watching in Noorama, and visiting Cupitts Winery in Ulladulla.
3. Mudgee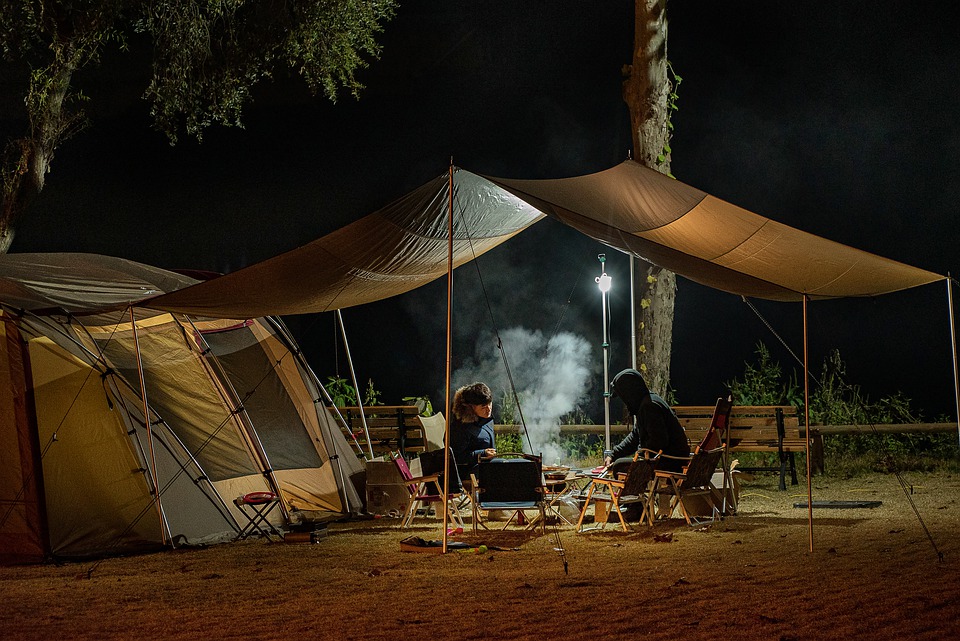 Mudgee is a historical town founded in 1838 and is another short 3.30 mins drive from Sydney. This scenic drive takes you through the Blue Mountains National Park ( UNESCO world heritage site) and other beautiful places that will treat you along the journey.
It is located in the town northwest of Sydney in New South Wales and known for its free camping, permanent camping as well as its colonial buildings. There also dozens of wineries, cafes and restaurants, and bustling markets which makes it is an amazing getaway for families and groups. Don't forget to buy antiques and souvenirs in the market and check out a lovely touch to the Australian outback.
I recommend the following outdoor activities in Mudgee the Drip Gorge, Dunns Swamp, and Munghorn Gap Nature Reserve. For food and drinks, check out the Lowe Wines, SHORT SHEEP Micro-Winery, and Moothi Estate Winery.
4. Orange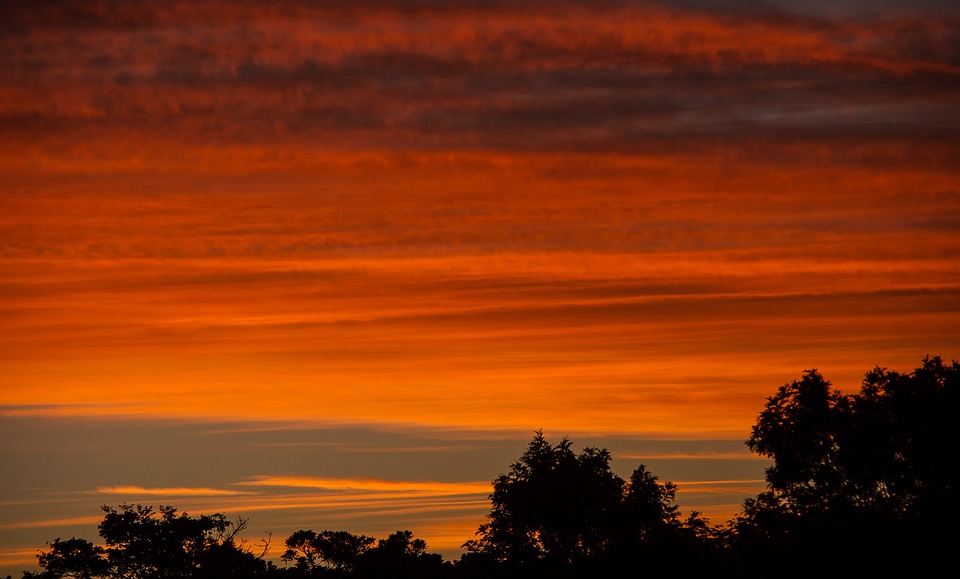 Orange definitely lives up to its name and produces some of Australia's excellent local fruits and veggies. From local citizen to travelers all head to Orange for their impressive vineyards, and its fine dining restaurants. It is also across the Blue Mountains National Park if you want to hit two birds with one stone!
Fun things to do in Orange NSW Australia
Orange is just a little over a 3-hour drive from Sydney CBD and is one of the quaint weekend getaways from Sydney. The best outdoor activities in Orange are Cook Park, Lake Canobolas, Orange Botanic Gardens, Mount Canobolas State Conservation Area ( you can also climb to the summit for 360 views), and Orange Adventure Playground.
5. Port Macquarie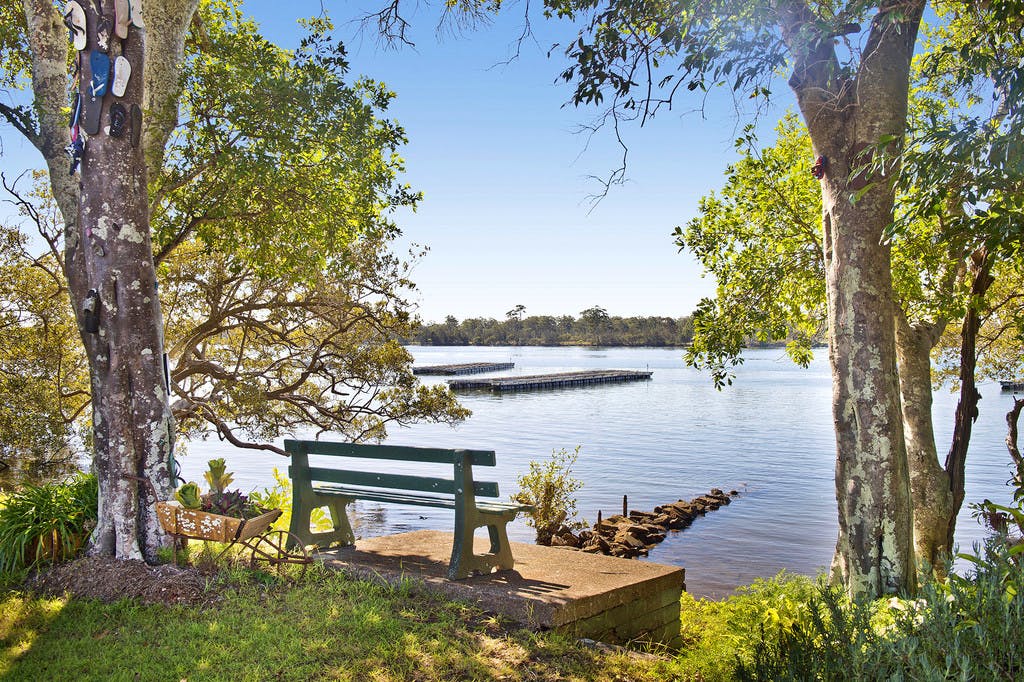 Port Macquire is about 4 hour 15min without traffic from Sydney CBD. It is a beautiful coastal destination, North of Sydney NSW although it was a convict settlement back in 1821, a place where the "worst of the worst" convicts were sent as punishment. You can take a day or after dark ghost tour of convict-era sites around town, as well as the historic cemetery, where 1500 soldiers, convicts, and pioneers were buried.
I also recommend the following outdoor activities Koala Hospital, Coastal walk, Hastings River, Billabong Zoo: Koala & Wildlife Park, Tacking Point Lighthouse, Breakwall Waking Path, and Sea Acres Rainforest Centre. For best beach vibes head to Rainbow and North Haven beaches but Cathie, Grants and Dunbogan beaches are also great surfing spots. Flynns Beach is one of Port Macquarie's best family beaches, and along with Town and Lighthouse Beach is patrolled by surf lifesavers. Then head to Wauchope Farmers Market at Wauchope Showground for a monthly market where local products are grown, cooked, or sold.
There are many things to do around Port Macquarie making it a hit with solo travelers, couples, and even families. It's a place for the young (and young at heart) and free!
6. Wagga Wagga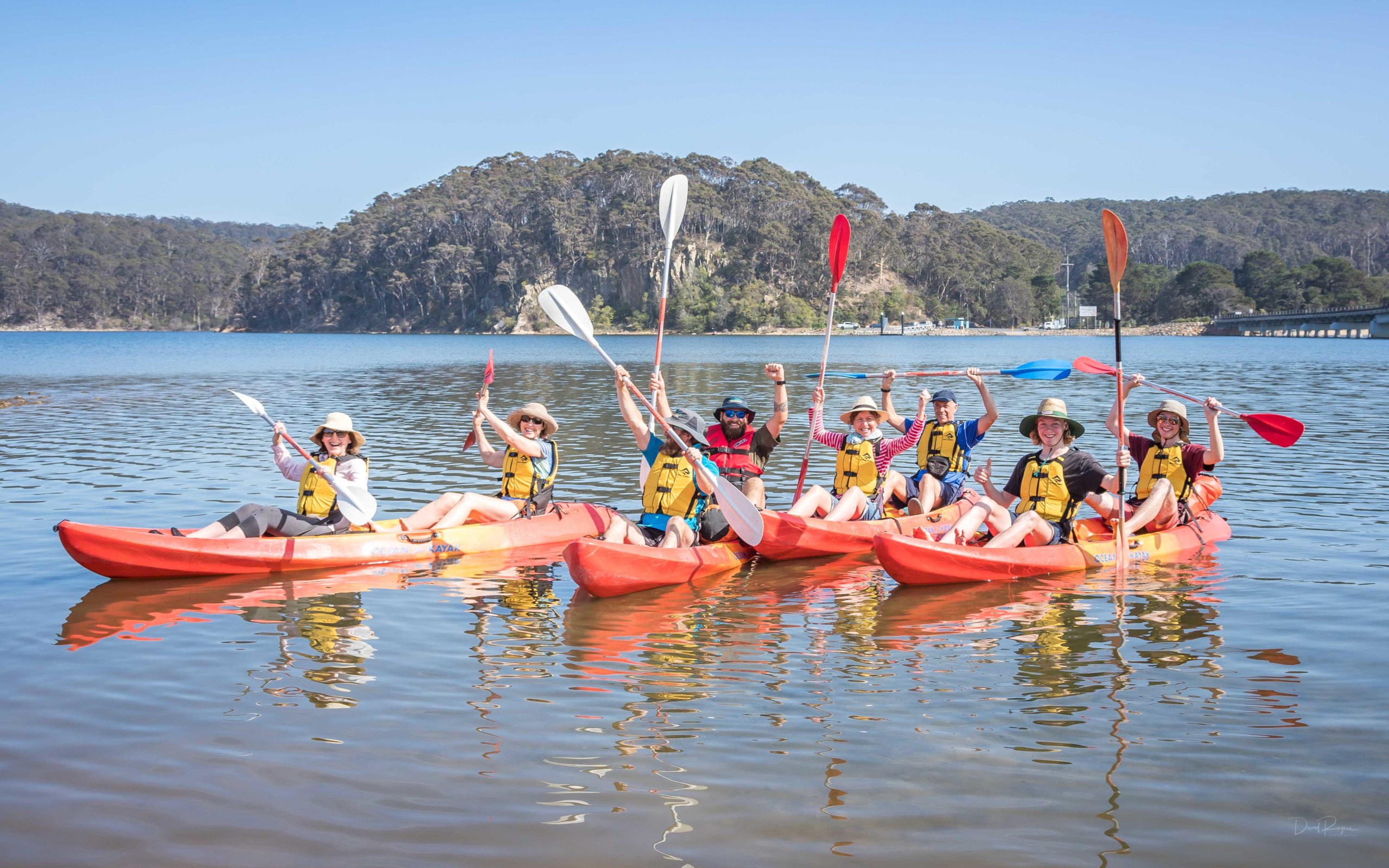 There are multiple ways you can get to Wagga Wagga from Sydney. Bus, train, night train, flight, and when you drive it is just over 5 hours drive from Sydney. Wagga Wagga is a small city on the banks of the Murrumbidgee River in New South Wales.
When visiting I like to check out the Wagga Wagga Botanic Gardens, Wagga Beach, Lake Albert, Oasis Regional Aquatic Centre, and Victory Memorial Gardens. Don't miss the River & Wren Market that is run by the local community to enjoy the social, sensory, and retail therapy. It is a beautiful indoor country market held six times a year in Wagga Wagga offering a diverse range of the very best on-trend handmade, homemade, and homegrown that the region has to offer. National Art Glass Gallery and RAAF Wagga Aviation Heritage Centre are also nice to see if you are interested in the subject.
7. Snowy Mountains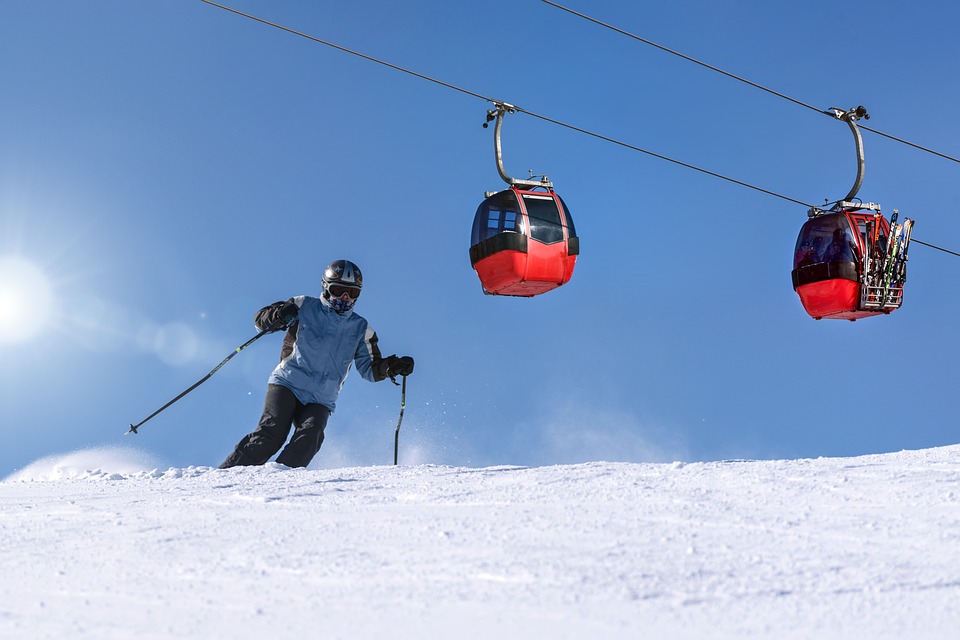 The Snowy Mountains, known informally as "The Snowies" is a little over 5hour drive away from Sydney. It is also another go-to destination for local's weekend getaways close to Sydney. Usually, for the winter season, Sydney sider flok to snowies to ski, snowboard, and spend few days to weeks in the snow. It is a special time to go as Sydney doesn't have snowfalls so, this is the closest we can get to when it comes to experience the Alps!
On saying that though, the snowy mountains is a great adventure for the rest of the year also. I especially like to get an Airbnb at Jindabyanne and go to snowy mountains or nearby Perisher for mountain biking, horse riding, exploring Yarrangobilly Caves, the Alpine way drive, or climbing Mt Kosciuszko (the highest peak in the Australian mainland 2228m), visit Lake Jindabyne and ending the busy day visiting the wild brumby distillery. Just don't forget to pack according to the season and you should be good. PS: If you are heading there to Ski, buy a ski pass and save money!
8. Coffs Harbour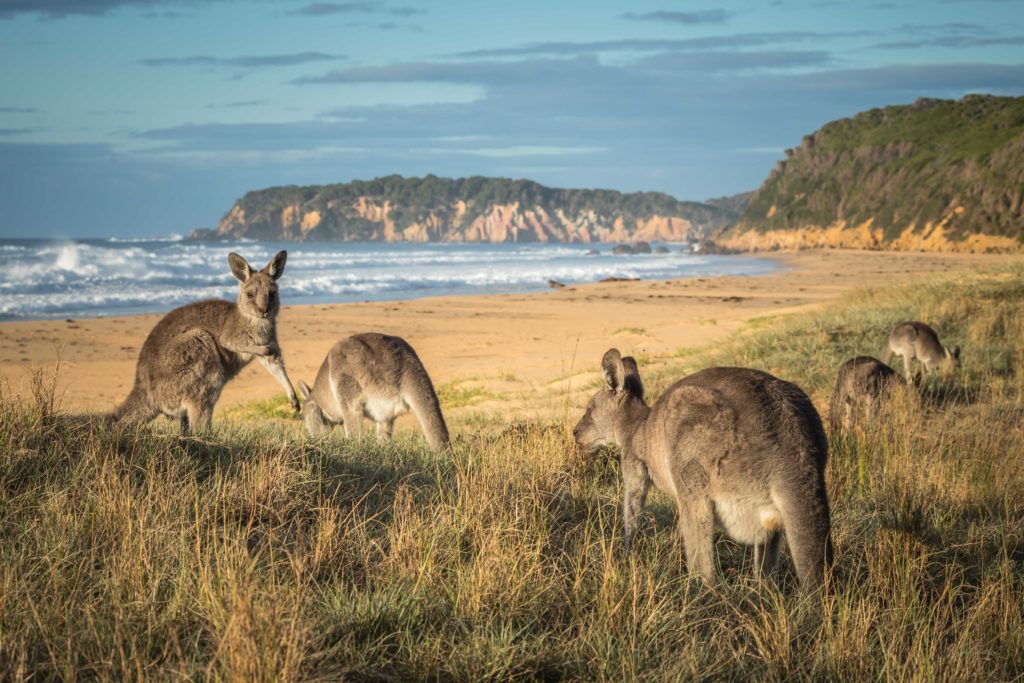 Back in the day, Coffs Harbour's economy was heavily dependent on bananas but now it has moved on to become a world-class tourist destination. It is about 5 hours 40 minutes drive from Sydney and a popular getaway place for locals and visitors. Coffs Harbour offers numerous uncrowded beaches and beautiful national parks that have a steady inflow of ever-growing nature enthusiasts. There is also a range of activities to undertake here making is a perfect holiday playground for all ages!
Some of the best outdoor activities in Coffs Harbour are North Coast Regional Botanic Garden, Coffs Harbour Muttonbird Island, Coffs Harbour Beach, Korora Lookout, Solitary Islands Aquarium, Dolphin Marine Conservation Park and Forest Sky Pier. Don't forget to visit the Big Banana amusement park also. The grounds of the park are set amongst a banana plantation, featuring a large walk-through banana. Built-in 1964, it was one of Australia's first Big Things!
If you want to venture further from here, you can take some day trips such as Rainforest & Waterfall Experience,
Sawtell to Coffs Harbour Bike Ride or Coastal Adventure.
9. Sapphire Coast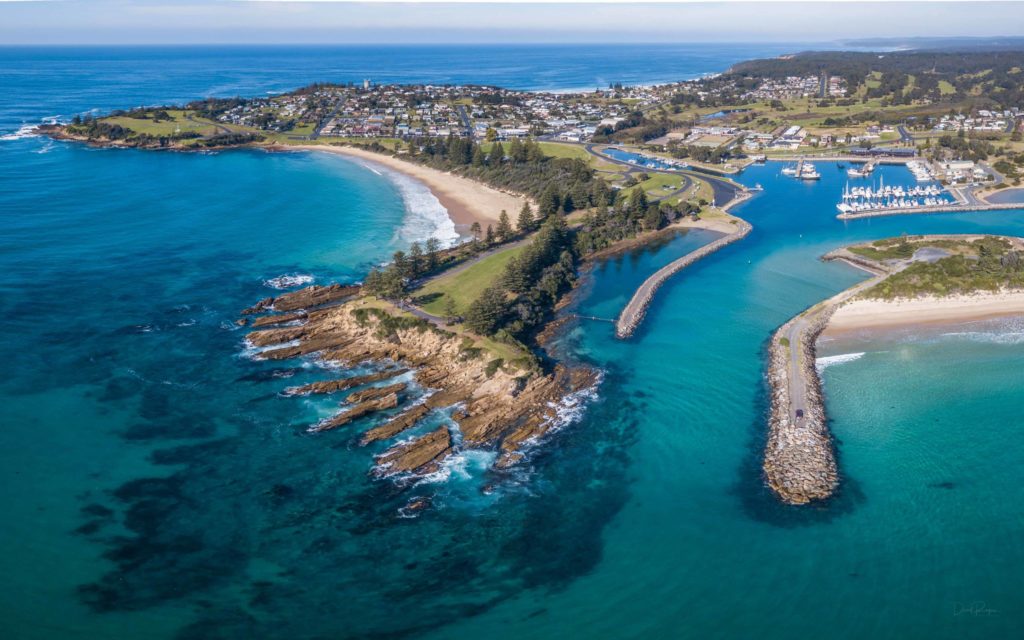 Sapphire Coast is located nearly 6 hours drive south of Sydney. It is one of that lesser-known area but perfect for weekend getaways close to Sydney. It was named after the sparkling color of the sea, and offers great outdoor activities and stretches from Eden near the Victorian border to Bermagui.
Some of the outdoor must-sees here are the Merimbula Boardwalk, Killer Whale Museum, Mumbulla Falls, Green Cape Lighthouse, Blue Pool, and Eden. Whale watching, humpback whale, exploring Bega Valley, Wharf Locavore, and Tathra Beach, and experiencing the waters and wine of Tathra are great options too.
At every blink of an eye, you will see the best of nature's striking wonders from whale watching and surfing to rugged coastlines, unspoiled sandy beaches, and tranquil seaside villages. There is something for everyone, you just gotta go there before everyone else finds out about this gem!
10. Eurobodalla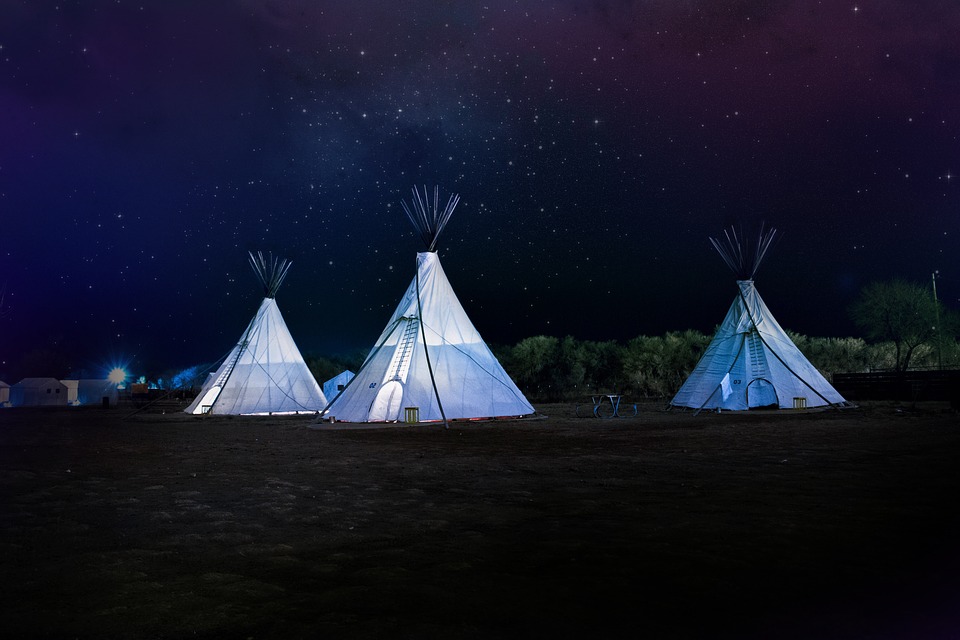 If you are into stunning weekend getaways close to Sydney Eurobodalla fits the bill. It is definitely a hidden gem many people don't know about and is only 5 hours drive from Sydney. On saying that you could even get there on a domestic flight, train, and bus.
Eurobodalla is an Aboriginal word that means "small haven for boats" or "land between waters". It is a great place to visit year-round because of the ideal weather conditions. Being bored is a phrase you won't use here!
I recommend the following places to visit. Such as Montague Island, Eurobodalla Regional Botanic Gardens, Gold Rush Colony, Mogo Zoo, Birdland Animal Park, and Bar Rock Lookout and Australia Rock. When it comes to beaches, Broulee, Tomakin, and Safety Bar Beach. Fishing in Narooma and golfing are also popular activities here.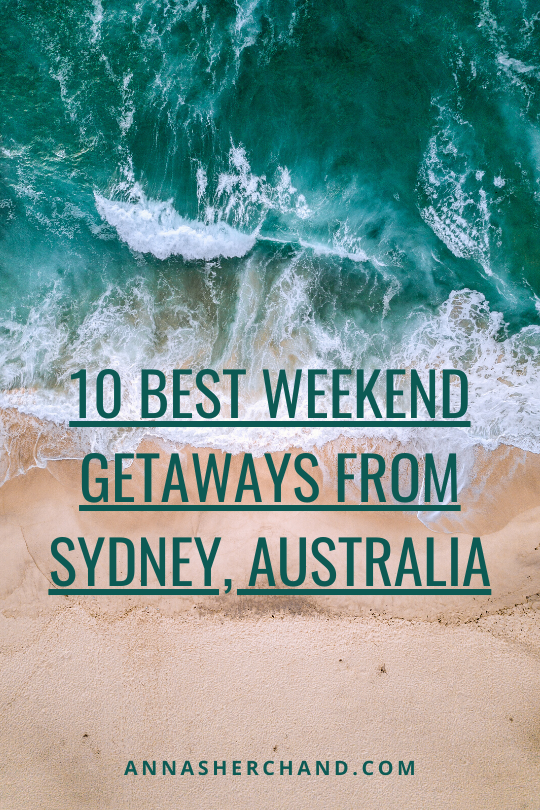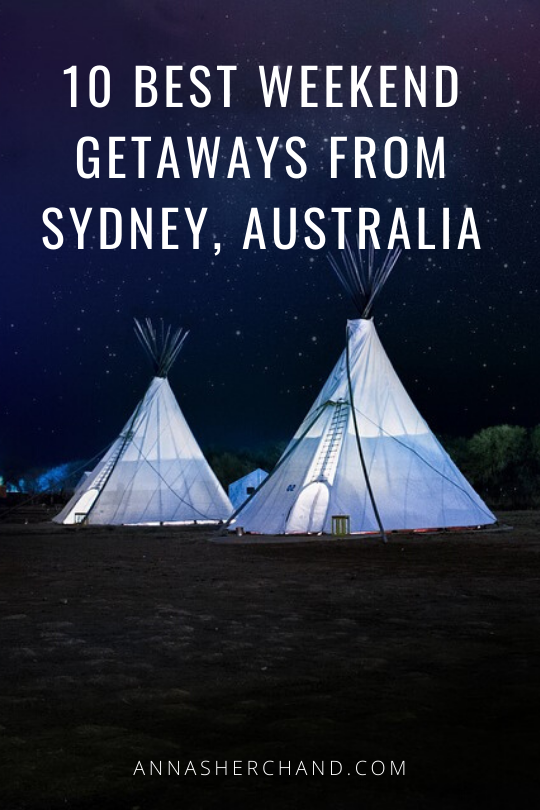 Let me know in the comments –
10 Fun weekend getaways close to Sydney