Finally, the time has now come to write about solo travel to Porto, Portugal. This article is going to provide you with all the handy information you need to know before you go to Porto. Such as when is the best time to go, if it's safe for solo female travelers, the best places to see, where to stay, what to eat, Simcard for Porto, day trips from Porto, and more. If you are traveling to Porto for the first time, this travel guide is going to help you get ready. So buckle up and let's start!
Porto is the second-largest city in Portugal and in fact, Portugal is named after Porto. The Latin name for Porto was Portus Cale and this coastal city is best known for three things: its river, the Douro, an ever more popular choice for river cruises, its stately bridges, and port wine production.
With its stunning Old Town on the picturesque Douro River, complete with six bridges (a UNESCO World Heritage Site), the historic hillside city, good wines, and tons of nature within 30mins to an hour of public transportation, Porto is becoming one of the most sought after travel destinations in Portugal.
Solo travel to Porto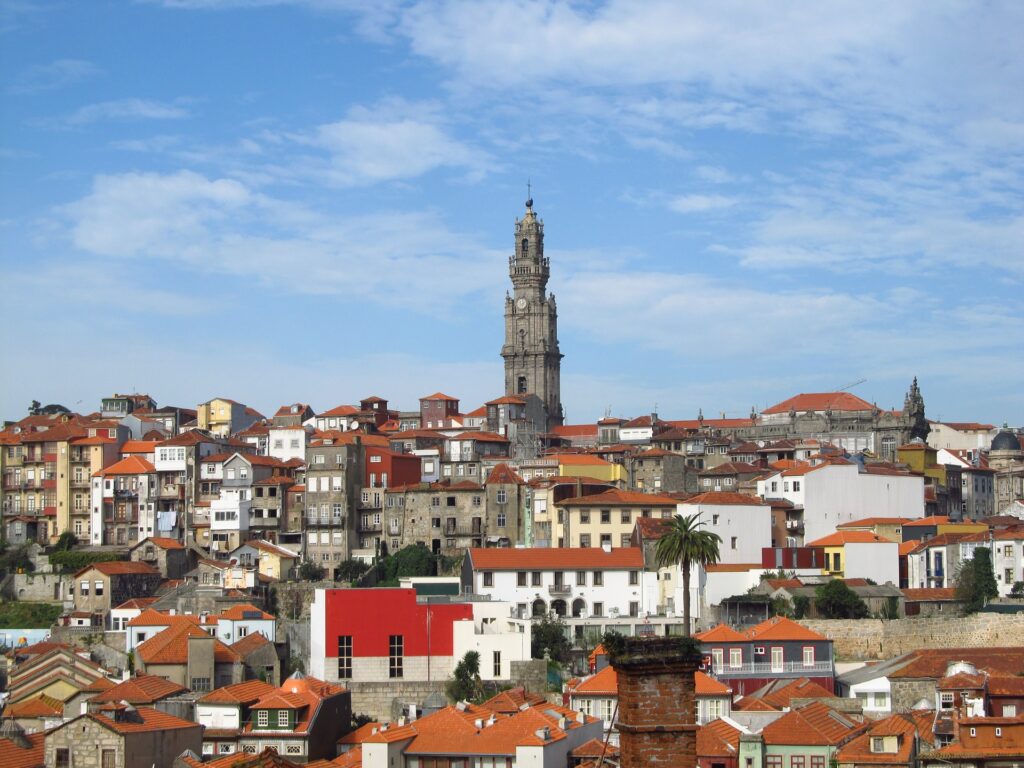 How many days in Porto is enough?
Although I like staying until my visa runs out in each country but if you are time-poor, I would suggest spending at least 3 days in Porto. This should be enough time to explore Porto's main attractions, get the feel for the city, and even take a day trip to Lisbon, lounge on one of the scenic beaches nearby or just sip more port at sunset.
Where is the best area to stay in Porto?
If you want luxury then hotels are the best options or even Airbnb otherwise sticking with hostels would be your best bet with budget travel. Either way, some of the best neighborhoods to stay in Porto are Ribeira, Cedofeita, Baixa/Sé, Bonfim, Marquês, Foz, Boavista, Torre de Los Clérigos, Rua Santa Catarina, and the neighboring Praça da Liberdade in central Porto.
When is the best time to visit Porto?
The best times to visit Porto are between May to August (late spring and summer) because during these months usually the climate is warm-sunny and there are tons of events and festivals to go to. Plus the room rates are affordable though they fill up fast and during the shoulder seasons, crowds would have disappeared.
Is Porto safe for a solo female traveler?
My experience of solo travel to Porto was safe from start to end. So all I can say from my personal experience is unless there is a drastic change in the country's political situation, pandemic, or some natural disaster it is safe to travel to Porto. Just remember to apply a general rule of thumb i.e. Don't walk down that dark alleyway on your own, respect the culture, don't argue about religion, dress modestly, trust your instincts, and don't be afraid but be cautious.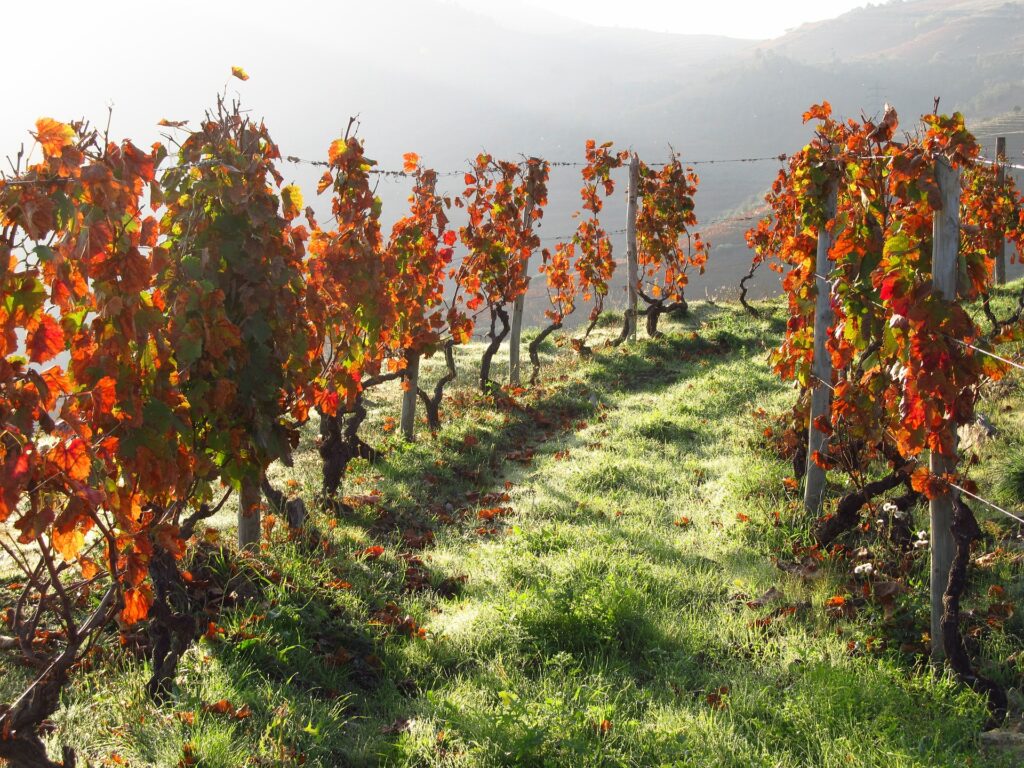 Local currency
The official currency in Porto is the Euro. There are several 24-hour ATMs and currency exchange in the airport arrivals hall and these days almost all establishments accept debit or credit cards though. Just remember to consider bank fees from your bank and the ATM withdraw fee while you do your budget.
Do I need a visa for Porto?
If your passport is from Australia, you do not need a visitor visa to enter Portugal because it falls under the Schengen zone that allows Aussies to stay up to 90 days in any 180-day period. Your passport should be valid for at least six months beyond your stay. That being said, the authorities may ask for the return air ticket. I highly recommend checking the Portugal Consulate website for the most current visa information for you.
How to get to Porto
By Plane
The main international airport in Porto is called Francisco Sá Carneiro Airport (IATA: OPO, ICAO: LPPR) or simply Porto Airport (formerly Pedras Rubras Airport). It is located 11km northwest of Porto city center. Recommend searching via Skyscanner to check the latest flight pricing.
By Train
If flying is not your style, you can also travel overland to Porto. An example would be Barcelona to Porto train travel time is normally about 1 day, usually, involve one change of train, and cost about $93. Recommend checking out Rail Europe for the booking.
By Bus
I went from Madrid to Porto via bus which costs $45 – $60 and took 8h 25m. You can use Flixbus to check out some of the cheap bus tickets within Europe. Alternatively, check out a car share app Blabla Car. Found it really useful while I traveled around the EU.
By Ferry
There are no international ferries in Portugal. If traveling from the UK, you need to take the ferry to France or Spain and continue down to Portugal by car, coach, or train but there are some really good domestic sailing options within Portugal though.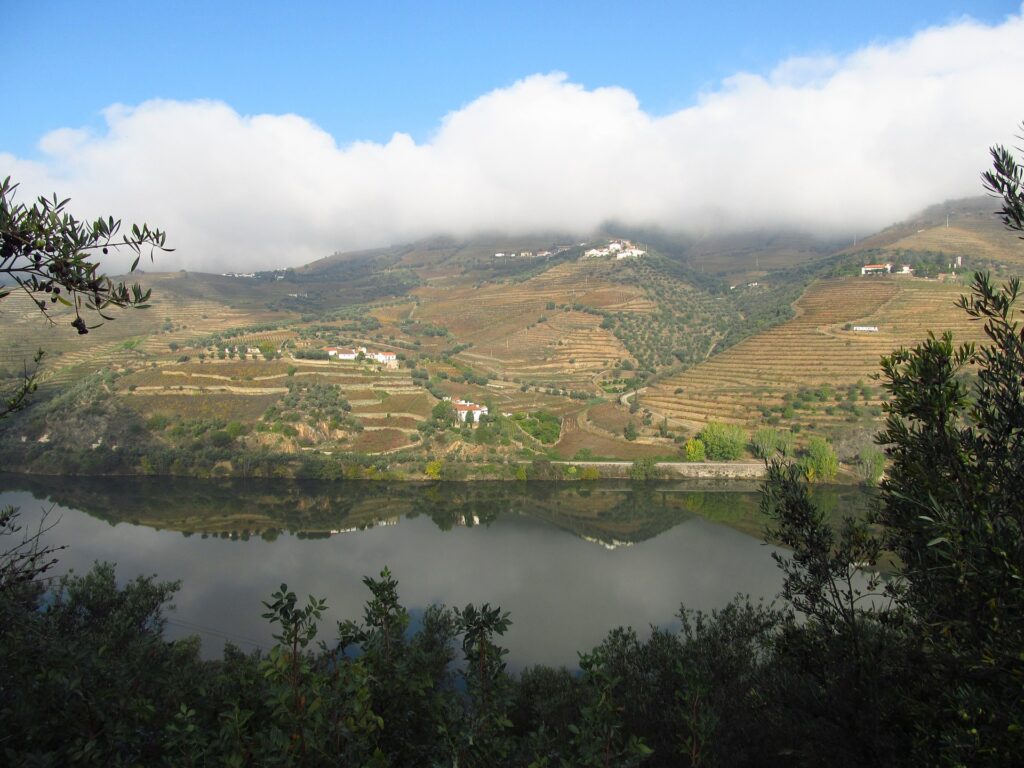 How to get around Porto?
The first option I always suggest is to walk around the city center because it offers so much more with the sights, sounds, surprise conversations with the locals, and more. It is also very easy to walk around Porto because it isn't that big of a city and all the main attractions aren't too far from each other.
That said, Porto also has an extensive public transport system served by bus, and metro. They are widely available which makes it easy to explore all corners of the city.
Alternatively, you can download Uber for going around in Porto. Here is the $10 off your first ride on the Uber app. To accept, use code 'k7zapn' to sign up. Enjoy! Details: https://www.uber.com/invite/k7zapn
People, language, Simcard
Based on my experience I found Portuguese people to be friendly and respectful of others although I did come across a bad apple too. Portuguese is the official language but English is widely spoken in Porto mostly in the travel and hospitality industry.
You can pick up a sim card right at the Porto Airport arrival hall from a Vodaphone store. I bought Vodaphone prepaid data SIM card 1Gb costs 15 euros.
Portugal's country domain is .pt, and country-code is +351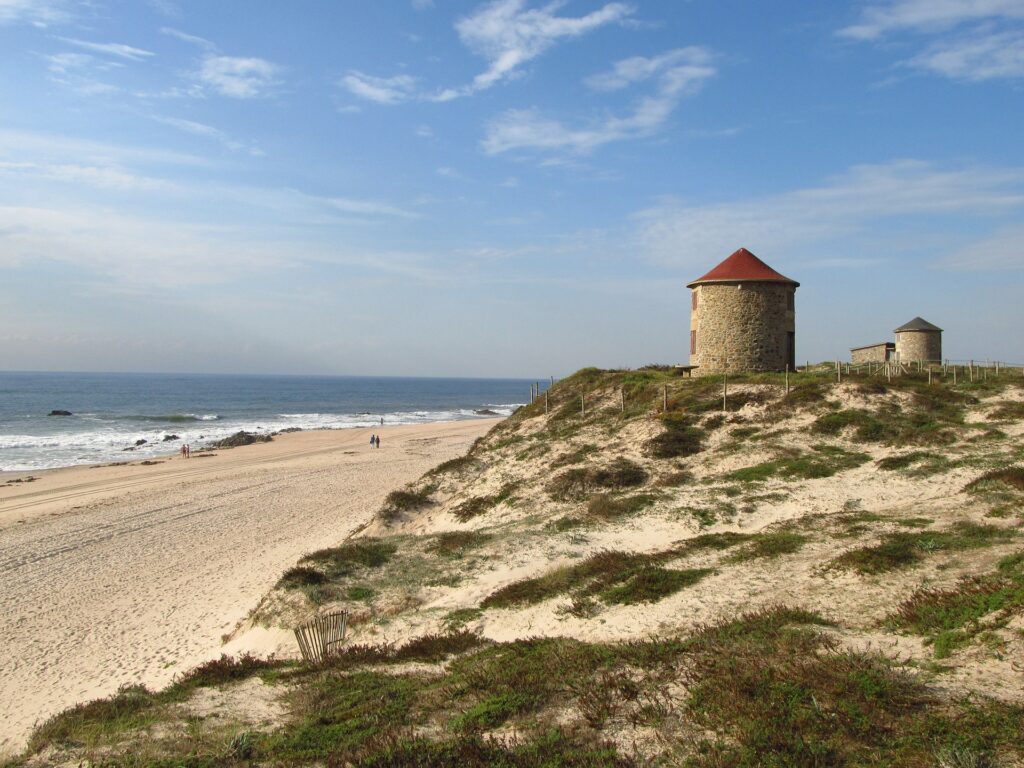 Must-Have Travel Apps for Porto
Google Translate for easy communication in the local language and it's extremely simple to use!
Flixbus app to travel to Europe very cheaply including other cities in Denmark other than just Copenhagen. It has a comfortable seat, wifi, and snacks onboard.
Google Maps because it offers very good coverage of Bratislava, including Street View. Google Drive, Calendar for time management, and storing pictures.
Direct Ferries app to compare companies, and prices, and, once you're happy, book those ferry tickets.
Metro do Porto for all of Porto's public transport, plan route, and make sure you are taking the right route.
Uber to order your taxi for immediate use. Here is the $10 off your first ride on the Uber app. To accept, use code 'k7zapn' to sign up. Enjoy! Details: https://www.uber.com/invite/k7zapn
Porto app to explore Porto because it is actually produced by the Office of Communication and Promotion of the Porto City Council
What to eat in Porto?
Solo travel to Porto wouldn't be complete without trying their food! Highly recommended their typical dish Francesinha (ham and steak sandwich baked with cheese on top), Fresh Fish & Seafood, Queijo da Serra da Estrela (mountain cheese), ovos verdes (green eggs), Sandes de perni (slow-roasted pork loin sandwich), Aletria (Like rice pudding but made with vermicelli pasta), and Bacalhau (dried and salted cod) and it's different versions.
As you know most countries have a signature drink. Porto is no different. So the must-try drink in Porto is the Port wine. It is a fortified wine produced with distilled grape spirits exclusively in the Douro Valley in the northern provinces of Portugal. Recommend heading to a winery to try some of the best port wines. Suggests heading to Miradouro Ignez or Espaço Porto Cruz (Oporto Cruz Space) for the view and an Oporto wine of course.
Where to eat in Porto?
Generally speaking, eating out in Porto is more affordable than in Lisbon being the capital is slightly expensive.
Here are some of the best places to eat in Porto I recommend starting with cheap, medium, and expensive two options each, Café Santiago, Cervejaria Gazela, Cozinha da Amélia, Casa Inês, ODE Porto Winehouse, Pedro Lemos.
Solo travel to Porto
Now that we got the practical tips out of the way, let's get into the best places to visit during your solo travel to Porto and day trips from it.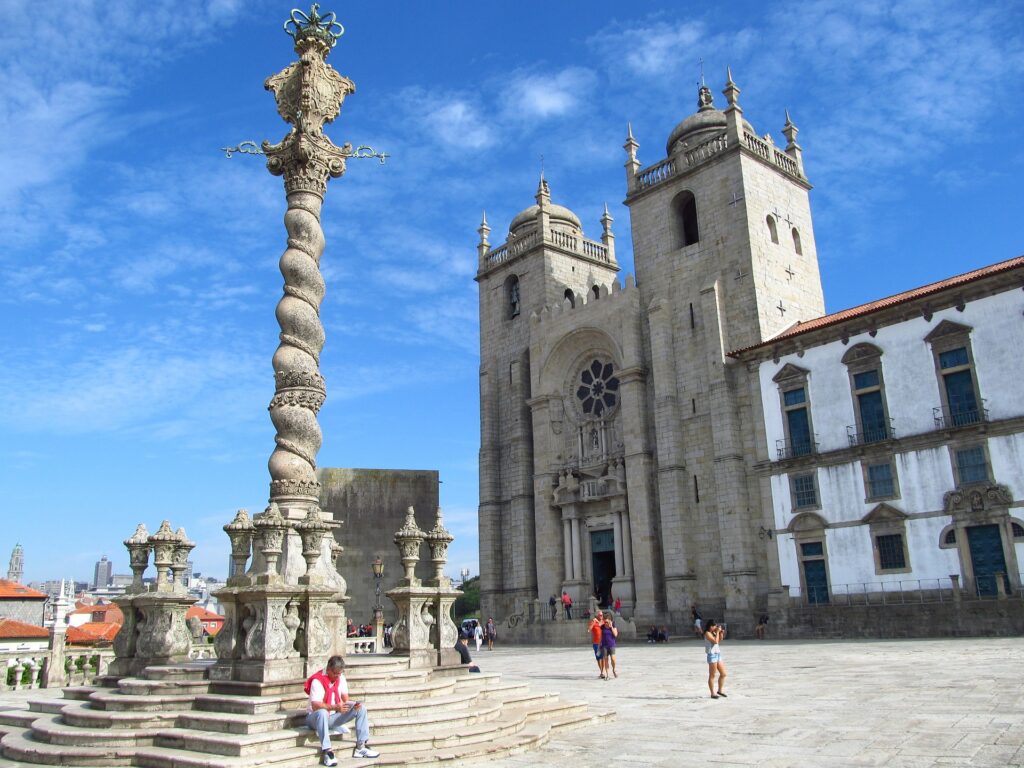 Best places to visit in Porto Portugal
The first thing I would advise is to get a Porto card with transportation. It starts from $15.63 per person but it is worth it in experiencing the best of Porto while saving time and money. With this card, you get free entry to more than 6 museums and attractions, enjoy 50% discounts at 17.56 Museu da 1ª Demarcação do the Douro, Torre Dos Clérigos, Museu Da Misericórdia, a 2-for-1 port wine tasting at Espaco Porto Cruz and unlimited access to the metro, city buses, and suburban trains and special offers in restaurants, shops, and other venues and valid for 1-4 days.
You can preorder Porto Pass and collect it from the official Tourism Office Centre located at Rua Clube dos Fenianos, 25. The opening hours are 9:00 AM to 6:00 PM.
And here is a short list of some of the benefits that are covered with your Porto Pass:
• Free Metro Do Porto (all lines)
• Free Bus STCP (all lines)
• Free Train CP Porto (Urbanos Valongo, Trofa, Espinho)
• 50% of at Real Companhia Velha Port Wine Cellars
• Casa Do Infante-Museu (free entry)
• Casa-Museu Guerra Junqueiro (free entry)
• Casa-Museu Marta Ortigão Sampaio (free entry)
• Museu Romântico (free entry)
• Museu Do Papel-Moeda (free entry)
• Museu Do Vinho Do Porto (free entry)
• Up to 50% off at the Casa Da Música
• 50% off at the Tower + Exhibition Igreja E Torre Dos Clérigos
• 50% off at the Museu Da Farmácia Do Porto
• 50% off at the Museu Da Misericórdia Do Porto
• 50% off at the Museu De Arte Sacra E Arqueologia
• 50% off at the Museu Militar Do Porto
• 50% off at the Museu Nacional Da Imprensa
• 50% off at the Museu Nacional Soares Dos Reis
• 50% off at the Museu Das Marionetas
• 50% off at the Museu Dos Transportes E Comunicações
• 50% off at the Teatro Nacional São João
• 35% off at the Catedral (cloisters)
• 35% off at the World Of Discoveries, Interactive Museum & Theme Park
• 35% off at Paço Episcopal
• 30% off at Sea Life Porto
• 25% off at the Igreja Monumento S. Francisco
• 25% off at the Zoo Santo Inácio (individual tickets only)
• 25% off at the Palácio Da Bolsa
• 20% off at the Museu De Arte Contemporânea De Serralves
• 10% off on Tour FC Porto Museum + Stadium
If it's your solo trip to Porto, and you would like to meet other fellow travelers consider joining a walking tour, meet other travelers and get familiar with the city with the help of licensed, professional guides. There are many types of walking tours available from the public to private tours ranging from 1 to 3 hours.
Whether you decide to join the tours or end up exploring on your own, here are the must-see places in Porto you shouldn't miss: Ponte de Dom Luís (Dom Luís I Bridge), The Douro River, Liberdade Square, Experience Livraria Lello, Sé do Porto (Porto Cathedral), Rua das Aldas, Vila nova de Gaia maybe join of the wine tours, Cais da Ribeira, Douro River, Palacio da Bolsa, Estadio do Dragao, Bolsa Palace, Monument Church Of St Francis, Casa da Música, Avenida dos Aliados, Bolhão Market, Funicular dos Guindais, Azulejo art in Porto, Pergola da Foz, Igreja e Colégio de São Lourenço (Igreja dos Grilos), Torre dos Clérigos, Clérigos Church, Vitória, Miradouro das Virtudes, Fontaínhas, and The Mosteiro da Serra do Pilar.
If you are after nature my recommendations would be, Jardins do Palácio de Cristal (Crystal Palace Gardens), Parque de Serralves, Cais da Ribeira, Parque da Cidade do Porto (Porto City Park), and Douro River.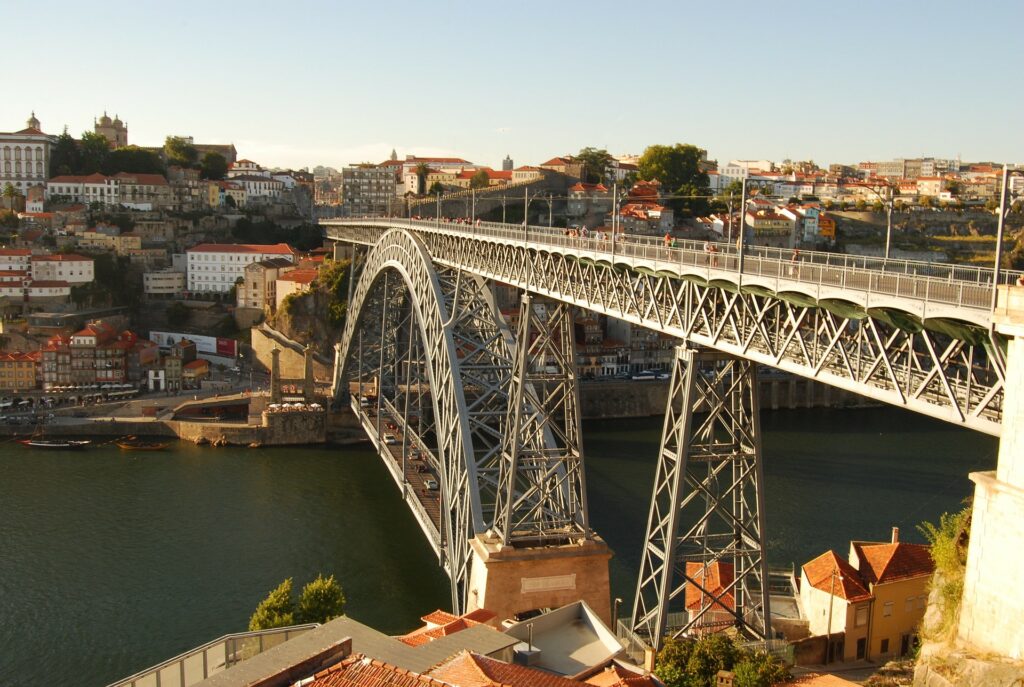 Best place to watch sunsets in Porto
If you have been following me for a while you know I am a sunset lover and it is my high priority in every new country I visit. Solo travel to Porto was no different. Here are some places I recommend for watching sunsets in Porto, Dom Luis Bridge, Passeio das Virtudes (from locals to travelers everyone loves this spot), Sé do Porto, Palácio de Cristal, Jardim do Passeio Alegre (Happy Tour Garden), Vitoria-Igreja e Torre dos Clérigos, Lais da Guia in Matosinhos or Praia da Luz in Porto, Marina da Afurada, Miradouro da Serra do Pilar, Garden of Morro, Saint Lawrence Church, Miradouro da Vitória, Praia de Matosinhos (Matosinhos Beach), Parque da Quinta da Macieirinha (hidden gem) and Jardim do Morro in Vila nova. If you are feeling like watching sunsets with a port wine in hand, I recommend Mirajazz, Guidalense, or Base. All of these 3 bars offer some of the best views in Porto.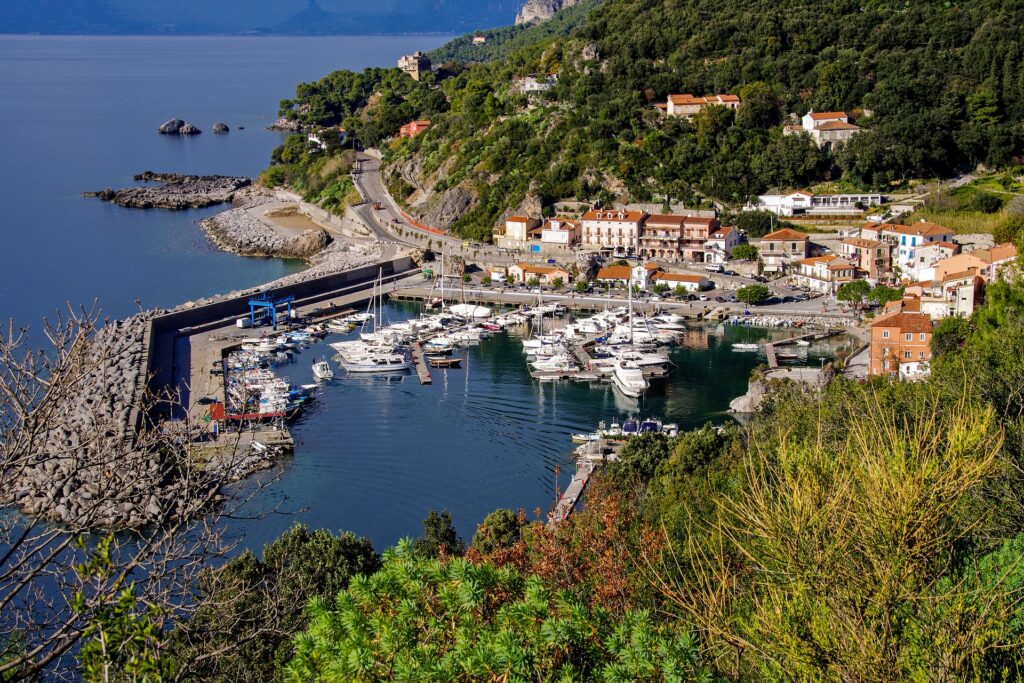 Trips from Porto
Porto is a great starting point to explore the northern and central regions of Portugal, as well as the Algarve in the south. Here are some popular trips from Porto:
Guimarães: Known as the "birthplace of Portugal," Guimarães is a charming medieval town with a well-preserved historic center. Its main attractions include the castle, the Palace of the Dukes of Bragança, and the Church of São Miguel.
Braga: Located just a short train ride from Porto, Braga is another historic city with impressive churches and a beautiful city center. Must-see attractions include the Bom Jesus do Monte Sanctuary, the Sé Cathedral, and the Palácio do Raio.
Douro Valley: The Douro Valley is famous for its wine production and stunning landscapes. You can take a scenic train ride or boat tour from Porto to the Douro Valley, where you can visit wineries and enjoy the views.
Aveiro: Known as the "Venice of Portugal," Aveiro is a picturesque coastal town with colorful boats, charming canals, and Art Nouveau architecture. Be sure to try the local specialty, ovos moles, a sweet egg-based pastry.
Coimbra: One of Portugal's oldest and most prestigious university cities, Coimbra is filled with historic buildings, museums, and parks. The highlight is the University of Coimbra, which has a stunning baroque library.
Algarve: The Algarve is a popular beach destination in southern Portugal. You can take a day trip to Albufeira, one of the most popular resort towns in the region, or explore the stunning cliffs and beaches of Lagos or Carvoeiro. Another popular activity is visiting the natural caves and grottos by boat from the coastal town of Portimão. If it's any easier read which Algarve town is for you and enjoy your stay!
Matosinhos (beach) and Póvoa de Varzim (beach): Located just a short metro ride from Porto, Matosinhos, and Póvoa de Varzim are two beach destinations that offer a relaxing day trip. Matosinhos is known for its seafood restaurants, while Póvoa de Varzim is a popular resort town with a long sandy beach.
Lisbon: The capital city of Portugal, Lisbon is located about 313 km (194 miles) south of Porto. You can take a train or bus from Porto to Lisbon and explore the city's historic neighborhoods, museums, and cultural attractions.
These are just a few of the many day trips you can take from Porto, including the Algarve. Depending on your interests, there are plenty of other destinations to explore in Portugal!
I hope this solo travel to Porto travel tips helps you in planning your travels.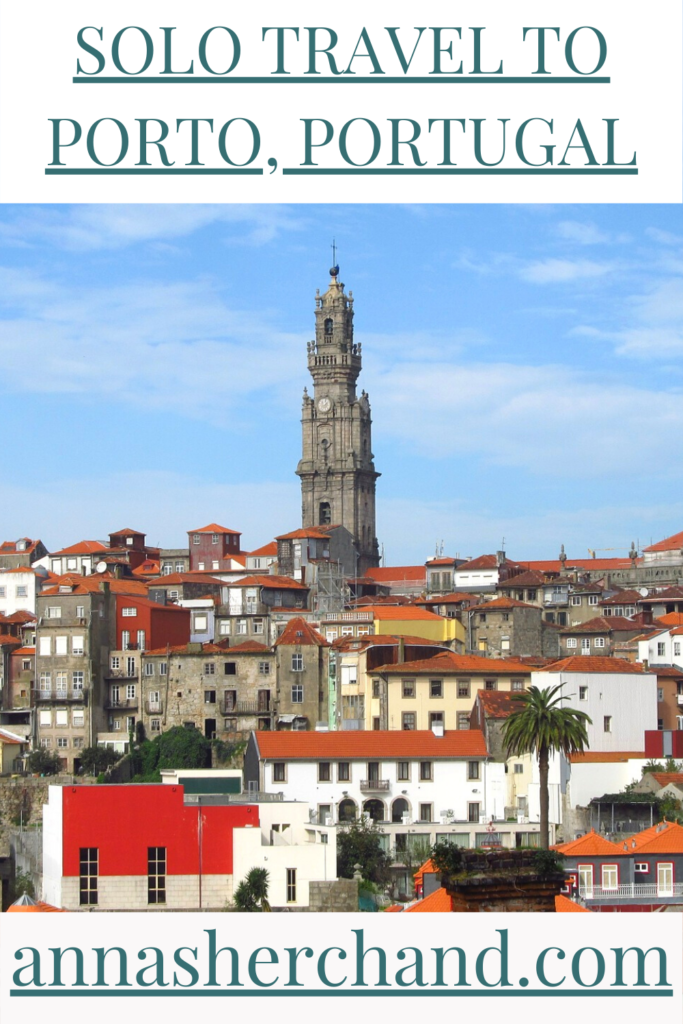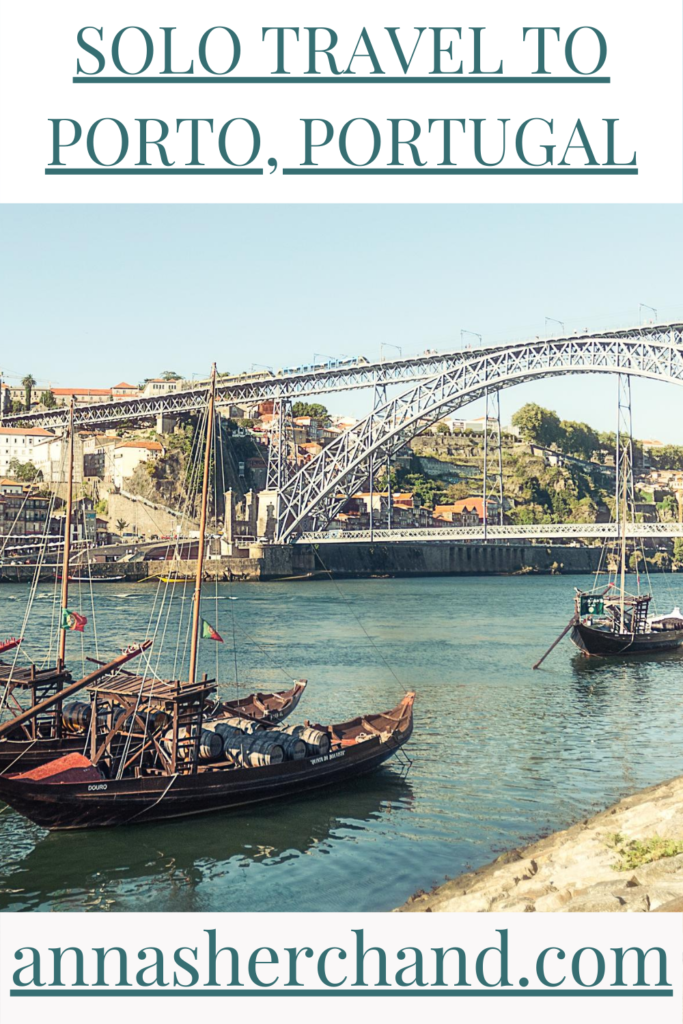 Let me know in the comments:
Solo travel to Porto, Portugal