If you are looking to solo travel to Bratislava, ever-so-slightly 'off the beaten track' city destinations, you will find this article helpful because not only I am covering the best places to visit in Bratislava alone but also all essential Bratislava travel tips for first-timers ie visa, accommodation, food to try, the best time to visit, where to go, activities and day trips from Bratislava also. It is going to be a solid itinerary for you but also giving you plenty of room to adjust.
Bratislava is the capital and largest city of Slovakia and is located on the borders with Austria and Hungary which makes it the only national capital that borders between two countries.
It is also renowned for having the world's highest number of castles, chateaux and more than 6000 caves! With a remarkably diverse nature, unique castles, caves, mountains, hot springs, folk architecture, and more there is something all nature lovers. Their official language is Slovak and in 2004 since joining the European union euro is their local currency.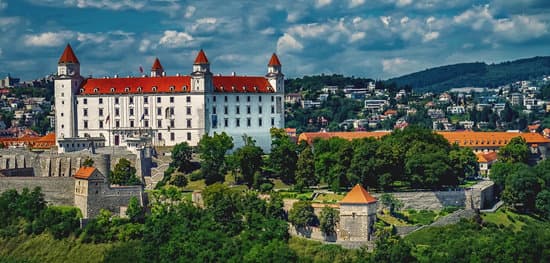 Bratislava Tips
How to get to Bratislava?
By Plane
To reach Slovakia by plane, you can fly to M.R. Stefanik Bratislava International Airport which is situated only half an hour's drive by bus from the center of the town. Another option is the Vienna International Airport which is located only 50km from Bratislava.
By Rail
If flying is not your style, you can visit from vienna to Bratislava day trip! It costs €11.20 each way in 2nd class. On the sleeper train, berths are sold individually, so one ticket means one bed, the other beds in your compartment will be sold to other passengers. For sole occupancy, simply book 1 ticket in a 1-berth sleeper, 2 tickets in a 2-berth sleeper, 4 tickets in a 4-berth couchette & so on.
By Ferry
Alternatively, you could take an overnight ferry from Austria to Slovakia. Currently, there is just the 1 ferry company operating this ferry service, Twin City Liner. The Vienna Bratislava ferry route connects these two countries and operates up to 21 times each week with sailing durations from around 1 hour 15 minutes.
How to get around Bratislava?
Walking around the old town to get the feel of it. Then using either using a car, tram or trolley bus, and taxies to explore more. If your plans are to see some of the countrysides away from the main city, you should consider renting a car because it offers the most flexibility. There are international car renting companies in Bratislava such as Hertz or Avis.
Trolley Buses/buses are quite reliable also. You can buy the tickets at machines next to bus stops and newsstands and don't forget to validate on board (or risk a legally enforceable €50 to €70 fine). Passes start at €6.90/8 for 24/72 hours. Tickets cost €0.70/0.90/1.20 for 15/30/60 minutes.
Important Bus lines are 93 Main train station to Hodžovo nám then Petržalka train station
Trolleybus 207 Hodžovo nám to Bratislava Castle
Trolleybus 210 Bratislava bus station to main train station
Alternatively, you can download Uber for going around in Bratislava. Here is the $10 off your first ride on the Uber app. Use code 'k7zapn' to sign up. Enjoy! Details: https://www.uber.com/invite/k7zapn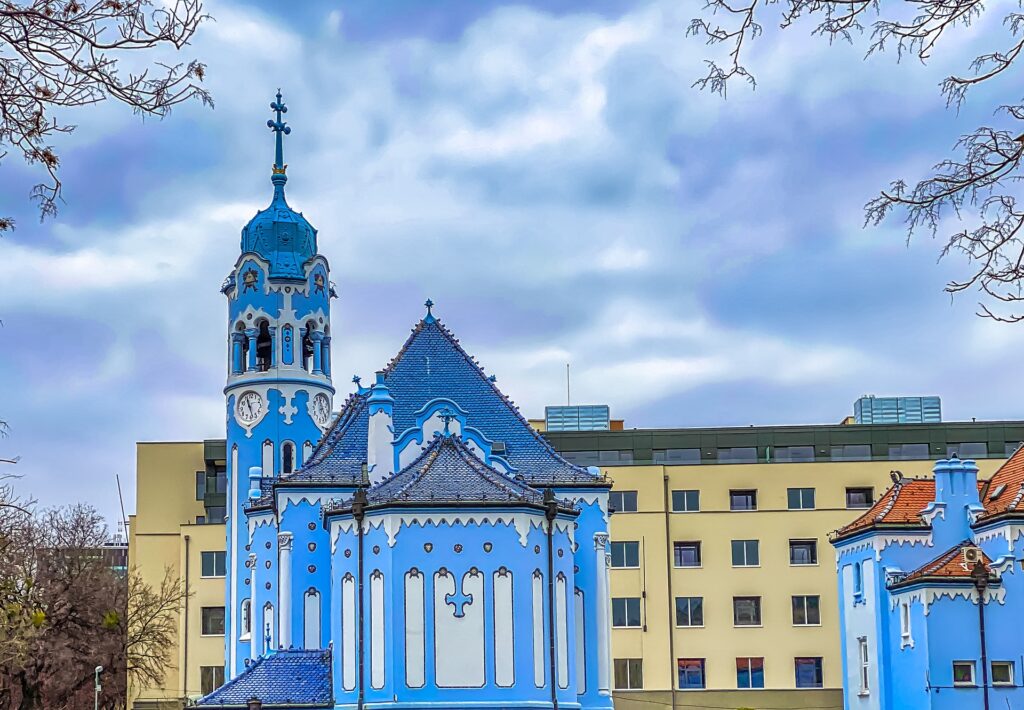 How many days in Bratislava is enough?
Although I like staying until my visa runs out in each country, I would say 2 days is the ideal time to spend in Bratislava or at least do Bratislava one day trip! You can start your journey in Bratislava, explore major attractions in the city then get on trains to make a day trip or two if you have more time.
Where to stay in Bratislava?
If you don't want to stay in expensive hotels or cheap dirty hostels, the easy alternative is to stay at Airbnb. You can even wash the bedsheets once you arrive as Airbnbs usually come with washing and laundry. You would be spoilt for choice in some of the best neighborhoods which are, Staré Mesto ("Old Town" city center), Petrzalka (Petrzalka is the largest municipality in Bratislava), Nové Mesto (Nové Mesto literally means "New Town") and Rusinov (Bratislava's second-largest district).
Do I need a visa for Bratislava?
If your passport is from the AUS, UK, US, EU, and EEA (EU, Iceland, Liechtenstein, Norway, Switzerland) you do not require Visa to enter Slovakia and you can stay up to 90 days in Bratislava just with a visa on arrival stamp. That said, the authorities may ask for the return air or ferry ticket. That being said, I highly recommend checking the official website online or with your local embassy to find out if your country requires a Slovak visa.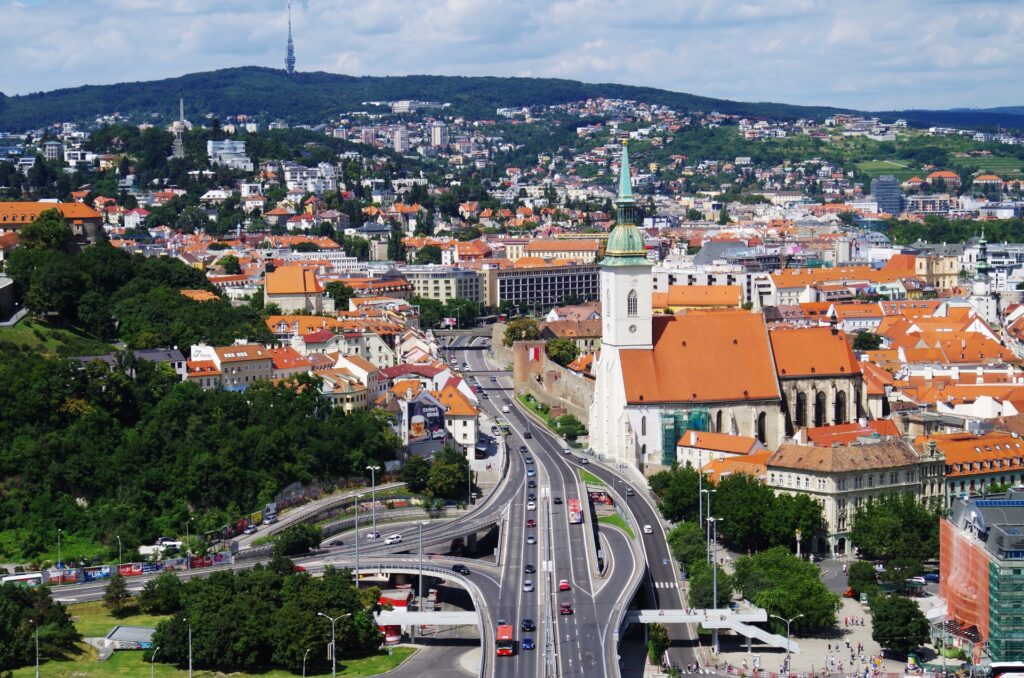 When is the best time to visit Bratislava?
The best times to visit Bratislava are between April to September because during these months the climate is moderately continental ie summers are warmer with little rainfall and winters stay cold and humid.
How safe is Bratislava for a solo female traveler?
First of all, let's establish the understanding of solo traveling is brutality! It forces you to trust strangers and to lose sight of all that familiar comfort of home and friends. You are constantly off balance. Nothing is yours except the essential things – air, sleep, dreams, the sea, the sky – all things tending towards the eternal or what we imagine of it.
That being said, I felt it was safe to travel for solo female travelers. So unless there is a drastic change in the country's political situation, pandemic, or some natural disaster it is safe to travel to Bratislava. Just remember to apply a general rule of thumb i.e. Don't walk down that dark alleyway on your own, respect the culture, don't argue about religion, dress modestly, trust your instincts, don't be afraid but be cautious.
Local currency
The local currency is Euros and was Slovak crowns early on. The Slovak Republic joined the Euro-zone as of January 1, 2009, the Euro is therefore the official currency. Remember to consider bank fees from your bank and the ATM withdraw fee while you do your budget.
People, language and WIFI
Slovak people love their beer and meat (more on that below). Slovak, English, German, and Polish are all the languages you will hear local speak. In most tourist places such as in Bratislava center, you will find English speaking people otherwise it is not very common.
There's free Wi-Fi access all around Bratislava in Book-stores around the city. Hot spots can be found on Primaciálne (Primate's Sq., 2 CV 22) Square. Internet access is also available at the BKIS (top of page). In the Old Town, there are several internet cafés: Klarinet, Klariská 4 ( 2 CQ 22), open Mon – Fri 10 a.m. – 10 p.m., Sat, Sun 3 p.m. – 10 p.m.
Almost every coffee shop and restaurant offer free wifi connection or hotspots for their customers.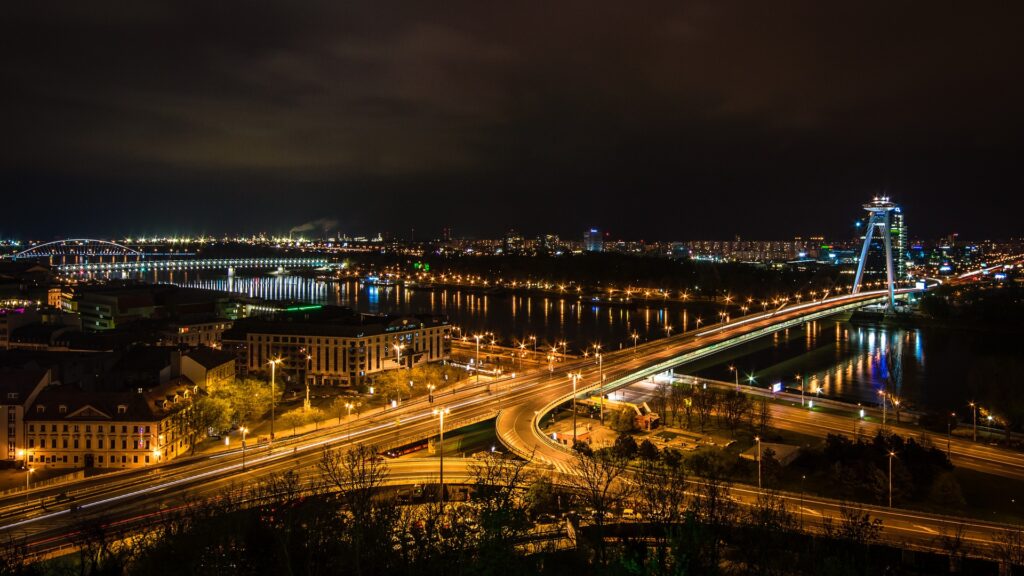 Must-Have Travel Apps for Bratislava
Google Translate for easy translation of local language and it's extremely simple to use!
Google Maps because it has very good coverage of Bratislava, including Street View.
Google Drive, Calendar, Notes for time management, noting down things on a fly and storing pictures.
Uber for taxi rides or share, convenient taxi app. Here is the $10 off your first ride on the Uber app. Use code 'k7zapn' to sign up. Enjoy! Details: https://www.uber.com/invite/k7zapn
App Hopintaxi can be used to call a taxi.
Citylife.sk is a portal with a list of current cultural events in Bratislava, available also as an app
IMHD.SK for public transportation. You will find this app useful if you plan to use public transportation in Bratislava.
What to eat in Bratislava?
Slovakian food is meat-heavy cuisine- Meat, meat, meat! Although the famous (and national) local dish is bryndzové halušky – potato dumplings (similar to gnocchi) served with sheep's milk cheese. Although I found it a little too on a heavy side, It's a must-try and other common dishes I liked and recommend to try are lokše – baked potato pancakes, Cabbage soup (kapustnica – a soup made with sausage and sauerkraut), Pork with dumplings and cabbage (Vepřo knedlo zelo), Goulash soup (Gulášová polievka), Fried cheese with French fries and tartar sauce (Vyprážaný syr), Schnitzel (Vyprážaný rezeň), Potato pancakes (Zemiakové placky), Funnel cake (Trdelnik) and Slovak pancakes (Slovenske palacinky).
Where to eat in Bratislava?
Bratislava's old town ha tons of restaurants and bars to choose from. Elegant dining at Zylinder, Modern Slovakian culinary delights at Modrá Hviezda, the 16th-century building at Prašná Bašta, local Slovak Pub, Bratislavský Meštiansky Pivovar, Hradna Hviezda – luxury dining, or Bratislava Flag Ship Restaurant are some places that are recommended.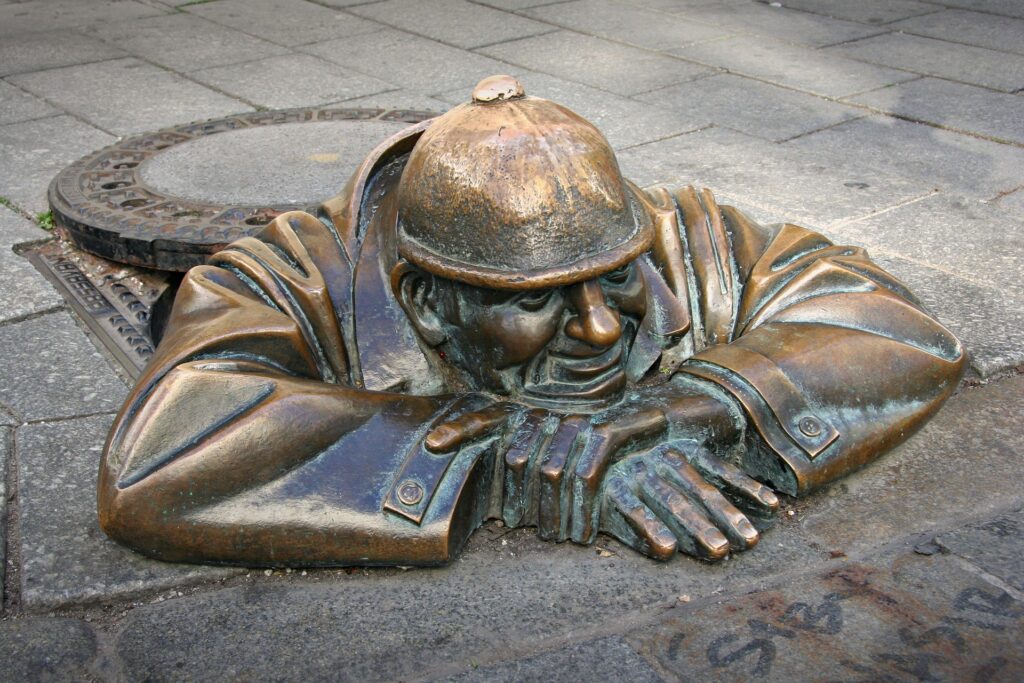 Solo travel to Bratislava
Now that we got the practical tips out of the way, let's get into the best places to visit during your solo travel to Bratislava and day trips from it.
Best places to visit in Bratislava
One of the best ways to explore the most significant landmarks in Bratislava is to join a walking tour. Especially if you solo travel to Bratislava, this is a great way to meet fellow travelers and get familiar with the city with the help of licensed, professional guides. There are many types of walking tours available from the public to private tours ranging from 1 to 3 hours.
Regardless of whether you join the tour or not, I do hope you get to visit the must-see places in Bratislava which are the Blue Church, St. Martin's Cathedral, Bratislava Castle, St. Michael's Gate, Old Town Hall, Devin Castle, taking a photo with Cumil, the hidden Primate's Palace, Old Building of the Slovak National Theatre, B-S 4 Museum (Czechoslovak Fortification Museum), Kazmik Radio Tower, Slavin Memorial, Primatial Palace, Nedbalka Gallery, Danubiana Meulensteen Art Museum, Bratislava Zoo, Bratislava Transport Museum, Bratislavsky Mestiansky Pivovar craft brewery, Slovak National Gallery, and Panoramic views from UFO Observation Deck.
For a breath of fresh air in Bratislava head to Horsky Park, Sad Janka Kráľa, and a bit far to the Tatra mountains national park.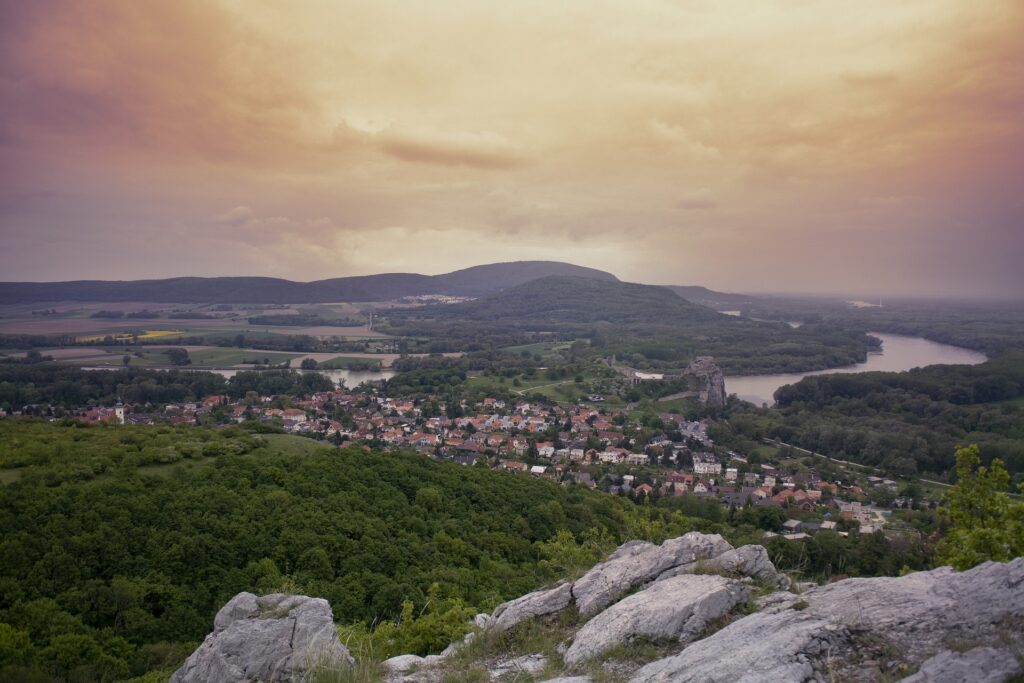 Best place to watch sunsets in Bratislava
There are many places you can watch the sunsets in Bratislava. My personal favorite is the UFO Tower because it offers the best views of the city, from the Old Town to the north, Danube river, and residential areas in the south, making it a great spot for sunset and seeing the city at night.
Another spot I recommend is Sundeck. Not only it offers a great view but also delicious food, perfect music perfectly chosen to fit the actual atmosphere and views.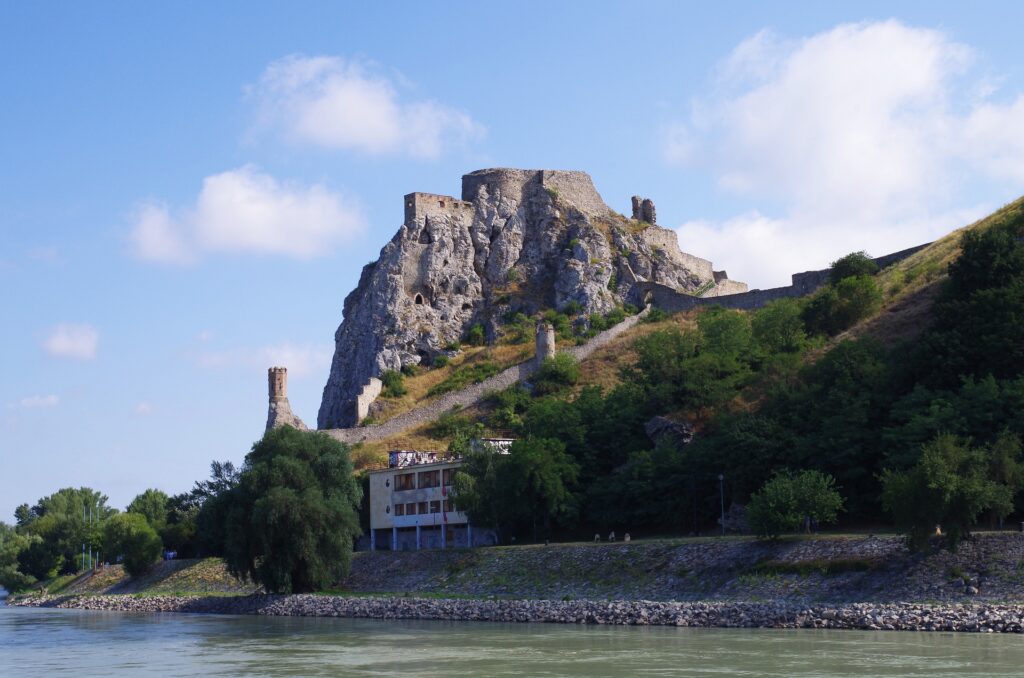 Day trips from Bratislava
During your solo travel to Bratislava, if you have a spare day or two, it is a perfect opportunity to get out of the city to see more of what Slovakia has to offer. Head to Červený Kameň Castle, the Sunny Lakes in Senec, Nitra (the oldest town in Slovakia), Small-Carpathian Wine Route (wineries and dine), Water Sports in Čunovo (water sports), Trnava (largest medieval towns of Central Europe in the 13th century), Piešťany Spa Resort, World War II Bunkers, and visit Brno (the second-largest city in the Czech Republic).
If you are after nature consider hiking in Devinska Kobyla Park, and Urban Exploring at Devínska Kobyla Abandoned Missile Base. Discover hidden gems such as Banská Štiavnica, Trenčín, and Trnava.
You can even take a boat trip to Vienna, Austria, Lake Neusiedl (the largest lake in Austria), visit Budapest (only 2 hours' drive from Bratislava) If you don't feel like exploring alone, you can join any of the private or group tours below.
I hope this solo travel to Bratislava gave you an insight into traveling Bratislava alone.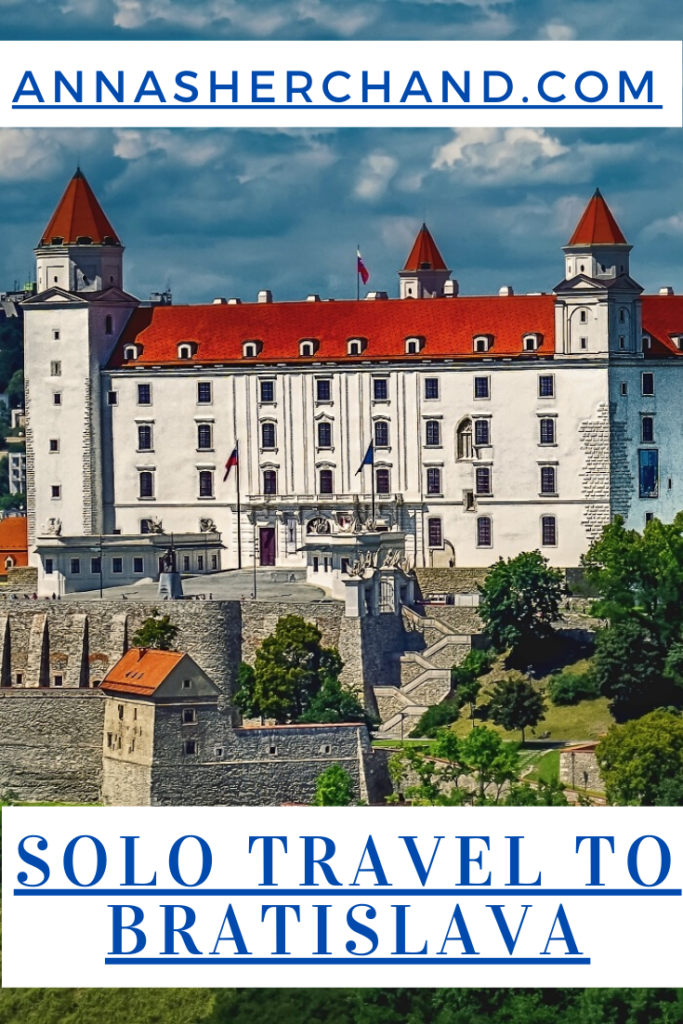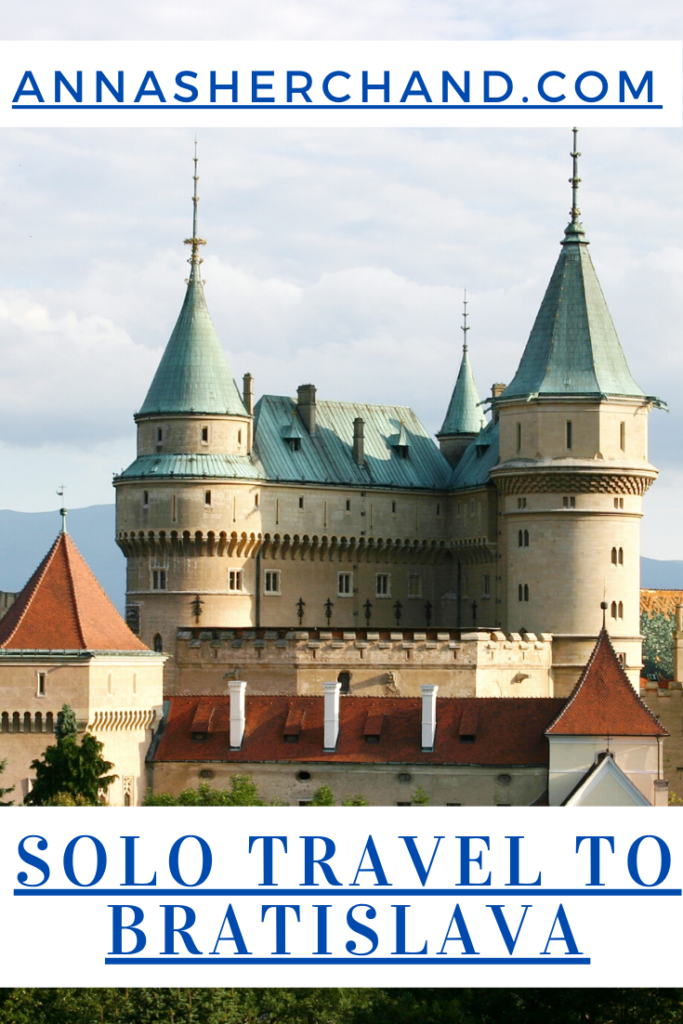 Let me know in the comments:
Solo travel to Bratislava including legit travel tips