Whether you are traveling, visiting from interstate, students, or on business. You will be pleased to know there are plenty of fun things to do in Melbourne at night. Feel free to bookmark this page, so you can come back to it anytime you want.

Melbourne is also knowns as Naarm and identifies with the Wurundjeri people who are the traditional owners of the land where the Yarra River runs. It looks dazzling at night and really brings out the colors of the city. That said, it is hard to compare Sydney, New South Wales with Melbourne, Victoria because both cities offer something unique and plenty to see.

Below are the night things to do in Melbourne based on summer and winter nights because Melbourne tends to have more activities dedicated to these particular seasons but I have also included Free things to do in Melbourne at night for those on a budget.

Please note that the pandemic may have impacted some of the trading hours and tours listed, so please enquire directly before heading out.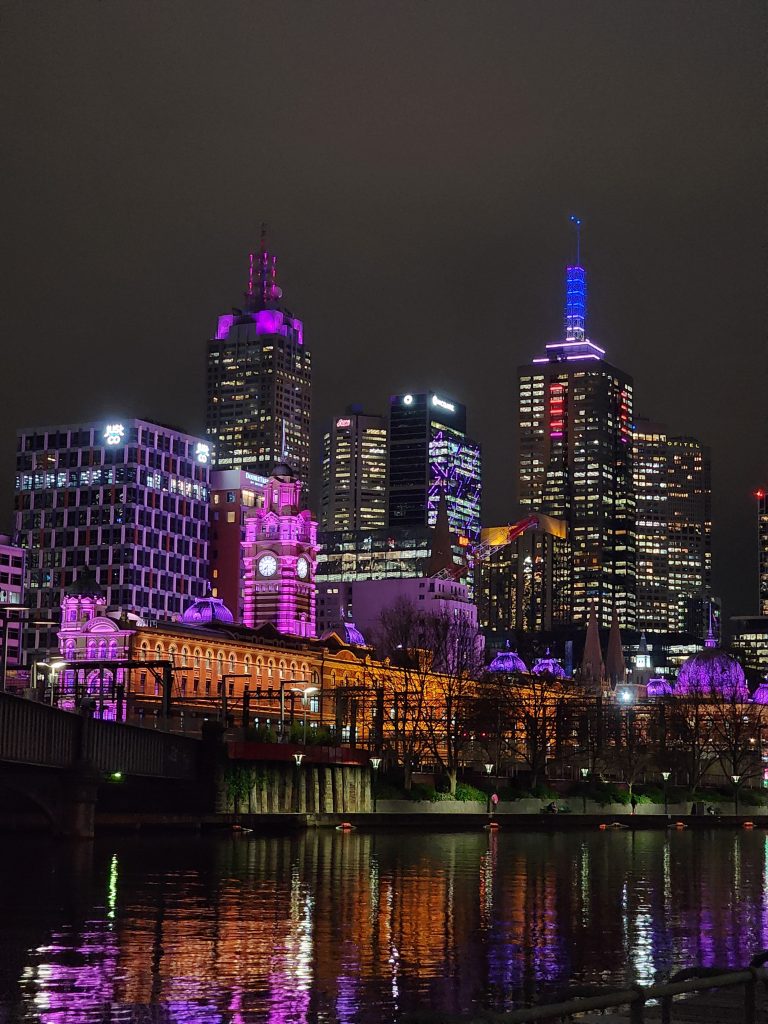 Fun things to do in Melbourne at night including free ones
1. Sunset Kayak Tour with Dinner
Sunset Kayaking is one of the local's favorite ways to cool down on hot balmy summer nights in Melbourne. You can discover the sights and sounds of Melbourne from a kayak on the Yarra River which is a unique experience from a water-level perspective. At the same time, you will also enjoy a special on-water dining experience while you embrace the city lights as you paddle through the Southbank precinct.
No kayaking experience is needed to enjoy the tour, as patient guides will be with you every step of the way. Make use of a fleet of fiberglass sea kayaks, which are extremely stable and easy to operate.
Starting time: 6:30 pm and lasts till 9:30 pm
Book Sunset Kayak Tour with Dinner
2. Eureka Skydeck Experience
If you enjoy the view from the top like me, you will love the Melbourne Skydeck Experience. Take the lift up to 88 floors in only 38 seconds and take in 360-degree views of Melbourne. You have the choice of simply taking in views of the city through the glass windows, or if you're a thrill-seeker, you can add the Edge to your experience. The Edge suspends daring guests in a transparent glass cube that projects out from Melbourne Skydeck, leaving them suspended nearly 300 meters above the streets of Melbourne!
If the Edge isn't your thing, you can visit the Melbourne Skydeck Voyager Theatre, where a virtual reality film will take you through 16 locations throughout Melbourne and Victoria. Shot in Super 8K high definition, the film is accompanied by sounds, scents, and movements.
Book your tickets here – Melbourne Skydeck Experience
While you are there and feeling more adventurous you can add the Melbourne Skydeck's virtual reality plank experience and try your luck at balancing on a narrow plank above Melbourne. The virtual reality experience is so compelling it will convince you that you're really above Melbourne.
Address: 7 Riverside Quay, Southbank
Opening hours: Every day 12-10 pm
3. Evening Half-Day Trip to Peninsula Hot Springs
If you are looking to get out of the hustle and bustle of the city and relax in nature with over 50 globally-inspired thermal bathing experiences at the award-winning Peninsula Hot Springs on an evening trip from Melbourne, this is it. After relaxing and rejuvenating in the natural hot mineral waters, finish up with dinner from a choice of sumptuous on-site restaurants.
Starting Time: 3 pm and lasts till 8:30 -9 pm
Book Half-Day Trip to Peninsula Hot Springs

4. Play Virtual Reality Escape Room
I could not not include this fun activity to do at night in Melbourne as it is one of my favorite activities too. If you have never been to an escape room then it is where you play games/solve the tricks in a room to escape that said room. Add Virtual Reality to that and it is an escape room adventure with VR. Runs for about 45 minutes for each session. The technology is phenomenal!
Information about VR Escape Room Melbourne
Address: 75 Peel St, West Melbourne VIC 3003
Opening Hours: Everyday 10 am – 10 pm
Another similar place is Apsis VR Melbourne
Address: 10 Queen St, Melbourne VIC 3000
Opening Hours: Everyday 10 am – 10 pm

5. Melbourne Hidden Bar Tour
Other fun things do in Melbourne at night would be joining a hidden bar tour that is if you are feeling like doing something with a group. Melbourne is one of the world's great bar cities, but you'll have a hard time finding these bars. Tourists frequent Flinders Street, Swanston Street, and Elizabeth Street — places that can be the worst tourist traps in Melbourne.  To find the truly great bars, you must venture out into the areas your mother told you to avoid — dark, dingy, scary laneways. Inside, you'll find secret speakeasies, that is how I found some of my favorite hidden bars in Melbourne. Some are marked only by a simple light post. Some bars masquerade as something else, and access is only granted if you know the secret password. 

Starting Time: 3 pm lasts till 6 pm but easy to continue with others that you'll meet
6. Ghost Hunt City Exploration Game
If you don't drink, here is another idea for fun things to do at night in Melbourne. You can discover Melbourne's haunted past with a self-guided quest game. Each clue will lead you from one place to another by providing you with exact directions so you won't need a map, GPS, or guide. As you solve the problem and guess the answer, the secret story of that location is revealed to you. Explore secret laneways, uncover hidden secrets, and visit Melbourne's famous landmarks.
Opening/operating hours: 12:00 am – 1:10 am
Book Ghost Hunt City Exploration Game
7. Melbourne 1.5-Hour Ghost Tour
Not for the faint of hearts but if you have what it takes then sign up for 1.5 hour Ghost Tour in Melbourne! Visit Melbourne's historic hidden alleys and haunted locations told by a guide who is familiar with the area. See where Melbourne's poor houses were located, learn whether Jack the Ripper lurked in the streets of Melbourne, and discover the story of the opera singer who fell to his death in front of an audience!
The guide also brings an IPad so people could actually see the people in the stories. Interesting history with the chance to talk to a ghost and take photos where the haunting is known to take place!
Book 1.5-hour Melbourne Ghost Tour
8. The Phantom of the Opera at Arts Centre Melbourne
If you are considering watching musicals, you can experience the phenomenon of one of the most successful musicals of all time. The Phantom of the Opera at Arts Centre Melbourne. You can hear all the famous songs in a spectacular new production and see a spectacular musical in one of the best theaters in the country.
Book the Phantom of the Opera at Arts Centre Melbourne
9. Pentridge Prison Ghost-Themed Walking Tour
Another interesting and fun things to do in Melbourne is to learn about the haunted past of Pentridge Prison, D Division -the history of Australian law & order, ghosts, and other supernatural activity. Hear of Australia's most notorious criminals and the ghosts that linger Tour buildings not open to the public and expect to uncover the secrets of this location where 44 bodies are buried.

Immerse yourself in the dark side of Australia's most famous prison as you hear the harrowing tale of Ronald Ryan, the last man executed in Australia. Find out how this prison relates to Chopper Reed and Ned Kelly through spine-chilling stories. 
Book Pentridge Prison Night tour
10. Tour The Old Melbourne Gaol
Visit the Old Melbourne Gaol, a former prison that has been turned into an interactive museum, suitable for all ages. Inside the Gaol, dangerous criminals were held alongside petty offenders, the homeless, and the mentally ill. Between 1842 and its closure in 1929 the gaol was the scene of 133 hangings including Australia's most infamous citizen, the bushranger Ned Kelly. It has 3 levels, and you are able to go into cells on all floors with a lot of displayed objects and information plaques in most of them. Basic entry to the gaol is $20 pp for adults, and with the watch house guided tour is $30 pp.
11. Guided Night-Time Food Walking Tour & Beer
Discover another side of Melbourne once the sun has set on a night-time food walking tour. Explore hidden alleyways and weave through the crowd to taste delicious food at three unique hole-in-the-wall diners while soaking in the revelry of the night. Get your tastebuds into the best of Melbourne's lesser-known, greasy-spoon street food spots. Skip the fine-dining restaurants and discover where Aussie night owls really dine, with pizza and bars. And finish your walking tour with a beer in a local bar with a brilliant atmosphere
Book Guided Night-Time Food Walking Tour & Beer
12. Laugh until your belly hurts
No matter you are solo travelling or with a group, it is good to laugh as much as you can because studies show us that laughing is good for your mental, emotional, and physical health. So, for the sake of good health, check out a comedy show or two when you're planning your fun things to do in Melbourne at night. 

Kings of Comedy – Open Friday and Saturday only 7-9 pm
Comedy at Spleen – for new and old talent or local laughs, only opened on Monday 8:30 – 10:30 pm
Lido Comedy – a show every Tuesday night in the jazz room of an old cinema
The Comic's Lounge – A Melbourne comedy institution with the funniest stand-up in Melbourne, good grub, and lots of drink options
Basement Comedy Club – big Australian and Kiwi names performing regularly. Only opens Friday and Saturday 6 -10:30 pm
13. Evening Craft Beer Tour
If you like beer, you will like this evening's craft beer tour. Get acquainted with bohemian beers, bespoke microbrews, and salacious sandwiches on this carb-unfriendly Melbourne walking tour. By the end of it, you would have discovered the tastes and flavors behind Melbourne's beer scene, and chowed down on some favorite local eats.
Starting time: 6:30 pm normally lasts 3 hours
Book Melbourne Evening Craft Beer Tour
14. Nighttime Private City Tour with Transfer & Stops
Melbourne Drive by Night is a unique sightseeing tour proposition since it's low-cost, and a great introduction to the beauty of Melbourne after dark. You can sit back, relax and enjoy Melbourne on a private tour, as the tour cruise around for 2 hours at night with stops for photo shoots and exploring. Discover little-known locations and visit places many tourists don't see;
Learn interesting facts about places you visit and the plus point is that this is an all-weather tour that is not impacted by rain.
Starting time: 9:00 pm
Book Nighttime Private City Tour with Transfer & Stops
15. Summer nights in the Queen Victoria market
During the summer months (December – Jan- Feb) Queen Victoria Market runs a summer night market (Wednesday nights only) with food from all over the world. Expect to enjoy the best street food and drinks, live music, and great shopping. It is 5 mins walk from the city so easily reachable.
Information about visiting Queen Victoria Market on Summer nights
Address: Queen St, Melbourne VIC 3000
Opening Hours: In summer 6 pm onwards Wednesday nights only
16. Boozy History and Hidden Bars Tour
Another fun things to do in Melbourne at night is to go on the Boozy History and Hidden Bars Tour. Explore the eastern side of the Melbourne Central Business District, home to some of our most famous and interesting laneways. This is the side of Melbourne most tourists and some locals never see. 
Learn about the earliest founders, the cause of Melbourne's love affair – and later fallout – with drinking, the rise of street art, a tragic case of miscarried justice, the 1851 gold rush, secret men's clubs, and much more. Stop for drinks at three of Melbourne's best bars, plus pass by a dozen or so more for you to jot down and visit another time. You get to spend about 30-45 minutes in each bar so you are not feeling rushed. Finally, receive a mystery gift at the end of the tour!
Starting time: 7:30 pm lasts till 3 hours
Book Boozy History and Hidden Bars Tour
17. Melbourne: Whisky Bars & Gin Joints
Well if beer isn't your cup of tea, join this Whisky Bars & Gin joints tour! Victoria has become the epicenter of Australia's craft spirit scene, but it all began in Melbourne. This whisky bars and gin joints tour blends tales of shipwrecks, sly grog, and spirits with visits to three of Melbourne's coolest whisky and gin bars.
Starting Time: 3:30 pm normally goes for 3 hours in the evening
18. Places to enjoy the live bands at nights in Melbourne
If your idea of a good night is to enjoy a few drinks, maybe test your skills at Pub Trivia but also enjoy a live band, you are in the right city. Melbourne's Live Music Scene has had its ups and downs, open and closed doors but without doubt, Melbourne remains the live-music capital of Australia.
Murmur Piano Bar – Sophisticated late-night bar with regular live music

Paris Cat Jazz Club – Intimate, dimly lit room for live jazz and performing arts, plus cocktails and tapas

The Drunken Poet – Irish pub w live music, poetry, and Guinness, plus trivia with portraits of famous authors

Sidney Myer Music Bowl – Live music venue in the City of Melbourne, Victoria

The Jazzlab – Jazz club featuring international and local artists open every Friday nights

Whole Lotta Love Bar -Buzzy place with a Led Zeppelin mural and nightly live bands

Forum Melbourne – Live music venue in the city
19. Mount Dandenong Bush Private Tour with Dinner
If you only have evening time to spare and want to see more than just Melbourne city. Travel to the mountains on a private guided evening trip in Melbourne. Delve into the mysterious surroundings of Mount Dandenong, walk through the bush, and enjoy a typical Aussie dinner.
Starting time: you can book from 3 – 6 pm onwards lasts till 4 hours so if starting at 6 pm, finish at 10 pm
Book Mount Dandenong Bush Private Tour with Dinner
20. Western Suburbs Tour with Dinner and Ice Cream
Step away from the crowds and join this unusual tour into the Western suburbs of Melbourne. You can see Melbourne in a way few tourists get to see; a diversity of climates to experience – from industry to beach. This tour takes you to visit a secret boat harbor, the bustling Footscray area, and some local hotspots and offers a typical Australian dinner to finish it up.
Starting time: You can book from 11 am onwards, last booking is 3:30 pm and lasts till 7:30 pm – 4 hours

Book Western Suburbs Tour with Dinner and Ice Cream
21. Penguin Parade Afternoon Wildlife Tour
This is a perfect trip for those with limited time in Melbourne. It takes you on a journey to Summerland Beach, home to Victoria's largest colony of penguins where you can watch the famous Penguin Parade as hundreds of little penguins come out of the sea at dusk and head back to their sand dune burrows for the night. This trip will only work if you can start in the afternoon and stay late till 11 pm.
Starting Time: 2:30 pm till 11 pm – 10 hours duration
Book Penguin Parade Afternoon Wildlife Tour
22. DIY Speakeasy Hidden Bars
If want to hang out by yourself or have company and don't want to go on a bar tour or pub crawl, you will be pleased to know there are plenty of speakeasy hidden bars you can get to yourself too. And Melbourne has a lot of them, some in hidden alleyways, some on the rooftops, and some hidden behind wardrobes, sandwich shops etc. Check out these speakeasy bars Melbourne is famous for,
Beneath Driver Lane is right in the city so easy to get to and one of my personal fav hidden bars
StoryVille – has 2+ floors and a big terrace for a drink in a grim fairy tale 
Trinket – Secret bar enter through the wardrobe and go downstairs!
Jungle Boy/Boston Sub – Hidden inside of a sandwich store freezer!
1806 – Swanky cocktail bar with a menu sorted by era, from 1650 to now
Heartbreaker – a lively bar with a rock 'n' roll atmosphere
Above Board – Intimate cocktail bar, a bit away from the city
Berlin Bar – Split-space East/West-themed bar with plush banquettes, bunker-style decor and bathtub tables!
23. See a show
Melbourne is also known as the cultural hub of Australia so indulge your arty side and see a show while you're in Melbourne. Here are some options:
The Princess Theatre – beautiful victorian architecture, with its international shows and dining options.
Athenaeum Theatre – candlelight concert is lit here, the oldest theatre in the city offering everything from comedy acts to Shakespeare. 
The Regent Theatre – a historic former picture palace built in 1929, now is a live theatre
Her Majesty's Theatre – a 1,700-seat theatre in Melbourne's East End Theatre District offers the city's best dance performances and musicals.
Malthouse Theatre – arts venue in a renovated old brewery, staging contemporary drama and dance.
Union House Theatre – edgy student productions, plays, musicals & dance shows, plus educational workshops.
Shows are run on rotation periodically, so recommend checking each theatre's website or social media for the latest program. If you click on the names of the theatre above, it will take you to their google address and page with more information.
Things to do in Melbourne at night: Thrifty tip
Halftix offers discounted show tickets regularly so check them out before buying them. Also check Todaytix to book last-minute theatre tickets for Melbourne Shows at the best prices, and get exclusive access to our Lottery and Rush tickets.
Australia: eSIM Mobile Data Plan Choose the data plan and validity option that suits you
Melbourne: One-Way Transfer to/from Melbourne Airport (MEL)
Melbourne Airport: Premium Lounge Entry (T2 Departures) 3-hour or 6-hour lounge use with food and drinks, comfortable seating, magazines, charging stations, and WiFi.
24. Check out the only Icebar in Melbourne
Summer in Melbourne ( December, January & February) can get up to 33 degrees plus! So, what best way to cool down or start the night than visiting the only Ice bar in the city! IceBar Melbourne is located in Federation Square in the heart of the city and they provide special snow wear also, so you just have to make your way through the doors of the explorer's ship and into the sub-zero temperatures on the other side to enjoy this experience.
Book your tickets here- Melbourne's only Icebar
This is a truly unique Arctic experience for people of all ages but people under the age of 18 are welcome until 7 PM. You'll be surrounded by over 30 tones of expertly sculpted ice.  The ice bar is also within walking distance of many other major Melbourne attractions, including the National Gallery of Victoria (NGV), Botanical Gardens, Crown Casino, Melbourne Aquarium, Melbourne Cricket Ground, Eureka Sky Deck, and Bourke Street Mall. It's a must for tourists and locals alike. 
Information about dining at Melbourne Icebar
Address: The Atrium, Federation Square, Melbourne VIC 3000
Opening hours: Sunday to Thursday open 2-8 pm and Friday and Saturday 2-10 pm
Closed Wednesday
25. Go Bowling at QV
One of the fun things to do in Melbourne at night is to go bowling. Strike is around the city so easy to get to and they have got laser tag and other activities too. After 8 pm no kids are allowed and it gets super busy recommend to book in advance especially Friday and Saturday.

Information about dining at Strike Bowling
Address: Melbourne Central, Shop 305, Level 3/211 La Trobe St, Melbourne VIC 3000
Opening Hours: Sunday to Thursday till 11 pm and Friday and Saturday to 1 am
26. Luna Park
Want some more fun? Head to the Luna Park in St Kilda. They have everything from dodgem cars to carnival games and carousels, so plenty to have fun with. Also, it is the oldest continuously running theme park in the country. 

Where is Luna Park?
Address: 18 Lower Esplanade, St Kilda
Opening Hours: Thursday, Friday, Sat until 10 pm and Sunday till 7 pm
27. Watch a movie 
If you are tired of Netflix and chill at home or in your hotel room, you can go watch a movie at one of the cinemas in Melbourne. The city offers plenty of cinematic and architectural cinemas, so you really can take your pick. Here are some suggestions:
Palace Westgarth – upscale cinema featuring various films
Astor Theatre – classic, single-screen revival movie theatre
The ACMI – international film, television, and gaming with exhibits, screenings, and events
Palace Cinema Como – stylish, artsy cinema with a bar showing local, international & arthouse movies
Thrifty tip
If you click on the above cinema names, it will take you to their websites and you can check for discounted tickets often available on a Tuesday or Wednesday night.
28. Dine at Melbourne Street Eatz
During summer nights in Melbourne, don't forget to head out to try different food at Melbourne Street Eatz. This is a sort of night food festival combining top food vendors – food trucks, entertainment, and a picturesque backdrop.
Information about dining at Melbourne Street Eatz
Address: 27 S Wharf Promenade, South Wharf VIC 3006
Opening Hours: Till late
29. Chinatown Night Market
Take yourself back in time at the vibrant Chinatown Night Market and scour through a rich variety of wonderful items like dragon candles, and street opera masks, but also a lot of yummy Chinese food. There are plenty of food stalls to choose from when it comes to food. Or you can pop by the restaurants around there.
Address: Heffernan Ln, Melbourne VIC 3000
Opening Hours: Every Friday and Saturday 4- 10 pm
30. Watch an AFL Game
If you time it right and you are in Melbourne when there is a game on for the Australian football league (AFL), grab yourself a ticket to watch it live. It is quite an atmosphere with all the cheering fans. The games are played at many venues around Melbourne but if you try to time your visit with a game at the Melbourne Cricket Ground (MCG), you won't have to go far from the city.
Get your AFL tickets from the official website
31. Enjoy Ice skating
O'Brien Icehouse is an Australian ice house and entertainment center, located in the Docklands precinct of Melbourne. They have 2 big, spacious ice-skating rinks, which can fit many people without feeling too squeezy. They also have a cute little cafe for a mid-session rest.
Address: Ground/105 Pearl River Rd, Docklands VIC 3008
Opening Hours: Every day opens at 9 am and closes at various times except Thursday, Friday and Saturday open till 11 pm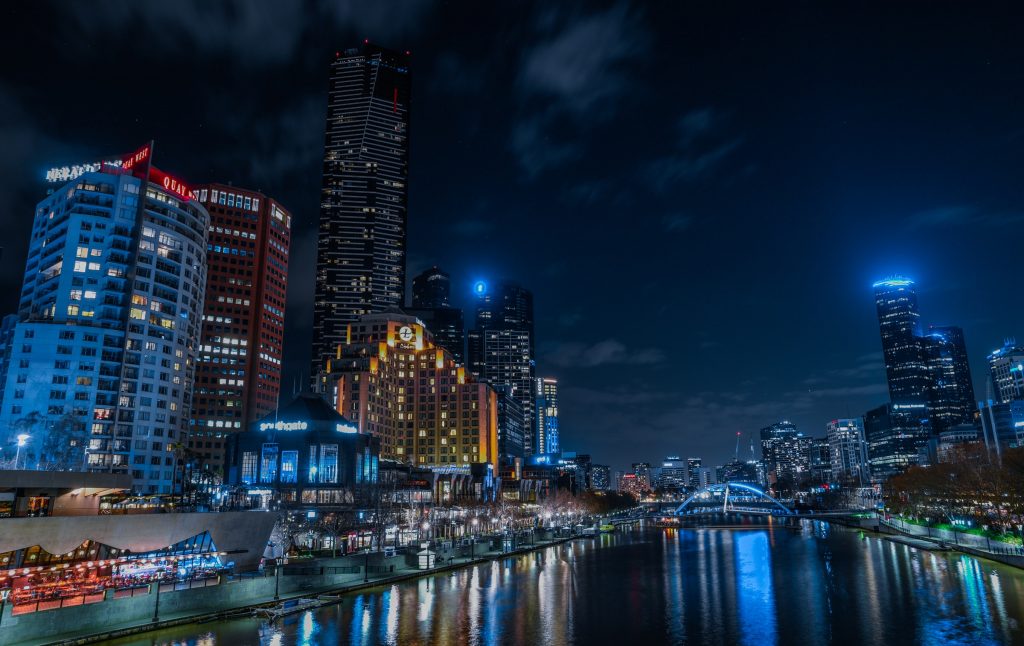 32. The Melbourne International Jazz Festival
You will have to time it right for this one. Melbourne runs various festivals throughout the year, and this international Jazz festival usually runs for 10 days every year, between 14 Oct – 23 Oct 2022.
33. Dance the night away
Fun things to do in Melbourne at night can't be complete without mentioning some dancing hot spots if that is your jam. Most of them are open till past midnight. Here are some suggestions:
The Night Cat
The Toff in Town
Section 8
Workshop
Angel Music Bar
Yah Yah's
Colour Club
Sub Club
The Bridge Hotel
Go Go Bar
Ferdydurke
34. Capture Melbourne sunsets and sights at night
If are an Instagrammer or blogger or someone who enjoys photography, Melbourne is one of the safest cities to try night photography. You'll be amazed at how different the city looks at night. Here are some locations for good shots:
Princess Bridge for sunset – I bet you will meet a few other visitors/photographers too
Birrarung Marr for sunset shots over the water 
Yarra River – anywhere along the shore of the river gives you a view of the city
Crown Casino on the Yarra River
Flinders Street Station – for that old-school vibe
St Kilda Pier after sunset for penguins – cute
Brighton Beach Boxes at sunset for an amazing light – relaxing vibe
Luna Park – fun evening/night vibe
35. Paint and Sip Melbourne night
Pinot & Picasso is Australia's #1 Paint and Sip Experience. They have over 50 studios operating across the country all in a hassle-free, approachable and collaborative setting. The hosts deliver each session with comprehensive step-by-step instruction with plenty of room left for your inner Picasso to run wild. Just bring your own wine.
Here is their city website to book.
Address: 2 Guests Ln, Melbourne VIC 3000
Opening Hours: Thursday 6-9 pm, Fri and Saturday 7- 10 pm, and Sunday 3-6 pm
36. Play putt-Putt at Holey Moley
Another must-do in Melbourne for some fun at night is to play mini golf. Holey Moley is Australia's craziest and most unique mini golf venue,  and bar that turns traditional putt into a multi-sensory labyrinth of unique holes. They also have a karaoke room downstairs if you fancy some singing afterwards.
Address: 590 Little Bourke St, Melbourne, Victoria, 3000
Opening Hours: Monday – Thursday: 12 pm – 11 pm
Friday – Saturday: 11am – 1am
Sunday: 11 am – 11 pm
37. Indoor rock climbing at night
If you would like some active things to do at night in Melbourne apart from hitting the gym, recommend indoor rock climbing. This place has high walls with great views of the city from the top and it's in a great location right in the heart of the city.
Address: 4/8 Franklin St, Melbourne VIC 3000
Opening Hours: Monday till Friday open till 10 pm
Sat and Sun 11-7 pm
38. Time for Karaoke
One of the local's favorite ways to spend a fun night in Melbourne is to sing their heart out in Karaoke. And Melbourne has plenty of karaoke bars, some even serve up food as well as alcohol. Here are some options:
Heroes Bar – dine in, private karaoke rooms, and also a rooftop
KBOX Karaoke –  private karaoke rooms, cocktail bar, and late-night party space
F.M. Karaoke – Raucous, quirky hangout with public & private rooms, plus international songs for karaoke.
Stars KTV and Lounge – Cocktails and light snacks in a glitzy, colorful karaoke bar with lasers and 200,000 songs on file.
Lychee Karaoke Bar – Private karaoke rooms accommodate 35+ people. YouTube is available if you want to play your own music. 
Juke's – the newest karaoke bar on the block, located in Crown Casino Melbourne
Yum Sing House – Enjoy 50% off minimum spend every Wednesday & Thursday
39. Visit planetarium nights
If you like to explore the amazingness of the planet and are interested in the stars, planets, and alike, then head to Scienceworks on a Friday night for an adults-only interplanetary extravaganza. The Melbourne Planetarium reawakens after hours for adults only with a stellar line-up of full-dome film screenings.

There are two separate screenings a night 7:30 pm (28 minutes) and 9 pm (1 hour), and there's a bar too.
Address: Scienceworks, 2 Booker Street, Spotswood
Opening Hours: Friday nights, 7.30 pm and 9pm
Get the tickets at the official website
40. Watch outdoor movies under the stars 
Do you enjoy outdoor cinemas? If so then here are some suggestions to capture this experience in Melbourne at night. Pls, note most of these types of cinemas are only open during the Summer months which makes it one of the perfect fun things to do in Melbourne at night.
Cameo Outdoor Cinema – movies under the stars on the rolling lawn, pets allowed
Classic Rooftop Cinema – rooftop bar, a unique view of the bay and the surrounding area, and cinema
Classic Moonlight Cinema – located on the Central Lawn at Royal Botanic Gardens Melbourne. Enter the venue via Gate D on Birdwood Avenue (near the intersection of Domain Road) and follow the path for movies with moonlight
The Lunar Drive-In – Opens at 8 pm, busy venue with 4 screens showing blockbusters, plus a cafe with booths, an outdoor area, and games.
Movies in the Federation Square – Public space with free cinemas at night, limited times
41. Go on a dinner cruise
If you are after a relaxing evening/night then you will most likely enjoy this dinner cruise. It's beautiful to see the city sparkling from the water along with a delicious dinner.  If you're lucky, you may even be able to spot some dolphins and seals. You'll also learn some history as you listen to the captain's commentary on the local area. There are many cruise companies offering dinner on the cruise. Here are some suggested ones:
Venice on the Yarra
Dreamscape Tours – Melbourne River Cruises
Yarra River Cruises.
Address: Exhibition Landing, Yarra River, Melbourne VIC 3000
Opening Hours: Every day from 12 pm till 11 pm
42. See a cabaret show
Fancy some quirky, intimate theatre and bar with kitsch decor, and edgy live performances? Head to the Butterfly Club. It is located very Melbourne style hidden away in a narrow alley, but if you click on the address below it will take you straight to its door! And don't forget to enjoy some of their clever cocktails too. Recommend booking early because the theatre is small and tickets are limited.
Butterfly Club
Address: 5 Carson Pl, Melbourne
Opening Hours: Monday to Saturday, 6 pm until late
43. Try your luck at the casino
If all else fails, there is one more fun things to do in Melbourne at night and that is to try your luck at the Crown Casino! Crown offers a range of fully automated table games including Roulette, Virtual Roulette, Baccarat, Sic Bo, Lucky Big Wheel, Blackjack, and Three Card Poker. The venue also has multiple restaurants to celebrate your win (hopefully)!
Address: 8 Whiteman St, Southbank VIC 3006
Opening Hours: 24 hours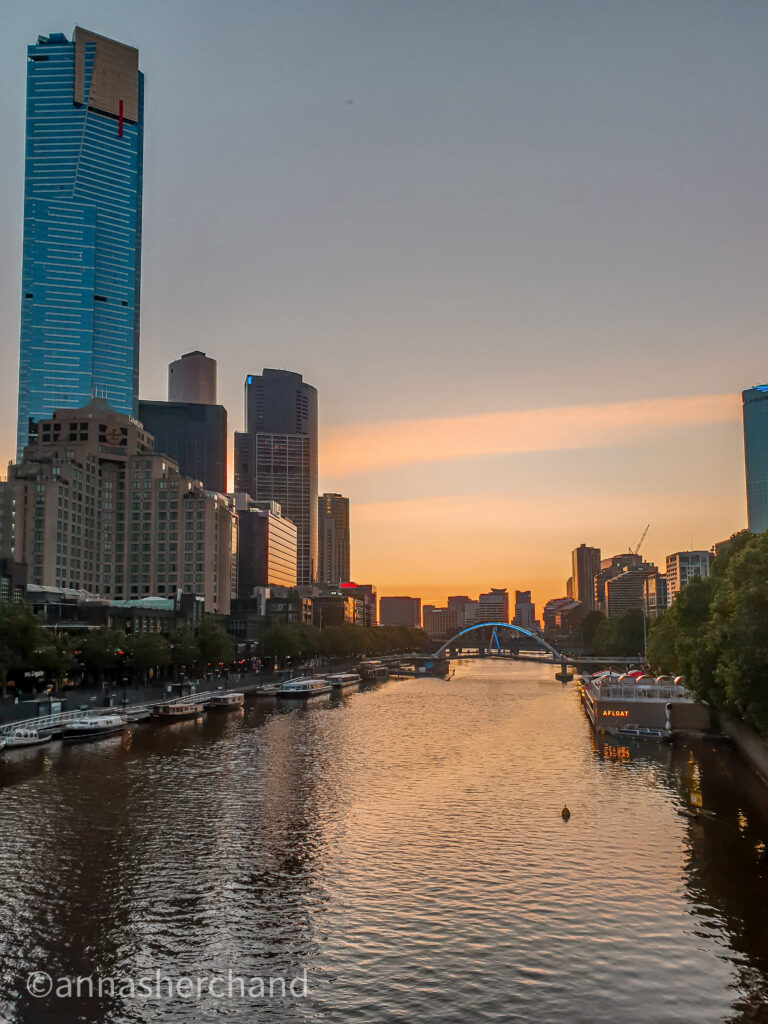 Free things to do in Melbourne at night
1. Meet the penguins at St Kilda Beach

2. Enjoy the Australian summer sunset at Port Melbourne

3. Stroll along with the dazzling Christmas lights in the city
4. Watch free cinema at fed square

5. Experience the city at night using the free tram zone

6. Spend the night snapping Melbourne street art

7. Get amongst some free live comedy

8. Explore the laneways of the city

9. Watch fireworks at the Docklands
10. Visit NGV Friday nights museums after dark
12. Stroll Southbank Promenade
11. Walk across the Princess bridge/web bridge for a sunsets view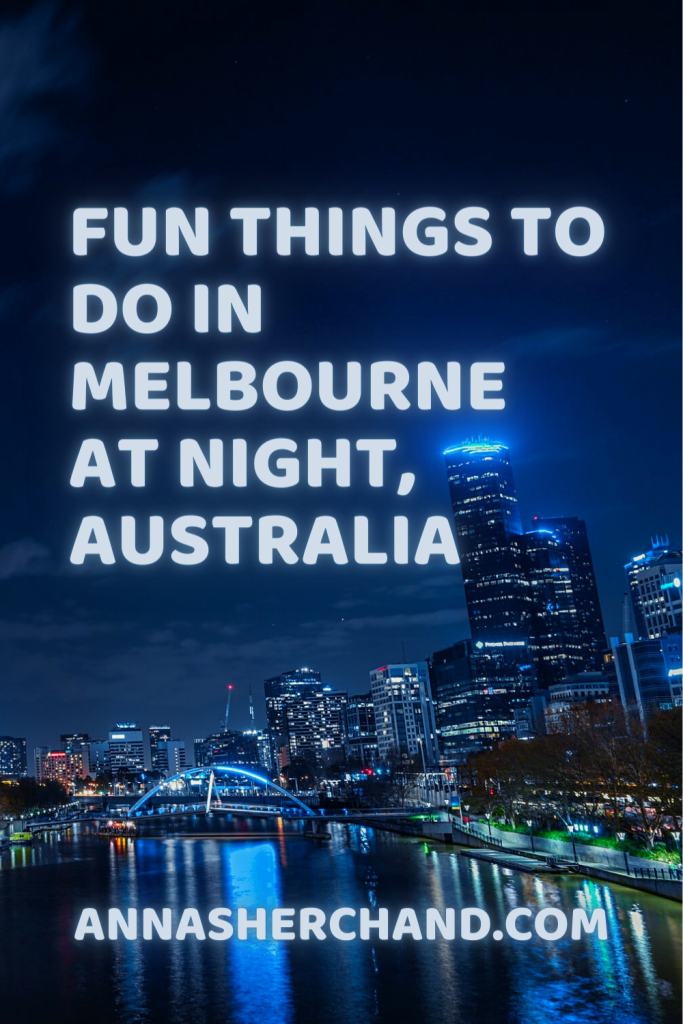 Let me know in the comments:
if you have any questions on fun things to do in Melbourne at night
Backpacking in Melbourne
37 Melbourne bucket list that you can't miss
Melbourne day trips in winter
Best Hikes in Melbourne
Australia east coast must-see
Instagram worthy places in Melbourne
Secret melbourne walks
Free camping on the great ocean road
Things to do in Melbourne when raining
Tips for moving from Sydney to Melbourne
28 Sydney Bucketlist that you can't miss
Pros and cons of living in Australia
How about the best canola fields in NSW
Next weekend's idea? -> check out the top things to do in Northern NSW
Sydney itinerary 5 days is here.
Another idea – best things to do in Liverpool nsw
Secret Melbourne walks are out now!
99% of readers found must see on the east coast of Australia helpful.
Read best day trips from Sydney by train
The best things to do in Eden NSW is here.
Check out how you can explore Adelaide South Australia the best way.
Heading to iconic Alice Springs for that unique Uluru trip?
Here I share must do in Darwin, Australia.
Solo travel guide to Brisbane (Insta worthy places included!
Heading to Perth, read things to do in Perth
Review of Captain Cook Cruises whale watching Sydney
Next Stop? check out the most beautiful places in New Zealand South Island.
Going to Vietnam after Australia? Check out the 7 days Hanoi travel guide.
Check hotel prices and book it through trusted Agoda, or Booking.com
For flights, I use the most trusted sites such as Skyscanner or Momodo.
I have detailed travel resources right here. Save money, learn what and how.
If you like this article, follow my adventures on Instagram, Facebook, YouTube, Twitter, and Pinterest, but most importantly sign up to my e-mail list to keep up with updates and travel posts!
Fun things To Do In Melbourne at night