Point of interests in Sydney, Australia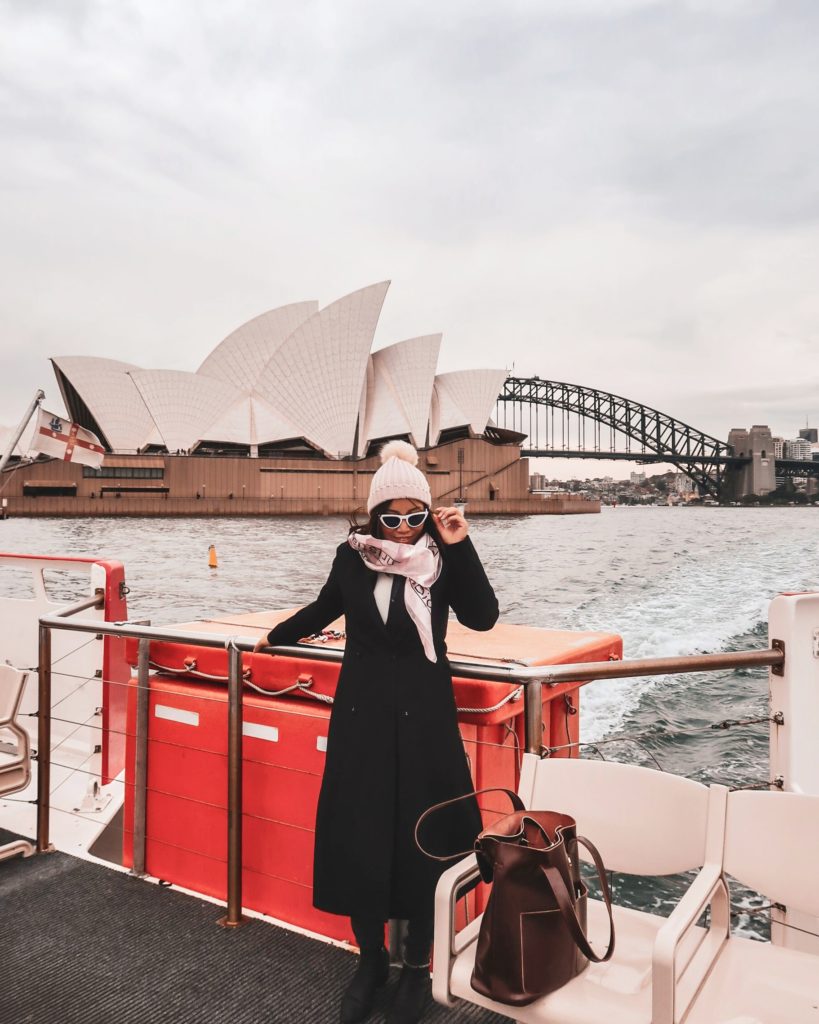 Sydney Opera House
The iconic Sydney Opera House is only a 10-minute walk from Circular Quay Station. It offers the best view of the harbour bridge and the skyscrapers in the city. This stunning venue also hosts opera, dance, theatre and more. Get there early if you want to catch sunsets from deck downstairs at the Opera bar/ Opera kitchen. You can also attend one of the daily guided tours to learn more about the Sydney Opera House.
Royal Botanical Garden
Beautiful botanical garden is behind the Sydney Opera house. If you go straight from the Circular Quay station it should take about 5 minutes to walk. Wander between the pretty flowers, native flora and fauna, birds ( I saw bats up close for the first time here!) and a picnic with the stunning Opera House view! With the stunning view of Sydney Harbour and the city moments way, it's a quick go-to place to relax and unwind. After that, head to Mrs Macquire chair which is within the botanical garden for the spectacular sunsets!
The Rocks
The old historic site, the rocks is an only 4-minute walk from Circular Quay. This is where Europeans settled in Australia first. Stroll through the laneways, discover the fascinating facts/history, a browse in the shops and a bite to eat in one of the many fine restaurants and bars. Btw, Sydney's oldest pub Fortune of War is on the rocks too. If you happen to go during the weekend also see the rocks market where you can try a variety of cuisines, shop handicraft and more.
Taronga Zoo
Say you chose the Captain cook hop on and hop off ticket, you can get to Taonga Zoo in 15 minutes from Circular Quay. (There is also yellow local Sydney ferries available that leaves from Wharf 4 in Circular Quay) I hesitated to go to Taronga Zoo for many years then when my mum visited Sydney, I took her there. I am glad I did that. Otherwise, I would have missed out on picture perfect photographs like above! The best thing about Taronga Zoo is the panoramic views of Sydney Harbour and a diverse range of Australian wildlife, birds and dolphin show.
Custom House
This beautiful heritage building is just a 2-minute walk from the Circular Quay Station. Once you step in, you can walk on top of the model of Sydney, read books or newspaper in a small library, use the facilities and a FREE WIFI! If you are in the mood for some food, there is a restaurant on the ground floor and also on the top floor with a nice view of the Sydney Opera house and Harbour Bridge.
Sydney Harbour Bridge
World famous Sydney Harbour Bridge is 5 minutes walk from the Circular Quay Station. Outside the station, watch the aboriginals play the didjeridu, listen to the buskers' cool songs, get an ice cream maybe, and stroll towards the bridge to Cumberland Street. Harbour Bridge climbing could take anywhere from 30mins to 2hour. PRebooking is recommended as they accept walk in for the bridge climb. Book directly on their website or pop into a visitor centre for more information in the circular quay station.
Sydney Tower Eye
From Circular Quay station, Sydney Tower Eye is 15 minutes walk. It stands 309 meters and is the highest point in the city. Hence gives you the best 360-degree view of Sydney. It can get a bit confusing! So remember the entrance to the Sydney tower eye is from the Westfield Shopping Mall (top floor of course;)) You can buy the entrance tickets at the door.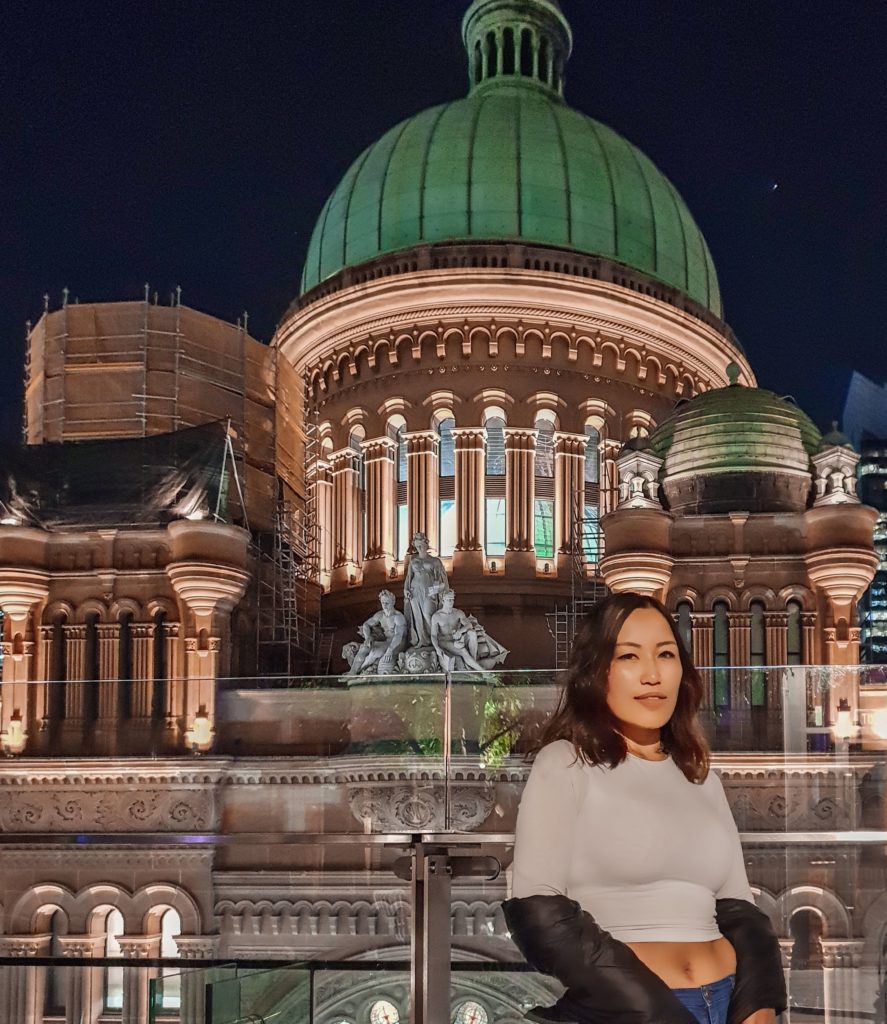 Queen Victoria Building
Queen Victoria Building is 20 minutes walk from the Circular Quay Station. It is a historic and beautiful building built in the 1890s, and since then as you can imagine heaps of restoration has gone into it. Even nowadays, sometimes there is a scaffolding on parts of it for maintenance or restoration. Either way, it is a beautiful building full of shops, restaurants, and cafes. From the top floor, the view of the old clock hanging from the ceiling is unique! On the basement, you will find the way to the Townhall train station that connects to Circular Quay station. You can watch quick videos from Sydney
here
. If you enjoyed it, follow me on my journey around the world!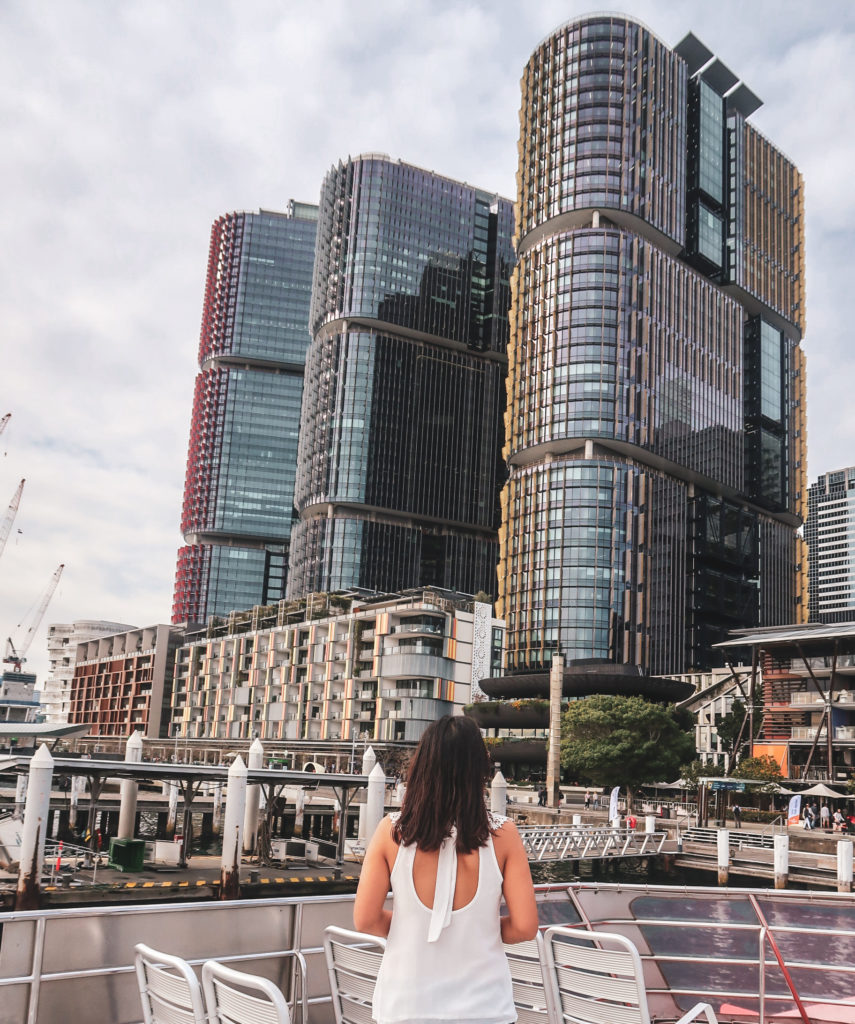 Barangaroo
This chic new development is 17 minutes walk from Circular Quay Station. It boasts waterfront apartments, businesses, but it is also rich with aboriginal significance, and maritime history. The best thing about Barangaroo Reserve is, it is built as Sydney's newest harbourside park! So you can walk, cycle or picnic on a gem of a location.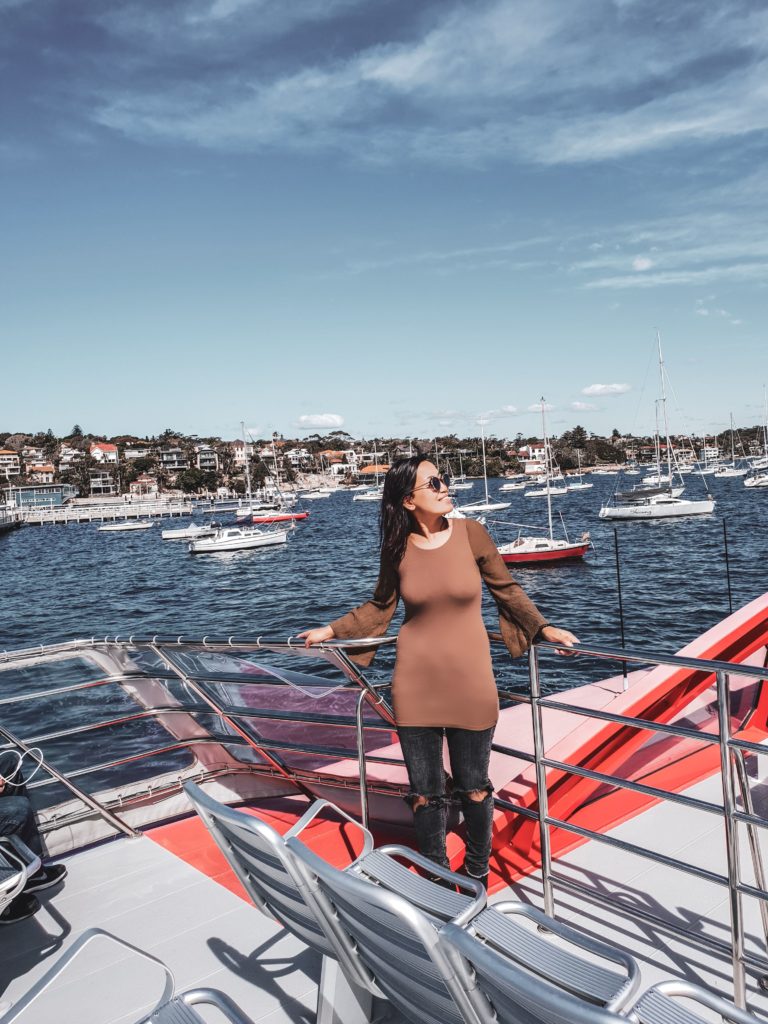 Hop on hop off cruise or bus
If you have time, I recommend walking and discovering Sydney as it is different fun to see things from your eye level! If time is tight, then hop on hop off is a smart way to see Sydney. You can choose either hop on hop off Cruise or bus. With the Captain cook hop on hop off cruise tickets, you can cover 9 beautiful locations for 2 consecutive days! If you want to celebrate special occasions, they can arrange a private cruise too. The big bus Sydney hop on hop off offers 2 tours – the city tour and the Bondi tour. They run every 15-20 minutes and tickets are valid on both tours and last for 24 -48 hours.

Darling Harbour
From Circular Quay station, it takes about 30 minutes walk to get to Darling Harbour. It is usually buzzing with tourists and locals. Australian Maritime Museum, Aquarium, Wild Life Sydney Zoo, Sealife Sydney, Madame Tussauds, Chinese garden of friendship, ICC (International convention centre, and the fun Ferris wheel are all located in Darling Harbour. Not to forget, some of the busiest restaurants, nightclubs and bars in Sydney also has Darling Harbour as their home address.

Bondi Beach
It would be an incomplete visit without seeing the popular Sydney beach. A bus or train from the city to Bondi beach would take 30-40 minutes. Remember to put on sunscreen and a hat or sunglass! While you are there, don't miss the stunning Bondi to Coogee coastal walk finishing off with a fish and chips from the cafe across the road!
What I used to take these photos:
This has been my favourite Camera so far. I love how my pictures come out crisp and colourful. It also has a screen which is useful when vblogging. You can check out what I meant on my Instagram which is
here
.
Accessories For Canon GX7 Mark ||
Check it out
here
This is the good old Go pro that I take with me everywhere. I recommend it because it is small, lightweight and waterproof. I have had made many memories with this trusted item and looking forward to more.
Accessories For Go Pro Hero 4
Check it out
here
I have been using SanDisk since my first camera which was back in 2009. They build quality memory cards. I recommend getting at least two, just in case something happens to one of them.
Do you think it's a hassle of plugging your camera into your computer? This memory card reader will fit cards of all sizes and make an easy transfer to your computer. The reader supports all popular SD memory card formats, including SD™/SDHC™/SDXC™ memory cards, UHS-I SDHC/SDXC memory cards, and microSDHC™/microSDXC™ memory cards. It is also compatible with the latest UDMA 7-enabled CompactFlash cards. Save this to Pinterest.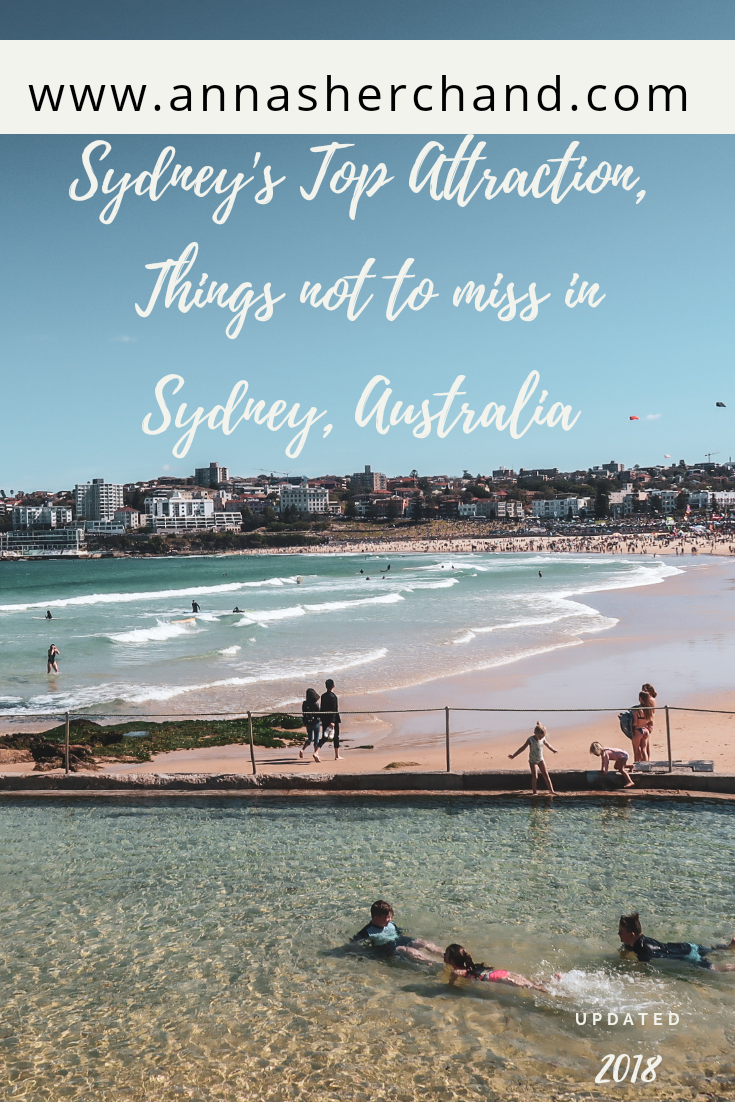 Let me know in comments if you –
have done any of the above?
Looking for Sydney itineary 5 days
If you need to book your accommodations, I have got $76 discount with Airbnb for all my subscribers, get it here. Alternatively, you can check prices and book it through trusted Agoda

, or

Booking
If you don't have your flights yet, check out ways to book the cheapest fares here

, or

here,

but if planning and booking your trip is a hassle, let me help!

Contact me now.
If you want to check out the hidden beaches and bay of Sydney instead, read it here.
Or how about the best walks in Sydney? read it here.
If you like this article, follow my Adventures on Instagram, Facebook, YouTube, Twitter and Pinterest, but most importantly sign up to my E-mail list to keep up with updates and travel posts!

Today I am going to share with you Sydney's Top Attractions. This straight to the point guide will cover things not to miss in Sydney. No matter where you stay in Sydney, once you get to Circular Quay station, you are right in the heart of the city and then all you have to do is choose which attractions you want to see first. So, let's begin!