Country #39 Greece where I experienced my first sunburn. This beautiful country is famous for greek island hopping, pleasant weather, and its rich cultural history. It is not only ideal for honeymoon makers but also great fun for solo travelers. If you have been hesitating to travel to Greece on your own, I hope this 14 days Greece itinerary helps you make up your mind.
I went on an overnight ferry from Bari, Italy to Athens, followed by Greek islands Santorini, Mykonos, and Crete. In the beginning, I wasn't sure if going solo to a "couple destination" was a good idea but met few fellow solo travelers which made it all the fun. Expect questions mostly from waiters/locals, like oh you are traveling alone? Where is your husband etc Just tell them he's at the hotel
can't believe we have to do this, but you know safety and all.
In Greece, there are more than enough destinations to explore, all punctuated with breathtaking scenery, ancient temples, beautiful beaches, and enjoyable cultures. From the delightful food, relaxing islands to the interesting rugged landscapes, Greece promises to deliver an excellent experience for solo travelers. Just make sure you digest this travel guide before you embark on your journey. Greece story highlight on Instagram.
Here is a detailed Greece itinerary for 14 days, you can comfortably spend in the capital city of Athens, Greek islands Santorini, Mykonos, and Crete.
14 days Greece Itinerary
Athens: 3 Day Travel Itinerary
How to get to Athens?
Athens is a city located deep in the heart of the Mediterranean. It is considered the historical gem of Europe. The easiest way to get to Athens is to fly from major airports in Europe. Regardless of where you are starting, the best and cost-efficient way to get to Athens is to fly from London, Frankfurt, or Amsterdam, among others.
Overland, driving, or taking the train is the most enjoyable experience to get to Greece, Athens.
That being said, I took the overnight cruise ship from Bari in the south of Italy to Patras in Greece, followed by a bus which took about 3 hours and cost 20€ from Patras to arrive in Athens. The Bari Patras ferry route connects Italy with Greece and at the time of 2019 June, there is just 1 ferry company operating this ferry service which is Anek Superfast. You can buy both the tickets online or at the counter. Just don't forget to bring your passport and euros!
Top destinations and things to do in Athens
Athens is filled with great historical monuments and museums, including the ancient site Acropolis of Athens, Benaki Museum, Parthenon, Syntagma Square (the central square of Athens), and the Acropolis Museum. The Greek capital has beautiful views from these venues.
You could take a walk in and around the county's capital, and get to know a little bit more about the Greek culture in the old town Plaka. You will find the Ancient ruins of the marketplace beautiful and historic, to say the least. Then maybe head to Filistron for dinner afterward (nice greek food and rooftop).
If you are into sunsets like I am. I recommend checking out the following 2 outdoor places/hills. The air up there is just different! So beautiful, so peaceful- don't get me wrong although it's quite a hike, it is well worth it.
Philopappos Hill Park – This hill is situated in a central area of Athens, it can be easily reached on foot. Alternatively, you can also take a metro from Thissio or Acropolis metro stations, and in about 20 minutes you will arrive there. At the top of the hill, there is the "Monument of Philopappos", which is a Roman monument and a great view of Athens.

Lycabettus Hill – This one is a little far from the center which is why I suggest you get a taxi to Aristippou St in Kolonaki. The path starts at the end of Aristippou Street and winds upwards. Then it is up to you if you want to go climb up the circular path by foot or take a funicular (there is no shade on the path) The funicular leaves from the corner of Ploutarhiou and Aristippou Streets every 30 minutes.
By public transportation you can arrive via the metro and the closest metro stop (Stasi (Stop) Evangelismos) is approximately at a 600 meters distance.
Change of flag is something to watch as you wait for the sunsets and the view is extraordinary among all the blurs of the white houses in Athens. This is one of my favorite places in Athens for this very view!
Where to eat and stay in Athens?
Solo traveling in Greece demands a visit to one of Athens's most famous drinking spots, Bios roof terrace. For local dishes, Melilotos is the best place to enjoy local dishes such as aubergine salad and the Cretan gruyere.
Considering you'll only be in the capital for three days, then Fresh Hotel is a luxurious place to start. However, if you are on a budget, consider the City Circus hotel.
Santorini: 4 Day Travel Itinerary
Greece is known for its beautiful Cyclades islands which include about 220 islands, the major ones being Amorgos, Anafi, Andros, Antiparos, Delos, Ios, Kea, Kimolos, Kythnos, Milos, Mykonos, Naxos, Paros, Folegandros, Serifos, Sifnos, Sikinos, Syros, Tinos, and Thira or Santoríni.
Do you know Santorini's official name is Thira?! And this is different than Fira which is the capital town of Santorini!
How to get to Santorini from Athens?
Santorini is one island that is world-renowned for its serene landscape. Athens and Santorini are separated by 186 miles (300km). As a result, the fastest way to get to Santorini from Athens is via a flight. However, if you are on a budget or are interested in the scenic journey, then consider the ferry or even day cruise. This Greece itinerary wouldn't be complete without visiting this stunning place!
Top destinations and things to do in Santorini
As is the case with Athens, Santorini has a ton of landmark venues and museums. These top tourist attractions include Archaeological Museum of Thera, Akrotiri Archaeological Site, Tomato Industrial Museum.
Santorini has beautiful waters with clean and refined beaches. Such as the local Perissa Black sand and Perivolos Beach, and the Red Beach. After visiting Greece's historical landmarks, consider taking tours around the Santorini Volcano, witnessing the beautiful Oia sunset, and tour the Kamari Beach in Thera.
During your Greece travel, I also recommend visiting Naxos and Paros islands. They can be visited on a full-day trip, just have to book it beforehand!
Where to stay in Santorini?
This grand island has some of the best places to stay in with its notable unique features. You could stay in the towns of Oia, Fira, and Imerovigli. Hotels in these areas are dependent on the quietness and grand stunning views. That said, consider staying at the Andronis Concept. However, since you are there because of the beautiful sunset, you might as well stay at the Cosmopolitan Suites or Anastasia Princess near the beaches. Here you will find fantastic food and beach life.
Where to eat in Santorini?
There are many restaurants, bars, and cafes to choose from. Some of the ones I liked and recommend are: Throubi Restaurant, Argo Restaurant, Taverna Danas, Lefkes, Aroma Avlis Food & Wine. Don't forget to try Santorini's most typical local dishes (both familiar and less known). Such as the famous greek Gyros (wrap with chips, some veggies, and meat), Atherinopita, a kind of "pie" made by frying tiny fish (like whitebait or smelt) with onions and flour and Apochti, Santorini cured pork.
Mykonos: 3 Day Travel Itinerary
On this 2 week itinerary, another must-see place in Mykonos. Something worth mentioning here is that Mykonos has a reputation for being a hardcore party island frequently visited by a group of youngers from the UK, Australia, or Europe in general. Hence you will probably be asked why or get a weird look by the wait staff or locals if you tell them you are a solo traveler. But don't let that make you skip Mykonos as it is worth it! And you can always meet other solo travelers in the hostel or at the beach!
How to get to Mykonos from Santorini?
From Santorini, you can take the local ferry to Mykonos which takes approximately 2- 3hours. It is the best way to go, notwithstanding the beautiful views and calming waters. Additionally, solo travelers get to cut costs also.
Top destinations and things to do in Mykonos
Mykonos is full of archeological sites, including Delos Island. You could learn the culture and educate yourself on the origin of the Greek gods, including Apollos and Artemis. Additionally, you should consider touring the Archaeological Museum of Mykonos, and rest at some of the best beaches in the region which are famous for their clear water and sandy beaches.
Platys Gialos Beach, Ornos Beach, Psarou Beach (my favorite beach in the Mykonos island), Paraga Beach, Elia Beach, Paradise Beach, Super Paradise Beach, Agios Ioannis Beach, and Little Venice Beach, Agrari Beach, Megali Ammos Beach, Lia Beach, and Fokos Beach.
You can even use the Mykonos water taxi service that runs along the island's south coast, stopping to pick up and drop off passengers at 7 different beaches along the way from late morning to early evening. The main departure beach for the water taxi is Platis Gialos, easily accessible by bus or taxi. Mykonos Water Taxi fare is 10€ for a one-beach pass or 20€ for an all-day, all-beach pass.
Where to eat and stay in Mykonos?
Arguably, Mykonos has the best nightlife in all of Greece! Take a walk around the beaches at night after watching the sunset in Little Venice. Afterward, enjoy beverages from renowned bars/restaurants such as Nammos, Scorpios, and Jackie O. I also found some little cafes served amazing greek food as well. So, don't hesitate to try them out also.
There are loads of hotels ideal for solo travelers of all kinds. The best budget hotel is the Galini Hotel, which is 150m from the beach. Those looking for an illustrious hotel experience include Kouros Hotel & Suites and Myconian Ambassador Relais & Chateaux Hotel.
Crete: 3 Day Travel Itinerary
On this 14 days Greece itinerary, the last stop is yet another beautiful island, Crete.
How to Get to Crete?
Just like Santorini and Mykonos, Crete is one of the most sought-after islands of Greece. As a result, the best way to get to this island from Mykonos is through a reliable ferry. However, the trip will take an average of 4 hours and will cost you about $85 but for fast arrival, you can also take a plane costs $65 – $220 and takes about 3 hours.
Top destinations and things to do in Crete
Crete is a town in Greece with many regions known for its diversity and astonishing views. Venetian Fortezza, the Palace of Knossos, the Historical Museum of Crete, Heraklion Archeological Museum of Rethymnon Old Town are all great places to start. However, by now, you must be tired of all the great museums. Or perhaps visit museums on the first day and do a bit of a road trip to the beaches on the second.
Consider going for a swim or walk on the beautiful beach of Elafonisi. In fact, this beach is so sumptuous that some people believe it is actually the best beach in the world! Additionally, consider touring the Balos Lagoon, Falassarna Beach, Vai Beach (Palm Beach), and Lake Voulismeni.
Afterward, consider going for a hike with fellow travelers in Samaria Gorge National Park. Come back here and let me know if you found the kri-kri!
Where to eat and stay in Crete?
Crete has many regions for dining and staying. These regions include Chania, Loutro, Hora Sfakion, Stavros, Paleochora, Georgioupolis, and Rethymnon. However, if it is your first time in Crete, Chania is the best place to stay. However, bear in mind that Rethymnon has the best budget places. For the views and culture, consider the Heraklion area and its hotels. Some of the recommended places to eat are Elia, Ferryman Taverna, Alekos, Taverna Dionyssos, Gramboussa, Chrisostomos, and The Alchemist.
I hope this 14 days Greece itinerary helped you prepare and plan your Greece trip.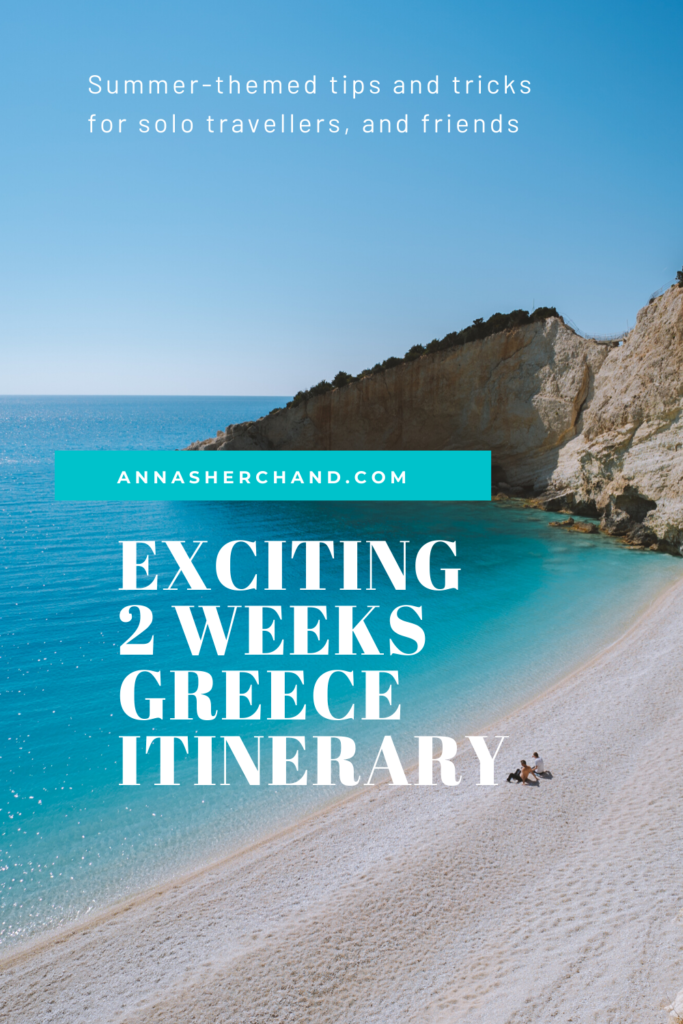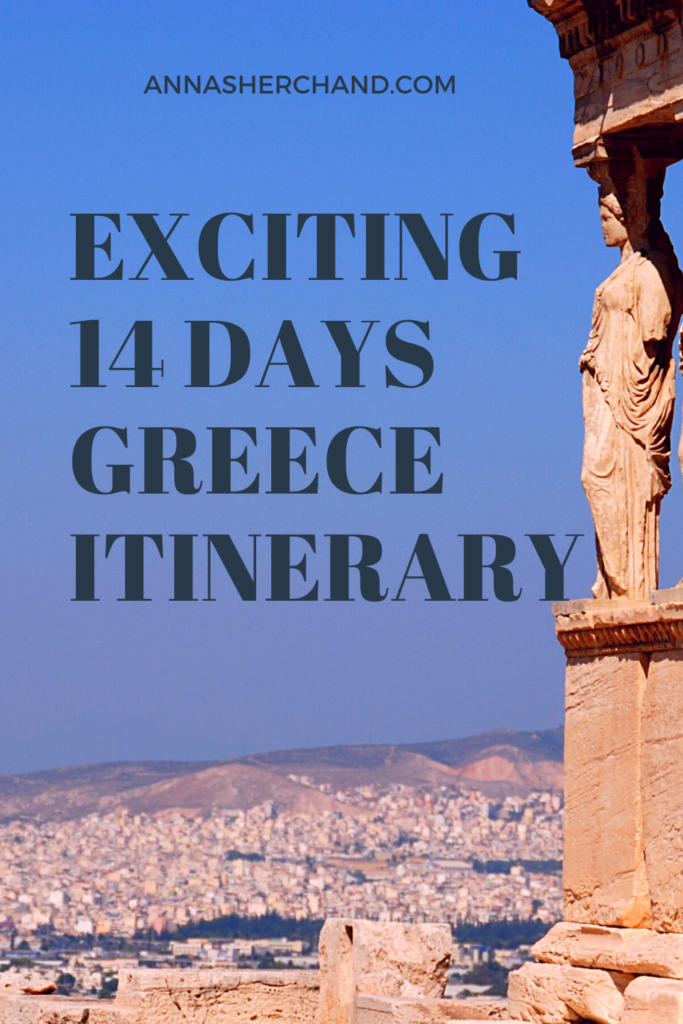 Let me know in the comments:
Exciting 14 days Greece itinerary that you'll like!