After I moved from Sydney to Melbourne, I have been busy checking out some of the best Melbourne bucket list places and experiences. So if you are looking for the same, read on.
Melbourne also knowns as Naarm identifies to the Wurundjeri people who are the traditional owners of the land where the Yarra River runs. Whether it is sunny, rainy, or winter, or in fact any other seasons, here are some of the cool things to do once in your life n Melbourne.
In no particular order, let me present you with,
Ultimate Melbourne bucket list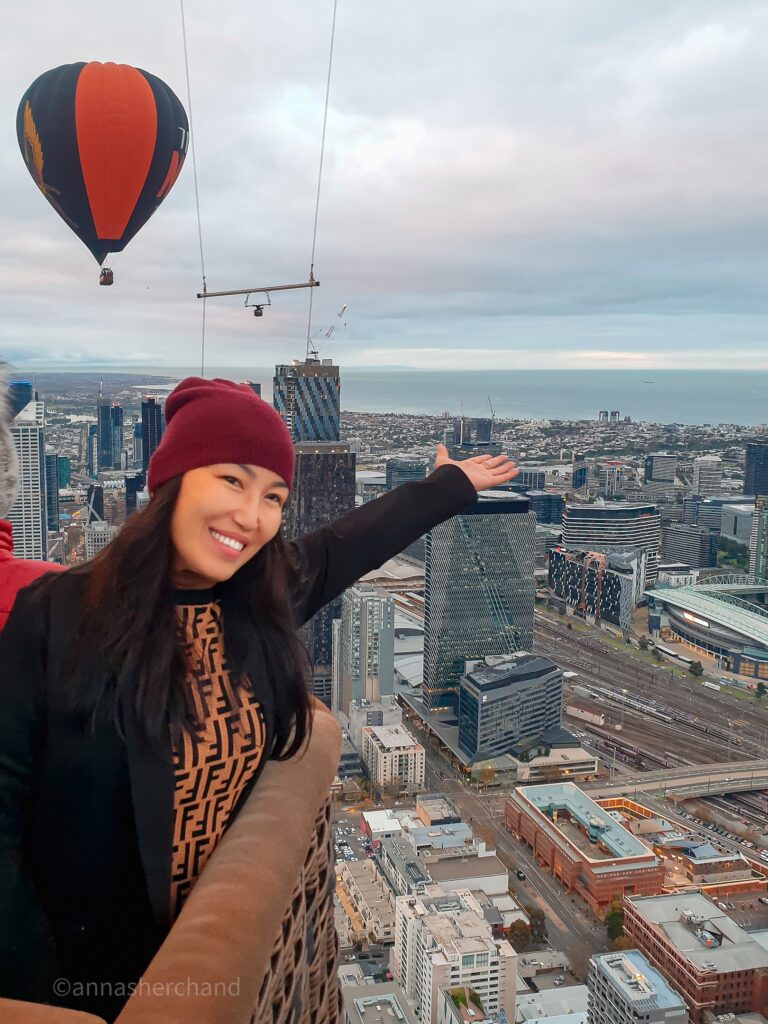 1. Hot Air Ballon In Melbourne
What better way to see and experience Melbourne than from the top of a hot air balloon! Although you may have to wake up around 5 AM for a sunrise flight, it will be worth it when you float over Melbourne city and the landscapes look almost magical. Plus, you can upgrade to include a sparkling wine breakfast and hotel transfers for a seamless experience. Alternatively, you can also have this experience in Yarra Valley among the vineyards and finish off with some wine tasting.
2. Capital City Trails
Whether you are a local, just moved here, or visiting for the first time; nothing beats exploring a new place on foot.
The Capital City Trail is a 29.6KM shared-use path which circles the Melbourne city center, features the Yarra river, and some inner eastern and northern suburbs. We started walking from the starting point at Docklands under the Bolte Bridge, next to the Yarra River, which took about 3 hours to complete. From the Docklands, the path follows the Moonee Ponds Creek North to Flemington Bridge, and then you must cross the bridge over Flemington Road and travel alongside the Upfield railway line until just beyond Royal Park station. Along the route, there are a few coffee places to refuel and parks to relax.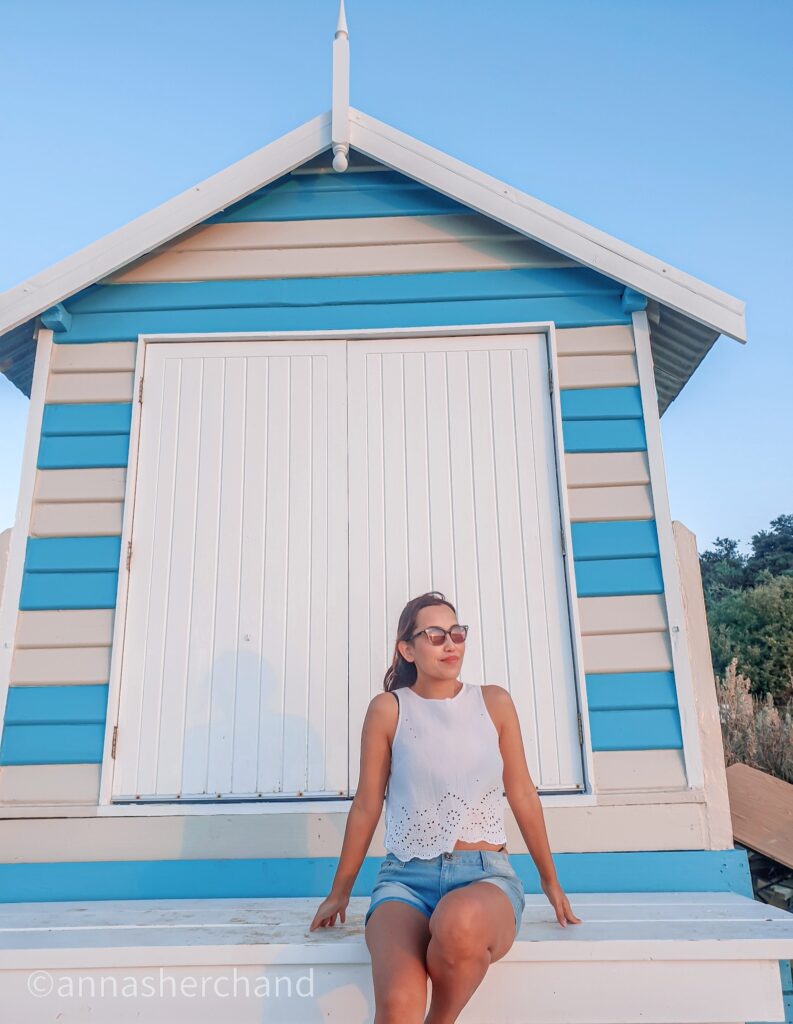 3. Brighton Bathing Boxes
Another Melbourne bucket list is the iconic Brighton Bathing Boxes. These colorful bathing boxes are beautifully painted and gorgeous to look at and make for great photo opportunities. Great for any time of the day really and while there, you may want to check out Brighton Baths Health club. Located on the slice of the private beach that has been operating since 1881 and allows swimmers to reap the therapeutic, healing benefits of fresh seawater, with the peace and seclusion of a pool. This sea bath is operational all year round, and casual swimmers can claim single-day passes whenever they feel the urge for a refreshing swim.
4. Skydive in St Kilda, Melbourne
If you are after an adrenaline-rushing Melbourne bucket list experience, St Kilda Beach Skydive could be it. Recommend to book in advance and pay for videos and photos. Costs more but I think they are worth it because it is a once-in-a-lifetime experience for most of us and what a great way to have that memory on a video that you can play countless times! Take a train or 96 tram from the flinders street federation square station in the city to get to St Kilda Beach.
5. Melbourne Moonlight Kayaking
Get up and close to ferries and stationary ships while taking in views of South Bank and the City of Melbourne skyline. This kayak tour starts in the city center, on the Yarra River. There are a lot of things to see like the former Customs House, turning basin, Historical ships, former waterfall and "Mission for Seamen". A historical commentary on the old docks area is provided along the way.
There is a rest stop, halfway through the tour, to stretch your legs and have a snack and drink. View the sunset on the water and then on the way back observe the spectacular pyrotechnic "fireball" display at Crown Casino after dark.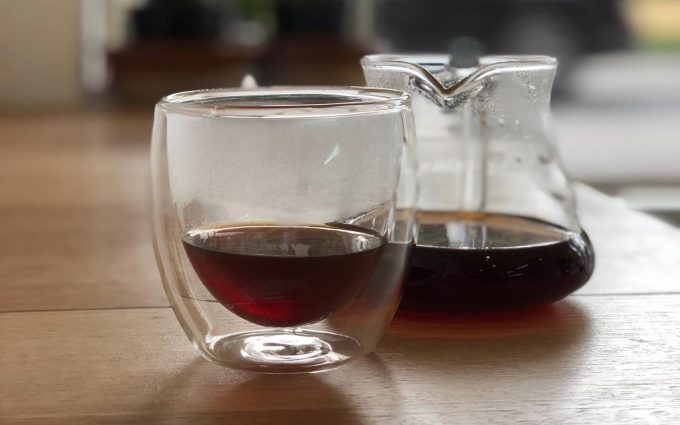 6. Melbourne Coffee life
Melbourne is well known for its cafe and art culture. It would be criminal not to experience its varieties of coffees, (there is even a $200 coffee you can buy, pic above!) and immerse into its art scene.
7. National Gallery Victoria
Taking about the art scene, make sure to pop by NGV to check out Melbourne's oldest and largest art gallery. It is a place where you easily lose track of time due to extensive collections at two of its magnificent galleries located a short walk apart, both with free entry to the permanent collection and paid for special ones. They usually have a visually arresting and thought-provoking view of the world-type exhibitions. So even if you aren't into 'art' there will still be something that interests you as it's not just your generic art gallery. There are many different types of art, and again you can get lost in there for hours. Make sure to wear comfortable shoes because there's a lot to see on all floors.
8. Admire the Street Arts
Now let's talk about modern art which must be on your Melbourne bucket list too because this city has adopted this type of art to the max! If you want to see the tallest street art mural in Melbourne, find out the secrets behind mysterious symbols drawn on the streets, and discover where the locals hang out, then this experience is for you! Alternatively stroll along with Melbourne's most iconic and eclectic neighborhoods, Fitzroy and Collingwood, and discover their diverse history, culture, and hidden sights. Lots of street arts to admire if you are into that.
9. Opera, concert, or Ghost tour!
If all the buzz of the city is getting too much and you are craving something different. Watching classic operas, musicals, concerts or Ghost tours could take you to a different world even for an hour or so.
Melbourne hosts some of the best Opera, musicals, or concerts in Australia. Whether it's a summer concert, Sidney Myer music bowl, or festival by the beach for the New year. It is one of the perks of living in a beautiful city like Melbourne as you get to watch some of your favorite international artists locally.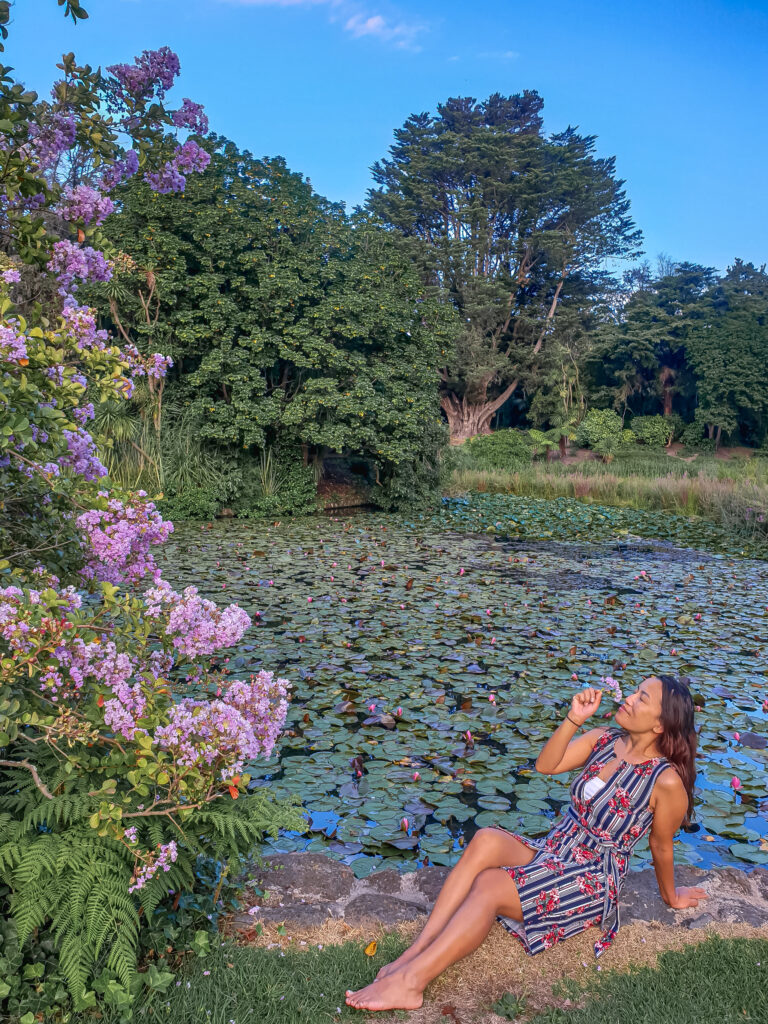 10. Royal Botanic Gardens
Aka The Tan which is the local's way to say Botanical garden. It is a 3.8KM walk, jog or run whatever you want to do. Approx takes around 20-30 minutes to run the track and 35-45 minutes to walk it. The Tan has a relatively flat path, with the exception of a small hill known as Heart Break Hill which starts at Anderson Street if traveling clockwise around the course.
11. Cruise on the Yarra River
The iconic Yarra River is 242 KM long from its source on Mt Baw Baw in the Yarra Ranges National Park, north-east of Melbourne, all the way to Port Phillip Bay. It was and continues to be, a serene path for dreaming, a life source for healthy communities, and a meeting place for all. Your Melbourne visit would be incomplete without cruising on the Yarra River. Check out this 4-hour cruise.
12. Yarra River Walks
If cruising is not your cup of tea, you can a walk along ​the Main Yarra Trail which follows the Yarra River for 35 KM through Melbourne's north-eastern suburbs to join the Mullum Mullum Creek Trail in Templestowe. The trail runs through Yarra Bend Park, Warrigal Park, Birrarung Park, and Westerfolds Park in Templestowe. It is a shared path for cyclists, joggers, and dog walkers alike.
Along the banks of the Yarra you can fully immerse in nature with native bushland and wildlife including but certainly not limited to rainbow lorikeets, red-rumped parrots and yellow-tailed black cockatoos, water rats, and brush-tail and ringtail possums.
There are also some great viewing areas for the dusk migrations of flying fox populations. Highlights of this loop trail include Galatea Point, the Deep Rock swimming club, and of course the river red gum that shades the banks of the water.
For more, check out the Best Hikes From Melbourne
13. Queen Victoria Market
One of the best things to do in Melbourne when raining is to visit the local market. QVM is the largest open-air market in the Southern Hemisphere, where locals shop their groceries and try out meals from food trucks with some good live music on the weekends. Note it's closed Monday and Wednesday.
If you are into markets, you may also want to check out the city's oldest market, South Melbourne Market. Both of these markets showcase our multi-cultural society and boast a history and importance to Melbourne's local way of life.
14. State Library Victoria
Looking for an oasis in the city? A little peace and calm? Inspiration or even just a to have a wander with a friend from out of town. State Library is the place to be.
It is the oldest library in Australia and one of the best photogenic and first free libraries in the world. Whether you are a book lover or not, the old but grand interior of the library is a must-see, and what better way to do that than on a rainy day. Grab coffee/bite to eat at the Guild cafe, browse through your favorite genre of books, time will go quickly. Note: Can't take books home though.
And if you are someone wanting to get some work done away from home, this place is perfect for that also.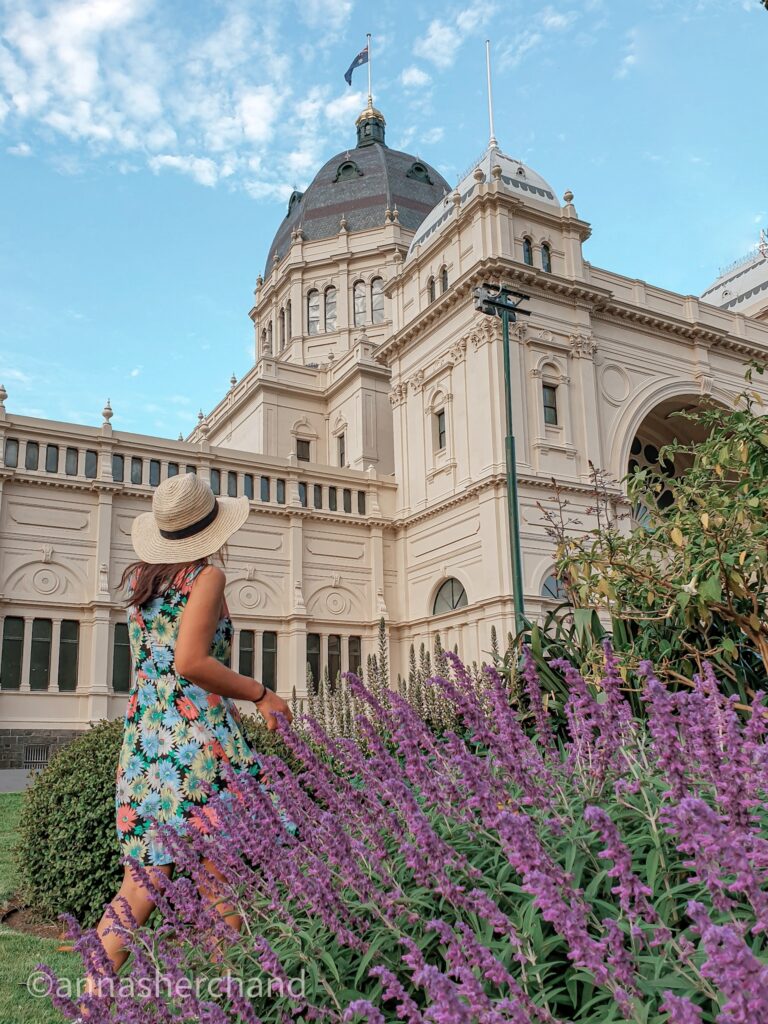 15. Royal Exhibition Building
RGB is the first landmark to be listed as a world heritage by UNESCO in Australia. From the outside, it appears as if it has been transported here from Europe; from inside, it is grand and splendid made from beautiful timber and the main dome is intricately painted. I love its grandness and also the small details and ornate architecture.
While the RGB is beautiful inside/out; the outside garden is also worth exploring if you were to come back on a sunny day. Recommend to purchase the exhibition ticket beforehand to enter this iconic building. This pretty area serves as a welcome vista for visitors as well as locals.
Find some of the most Instagram worthy places in Melbourne
16. Parliament House
Another Melbourne bucket list is to visit the Parliament House. It is only a short walk from the royal exhibition building and accessible by tram from the city. This neoclassical architecture building is where the Victorian government meets and makes decisions for our laws and regulations. It is an impressive 19th-century building and the recent addition that is a roof garden is a great way to appreciate the building and its history. There are several viewpoints in the garden to see the development of the different stages of the building very clearly. Inside/out it is also one of the most popular photography spots in Melbourne. Rain or Shine, you will see people taking photos here.
There are free tours that run every day here which gives you an incredible insight into the history of this building and the workings of Parliament. They are easily booked in advance on the website and there are several to choose from, each with a different emphasis.
17. Comedy shows
You will be lol at Melbourne's many comedy clubs and open mic nights. There are some bars like Storyville where they run standup comedies and drinks. There is also forum where the Melbourne comedy festival happens.
18. A perfect picnic
Make it your own picnic or book one online and enjoy the warm sunny weather by the river Melbourne has to offer. Usually, it is my go-to for my friends visiting from overseas.
19. Luna Park
The 96 tram goes all the way to Luna Park where you can enjoy the rides and afterward, head to St Kilda beach to dip in and refresh.
20. Eureka Skydeck
If you want to explore Melbourne, take the city circle tram and stroll. The tram also stops close to Eureka tower. It used to be Melbourne's tallest building but views are still great from the 88 floors up. While there, also check out the Edge platform at the Eureka Skydeck, you'll get a great overview of Melbourne and learn about how the city became to be what it is today.
21. Secret Bars of Melbourne
Melbourne seems to hold a competition for the coolest bar. First criteria: Be difficult to find! To make things easier for you, I have put together the best secret bars in Melbourne. (The hidden laneway bars, wardrobe entrance, rooftop bars, and the arcades, all info in there.)
22. Experience the Food coma
Another thing to put on your Melbourne bucket list is the vibrant mix of cultures and cuisines to experience. Head to Footscray a suburb that has just been named the 13th coolest suburb in the world! While there treat your taste buds with some of the best Ethiopian coffee, Vietnamese Bahn mi, and traditional Sicilian cannoli in all of Melbourne.
There is also the Market you can explore and wander through the stalls taking in the sights and sounds of local life. Important stops on the tour are the Community Arts Centre and the Asylum Seeker Resource Centre to learn about the amazing things these organizations are doing for the local residents.
23. Watch Melbourne Sunsets
Either you are watching Melbourne sunsets from the Eureka deck or from the solid grounds of Princess Bridge, it is one of the must-do activities. Probably also quite nice from bars along the Yarra River with your favorite sundowner.
Following Melbourne bucket list needs a car or join tours
24. Parasailing & Paragliding in Melbourne
Another truly amazing experience to put on your Melbourne bucket list. Your age and fear are no barrier, put your trust in the pilot and just relax, enjoy the view. It is exhilarating up there and even more so when you take control.
25. Surfing, Windsurfing/ Kitesurfing or SUP in Melbourne
Not as good as Sydney waves but if you are determined to have at least one water activity on the books then wind or kite surfing could be it. The best spot for surfing would be Torquay, Bells Beach in Lorne (a couple of hours away from Melb, St Kilda for Kite/windsurf, Altona Beach for Stand Up Paddle Boarding.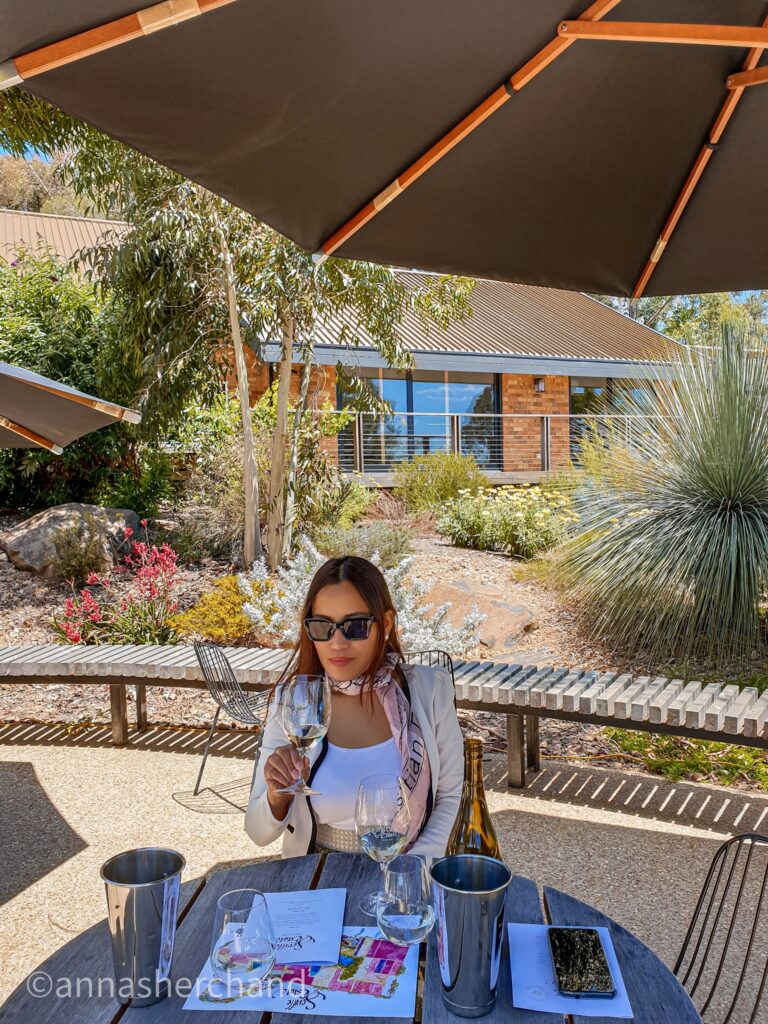 26. Visit Yarra Valley
Melbourne's bucket list wouldn't be complete without a visit to Yarra Valley for wine, food, walks, and wildlife. Driving or train time from Melbourne is about 90 minutes and recommended 3 days to explore the Yarra Valley's famous vineyards, breweries, cider houses, farmers' markets, and cheesemakers; dine alfresco or fireside in some of Victoria's finest restaurants; visit the Healesville Wildlife Sanctuary to make some furry friends, and wander through majestic forests in the Yarra and Dandenong Ranges. Read Yarra Valley itinerary and Healesville wineries for more.
27. Hepburn Springs
If you want to rediscover your happy place at hot springs, Hepburn springs would do a treat. They draw the mineral-rich waters directly from the natural source, this iconic bathhouse reconnects you with an array of mineral wellness experiences. Also on offer is full-body massages and sanctuary retreat. You'll feel like you are in another world. Very relaxing.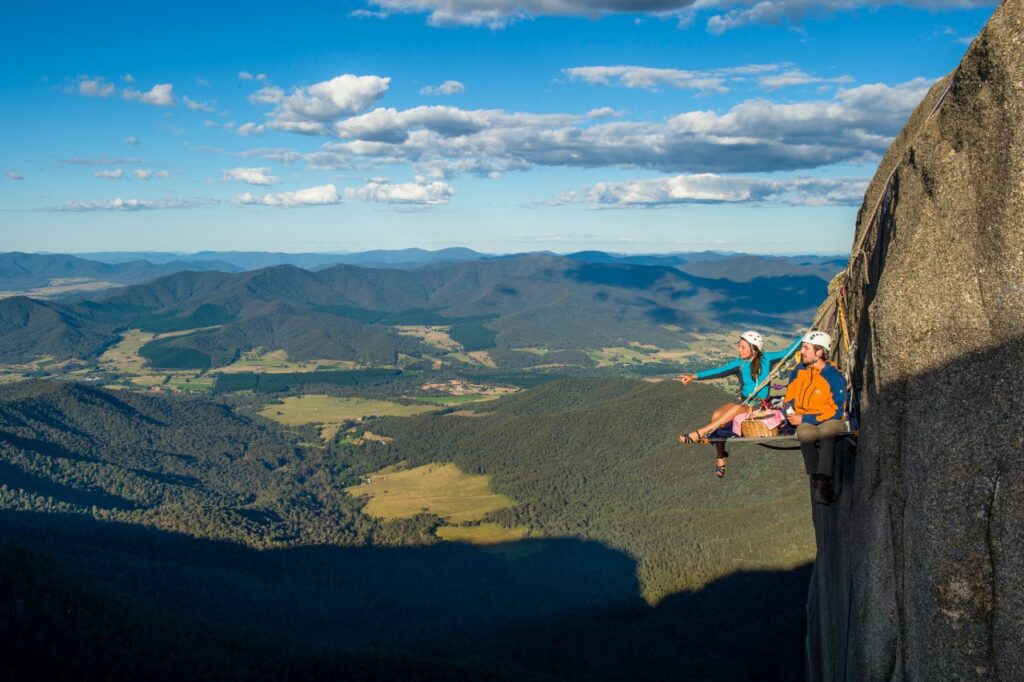 28. Cliff Picnic
Experience Australia's first Cliff Picnic on one of the most beautiful mountains in the world. Picture you and your best mate hanging 300 meters above the valley floor breathing in the crisp alpine air with these epic views! Now, this is the Melbourne bucket list experience! Bright Adventure company offers this cliff picnics along with other unforgettable adventures across Victoria's High Country.- Rock Climbing Tours- Abseiling Tours- Cliff Picnics- Caving Tours- Kayaking Tours and Hire- Whitewater Rafting Tours.
29. Bee Hive Tour
Now if you want to experience something different?….really different. Check out the Airbnb experience for the Bee Hive tour where you can learn about the intriguing world of honey bees in a way that few get to experience: through the hands­-on exploration of an active, living beehive!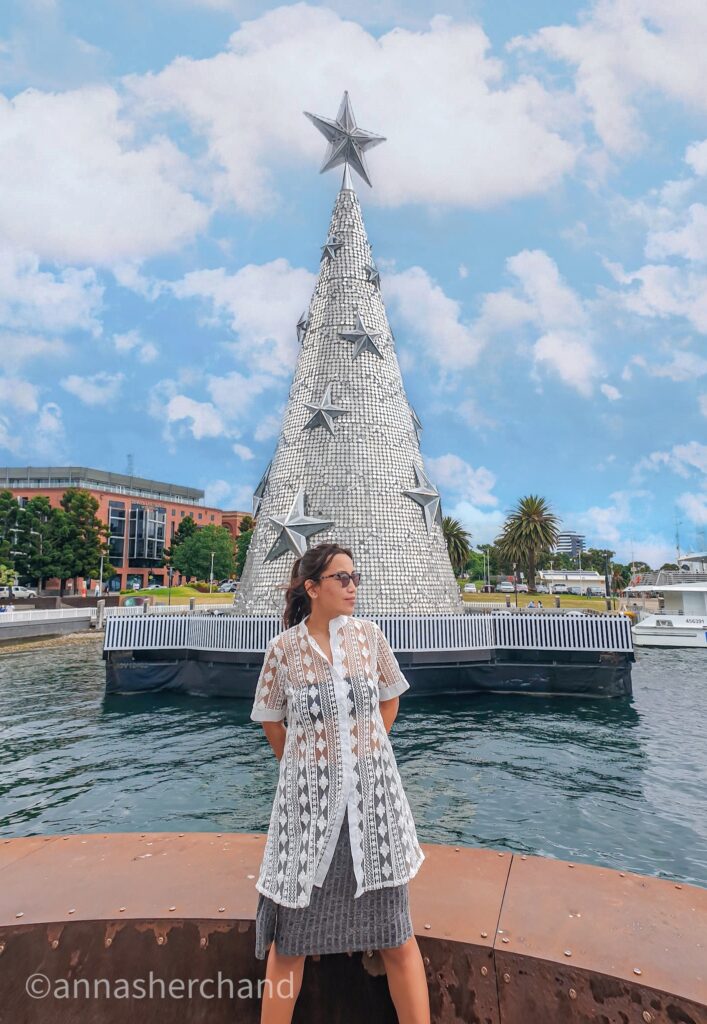 30. Geelong
Visit Geelong and the Bellarine Peninsula for beach life and a taste trail. If you are driving or taking the train it takes about 75 mins time from Melbourne city.
Check out the landscaped north-facing foreshore past public artworks, harbor views, gardens, cafes, the emerging laneway eateries, and ice cream vendors, then swim in the art deco pool at Eastern Beach. Read what to do in Geelong for more. Another option is driving the Bellarine Taste Trail to explore the peninsula's beautiful seafood, vegetables, fruit, cheese, and wine.
31. Fishing in Port Philip Bay
While in Geelong, you may want to go fishing in Port Philip Bay. Going with the Airbnb experience tour is a great option because the local guides are expert fishermen and usually teach you how to hook up the bait and show you the best fishing techniques.
32. Philip Island
Another weekend getaway on this Melbourne bucket list is Philip Island. If you would like to join a tour, join this Philip Island tour or read camping in Philip island for DIY.
33. Mornington Peninsula
If you are into relaxing day spas mixed with hiking the rugged coastlines, the Mornington Peninsula tour is for you. The first stop can be the summit of Arthur's Seat where you can view the panoramic ocean views and with some luck, also meet some kangaroo, wallabies, and native birds. Wander through the Bushrangers Bay for an 8km easy return hike featuring stunning coastal scenery, rocky bays, and blue waters. Finishing off with steamy hot springs at the spas.
34. Great Ocean Road
Another must-see in Melbourne, Victoria is the Great Ocean Road aka GOR. Australia's Great Ocean Road is legendary; a road that hugs the side of sheer cliffs, and where native bushland meets the clear blue waters of the most spectacular coastline. Maybe consider this one-day tour along this miraculous road, and enter a land of mighty rock formations. Hear tales of shipwrecks along the coast, and get breathtaking vistas around every corner. Alternatively, read free camping on great ocean road for a cost-friendly DIY trip.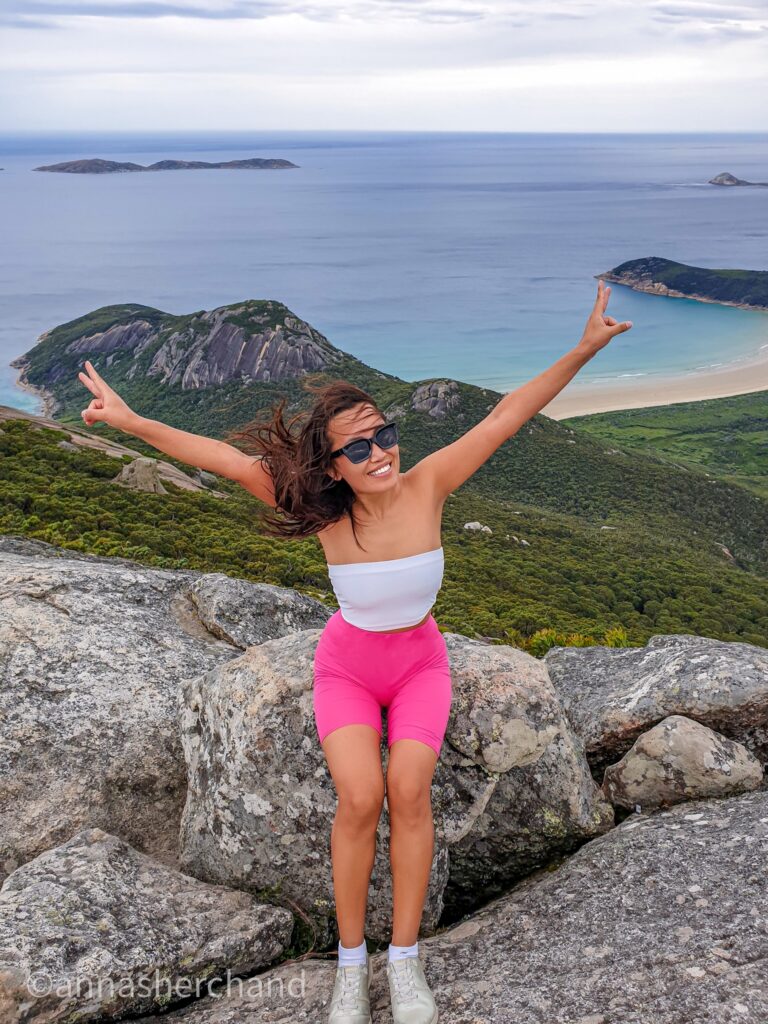 35. Wilson Prom
Wilsons Promontory National Park is one of the local's and visitors' favorite destinations to go for a turquoise ocean, camping, and secluded walks among the rainforest. You can expect to be in a walker's paradise as there are not 1 but over 20 walks, hikes, and overnight hikes available. Read Wilsons Prom walks and things to do in Wilsons Prom for details.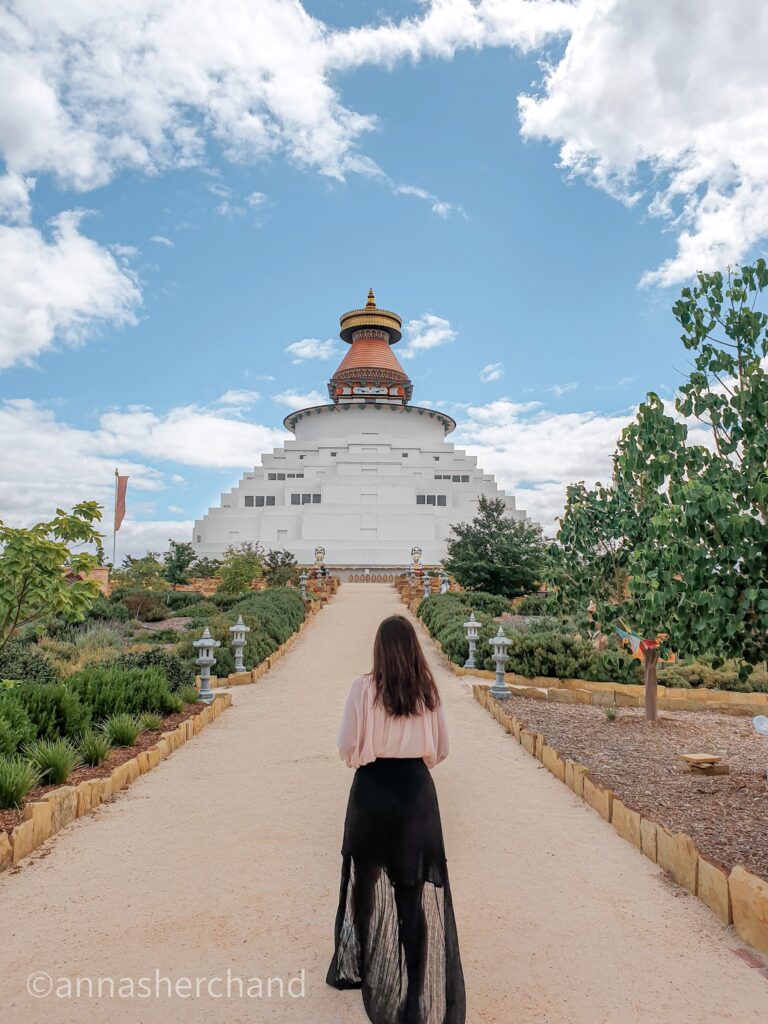 36. Bendigo
Bendigo is a regional town in Victoria, originally known for its gold rush boom. This historic town has a lot to offer for a day trip or a weekend staycation. At the weekend you can get a bit more activities happenings and everything is central if you stay in the city center. Bendigo offers great architecture and history, good dining options, parks and gardens, and cultural options like Art Galleries and Museums. More on a day trip from Melbourne to Bendigo.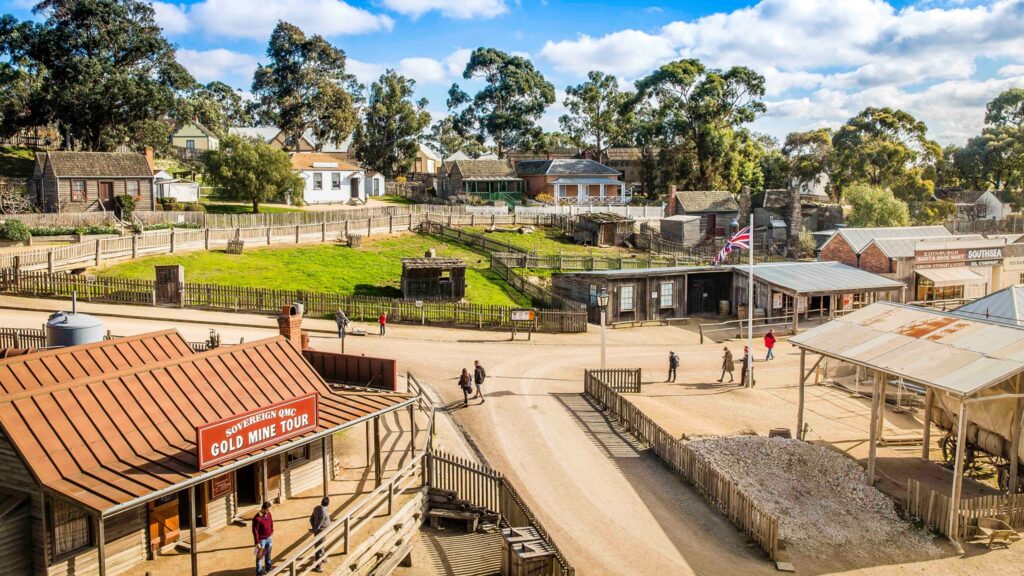 37. Ballarat
If you are looking to explore more local gems from Melbourne but can't/don't want to travel too far then Ballarat could be a great option. You could even visit as a half-day trip, full-day trip, or staycation for a few days to weeks.
Regardless of the time of year you visit Ballarat, you are almost guaranteed an unforgettable experience which is why it makes to this Melbourne bucket list. What better way to immerse yourself in rich history involving the Eureka Rebellion, gold, and Australian democracy? Nearly 200 years later, the city's historical roots remain deeply embedded in its architecture and principles. Read things to do in Ballarat for more ideas.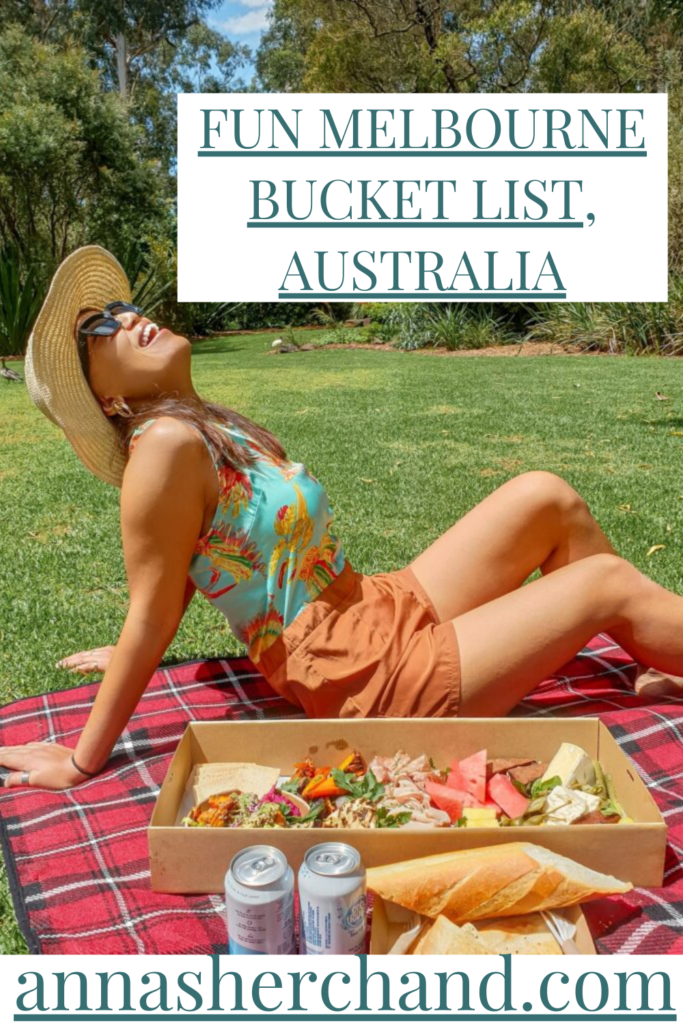 Let me know in the comments:
37 Melbourne Bucket list That You Can't Miss