Today I am covering everything you need to know before you go to Yarra Valley. Let's call it Yarra Valley itinerary for 2 days. Although you can easily spend a week or more here, I think 2 days is the absolute minimum. So let's get started as I guide you through the region, where to stay, where to eat, and the best things to do in Yarra Valley and the Dandenong region.
Disclaimer: This trip was in collaboration with Yarra valley and Dandenong ranges but all opinions are my own.
The Yarra Valley is an Australian wine region located east of Melbourne, Victoria. It is approximately 65 km from Melbourne and takes about 1 hour depending on the traffic to drive from Melbourne to Yarra Valley. This region has a cool climate that is best known for producing Pinot Noir, Chardonnay, and Sparkling wine. There are over 70 wineries in the Yarra Valley today which makes it a major tourist destination and local's favorite getaway spot for wine tasting.
The Dandenong ranges are where you would go to escape the busy city life and into the hidden mountain delights. Perfect place to explore lush fern glades, towering forests in the National Parks, cool-climate public gardens, well-marked walking tracks, and eclectic little villages along the way for you to wander and explore. This is where you can experience the tranquility of fresh country air, get lost and find yourself among the serene nature.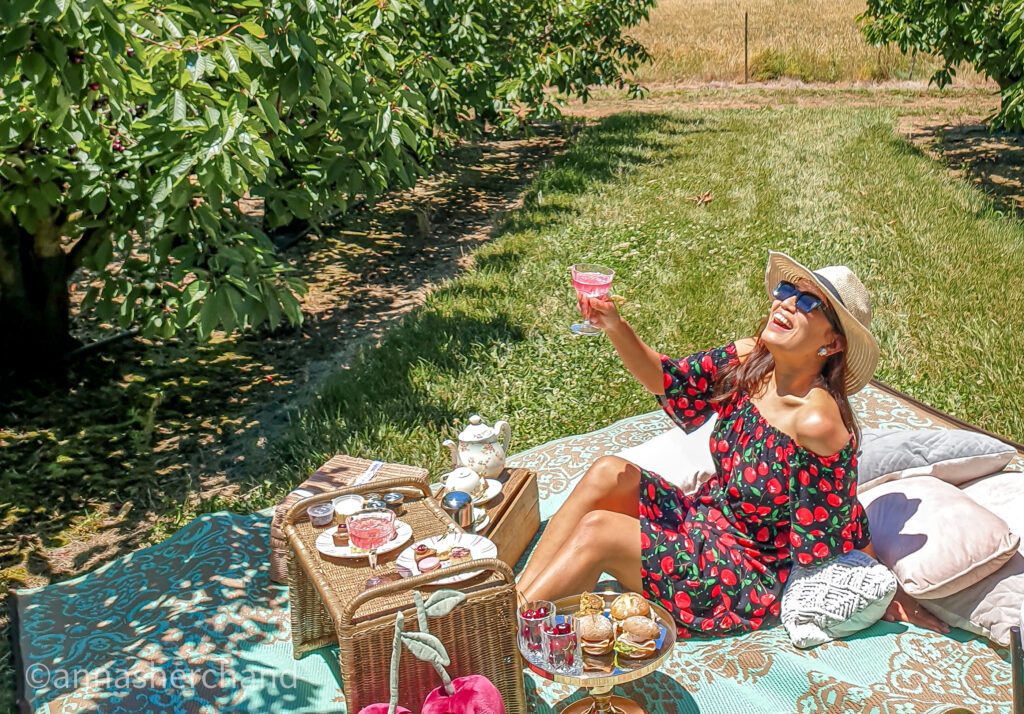 This beautiful region has four seasons. In Spring (sep-nov) vines are lush green everywhere, In Summer (Dec-Feb) it gets quite hot but you are near the mountains so the cool breeze is always there to help you, Fall (march-may) enjoy the beautiful autumn colors, and in Winter (June-August) sit by the fire watching the stars sipping some of the best Australians wines.
There is always something to do in Yarra Valley and the Dandenong ranges no matter the season including tons of festivals throughout the year ( such as Opera festivals, Arts festivals, Food festivals, or sporting events) and that's why it has become an all-year-round tourist destination now than just a summer stop for sampling wines and tasting cheese. It is surrounded by mountains, forests, vineyards, and rolling hills dotted with wineries, cellar doors, and fruit, cherry, and berry farms.
Yarra Valley itinerary and Dandenong Ranges
Now before I start the Yarra Valley itinerary here are the three most FAQs,
How to get to the Yarra Valley?
Public transport:
From Melbourne CBD, take the train to Lily dale station, Upper Fern tree Gully or Belgrave. You will find bus services run between towns and villages in the region. Buy a Myki card for use on the buses and trains. Check timetables at the train station or online at ptv.vic.gov.au
Alternatively, you can use Uber to reach Yarra Valley from both Melbourne and Essendon Airports or from Lily dale train station. Just keep in mind, taxis are scarce in Yarra Valley and can only be booked in advance through a phone or a website.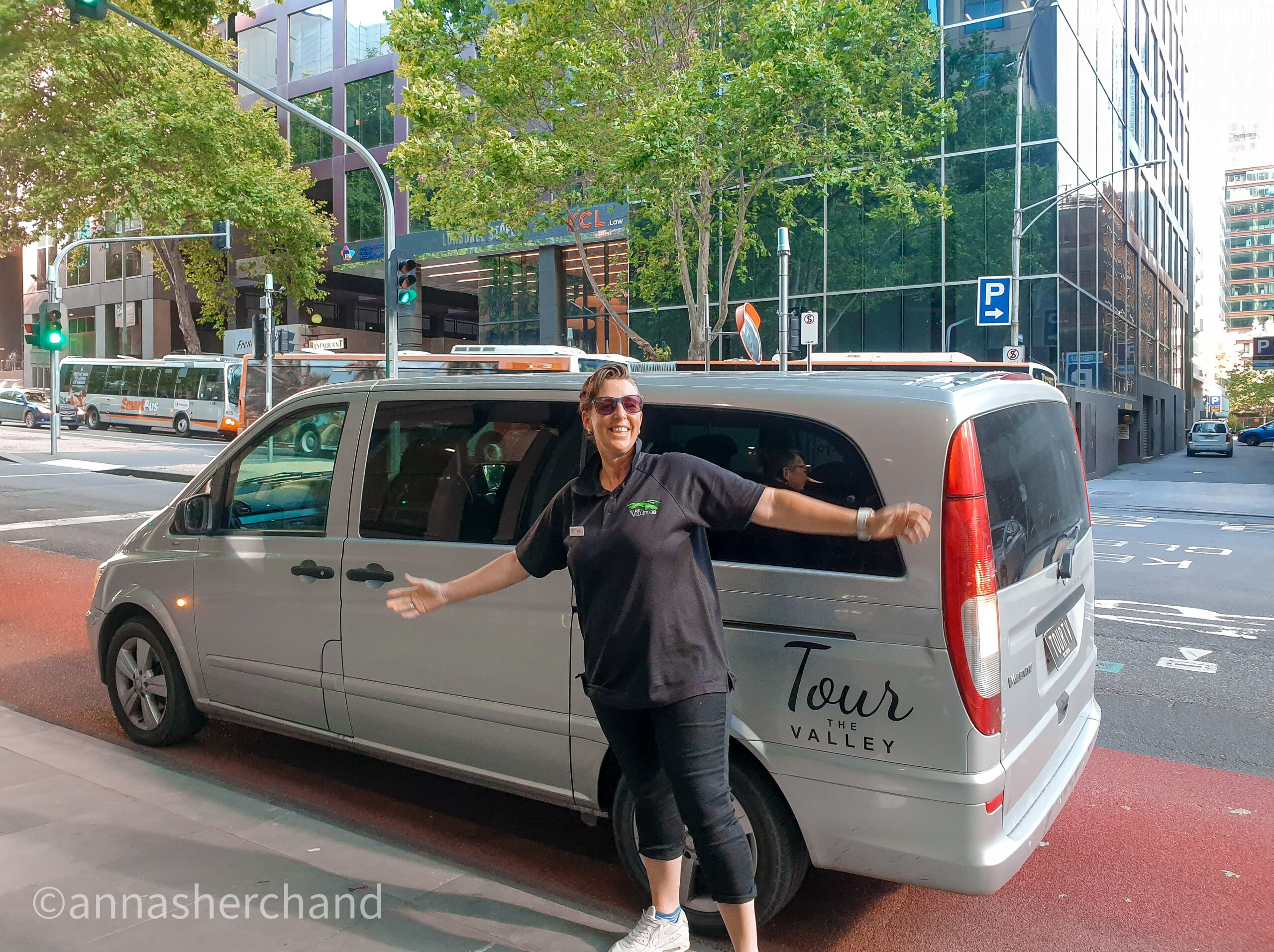 Private:
Because public transportation is limited in the area, it is highly recommended to self-drive approx. 1.5 hours drive from Melbourne city or book a trusted car/tour company to properly explore the region. My transport was provided by lovely Cath Allen from Yarra Valley A2B. Cath was punctual, friendly, and professional. I liked their SMS on the day service, lots of general knowledge that was shared about the region, and overall, such a great vibe to be around. I highly recommend Yarra Valley A2B because of its excellent and thoughtful service. They offer charter service, wedding transport as well as private small group luxury tours, and customizable door-to-door transfer services.
Where to stay in Yarra Valley?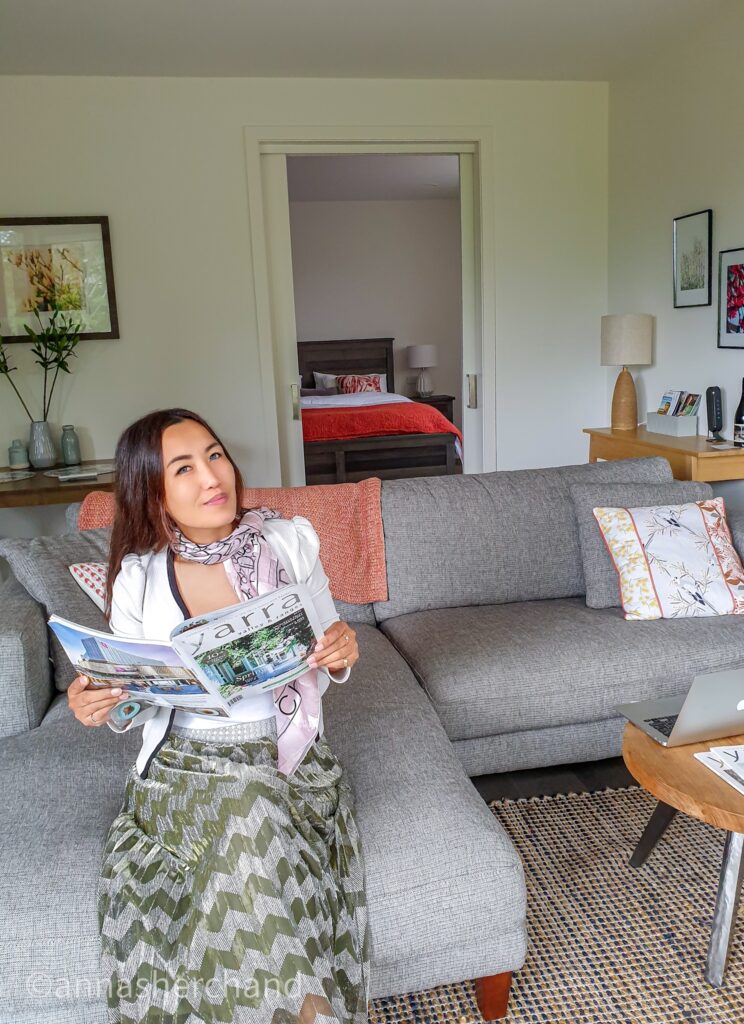 My recommendation is to stay at the Brooklands Apartments which is owned by well known Healesville Hotel. These are modern luxury apartments, perfect for 1-2 people but have plenty of room for even a third person. I really liked the contactless check-in and check-out (so 2020), the quietness, the green lush outside my windows, and the mountain view!
When I was relaxing on the sofa sipping my tea and looking out at the mountains it almost gave me the feeling of being somewhere else than in Australia! Usually, people tend to think of hot weather and beaches when they think of Australia but places like these give you a rare experience that Australia is much more than just hot beaches, it is also the tranquility and luxurious stay near the mountains or the wine region.
Yarra valley itinerary for 2 days
Day 1
Breakfast at the general food store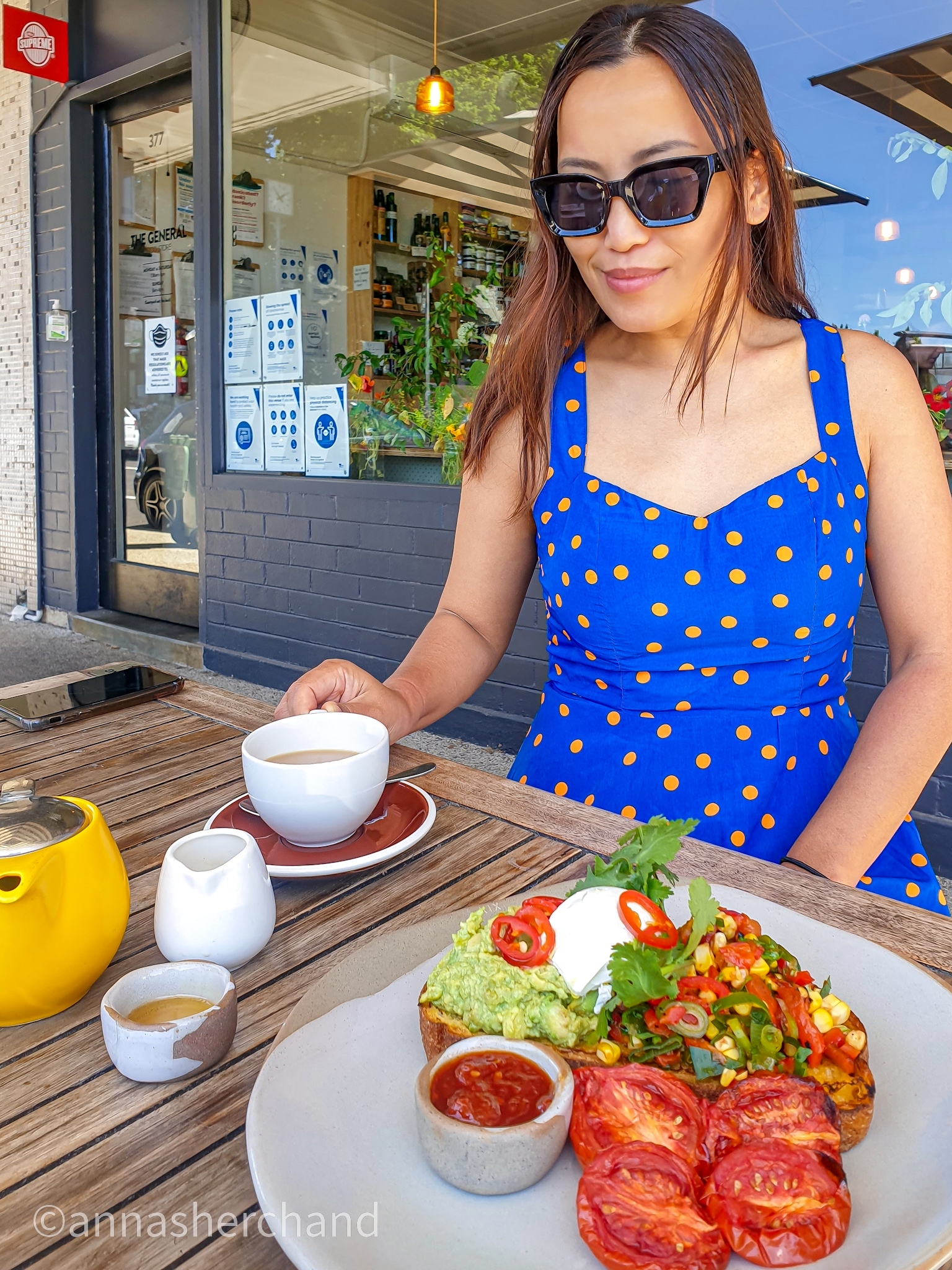 The general Food store is a local's and visitor's favorite spot for breakfast since 2011. They offer a refreshing monthly menu and I liked how they were using the ethically and sustainably sourced local seasonal ingredients found in the valley and the Dandenong ranges. Their menu offers a wholesome wide range along with vegan options and easily provides for dietary requirements also. Highly recommend their almond coffee and Come and avo go breakfast.
Puffing Billy tourist railway and Emerald Lake Park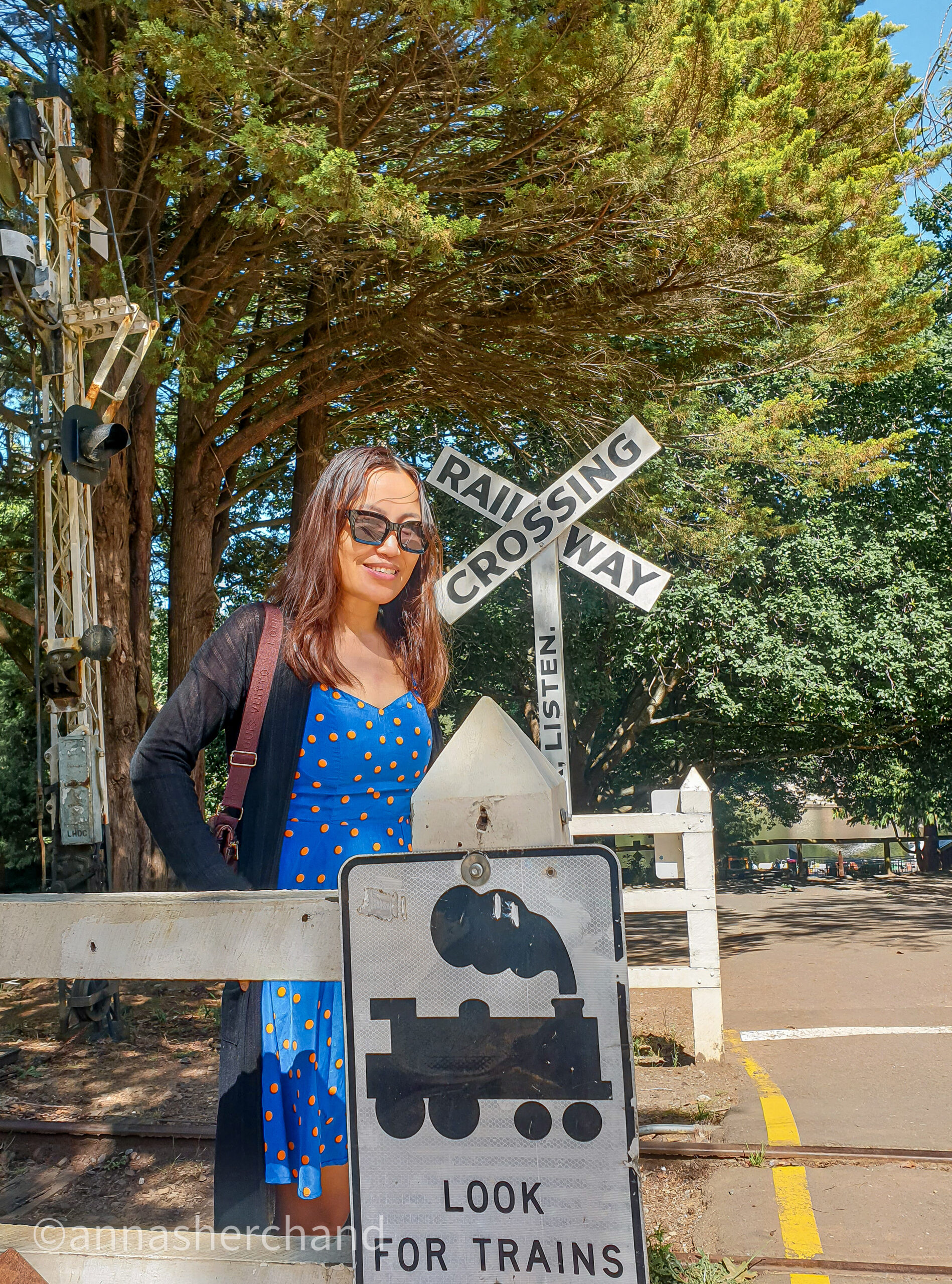 After breakfast, it is time to check out the nearby Puffing Billy tourist railway. It is Australia's favorite steam train and it travels through the magnificent forests and fern gullies of the Dandenong ranges located at Emerald Lake Park. Talk about hitting two birds with one stone! At Emerald Lake Park, you can also have paddleboat rides, visit the model railway display, use the free barbecue facilities, Puffing Billy, walking tracks, seasonal wading pool, and fishing. There is also an environment Centre that offers a live aquatic display, information on flora and fauna, and information on the park.
Although there is a renovation happening near puffing billy at this stage if you are thereafter 11 am you can see the steam-operated rail going off. Once the renovation completes there will be a museum and possibly a cafe too.
Want a bit more adventure? You can run to beat the puffing billy! (There's a running and cycling track alongside the rail track)
Grants Picnic Ground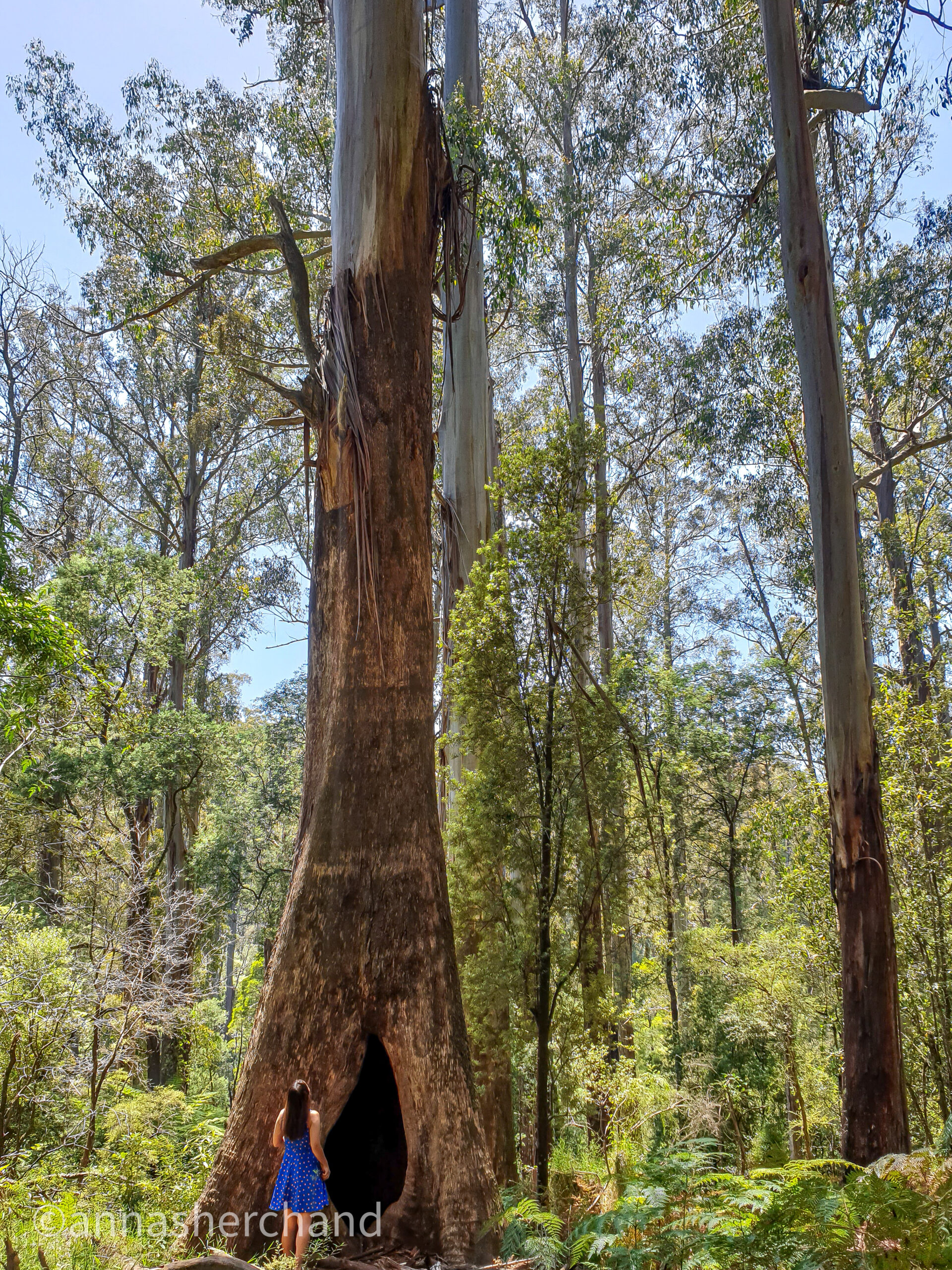 The next stop on the Yarra valley itinerary is the Grants on Sherbrooke Picnic Ground. Here you can surround yourself with the unique sounds of Australian nature and the tallest gum trees you have ever seen! This area is open 7 days 9-5 pm where you can hand-feed white cockatoos (is it true if you see black cockatoos it'll rain?), hike on well-marked walking tracks, and visit the cafe and gift souvenir shops. Plenty of parking is available.
Alternatively, you can visit the Healesville Sanctuary.
The best Healesville wineries and the best things to do in Yarra valley.
Lunch at the Olinda Tea House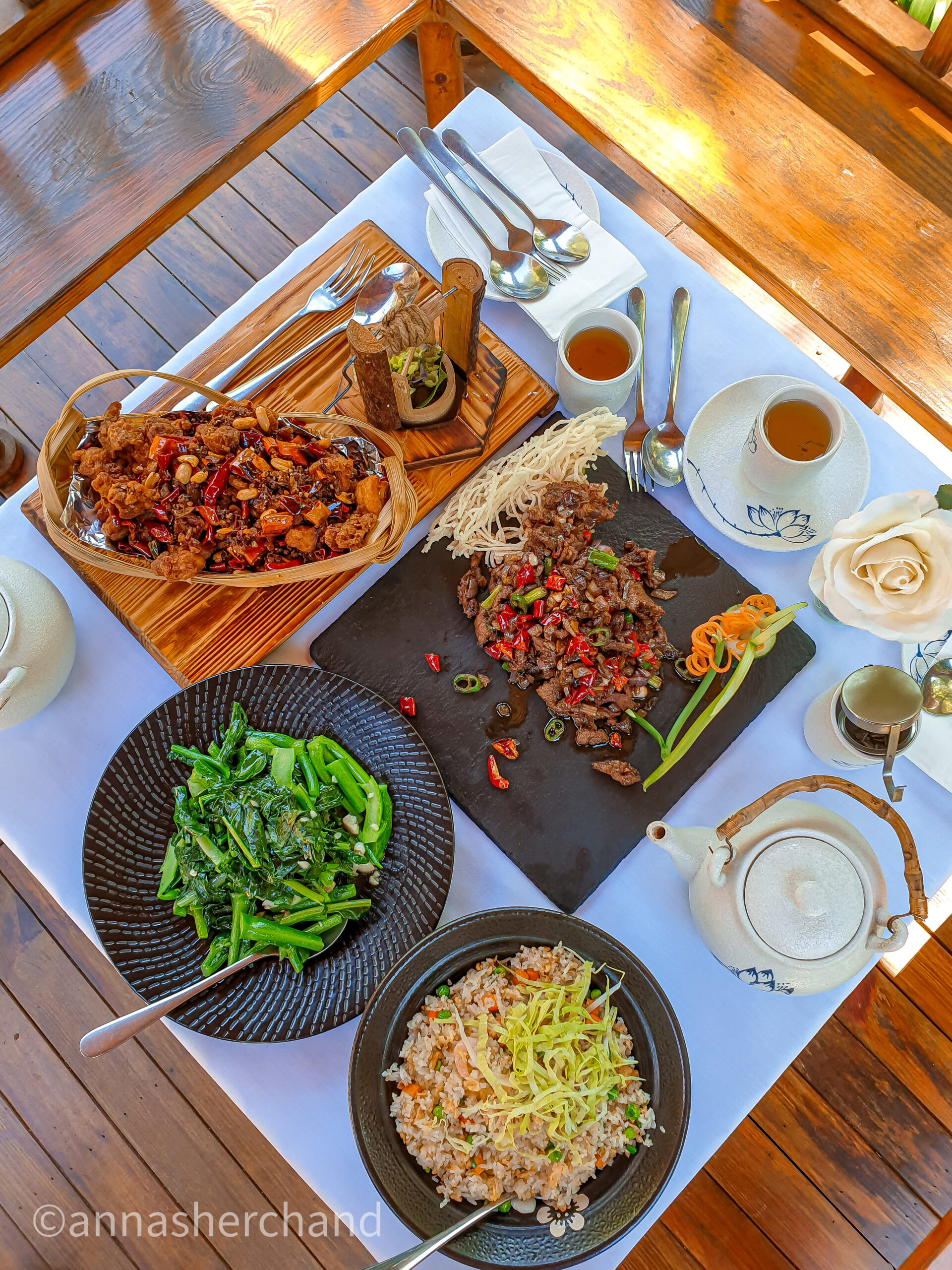 As you enjoy the scenic drive through Sherbrooke forest, Kallista, and historic Monbulk township (where tulip festival happens every mid-sep-mid oct) it is time for lunch. Head to Olinda Tea house they offer fusion Asian meals including some of the finest high tea options. I recommend their Authentic Szechuan lamb dish, and Olinda's signature fried rice for lunch followed by their famous high tea. The food was great but it is also worth noting the calmness you can feel in their established gardens, and carefully curated sculptures, and you can also book to feed the house Alpacas! Yes, you read that right! no need to fly to South America to meet these fun animals because they are right here in our regional Victoria!
Olinda Tea house offer morning tea, afternoon tea, lunch, and dinner, also cater for wedding and functions as well as provide private dining rooms and dining options that extend to the generous outdoor verandahs. It was a whole new experience lunching in Olinda Tea House and at the same time super cool to see the Chinese cuisine influence all the way up in the Dandenong Ranges!
Pretty little villages in Yarra Valley
The Dandenong ranges have many rolling hills, lots of windy roads, and many townships with general stores and supplies and lodges and cottages. So if you are like me and enjoy exploring off-the-beaten-path places then these villages amongst the trees are for you.
Olinda Village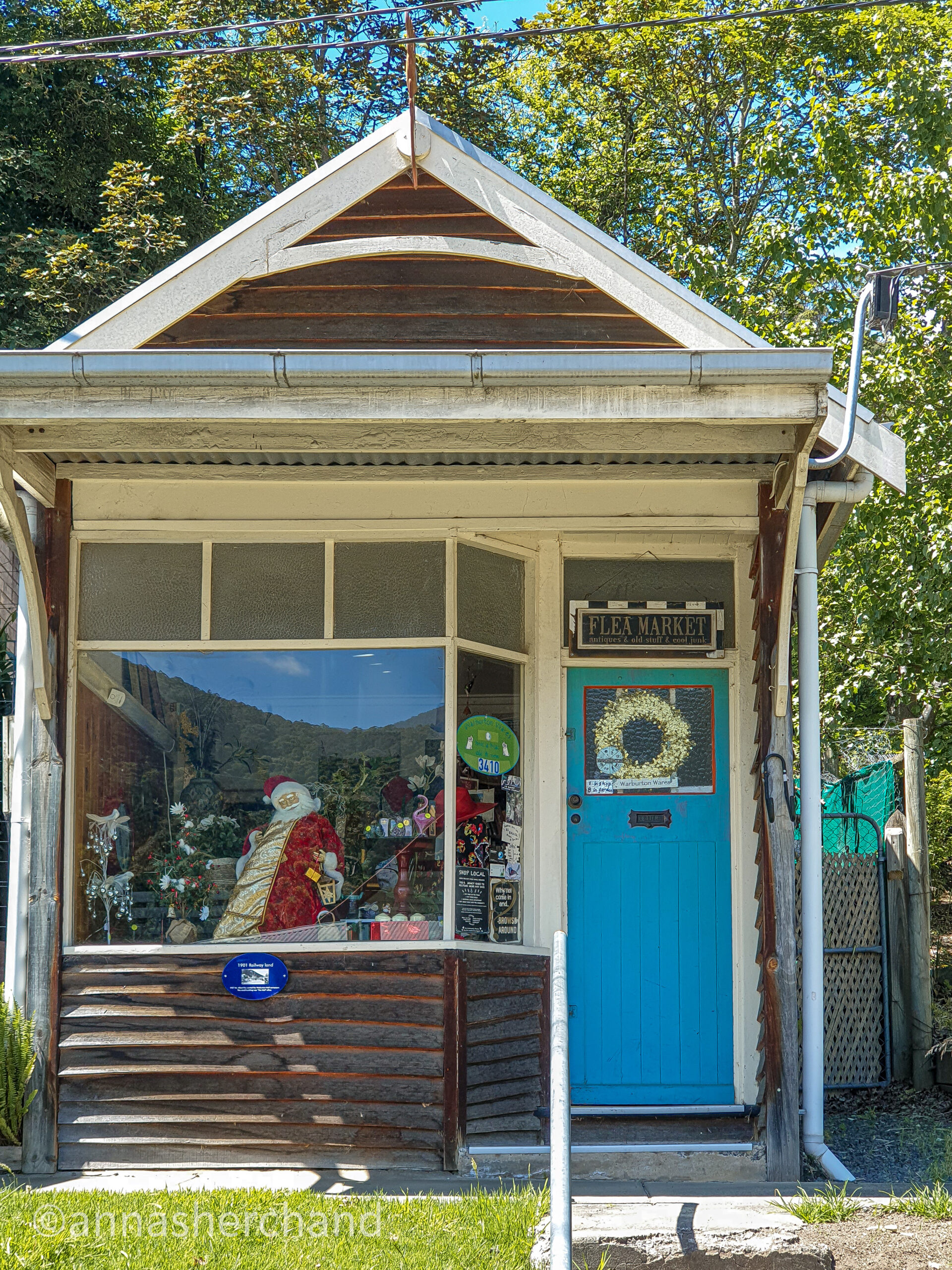 After lunch following the short scenic winding roads, it is time to discover the wonderful community of Olinda Village. It is a small strip of streets lined with mom's and dad's cafes, boutique shops, and antique and crafts shops. This is a place where you'll find something truly special, rather than mass-produced. It is this small community vibe that attracts people to stop by and take a break to take it all in. Also, recommend stopping by William Ricketts Sanctuary where you will see tons of sculptures and indigenous stories.
Sassafras Village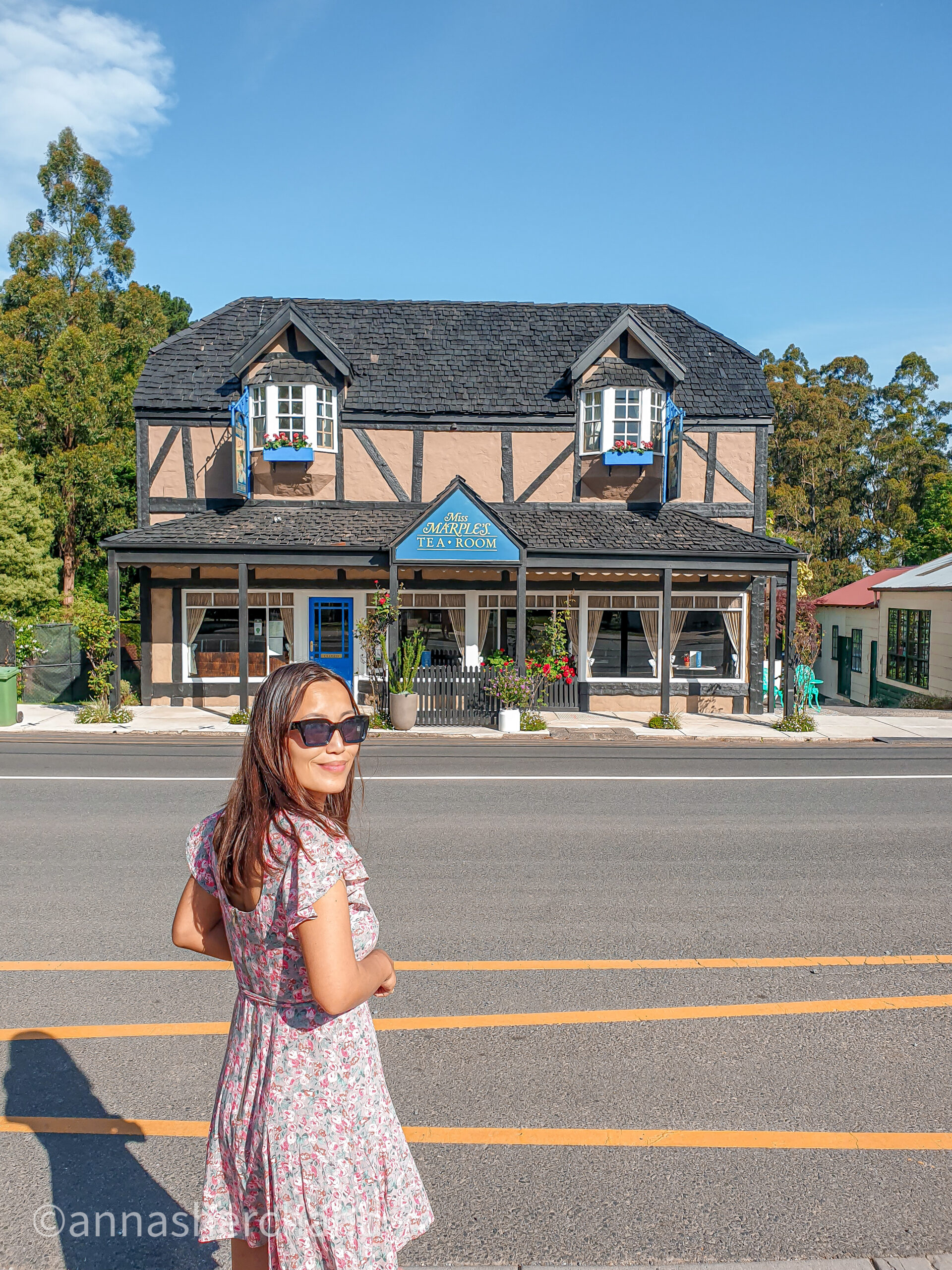 The next stop in this Yarra Valley itinerary and the Dandenong range is a nostalgic heritage of Sassafras mountain village. Although you will have to keep an eye on the road just so you don't miss this hidden spot, it is totally worth stopping by for some time.
Similar to Olinda Village, the Sassafras village has a small strip of character-filled shops (imagine the door of antique shops with handles that look like half mermaids & half Hindu goddess), family-run cafes, and Devonshire high tea in a quaint tearoom across the highway! You can easily spend a couple of hours browsing the antique, art, craft, Proserpina bakery, Geppetto's Workshop, and tea leaves.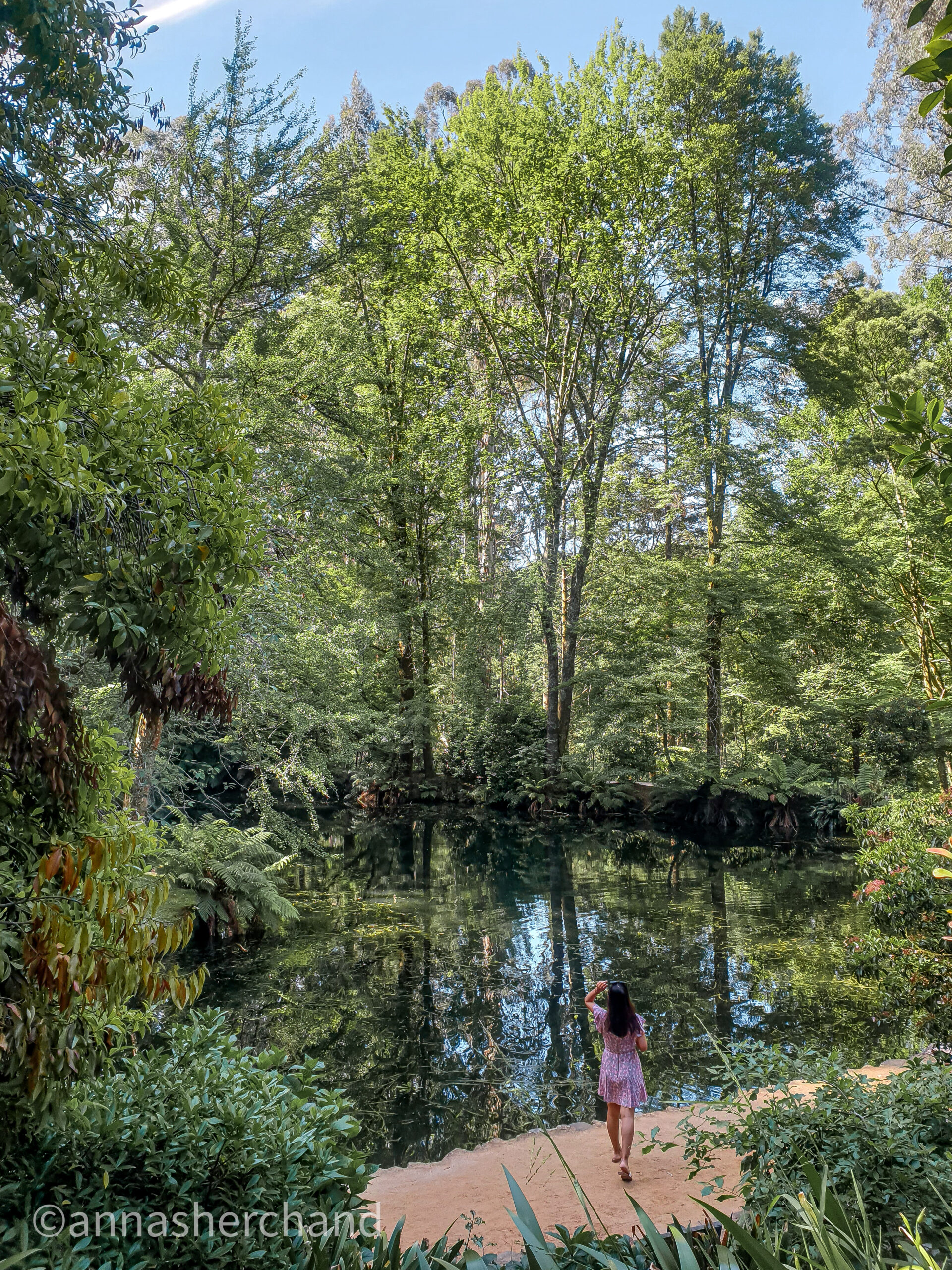 I enjoyed visiting this small village and for nature, I recommend stopping by Alfred Nicholas Garden (years ago an artist turned the mansion inside the garden into an art exhibition but now it is renovating into a hotel. So you can't go in there atm but don't miss the lake and boathouse), and/or George Tindale Gardens.
Feeling adventurous? You can hike the 13 km Sassafras Creek Forest Trail to Emerald Lake!
Sky-high Mount Dandenong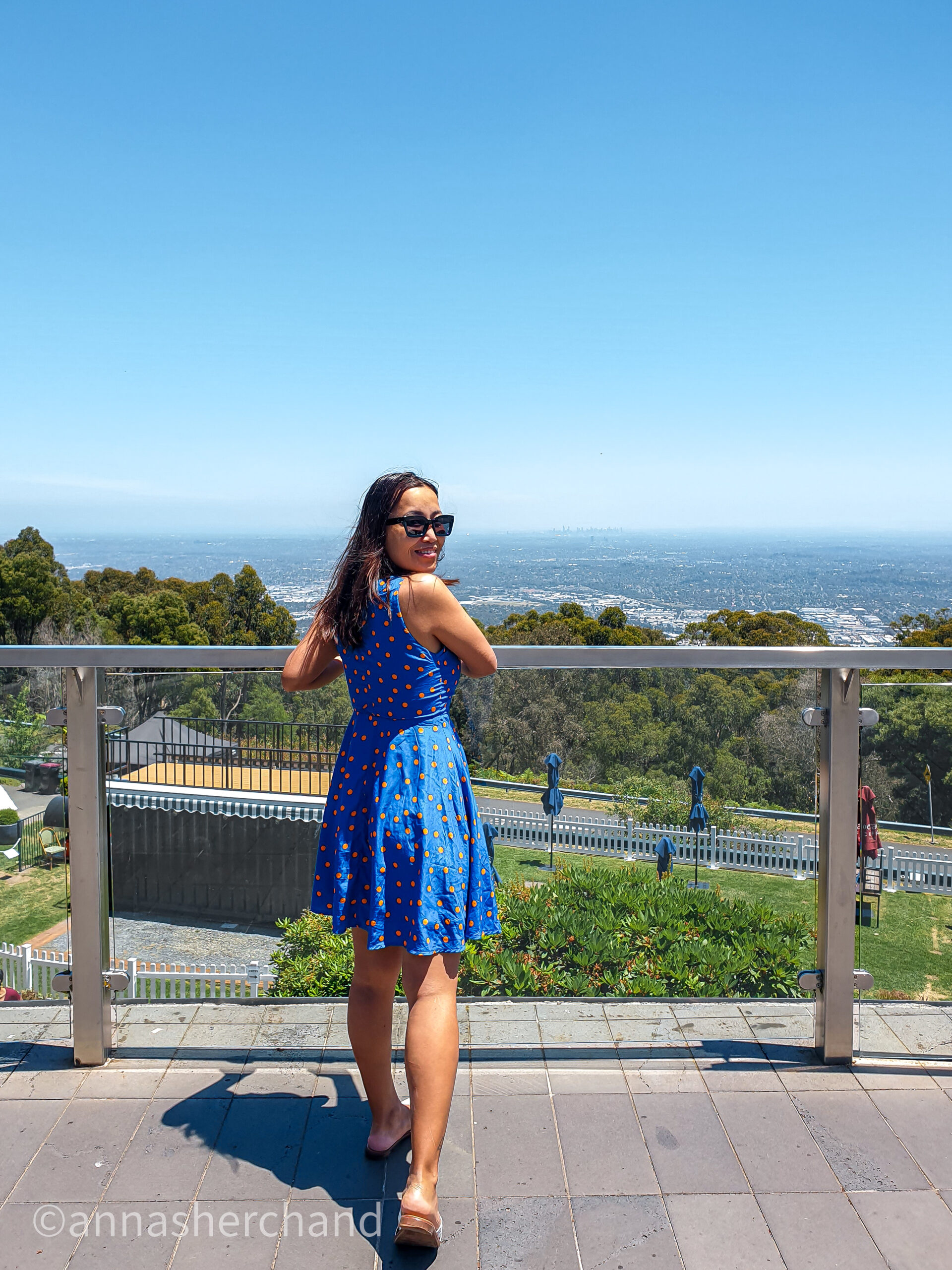 Coming back into the town I recommend stopping by Sky High at Mount Dandenong. It is a perfect spot for that cocktail with a sunset view. If you are lucky and the day is clear, you can also see a panoramic view of the Melbourne skyline.
Day 2
Breakfast at Nancy's of the Valley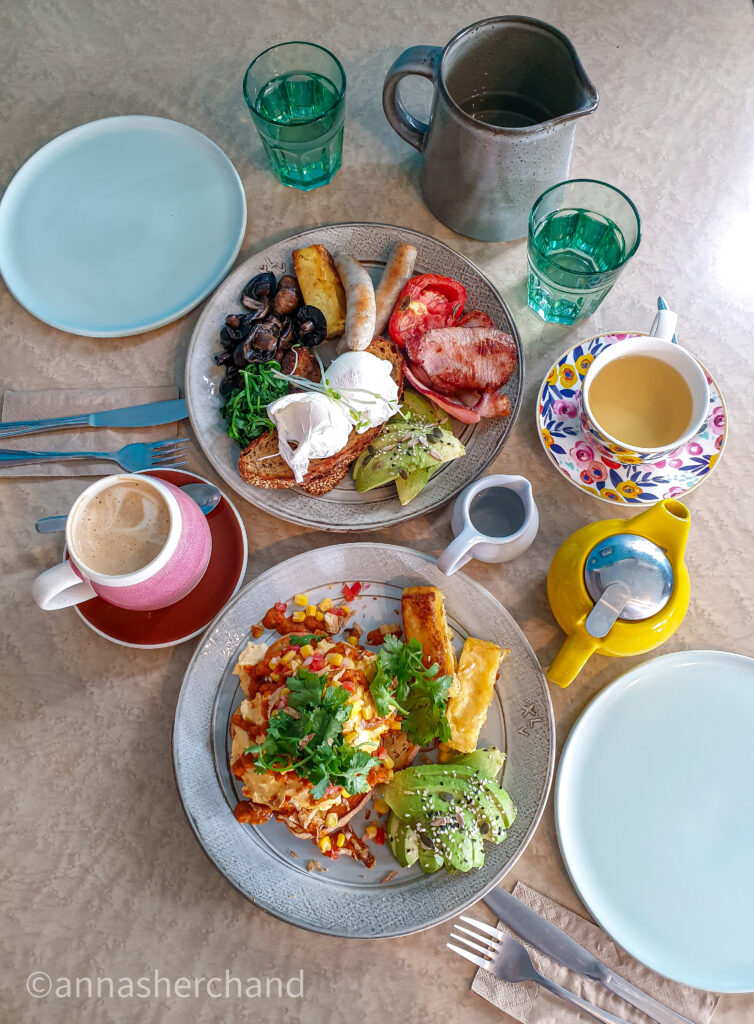 Located at the Yarra Valley junction with its colorful retro vibe is Nancy's of the Valley. Local's go-to spot for coffee and recommended by the visitors also. I recommend their locally roasted organic Silva coffee and heavenly breakfasts served on beautifully made pottery plates and cups.
It is worth noting that the cafe supports local and organic produce and offers an all-day breakfast menu and daily changing specials. Check out their fresh daily muffins and friends and plenty of seating areas in the backyard as well as indoors. Ps, They also cater to many dietary requirements.
Rainforest Gallery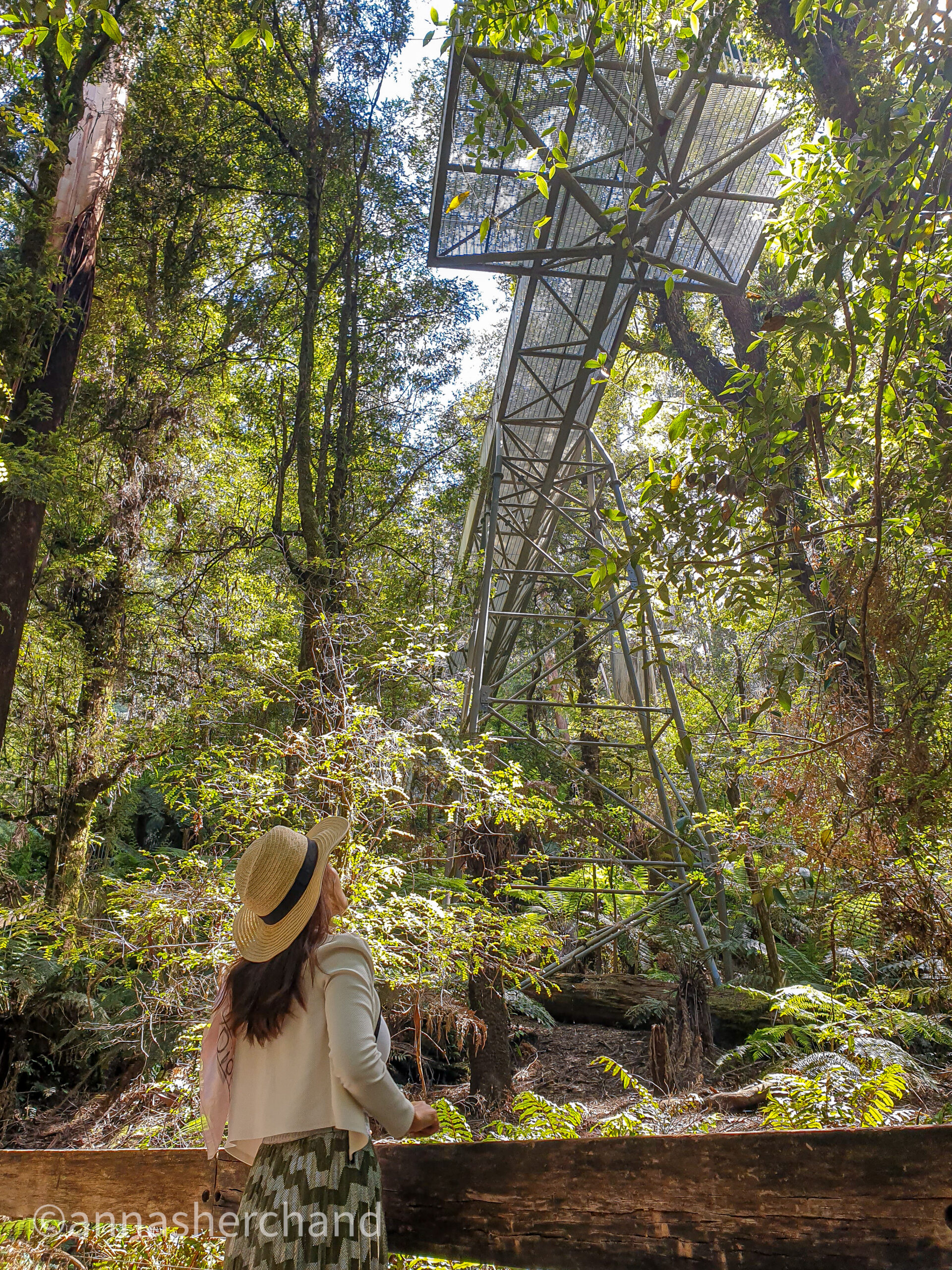 Following the scenic winding roads through the patchwork of nurseries, wineries, and orchards, just past Warburton at the junction of Mount Donna Buang Road and Acheron Way, you will find one of the Yarra Valley's surprise hidden gems – The Warburton Rainforest Gallery. There are two attractions here 1. a 15-meter high 40-meter long aerial balcony walkway named Skywalk (there are only 3 in Australia!) and 2. 350 meters loop track among the tallest green lush trees to digest that delicious breakfast! It is not a hike at all, just a stroll hence called a gallery. Ample parking is available.
Wander to Warburton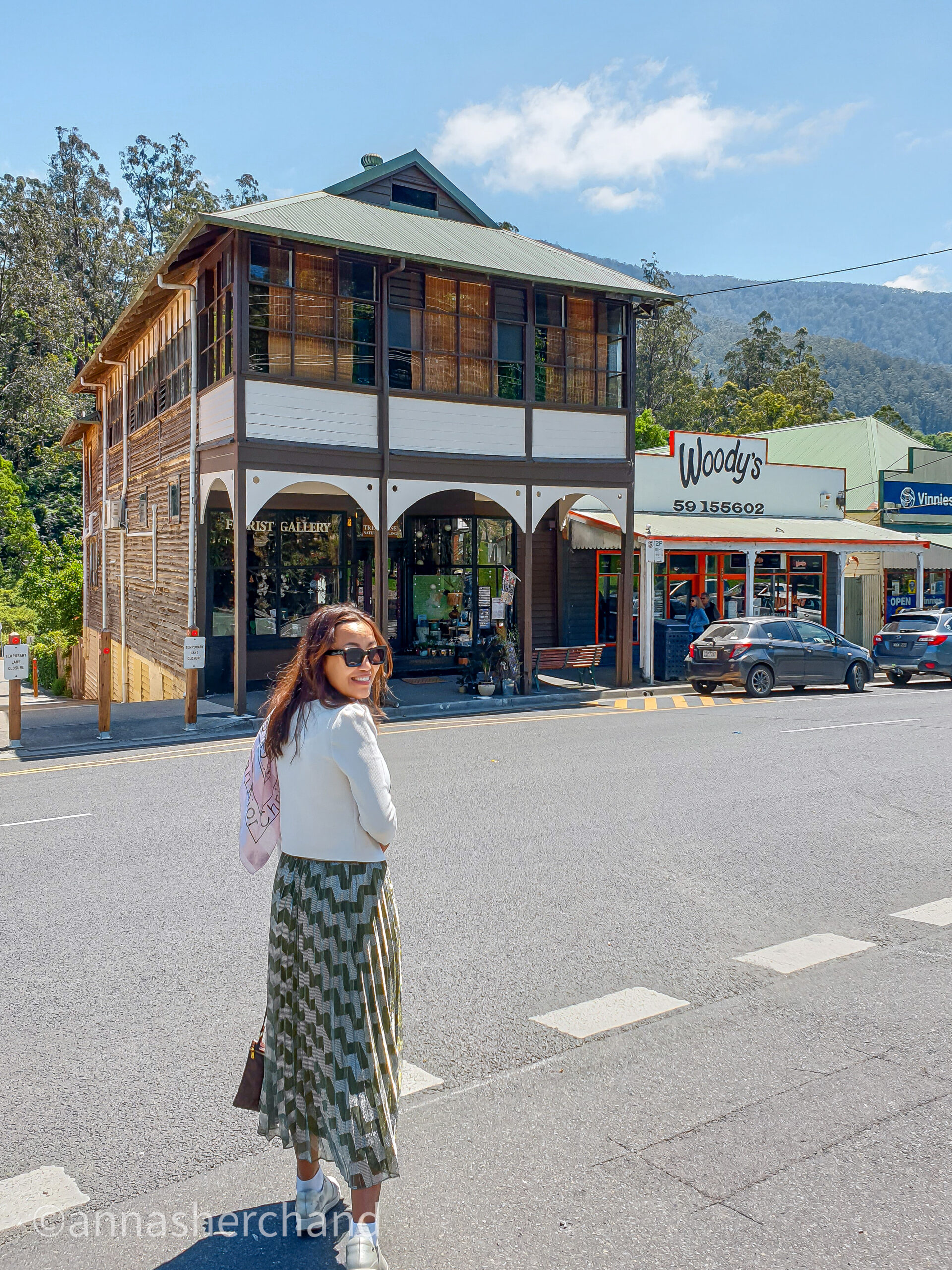 The next stop on the itinerary is another small town called Warburton. You can either wander along with the village on foot, through your window, or pop by Cog Bike Shop to hire a bike and explore the area or the numerous trails. Warburton boasts cute cafes, vineyards, cellar doors, orchards, and a golf club! and local's favorite Gladysdale Bakehouse. If you hired the bike, you can even ride all the way to Lilydale, stopping to take in the sights along the way. Cog bike offers lightweight bikes, e-bikes, and tandem bicycles also.
During the summer season, check out the blue lotus water garden, kookaberry strawberry farm, and cheery hill orchards (more on this below)
Seville Estate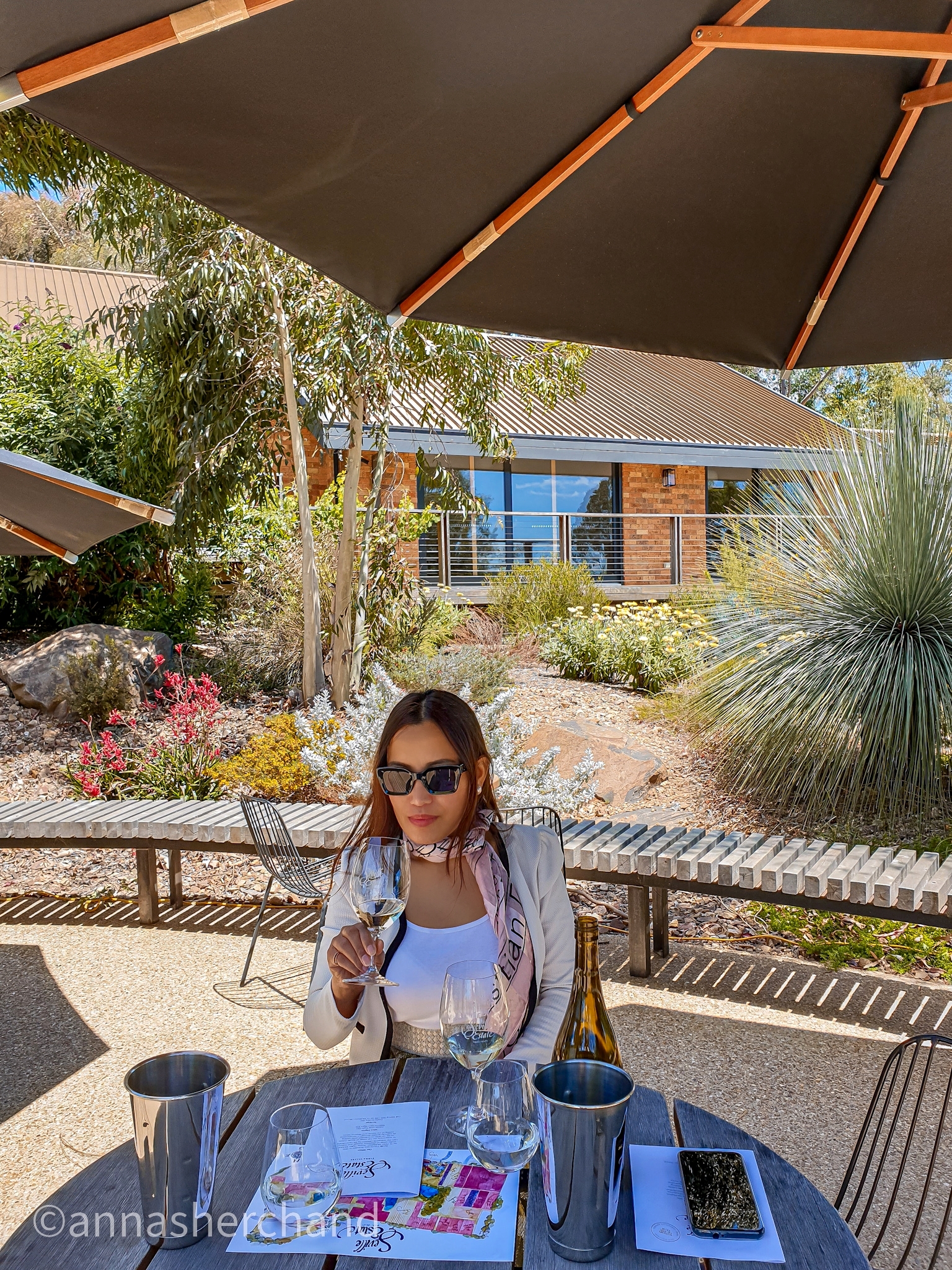 The Yarra valley itinerary and visit to the Dandenong ranges wouldn't be complete without sampling some wines. Recommend a visit to award-winning Seville Estate which is not only about the wine tasting but the whole experience from the moment you enter their beautifully landscaped gardens to the seating arrangement overlooking the reservoir and excellent winery service.
If you are inclined to stay a night or more, they also offer accommodation with a swimming pool, and a restaurant.
Lunch at the Cherry Hill Orchard with High Tea Mistress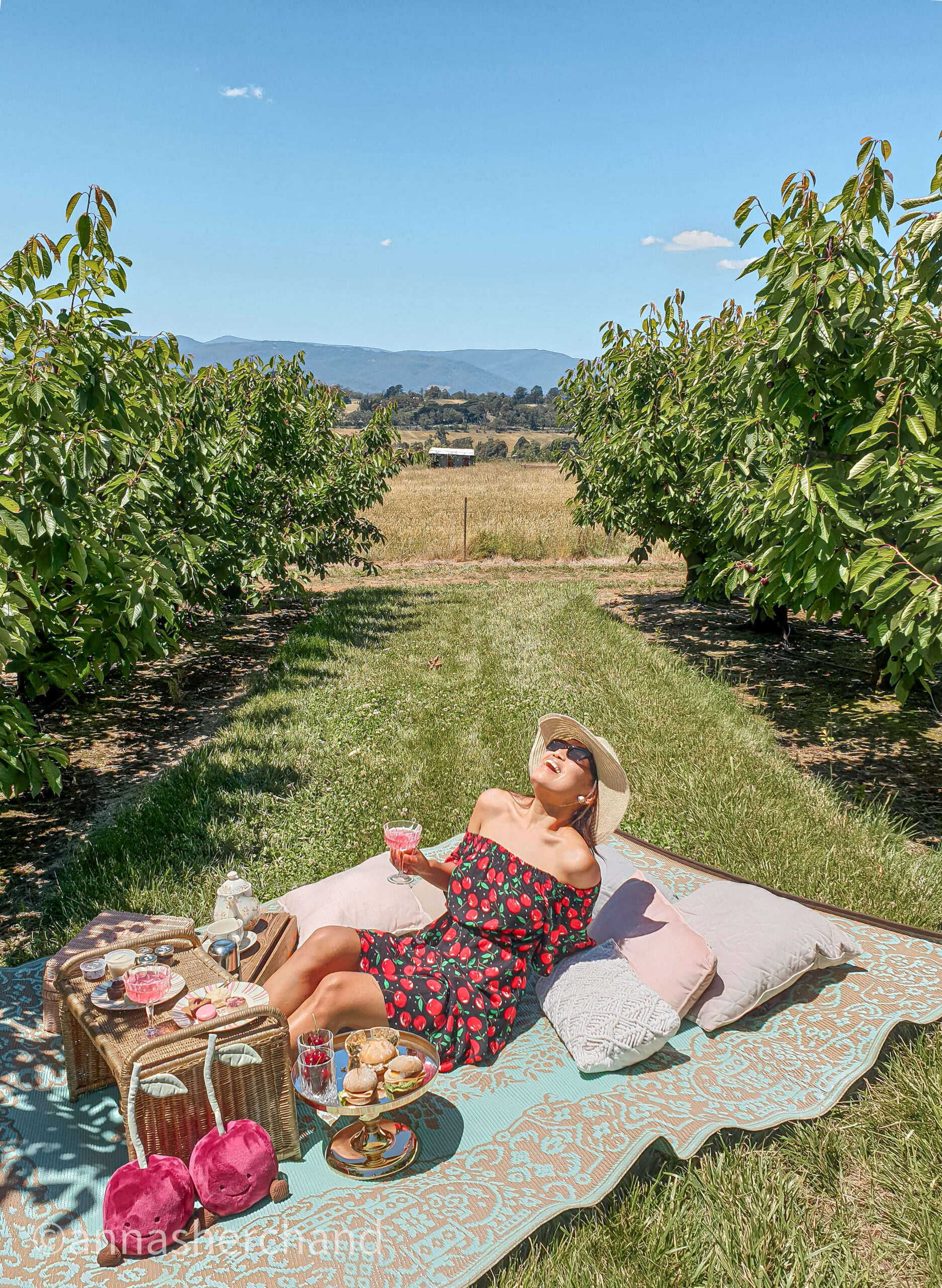 Always wanted to have a high tea in the middle of the cherry trees? Dreams do come true my friends! Let me explain, Cherry Hills Orchard is located in Yarra Valley and is known for producing some of the best cherries in Australia. They offer cherry-picking activities every season where you can visit and pick your very own sweet fresh cherries and try out their homemade cherry ice cream and unique cherry cider! I bought their cherry farm honey too!
The best part of this whole deal is, that this year high tea mistress is partnering with cherry hill orchards and offering excellent high tea in the Orchard! Such a memorable high tea experience decked out with everything all ready for you surrounded by the cherry trees and tastiest quiches, well-curated teas, cherry jams to go with scones, and sakura cocktails! and more. I suggest booking in advance as they do get booked out weeks in advance and don't forget to bring your camera!
Brumfield Estate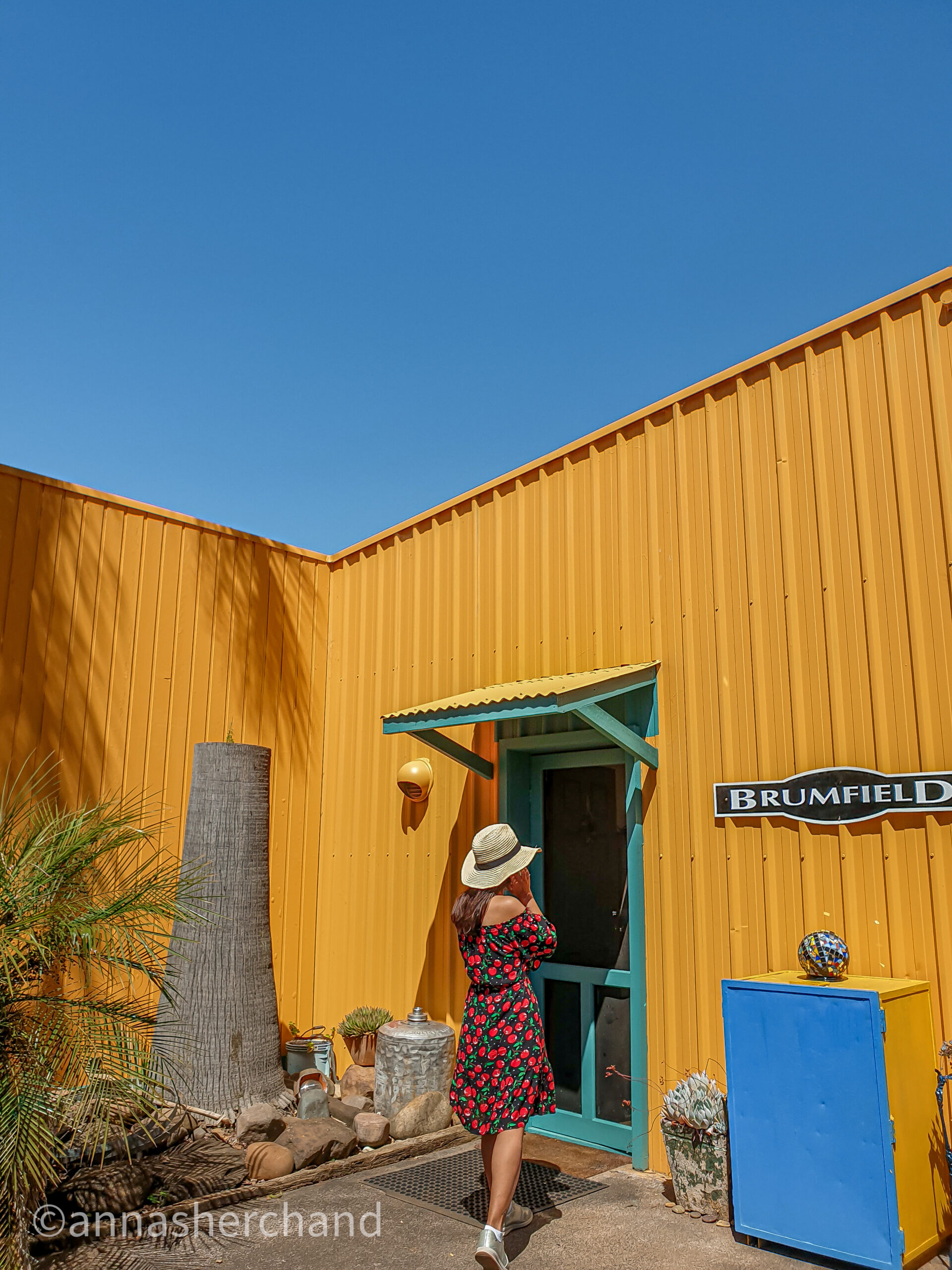 Seville Estate was a posh winery that you visited earlier in the day and now it is time to visit a different type of winery. A humble close-knit family-run Brumfield Estate just off the Warburton Highway. These two wineries are a world different but both are great in their own ways.
In Brumfield winery, the sparkling reds stand out for me. It was awesome to taste the wines with Anda and David the winemaker. Their knowledge and passion were awesome. It's rare to be able to have this access. Anda also makes these amazing sourdough bread and their daughter Li brews her own SLAQ Beer and their son also makes his own wine! The small family grows grapes, and hops and serves cheese made from cows a little further down the highway. This is a type of family winery that started the buzz in Yarra Valley where you can sit down, taste some glasses of wine, and go slow.
Something worth mentioning is if you are in the area wine blending classes, as well as stomping parties, are great fun too. Inquiry the wineries to book when they run them.
PS: Silvan Reservoir and Mount Evelyn are also worth exploring if you have more time on your hands.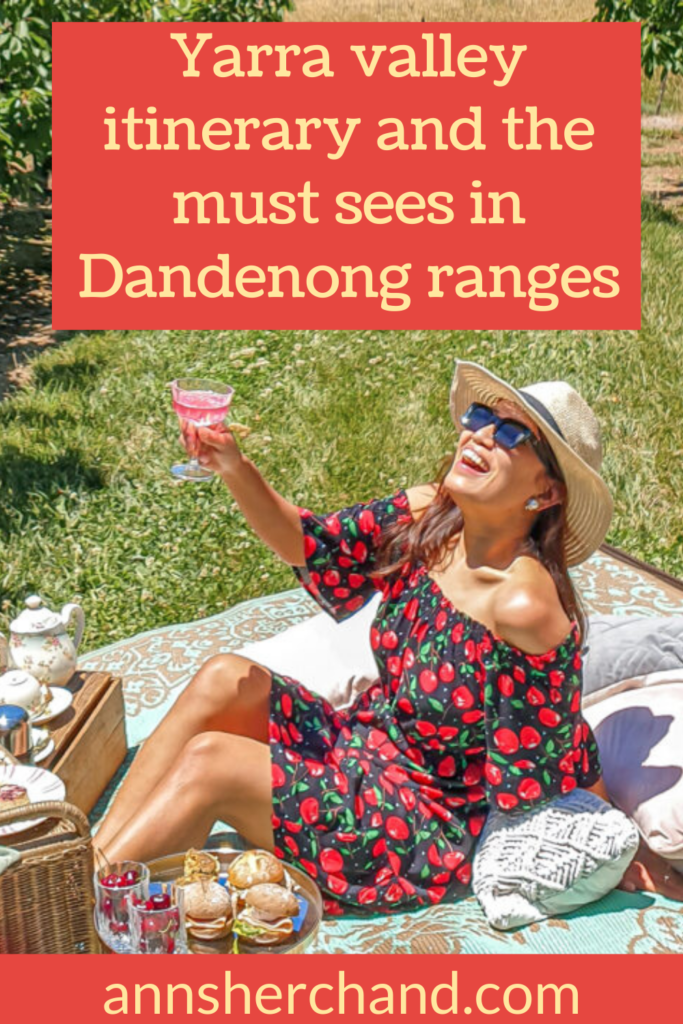 Here are some blog posts to help you
Yarra valley itinerary and the must sees in Dandenong ranges