Today I'm sharing about my 73rd country, the Kingdom of Tonga, specifically its stunning island of Tongatapu and vibrant capital city, Nuku'alofa. If you are considering visiting I hope this 5 days in Nuku'alofa Tonga itinerary helps you.
This is my 7th country in Oceania but prior to that, I used to think only couples, honeymooners, or families go to these Pacific islands. All about them package deals inclusive of flight and hotels, kid's club, nanny, romantic walks on the beach, buffet meals, and breakfast on bed. But now that I have solo traveled to two beautiful Pacific countries I can confirm that the above is true but I also met a few fellow solo travelers from around the world so there's that.
Tonga, a true gem in the South Pacific, holds a special place in the hearts of intrepid travelers. Tongatapu is the largest and most populous in the Kingdom. Its bustling capital, Nuku'alofa, is a vibrant hub where modern life intertwines harmoniously with Tonga's rich cultural heritage.
Tongatapu, adorned with lush landscapes, pristine beaches, and historic sites, is a treasure trove for explorers. From the ancient Ha'amonga 'a Maui Trilithon, a mysterious stone archway shrouded in legends, to the Royal Palace and Royal Tombs that reflect Tonga's regal history, every step on this island reveals a story waiting to be told.
With that being said, if you are hesitating about whether to go or not, I hope this 5 days in Nuku'alofa Tonga itinerary helps you make up your mind and that you will go and experience this magical island country. I will cover everything from must-sees to where to eat, where to stay, and more. Let's begin,
5 days in Nuku'alofa Tonga itinerary
Traveling alone is quite different, as opposed to moving with a tour company. Hence if you are traveling alone, you have the choice to travel however you want via flight, bus, ferry, train, or cruise ship. It all depends on your preferred mode of traveling and budget.
Let's start with how to get there, what to do, eat, where to stay, and day trips followed by the islands.
How to travel to Nuku'alofa?
Currently, there are two ways to get to Nuku'alofa from Australia and around the world. 1. Stop over in New Zealand, or Fiji and fly to Nuku'alofa or fly over from Australian cities such as Melbourne, Sydney, and Brisbane.
I landed on Tuesday in Nuku'alofa, and the international departing flight was available on Thursday or Saturday only. No other options, so plan accordingly. This route gave me about 5 days in Nuku'alofa and this is another reason why this itinerary is built with that timeframe in mind. Throughout the blog, I mention how I did things and tips so keep an eye out for it.

Landed past midnight but was glad there was a driver waiting for me sent from my accommodation, but first thing first, ATM and Digicel (phone and internet store) on the right was open and they had few options for data, I went with a tourist promo at the time which was 2GB for 24 hours and topped it up at their store in town after that. Good to go!
By Air: The most common way to travel to Nuku'alofa is by air. Fua'amotu International Airport (TBU) is the primary international gateway to Tonga, located approximately 21 kilometers from Nuku'alofa. Several airlines, including national carrier Real Tonga and international carriers such as Fiji Airways and Virgin Australia, operate flights to and from Tonga. You can book a flight from major airports in the Pacific region, such as Nadi International Airport in Fiji or Auckland Airport in New Zealand, which offer convenient connections to Tonga.

By Sea: If you prefer a more leisurely journey or want to explore the surrounding islands, you can consider traveling to Nuku'alofa by sea. Cruise ships often include Tonga on their itineraries, offering an opportunity to arrive in Nuku'alofa while enjoying the scenic beauty of the South Pacific. Additionally, there are cargo and passenger ferry services connecting Tonga to neighboring islands such as Fiji, Samoa, and Ha'apai. It's advisable to check the schedules and availability in advance, as they may vary.

Visa Requirements: Before traveling to Nuku'alofa, ensure that you have the necessary travel documents. Tonga has specific visa requirements that depend on your nationality. Some countries may qualify for visa-free entry, while others may need to obtain a visa in advance. It's recommended to check with the Tongan consulate or embassy in your home country to confirm the visa requirements applicable to you. Australian passport holders get on arrival visa in Nuku'alofa.
How to get around Tonga?
Getting around Tonga, both within Nuku'alofa and throughout the islands, can be an exciting and rewarding experience. Here are some transportation options to consider:
Taxis: Taxis are a convenient and widely available mode of transportation in Nuku'alofa and other major towns in Tonga. You can easily find taxis near popular tourist areas, and outside hotels. It's advisable to negotiate the fare with the driver before starting your journey, as taxis generally do not use meters.

Personally, I used a few different drivers like a woman driver which the restaurant called for me, and also this driver – Semisi +676 771 7776 and his family. I went to many different places in Nuku'alofa and when Semini was busy he sent his wife and his youngest son the other time. They were all reliable and punctual and they also drive a big bus if your party needs one! Taxi ph no might be useful for your stay in Nuku'alofa or you can go around using the other methods below.

Rental Cars and Scooters: Renting a car or scooter can provide you with the flexibility to explore Tonga at your own pace. Several car rental agencies operate in Nuku'alofa, offering a range of vehicles to suit different needs. Keep in mind that driving is on the left side of the road in Tonga, and an international driver's license or Tongan driver's license is required.

Bicycles: For a more eco-friendly and leisurely way to explore Nuku'alofa, consider renting a bicycle. Bicycles can be rented from various rental shops, and they are particularly popular for short trips within the city or along the coastline.

Public Buses: Public buses, known as "Lea faka-Tonga" or "Tonga Buses," provide an affordable means of transportation around Nuku'alofa and between towns on the main island of Tongatapu. The buses are colorfully decorated and can be identified by their unique designs. Fares are generally paid in cash when boarding the bus. It reminded me of the "chicken buses" in Central America where they decorate the old school buses from the US!

Ferries and Boats: If you plan to explore other islands in Tonga, such as Ha'apai or Vava'u, ferry services are available. These services connect various islands and offer a scenic and enjoyable way to travel between destinations. It's recommended to check the ferry schedules in advance, as they may have limited departures.

Domestic Flights: If you're looking to visit islands that are farther away, such as the remote Niua islands, ʻEua, domestic flights are available. Real Tonga Airlines operates regular flights between Tongatapu and other islands, providing a quicker way to reach more remote destinations.
How many days in Tonga is enough?
Over the years I have learned that figuring out why you want to go to a certain destination will make it easier to plan your trip. For example, if you want to travel to Tonga for an adventure in nature, or you will want to make a plan to visit some of the more remote islands. Or perhaps you have enough time to plan a bit of both worlds?
Regardless, I would say 5 days is the minimum time to spend on your Tonga solo travels. You will most likely start your journey in Nuku'alofa, explore major spots, activities then get around the islands of ʻEua & others for a multi-night trip.
Where to stay in Nuku'alofa?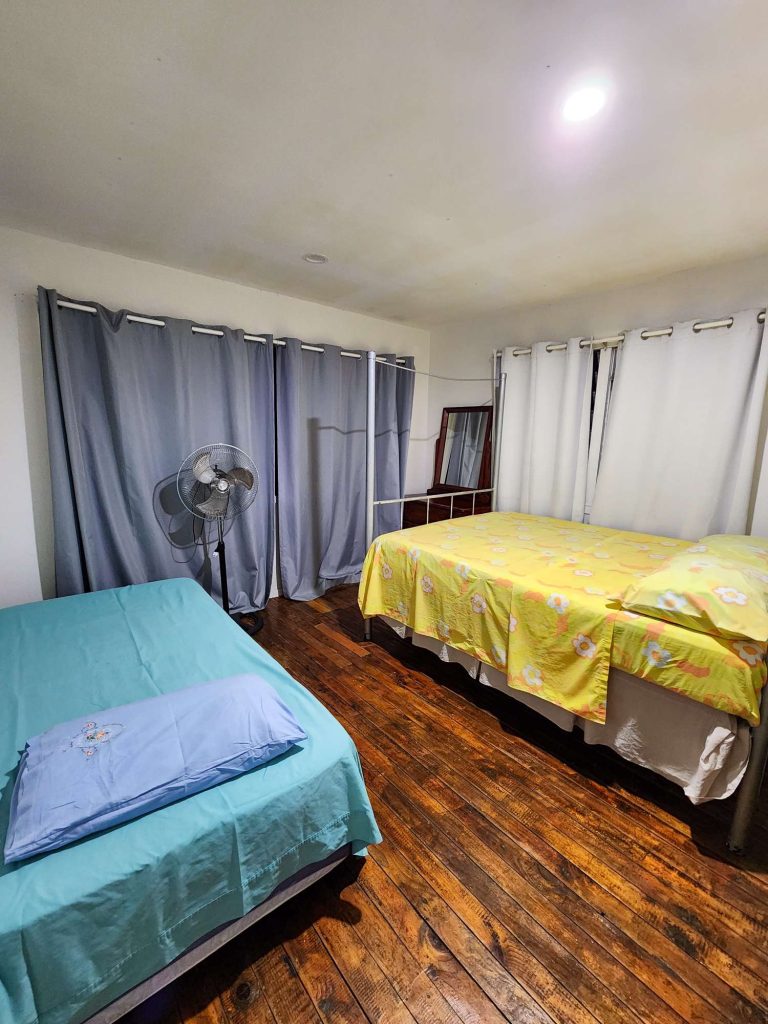 When I went there in 2023, there were 12 accommodation choices in Nuku'alofa from four stars hotels to 2-star hostels. After all the research I stayed at Dayspring Lodge. My room had a double bed and a single bed which I didn't have to share and with delicious fresh breakfast every day. It was 40 mins walk to town or 10 Tongan Paʻanga by taxi and the cost was about $70 per night. I am so glad, my host was hospitable, even arranged airport pickup past midnight and it was clean, and safe, and also met other female travelers there.
Alternatively, if you are on a budget there is a hostel in town called The Village Backpackers.
4 star Boutique Hotel. Such as Seaview Lodge and Restaurant, Tanoa International Dateline Hotel, House of Tonga, Little Italy Hotel, or Waterfront Lodge.
Here are some areas and types of accommodations to consider when choosing where to stay in Nuku'alofa:
Central Business District (CBD): The CBD of Nuku'alofa is a popular area for accommodations, as it is centrally located and offers easy access to shops, restaurants, markets, and waterfront attractions. You'll find a mix of hotels, guesthouses, and bed and breakfast establishments in this area, catering to different budgets and preferences.

Waterfront Area: The waterfront area, particularly Vuna Road, is another desirable location for accommodations. This area provides stunning ocean views and is within walking distance of the Royal Palace, Talamahu Market, and other key attractions in Nuku'alofa. Some hotels and guesthouses along the waterfront offer rooms with balconies or patios overlooking the sea.

Fua'amotu: If you prefer to stay outside the city center, Fua'amotu, located near Fua'amotu International Airport, offers a quieter and more relaxed atmosphere. There are a few hotels and guesthouses in this area that provide convenient access to the airport and are a short drive away from Nuku'alofa.

Hala Vuna: Hala Vuna, also known as Vuna Road Extension, is a residential area located slightly outside the city center. It offers a peaceful setting while still being within walking distance or a short taxi ride to the main attractions of Nuku'alofa. You'll find a mix of hotels, guesthouses, and holiday rentals in this area.

Luxury Resorts: For those seeking a more upscale experience, there are a couple of luxury resorts located a short distance from Nuku'alofa. These resorts offer a range of amenities such as private beaches, swimming pools, spa facilities, and fine dining options. They provide a tranquil and indulgent retreat for travelers looking for a luxurious stay.
When selecting accommodations in Nuku'alofa, consider factors such as proximity to attractions, amenities offered, budget, and personal preferences. It's advisable to book in advance, especially during peak travel seasons, to secure your preferred choice of accommodation.
When is the best time to visit Nuku'alofa?
The best time to visit Nuku'alofa and Tonga, in general, is during the dry season, which typically spans from May to October. During this period, you can expect pleasant weather, lower humidity levels, and fewer rainfall days, making it an ideal time to explore the outdoors and enjoy various activities. The average temperatures range from 20°C (68°F) to 25°C (77°F), providing comfortable conditions for exploring the city and the surrounding islands. Actually, it was 30 degrees one day I was there, so def bring sunscreen.
Here's a breakdown of the seasons in Tonga:
Dry Season (May to October): The dry season is characterized by sunny days, cooler temperatures, and lower humidity. It's an excellent time for outdoor activities such as snorkeling, diving, and exploring the islands. The months of July and August tend to be the coolest, while September and October gradually become warmer. It's worth noting that whale watching season, when humpback whales migrate to the Tongan waters, begins in July and extends into October.

Wet Season (November to April): The wet season in Tonga brings warmer temperatures and increased rainfall. While tropical showers can occur throughout the year, the wet season experiences more frequent and intense rainfall, often in the form of short afternoon showers or overnight storms. The wet season also coincides with the cyclone season in the South Pacific, with the highest risk occurring from January to March. It's essential to stay updated on weather forecasts and follow any advisories during this period.
It's worth considering your specific interests when deciding on the best time to visit Nuku'alofa. If you're primarily interested in marine activities such as snorkeling, diving, or whale watching, the dry season is the most suitable. However, if you prefer a quieter and more budget-friendly experience, the shoulder seasons (April to May and September to October) can offer a good balance of favorable weather and fewer crowds.
Ultimately, the best time to visit Nuku'alofa depends on your personal preferences, availability, and tolerance for tropical weather conditions. Regardless of the season, the warm hospitality and rich cultural experiences of Tonga await you throughout the year.
This island country has a wonderful tropical climate which means there are mosquitoes so make sure to bring repellent and sunscreen.
Is Nuku'alofa safe for solo travelers?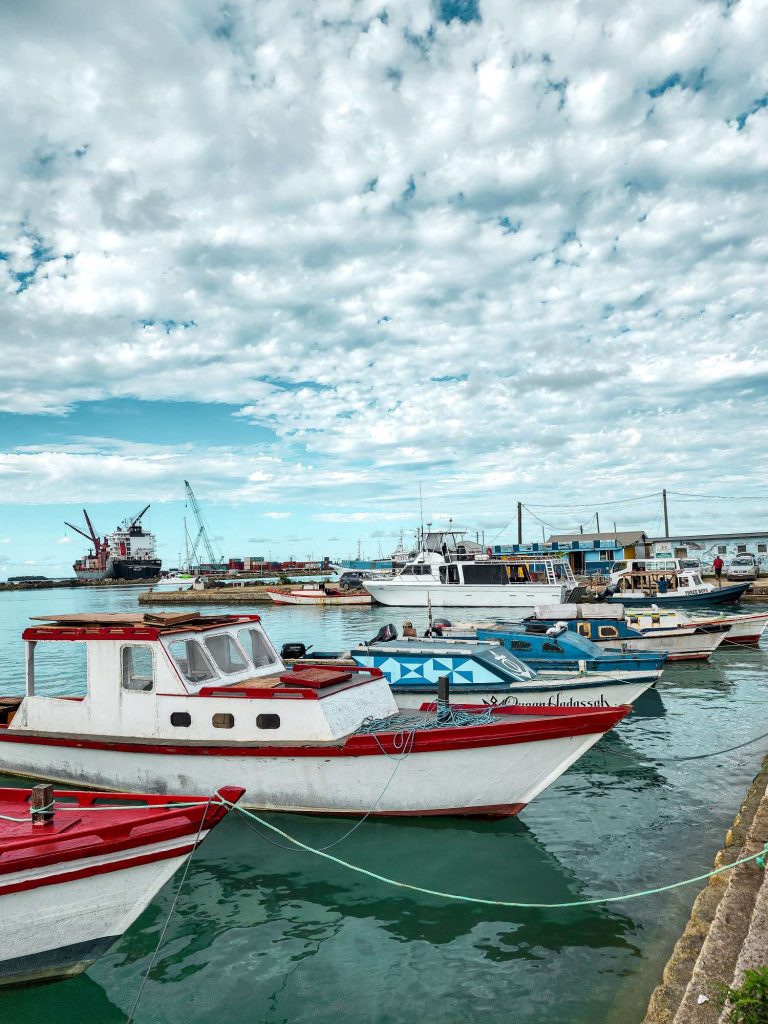 First of all, let's establish the understanding of traveling is brutality! It forces you to trust strangers and to lose sight of all that familiar comfort of home and friends. You are constantly off balance. Nothing is yours except the essential things – air, sleep, dreams, the sea, the sky – all things tending towards the eternal or what we imagine of it. If you are okay with it, you will adapt, and you will survive.
That being said, People in Nuku'alofa were generally friendly regardless of where you come from so unless there is a drastic change in the country's political situation, pandemic, or some natural disaster it is safe to travel to Nuku'alofa. Just remember to apply a general rule of thumb as below,
Research and Plan Ahead: Before your trip, gather information about the country and if you are reading this blog, pat yourself on the back. Understanding and respecting the local culture will help you blend in and have a more positive experience. Additionally, have at least a rough idea of places you plan to visit and familiarize yourself with the local transportation options.

Dress Modestly: Tonga is a conservative country, and it is advisable to dress modestly, particularly when visiting public places or religious sites. Wearing attire that covers shoulders and knees is generally appreciated and shows respect for local customs.

Stay Alert and Trust Your Instincts: While Nuku'alofa is considered safe, it's important to stay alert and aware of your surroundings. Trust your instincts and avoid situations or places that make you feel uncomfortable. It's advisable to avoid walking alone late at night and to stick to well-lit and populated areas.

Use Reliable Transportation: When moving around the city, choose reputable taxis or established transportation services. If you decide to rent a car or scooter, ensure you are familiar with the local driving rules and regulations. Avoid accepting rides from strangers and be cautious when using public transportation.

Secure Your Belongings: As with any travel destination, take precautions to secure your belongings. Use a hotel safe or lockable storage for valuable items, and keep an eye on your belongings in public places. Be mindful of your bags and avoid displaying expensive items that may attract unnecessary attention.

Communicate and Share Your Itinerary: Inform a trusted person about your travel plans and itinerary. Share your contact details, accommodation information, and any updates on your activities. Regular communication with family or friends can provide an added sense of security during your solo trip.
By following these general safety tips and using common sense, you can enjoy a safe and memorable experience as a solo female traveler in Nuku'alofa. Embrace the warm hospitality of the local people, immerse yourself in the culture, and savor the beauty of Tonga's captivating capital.
Local currency:
In Tonga, the local currency is called the Pa'anga (TOP), and it is the official currency of the country. The Pa'anga is divided into 100 senitis, which are coins of smaller denominations. When traveling to Tonga, it's recommended to have some local currency on hand for smaller purchases and transactions.
Exchanging currency: Upon arrival in Tonga, you can exchange major currencies, such as US dollars, Australian dollars, or New Zealand dollars, into Tongan Pa'anga at banks, exchange offices, or some hotels. Banks generally offer competitive exchange rates, and it's advisable to compare rates and fees before making the exchange.
ATMs: ATMs are available in major towns and cities in Tonga, including Nuku'alofa. It's convenient to withdraw Tongan Pa'anga from ATMs using your international debit or credit card. However, it's essential to be aware of any potential fees imposed by your bank for international withdrawals and to notify your bank of your travel plans to avoid any issues with your card.
Credit cards: Major credit cards, such as Visa and Mastercard, are accepted at some hotels, resorts, and larger businesses in Tonga. However, it's important to note that credit card acceptance may be limited, particularly in smaller establishments or more remote areas. It's advisable to carry some cash or have alternative payment methods available, especially for smaller establishments and local markets.
Budgeting and fees: When planning your budget for Tonga, consider any bank fees or charges associated with currency exchange or ATM withdrawals. These fees can vary depending on your bank and the specific ATM or exchange service used. It's advisable to check with your bank regarding any international transaction fees and to compare rates to ensure you're getting the most favorable exchange rates available.
As you enjoy your time in Tonga, having some local currency will make it easier to pay for small purchases, local transportation, and experiences in markets or smaller establishments. With the appropriate preparation and awareness of fees, you can effectively manage your currency needs while exploring the beautiful islands of Tonga.
People, the Internet, and more
People and Language: Tonga is known for its friendly and hospitable people. Tongans are proud of their rich cultural heritage and are often eager to share it with visitors. The local population predominantly speaks Tongan, which is the official language of the country. However, you'll find that many people in Nuku'alofa also have a good command of English, making communication easier for travelers.
Internet Connectivity: In Nuku'alofa, you can expect to find internet connectivity options to stay connected during your visit. Most hotels, resorts, and some hostels may provide complimentary Wi-Fi for guests. Additionally, various cafes, restaurants, and public areas may offer free Wi-Fi access too. However, the speed and reliability of the internet may vary depending on the location.
If you plan to stay in Nuku'alofa for an extended period or require reliable and continuous internet access, purchasing a local SIM card with a data plan is recommended. Two major telecom providers in Tonga are Digicel and Tonga Communications Corporation (TCC). SIM cards and data plans from these providers can be purchased at the airport, convenience stores, supermarkets, and the providers' stores in Nuku'alofa. I went with Digicel, I had bought one at the airport as mentioned above then I topped it up at their store in town.
Before purchasing a SIM card, it's advisable to compare the data packages and rates offered by different providers to find the most suitable option for your needs. Having a local SIM card will allow you to have internet access on your mobile devices and stay connected while exploring the city and its surroundings.
Regarding vaccinations, it's always a good idea to consult with a healthcare professional or travel clinic before traveling to Nuku'alofa, Tonga, to ensure you have the appropriate vaccinations and medical advice specific to your circumstances. While there may not be specific requirements for yellow fever or cholera vaccinations in Tonga, it's important to stay updated on general travel health recommendations.
Download Google Maps for ease of finding routes, offline use, Drive, and Calendar for time management, and storing pictures.
What to eat in Nuku'alofa?
When visiting Nuku'alofa, Tonga, you'll have the opportunity to indulge in a variety of delicious local dishes. Here are some must-try foods in Nuku'alofa:
Lu Sipi: Lu Sipi is a mouthwatering Tongan dish made with marinated lamb. The lamb is slow-cooked in a rich blend of spices, coconut milk, and vegetables, resulting in tender and flavorful meat. It's often served with root crops like taro or cassava.

Ota ika: Ota ika is a Tongan version of ceviche, a dish made with fresh raw fish marinated in lime or lemon juice. The fish is typically combined with coconut cream, onions, tomatoes, and various seasonings to create a refreshing and tangy seafood delicacy.

Feke (Octopus): Octopus is a popular seafood ingredient in Tongan cuisine. It is often prepared by simmering it in coconut milk, onions, garlic, and various spices. The tender octopus is then served with root crops or rice, creating a flavorsome and hearty dish.

'Ota Miti: 'Ota Miti is a refreshing Tongan salad made with fresh vegetables such as cucumber, tomatoes, onions, and coconut cream. It's a perfect side dish to complement the flavors of other Tongan dishes and adds a cool, crisp element to your meal.

Faikakai (Tongan donut): Faikakai is a traditional Tongan sweet treat that resembles a donut. These deep-fried delights are made from a mixture of flour, coconut milk, and yeast, resulting in a fluffy and slightly sweet pastry. They are often enjoyed as a snack or dessert.

Fresh Tropical Fruits: Tonga is blessed with an abundance of tropical fruits. Take the opportunity to savor seasonal fruits like mangoes, papayas, pineapples, bananas, and coconuts. You can find them at the local food market or roadside stalls, where you'll get to experience the vibrant flavors of the islands.
Best places to eat in Nukualofa?
In Nuku'alofa, the capital city of Tonga, you can find a range of restaurants and eateries offering a variety of cuisines. Here are some popular places to eat in Nuku'alofa:
Friends Cafe: Friends Cafe is a well-known establishment in Nuku'alofa, offering a relaxed atmosphere and a diverse menu. They serve a range of international dishes, including burgers, sandwiches, salads, and seafood. The cafe also hosts live music performances, making it a popular spot for locals and visitors alike.

Waterfront Cafe & Restaurant: Situated along the waterfront, Waterfront Cafe & Restaurant offers beautiful views of the ocean. They specialize in seafood dishes, including freshly caught fish and delicious lobster. The restaurant also serves a variety of international and Tongan-inspired dishes, ensuring there's something for everyone. There was a Chinese restaurant I went to in front of the waterfront too which was not bad.

Little Italy: Craving Italian cuisine? Head to Little Italy, a cozy restaurant that serves authentic Italian dishes in Nuku'alofa. From traditional pasta and wood-fired pizzas to antipasti and homemade gelato, this restaurant offers a delightful Italian culinary experience.

Billfish Bar & Restaurant: Located in the Tanoa International Dateline Hotel, Billfish Bar & Restaurant offers a relaxed setting with ocean views. They specialize in seafood dishes, including Tongan-style grilled fish, seafood platters, and Pacific-inspired cuisine. The bar also offers a variety of beverages, including local beers and cocktails.

Mango Tree Cafe: Mango Tree Cafe is a popular spot for breakfast, brunch, and lunch in Nuku'alofa. They serve a range of dishes, including fresh salads, wraps, sandwiches, and smoothies. Their menu features healthy and vegetarian options, making it a great choice for those with specific dietary preferences.

The Wharf Cafe: The Wharf Cafe is located near the waterfront and offers a relaxing ambiance with ocean views. They serve a mix of international and Pacific-inspired dishes, including fresh seafood, salads, burgers, and local favorites. The cafe also has a bar area where you can enjoy a refreshing drink.
Markets in Nuku'alofa
In Nuku'alofa, the capital city of Tonga, you can explore several markets that offer a vibrant and bustling atmosphere. Here are a few notable markets to visit:
Talamahu Market: Talamahu Market is a bustling market located in the heart of Nuku'alofa. It is the largest market in Tonga and offers a wide range of fresh produce, including fruits, vegetables, root crops, and locally caught seafood. You'll also find vendors selling handicrafts, clothing, and traditional Tongan goods. It's a great place to immerse yourself in the local culture and experience the sights, sounds, and flavors of Tonga.

One day, when I went there to buy a coconut they were all out and I found roadside stalls selling coconuts in a bag 5 and when asked if they would sell 1 answer was negative. Understand locals want to make a living but in my last country Samoa- Apia, I was buying coconuts for 2.50 Samoan Tālā in the market.

Vuna Road Fresh Produce Market: Located near the waterfront in Nuku'alofa, the Vuna Road Fresh Produce Market is a popular spot for locals to purchase fresh fruits, vegetables, and other food products. The market offers a wide variety of seasonal produce and is known for its lively atmosphere. It's a great place to explore the local flavors and interact with friendly vendors.

Nuku'alofa Flea Market: The Nuku'alofa Flea Market is a smaller market located in the city center, offering a mix of second-hand items, clothing, handicrafts, and local produce. It's a treasure trove for unique finds, and you may come across traditional Tongan handicrafts, artwork, and souvenirs. The market seems like a popular spot for locals and you might discover some hidden gems while exploring the stalls.
What to drink in Nuku'alofa?
When in Nuku'alofa, Tonga, you'll have a variety of beverages to try, ranging from refreshing local drinks to popular international choices. Here are some recommendations:
Kava: Kava is a traditional drink deeply rooted in Tongan culture. Made from the ground root of the kava plant mixed with water, it is known for its relaxing and calming effects. Kava is often consumed during social gatherings, ceremonies, or simply as a way to unwind. It has an earthy taste and is typically served in a communal bowl, encouraging a sense of togetherness and community. It's important to drink kava responsibly and be aware of its effects.

Coconut Water: Tonga's abundant coconut trees provide an opportunity to enjoy fresh and hydrating coconut water. Sip on the naturally sweet and refreshing water straight from a young coconut for a tropical treat. It's a great way to stay hydrated in the warm Tongan climate.

Local Juices: Explore the flavors of Tonga by trying local fruit juices. From mango and pineapple to papaya and guava, you'll find a variety of tropical juices available. These juices are often made from fresh, locally grown fruits, providing a delightful and flavorful experience.

Tusker Beer: Tusker beer, a popular choice in Tonga, is a locally brewed beer with a distinct taste. It's a refreshing beverage to enjoy, particularly on a warm day or alongside a traditional Tongan meal.

International Selection: In addition to local beverages, Nuku'alofa also offers a range of international options. You'll find popular soft drinks, carbonated beverages, and a selection of wines and spirits available at restaurants, bars, and hotels.
When indulging in local beverages like kava, it's important to respect cultural traditions and drink responsibly. As with any alcoholic beverage, moderation is key. Embrace the flavors of Tonga and enjoy the diverse drink options available during your time in Nuku'alofa.
5 days in Nuku'alofa Tonga itinerary
Now that we got the practical tips out of the way, let's get into the best places to visit during your solo trip to Vanuatu and day trips from it.
Where to go in Nuku'alofa
In Nuku'alofa, the capital city of Tonga, there are several attractions and places worth visiting. Here are some recommendations for places to explore.
Day 1 – all within the town so easy walking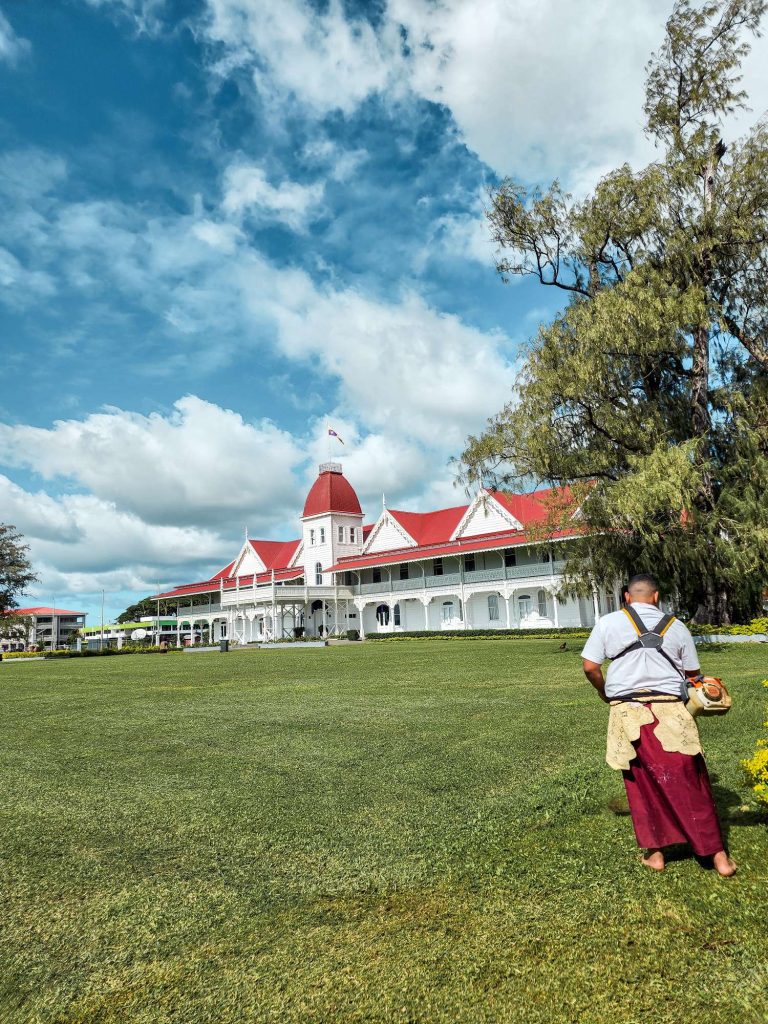 Royal Palace: Begin your journey by visiting the Royal Palace, the official residence of the King of Tonga. While the palace grounds are not open to the public, you can admire its beautiful architecture from the outside and capture memorable photos. The surrounding area, known as Pangai Si'i, offers a pleasant stroll with well-manicured gardens and charming historical buildings.

Talamahu Market: Immerse yourself in the vibrant local culture by visiting Talamahu Market, the largest market in Tonga. Explore the stalls filled with fresh produce, tropical fruits, vegetables, handicrafts, and local delicacies. Engage with friendly vendors, sample traditional snacks, and soak up the bustling atmosphere of this bustling marketplace.

Centenary Church: Pay a visit to the Centenary Church, a prominent landmark in Nuku'alofa. This historic church, built in 1924, showcases impressive Tongan architecture and features beautiful stained glass windows. It is an important religious and cultural site in Tonga and offers a serene atmosphere for reflection.

Tonga National Museum: This is a new museum that recently opened showcasing its traditions and history. Although it is only a room but as you start talking to the staff there, it made my visit more interesting.

Tungi Arcade: Located near the waterfront, Tungi Arcade is a shopping complex that offers a mix of retail shops, boutiques, cafés, and restaurants. It's a great place to browse for souvenirs, shop for local crafts, or enjoy a meal while enjoying views of the ocean. The arcade also hosts occasional cultural performances and events.
Day 2 – East and South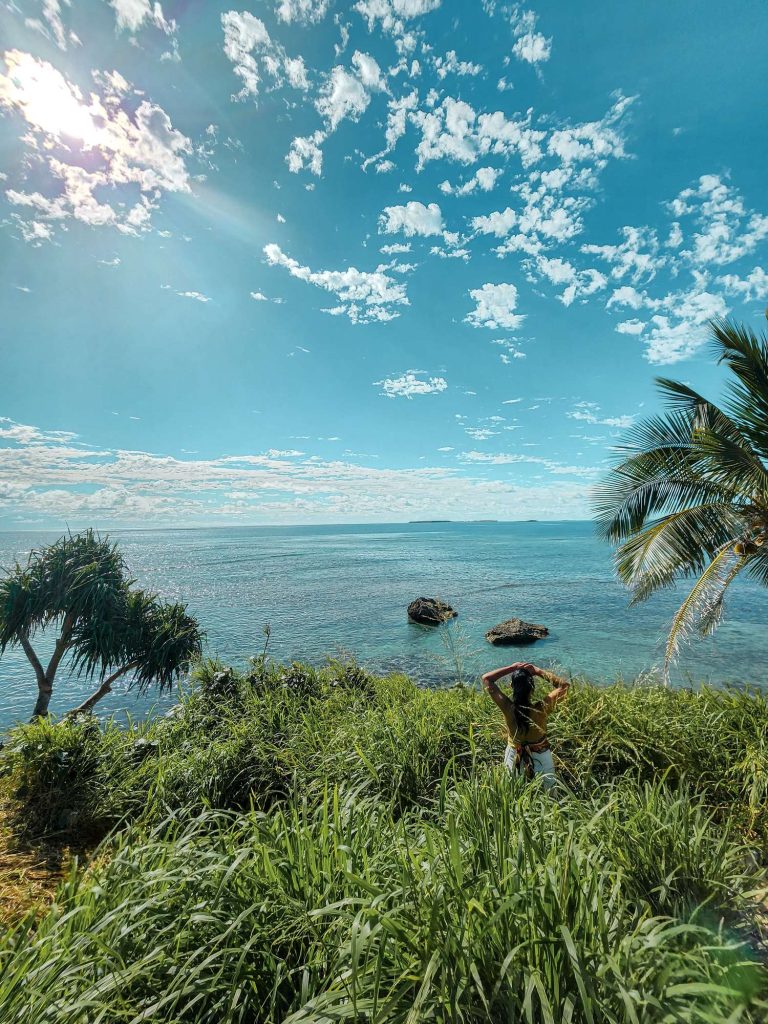 Kolovai Village- Place famous for the fruits bats or peka which live in the casuarina trees.

Visit the Abel Tasman Landing Site, which marks the spot where Dutch explorer Abel Tasman made his first landing in Tonga. This historical site holds significance as a point of early European exploration in the Pacific region.

Christianity Landing Place: Explore the Christianity Landing Place, where Christian missionaries first set foot on Tongatapu, marking the beginnings of the introduction of Christianity to the islands. This historic site played a pivotal role in shaping Tonga's religious and cultural landscape.

Tonga offers more than just cultural immersion – Picture-perfect beaches like Ha'atafu, Vakaloa, or Liku'alofa beaches beckon you to bask in the sun and dip your toes in the crystal-clear waters of the South Pacific. Be careful of the current & your surroundings.

Tsunami Rock – aka Tsunami Stone or Hina Cave, is a significant geological formation on the southeastern coast of Tongatapu. It is believed to be the largest tsunami debris ever found which serves as a memorial to the 2009 tsunami that struck Tonga, symbolizing the destructive power of natural disasters and the resilience of the local community. It stands as a place of reflection and remembrance, drawing visitors to pay respects and contemplate the importance of disaster preparedness and community solidarity, showcasing the strength and resilience of the Tongan people in the face of adversity.

Mapu'o Vaea – aka the 'Blowholes', is a captivating natural phenomenon located on the southern coast of Tongatapu. These blowholes are formed by powerful waves crashing against the rugged shoreline, creating spectacular water spouts that shoot up into the air. The force of the waves propels water through underground lava tubes, resulting in a mesmerizing display of nature's power. Visitors can witness this awe-inspiring sight, feel the refreshing mist, and marvel at the raw beauty of the ocean's might as they explore the rocky coastline and experience the impressive force of the blowholes.

Three-headed Coconut Tree – It is one of the natural wonders of the Polynesian world. This is on the side of the road so consider 2 minutes for it. A unique natural marvel that captures attention with its unusual growth pattern. This fascinating coconut tree possesses three distinct trunks emerging from a single base, giving it a distinctive appearance. It is a rare occurrence in the plant kingdom and serves as a captivating example of nature's diversity and unpredictability.
Day 3 – South West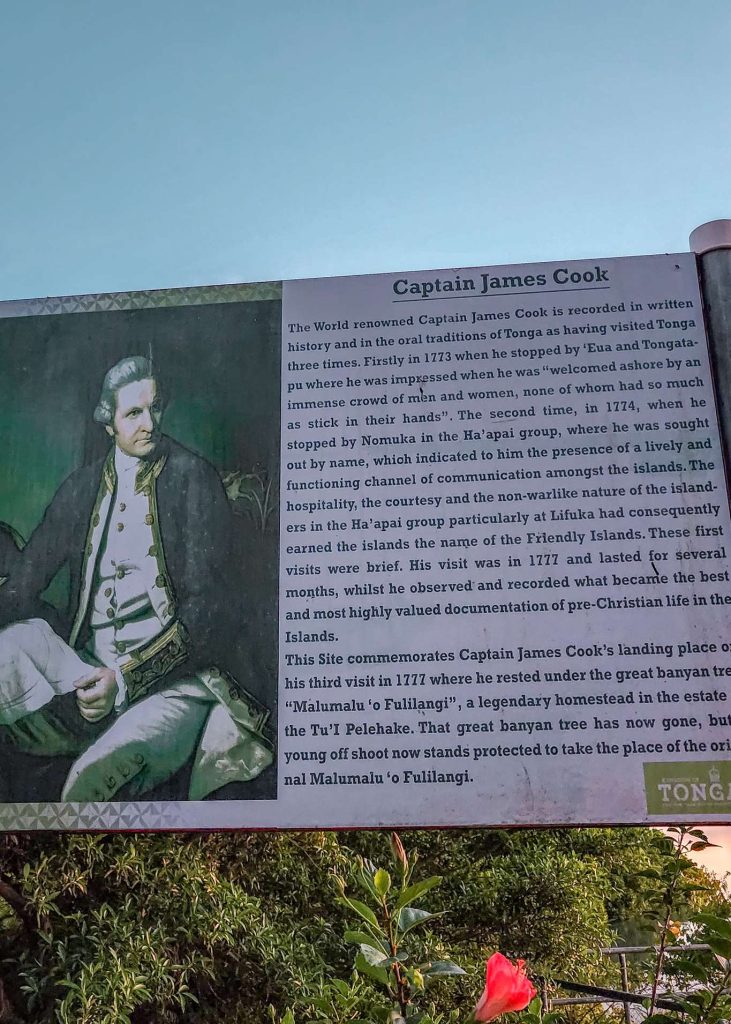 Hufangalupe Natural Land Bridge – It is a unique geological formation located on the southern coast of Tongatapu. It is a naturally formed limestone bridge that connects two coastal cliffs, resembling a bridge created by nature. This land bridge offers picturesque views of the surrounding coastline and provides an opportunity for visitors to walk across and appreciate the natural beauty of the area. Exploring Hufangalupe Natural Land Bridge allows you to witness the fascinating geology of Tongatapu and enjoy the scenic coastal landscapes.

Captain Cook's Landing Place – Captain Cook's Landing Place in Tonga refers to the historical site where renowned explorer Captain James Cook is believed to have first landed during his voyages in the 18th century. Located in Mu'a village on Tongatapu's eastern coast, this significant landmark marks the initial recorded encounter between Europeans and Tonga's indigenous people, shaping subsequent European exploration and cultural exchange in the region. While the exact landing spot remains debated, visiting the area provides an opportunity to reflect on this historical event and appreciate Tonga's rich cultural heritage.

Royal Terraced Tombs in Lapaha – The Royal Terraced Tombs in Lapaha, Tonga, is a collection of sacred burial sites that serve as the final resting place for Tongan monarchs. Located in the village of Lapaha on the island of Tongatapu, these tombs hold great historical and cultural significance. The terraced design of the tombs is an architectural marvel, featuring stacked stone platforms that house the tombs of past Tongan rulers. You can explore the site, learn about Tonga's royal heritage, and pay respects to the monarchs who played significant roles in shaping the nation's history. It is a place where visitors can gain insights into Tonga's rich cultural traditions and connect with the country's regal past.

Fishing Pigs – Like the pigs in the Exuma Cays of the Bahamas, these unusual pigs "fish" for food with their snouts in the tide. I was there in the early morning so didn't see one hope you do!

Ha'amonga 'a Maui Trilithon – This ancient stone structure is believed to have been built around 1200 A.D. and is an important cultural and historical site. The trilithon consists of three coral limestone slabs, and its purpose and origin continue to be subjects of debate and intrigue.

Anahulu Caves – Anahulu Cave, located on the eastern side of Tongatapu, is a natural wonder worth exploring. The cave features a freshwater pool where you can swim and cool off. The underground limestone formations and stalactites add to the cave's beauty. Guided tours are available to learn more about the geological and cultural significance of the cave. Don't forget to pack your swimsuit!

Beaches – Around this area, there are many beaches to choose from such as Maka'aku, Fua'amotu, Laulea, Liku'alofa Beach, and others. However, I recommend the beach at the back of Katea Retreat. You will have to go past the restaurant and down the stairs. I booked my ticket for the cultural show in the morning but went a bit early to spend some time at the beach. I asked if that was ok so the staff was aware I was there, and how nice of them that they sent someone to look for me to let me know it was time for the show!

Cultural show, and dinner – In Nuku'alofa, these cultural shows are held Wednesday or Friday nights. A few resorts run them such as Ancient Tonga Buffet, 'Ohelei beach resort, and Liku'alofa Beach Resort. I heard good things about Katea Retreat from a few people I had talked to locally. So I booked it there and it was worth the money! The dinner was delicious (18+ meals), drinks extra charge and the show was great! They even had some fire dancers, and to top it off there were 2 other fellow solo travelers and they put us at the same table which made it more fun, recommend it!
Day 4 – Serenity Island
Serenity Island, also known as Fafa Island, is a small and picturesque island located off the coast of Tongatapu. Take a short boat ride from Nuku'alofa and enjoy a day of relaxation on the pristine white sand beaches. Snorkel in the crystal-clear waters, explore the coral reefs, and indulge in a beachside picnic on this idyllic island getaway.
Day 5 – Sleep in, breakfast, and off to the airport
How long it takes to drive around Nuku'alofa?
Driving around Nuku'alofa, the capital city of Tonga, can typically be done within a relatively short amount of time due to the city's compact size. The exact time it takes to drive around Nuku'alofa depends on factors such as traffic conditions, the route taken, and any stops or detours along the way. On average, it can take around 20 to 30 minutes to complete a loop around the city.
Nuku'alofa is situated on the main island of Tongatapu, and the road network is relatively straightforward. The main road, Taufa'ahau Road, encircles the city and connects various neighborhoods, attractions, and points of interest. It's worth noting that traffic in Nuku'alofa can be busier during peak hours, so allowing for some extra time during those periods is advisable.
Exploring beyond the immediate city center and venturing to other parts of the island will naturally require additional driving time. For example, visiting attractions like Ha'amonga 'a Maui Trilithon or exploring scenic coastal areas may involve a little long drive, but they can be worthwhile experiences.
When planning your itinerary in Nuku'alofa, it's helpful to consider the distances between attractions and factor in the time required for exploration, parking, and potential traffic conditions.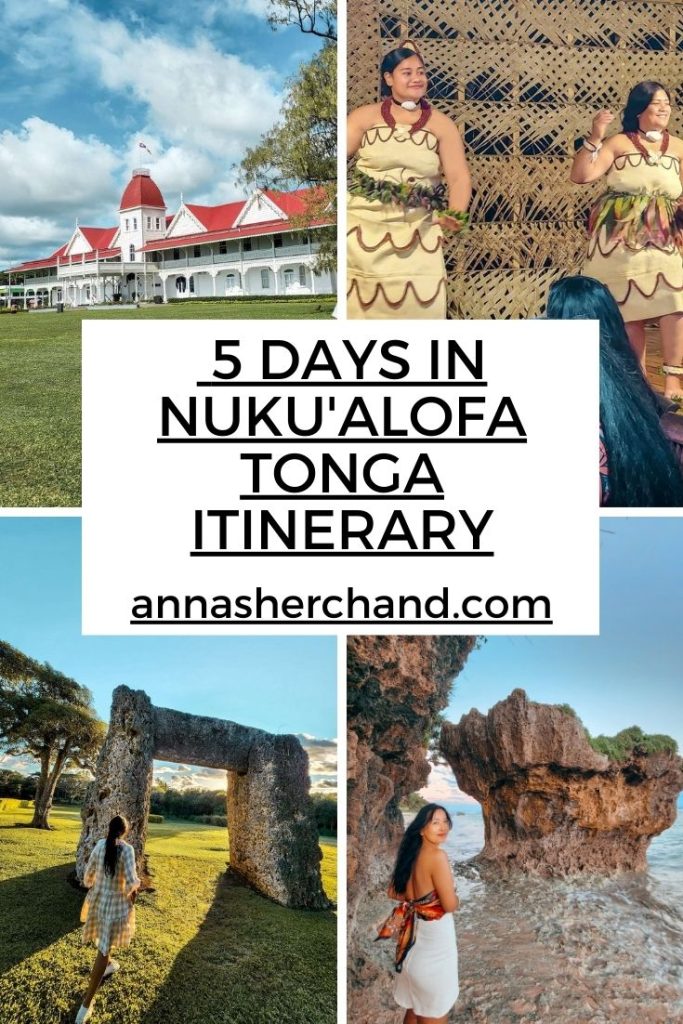 Let me know in the comments:
if you have any other questions on 5 days in Nuku'alofa Tonga itinerary
3 days in Port Moresby
Grampians itinerary for 3-4 days
Best day trips from Hobart, Tasmania
Day trip to Stradbroke Island, Queensland
Weekend in Brisbane
Best places to visit in autumn in Australia
Backpacking in Melbourne, Australia
Digital nomad guide to Melbourne
Sydney itinerary 5 days
Best places to see autumn leaves in Adelaide
Exploring Adelaide the best way
All Adelaide travel blogs
10 hidden beaches and bays in Sydney
99% of readers found must see on the east coast of Australia helpful.
Sydney bucketlist things
Sydney itinerary for 5 days
Secret Sydney walks
Best places to take photos in Sydney
Pros and cons of living in Australia
where to stay in Sydney
Hidden beaches and bays
most instagrammable cafes in Sydney
where to eat in Sydney
most Instagrammable places in Sydney, Australia
Most beautiful places in New Zealand North Island
Check out the most beautiful places in New Zealand South Island
Going to Vietnam after Australia? Check out the 7 days Hanoi travel guide.
One month in Central America itinerary
Solo trip to Phoenix, Arizona
How about Colombia? Check out how to get from Medellin to guatape
Check out where to stay in Medellin, Colombia
Check hotel prices and book it through booking.com
Read the most wanted travel resource here.
If you like this article, read about my journey to becoming a solo female Nepali Australian travel blogger, follow my adventures on Instagram, Facebook, YouTube, Twitter, and Pinterest, but most importantly sign up for my e-mail list to keep up with updates and travel posts!
5 days in Nuku'alofa Tonga itinerary