There are two ways you can complete the border crossing from El Tunco, El Salvador to Leon, Nicaragua. First one via boat and the second via land.
Boat from El Tunco to La Union:
To start your journey, you'll need to go from El Tunco to La Union, which is located on the eastern coast of El Salvador. In La Union, there are boat operators that offer the boat service to cross the border, but the days they ran (Tuesdays and Fridays from memory), did not work with my travel plans so I had to think of an alternate way. Must add, that this boat journey is a quicker way to arrive in Leon because it goes directly to Nicaragua than via land. You can ask around in El Tunco to find a reliable operator and it's important to plan ahead and book your tickets in advance, especially for the boat ride from El Tunco to La Union, as this can be a popular route.
Border crossing from El Sunzal to Leon, Nicaragua via land
Just a heads up, the information below is a bit vague for a reason because this is what I found in my research. Basically, you have to stop and stamp in and stamp out 4 times in 3 countries, and just thinking about finding local buses after each stop and the time it will take seemed like a hassle to me at the time.
Plus having done all 3 previous border crossings independently, I decided to pay for a shuttle for this one. The shuttle I used is called Roneey Shuttle, they were having a reopening promo for $45 USD which seemed decent. They included help with immigration, and door-to-door service i.e. pick up from the hostel in El Sunzal to a hostel in Leon was included.
Note: El Tunco is only a 10-to 15-minute beach walk from El Sunzal but with a backpack, it was handy to have a pickup from El Sunzal. Accommodations were full in El Tunco so I stayed at El Sunzal and took a local bus from the capital San Salvador to get there.
Solo Border crossing from El Sunzal to Leon, Nicaragua via land
More power to you if you complete this border crossing yourself, feel free to share the details here so others can learn from you too.
From El Tunco, take a bus to the border town of Amatillo. The journey takes around 2-3 hours.
Stamp out of El Salvador at the immigration
Cross the border into Honduras and go through immigration to stamp the passport
Get another bus to the border town of Choluteca in Honduras and go through immigration again to Stamp out
Once you cross the border, go to the immigration and stamp in Nicaragua.
Then take a bus to the city of Chinandega. The ride takes around 1-2 hours.
From Chinandega, take a bus to Leon. This journey takes around 1-1.5 hours.
Needless to say at the borders, you'll need to go through immigration and customs procedures for El Salvador, Honduras, and Nicaragua. Be sure to have all necessary documents, such as your passport and visa (if required), ready for inspection.
Overall, this journey can take around 8-12 hours, depending on your mode of transportation and how long you spend at each step. Additionally, be sure to pack plenty of water and snacks for the journey, as it can be a long and tiring day of travel. You can also buy it on the way too of course.
More importantly, take note of where you put your passport because this is where I lost mine which I realized on the morning of when I was leaving for Costa Rica. What to do when you lose your passport blog post coming soon with all the steps I took to get a new one.
Read 7 days in Nicaragua solo travel for more tips
Is Nicaragua safe for solo female travelers?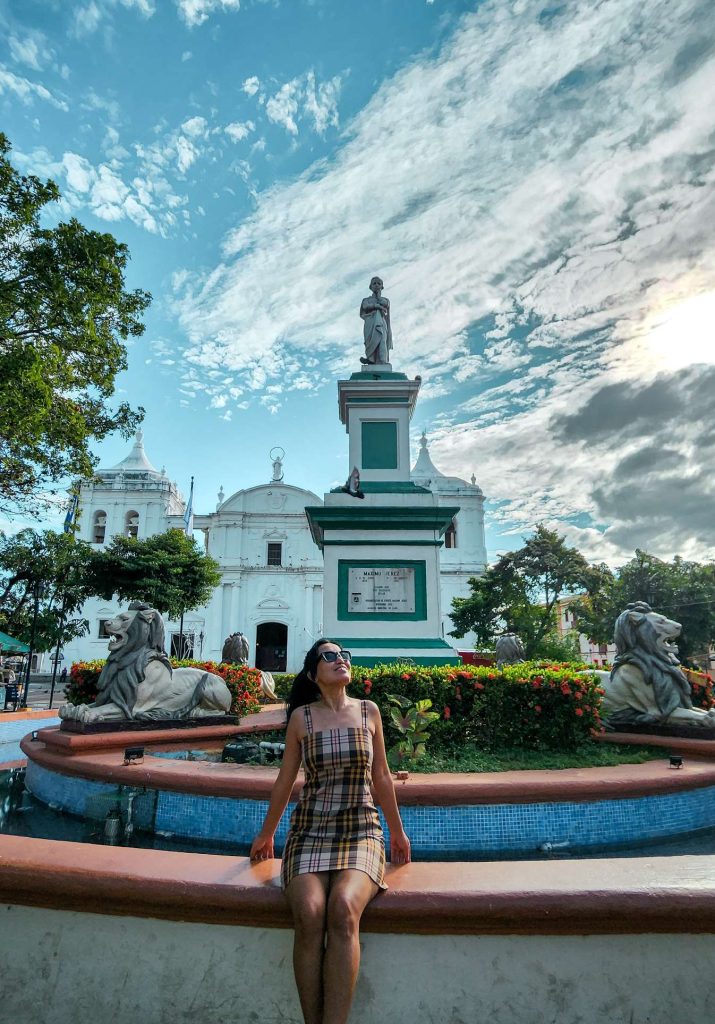 The safety of solo travel in Nicaragua can vary depending on a number of factors, including the specific areas you plan to visit, the time of day, and your own behavior and precautions. Nicaragua has experienced political and social unrest in recent years, which has led to some safety concerns, particularly in the capital city of Managua and other urban areas. However, many areas of Nicaragua, including popular tourist destinations like Granada and San Juan del Sur, are generally considered safe for travelers.
With that said, I felt completely safe in every city I visited in Nicaragua. As a solo traveler, it's important to take extra precautions to stay safe tho, such as
Stay in well-lit and busy areas, particularly at night.
Avoid carrying large amounts of cash or valuable items with you.
Be aware of your surroundings and stay alert at all times.
Research your destination ahead of time and be informed about any safety concerns or risks in the area.
Stay up to date on relevant local news and follow any travel advisories issued by your home country's government
Use licensed taxis or transportation services, particularly at night or when traveling to unfamiliar areas.
Respect local customs and dress modestly to avoid unwanted attention or harassment.
Be cautious when consuming alcohol and avoid overindulging or accepting drinks from strangers.
Consider staying in reputable accommodation that has good security measures in place.
Get a local SIM card with data, I bought Claro in Guatemala and it worked till I got to Nicaragua! So I bought a new one here.
Overall, Nicaragua can be a safe destination for solo travelers with proper planning and precautions. However, it's important to stay informed about local conditions and take necessary safety measures to ensure a safe and enjoyable trip.
7 days in Nicaragua solo travel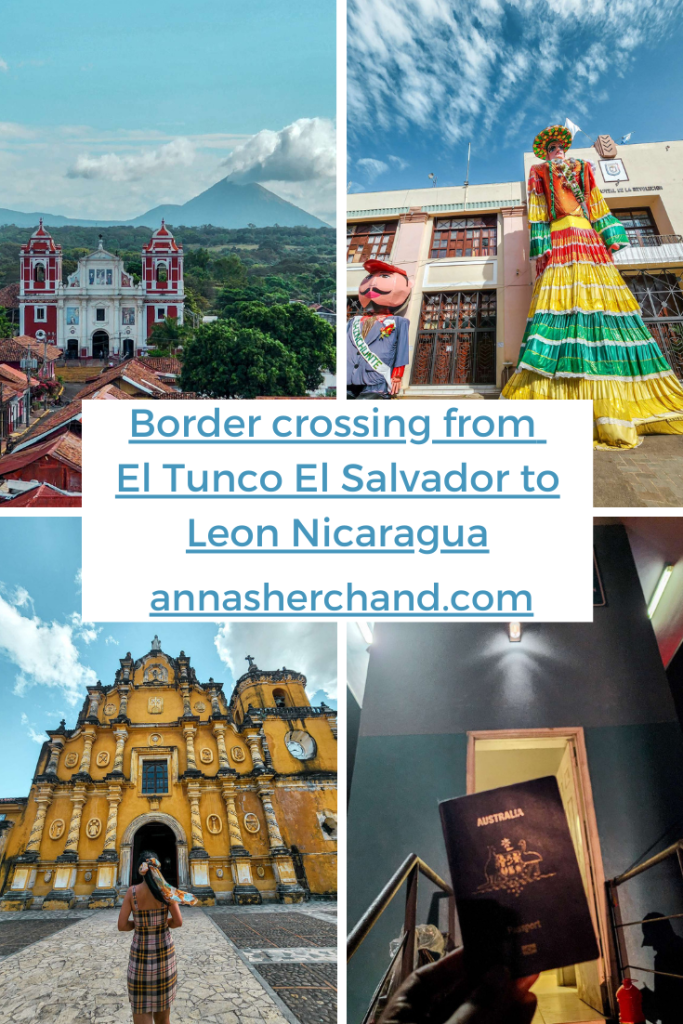 Let me know in the comments:
If you have any questions about a border crossing from El Tunco El Salvador to Leon Nicaragua
9 days in Guatemala
Solo border crossing from Guatemala to Punta Gorda Belize
2 Days in Punta Gorda, Belize
How to cross the border from Belize to Honduras
Solo female travel to Copan Ruins Honduras
Solo border crossing from Honduras to El Salvador
one month in Central America itinerary
7 days backpacking in Ecuador itinerary
5 days in Oaxaca itinerary
2 days in Mexico City itinerary
Best places to visit from Split
2 days in Split, Croatia
Solo traveling to Mostar
Solo female travel to Kotor
Best places to visit from Split
2 days in Split, Croatia
Solo traveling to Mostar
Solo female travel to Kotor
Solo female travel to Budva
Solo female travel Albania
Warsaw by Train covers warsaw travel tips
Check out One day in Luxembourg, western Europe
Day trip from Zurich to Liechtenstein
Travel tips to South America
Fiji solo travel guide
Australia east coast must-see
Backpacking in Melbourne, Australia
Digital nomad guide to Melbourne
14 best area to stay in Melbourne CBD
Master Sydney travel guide
Solo travel guide to Brisbane
Exploring Adelaide the best way is a must-read
Important travel tips for Uluru trip
Melbourne day trips in winter
Day Hikes in Melbourne
Weekend getaway? Check out things to do in Ballarat
Perth solo itinerary
Top 5 must do in Darwin, Australia
How to go from Dublin to Howth
Solo female travel Romania
Read a recent day trip to Zaanse Schans from Amsterdam
How about a solo itinerary to Canberra– Australia's capital city?
Solo trip to Peru, travel tips to South America
Check out the 7 days Hanoi travel guide.
Book accommodation through trusted Booking.com
I have detailed travel resources right here. Save money, learn what and how.
If you like this article, feel free to follow my adventures on Instagram, Facebook, YouTube, Twitter, and Pinterest, but most importantly sign up to my e-mail list to keep up with updates and travel posts.
Border crossing from El Tunco El Salvador to Leon Nicaragua