Are you planning a short trip to Paris? The city of light has always been a top touring destination recorded for many solo traveling enthusiasts. Fortunately, traveling to Paris has never been more comfortable or convenient. It all depends on your intentions in the 'City of Love.' Today I am sharing 4 days itinerary in Paris for first-timers. I hope these travel tips help you with your travel preparation for Paris.
Paris is a delightful and attractive capital city of France in Europe. In fact, it is one of the most visited cities in Europe with approximately 2.2 million people. Most of these beautiful souls speak French. For centuries, Paris has been one of the most influential and attractive cities in Europe. The city is known for its culture, entertainment, business, and art.
Usually, the first day you arrive in a foreign city is not considered as Day one. This is because, upon arrival, you are simply directed to your hotel room, where you get to spend the night or take the rest of the day off. So I will start the itinerary with a new day below.
Exciting 4 days itinerary in Paris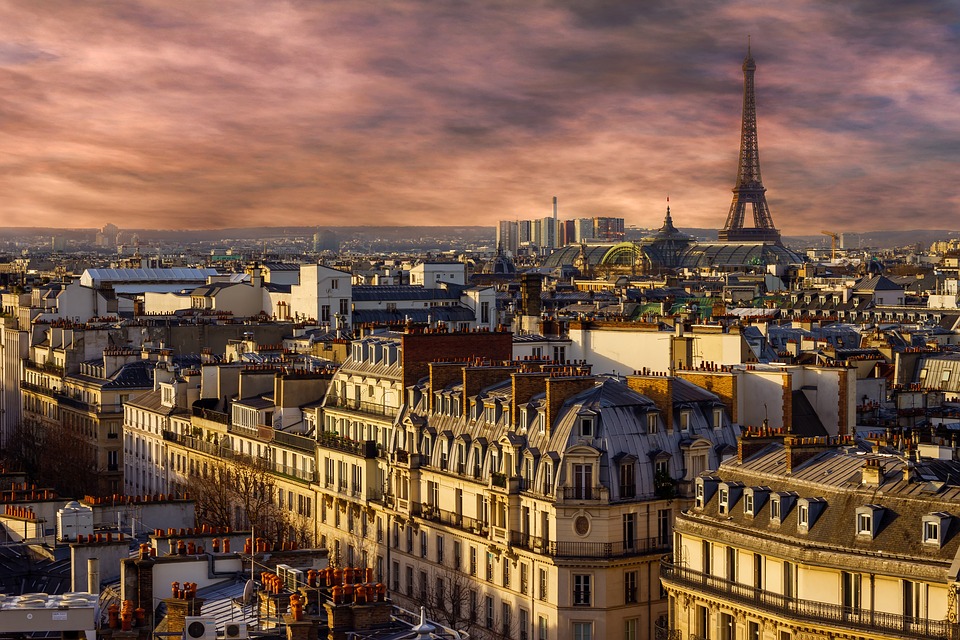 Feel free to tailor this Paris 4 days itinerary to your needs during your short but pleasurable stay in Paris. But first things first;
When is the best time to visit Paris?
The best time to visit Paris is when the weather is warm and mild, between April and October. Your stay in the French capital will be pleasurable and enjoyable. Furthermore, tourist crowds will be reasonably small. However, my favorite month in Paris in June – springtime and everything is bright and lovely!
Where to stay in Paris?
Despite the luxurious and expensive stereotype surrounding hotels in Paris, there are actually decent and affordable hotels in the city. These hotels are affordable because they keep things really simple. And since you will be staying in the town for a few days, you must keep a tight lid on your finances. With that said, consider staying at the Hotel Rivoli, Hotel Tiquetonne, Hotel Audran, or Hotel HenriIV for $40-$80 a night.
Alternatively, staying in one of the Airbnb in some of the best neighborhoods in Paris also a great option. Either way, Paris will warm your heart with pleasurable experiences.
How to get to Paris?
Paris has advanced yet straightforward transport systems, including flights, trains, and buses. Tourists from international countries such as Canada, the USA, and Australia often travel to Paris using direct flights.
The same also applies to tourists from Europe. And flights from and to Paris are many and quite affordable. You can easily book return tickets for around $50! This makes traveling by air the easiest and quickest way of getting to the French capital from other European countries.
Some Europeans prefer taking trains to get to Paris. However, this alternative is expensive, especially when compared to other traveling options such as air.
If you prefer using a bus, it could take longer if you are coming from cities far from Paris. Nonetheless, this alternative is cheap and easy to book.
Alternatively, you can download Uber for going around in Paris. Here is the $10 off your first ride on the Uber app. To accept, use code 'k7zapn' to sign up. Enjoy! Details: https://www.uber.com/invite/k7zapn
Travel hack
As you can imagine, there are entry fees at almost every museum or attractions in Paris. So, If you want to buy 1 ticket that covers over 60 attractions, I recommend the Paris Sightseeing Pass.
It is your key to the city of Paris. It not only offers great value and convenience with free entry to more than 60 top attractions and Paris museum pass, but it also includes free travel on the metro, a 1-day hop-on, hop-off bus tour ticket, and a guidebook in 6 languages to help you plan your stay!
You will also get skip-the-ticket-line entrance to many of the sights, saving you time at attractions such as the Centre Pompidou, Arc de Triomphe, Louvre Museum, and more. Head out to the Palace of Versailles, or take a Bateaux River Cruise to see the city from the River Seine. Then, take advantage of the special offers at various restaurants and shops and enjoy Paris to the full.
4 days Paris itinerary would be great with this Paris Pass and includes tickets to all the following places.
Top Attractions and Activities:
• Musée du Louvre
• Musee d'Orsay
• Centre Pompidou, National Museum of Modern Art
• Espace Dali
• Big Bus – Hop-on Hop-off bus tour
• Bateaux Parisiens River Cruise
• Wine Tasting – O Chateau
• Tour Montparnasse
• Musee Grevin, Wax museum
• Paris Story
• Châteaux de Versailles
• Opera Garnier Guided Tour
• Tours de Notre-Dame (currently under construction)
Galleries:
• Musée Rodin
• Musée National de l'Orangerie
• Musée national des Arts asiatiques
Places of Interest:
• Petit Train de Montmartre
• Etoiles du Rex
• Set in Paris movie tour
• Le Musée Gourmand du Chocolat – Choco- Story
• Musée des Égouts de Paris
• Cité des Sciences et de l'Industrie – La Villette
Historic Buildings:
• Conciergerie
• Chapelle expiatoire
• Château de Rambouillet
• Château de Vincennes
• Chateaux de Champs-sur-Marne
• Château de Pierrefonds
• Crypte archéologique du Parvis de Notre-Dame
• Maison d'Auguste Rodin à Meudon
• Musée Condé – Château de Chantilly
• Musée et domaine nationaux du Château de Compiègne
• Musée national des Châteaux de Malmaison et Bois Préau
• Basilique cathedrale de Saint-Denis
• Abbaye Royale de Chaalis- Musée Jacquemart André
• Sainte Chapelle
• Château de Maisons-Laffitte
• Villa Savoye
• Château de Fontainebleau
Monuments:
• Arc de Triomphe
• Panthéon
Museums:
• Musée de l'Armée, Tombeau de Napoléon 1er
• La Cinémathèque française – Musée du Cinéma
• Cite de l'Architecture et du Patrimoine – Musée des Monuments françois
• Musée d'art et d'histoire du Judaïsme
• Musée de la Mode et du Textile
• Musée de la Musique – La Villette
• Musee de l'Ordre de la Liberation
• Musée de la Publicité
• Musée de l'Air et de l'Espace
• Musée d'Archéologie nationale de Saint-Germain-en-Laye
• Musée de l'Institut du Monde arabe
• Musée départemental Maurice Denis
• Musée des Arts décoratifs
• Musée des Arts et Métiers
• Musée des Plans-reliefs
• Musee du quai Branly
• Musée Gustave Moreau
• Musée national de Céramique de Sèvres
• Musée national de la Marine
• Musée national de la Renaissance – Château d'Ecouen
• Musée national de Port-Royal des Champs
• Musée national du Moyen Age – Themes de Cluny
• Musée national Eugène Delacroix
• Musée Nissim de Camondo
Now that we cover all the essential, let's get into how the four days itinerary.
Day One in Paris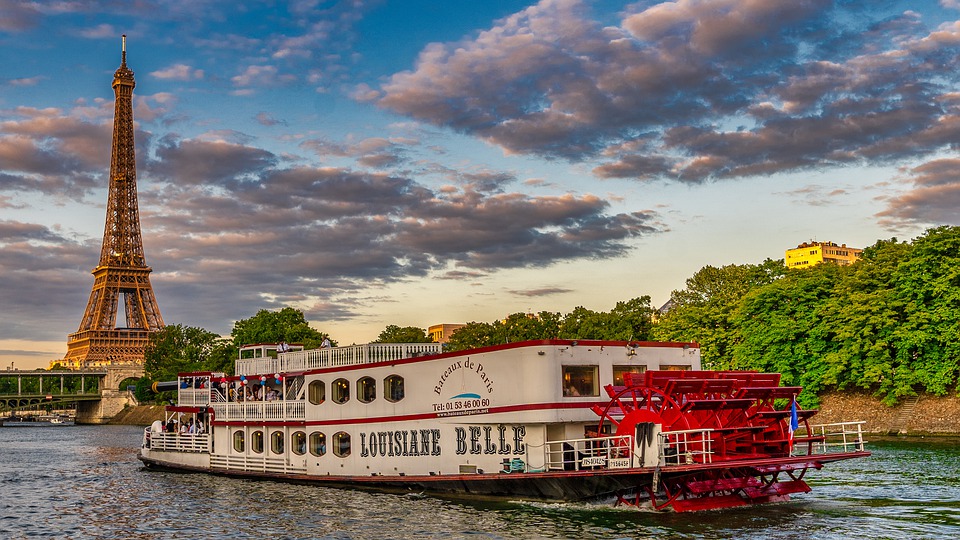 Visit the Eiffel Tower
The Eiffel Tower is one of the most visited tourist attraction in France. It's only right to kick off your visit to Paris by visiting the famous world Tower. The Eiffel tower was built back in 1889 to celebrate the 100th anniversary of the French Revolution. This tall piece of art will blow you away with the culture and elegant design surrounding it. Fun fact: The Eiffel tower receives about 7 million visitors every year! The views over Paris from the top are worth it and check out the locks couples have left it!
See the Arc de Triomphe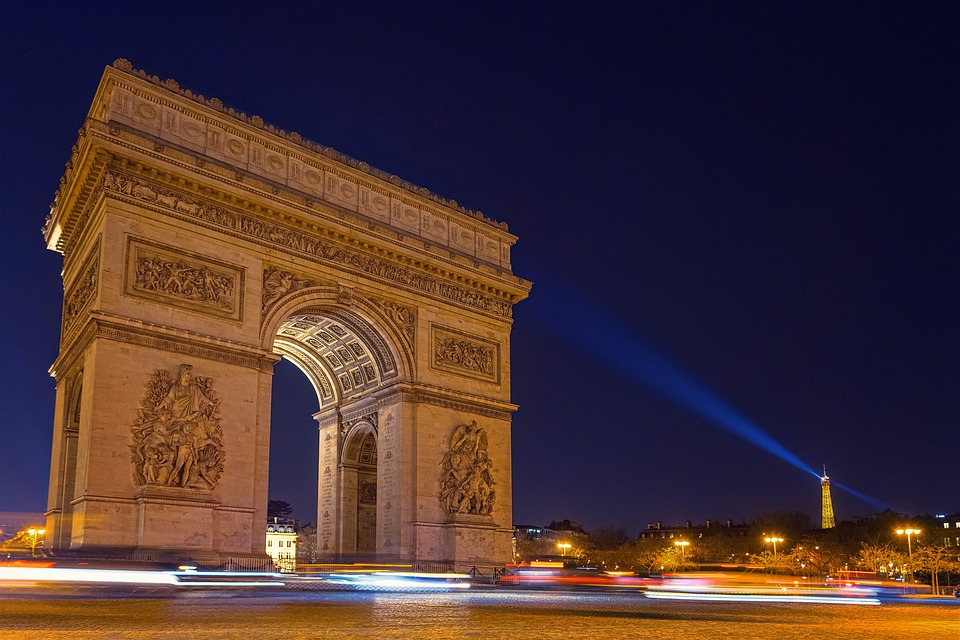 Another impressive feature of the French capital is the Arc de Triomphe. This landmark was commissioned by the great Napoleon himself.
Many people attempt climbing to the top of this building, but few succeed. The building has beautiful markings of all the historic French victories. If it's your first time in Paris, you should totally consider taking a Paris night tour or day time walking tour too. These tours are fun and give you an insight into the local's perspective too.
Relax at the Luxembourg Gardens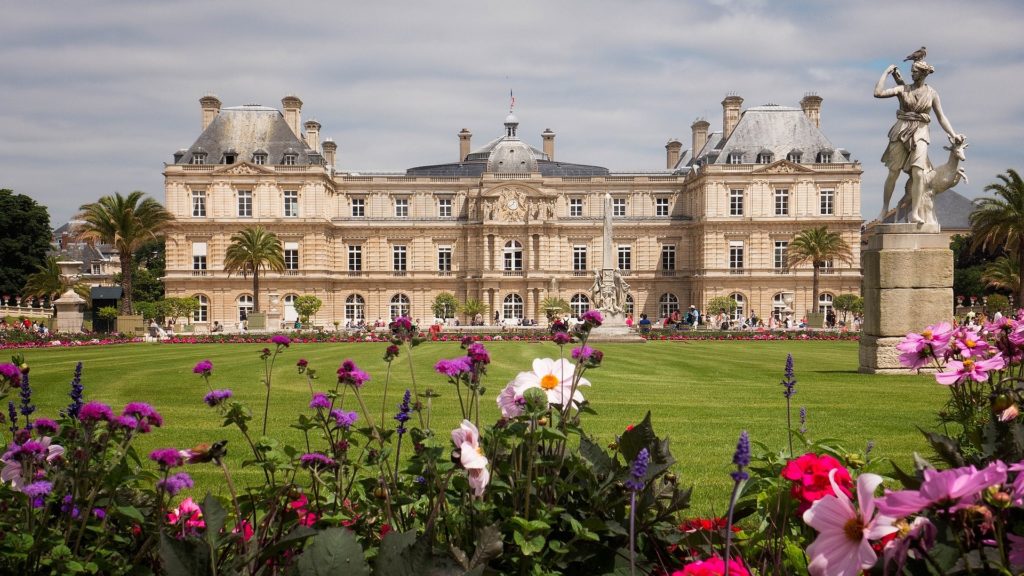 This beautiful garden is located in the 6th arrondissement of Paris, France. In French, it's called The Jardin du Luxembourg. What I liked most about it is the fact that it's a big park with chairs you can move around. So, I moved it next to the pond, then to where there was sun followed by at the corner to read my book! It is a perfect getaway at the heart of Paris.
The gardens are beautifully preserved which makes it a great spot for a summer day picnic too and a place where you can take a walk, ride your back, or just grab a coffee and relax on a bench to admire the stunning flowers and trees. If you have time, you can also enter the Palace, but in my opinion, the gardens are much better. The entrance is free here.
Day Two in Paris
Tour the Seine River
The Seine is the longest river in France. The river is approximately 780km (485 miles) and rises 18 miles (30kms). Go for a cruise in one of Europe's historical rivers. Besides, you will be treated to an excellent view of Paris' city along with Notre Dame, and passing through Alexandre iii.
Check out the Moulin Rouge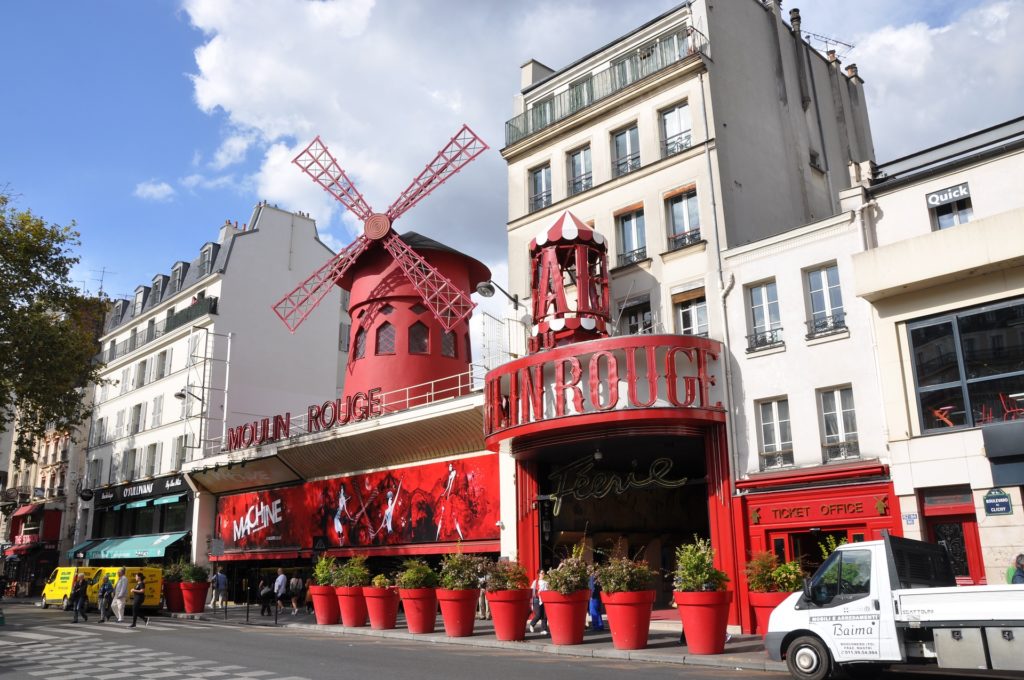 On your second day in Paris, visit the Moulin Rouge. Charles Zidler and Joseph Oller created this famous cabaret back in 1889. It was initially introduced as a seductive dance! Since you are traveling alone, you don't want to miss this intriguing form of entertainment.
Stroll along the Sacre Coeur
Sacre Coeur is a Roman Catholic church in the heart of Paris and is one of the must-sees in this 4 days Paris itinerary. It's popular for religious reasons as well as for its sunsets. You can see the view of Paris, local bands playing music and loads of tourists but the view wins no matter how big the crowd. After the sunsets, stroll along the back of the church, visit the coffee shops, street artists, the neighborhood and perhaps eat at one of many restaurants.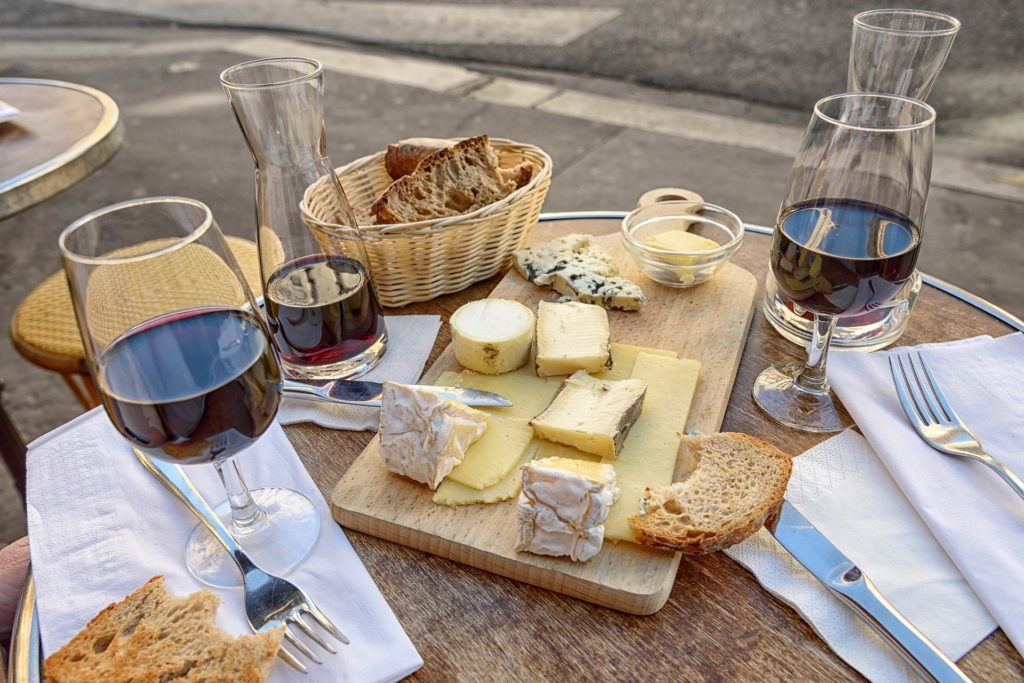 Day Three in Paris
Visit the Louvre Art Museum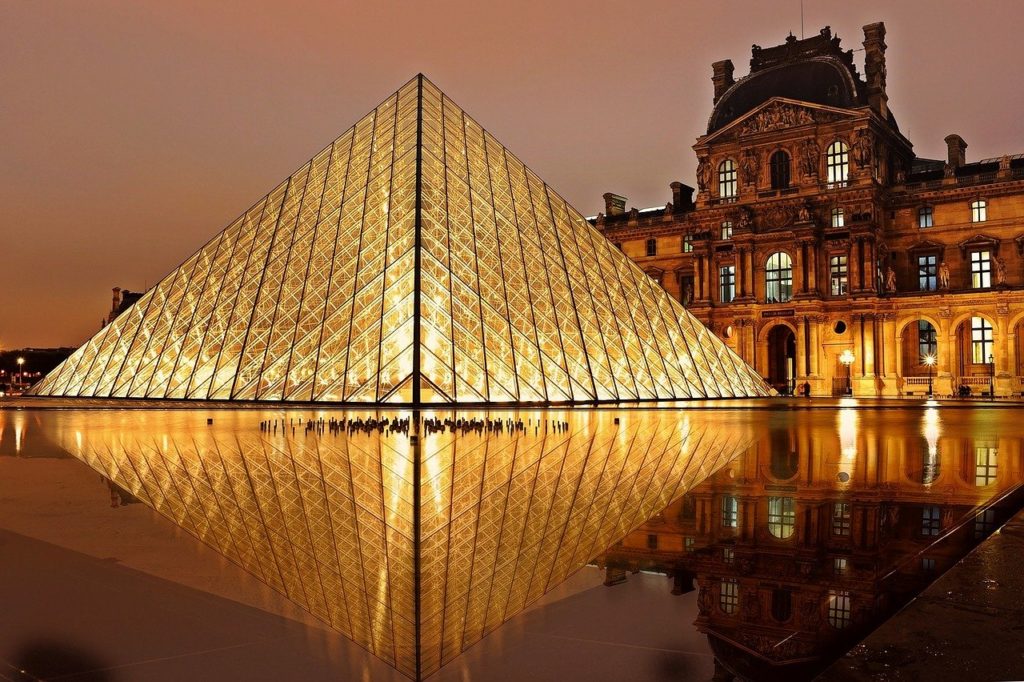 Paris is the largest collector of art in the world. The Louvre Art Museum, located in Paris, features a wide range of art collections and artifacts. According to reports, this museum holds approximately 38000 art objects. The national museum and art gallery featured great artworks, including the famous Mona Lisa by Leonardo da Vinci, Vincent van Gogh, and many other talented artists. You don't want to miss that!
Discover Rooftop Cafes/Bars In Paris
It is only right that you go to one of the rooftop cafes/bars during your solo visit to the French capital. Paris features some of the best rooftop places in the world. In addition to the excellent nightlight, the rooftop cafes and bars will treat you to an unrivaled skyline view with panoramic views of the entire city. Some of my recommended best rooftop bars in Paris are Café de l'Homme, Terrass" Hôtel located in the heart of Montmartre, the rooftop of Galeries Lafayette department store, Terrasse de l'Hôtel Raphael, L'Oiseau Blanc – Le Rooftop, Centre Georges-Pompidou, 43 Up on the roof, Les Ombres.
Day Four in Paris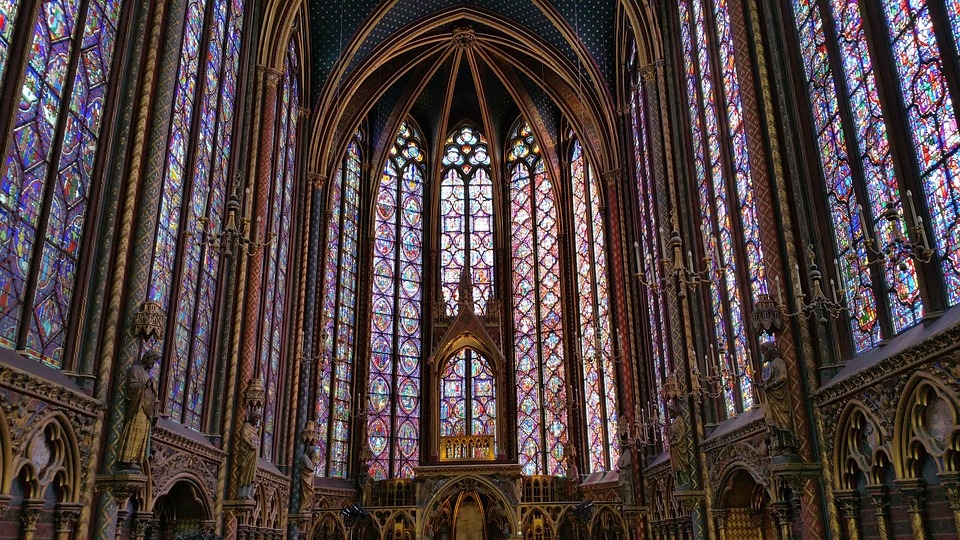 The Champs-Elysees
Before you leave the city for your respective home, take a walk down the infamous and luxurious street of Champ Elysees. This venue is popular with tourists all over the world. In fact, you might have seen this place featured in movies. Well, needless to say, this street ranks second to Bond street in London, United Kingdom as one of the most expensive streets in the world. Remember that this street is not pocket friendly!
See Stained Glass At Sainte-Chapelle
On your last day itinerary, I suggest visiting the Sainte Chapelle. French architecture is known for its renaissance references. The dazzling stained glass windows of Sainte-Chapelle is no different. The beautiful and elegant designs will blow your mind away. Besides, this is a great way to conclude your Parisian visit.
Day Trips
Alternatively, if you wish you see a little more than just the capital city itself, I recommend the following places for a day trip. Versailles, Disneyland, Giverny and Monet's Gardens, You can even make it to Bruges in Belgium, Mont Saint-Michel, Loire Valley, Champagne Region, and Normandy.
I hope this Paris trip for 4 days helps you decide what to see in Paris in 4 days.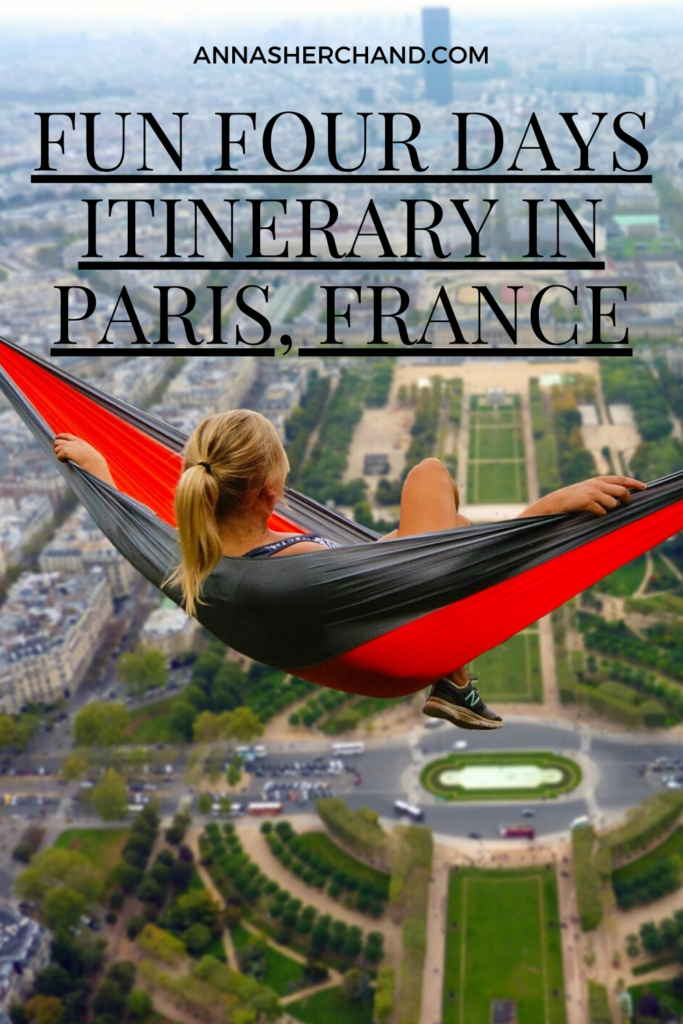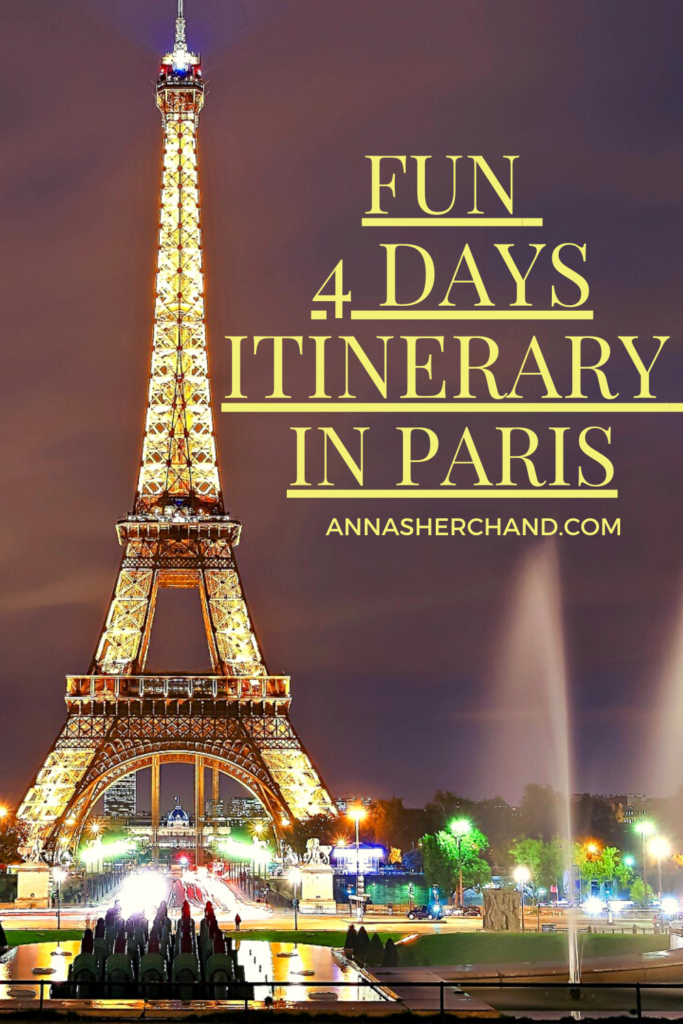 Let me know in the comments:
Fun 4 days itinerary in Paris, France