Finally, time to write about my 72nd country Apia, Samoa. This is a country where I got robbed for the FIRST time in my life, cried out loud BUT this is also the country and the people who came together and brought my belongings back to me in the same night! More on this below on whether is it safe to travel to Samoa, solo travel tips, and 5 days in Apia Samoa itinerary.
Nestled in the heart of the South Pacific, this enchanting destination is a dream come true for avid travelers seeking a unique blend of natural beauty, rich cultural heritage, adventures, and warm island hospitality. As a seasoned travel blogger, I'm thrilled to share how I spent my 5 days enjoying the wonders of Apia with you.
I must say, traveling to South Pacific Islands is a bit of a risk due to limited flights in the region so you really have to plan it properly otherwise you could be stuck there for weeks until the next flight. I started with 3 days in Port Moresby then 3 days in Honiara followed by a flight to Nadi then Nadi to Apia, Samoa for 5 days.
The reason why I visited only the capital cities is because I don't dive so no interest in exploring the outer islands and I live in Australia which means when I travel I don't want to be chasing beaches as we have tons at home. Plus limited and expensive flights as well as being time-poor made me settled on those few days but you know what, it's better to be there for a few days focusing on 1 place than being there and spending 1 day on each island or not being there at all.
5 days in Apia Samoa itinerary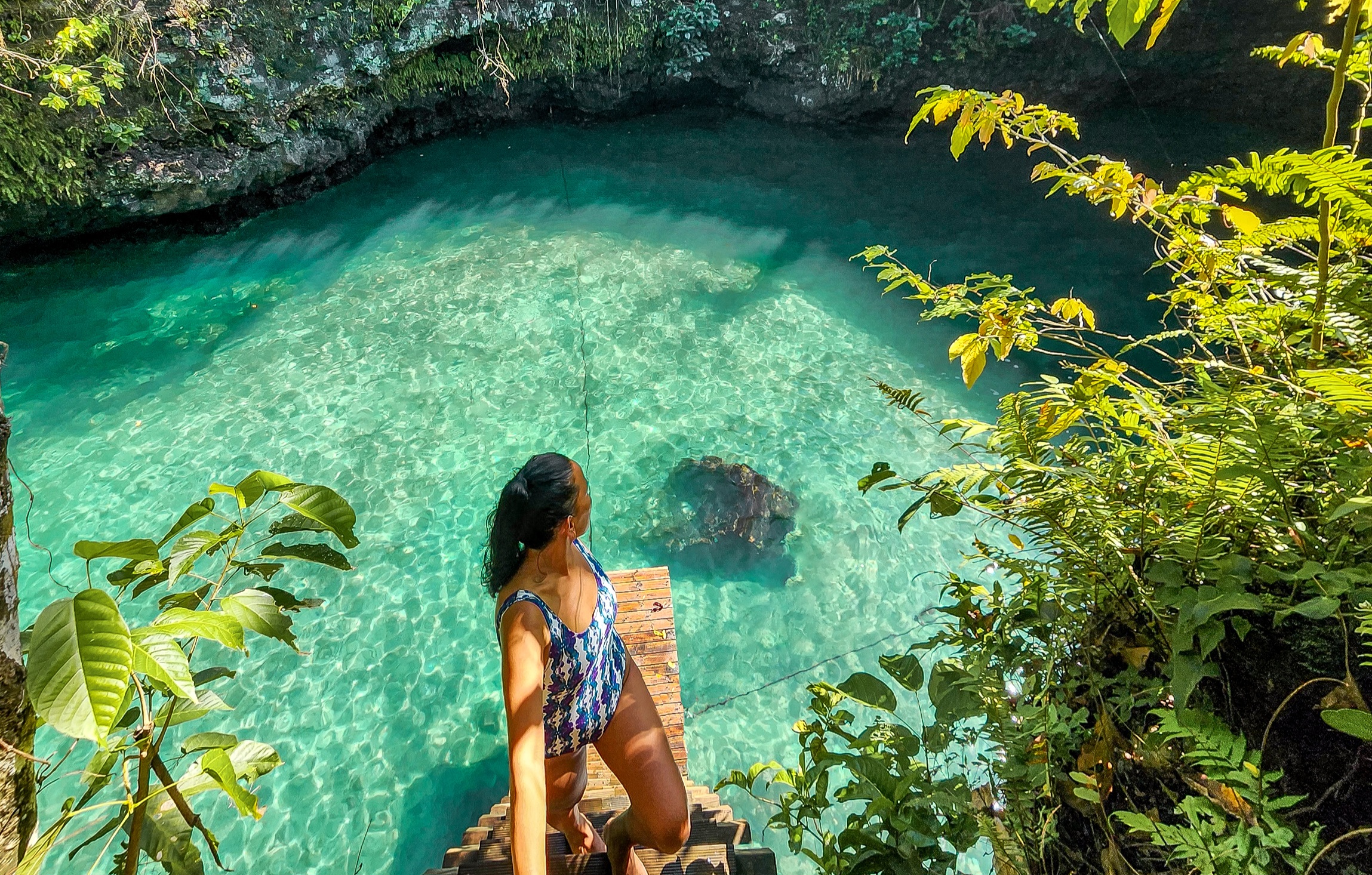 Day 1: Cultural & Snorkel
Had breakfast at the La Manumea Hotel for my first night. (recommendations on where to stay in Apia below)
1. Samoa Cultural Village
From the hotel, 5 Tala taxi to the town/Samoa Cultural Village or walk about 30 mins. Indulge in the rich traditions of Samoa by visiting the Samoa Cultural Village. Immerse yourself in the vibrant atmosphere as you witness captivating traditional Samoan dance performances, demonstrations of how to ink Samoan tattoos, and leaf baskets, and savor a delightful feast. A traditional Samoan feast, known as an 'umu', is prepared using traditional cooking methods. (grapefruit, banana, and taro leaves mixed w coconut cream)
Previously free of charge, the village now requires an admission fee of 10 Samoan Tala. The cultural village operates on Tuesdays to Thursdays from 10:30 am to 12:30 pm, providing an enriching experience that showcases the beauty and authenticity of Samoan culture.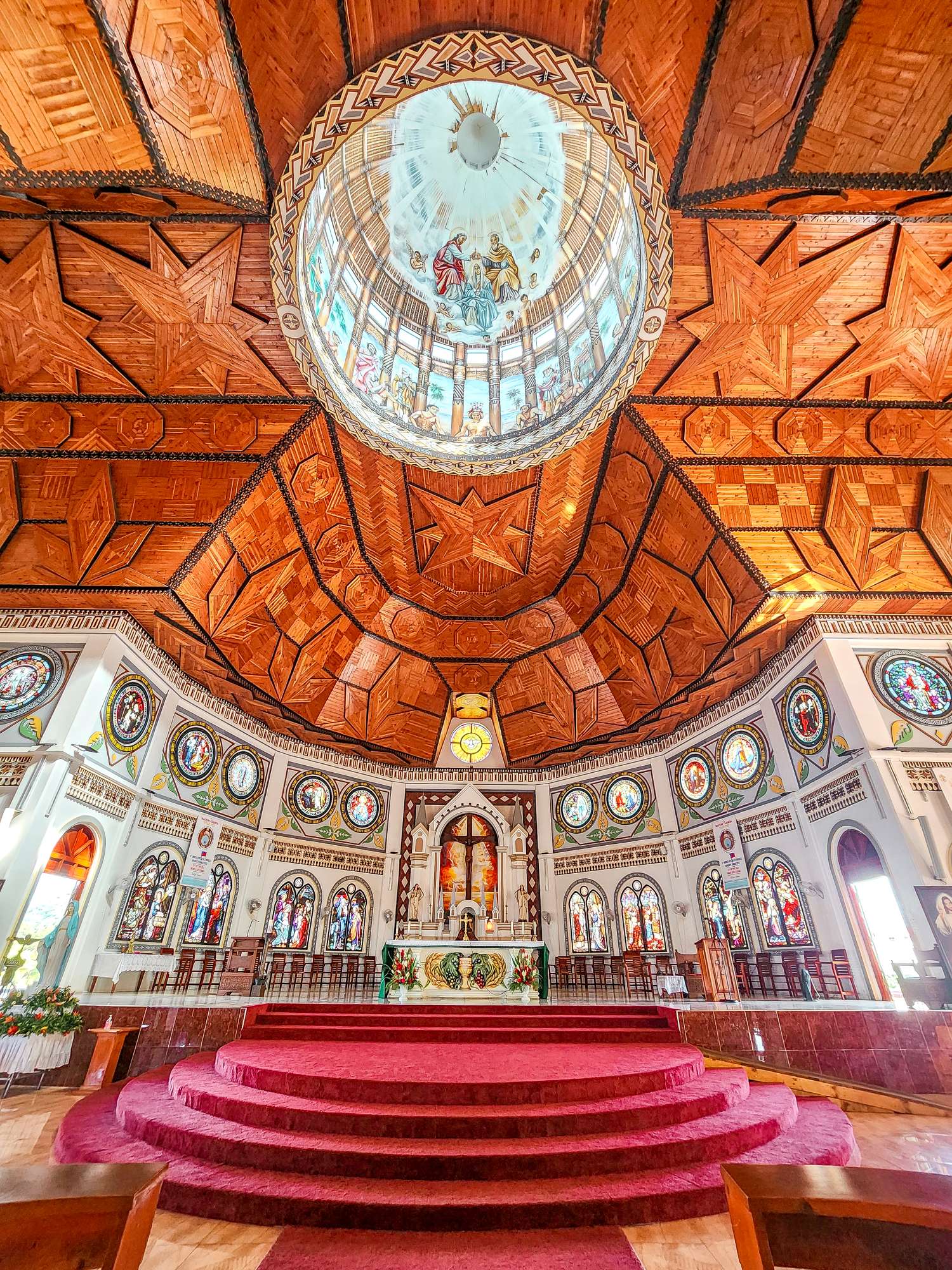 2. Immaculate Conception Cathedral
Right opposite the Samoa Cultural Village is this magnificent cathedral, a notable religious landmark that holds great significance as the main Catholic church in the country. With its striking architectural design and serene atmosphere, the Immaculate Conception Cathedral stands as a symbol of faith and spirituality. You can admire its beautiful exterior, adorned with intricate details, and step inside to experience the tranquil ambiance within.
The cathedral often hosts religious services and offers a place for prayer and contemplation. Whether you're seeking a spiritual retreat or simply appreciate impressive architecture, the Immaculate Conception Cathedral is a must-visit destination in Apia.
3. The Fugalei Fresh Produce Market
You could walk further 15 mins to the market from the Church or get another 5 Tala taxi. It was a very hot walk so as soon as I arrived, I had to get a chilled coconut. This is a bustling market located in the heart of the city. Known for its vibrant atmosphere, the market offers a wide variety of fresh fruits, vegetables, herbs, and local products. Here, you can find an array of tropical delights like bananas, pineapples, coconuts, and taro, as well as handmade crafts, traditional clothing, and Samoan snacks.
Visiting the market provides an authentic cultural experience, where you can immerse yourself in the local way of life, interact with friendly vendors, and sample traditional Samoan dishes. Make sure to bring cash, negotiate prices, and visit in the morning to fully embrace the lively and colorful ambiance of this cultural hub.
15 Tala Taxi to the next stop.
4. Palolo Deep Marine Reserve
Marine Reserve that showcases the region's rich marine biodiversity. This protected area is a haven for snorkelers and divers, offering pristine coral reefs, clear turquoise waters, and a diverse array of marine life. Experience the beauty of colorful coral formations, tropical fish, and sea turtles while learning about conservation efforts in this well-managed reserve. Whether you're an experienced diver or a beginner snorkeler, the Marine Reserve in Apia provides an immersive and educational experience, highlighting the natural wonders of Samoa's marine ecosystem.
5. Sunsets and Dinner
In the evening, enjoy a leisurely stroll along the waterfront promenade, soaking in the scenic views of the harbor. Recommend coming here during sunsets. For dinner, I went to Giordano's Pizzeria- been here for years and still going strong. Pretty good food.
Day 2: Natural Wonders and Beaches
I had made a new friend at the Outriggers and we were in the taxi heading to the beach. Ended up casually talking to a driver regarding making stops on the way and he agreed! So we paid him 200 Tala for about half a day. Since traveling to 70+ countries I have seen thousands of waterfalls so wasn't keen on them and my friend mainly wanted to head to the beach. So we skipped the 2 famous waterfalls in Apia and the driver agreed to take us to the 3 main spots and drive me back to Apia because my friend was staying at the beach. I think 200 Tala for it was a good deal compared to tours costing 500-800 Tala.
1. Piula Cave Pool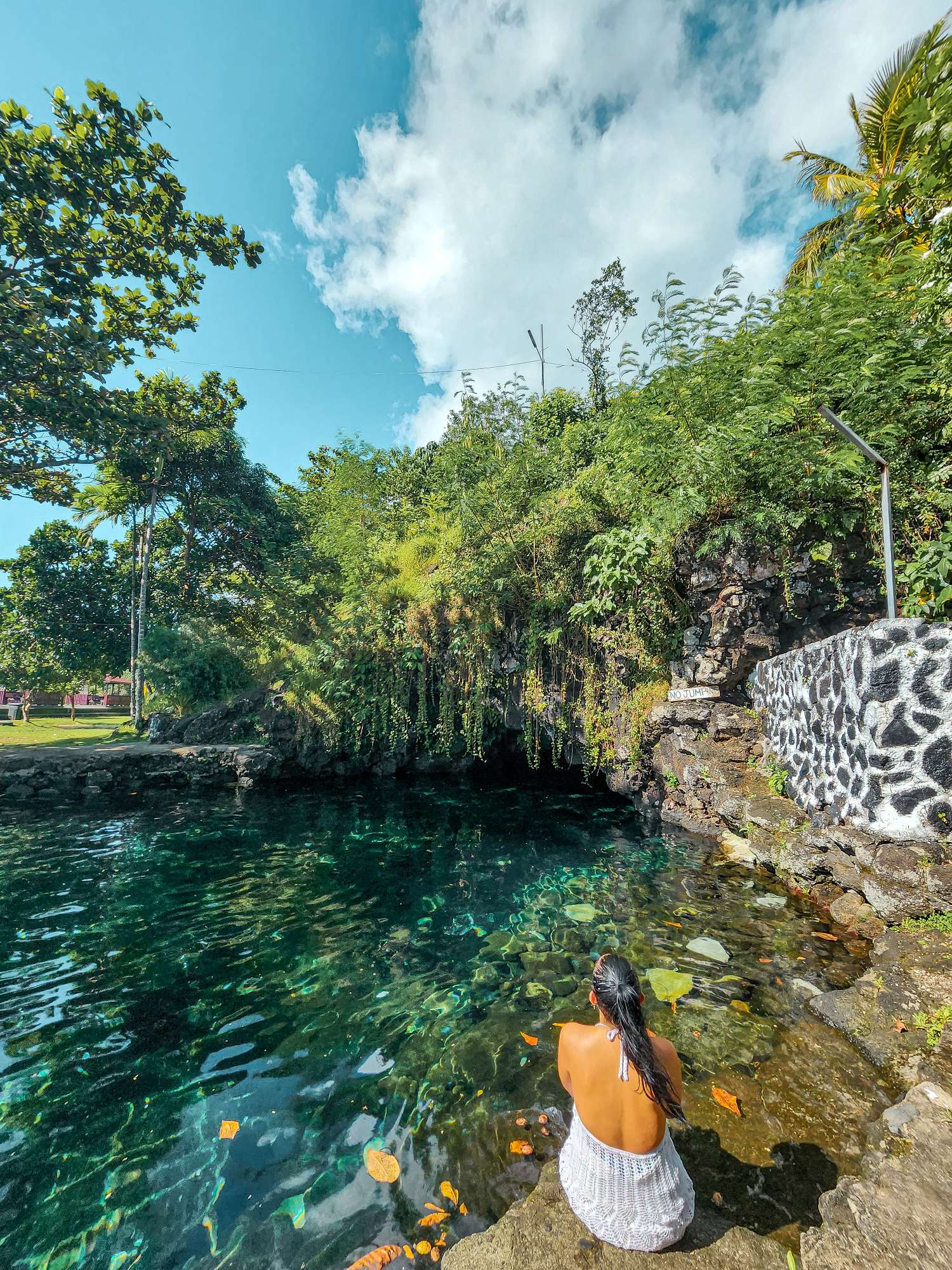 The first stop was, Piula Cave Pool a remarkable natural attraction located in Samoa, near the village of Lufilufi, just outside of Apia. It is a freshwater pool that is formed within a cave, creating a unique and enchanting swimming spot. Entrance here was 10 Tala per person.

The cave pool is fed by underground springs, resulting in crystal-clear and refreshing water. It features stunning stalactite and stalagmite formations, adding to the beauty and intrigue of the place. And the tranquil atmosphere and picturesque surroundings make it a popular destination for both locals and tourists seeking a serene escape from the heat.

Additionally, Piula Cave Pool holds cultural significance as it is situated next to Piula Theological College, an important religious institution in Samoa. The pool is often visited by students and locals for spiritual cleansing and baptisms.
Whether you're looking for a refreshing dip in a unique setting, a chance to explore a natural wonder or a glimpse into Samoan culture, Piula Cave Pool is a must-visit attraction in Apia, Samoa.
2. Sua Ocean Trench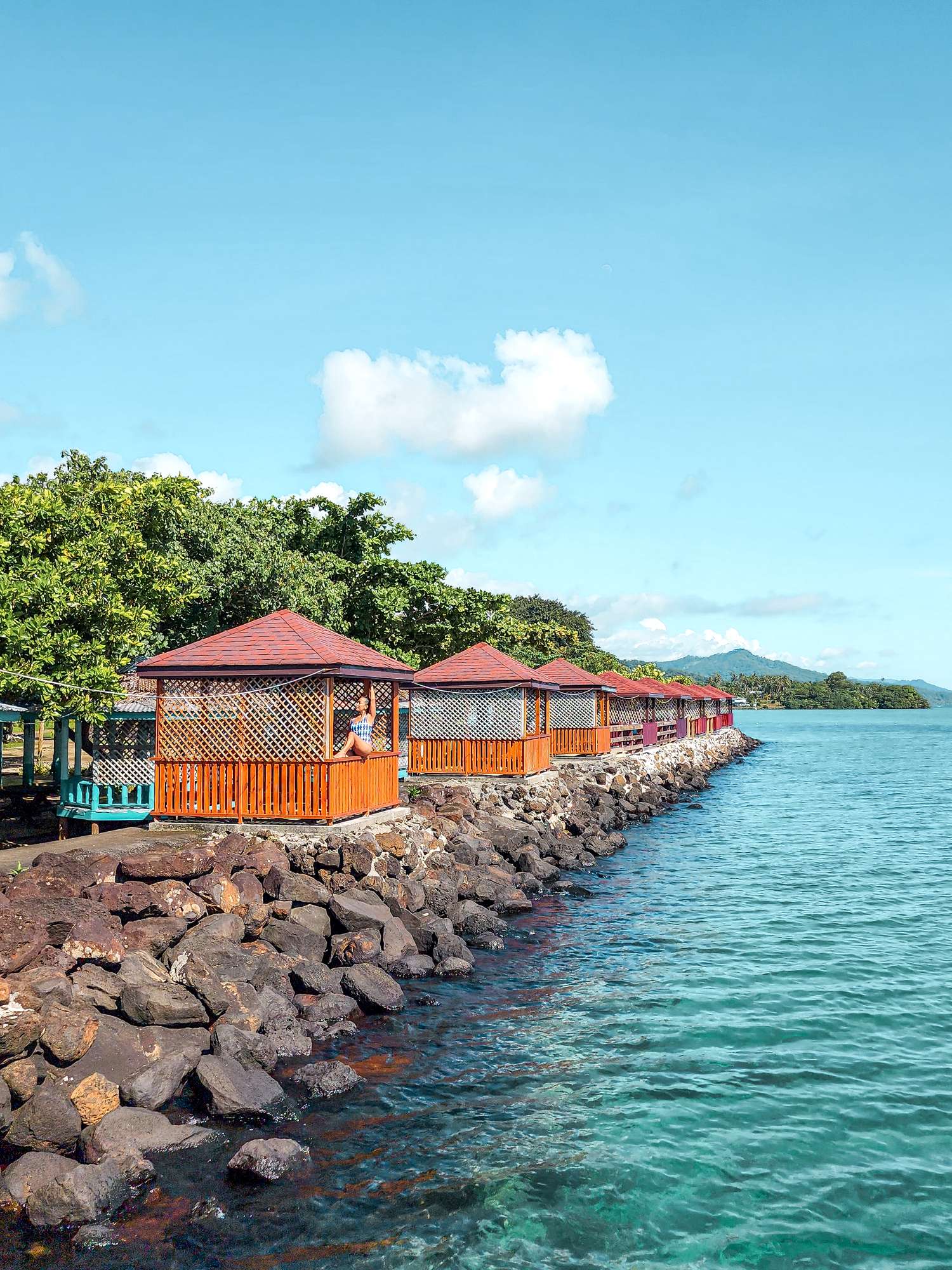 The next stop on our journey was the breathtaking Sua Ocean Trench, a natural wonder located in Lotofaga village, near Apia, Samoa. The Sua Ocean Trench is a large sinkhole surrounded by lush tropical foliage, and it offers a truly awe-inspiring experience. Entrance 20 Tala pp.
A natural swimming hole with crystal-clear turquoise water that invites visitors to take a refreshing dip. Descending a set of stairs, you'll reach the bottom of the trench, where you can swim, snorkel, or simply relax in the cool, tranquil waters.
What makes the Sua Ocean Trench even more extraordinary is its unique geological formation. The trench is connected to the ocean through underground caves and tunnels, allowing seawater to flow in and out with the tides. This creates a magical blend of saltwater and freshwater, providing a unique swimming experience.
Surrounded by towering cliffs and lush vegetation, the Sua Ocean Trench is a true paradise for nature enthusiasts and adventure seekers alike.
In addition to its natural beauty, the Sua Ocean Trench also holds cultural significance for the local community. It is considered a sacred site and is often used for traditional ceremonies and cultural events.
Prepare to be mesmerized by the stunning beauty and tranquility of the Sua Ocean Trench. It is an absolute must-visit destination that will leave you with unforgettable memories of your time in Apia, Samoa.
3. Lalomanu Beach
The last stop for the day was Lalomanu Beach. It is a hidden gem situated on the southeastern coast of Upolu Island in Samoa, near Apia. This pristine beach is renowned for its soft white sands, crystal-clear turquoise waters, and picturesque palm trees swaying in the gentle breeze.
At Lalomanu Beach Fales, you'll find traditional Samoan beach fales, which are open-air beach huts that offer a unique accommodation experience. These fales provide a direct view of the stunning beach and ocean, allowing you to wake up to the soothing sound of waves and immerse yourself in the beauty of nature. They usually book out in advance so check out Taufua Beach fales nearby.
The Lalomanu beach itself is a paradise for sunbathers, swimmers, and snorkelers. One of the highlights of Lalomanu Beach Fales is the opportunity to experience Samoan hospitality and culture. The local families who operate the beach fales warmly welcome visitors, offering traditional Samoan meals and cultural activities.
Back in Apia, chilled at my outdoor fale followed by dinner at a local restaurant with traditional Samoan dishes while enjoying the vibrant atmosphere of Apia.
Picked up water and some fruits and snacks for the hike tomorrow.
Day 3: Lake Lanoto'o National Park Hike 
Breakfast at the hotel
At this point, I had made a new friend at the hotel and we found a taxi that was happy to take us to the village where Lake Lanoto'o National Park Hike starts.
Lake Lanoto'o National Park is nestled in the lush rainforest of Upolu Island and offers a hiking trail for outdoor enthusiasts. As you explore you'll encounter a diverse array of flora and fauna, including towering trees, vibrant tropical plants, native bird species, and 6 picnic tables throughout the trail. The trails wind through dense forest, opening up to picturesque viewpoints overlooking the serene Lake Lanoto'o. Must add though- the state of the trail was rough like no one had been there for years, Vegetation was growing wild covering the path itself, and no marks no signs, apart from the main board at the beginning. Our driver also told us that a few years ago, 2 hikers got lost and spent a night in the forest! Due to all of the above, go at your own risk.

Initially, I thought the taxi will take us to the car park, and we walk 15 mins to get to the viewpoint but man I was so wrong! It ended up being a 6-hour hike on my miserable flip-flops plus the path was mostly muddy and slippery. I forgot to count how many times I Almost slipped on mud

If you are a regular reader or my gram follower you know I like a good hike, so I was excited about it. The only problem was, I had no hiking shoes. I ALWAYS bring hiking shoes in my travels but I had no plans to hike on this trip so I didn't and I didn't want to mess up my white shoes which meant if I wanted to do this hike, I had to do it on my flip-flops!
It is supposed to be 4 hours hike on a good day but we walked in the wrong direction for an hour, the trail was super slippery with mud and rain, and spent some time resting at the viewpoint. Was it worth it though? Yes absolutely! It is one of my highlights from the Apia trip. Do I want to do it again? Def not in flip-flops but yeah I might with proper hiking shoes.
If you want to do this hike read this full blog for directions and details.
Pizza for dinner
Nothing better than a whole pizza to yourself. Went again to Giordano's Pizzeria. Plus a fresh coconut and ice cream to end the exhausting but fun day!
Day 3: Papase'ea Sliding Rocks and Island Hopping Beach Bliss
If you want to relax after the 6 hours hike yesterday, recommend going for a spa treatment or yoga session at one of the wellness centers in Apia, rejuvenating your mind and body.
Or visit the Papase'ea Sliding Rocks, where you can slide down natural rock formations into cool freshwater pools.
Another option is to go for Island hopping.
Go on a boat tour to explore the nearby islands, such as Namua or Manono Island.
Snorkel in the crystal-clear waters, marveling at the vibrant marine life and coral reefs.
Enjoy a beach picnic on one of the secluded white sand beaches, soaking up the sun and enjoying the serenity of the surroundings.
Engage in water sports activities like kayaking or paddleboarding.
Experience a mesmerizing sunset over the ocean and savor a beachfront dinner at a local restaurant.
Day 4:
1. Mount Vaea Hike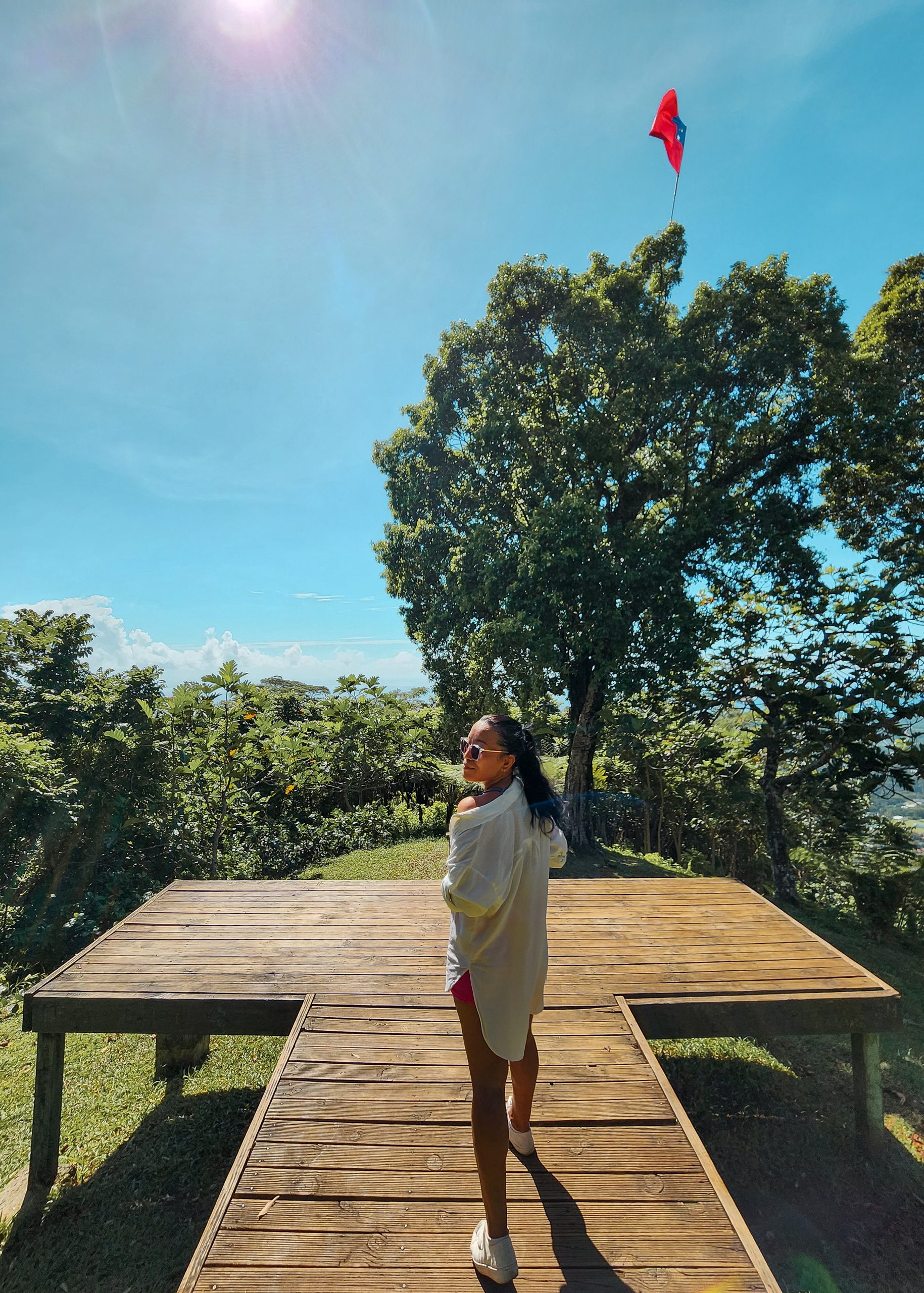 One more hike before wrapping the trip tomorrow. Also decided to do this as I am not flying to the outer island and cbb with more beaches.
Mount Vaea hike aka the Robert Louis Stevenson Hike in Apia is a well-looked-after area. The peaceful greenery landscape and rich history of the region are named after the famous Scottish author who spent his final years in Samoa. This trail offers a quiet hike through lush rainforests and two options to hike up, Longer path takes you through a zig zap trail making it easier and the shorter path is a straight steep climb to the top.
The highlight of the hike is reaching the summit of Mount Vaea, where Robert Louis Stevenson's tomb overlooks the picturesque surroundings, providing a peaceful spot to reflect on his legacy (although the trees at the top almost blocked the view now). The park is in the process of building a fale next to the tomb which probably will be a resting area at the top.
The trail is well-marked and caters to hikers of varying abilities, making it accessible for all. As you traverse the path, immerse yourself in the natural beauty of Samoa, from the songs of birds to the rustling of leaves. Don't forget to wear suitable footwear, carry sufficient water, and consider hiring a local guide for a more informative experience.
I choose to do the steep hike up and arrived at the top in 20-25 mins way which is shorter than 6 hour's hike at the Lake Lanoto'o National Park above.
2. Robert Louis Stevenson Museum
After the hike, head to the Robert Louis Stevenson Museum next door. You can buy the tour tickets at the gift shop, they are open M-F 9 AM to 4 PM & S 9 AM to 12 PM. Closed Sundays
Located in a charming colonial-style mansion, the Robert Louis Stevenson Museum showcases a collection of artifacts, manuscripts, and personal belongings of the author. Explore the various rooms and exhibits to gain insight into Stevenson's life, his travels, and his literary works, including the famous "Treasure Island" and "Strange Case of Dr. Jekyll and Mr. Hyde."
This museum is dedicated to preserving the memory of the renowned Scottish author, who spent his final years on the island and drew inspiration from its enchanting landscapes.
As you wander through the museum, you'll have the opportunity to learn about Stevenson's connections to Samoa, his interactions with the local community, and his contributions to the island's cultural heritage. The museum offers a glimpse into the author's creative process and the inspirations behind his captivating stories.
In addition to the exhibits, the museum's surroundings are adorned with lush gardens and picturesque views, providing a tranquil setting to reflect on Stevenson's impact and the beauty that captivated him during his time in Samoa.
A visit to the Robert Louis Stevenson Museum is a must for literature enthusiasts, history buffs, and anyone interested in the life of this celebrated author. It offers a unique opportunity to delve into the world of Robert Louis Stevenson while appreciating the cultural and natural splendors of Samoa.
3. Local Cooking Class
Immerse yourself in Samoan culture by participating in a handicraft workshop or traditional cooking class and that's your lunch sorted.
Take a leisurely stroll through the botanical gardens, admiring the diverse flora and fauna followed by dinner at one of many restaurants in town.
Day 5: O Le Pupu-Pue National Park
Venture into the lush rainforests of O Le Pupu-Pue National Park, embarking on a guided trek to discover hidden waterfalls and breathtaking viewpoints.
Visit a local village and engage in a cultural exchange, learning traditional crafts or participating in a customary ceremony.
Spend the afternoon at a secluded beach, reading a book, or simply unwinding in a hammock.
Relax at your accommodation or explore the vibrant nightlife scene in Apia, visiting local bars or clubs.
Remember to adjust the itinerary based on your preferences and the specific attractions and activities available during your visit. Enjoy your time in Apia, Samoa, and create lasting memories of this beautiful destination!
Solo travel tips to Apia Samoa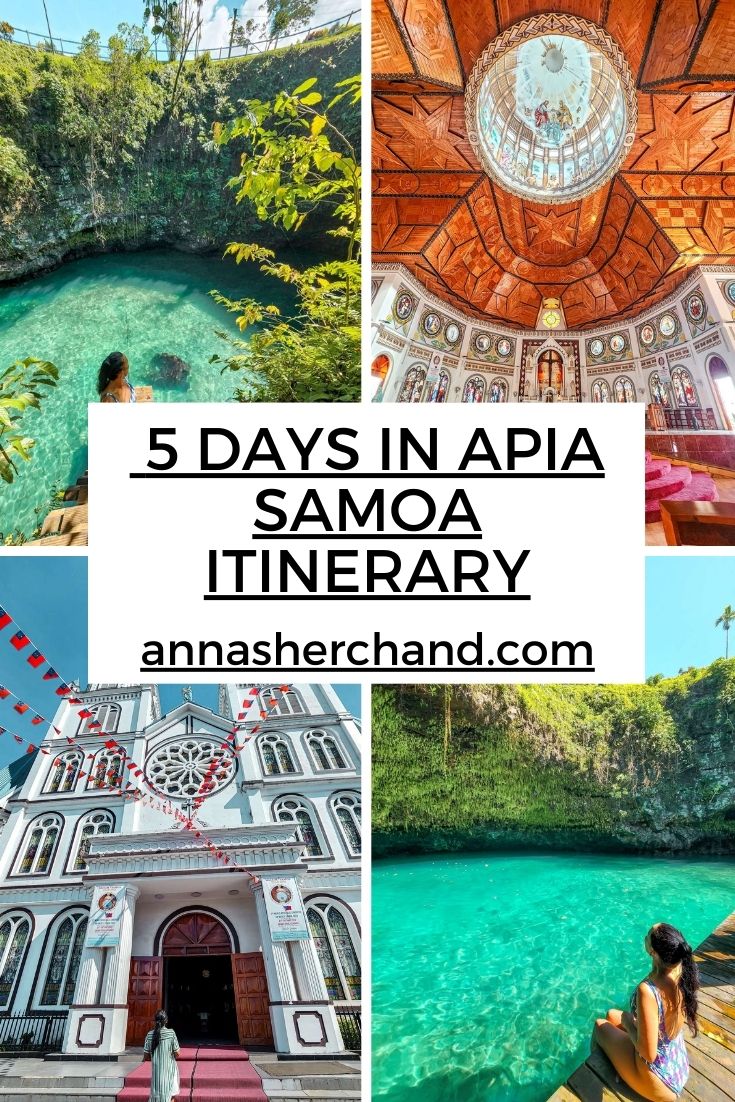 Traveling to South Pacific Islands is a bit of a risk due to limited flights in the region so you really have to plan it properly otherwise you could be stuck there for weeks until the next flight. I started with 3 days in Port Moresby then 3 days in Honiara followed by a flight to Nadi then Nadi to Apia, Samoa for 5 days.
The reason why I visited only the capital cities is because I don't dive hence there was no need to go explore the outer islands and I live in Australia. so when I travel I don't want to be chasing beaches as we have tons at home. Plus limited and expensive flights as well as being time-poor made me settled on those few days but you know what, it's better to be there for a few days and focus in 1 place than not being there at all.
Now without further ado, let's get started with travel tips to Samoa
Is Apia safe for solo travellers?
Apia, Samoa, is generally considered a safe destination for solo travelers. Samoan culture places a strong emphasis on hospitality, respect, and community, creating a welcoming and friendly environment for visitors.
When I said I got robbed above, it was when I was with some people from my hotel having dinner together at a local eatery. I sat at the edge of the table and had my small bag next to me on the bench. It was around 6:30 pm and there were two guys trying to sell air freshers for the car so told them we came here in a taxi and have no car. We continued having our dinner and chats and the next thing I know my bag was missing & it had everything in it – my phone – literally your world, credit & debit cards, charging cable w power bank, hotel keys, and cash.
I swear I had a heart attack and immediately started panicking and crying!

That eatery was built a little above the ground, so if someone was sitting below the fence on the outside, you couldn't see from inside the eatery. We had sat on the last bench of the eatery and the fence had the holes-like design on it. So, while we were having dinner, someone quickly grabbed my bag from the outside of the fence and had vanished!

Usually, I am mindful of my surroundings and have near photographic memory which actually helped tremendously when giving descriptions of the guys that were trying to sell air fresher prior, to the police. I am extremely thankful to a couple of locals and police legends in Apia who helped secure some of my belonging back. The whole thing went on from around 7 pm-12 AM. Also, grateful to 3 guests from the hotel who stood by me and did not hesitate to give statements to the police.
The lesson I learned from this incident was to just wear the bag rather than place it on the beach. Also, there would have been 0 chances I reckon if I had placed my bag ON the table INFRONT of me than on the bench.
All that to say, like any destination, it is important to exercise caution and be aware of your surroundings. Here are some points to consider:
Low Crime Rates: Samoa has relatively low crime rates compared to many other countries. Violent crime is rare, and tourists are generally well-received and respected. However, it is still advisable to take basic precautions and practice common-sense safety measures, such as avoiding isolated areas at night and keeping your belongings secure.
Welcoming Locals: Samoan people are known for their warm and friendly nature. The locals are usually helpful and hospitable towards tourists, making solo travelers feel welcomed and comfortable. Engaging with the locals and immersing yourself in the culture can enhance your experience and provide opportunities for meaningful interactions.
Cultural Sensitivity: Respecting the local customs and cultural norms is important when traveling in Samoa. Learning a few basic Samoan phrases, dressing modestly when visiting villages or religious sites, and adhering to local etiquette will be appreciated by the locals and help you blend in with the community.
Transportation: When moving around Apia or exploring other areas of Samoa, it's recommended to use reputable transportation options, such as licensed taxis or rental vehicles from trusted companies. If you're unsure, ask for recommendations from your accommodation or locals to ensure your safety.
Solo Adventure Precautions: As a solo traveler, don't tell strangers you are traveling solo and it's always wise to inform someone trustworthy about your whereabouts and travel plans. Share your itinerary with a friend or family member, and keep them updated on any changes. If you don't have anyone, my inbox is open. Additionally, be cautious when accepting offers of assistance or engaging in activities with strangers. Trust your instincts and use your judgment.
While Apia is generally safe, it's important to stay informed about local conditions and any potential travel advisories. Checking the latest travel information from reliable sources, such as your country's embassy or consulate, can provide valuable insights and updates regarding safety concerns.
Overall, by taking common-sense precautions, being respectful of the local culture, and staying aware of your surroundings, you can have a safe and enjoyable experience in Apia, Samoa.
Where to get the SIM card?
You can buy E-sim at Airalo or as you exit the arrival hall of Faleolo International Airport, turn right around the corner, and you'll immediately spot a Vodafone and a Digicel store. These are the recommended locations for purchasing a SIM card. Vodafone was still open at 1 AM when I landed!
In the event that you miss the opportunity to buy a SIM card at the airport, you can head into Apia city center to find a Digicel or Vodafone store. Near the McDonald's in town, you'll find both a Digicel store and a Vodafone store. Do note that the city center is approximately an hour away from Faleolo International Airport in Apia.
The process of buying a SIM card in Samoa is straightforward. At the phone store, they will request a copy of your passport for registration purposes. This is a common practice in many countries, and your new Samoa SIM card will be registered under your name and passport number.
Registering a Vodafone prepaid SIM card is free, and they offer a single prepaid SIM card deal for tourists:
I bought 4 GB for $5 Tala valid for 24 hours and topped it up the next day from the phone.
They also had an option for 20 GB of data + 50 minutes for 15 days at $49 Tala. Additionally, this prepaid tourist SIM card allows you to make 100 minutes of calls to Australia or New Zealand and offers unlimited calls and SMS to Vodafone numbers in Samoa, plus 50 mins local non vodafone calls.
Here are some useful speed dial numbers for Vodafone:
Dial *111# to check your own number.
Dial *888# to check your balance.
Dial *888# to purchase a new data bundle.
Where to get the local currency?
When it comes to obtaining the local currency in Apia, there are a few options available. After exiting the arrival hall, you'll find ATMs conveniently located on the left side. During my visit, I utilized the ANZ ATM, which provided a reliable option for withdrawing local currency. However, please note that the availability of ATMs and their operating condition may vary, so it's advisable to have some cash on hand or a backup method of payment in case of any unforeseen circumstances or technical issues with the ATMs.
While the currency exchanges were closed when I arrived late at night (around 1 am), it's worth noting that they might be open during regular business hours. If you prefer exchanging currency in person, you can explore the options available in town after your arrival. It's an opportunity to not only obtain the local currency but also pick up some souvenirs like postcards, enhancing your travel experience.
Remember to check the current exchange rates and any potential fees associated with currency exchange or ATM withdrawals, as they may vary depending on the provider. Having a mix of local currency and alternative payment methods can provide you with flexibility and ensure a smooth experience during your time in Apia.
Where to stay in Apia, Samoa?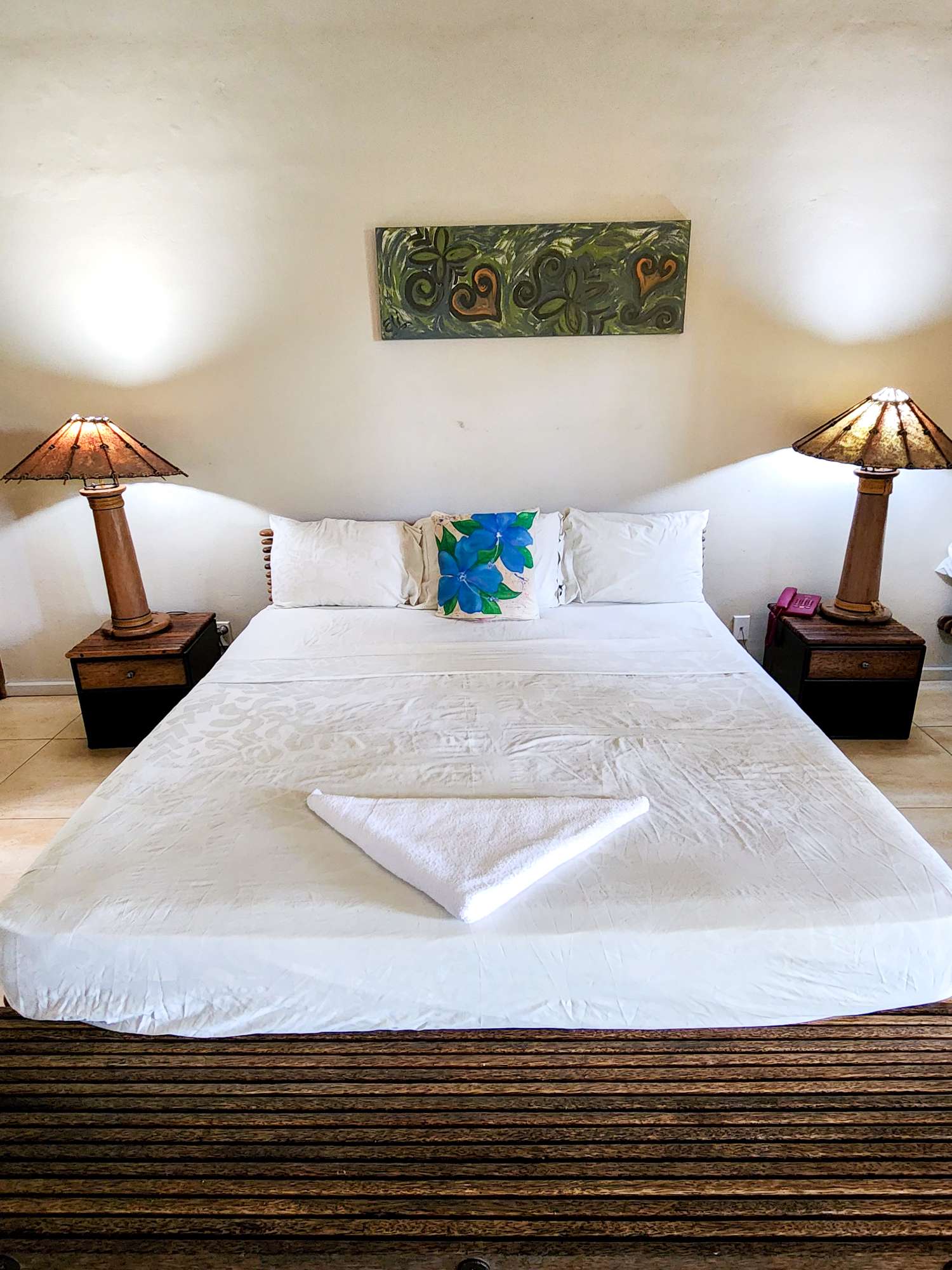 When choosing accommodation in Apia, Samoa, you have a range of options to suit different preferences and budgets.

Cross Island Road: The Cross Island Road, which connects Apia to the south coast, offers a more secluded and peaceful environment. There are some eco-lodges and guesthouses nestled in the lush rainforest surroundings, providing a serene retreat away from the city. I stayed at La Manumea Hotel which was the perfect quiet stay. Airport Pickup was included and they also run a weekly cultural show every Thursday night and recommend it.

I however had to check out from La Manumea after the first night because they were booked out the next day so I stayed at Samoa Outriggers at their outdoor fales. At first, I was apprehensive but it was a cool experience, historically the locals slept in the beach fales and nowadays you can still find these beach fale accommodations near the coast. I had a double and a single bed all to myself and no mosquitos and the other guests were quiet so no snoring. Plus their breakfast was sooo good!

Other recommended alternatives are The White House Hotel, and Olivias Accommodation if you are on a budget.

Apia City Center/ Beachfront Accommodation: Staying in this area provides convenient access to shops, markets, restaurants, and cultural attractions plus ocean views. You'll find a mix of hotels, guesthouses, and resorts in this area, catering to various budgets. If you prefer a beachfront location, consider staying in areas like Matautu, Mulinu'u, or Vailima, which offer stunning coastal views and proximity to the ocean. You'll find a mix of hotels and resorts along the coastline, providing easy access to the beach and water activities. Such as Sheraton Samoa Aggie Grey's Hotel & Bungalows, Tanoa Tusitala Hotel, or Lava Hotel Apia

Vaitele and Lalovaea: These suburban areas are located a short distance from Apia and offer a quieter and more residential atmosphere. Accommodation options include hotels, guesthouses, and vacation rentals. Such as Vaea Hotel Samoa.
When choosing specific accommodations, consider factors such as:
Budget: Determine your budget range and explore accommodations that fit within it. There are options available for all budgets, from budget guesthouses to luxury resorts.
Amenities: Consider the facilities and amenities that are important to you, such as Wi-Fi, swimming pool, air conditioning, on-site restaurants, and spa services.
Reviews and Ratings: Read reviews and check ratings of accommodations on reputable booking websites or travel platforms to get an idea of the experiences of previous guests.
Location: Consider the proximity to attractions, restaurants, and transportation options based on your planned activities and preferences.
Personal Preferences: Decide if you prefer a smaller guesthouse for a more intimate experience, a larger hotel with extensive facilities, or a unique eco-lodge for a closer connection to nature.
It's recommended to book your accommodation in advance, especially during the high season, to secure your preferred choice. Compare prices, read reviews, and consider your needs and preferences to find the best accommodation option for your stay in Apia, Samoa.
How many days should I spend in Samoa?
The ideal duration for your stay in Samoa depends on your travel preferences, interests, and the activities you wish to engage in. However, a suggested minimum stay would be around 5 to 7 days to allow for a well-rounded experience and to explore the highlights of both Upolu and Savai'i, the two main islands of Samoa. Here are some factors to consider when determining the length of your stay:
Island Hopping: Samoa offers the opportunity to explore multiple islands. Upolu, where the capital city of Apia is located, is known for its stunning beaches, cultural sites, and vibrant markets. Savai'i, the larger and more pristine island, boasts natural attractions such as lava fields, waterfalls, and secluded beaches. If you plan to visit both islands, allocating a few days for each is recommended.
Relaxation and Beach Time: Samoa is renowned for its beautiful beaches and tranquil atmosphere. If you want to unwind, enjoy leisurely beach days, and simply soak in the island's natural beauty, you may want to spend more time in Samoa. Consider allocating a few extra days to fully embrace the laid-back lifestyle and take advantage of the pristine shores.
Cultural Experiences: Samoa has a rich cultural heritage and traditions that are worth exploring. Traditional villages, ancient archaeological sites, and cultural performances provide a deeper understanding of Samoan customs. Allotting time to immerse yourself in these cultural experiences can enhance your visit to Samoa.
Outdoor Activities: Samoa offers various outdoor activities such as snorkeling, diving, hiking, and exploring waterfalls. If you are an adventure enthusiast and want to fully enjoy these activities, consider allocating additional days for excursions and outdoor adventures.
Relaxation and Flexibility: Allowing for some downtime and flexibility in your itinerary is always beneficial. It gives you the opportunity to truly unwind, explore at your own pace, and embrace the slower rhythm of island life.
Of course, you can choose to spend more or fewer days in Samoa based on your preferences and the time you have available. It's important to consider travel logistics, such as flight schedules and connections when planning your itinerary.
How expensive is Apia, Samoa?
Depends comparing to which country. If you are comparing it to Hanoi or Nepal yeah Apia, Samoa is very expensive but if you compare it to its neighbor like Tonga, it can vary in terms of expenses depending on your travel preferences and choices. Here is an overview of the general cost of traveling in Apia:
Accommodation: The cost of accommodation in Apia ranges from budget-friendly guesthouses and hostels to luxury resorts. Prices will vary based on the location, amenities, and season. On average, a mid-range hotel or guesthouse in Apia can cost anywhere from $60 to $150 per night.
Food and Dining: The cost of dining out in Apia can be relatively affordable. Local Samoan food is often reasonably priced, especially at local markets and street food stalls. If you opt for mid-range restaurants or international cuisine, prices can be slightly higher. On average, a meal at an inexpensive local eatery may cost around $5 to $10, while a mid-range restaurant may charge $15 to $30 per meal.
Transportation: Public transportation in Apia, such as buses, is affordable, with fares ranging from $1 to $2 for a single journey within the city. Taxis and car rentals are also available, but they tend to be more expensive. Rental car prices can start from around $50 per day.
Activities and Attractions: Many of the natural attractions in Samoa, such as beaches, and hiking trails, are free to visit or have minimal entrance fees. Cultural activities, traditional dance performances, and guided tours to waterfalls may have varying costs, typically ranging from $10 to $50 per person, depending on the experience.
Shopping: Local markets and shops offer a range of souvenirs, crafts, and clothing at affordable prices. Prices can vary, but bargaining is sometimes possible in markets. It's recommended to have some cash on hand for smaller vendors who may not accept credit cards.
It's important to note that these prices are approximate and can vary based on factors such as the season, exchange rates, and personal preferences.
How to get around Apia, Samoa?
Getting around Apia, Samoa is relatively easy, and there are several transportation options available for navigating the city. Here are some common methods of transportation in Apia:
Walking: Apia city center is relatively compact and can be explored on foot. Walking is a great way to immerse yourself in the local atmosphere, especially when exploring the markets and central areas.
Taxis: Taxis are readily available in Apia. You can find them at designated taxi stands or simply flag one down on the street. Taxis operate on fixed rates, so it's a good idea to confirm the fare with the driver before starting your journey.
Rental Cars: Renting a car is a popular option for exploring Apia and the surrounding areas at your own pace. Several car rental companies operate in the city, and it's advisable to book in advance. Remember that Samoans drive on the left-hand side of the road.
Public Buses: Public buses, known as "Samoan buses" or "Samoan taxis," are a common mode of transportation in Apia. They operate along fixed routes and have designated stops. Buses are affordable and provide a chance to experience local culture. However, they can be crowded and may not always adhere to strict timetables.
Private Transfers: Private transfers, such as airport shuttles or pre-booked taxis, are available for convenient transportation between the airport and your accommodation. Many hotels and resorts also offer their own transfer services.
Bicycle Rentals: Some guesthouses and hotels in Apia offer bicycle rentals, allowing you to explore the city and nearby areas on two wheels. This can be a fun and eco-friendly way to get around, especially for shorter distances.
It's important to note that while Apia itself is relatively easy to navigate, venturing outside the city may require additional transportation arrangements or guided tours. Plan your transportation options accordingly based on your itinerary and the places you wish to visit.
Always consider the local traffic rules, road conditions, and safety precautions when choosing your mode of transportation in Apia, Samoa.
When is the best time to visit Samoa?
The best time to visit Samoa is during the dry season, which runs from May to October. This period offers pleasant weather with lower humidity, making it ideal for outdoor activities and beach visits. The temperatures during this time range from the mid-20s to the low 30s Celsius (mid-70s to low 90s Fahrenheit).
Here are some factors to consider when planning your trip to Samoa:
Dry Season: May to October is considered the dry season, characterized by sunny days and less rainfall. This is a popular time for tourists to visit as the weather is generally more predictable and conducive to outdoor exploration.
High Season: The dry season coincides with the high tourist season in Samoa, especially in July. Expect more crowds and higher prices for accommodations and activities. It's advisable to book your accommodations and flights well in advance.
Whale Watching: July to October is the prime time for whale watching in Samoa. Humpback whales migrate to the area during this period, offering incredible opportunities for spotting these majestic creatures.
Surfing and Water Activities: The dry season also brings consistent swells to Samoa's surf breaks, making it a great time for surfers to visit. Snorkeling, diving, and other water activities are also enjoyable during this time due to clearer waters.
Cultural Events: If you're interested in experiencing traditional Samoan culture and festivals, consider planning your visit around major cultural events such as the Teuila Festival in September or the Independence Day celebrations on June 1st.
It's important to note that while the dry season is generally considered the best time to visit Samoa, the weather can still be unpredictable, and brief showers can occur even during this period. Additionally, the months of June and July may experience slightly cooler temperatures compared to the rest of the dry season.
If you prefer fewer crowds and don't mind some occasional rain, visiting during the shoulder seasons of April and November can also be a good option. These months offer a balance between relatively good weather and fewer tourists.
Ultimately, the best time to visit Samoa depends on your personal preferences, planned activities, and availability. It's recommended to check the current weather conditions and seasonal variations before finalizing your travel dates.
What is Apia Samoa known for?
Apia, Samoa is known for several notable features and attractions that contribute to its unique identity. Here are some things that Apia is known for:
Cultural Heritage: Apia is renowned for its rich Samoan cultural heritage. The city is home to traditional villages, historic sites, and museums that offer insights into Samoan customs, arts, and traditions. Visitors can witness traditional dance performances, explore ancient archaeological sites like Pulemelei Mound, and visit the Samoa Cultural Village to learn about Samoan culture.
Markets: Apia is famous for its vibrant markets where locals and tourists alike gather to shop for fresh produce, handicrafts, and local delicacies. The Maketi Fou (Flea Market) and the Fugalei Market are popular spots to experience the lively atmosphere, browse through traditional crafts, and sample Samoan cuisine.
Robert Louis Stevenson Museum: Apia is home to the Robert Louis Stevenson Museum, dedicated to the famous Scottish author who spent the last years of his life in Samoa. The museum showcases the life and works of Stevenson and offers a glimpse into Samoan history during that period. Visitors can explore his former residence, known as the Vailima House, and stroll through the beautiful gardens.
Beautiful Beaches: Apia is situated along the coastline, providing easy access to stunning beaches. Lalomanu Beach located a short drive from Apia, is particularly famous for its white sands, crystal-clear waters, and picturesque scenery. Other nearby beaches, such as Salamumu Beach and Tafatafa Beach, offer opportunities for swimming, snorkeling, and sunbathing.
Natural Wonders: Apia is surrounded by natural wonders, including lush rainforests, dramatic waterfalls, and volcanic landscapes. Visitors can embark on hiking trails to explore these natural attractions, such as Papaseea Sliding Rocks, Togitogiga Waterfall, and the O Le Pupu-Pu'e National Park.
Teuila Festival: Apia hosts the annual Teuila Festival, a week-long celebration of Samoan culture, music, and sports. The festival showcases traditional dance performances, handicraft displays, tattooing demonstrations, and various competitions. It's a vibrant event that attracts visitors from both Samoa and abroad.
These are just a few highlights that make Apia, Samoa unique and appealing to visitors. Whether it's the cultural experiences, natural beauty, or vibrant markets, Apia offers a blend of tradition, natural wonders, and warm Samoan hospitality that leaves a lasting impression on its visitors.
How long does it take to drive around Upolu Samoa?
Driving around the island of Upolu in Samoa can be done in a single day, as the island is relatively small and the road network is well-developed. The main road that circumnavigates Upolu is called the Cross-Island Road, also known as the East Coast Road. It stretches approximately 130 kilometers (80 miles) around the island.
The driving time to complete the full loop around Upolu can vary depending on several factors, including traffic conditions, road conditions, and the number of stops you make along the way. On average, it can take approximately 3 to 4 hours to drive around the island without factoring in any stops or detours.
However, it's worth noting that Upolu offers numerous attractions and scenic spots that are worth exploring and taking your time to appreciate. This may include visiting beaches, waterfalls, cultural sites, and other points of interest along the way. It's advisable to allocate additional time to make stops, explore attractions, and enjoy the natural beauty of Upolu.
To make the most of your drive around Upolu, plan your itinerary in advance, considering the places you want to visit and the time you wish to spend at each location. Be sure to check the road conditions and weather forecasts, as certain areas may require cautious driving due to twists, turns, and occasionally steep roads.
Remember to drive safely and adhere to local traffic rules and regulations while enjoying the scenic drive around Upolu, Samoa.
5 days in Apia Samoa itinerary 5 days in Apia Samoa itinerary 5 days in Apia Samoa itinerary 5 days in Apia Samoa itinerary 5 days in Apia Samoa itinerary
Let me know in the comments:
if you have any other questions on 5 days in Apia Samoa itinerary
5 days in Nuku'alofa Tonga itinerary
3 days in Port Moresby
Melbourne in spring
Grampians itinerary for 3-4 days
Best day trips from Hobart, Tasmania
Day trip to Stradbroke Island, Queensland
Weekend in Brisbane
Best places to visit in autumn in Australia
Backpacking in Melbourne, Australia
Digital nomad guide to Melbourne
Sydney itinerary 5 days
Best places to see autumn leaves in Adelaide
Exploring Adelaide the best way
All Adelaide travel blogs
10 hidden beaches and bays in Sydney
99% of readers found must see on the east coast of Australia helpful.
Sydney bucketlist things
Sydney itinerary for 5 days
Secret Sydney walks
Best places to take photos in Sydney
Pros and cons of living in Australia
where to stay in Sydney
Hidden beaches and bays
most instagrammable cafes in Sydney
where to eat in Sydney
most Instagrammable places in Sydney, Australia
Most beautiful places in New Zealand North Island
Check out the most beautiful places in New Zealand South Island
Going to Vietnam after Australia? Check out the 7 days Hanoi travel guide.
One month in Central America itinerary
Solo trip to Phoenix, Arizona
How about Colombia? Check out how to get from Medellin to guatape
Check out where to stay in Medellin, Colombia
Check hotel prices and book it through booking.com
Read the most wanted travel resource here.
If you like this article, read about my journey to becoming a solo female Nepali Australian travel blogger, follow my adventures on Instagram, Facebook, YouTube, Twitter, and Pinterest, but most importantly sign up for my e-mail list to keep up with updates and travel posts!
5 days in Apia Samoa itinerary