I was lucky to visit Taipei before I left for a working holiday in Canada. It was a short stay but a memorable one. So if you are looking to do a solo trip to Taipei, you will find this article helpful because not only I am covering the best places to visit in Taipei but also the travel hacks for Taipei, food to try, the best time to visit, how many days is enough for Taipei, where to stay, activities and day trips from Taipai also. It is going to be jam-packed with all the information you may need before you travel to Taipei.
Taipei is the capital city of Taiwan and Asia's 2nd richest city per capita. It is also home to the world's 5th tallest building Taipei 101. Something you may not know is this beautiful country is commonly known as "Taiwan" but officially it is actually called the Republic of China. And interestingly there is New Taipei City and Taipei city and before you get confused let me break it down for you.
New Taipei City is outside of Taipei and the cost of living there is cheaper than central Taipei. However, due to the extensive subway lines that cover this region; it is not difficult to travel between these cities and locals regularly commute between the two for work. You are also closer to the mountains if you stay around New Taipei city.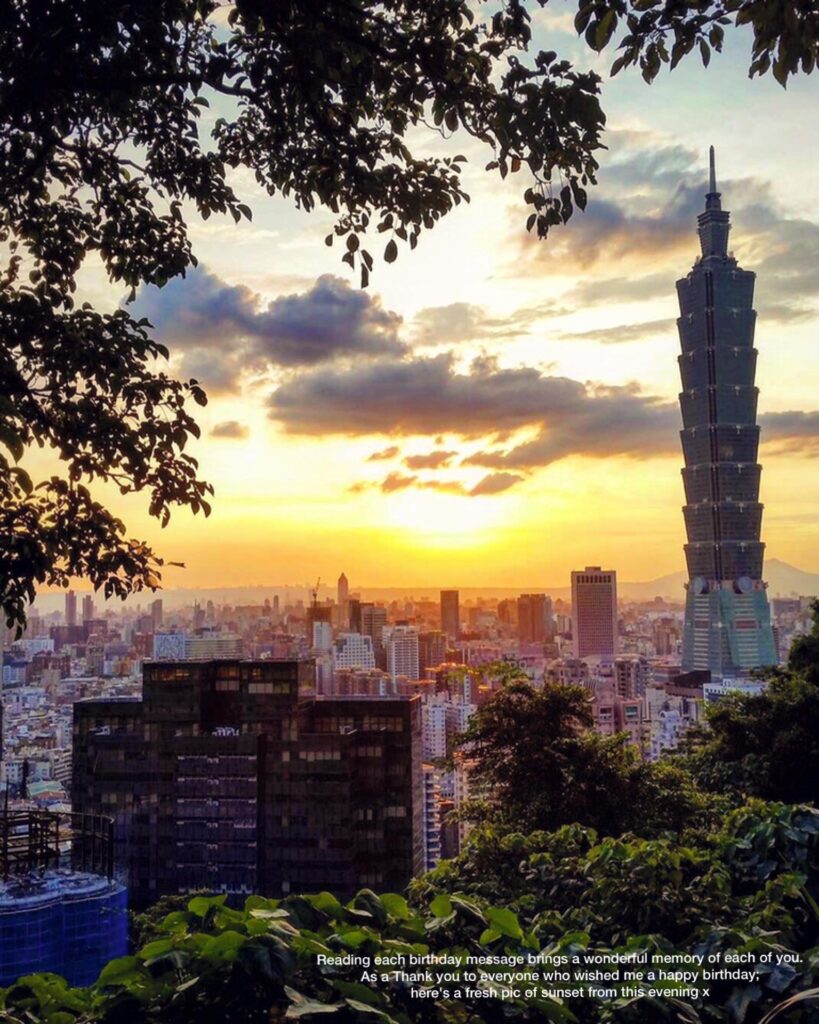 On the other hand, Taipei has many tourist attractions such as 101, lively street night markets, and Chiang Kai Shek memorial hall. So, usually, most people visit Taipei, and rarely New Taipei city.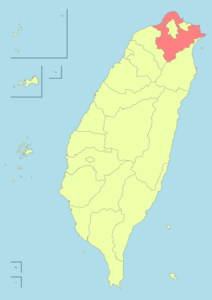 New Taipei City is the one in red. Taipei City is the island within the red, but don't confuse it with the circle that borders the northern shore, because that's Keelung City. Before I share the best places to visit on your solo trip to Taipei, let me give you some travel tips to Taipei first.
Travel tips for Taipei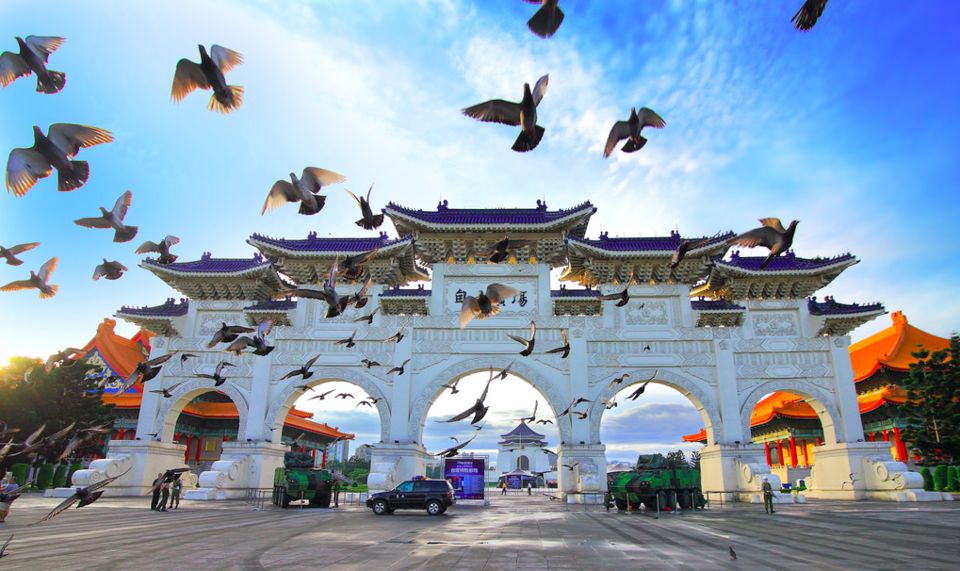 How to get to Taipei?
Taipei is in the north most part of Taiwan and has Chinese cultural influences. There are two ways you can get to Taipei.
By Plane
There are two airports in Taipei. One is for international arrivals while the Kaohsiung airport is primarily for domestic travel around Taiwan. The simplest way to get to Taipei is, of course, via plane. At the time I had just finished 1-month backpacking in China and I flew into Taiwan at Taiwan Taoyuan International Airport (TPE). It is connected by a shuttle bus to the Taiwan High-Speed Rail at Taoyuan Station.
If you are time-poor or flight is at night and you can store your luggage at the Taipei Main Station. There are plenty of lockers at the station.
By Rail
If flying is not your style, from London you can get to Taipei by Trans-Siberian Railway. With Trans-Siberian trains linking Europe with China, you can travel all the way between Europe & Taiwan this way.
By Ferry
Alternatively, you could take an overnight ferry from Xiamen (China) to Keelung (Taiwan) then a local bus/train/taxi ($2-$6) to Taipei or you can get on a bus from Fuzhou (China) followed by ferry and train which takes 9h 4m and costs $200 – $220.
How to get around Taipei?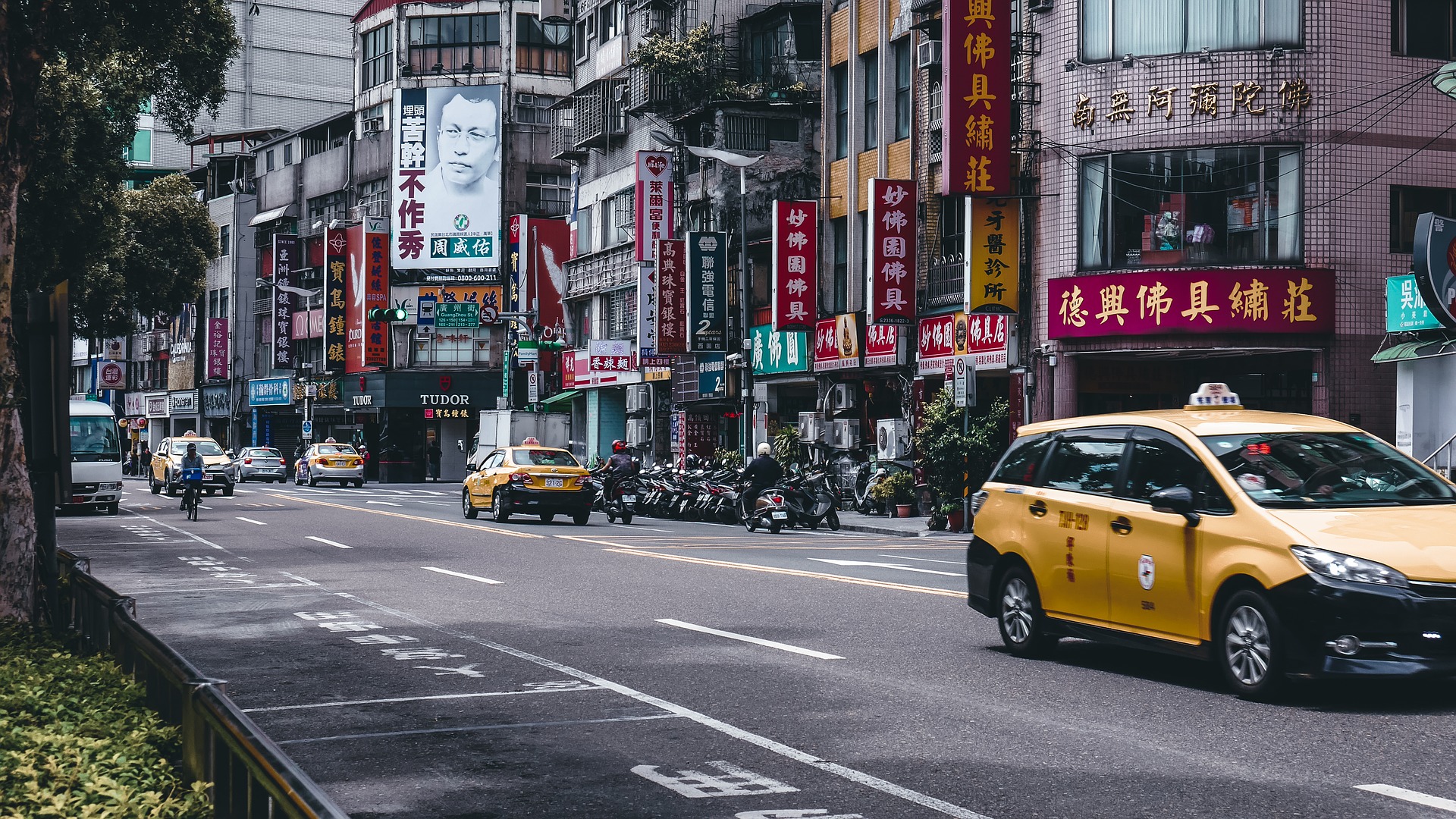 The Taipei transportation system is easy to navigate for tourists. The MRT/metro lines are extensive so traveling is very convenient. If you are traveling a lot on the metro an Easy Card is recommended – a pre-paid card which gives a 20% discount within Taipei. You can also opt for this Easy card that comes with a prepaid local SIM card Bundle or buy at the convenience stores throughout Taipei.
If you are a student present a passport from your country of origin, a student certificate as proof of study, or a travel pass from the National Youth Commission and receive reduced train fares for a 5-day, 7-day, or 10-day travel pass.
That said, buses in Taipei are also easy & cheapest ways to travel ie the average fare for a bus journey is around $0.50. They are usually clean, new, comfortable, and sometimes a preferred way to get to where you're going.
Then there is Taiwan high-speed rail (THSR) it runs along Taiwan's west coast. The rail line connects 8 stations between Taipei in the northern and Zuoying in the southern part, the full route typically taking 4 hours, with the major cities of Taipei and Kaohsiung only 2 hours apart.
Cabs/taxis in Taipei are more expensive than riding the bus or train but they are easy to spot with their bright yellow color and 'Taxi' sign on the roof. Because most taxi drivers do not speak English, I recommend asking someone who knows Mandarin to write down your destination to show to the driver.
Alternatively, you can download Uber for going around in Taipei. Here is the $10 off your first ride on the Uber app. To accept, use code 'k7zapn' to sign up. Enjoy! Details: https://www.uber.com/invite/k7zapn
How many days in Taipei is enough?
Although I like staying until my visa runs out in each country, I would say 5 days is the ideal time to spend on your solo trip to Taipei. You can start your journey in the capital city of Taipei, explore major attractions in the city then get on the high-speed rail looping around the coast of Taiwan as well as make a day trip or two.
Where to stay in Taipei?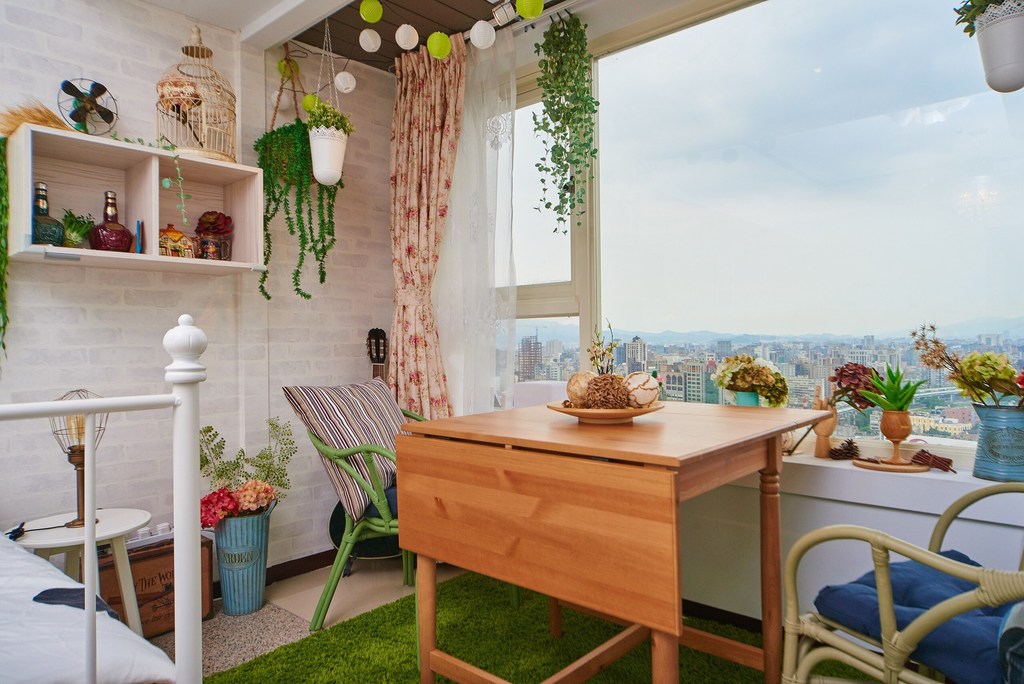 Recommend to read the latest reviews and prices of cheap hostels and expensive hotels at trusted Booking.com or Agoda before booking.
You would be spoilt for choice in some of the best neighborhoods which are, Ximending for all your shopping desires, Shida for the night markets, Gongguan – student area but vibrant bars, restaurants, Xinyi for that cosmopolitan living, Tamsui's for seaside, Daan for a quiet neighborhood but trendy bars, Daan Park, Songshan for several budget eateries and Tianmu, Shilin for East Meets West vibes and where most ex-pats live.
Do I need a visa for Taipei?
If your passport is from the UK, EU, US, NZ, Australian, you can stay up to 90 days in Taipei just with a visa on arrival stamp. That said, the authorities may ask for the return air or ferry ticket. That being said, I highly recommend checking the official website online or with your local embassy to find out if your country requires a Taiwanese visa.
When is the best time to visit Taipei?
The best times to visit Taipei are in spring March and May and fall which is September to November. If you can avoid traveling between June to October because it is the typhoon season in Taiwan.
Is Taipei safe for a solo female traveler?
People in Taiwan are generally friendly regardless of where you live and the violent crime rate is quite low. Unless there is a drastic change in the country's political situation, pandemic, or some natural disaster it is safe to travel to Taipei. Just remember to apply a general rule of thumb i.e. Don't walk down that dark alleyway on your own, respect the culture, don't argue about religion, dress modestly, trust your instincts, don't be afraid but be cautious.
Local currency
The local currency is called the New Taiwan Dollar, with international currency code TWD and its abbreviation is NT$. Banknotes are issued in NT$100, NT$ 200, NT$500, NT$1000, and NT$2000. Coins come in denominations of NT$50, NT$10, NT$5, and NT$1. You could withdraw TWD from ATMs. However, remember to consider bank fees from your bank and the ATM withdraw fee while you do your budget.
People, language, WIFI and more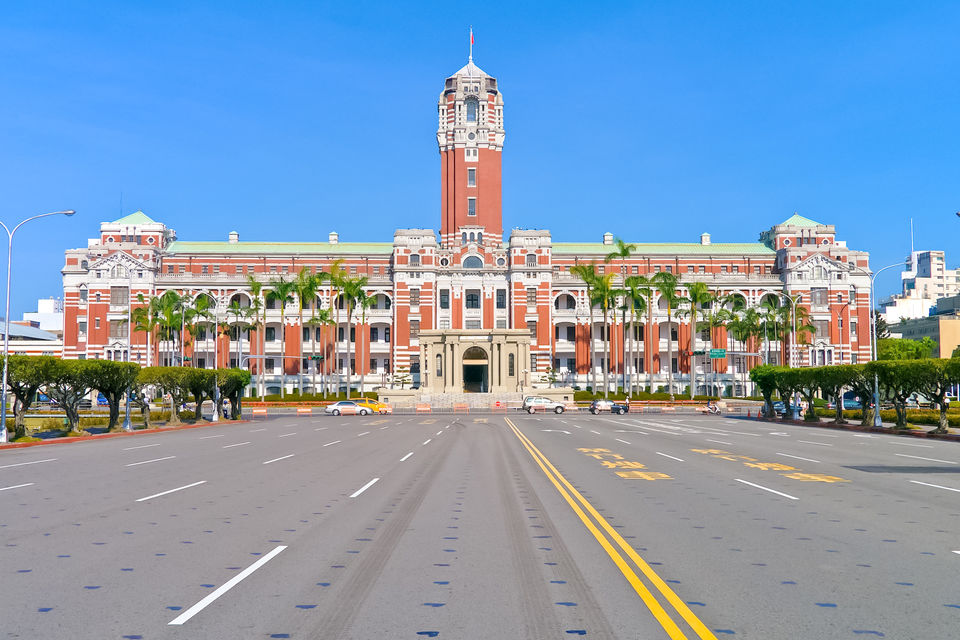 Taiwanese people share a common Taiwanese culture and speak Mandarin Chinese, Hokkien, Hakka, or indigenous Taiwanese languages as a mother tongue.
In most tourist places such as in Taipei center, you will find English speaking people otherwise it is not very common.
There's free Wi-Fi access all around Taiwan, and it's called iTaiwan. You'll have to register with iTaiwan before you go to Taiwan. When you arrive, you'll need to go to a tourist service center with your passport to get your application for an iTaiwan account. If you'll be in Taiwan for a while or think you'll use the internet a lot, the free Wi-Fi will be worth the hassle.
Line is the most popular messaging app in Taiwan. Even the older generation will have it on their phone since their kids will install it for them to get in touch with them. You'll also find that a lot of businesses will have Line QR codes for promotions and discounts. Practically everyone in Taiwan uses LINE, which is similar to WhatsApp.
Must-Have Travel Apps for Taipei

Google Translate for easy communication. Alternatively download Pleco Chinese Dictionary. It is arguably the best and most practical Chinese-to-English dictionary. And it's extremely simple to use!
Google Maps for ease of finding routes, offline use, Drive, Calendar for time management, and storing pictures.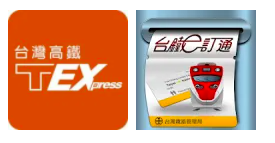 台灣高鐵 (T Express) to buy High-Speed Rail tickets and use your phone as an e-ticket.
台鐵e訂通 (Taiwan Railways e booking)
This official app from the Taiwan Railways Administration lets you look up train routes and schedules and book your tickets. You can even view train information in real-time!
Go! Taipei Metro
This app is a must-have for travelers in Taipei. It provides all the information you need for traveling Taipei's excellent subway routes.
YouBike
YouBike is a bike-sharing system. There are bikes available at many stations around Taipei. You pay a fee to rent a bike, then just return it to whichever bike station is most convenient for you.
Bus+
Bus+ app will help you navigate your way around Taiwan's cities' seemingly convoluted bus systems. It also provides information about the different cities' bike rental systems.
What to eat in Taipei?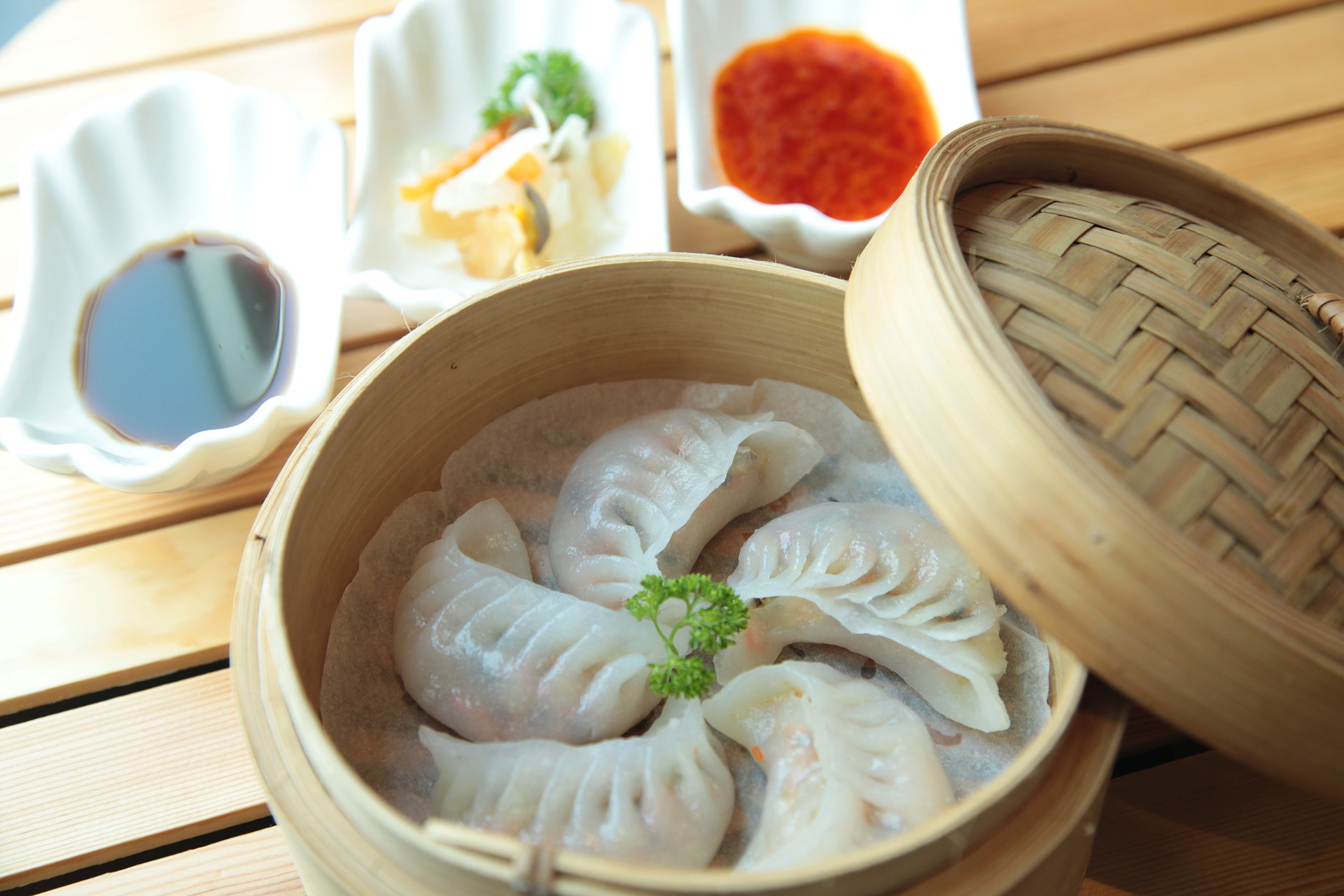 Taipei is a paradise for food lovers. You can buy food around the clock and here are my recommendations on must-try food in Taipei starting with Authentic Taiwanese Breakfast- Youtiao for breakfast, Beef Noodle Soup (Niu Rou Mian 牛肉麵), Scallion and Daikon (Radish) Pancake, Taiwanese Spicy Hot Pot, Pork Pepper Bun (Hu Jiao Bing 胡椒餅), Braised Pork Rice (Lu Rou Fan 滷肉飯), Taiwanese Fried Chicken, Bubble Tea / Pearl Milk Tea, Pineapple Cake, Pork Intestine & Oyster Noodle, Roast Beef with Pink Salt, Shengjiang Bao, Soy Beancurd (Tofu) Pudding and Papaya Milk.
Where to eat in Taipei
Night markets are fun and the best way to try the above-mentioned meals. Shilin Night Market is Taiwan's biggest and most well known night market. For most visitors, this is the ultimate night market since it has both food and shopping! Shida Night Market is more fashion than food but limited food options there.
Raohe Night Market is at Raohe street, it consists mostly of snacky street food/drinks try Fuzhou pepper buns, and some shops. Ningxia Night Market is all about food and food. Then finally, Keelung Night Market offers more food options but bear in mind it is out of Taipei city. The best way to get there is to either bike to it or get a taxi for about 45 minutes.
Alternatively, you can pay a visit to some of these Taipei's best restaurants: Addiction Aquatic Development (上引水產) – Taipei Fish Market, try Xiao Long Bao (小籠包) at Din Tai Fung, Huashan 1914 Creative Park, and IKEA House. For the best hot pot go to Tai Ho Dien (太和殿) or Ding Wang Spicy Hot Pot (鼎王麻辣鍋)
Can you drink in Taipei?
Taiwan is incredibly liberal meaning as long as you aren't driving, and you can behave yourself, you can drink almost wherever you want. Adding to that any licensed venus of course.
Solo trip to Taipei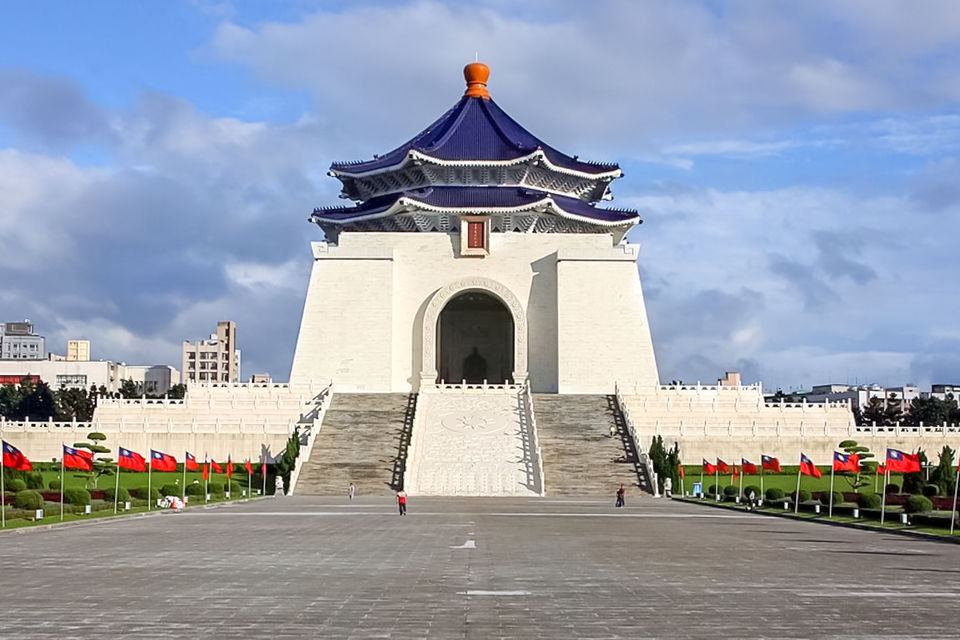 Now that we got the practical tips out of the way, let's get into the best places to visit during your solo trip to Taipei and day trips from it.
Best places to visit in Taipei
If you want to save the hassle of using the bus, train, metro, taxi I recommend getting a hop on hop off Taipei card. Sightseeing in Taipei has never been easier with this card because it allows unlimited hop-on-hop-off access for 24 or 48 hours and you will probably meet fellow solo travelers too.
The bus comes with an audio guide in 4 languages which makes discovering the city more enjoyable as you hear about Taipei's past and current stories. You can also change between the air-conditioned cabin at the front and the open-air seating at the rear.
Plan your day and visit the sites that you wish to see, from National Palace Museum to heritage sites, to glamorous shopping areas or explore Taipei famous night dynamic. The ticket combines 2 routes: the City Tour Red Route and the Out Town Tour Blue Route. Both routes take around 69 minutes to complete without hopping off.
Currently, they offer two routes 1. Red route and 2. Blue route.
City Tour – Red Route, departs every 40min from 9:10 AM – 8 PM (every 30min between 4:30 PM – 8 PM ) and covers the following landmarks and locations with photo opportunities.
Taipei Main Station
Ximending
Longshan Temple
Xiaonanmen
Chiang Kai Shek Memorial Hall
Xinyi & Yong Kong Intersection
Taipei 101
Sonshou Road
Sun Yat-sen Memorial Hall
Zhongxiao Dunhua
Dinghao Market
Zhongxiao Fuxing
Huashan Cultural and Creative Industries Park
Blue Route – Out Town Tour which departs every 40min from 9:40 AM – 4:40 PM and covers the following places.
Taipei Main Station
Ambassador Hotel
Tatung Company
Taipei Fine Art Museum
Grand Hotel
Ming Chuan University
National Palace Museum
For a breath of fresh air in Taipei head to Yangmingshan National Park, Daan Forest Park, Chiang Kai-shek Memorial Hall Park, Taipei Zoo, or Yang Ming Shan Qing Tian Gang.
Best place to watch sunsets in Taipei?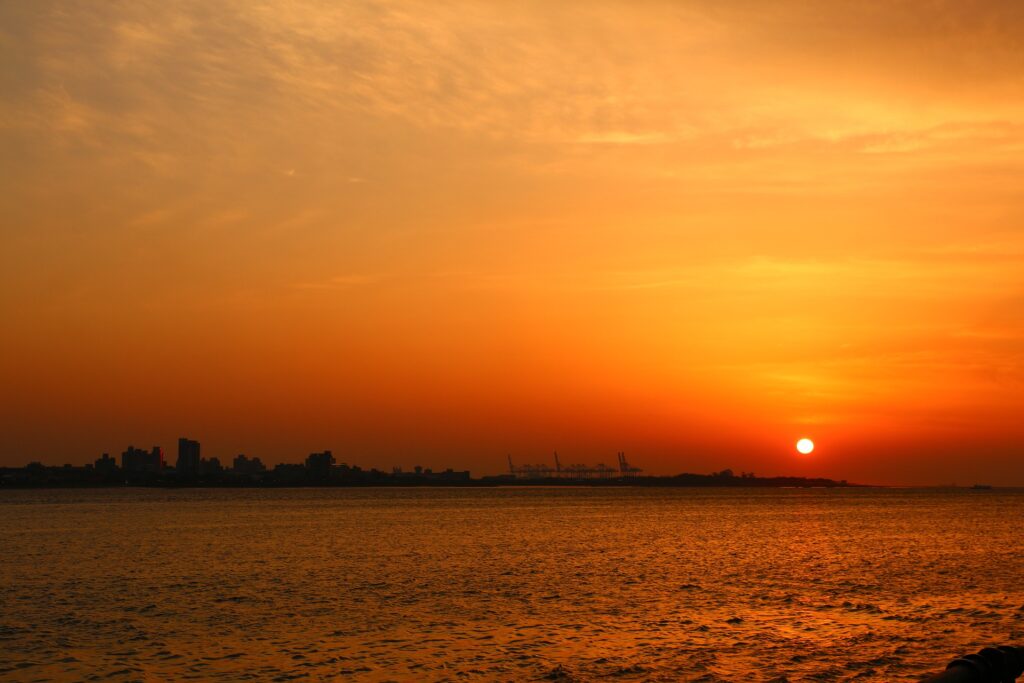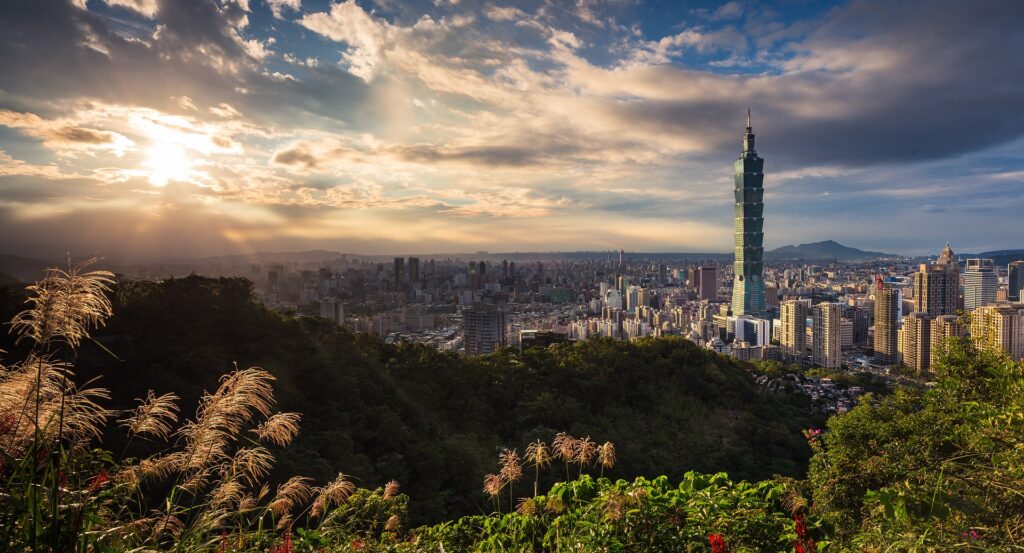 There are many places you can watch the sunsets in Taipei. My personal favorite is Taipei's fisherman's wharf and 9-5 Peak, Hushan Hiking Trail in Xinyi District. Other places that I recommend are TAIPEI 101, Elephant Mountain (Xiangshan), Lingfeng Pavilion, Junjianyan, Junjianyan Hiking Trail in Beitou District, Chengfeng Fort, Daluntoushan Hiking Trail in Shilin District, Mountain Top Pavilion, Liyushan Hiking Trail in Neihu District, and from a hidden gem Maokong village.
Don't miss the fortune-Telling Birds at Longshan Temple, ride a glass-bottom gondola Up the Maokong Mountain, and wish on a lantern at Shifen Old Street. Some other attractions to visit in Taipei are Fulong International Sand Sculpture Festival, Miniatures Museum of Taiwan, Elephant Mountain (aka Nangang District Hiking Trail), and Dalongdong Bao An Temple.
I hope this solo trip to Taipei gave you an insight into traveling Taipei alone.
Best day trips out of Taipei?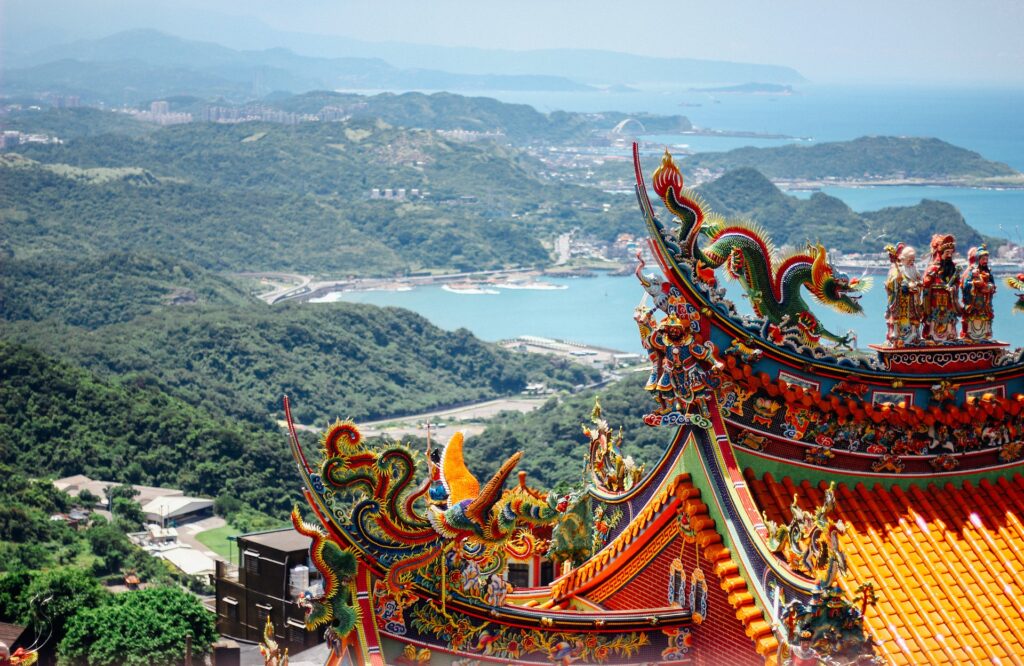 During your solo trip to Taipei, if you have a spare day or two, it is a perfect opportunity to get out of the city to see more of what Taiwan has to offer. You can even visit the extended suburbs of Taipei City Such as Banqiao, Tucheng, Sanchong, Luzhou, Yonghe, Zhonghe, Xishi, and Xindian. Or head to Taoyuan area: Linkou, Yingge, Shulin, Xinzhuang. Or you can commute from Taipei to Keelung and visit Ruifang, Pingxi, and Wanli. If you don't feel like exploring alone, you can join any of the private or group tours below.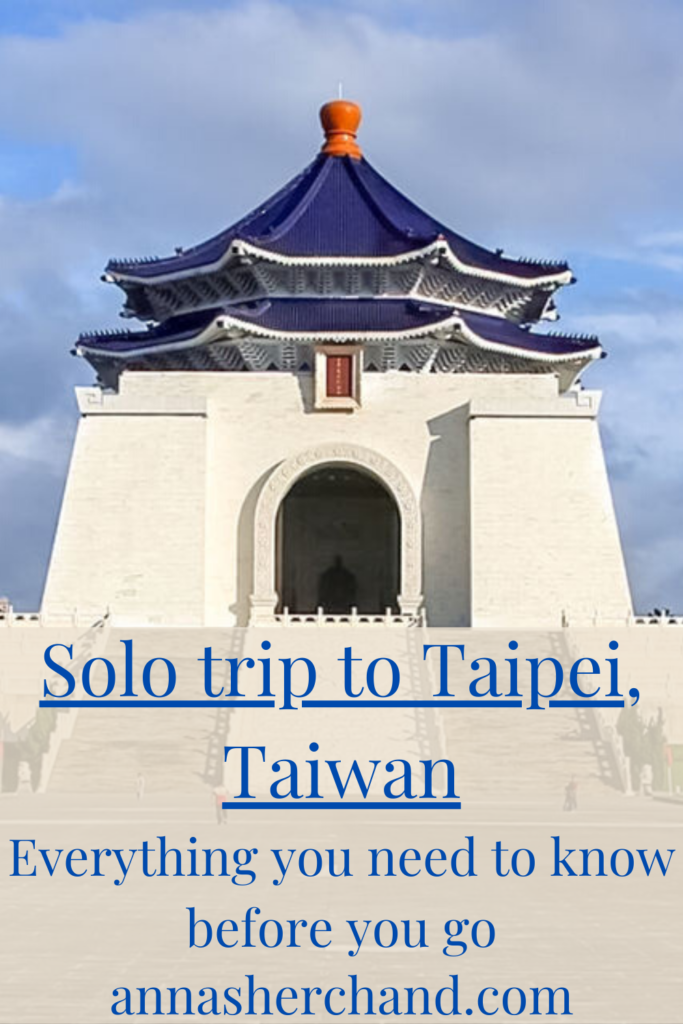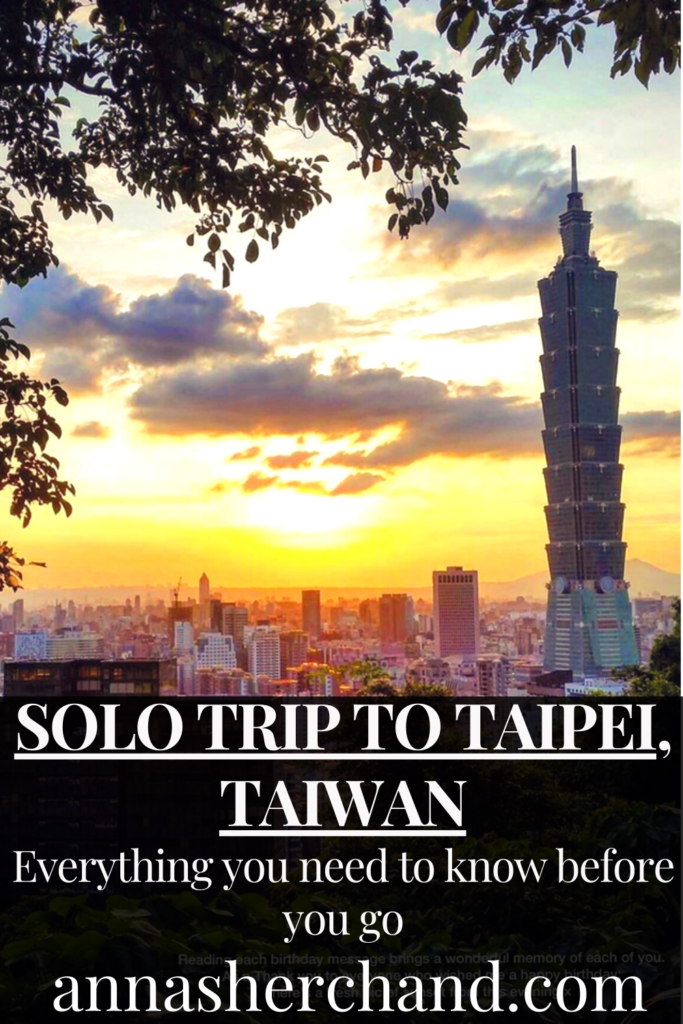 Let me know in the comments:
Solo trip to Taipei, Taiwan