When I was living in Hanoi, one time I ended up visiting Cambodia. Traveled from Siem Reap to Phnom Penh to Kampot and Kep Province. It was a good three weeks' worth of traveling around the country. So, if you are looking to solo travel to Cambodia, you will find this article helpful because I will be sharing all the Cambodian travel tips including the best places to visit in Cambodia, food to try, the best time to visit, where to stay, activities and more. It is going to be a jam-packed article with all things to know before traveling to Cambodia.
Cambodia is located in southeast Asia between Vietnam and Thailand. Phnom Penh is the capital city and home to the art deco Central Market, Wat Phnom, Cambodian living arts, historic Royal Palace, and the National Museum's historical, picturesque riverside location and archaeological exhibits whereas Siem Reap is home to world-famous UNESCO heritage site Angkor Wat (it's considered as the 8th wonder of the world), a massive stone temple complex built during the Khmer Empire.
While traveling to Cambodia for nature in Siem Reap, visit Phnom Kulen or Kulen Mountain, Banteay Srei Butterfly Centre, Pearaing Biodiversity Conservation Center, Kbal Spean, Prasat Phnom Krom, and Srah Srang.
In Phnom Penh head to Phnom Tamao Wildlife Rescue Center, Wat Phnom park, Mekong River, Tonle Bati, Mekong Island – Koh Dach, Riverside Park, and Wat BotomVatey Playground.
Some of the best-kept hidden gems and places that I highly recommend in Cambodia are Banteay Chhmar, Koh Rong Samloem, Rabbit Island (Koh Tonsay), Pailin, Kratie, Cardamom Mountains, and Kep province.
Head to Bokor Mountain in Kampot for an amazing sunset view, Popokvil waterfall, giant Buddhist statue, an abandoned Bokor Hill Station, empty casino building, and a refreshingly cool climate than in the cities. If you have more time, check out the Bamboo Train in Battambang and killing fields to understand the Khmer rouge history.
Travel Tips To Cambodia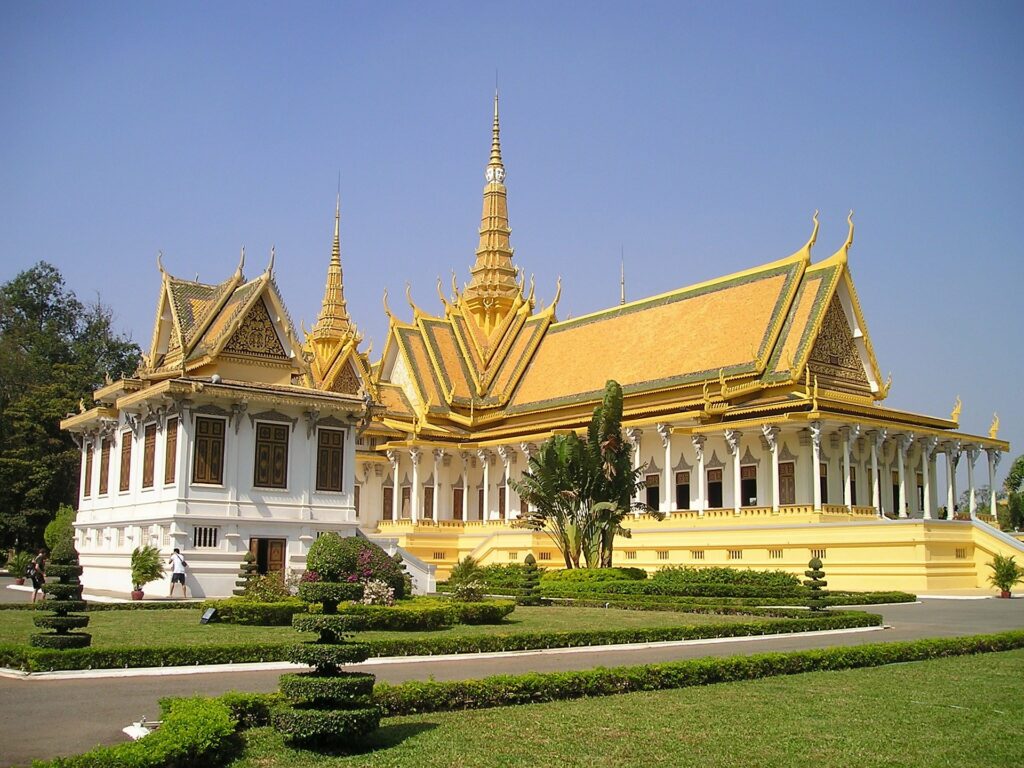 How do I travel to Cambodia
By Plane
There are about 17 airports in Cambodia, but out of those, only three are major operating airports with international flights. Those are Phnom Penh International Airport (PNH), Siem Reap International Airport (REP), and Sihanoukville Airport (KOS). When searching for cheap flights to Cambodia, you will probably fly into the Phnom Penh International Airport (PNH), which is located in the city of Phnom Penh, the nation's capital. Recommend using incognito mode and searching on Skyscanner for cheap flight results.
By Train
If flying is not your style, you can arrive in Cambodia via train from Bangkok to the border. The ticket from Bangkok to the border costs 48Baht and the journey takes about 5-6 hours. At the border, you then switch to a bus or taxi to continue into Cambodia.
By Bus
You can also take a direct bus from Ho Chi Minh City to Phnom Penh, which takes about 6.5 hours. If you're going to do this route, check reviews of the bus company, which offers a superior service. Another example is you can also take a bus from Bangkok to the border and this is a bit faster, about 4 hours, most but not all buses leave from Bangkok's Mo Chit, the northern bus terminal and there are departures every hour from around 4 am, a few buses leave from Ekamai, the eastern bus terminal and two of these stop at Suvarnabhumi on the way. There are also minivans that do the casino run from the Lumpini park area to the border.
By Ferry
Alternatively, you can take one of the daily ferry crossings from Chau Doc in Vietnam, along the Mekong River (the 12th longest in the world) to arrive in Cambodia. This route takes only 4 hours on average and is operated by a reputable company called Mandarin Cruises.
How to get around Cambodia?
The Cambodian public transportation system is a little tricky. Most people get around by bicycle, electric scooter, tuk-tuk, or taxi. Tuk tuk are widely used which is the most popular transport option in Cambodia. Then comes Buses and minibusses usually the cheapest way to travel intrastate or beyond.
Alternatively, you can download Grab (equivalent to Uber). It is the best app in South East Asia for booking a taxis or bike quick, easy, and safe. Also, avoids being scammed by the regular taxis and takes you to the correct destination.
How many days in Cambodia is enough?
Although I like staying until my visa runs out in each country, for the sake of travel tips to Cambodia article, I would say at least 7 days is the ideal time ie Perhaps a minimum 1 day to explore the capital Phnom Penh, 2 days to discover the archeological Angkor Wat and 4 days to enjoy the wonderful beaches and islands.
Where to stay in Cambodia?
If you want luxury then hotels are the best options or even Airbnb otherwise sticking with hostels would be your best bet with budget travels. What I find with Airbnb is though, you can even wash the bedsheets once you arrive because usually, the apartments come with washing and laundry machine.
Do I need a visa for Cambodia?
Australian citizens require a visa to visit Cambodia and if you're traveling there as a tourist, you can apply for an electronic tourist visa (e-visa) online through the Kingdom of Cambodia's Ministry of Foreign Affairs and International Cooperation.
An alternate is to get an on-arrival visa. For this type of visa, you will be handed the immigration forms on the plane into Siem Reap or Phnom Penh, or at the borders. Just make sure you are carrying a passport that is valid for six months or more, two empty pages in your passport, a completed Cambodia visa application form; supplied on the plane, or, at the airport or land border crossing, 1 recent passport-sized photo and a visa FEE (USD). The single entry Cambodia Tourist visa (T-class) costs $30, is valid for 30 days, and can be renewed once for a further 30 days without leaving the country. Usually, they will have visa fee rates stated at the window too.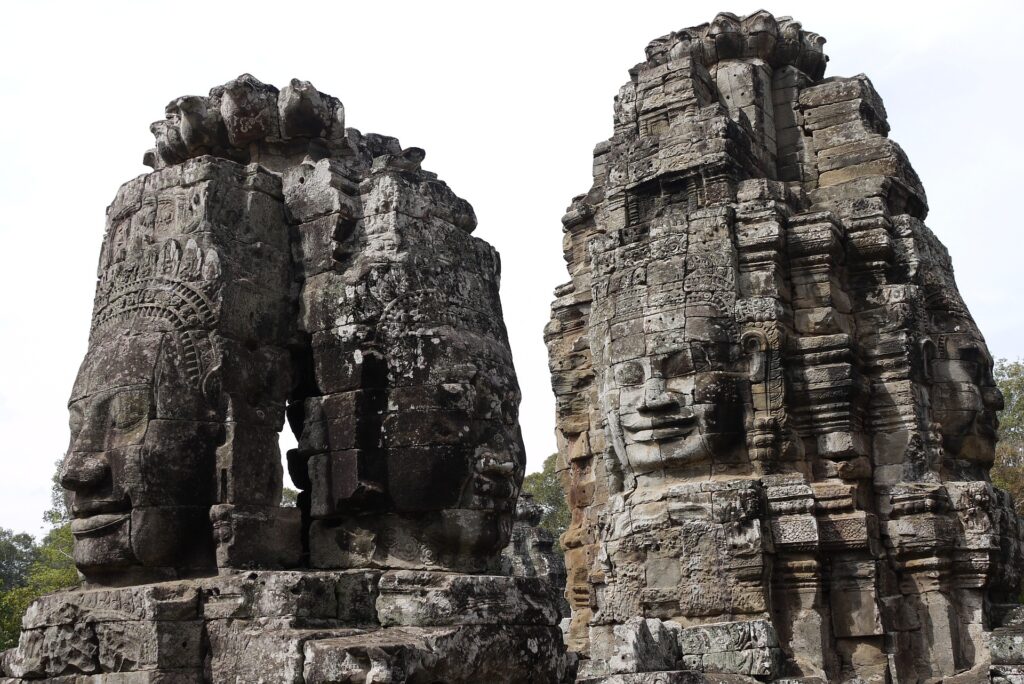 When is the best time to visit Cambodia?
Cambodia has three seasons ie the rainy, monsoon season which is typically from June to October; dry season from November to May, split into cold from November to February, and hot from March to May (not the best time to travel)
So the ideal time to visit Cambodia is between November and March when it rains cool and dry. During this time you'll see clear blue skies making it a great time to enjoy a relaxing getaway on the southern coast.
People, language, Simcard
Based on my experience I found Cambodian people to be shy but warm, and friendly enough. Khmer language, also called Cambodian, Mon-Khmer language spoken by most of the population of Cambodia is the official language but you will find English mostly used in the travel and hospitality industry.
You can pick up a sim card right at the airport arrival hall or from the phone shops in the city. Costs $1-$2 with 4G/LTE services, and a copy of your passport but many small shops don't bother with this requirement. Metfone is the largest network provider in Cambodia with more than a 50% market share.
Cambodia's official domain is .kh, and country-code is +855
Local currency
The local currency in Cambodia is called the Cambodian riel (KHR) however, USD is widely accepted and generally preferred. This often means you will get your change in both USD and riel, which can be really confusing. Also, recommend remembering to consider bank fees from your bank and the ATM withdraw fee while you do your budget.
Must-Have Travel Apps for Cambodia
Google Translate for easy communication and it's extremely simple to use, can be used by not only typing but voice as well.
Google Maps for ease of finding routes, offline use, Drive, Calendar for time management, and storing pictures. OR Maps.me
Agoda and Booking for compare and booking hostels, and hotels.
Airbnb for booking accommodation and activities.
Grab for taxi transport.
Is it safe to travel to Cambodia for solo female travellers?
My experience of traveling in Cambodia was safe from start to end. So all I can say from my personal experience is unless there is a drastic change in the country's political situation, pandemic, or some natural disaster it is safe to travel to Cambodia for solo female travellers. Just remember to apply a general rule of thumb i.e. Don't walk down that dark alleyway on your own, respect the culture, don't argue about religion, dress modestly, trust your instincts, don't be afraid but be cautious. Also, getting travel insurance is a good idea in case something happens.
What not to do in Cambodia?
Further to what is mentioned above, don't drink tap water, buy a water bottle, don't point or gesture with your feet or put your feet on the furniture, don't touch someone on the head, and don't start eating before your host if you are a guest at a dinner. Women should never touch male monks or their robes. Also, be careful of your belongings, and needless to say don't do drugs or anything that involves hurting others or yourself. Just be a good, considerate traveler.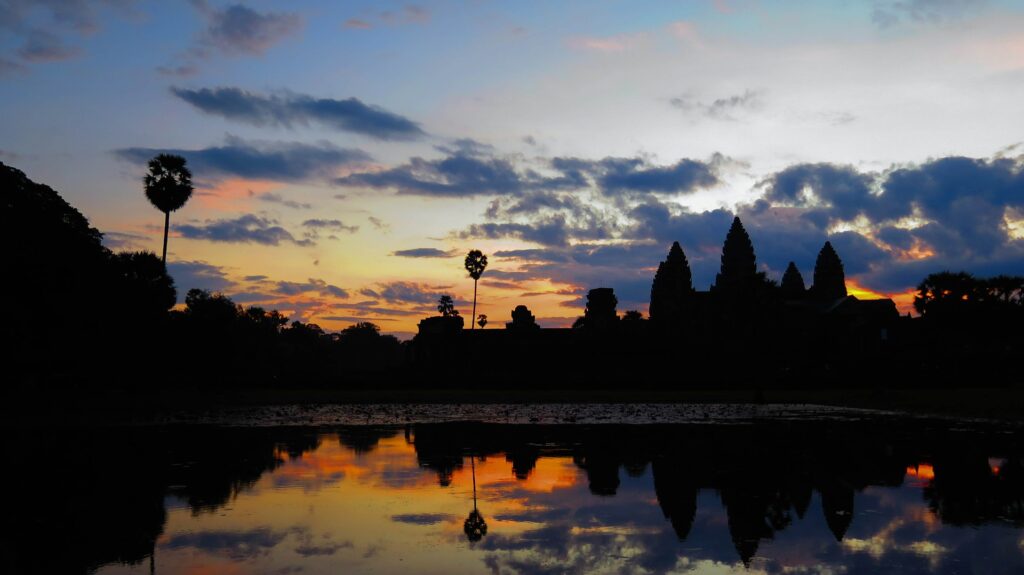 What to eat in Cambodia?
Cambodia travel guide wouldn't be complete without a must-eat recommendation. And what makes it easier is It doesn't cost a fortune to eat out in Cambodia. You can even buy food around the clock and here are my recommendations on must-try food in Cambodia starting with Authentic Fish Amok (steamed coconut fish in banana leaves), Khmer curry, Samlor Machu trey (sweet and sour soup with fish), Prahok, Char kroeung Sach ko (stir-fried lemongrass beef), Chicken and banana flower salad, Twa ko (Cambodian sausage), Nom Banh Chok (Khmer noodles), Green mango salad, Beef or pork skewers, Lort cha, Bai Sach chrouk (grilled pork and broken rice), Chive cakes, Kuy teav (noodle soup), Lok Lak (stir-fried beef in brown sauce) and Crab and pepper.
Head to Bassac Lane for drinks, live music, and a bite in Phnom Penh and Pub street in Siem Reap.
If you are into a bit of food adventure, you can try grilled frog, tarantula, or even a scorpion on a stick.
I hope these travel tips to Cambodia article help you in your planning. But as we know traveling to Cambodia maybe not be possible right away because of this new world we are in but encourage to check the relevant official websites for the most current update.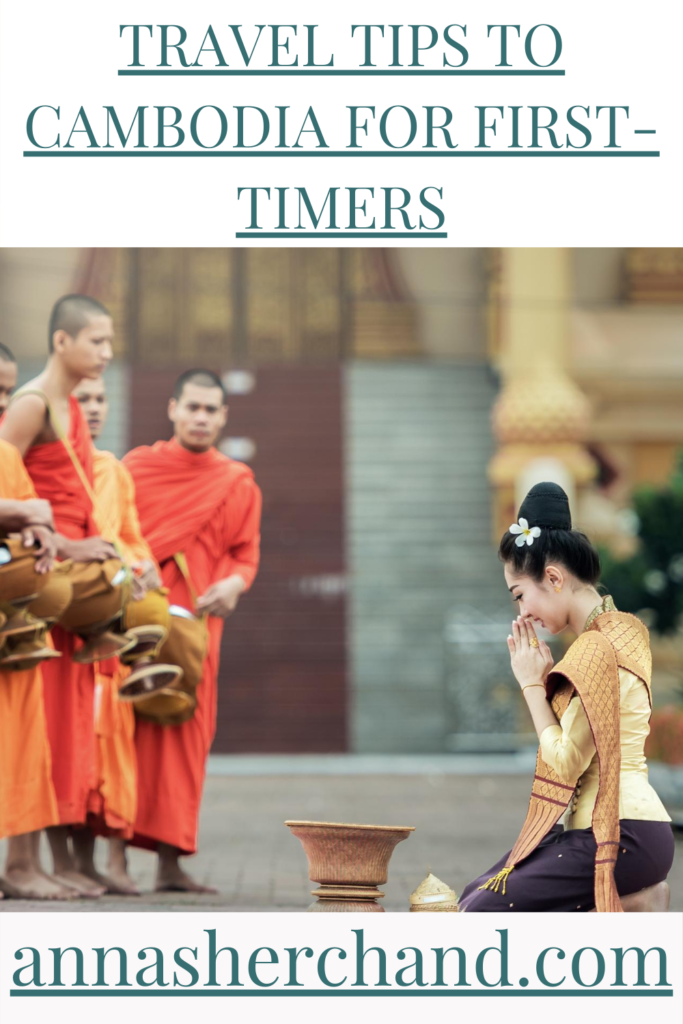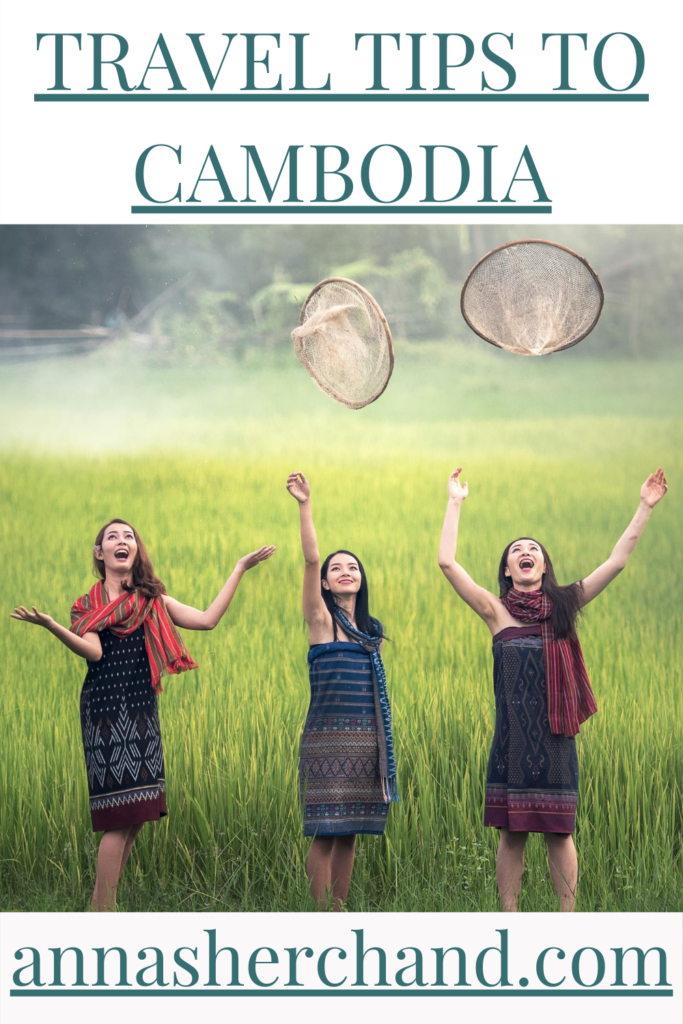 Let me know in the comments:
Travel Tips To Cambodia For First-Timers