I moved to Melbourne from Sydney last quarter in 2020 and it has been nothing but a blessing even in these tough times. There are so many fun things to do, and beautiful places to see but Melbourne is also known for having four seasons in one day. Although no one can predict the weather one hundred percent, the best you can do is prepare in advance.
So if you are looking for things to do in Melbourne when raining, I got you. This article covers free and paid museums, indoor activities, and tours that are perfect on a rainy day.
Best things to do in Melbourne when raining
1. State Library Victoria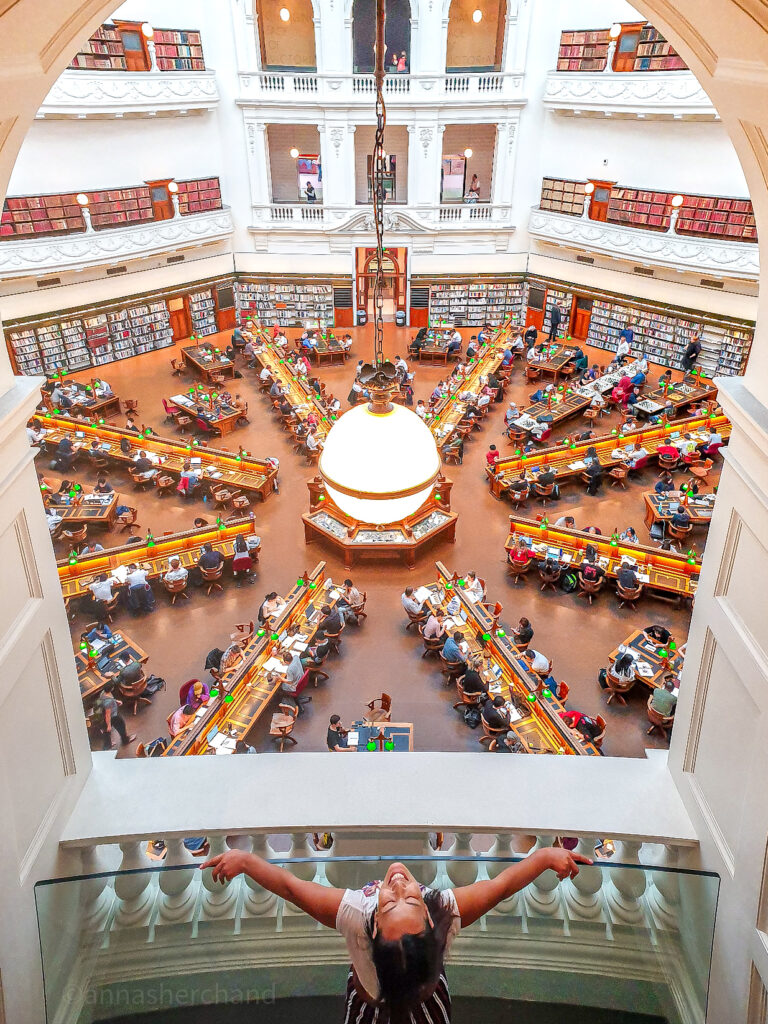 Looking for an oasis in the city? A little peace and calm? Inspiration or even just a to have a wander with a friend from out of town. State Library is the place to be.
It is the oldest library in Australia and one of the best photogenic and first free libraries in the world. Whether you are a book lover or not, the old but grand interior of the library is a must-see and what better way to do that than on a rainy day. Grab coffee/bite to eat at the Guild cafe, browse through your favourite genre of books, time will go quickly. Note: Can't take books home though.
And if you are someone wanting to get some work done away from home, this place is perfect for that also.
Indoor Rock Climbing
If you are looking to do something active, indoor rock climbing could be one of the best things to do in melbourne when raining. It keeps you fit and is also a great way to meet new people and make friends. There are multiple locations that offer this activity including one in South melbourne. Look up Scoopon for the best deals or buy direct from the website for bargain.
Queen Victoria Market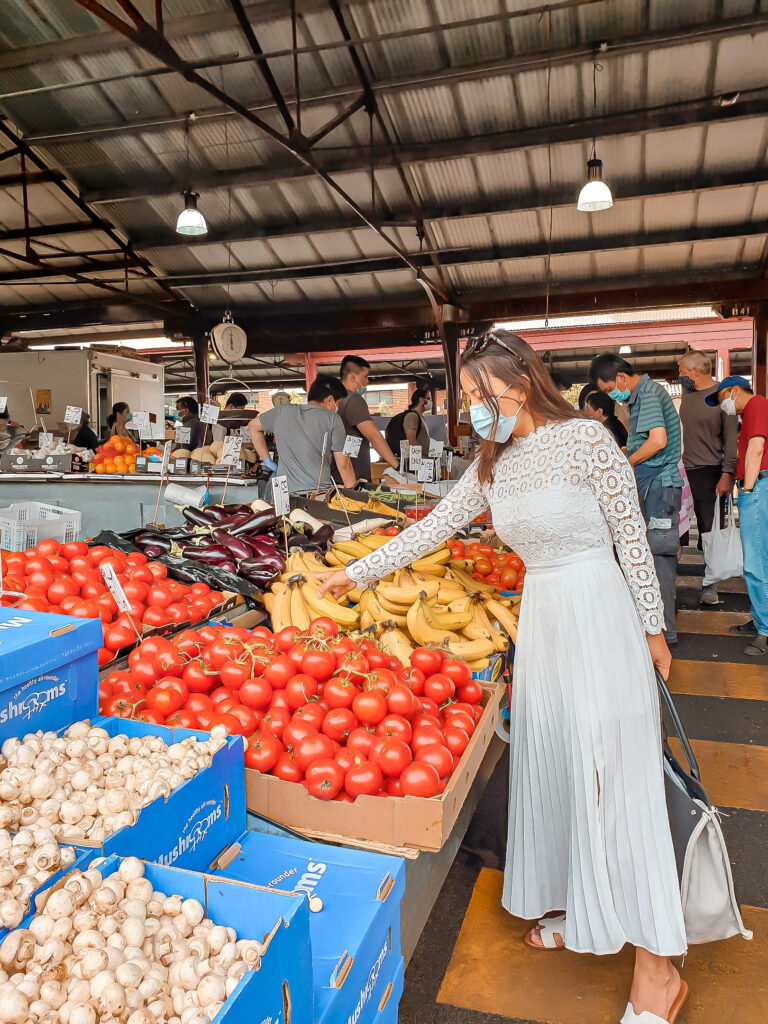 One of the best things to do in Melbourne when raining is to visit the local market. QVM is known as an open-air market where locals shop their gorceries, and try out meals from food trucks with some good live music on the weekends. note it's closed monday and wednesday.
If you are missing Asia travels, visit QVM; the shouts of discounts on the fresh fruit and vegetable section will take you right back to the markets in India. You may also find some good photography spots here, amazing choices for lunch, and free trams in the city to get you there.
Royal Exhibition Building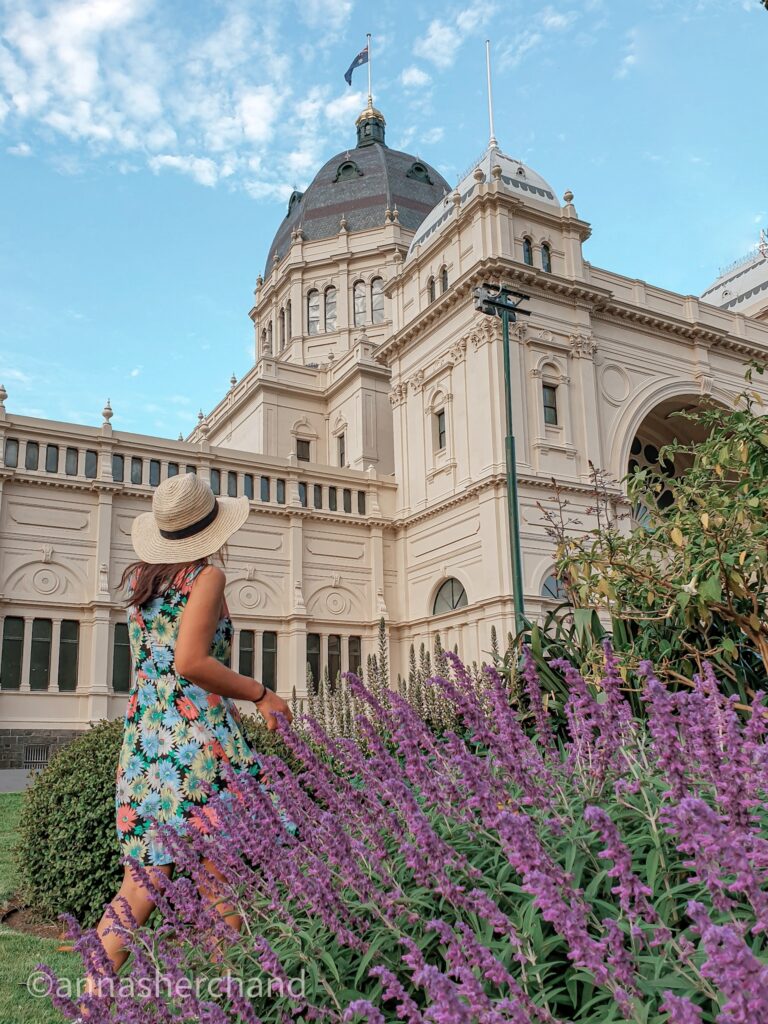 RGB is the first landmark to be listed as a world Heritage by UNESCO in Australia. From the outside, it appears as if it has been transported here from Europe; from inside, it is grand and splendid made from beautiful timber and the main dome is intricately painted. I love it's grandness and also the small details and ornate architecture.
While the RGB is beautful inside/out; the outside garden is also worth exploring if you were to come back on a sunny day. Recommend to purchase the exhibition ticket beforehand to enter this iconic building. This pretty area serves as a welcome vista for visitors as well as locals.
Parliament House
Another indoor activity to do when it is raining in Melbourne is to visit the Parliament House. It is only a short walk from the royal exhibition budiling and accessible by tram from the city. This neoclassical architecture building is where the Victorian government meets and makes decisions for our laws and regulations. It is an impressive 19th century building and the recent addition that is a roof garden is a great way to appreciate the building and its history. There are several viewpoints in the garden to see the development of the different stages of the building very clearly. Inside/out it is also one of the most popular photography spots in Melbourne. Rain or Shine, you will see people taking photos here.
There are free tours that run every day here which gives you an incredible insight into the history of this building and the workings of Parliament. They are easily booked in advance on the website and there are several to choose from, each with a different emphasis.
Museums in Melbourne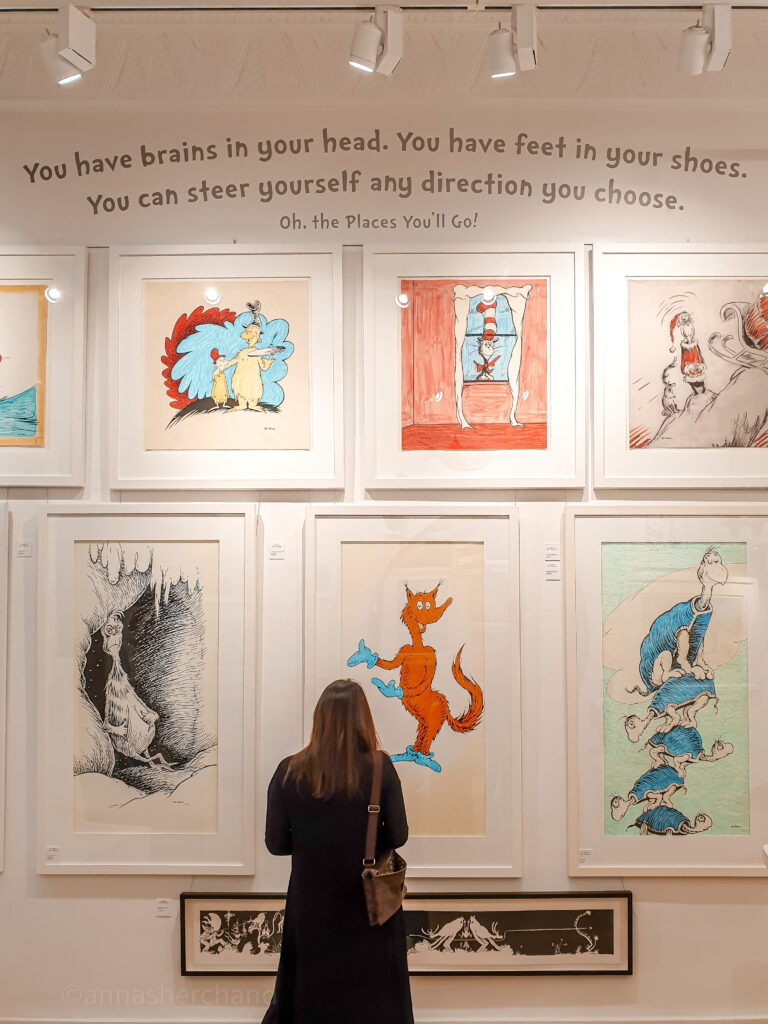 Melbourne is the city of Arts and the great way to soak up some of that Art culture is by visiting its well-known art galleries. Probably one of the top 5 things to do in Melbourne when raining. Starting with National Gallery Victoria, followed by Melbourne Museum, The old Melbourne Goal, and The Art of Dr. Seuss. All reachable by local free city circle tram and can be done on day activities.
National Gallery Victoria
NGV is the oldest and largest art gallery in Melbourne. It is a place where you easily lose track of time due to extensive collections at two of its magnificent galleries located a short walk apart, both with free entry to the permanent collection and paid for special ones. They usually have a visually arresting and thought-provoking view of the world type exhibitions. So even if you aren't into 'art' there will still be something that interests you as its not just your generic art gallery. There are many different types of art, and again you can get lost in there for hours. Make sure to wear comfortable shoes because there's a lot to see on all floors.
Melbourne Museum
Another spot to visit in melbourne when raining is Melbourne Museum. It is a world class museum filled with a huge diversity of exhibits, including miniatures, biology (lots of live insects and spiders) and design as well as the occasional new or touring exhibition. Located next to Imax and right behind the iconic Royal exbihition building. You could spend days just looking at all the well curated and excellent variety of art and depth of information. It is a great place to see, hear and feel million years of evolution. There is small cafe inside museum where you can buy sandwich, wrap, fries etc. There are also seats to sit near every exhibit section and also sanitation stations. note: Free for students.
The Old Melbourne Gaol
Other things to do in Melbourne when raining is to visit a historic old melbourne gaol – a former jail and current museum on Russell Street. The history of Gaol is absolutely fascinating, original graffiti from inmates are something to see, the personalized stories of the criminals, and you can also go inside the original cells where prisoners were locked up in. Pay extra $5 for the cludo experience.
The Art of Dr. Seuss
Last recommendation for art gallery is this little gem in the Arcade city of Melbourne. You can see some selections of all Dr Seuss artwork from all spheres and stasges of his life. There are some powerful originals and prints for a price. It is lots of fun to look at the art and gasp at the prices on rainy days.
Melbourne Aquarium
Another relaxing indoor activity to do in Melbourne when raining is to see some sea life. The whole aquarium takes roughly 2.5 hours to see (without rushing); recommend going at about 10:00am when the sea creatures are more active and so you can see the feeding sessions also. It is easily reachable by public transport and parking is available at walkable distance from the aquarium.
There a cafe if you want to grab lunch. Get a kick out of eating fish & chips infront of fish.
Nicholas Building
Nicholas Building is a historic hertigae building that offers mix of galleries, boutiques, artists, musicians, jewellers, designers, architects, and technology innovators. An Iconic Melbourne stop with more going on inside than you think. Go here to explore lots of interesting and small niche shops that can get a little confusing but a retro experience to have on a rainy day.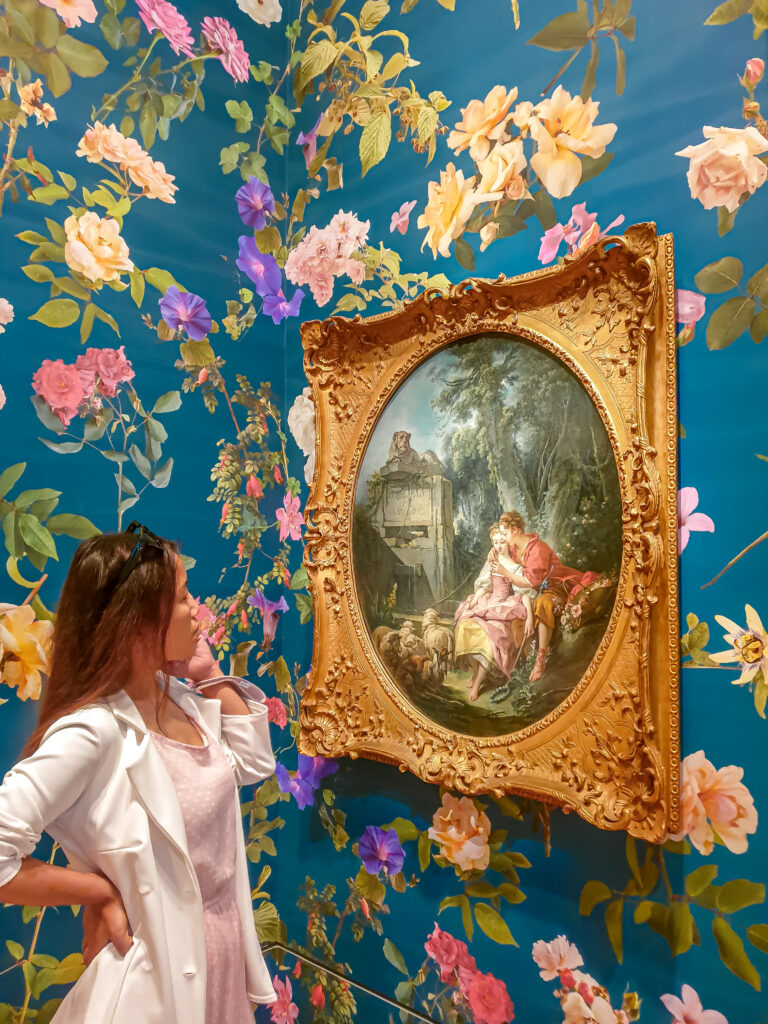 Indoor Skydiving
Now here comes the bucket list activity. You can experience the thrill of human flight at iFLY Melbourne in Essendon Fields. A little off the city but worth it if you are looking for something fun and a bit of adventure but want a safe place to do be so.
Karaoke Bars
I am not a fan of alcohol or bars but a little party killed nobody. If it's raining and you need something to light you up singing and dancing; Karaoke Bar could do it for you. Grab your friend/s , book the room and get that party started.
Movies Theatre
I mean when was the last time you went to movies? Netflix and chill is all cool but if you like to do something out of the house, highly recommend visiting the good old movie theatre and actually watching a movie in BIG screen with some popcorns and beverage of your choice. What a treat it will be on a rainy day in Melbourne.
Escape Rooms
My final recommendation for things to do in Melbourne when raining is escape rooms. If you enjoy mentually situmlating activity then this is for you. Although usually it is played in pair but people go solo too. It is incredibly stressful but fun resolving mysteries to get out of the room. Have fun!
I hope these things to do in melbourne when raining guide helped you today. Please share it with your circle so it helps them too.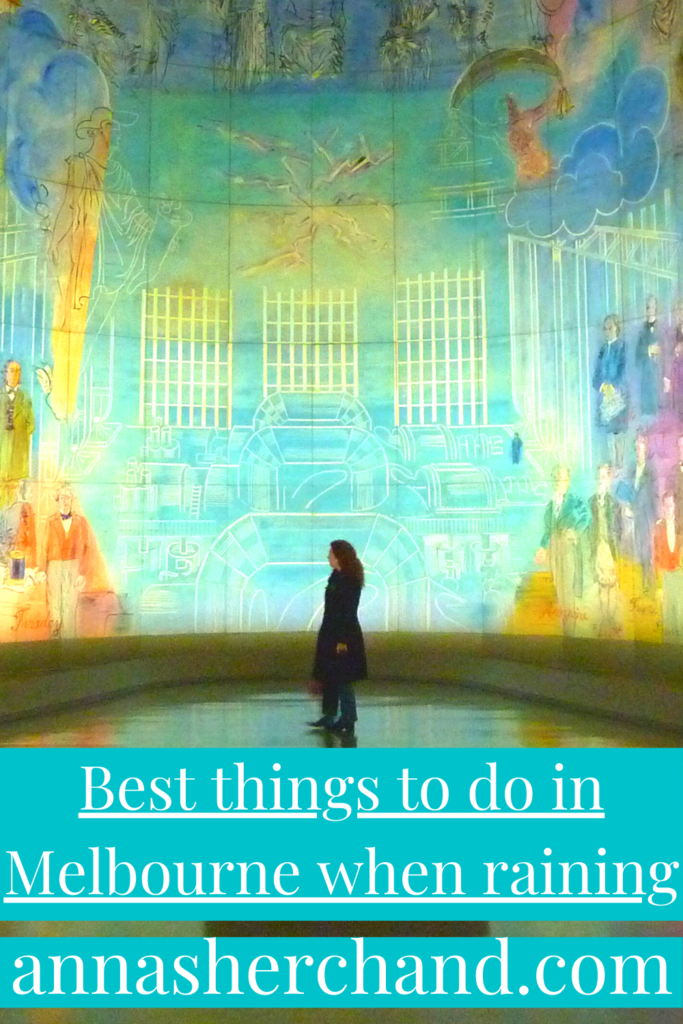 Let me know in the comments:
Things to do in melbourne when raining