I have put together Australia east coast must-see and must-do activities to help you plan your travel better. Traveling to Australia can be daunting given the size of the country (to give you an idea- you can fit the entire Europe in Australia and there will still be some space left, it is that big!) but it is doable and definitely enjoyable. I hope this epic list of must-see and must-do on the east coast of Australia helps you.
Loads of memories to make, bucket list items to tick off and new friends to meet! Whether you are solo traveling or short of time. There are so many bucket list-worthy destinations on the east coast, it's normal to feel overwhelmed when planning your trip. You can bookmark this article, so you can come back to it anytime you want.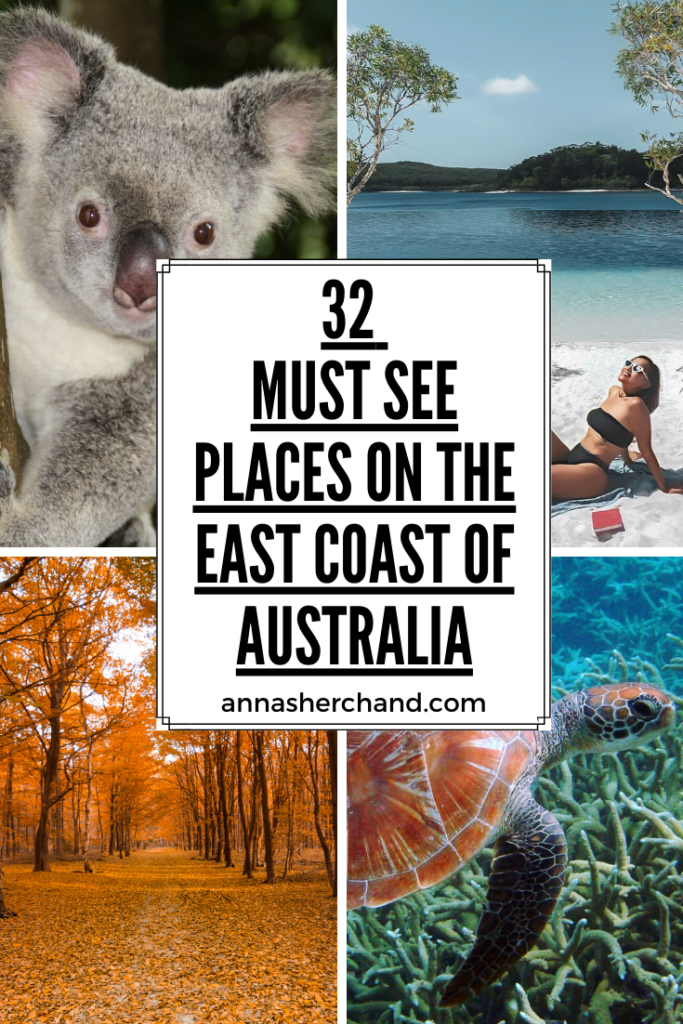 Recently I completed this east coast trip (a week ago to be exact) taking 3 weeks in total. Hence all the information is fresh and you don't have to look anywhere else. You can also use this post as a guide to the east coast Australia itinerary for 3 weeks or longer.
Honestly, not all the stops on the east coast trip were worth stopping. Therefore to save both of our time, I have put together only the best must-see places, sights, and activities. So, you can make the best use of your time and stay in the mentioned places longer if you want to.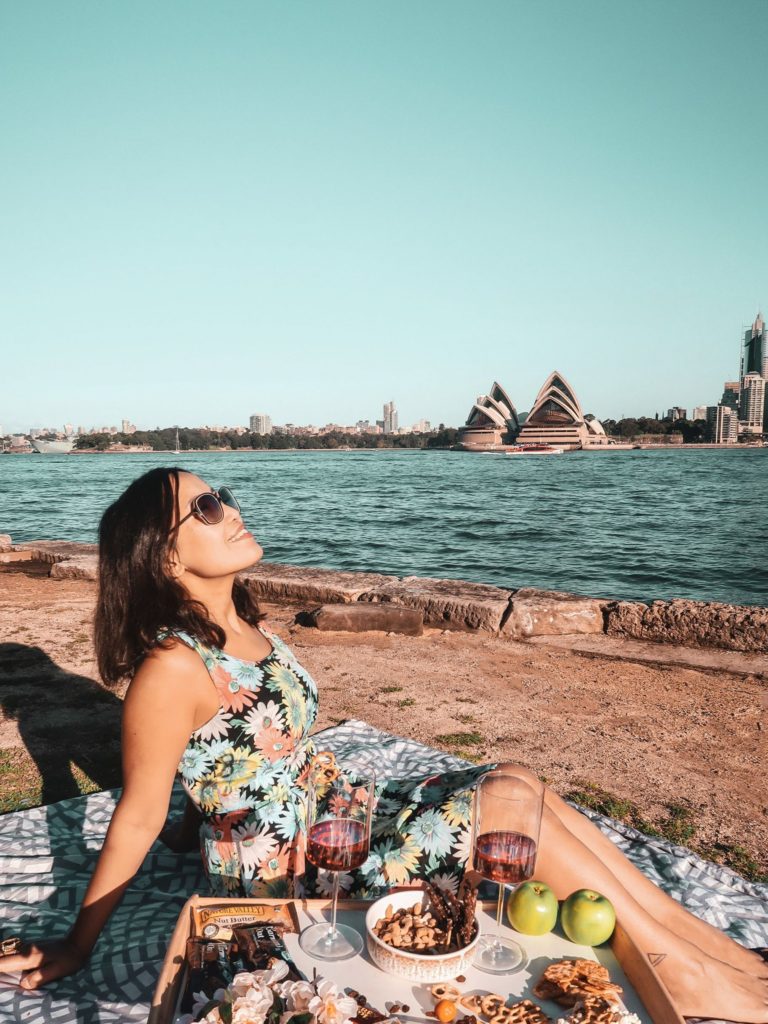 Notes:
Currency = Australian Dollars
Hello = Good Day, G'day!
Bye = See you later!
Capital City = Canberra
Main cities and 6 states = (Sydney -New South Wales, Melbourne -Victoria, Adelaide -South Australia, Perth -Western Australia, Brisbane -Queensland, Hobart -Tasmania) and 2 territories (Canberra -Australian Capital Territory and Alice Springs -Northern Territory)
When is the best time to travel east coast Australia?
Every season offers something different to experience in Australia. Below are months and weather guides but keep in mind, Australia is Southern hemisphere so, it would be the exact opposite of the northern hemisphere temperature. For example during Christmas and New year sun is at 30 degrees+ in Australia!
Summer – the three hottest months are December, January, and February.
Autumn – the transition months are March, April, and May.
Winter – the three coldest months are June, July, and August.
Spring – the three transition months are September, October, and November.
If you can, plan your travels to Australia during the summer. Otherwise, the rest of the year isn't bad either. Australia is one of the best places for solo traveling, road trips, and solo trips for females are increasing daily with its less crime rate also. Reson why it is also regarded as safe place to travel alone.
Just get your phone or camera battery fully charged every night because there are way too many beautiful and Insta-worthy places to capture.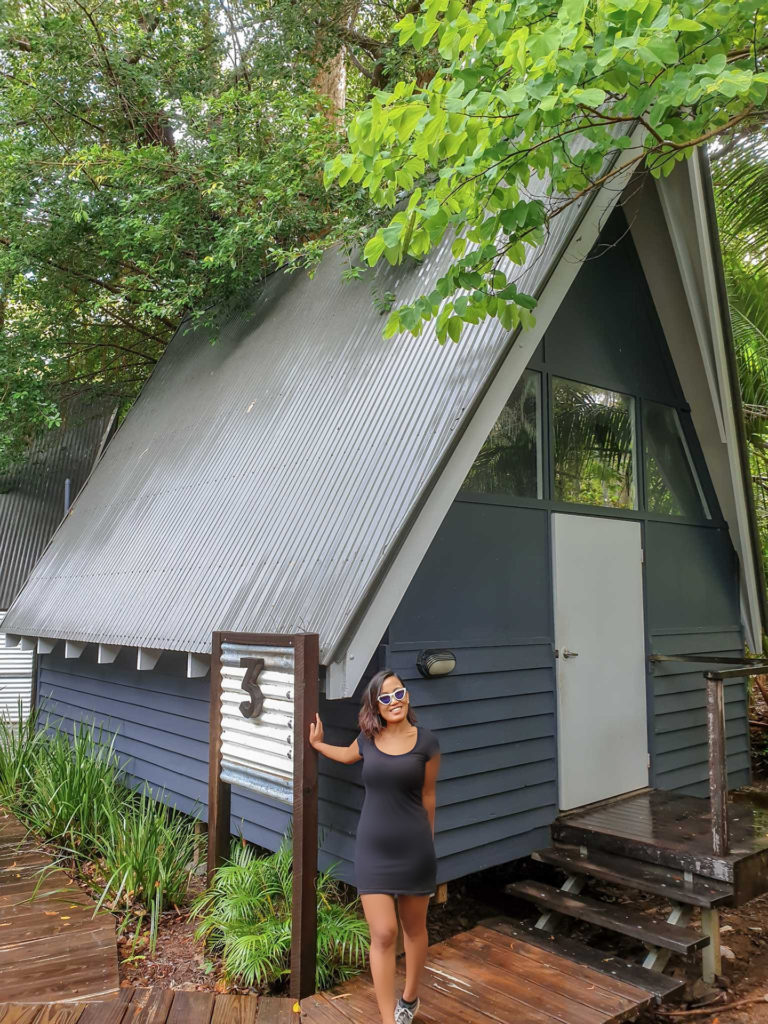 Where are the best places to stay on the Australian east coast trip?
There is plenty of accommodations to choose from for every budget. Below are my suggested places but no matter where you stay make sure to book it through a legit trusted website like booking.com
Melbourne
Youth Hostels – Queen Victoria Hostel, St Kilda East backpackers' hostel, South Yarra Hostel
Mid Tier – ibis Budget – Melbourne CBD, ibis Melbourne Central, Holiday Inn Express Melbourne Little Collins, an IHG Hotel, Novotel South Wharf
Luxury – Sofitel Melbourne On Collins, Park Hyatt Melbourne, The Langham Melbourne
Canberra
Youth hostels/ cheaper options – The Village Hostels Canberra, Canberra Accommodation Centre, Madison Capital Executive Apartments, ibis Budget Canberra
Mid Tier – Knightsbridge Canberra, Canberra Rex Hotel, Ramada Encore Belconnen Canberra, Adina Serviced Apartments Canberra Dickson
Luxury – The Sebel Canberra Campbell, Brand New PARK AVENUE Apartment in the Heart of Canberra City, Hyatt Hotel Canberra – A Park Hyatt Hotel
Sydney
Youth hostels – Sydney central (one train ride from the airport) Wake Up! Sydney Central, Sydney Central YHA, Big Backpackers Hostel
Best Sydney Opera house and Harbour View Bridge for cheap Sydney Harbour YHA
Walking distance to Aussie beaches Wake Up! Bondi Beach or Manly Beach Hostel
Mid Tier – Cityview Studio Accommodation, ibis Sydney World Square, Holiday Inn & Suites Sydney Bondi Junction, an IHG Hotel
Luxury – SKYE Suites Green Square, Four Seasons Hotel Sydney, Sofitel Sydney Darling Harbour
Byron Bay
Youth hostels – Backpackers Inn On The Beach, Byron Bay YHA, Aquarius Backpackers Resort, Cape Byron Hostel YHA
Mid Tier – Arts Factory Lodge, Bayhaven Lodge, Glen Villa Resort, Ruskin House @ BBSC
Luxury – Milly's Beach House Byron Bay, Garden Burees, Crystalbrook Byron
Gold Coast
Youth hostels – Bunk Surfers Paradise International Backpacker Hostel
Mid Tier – Jadran Motel & El Jays Holiday Lodge
Luxury – Oracle Peppers
Brisbane
Youth hostels – Brisbane City YHA, Summer House Backpackers Brisbane, Selina Brisbane
Mid Tier – Royal Albert Hotel, ibis Styles Brisbane Elizabeth Street, Meriton Suites Adelaide Street, Brisbane, Oaks Brisbane on Charlotte Suites
Luxury – Brisbane Marriott Hotel, The Westin Brisbane, W Brisbane
Noosa Heads
Youth hostels – Halse lodge, Nomads Noosa
Mid Tier – Noosa Parade Holiday Inn, Noosa Heads Motel, Noosa Unit
Luxury – Sun Lagoon Resort, Sofitel Noosa Pacific Resort, Peppers Noosa Resort and Villas
Fraser Island
Youth hostels – Fraser Island Retreat (There are no hostels in Fraser Island so your best bet is to stay in Hervey Bey and take the boat to Fraser next day)
Mid Tier – Kingfisher Bay Resort
Luxury – K'Gari (Fraser Island) – Holiday Heaven
Airlie Beach
Youth hostels – Nomads Airlie Beach, Base Airlie Beach, Airlie Beach Magnums – Adults Only
Mid Tier – Airlie Beach Hotel, Whitsunday on The Beach, Sunlit Waters Studio Apartments
Luxury – Airlie Beach Lodge, The Boathouse Apartments, Toscana Village Resort
Townsville (Magnetic Island)
Youth hostels – Civic Guesthouse
Mid Tier – Beach House Motel, The Palmer Collective, Castle Crest Motel
Luxury – Classic Queenslander Apartment, Yongala Lodge by The Strand, Quest Townsville on Eyre
Cairns
Youth hostels – Travellers Oasis, Cairns Central YHA, Travellers Paradise Historical Heritage Guest House
Mid Tier – Estilo Bed and Breakfast, The Abbott Boutique Hotel, A Taste of the Tropics
Luxury – DoubleTree by Hilton Cairns, Crystalbrook Bailey, Crystalbrook Riley
Cape Tribulation
Youth hostels – PK's Jungle Village
Mid Tier – Thornton Beach Bungalows Daintree, Daintree Rainforest Retreat Motel
Luxury – Noah Creek Eco Huts, Cape Trib Beach House
If you are camping, I suggest you download the Wiki camp app from iTunes. It is free to use for 14 days and then costs just $7.99 which I think is very reasonable for what it provides for camping locations.
And if you still looking for the cheapest flights to Sydney, Melbourne, or Cairns. Book it through the most trusted sites such as Skyscanner or Momodo.
I have detailed travel resources right here.
How to get around the east coast of Australia?
You can cover a lot of Australia in less time by plane. If not, you can get around by bus, car, train, ferry, and bike too if you are feeling up to it.
Taxi ranks are available around the city and at the airport. Ride-share service Uber operates in Sydney, with a designated pickup area at the airport. Car, and camper van hire is available at the airport and points around the city from companies including Avis, Budget, Thrifty, and Hertz. It is also worth keeping an eye on Facebook groups or the marketplace for rental cars.
Use code k7zapn for $10 off your first Uber ride and use code WT7BSQD2 for a $20 Didi discount which is a rival with Uber.
That said, you can find some cheap Greyhound hop-on-hop-off passes for east coast adventure. Highly recommend this option.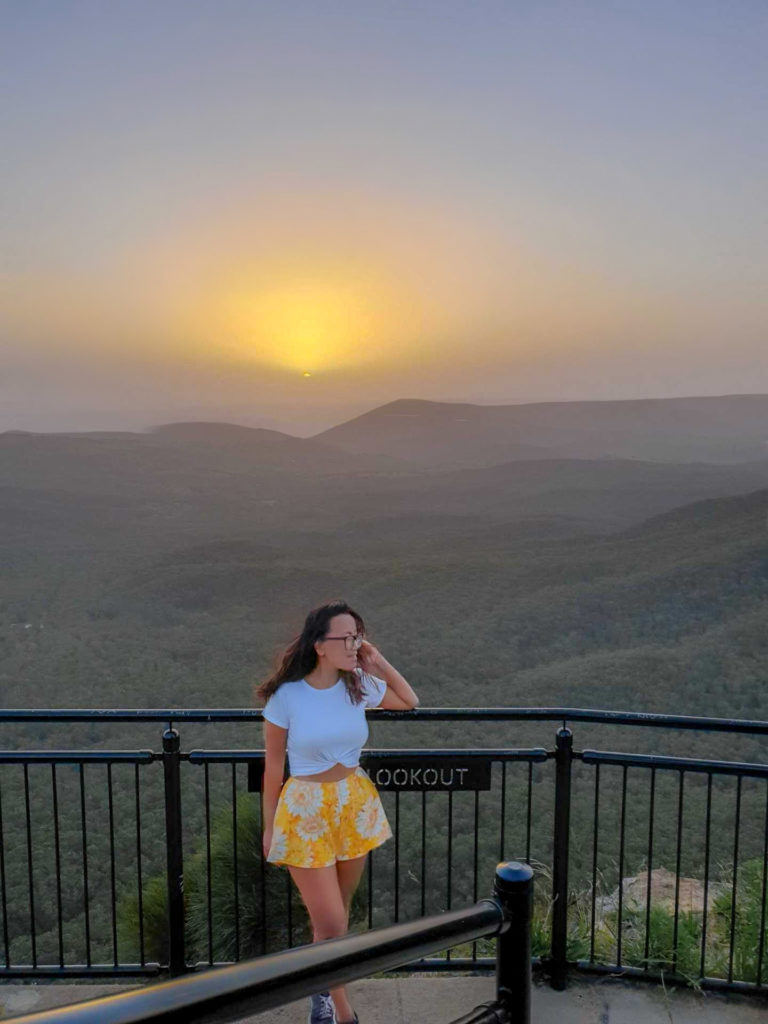 Australia east coast must-see and must do
1. See speechless views of the Blue Mountains
There is no better place to start Australia's east coast must-see than the Blue Mountains. It is the national park area that expands west of Sydney and is famously known for its dramatic scenery, massive forests, refreshing waterfalls, steep cliffs, and villages with guesthouses, galleries, and gardens. You could book a tour but if you are a DIY person. I suggest, packing a lunch, water, and sunscreen, and getting on a train from Central to Katoomba ($6.80 one way).
In case the train is not your style, you can book this one-day hiking tour or blue mountains small group tour where the pickup and drop-off are included along with delicious lunch!
Katoomba is the main town in the blue mountains and a good place to start exploring the region. The following are things you can do solo or with others.
1. See the three sisters from Echo point
2. Watch the sunsets from Cahill's lookout
3. Go on a Scenic skyway for dramatic views
4. Go to Katoomba Falls
5. Explore the Blue Mountains Botanical Garden
6. Try out one of the cozy cafes for hot soup or drink (I recommend true to the bean- their soup and toast are the warmest and most delicious things you would want in the mountains) and for some more adventures, challenge yourself to hike/climb Lincoln's rock, Ruined Castle, or Hanging rock. Your east coast trip is not complete without a trip to the blue mountains.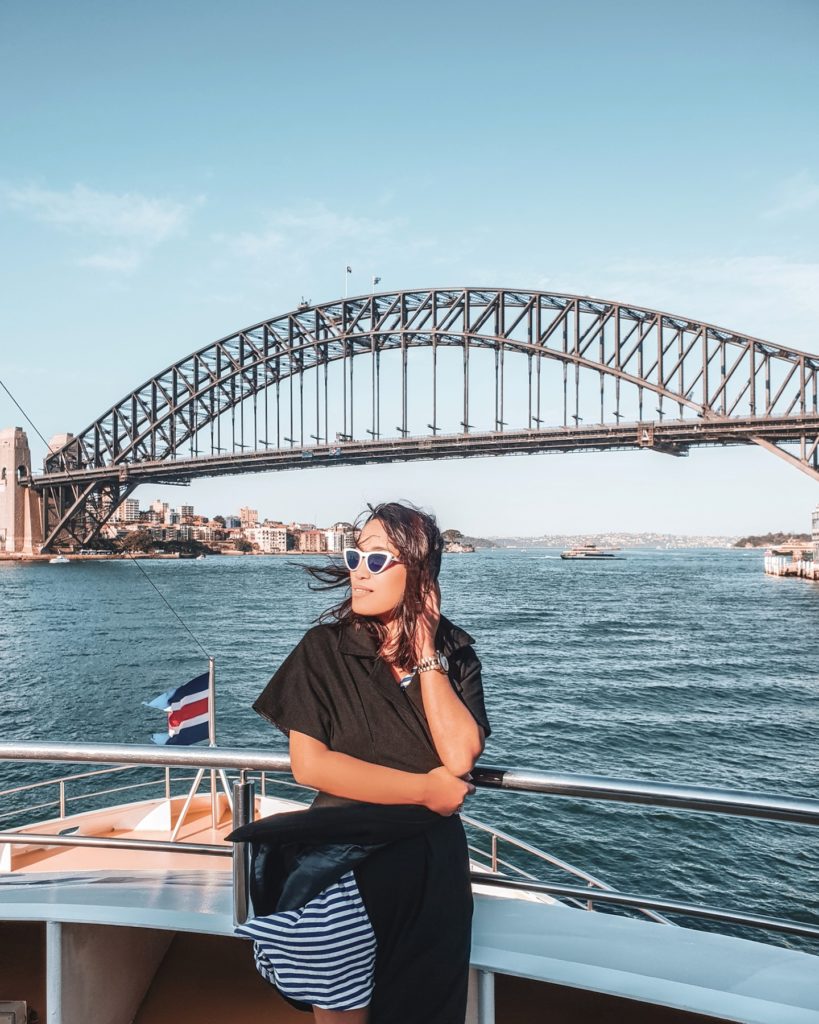 2. Get on the harbour cruise
One of the best ways to see Sydney is getting on the harbour cruise. Starting in the afternoon, cruise under the world-famous bridge, marvel at the Sydney Opera House, and catch a glimpse of where the rich and famous reside. You can also enjoy guided commentary bringing to life the harbour's history and iconic locations. Refresh yourself with a complimentary beverage of wine, beer, or a soft drink as you take in the sights. If you have friends and family visiting from overseas and you want to show off Sydney in the best way possible, this would be an easy decision.
TIP: You can include blue mountains tour and 2-hour harbour cruise into one pass and get the best value for your money.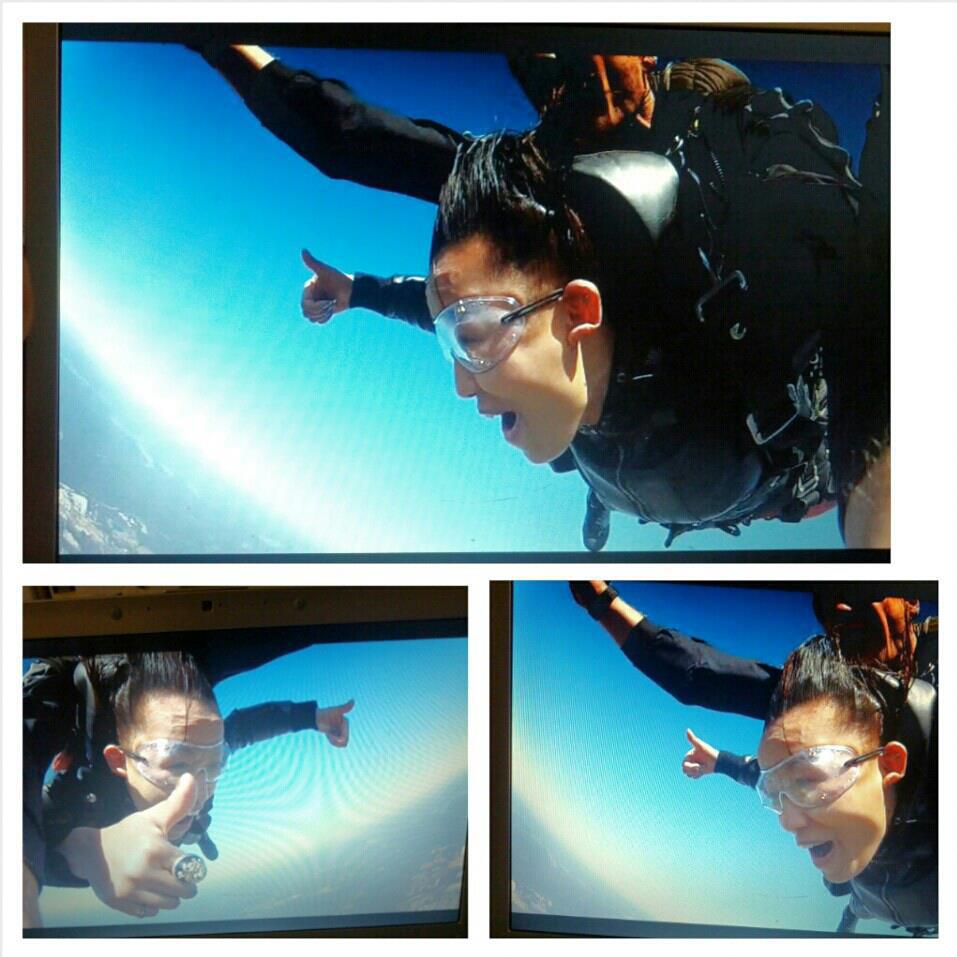 3. Skydive in Sydney
Another must-do Australian east coast experience I can recommend is the Skydive in Sydney! You would be jumping off the plane or if you are lucky like me off the helicopter (with no doors) from 15000 feet above the ground! I couldn't sleep much the night before with excitement and ended up sleeping more in the morning. That resulted in missing my ride and I had to take a taxi to get to the skydiving place on time. Just remember there is no refund policy. So, plan accordingly and don't forget to put the alarm on!
Once I was inside the helicopter, my heart was racing with nervousness! But I was also a little bit relieved to know my instructor had 10 years of skydiving experience and he basically threw us out of the door! The free fall that gives you a bird-like feeling is the best in the world and then after a few minutes, we came down to the earth. It is by far one of the best experiences I have had in Sydney. I recommend getting a DVD of your dive. It costs a little more but I think memories you can share with your friends and family in the long term make it worth it.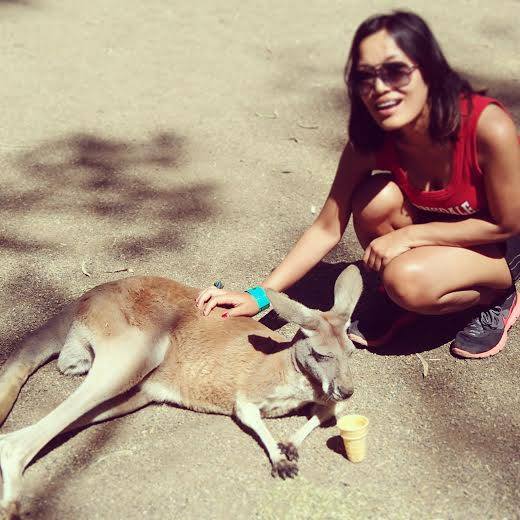 4. Feed the kangaroos
Who wouldn't want to feed the Kangaroos and Koalas? You get the fun experience of watching kangaroos and Koalas in Taronga Zoo Sydney and Wild Life Sydney. They are in the heart of the city and easy to get to.
However, if you fancy breakfast with the Koalas then 45 mins drive to Featherdale wildlife could be the answer. Then Morisset Park is where you see the Kangaroos up close, they usually come out more in the evenings or morning. There is no fee to see them. So, I recommend packing a picnic, feeding the roos, and then enjoying a picnic by the riverside. There is nowhere you can freely feed Kangaroos like here, don't miss it!
TIP: If you want to see more and save on top attractions, tours, and more in Sydney, Melbourne, Gold Coast, and Tasmania with one easy-to-use card. Get the Sydney Flexi attractions flexi pass, Melbourne attractions flexi pass and/or Gold Coast Flexi pass. These passes are valid for 3 months and you can choose 3, 5, or 7 sightseeing destinations from over 100 attractions, tours, wildlife parks, museums, and more. Value for your money right here!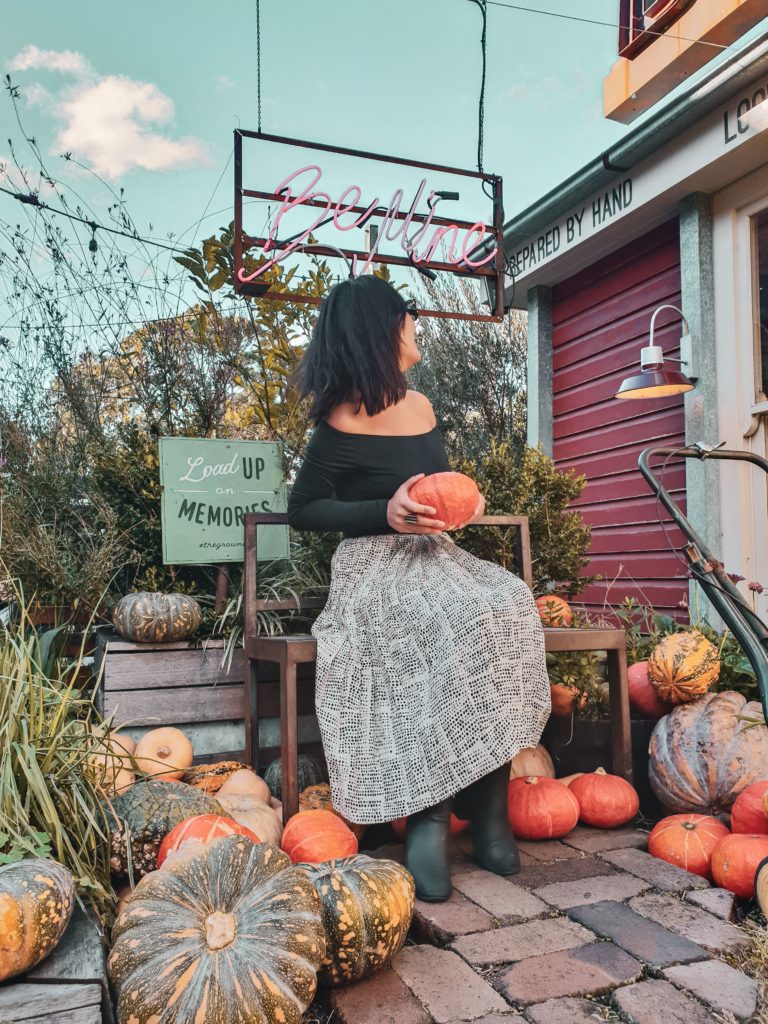 5. Experience the real Sydney
There is always something going on, in Sydney, whether it be for foodies, culture kids, or music lovers. I like the city where there are endless things to do and I never get bored! Hence it is one of my favorite cities in Australia. Don't just go to the Sydney Opera house and Bondi beach, usually locals don't even go there that often.
Try to visit the places locals go and see things from their perspective. You will find something different and perhaps more entertaining. If you don't already know, I am a Sydney local and I have shared everything I know in the articles below. Australia's east coast must-see won't be complete without a visit to Sydney.
Below is a different article dedicated to newcomers in Australia. If you are new to Sydney or planning to visit. Bookmark the article below, you won't regret it.
It covers everything you need to know about traveling to Sydney from visa, wifi, things to see, and more. It also has links to Perth, Adelaide, and Melbourne articles that are useful.
6. Sip the wine in the Hunter Valley
As you leave Sydney and only three hours drive up the coast, a perfect place to stopover is Hunter Valley. You can sample some free wine-tasting sessions along with olives and chocolates! I recommend trying out Shiraz and Semillon. Wines are produced straight from the local vineyards by hard-working small producers as well as large commercial ones. Take your pick!
With a variety of wine and chocolate factories, you may want to hire a bike, stay a couple of days, explore it all and go on a hot air balloon for that sunrise view. It would be a fun stopover on the east coast of Australia.
If you are wanting to visit just for a day, recommend booking the full-day Hunter Valley tour with gourmet food for the best bang for your buck!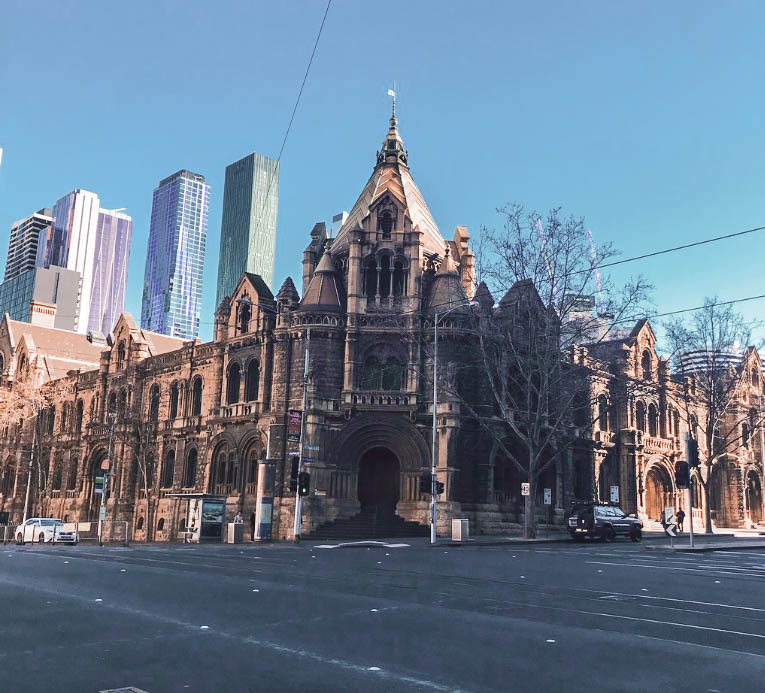 7. Visit the markets in Melbourne
It would be a shame not to include Melbourne in this list of Australia's east coast must-sees. Melbourne is a laid-back sister of Sydney, full of cafe culture and hipster vibes. Also, don't miss the Victoria market to indulge in all the fresh produce, lunch, and dinner.
8. Meet the surfers and the hippies in Byron Bay and Nimbin
The next must-see on the east coast of Australia is Byron Bay. We all have seen how amazing the clock tower looks on Instagram photos but beware in reality, the place is packed with tourists. So, go early to avoid the crowd or find another angle (from the bottom of the tower or from the water). Ok, coming back to Byron Bay, it is a must-see on the east coast because of its laid-back surfing vibes meaning you will see physically fit bodies almost everywhere and they have nice cozy cafes and restaurants also. The best thing you can do here is to learn to surf (many places around the town to rent a surfboard or book a lesson).
But if you are like me and not into surfing, I recommend heading to Tallow Beach, it is a quiet spot stretching for seven km south of Cape Byron, the perfect place to read a book, have a picnic, take a dip, or work on your tan. Alternatively, make a day trip to Nimbin. Think weed (you don't have to), meet the hippies, see the rainbow shops, refresh in the waterfalls, and visit the hemp museum.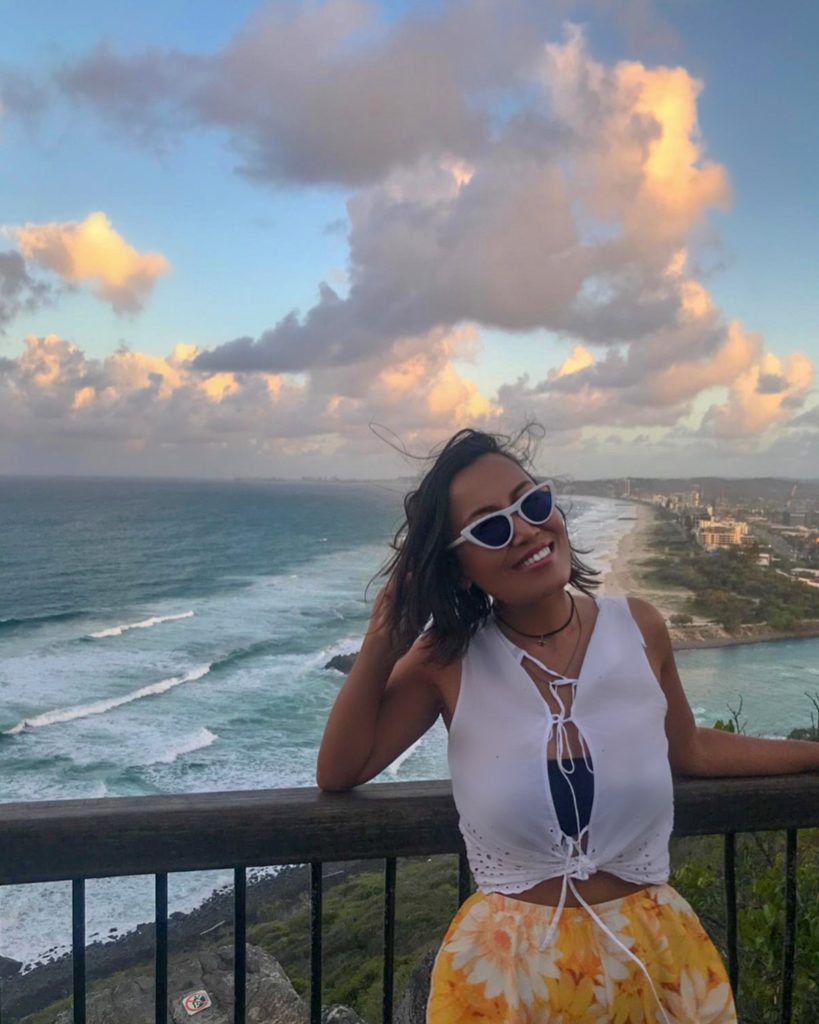 9. Enjoy the beach in Surfers Paradise, Gold coast
While Surfers Paradise is a tourist place, it is nice to visit for a day or two. You can take a jet boat ride, duck tour, or a river cruise and visit a bar or nightclub. Some of the must-sees are – surfers paradise beach (Sunday markets on the beachside), take a course to learn surfing, work on your tan at local's favorite Nobby's beach, eat at the market in Miami Beach, check out Infinity and go for a hike or run in Burleigh Heads. The above view is from Burleigh's head's lookout, beats the view from any other hotel room in Surfers Paradise!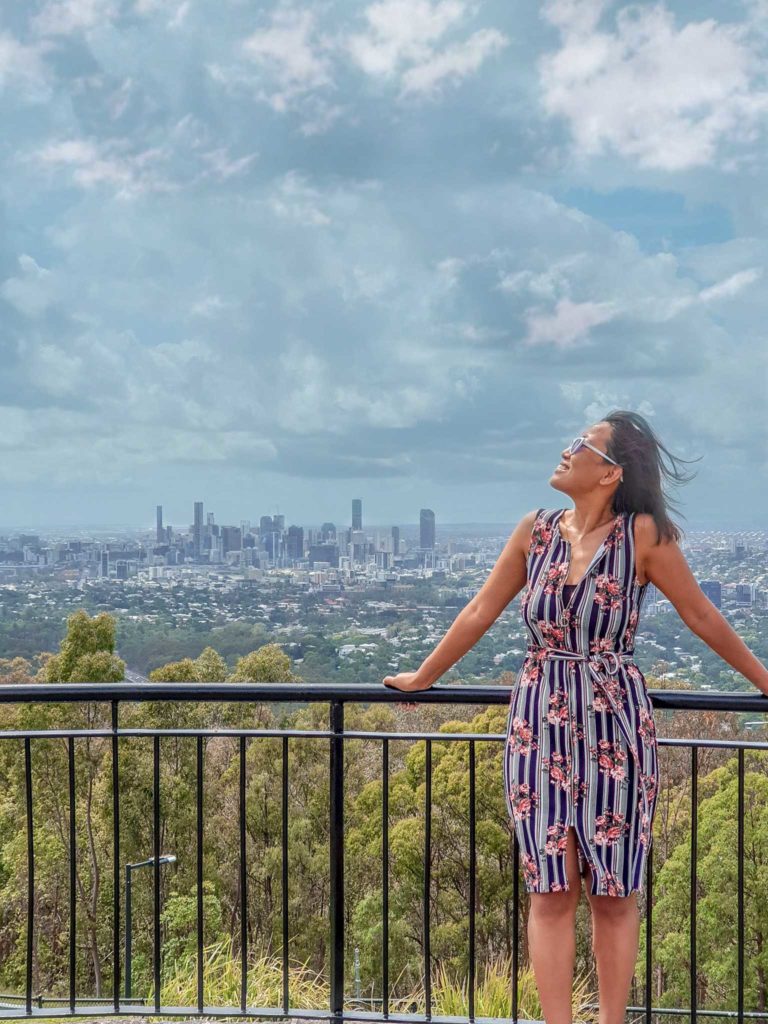 10. Hike to see the view from Mt Coot-tha lookout in Brisbane
Time to head outside Brisbane city and explore as a solo journey in Brisbane continues towards Cairns. Mt Coot-tha a lookout is a short 7 km West of Brisbane's CBD. If you drive, or someone is driving you that's the easiest as there is plenty of free off-street and on-street parking as well as 5 bus parking bays. OR you can get Uber and taxis too.
Using public transport? No worries. Get on bus 471 which travels from Adelaide Street in Brisbane City to this lookout every day. While you are there, stop in at the Planetarium after wandering through the spectacular gardens.
11. Climb Story Bridge
Story Bridge climb is an adventurous climb of Brisbane's most iconic landmark, witness amazing 360 panoramic views of Brisbane.
There are twilight, day, and night walk available from a number of companies but I recommend this tour as they are affordable and easy to deal with, an experienced guide is provided and you can also learn about the colorful history of the story bridge and Brisbane city. Let the adventure in you shine!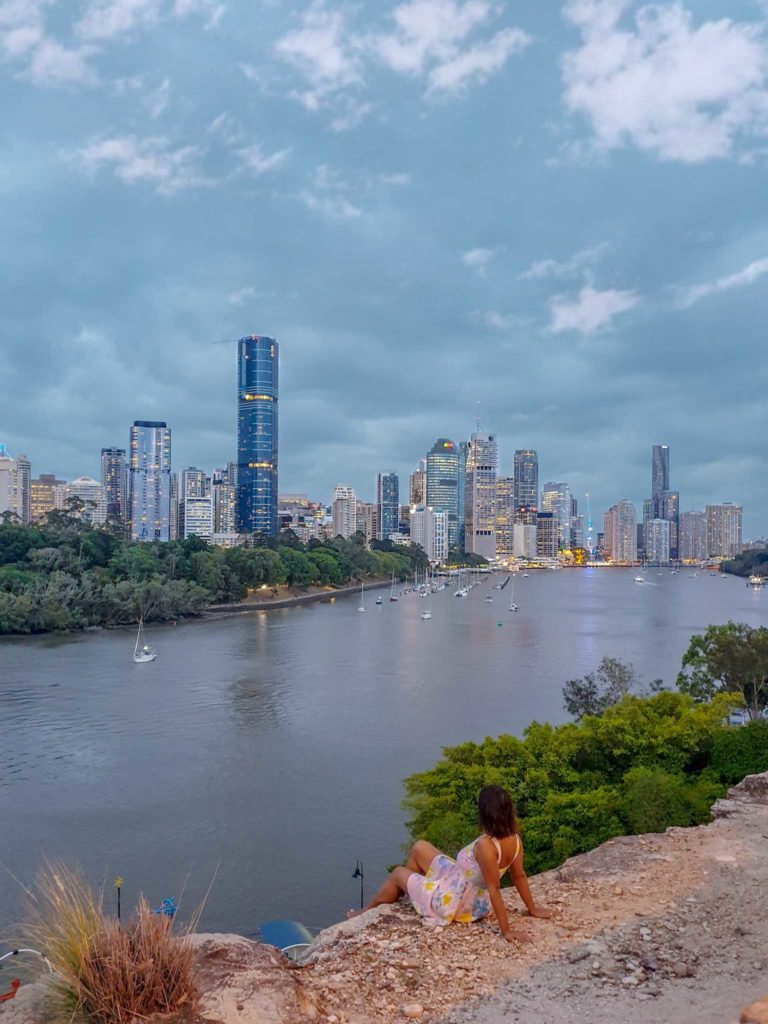 12. Have a break in Brisbane
On the first day in Brisbane, I thought I wouldn't like this city but on the second day, I was loving it already! I shared all my secrets in a blog post. To give you an idea, it is more like a Brisbane travel guide including an itinerary filled with sightseeing in Brisbane. Check it out here.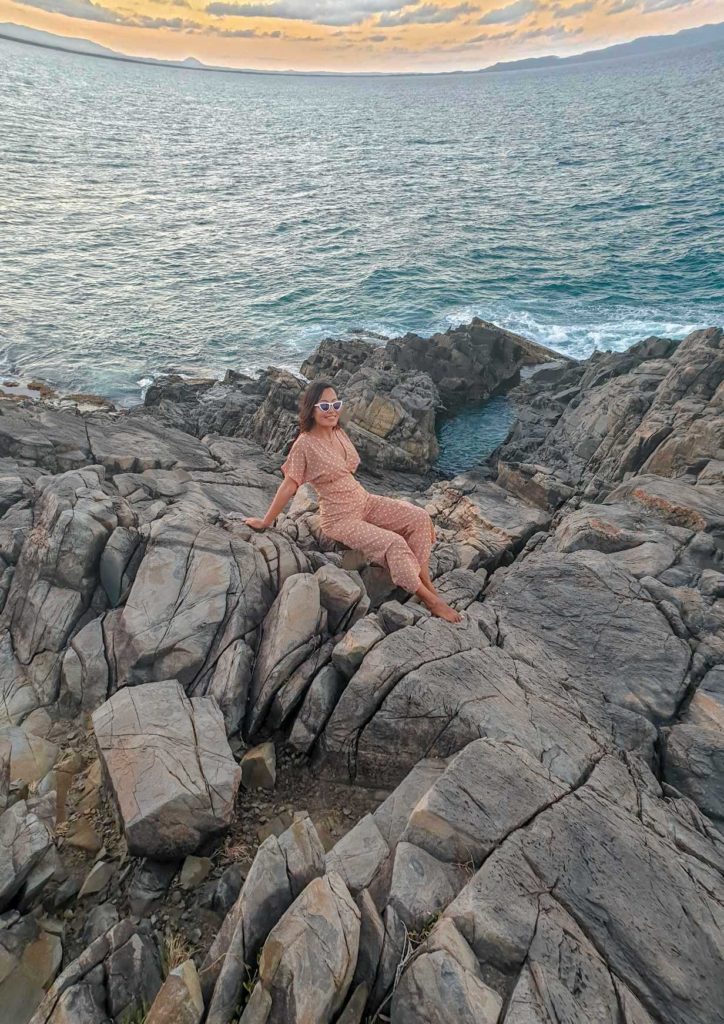 13. Hike to the fairy pool in Noosa
Noosa is a beautiful Australian resort area on southern Queensland's Sunshine Coast. Just like Byron Bay, it is also famous for its surfing lifestyle, and stunning areas. Locals refer to Noosa as Byron's posh sister! You can either make a stop here or a day trip from Byron Bay works as well.
While you are in Noosa, don't miss the main beach, coastal walk along the national park and hiking to this awesome fairy pool (35 mins return from the main beach), hell's gate, surfing, a day trip to the rainbow beach or just chilling in one of many Noosa's bar and restaurants.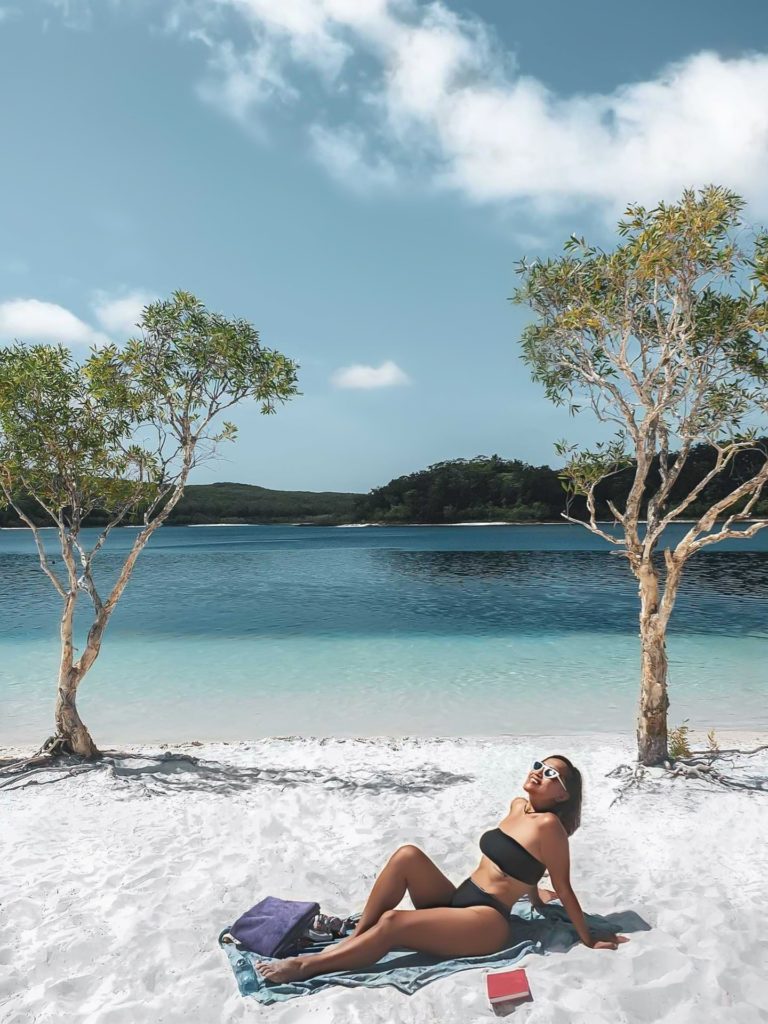 14. Live the once-in-a-lifetime experience on Fraser Island
UNESCO World Heritage-listed Fraser Island is one of my top 3 spots in all on the east coast of Australia. Let me share why and hope it becomes your top 3 too!
Fraser Island is about a 3-hour drive up from Brisbane city but there is no direct connection. So, you will have to make a stop in Hervey Bay and get on a boat. There is not much to do in Hervey Bay, except enjoy the empty beach and Mexican restaurants. So, plan accordingly.
Whether you are driving on a road trip, or on a bus pass, a simple way to see Fraser Island is either, renting your own 4WD and camp or booking tours. Keep in mind, that Fraser Island is the biggest sand island in the world. The roads are fundamentally sand, so you have to drive nonstop to keep the momentum and not sink in.
Which tours did you ask? Well, it depends on various factors. Whether you want to experience a multi-day tour or a day tour? Do you want to be on a party boat or a quiet one? Do you have enough time or/and money?
I could be wrong but I felt like a multi-day tour was all the same as a day tour except a couple more sights and drinking nights with teenagers. Nothing wrong with drinking with that age group, but I just felt better booking a day tour. It covered everything I wanted to see which is also a must-see on the east coast of Australia.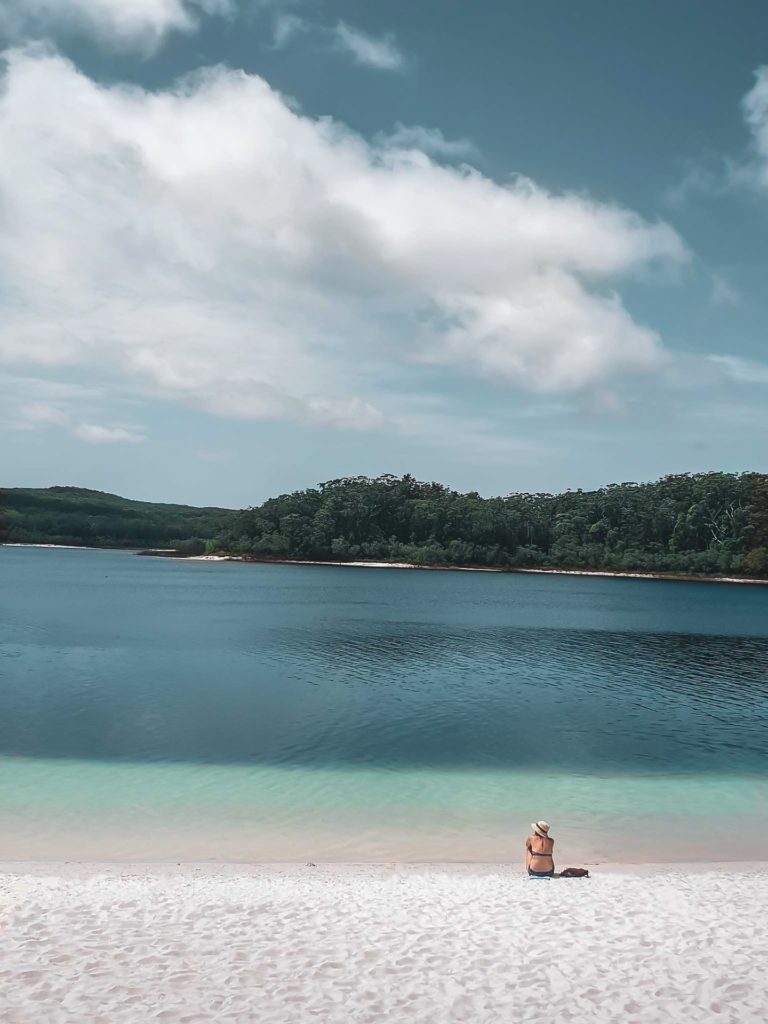 15. See the stunning Lake Mackenzie
You can see the distinct difference in the 50 shades of blue here. Easily my favorite lake on the east coast of Australia. Lake Mackenzie has miles of white sand beach and is a freshwater lake meaning you can drink water from this lake! I wouldn't mind living here. Would you?
I think this beautiful lake alone, makes the trip to Fraser Island worth it. Australia's east coast must-see is made of tons of stunning places and Lake Mackenzie is one of the best spots I recommend visiting.

See below for more not-to-be-missed places on Fraser Island.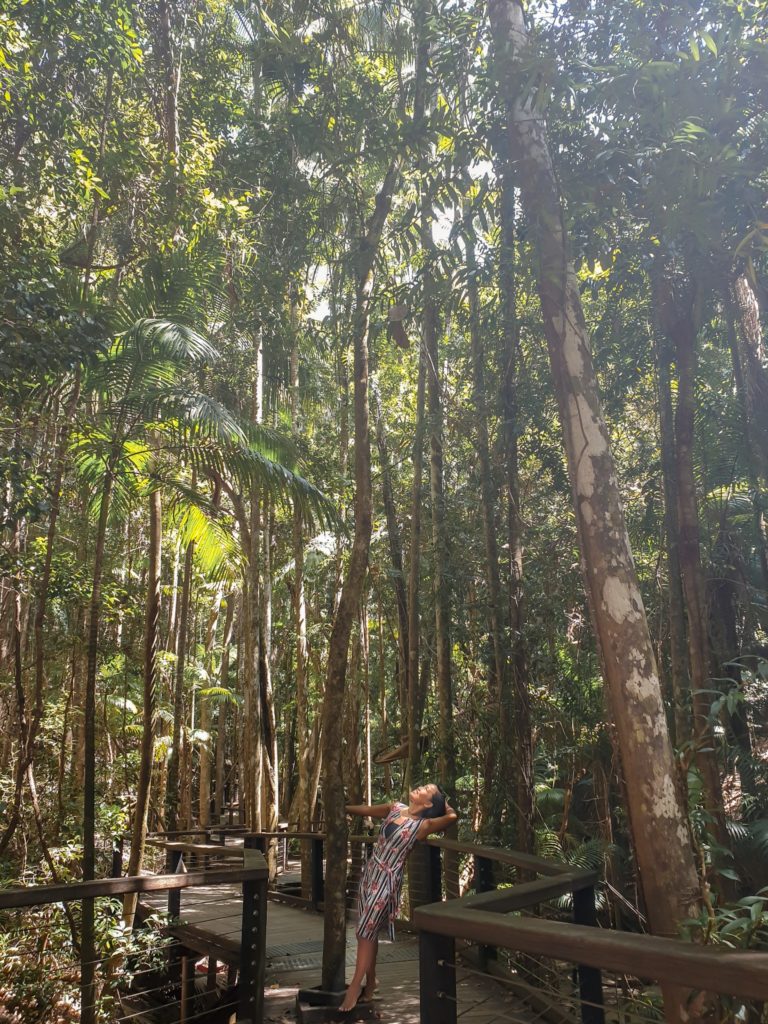 16. Walk among the tallest eucalyptus trees
Another Australian east coast must-see is Fraser Island's towering pines, rainforest trees with three-meter girths, rare and ancient giant ferns, and eucalypt forests. All growing (other than nitrogen) from only two sources – rain and sand! How cool is that!
17. Meet the interesting wildlife
I saw the bush lizards, unique birds, and huge Australian spiders too! was also expecting to see Dingos (the native Australian dog that resides in Fraser Island) but he didn't turn up that day.
18. Eat the delicious buffet lunch
I was not expecting anything great with the price I paid but was pleasantly surprised by the decent buffet lunch. Many varieties and yummy too!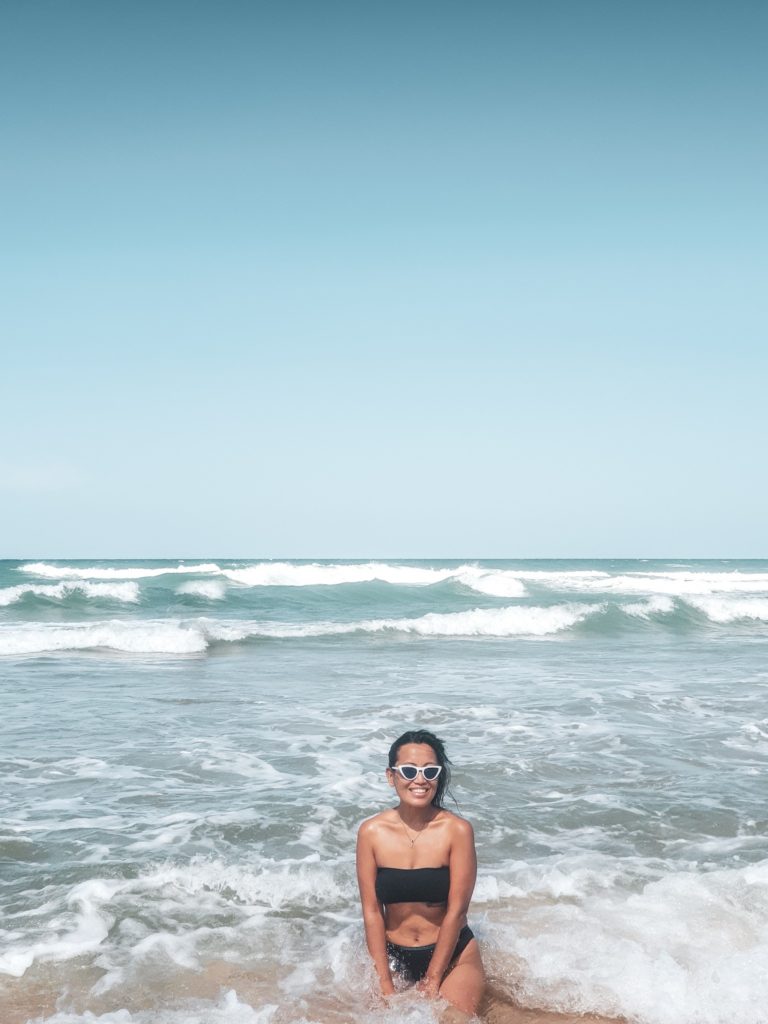 19. Fly over the 75 Mile Beach
The 75-mile beach is as you imagined, just miles and miles long beach area. It definitely lived up to its name! Interestingly, you can also board a plane here and see this gorgeous island from above for added $80 (15 minutes flight).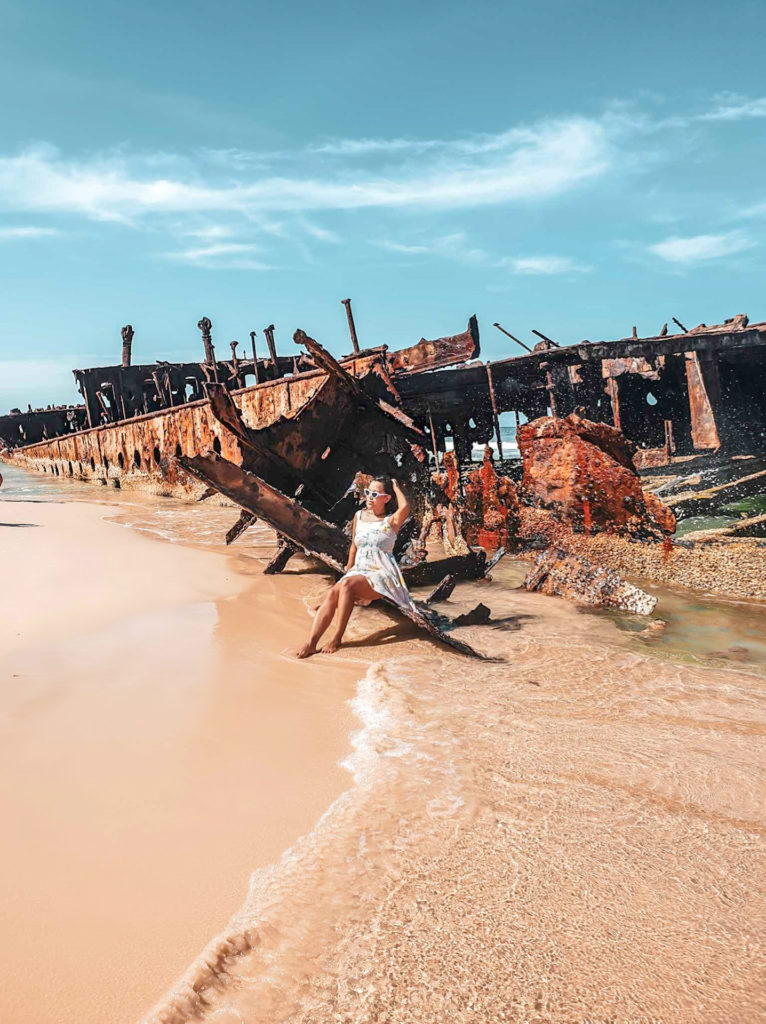 20. Visit the historic Maheno Shipwreck
Maheno Shipwreck is a must-see because of its story. It was originally built in Scotland in 1904 and was first used as a hospital ship in World War I and then later purchased by a Sydney company to ferry people between Australia and New Zealand. It was then sold to a Japanese company that planned to melt the ship into scrap metal and resell it. So Maheno began the journey back to Osaka by tow, linked to another boat by a chain. Sadly, it found itself in the middle of a seasonal cyclone off Fraser Island's coastline and lost its link to the other ship, which soon disappeared. It was then, that it washed up on the shores of the 75-mile beach.
The Maheno shipwreck soon became scary for the native aboriginals where men would gather to play the didgeridoo and the women would go there to give birth! Today, it is a famous tourist attraction that's on Fraser island's 75-mile beach and worth seeing in person.
21. See the interesting Pinnacles
Another must-see on Fraser Island is the Pinnacles in Fraser Island. I have been told, there are 72 shades of sand to be found here! And if you are curious the orange hue on the sand comes from the iron.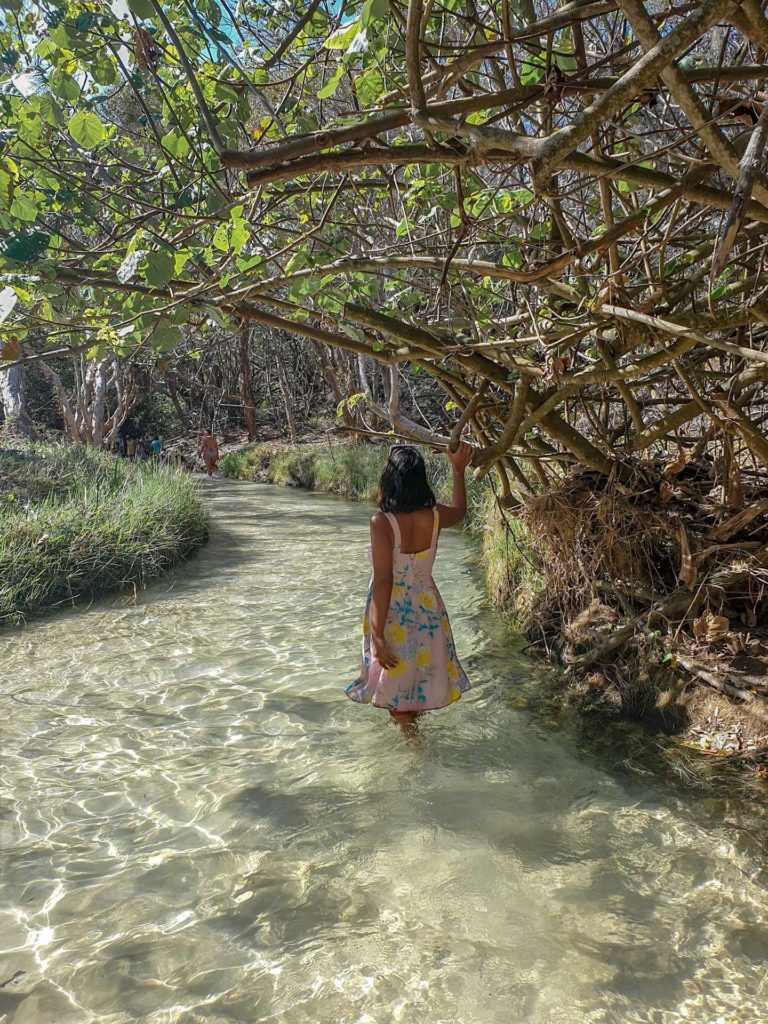 22. Freshen up in lovely Elli Creek
Eli Creek was the perfect spot to refresh from the heat! I didn't have tubes but if you watched my east coast story you know how fun it looked tubing there! Only if the water was a little deeper but it was still refreshing to walk along the creek with cold water on my feet and 30 degrees of sun shining out there
23. Watch the Sunsets from the boat
Okay, this wasn't included in the day tour, but I feel obliged to put it here because it was awesome! After all the beautiful things I saw on Fraser Island, this sunset was the cherry on top. It was great to end the day with this sunset before my eyes.
If you also want to book a similar day tour from Hervey Bay to Fraser Island. Read this and book it here.
Ps: Fraser Island is also known as K'gari which means "Paradise" in the local Butchulla language. They have three laws that are to be respected "What is good for the land comes first; If you have plenty, you must share; Do not touch or take anything which does not belong to you." I like this as I believe we can also use this in our daily lives! What do you think?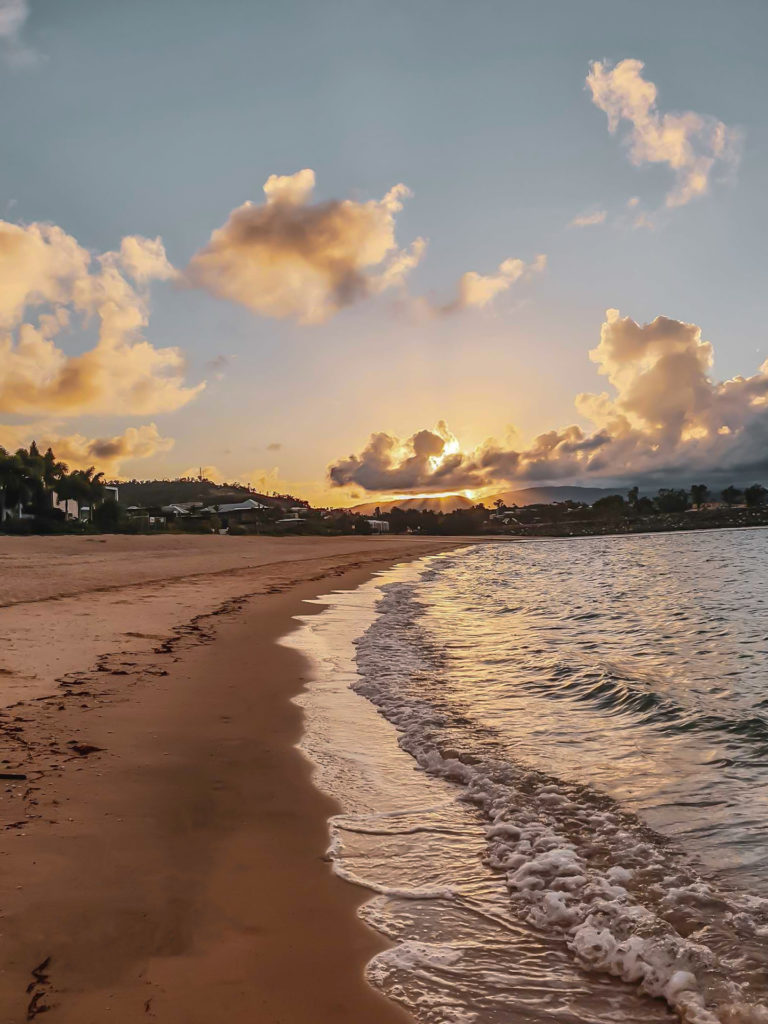 24. Work on your Aussie tan in the Airlie Beach

Another of Australia's east coast must-see is lovely Airlie Beach. It is about a 10-hour drive from Hervey Bay but doesn't let that put you off. Take a break along the way in seventeen seventy, Rockhampton, or any nice spots you fancy. Then once you arrive in Airlie Beach, head to the boat heaven beach for a refreshing dip and work that Aussie glow/tan. You won't find many people on this beach aside from some locals and a handful of fellow travelers. But if a busy place is more your vibe then head to Airlie Beach lagoon, which is usually full of backpackers and the alike. Either way, Just don't forget your towel, water, and sunscreen! Oh, and sunsets from boat heaven beach are a must.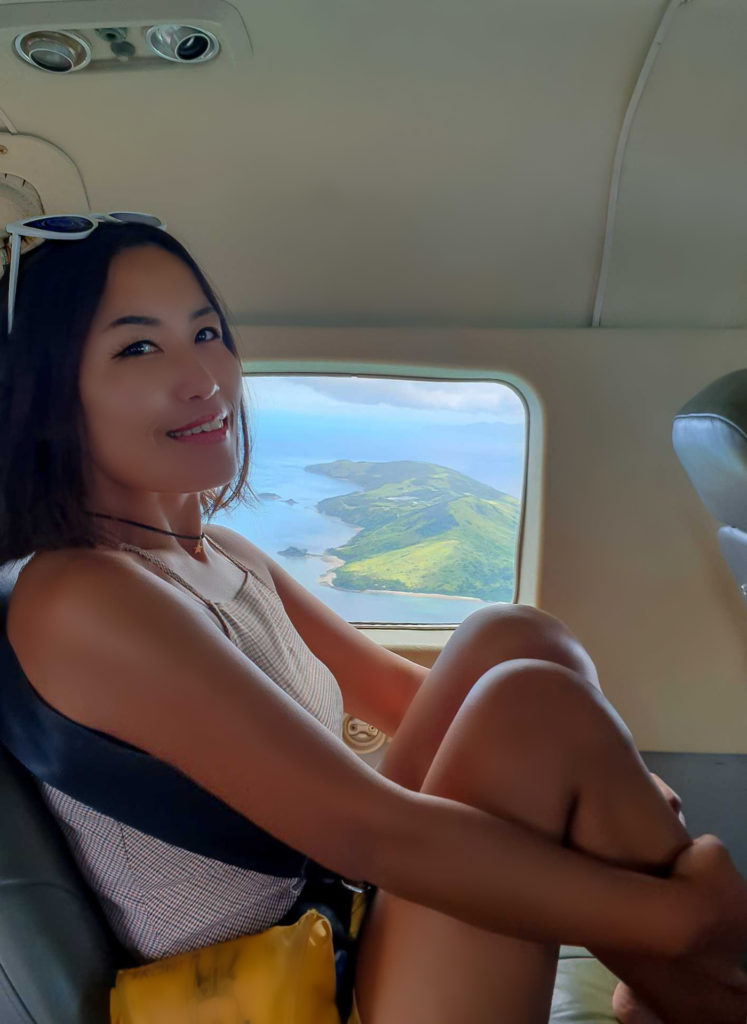 25. Book a scenic flight to see heart Island
Now, this is another exciting must-see on the east coast of Australia. Even if you have a fear of heights, hope you can manage to do it! The flight lasts for 60 minutes and starts with a safety briefing, smooth take-off, and landing. The best thing about it is, that both sides of the plane are guaranteed views, as the pilot turns around the plane on both sides. Getting picked up and dropped off in front of your accommodation is covered.
When it comes to booking flights, there are two options that leave Airlie Beach. The first flight flys over the nearby Whitehaven Beach, Hill Inlet Lookout, Bait Reef, Hardy Reef, Hook Reef, and the other one includes all of the above plus the romantic Heart Reef, a Whitsundays favorite, and the great barrier reef.
The heart reef, as part of the outer reef, is visible only from the air – from the water, it is just another turquoise blur. It was brilliant to see it with my own eyes, but the glimpse is only momentary but still enchanting at the same time! It is a lot smaller than you'd expect. So, pay attention to the pilot when he points it out, that way you won't miss it.
The views from above the Whitehaven beach, Hill Inlet lookout, the heart reef, and the Great Barrier Reef are all unforgettable. A must-do.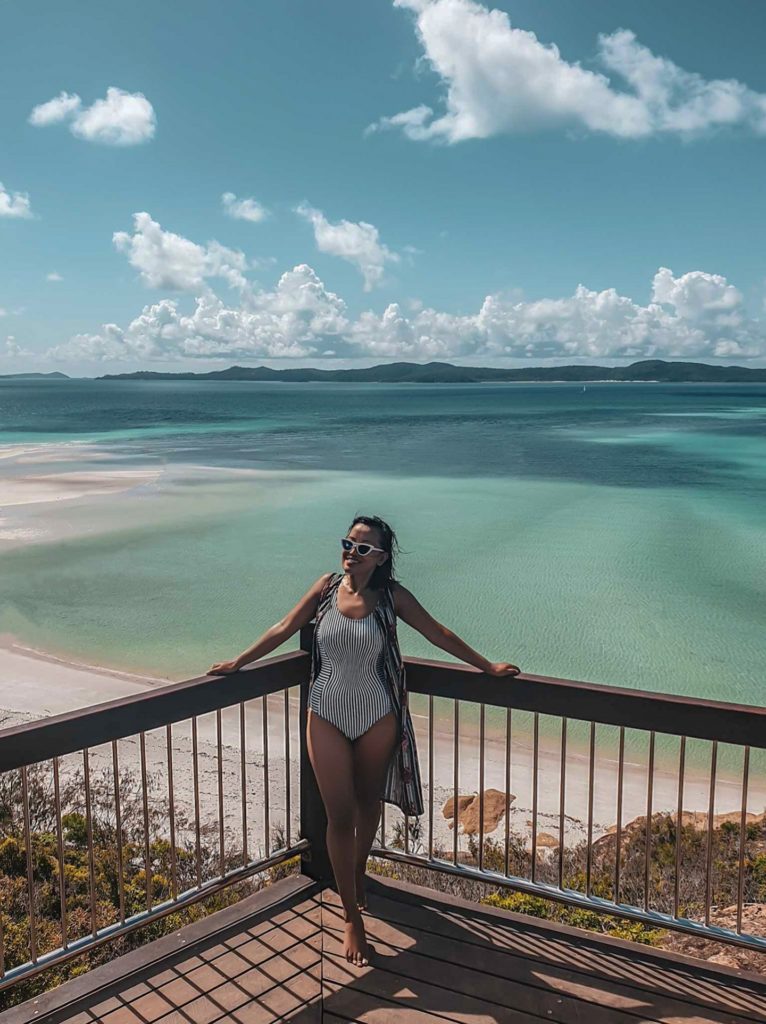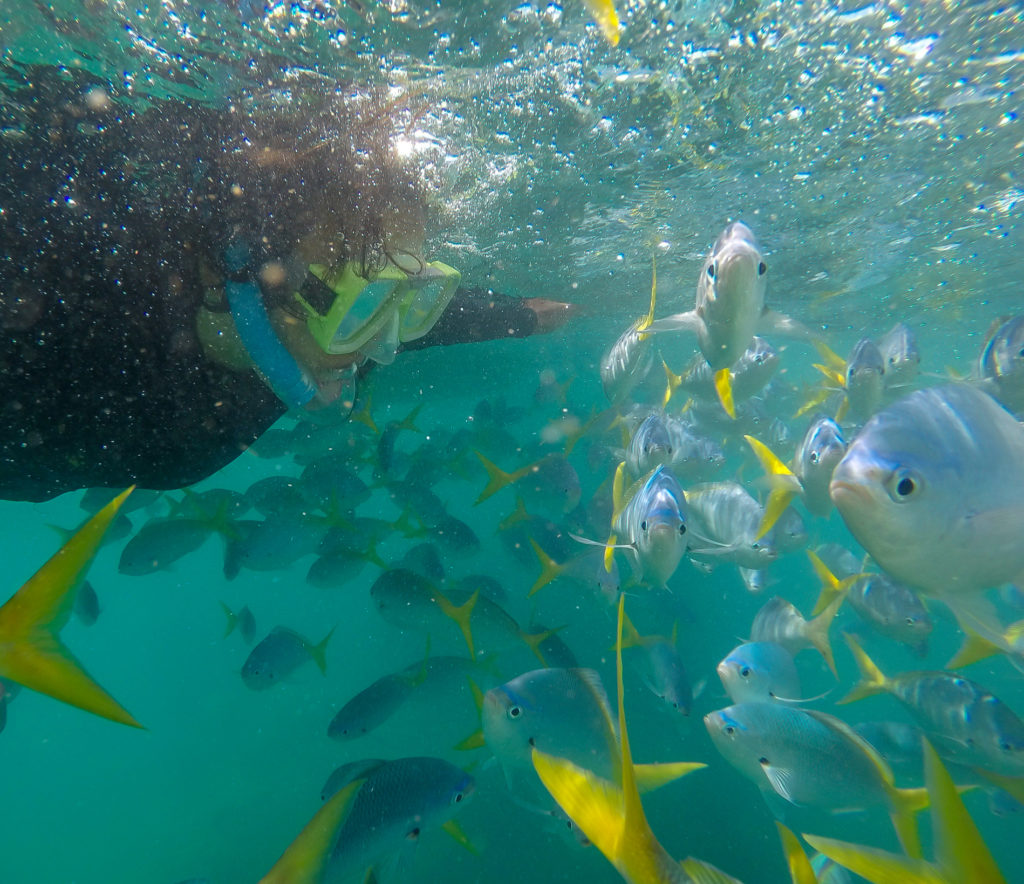 26. Snorkel/Sailing/Boating in the Whitsundays Islands

If you have been following my stories on Instagram, you probably already know, I have a fear of deep water. Yep, nobody is perfect! It freaks me out thinking about the things underwater and that my feet aren't on stable ground! So, I had to remind myself Whitsunday Islands offers some of the best snorkeling spots on the east coast of Australia. And if I don't do it, I'm missing out ALOT! In case you are like me, I hope you find the courage to experience this exciting activity (assuming you know how to swim).
I booked a 1-day snorkeling tour with two snorkeling spots. My plan was if I don't snorkel in one spot, I will make sure to do it in the last one. And it worked! Luckily I did snorkel for a bit towards the end of the first session and the above image is from that moment. With a mask on, you can't see how terrified I was but also very excited to meet all these beautiful yellowtail fish and a big George! It would be fair to say (write in this case) that snorkeling in the Whitsundays made my trip even more fun.
In case you are after a multi-day boating/ sailing/snorkeling experience in the Whitsundays, I recommend booking a 2-night sailing adventure tour which includes your meals, accommodation, kayaking, snorkeling, and more.
If you don't want to party it up with backpackers, then this Whitsunday Island 2-night cruise and resort stay would be perfect for you. For a little bit more, you can have a whole new level of awesome experience and day trips to the best spots in the Whitsunday Islands.
It is no surprise due to global warming, the Great Barrier Reef has suffered extensive damage and is believed to have halved the amount of space it originally covered. Probably a good idea to tick this bucket list item off asap! Book the snorkel/dive through a reputable company so, they know where to take you to see that untouched coral and beautiful underwater species.
Depending on your preferences look for either a sailing tour, multi-day/night tour, party boats, racing yachts, or a day tour to Whitsunday Islands. There are 74 islands in Whitsundays and one of them is home to the world-famous Whitehaven Beach. Some of the whitest, softest, and purest sand you will ever see, you can even scrub it on your face but is illegal to take it home with you!
27. Skydive at Airlie Beach
With the surrounding location so beautiful, it would be a great idea to do Skydive at Airlie Beach. Bucket list item for sure!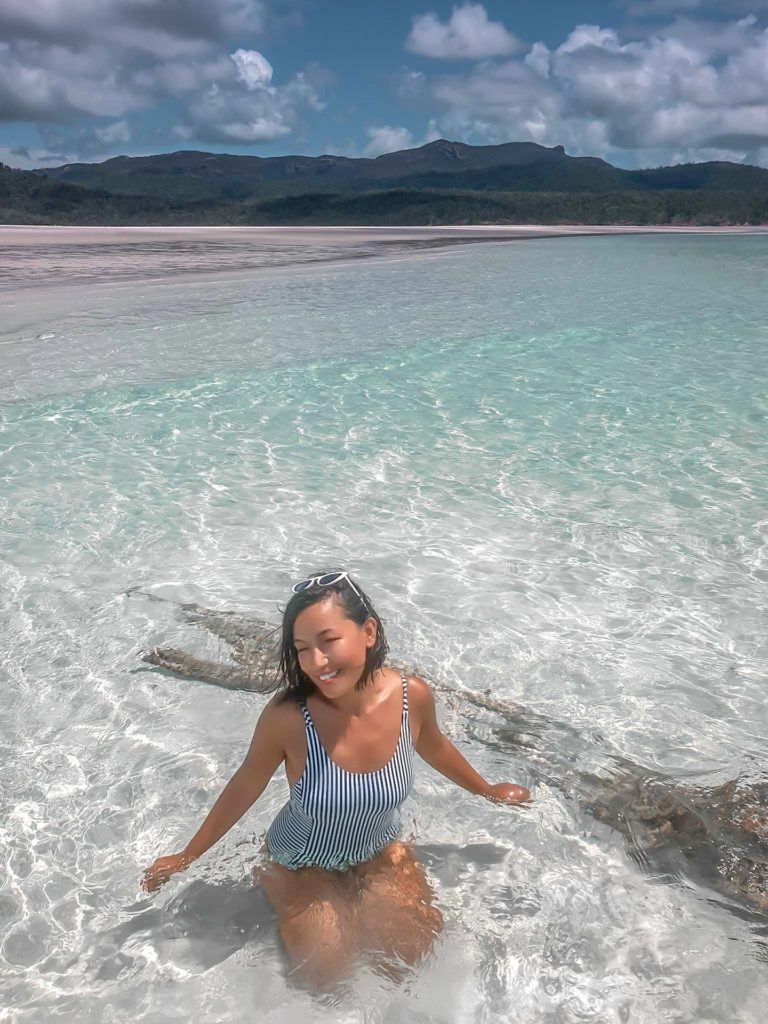 28. Swim on the most photographed beach in Australia (wear a stingrays suit)
Forget Australia, Whitehaven Beach is one of the most photographed beaches in the world! Luckily it is only a boat ride away from Airlie Beach and is located in Central Queensland, Australia. If you book one of the tours, you can not only see Whitehaven beach but land on this prestigious beach and spend a day there!
I am not judging but if you didn't make it to Whitehaven beach on the east coast of Australia, you missed out on an important part of Australia east coast must-see. At least consider booking this type of day tour.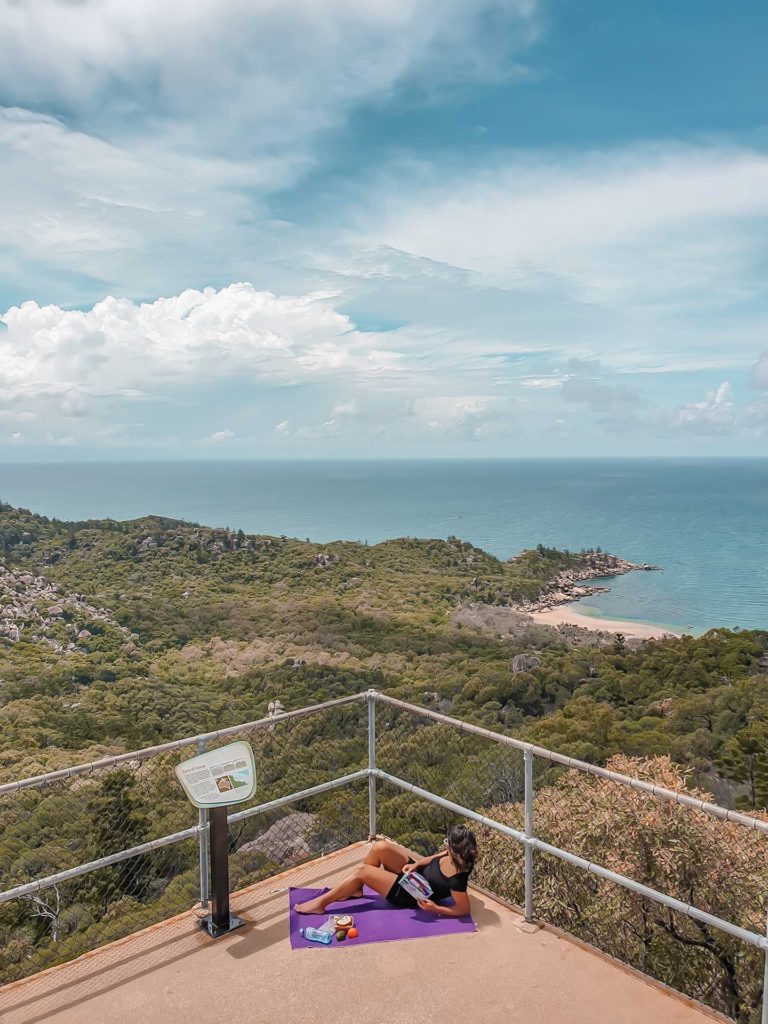 29. Feel the magic in Magnetic Island
Magnetic Island is a bit out of the way like Fraser Island but the best places always are! Head further up from Airlie Beach to Townsville and buy a ferry ticket online at the sea link. Upon arrival, settle in, and if the time and weather are right, pack some snacks and go watch the stunning magnetic Island sunsets.
30. Eat breakfast with the koalas and feed the hungry lorikeets
Here's your last chance! That is having breakfast with the koalas on Australia east coast must-see. It happens onsite at the YHA -Bungalow Bay Koala Sanctuary every Wednesday, Friday, and Sunday morning. I wasn't lucky with the dates but hope you are! You can also hold a koala, croc, snake, and lizard for an added fee.
Another must-do on the east coast is feeding the Lorikeet (local colorful parrots)! Same location as above, every day at 4:30 pm but is only available for guests. It is fun to feed the colorful chirpy lorikeets, just be careful of their sharp nails.
31. Climb one more hill for that epic view

Another Australia east coast must-see is the fort hike on Magnetic Island. This hike not only offers entertaining education about the history of this precious island but also offers awesome views to match. Keep an eye out for the signs scattered on the trail and make a stop to learn why and how magnetic Island got involved in the first world war, how people used to live on this hill, and how they used to communicate back in the day. Not going to ruin it for you, but let me just say it is super interesting to try that mode of communication! And on your way to the top of the fort look out for the wild pine koalas in their natural setting!
PS: When you are done with the hike and at the parking area at the bottom, turn left downhill, which leads to the secluded beach. You are welcome!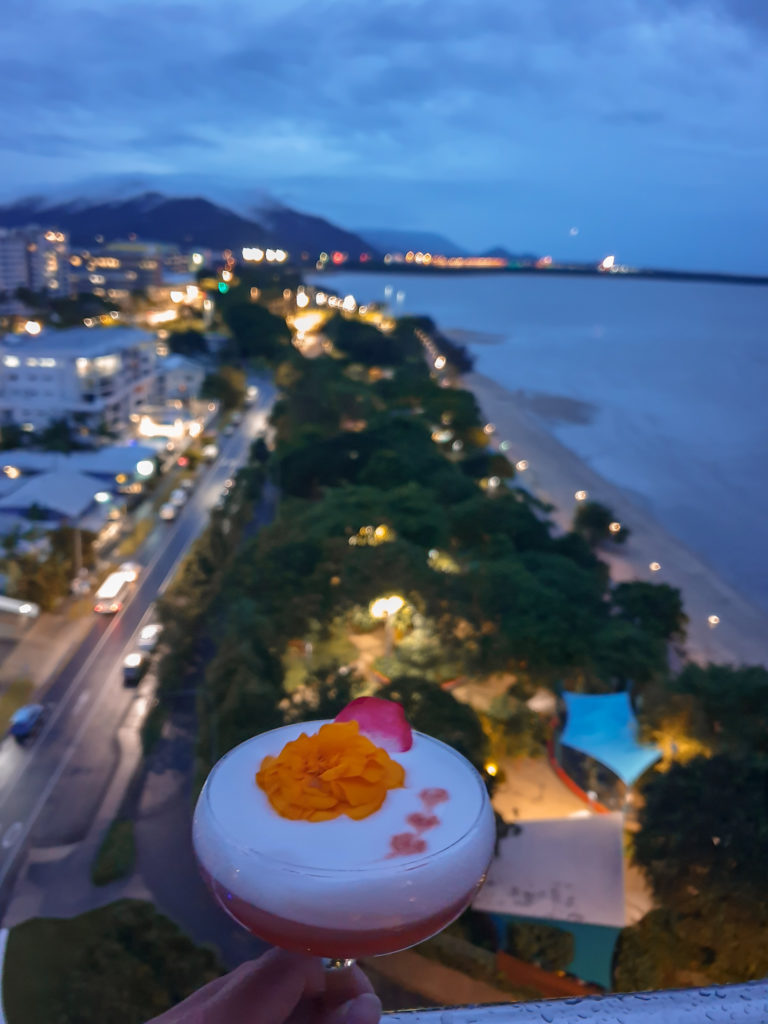 32. Go crazy in Cairns
I meant the number of must-sees and activities you can do in Cairns is a crazy amount! Cairns is the perfect spot to explore North Queensland. For the adventurous soul in you, skydiving, bungee Jump, scuba-diving courses, and white-water rafting are sure to give you goosebumps.
If not, Australia's east coast must-see also includes exploring world heritage-listed Daintree rain forest, and the Great Barrier Reef, as well as day trips to the Skyrail Cableway, Kuranda Scenic Rail, Atherton Tablelands, Port Douglas, and Cooktown, are equally exciting and also a must-see.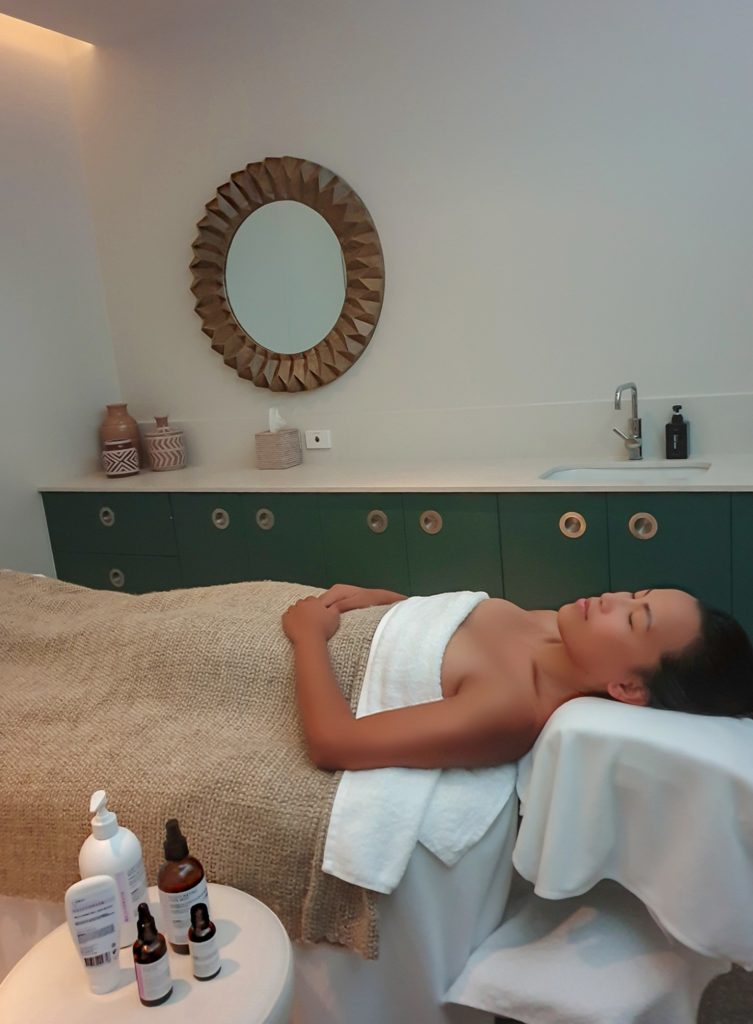 Whether Cairns is a starting point of your east coast journey or ending. It is time to celebrate!
You are either about to create magical memories or end an unforgettable journey. That calls for a pat on the back and a drink at the best place in town. Head to Rocco by Crystalbrook for the best rooftop view and sort yourself out at the Elemespa. I would say this is one final must-do while traveling the east coast of Australia because if you have gone this far to give all these incredible experiences to yourself, you deserve to give yourself some luxury too.
I hope this Australia east coast must-see guide was helpful.
Happy Travels x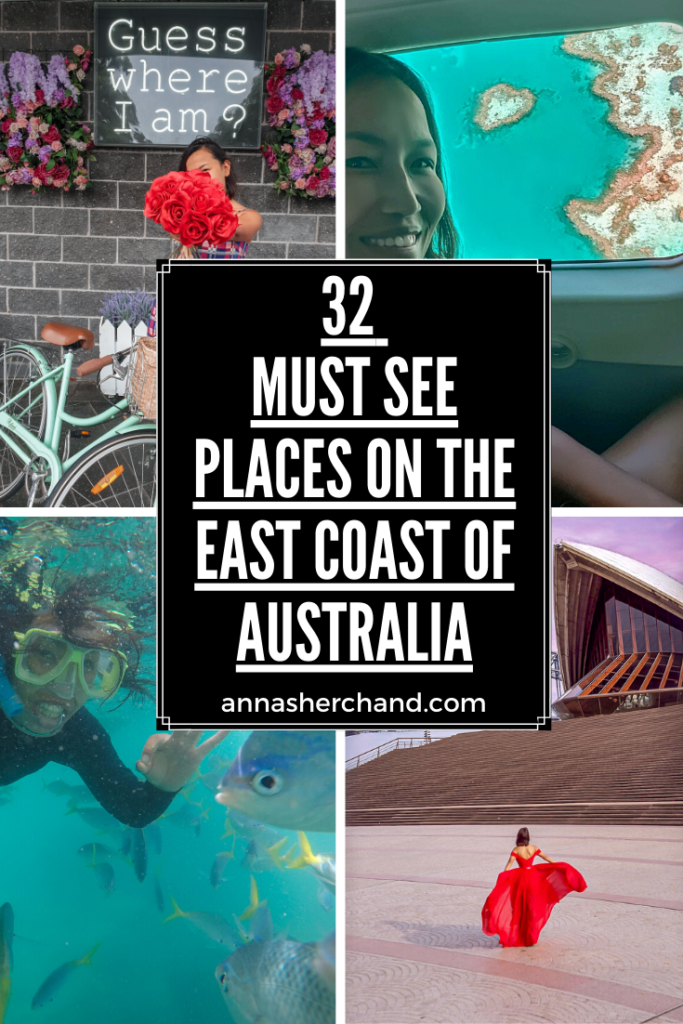 Let me know in the comments:
32 exciting must-see places on the east coast of Australia 2023