As a local Sydney sider, I am grateful to live here and be able to do multiple hikes and numerous walks in Sydney. I just love going for walks. Whether it be the famous well-known trials or secret sydney walks. Walks and hiking is something I usually do at home and also when I'm traveling to a new place.
You could be an exchange student, traveler, living in Sydney or in between jobs, there are many walks and hikes to do in Sydney that you will enjoy! I have put together the best ones I recommend below.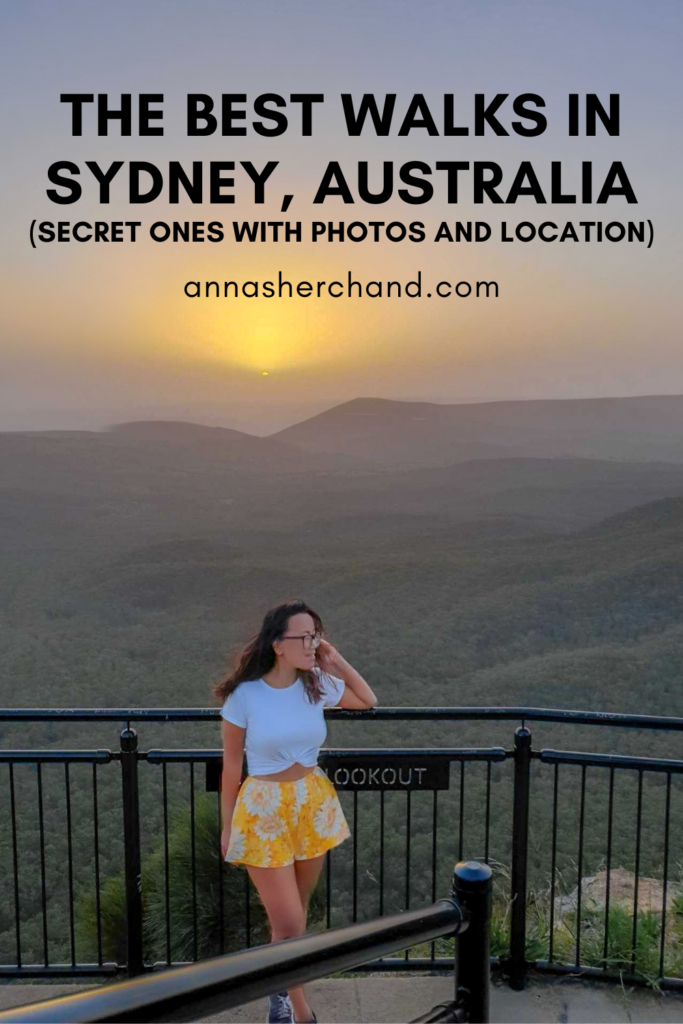 Best 7 walks in and around Sydney
But first, some walks and hiking tips
Take plenty of water (reusable water bottles if possible)
Wear comfortable walking shoes and a hat
Don't forget to put on sun protection
Bring photo ID
Also a small first aid kit
If going for long walks, bring your own packed lunch/snacks and picnic rug if you like
Warm and wet weather gear
Phone/ Camera if you are into photos
I believe walking is a bit like life. The journey only requires you to put one foot in front of the other .. again and again, and again.
 And if you allow yourself the opportunity to be present throughout the entirety of the walk, you will witness beauty every step of the way, not just at the end.
1. Watsons Bay to Bondi Walk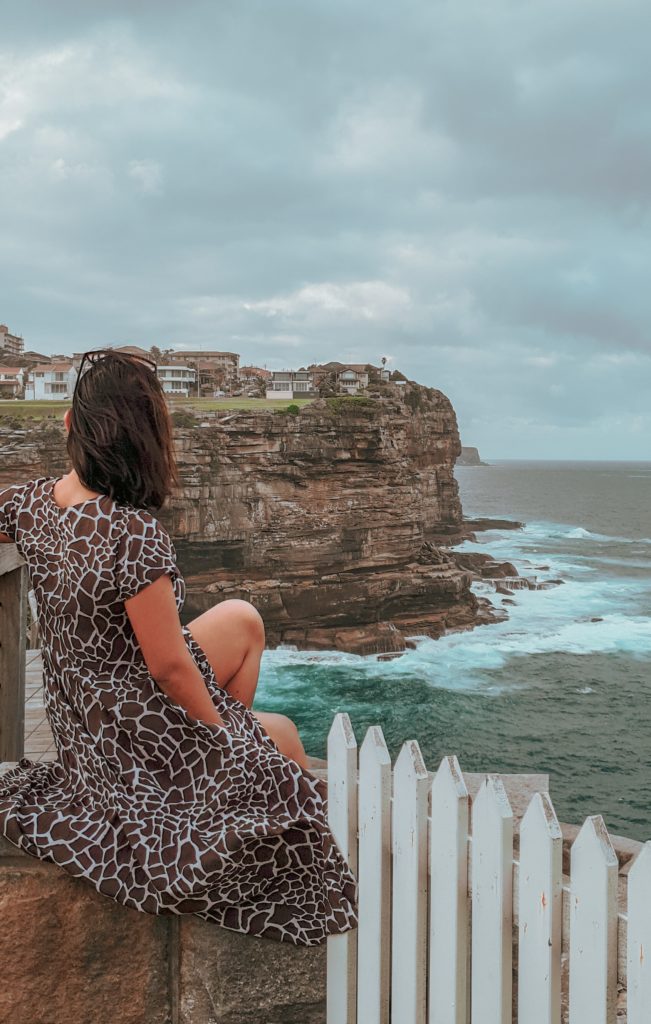 I think it has to be one of the scenic, most accessible and rewarding walks in Sydney. There is a couple of separate edges views points, endless ocean, pretty flowers and dedicated walking path. On a fast phase, about 1.30 hours otherwise could take over 2 hours to complete this walk. Along the way, you can see some of Sydney's finest secluded beaches, beautiful parks, stunning views of Sydney Harbour, the city skyline, and picture-perfect bays.
If would like a challenge you can start from the historic Hornby Lighthouse as you can also see North Head. The panoramic views of the city skyline and the Sydney Harbour will make you want to do this walking track more than once. Then when you arrive in Bondi, enjoy a well-deserved lunch at any of the cafes, rest up in Bondi Beach and enjoy the views.
Stunning spots: Camp Cove, Diamond Bay which is considered a secret sydney walks
Getting there
Train: From Townhall Station, Park Street, Stand G bus number 324 or 324 and 325 departing Circular Quay. You can also catch the ferry to Watsons Bay from Circular Quay which could be a nice opportunity to see even more of Sydney Harbour, the sailing ships, yachts, and not to mention the prestigious waterfront mansions.
2. Seacliff Bridge Viewpoint Walk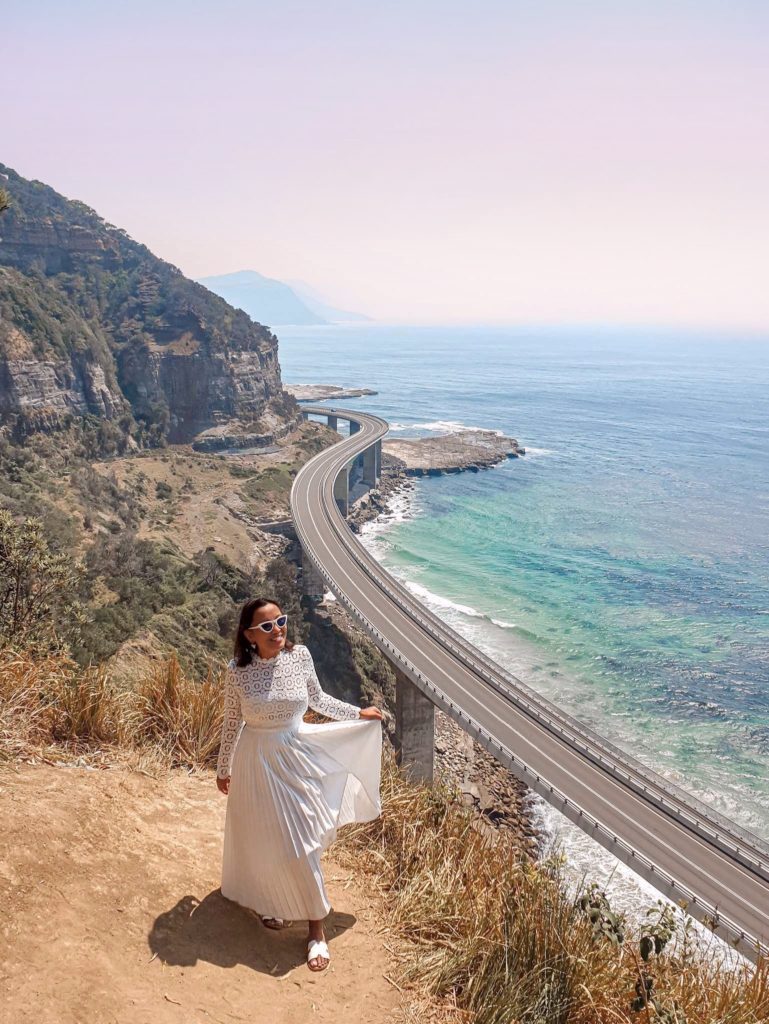 I must warn you this is not just a walk, more like a little hike. Be careful as the drop is huge but the view is worth it! I have written a whole post about this special walk. Read how to get to seacliff bridge walk here.
3. Otford to Bundeena Coastal Walk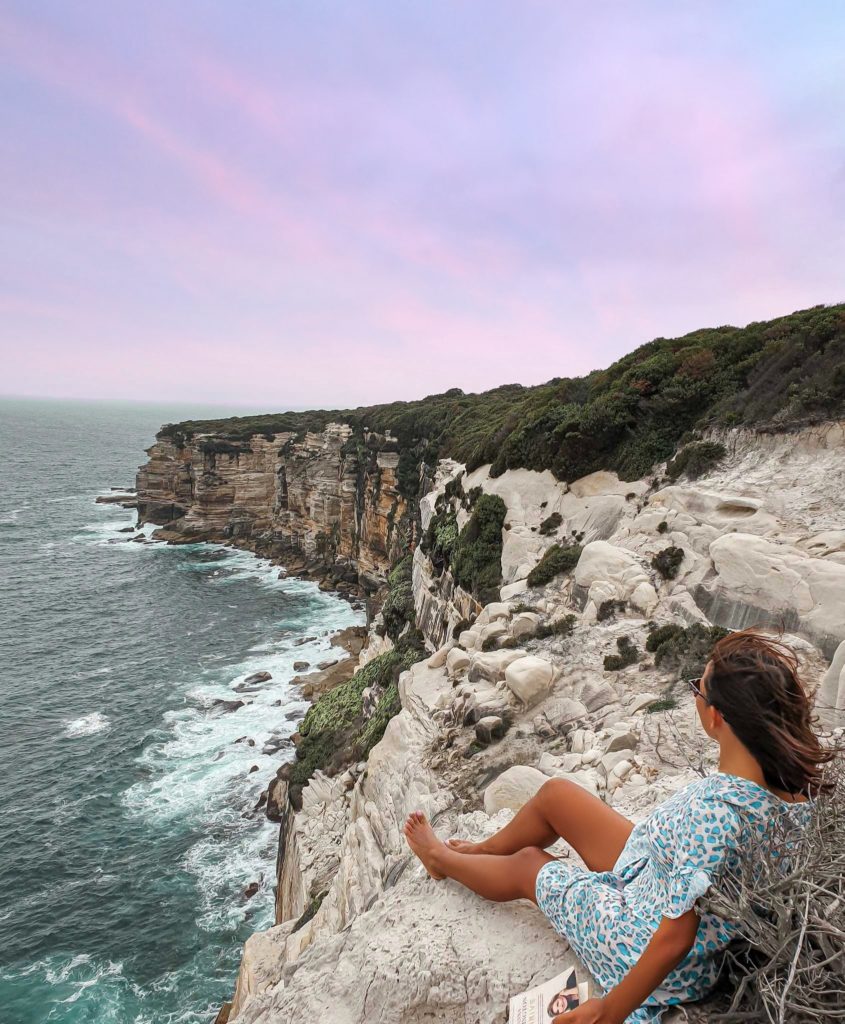 This is Sydney's premier coastal walk, taking you through the third oldest national park in the WORLD! The magnificent Royal National Park was established in 1879 and looks as good now as its hay days! You can either do a part of this walk or 2 days hike as the total walking distance is about 29km. There are opportunities for bird-watching, kayaking, whale-watching, and snorkeling along the way. Winding through the forest, up and down headlands and crossing long and elegant beaches all day. If you prefer a day walk, you can also do a section of it and call it a day.
Stunning spots not to miss – Garie beach, Wattamolla Beach, wedding cake rock at Bundeena then Cronulla. It is a semi-hard walk, so fitness is certainly required.
Getting there
Train: From Central Station Platform 25 to Otford Station. From Otford Station steep climb out of Otford Valley to the RNP entrance, at Otford Lookout.
4. Bondi to Coogee coastal walks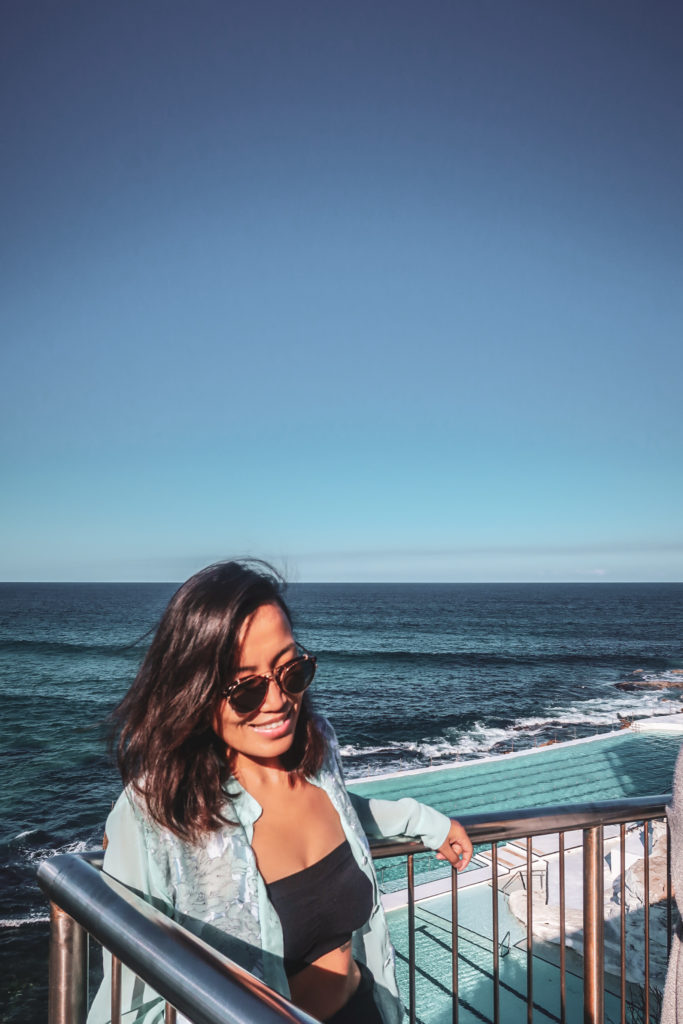 If the walk between the Watson Bay and Bondi is not enough, you can extend it by doing Bondi to Coogee Coastal Walk. This walk has six different sections. Each part offers a different experience and stunning views. Just walk south along the coastal path from Bondi and you can see the tiny Tamarama beach, beautiful Bronte beach, chic Clovelly beach, gorgeous Gordon's Bay and cute Coogee beach– all within 6 km.
Wander around the rock pools at low tide and watch the sun go up (or down depending on when you want to do the walk, it is open 24 hrs for sunrise and sunsets) with good coffee or excellent fish and chips from across the road. If you are in the right month of the year you can also visit the annual Sculpture by the Sea exhibition. (usually around November) The whole walk usually takes about 2 hours if done in a leisurely fashion.
No visit to Sydney is complete without Bondi to Coogee Walk!
Stunning spots: Bondi beach, Tamarama Beach, Bronte Beach, Clovelly Beach, Cemetery, Gordan's Bay, Coogee Beach
Getting there
Train: From Central Station to Bondi Junction Station (T4/ Platform 24) then walk 10 mins to Bondi Beach or take the bus no 333 or 380 from Bondi Junction station. Bus: 1 straight bus (333,380) from the city to Bondi beach.
5. Blue Mountains Walk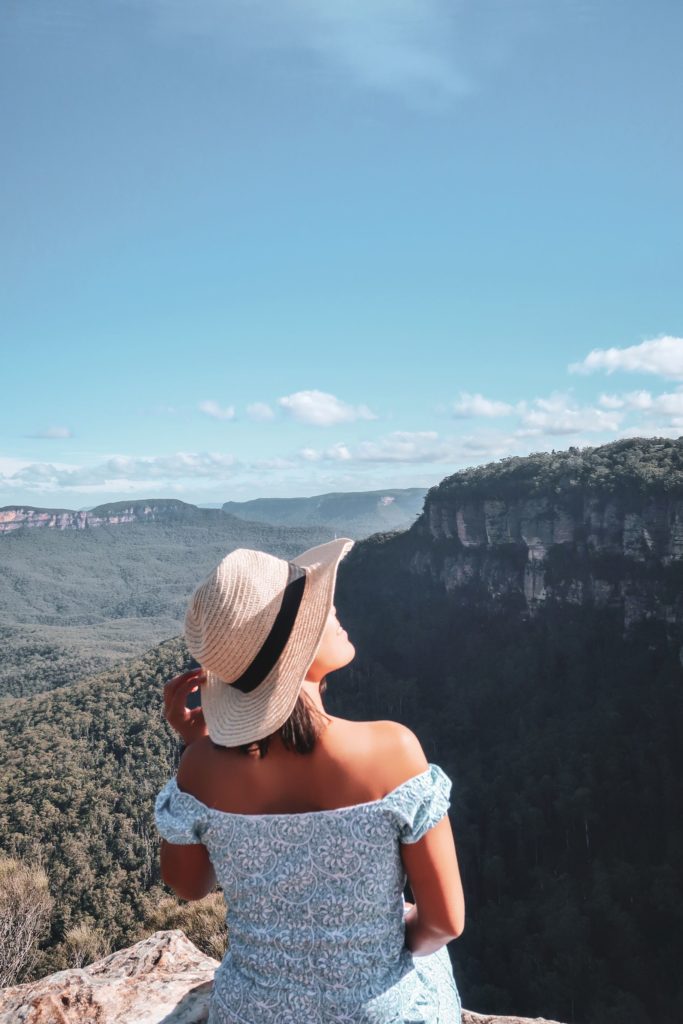 The Blue Mountains is a good choice if you want to get away from the hustle and bustle of the city. You will see magnificent scenery, hidden waterfalls, options for detours, long set of stairs and panoramic view and more. If you go through the guided tour – there should be an option to meet Australian Ancestors aka Aboriginals who will showcase their history and tradition in a special dance!
You are spoiled for choice in Blue mountain as it offers many walks and hikes. For example: if you are taking the train and getting off at Katoomba station. You can do The 'classic' walk at Scenic World, walk along the cliff top to Echo Point & 3 Sisters – down Giant Stairway – right through rainforest valley – up the scenic railway. Remember to be careful with the Giant Stairway!
If you get off on Leura, you can do Sublime Point Lookout, Leura Cascades /Leura Forest/Fern Bower Circuit and many others. I suggest picking one walk for the day and do that. Most paths are interconnecting with numerous descent ascent points too so, a map is handy!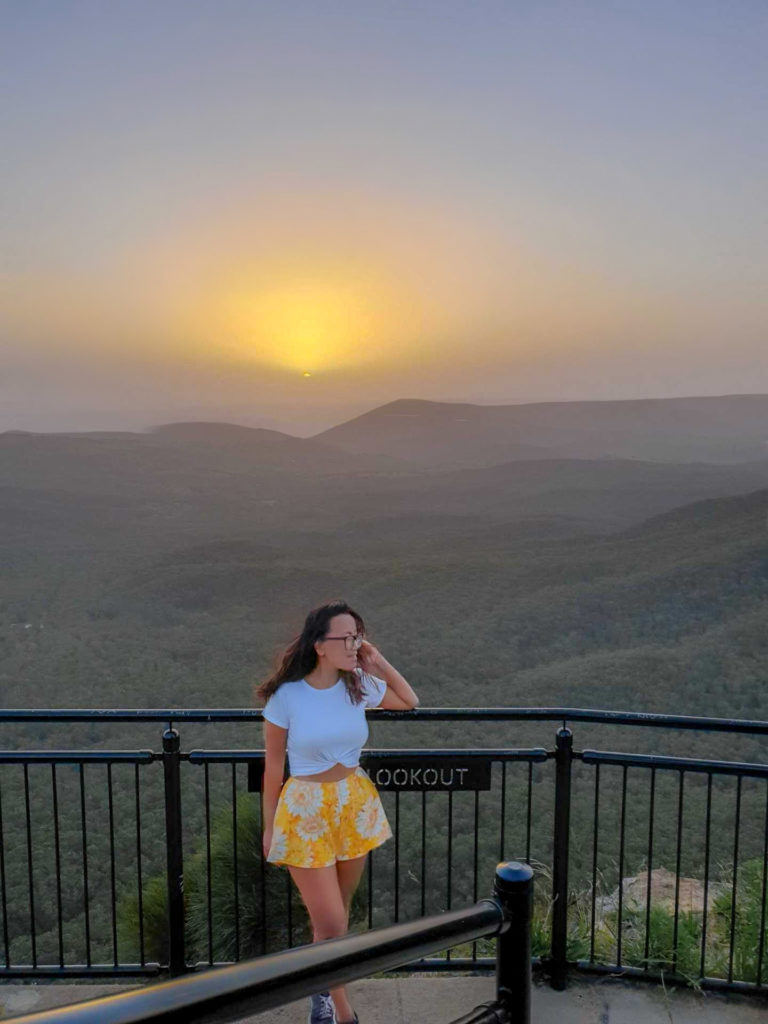 Then, there are other walks which would be easier with a car than public transport as the starting point are a little far from the train station. Like the hanging rock at Blackheath, my personal favorite!
Please check the blue Mountain Australia website for details in regards to all the walks, their difficulty level and estimate time here.
Optional: If you are adventurous like me, you can also try rock climbing, abseiling or canyoning here. With the view that good, chances are you might get obsessed with it. You are tied to a rope the whole time but if you miss one lope, there is nothing behind you beside a big black hole of emptiness and trees. I had an amazing experience and most thrilling than skydiving if I may say so! Skydiving was fun too but thrilling for only a few seconds when you are free-falling but rock climbing in blue mountains is on another level!
Getting there
Train: From Central Station to Leura Station (the Blue Mountains Line/ Platform 6) Same train goes to Katoomba and Blackheath too.
6. Harbour Bridge walk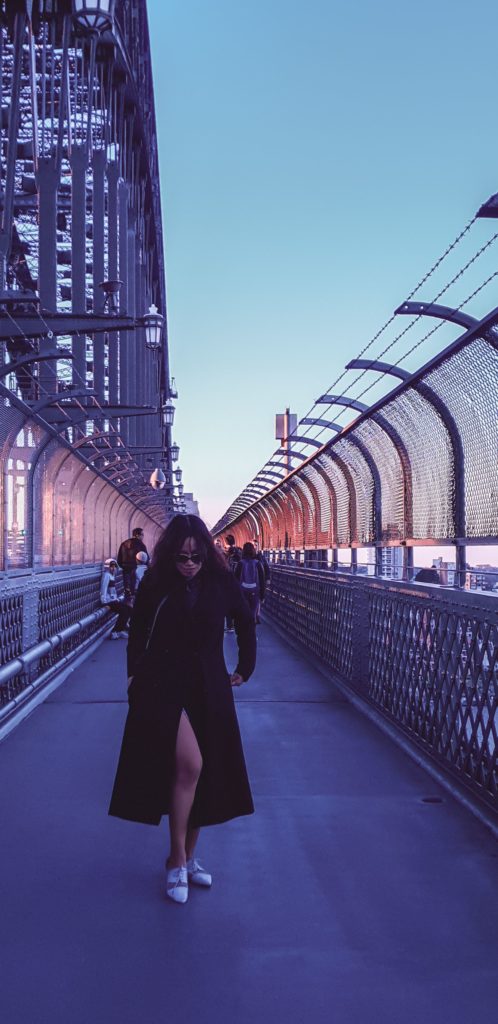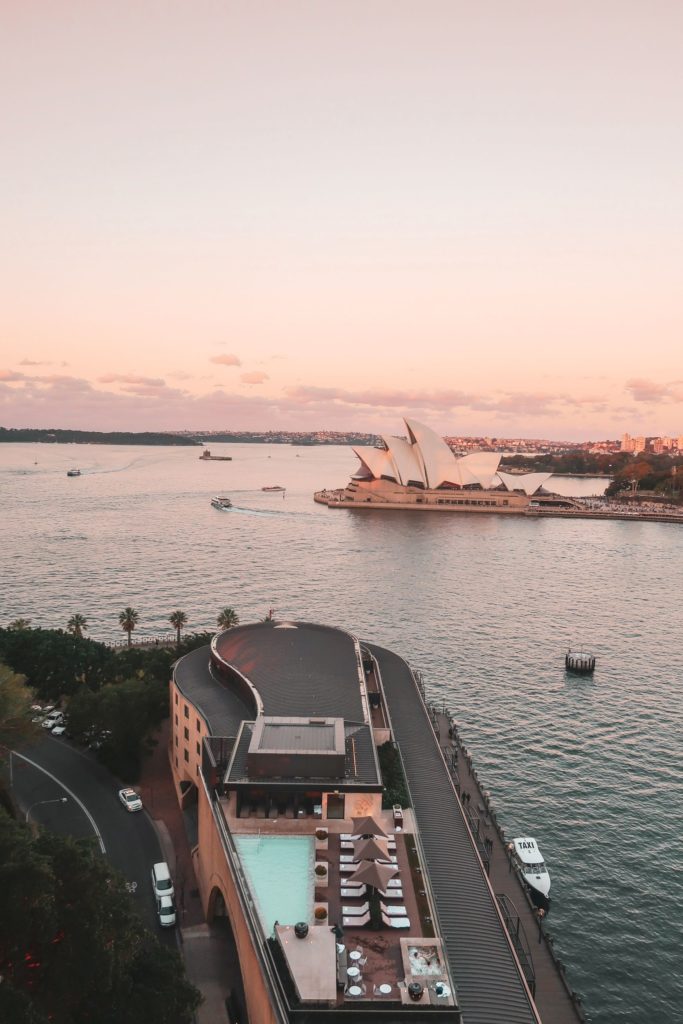 If you are wondering Sydney Harbour Bridge is one of the tallest steel arch bridges in the world. It links the northern suburbs of Sydney with the city center and connecting more than 200,000 cars across the bridge in a single day!
There are two options to walk on this bridge. 1. The pedestrian footpath crossing the bridge (20 mins from one end to another). The second image is the view from the harbor bridge.
Buy the bride climb ticket on the official Harbour Bridge website and do the bridge walk that way!  Either way, I think it is an iconic walk that you should experience when in Sydney. With enough facilities such as toilets and cafe's along the way, this walk is perfect for all outdoor enthusiasts, from solo travelers to groups.
Getting there
Train: From Circular Quay Station 3 mins walk to the bridge
7. Sydney Opera House/ Botanical Garden Walk
This is the famous touristy thing to do but this walk is so gorgeous not to consider. Have you ever walked around the Sydney Opera House and the botanical garden especially during the sunrise or sunsets?
Though it is in the city, the area is usually quiet with rare noise pollution. You can see joggers, walkers and photographers who appreciate nature and are enjoying and minding their own business. There are also plenty of seats along the way. There is so much to see here like I saw bats for the first time in my life!
Not to miss gorgeous gardens, the Calyx experience, birds and magnetic harbor. Such a laid-back walk, perfect for any age. 1-2 hours for the slow walk.
Note: It also offers one of the best sunset views from Mrs Macquire Chair and one of my fav Sydney walking.
Getting there
Train: From Circular Quay Station 5 mins walk.
There is so much to explore out there. Just put on a pair of good shoes, a bottle of water, some snacks and go. Watch as the world unfolds in front of you.
The following walks also come highly recommended. Such as – Barrenjoey lighthouse walk, hermitage foreshore walk, Balls head reserve, west head lookout, palm beach, and manly walk to spit bridge walk. Feel free to add me on Instagram as I cover these coast track and beach walk on the weekly.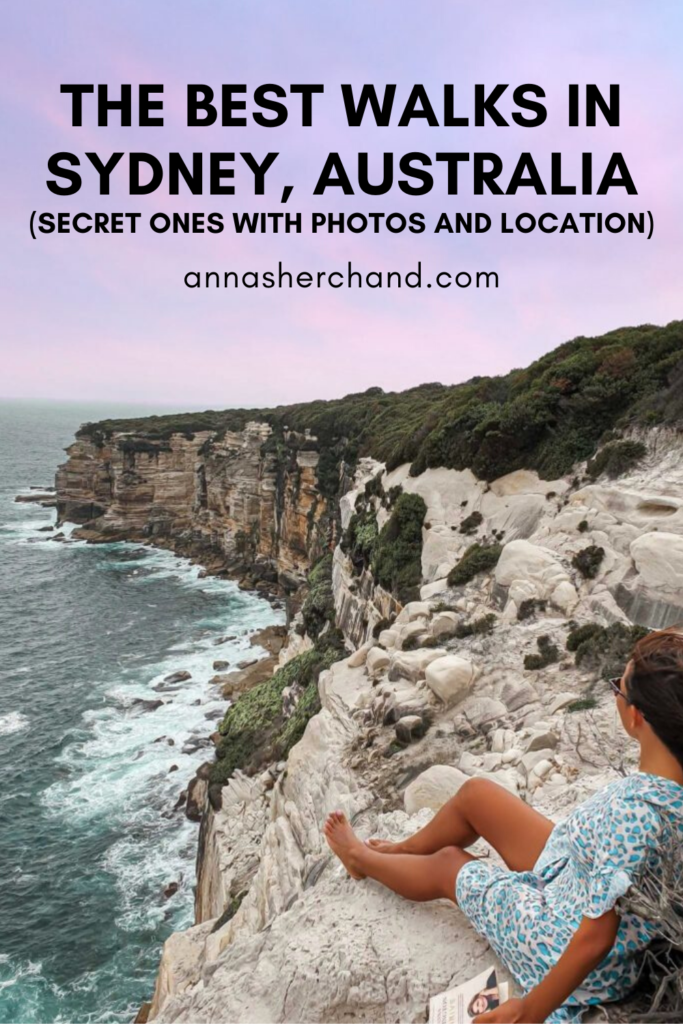 Let me know –
Top 7 walks in Sydney (Secret ones with photos)