If you are tired of trying out many travel websites for the best flights, accommodations, gear, and gadgets, look no further. After years of full-time/part-time traveling, I've spent hours trying to figure out how to travel cheaper and better. This is a collection of the best travel resources when it comes to flights, accommodation, and gears that I and other seasoned travelers are using. Travel Resources for 2023
Find Cheap Flights
TIP: Remember to use an incognito window for searching or clear your browser's cache after searching to avoid price increases!
Sick of going through hundreds of airline websites to find the cheapest flight? Look no further. Skyscanner lets you search "everywhere" to see where is cheaper to fly to and from! It also lets you search full month if you are flexible with dates. I was impressed to find the lowest one-direction prices per day over the month so I could change my dates to adjust for lower prices. This saves a lot of time from multiple queries to compare the best dates. This is my first go-to website for comparing flight prices.
I started using Momondo frequently now because I tend to find cheaper flights here than anywhere else. I like the filter by airline alliance, which is also helpful when trying to earn frequent flyer miles in a particular loyalty program. It also displays an overview of information about your route and the factors that affect the price. You can refine the filter by selecting the tabs along the top, Airline, Seasonality, Days to Departure, Airport, Day of Week, and Time of Day, you'll see a separate breakdown of these price factors. You'll learn how far in advance you should book your flight for the best price, which months are the cheapest or the most expensive, and which airlines tend to offer the lowest prices for your route.
The best thing about CheapOair is their price drop payback perk. It has extensive partnerships with top travel brands and a wide breadth of inventory. Hence I find it worthwhile to check out their diversified travel services and score the best flight deals. Recently I needed to change one of my flights and based on my previous experience with online travel sites, I was thinking it was going to be a hassle to get it sorted. However, because of their quality customer support, it was resolved in no time.
If you are a frequent flyer and constant traveler, you should benefit from this site. This is a great website that tells you exactly which budget airlines fly between destinations. I have used it myself plenty of times.
Find Suitable Accommodation
Feel free to click above to compare accommodation costs. I use booking.com for almost every trip. I find that they have the best selection and almost always have the lowest rates in particular in Asia, but in recent years they've expanded well around the world.
Agoda is my second option for accommodation when travel planning. I like their Insider deals and love how you can also earn flying points with your bookings!
Overland Travel Resources
Do you want to know how to get around a certain country via train or overland? Rome2rio will tell you! I recommend it because it is an Australian online multimodal transport journey planner offering traveling services globally.
If you want to save money then, these are your best bets. Long-distance buses generally have air conditioning, reading lights, adjustable seats, and free wifi. In Laos intercity buses, there were none of the facilities mentioned above but a double sleeping bed inside the bus! Australia's national coach operator, the Greyhound, offers hop-on-hop-off passes for popular routes, short trip passes, and flexible passes based on the number of kilometers you wish to travel.
I have personally used all three of them during my travels to Europe, Australia, and Canada. It was hard not to when you can get $1 fares on the Megabus and Bolt Bus. I once traveled from Florence to Pisa for $1 on the Megabus and from Auckland to Rotorua for $1 via Intercity Bus in New Zealand.
I find Train travel is a convenient, affordable, and scenic way to explore Australia. TrainLink runs services between Sydney and the regional centers of New South Wales and along Australia's east coast to Melbourne, Brisbane, and Canberra. There are also spectacular rail journeys such as The Ghan and Indian Pacific, which sweep across the continent, offering comfort and a sense of nostalgic slow adventure.
If you aren't sure whether to buy your tickets directly from your destination's train system or through a booking site, I recommend using Rail Europe. They make it simple to do everything from planning routes to checking times to buying tickets.
There is no booking fee here! One of the reasons why I used it and recommend booking trains while traveling in the UK.
Travel Gears
Below are the travel gears I use personally and consider essentials.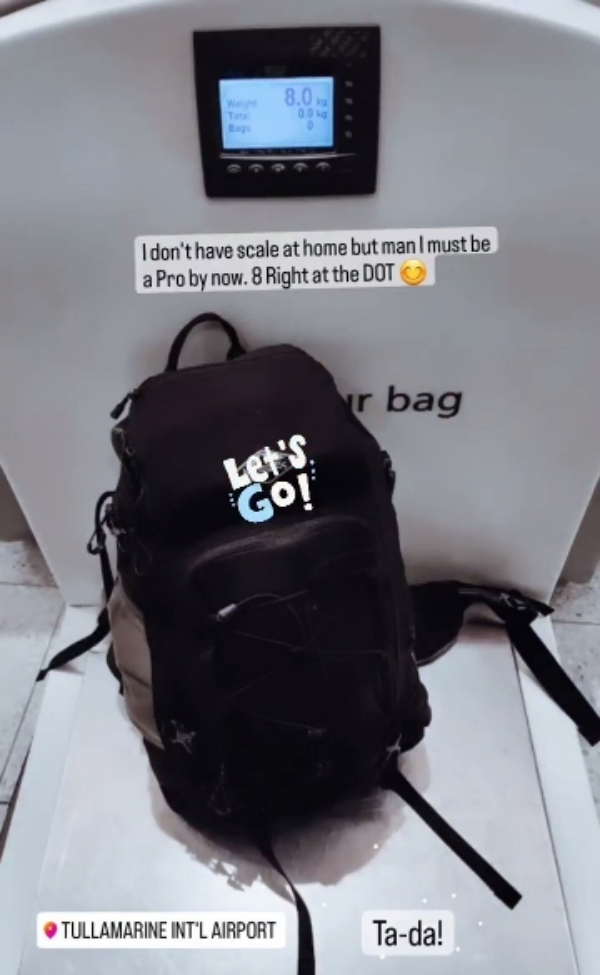 Mountain Design Backpack 30 Litre
This is the only carry-on bag I use (8 -10kg) because I can't be bothered with check-in baggage. I store all my technology products ie: my Laptop, and chargers, as well as my valuables, and never leave my side while traveling. I donate my old clothes and buy new ones along the way. Also, I carry a little foldable Japanese carry-on bag which I use as a day bag when I arrive at my destinations.
If you are tired of not well-made backpacks. Consider this one. It is so strong and sturdy, yet not too heavy. I love how this has two entrances & raincoat pocket at the bottom. And I used this bag for 5 years & again bought a new one this year. Mountain Design sponsor me lol I like using this for short but also my long-term year-long trips.
Have you ever been to a hostel or accommodation where there is no safe? Now, you can put your belongings in here and lock them to the strongest thing in your room (pipes are best, but use whatever you have).
Below are some recommended products from well-traveled friends
You will be amazed how these packing cubes will help you fit in more than you thought you could and take you from squashing everything in your backpack to organized and efficient packing. I use the flat Spacepak for dresses and larger items. The eBags ones are long and narrow and I use one for tops, one for bottoms, and one for underwear, bras, bathing suits, and socks.
These are so lightweight, I recommend them to all travelers of all genders. If you are endangered, trapped under something, lost or isolated in the remote areas, sea or deep in the forest or mountain high; a loud whistle brings attention.  Hopefully loud enough to alert people to your location.
Pepper Spray, on the other hand, could be useful in situations where someone is not respecting your personal space.
Another safety item I recommend is a rubber doorstop. Usually, you will have a lock if you have a private room, but just in case, you don't shove a doorstop beneath the door will make it difficult for people to enter your room.
If you are worried about spilling your shampoo or body wash or even your contact lens solutions; it makes sense to purchase these containers. They come in various size and travel-friendly with a ziplock bag as well. Must have when you travel with carrying on only.
I must tell you I walk A LOT! I feel I can see, smell and get better vibes of the new places that way.  So, if you also love walking around good quality walking shoes is a must. I recommend Nike Air because this pair of shoes have lasted me longer than any other walking shoes and is super duper comfortable.
And to complement #1 above, consider investing in a travel-friendly means of washing your hiking pants and other attire. The Scrubba Wash Bag is small enough to fit in your pocket when compressed. It makes it easy to wash clothes in the sink or tub (or lake): just add a small amount of detergent and utilize the included flexible washboard to give your dirty clothes a good scrubbing in only a few minutes.
If you are going to be hiking or trekking somewhere a bit chilly like I did at Mt Everest Base Camp, the Therma CELL Heated Insoles can keep your feet both warm and dry throughout the journey. They incorporate water-resistant material and an in-built shoe thermostat to make your trip as comfortable and high-tech as possible. Also, they come in various sizes.
Now there is a solution. The Sandless Beach Tote is made of woven strands of PVC and/or PE material that are ideally spaced to drop the sand but nothing else. And the material is also mold/mildew resistant, so there's no need to worry about moisture. Its strong stitches won't easily break, and it has a handy pocket inside to keep your phone/wallet dry.
In many rugged areas where more and more people are going on adventure-travel excursions, it's possible you could lose access to pure drinking water for hours on end or even days. You can't risk drinking bacterially infected water, but you have to quench your thirst. And you might even have this sort of problem in a hotel room in some remote areas, not just out on the trail.
The CamelBak All Clear UV purifier bottle solves the problem. It can purify virtually any water into safe drinking water in only one minute. The system kills off harmful germs with UV radiation.
So you've invested in some tough-skinned but still comfy and stylish clothes to take on your latest travel adventure? Great. But what happens when you're out in a rugged domain with no iron to take the wrinkles out of them?
Enter a 420 Watt travel steam-iron no bigger than a computer mouse (but admittedly a bit bigger than an actual mouse.) This is the smallest such device in the world, and it is perfect for taking out "suitcase wrinkles" as well as "hiking wrinkles" when you don't have room for an ordinary iron in your luggage.
Travel Photography
Equipment I use to take these photos:
Sony A7III
Sony Lenses 104-207 mm
Samsung Ultra
I have been using SanDisk since my first camera which was back in 2009. They build quality memory cards. I recommend getting at least two, just in case something happens to one of them.
Do you think it's a hassle of plugging your camera into your computer? This memory card reader will fit cards of all sizes and make an easy transfer to your computer. The reader supports all popular SD memory card formats, including SD™/SDHC™/SDXC™ memory cards, UHS-I SDHC/SDXC memory cards, and microSDHC™/microSDXC™ memory cards. It is also compatible with the latest UDMA 7-enabled CompactFlash cards.
Technology and Digital Resources
I was a window girl and loved it. However, I have now made the switch to Macbook because of its lightweight and convenience. Thanks to my dear sister for this wonderful present. This is a debate between Apple or windows laptops and phones. As for my personal use of the internet, creating presentations, blogging, emails, editing, movies, music- the Macbook air seems to be the right fit.
I highly recommend this item if you have a laptop and lots of pictures. This is a quality hard drive for a good price. And is extremely easy to use and save all your pictures, movies, and more.
This universal adaptor will have you covered almost everywhere in the world. I bought it 2 years ago and still travel with me everywhere I go. (Keep in mind that some countries with unusual plugs are best off picked up upon your arrival in the country.)
When backpacking in remote regions, it's not uncommon to lose your cell phone signal. GoTenna is a small radio plus antenna that can fit into your pocket. It works in tandem with your smartphone to help you communicate with other smartphones up to 50 miles away in any direction (under ideal conditions). It just might save your life, get you "un-lost," or let you communicate important information to your travel partners who aren't right there with you at the moment.
When you return from a long time without power like I did during my Mount Everest Base Camp Trek and need to charge everything you own in a hurry, from phone to laptop to iPad to multiple camera batteries, this lets you charge several devices from a single outlet.
Usually, most Airports have free wifi between 30 mins to an hour. In case they don't or you are traveling to a new country like Japan or South Korea where you have to be a member of WIFI networks to use WIFI (Boingo is a partner). Boingo makes it easy to access Wi-Fi on any device at more than 1 million hotspots worldwide, including airports, hotels, cafes, stadiums, and more. It has a variety of plans for you to access.
I keep ALL of my important documents backed up in Dropbox and Google drive because hard drives can fail and laptops can be stolen. My passport, visa papers, contracts, and more. Dropbox has a subscription fee module like iTunes but Google Drive is free. However, I highly recommend both of them.
Skype
If you are traveling and want to call or video chat for free- it is a useful app to have as long as you have WIFI. And the best part is – Skype also lets you make cheap calls anywhere in the world, whether your bank at home, a hostel abroad or a client call overseas. I top it up to $200 about once a year. I love how easy is it to make that international call or meeting now.
Many, but not all, of the links on this page, are affiliate links that at no extra cost to you, will earn me a small commission and reduce the ever-increasing costs of keeping this site active. Please know that commission or no commission, I genuinely recommend every product on this page. If you have any questions about these products, please let me know!
Let me know in the comments –