My first stop backpacking for one month in Central America was Guatemala. I had such high hopes for this well-known country and it did not disappoint. So if you are looking for 9 days in Guatemala itinerary, continue reading. This post comes from my first-hand experience solo traveling to Guatemala & hope you'll have as much fun as I did.
Welcome to Guatemala, a mesmerizing gem in Central America that promises a captivating blend of culture, history, and natural beauty. This enchanting country, nestled between Mexico, Belize, Honduras, and El Salvador, is a paradise for adventurers and culture seekers alike. From the vibrant indigenous markets to the stunning Mayan ruins and lush rainforests, Guatemala offers an unforgettable experience for travelers.
Prepare to be spellbound as we embark on a journey through Guatemala's diverse landscapes, where you'll witness the legacy of ancient civilizations, explore charming colonial towns, and immerse yourself in the warm hospitality of its people. Join me as we uncover the secrets of this captivating country, one destination at a time. This post covers how I crossed into cities in Guatemala, slept, ate, activites, and more.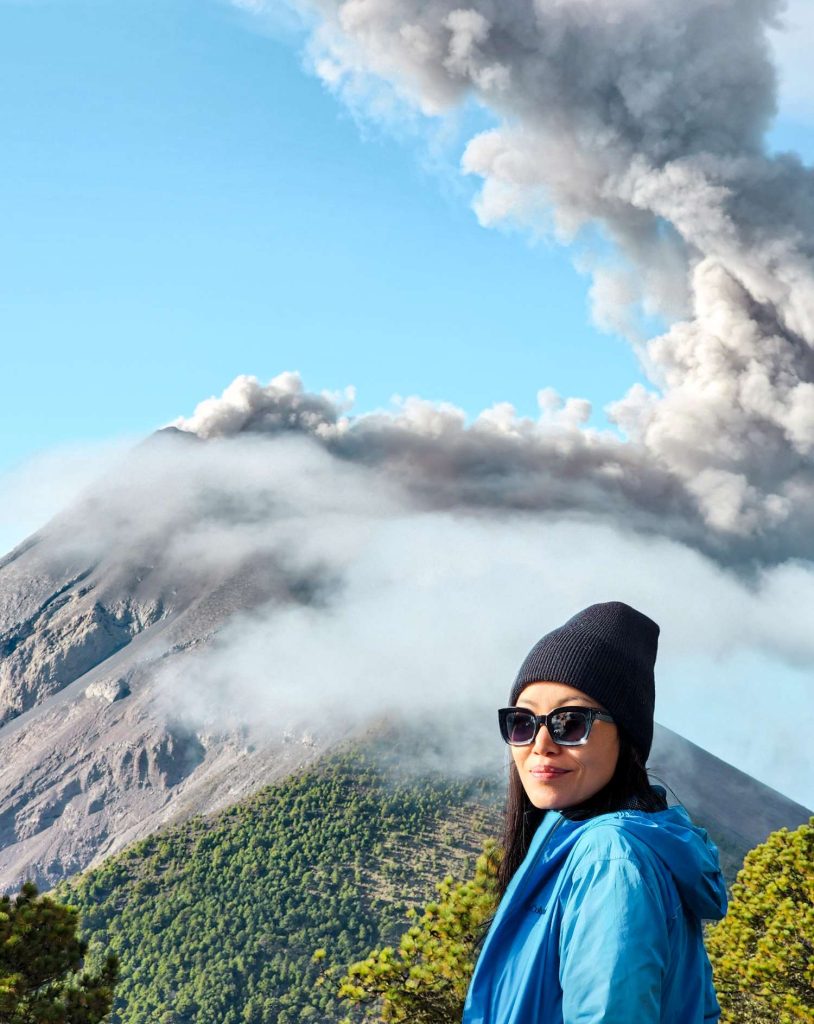 For accommodation, I recommend using booking.com and sorting with price, then consider the ones with the highest reviews plus within 1km of the center/old town. Below I have researched and linked the best ones with this filter (at the time of writing)
For tours, I recommend using get your guide and walking tours available in most places
9 days in Guatemala itinerary
It may come as a shocker to you as I spent a total of 9 nights in the first country itself (2 nights in Antigua, 1-night camping and 3 nights in Lake Atitan, 1 night in Rio Dulce, and 2 in Livingston) It was because I couldn't cross the border from Livingston to Belize on 1st January as boats were not running that day and I also enjoyed the vibe in San Pedro Lake Atitlan so I extended a couple of nights there. I ramped up the itinerary after this country though and still managed to visit all the countries in Central America.
1. Antigua
Landcross or via air, when you arrive in Guatemala suggest heading straight to Antigua. ( If you land in Guatemala at night, use Uber or stay a night in the city but not much to do there). So as you exit the baggage section there are many little shops selling shuttles to Antigua for $15 USD pp (at the time of writing) Wait a bit to form a group of 3-4 people and you are good to go.

I was excited about climbing an active volcano? so as soon as I arrived in Antigua, I booked an overnight Acatenango trek for the next day!
Which hostels to stay in?
I recommend Central Hostel, Hostal Antigüeño, Selina Hostel, or Meson La Esperanza if you really need to save money but it is 15 mins walk from the center. After checking in I walked to the supermarket to buy a sim card called Claro. They had a deal going 7 GB for 50 Quetzal (currency in Guatemala). Now that I had the Internet I went to spend half a day exploring Antigua, had lunch, and then later went to the supermarket again to buy some protein-rich snacks and chocolate for the hike tomorrow and dinner.
For all the safety tips read this blog below –
Where to eat/drink?
Some popular Guatemalan dishes to try include pepian (a thick stew made with chicken or beef), rellenitos (a sweet plantain stuffed with black beans and chocolate), and tamales (a steamed corn dough filled with meat, vegetables, or cheese).
When I travel I like to try local food so I rarely cook. I recommend Rincon restaurant in Antigua for local food. This place gets super busy so go early. Other ones would be Restaurante Fridas, Café Sky, and Charleston for drinks.
Highlights in Antigua
Below are some things to see and highlight in Antigua, Guatemala which you can do on the first day and when you return from the hike. They are all within walking distance from each other so won't take long.
Antigua Guatemala Cathedral: This impressive cathedral was built in the 16th century and is a must-see attraction in Antigua. It has impressive baroque architecture and its ruins give it an air of mystery.
Cerro de la Cruz: This viewpoint is located on a hill overlooking the city of Antigua. From there, you can enjoy a stunning panoramic view of the city and the surrounding mountains.
Antigua Market: This is a bustling market that offers everything from traditional handicrafts to fresh produce. It's a great place to experience the local culture and pick up some souvenirs.
Santa Catalina Arch: This iconic arch is one of the most photographed landmarks in Antigua. It was built in the 17th century and has become a symbol of the city.
La Merced Church: This beautiful church is known for its elaborate façade and impressive baroque interior. It's a great place to appreciate colonial architecture and religious art.
Jade Museum: This museum is dedicated to the history and culture of jade in Guatemala. It has a large collection of jade artifacts and offers guided tours that explain the importance of jade to the ancient Mayan civilization.
ChocoMuseo: This chocolate museum offers a fun and educational experience for chocolate lovers. You can learn about the history of chocolate and see how it's made, as well as sample some delicious chocolate treats.
Acatenango trek
As above the highlight for me in Antigua was the overnight Acatenango trek. Although I like independently exploring places I do enjoy small group tours because they are not like 50 people walking in a school excursion. Also, our base camp was the highest one, so we had the best views of Mt Fugeo and the surroundings.
On the tour I booked we had nice mashed potatoes, chicken veggies for lunch, marshmallows on a campfire, hot chocolates, stir-fry for dinner, amazing sunsets, and hot teas. We saw Mt Fugeo erupting and witnessed one of the most stunning sunrises. I was with 4 other lovely people plus the guide and the whole trip felt like a close group of friends traveling and hiking together.

Not my first volcano hike, but it was definitely the first ever Active volcano hike and a hike I will always remember. After the hike, I spent an afternoon and a night in Antigua and the next day it was time for the lake.
2. Lake Atitlan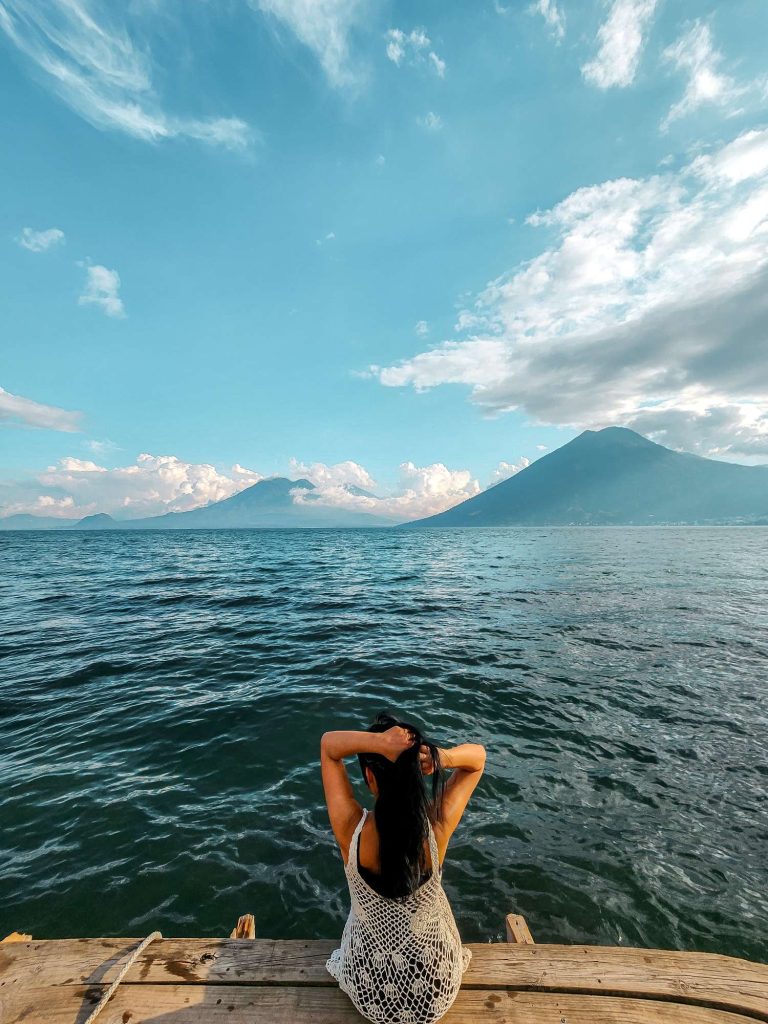 Lake Atitlan is a beautiful lake located in the Guatemalan Highlands, surrounded by towering volcanoes and traditional Mayan villages.
Where to stay in Lake Atitlan?
Before you book anything, decide where you want to stay in Lake Atitlan first. It is a big lake with many small villages dotted around. Many travelers end up in San Pedro first because that is where the shuttle drops off people from Antigua. Then you take a boat or transfer to other islands such as San Macros (hippy vibes), Panajchel (sunsets), Santiago (street arts), or Santa Cruz (hikes).
I decided to keep it simple and stayed in San Pedro and took the lancha (boat) to other islands on day trips which worked out great. I stayed at Mandala's hostel but their WIFI was terrible. So, I moved to Amigos Hostel their wifi was great but the music coming out from Sublime – the club at the front was too loud. You could book a private room at the Hotel Amigo which is the same place but at the back, so less noise, or I would recommend these hostels Hospedaje Lolita, Don Pascual or Casa LLEMO.

Regardless of where you book, make sure it is in the spot where you want to be and somewhere that has tons of positive reviews.
Where to eat in San Pedro, Lake Atitlan?
Sababa is a vegetarian restaurant that offers a range of healthy and delicious dishes. They use fresh, locally sourced ingredients and offer a variety of vegan and gluten-free options.
The Fifth Dimension is a rooftop bar and restaurant in San Pedro La Laguna that offers stunning views of Lake Atitlan. They serve a mix of international and Guatemalan cuisine, as well as a range of cocktails and wines.
Shanti Shanti is a vegetarian restaurant that offers good food. And the Crepe place was great too-  had the banana crepe with peanut butter. Not sure but I think it's called Dolphin. 
Apart from these, don't forget to try the street vendors. We had something similar to a sandwich for Q20! ( videos and pictures in my Instagram highlights) And the best thing is all of these places offered a view of the lake and mountains!
How to go from Antigua to Lake Atitlan?
There are several ways to get from Antigua to Lake Atitlan. Here are some of the most common options:
Shuttle: There are many shuttle companies that operate between Antigua and Lake Atitlan. They offer door-to-door service and are a convenient and comfortable option. The journey takes around 3-4 hours, depending on traffic and road conditions. I booked it through a company called Guatemala shuttle – fast response on whatsapp.
Private transfer: If you prefer more flexibility and privacy, you can hire a private car or van to take you from Antigua to Lake Atitlan. This option is more expensive than the shuttle, but you can customize your itinerary and stop along the way if you want.
Chicken bus: The cheapest way to get from Antigua to Lake Atitlan is by taking a "chicken bus." These are colorful, old American school buses that have been converted into public transportation. They can be crowded and uncomfortable, but they are also a fun and authentic way to travel. You'll need to take a chicken bus from Antigua to Chimaltenango, then another one from Chimaltenango to Lake Atitlan.
Private driver: If you want more comfort and convenience than a chicken bus, but don't want to pay for a private transfer, you can hire a private driver. This option is less expensive than a private transfer but more expensive than a shuttle or chicken bus. You can negotiate the price with the driver and customize your itinerary.
No matter which option you choose, the journey from Antigua to Lake Atitlan is a scenic one, with beautiful views of the Guatemalan highlands and the volcanoes.
Highlights from Lake Atitlan
Take a boat tour: One of the best ways to experience the beauty of Lake Atitlan is by taking a boat tour. You can explore the lake and visit some of the charming Mayan villages that dot its shores.
Hike a volcano: There are several volcanoes around Lake Atitlan that offer great hiking opportunities. Volcano San Pedro is the most popular one, with a challenging but rewarding hike to the summit. I did the Indian nose hike which was an easy sunrise hike (pics above)
Visit a Mayan village: There are several traditional Mayan villages around the lake, each with its own unique culture and traditions. Santiago Atitlan, San Juan La Laguna, and Santa Catarina Palopo are some of the most interesting ones to visit.
Go kayaking: If you're looking for a more active way to explore the lake, kayaking is a great option. You can rent a kayak and paddle around the lake, taking in the stunning views and enjoying the peace and tranquility of the water.
Relax at a spa: Lake Atitlan is a great place to unwind and recharge. There are several spas around the lake that offer a range of treatments and services, from massages to yoga classes.
Learn about Mayan culture: Lake Atitlan is home to many indigenous Mayan communities, and there are several cultural centers and museums where you can learn about their history, traditions, and way of life.
Take in the views: Finally, Lake Atitlan is simply a stunning place to behold. Take some time to sit back and enjoy the incredible views of the lake and the surrounding volcanoes, especially at sunrise or sunset.
Learn Spanish: There are a number of schools here where you can get admission to be a student. My friend was taking Spanish classes and coming back to the hostel but you can also choose to homestay.
These are just a few of the many things to see and do at Lake Atitlan. It's a truly magical place and a must-visit destination in Guatemala.
3. Rio Dulce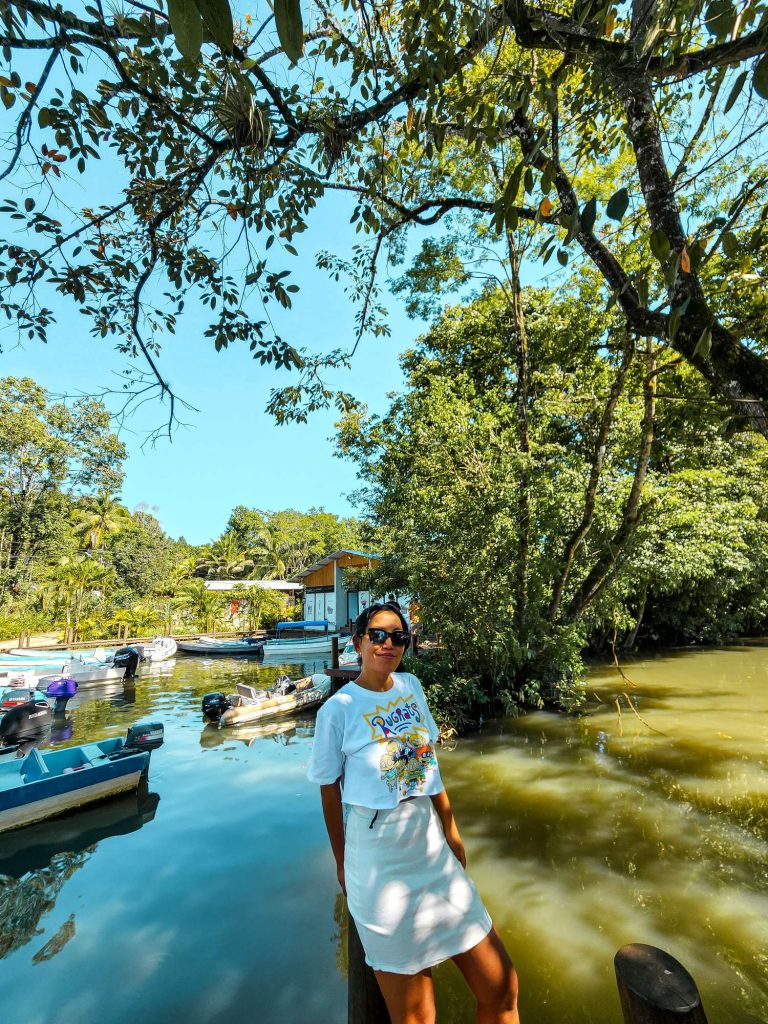 It was hard to leave Lake Atitlan as it was such an easy place to just chill and relax but time was ticking and I had to say goodbye to Sabine and I left for Rio Dulce.

I skipped Semuc champey because I had seen something similar before and Tikal too because I wanted to see ruins in Honduras. As I said above, I wanted to make a special highlight for each country and as I don't dive, the islands in Honduras didn't interest me. So I'd planned to see Mayan ruins in Honduras.
Where to stay and eat in Rio Dulce?
I stayed at this hostel called Hostal Blood Moon. It was a clean hostel but note that it is a 14-minute walk from the bus stop and at night after the highway, there is a dark street that you have to cross which could be scary. I found this AFTER I made the booking and contacted the hostel for taxi driver details but as it was already 10 pm no one wanted to pick up a passenger. So I walked which went ok thankfully!
Some alternative options are Dreamcatcher Eco Lodge, Boatique Hotel and Marina, Hotel Casa Perico, or Hotel Kangaroo Rio Dulce (need to take a boat after the bus)
There are many restaurants to eat at but I only had 1 meal here. So my recommendation is the restaurant next to the ticket office as the food was decent and no chance of missing a boat as it is right in front.
How to go from Lake Atitlan to Rio Dulce?
Here are some of the most common ways to make the journey:
Private transfer: You can hire a private car or van to take you from Lake Atitlan to Rio Dulce. This is the most comfortable and convenient option and allows you to customize your itinerary and make stops along the way. The journey takes around 5-6 hours, depending on traffic and road conditions.
Shuttle: There are several shuttle companies that operate between Lake Atitlan and Rio Dulce. They offer door-to-door service and are a convenient and affordable option. The journey takes around 6-7 hours, depending on traffic and road conditions.
Chicken bus: If you're on a tight budget, you can take a "chicken bus" from Lake Atitlan to Rio Dulce. However, this option can be uncomfortable and time-consuming, as you'll need to make several transfers along the way. The journey can take up to 8-10 hours, depending on the connections.
Combination of shuttle and boat: Another option is to take a shuttle from Lake Atitlan to the town of Panajachel, and then take a boat across Lake Atitlan to the town of San Pedro La Laguna. From there, you can take another shuttle to Rio Dulce. This option is more scenic and allows you to break up the journey, but it can also be more time-consuming and expensive.
I chose the same shuttle company to get to Lake Atitlan, called the Guatemala shuttle. 9 AM pick up from Lake Atitlan and arrived in Rio Dulce at 10 PM!
Things to do in Rio Dulce:
Explore the Rio Dulce Canyon: The Rio Dulce Canyon is a narrow and winding waterway that runs through a lush tropical forest. You can take a boat tour to explore the canyon and see the stunning scenery, including waterfalls, wildlife, and unique rock formations.
Visit the Castillo de San Felipe: The Castillo de San Felipe is a historic Spanish fortress that was built in the 16th century to protect against pirate attacks. You can explore the fortress and learn about its fascinating history, as well as enjoy panoramic views of the river and surrounding jungle.
Relax at hot springs: There are several hot springs in the area, including the popular Finca Paraiso. You can soak in the warm waters and enjoy the tranquil surroundings, surrounded by lush greenery and the sounds of the river.
Hike in the jungle: The area around Rio Dulce is home to several national parks and nature reserves, offering opportunities for hiking and wildlife spotting. The Biotopo Chocon Machacas is a popular destination for hiking, where you can see a variety of birds, monkeys, and other wildlife.
4. Livingston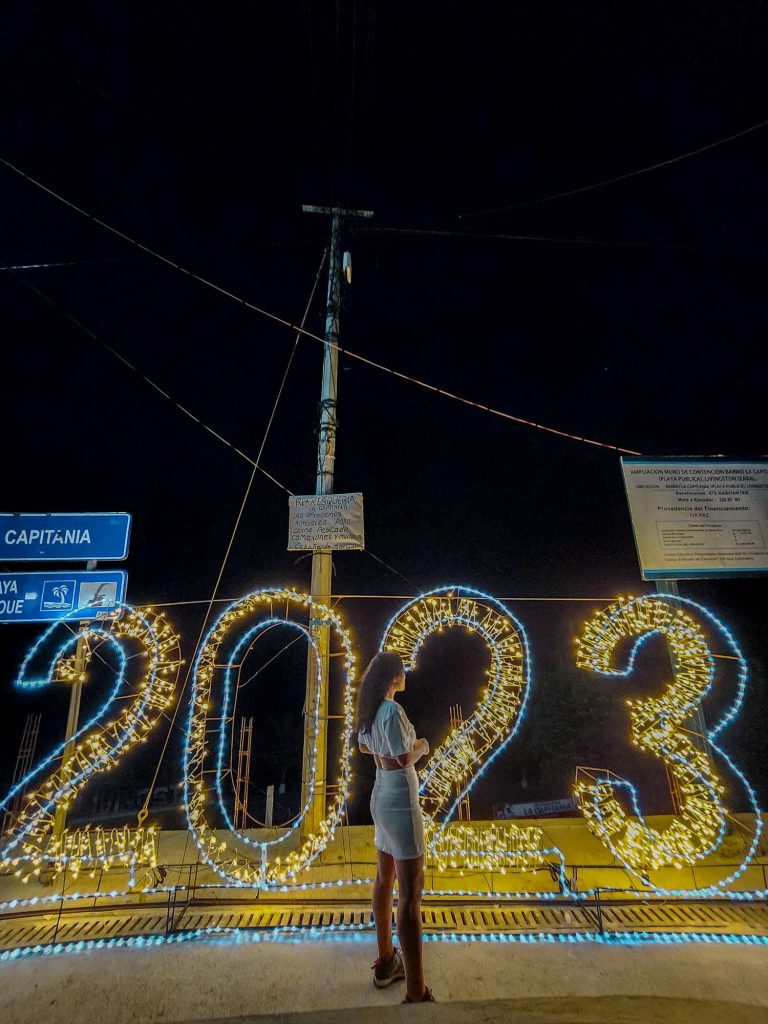 Livingston is a unique town in the region that is known for its Afro-Caribbean culture and cuisine. You can explore the colorful streets, visit the local market, and try the local specialty dish "tapado" which is a seafood soup made with coconut milk and served with rice. And don't forget to wash it down with a refreshing "coco loco" cocktail, made with coconut water and rum.
This was also a place I happen to arrive on New Year's Eve and I could not cross the border the next day because there were no boats running. So, I stayed one more night.
Rio Dulce and Livingston are both located in the Izabal department of Guatemala and are connected by the Rio Dulce river.
Where to stay in Livingston?
I stayed at Casa de la Iguana, they had dorms as well as private rooms, a pool, common areas, and hammocks. Other places that comes highly recommended are Hotel La Casa Rosada, Hotel Casa Maya, and Casa Tranquilo.
Make sure to ask the ticket booth at the pier to ask for current timetables for boats and book in advance if you like.
Where to eat in Livingston?
Buga Mama (I had the tapado above here), Happy Fish, Casa Nostra, Bahia Azul, Villa Caribe, Casa Rosada or Hotel Salvador Gaviota
How to get from Rio Dulce to Livingston?
Take a boat: The most common way to travel from Rio Dulce to Livingston is by boat. You can hire a boat from one of the many tour operators in Rio Dulce or at the dock in Fronteras (also known as Rio Dulce town). This is where I bought the ticket to Livingston. It left at 2 pm. The journey takes around 2 hours and offers beautiful views of the river and surrounding jungle. You may also be able to arrange a private boat with a local captain, which can be a more flexible and personalized option.
Take a shared shuttle: If you prefer to travel by land, you can take a shared shuttle from Rio Dulce to Livingston. You can book a shuttle through a tour operator or travel agency in Rio Dulce or at your accommodation. The journey takes around 1.5 hours and passes through scenic countryside and small towns.
Rent a car: If you have your own vehicle or want the freedom to explore the area at your own pace, you can rent a car in Rio Dulce and drive to Livingston. The journey takes around 1.5 hours and follows the CA-13 highway along the coast.
No matter how you choose to travel, the journey from Rio Dulce to Livingston is a scenic and enjoyable one, with plenty of opportunities to see the natural beauty of the region
Things to do in Livingston
Visit the local market: The market in Livingston is a colorful and bustling place where you can find fresh fruits and vegetables, seafood, traditional crafts, and other local goods. You can immerse yourself in the local culture and try some of the delicious street food, such as fried plantains, empanadas, and coconut bread.
Relax on the beaches: Livingston is surrounded by beautiful beaches, including Playa Blanca, Playa Quehueche, and Playa de los Siete Altares. You can swim, sunbathe, and relax in the warm Caribbean waters, or take a boat tour to explore the nearby mangroves and coral reefs.
Learn about Garifuna culture: Livingston is home to a vibrant Garifuna community, who are descended from West African, Arawak, and Carib people. You can learn about their unique music, dance, and cuisine, and even take a drumming or dance class to immerse yourself in the culture.
Take a boat tour: The Rio Dulce river is a stunning waterway that connects Livingston to other nearby towns and attractions, such as the Castillo de San Felipe and the hot springs at Finca Paraiso. You can take a boat tour to explore the river and see the lush jungle scenery and wildlife.
Enjoy the nightlife: Livingston is known for its lively nightlife, with plenty of bars, clubs, and music venues where you can dance to the rhythms of reggae, salsa, and Garifuna music. You can also try some of the local rum and cocktails, such as the popular Guifiti.
These are just a few examples of the many great things to do in Livingston. Don't be afraid to explore and discover the beauty and culture of this fascinating town.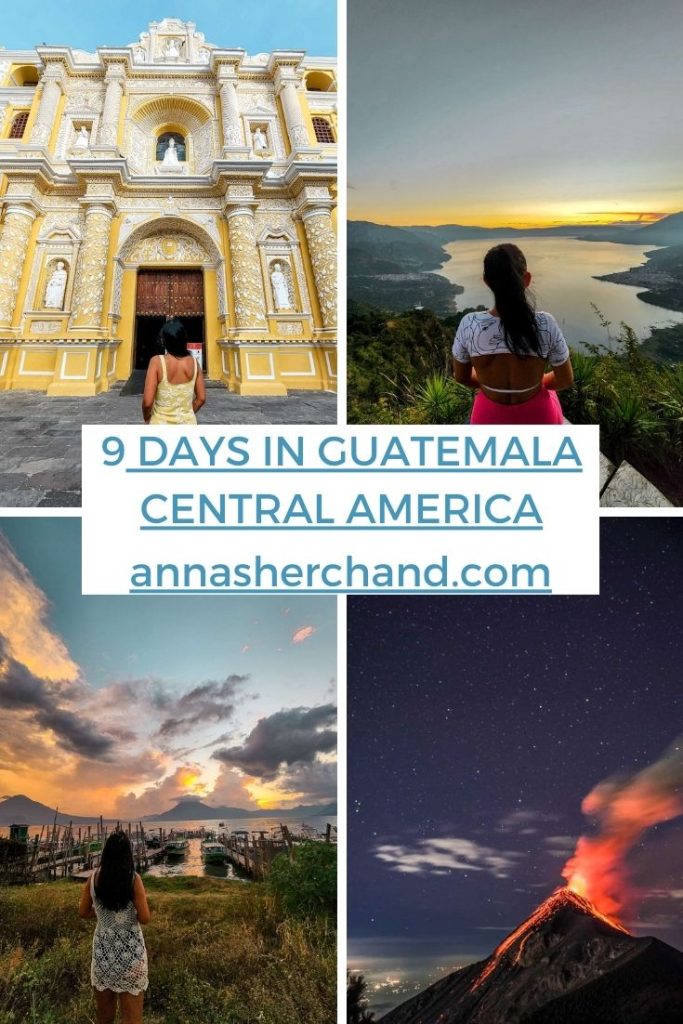 Let me know in the comments:
If you have any questions/comments about 9 days in Guatemala itinerary
2 days in Punta Gorda Belize
How to go from Livingston to Punta Gorda by boat
Solo female travel to Copan Ruins Honduras
How to cross the border from Belize to Honduras
Check out One month in Central America Itinerary
7 days backpacking in Ecuador itinerary
5 days in Oaxaca itinerary
2 days in Mexico City itinerary
Best places to visit from Split
2 days in Split, Croatia
Solo traveling to Mostar
Solo female travel to Kotor
Solo female travel to Budva
Solo female travel Albania
Warsaw by Train covers warsaw travel tips
Check out One day in Luxembourg, western Europe
Day trip from Zurich to Liechtenstein
Travel tips to South America
Fiji solo travel guide
Australia east coast must-see
Backpacking in Melbourne, Australia
Digital nomad guide to Melbourne
14 best area to stay in Melbourne CBD
Master Sydney travel guide
Solo travel guide to Brisbane
Exploring Adelaide the best way is a must-read
Important travel tips for Uluru trip
Melbourne day trips in winter
Day Hikes in Melbourne
Weekend getaway? Check out things to do in Ballarat
Perth solo itinerary
Top 5 must do in Darwin, Australia
How to go from Dublin to Howth
Solo female travel Romania
Read a recent day trip to Zaanse Schans from Amsterdam
How about a solo itinerary to Canberra– Australia's capital city?
Solo trip to Peru, travel tips to South America
Check out the 7 days Hanoi travel guide.
Book accommodation through trusted Booking.com
I have detailed travel resources right here. Save money, learn what and how.
If you like this article, follow my adventures on Instagram, Facebook, YouTube, Twitter, and Pinterest, but most importantly sign up to my e-mail list to keep up with updates and travel posts!
9 days in Guatemala itinerary