This is going to be a series of post in regards to solo female travel Australia. Starting with the solo travel Brisbane tips, and things to do in Brisbane. I started my east coast adventure from Sydney to surfers paradise on the gold coast, followed by Brisbane and all the way to Cairns.
I was thinking of starting with Gold Coast but Leah, one of my Instagram supporter commented asking if my Brisbane blog was out. So, I decided to write this one first.
If you haven't already, click here to subscribe and know when the rest of the posts are published.
A road trip around Australia is a perfect getaway. Starting from Sydney is common among travellers then heading to either East coast, west coast or around Northern Territory and few other off the beaten path. From a few days, weeks to months-long road trip can be experienced with the pristine white sand beaches, cute koala type wildlife or swimming with the sharks or dolphins by your side! Even if you solo travel Australia, you will likely bump into a small group of people from escorted tours and other fellow solo travellers.
Travelling Australia alone can be daunting given the size of the country but it is doable and definitely enjoyable. Hope this series of posts encourage you to travel to Australia.
Handy Info for solo travel in Brisbane
Currency = Australian Dollars
Hello = Good Day, G'day!
Bye = See you later!
Capital City = Canberra
Main cities and 6 states = (Sydney -New South Wales, Melbourne -Victoria, Adelaide -South Australia, Perth -Western Australia, Brisbane -Queensland, Hobart -Tasmania) and 2 territories (Canberra -Australian Capital Territory and Alice Springs -Northern Territory)
Get a tram card on the first day itself. It'll help you save money and whatever you didn't use, you can get it back at the train station on your last day.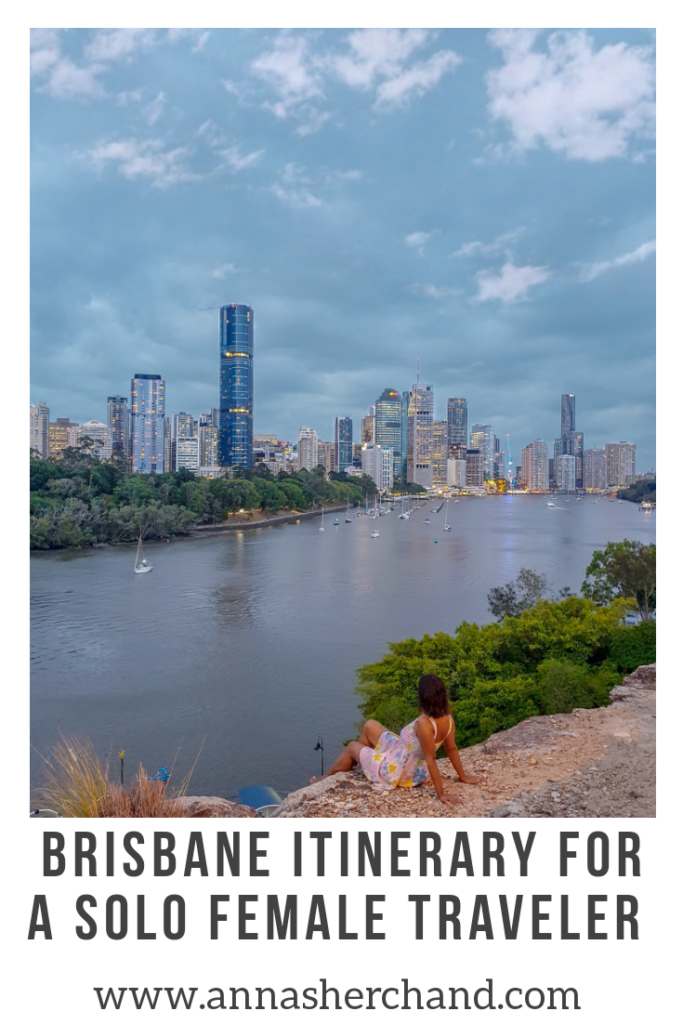 The best places to stay in Brisbane
If you prefer to have the place to yourself but don't want to splurge on the hotel. I recommend checking out Airbnb. The site usually has loads of affordable options. Look for places around the Queen street mall, fortitude valley or the south bank, they are close to the city and makes the exploring that much easier.
Use this $55 discount for your first booking with Airbnb Click -> here.
And find the cheapest flights to Brisbane through most trusted sites such as Skyscanner or Momodo.
I have detailed travel resources right here. Save money, learn what and how.
The best time to visit Brisbane
IMO, every month is a good time to visit Brisbane. There are loads of sightseeing and activities to do. But if you are after the exact months, see below.
Summer – the three hottest months December, January and February.
Autumn – the transition months March, April and May.
Winter – the three coldest months June, July and August.
Spring – the three transition months September, October and November.
If you can, plan your travels to Australia during the summer. Otherwise, the rest of the year isn't bad either. Australia is one of the best places for solo travelling and solo trips for females are increasing daily with its less crime rate. Reson why it is also regarded as safe places to travel alone.
Now, here is the list of things you can see, do and experience in the city of Brisbane (some of them are free too!) You can also use it as Brisbane travel guide or Brisbane sightseeing list.
Brisbane itinerary for a solo female traveller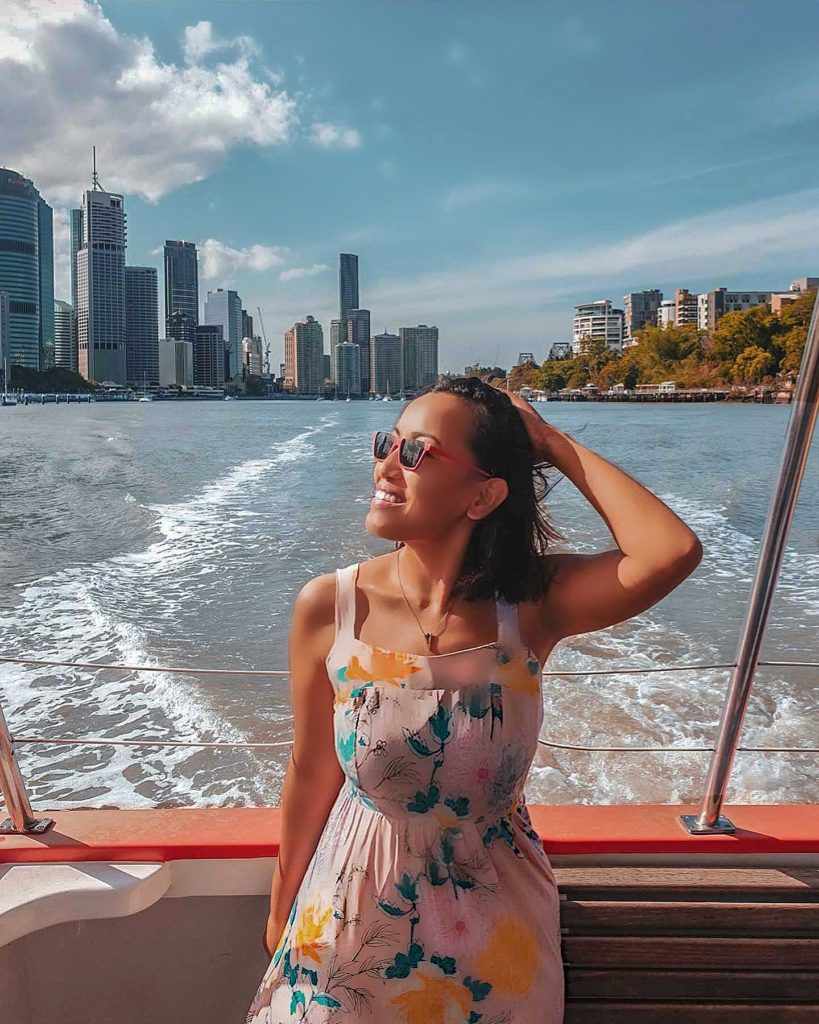 1. Hop on/off the city hopper ferry
When in Brisbane, enjoy the free inner city ferry service. It is a hop on, hop off service that runs 6am-midnight daily between Sydney Street and North Quay ferry terminals.
Cruise the river to take in the sights on the banks of Brisbane's inner-city or use it as a free transport service between the city and inner suburbs. You can hop on and hop off the ferry every 30 minutes and it runs between 6 am and midnight, 7 days a week. It is a great and cheap way to start exploring Brisbane solo.
2. Take a dip at Streets Beach
While you are on the city hopper ferry, make sure to disembark at the South Bank Parklands. This is where you can see Brisbane's hot spot- Street Beach! It is a man-made beach style lagoon in the middle of the city and next to the Brisbane river. You can get ice cream in the nearby convenience store, read a book, work on your tan, or go for a dip in the boat pool. Usually, this place gets crowded with locals and tourists, but you can skip the crowd when you go in the mornings or late afternoons and night. Your solo travel to Brisbane wouldn't be complete without visiting this area around the South Bank Parklands.
Pro tip: Every Sunday afternoon, there is free live music beside the water at River Quay. Just don't forget to bring some snacks for later and enjoy the afternoon.
3. Climb Story Bridge
Another fun thing to do while in Brisbane is to climb the story bridge. It is an adventurous climb of Brisbane's most iconic landmark, witness amazing 360 panoramic views of Brisbane.
There are twilight, day and night walk available from the number of companies but I recommend this tour as they are affordable, easy to deal with, experienced guide is provided and you can also learn about the colourful history of the story bridge and Brisbane city. Let the adventure in you shine! Book it here.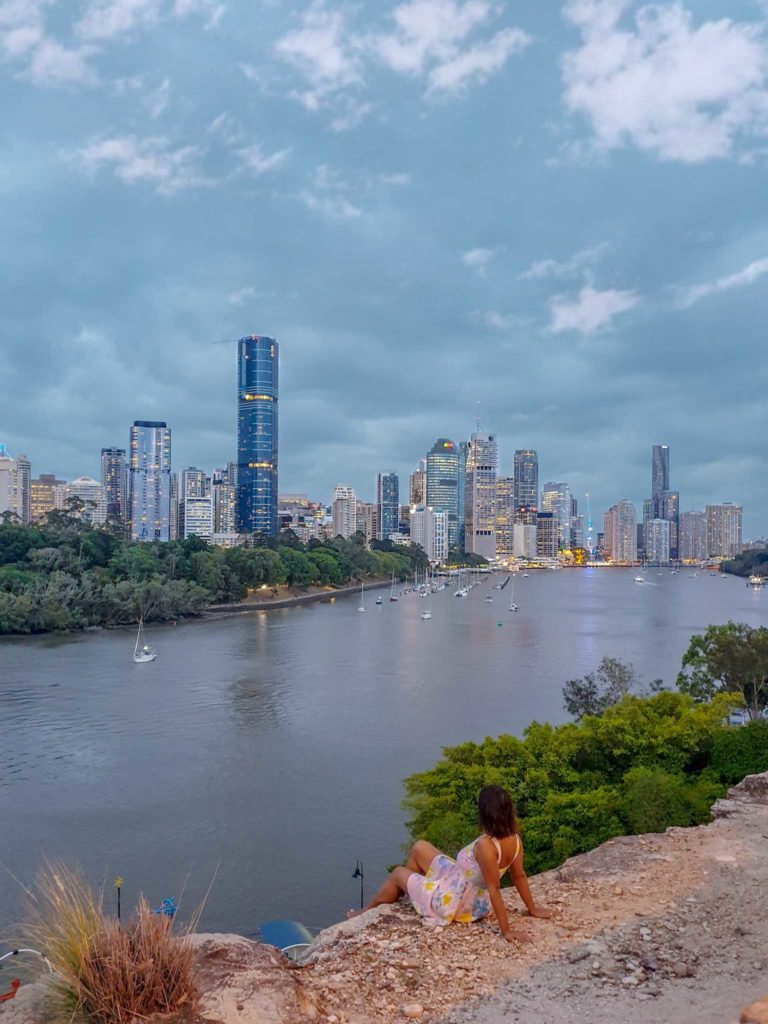 4. Watch Sunsets from Kangaroo Point cliffs
For the adventures person in you, you can forget the rest, and go for outdoor rock climbing and abseiling in Kangaroo Point Cliffs. Climb up to the awesome day view or look out lights in the night. Just don't forget to bring your own equipment for safety.
If not, this is still a great spot to watch the sun go down in Brisbane city. Oh, and you can also Barbeque here. Just don't forget to leave it clean after use. If a local says KP, know they mean Kangaroo Point Cliffs!
5. Cuddle a Koala
Lone Pine Koala Sanctuary is the oldest (60 years) and largest Koala Sanctuary in the world. It is a must-see for newcomers if you want to see or/and cuddle a Koala up close, perhaps attend a talk by the koala's keepers, take photos with the adorable Marsupials shy platypus (a native animal to Australia) and feed the kangaroos and wallabies. Besides that, there are many other native Australians animals to discover.
Having the time to explore the sanctuary at your own leisure is the best. Just need help getting there? Book it with these guys. You can cruise along the Brisbane River, through the city's most historic landscapes, iconic attractions and more, listening to the informative commentary by the captain. And enjoy homemade morning teas, meals and snacks from the onboard café. It is like have an experienced guide with you to share the stories and facts!
6. Check out the art and culture scene
When travelling to new cities, I make time for Art Galleries. It inspires me to create more beautifully. I recommend checking out the Queensland Art Gallery and Gallery of Modern Art.
Both galleries showcase works from a diverse range of historical and contemporary artists. Throughout the year, both galleries offer several free exhibitions you can enjoy. Major art exhibitions are ticketed but it's a small price to pay to see world-renowned art.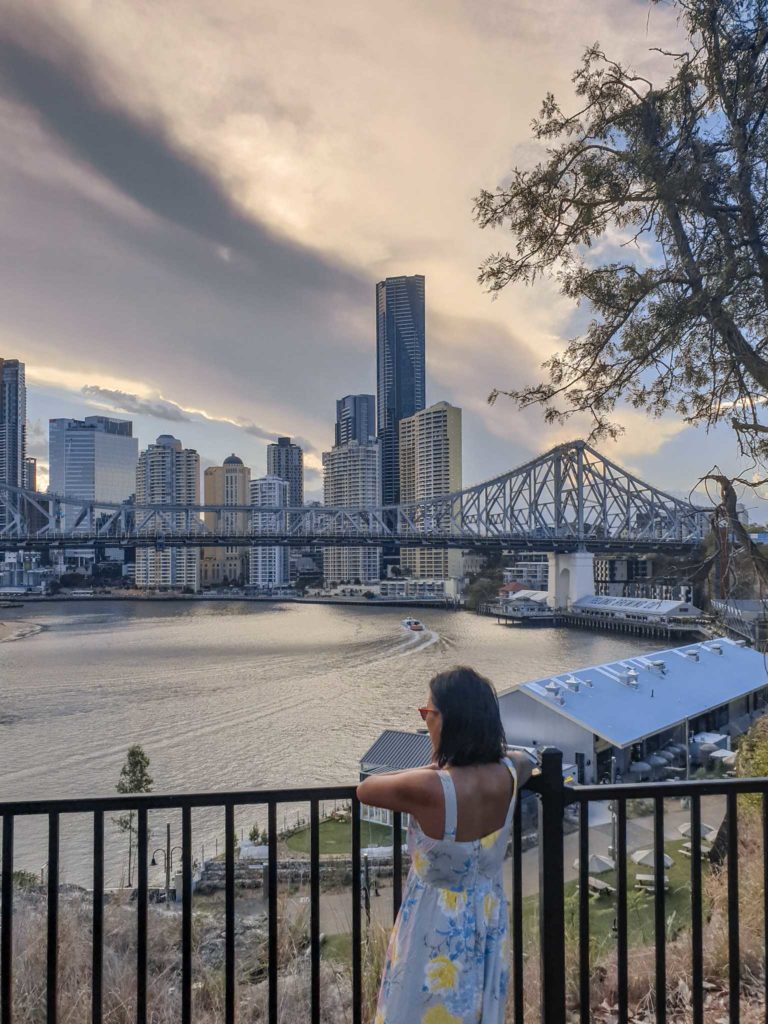 7. Walk to Wilson Outlook Reserve
Go for a stroll along the Story bridge, stop over at Felons for a drink and go all the way to Wilson Outlook Reserve. Just be careful of crossing the highway at one point.
For some, it could feel like a long walk but I didn't mind as it's a nice way to see more of a new place and finding another great spot to watch the sunsets. There's a couple of shaded picnic tables and a lift to take you up and down as well.
8. Laugh out loud
If you are feeling a little down on a Friday, head to Brisbane Powerhouse's Knockoff. They run a free comedy session held on Fridays from 6 pm. It is an hour of funny comedy that will hopefully light you up! Have a sundowner, enjoy the session, tomorrow is another day!
9. Don't go starving, eat
Outside of usual restaurants serving different cuisines, something worth checking out is Brisbane markets. If you are on tight budget but want a variety of good food, markets are the best option in Brisbane. I recommend the Brisbane City Markets which pops up in Brisbane City every Wednesday. Great spot to grab the bargain on the fresh produce, and lunch.
Alternatively, head to eat street in Northshore which is set inside shipping containers and Boundary Street Markets both offer a twilight market of food stalls with every cuisine you can imagine. The Boundary Street markets also do live bands and a retail shopping market.
Read the best Instagrammable places in Sydney here.
Read the solo travel Sydney, Australia guide here.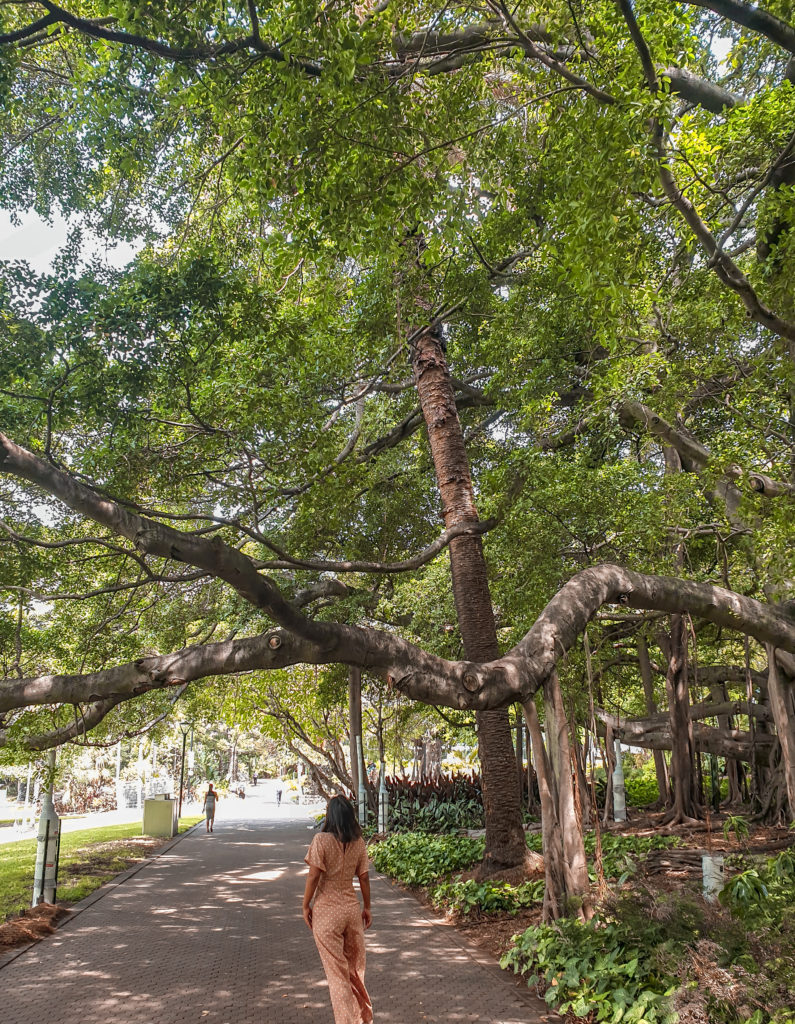 10. Relax in the Botanical garden
Can't handle the heat in Brisbane? Head to the city's oldest park – Botanical park for some shed and greenery. Grab some sushi on the way, work on your tan, read a good book and just enjoy being around nature.
At night, the trees light up too, giving this peaceful garden a fairy world vibes. On Saturdays, they also run a free music session at Gigs & Picnics in the botanical garden. Get your blanket, picnic basket and you are set for the day!
11. Indigenous culture and shop in Queen Street Mall
If you are in Brisbane, you will walk around or across the Queen street mall at one point or another. It is a busy area with loads of shop (if you need something to buy, this is the place), coffee shops and bars are there too.
Interestingly at the top end of Queen Street Mall, every Wednesday from 12-1pm you can see the Indigenous Aboriginal gatherings which are the traditional and contemporary dance representing the ancient stories. What a great way to mix shopping with some educational entertainment!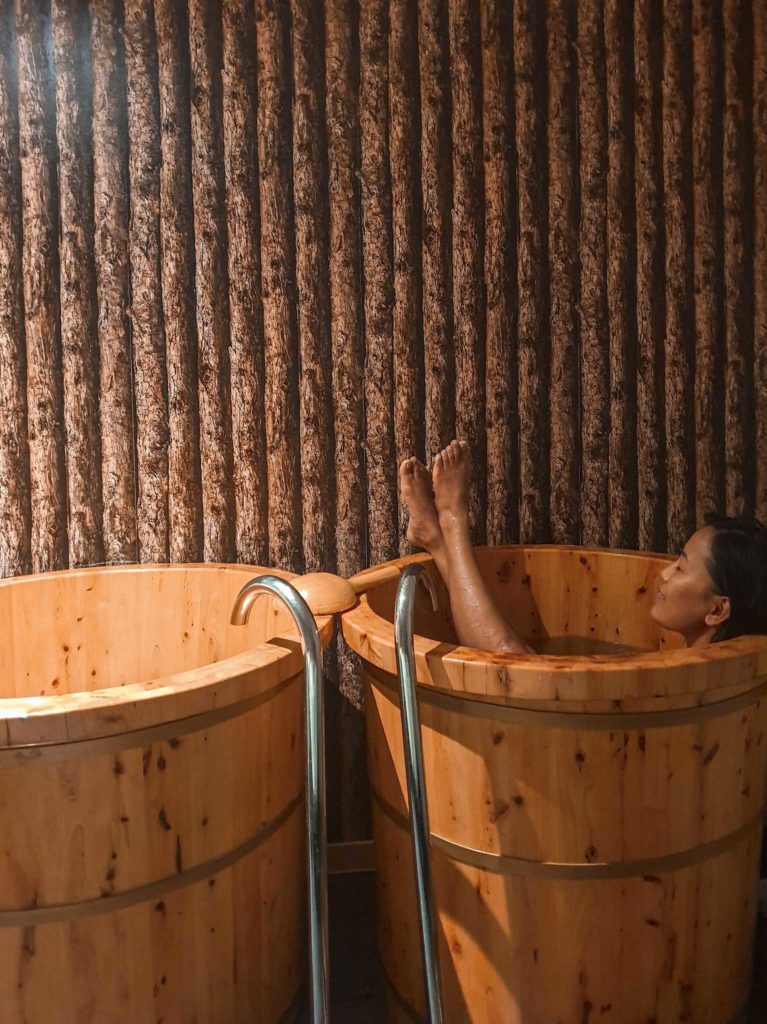 12. Relax with the Chinese Spa
All the walking, climbing and running around calls for a day of relaxing. There are loads of massage places around in Brisbane but I went to Hydra Time Spa Massage. If you google the name, you will find it (I don't think they are in social media yet) Usually I go for a Swedish massage and bubble bath after doing something adventurous like hikes, treks, gym or climbing.
But this time, I thought to do for something different as I had never tried a Chinese massage and special Chinese bath before. I didn't know what to expect but happy to report it was actually relaxing! The body massage was close to Thai ones = good and bath was peaceful. Just not sure, what herbs or Chinese medicine they put in the bath.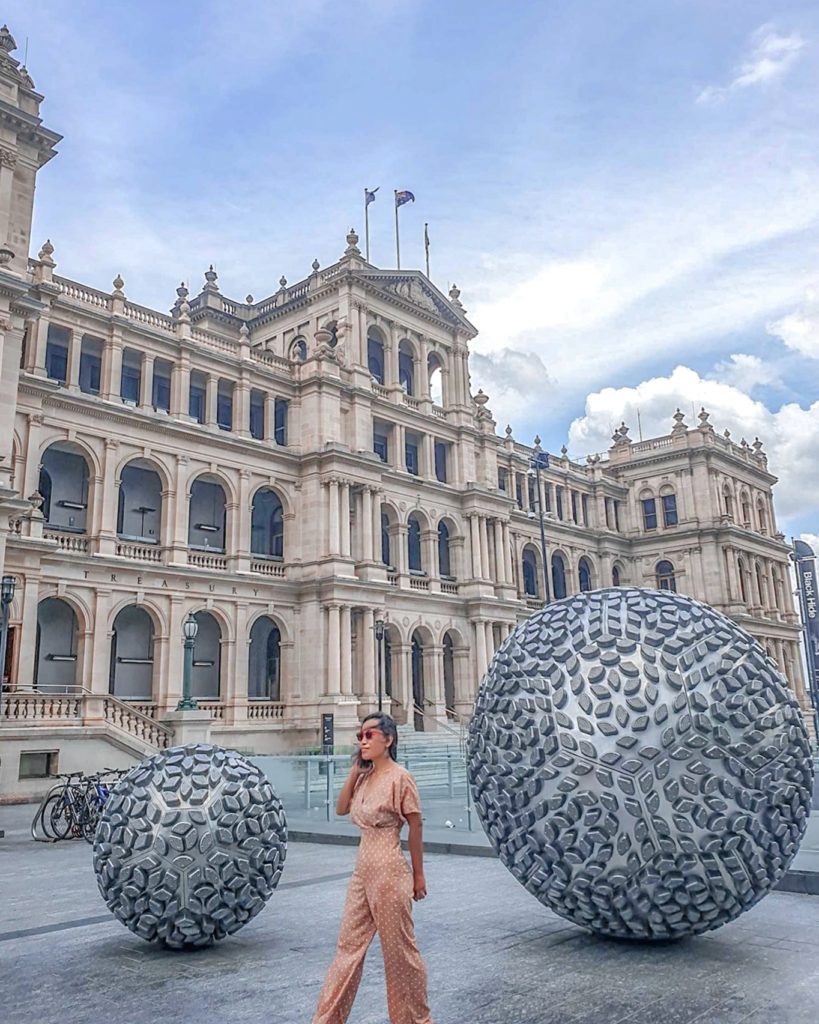 13. Go on a walking tour
In case you change your mind and don't want to explore by yourself (I did on my own as above picture). Check out the Brisbane Greeters. They are Brisbane's locals offering free tours around Brisbane. You can choose from street art walks, history tours, or let the Greeter choose for you to start building a bank of local knowledge. Tips are always appreciated!
14. See the view from the clock tower
If you are a fan of views from above, go to King George Square's City Hall clock tower. Every 15 minutes the free tours of the clock tower run. Times are 10.15am-4.45pm. You don't want to miss this unique bird's eye view of the city.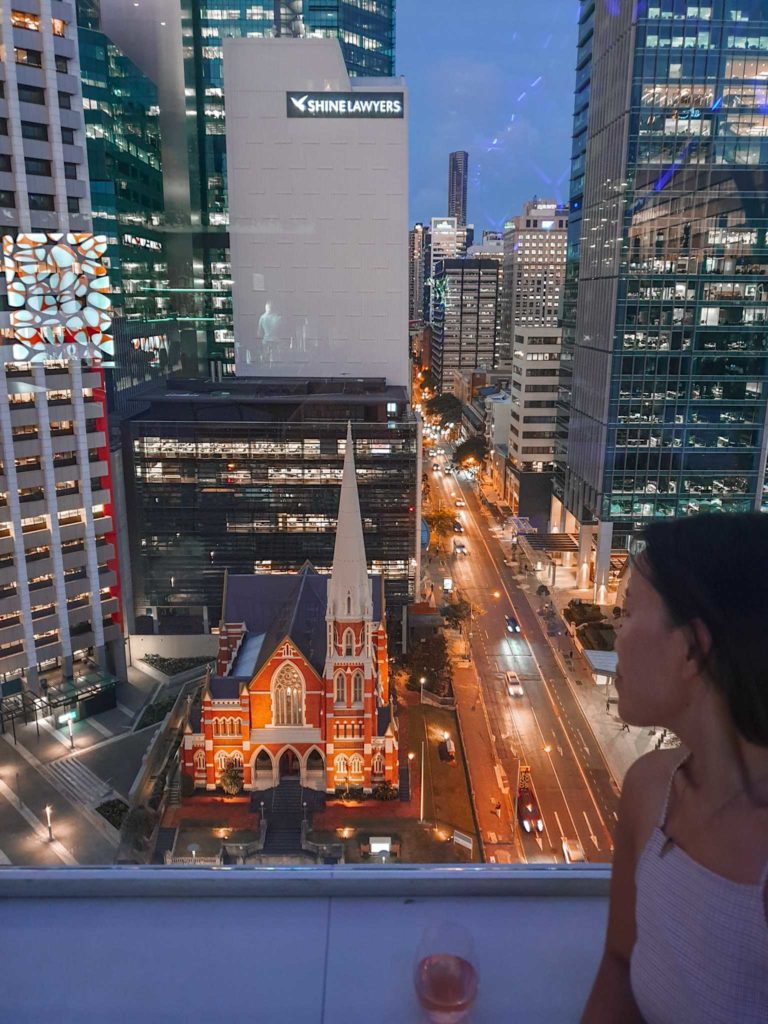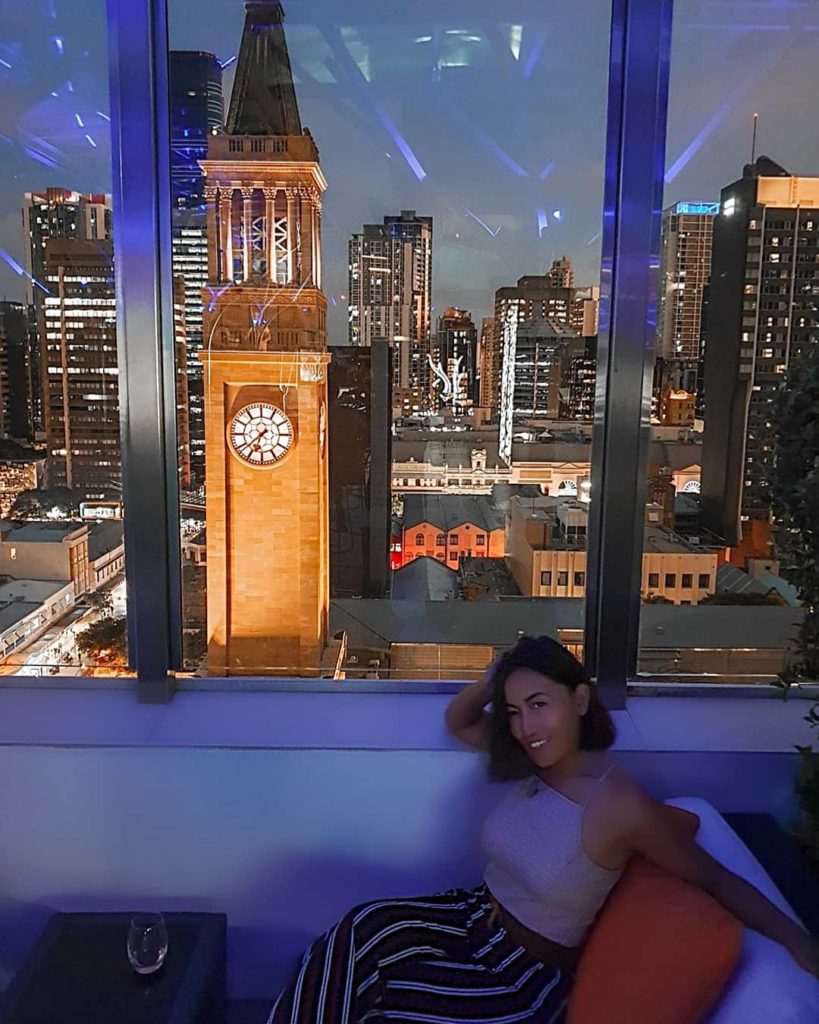 15. Go for a drink in a nice setting
Now that you have seen the Brisbane city from every angle, time to relax and treat yourself. I mean solo travelling isn't always easy and you should pat yourself at the back for encouraging to see the world all on your own. And that calls for a drink in a nice setting to complete this trip. There are many rooftop bars in Brisbane but the one I went to (Sixteen Antlers) was just opposite the clock tower.
Convenient and it offered a comfortable lounge with a great view and drinks. You can see both the old and new buildings from one place and take in the European vibe with its architecture, separate cycle lane, salsa dance on the street (on weekends) sipping your favourite beverage. And the sunset view from here is awesome too!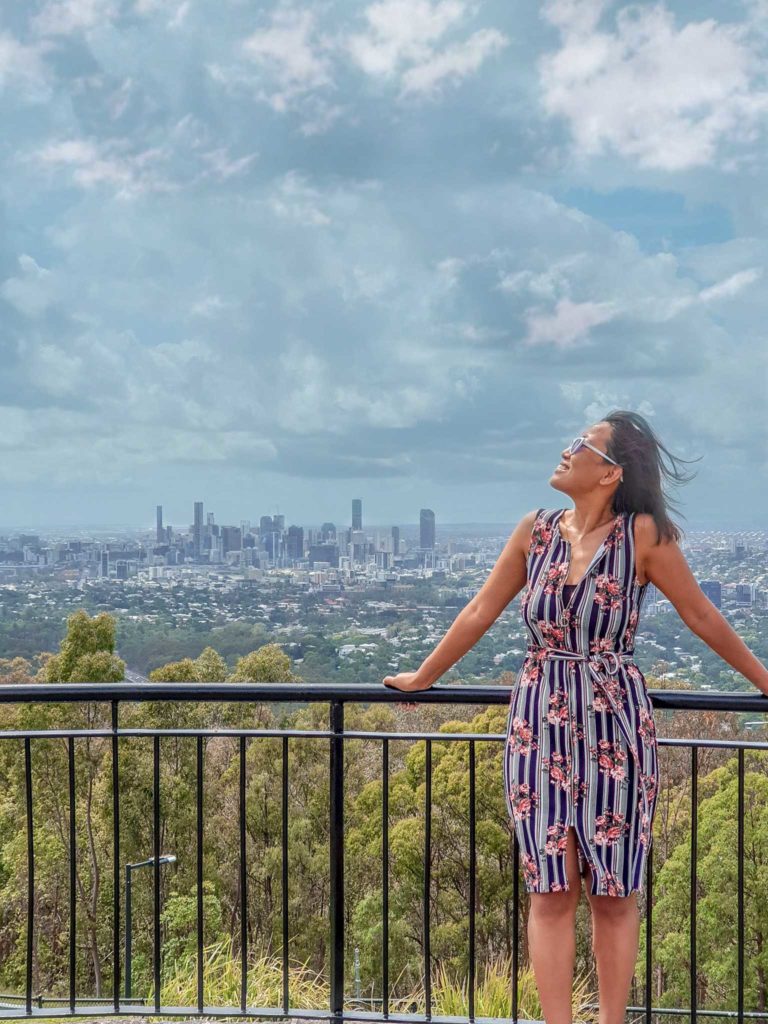 16. See the view from Mt Coot-tha lookout
Time to head outside the Brisbane city and explore as a solo journey in Brisbane continues towards Cairns. Mt Coot-tha lookout is a short 7 km West of Brisbane's CBD. If you drive, or someone is driving you that's the easiest as there is plenty of free off-street and on-street parking as well as 5 bus parking bays. OR you can get Uber and taxies too. Using public transport? No worries. Get on bus 471 that travels from Adelaide Street in Brisbane City to this lookout every day. While you are there, stop in at the Planetarium after wandering through the spectacular gardens.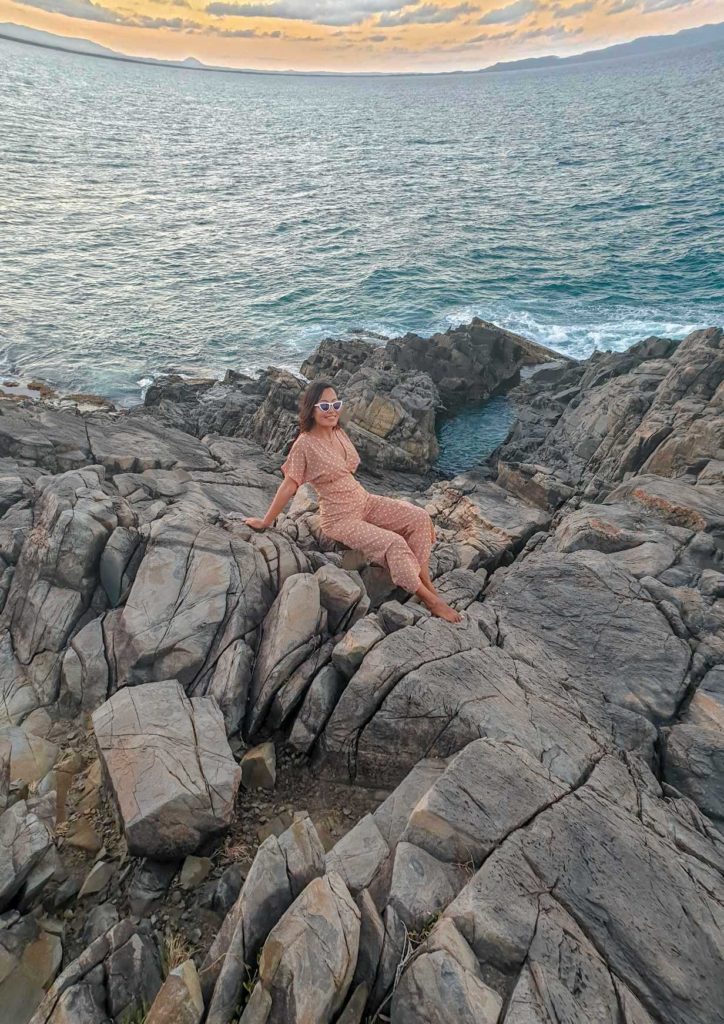 17. Day Trip to beautiful Noosa
What else you can do in Brisbane as a solo female traveller? Go further! Travel from Brisbane to Gold Coast or perhaps a trip to Noosa. Noosa is a beautiful Australian resort area on southern Queensland's Sunshine Coast. It is famous for its surfing lifestyle, and stunning areas. Solo travel Brisbane wouldn't be complete without taking a day trip to Noosa or a near by Mt Coot-tha as mentioned above.
If you are heading to Noosa for the weekend or on your east coast journey in Australia, some must-dos are the main beach in Noosa, coastal walk along the national park and this awesome fairy pool (35 mins return hike from the main beach), hell's gate, learn to surf and just chill in one of many Noosa's bar and restaurants.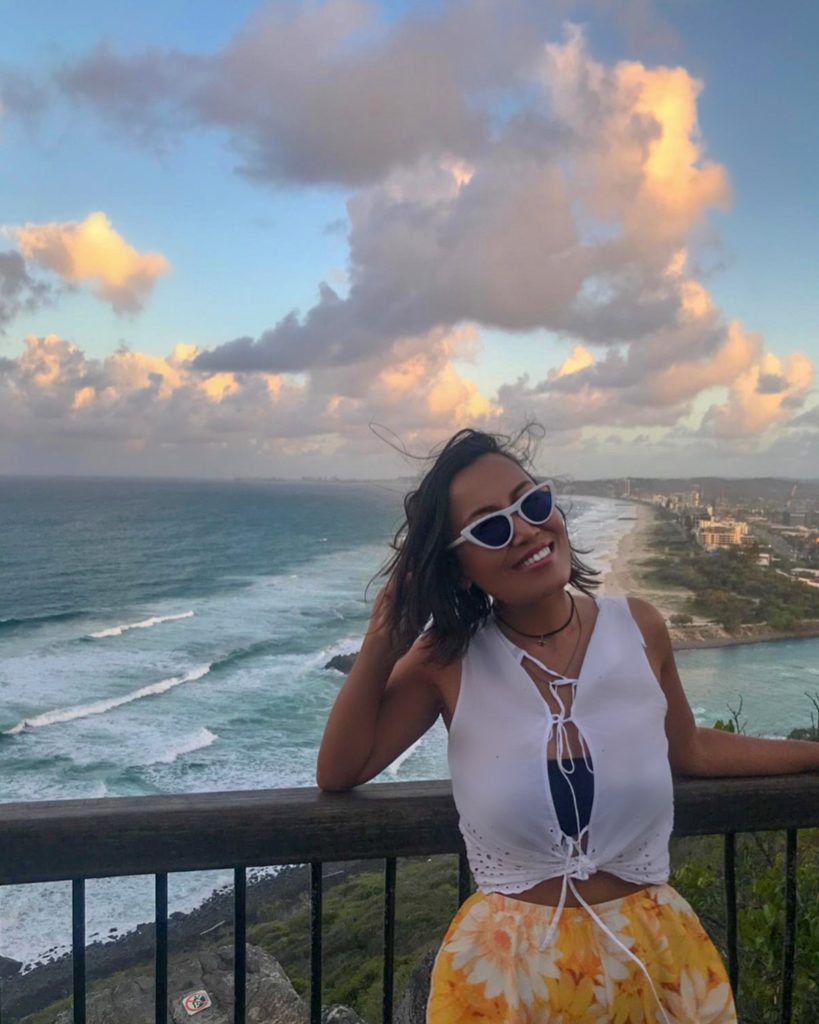 18. Day trip to Surfers Paradise
Brisbane is only an hour drive from surfers paradise. If you don't have a car, use the public train ($40 one way) to get there. Bus ticket from greyhound cost $19 – $29 and run four times a day.
While Surfers paradise is a touristic place, it is nice to visit for the day or two. You can take a jet boat ride, duck tour, or a river cruise and visit a bar or nightclub. Some of the muse sees are – surfers paradise beach (Sunday markets on the beach side), take a course to learn surfing, work on your tan at local's favourite Nobby's beach, eat at the market in Miami Beach, check out Infinity and go for a hike or run in Burleigh heads. The above view is from Burleigh's heads look out, beats the view from any other hotel room!
With so many things to do and see, I liked Brisbane slightly more than past-home town Sydney! What about you? Either way, I hope this list helps you plan your Brisbane travel better.
Happy Travels!
Let me know in comments
Brisbane itinerary for a solo female traveller