In 2015 I was in beautiful Amsterdam, a city full of café shops, beautiful houses, traditional wooden dutch shoes, the Van Gogh Museum, a floating flower market, windmills, tulips gardens, cheese markets, and millions of bicycles. I recently revisited and decided this time, I wanted to go on a day trip to Zaanse Schans – a well-preserved Dutch Village town. If you are interested in finding out what to see, how to get there, and an interesting place to stop over on the way read on.
If it interests you, here is 2 days in Amsterdam itinerary that covers the museums, the red light district, and more. I also had the time and resources to see Madourdam and Haarlem which is another quiet Lil town outside of AMS – a travel guide for both coming soon.
Day trip to Zaanse Schans from Amsterdam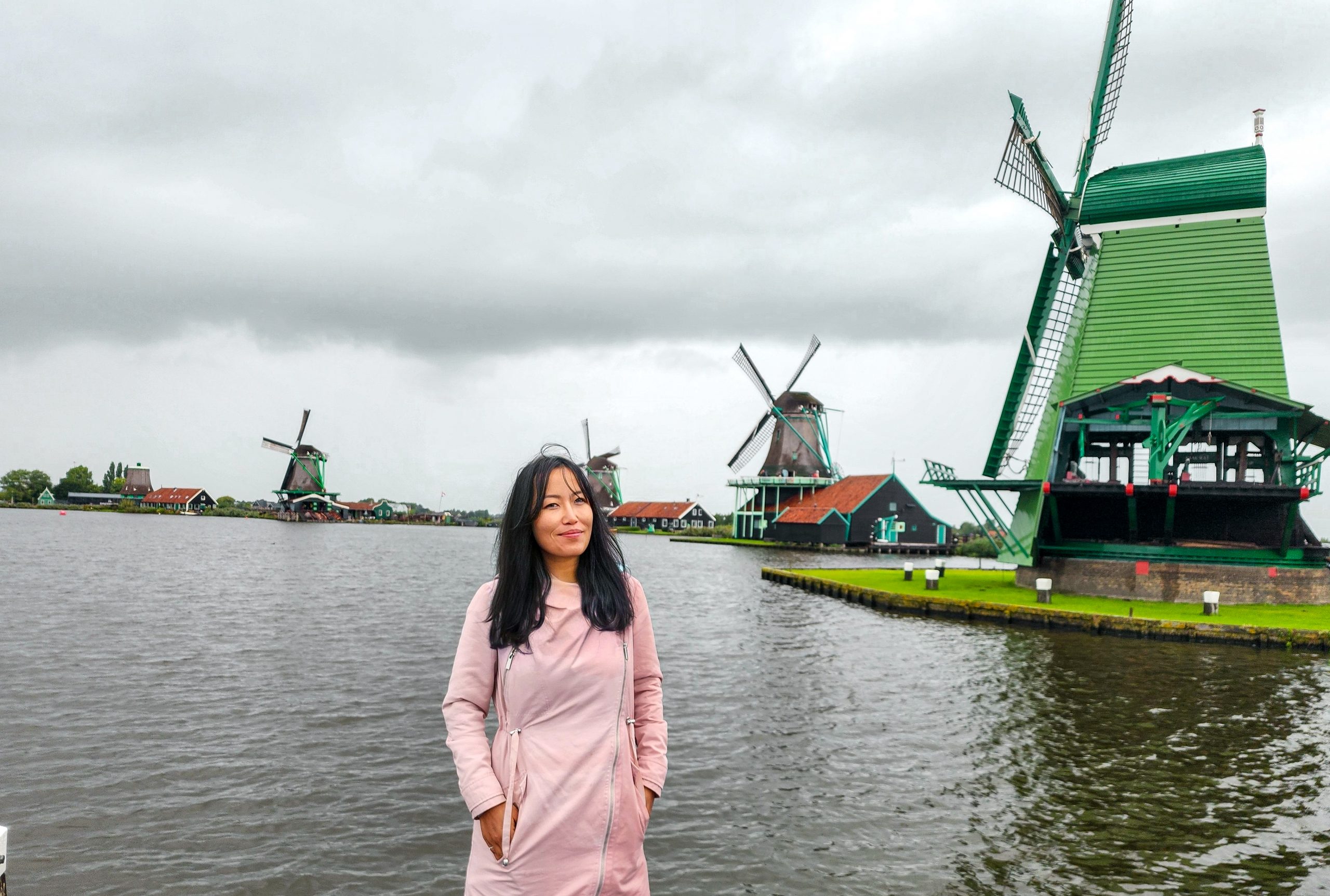 How to go to Zaanse Schans from Amsterdam central?
As you would imagine there are numerous Zaanse Schans self-guided tours, and Zaanse Schans windmills tours but it is equally easy to visit on your own with one train or bus just takes 30mins!
And that's because Amsterdam, The Dutch capital of the Netherlands is known for its excellent infrastructure, from metros to trains and buses and millions of bicycles including evening canal cruises.
If you are using public transport the easiest way to get there is from Amsterdam Centraal station. You can't miss it, it is right in the center and you can either buy a 1-day pass or 24 or 72 hours. ( all between 1 euro to 10 euros) The machines are right outside the train station and it takes cards or cash. You can choose English on the screen to understand what you are buying in English. Then go to the right platform for the train heading to Zaandijk Zaanse Schans station.
I took the train Sprinter4026 going towards Uitgeest (Platform 8 a). It took 17 min only with (4 stops) then I got off the train at Zaandijk Zaanse Schans, and walked for about 15 min, 1.4 km.
Alternatively, you can also take the Connexxion bus 391 from Amsterdam Central Station to the stop right in front of the park. Or if you are into it and the weather is good you can bike there and explore north holland at the same time.
With that being said if you are staying longer then it makes sense to buy the public transport chip card (OV-chipkaart) which can be used for travel on trams, buses, and metros. Just top it up with $.
Things to do in Zaanse Schans
Zaanse Schans is located in the Zaandam area in the north of Amsterdam, Netherlands Europe. It is an ideal day trip from Amsterdam because it is only a short train ride and it lets you discover a peaceful village on the dutch countryside water but it wasn't always there! Over time, ancient buildings from the Zaan region have been brought together at Zaanse Schans in order to preserve history, its extraordinary architecture, traditional Dutch culture, and crafts. This cute Lil village gives you an accurate impression of life in the Netherlands back in the 18th and 19th centuries.
In Zaanse Schans there are enough attractions to keep you busy for at least half a day. Although the number one reason why travelers flock here is to see the 6 working windmills Amsterdam has to offer.
After that, the following activities/places may interest you also, watch a clog-making demonstration in a wooden shoe workshop, taste Gouda cheese in a cheese factory, souvenir stores & check out distinctive green wooden houses. There is also the Zaanse museum which has regional costumes, model windmills, and interactive exhibits on chocolate making.
Note during the low season, some windmills and museums are maybe closed but you will still be able to walk around the windmills and through the village to make it your own zaanse schans tour.
Do you know there were more than 600 windmills in the Zaan region in the old days?! Now there are 6 well-preserved and you can pay 5 euros to go inside them. These windmills were used, among others, to grind spices, produce paint, saw wood, and make oil.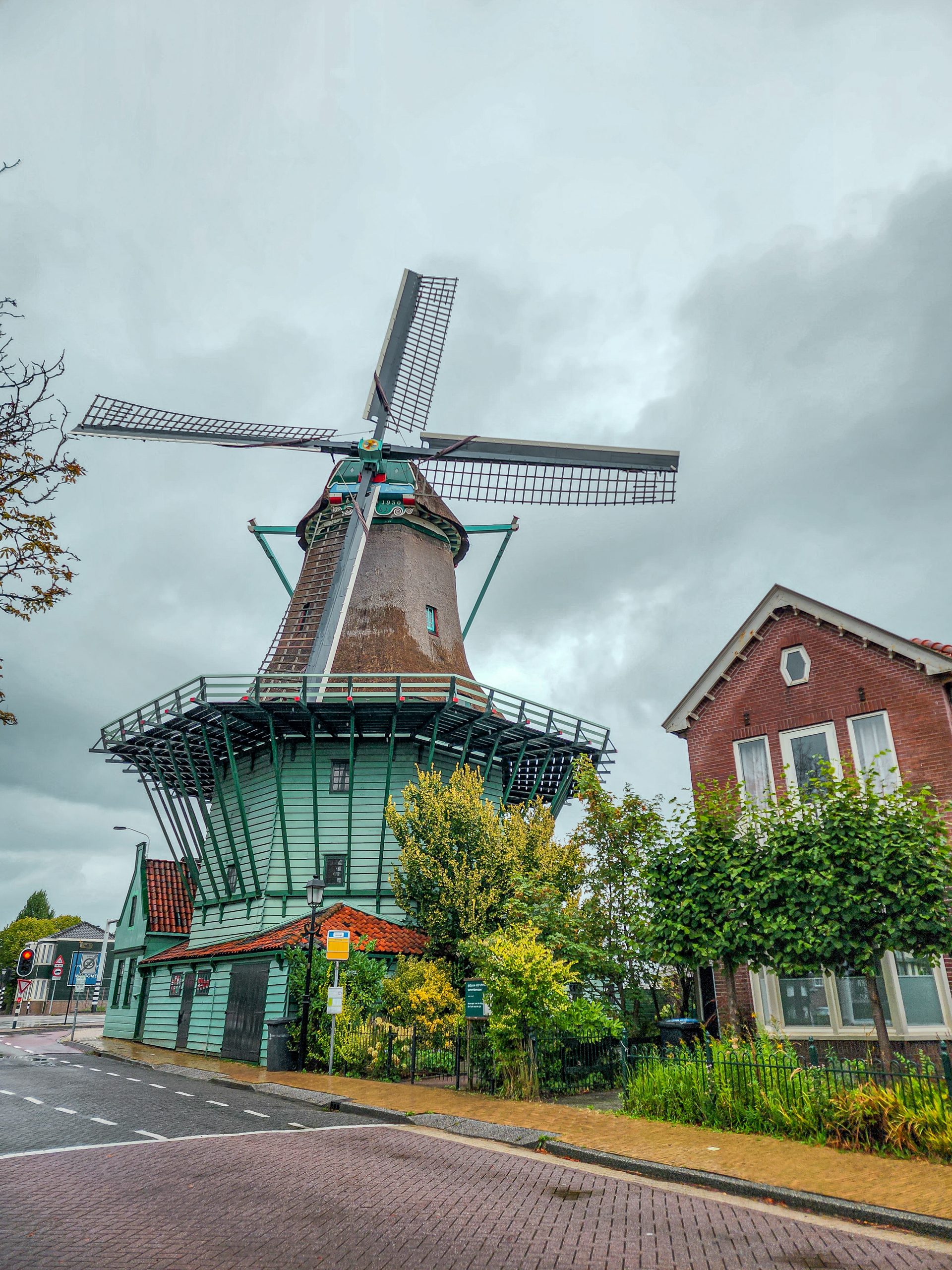 How much does it cost to go to Zaanse Schans?
Apart from your train/bus/taxi, admission to the Zaanse Schans is free of charge, for some of the attractions like the windmills, museums, or crafts you have to pay at the entrance.
Also if you would like to have lunch there are some nice restaurants I saw. Alternatively, most locals shop at Albert heijn grocery store if you would like to perhaps buy or make your own sandwich or something similar.
How much time do you need in Zaanse Schans?
The great thing about Zaanse Schans is how peaceful it is. You could spend a full day here just strolling and admiring the scenery. However, if you have a limited time, you will be pleased to learn you can get the gist of the experience in 2-3 hours.
And if you are like me, you can do half a day here and an hour or so around Innet Hotels which is on the way anyway.
Do people live in Zaanse Schans?
Instead of smoking chimneys, you'll find charming wooden houses, bridges, and gardens here making this maybe the most beautiful part of Holland (perhaps not on a rainy day course). This is not a museum but a thriving community where real people still live in these historical houses, passionate about the past but focused on the future.
Hope you get to do this Zaanse Schans day tour asap.
Day trip to Zaanse Schans from Amsterdam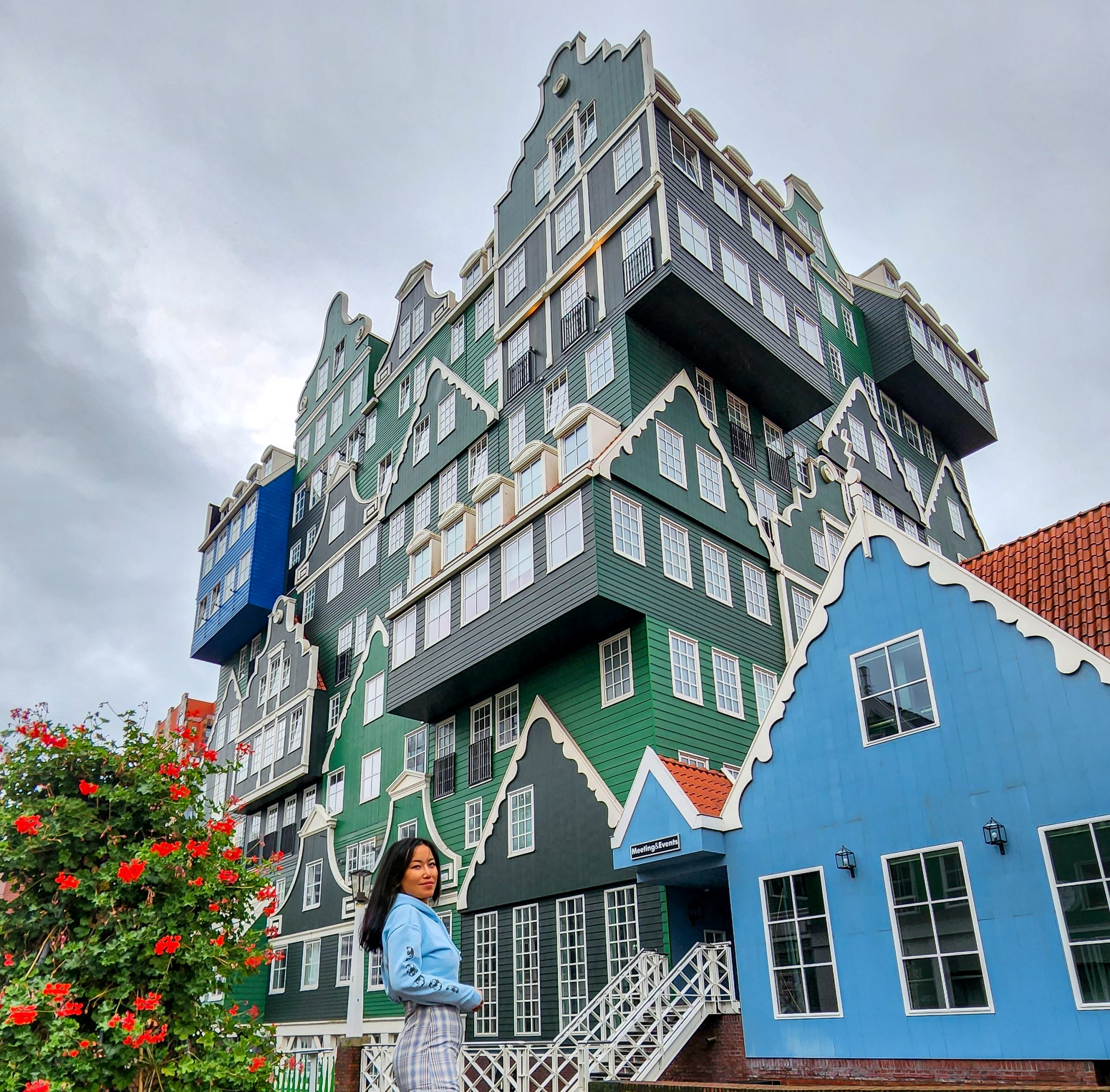 On this Zaanse Schans itinerary, I wanted to see something more so before I went there, I made a stop at Innlet hotels purely because it was on the way plus how cool is this twelve-story architecture that looks like a pile of houses on top of one another!
Innlet hotel is a 4-star hotel located in the center of Zaandam, next to the train station that leads you 12 minutes to the lively Amsterdam. Totally would've stayed here if I hadn't booked my hotel prior.
This short stopover let me look around Zaandam, & if you walk past this hotel, there's a shopping mall, eateries, bars and they'd a local running tournament even in the rain! love that energy! and personally, it was a nice break before exploring the peaceful dutch countryside of Zaanse Schans.
How to go from Zaanse Schans to Innet Hotels?
If you are traveling from Amsterdam Central Station, buying the train ticket to Zaandam takes 12 min. Go to Platform 8a towards Amsterdam Sloterdijk, only 2 stops, and get off at Zaandam. From the station, take left, walk for 4 mins and you are there. Alternatively, you can take the line 391 bus, which takes 14 min. (both train & bus are under 10 euros from memory)
Then jump back in the train for 5 mins to go see Zaanse Schans for rest of the day. Alternatively, you could even walk from Zaandam to Zaanse Schans which takes about an hour. If it wasn't raining and I had more time I definitely would have walked.
Another easy option is first to explore Zaanse Schans and on your way back get off the train at Zaandam.
So either way, up to you if you want to stop at Innet Hotels while heading to Zaanse Schans or while returning back.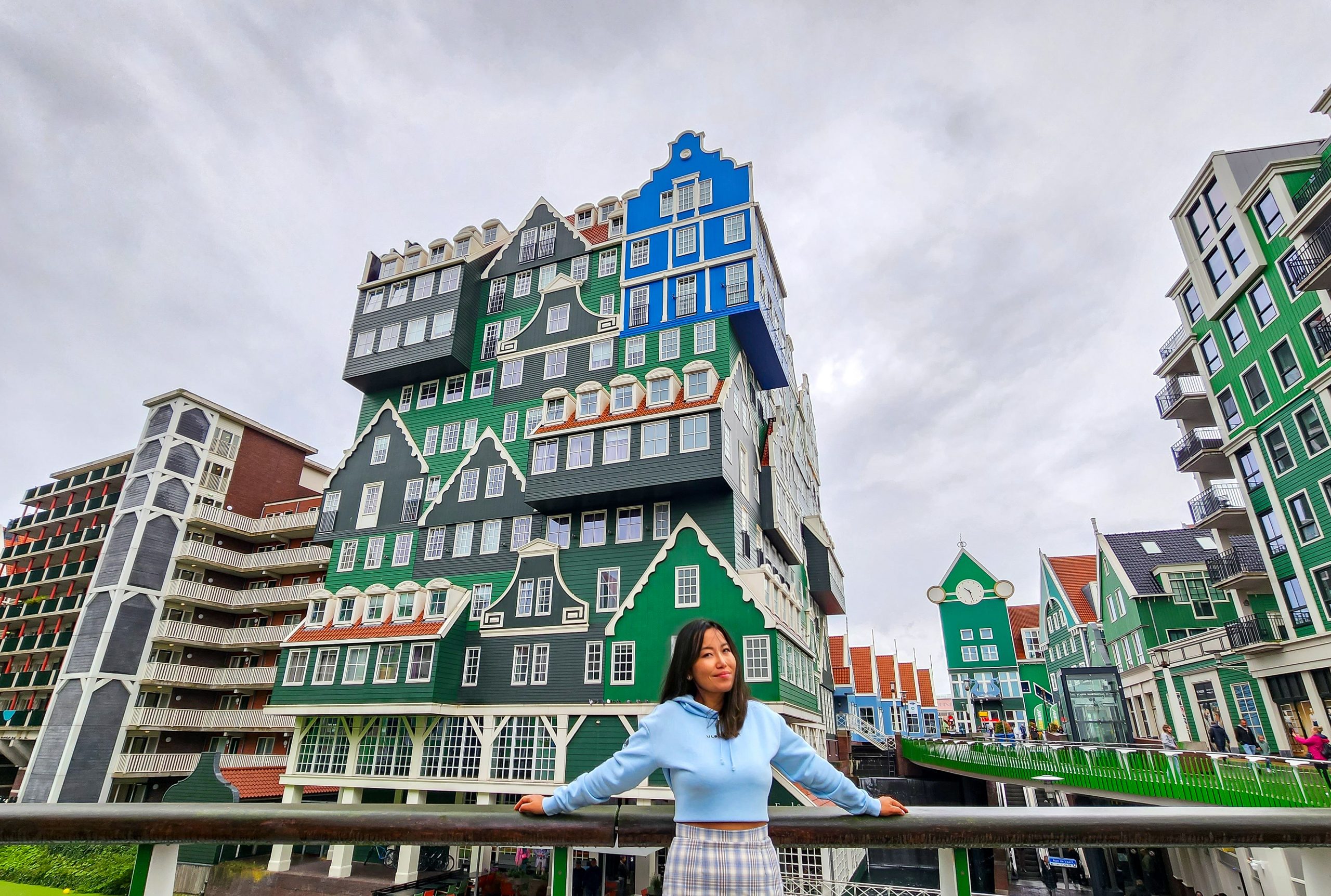 Is Zaandam a good place to stay?
From a touristic perspective, Zaandam is not a good place to stay if you plan to spend most of your time in Amsterdam. Zaandam is 16 minutes by train from Amsterdam and trains stop at 1 am. For the same price, you can book something in Amsterdam.
Hope you this day trip to zZanse Schans from Amsterdam travel guide helped you.
Let me know in the comments: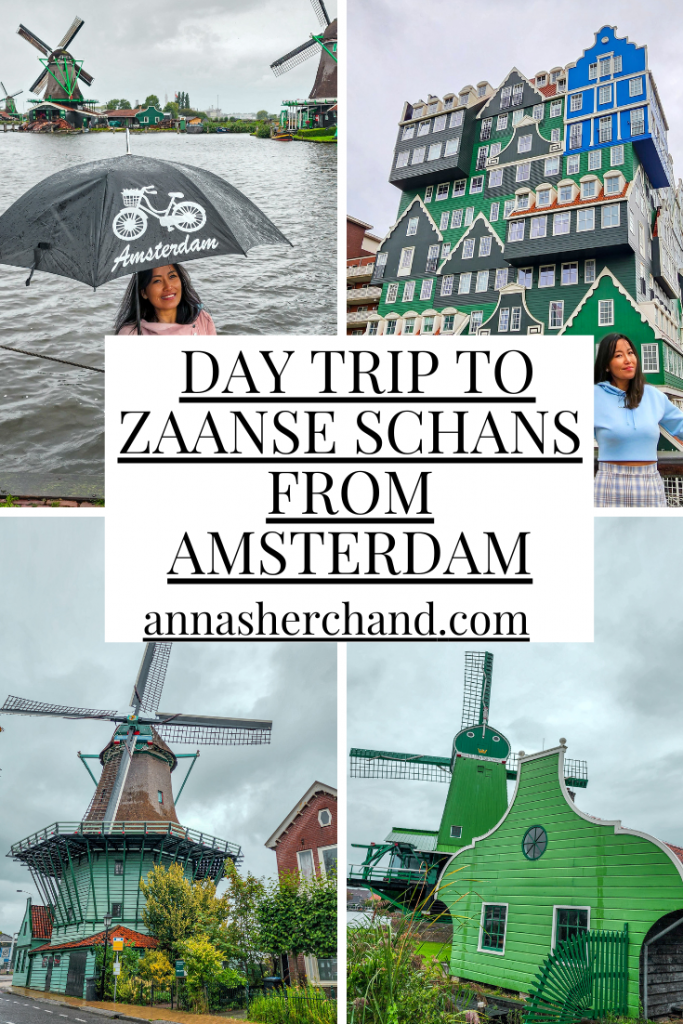 Day trip to Zaanse Schans from Amsterdam