So I went from Podgorica to Tirana, Albania then from Triana went to Budva in Montenegro. Initially, I was going to skip this town but everyone I met advised me to check it out. Hence, there I was. A party town in general but if you visit in shoulder season as I did you will have it all to yourself. On this Solo female travel to Budva blog, I will be covering where to stay in Budva, how to get here, what to see and eat & day trips from here.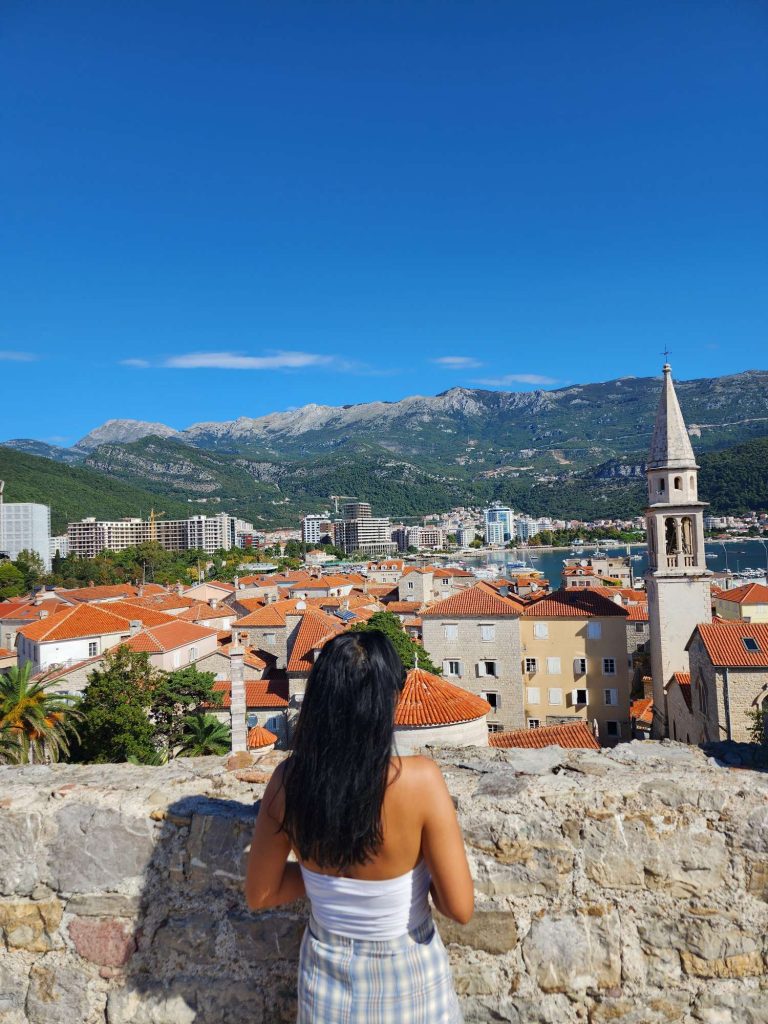 Solo female travel to Budva
Budva is one of the prettiest medieval cities I have been to so far. It's a small town on the Montenegro coast called "Budvanska Rivijera", more than 2,500 years old, making it one of the oldest settlements on the Adriatic coast.
Usually, people visit here during summer because of its buzzing nightlife but no matter which season you go to I am positive you will enjoy Budva's Old Town which is very pretty and worth visiting along with a few other places which I'll mention below.
If you are hesitating about whether to go or not, I hope this Solo female travel to Budva helps you make up your mind and that you will go and experience this beautiful city. Let me start with one of the most asked questions,
Is Montenegro safe for solo female travelers?
First of all, let's establish the understanding of solo traveling is brutality! It forces you to trust strangers and to lose sight of all that familiar comfort of home and friends. You are constantly off balance. Nothing is yours except the essential things – air, sleep, dreams, the sea, the sky – all things tending towards the eternal or what we imagine of it. If we are okay with it, we will adapt, and we will survive.
That being said, I felt safe in Budva as well as on the bus from Tirana to Budva. My taxi driver in Budva was kind to drop me all the way to my accommodation high up on the hills at 10 PM, the waiter at the breakfast was friendly and in general, I found people here to be nice and welcoming towards travelers.
So yeah unless there is a drastic change in the country's political situation, pandemic, or some natural disaster it is safe to travel to Budva. Just remember to apply a general rule of thumb i.e. Don't walk down that dark alleyway on your own, respect the culture, don't argue about religion, dress modestly, trust your instincts, and don't be afraid but be cautious.
How to get to Budva?
Traveling alone is quite different, as opposed to moving with a tour company. Hence if you are traveling alone, you have multiple ways to get to Budva via flight, bus, train, driving car, ferry, or cruise ship. It all depends on your preferred mode of traveling and budget.
That said, it is easy to get to, especially from within Europe. As an example, there are numerous short flights from London or most major cities. The nearest airport is called Tivat (TIV) Airport which is 17.2 km away. Other nearby airports include Podgorica (TGD) (34.6 km), Dubrovnik (DBV) (56.3 km), and Tirana (TIA) (120.6 km).

If traveling from the neighboring country Tirana, Albania, there is an option to go to the local bus terminal and buy the ticket in person (only takes cash) but there are some benefits in buying it online.
1. They take credit card
2. I had more departure options because I could compare ticket prices between 3 bus websites and buy one instantly that suited me.
3. These websites were also selling some last-minute cheaper bus tickets although they get sold in minutes so, you have to be quick in that regard.

There are many online bus companies to buy tickets from but I recommend three below that I personally used and had no problem with.
1. Busticket4.me/EN
2. geybybus.com
3. Flix bus
All 3 websites offer an English language option and take debit/credit cards. No need to go to the bus station.

The bus arrived late from Tirana to Budva late at 9 pm and luckily there were few taxis waiting outside. I was hungry and the taxi driver was happy to make a stopover at a takeaway restaurant for food before going to my accommodation. Always request for the meter to be paused while waiting for food because my food took like 45 mins to be ready!
Where to stay in Budva?
There are numerous choices when it comes to accommodation from all five stars hotels to hostels. If you are a solo female traveling to Budva and looking for accommodation, please read the recent reviews, and check the location to make sure it is exactly where you want to be. For example: If you are visiting for only a few days you may not want to stay on top of the hills Vs staying close to the old town. And if you are after a relaxing holiday you may prefer the little secluded stay.
That being said, wherever you stay make sure to book with a legit website such as Booking.com Most hotels and hostels also offer free WIFI, and here are some places I suggest:
To meet other travelers/backpackers
Youth Hostel
High – On top of a hill so think about it before booking, Freedom Hostel, Guest House Vila Bak, Đuričić Apartmani, Apartments Pier
Mid Tier
Apartments Ivanović, Apartments Memidz, Hotel Aleksandar Rafailovići, Apartman Senka
Luxury
Apartments Garden Azure Budva, Hotel Harmonia by Dukley, Vila Chevron
Where to go in Budva?
If you are in the mood to meet other travelers then join a free walking tour that gives you a broader perspective with stories about the city. It runs on a donation basis so just book yourself and arrive on time and tip at the end.
That said though some days you may not be in the mood to be in the group so in that case, you will be pleased to know Budva oldtown is a walkable tourist destination, and the best way to understand the place is on foot.
I have written this Solo female travel to Budva travel guide exactly how I spent it. You may change it around to what suits you best. Probably a good idea is to head to the indoor museums if it is rainy or explore outside if sunny.
The top attractions to visit in Budva are:
1. Budva Old Town Altstadt (Old Town)
Personally, it has been a unique experience to wander through the narrow streets of 2500-year-old Budva which was painstakingly rebuilt after the 1970's earthquake using old stones. The alleyways with cobbled streets provide shade on hot days and although a tourist hot spot, in there somewhere you may get a glace at the local lives with clothes hanging outside the windows, and cats hanging out at the balconies.
Walking in old Budva feels like being a traveler of the 14th century. The scenery is beautiful and everything is extremely well preserved. I liked the narrow passages, the stone walls, and mostly the nature blending with the architecture, with ivy, grapes, and other plants taking the scene. Enjoyed strolling around Stari Grad/ Budva City Walls then on to the Budva riviera. There is a lively vibe and plenty of places to eat in and around the old town which I will elaborate below on places to eat.
2. Budva Citadel
If you love a good view, highly recommend visiting Citadel which is right in the old town. Not as crowded as other medieval towns in Montenegro (maybe its to do with seasonality too) and from the Citadela Fortress, there is a wonderful view of the old town and the sea. There are well-preserved ruins on the citadel and an open library (but books are locked behind glass doors, so you can just see their spines).
The entrance fee is 3.5 euros (only in cash) and is definitely worth the price. The view from the terrace is absolutely gorgeous. Great spot to appreciate a lovely, romantic, and cozy medieval town. There is also a cafe if you fancy a drink with a view.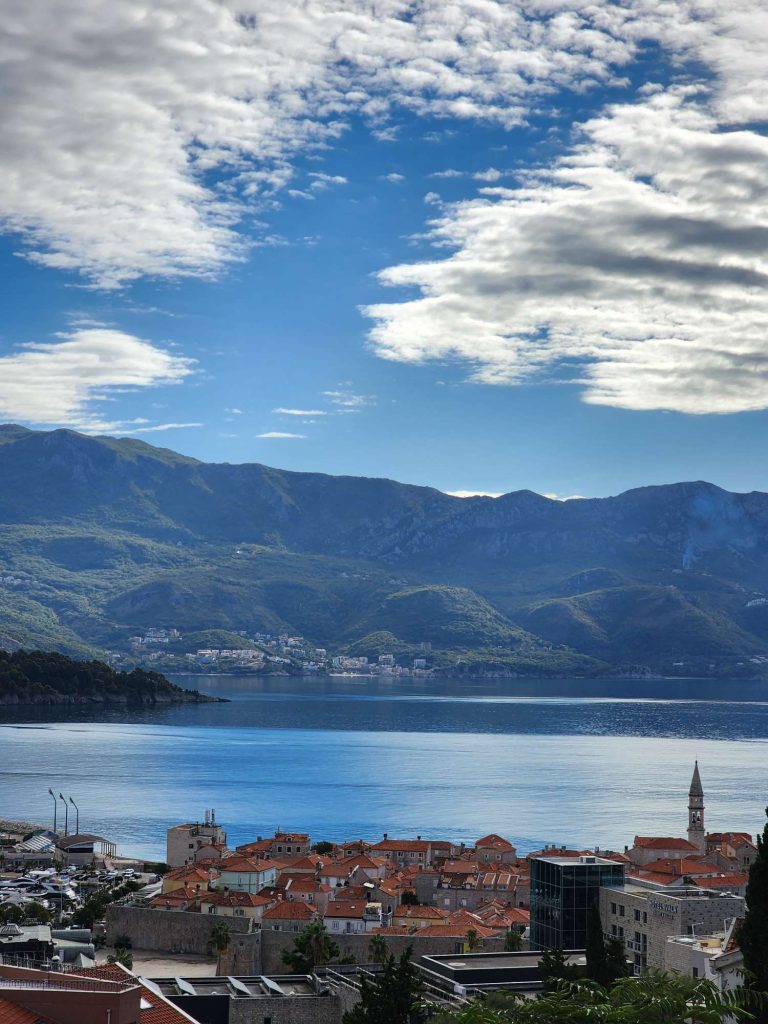 3. Religious Sites
When it comes to religious sites there are Churches & Cathedrals you can visit. Such as the Church of the Holy Trinity, Saint Ivan Church, St. Thomas Church, Church of St. Sabba the Sanctified, and Santa Maria in Punta Church. While there check out the Old Town Churches Square.
4. Podmaine Monastery
Another historic site that may interest you is Podmaine Monastery. It is a Serbian Orthodox monastery built in the 15th century by the Crnojević noble family in Podmaine near Budva, Zeta. You will get a different angle/view of Budva from here.

It is a peaceful place and very well maintained, worth a look if you feel like a short hike up the hill (30 minutes walk approx from the old town).
5. Museums in Budva
Museum of the City of Budva
The Budva Old Town Museum is located in a small early 19th-century building, you can see here nice archeological and ethnographic exhibits. The entrance is 3 euros.
Alternate options are Budva Museums & Galleries HQs, Jovo Ivanovic Modern Gallery, Stefan Mitrov Ljubisha Museum, or MagicYard Gallery.
Aquapark Budva is temporality closed so maybe something to look out for in the future.
6. Statue Ballerina
I wouldn't necessarily go to see only the statue but it is on the way to Mogren beach which makes it handy. Talk about hitting two birds with one stone. There are many versions of the meaning behind this statue so I won't spoil that for you. I would say that though it is quite an eye-catching statue.
7. Mogren Beach
The Budva Riviera is famous for its glorious beaches, with miles of fine pebble and sand beaches. Here are some suggestions Slovenska Plaza and Bečići are the most popular but I have been told Mogren beach is the most beautiful beach in all of Budva.
As Australian, I rarely chase beaches overseas but I am putting this here as a recommendation from other seasoned travelers.
8. Monastery Praskvica
It takes about an hour's walk from Budva old town or 20 mins drive to get to Monastery Praskvica. There is a story that where the monastery is today, it was a church in the 11th century. The current appearance of the monastery dates back to the 15th century. It is believed that the main church was built by Balsa III in 1413.
Napoleon Bonaparte's army ravaged the monastery and set fire to many books. The monastery was destroyed in a strong earthquake that hit Montenegro in 1979. The octagonal dome shows the numbers that were used to rebuild the monastery.
There is an interesting story about the monk Yegor Stroganov who in 10 years built staircases from the sea to the monastery with one hand. Ask Father Dimitri to tell you that story. The place is great, rich in the culture and history of this area.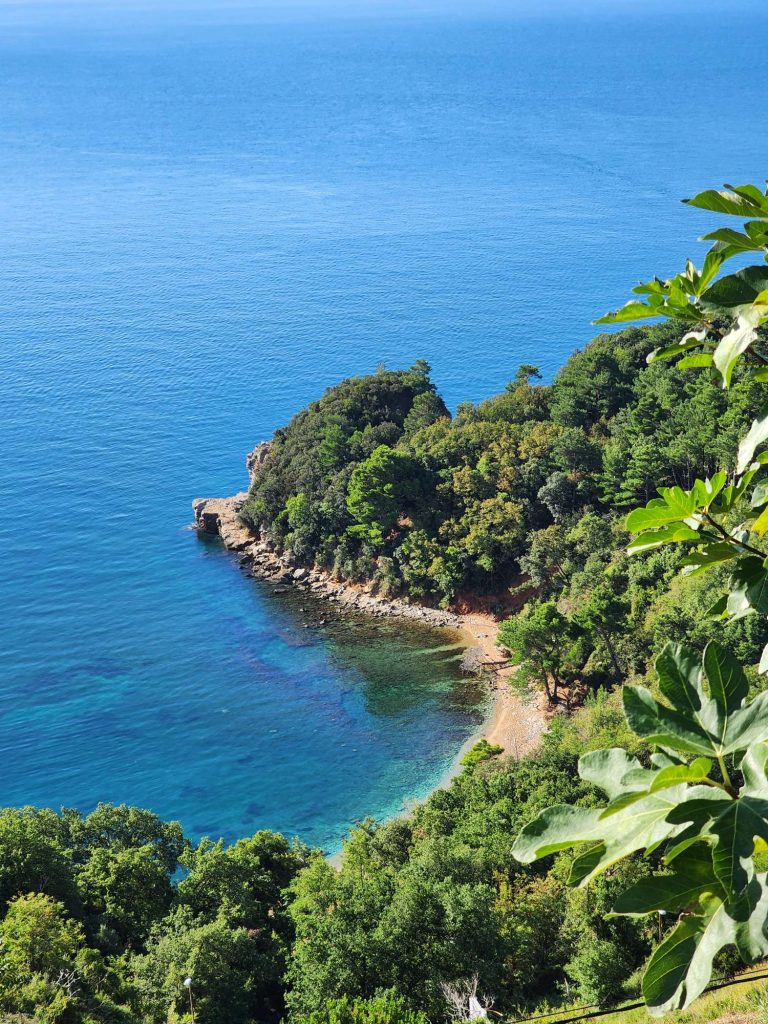 Day trips from Budva
Solo female travel to Budva doesn't have to limit to the old town when you can explore beyond. For example, you can go to
1. Sveti Nikola Island
This postcard-ready place is called Sveti Nikola Island. Expect to experience the best of Budva's hospitality and stunning beaches. It is the largest sea island in Montenegro and is located right across Budva. You can easily get there in 20-30 minutes by water taxi but best to go by private taxi for 10 euros directly at the harbor or by group boat (3€) situated down a little bit along the harbor or even the Katamaran in front of the Jadran restaurant (3€). It is one of the recommended places for a swim, sunbath, and snorkeling in Montenegro.
2. Sveti Stefan
Another day trip for suggestion during your solo female travel to Budva is Sveti Stefan. It is a famous fortified village dating back to the 15th century, a uniquely atmospheric setting of cobbled lanes, handsome courtyards, and a picture-perfect instagrammable destination.
But there is a catch and that is the island of Sveti Stefan is only accessible to hotel guests. There is no entrance available for non-hotel guests. So this one would be a night stay if that suits you. You can book at Aman Sveti Stefan – one of the iconic symbols of Montenegro.
3. Bar, Montenegro
If you are into beach holidays, bar would be somewhere you would want to go. I live in Australia so beaches are not my priority when traveling. Again this is coming as a recommendation from trusted fellow travelers.
From Budva to get to Bar, would take approx 3 hours plus on a bus.
Some of the highlights in Bar are the Church Of Saint John, Old Fortress, Stari Bar, King Nikola's Palace, Bar Beach, Old Olive Tree, and Montenegro Lines Bar.
Next stop from Budva?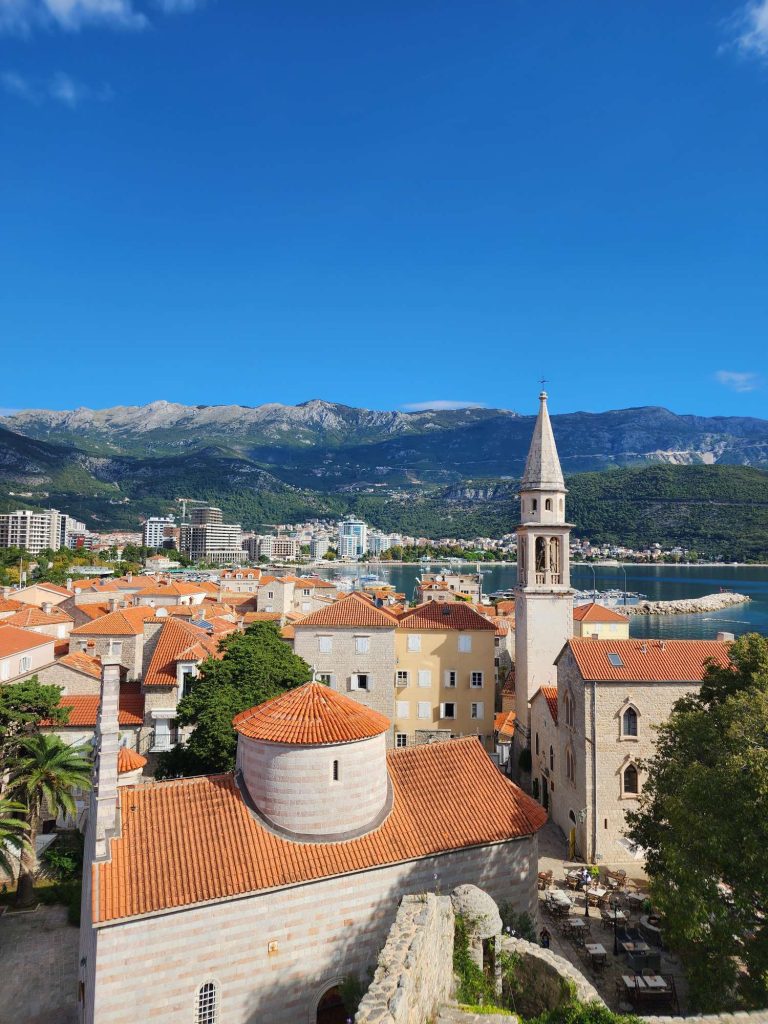 1. Budva to Tirana
Read more on Solo travel to Tirana, Albania, and on the way stop over at lake Skadar.
2. Podgorica
Read more on Solo travel to Podgorica, Montenegro
A few more suggestions are below.
3. Kotor Bay
Solo traveling Montenegro wouldn't be complete without visiting Kotor. It is a beautiful town with a bay, plenty of restaurants/cafes, an interesting old town, and comes with a couple of places to hike.
It takes approx an hour to get to Kotor bay from Budva and you can buy the tickets online using the above-mentioned websites.
Some highlights of Kotor are discovering Kotor Old Town (Stari Grad) on foot, hiking up to Kotor Fortress for a view -sunset is even better, and walking the Old City Walls.
Montenegro is a beautiful country full of picturesque locations that are great for the solo female traveller.
That said, if you don't feel like exploring alone, you can join any of the private or group tours below.
How to get around Budva?
Once you are near the old town travel is easy on foot as most must-see things are in/around the city. If you are taking day trips there are a few options available you can either book a taxi for a few hours, take a tour or get on a bus.

How many days in Budva is enough?
I would say 3 days is best if not rushing but one day in Budva is the minimum. You will most likely start your journey in the old town, explore major spots, then get up to the food and drinks and maybe squeeze in a day trip or two.
Do I need a visa for Budva?
If your passport is from Australia, you can stay up to 90 days in Budva, Montenegro. I highly recommend checking the official website online or with your local embassy to find out if your country requires a visa.
When is the best time to visit Budva?
Budva has a typical Mediterranean climate, with long hot, and dry summers and mild and rainy winters. That said, if you have limited time, anytime is best to visit Budva IMHO but if you are after the best weather to enjoy this historical destination, it would be between April to October. Basically summer time but also shoulder seasons before and after summer when the weather is dry and the temperature is warm yet comfortable. Also, shoulder season would probably offer better accommodation rates.
Local currency
The official currency is the euro.
You could withdraw euros from ATMs on arrival at the airport or in the city. However, remember to consider bank fees from your bank and the ATM withdrawal fee.
If you are worried about language, English is widely spoken especially in the tourism and hospitality industry.
Must-Have Travel Apps for Budva
Google Maps for ease of finding routes, and offline use.
Google Drive, Calendar for time management, and storing pictures.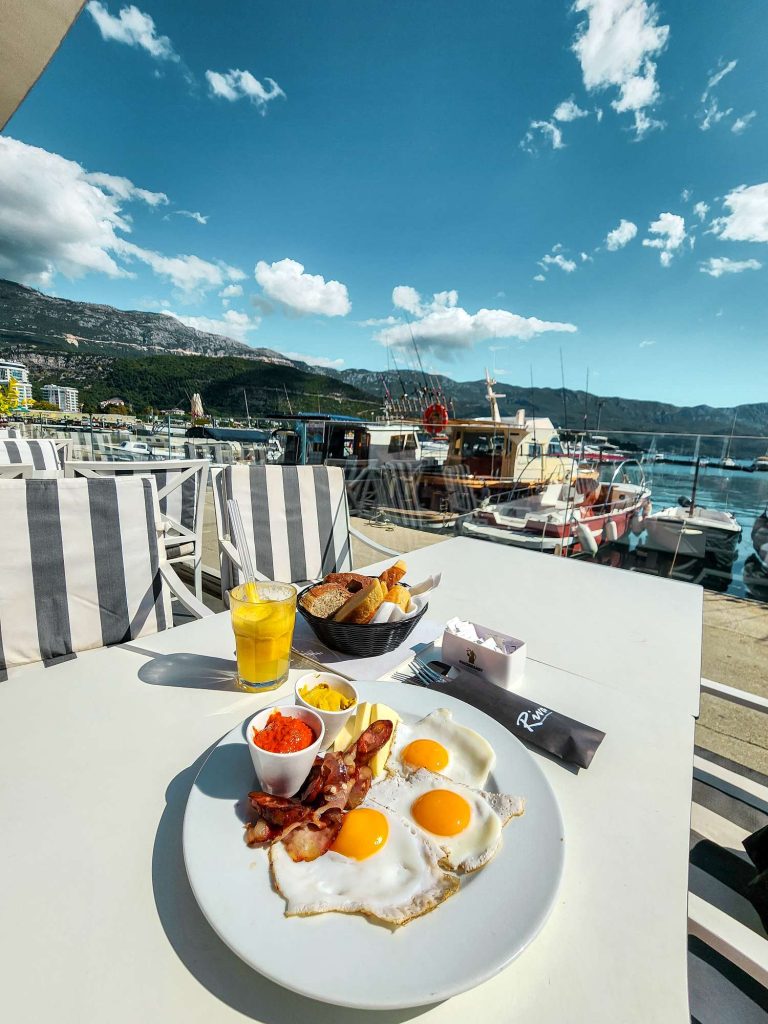 What to eat in Budva?
Budva offers food and drinks for every budget with its various cafes, restaurants, and takeaway shops. Here are my recommendations on must-try food in Budva starting with Seafood Spaghetti, Black Risotto, Shopska Salad, Pljeskavica, Cevapi, or Njeguski steak.

And don't forget to try the national dish of Montenegro while you are solo travelling in Montenegro – Prosciutto, especially the Njegusi prosciutto, along with different types of sausages, hams, and other fine chopped, smoked meat.
Recommended places to eat are Vista Vidikovac on top of a hill, Riva Budva for Montenegorian breakfast, Konoba Bocun, Restaurant & Beach Bar Azzurro, or Forsage Gastro Lounge.
What to drink in Budva?
My favorite drink from Montenegro is Montenegro! So you have to try it out if you are into trying out new things. Aside from that and wine Montenegro is famous for, rakija which is a rather popular traditional alcoholic drink, along with beer and mead.
Some recommended bars are Top Hill Club, Каспер Бар, Casper Bar, Emporio Club Budva, or Lido Mar Pool.
I hope this Solo female travel to Budva blog helped you in exploring this beautiful town in Montenegro.
Where are you headed in your solo travel Balkans next? If you are after other Balkan country's travel guides check out some suggestions below.
Split solo travel Travel tips to Central America Bucket list Croatia travel guide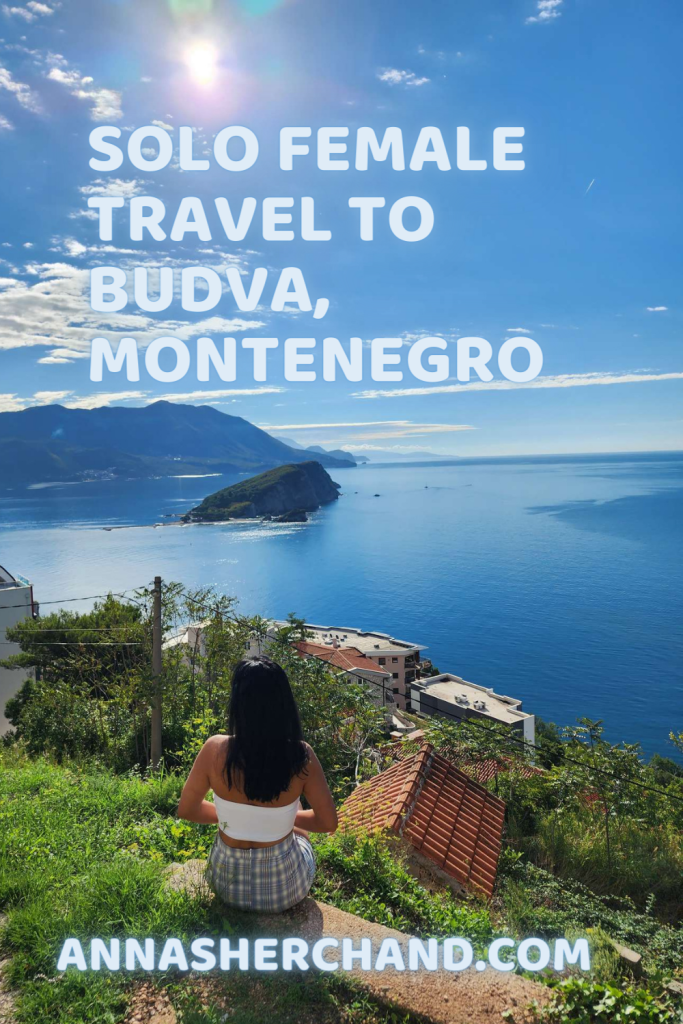 Let me know in the comments:
If you have any questions about Solo female travel to Budva
Solo female travel to Kotor, Montenegro
Warsaw by Train covers warsaw travel tips
Check out One day in Luxembourg, western Europe
Solo travels from Podgorica to Tirana
Day trip from Zurich to Liechtenstein
Travel tips to South America
Fiji solo travel guide
Australia east coast must-see
Master Sydney travel guide
Solo travel guide to Brisbane
Exploring Adelaide the best way is a must-read
Important travel tips for Uluru trip
Melbourne travel guide for first timers is here.
Melbourne day trips in winter
Day Hikes in Melbourne
Weekend getaway? Check out things to do in Ballarat
Perth solo itinerary
Top 5 must do in Darwin, Australia
How to go from Dublin to Howth
Read a recent day trip to Zaanse Schans from Amsterdam
How about a solo itinerary to Canberra– Australia's capital city?
Solo trip to Peru, travel tips to South America
Travel tips to Central America
Bucket list to Croatia travel guide coming soon
Going to Vietnam after Australia? Check out the 7 days Hanoi travel guide.
Check hotel prices and book it through trusted Agoda, or Booking.com
I have detailed travel resources right here. Save money, learn what and how.
If you like this article, follow my adventures on Instagram, Facebook, YouTube, Twitter, and Pinterest, but most importantly sign up to my e-mail list to keep up with updates and travel posts!
Solo Female Travel To Budva, Montenegro