I am on a mission to travel to all 193 countries in the world (but not in a race, more like in a slow and steady fashion) and so far have traveled to 76 countries in 5 continents SOLO! Crossing 70 was a big milestone I achieved earlier this year because I worked hard, saved, and did these trips, and feel the joy of sharing my travels here. I would appreciate it if you share this blog post or repin it. So today, I am writing about 7 days itinerary in Georgia country where I road-tripped across the nation.
This 7 days itinerary in Georgia provides a well-rounded experience, combining the rich history and culture with trips to explore Kakheti – Telavi – Batonsi Tsikhe – Tsindandali – Sighnaghi – Tbilisi – Ananuri – Gudauri – Gergeti – Vardzia – Paravani, Akhaltsikhe followed by Rabati – Safara – Borjomi and Kutaisi.

It may seem like a lot in 7 days but this Georgia travel itinerary is designed by travel experts – read till the end to find out. Each day was filled with diverse activities, offering a taste of Georgian heritage, culinary delights, and breathtaking landscapes but also ample time to enjoy the spa, sauna, and relaxation.
Now let me share how it all went down. I have highlighted key places/foods throughout the blog, hope it's helpful. If not lmk and I'll remove it. I just want readers to have a good experience on the blog. Btw if you have any issues reading travel tips here, pls feel free to dm on IG.

Welcome to the cradle of winemaking, Georgia! This enchanting country is not just a place where wine is crafted; it's the very birthplace of this cherished elixir. With a history dating back over 8,000 years, Georgia stands as the proud guardian of ancient winemaking traditions. Here, vineyards stretch as far as the eye can see, producing a rich variety of grape varietals, and the locals' passion for wine is palpable in every vintage. Whether you're exploring the picturesque vineyards, indulging in the tantalizing flavors of Georgian cuisine, or immersing yourself in the stories etched into every wine bottle, Georgia offers a timeless journey through the world of wine like no other. So, raise your glass, and let's embark on an odyssey through the very soul of viniculture!
7 days itinerary in Georgia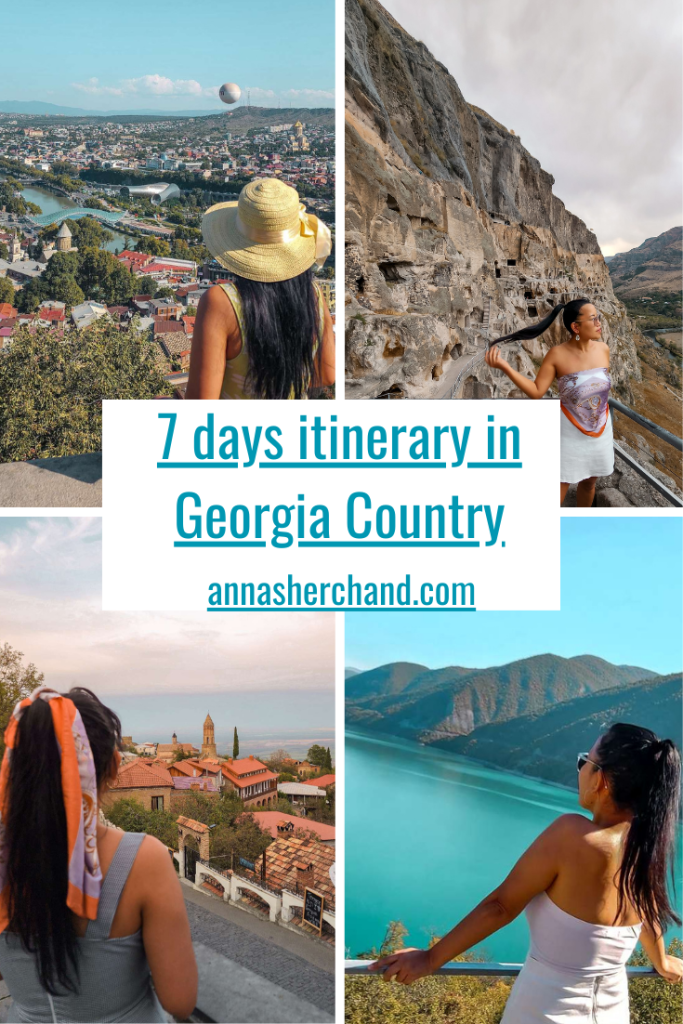 First of all, Georgia the country is located at the crossroads of Eastern Europe and Western Asia and as above is known for its wine, but also diverse geography, rich cultural heritage, and warm hospitality. Its landscapes range from the rugged peaks of the Caucasus Mountains to lush vineyards along the Black Sea, while its cuisine, highlighted by khachapuri and khinkali, is celebrated worldwide. I am also including which Georgian meals I ate every day below.
With a history dating back to ancient times, Georgia offers a tapestry of historical sites, including Mtskheta and Vardzia, along with a vibrant contemporary culture. This increasingly popular tourist destination also boasts modern conveniences, well-connected transportation, and the opportunity to explore both urban life in Tbilisi and the pristine natural beauty of Kazbegi National Park and more.
Day 1 Khareba Winery, Shoti Bread, and Georgian Snickers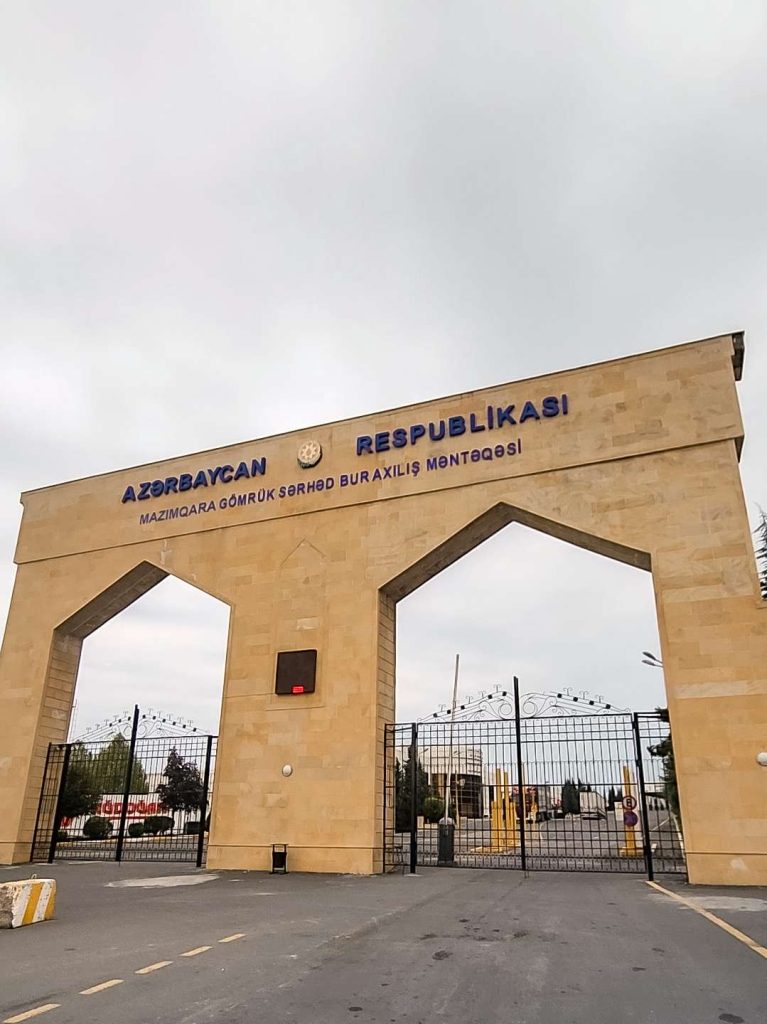 My morning was spent border crossing from Azerbaijan to Georgia. If you have read my 4 days in Azerbaijan itinerary you would know that I crossed the border from Sheki, Azerbaijan to Kakheti in Georgia. I have done numerous border crossings solo like when I traveled through Laos, Vietnam, and Thailand, or when I spent one month in Central America border crossing all 7 countries. So I understand how complicated the land crossing can get but this one was a breeze. Outside the border crossing gate in Azerbaijan, a small coffee owner offered a good rate so I exchanged my remaining Azeri Mantas for Georgian Lari aka gel. Walked through, scanned belongings, stamped out – stamped in.
The first stop for the day was Khareba Winery which is an absolute gem for wine enthusiasts and adventure seekers alike. Nestled in the heart of Georgia's picturesque Kakheti region, this winery offers more than just a wine tasting – it's a full-blown wine cave excursion that will make your taste buds tango with delight!
Imagine entering a labyrinth of caves carved into the hillside, lined with thousands of oak barrels filled with some of Georgia's finest wines. The air is cool and filled with that intoxicating scent of aging wine. The knowledgeable guides will take you on a journey through these underground cellars, sharing the winemaking secrets that have been passed down through generations. You'll get to witness the traditional Georgian winemaking process, which includes fermenting wine in massive clay vessels called "qvevri."
But the real magic happens at the tasting! Sip on a variety of wines, from the rich and robust Saperavi to the golden and aromatic Rkatsiteli, all while surrounded by the ancient ambiance of the wine cave. The experience is not just about the wine; it's about immersing yourself in the history, culture, and passion that has been poured into each bottle.
Whether you're a seasoned wine connoisseur or just curious to try something new, Khareba Winery's wine cave excursion is an unforgettable adventure that will leave you with a newfound appreciation for Georgian wine and a heart full of cherished memories.
After wine tasting, it was time to learn how to make Shoti and Georgian Snickers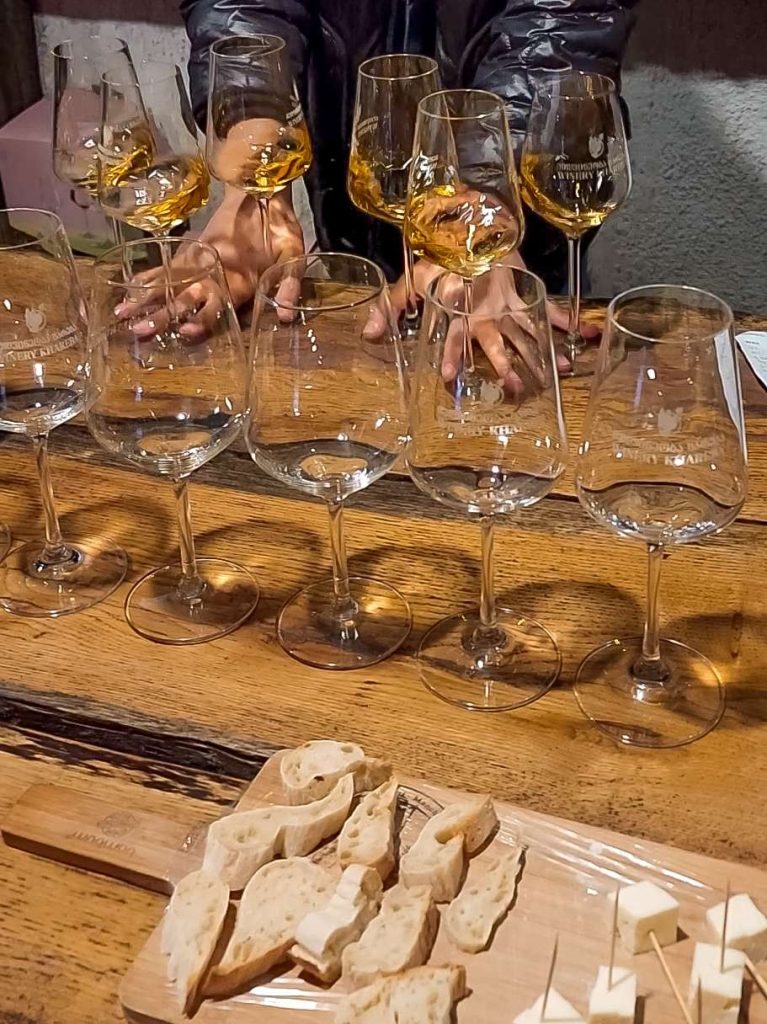 Shoti and Tone bread are traditional Georgian delicacies, both born from the flames of a special clay oven known as a 'tone.' Picture a cylindrical oven with openings at both ends – one end sits on the ground to create an open fire, while the other is used to deftly slap the dough onto its walls.
Now, let's dive into the bread itself. There are two distinct varieties – Shoti and Tone. Shoti bread is uniquely shaped, resembling a half-moon with a soft center and a delightful crust at its ends. Tone, on the other hand, can take on a round or boat-like shape and boasts a noticeably softer texture compared to Shoti.
And here's a helpful tidbit: if you're seeking these mouthwatering loaves at your local Georgian bakery, simply ask for 'Erti (one) tonis puri.' With these insights, you'll be savoring the authentic taste of Georgia's bread culture in no time!

Churchkhela embodies the essence of Georgia's culinary traditions. In this land, walnuts are as plentiful as the air, thriving in numerous backyards and playing a role in nearly every Georgian meal. Grapes, covering every yard and adorning charming old houses with their laced balconies, provide not just welcome shade in the summer but also yield delightful snacks, juices, and wines throughout the year. The art of crafting churchkhela is a labor of love, often humorously referred to as the 'Georgian Snickers' by friendly expats.
Authentic churchkhela should be tender and chewy on the inside, a delightful contrast to the often overly hard varieties peddled in tourist hotspots. You'll encounter these vibrant, multi-colored treats for sale throughout Georgia's touristy spots, as well as in Armenia (where they go by the name 'sudjuk') and southern Russia. However, in the comfort of people's homes and certain cafes, you'll also be treated to pelamushi, a lighter and fresher variation of chuchkhela, made from grape juice boiled with flour and garnished with shaved walnuts. A taste of true Georgian goodness.
It was time to check in at the hotel so,
Where did I stay in Telavi?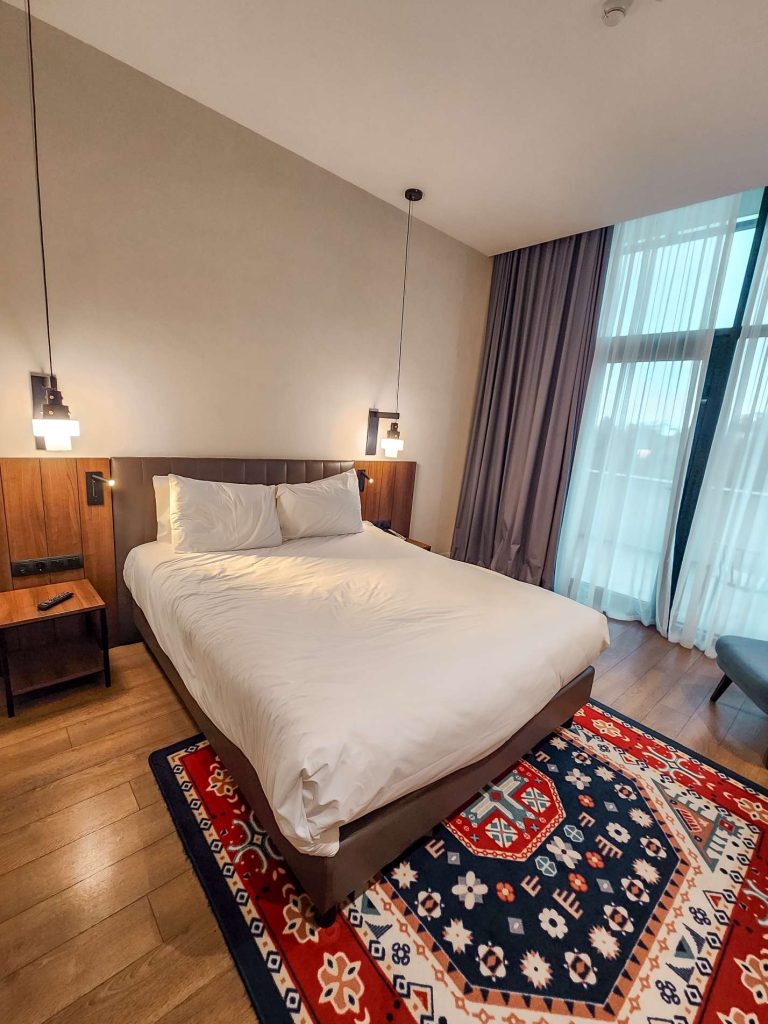 My stay at Holiday Inn Telavi, an IHG Hotel here was fantastic! The hotel offered a perfect blend of comfort and convenience. The room was clean, and spacious, and provided a relaxing environment after a day of exploring Telavi and the surrounding region. The staff was friendly and helpful, ready to assist with any requests or questions. The on-site restaurant served delicious Georgian and international cuisine, and the breakfast buffet was a great way to start the day. I particularly enjoyed the beautiful views from the hotel's pool terrace.
For dinner, I savored a delightful combination of Kharcho, a spicy and rich Georgian soup infused with tender beef, and Ajapsandal, a medley of capsicum and eggplant. The Kharcho provided a satisfying kick with its spicy notes and hearty meat, while the Ajapsandal's flavors were a perfect complement. To round off the meal, I enjoyed a refreshing cucumber and tomato salad with a special walnut paste that added a cool, crisp contrast to the spicy and savory dishes. It was a scrumptious Georgian dining experience!
Alternatively, have dinner at many other restaurants nearby (I tried but none would take CC apart from the hotel) and hang out at the Cheese bar in town as locals do.
Day 2: Telavi Viewpoint, Museum, Wineries, Sighnaghi City of Love!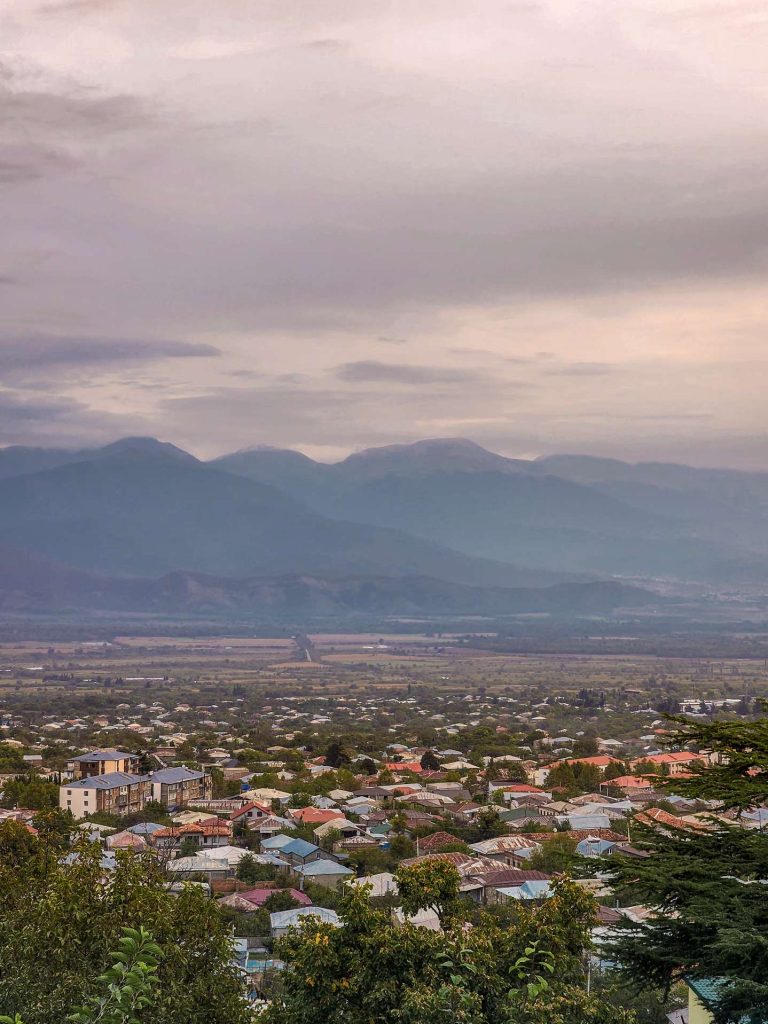 The morning kicked off with a sunrise walk to the Telavi Viewpoint, a little adventure that wasn't part of the tour but turned out to be just a 20-minute walk from my hotel. After working up an appetite, I headed back to the Holiday Inn for a delicious breakfast which is included with the stay. Lots of things to choose from, I will be sharing it all on my Instagram so you can check them out.
Next on this Georgian road trip was a visit to the Telavi Historical Museum and the magnificent King Erekle II Palace. I will leave information about the artifacts of the museum and the story behind the Palace for your own visit. Will still share what it looks like on Instagram though so make sure to check them out there if you are interested. Then, the tour continued to the Tsinandali estate, once owned by the renowned Georgian dynasty, the Chavchavadzes. It was fascinating to explore the estate's unique labyrinth with exotic trees and its wine cellars with a collection of both Georgian and European wines. In the garden, there was a big wishing tree as well and our guide Ia got us some ribbons to wish and tie it on the tree!
Lunchtime called for a visit to the Shumi winery, where I relished a traditional Georgian salad called "Velispuri." It's basically baked chicken breast pieces cooked with red beans, pickles, and vegetables, all seasoned with Georgian spices and Kakhetian oil. What a refreshing culinary experience!
I also had the incredible opportunity to participate in wine pressing – a truly hands-on experience involving boots!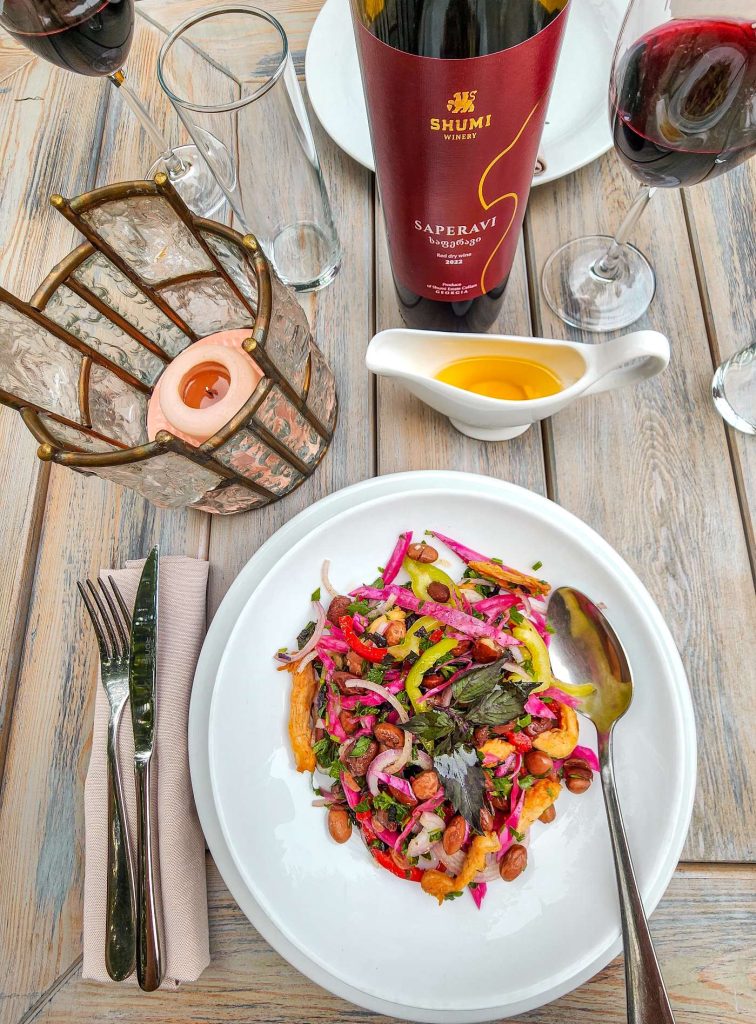 Later, I found myself drawn by the charming architecture and relaxed atmosphere of Sighnaghi old town known as the "City of Love."
One of the key reasons for this romantic nickname is the town's stunning scenic beauty. Sighnaghi is perched atop a hill in the Kakheti region, offering breathtaking panoramic views of the Alazani Valley and the majestic Caucasus Mountains. This natural backdrop, with its rolling vineyards and lush landscapes, creates a romantic atmosphere that entices couples and lovers.
Adding to the town's romantic allure is its charming architecture. Sighnaghi's buildings reflect the architectural style of the 18th and 19th centuries, with well-preserved structures, romantic balconies, and colorful facades. This architectural legacy imparts a timeless and romantic ambiance to the town, making it a magnet for those seeking an enchanting escape.
Furthermore, Sighnaghi has become a popular wedding destination. Its historic charm and the romantic backdrop of its scenic surroundings make it a dream location for couples looking to tie the knot in a picturesque setting. It's not uncommon to see wedding parties celebrating their love in the town's charming streets.
In addition to the town's physical attributes, the romantic reputation of Sighnaghi is also tied to the love story of King Erekle II and his French wife, Queen Marie-Thérèse. Their relationship is considered a symbol of love and unity between Georgia and Europe, further cementing the town's status as the "City of Love."
In summary, Sighnaghi's breathtaking landscapes, charming architecture, popularity as a wedding destination, and the historical love story of its monarch contribute to its well-deserved title as the "City of Love."
Where to stay in Tbilisi?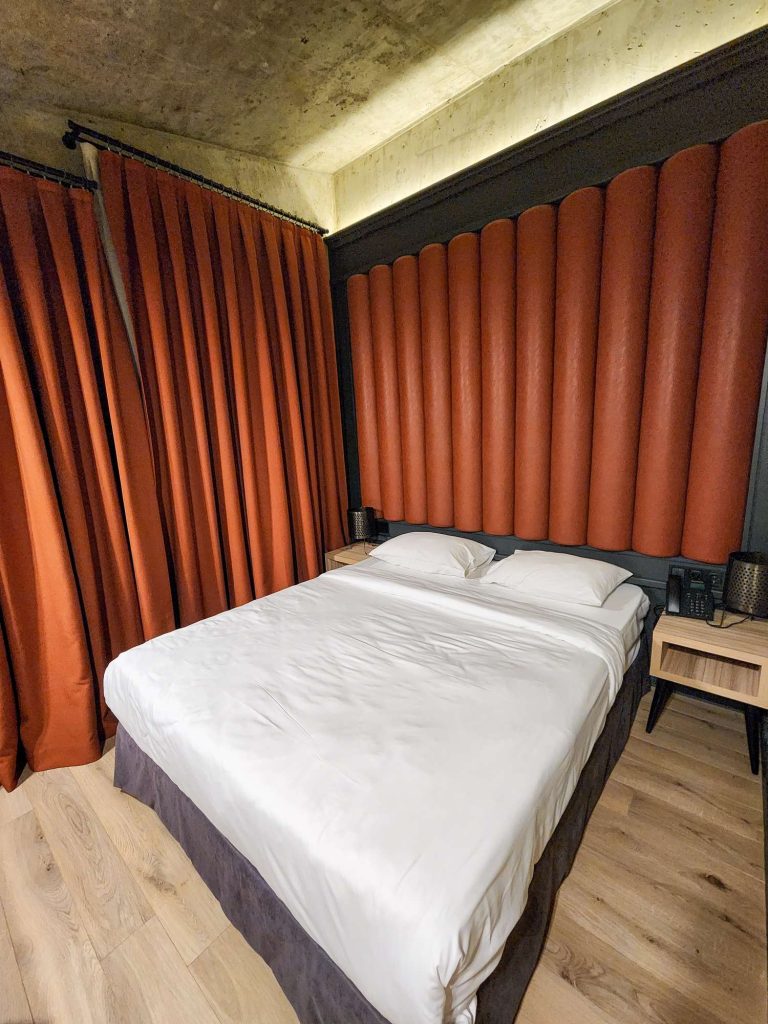 Finally, wrapped up the day in Tbilisi at the lovely Sandali Metekhali Boutique Hotel. Feeling a bit tired, I decided to order dinner through their local food delivery app (Uber Eats does not work in Georgia but they have Wolt and Glovo), and the Georgian Khinkali with adjika sauce (chili paste) was a delightful treat to end the day. What a day of adventure, discovery, and fantastic Georgian cuisine!
I stayed at Sandali Hotel for 3 nights and it was memorable! The receptionists were warm, welcoming & friendly. The view from the rooftop terrace was gorgeous and what really stood out was the breakfast – it was the best I've had so far in Georgia. The hot dishes were made to order, and I couldn't resist the sunny-side-up eggs with bacon, the flavorful buckwheat with veggies, and the delightful crepes drizzled with honey. The combination of exceptional service and delicious breakfast made my experience at this boutique hotel truly memorable.
What and where to eat in Tbilisi?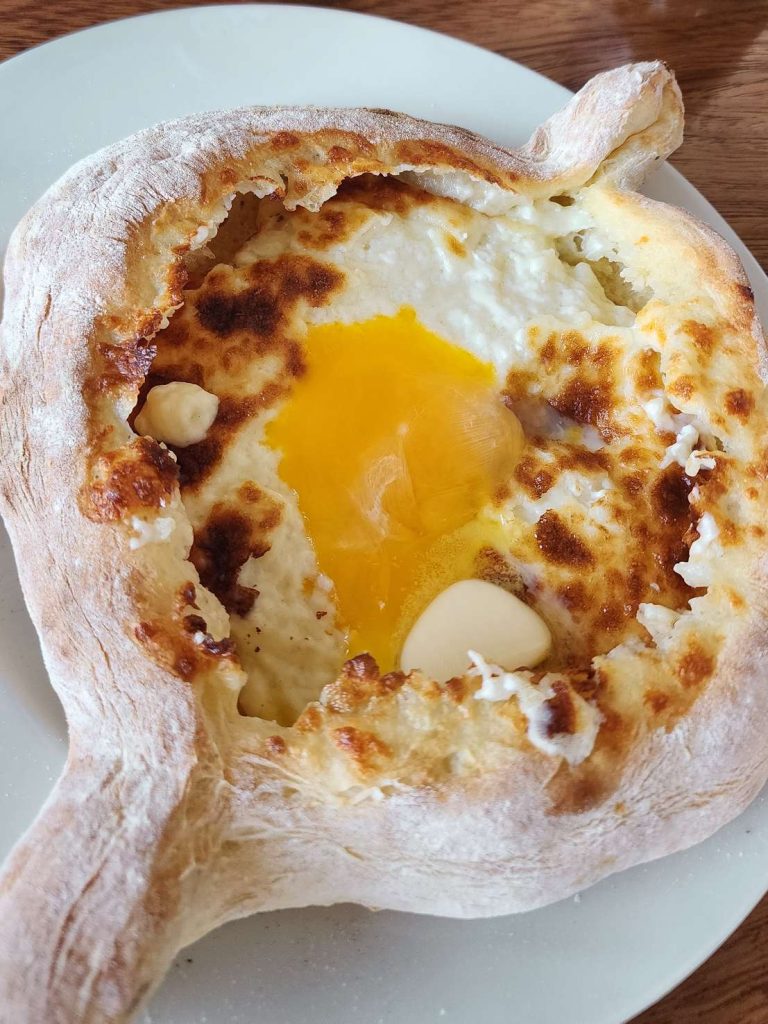 When it comes to dining in Tbilisi, you're in for a culinary adventure that's not just delicious but also budget-friendly. Locals have their favorite haunts, and two names that often come up are "Ghebi" and "Panas." These beloved dining establishments have won the hearts and taste buds of many for their scrumptious and authentic Georgian cuisine. The best part is, they won't break the bank.
Ghebi and Panas provide a true taste of the local food culture, where traditional Georgian dishes take center stage. You'll find classics like khachapuri, a delightful cheese-filled bread that's practically a national treasure. Then there are khinkali, hearty dumplings filled with meat or vegetables, and various dishes that celebrate the flavors of Georgia, featuring both meats and fresh vegetables.
Now, if you're looking for a more upscale dining experience and want to explore the best that Tbilisi has to offer, you'll want to check out "Shavi Lomi". This restaurant is renowned for its innovative take on Georgian cuisine, offering a contemporary twist on traditional dishes without losing their authentic charm.
Here are a few must-try Georgian dishes you'll encounter: (more pictures below)
Khachapuri: Various regional styles of this delectable cheese-filled bread are a Georgian staple.
Khinkali: Hand-rolled dumplings stuffed with spiced meat or vegetables.
Satsivi: A rich, nut-based sauce served with poultry, often chicken.
Mtsvadi: Skewers of succulent grilled meat, typically pork or beef.
Badrijani Nigvzit: Slices of fried eggplant filled with a flavorful walnut paste.
Chkmeruli: Chicken cooked with garlic and milk for a creamy, garlicky delight.
Lobio: A hearty stew of red beans, often spiced with herbs and spices.
Pkhali: A variety of vegetable dishes prepared with walnut sauce and spices.
So whether you're on a budget and looking to dine like a local or ready to indulge in a gourmet Georgian feast, Tbilisi has a wide range of culinary experiences waiting for you. From street food to fine dining, the flavors of Georgia are sure to leave a lasting impression.
Day 3: Tbilisi City Tour, Narikala Fortress, Mother of Georgia viewpoint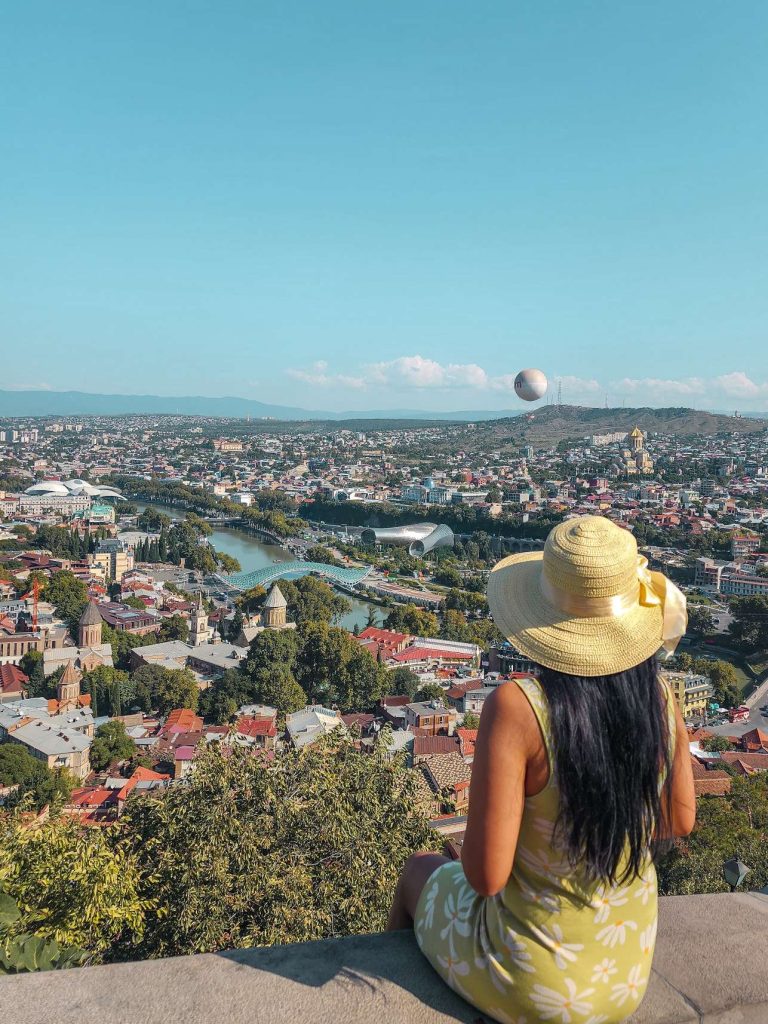 What a way to kick off the day with an amazing breakfast at Sandali Metekhali Boutique Hotel! Fully fueled and ready to explore, it was time to dive into the vibrant heart of Georgia – Tbilisi, the capital city.
Tbilisi is a captivating blend of the old and new, where modern architecture meets historic charm. The city's rich history and diverse culture make it a must-visit for travelers.
The first stop on Day 3 of 7 days itinerary in Georgia was at the Metekhi Virgin Mary Assumption Church, perched on a cliff overlooking the Kura River. This iconic church is not only a stunning example of Georgian architecture but also holds deep historical and religious significance. It has witnessed centuries of the city's evolution and is a symbol of the enduring spirit of Tbilisi.
The second stop on to day itinerary was an exciting adventure taking the Tbilisi Cable Car. This thrilling journey connects Rike Park (or more precisely Europe Square) to the majestic Narikala Fortress, offering panoramic views of the city along the way. The fortress, with its ancient walls and commanding presence, has been a guardian of Tbilisi's history for centuries.
From the fortress, we descended to the old city, where the sulfur baths were. These historic baths are not just places to unwind but also a testament to Tbilisi's long tradition of communal bathing.
A quick note for fellow travelers: The cable car ride from Rike Park to Narikala is not only a scenic treat but also an affordable one, with a one-way fare of just 2.5 Lari, and you'll need the "Metromoney" card for this exciting experience. But if you are on an Arara tour, it is included.
As we continued our journey through Tbilisi, we enjoyed a leisurely riverside stroll. Along the way, we encountered a lively scene – locals showcasing their exquisite handicrafts, a talented musician filling the air with melodic tunes, and another individual deeply engrossed in fishing. It was a delightful reminder of the city's vibrant and diverse culture. The charming bridge that crossed our path was adorned with countless love locks, offering a picturesque setting for travelers and locals alike to take in the beautiful views while leaving their own lasting memories.
A surprising delight awaited us – wine ice cream! Yes, you heard that right. Tbilisi offers unique flavors, and wine-infused ice cream was a refreshing twist on traditional treats. The Median Bazaar aka the historical shopping center was our next stop, offering a chance to pick up some local treasures in the city's underground bazaar.
Within the town, you'll find a bustling array of bars and restaurants, each with its own unique character and charm. Some of these spots sport intriguing names, like "Cafe Alcoholic" adding a quirky touch to the local dining scene. As we explored further, we couldn't help but notice a collection of witty quotes that playfully encourage the enjoyment of wine. For instance, one sign humorously declared, "Alcohol may be man's enemy, but the Bible says to love your enemy" – a sentiment famously attributed to Frank Sinatra.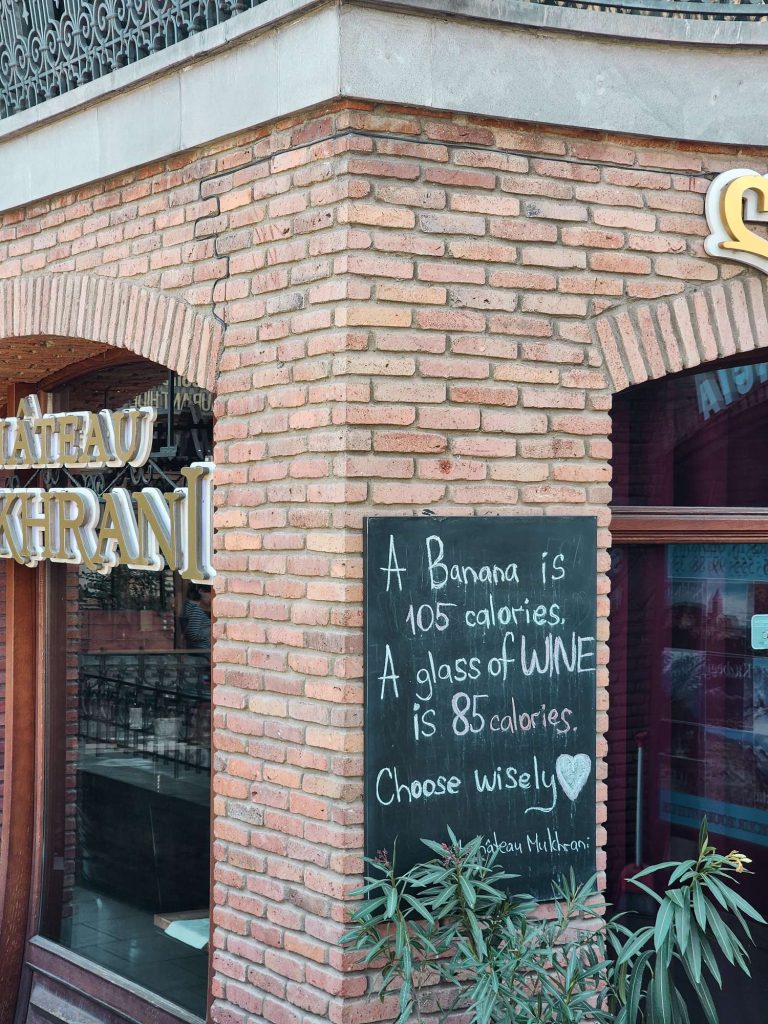 Another street sign whimsically quipped, "I'm not drunk." These amusing touches added a lighthearted touch to the town's atmosphere, leaving us with a smile, even if we pondered their broader impact. It's an interesting aspect of the local culture that certainly adds a unique flavor to the experience.
The next stop was the Georgian National Museum to dive into the country's rich history, followed by some souvenir shopping to remember our time in Tbilisi.
After our museum visit, we set out for a busy walk across the Bridge of Peace, an architectural marvel in its own right. This modern bridge, resembling a giant glass harp, connects the old and new parts of Tbilisi and is known for its stunning design. Nearby, I couldn't resist trying a glass of pomegranate juice, a beloved local favorite that provided a refreshing break.
Our journey then led us to the iconic Freedom Square, a historic and cultural hub in Tbilisi. Here, we embarked on a funicular ride that would transport us to the Mother of Georgia viewpoint. The panoramic views from this vantage point were nothing short of breathtaking, with the colossal statue of the Mother of Georgia serving as a symbol of the country's spirit and strength. Her outstretched hand holds a bowl of wine to welcome friends and a sword to fend off enemies, encapsulating the enduring Georgian hospitality and resilience.

At the top of Mount Mtatsminda, there was a cafe, I couldn't resist savoring a delightful snack like Georgia's savory pie and walking around Mtatsminda Mount. It is a landscaped park overlooking Tbilisi and the park has carousels and water slides. I also saw a Ferris wheel and could see a towering TV tower nearby, showcasing the city from new heights.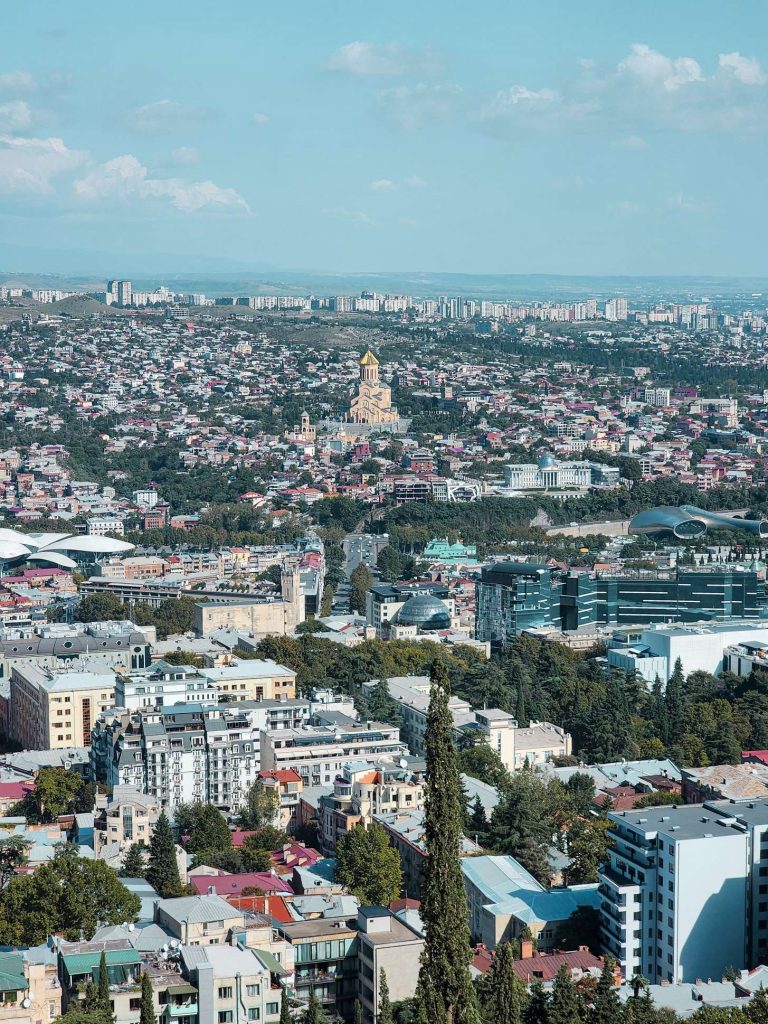 The final stop of our day's journey brought us to The Giorgi Chitaia Open-Air Museum of Ethnography, an interesting outdoor space where we delved even deeper into the tapestry of Georgia's rich and diverse culture. Here, among an array of traditional houses, each representing different regions of the country, we immersed ourselves in the stories and customs of Georgia's various ethnic groups. It was a fascinating visit that left me with a profound appreciation for the nation's cultural heritage.
Returning to Sandali Hotel with a view of the river was a perfect end to the day.
My dinner was a true Georgian feast – Ojakhuri with chicken, accompanied by some fiery adijka (chili paste) and bread. The night ended with a leisurely walk back to my hotel, taking in the sights and sounds of this charming city under the stars. What a memorable day in Tbilisi, filled with culture, cuisine, and stunning vistas!
Day 4: Zhinvali, Ananuri, Gergeti with Kazbez view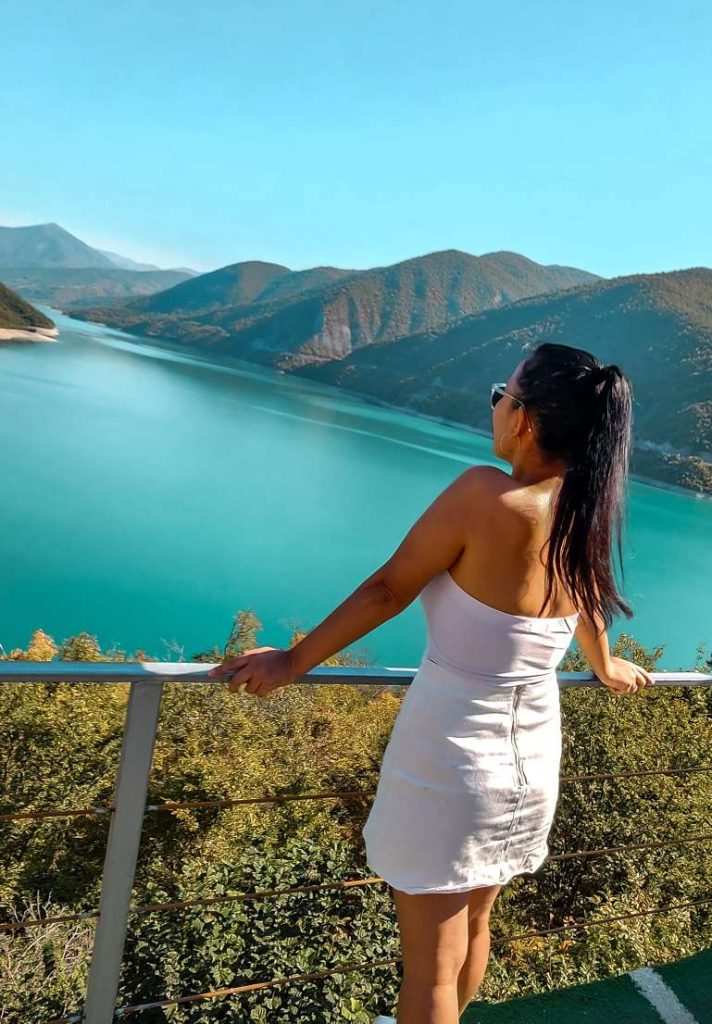 Today started with an irresistible order for a freshly made hot breakfast again, setting the tone for another day of adventure. Our first stop led us to the breathtaking Zhinvali Reservoir and the enchanting Ananuri Fortress, nestled in a stunning location on the reservoir's shore, embraced by lush, velvety hills. Founded in 1720, this fortress served a vital defensive role in the region's history, standing as a testament to Georgia's rich past.
Our journey continued to the renowned Gudauri resort area, a hub for both winter and summer activities, making it one of Georgia's most popular destinations.
Next on this 7 days itinerary in Georgia, we visited the Dariali Monastery and Gorge, which also houses a winery. Wine made by the monks and a few other handicrafts.
After exploring the tranquil grounds, lunch was at Panoramic Kazbez restaurant and I enjoyed a delicious spicy rice with veggies and Chicken salad (pic below) which came on a plate as little balls! Tasty though, and all while enjoying the panorama of Kazbez Mountain.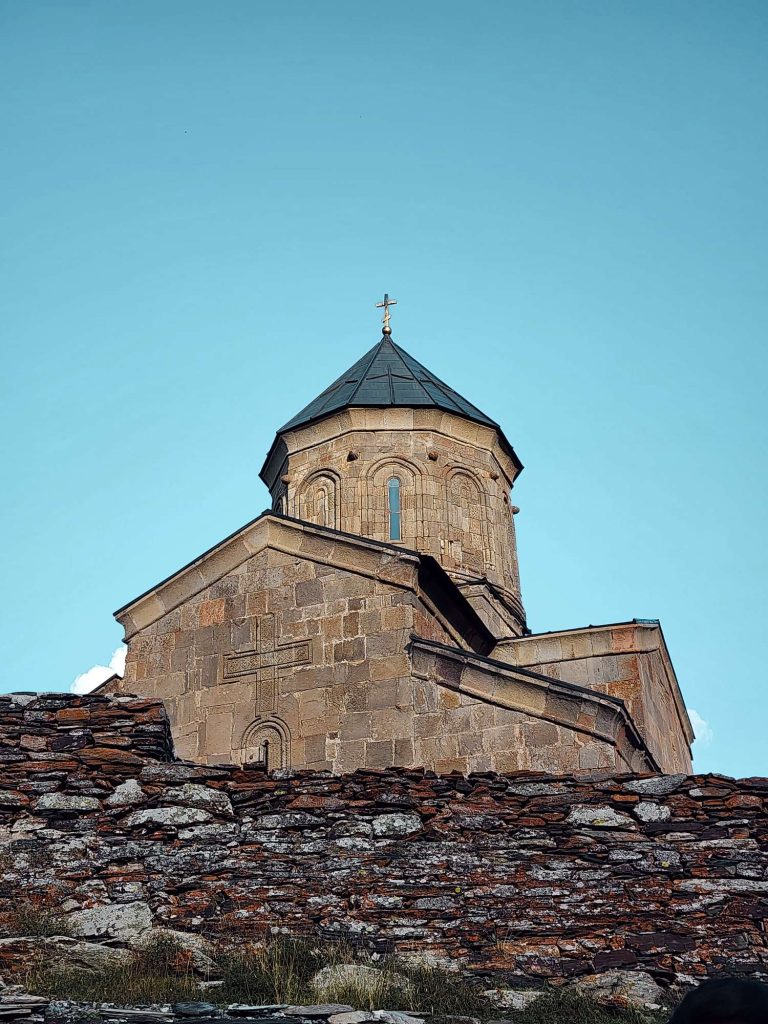 In Stepantsminda settlement, our journey led us to the captivating Gergeti Church, an architectural gem perched atop a picturesque hill. As we ascended the hill, the landscape unfolded in a breathtaking symphony of fall colors, forested slopes, and the rugged beauty of the Greater Caucasus Mountains.
The Gergeti Church has long been a symbol of spiritual refuge and a testament to the harmonious coexistence of Georgian Orthodoxy and the awe-inspiring nature that envelopes it. This historical church, known as Gergeti Trinity Church or Tsminda Sameba, traces its origins back to the 14th century. It holds immense significance in Georgia's religious and cultural heritage, serving as both a place of worship and a symbol of the enduring spiritual connection between Georgians and their stunning natural surroundings.
The church's elevated location offers more than just a place for prayer; it provides a sanctuary with panoramic views that defy mere words.
The view from this vantage point not only showcases the beauty of the Georgian landscape but also unveils the iconic, snow-capped Mount Kazbek in all its grandeur. This majestic peak of 5,054 m, is a dormant stratovolcano and one of the major mountains of the Caucasus which has captured the imagination of countless visitors and is a source of inspiration for artists, writers, and adventurers drawn to Georgia's pristine wilderness.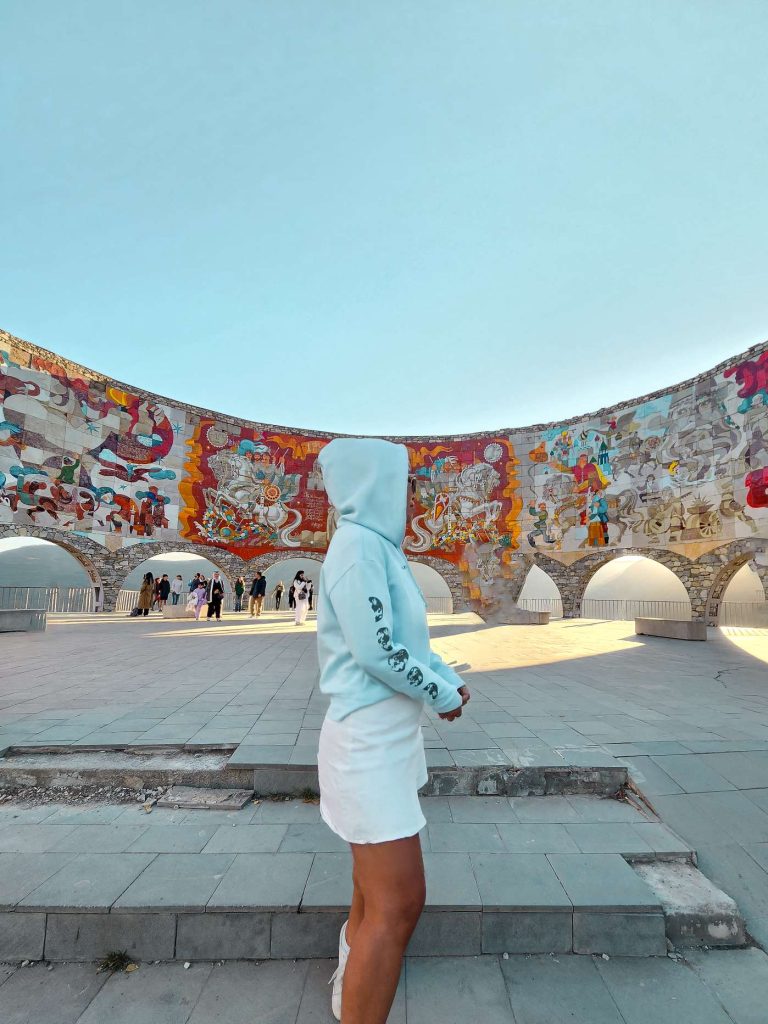 Our final destination was the Church of Transfiguration, where we were again treated to more magnificent views and landscapes. This church, with its own storied history, added to the day's enriching cultural experience.
Returning to the comfort of the Sandali Hotel and its inviting beds was a welcome respite. Dinner was a delightful affair, featuring Ostri soup and Khinkali, a flavorful conclusion to a day filled with historical wonders and stunning natural beauty.
Day 5. From Paravani, Vardzia Historical Architectural Museum to Akhaltsikhe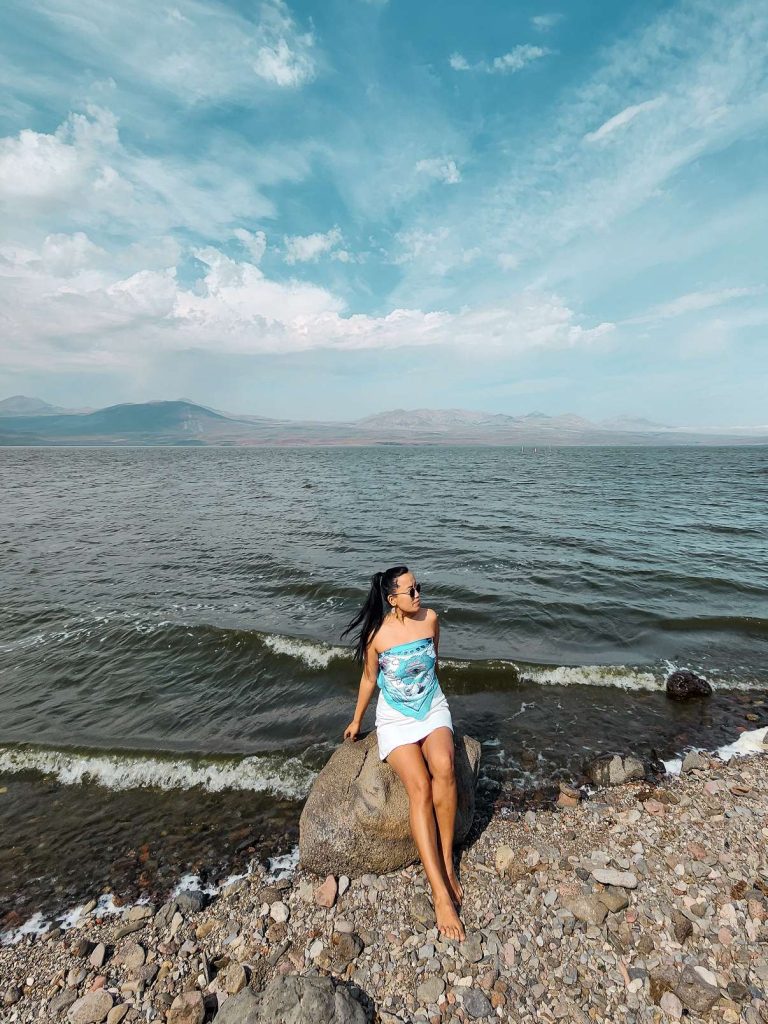 Today was a champagne/wine breakfast at Sandali, a lovely surprise to start the day! Along with the usual hot, made-to-order food was the name of the game, and it easily clinched the title of the best breakfast I've had in Georgia. It was a 4-star experience I didn't know I needed.
Our first stop was at the largest lake in Georgia, Paravani. Even on a windy day, its beauty shone through. Next, we headed to a unique place. Picture this: a charming church with a history that runs deep, paired with the Monastery of St. Nino, where local nuns manage a small dairy. Here, you can discover a diverse array of cheeses that you won't find anywhere else in Georgia. The nuns' cheese-making tradition has created something truly special.
Along the way, we couldn't help but notice birds' nests perched atop electrical poles, and it got me thinking about why they chose such a location. Perhaps it's for the excellent vantage point or added safety? Nature's mysteries always leave us with intriguing questions.
Lunchtime brought the joy of Mchadi served with Ajapsandal, a delicious combination that hit all the right spots. It's one of my fav Georgian meals.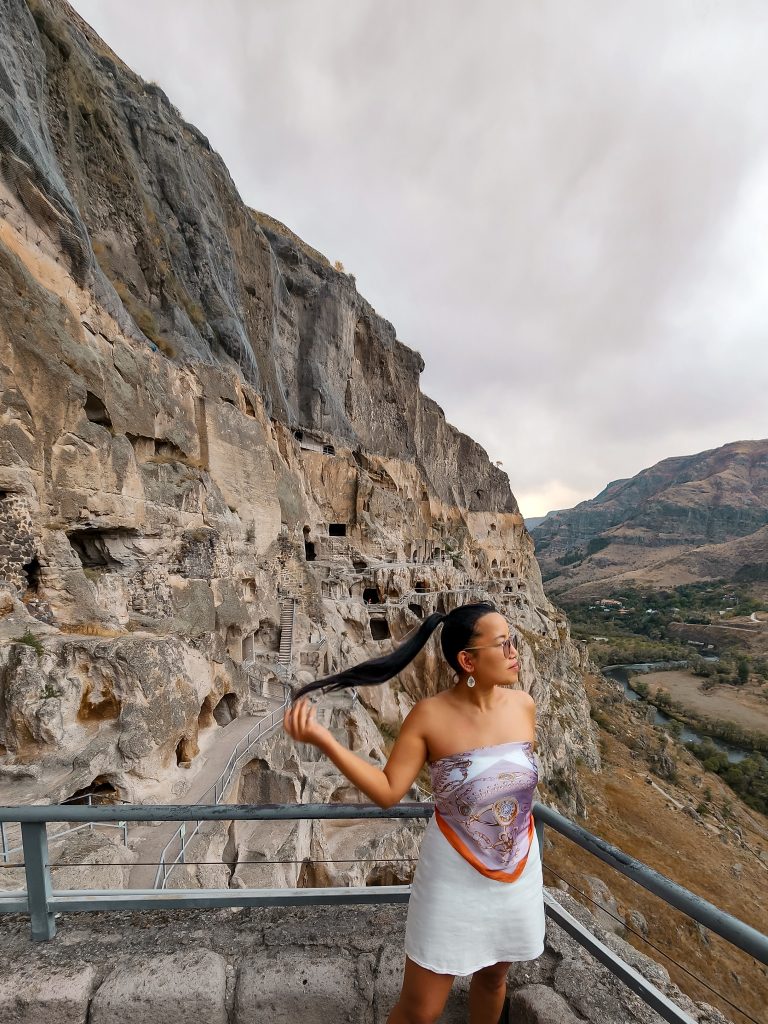 But the most anticipated part of the day was a visit to the Vardzia Historical Architectural Museum-Reserve. This place is a historical treasure trove going all the way back to the 12th century, and its significance in Georgian history is immense. A little hike up from the base and you will see it's not just a cave city; it's a living testament to centuries of culture and resilience. It was initially built by Queen Tamar to house the monks during the Mongol invasions but now it has been mostly empty for years apart from a couple of caves where a few monks still live today.

I have seen something similar before but not to this extent of organization and well-planned structure. They had thought of everything, from space for the kitchen to bread making to wine to sleeping areas and more. Very Impressive. This has been one of the highlights of my Georgia itinerary. Hopefully, no one opens an Airbnb there!
Our final destination was the Khertvisi Fortress, which dates back to the 10th century but it was closed unfortunately. Its ancient stones echoed with stories of battles and bravery, a window into the past that never fails to captivate.
Where to stay in Akhaltsikhe?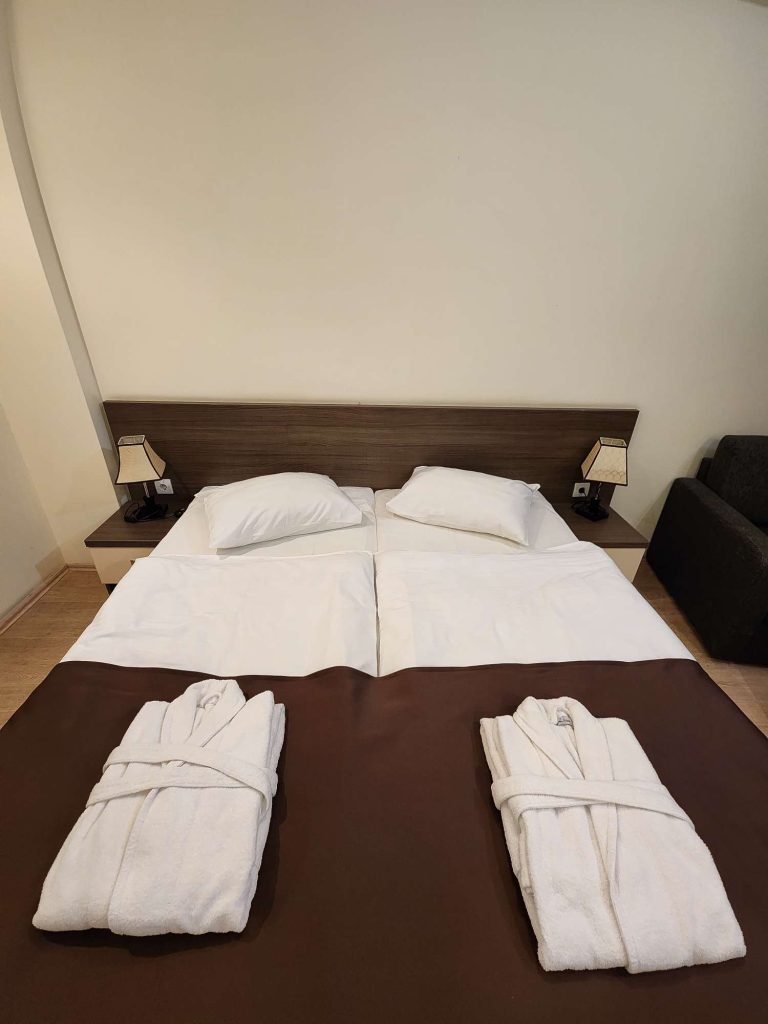 As the day wound down, I checked into the Hotel Rabat Gino Wellness in Akhaltsikhe, with its 6-7 different steam rooms /spas offering a welcome respite. Some I remember are the Roman steam room, Salt steam room, Herbal room, feet tank, Sauna, Jacuzzi, and the refreshingly Chill cold bucket water where you pull the string and the bucket pours that cold water all over you! I enjoyed that so much after sitting in the sauna for a while. Although no water was offered in the room, it was complementary at the spa.
Feeling all refreshed, dinner at the restaurant was Ojakhuri providing just the right amount of comfort food.
Although I stayed only 1 night, the staff I spoke to at the reception, restaurant, and onsite were all friendly and helpful. The hotel was clean and the room had a lot of space plus a balcony.
To finish off this wonderful evening, I went for a little night walk at the top of one of the Fortress towers right next to the hotel. It is free for the public but suggest bringing a torch or charged phone with light. The fortress, standing proudly against the night sky, made for a dramatic backdrop to wrap up another day of exploration and discovery.
Day 6. Exploring Rabat Fortress, Akhaltsikhe to Kutaisi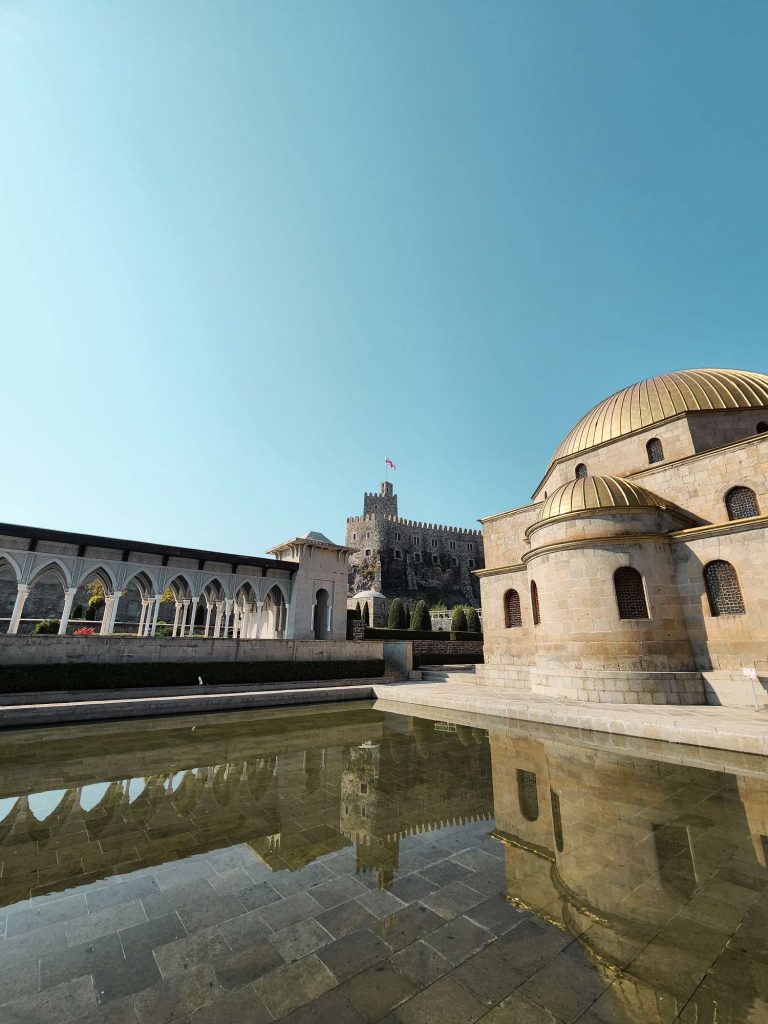 As the sun painted the sky with shades of morning, I enjoyed a satisfying breakfast at Hotel Rabat Gino Wellness. However, it came with a slight disappointment—no made-to-order hot food. Lukewarm pancakes and supposedly hot dishes left me yearning for the previous culinary delights but still highly recommend the Spas.
Today's first stop was a true gem: Rabat Fortress. This recently renovated stronghold looms over the charming town, a testament to its rich and resilient history. Through the centuries, it weathered devastation, desolation, and the rebuilding of churches. Not all of the original structures survived, but thanks to an ambitious renovation project, the fortress has transformed into an impressive and beloved tourist attraction. Its sprawling territory covers no less than about 7 hectares, making it a captivating place to explore. Don't miss the museum on the premises to dive deeper into its intriguing past.
A little stop at another local monastery and lunch awaited on the way to Safara, where Georgian beef soup Kharcho and Kebabs fueled my adventures.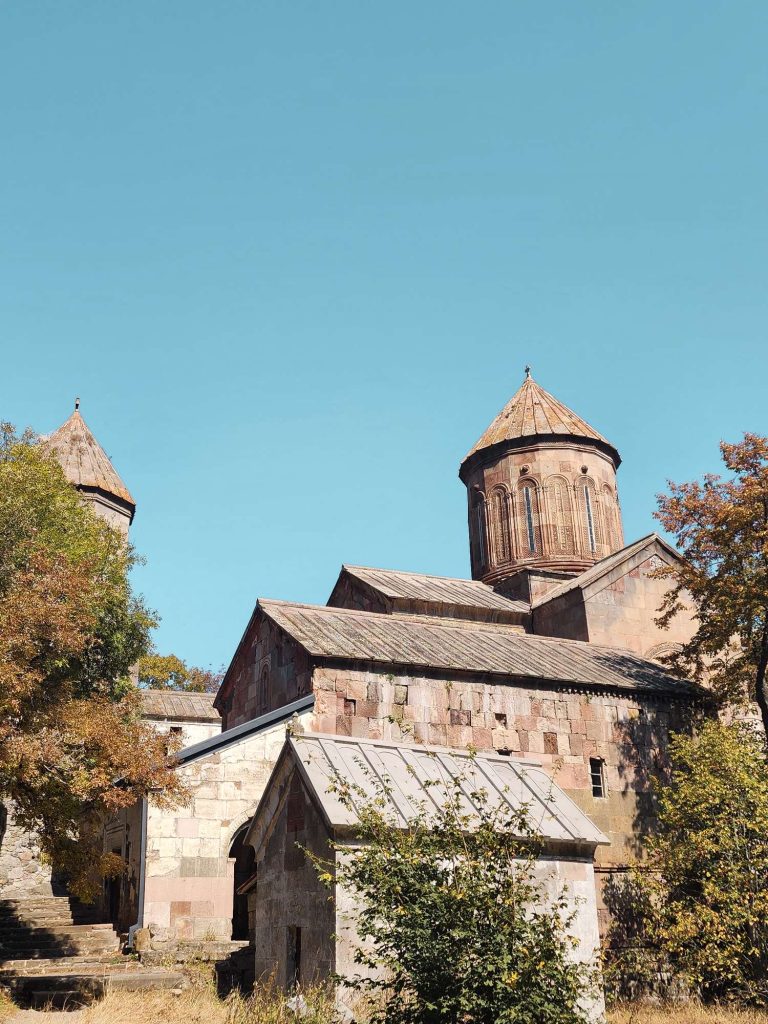 Our next stop was equally refreshing. Ekaterina Spring, dating back to 1841, beckoned us to taste its world-famous mineral waters. Nestled within the Mineral Water Park, we explored not only the springs but also discovered scenic waterfalls that added to the park's charm.
A surprise awaited me when we stopped for a loo – restrooms that you can enter with a Visa card. Convenience at its finest!
A well-deserved tea break with some snacks re-energized us before we headed to Kutaisi.
Positioned 221 kilometers (137 miles) west of Tbilisi, Kutaisi city takes pride in being the capital of the Imereti region. Imereti is known among locals for its rich cultural heritage and historical significance, making it the ideal place to delve into Georgia's past.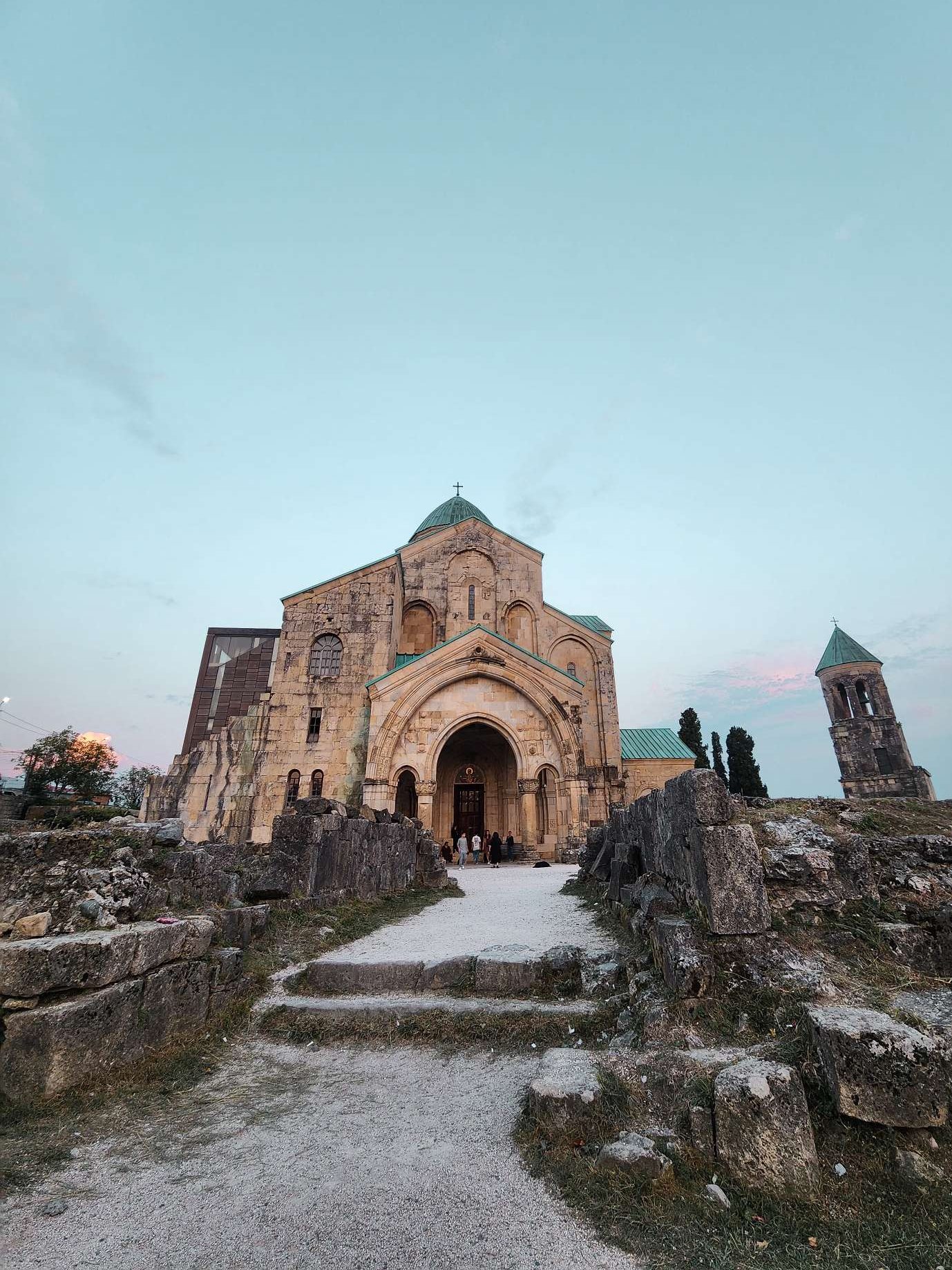 Once arrived we went to the Cathedral of the Dormition, or the Kutaisi Cathedral, more commonly known as Bagrati Cathedral, a historic and architectural marvel that used to be one of Georgia's UNESCO world heritage sites but it is no longer because Wiki tells me UNESCO removed Bagrati Cathedral from its World Heritage sites in 2017, considering its major reconstruction detrimental to its integrity and authenticity. With that being said, behind the cathedral is an open field where you can walk up to the edge and have a pretty cool view of Kutsai town; so still worth it to stop by.
Where to stay in Kutaisi?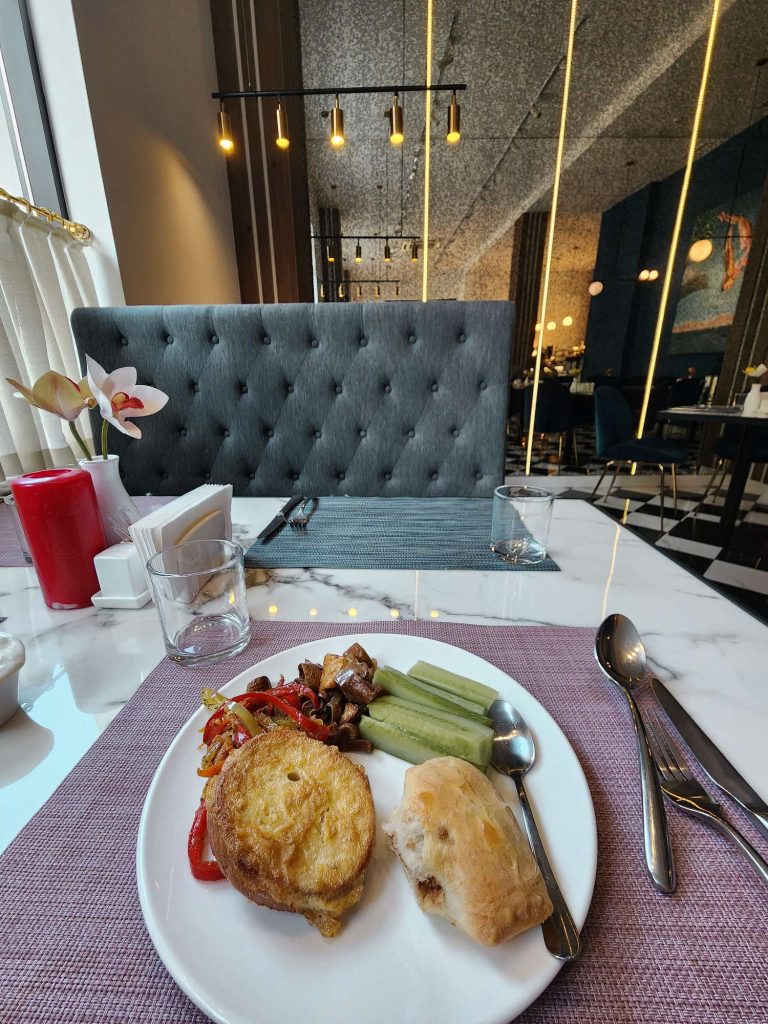 After the beautiful sunsets, it was time to check into Newport Hotel Kutaisi for the night. Sharing a room tour on my Instagram. It was a delightful choice for an overnight stay in Kutaisi. This chic hotel boasts modern decor and a comfortable ambiance, making it a pleasant place to unwind after a day of exploration. The staff was friendly and accommodating, ensuring a pleasant and hassle-free experience. Overall, it provided a cozy and convenient retreat during my time.
On a side note, they have a beautiful big open terrace where you can see Bagrati Cathedral (middle pic above) and its surroundings.
What/where to eat in Kutasi?
In the evening, I strolled to the renowned Three Sisters Restaurant, but it was fully booked, so booking in advance is advisable. However, the illuminated Kolkha Fountain in the city center cast its own spell, adding a touch of magic to the night. On the side, I noticed there was a McDonald's too if you are craving that!
With dinner plans shifted, I enjoyed a delightful meal at the Hotel New Port restaurant, where I savored Georgian Pkhali and Mchadi, (pic above) capping off another day of discovery and exploration.

As mentioned earlier in the post, Pkhali, often referred to as mkhali, is a beloved traditional Georgian dish. It features a medley of finely chopped vegetables such as cabbage, eggplant, spinach, beans, and beets. These veggies are harmoniously blended with ground walnuts, along with a flavorful combination of ingredients including vinegar, onions, garlic, and an assortment of aromatic herbs. What unites all variations of Pkhali is the delectable puréed walnut sauce that adds a rich and distinctive taste to this Georgian culinary classic.
Day 7 Kutaisi Unveiled – From Gelati Monastery to Dinosaurs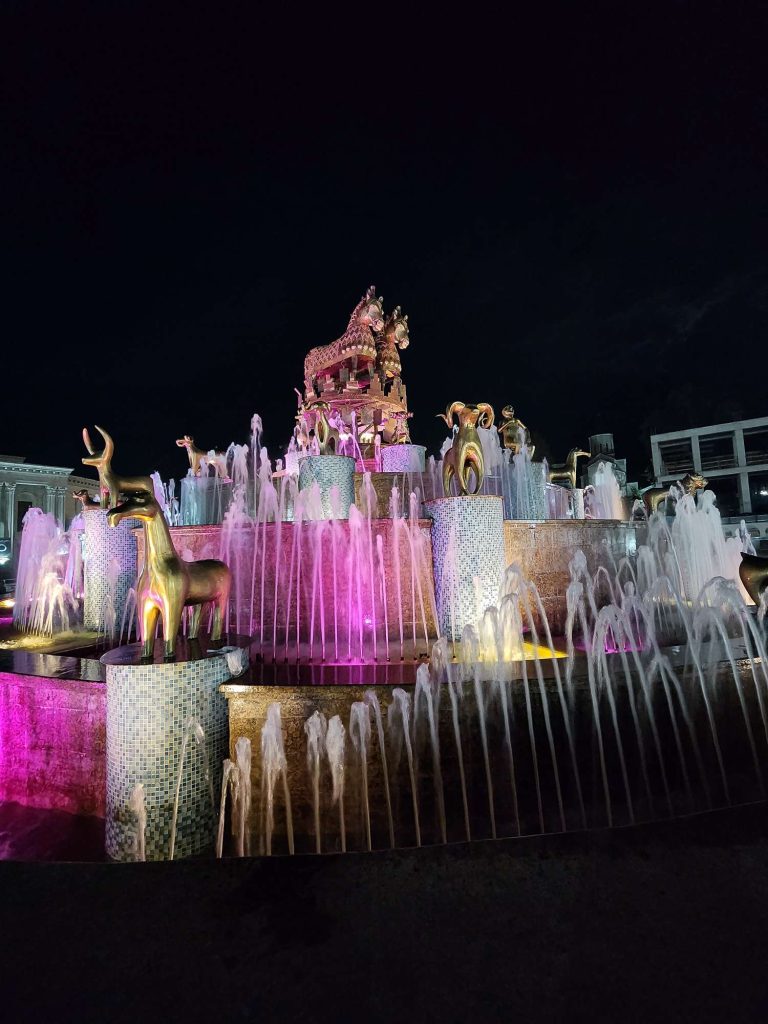 The day began with a hearty breakfast at Hotel New Port, offering an array of delectable choices. While the food was served hot and appetizing, it seemed there was no made-to-order menu. However, the option to order barista coffee added a nice touch, even if it wasn't included in the breakfast spread.
Our first adventure led us to explore the historical heart of Georgia, Kutaisi.
Kutaisi gracefully straddles the Rioni River, beautifully divided into two parts connected by several bridges. The White Bridge stands out as an iconic landmark. We walked across, through the park, and reached the town at the Kolkha Fountain, bathed in the soft light of day. This fountain is more than just an ornamental feature; it's a symbol of unity and national identity, reflecting the spirit of Georgian history.
As we meandered through the streets, a fascinating blend of ancient and modern caught my attention. I stumbled upon a booth where you can buy cryptocurrency, showcasing how Kutaisi effortlessly blends the old and new in one place, a testament to its dynamic character.
Our next stop on Day 7 of 7 days itinerary in Georgia was a true masterpiece, the Gelati Monastery. This ancient site stands as one of the largest medieval Orthodox monasteries, an epitome of science, education, and cultural importance in ancient Georgia. It's no wonder it's a UNESCO World Heritage Site.
The Gelati Monastery located a short distance from Kutaisi, is a magnificent masterpiece of medieval Georgian architecture and a UNESCO World Heritage Site. Founded by King David IV, commonly known as David the Builder, in the 12th century, this revered religious complex holds immense significance in Georgia's history.
One of the primary purposes of constructing the Gelati Monastery was to establish it as a major center for Christian culture and education. King David IV envisioned it as a place of scholarship, spirituality, and enlightenment. The Gelati Academy, which was part of the complex, played a pivotal role in preserving and propagating Georgia's cultural and religious heritage. It housed some of the most important centers of culture in ancient Georgia, attracting scholars, theologians, and artists from near and far.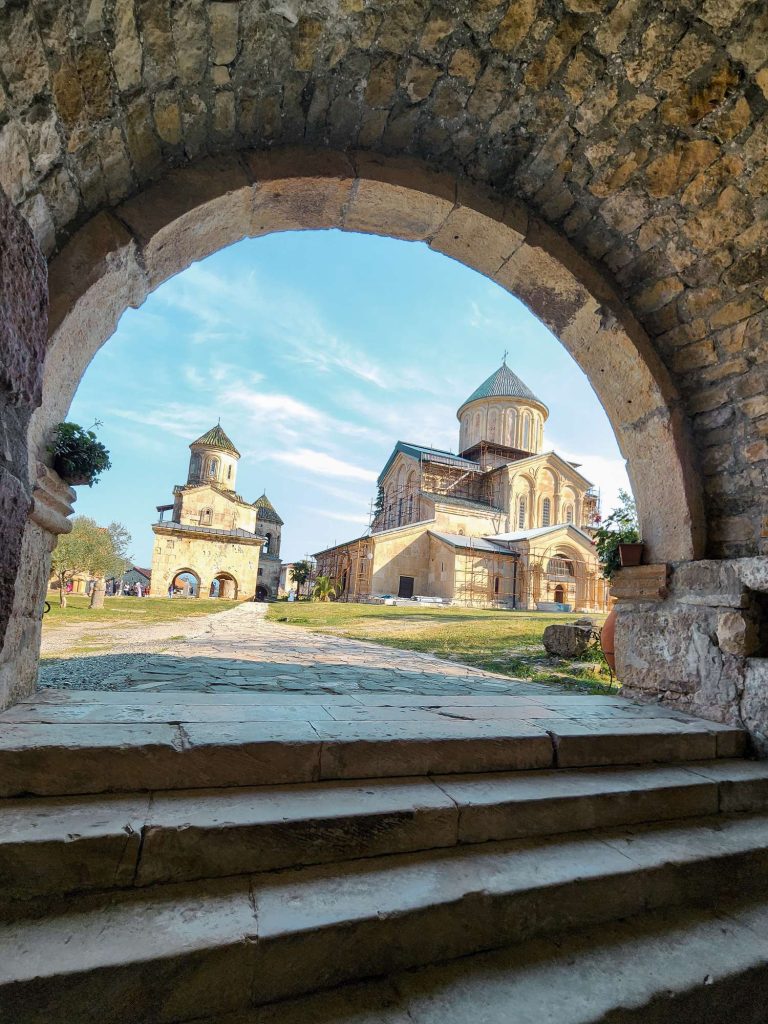 The architectural style of the Gelati Monastery is a testament to the artistic and architectural prowess of its time. The main church, the Cathedral of the Nativity of the Virgin, stands as an enduring example of Georgian ecclesiastical architecture. Inside the cathedral, visitors can admire stunning frescoes that narrate religious stories and depict a vivid panorama of the era's life and culture.
While Gelati Monastery once housed a rich collection of mural paintings, many had deteriorated over the centuries. Though restoration work was ongoing during our visit, the architectural forms, spatial arrangement, and decoration still conveyed its immense beauty. I hope that with the ongoing heavy preservation efforts, it will breathe new life into this historic treasure ensuring that the visual storytelling of Georgia's history and faith remains intact.
Beyond its cultural and religious significance, the Gelati Monastery is a symbol of Georgian pride and identity. Its inclusion as a UNESCO World Heritage Site underscores its importance in the global context.
We explored the sprawling grounds of Gelati, taking in the historical ambiance and the spiritual aura of this extraordinary site. The complex, set against the backdrop of lush greenery and the distant Rioni River, offers a glimpse into Georgia's glorious past and its enduring cultural heritage. A visit to the Gelati Monastery is a journey through time and a profound connection to the heart of Georgia's history and spirituality.
The next stop on this Ultimate 7 days itinerary in Georgia journey continued to the Motsameta Monastery, majestically perched on a hill under the Red River (Tskhaltsitela). This spiritual haven dates back to ancient times and its history is steeped in devotion and legend.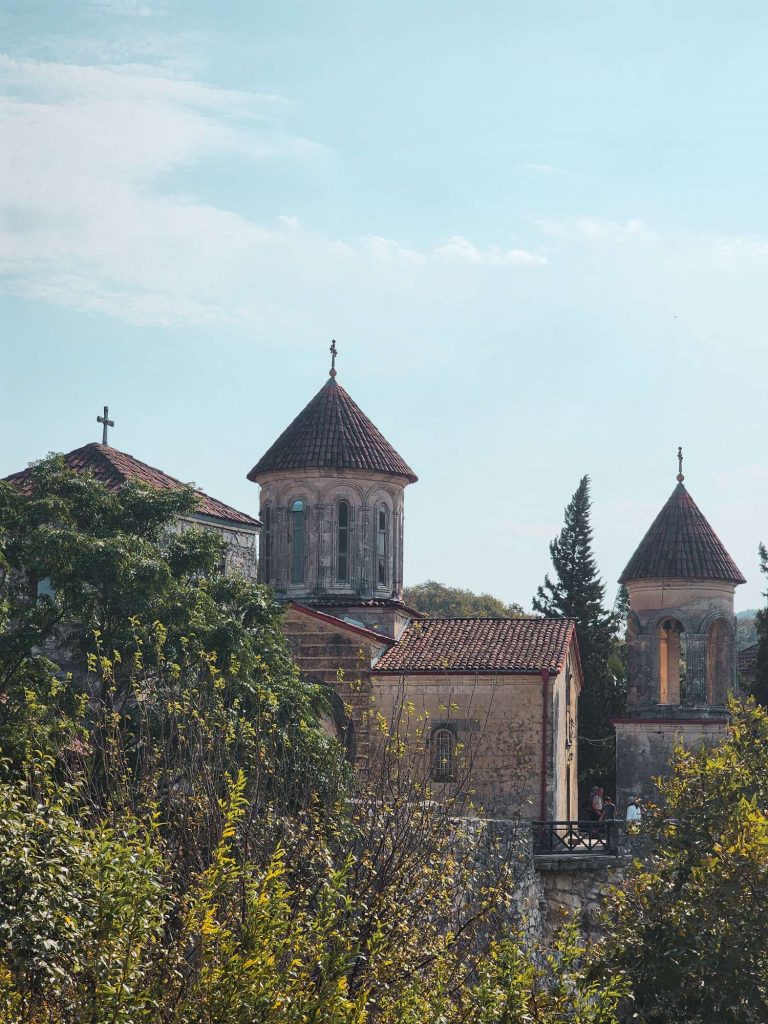 What sets Motsameta Monastery apart is its deeply rooted history and the legend of its founding. According to local folklore and historical accounts, the monastery was established in the early years of Christianity in Georgia. It is closely associated with the martyrdom of two brothers, David and Konstantin Mkheidze, who bravely defended their faith in the face of religious persecution. These courageous brothers refused to renounce Christianity and were subsequently executed, becoming revered as Christian martyrs.
The monastery's name, "Motsameta," is derived from the Georgian word "motsame," meaning "martyr." The name aptly reflects the significance of this holy site. Over the centuries, Motsameta Monastery has evolved into a place of pilgrimage and reverence for Christians in Georgia and beyond.

Apart from its religious significance, the setting of Motsameta Monastery is truly breathtaking. Perched on the hillside, it offers sweeping views of the surrounding landscapes, making it a serene place for contemplation and reflection. The peaceful ambiance and cultural heritage associated with this monastery make it a must-visit destination for travelers exploring the rich history and spirituality of Georgia.
After this, the next destination was the Sataplia National Reserve, a place of both natural wonder and historical significance. Discovered in 1915 by Petre Chabukiani.
This reserve is celebrated for its rich biodiversity and unique geological features, making it a must-visit for travelers interested in both prehistoric and contemporary wonders.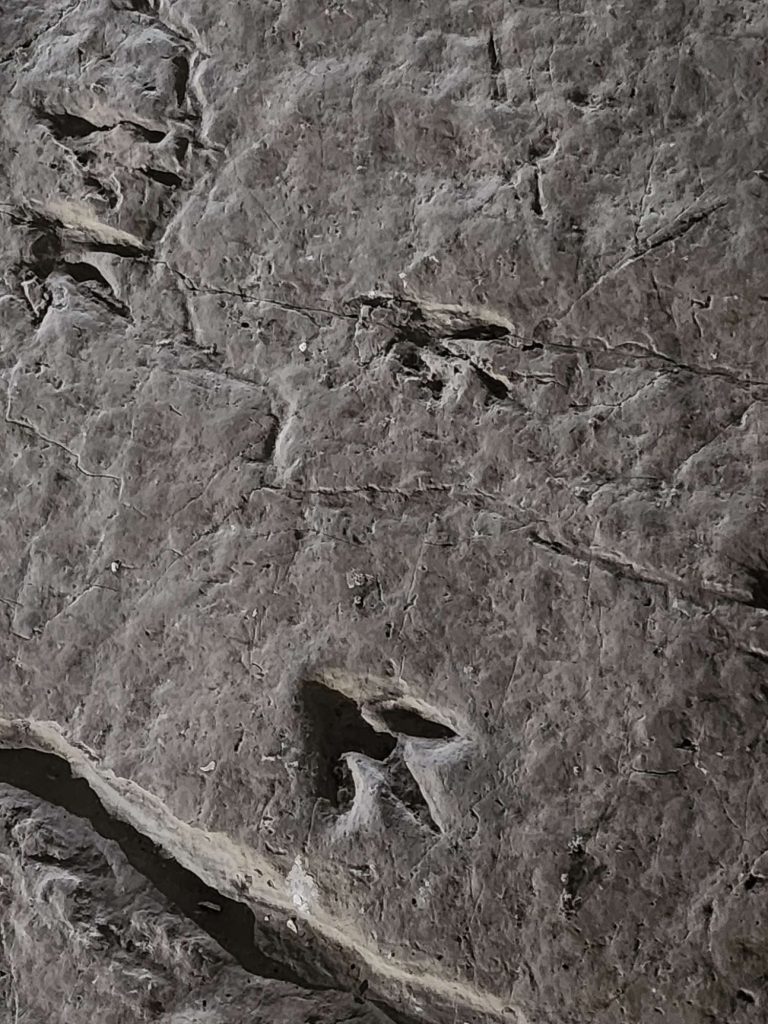 One of the most notable aspects of Sataplia is its link to the ancient world. It is renowned for being a site where dinosaur footprints have been discovered. These remarkable traces in the rock formations offer a tangible connection to Earth's prehistoric past. As you walk along the well-marked trails, you can view these awe-inspiring imprints and imagine the giants that once roamed this region.
Another highlight of Sataplia National Reserve is the Sataplia Cave. It was written on the sign there that the maximum depth of the cave is 8 meters and the depth is 10 meters. As you venture into the cave's depths, you'll be greeted by a world of exquisite stalactites and stalagmites. The unique formations, illuminated in a soft glow, create a captivating and almost mystical atmosphere.
One of the most iconic features of the cave is the "Heart of Sataplia," aka petrified heart, a heart-shaped formation that adds a touch of romance to this geological wonderland. While exploring the cave, you'll be immersed in the fascinating world of subterranean landscapes, each chamber unveiling new shapes and stories etched by time.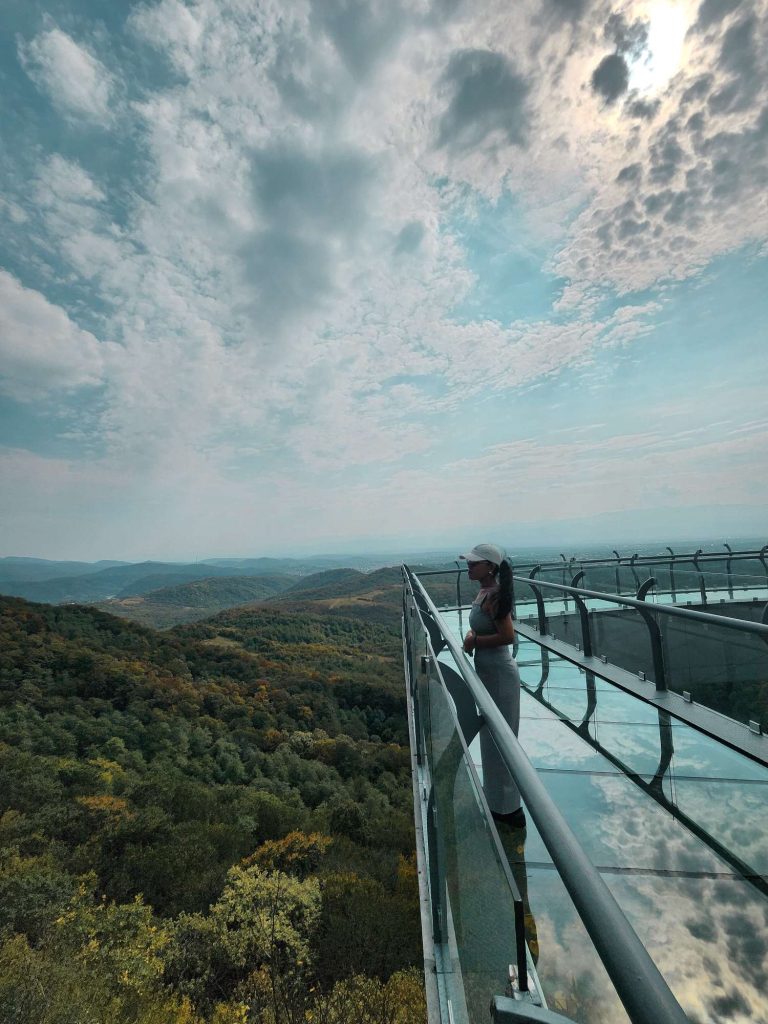 Our final stop was at a panoramic viewpoint, where the vibrant colors of autumn foliage embraced us. The journey through Sataplia National Reserve is both educational and awe-inspiring. The reserve is also dedicated to the conservation of its diverse flora and fauna, which includes a wide variety of plant species and wildlife. As you explore the trails and take in the natural beauty, you'll not only connect with Georgia's geological history but also experience its vibrant and diverse ecosystems.
Visiting Sataplia National Reserve is a unique opportunity to witness the intersection of the ancient past and the enduring beauty of nature. It's a testament to Georgia's commitment to preserving its natural and cultural heritage, making it a destination that offers both insight and wonder to its visitors.
Lunch was a treat, featuring Pkhali once again, a beloved Georgian dish, along with rice and fresh veggies.
Once back in Tbilisi, I returned to the Sandali Hotel which has become my comfortable haven in the city. And for dinner, tonight I wanted to feel a bit spicy so indulged in a spicy Indian cuisine, savoring flavors from afar.
This day trip around Kutaisi was a mesmerizing blend of history, culture, and natural wonders, leaving me with cherished memories.

One week in Georgia went by in a blink of an eye! I hope this one week Georgia itinerary or 7 days itinerary in Georgia travel guide helped you in some ways.
If you are wondering how I managed to go around the country so fast, it was because I had joined a small group with Arara Tour, which specializes in the Caucasus region and Central Asia travels. Most of my travels are DIY but occasionally I join small group tours. It was only 7 people group, a friendly driver and our sweet guide la; so 9 people in total. If there was something of concern you could always rely on your guide or the office too. They were responsive and professional. We just had to sit back, relax, and enjoy the trip. This was a luxury for me because, usually during my trips, I am busy organizing the transport, day excursions, accommodation, and more. You may make it happen on your own if you have the time and resources by following the itinerary above but having a trusted company sort out the whole trip was a no-brainer in my books especially when I'm time-poor.
For the 4-star hotels, you would need to request Arara to upgrade you before your trip commences as it depends on the seasons and availability.  Champagne/wine breakfast, made-to-order hot breakfast, relaxing spa and sauna, and best of all good night's sleep fam! It's absolutely worth the money to upgrade your accommodation.
Either way, whichever way you choose to explore Georgia I hope this 7 days itinerary in Georgia was helpful. Georgia the country is a place where you'll find an array of enriching experiences, from the mesmerizing sunrises to the historical wonders of the Old Cities, all while discovering the unique places, wines, and hospitality of the Georgian people.
And before I forget regarding the Visa:
Australian passport holders don't need a visa for Georgia. Please ensure to check your visa responsibilities before booking flights, tours/activities, and accommodations.
As you embrace these adventures, remember that solo travel is not just about exploration; it's about personal growth, cultural enrichment, and the empowerment that comes from navigating the world on your own terms. With each new place you visit, you open the door to a world of possibilities, and Georgia is just the beginning of your exciting journey. Here's to many more incredible travels and discoveries in the days to come. Safe travels, fellow wanderers!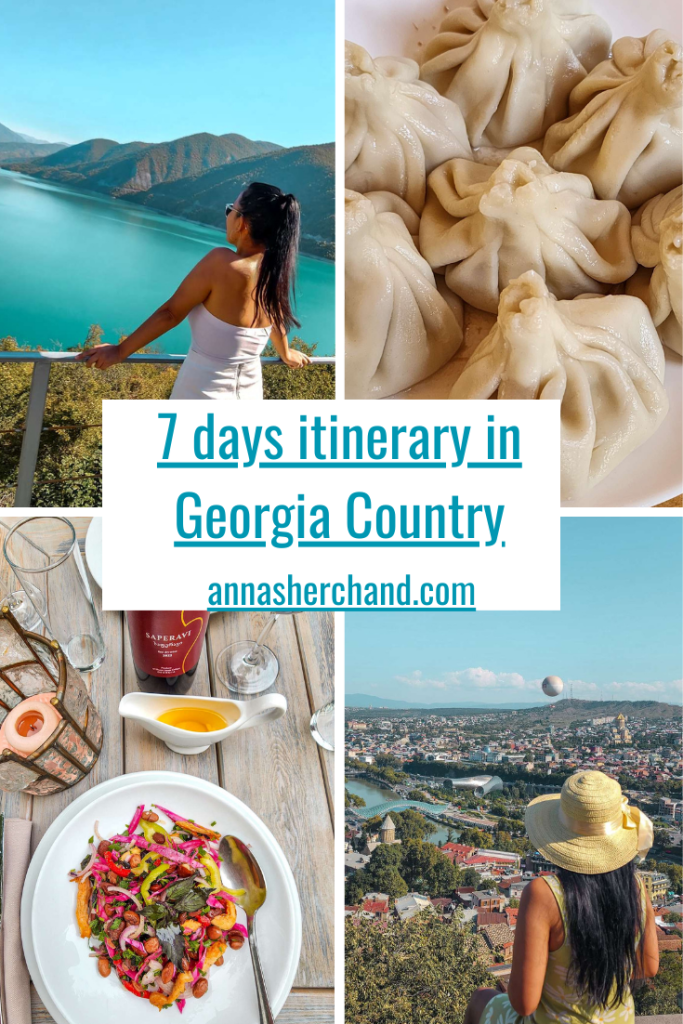 Let me know in the comments:
If you have any questions about the 7 days itinerary in Georgia
Solo Travel To Armenia
4 days in Azerbaijan itinerary
9 days in Guatemala
Solo border crossing from Guatemala to Punta Gorda Belize
2 Days in Punta Gorda, Belize
How to cross the border from Belize to Honduras
Solo female travel to Copan Ruins Honduras
Solo border crossing from Honduras to El Salvador
3 Days in El Salvador
Border crossing from El Tunco El Salvador to Leon Nicaragua
7 days in Nicaragua solo travel
Granada Nicaragua to San Jose Costa Rica border crossing
3 Days in Costa Rica Travel Guide
Puerto Viejo Costa Rica to Bocas Del Toro Panama Border Crossing
7 days in Nicaragua solo travel
Granada Nicaragua to San Jose Costa Rica bus
7 days backpacking in Ecuador itinerary
5 days in Oaxaca itinerary
2 days in Mexico City itinerary
Best places to visit from Split
2 days in Split, Croatia
Solo traveling to Mostar
Solo female travel to Kotor
Best places to visit from Split
2 days in Split, Croatia
Solo traveling to Mostar
Solo female travel to Kotor
Solo female travel to Budva
Solo female travel Albania
Warsaw by Train covers warsaw travel tips
Check out One day in Luxembourg, western Europe
Day trip from Zurich to Liechtenstein
Travel tips to South America
Fiji solo travel guide
Australia east coast must-see
Backpacking in Melbourne, Australia
Digital nomad guide to Melbourne
14 best area to stay in Melbourne CBD
Master Sydney travel guide
Solo travel guide to Brisbane
Exploring Adelaide the best way is a must-read
Important travel tips for Uluru trip
Melbourne day trips in winter
Day Hikes in Melbourne
Weekend getaway? Check out things to do in Ballarat
Perth solo itinerary
Top 5 must do in Darwin, Australia
How to go from Dublin to Howth
Solo female travel Romania
Read a recent day trip to Zaanse Schans from Amsterdam
How about a solo itinerary to Canberra– Australia's capital city?
Solo trip to Peru, travel tips to South America
Alternatively, book another accommodation through a trusted site such as booking.com
I have handy travel resources right here. Save money, learn what and how.
If you like this article, feel free to read about me – a Nepali Australian travel blogger, follow my adventures on Instagram, Facebook, YouTube, Twitter, and Pinterest, but most importantly sign up to my e-mail list to keep up with updates and travel posts.
7 days itinerary in Georgia