A life-long quest to travel all the countries in the world has led to my country #56 Poland! I do my best to plan trips ahead of time but sometimes you just gotta roll with it. So in this blog, I will cover how to go from Krakow to Warsaw by train and where to stay in Warsaw/ activities, places to go, what to eat, and more.
Prior to heading to Poland, I did not know what to expect except for the fact that I knew it was one of the oldest countries in Eastern Europe and I was excited to see what it had to offer. Now that I have been there, I can share that Poland is well known for its delicious pierogi, former pope John Paul II, and Europe's most ancient old-growth forest. It is also a country rich in the unique history and stunning geography, from the Tatra mountains to the Baltic Sea.
Did you know Poland is the 9th largest country in Europe? Bigger than Italy and the UK!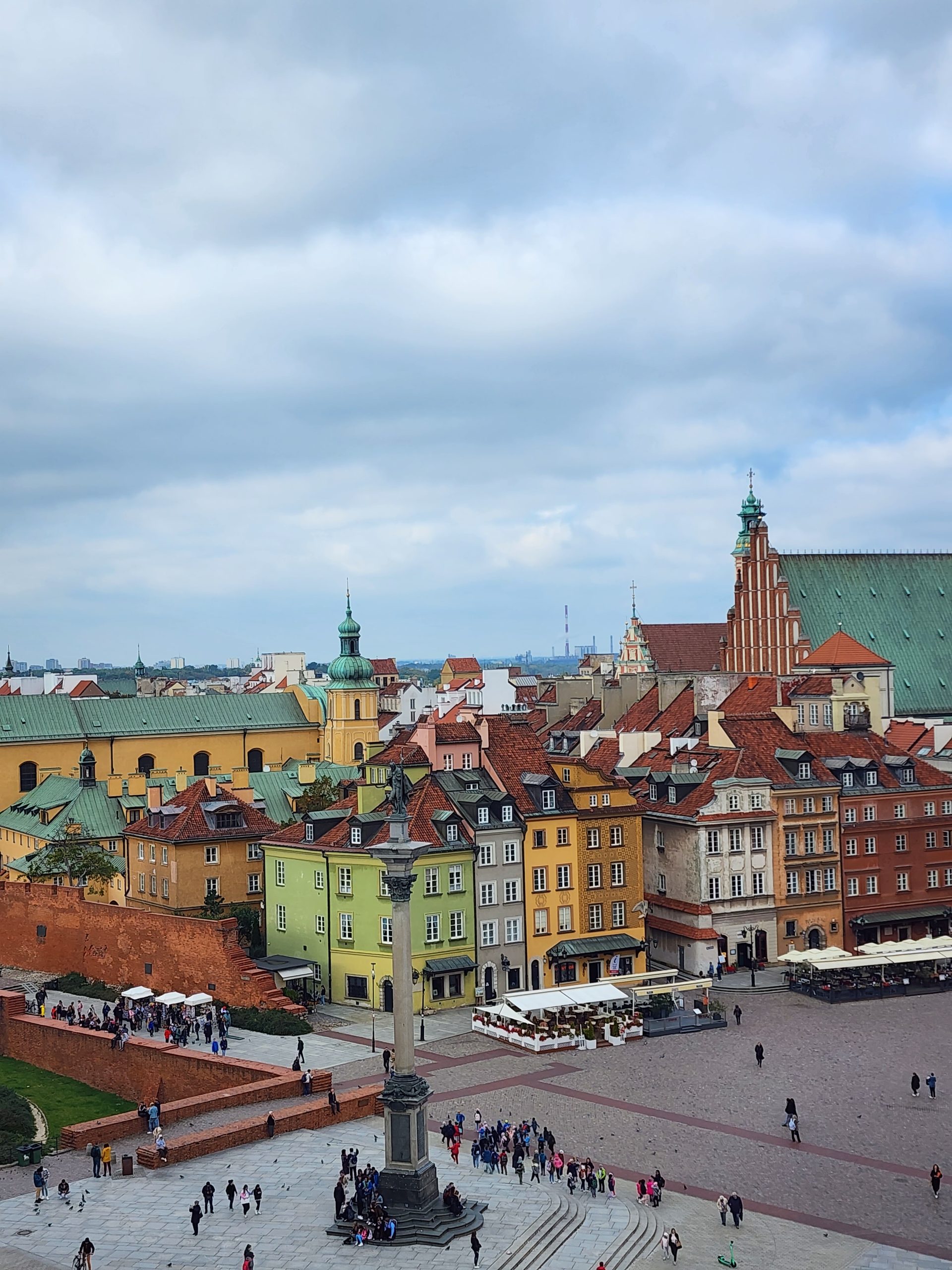 While Kalisz is referred to as the oldest city in Poland, Warsaw became the capital city of Poland in 1596. It is located in the east-central part of the country, a fascinating city full of contradictions. Poland has 17 UNESCO-listed World Heritage Sites and arguably the most fascinating of these is Warsaw Old Town, which lay in ruins in 1944 after the intense bombing campaigns during the Second World War and the Warsaw Uprising.
So if you are hesitating about whether to go or not, I hope this one day in Krakow to warsaw by train guide helps you make up your mind and that you will go and experience this magical European country.
How to go from Krakow to Warsaw by train
First, you have to get to Glowny, Krakow and once you are there you can buy the Warsaw train tickets.
There are hourly direct trains from Krakow to Warsaw. Train journeys take approx 2hr 18 minutes to 3 hours and are offered by the PKP Intercity train service. Trains depart from Krakow, Glowny, and arrive at Warsaw central station from where you can take a taxi to the Warsaw airport or take the bus to your accommodation in Warsaw.
If you plan to return to Karkow make sure you purchase the return tickets, not just one way.
Trains have separate compartments and places to keep your luggage above the seats.
The ticket price starts at 10 EUR in 2nd class and 18 EUR in 1st class although you could also buy a standing ticket which is the cheapest if you don't mind standing for 3 hour journey.
With that said, Warsaw is easy to get to especially from Europe. As an example there are numerous flight from London or the train from Vienna to Warsaw usually takes 9 hours 27 minutes on average.
Solo travel from Krakow to warsaw
Now that we got the practical tips out of the way, let's get into the best places to visit in Warsaw and day trips from it.
Where to stay in Warsaw?
There are numerous choices when it comes to accommodation in Warsaw from all five stars hotels to hostels. Make sure to book with a legit website such as Booking.com Most hotels and hostels also offer free WIFI and here are some places I suggest:
To meet other travelers/backpackers
To meet fellow solo travelers
Mid-budget ideas
DoubleTree by Hilton Hotel & Conference Centre Warsaw
Luxury lovers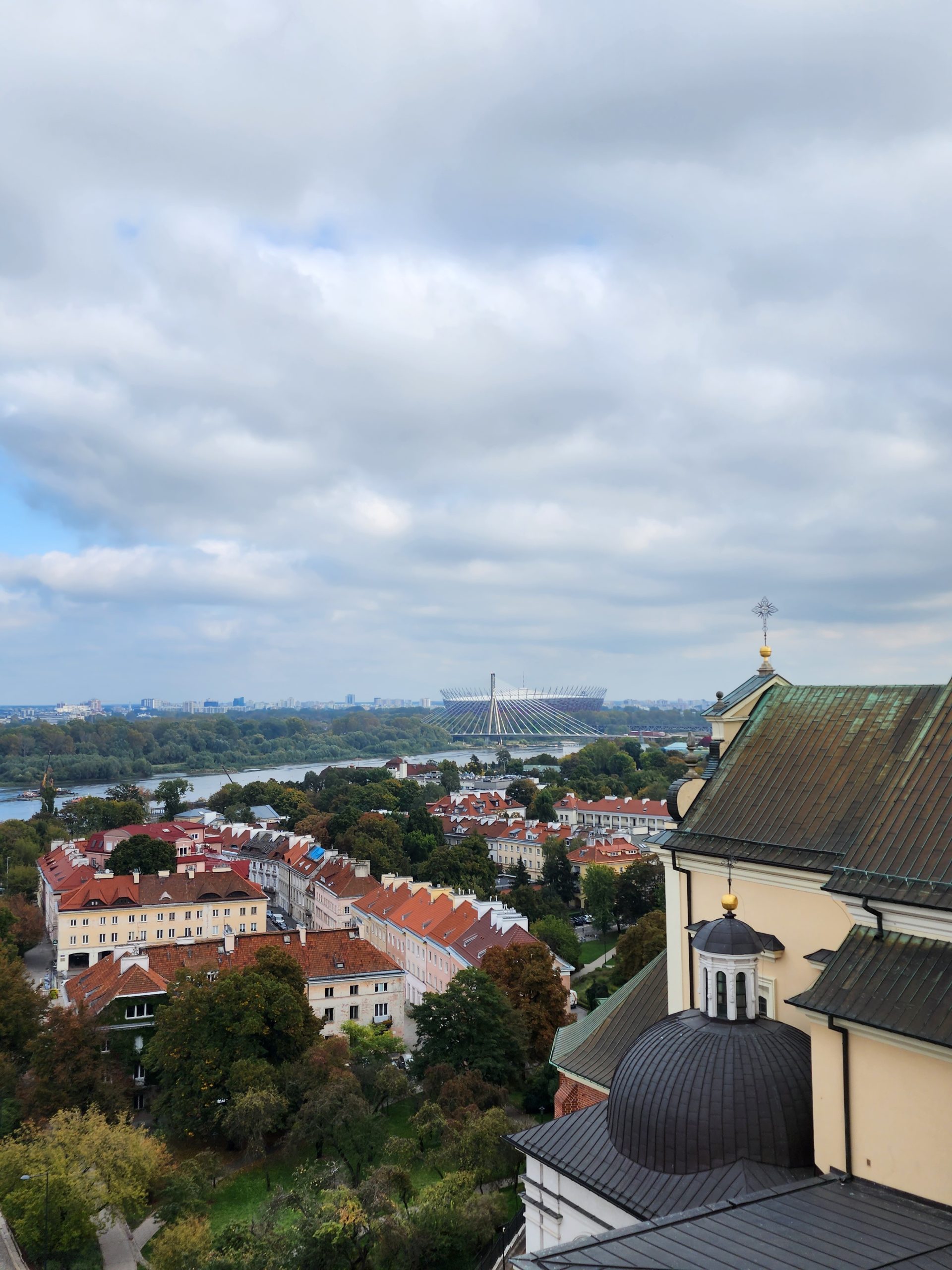 Where to go in Warsaw?
If you are in the mood to meet other travelers then join a free walking tour that gives you a broader perspective with stories about the city. It runs on a donation basis so just book yourself and arrive on time and tip at the end.
While on the road, some days you may not be in the mood to be in the group so in that case, you will be pleased to know Warsaw Old town is pretty small and you can easily sightsee and walk around yourself around there.
Apart from old town though, Warsaw is actually spread out so, unlike many European capitals, Warsaw is definitely not a walkable city. Even in the same neighborhood, you could be covering well over a couple of kilometers of ground between two different sights on your itinerary.
I have written this two days in Warsaw travel guide exactly how I spent it. You may change it around to what suits you best. Probably a good idea is to head to the indoor museums if it is rainy or explore outside if sunny.
2 days in Warsaw is the perfect amount of time to explore the historic city center, get an eye-opening history lesson at several museums, and sample some local food.
The top attractions to visit in Warsaw are:
1. Old Town/Stare Miasto
Warsaw's Old Town aka Stare Miasto in Polish is the historical center of Warsaw and the oldest part of the town dating back to the 13th century. It is the most picturesque area to experience the evolution of Polish culture and history. Situated in the middle of the historical kernel of this vibrant Polish city and is the first place to visit for most travelers.
Initially surrounded by an earthwork rampart, prior to 1339 it was fortified with brick city walls. The town originally grew up around the castle of the Dukes of Mazovia that later became the Royal Castle.
The most eye-catching thing you will notice here is its colorful tenement houses and the unique atmosphere at the square.
The Old Town is a bustling tourism hub, with buskers, cobblestone alleys, and medieval buildings reconstructed after WWII. At its heart is Rynek Starego Miasta, a busy square lined with burgher houses and upscale Polish eateries. But before we get to what to eat in Warsaw part, let me finish things to see in Warsaw first.
2. The Royal Castle
If you only have time to visit one paid site in Warsaw, this is it. You can book the Royal Route online or on-site and explore the entire place.

The Royal Castle is the former official residence of Polish monarchs which was severely damaged during the war and reconstructed after it ended. Today it offers full of original exhibits and a free entrance on Wednesdays. The free audio sets are also included and there is a restaurant inside if you fancy delicious coffee and liquors. Also, check out Castle Square (Plac Zamkowy) – a historic square in front of the Royal Castle.
3. Sigismund's Column
Similar to Royal Castle, Sigismund's Column was constructed in the middle of the 17th century and commemorates the Polish king Sigismund III Vasa who is known for having moved the capital from Krakow to Warsaw. The Corinthian column holds a bronze sculpture of the king with his armor that dominates the skyline of the old town.
4. The Bell Tower of St Anne's Church
If you are a fan of the bird's eye viewpoint like me, you don't want to miss the view from the top of the Bell Tower of St Anne's Church.

Tickets cost 10 PLN per person from the shop at the bottom of the tower. Cash only. From memory, there are about 148 steps on a modern staircase to the top. Amazing 360 degrees views of Warsaw, including the old Castle Square (Plac Zamkowy). Also, recommend for sunsets too.

In the polish language, it is called Kościół Akademicki św. Annysdd is a beautiful church with a rich history and it is worth going to the lookout tower for a panoramic view of the old town and surrounding area.
Alternatively, Jesuit Church is nearby to checkout.
5. Royal Route
As Warsaw accepted the title of the capital from Krakow in 1596, it has also taken the Royal Route – the coronation path going from the Royal Castle to the Palace in Wilanowa, intended for all newly crowned monarchs to take as part of their coronation.
The Royal route path is 11 kilometers long and runs through some of the most interesting historical places. For instance, the Presidential Palace and the Kazimierzowski Palace. Walking the Route gives you a chance to feel the vibe of the city and don't worry about having to walk all the way because there is a bus following the length of the route.
Alternatively, I recommend you can get a taxi or rent a bike to explore Warsaw's old town while having fun and exercising..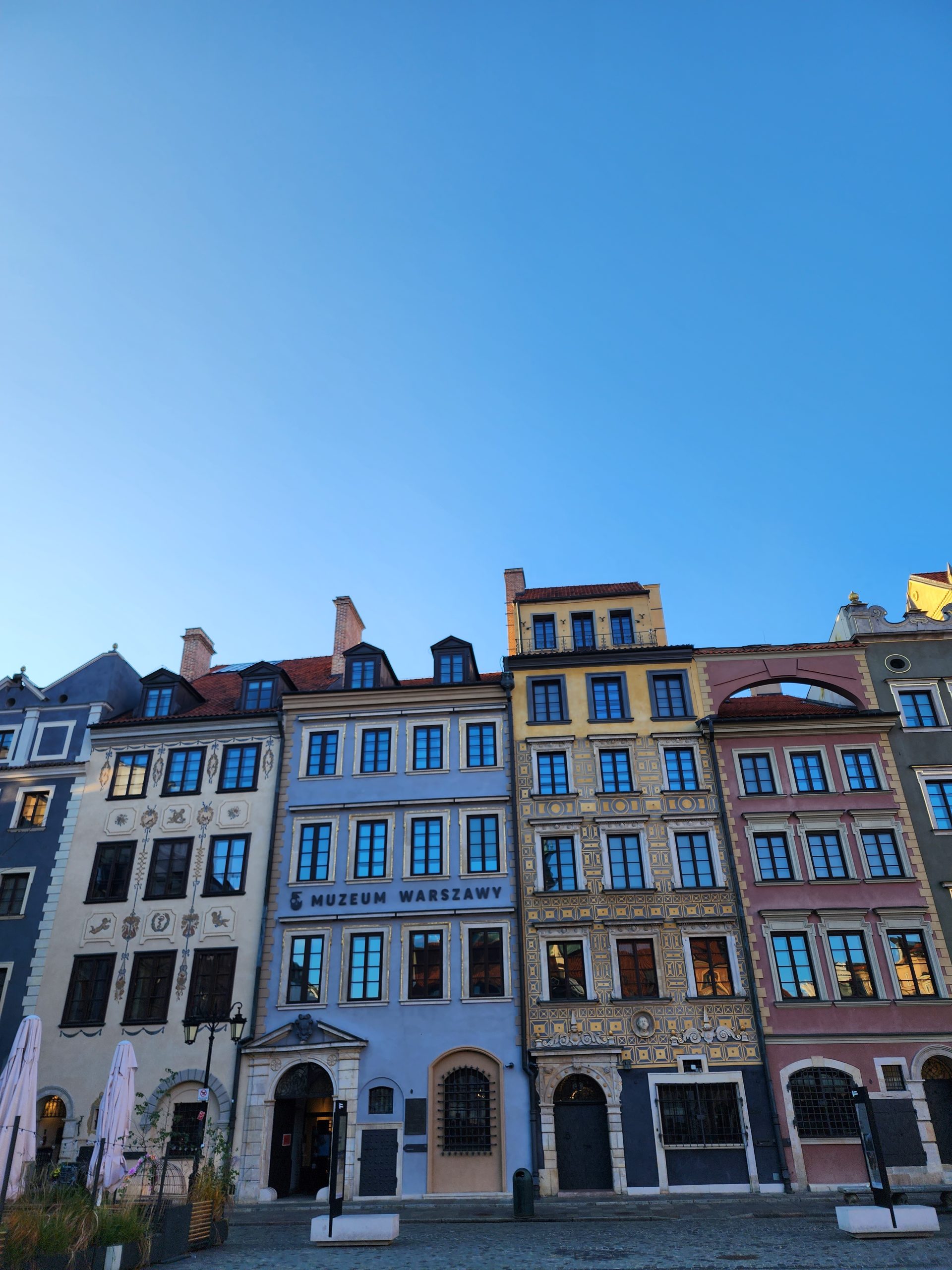 6. The Historical Museum Of Warsaw
The Museum of Warsaw is a modern museum with a contemporary and attractive approach to the way it is displayed and promoted. You can get free admission on Thursday to enjoy four floors of history. A wide variety of items on display, including maps, paintings, glassware, pottery, and clothes, are all very well exhibited. A great first stop on your visit to Warsaw.
Near the historical museum of Warsaw, you can make your way to the market square or visit the Literature Museum.
7. Old Town Market Square
Entering the Old Town Market Square in Warsaw (in Polish: Rynek Starego Miasta) feels like going inside a postcard. The pastel little houses are pressed together fitting beautifully and creating a frame for the white tents of cafes and art exhibitions. The statue of the mermaid at the center is the perfect attraction that adds to the vibe of the place. There are some benches around or you can sit at one of the plenty of cocktail bars and restaurants. If you are looking for some art and souvenirs you will find them here too.
The Old Town Market Square dates back to the 13th century when it used to be the center of Warsaw's public life, hosting political speeches and executions. The buildings around it were wooden at the time, but what we can see nowadays dates back to the 15th century.
8. The Adam Mickiewicz Museum Of Literature
The Adam Mickiewicz Museum of Literature is a museum named for noted Polish poet and essayist Adam Mickiewicz in Warsaw, Poland. It was established in 1950, a small museum dedicated to a great man. Is it worth it? You have to see for yourself. On Sunday, the entrance is free.
9. The Museum Of Caricature And Cartoon Art
This is another museum/gallery if you have more time. This one is all about reflective drawings that show the universal problems of every human being, such as loneliness, a sense of helplessness, and the desire for freedom. Interesting artworks worth visiting. They also have a collection that includes caricature art that is political, current, and thought-provoking.
10. The Presidential Palace
The Presidential Palace is the official residence of the Polish head of state and president alongside the Belweder Palace, located in Warsaw, Poland. Unfortunately, the scaffolding covered the entire palace when I was there but hope you get to visit.
11. Visit The Grand Theatre
It's definitely a must — not only for the show but also to visit the theater from the inside…after all, it's the biggest stage in Europe! Dancers of the Polish National Ballet are world-class top-level artists. What's important, the range of ticket prices really allows nearly anyone and everyone to enjoy their performances.
12. Palace of Culture and Science
The Palace of Culture and Science is a notable high-rise building in central Warsaw, Poland. With a total height of 237 meters, it is the second tallest building in both Warsaw and Poland after Varso, the 6th-tallest building in the European Union, and one of the tallest on the European continent.
The building isn't anything special but the view from it is really magnificent, especially during the golden hour. I recommend visiting this place in the evening if you want great photos. But the waiting time was longer than I expected (around 20 minutes). That was because only one of the six lifts was working at the time.
13. Łazienki Park or Royal Baths Park
After all the sightseeing you want to be in somewhere greenery, head to the Łazienki Park. Admission is free, there are also museums on site, which can be accessed for a fee. The territory of the park is very large and spacious, you can take beautiful photos and just relax in nature. Peacocks also live in the park and there are many squirrels!
14. POLIN Museum of the History of Polish Jews
The museum tells the story of Jews from its very beginning to the present. It's free and it's for everyone (kids, adults, etc). I also recommend the audio guide. Walk around the exhibition may take you an hour depending on how much museum nerd you are. if you have no audio guide. If you do, from 2 to 3. All the history was well explained and the staff was also helpful.
15. Warsaw Uprising Museum
In Polish Muzeum Powstania Warszawskiego. The Warsaw Rising Museum, in the Wola district of Warsaw, Poland, is dedicated to the Warsaw Uprising of 1944. This museum is actually very impressive if you like world war II history or you want to have a better understanding of Polish people and their willingness to fight against evil during world war II.
I really enjoyed the well-curated exhibit that walked me through the history and impact of the uprising. I recommend getting the audio guide that allows you to hear the extra commentary about the various exhibits. On Mondays, you have free admission.
16. Museum of King Jan III's Palace at Wilanow
This museum is considered to be one of the oldest in the country and the repository of the country's royal and artistic heritage. It is a good area to take a walk, there are beautiful mansions, gardens and an old church nearby. The cost of entrance to the area is 7 PLN but on Thursday it is free entry.
Overall, Warsaw is an interesting city. It's not overly touristy, yet still offers up all the amenities a tourist would need. An ideal destination for first-timers to Poland.
How many days in Warsaw is enough?
I would say 3 days is best not to rush but two days in Warsaw is the minimum. You will most likely start your journey in the city, explore major spots, and activities then go on a day trip or two.
Do I need a visa for Warsaw?
If your passport is from Australia, you can stay up to 90 days in Warsaw, Poland. I highly recommend checking the official website online or with your local embassy to find out if your country requires a visa.
When is the best time to visit Warsaw?
If you have limited time, anytime is best to visit Warsaw IMHO but if you are after the best weather to enjoy this historical destination, it would be between April to October. Basically summer time but also shoulder seasons before and after summer when the weather is dry and the temperature is warm yet comfortable. Also, shoulder season would probably offer better hotel rates.
Is Warsaw city safe for a solo female traveler?
First of all, let's establish the understanding of traveling is brutality! It forces you to trust strangers and to lose sight of all that familiar comfort of home and friends. You are constantly off balance. Nothing is yours except the essential things – air, sleep, dreams, the sea, the sky – all things tending towards the eternal or what we imagine of it. If you are okay with it, you will adapt, and you will survive.
That being said, I felt completely safe in Warsaw as well as Krakow to warsaw by train. Maybe it made a difference I traveled on the morning train but overall I found the city to be welcoming and friendly. I even had a Polish local man and a woman wanting a photo with me! lol and asked to send it to him over an email which i did!
So yeah unless there is a drastic change in the country's political situation, pandemic, or some natural disaster it is safe to travel to Liechtenstein. Just remember to apply a general rule of thumb i.e. Don't walk down that dark alleyway on your own, respect the culture, don't argue about religion, dress modestly, trust your instincts, and don't be afraid but be cautious.
Local currency
The official currency is the Polish zloty (PLN) though euros are also accepted.
You could withdraw Pln from ATMs on arrival at the airport or in the city. However, remember to consider bank fees from your bank and the ATM withdrawal fee.
If you are worried about language, English is widely spoken especially in the tourism and hospitality industry.
Must-Have Travel Apps for Warsaw
Google Maps for ease of finding routes, and offline use.
Google Drive, Calendar for time management, and storing pictures.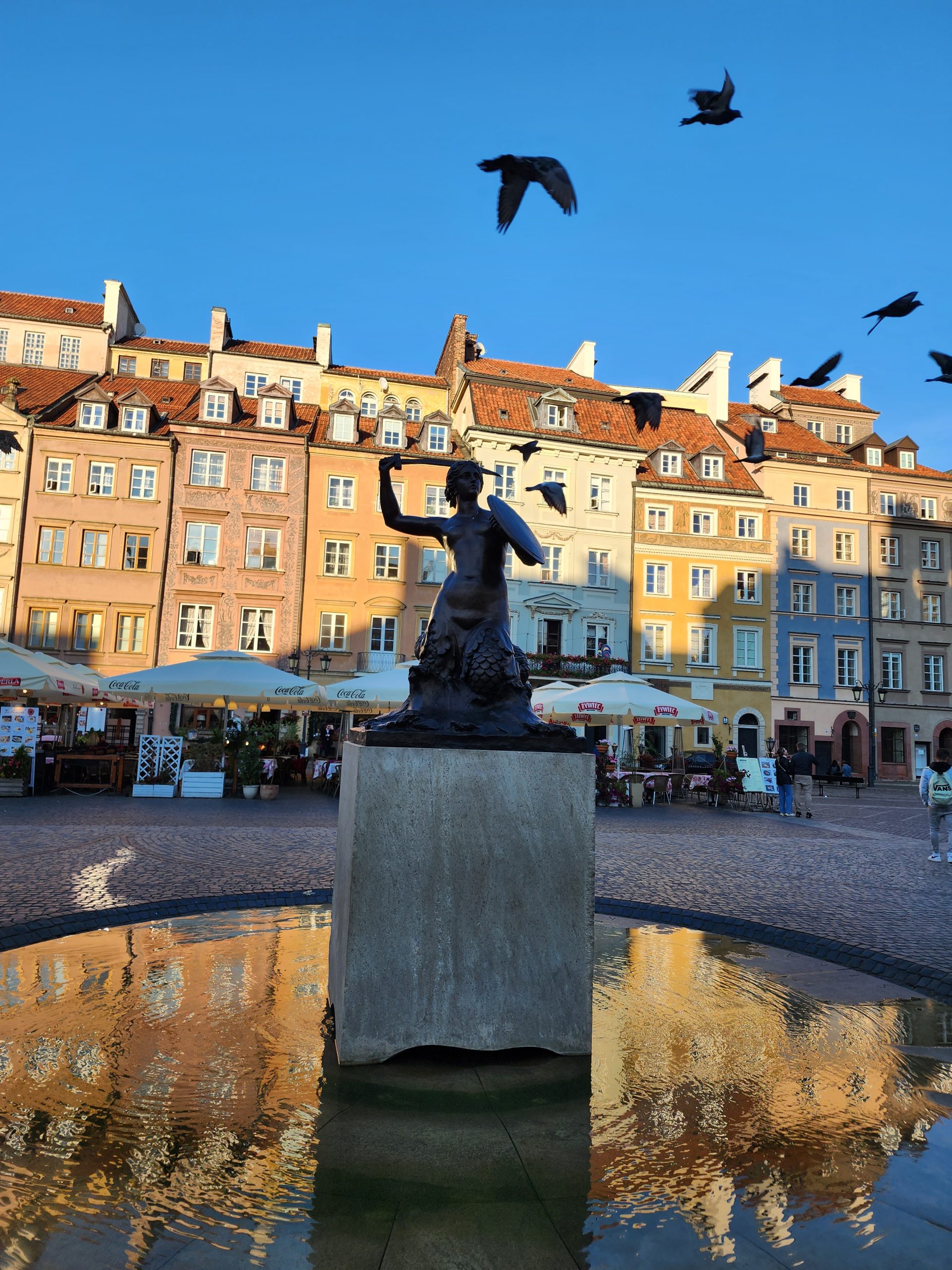 What to eat in Warsaw?
Warsaw offers food and drinks for every budget with its various cafes, restaurants, and takeaway shops. Here are my recommendations on must-try food in Warsaw starting with the Traditional Pierogi. There are so many varieties of this traditional dish: with meat, cabbage, mushrooms, fruit, potatoes, cottage cheese, or grits. New types have also appeared: feta cheese, spinach, mozzarella, or chocolate!
Some other food to try would be Orange and Rose Doughnuts, Herring Warsaw-style Pork knuckle in jelly, Borsch, Żurek, Chłodnik, and Pork chops with potatoes and cabbage.
Also, recommend checking out Hala Mirowska a local shopping area, and the building next door offers food from around the world. Good coffee too!
Some other recommended places to eat are Falla Warszawa, Manekin, Prasowy | Warsaw Milk Bar, Mąka i woda, Krowarzywa, Pełną Parą, or Barn Burger
What to drink in Warsaw?
Warsaw is known for its local beer or vodka, the best wine bars, and the latest cocktail hotspots. Some recommended bars are Panorama Sky Bar, Klar, Podwale Bar and Books, Piw Paw, Pijana Wiśnia (Drunk Cherry), or Cocktail Bar Max & Dom
Short trips from Warsaw
Assuming you have more than two days in Warsaw and after seeing all of the above, you are ready to explore a little more. Here are some recommended places for day trips from the locals.
Żelazowa Wola, Bolimów Landscape Park, Mazovia, Poznan, Masurian Lake District, Torun, or Kazimierz Dolny
If you don't feel like exploring alone, you can join any of the private or group tours below.
I hope you now got an idea of how to go from Krakow to warsaw by train and where to stay/see/do in Warsaw.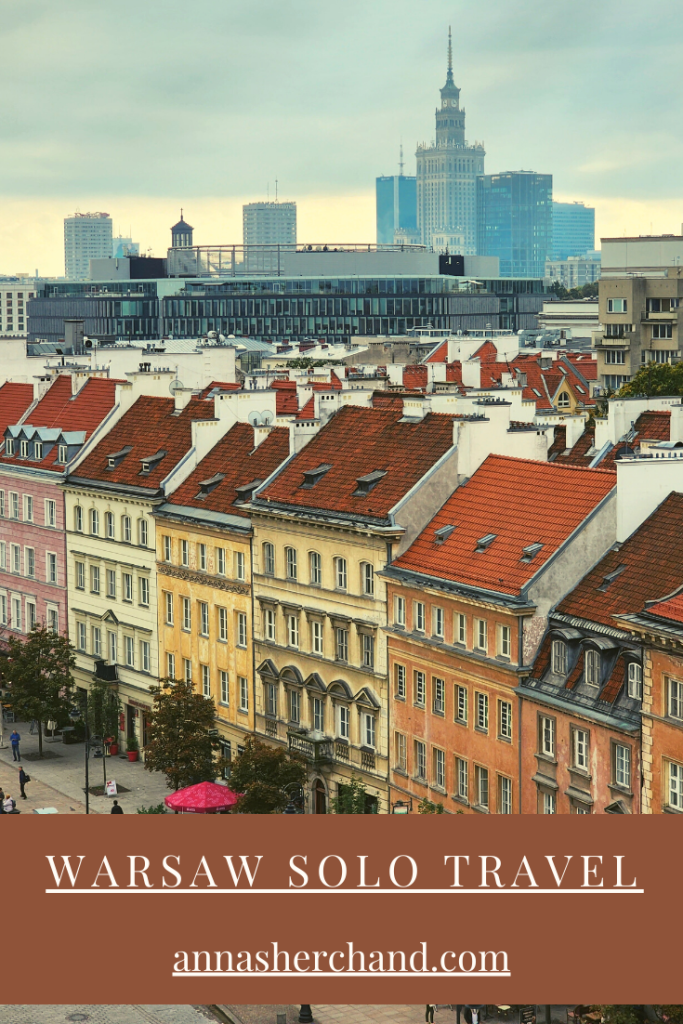 Let me know in the comments:
If you have any questions about Krakow to Warsaw by train
How to go from Warsaw to Krakow by train
Solo travels from Podgorica to Tirana
One day in Luxembourg
Day trip from Zurich to Liechtenstein
Fiji solo travel guide
Australia east coast must-see
Master Sydney travel guide
Solo travel guide to Brisbane
Exploring Adelaide the best way is a must-read
Important travel tips for Uluru trip
Melbourne travel guide for first timers is here.
Melbourne day trips in winter
Day Hikes in Melbourne
Weekend getaway? Check out things to do in Ballarat
Perth solo itinerary
Top 5 must do in Darwin, Australia
How to go from Dublin to Howth
Read a recent day trip to Zaanse Schans from Amsterdam
How about a solo itinerary to Canberra– Australia's capital city?
Going to Vietnam after Australia? Check out the 7 days Hanoi travel guide.
Check hotel prices and book it through trusted Agoda, or Booking.com
I have detailed travel resources right here. Save money, learn what and how.
If you like this article, follow my adventures on Instagram, Facebook, YouTube, Twitter, and Pinterest, but most importantly sign up to my e-mail list to keep up with updates and travel posts!
From Krakow to Warsaw by train