Montenegro solo travel led me to Podgorica, Budva and after spending some time in Budva, it was time to visit the most anticipated destination on my Balkan trip Kotor. I had heard a lot about this place and seen all the pictures online so I was excited is an understatement. Now that I have been there I can tell you all the hype is true! Read along if you are looking to solo female travel to Kotor as I cover where to stay in Kotor, what to see, and eat & day trips from here.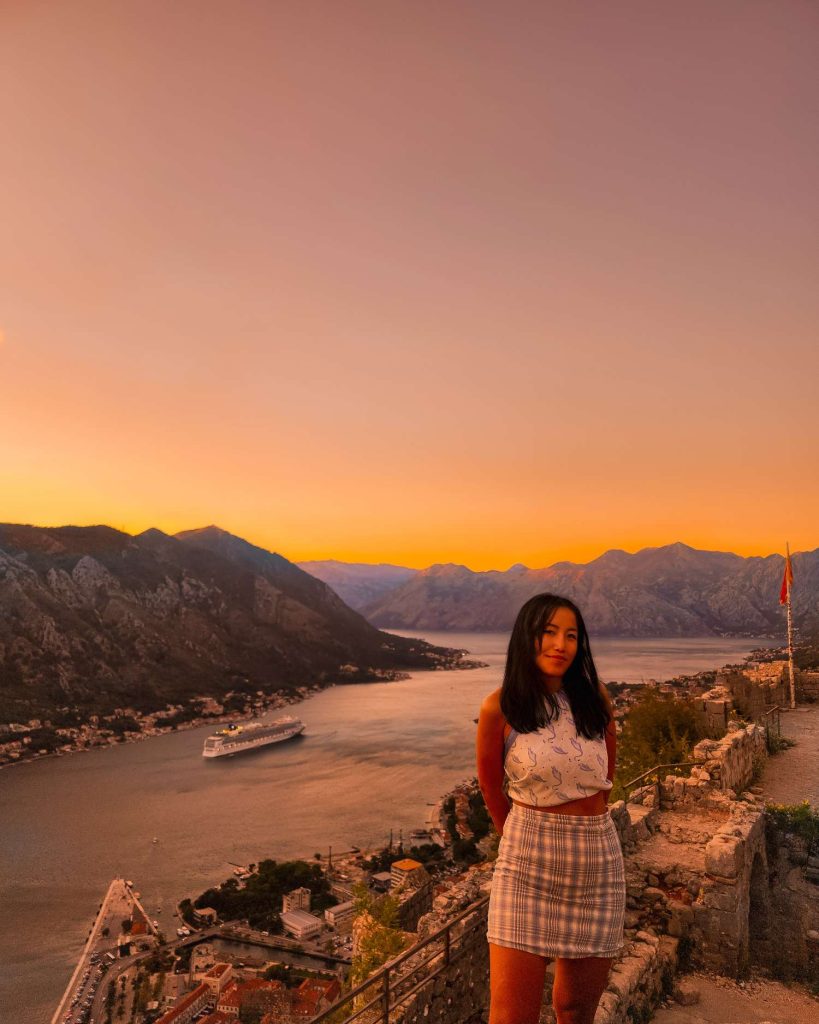 Solo female travel to Kotor bay
Kotor is one of the prettiest medieval towns I have ever been to, considered to date back before Christ located at the base of the Bay of Kotor. It is also known as Cattaro, a little fairytale town, tucked away in heart of the Balkans. This is the most beautiful and best-preserved town in Montenegro.
Did you know Kotor is more than two thousand years old, and its name stems from the word Dekatera (from the old Greece katareo – meaning HOT)?
Another interesting thing I observed during my solo female travel to Kotor was the town was full of cats! And apparently, the story behind it is that hundreds of years ago there was a large number of mice and rats in the town. So to stop the rats from taking the town, cats were introduced. Hence still today you will still have many cats and the town feeds and protects them.
Apart from the cats, there are other stunning things to see and I will cover them below. So if you are hesitating about whether to go or not, I hope this Solo female travel to Kotor helps you make up your mind and that you will go and experience this beautiful city. Let's start with a most asked question:
Is Montenegro safe for solo female travelers?
First of all, let's establish the understanding of solo traveling is brutality! It forces you to trust strangers and to lose sight of all that familiar comfort of home and friends. You are constantly off balance. Nothing is yours except the essential things – air, sleep, dreams, the sea, the sky – all things tending towards the eternal or what we imagine of it. If we are okay with it, we will adapt, and we will survive.
That being said, I felt safe in Kotor as well as on the bus from Budva to Kotor. Perhaps it made a difference I took a morning bus but not sure. I also met fellow solo travellers and a few locals in town and overall found people here to be nice and welcoming especially towards travellers.
So yeah unless there is a drastic change in the country's political situation, pandemic, or some natural disaster it is safe to travel to Kotor. Just remember to apply a general rule of thumb i.e. Don't walk down that dark alleyway on your own, respect the culture, don't argue about religion, dress modestly, trust your instincts, and don't be afraid but be cautious.
Where to stay in Kotor?
As solo female travel to Kotor, it may seem a little daunting where to stay because there are numerous choices when it comes to accommodation from all five stars hotels to hostels. Here are some suggestions based on higher positive reviews and in/around the old town for ease of exploring. No matter where you stay, make sure to book with a legit website such as Booking.com Most hotels and hostels also offer free WIFI and breakfast also.
To meet other travelers/backpackers
Youth Hostel
Old Town Youth Hostel, Apartments Parteli, Old Town Homestel
Mid Tier
apartman 367, Historic Boutique Hotel Cattaro, Hotel Vardar
Luxury
Heritage Apartment by Kotor Nest, Royal House, KAŽIN luxury rooms
How to get around Kotor?
Once you are near the old town travel is easy on foot as most must-see things are in/around the city. If you are taking day trips there are few options available you can either book a taxi for a few hours, take a tour or get on a bus.
How many days in Kotor is enough?
I would say 3 days is best if not rushing but one day in Kotor is the absolute minimum. You will most likely start your journey in the old town, explore major spots, then get up the hills for a nice sunset, around the town for food and drinks, and maybe squeeze in a day trip or two.
Do I need a visa for Kotor?
If your passport is from Australia, you can stay up to 90 days in Kotor, Montenegro. I highly recommend checking the official website online or with your local embassy to find out if your country requires a visa. Some countries can apply for Montenegro visas online too.
When is the best time to visit Kotor?
If you have limited time, anytime is best to visit Kotor IMHO but if you are after the best weather to enjoy this stunning destination, it would be between April to October. Basically summer time but also shoulder seasons before and after summer when the weather is dry and the temperature is warm yet comfortable. Also, shoulder season would probably offer better accommodation rates.
How to get to Kotor?
Traveling alone is quite different, as opposed to moving with a tour company. Hence if you are traveling alone, you have multiple ways to get to Kotor via flight, bus, train, driving car, ferry, or cruise ship. It all depends on your preferred mode of traveling and budget.
That said, it is easy to get to, especially from within Europe. As an example, there are numerous short flights from most major cities like Amsterdam, and London. The main airport is called Tivat Airport which is located right next to the city of Tivat, 8 km (5 mi) from the center of Kotor, and 20 km (12 mi) northwest of Budva. I flew out of here to Split solo travel.

If traveling from the neighboring country Tirana, Albania, there is an option to go to the local bus terminal and buy the ticket there in person (only takes cash) but I discovered there is more benefit in buying it online.
1. They take credit card
2. I had more departure options because I could compare ticket prices between 3 bus websites and buy one instantly that suited me.
3. These websites were also selling some last-minute cheaper bus tickets although they get sold in minutes so, you have to be quick in that regard.

There are many online bus companies to buy tickets from but I recommend three below that I personally used and had no problem with.
1. Busticket4.me/EN
2. geybybus.com
3. Flix bus
All 3 websites offer an English language option and take debit/credit cards. No need to go to the bus station.

Once you arrive at the Kotor bus station, and if you are staying in or around the old town, you will find Kotor easy to walk around. It may get a little challenging when you try to locate the hostel hidden between the alleyways though. So, peel your eyes for it. If you are staying a little far away from the old town, there were tons of taxis waiting outside to get to your accommodation.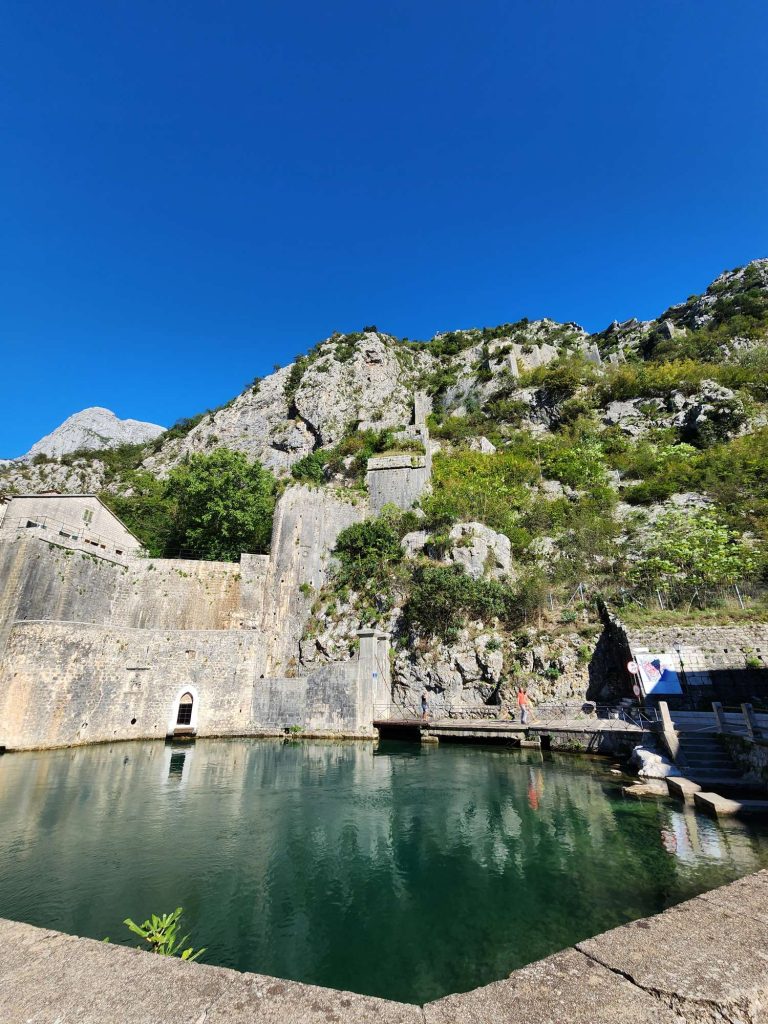 What to see in Kotor?
If you are in the mood to meet other travelers then join a free walking tour that gives you a broader perspective with stories about the city. It runs on a donation basis so just book yourself and arrive on time and tip at the end.
That said though some days you may not be in the mood to be in the group so in that case, you will be pleased to know Kotor oldtown is a walkable tourist destination, and the best way to understand the place is on foot.
I have written this Solo female travel to Kotor travel guide exactly how I spent it. You may change it around to what suits you best. Probably a good idea is to head to the indoor museums if it is rainy or explore outside if sunny.
The top highlights in Kotor are:
1. Kotor Old Town/ Stari Grad
When I arrived in Kotor, I was a little overwhelmed by how busy it was. And had a bit of trouble navigating through the old town to my hostel as the place was literally jammed with people
But after I got settled, I explored the old town and loved it! Some must-sees are, the Clock Tower/ Tower watch (VIII century), Cathedral of Sveti Tripun (XII century), Church of Sveti Luka (XII century), Prince's palace (XVII century), Church of Sveta Marija (XII century), Church of Saint Luke, Lapidarium in St. Michael's Church, and Church of Lady of Health.

Did you know Kotor is a world cultural heritage and is protected by UNESCO?
With its well-preserved walls, orange tiled roofs, and charming pedestrian streets with shops, this town is well worth the visit. While you are exploring the old town you will probably walk around the city walls and pass through 3 gates of Kotor – Gurdich Gate, also called the South Gate, sea gate as well Gate of the rivers, or The Northern Gate.
2. Saint Tryphon Cathedral
This Cathedral is located in the heart of the Old Town, back in the day it was supposed to be built in Dubrovnik, but due to bad weather conditions, it was built here, thinking it was the wish of Saint Tryphon. The entrance is 3 euros and the museum above is small but nice, it could help to have the descriptions of the displays but still nice.

The view from the terrace is also a plus and although the actual cathedral has been extensively renovated it still holds an enchanting space.
3. St. Nikolas' Church
Another important Church in Kotor is the Saint Nicholas Church, the orthodox religious site. The incense and gold adorned decor and icons create an interesting atmosphere but if you have been to countless Churches you may feel it doesn't feel that inviting, but you can surely appreciate the history and tradition here.
4. Kotor Maritime Museum
It is a long-running small museum in an old palace. It shows models of many different ships, some weapons, and pictures of local seamen and marines that defended the city. You can also buy an audio guide to learn more as you explore the two floors of this museum.
5. Pima Palace
There are many small squares in Kotor and Pima palace sits in a square called Flour Square (Trg od Brasna). It was built after the 1667 earthquake and the styles are a mix of Renaissance and Baroque if you are into that. After the 1979 earthquake, there was a bit more reconstruction but today it looks like it needs another one. You may need some imagination & a squint of the eyes to gain an impression of its past beauty.
There is a handful of other "palaces" in Kotor as well. Such as The Prince's Palace, Grgurina Palace, Buca Palace, or Bizanti Palace.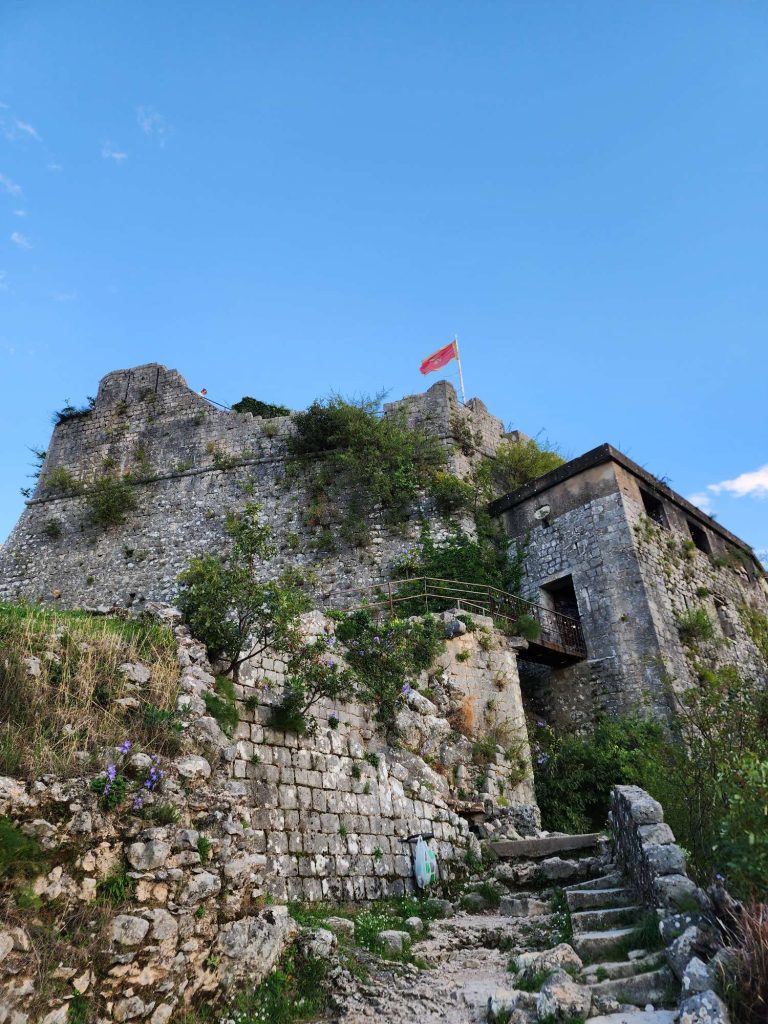 6. San Giovanni Fortress / Castle of San Giovanni
After meandering through the tiny cobbled streets and discovering a wonderful old town it is time to hike up the hill to witness a beautiful sun setting on a bay of Kotor.
San Giovanni, aka St. John's Castle, is perched 1200m high on the hill of St. John. The return hike to the top and back takes about 1.5 to 2 hours depending on your fitness level and how much time you spend up there.

The entrance to the hike is 8 euros if climbing the walls from inside the castle. However, the alternative path (you can find the start point by searching "start of the ladder of Kotor") is free but I am not sure if that is easier or difficult. If you take the latter path you will have to climb the wooden ladder, then you are inside the walls and you can reach the top like the other people paying 8 euros.
That said though, I definitely felt safe hiking from inside the wall to the top plus I made a local friend so there was no charge for me. Grateful I know! Either way, which path you choose, the views are absolutely worthy once you are up there.
Unlike the finger-like inlets on the coasts of more famous European destinations like Norway and Iceland, the Bay of Kotor was not carved by glaciers. This impressive bay was instead created when rising sea levels drowned an ancient river valley — a feature geomorphologists call a ria.
What to eat in Kotor?
Kotor offers food and drinks for every budget with its various cafes, restaurants, and takeaway shops. Here are my recommendations on must-try food in Kotor starting with Börek, Black Risotto, Bajadera, Pasulj, Silverbeet, Baklava, Calamari, and Catch of the Day.

And don't forget the national dish of Montenegro – Prosciutto, especially the Njegusi prosciutto, along with different types of sausages, hams, and other fine chopped, smoked meat.
Recommended places to eat are Cesare Old Town Restaurant, Konoba Scala Santa, La Catedral, Galion, Tanjga, Ladovina Kitchen and Wine Bar, Konoba Scala Santa, Astoria Restaurant, Old Winery or Platanus Bar, and Food.
What to drink in Kotor?
My favorite drink from Montenegro is called Montenegro! During your solo female travel to Kotor imagine meeting some fun fellow solo travellers and enjoying dinner/drinks together. We did that and would even say traveling in Montenegro is not complete without it. It is an easy-to-drink (sweet with a tang of bitterness) drink so be mindful as it is quite easy to drink heaps in one go.
Aside from that and wine Montenegro is famous for, rakija which is a rather popular traditional alcoholic drink, along with beer and mead.
Some recommended bars are Letrika Caffe Bar, Karampana Bar, Vinograd Kotor, Jazz Club Evergreen, and MojaKafanica Kotor.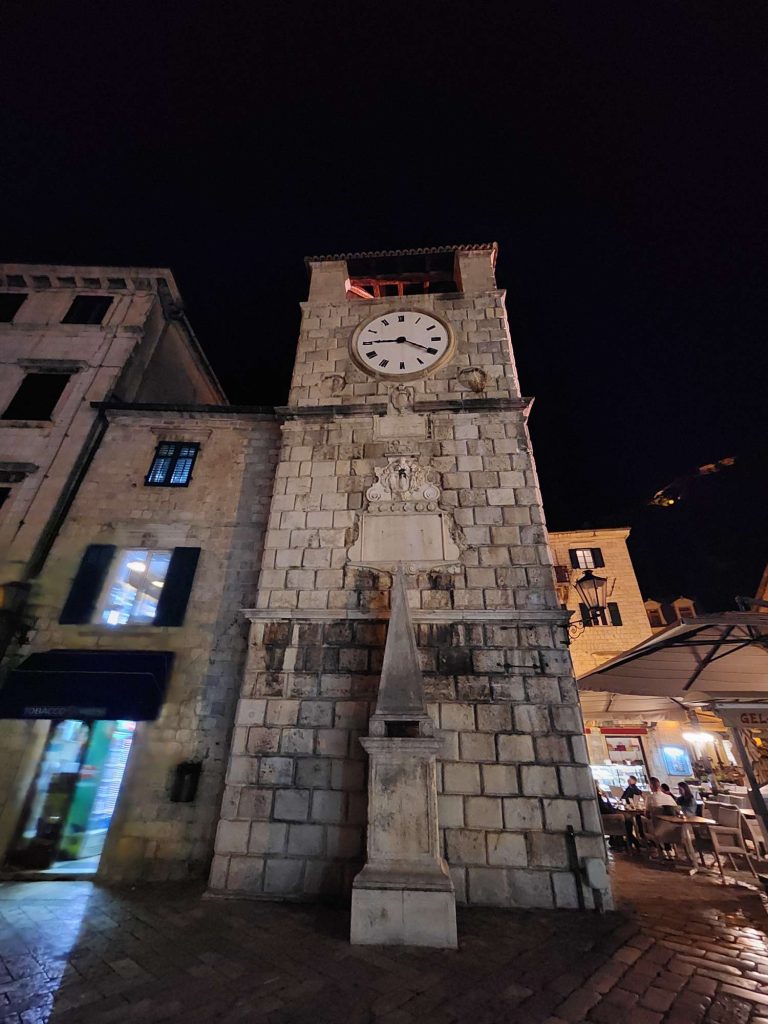 Day trips from Kotor
Solo female travel to Kotor doesn't have to limit to the city when you can explore beyond. For example
1. Our Lady of the Rocks, Perast
From Kotor reaching the island is easy, a return ticket costs 5 euros and the boats run frequently, ferrying people back and forth all day long. Just walk up to the little dock in front of the town – you will see signs along the street and find a ticket desk set up right next to it.
Alternatively, Perast is reachable by bus and car from Kotor too (15-30 min drive). From Kotor's old town, the bus stops at the southern end of the fresh market (no actual bus stop, look for people waiting around the light poles). In Perast, you can find the glass bus stop in front of the main church.
The story is that this beautiful church was built on an island by the locals throwing rocks into the bay on this spot after a religious icon was discovered here. Each year, on July 22nd, locals repeat the ritual of throwing more rocks to add to the island. Usually, it is peaceful if visited during the off-season, and picture the perfect location if you are looking for that Instagram-worthy place Near Kotor.
The entrance to the church is free, but to enter the museum is a 2 euros entry fee. They charge entrance to the museum at the entrance of the church.
Book Lady of the Rocks day trip
2. Lovcen Abysses National park
If you would like to get out of hustle and bustle of the old town then head to Lovcen Abysses National park. It takes approx an hour drive from Kotor old town to get here. The road is sometimes narrow but in superb condition. Just drive slow, and avoid racing as is not recommended to fall down from the mountain.
It is a beautiful park with beautiful scenery of Kotor and Cetinje. To enter the upper part cost 2 euros per person as a small fee for keeping it clean, and 5 euros for the mausoleum.

There is also a restaurant on the top, the Mausoleum, and views from the top are worth a day trip!
Alternatively, go on a group tour – book Lovcen national park
3. Sveti Nikola Island
This postcard-ready place is called Sveti Nikola Island. Expect to experience the best of Montenegro's hospitality and stunning beaches. It is the largest sea island in Montenegro and is located about 30 mins drive from Kotor. Best to visit for a day of the swim, sunbath, and snorkeling.
4. Sveti Stefan
Another day trip for suggestion during your solo female travel to Kotor is Sveti Stefan. It is a famous fortified village dating back to the 15th century, a uniquely atmospheric setting of cobbled lanes, handsome courtyards, and a picture-perfect instagrammable destination.
But there is a catch and that is the island of Sveti Stefan is only accessible to hotel guests. There is no entrance available for non-hotel guests. So this one would be a night stay if that suits you. You can book at Aman Sveti Stefan – one of the iconic symbols of Montenegro and the journey takes about 30-40 minutes on a car.
5. Bar, Montenegro
If you are into beach holidays, bar would be somewhere you would want to go. I live in Australia so beaches are not my priority when traveling. Again this is coming as a recommendation from trusted fellow travelers.
From Kotor to get to Bar, would take approx an hour drive with no traffic.
Some of the highlights in the Bar are the Church Of Saint John, Old Fortress, Stari Bar, King Nikola's Palace, Bar Beach, Old Olive Tree, and Montenegro Lines Bar.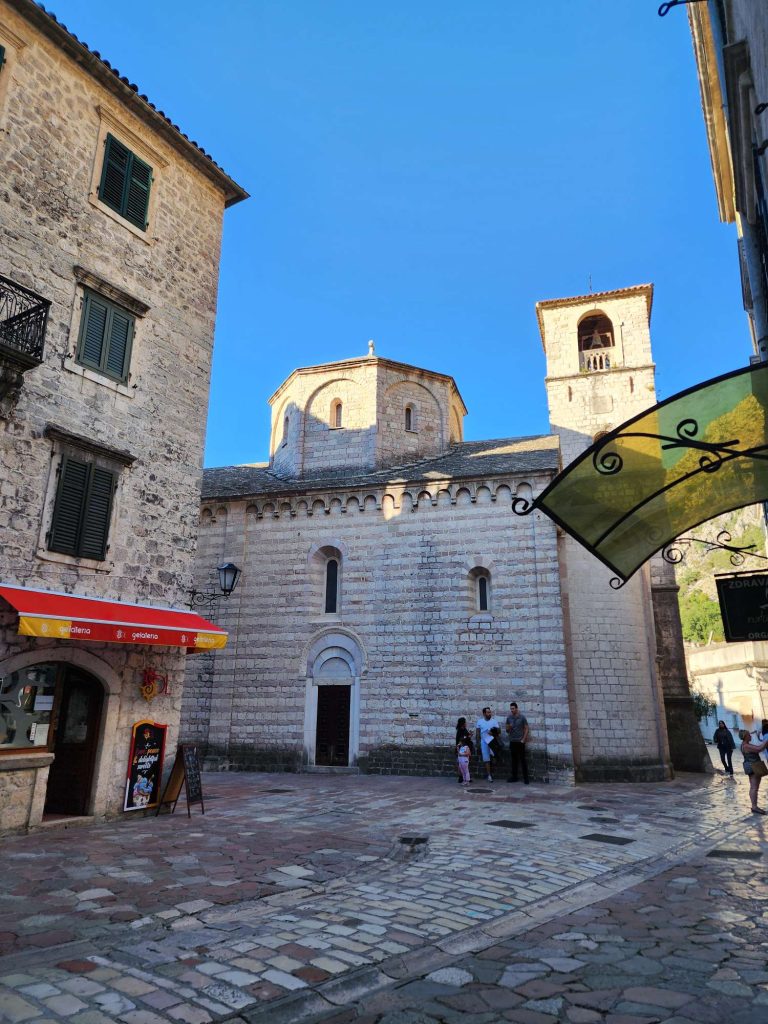 Weekend trips from Kotor
1. Kotor to Podgorica
Read more on Solo travel to Podgorica, Montenegro
3. Kotor to Budva
Read more on Solo female travel to Budva
2. Kotor to Tirana on a bus
Read more on Solo travel to Tirana, Albania, and on the way stop over at lake Skadar. Takes about 4 hours on a bus one way.
Local currency
The official currency is the euro.
You could withdraw euros from ATMs on arrival at the airport or in the city. However, remember to consider bank fees from your bank and the ATM withdrawal fee.
If you are worried about language, English is widely spoken especially in the tourism and hospitality industry.
Must-Have Travel Apps for Kotor
Google Maps for ease of finding routes, and offline use.
Google Drive, Calendar for time management, and storing pictures.
I hope this Solo female travel to Kotor blog helped you in exploring this beautiful town in Montenegro.
Where are you headed in the Balkans next? If you are after other Balkan country's travel guides check out some suggestions below.
If you don't feel like exploring alone, you can join any of the private or group tours below.
Let me know in the comments:
If you have any questions about Solo female travel to Kotor
Solo travel to Mostar, Bosnia, and Herzegovina
Solo female travel to Budva
Solo female travel Albania
Warsaw by Train covers warsaw travel tips
Check out One day in Luxembourg, western Europe
Day trip from Zurich to Liechtenstein
Travel tips to South America
Fiji solo travel guide
Australia east coast must-see
Master Sydney travel guide
Solo travel guide to Brisbane
Exploring Adelaide the best way is a must-read
Important travel tips for Uluru trip
Melbourne travel guide for first timers is here.
Melbourne day trips in winter
Day Hikes in Melbourne
Weekend getaway? Check out things to do in Ballarat
Perth solo itinerary
Top 5 must do in Darwin, Australia
How to go from Dublin to Howth
Solo female travel Romania
Read a recent day trip to Zaanse Schans from Amsterdam
How about a solo itinerary to Canberra– Australia's capital city?
Solo trip to Peru, travel tips to South America
Travel tips to Central America Solo female travel Serbia
Bucket list to Croatia travel guide coming soon
Going to Vietnam after Australia? Check out the 7 days Hanoi travel guide.
Check hotel prices and book it through trusted Agoda, or Booking.com
I have detailed travel resources right here. Save money, learn what and how.
If you like this article, follow my adventures on Instagram, Facebook, YouTube, Twitter, and Pinterest, but most importantly sign up to my e-mail list to keep up with updates and travel posts!
Solo female travel to Kotor, Montenegro