Peru is famous for its 12+ UNESCO heritage sites, pleasant weather, and its rich cultural history. The country is not only ideal for adventure seekers but also great for solo travelers. If you have been hesitating to travel to Peru on your own, I hope this one-month itinerary for a solo trip to Peru helps to make up your mind.
In Peru, there are more than enough destinations to explore, all punctuated with breathtaking scenery, ancient temples, beautiful beaches, and enjoyable cultures. From the delicious food and relaxing beaches to the interesting rugged landscapes, well-known Amazona, and some of the biggest Andes mountains Peru promises to deliver an excellent experience for solo travelers. Just make sure you digest this travel guide before you embark on your journey.
Here is a detailed one month itinerary for a solo trip to Peru, you can comfortably spend in the capital city of Lima, adventure and history-filled Cusco, Amazona, Puno, Arequipa, and Hucacachina/Paracas/Pisac.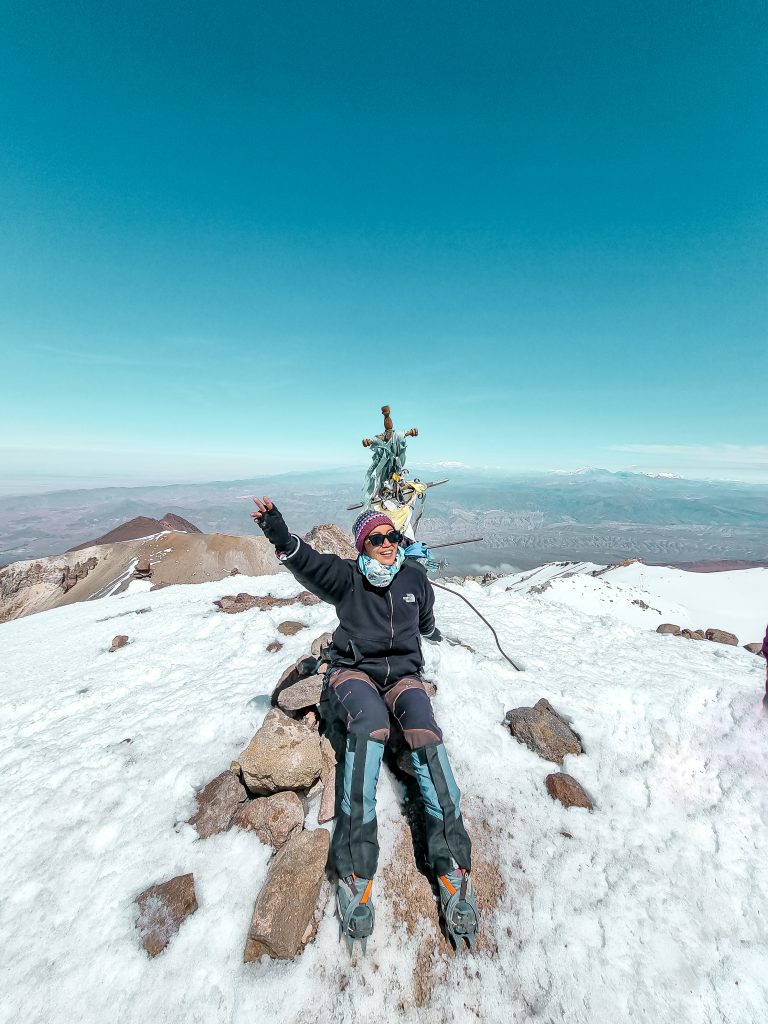 One month itinerary for a solo trip to Peru
How to get to Lima
Lima is the capital city of Peru sitting at 154 meters above sea level and the fifth largest city in South America. After Pizzaro founded Lima on January 18, 1535, Peru gained its independence from Spain on July 28, 1821. It has a pretty coast with an ocean and pretty standard capital city vibes full of shops, restaurants, and bars.
The easiest way to get to Lima is to fly from major airports around the world. Since I was already on the continent I flew from Cali, Colombia to Lima. Regardless of where you are starting, the best and most cost-efficient way to get to Lima is to fly from either fly from within any south American country or US among others.
Alternatively, if landing in Lima isn't important to you then you can also get to Peru's Andean cost from Chile or Costa Rica on some of the new-built luxury vessels.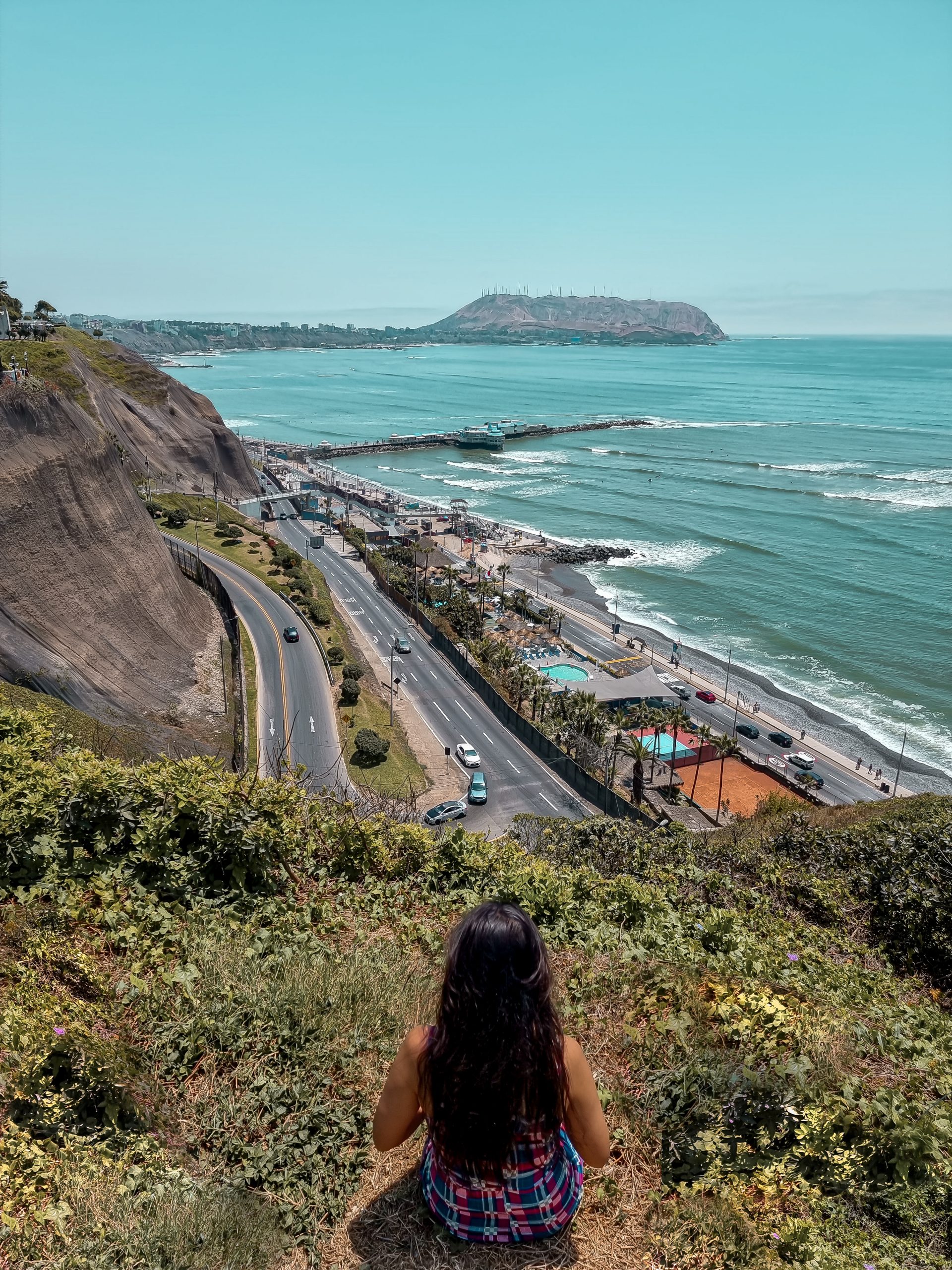 Top Destinations and Things to do in Lima for 5 days
Lima is filled with great historical monuments and museums, including Plaza de Armas, and Museo Larco (although a bit far from the city center, it is worth the taxi and entrance ticket if you are interested in finding out about Peruvian history and a surprising erotic gallery next to it!) There is also a cafe/restaurant onsite if you fancy testing out some Pisco Sour.
Other must-see places are Convento de San Francisco, Cathedral, Circuito Magico del Agua (Magic Water Tour) in the Park of the Reserve, Historic Centre of Lima, Peruvian Catacombs, Lima surfing spots. You could also join a free walking tour or tour the city on a Mirabus, Paragliding in Miraflores, Mercado Indio, Parque del Amor, and Circuito Magico Del Agua.
Perhaps join a free walking tour where you can meet people and explore together or you could take a walk yourself around the county's capital, and get to know a little bit more about the Lima culture. Also head to Huaca Pucllana to check out the Ancient ruins and weekend market in Miraflores. Then maybe head to Barranco for that bit of nightlife.
If you are into sunsets like I am. I recommend checking out the following outdoor places/hills. The air up there is just different! So beautiful, so pretty- don't get me wrong although it's quite a walk, it is well worth it.
Malecon de Chorrillos
Malecon de Chorrillos is located south of Lima, from here you can watch the sunset from the cliffs and beaches. Don't miss Morro Solar and La Herradura beach nearby which are beautiful too

Malecón de Miraflores
As you start this walk you are greeted with the best view of the Pacific Ocean and the Gulf of Mexico. Along the way, you will see the paragliding launch pad (pay on the spot) or walk further to Park of Love, Raimondi Park, and Maria Reiche Park. There are sometimes street sellers selling fruits along the way and you can head to Larcomar shopping center if you need the toilet.

The Viewpoint of Barranco
Another spot to watch sunsets in Lima is to head to this viewpoint that is located on a cliff behind the famous Ermita de Barranco. From there, you can enjoy the sunsets at the Pacific Ocean, and after the sun sets suggest getting dinner at some of Lima's best restaurants in Barranco.

The Beaches in the south of Lima
If you love sunsets and the ocean and have some spare time you can also head to 38 to 53 KM south of Lima. Among the most popular beaches are Punta Hermosa, Santa Maria del Mar, and San Bartolo. Punta Hermosa village is the capital district of one of the 43 districts in Lima. The main attractions here are its small coves with sandy and rocky beaches. The sunsets from here are worth the extra km! FYI, if you are into surfing the top surfing spots are the beaches of Herradura, Costa Verde, and Punta Rocas – all located to the south of Lima, Peru's Capital.
Where to eat and stay in Lima
Solo traveling in Peru demands a visit to one of Lima's most famous drinking spots, Barranco and the city center is the best place to enjoy local dishes such as Cevichi, Ají de gallina, Anticuchos, Pollo a la brasa, Papas a la Huancaína and Lomo saltado.
Considering you'll only be in the capital for a week, recommend using Booking.com for the best hostel and hotel prices. JW Marriott Hotel Lima is a luxurious place to start. However, if you are on a budget, consider the Andesmar Hotel & Suites or any of the hostels with 8+ reviews in Lima.
Cusco: 10 Day Travel Itinerary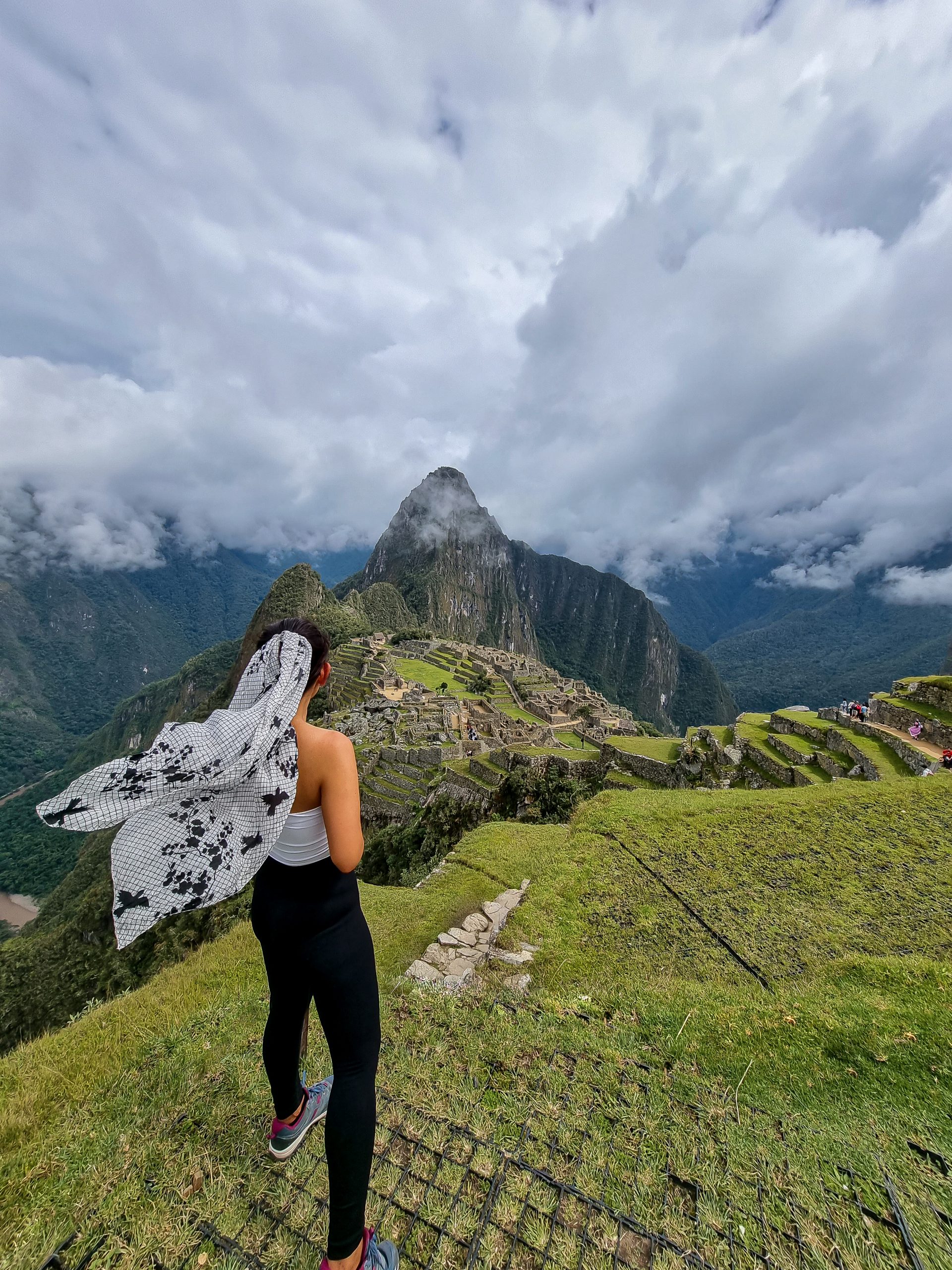 How to get to Cusco
The next destination on this solo trip to Peru travel is Cusco. Peru counts 28 individual climates. This creates a diverse ecosystem and natural variety, all in one country! While Lima sits at 154 meters above sea level, when you fly from Lima to Cusco (or another spelling Cuzco), you are going straight to the 3,399 meters above sea level. Hence many people may recommend you to break the trip down by stopping over at Huaraz (3,052m) or going all the way to Cusco by bus to lessen the effect of altitude sickness. Either way, once you arrive in Cusco and if you haven't had any high altitude experience in the recent days, make sure you take it easy for the first couple of days and acclimatize yourself to the higher altitude first.
Altitude sickness symptoms include:
Feeling Dizzy
Headache
Nausea, vomiting, and/or diarrhea
Fatigue
Shortness of breath
Loss of appetite
Disorientation
Insomnia
To prevent altitude sickness remember to drink 1 to 2 L of water daily and eat a diet rich in carbohydrates. Locals believe in the magic of chewing coca leaves and you can drink coca tea also. If you can avoid smoking and alcohol while acclimating and keep in mind that the effects of alcohol are stronger at higher altitudes. Recommend to consult your doc for any other related health issues.
Cusco is the ancient UNESCO world heritage site and capital of the Inca Empire, in the Peruvian Andes. The climate is temperate, spring-like during the day all year round, but with cold nights in winter, from May to August, when the minimum temperatures are near freezing (0 °C to 20° C)
It is the oldest continuously inhabited city in the Americas and the ruins of the old Inca city are the foundation for Spanish architecture and many of the stone walls that line the streets were built by the Incas.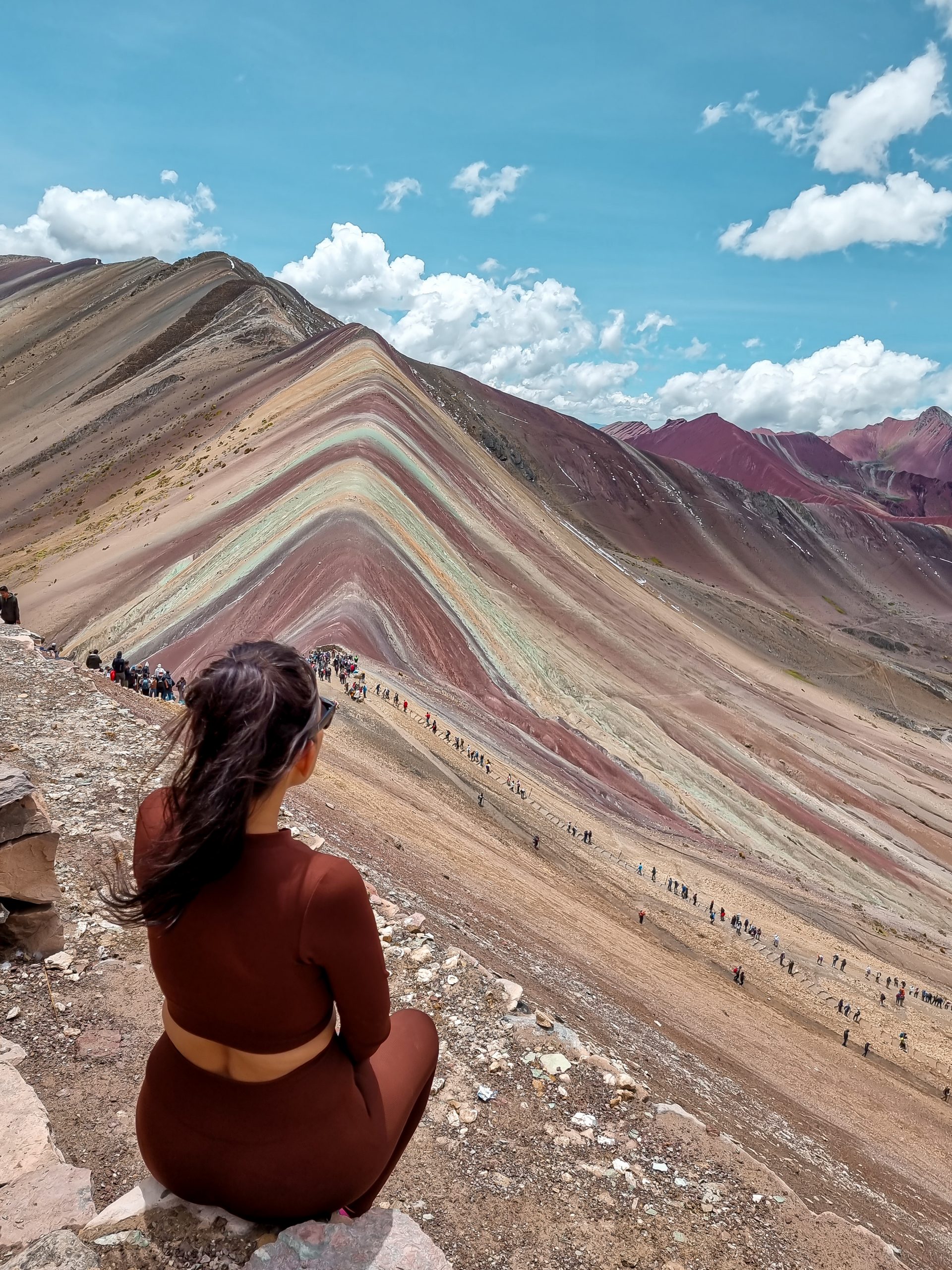 Top Destinations and Things to do in Cusco for 10 days
Cuzco is such an amazing place you could either spend days without doing much just relaxing or go on a full-on adventure every single day and not get bored! That being said, here is what I would recommend,
The First 2 days are best for acclimatizing but make use of these days by visiting nearby Sacsayhuaman (pronounced Sexy woman), Plaza De Arms, Statue of Christ, Centro Historico De Cusco, Cusco Cathedral, San Pedro Market
3-5th day Machu Picchu tours multi-night trip (I loved the story behind how/when Macha Pichu happened and enjoyed the whole trip including accommodation/trek/food)
6th Rainbow mountain day trip (I know it is touristic but OMG the colors! it is a must-see at 5,200 m)
7th Rest day
8th Sacred Valley (Pisac, Ollantaytambo, Moray & Incan ruins) (Highly recommend all of these places reminded me of Canyons, mountains, and rivers in Nepal so much)
9th Humantay Lake (beautiful lake sitting at an altitude of 4,200 meters)
10th Coricancha, Temple of the Sun or. Koricancha: The Golden Temple of the Sun & Convento / Iglesia de Santo Domingo OR
7th-10th Inca Trail or Salkantay trek
When you visit Sacred Valley and Machu Pichu you will witness some of the most impressive ruins. These ancient Inca ruins are said to be some of the most amazing and mysterious sites in the world which are best experienced when hiking the Inca Trail.
But the Inca ruins are not the only remains of ancient civilizations. On the north, you can find ancient civilizations in the city of Chan Chan, while in the south you can find interesting evidence of ancient cultures at Lake Titicaca, the city of Puno, and the Nazca Lines. (more on it below)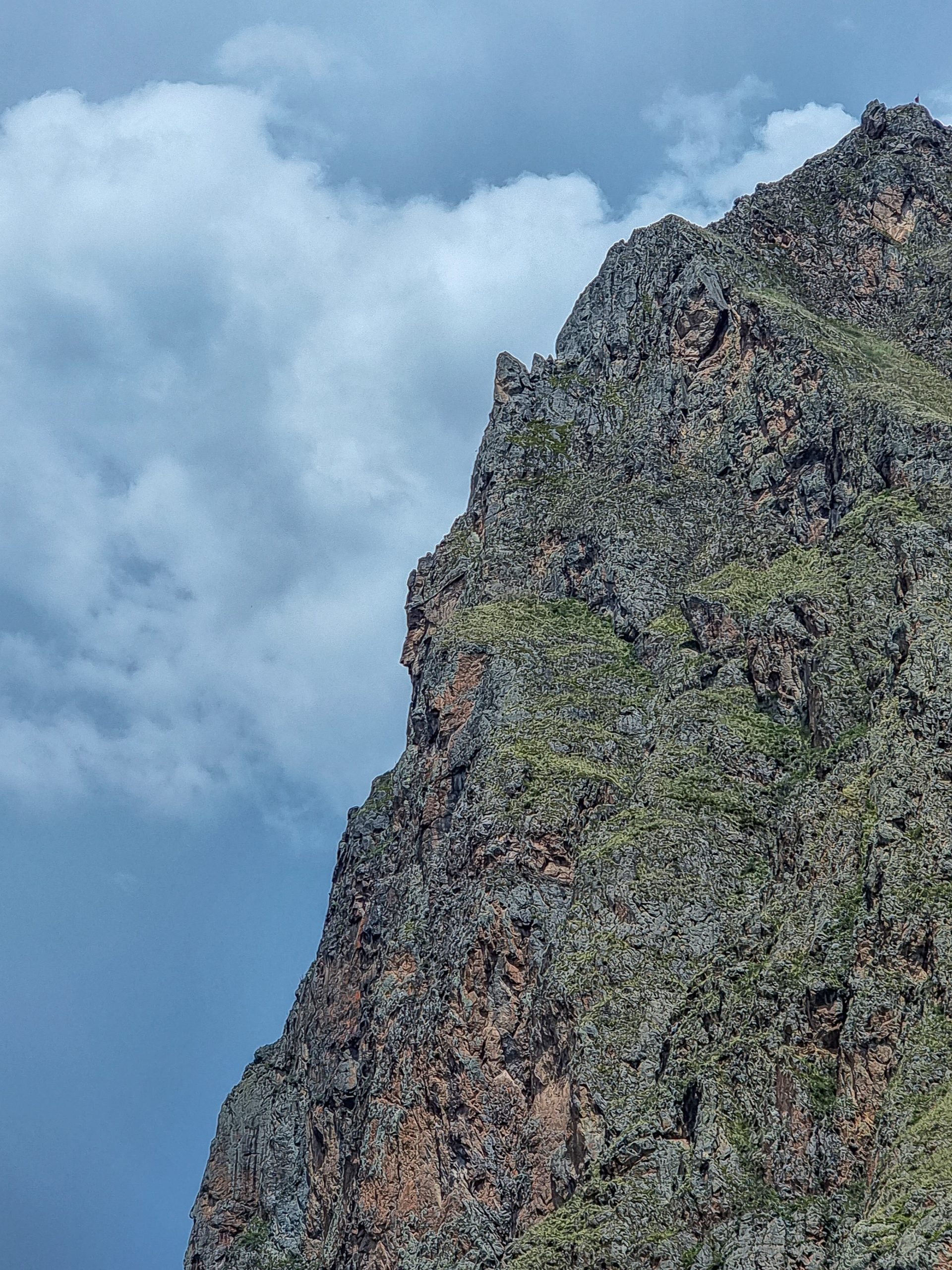 Where to stay in Cusco
Since Cusco will probably be your starting point to Machu Picchu and other places, I recommend checking the best-reviewed hotels and hostels in Cusco and their latest deals on Booking.com. So you can save money on accommodation. Usually within the old town hotels can be quite pricey but if you don't mind 10mins or so walk to the center then prices can be lower around there.
Where to eat in Cusco/ What to eat in Cusco
It's said that Peru has one of the best cuisines in America. I believe that's true. There are many restaurants, bars, and cafes to choose from. Some of the ones I liked and recommend are Ceviche in Plaza De arms, Taste of India, Cicciolina, Morena Peruvian Kitchen, and Organika Restaurant.
As mentioned above, Peru not only holds a variety of ethnic mixes, but also a climatic variety of 28 individual climates. This mixing of cultures and variety of climates differ from city to city, thus creating a varied cuisine across the country.
Some of the must try dishes would be Lomo Saltado, Ceviche Mixto, Empanadas, Tiradito, Butifarra, Chicharrón and an Andean delicacy, guinea pig meat – Cuy or LLama steak/burger! It's juicy and tender but not for a weak stomach. In general, Peruvian meals can be mild but you can always ask for Picante which is spicy overall most meals are so delicious
What to drink in Cusco
As it's said great drinks must accompany great food, you will see Peru makes sure that's the way it's done. Whether you prefer the bubble gum-tasting Inca Kola or the strong beers, Peruvian drinks will make you addicted to them! Some of the local drinks you will find (and love) are the famous wines from the Ica region, the pisco sours, and the coca tea (perfect to prevent altitude sickness).
Puerto Maldonado: 3 Day 2 nights itinerary
After all the high-altitude adventures and good food in Cusco, it is time to get into the beauty of the Amazon rainforest. I really wanted to be in the midst of the rainforest and experience it all. I even had my yellow fever vaccine done in Australia before leaving.
How to get to Puerto Maldonado from Cusco
The cheapest and easiest way to get to Puerto Maldonado from Cusco is on a public bus. I recommend Cruz del Sol which was safe and on time. Buy tickets online or at the bus stop. They even had curtains dividing the two seats so you have your privacy and they also had English movies on and offer snacks and water for overnight trips. Once you arrive you have to get on a 45-minute boat ride along the Madre de Dios River to get to Tambopata National Reserve or various hotels/hostels.
The Tambopata reserve plays host to over 1,000 species of butterflies, 100 species of mammals, around 600 species of birds, and hundreds of species of trees and plants. In fact, this reserve and surrounding region are one of the most biodiverse places on the planet.
Note the best time to visit Tambopata is during the wet or rainy season (November to April) as January and February are the rainiest months. you will get a great chance to find and see wildlife.
Things to do in Tambopata Reserve
Suggest booking a 3 day 2 night trip from Cusco for Tambopata or get there yourself if you know Spanish well.
Traveling to Tambopata National Reserve offers a rare opportunity to discover a lively biodiversity of birds,
mammals, reptiles, insects, and trees. Record-setting numbers of animal species are concentrated within small areas, and the variety of plant life is greater than almost anywhere in the world. To help you experience the wonder of this magic place.
Don't miss the Lake Sandoval excursion into the Tambopata National Reserve. Glide in a wooden canoe, across
a beautiful, mirror-like oxbow lake that is home to the endangered giant river otter, as well as red howler monkeys, red-bellied macaws, anacondas, side-neck turtles, and black caimans.
Visit the remarkable Inkaterra Canopy Walkway and Anaconda Walk, I also did Ziplining!
Venture into the Amazonian night walk into the forest to see animals and insects at night
Night boat ride to see white and black Caimans
Depending on the season see Spectacular Macaws and Parrots at a "Clay Lick"
Explore an Oxbow Lake Habitat
Watch an Amazon Sunset
Encounter Indigenous Culture
Marvel at the Jungle's Tallest Trees
Go Fishing/cannoning
Where to stay/what to do eat in Puerto Maldonado
If you have booked the 3 days 2-night tour they will look after you for the accommodation. If you are going by yourself, suggest looking up the best hotels and hostels on booking.com. Usually, the accommodations offer activities or sightseeing also.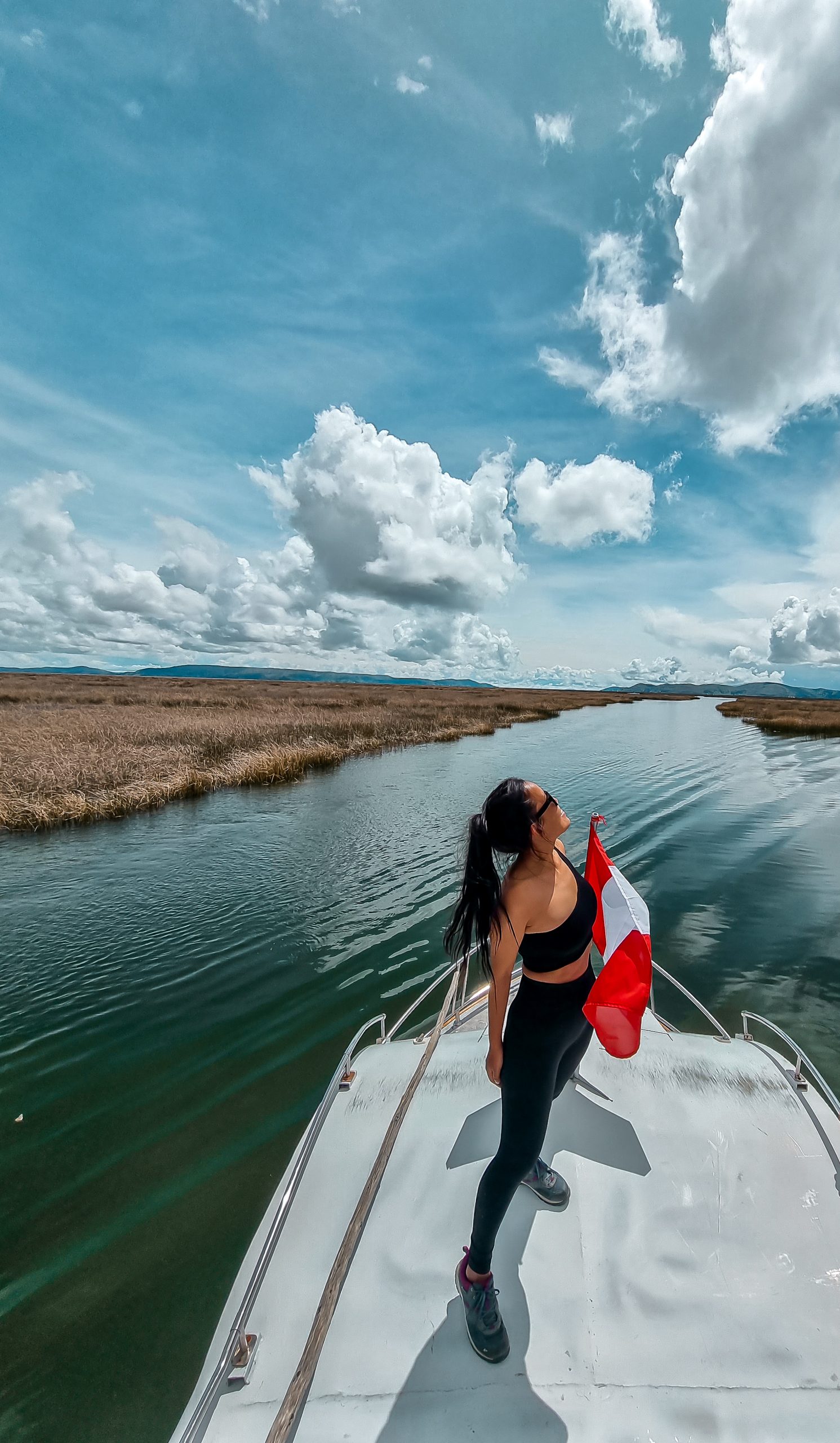 Puno: 3 days itinerary
The next destination on this solo trip to Peru is Puno. It is a city in southern Peru on Lake Titicaca, one of South America's largest lakes and the world's highest navigable body of water. Sort of reminded me of Inle Lake in Myanmar?!
Puno is considered Peru"s "folkloric capital," because of its traditional festivals featuring vibrant music and dancing. An interesting fact is in Puno traditions are expressed in celebrations that explode into fiestas almost every day of the year.
How to get to Puno
As mentioned above, highly recommend Cruz del Sol which was safe and on time. Buy tickets online or at the bus stop. From Cusco, Puno is about an 8+ hour bus ride. There are other cheaper bus options too and was safe but in general, as advised I would recommend Cruz del. They even had curtains dividing the two seats so you have your privacy and they also had English movies on and offer snacks and water for overnight trips.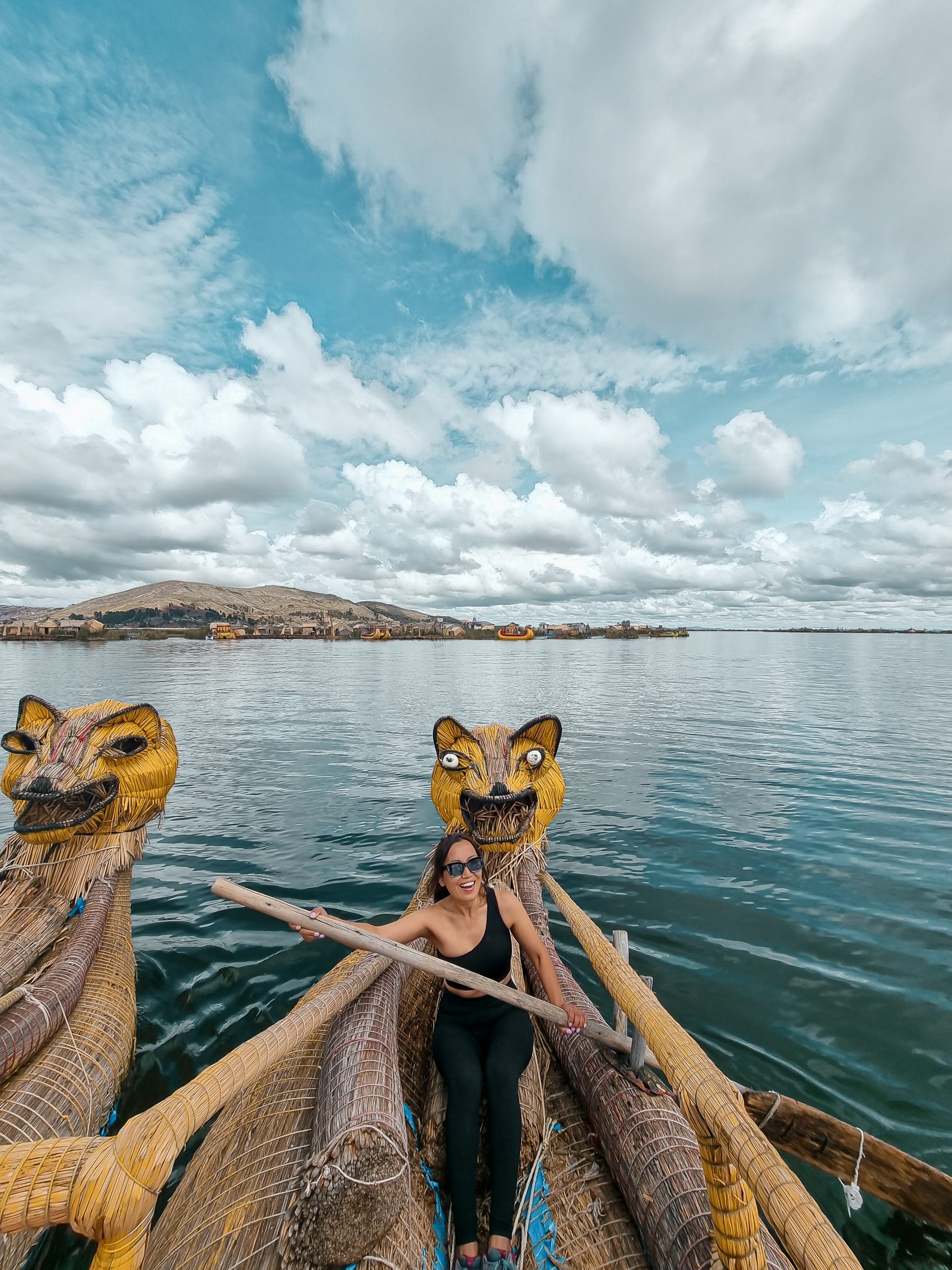 Things to do in Puno
Since allocating 3 days here, perhaps the best way to see Puno would be going on a day trip to the islands or 2 days 1-night trip and enjoy the last day discovering Puno center and walking up to either of the 3 viewpoints.
You can either book day trips online or at your accommodation to the following places:
Lake Titicaca
The fact that this massive lake, shared by Peru and Bolivia, is the highest navigable lake in the world definitely contributes to its popularity.
Uros Floating Islands (man-made floating islands)
Taquile Island
Sillustani
Portal de Aramu Muru
Condor Hill (Mirador de Kuntur Wasi)
Where to stay in Puno
Once you arrive in Puno, you will have to get on a boat ride if staying in or around the lake. Whether you are staying in the center or at the lakeside, recommend checking prices on booking.com for the best places in Puno
Where to eat in Puno
Some of the dish i recommend are Sancochado, Chairo, Trucha frita (fried trout), Chupe de quinua, Cancacho, Caldo de Cabeza. When it comes to restaurants here are teh suggestions: Balcones de Puno, IncAbar, La Casona Restaurant, Ricos Pan, Restaurante Alma, Casa Andina Premium Puno, Mojsa Restaurant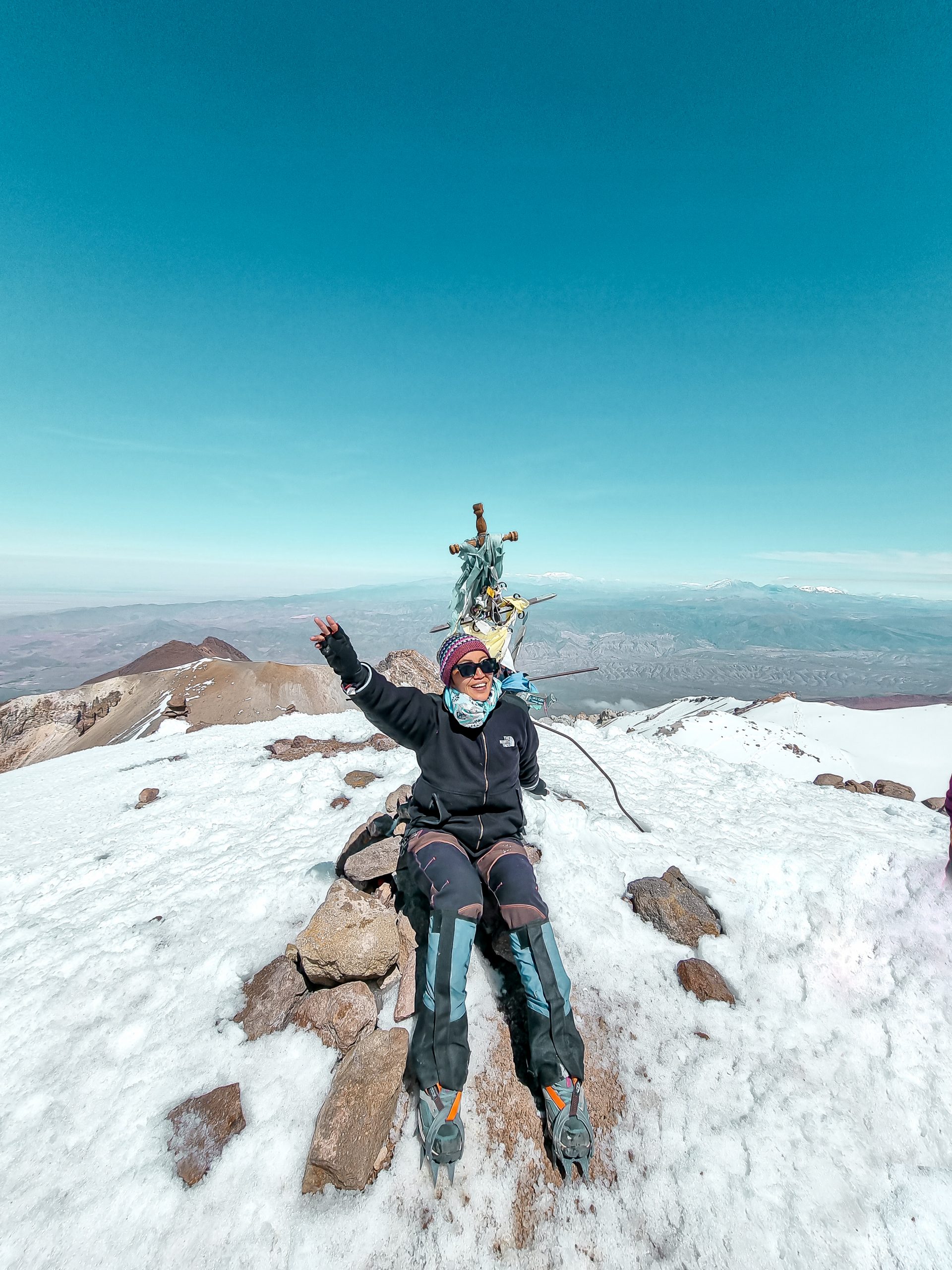 Arequipa: 5 days Itinerary
After Puno, if you are not heading to Bolivia, the next destination that makes sense to go to is Arequipa. It is a fascinating volcanic land and a place I thought I will stay only a few days but ended up staying 2 weeks altogether! (I went back here because I couldn't cross the border to Bolivia from Puno – thanks covid) but I also met fellow travelers who had been coming to Arequipa for years and others who had extended their stay here. It is just that place you won't want to leave, thanks to its location (lots of treks to do or perfect place to just chill for days), unique cuisine, its history, and its marvelous cordiality.
Arequipa aka the legendary White City, where its noble history can be felt in the air, beneath the eternal watchful gaze of its volcanoes. It is an unmissable destination and highly recommends to visit to see for yourself.
How to Get to Arequipa
Just like Cusco/Puno, the easiest and fastest way to get to Arequipa is to fly domestically but if you have some time on your hand, get on a local bus. There are many bus services that can drive you there but again recommend Cruz del dol because of the above-mentioned reasons. You can buy tickets on the bus company website itself or use Busbud or red bus. Alternatively, you can also buy tickets at the bus station to each of the destinations.
Best things to do in Arequipa in 5 days
One of the reasons I enjoyed myself in Arequipa and Cusco is because there are plenty of things to see and do in both places. You can hike up to a summit in the Andes, or you can go down to the deepest canyons in the world – Cañón del Colca and Cañón del Cotahuasi. Whichever treks you decided to do tho, the recommendation is to buy travel insurance prior.
The varieties and combinations of activities are unlimited in Peru and that makes it worthwhile to go all the way to South America and experience this natural variety.
That being said, whether it is through visiting a museum, wandering around a town or village, or hiking to one of the hidden Inca ruins, you will always be surrounded by the strong presence of history and of their cultural influences in Arequipa.
Some recommended activities in Arequipa, Peru tours for 5 days would be
1st day to walk around the center get to know the place: Monasterio de Santa Catalina, Plaza de Armas, Mundo Alpaca Arequipa, Basilica Cathedral, the Market or join a free walking tour to meet new people usually runs at 10 or 2 and 3 pm.
2nd day – Colca Canyon day trip (you could also do this as a DIY or multi-night trip)
3rd day – The Misti volcano climb (or multi-night trip)
4-5th day – 1 night 2 days Chachani Mountain (This has been the highlight of my Peru trip, the tallest mountain I have ever been on 6057 m above sea level followed by Everest base camp in Nepal)
or
4-5th day – Pichu Pichu trip or La Ruta del Sillar/ Salinas y Aguada Blanca National Reserve
Where to Eat and Stay in Arequipa
Arequipa has plenty of choice for dining and staying. To discover the local cusinies, head to the Arequipa market. Try Cuy chactado, Rocoto Relleno, Pastel de papa, Adobo, Soltero de queso, Ocopa, Escribano, Chupe de Camarones, Locro de Pecho, Lomo Saltado, Aji de Gallina, Papas a la Huancaina, Causa and Chicha de Guiñapo. Also if you still haven't tried, order a glass of purple drink called Chicha morada made out of purple corn in Peru.
On the second floor of the market find the Rosa mama Cheese ice cream shop- These are the best ones in the town!
Outside of the market some of the recommended places to eat are Zig Zag, Sol de Mayo, Chicha, Salamanto, La Nueva Palomino, Las gringas, Ocacao Chocolatería, La Despensa or Hatunpa.
If it is your first time in Arequipa, staying close to the Plaza de Arms would be the best area to stay. Lookup at booking.com for prices and tons of positive reviews.
Ica/Huacachina: 3 Day Travel Itinerary
The next destination on this solo female travel Peru is Ica which is a city center but the main reason to go here is to check out Huacachina.
Huacachina is the only natural desert oasis in South America! This stunning lil desert landscape is for all wine lovers, amateur archaeologists, and anyone who wants to try new outdoor activities in the shifting sands of a prehistoric desert.
So whether you're looking to party, Pisco tours, a wild ride on a dune buggy and sandboarding down huge desert mountains, or relax near a lake, this unique town will certainly leave you with lasting memories!
How to get to Ica/ Huacachina
The best way to get to Huacachina is by taking a bus from Arequipa to the city of Ica. Cruz del Sol runs this route too. Once in Ica, you can hire a taxi to take you the short 10-minute ride to the oasis town of Huacachina. If coming from Lima, the bus would be the easiest mode of transport as well and you could even break down the journey by stopping at Paracas or Pisco.
Things to do in Ica for 3 days

" target="_blank" rel="noreferrer noopener">Nazca lines day trip