Looking for must do in Darwin, Northern Territory of Australia? I'm sharing the 5 best things to do in Darwin that you won't regret!
Darwin is the capital city of the Northern Territory of Australia! It is the gateway to the top end, national parks, crocodiles, and home to some of the nicest and friendliest people I have ever met in Australia!
On a side note, it is the closest city to Asia which means it is also the cheapest place to fly to Asia and land back in Australia!
99% of readers found must see on the east coast of Australia helpful.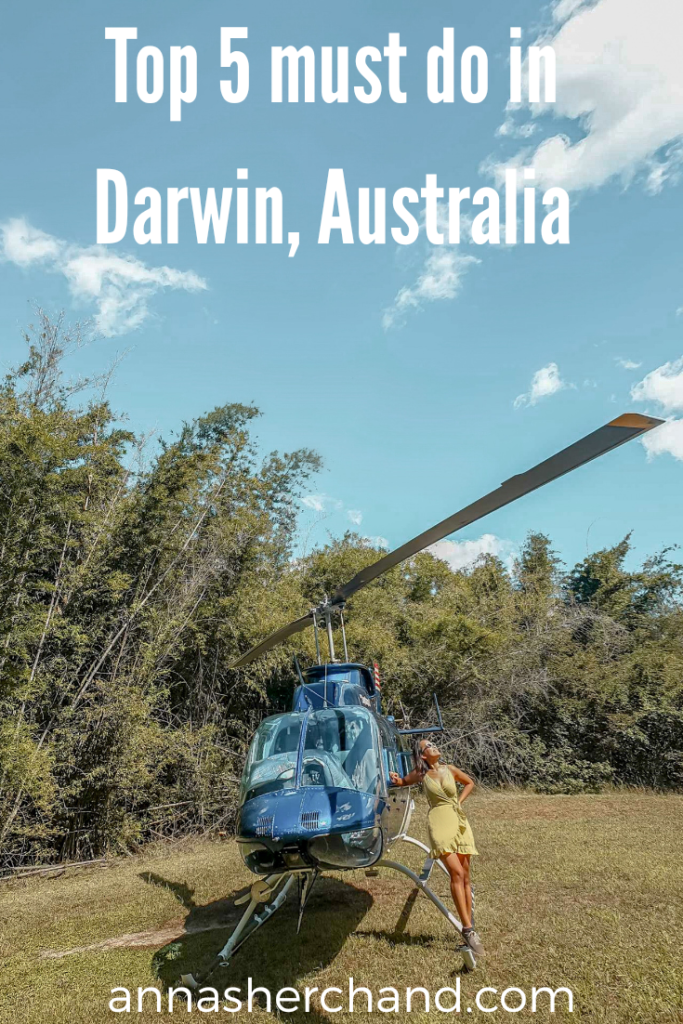 Top 5 must do in Darwin, Australia
When is the best time to visit Darwin?
Mid-June to mid-September is the dry season and generally offers cool weather, unlike the hot and sticky weather in other months.
I went in April and during the day I was sweating bullets (over 30 degrees)! and it wasn't just the heat but the humidity! But Darwin is a beautiful place and must be visited if you are in Australia. Plus, there is A/C and pool in almost every place so you should be good and during the evening it cools down enough to walk around!
Where to stay in Darwin?
Check hotel prices and book it through the trusted Agoda, or Booking.com personally I recommend YHA which I found to be safe & central. Also a good place to meet fellow solo travellers.
I have detailed travel resources right here. Save money, learn what and how.
How to get to Darwin?
I used Greyhound WHIMIT pass to get to Darwin from Alice Springs. It is the most useful travel pass that allows you to travel and see over 250 stops in Australia! It covers must-see locations such as Brisbane, and Adelaide but also off-the-beaten-path destinations like Noosa!
Basically, you can travel anywhere and in any direction on the Greyhound route, for a chosen amount of time! You can choose from 15, 30, 60, 90, 120 or 365 days pass! There is no other travel option that is this extensive and flexible in Australia!
Use code k7zapn for a $10 off your first Uber ride and use code WT7BSQD2 for a $20 Didi discount which is a rivalry to Uber.
Now, without further ado, let's begin!
Top 5 must-do in Darwin, Northern Territory of Australia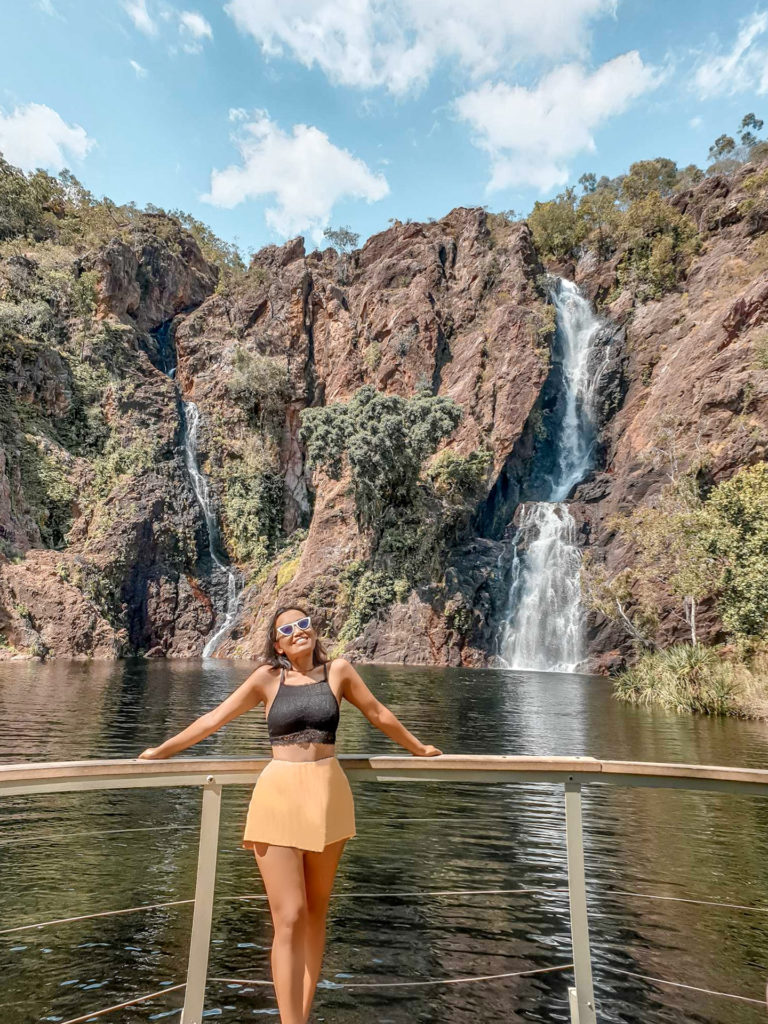 1. See the Kakadu National Park
Darwin is a gateway to the massive Kakadu National Park. It is a UNESCO heritage site and is well preserved by the Australian official bodies. It is also the largest national park in Australia, covering 19,804 km²!
Some of the highlights here would be wildlife from saltwater crocodiles, interesting flatback turtles to colorful birds, and 2000 plus species of plants! This biodiverse nature reserve in Australia's top end is a must-do in Darwin Australia.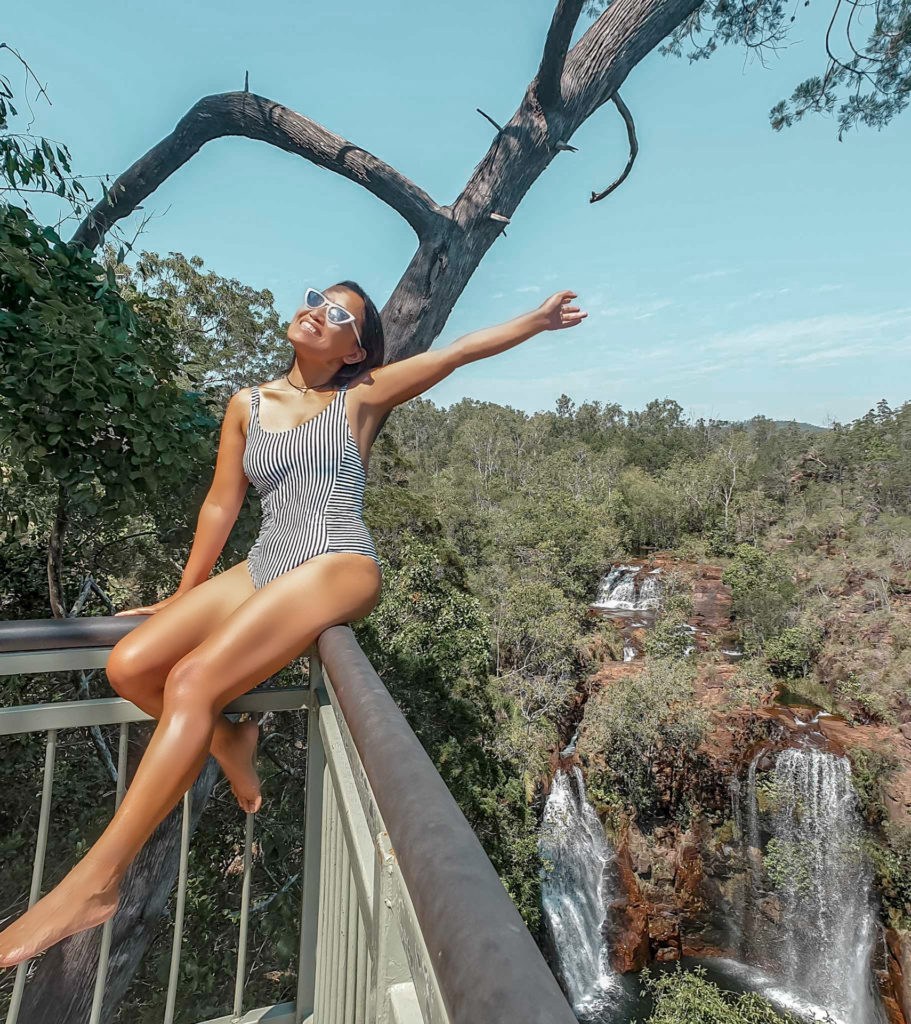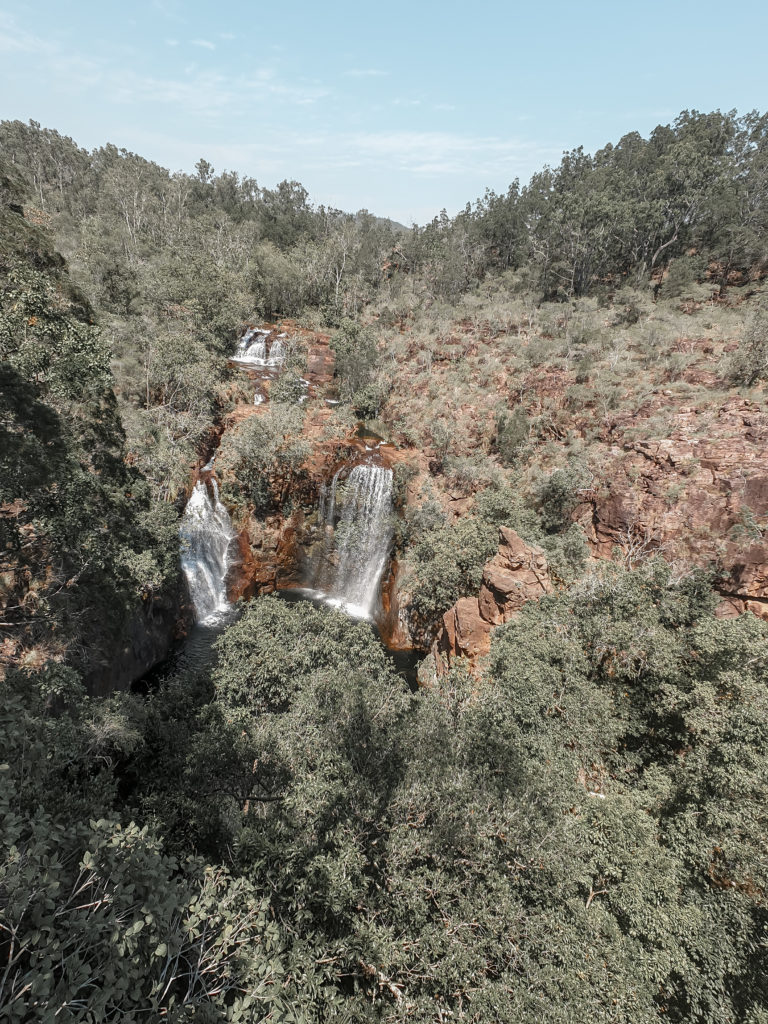 2. Visit the Litchfield National Park
Litchfield National Park not only has stunning waterfalls but it also has swimming holes with wonderful fishes and is home to giant termite mountains! It is fascinating to see how those little creatures create these large structures! It is no surprise that this national park attracts over 370,000 visitors every year!
This beautiful oasis is quite far to drive from Darwin city. So, I was on the lookout for an awesome tour with a local guide!

That is when I found Ethical Adventure tour and highly recommend the experience. Pick up/drop off right at your front door is included as well as homemade MANGO MUFFIN, BEST COOKIE (I ever had) and other little surprises along the way! It was a small interactive group tour that allowed everyone to engage in conversations and within an hour we all knew each other by their first name!
Litchfield was on my long-standing bucket list ever since I saw the pictures online! And it was well worth fulfilling the dream after four years! I was awestruck by the picturesque natural beauty pinching myself, again and again, to believe that such a wonderful place ever exists in the present era! I wish to repeat this visit again at least once in my life!
Litchfield is a local's favorite place and travelers off the beaten path gem! Our local tour guide Rob was welcoming, friendly, professional full of knowledge about the area, and pleasant throughout the day. And super well organized also!
I did a day tour with Ethical Adventure and it set the bar high for a day tour! Brilliant experience. 10/10
Some of the must-sees in this national park are Florence Falls, Wangi Falls, Termite mounds, wetlands, and Buley rock holes.
Alternatively, here are some recommended darwins tours from get your guide.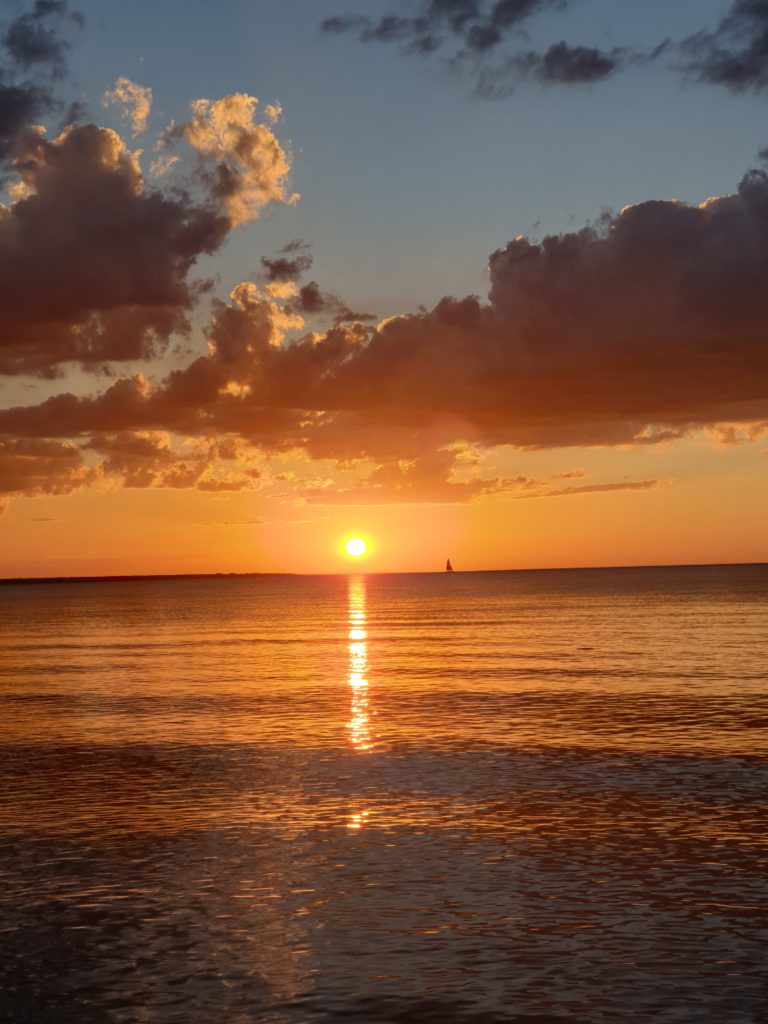 3. Enjoy the sunsets at Mindil Beach
Darwin has several beaches and green areas like Bicentennial Park, deckchair cinema at the botanic gardens, national parks, waterfront a few minutes from Mitchell Street, Mindil beach, and more. If watching sunsets by the beach is your type of relaxation, then you are in paradise in Mindil Beach! Plus, sunsets are actually stunning, making it to this list of must do in Darwin!
It is a scenic beach with stunning sunsets over the water! Get yourself some sunscreen, a bottle of water, read a good book or take a dip and work on your tan. It is all possible here at Mindil beach! If you are curious head to Museum and Art Gallery nearby to learn about the history.
4. Eat at the delicious markets
When you are done sunbathing and enjoying the Mindil beach, head to the markets across the road. They do almost all types of Asian cuisines and some western ones too.
I recommend the Juice/smoothie booths and Indian cuisine but I have no doubt the rest would be awesome as well! It does get super crowded though, so get there an early part of the night! Luckily when I was there, it was the first opening of the season, so they even had fireworks at the markets/beach!

Watch my "Darwin" highlight on Instagram for live stories from the market!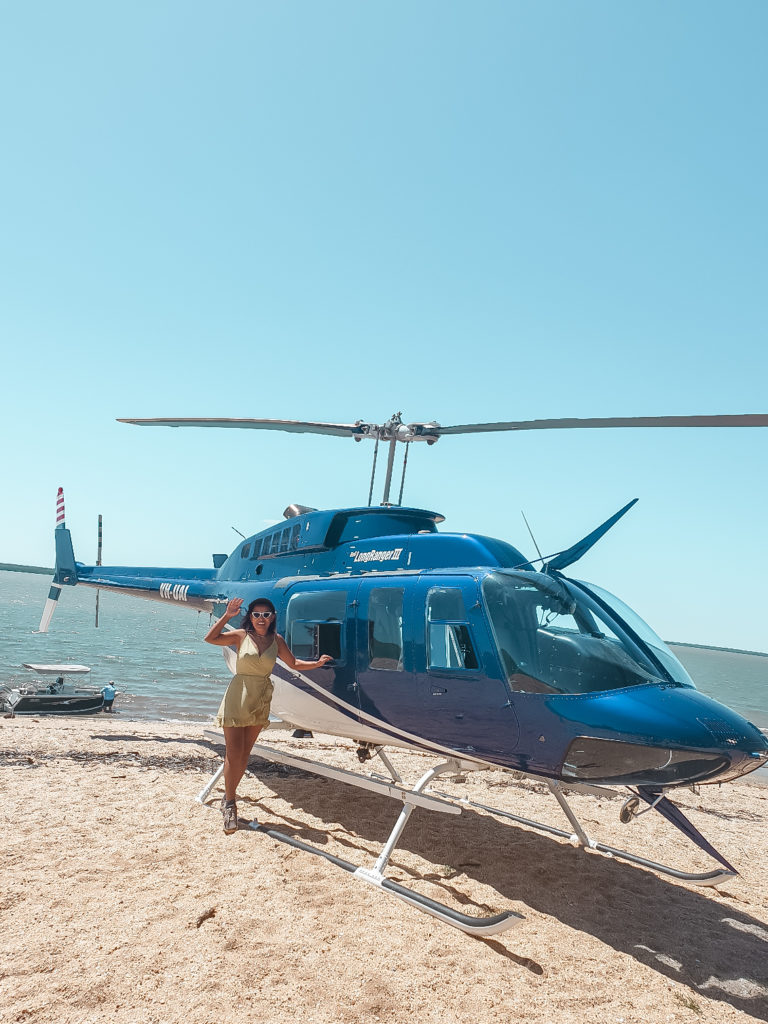 5. Go on a Helicopter Pub Crawl
Yes, you read that right!
You must have heard or been to a pub crawl right? Well, this is exactly the same concept but with the dash of class and comfort on a helicopter!
I went with Airborne Solutions and highly recommend the tour. It starts in the morning around 9 AM and last 7hours. Pick up/drop off aren't included but it isn't far from the Darwin center.
TIP:
Install Uber app
Download the Uber App for going around in Darwin. Better than waiting for taxis and trains, get reliable and fast door-to-door service. For my readers, I'm giving you $10 off your first ride on the Uber app. To accept, use code 'k7zapn' to sign up. Enjoy! Details: https://www.uber.com/invite/k7zapn
Some highlights from the Helicopter Pub crawl are Darwin Harbour from above, touching the Adelaide River, spotting the water buffalos, watching the wild crocodiles getting fed (another must-do in Darwin), visiting beautiful off-the-beaten-path places, expert commentary from the pilot, and sipping your favorite beverage at some of the coolest locations in Darwin, Australia!
Get your mates together and have a blast! Or like me, go on your own and meet people in the helicopter! It is definitely high up on my list of must-do in Darwin. Do yourself a favor and book it in advance as they get booked quickly!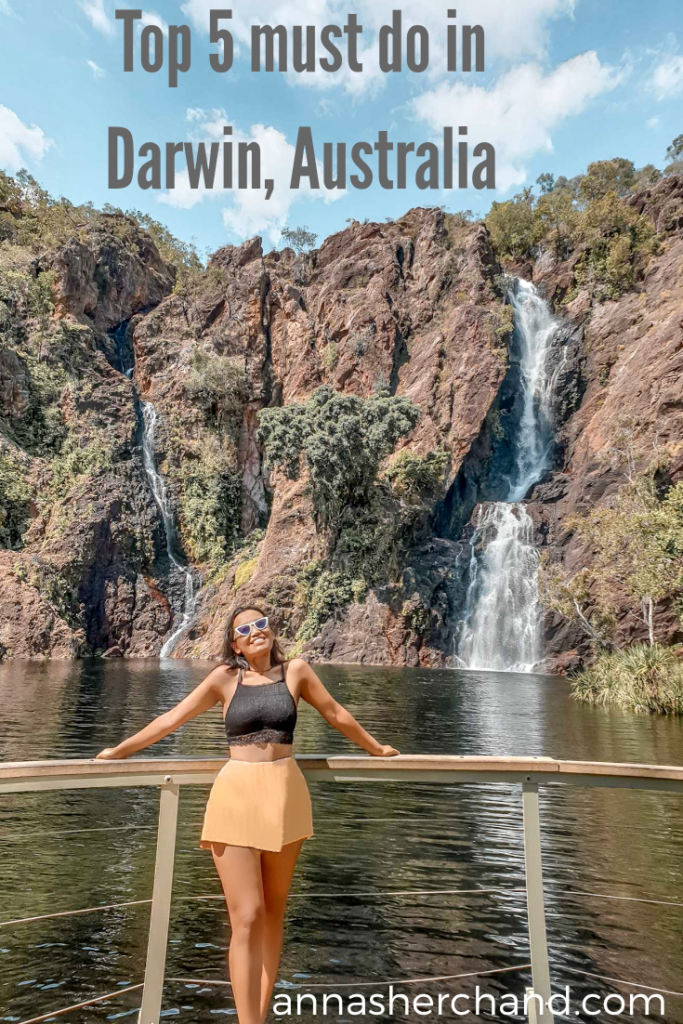 Enjoyed reading about Darwin's must-do? Pin it.
Let me know in the comments –
If you like this article, follow my Adventures on Instagram, Facebook, YouTube, Twitter and Pinterest, but most importantly sign up to my E-mail list to keep up with updates and travel posts!
Top 5 must do in Darwin, Northern Territory of Australia