Further to the best things to do in Wilsons Prom, today I am sharing the best Wilsons prom walks for you all. Wilsons Promontory National Park is one of the local's and visitors' favorite destinations to go for a turquoise ocean, camping, and secluded walks among the rainforest. You can expect to be in a walker's paradise as there are not 1 but over 20 walks, hikes, and overnight hikes available.
This national park is open every day including public holidays and weekends and these are the times when it is fully packed with families also. Note: camping and accommodation must be booked in advance. There is also a visitor center and the general store that is open every day but the hours vary (check parks.vic.gov.au for current times).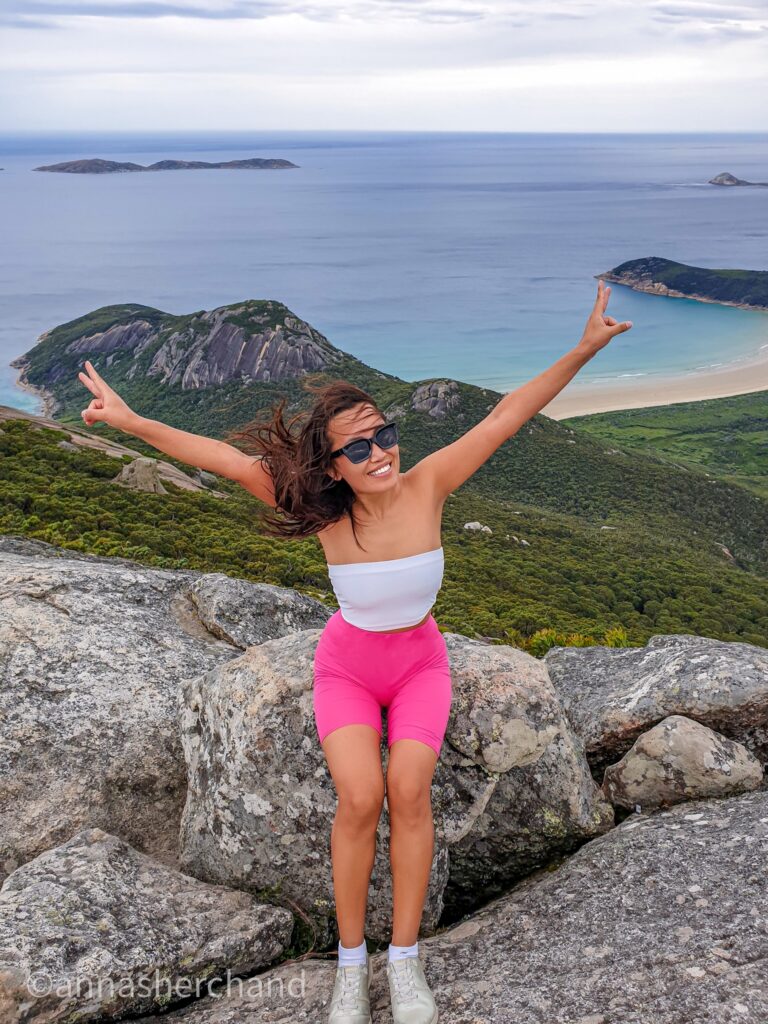 Best Wilsons Prom walks
1. Loo-Errn Track
This is a 1km walking track that takes 30 minutes each way. You can follow the south of Tidal River and get to Tidal River Footbridge which is a boardwalk with fishing platforms and can see wetlands.
2. Tidal Overlook Circuit
If you are looking for another short walk, then consider the Tidal overlook circuit because it is only a 3.8km 1.5 hours return walk. After the tidal footbridge, you can walk to pretty Norman and Leonard Bays, followed by the Lilly pilly track, and turn right to make it a loop.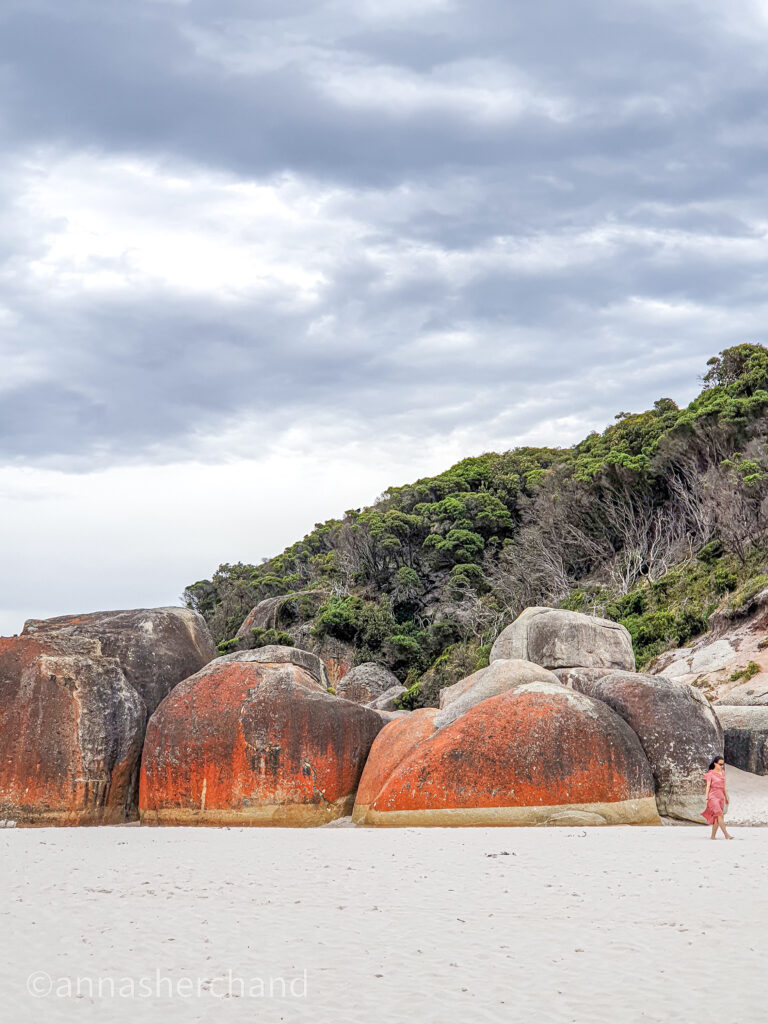 3. Pillar Point
Another walk you can start from the tidal footbridge is Pillar point. It is a 3.6 km and 1.5 hours return walk. You can expect to see the giant granite boulders and the islands off Wilsons Proms.
4. Lilly Pilly Nature Walk
Now this is one of the famous short Wilsons Proms walks. It is 5.2 km and takes about 1.5 return and goes through the lush bush, the eucalypt trees, Broadwalk and you can also walk up to the tidal river.
5. Lilly Pilly Gully Circuit Walk
The only difference between the Lilly pilly nature walk and this circuit walk is this walk goes across the southern face of Mt Bishop through stringybark forest before aligning back to the nature walk through the lush rainforest. It is about 5.8 km and 2 hours return.
6. Mount Oberon Summit Walk
If you are after a grand view, Mt Oberon Summit walk is a must. During the peak season, there is a shuttle bus that goes from the tidal river visitor center and overnight hikers car park to the Telegraph Saddle car park. In off-peak, you can drive up yourself. From there, you can hike to the summit quite easily as the track is well worn off, and can't miss it (6.8, 2 hours return). At the top, it gets super windy so be careful and enjoy that stunning 360-degree view of the park, 3 beaches, and surrounding areas.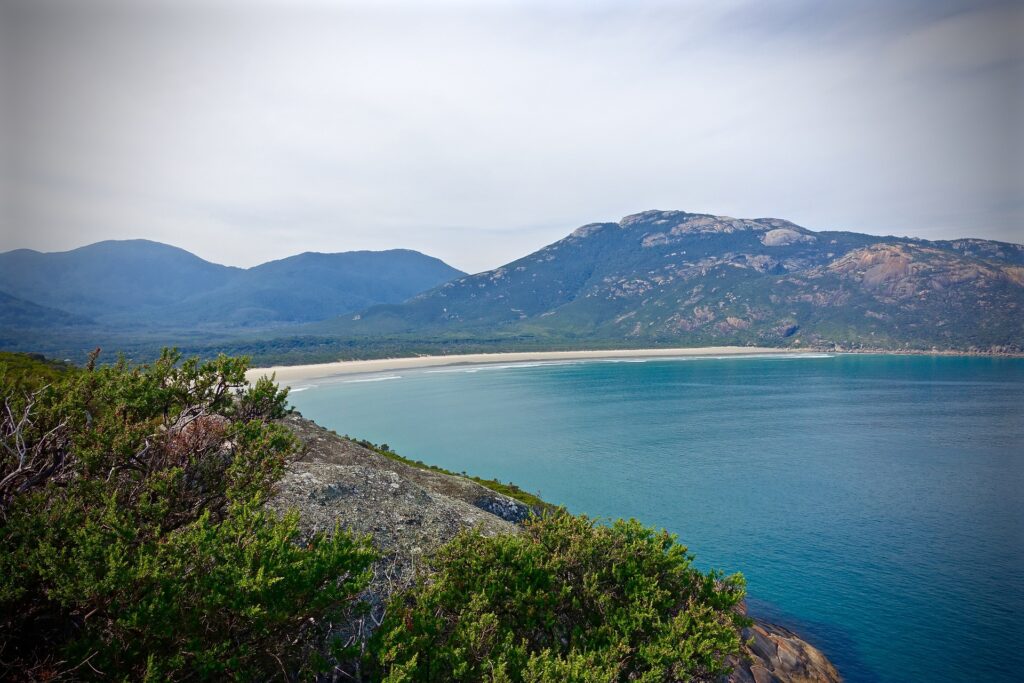 7. Mount Bishop Summit Track
If you follow the above Lilly pilly circuit walk, you will notice a side track that leads to the rocky summit of Mt Bishop. It is slightly longer to walk at 7.4 km and you are looking at approx 2.5 hours return. Expect to witness the jawdropping views of the Prom's west coast and far off islands.
8. Squeaky Beach Walk
This is one of the iconic locations in Wilsons Proms walks. Starting at the Tidal river footbridge this 4.2 km walk takes about 1.5 hours to return and you can enjoy the calming coastal views, white sand, and prettiest water in the whole of National Park. It is worth mentioning sands at the beach make a "squeak" sound when you walk on them! It's funny but really fun. Found out that's because the fine, rounded grains of quartz sand compress under your feet, creating a high-pitched squeak. A must-have experience!
9. Little Oberon Bay
This is one of the Wilsons Prom walks that requires 3 hours of your life to go 8.2 km return. The starting point is between the Tidal river visitor centre and a general store. The first stop would be Normans Beach then on to little Oberon Bay. You can enjoy the beautiful views of the park, Anser, and Glennie islands.
10. Three Bays Walk
If you are looking to do a longer walk, three bays walk could fit the bill. It sits at 12.4 km, takes about 4 hours in return, and covers all three beautiful bays of the Wilsons Promontory Marine National Park. (Squeaky Beach, Picnic Bay, Whisky Bay) This is one walk you can enjoy both what the land has to offer here and the ocean.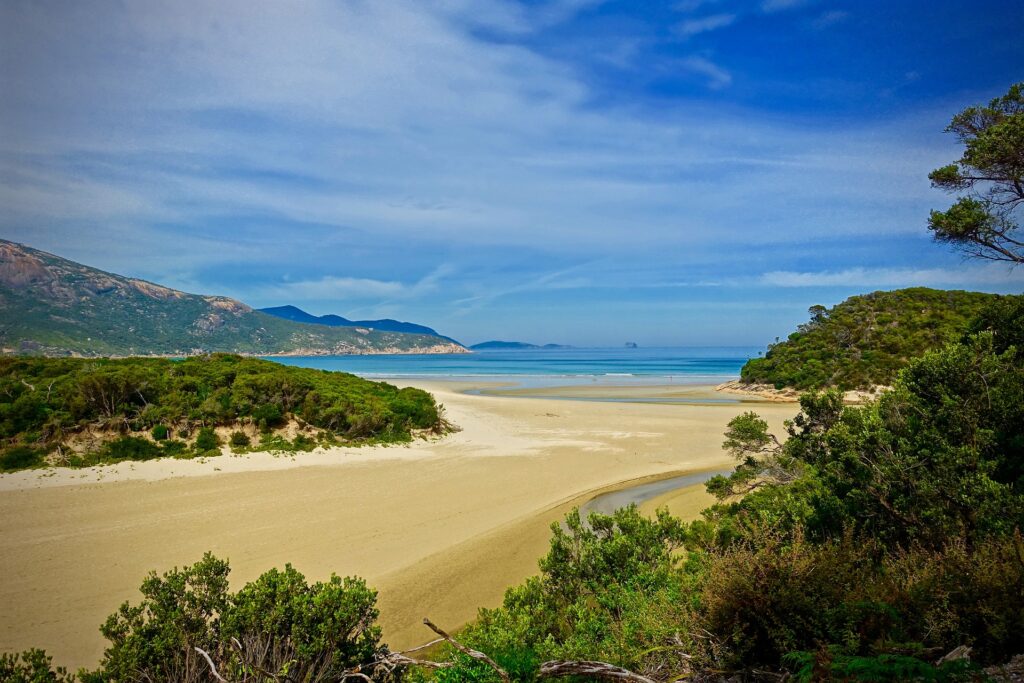 Now that we finished off with the walks around Tidal River, let me share with you some other Wilsons Prom walks in the north
11. Shallow Inlet
This walk is only 400 meters and 30 minutes return because it is very close to the Hourigan Camp lane parking lot. From there 400 meters walk via a sheltered gully of tea tree and swamp paperbark and you're there.
12. Prom Wildlife Walk
This walk in the north of the Park is 2.3 km and takes 45 mins in return. If you are looking to walk around open grasslands and view native wildlife such as kangaroos, emus, wombats, and wallabies, this track could provide that for you.
13. Cotters Lake and Beach
One of the best Wilsons Prom walks is Cotters Lake and Beach walk which is 2.4 km and takes only an hour to return. You can see both the lake and the beach with coastal views.
14. Big Drift
If you are looking for something different than ocean views, head to big drift because this is where you can see the landscape of inland sand dunes. It is also not that far of a walk, 4km and 1.5 hours return makes it a worthwhile hike. Bring your sandboard but know there is no access to the beach from here!
15. Tongue Point from Darby River
The trail at the tongue point from the Darby river starts from the Darby carpark. As you walk through coastal vegetation, keep an eye out at about 2.4 km as you have to climb down to Fairy cove (recommended in the low tide), followed by a trail to the coastal headland of Tongue point. Be mindful it is 2hours one way so, prepare your time accordingly.
16. Millers Landing Nature Walk
Another Wilsons' prom walk that is worth checking out is the Millers Landing Nature Walk. It is about 4km and takes about 1.5 hours to return. You can start this walk from a five-mile car park then turn left after the management's gate and walk past the woodland to Millers walk. A highlight here is the mangroves which are actually the southernmost mangrove in the world and Corner Inlet which is a world-class wetland habitat for birds.
17. Vereker Outlook
Last but not least, another Wilson Prom walks is Vereker Outlook. Although slightly longer at 6km and 2 hours return it is worth the effort because it is jam-packed with speechless views. This walk starts at the Five-mile care park and offers beautiful panoramic views of the Darby Saddle, Corner Inlet, and Cotters Beach.
How to get to Wilson Prom?
It is 3 hours drive from Melbourne CBD and the tidal river is a further 30 minutes drive from the entrance of the National Park. Note: there are no fuel supplies at the park so come prepared 9 or fill up at Yanakiem Fish Creek and Foster) and look out for wildlife.
Something worth mentioning is all the plants, animals, and cultural sites in the Wilsons Prom are protected and should not be disturbed, fed, or removed. If found, there is a penalty for it. Also, keep in mind, that no bicycles, motorcycles, or trial bikes are allowed on the walking tracks.
Before you go on walks, day or multi-night hikes,
Let someone know or leave a note where you are going
Don't forget to bring a first aid kit, sunhat, sunscreen, sufficient drinking water, waterproof clothing, and sturdy walking shoes.
Stay on the tracks to avoid getting lost (in case of emergency call 000)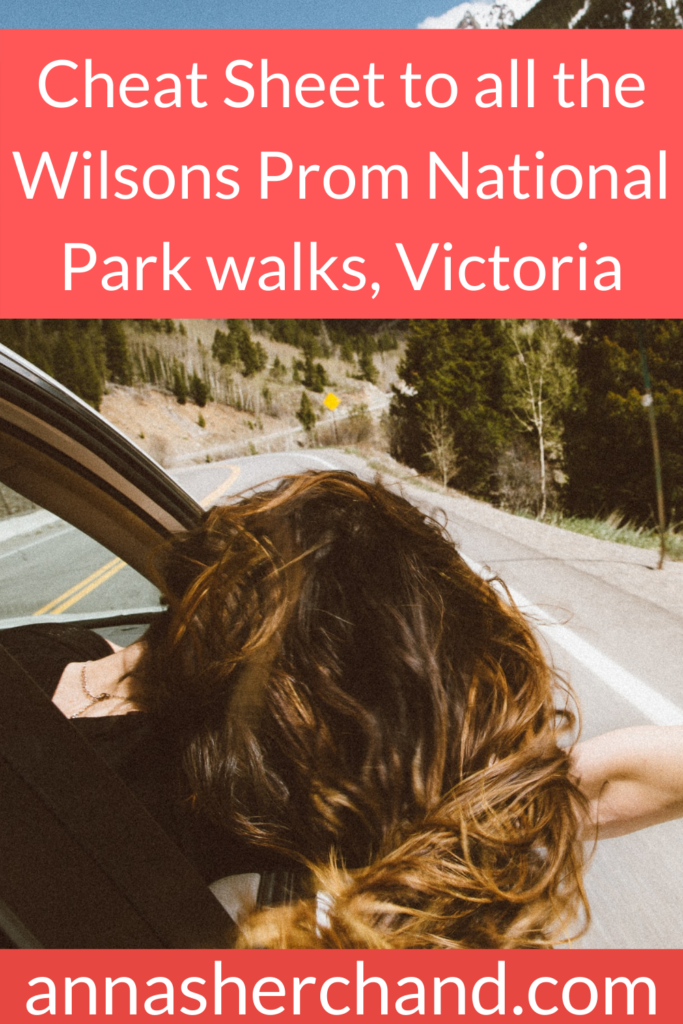 Let me know in the comments: