Looking for the best instagrammable cafes in Hanoi? I got them here for you! Vietnam exports a lot of coffee and one in every two houses run a coffee shop! Some are Instagram worthy, some are questionable. Choices are unlimited so, I pulled my socks, researched, and went into a lot of them to share the best ones here for you.
I also traveled and lived in Hanoi as an ex-pat (about 15 minutes bike ride from Hoan Kiem lake near the temple of literature) for 5 months! So it would be fair to say I have been to hundreds of cafes in Hanoi but not all are worth going to or writing about. So, to save both of our time, here are the 11 best instagrammable cafes in Hanoi that you shouldn't miss.
Click on the "Address" for the direct link to google maps.
I am also sharing Hanoi travel tips towards the end of this post. It'll make your Vietnam trip easier and worry less! So keep an eye out for that too.
Read the Hanoi itinerary for 7 days
Here are the 11 best bars in Hanoi you don't want to miss
12 best cafes in Hanoi, Vietnam
1. 6 degrees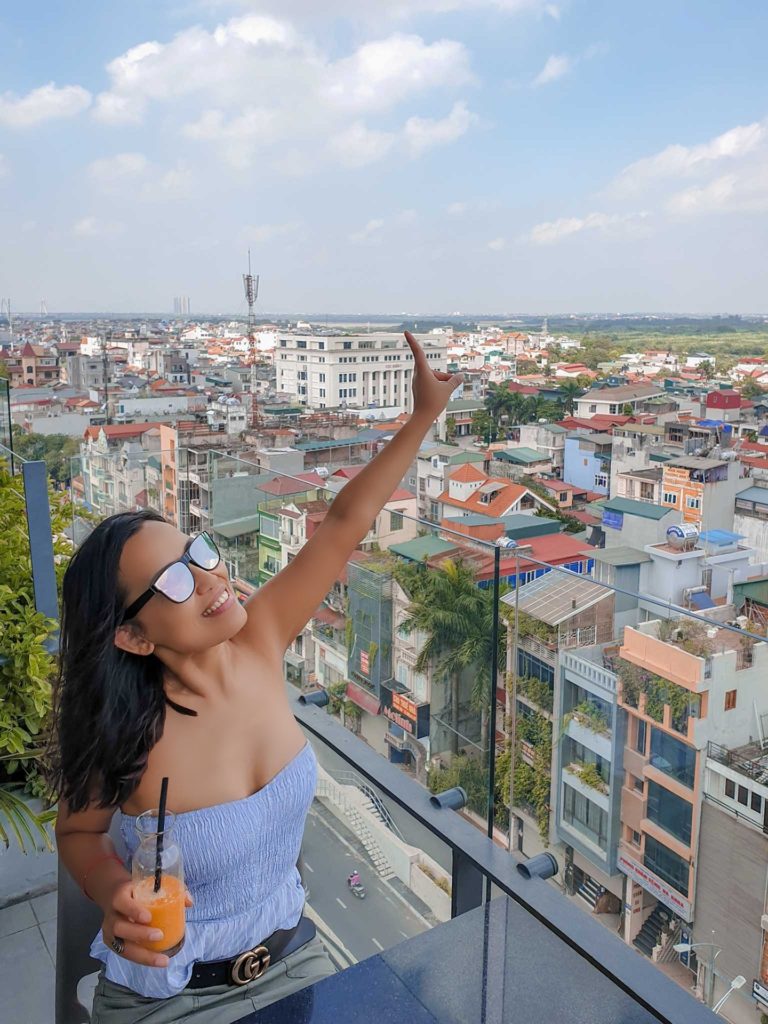 It is halfway between Hanoi's old quarter and Westlake. If you don't pin it on google maps, you are sure to miss this hidden gem! From the West lake, it takes about a 15mins walk but you can also call a grab or if you are driving yourself, parking is available too. Once you are there (address below), head right into the lift and press 6 degrees. You will be welcomed with warm smiles at the door. Simple decor, big floor, nice balcony views but take the stairs or lift for the floor above. This is where you can get the best open-air West Lake view of Hanoi. I was impressed with the view, food, and my mango juice! Must go cafe when in Hanoi.
Address: 189 Nghi Tàm, Yên Phụ, Tây Hồ, Hà Nội, Vietnam
Hours: Monday to Sunday 9 AM – 11 PM
Phone: +84 98 524 91 89
2. Trill Cafe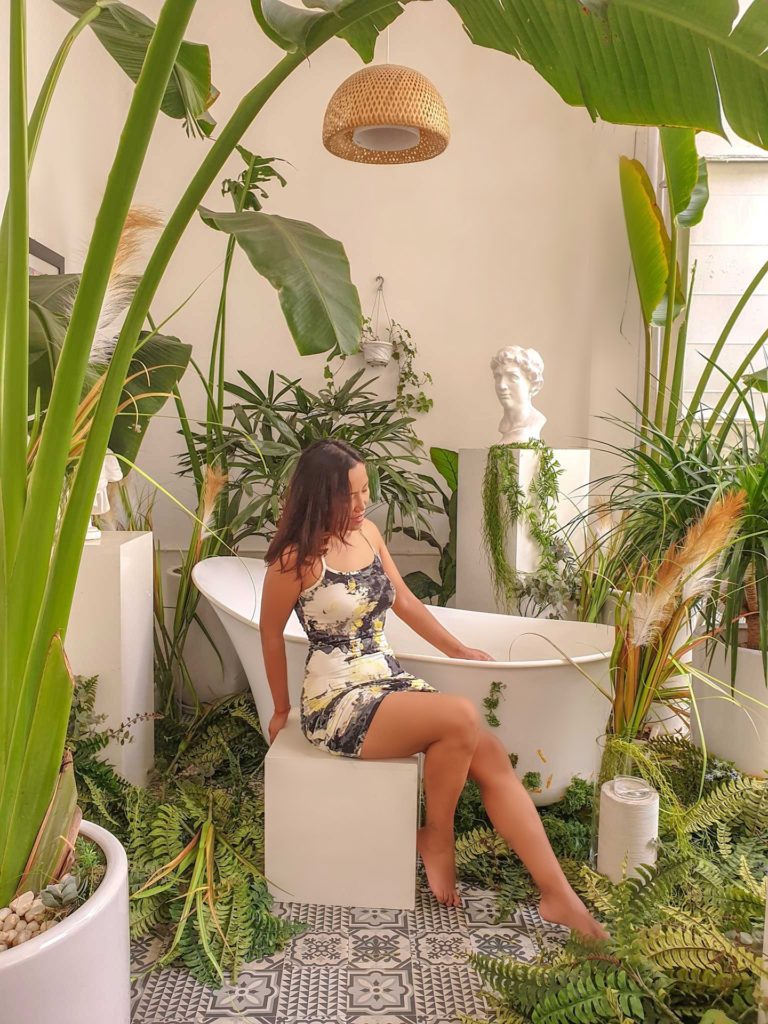 Believe it or not, this is the interior of a cafe! Trill is located in the Old Quarter, Hanoi. From the outside, it doesn't look anything special but once you pass the entrance, fish, and go to the back or upstairs, you are in a lovely little world of Trill. If you are anything like me, you will like their idea of a cafe interior with a cozy bed, unique pieces of furniture, green/white tiles, and plants everywhere.
It was such a refreshing and tranquil place in the middle of hustle and bustle of the Old Quarter. Plus their black coffee and food are awesome! Truly a hidden gem and another must-see cafe in Hanoi. PS: Trill also has a sister restaurant with a swimming pool.
Address: 98 Hàng Buồm, Hoàn Kiếm, Hà Nội, Vietnam
Hours: Monday to Sunday 8 AM – 11 PM
Phone: +84 24 3203 4999
3. Cafe Artisée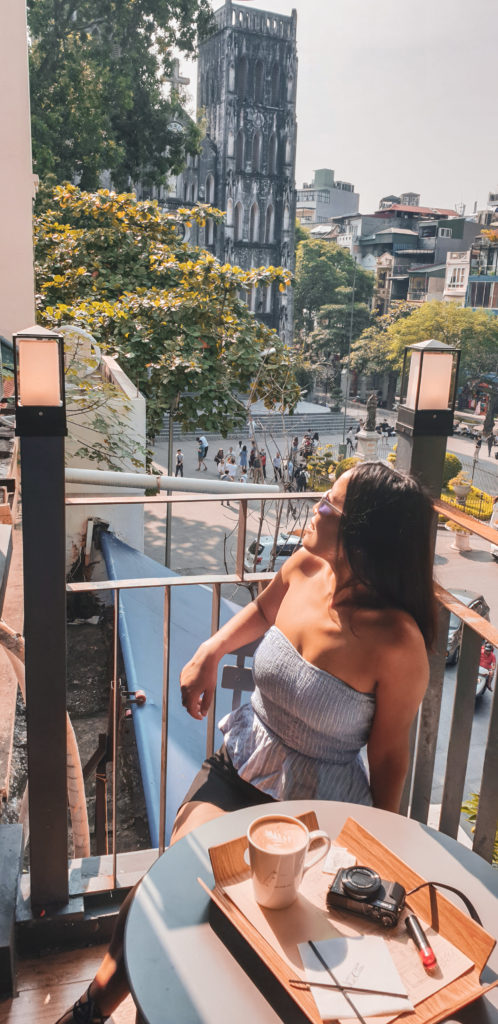 Everybody who has traveled to Hanoi has seen St Joseph's Cathedral from the street level. But I wanted to see it from a different angle. This is where I found Cafe Artisee which is only a few steps away from the Cathedral. They do good coffee, cakes and views from the balcony are definitely worth it.
Address: số 21 Phố Nhà Thờ, Hàng Trống, Hoàn Kiếm, Hanoi, Vietnam 10000
Hours: Monday to Sunday 7 AM – 11 PM
Phone:+84 24 6658 9793
4. Eden Coffee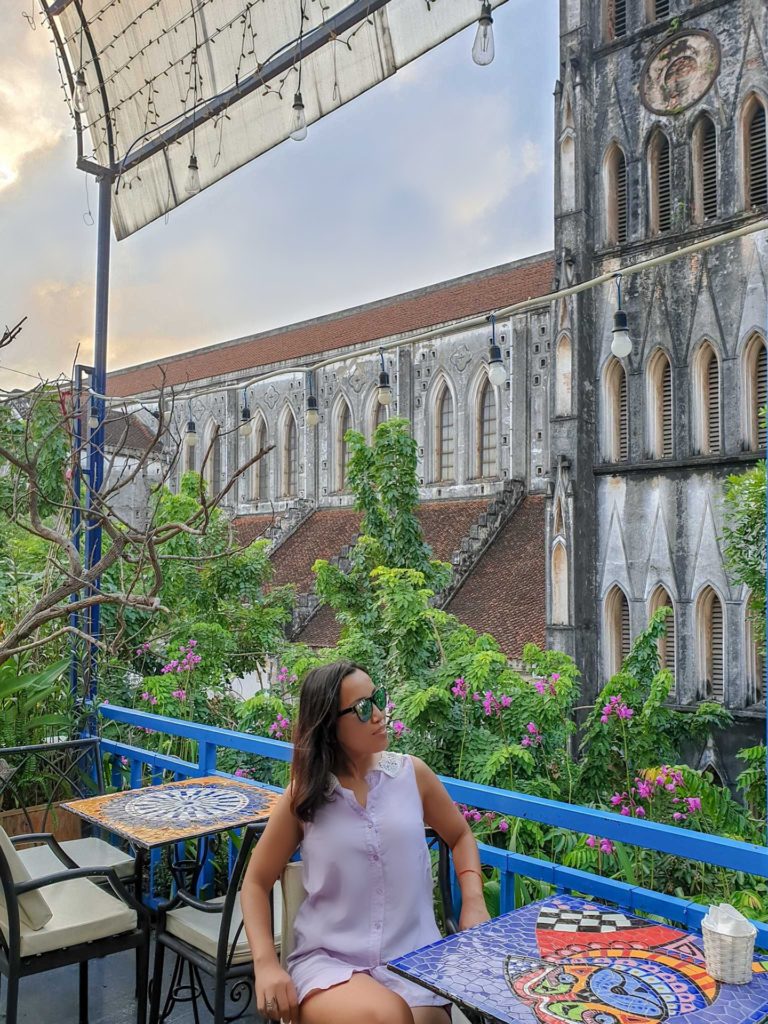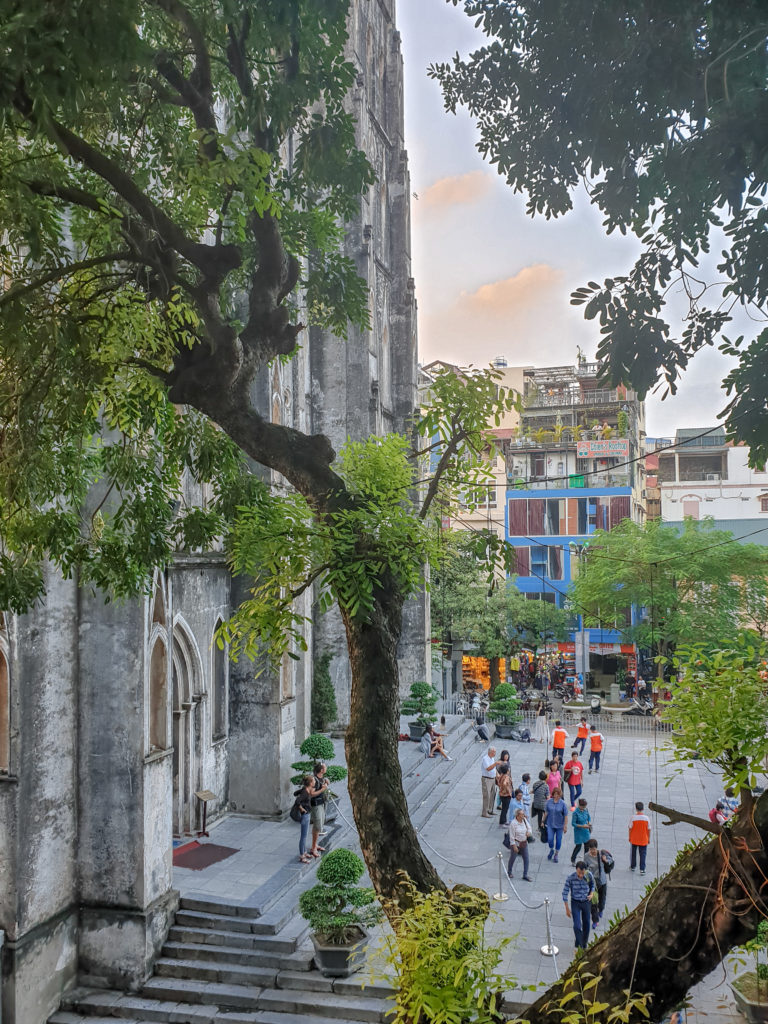 Eden Coffee is perfect if you want a closer look at the mysterious St Joseph's Cathedral. It is the last cafe on the left of the Cathedral. They also do good coffee and one of the staff also helped me with the language barrier with my grab driver. All the floors are filled with creative wall art, quotes, pretty lights on the rooftops, and quirky furniture. I loved the vibe there. If I had more time that evening, I would have happily worked there on my Laptop. It is another must-see cafe in Hanoi.
Address: 2 Nhà Thờ, Hàng Trống, Hoàn Kiếm, Hà Nội, Vietnam
Hours: Monday – Sunday 8 AM – 10 PM
Phone: +84 93 346 6789
5. Odeon brasserie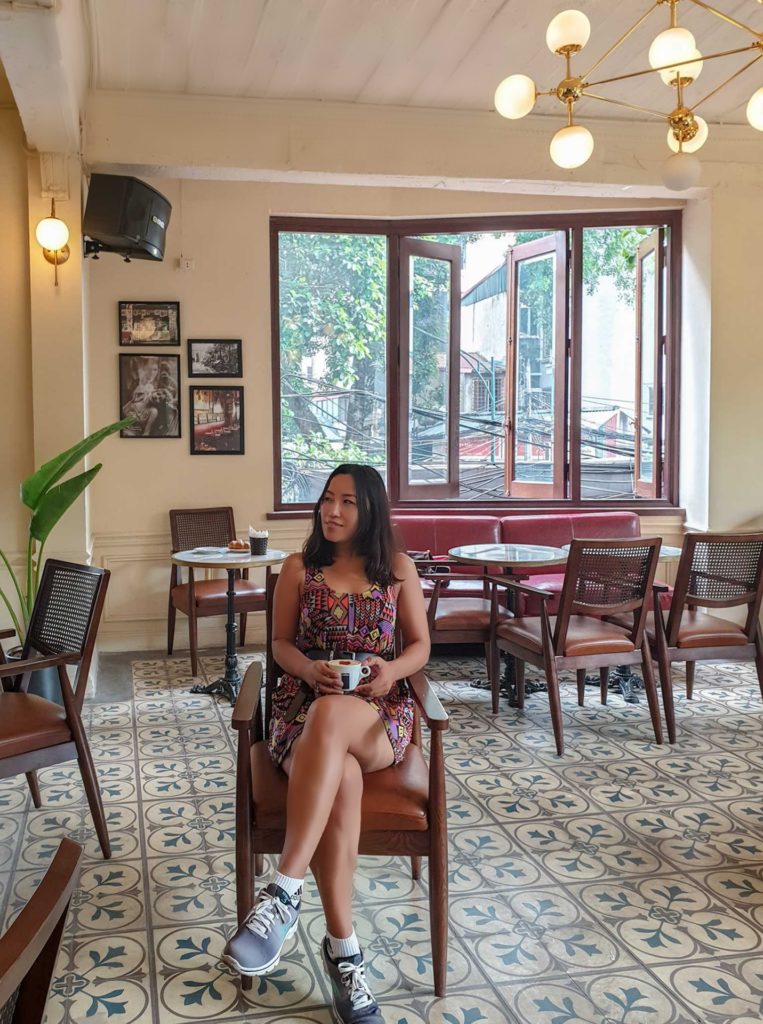 Have you ever tried egg coffee? Sounds weird right? Basically, it is traditionally prepared with egg yolks, sugar, condensed milk, and robusta coffee. When it comes out on your table, it would be a little cold so the idea is to stir it so the coffee and egg white mix. Give it a go here at the Odeon Brasserie, they also have a good selection of wines on the next floor.
Address: 5 Trần Phú, Điện Bàn, Ba Đình, Hà Nội, Vietnam
Hours: Monday- Sunday 8 AM – 12 PM
6. The Note Cafe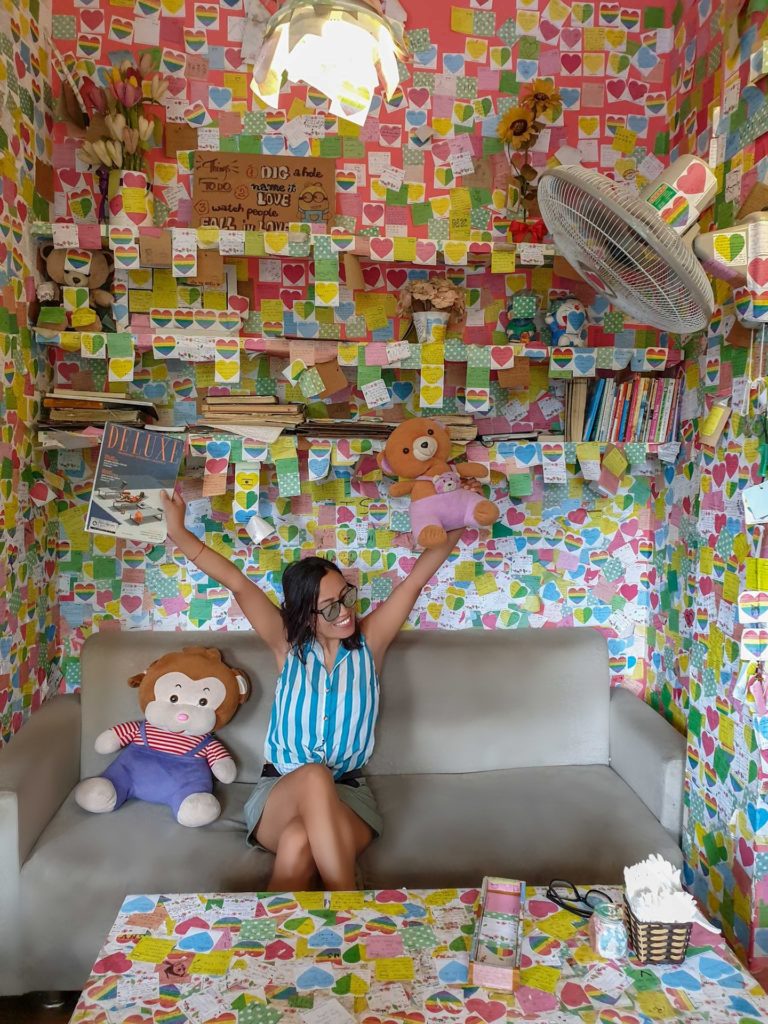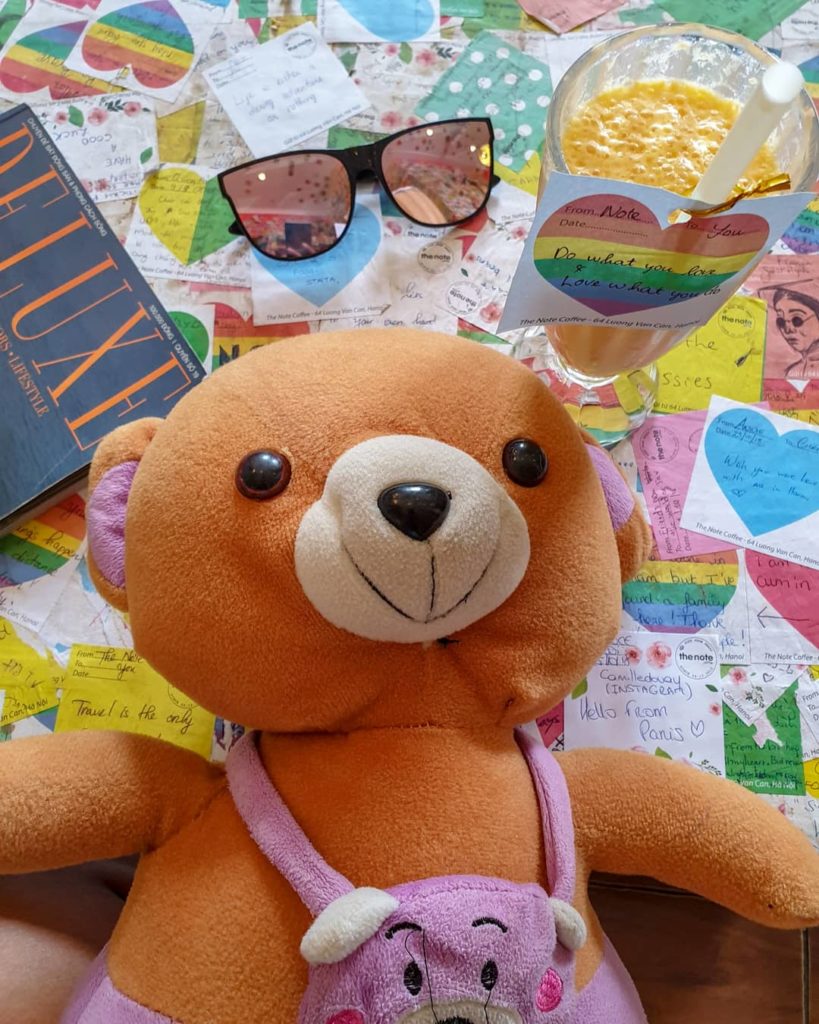 I noticed the Note cafe when one of the cafe staff was at the cafe door and waving her hands trying to get people's attention. She was smiling and friendly. So, I thought I will have a look. You have to order and pay at the entrance and go pick your seat wherever you like over the 3 floors.
Every inch is covered with inspiring notes but don't worry there is still some space left for your notes! It was cute how they stick a note on your drink. I must say the inside of this cafe is impressive but I think I have seen it somewhere else too maybe it was online ( was it the pizza place covered with the notes in the states?) Either way, this is another cafe, you would have fun checking it out while in Hanoi.
Address: 64 Lương Văn Can, Hàng Trống, Hoàn Kiếm, Hà Nội, Vietnam
Hours: Monday-Sunday 6:30 AM – 11 PM
Phone: +84 97 519 44 66
7. Nona Cafe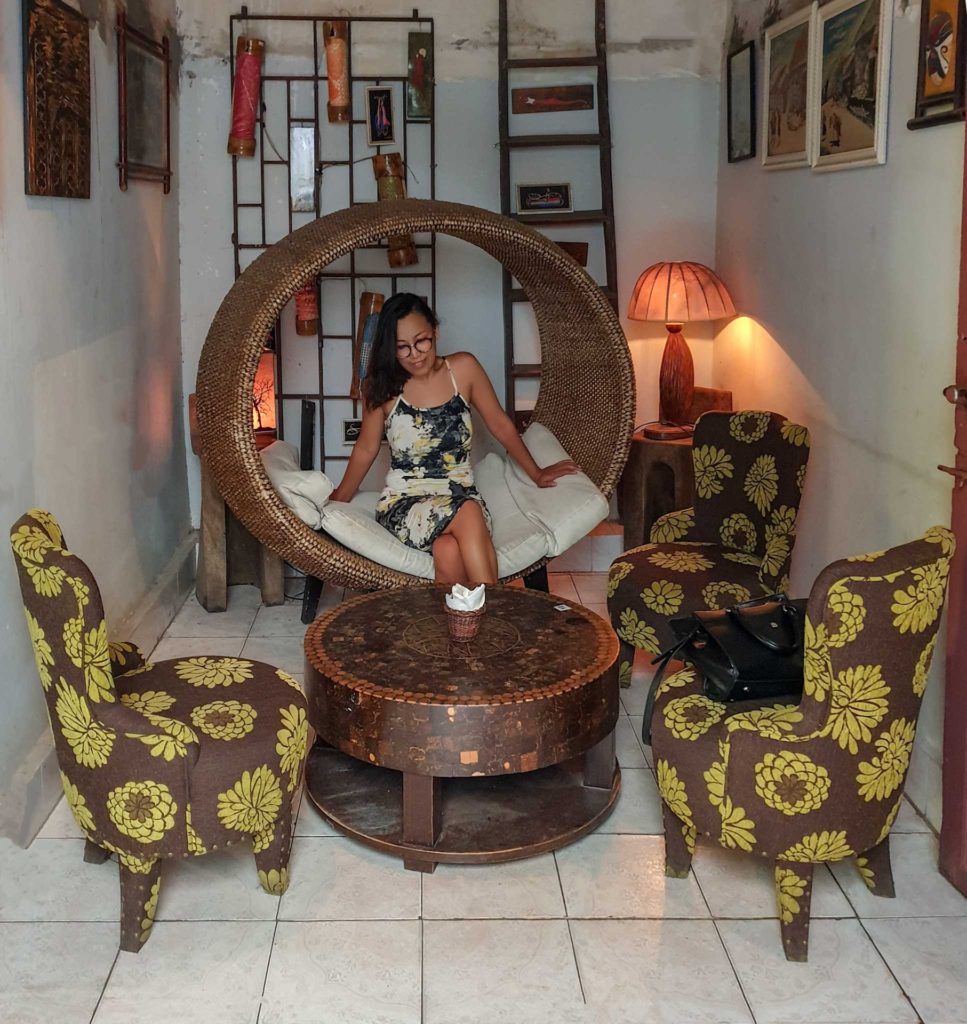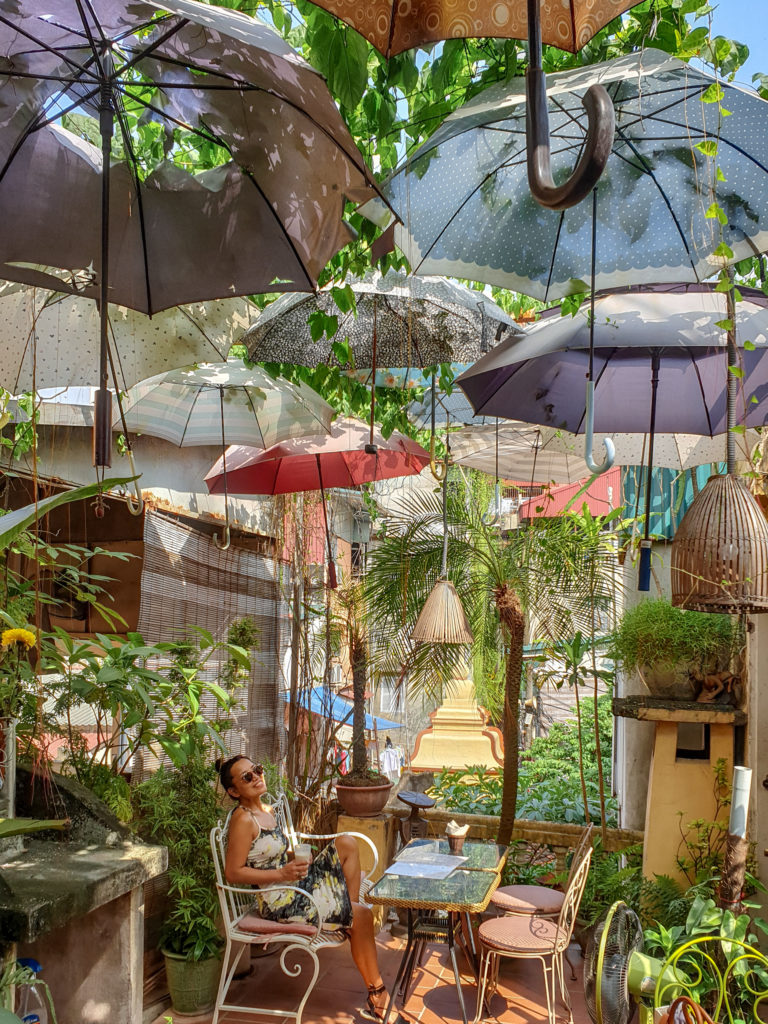 One day while strolling about the old quarter, I bumped into this hidden quaint Nona Cafe. Decorated with vintage types of furniture, interior, and rooftop with hanging faded umbrellas. It seemed like they also run an art exhibition once in a while. It makes me happy to find somewhere so quiet and hidden in the middle of the chaotic old quarter of Hanoi. I could sit there for hours and work. It helps that the whole cafe vibe is Instagram-worthy!
Address: 102-c18 Nguyên Hồng, Láng Hạ, Đống Đa, Hà Nội, Vietnam
Hours: Monday to Sunday 9 AM – 10:30 PM
Phone: +84 97 837 88 89
8. Mystic Coffee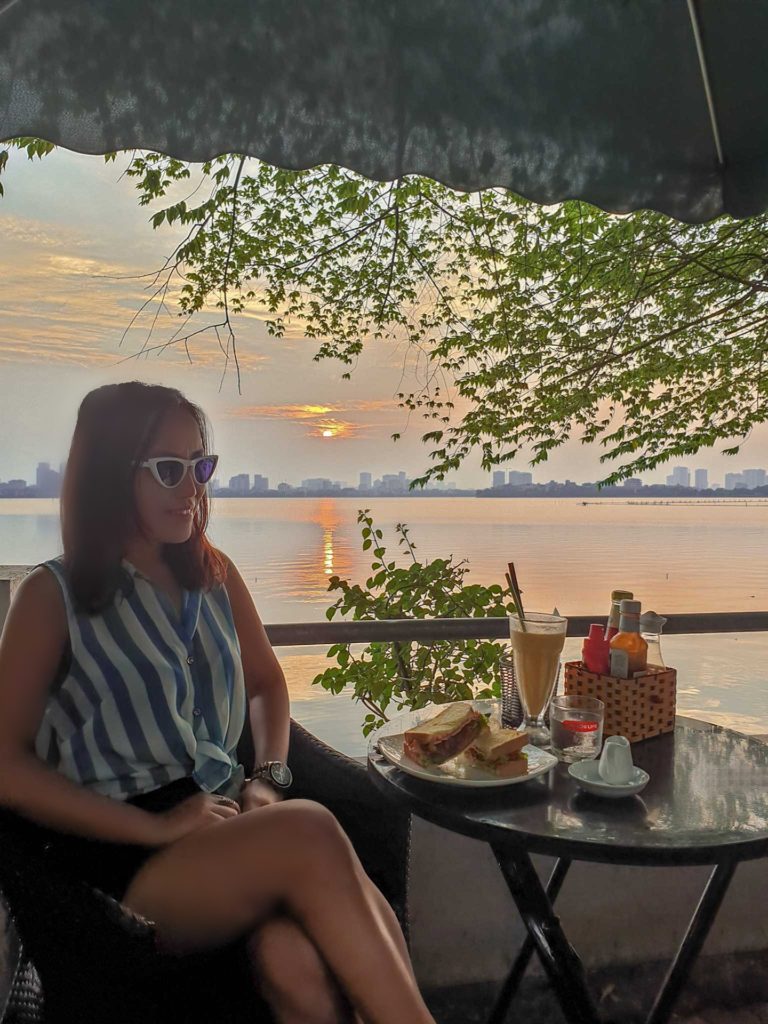 If you would like to be away from the hustle and bustle of Old Quarter then head to Westlake. Grab costs only 25000 VND ($1.50) and you are in the quieter area of Hanoi. When I first found this place, I was so happy I went there two days in a row! You can also jog, run and walk around the lake. There are many other cafes in this lane but I liked their smoothie and the staffs are nice here as well. I recommend heading to the cafe in the afternoon to watch the sunset and have a drink or a smoothie.
Address: 107H Làng Yên Phụ, Yên Phụ, Tây Hồ, Hà Nội, Vietnam
Hours: Monday- Sunday 10 AM – 10 PM
9. Cong Caphe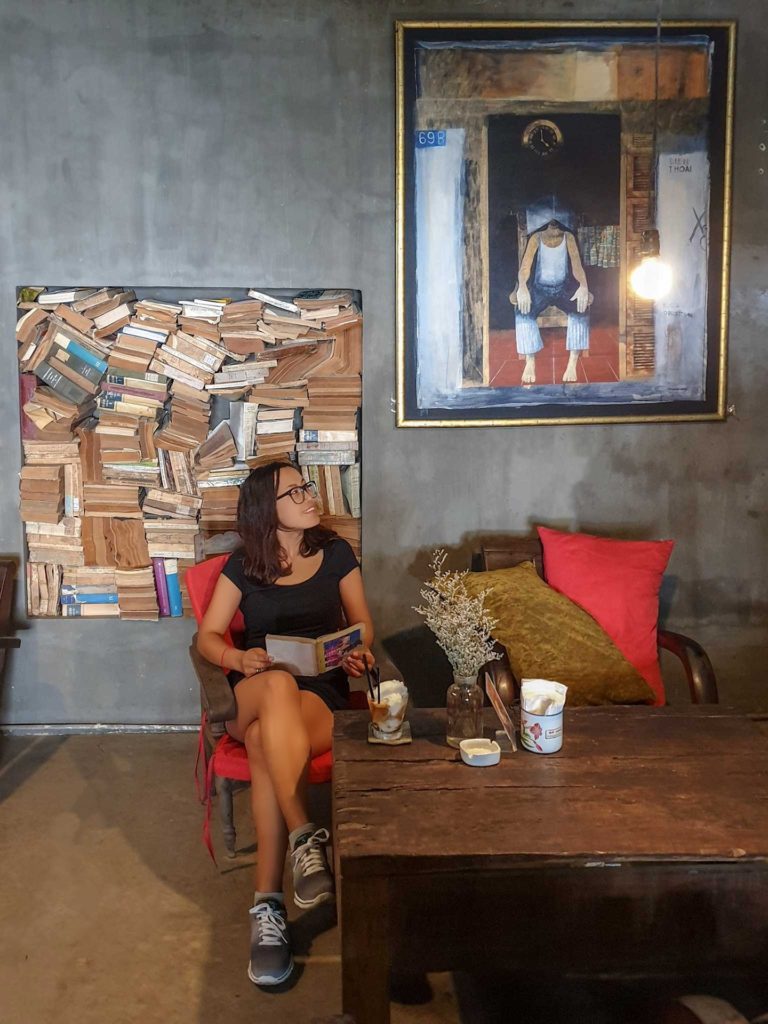 Cong Ca Phe has various branches in Hanoi. I really liked the one in Tay ho Lake though. Nice rooftop views of the lake and the interior is unique. In the mornings, you could sit there and work quietly before the crowd starts to come or go up the roof in the afternoon to enjoy the sunsets. I can recommend trying cold coconut coffee and Hanoi coffee aka Vietnamese coffee. They also have branches in Ho Chi Minh city.
Address: 100 Xuân Diệu, Tứ Liên, Tây Hồ, Hà Nội, Vietnam
10. Baked by Julie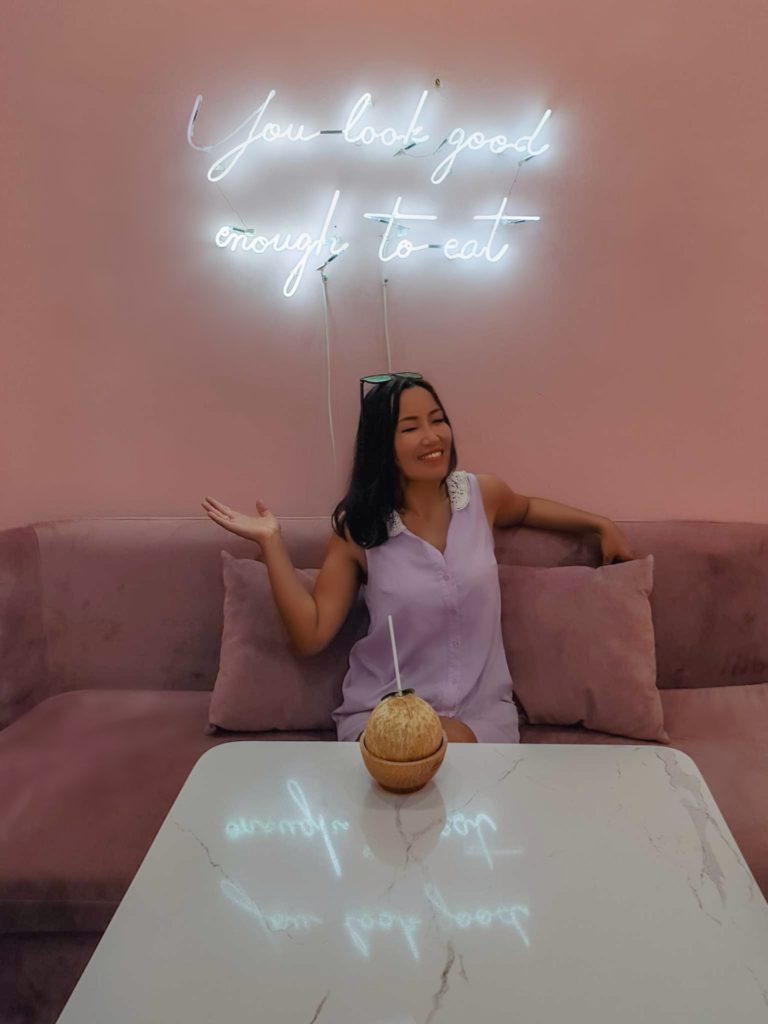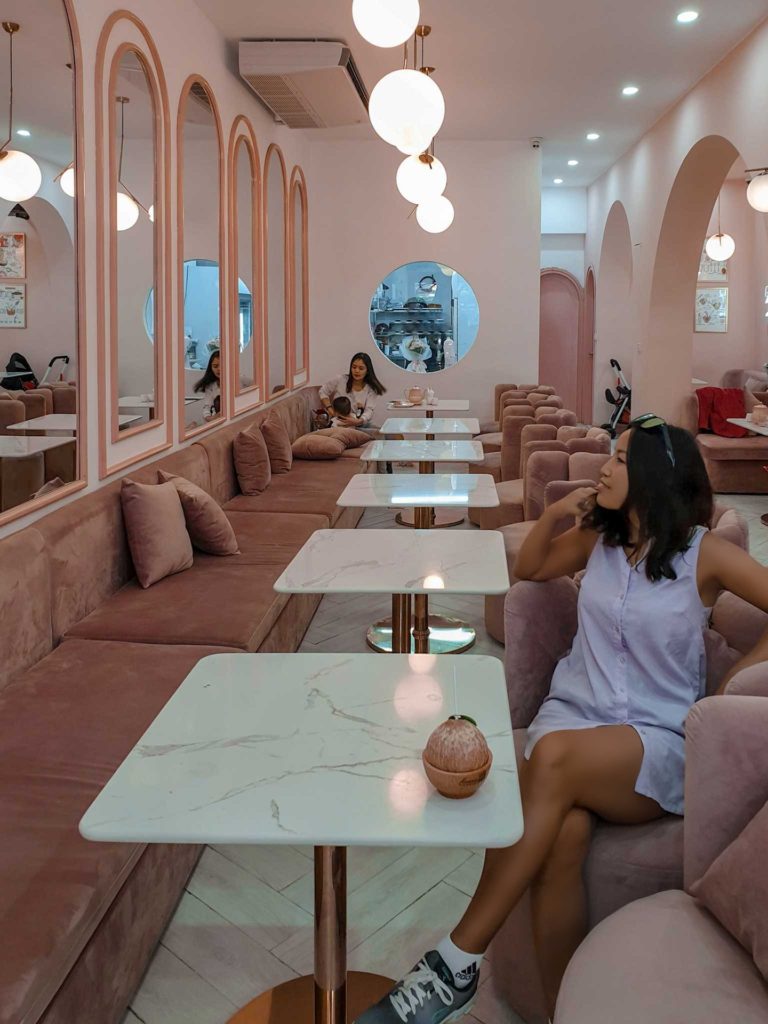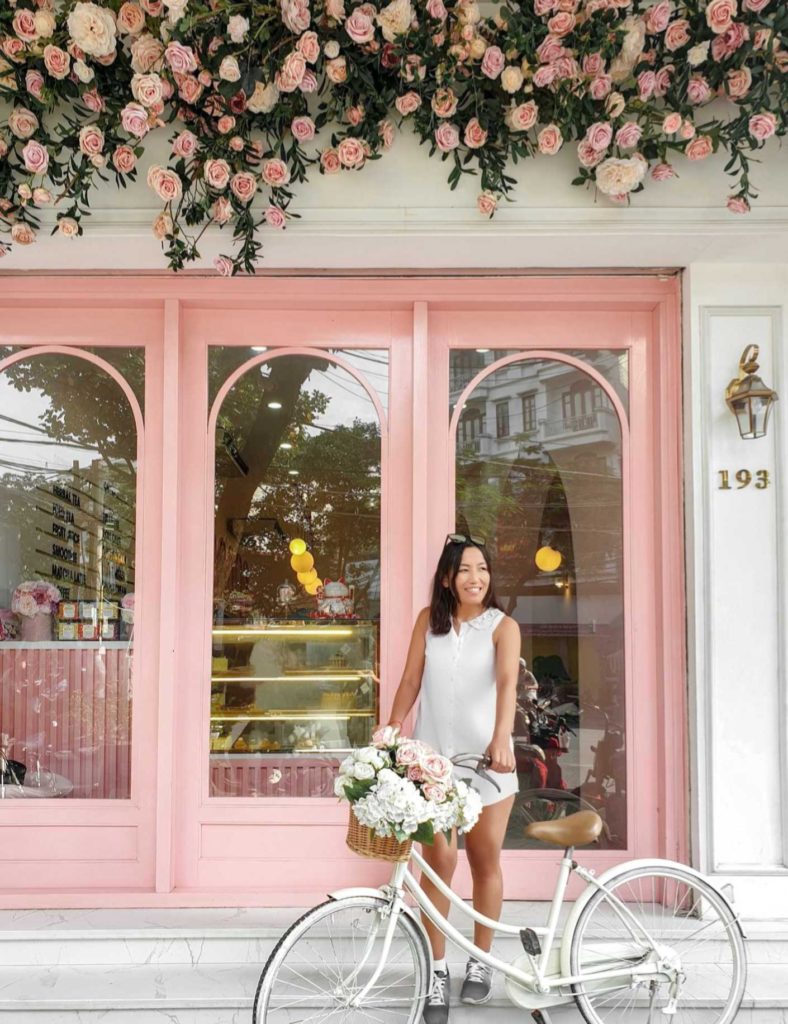 When I found out, there is this Pink cafe in Hanoi. I had to go to see it for myself and as you can see it really was all pink! They do the beautiful baked goodies, fresh juices, and smoothies. Once again, loved the interior and exterior in this cafe. Only a few blocks away from the train street, it is another must-see cafe in Hanoi.
Address: 193 Hàng Bông, Hoàn Kiếm, Hà Nội, Vietnam
Hours: Monday – Sunday 9 AM – 10 PM
Phone: +84 90 407 26 28
11. Serein Cafe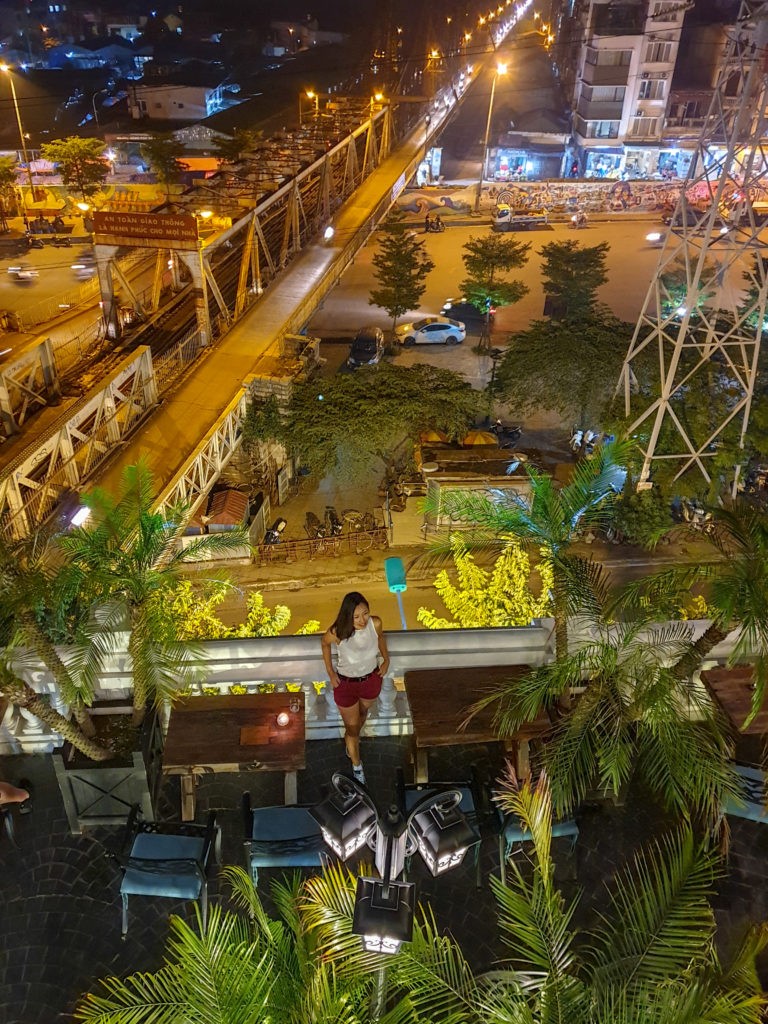 The classic setting, rustic interior, and the super good view of Long Bein bridge are what Serein Cafe is all about. The bridge lights up in the evening and the bustling traffic flows by while you sip on a good cocktail or coffee/tea. I recommend visiting during the afternoon for that beautiful sunset view overlooking the bridge and the surrounding areas or at night for that serene moonlight!
Address: Serein Cafe Hanoi
16 Đường Trần Nhật Duật, Đồng Xuân, Hoàn Kiếm, Hà Nội, Vietnam
Hours: Monday – Sunday 9 AM – 11 PM
Phone: +84 93 644 62 21
12. Bonus:
Cafe Giang and Hanoi Social Club in the Hoan Kiem lake neighborhood are worth checking out too.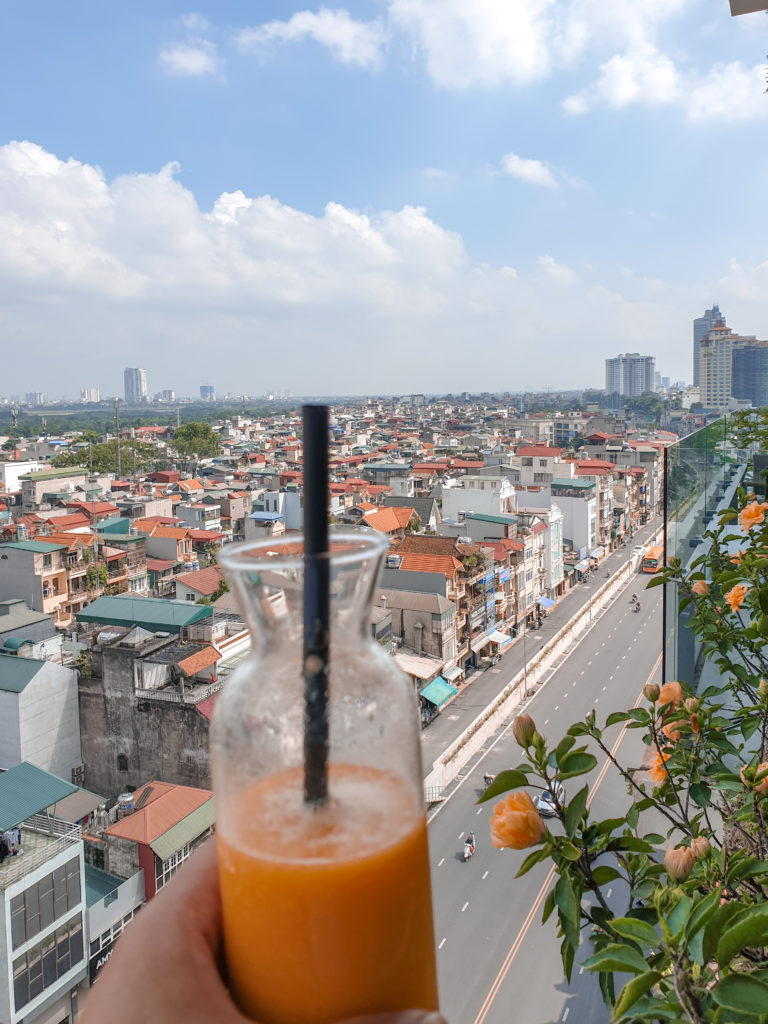 Travel Tips to Hanoi, Vietnam
Below are the five important things to consider for making your Vietnam travels that much easier.
1. Install Grab App
First thing first, download the Grab app for transport in Asia. Forget paying overcharged metered taxis, not only in Vietnam but almost everywhere in Asia, everyone uses Grab not Uber. For my readers, here is the discounted ride with Grab (up to VND 30000 off)! Just register using this referral code GRABANNASMATE, and save your hard-earned money.
2. Arrival/Departure in Style
We all want to save money but if you can arrive in style and convenience (Your professional driver will be waiting for you on arrival with a personal welcome sign) or leave Vietnam in style for only $14 USD. There is no reason not to and you will never have to rush through the public bus again. Book it here.
3. Unlimited Data Sim card
While traveling, having a data sim card makes everything that much easier. Imagine meeting new friends, and making travel plans together, but missing out on all the convos. We all know having a working phone with the internet is like having a world at your fingertips. Just skip the hassle of looking around, pre-order this unlimited data sim card ($9 USD for 30 days), and receive free delivery to your accommodation as well! Buy yours here.
4. Multi-Day Trips
After you visit all these muse-see cafes and all the other cool things Hanoi has to offer. Like everyone else, you will probably want to see Halong Bay and Sapa in the north of Vietnam. Experience the karst landscape of Halong Bay on a 2-day cruise, with round-trip transfers from Hanoi. Book it here.
For Sapa, you can book the 2-day/1 night tour that has more value as it comes with the limo ride, village life, and cultural experience. Check it out here.
5. Where to stay in Hanoi?
There are numerous choices when it comes to accommodation from all five stars hotels to hostels. If you are a solo female traveling to Hanoi and looking for accommodation, please read the recent reviews, and check the location to make sure it is exactly where you want to be. For example: If you are visiting for only a few days you may not want to be far away Vs staying close to the old town. And if you are after a relaxing holiday you may prefer the little secluded stay.
That being said, wherever you stay make sure to book with a legit website such as Booking.com Most hotels and hostels also offer free WIFI, and some also offer free beers! Here are some places I suggest:
To meet other travelers/backpackers
Youth Hostel
Drift Backpackers Hostel, Nusmile's Homestay & Travel, Hanoi Buffalo Hostel, or Old Quarter View Hanoi Hostel
Mid Tier
Ja Cosmo Hotel and Spa, SOJO Hotel Ga Hanoi, Hanoi Paon Hotel & Spa, Imperial Hotel & Spa, La Sinfonía Majesty Hotel and Spa
Luxury
Grand Mercure Hanoi, Peridot Grand Luxury Boutique Hotel, Aira Boutique Hanoi Hotel & Spa, or Dolce by Wyndham Hanoi Golden Lake
I hope this best cafes in Hanoi guide gave you an idea of the types of cafes in Hanoi. And if you have found one that is not on the list, pls comment below.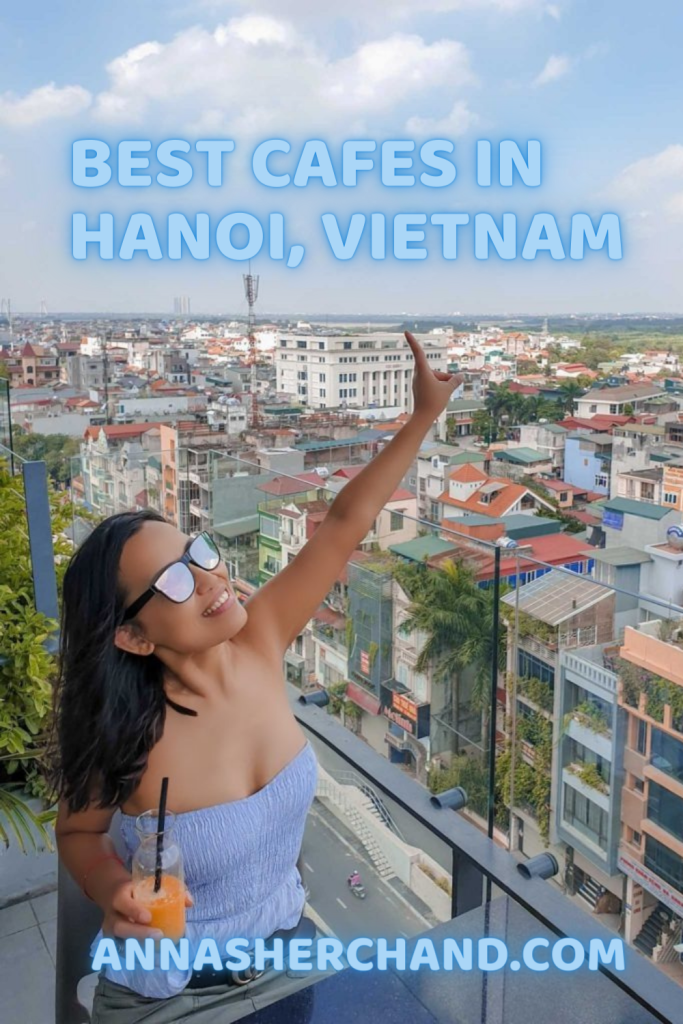 Let me know in the comments-
Which best cafes in Hanoi you would like to go to?
If you missed it earlier, here is Hanoi itinerary for 7 days
Check out all the Australia travel guide (Everything you need to know about traveling to Sydney is here)
Solo travel guide to Brisbane (Gold coast and Insta-worthy places included!
Exploring Adelaide the best way is a must-read
Best Australia travel guide to Uluru trip
Attractions in Perth, Western Australia
Must see on the east coast of Australia is fun, it includes barrier reef, a beautiful national park, and more exciting places and activities
Here I blog about the Melbourne attractions
Check hotel prices and book it through trusted Agoda, or Booking.com
I have detailed travel resources right here. Save money, learn what and how.
12 Best instagrammable cafes in Hanoi Vietnam