Today I am sharing a Hanoi travel itinerary for 7 days in Vietnam. If you are wondering how to pull your Hanoi, Vietnam trip, where to go, or what to do, I got you covered.
The very first day I arrived in Hanoi, I wanted to leave. It was noisy, and polluted, with all the traffic, car, and bikes blowing their horns all the time. I just didn't feel it but I thought let's give this city one more day and it literally changed my pov! Shortly after, I decided to live in Hanoi for the next 7 months! So, this article comes from my personal experience.
Below is my recommended Hanoi Vietnam classic tour itinerary for a week. But before that, here are some important things to make your Vietnam travels easier and more enjoyable.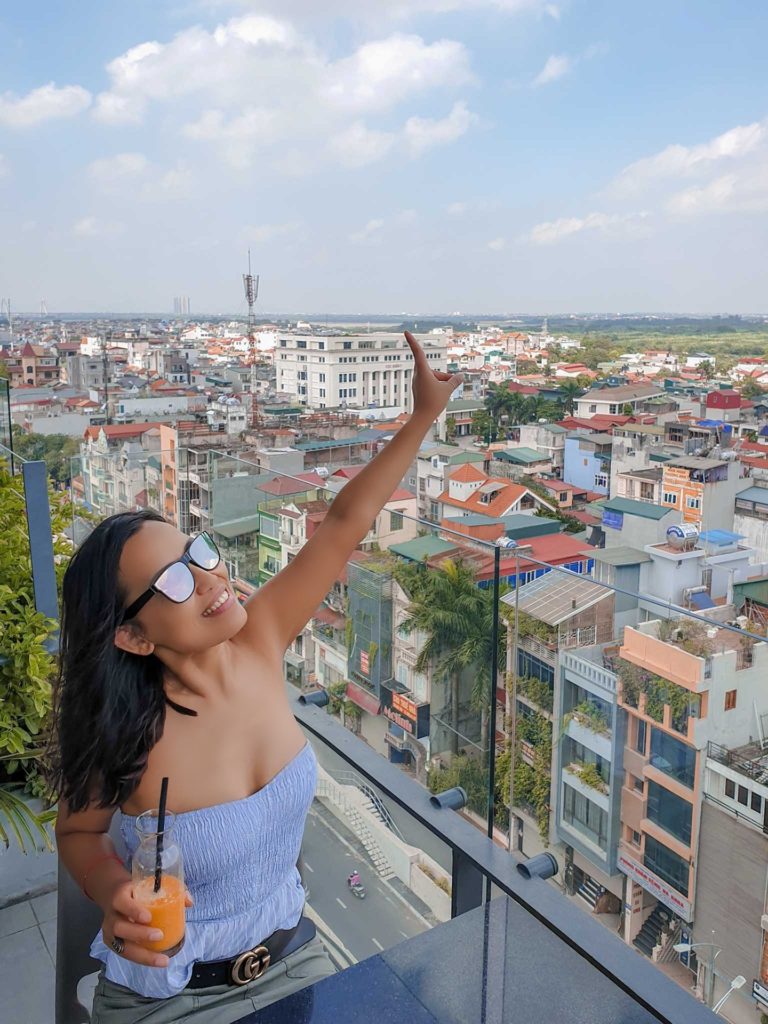 7 days Hanoi itinerary in Vietnam
Travel Tips to Hanoi, Vietnam
Below are the five important things to consider for making your Vietnam travels that much easier.
1. Install Grab App
First thing first, download the Grab app for transport in Asia. Forget paying for overcharged metered taxis, not only in Vietnam but almost everywhere in Asia, everyone uses Grab not Uber. For my readers, here is the discounted ride with Grab (up to VND 30000 off)! Just register using this referral code GRABANNASMATE, and save your hard-earned money. You can also use this link: https://r.grab.com/grabannasmate
2. Arrival/Departure in Style
We all want to save money but if you can arrive in style and convenience (Your professional driver will be waiting for you on arrival with a personal welcome sign) or leave Vietnam in style for only $14 USD. There is no reason not to and you will never have to rush through the public bus again. Book it here.
3. Unlimited Data Sim card
While traveling, having a data sim card makes everything that much easier. Imagine meeting new friends, and making travel plans together, but missing out on all the convos. We all know having a working phone with the internet is like having a world at your fingertips. Just skip the hassle of looking around, pre-order this unlimited data sim card ($9 USD for 30 days), and receive free delivery to your accommodation as well! Buy yours here.
4. Multi-Day Trips
After you visit all these muse-see cafes and all the other cool things Hanoi has to offer. Like everyone else, you will probably want to see Halong Bay and Sapa in the north of Vietnam. Experience the karst landscape of Halong Bay on a 2-day cruise, with round-trip transfers from Hanoi. Book it here.
For Sapa, you can book the 2-day/1 night tour that has more value as it comes with the limo ride, village life, and cultural experience. Check it out here.
5. Where to stay in Hanoi?
There are numerous choices when it comes to accommodation from all five stars hotels to hostels. If you are a solo female traveling to Hanoi and looking for accommodation, please read the recent reviews, and check the location to make sure it is exactly where you want to be. For example: If you are visiting for only a few days you may not want to be far away Vs staying close to the old town. And if you are after a relaxing holiday you may prefer the little secluded stay.
That being said, wherever you stay make sure to book with a legit website such as Booking.com Most hotels and hostels also offer free WIFI, and some also offer free beers! Here are some places I suggest:
To meet other travelers/backpackers
Youth Hostel
Drift Backpackers Hostel, Nusmile's Homestay & Travel, Hanoi Buffalo Hostel, or Old Quarter View Hanoi Hostel
Mid Tier
Ja Cosmo Hotel and Spa, SOJO Hotel Ga Hanoi, Hanoi Paon Hotel & Spa, Imperial Hotel & Spa, La Sinfonía Majesty Hotel and Spa
Luxury
Grand Mercure Hanoi, Peridot Grand Luxury Boutique Hotel, Aira Boutique Hanoi Hotel & Spa, or Dolce by Wyndham Hanoi Golden Lake
6. Few handy Vietnamese words
Hello – Xin Chao
Thank you – Cam'on
Please – Xin Vui lòng
Toilet – Phone Ve Sinh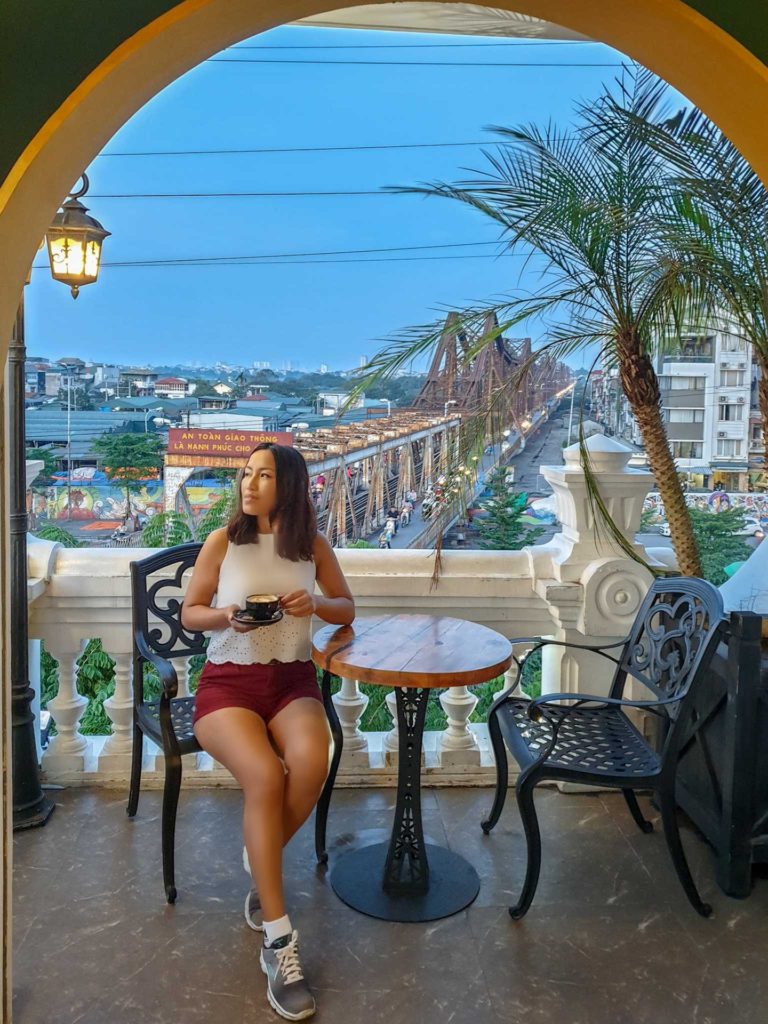 I have detailed travel resources right here. Save money, learn what and how.
Day1 &2: Experience Hanoi City Sightseeing
You maybe are feeling a bit overwhelmed with all the traffic and noise. But don't let the hustle and bustle of Hanoi city get to you. Do it as the locals do. Grab yourself a plastic or wooden chair by the street or go to some cute and classy cafes.
Here is the list of best cafes to go to in Hanoi. 90% of them have free WIFI too.
As the jet lag slowly fades away, enjoy your first Vietnamese coffee and egg coffee and watch the world go by. Once the coffee hits you, it's time to go and explore what this city has to offer. Walk it off or call a grab or rent a bike from your hostel/hotel.
The following points of interest in Hanoi are in no particular order, I recommend visiting whichever one is nearer to you at the time.
The main areas are Hanoi Old Quarter And French Quarter (where most attractions are located) and Westlake (an ex-pat area and nice with lake and gardens). In Hanoi's old quarter and french quarter you can visit – Opera House (book a play or something but also cool to look at from outside), Temple of Literature (the first University of Vietnam), Hoan Kiem Lake aka Sightsee Sword Lake, Ngoc Son Temple (famous lake & tempHanoi Hanoi), train street, Long Bien Bridge, Notre Dame cathedral, world heritage site, Ho Chi Minh Complex – if you arrive early you can see the flag ritual at 6 am, Ba Dinh Square, Ho Chi Minh Mausoleum, One Pillar Pagoda on the way to Westlake, Imperial Citadel of Thang Long, google gardens in Westlake (pretty place), Bat Trang pottery village.
Then at night, you can drink Beer on Ta Hien Street which is in the Old Quarter as many locals and foreigners gather to drink beer on the street.
Another option is to book the water puppet theatre show and try yummiest eat street food in Hanoi. I recommend trying Vietnamese spring rolls, Banh Mi (Viet sandwich) as well as Bun Cha (grilled meat with noodles).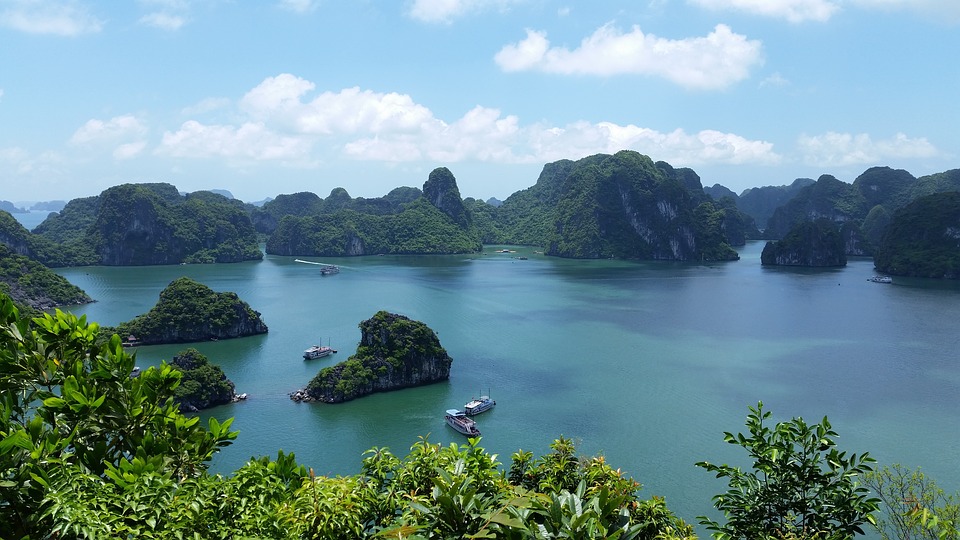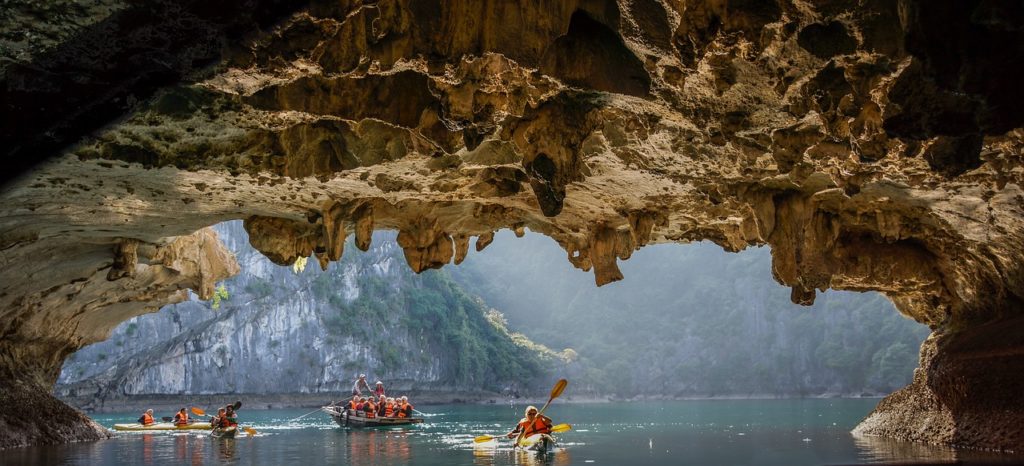 Day 3 & 4: See beautiful Halong Bay
After seeing a lot in the ancient town of Hanoi. It is time to pack your bag and go see some fresh nature. And no other place can beat Ha Long bay for natural beauty.
From Angelina Joie, and Brad Pitt to your next-door neighbor pretty much everybody knows or has been here! You can either take a day trip from Hanoi, bike to Ban tho mountain, or book a multi-night cruise trip. If you do decide to stay overnight, it is the best way to experience the sunset and sunrise between all those majestic Karst mountains.
From Hanoi, it takes 4 hours by bus to get to Ha Long Bay which is located in Quang Ninh 160 km from Hanoi. Then once you are on the boat trip or cruise, you can lie on the sunbed, relax, sunbathe, eat lunch, do photography and enjoy the magnificent scenery of the bay. It is an amazing feeling to be on thousands of-year-old island.
If you are after a bit of adventure, Your boat may have an option to Kayak to Thien Son Cung Cave. Cave offers a nice view of the bay as well. Some would even say your Vietnam tours and holiday is not complete without visiting Halong Bay
Halong Bay truly is an experience of a lifetime. I recommend booking your Halong Bay experience here.
Day 5: Visit Ninh Binh
You might need a few hours to settle back in Hanoi after visiting quiet and serene Halong Bay. But you will be heading to another stunning place so all is good!
Ninh Binh knows as Halong Bay on land. Trang An is located in Ninh Binh, takes 3 hours to use a bus from Giap Bat bus station in Hanoi.
You can read about the day trip to Ninh Binh here which I personally did only a few months ago and loved it. Just don't forget to bring an extra layer of clothing as going inside the caves will be slightly cold, wear comfortable shoes as you will be walking around and some snacks.
The best way to enjoy Ninh Binh is to let someone else handle the transportation. I recommend again getting your guide Ninh Binh tours.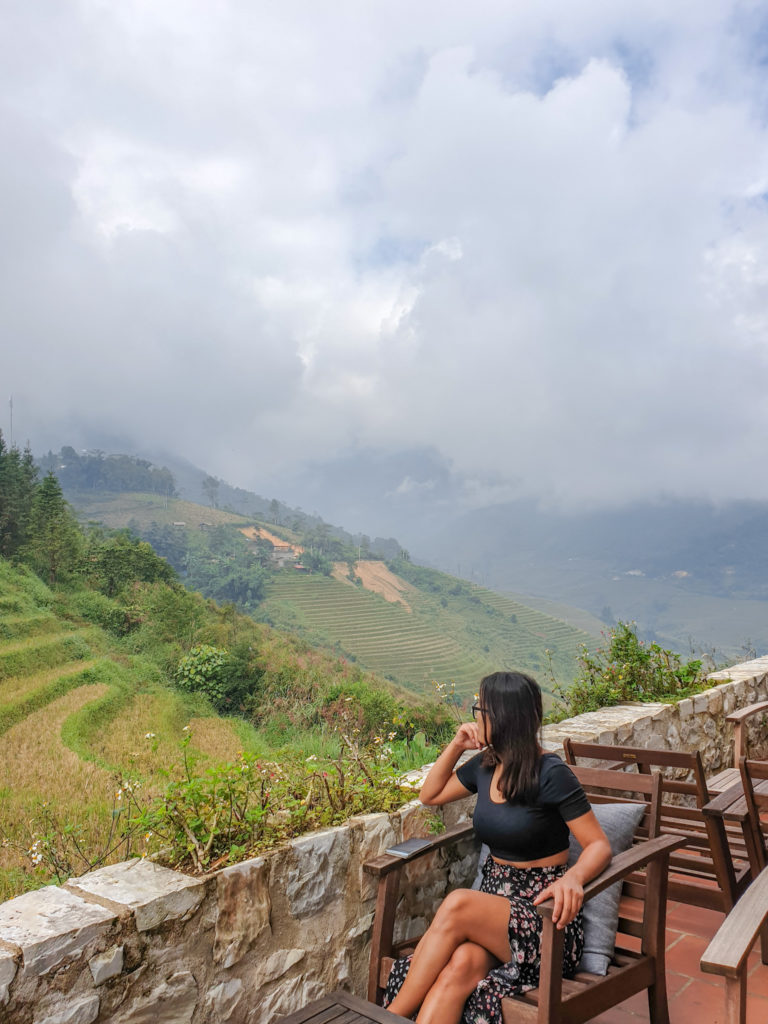 Day 6 & 7: See Serene Sapa
Now you are at the tail end of your one week on the Vietnam trip. What better way to end it than visiting the beautiful mountain hills of Sapa.
I recommend booking your Hanoi to Sapa bus here.
It costs only $12 for 6 hours journey whereas the local bus will take all day or all night. You can also benefit from a hotel pick up and drop off in the Old Quarter of Hanoi, English speaking tour guide on the bus, water, and a blanket are also provided.
Once you get off the bus, you may be surrounded by local Hmong ladies asking you to book a homestay with them. You can either ignore them or get their numbers for later. I for one had limited time, so I got one of the ladies' numbers and had a homestay experience for 1 night.
If you don't know homestay is the style of travel where you stay with the local family in their house, they give you food and a bed to sleep in and also happy water (local rice wine) songs and dance. It works on the set price you agree with homestay ladies beforehand. I would say $15 is a decent price to pay for everything including the trip. Based on your agreement with the local family, they can also take you to the local waterfalls and tea farms.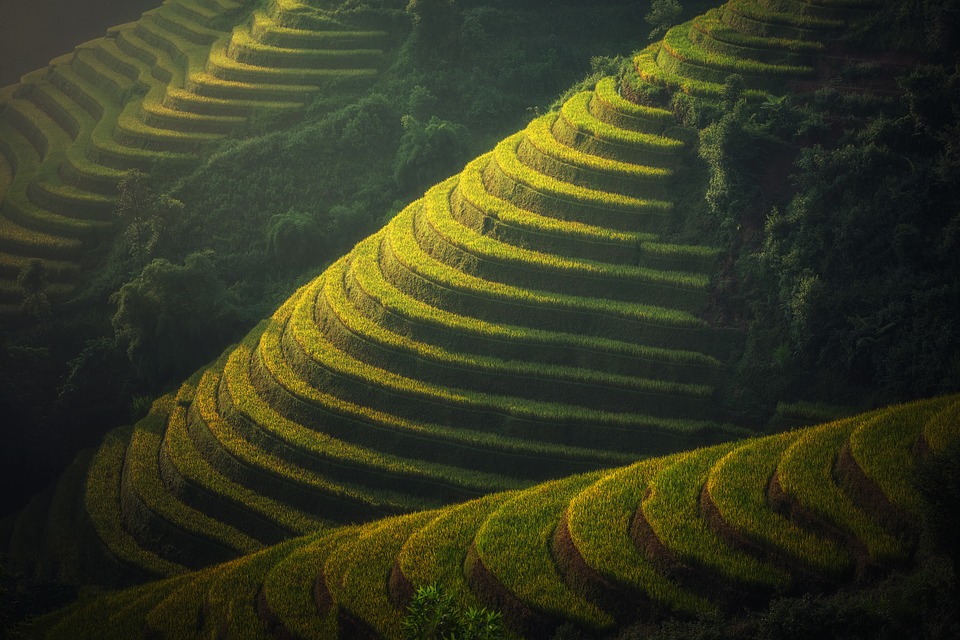 The next day you can head out to the city center in Sapa, get on the cable car and get to the top of the Fansipan, go on hiking adventures, find rice fields, a lot of photo ops in Sapa, and the more north you go more beautiful it gets.
I recommend mixing up your experience in Sapa by staying one night in a homestay and one night in a hostel or a hotel. In saying that, if you want to find out how much it costs to backpack in Vietnam, read this post.
And if you want to end your trip on a high note, I recommend staying at the luxurious Topas eco-lodge. You can read about my experience of staying at the Topas lodge.
I hope this Hanoi itinerary for 7 days in Vietnam was useful for you.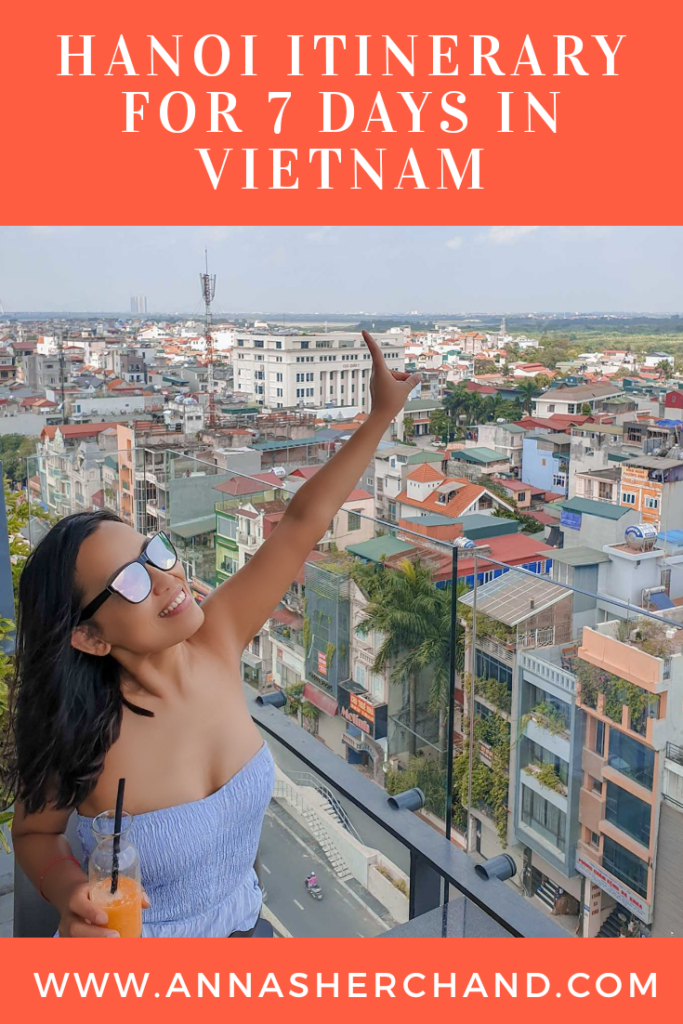 Let me know in the comments:
Hanoi itinerary for 7 days in Vietnam