If you are looking for the best bars in Hanoi, Vietnam. I got them here for you! This list comes from my experience of backpacking Hanoi as well as living in Hanoi as an ex-pat for 6 months. Just writing about it brings back so many memories and every time when I am back I check out a new bar too. So, you have the list of best of the best bars in Hanoi right here.
To make your search easier, I have included the direct google map location for each bar. Just share this blog post and click on the 'Name of the Bar' you want to visit.
Now further ado, I present you from the highest bar in Hanoi to the LGBT-friendly bar to the hidden local bar in the busiest part of the old quarter, Hanoi, and all the best bars in Hanoi. I am also sharing travel tips for Hanoi towards the end of this post. It'll make your Vietnam trip easier; so keep an eye out for that.
11 best bars in Hanoi, Vietnam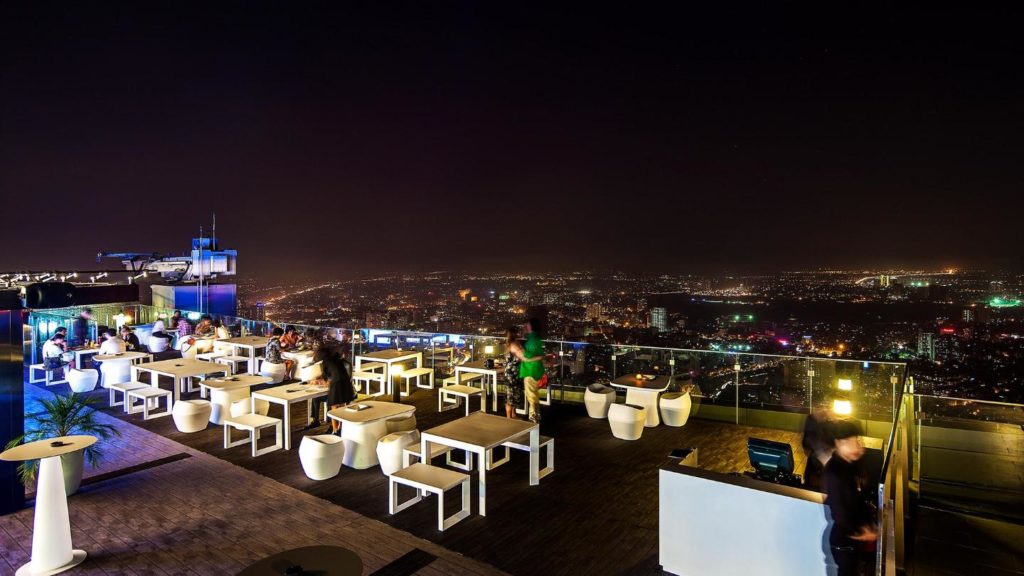 The Top of Hanoi is the highest luxury sky bar located on the 67th floor of the Lotte Hotel in Hanoi. 2 floors over the Observation deck, from this sky bar, views over Hanoi are wonderful. It is accessible via the elevator from the lobby of the Lotte Hotel. Once you reach the 65th floor, you need to change the elevator in order to get to the 67th floor.
The staff speaks English, they accept cards and contactless payments and during the week the place is not crowded. They open only at 5 in the evening, the prices are higher than average (we paid 750,000 VDN for 3 cocktails) but the view is totally worth it. Imagine finishing an exhausting day with a drink in your hand, while listening to chill-out music, and watching the stunning sunset over the Hanoi skyline.
Located in: LOTTE Center Hanoi
Address: 54 Liễu Giai, Ngọc Khánh, Ba Đình, Hà Nội, Vietnam
Hours: Everyday 5 pm –12 am
Phone: +84 24 3333 1000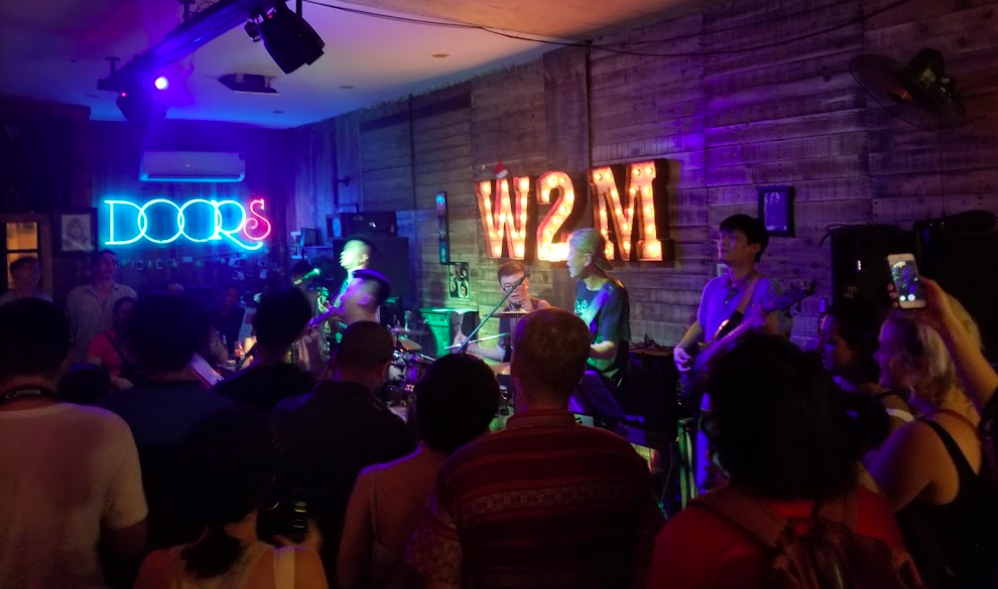 Whiskey Mystics and Men aka. W2M is opened by the same person who did "The Doors Bar" (It was my favorite live music bar in Hanoi which unfortunately has shut down since 2018) But W2M is a reincarnation of The Doors Bar, which was located in Hanoi's Old Quarter and W2M is at Hanoi's West Lake area – about 15 minutes by cab from the Old Quarter. By the way, here's the grab discount code for you. Works in-cab and bikes too.
The best part of W2M is that they have kept the same regular band who play a selection of classic rock and roll music from the 60s, 70s and sometimes 80s and 90s covers. This bar may be new, but it has that familiar distinctive, smoky, old-school Hanoi feel. The live music is on all week with a variety of types performed by many artists despite genders, skin colors, ages and vibes such as jazz, rock 'n roll, acoustic and so on. Performances are usually live from 9:00 PM and special music nights with the contribution of foreign artists are often on every Friday night. I think this is one of the Best bars in Hanoi.
Something worth keeping in mind is smoking indoors is allowed here and the staff speaks English if there's an issue. Regularly visited by ex-pats and locals. It is such a fun spot and the reason why it's one of the best bars in Hanoi.
Address: Ngõ 12 Đặng Thai Mai, Quảng An, Tây Hồ, Hà Nội, Vietnam
Phone: +84 98 302 90 10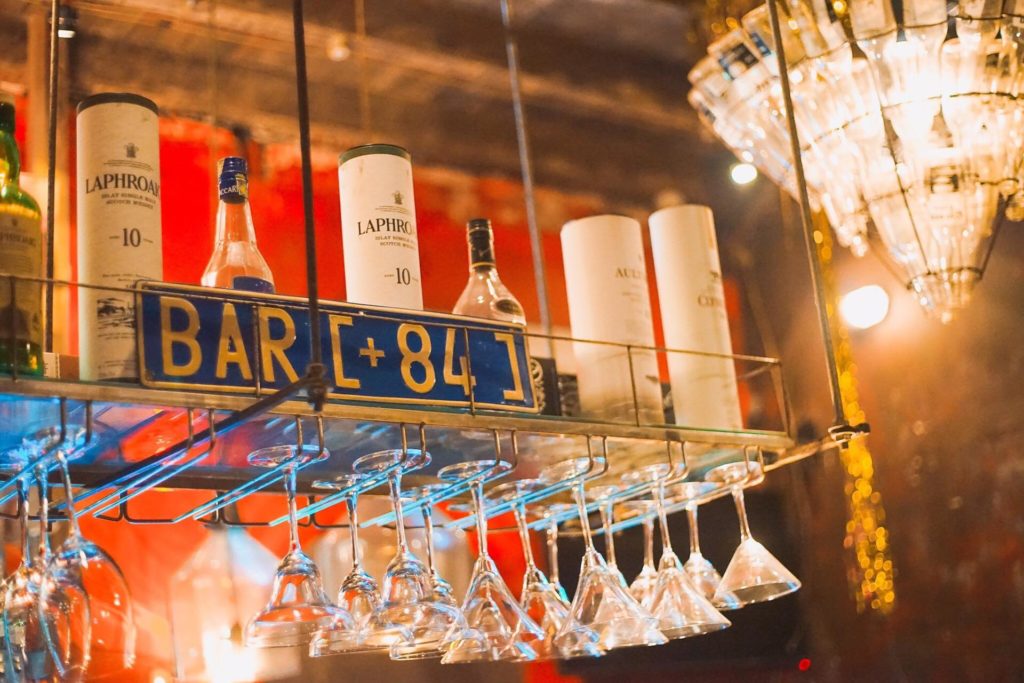 Just like W2M, Bar +84 offers quite the same types of music. However, they play different types of performances from Thursday to Sunday. For example, Monday is "Ladies' Night" where acoustic is played, Tuesday is for Pre-1975 Vietnam songs and 60-70s ballads with the theme "The Old Boys Blue" and so on. Bar +84 is not only a wine bar, but it's also the country code of Vietnam!
It is a good spot for music, drinks, and friends for a night out. There are also private places on level 2 for casual business meetings. The owner is one of the most interesting artists in Hanoi and because it is open at 9 AM you can also visit here for a coffee in the morning!
Address: 23 Ngô Văn Sở Street, Hoàn Kiếm District
Hours: Everyday 9 am to 2 am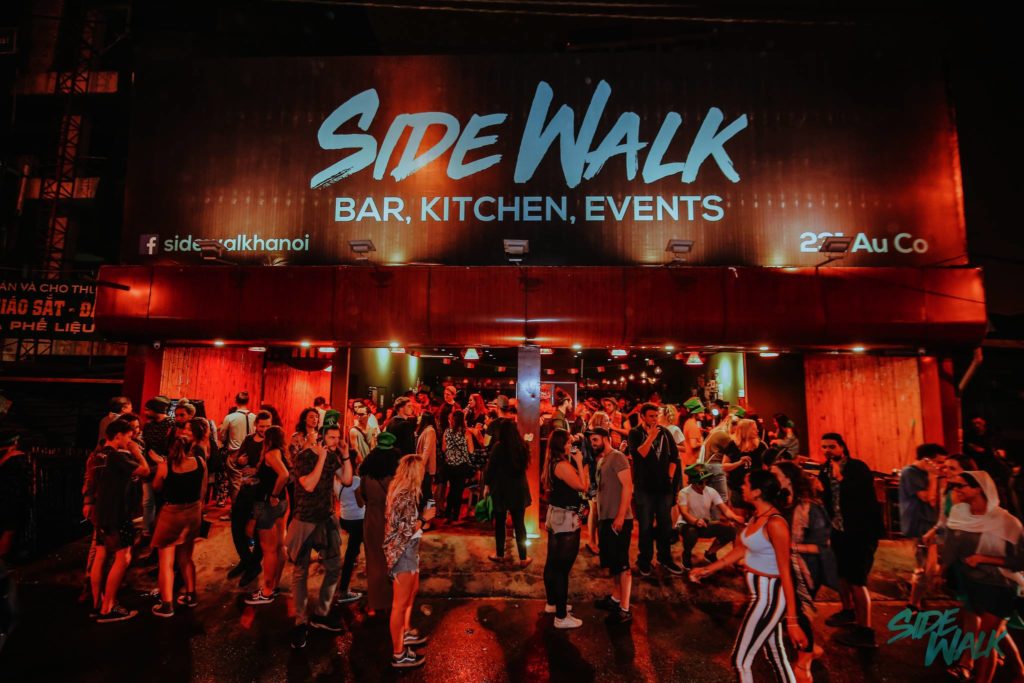 Another best bars in Hanoi is Side Walk Bar. It is a lively place with vibrant colored light murals and hut-like decoration and furniture. If you have lived in Hanoi in for a little bit, I am sure you must have heard or been there at least once! It is also a well known LGBT oriented bar in Hanoi. They have an open-air as well as a covered area that offers a full range of refreshments from coffee to cocktail. I remember going there on 1 rainy evening and I thought soft music playing complimented the weather so much! It is a favorite of ex-pats, a good place to hang out, and make new friends, especially LGBT identified or LGBT allies.
Before I forget, sometimes they give out free beer for about an hour, which is AWESOME! The staff is friendly and constantly walks around to pick up empty bottles or glasses. The DJ usually plays cool 70's and 80's music and the price range is just from VND 5,000 – 120,000.
Address: 238 Âu Cơ, Quảng An, Tây Hồ, Hà Nội 100000, Vietnam
Hours: Every day usually 5 pm -1 am, closed on Monday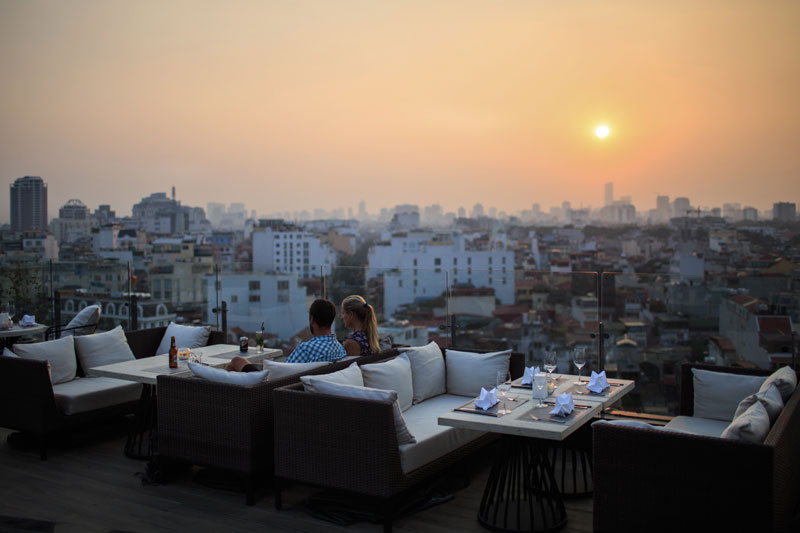 If you are after fancy bars in Hanoi, check out Skyline Hanoi. It is one of the highest and most fantastic bars in Hanoi. The view over Hanoi is to die for along with the impressive view of the beautiful Sword lake. If you want to escape from the noise and crowd, just choose another angle, the ancient Long Bien Bridge at night would probably be great on your eyesight.
Skyline Hanoi is not just a bar though, the restaurant provides a great experience, whether it be dining at a table in the main restaurant, relaxing on leather sofas next to the panoramic windows, enjoying the top deck for a 360′ view or even sitting by the pool. The staff is lovely and attentive. Drinks quite pricey but worth it for the experience.
Address: 38 Phố Gia Ngư, Hàng Bạc, Hoàn Kiếm, Hà Nội 110201, Vietnam
Hours: Everyday 9:30 am – 11 pm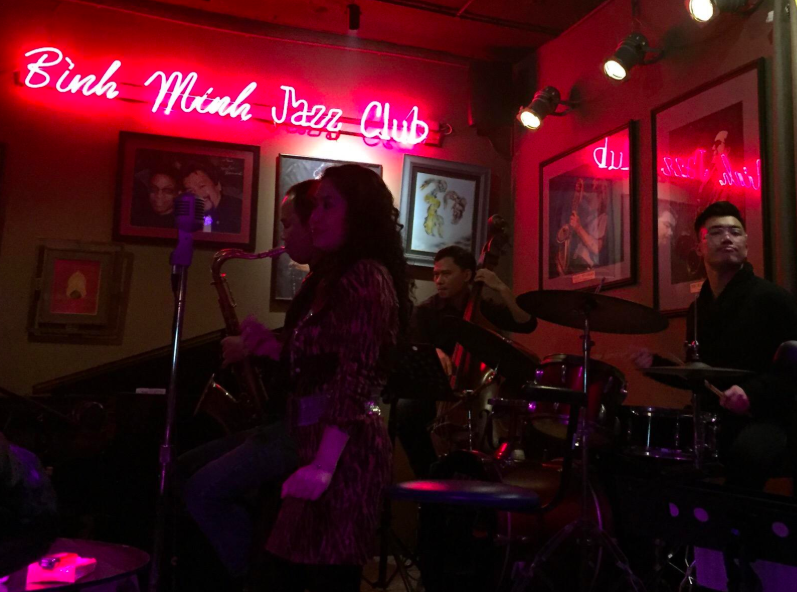 As the name might suggest, you can go here and enjoy Jazz. It is owned by Quyen Van Minh – a Vietnamese famous saxophonist. They showcase the best local jazz talents including Minh and international jazz musicians. It is not a pretentious jazz club, so dress casual and no need to look fancy.
Binh Minh Jazz club is Hanoi's oldest and only dedicated jazz venue I know. Super chill atmosphere, located near the french quarter, Hanoi Opera House. I highly recommend this bar if you're into jazz or simply would like to look for something different from the usual Hanoi live music bar scene. Live jazz every night from 21:00-23:00, there is no cover charge and if you are in the mood, they also sell Cuban cigars on the side.
Address: No.1, Tràng Tiền Street, Hoàn Kiếm, Hà Nội.
1 Tràng Tiền, Hanoi, Thành Phố Hà Nội
Live jazz every night from 9 pm -11 pm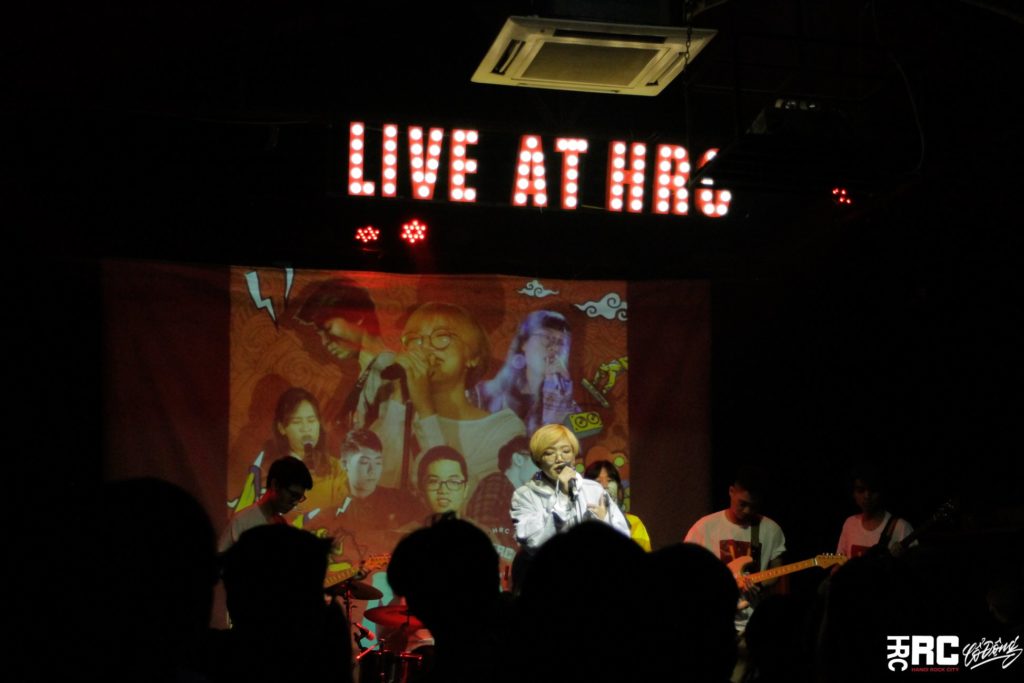 Hanoi Rock City is one of the best places if you want to enjoy your drink and rock your night with music. Located near West Lake, it has a large soundproofed room with a high-qualified sound system where live bands and DJ perform. Sometimes, besides the local acts, they also invite international bands to come and perform.
Besides that, if you want to have some nice and more ambient space, you can go to the outdoor bar. I think it's one of the great spots to chill after a stressful day in Hanoi. Wednesday is open mic night which is a great time and drinks are priced fairly. But keep in mind, they have entrance fees normally from 50 – 100k per person.
Address: 27/52 Đường Tô Ngọc Vân, Quảng An, Tây Hồ, Hà Nội, Vietnam
Hours: Everyday 4 pm – 2 am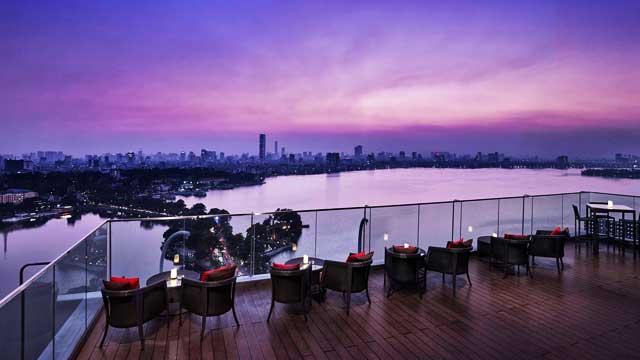 Summit Bar Lounge is located on the rooftop of Pan Pacific hotel. It offers the best view of West Lake and also the sunsets. Sometimes they are running happy hours discounts too.
If you want to impress your girlfriend/boyfriend/wife/husband/friends with the stunning lake view and a very relaxed atmosphere, the Summitt lounge could be it! When I visited, I enjoyed sitting outside for sunset. Given the height restriction around Hoan Kiem Lake, this bar really stands out. The most spectacular view of downtown Hanoi, West Lake, Truc Bach, and Red River — all in one panoramic perspective! Cocktails are pricey for Hanoi but professionally done. And because of these two very reasons, Summit bar is one of the best bars in Hanoi. Well worth the price of one drink to bring your first-time Hanoi visitors here.
Address: 1 Đ. Thanh Niên, Trúc Bạch, Ba Đình, Hà Nội, Vietnam
Hours: Everyday 4 pm – 12 am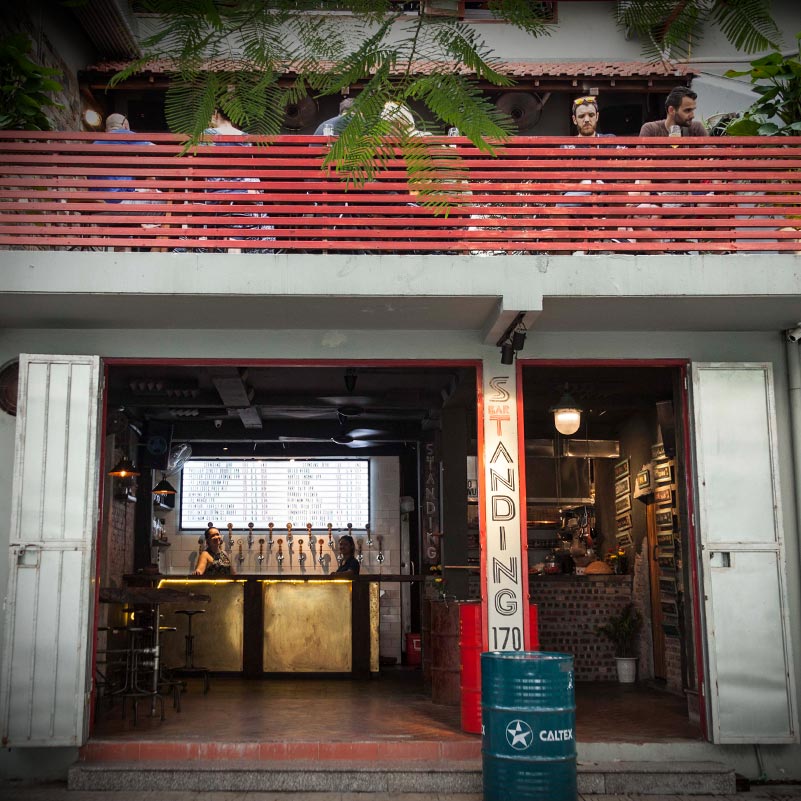 Standing Bar was opened in 2016 and they specialize in a big selection of Vietnamese craft beers. You will find loads of ex-pats visiting this laid back speakeasy watering hole. Although the standing bar idea originated from Japan, few ex-pats have tried their best to do the same in Hanoi. So despite the name, there's plenty of seating for everyone and no one is obligated to stand up. They also have taps on the menu so good spot to check out. They also run regular comedy nights with local and international acts.
Saigon/ Ho Chi Minh city might be where most of Vietnam's craft beer is made but Hanoi is where a lot of that gets sold. I am not much of a beer drinker but I enjoyed my mango flavor cider as I people-watched from the terrace upstairs.
Address: 170 Phố Trấn Vũ, Trúc Bạch, Ba Đình, Hà Nội, Vietnam
Hours: Sunday and Saturday -12 pm–12 am
Monday Closed
Tuesday – Friday 4 pm–12 am
Phone: +84 24 3266 8057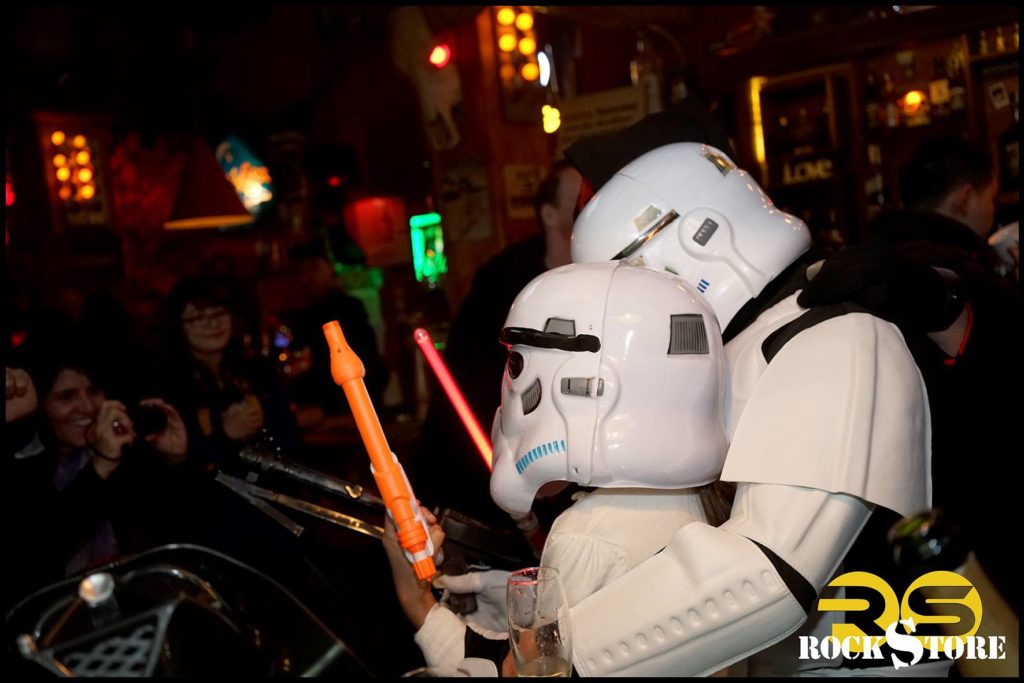 Rockstore Bar is slap-bang in the middle of the tourist and hostel centrum in Hanoi's iconic old quarter. When you arrive, it looks like an American-style diner but the further you go, the darker it gets! I prefer the colorful upstairs area with the pool table and a view of the busy Hanoi streets. They also run different theme parties.
The entertainment varies wildly – classic rock DJs one night, Viet techno another, alternative live rock another. The crowds a mix of locals, ex-pats, and travelers. There's a good selection of beers and pub snacks too. They also provide space incase you want to hold events like Birthdays.
And because it is open at 9 am, you can also go try their breakfast which is pretty good and at least you don't have to sit on kindergarten plastic furniture there!
Address: 61 Phố Mã Mây, Hàng Buồm, Hoàn Kiếm, Hà Nội, Vietnam
Hours: Everyday 9 am – 2 pm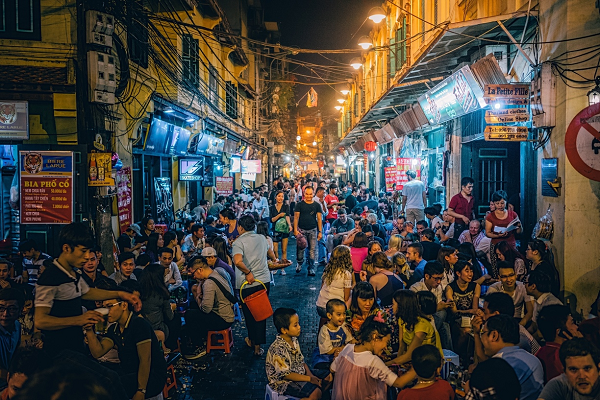 You cannot go to Hanoi and not visit this crazy Hanoi beer corner (or beer street)! Checking out the classy bars is nice but trust me, Hanoi beer corner is something else. Take it as a cultural exchange!
Beer corner is not one of the best bars in Hanoi but rather an area that consists of numbers of bars in 1 spot. It doesn't need much explanation though. Every night, young locals and hundreds of travelers (mostly backpackers) arrive on to make it as you go outdoor bars in the old quarter to sit on plastic stools, drink beer and people watch!
It is at its busiest during the hot summer nights and it's a vibe! While you are there, try Bia Hoi. It is a Vietnamese cheap beer, costs 50cents but drink too much and you will have the worst hangover in your life! Easy to find it at the beer corner and usually where crowds of local young or old people are and sometimes they also hang Bia Hoi signs. There is music coming out from all corners, and so are crowds crossing the streets and motorbikes making their way between stools! It's a bit crazy and if you are looking for a quiet drink, this is not a place. Perhaps try some of the ones above.
On saying that though, Beer corner is a great spot for street food, hotels and restaurants too. We used to eat Kebab and chicken rice a lot after a round of few drinks at the beer corner!
Warning: Few bars also offer ballons which is a balloon filled with laughing gas. It sounds fun to try for a night out with friends but be careful out there as I have seen people getting addicted to it!
Now below you will find what I wish I had known before traveling to Hanoi. Follow these tips to make your Hanoi, Vietnam stay easier and that much richer!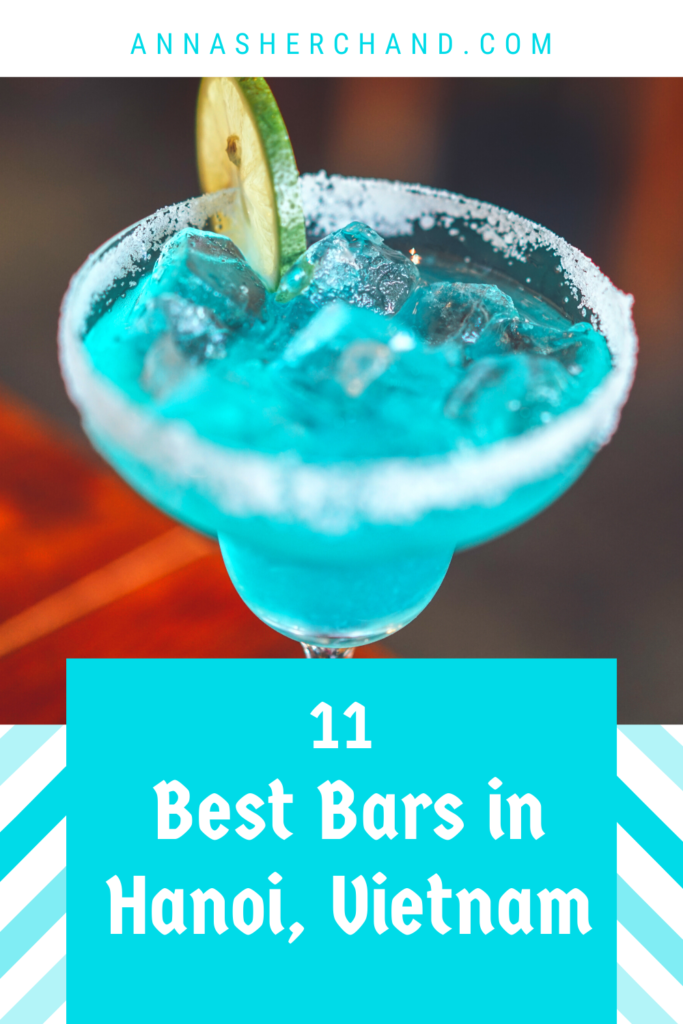 Travel Tips to Hanoi, Vietnam
Below are the five important things to consider for making your Vietnam travels that much easier.
1. Install Grab App
First thing first, download the Grab app for transport in Asia. Forget paying overcharged metered taxis, not only in Vietnam but almost everywhere in Asia, everyone uses Grab not Uber. For my readers, here is the discounted ride with Grab (up to VND 30000 off)! Just register using this referral code GRABANNASMATE, and save your hard-earned money.
2. Arrival/Departure in Style
We all want to save money but if you can arrive in style and convenience (Your professional driver will be waiting for you on arrival with a personal welcome sign) or leave Vietnam in style for only $14 USD. There is no reason not to and you will never have to rush through the public bus again. Book it here.
3. Unlimited Data Sim card
While traveling, having a data sim card makes everything that much easier. Imagine meeting new friends, and making travel plans together, but missing out on all the convos. We all know having a working phone with the internet is like having a world at your fingertips. Just skip the hassle of looking around, pre-order this unlimited data sim card ($9 USD for 30 days), and receive free delivery to your accommodation as well! Buy yours here.
4. Multi-Day Trips
After you visit all these muse-see cafes and all the other cool things Hanoi has to offer. Like everyone else, you will probably want to see Halong Bay and Sapa in the north of Vietnam. Experience the karst landscape of Halong Bay on a 2-day cruise, with round-trip transfers from Hanoi. Book it here.
For Sapa, you can book the 2-day/1 night tour that has more value as it comes with the limo ride, village life, and cultural experience. Check it out here.
5. Where to stay in Hanoi?
There are numerous choices when it comes to accommodation from all five stars hotels to hostels. If you are a solo female traveling to Hanoi and looking for accommodation, please read the recent reviews, and check the location to make sure it is exactly where you want to be. For example: If you are visiting for only a few days you may not want to be far away Vs staying close to the old town. And if you are after a relaxing holiday you may prefer the little secluded stay.
That being said, wherever you stay make sure to book with a legit website such as Booking.com Most hotels and hostels also offer free WIFI, and some also offer free beers! Here are some places I suggest:
To meet other travelers/backpackers
Youth Hostel
Drift Backpackers Hostel, Nusmile's Homestay & Travel, Hanoi Buffalo Hostel, or Old Quarter View Hanoi Hostel
Mid Tier
Ja Cosmo Hotel and Spa, SOJO Hotel Ga Hanoi, Hanoi Paon Hotel & Spa, Imperial Hotel & Spa, La Sinfonía Majesty Hotel and Spa
Luxury
Grand Mercure Hanoi, Peridot Grand Luxury Boutique Hotel, Aira Boutique Hanoi Hotel & Spa, or Dolce by Wyndham Hanoi Golden Lake
6. Few handy Vietnamese words
Hello – Xin Chao
Thank you – Cam'on
Please – Xin Vui lòng
Toilet – Phone Ve Sinh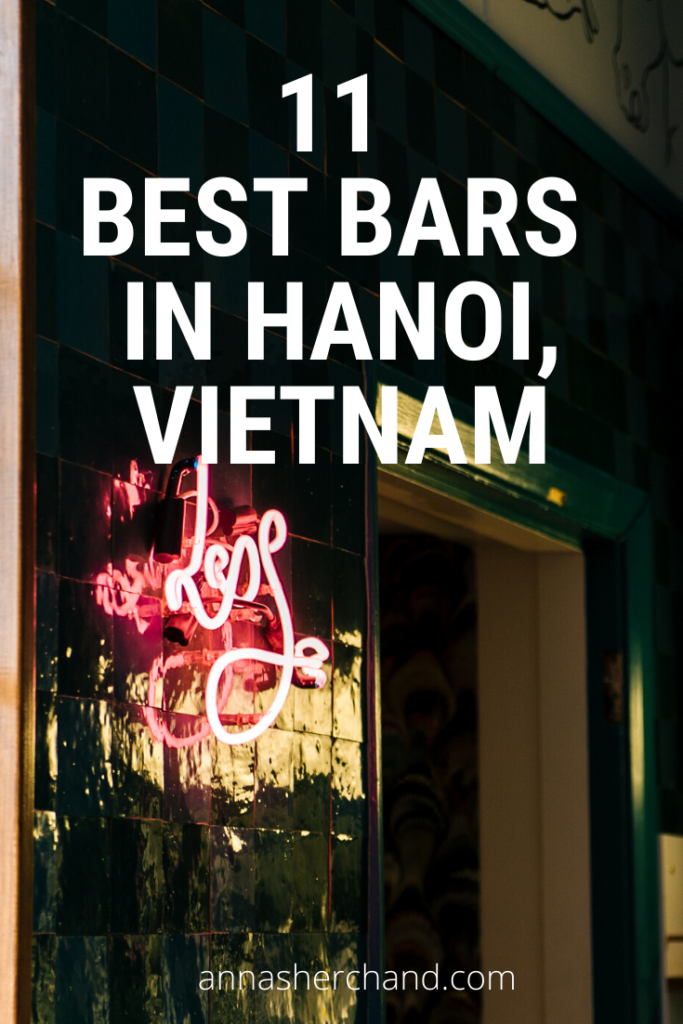 Let me know in comments-
11 best bars in Hanoi, Vietnam