Today I am sharing what to see in Sofia in one day. Everything you need to know from where to stay, what to see and the best itinerary for one day in Sofia Bulgaria.
I am also answering the FAQ towards the end of the post. It will help you to plan your Sofia, Bulgaria travels. So, keep an eye out for that too. Now, let's start!
What to see in Sofia in one day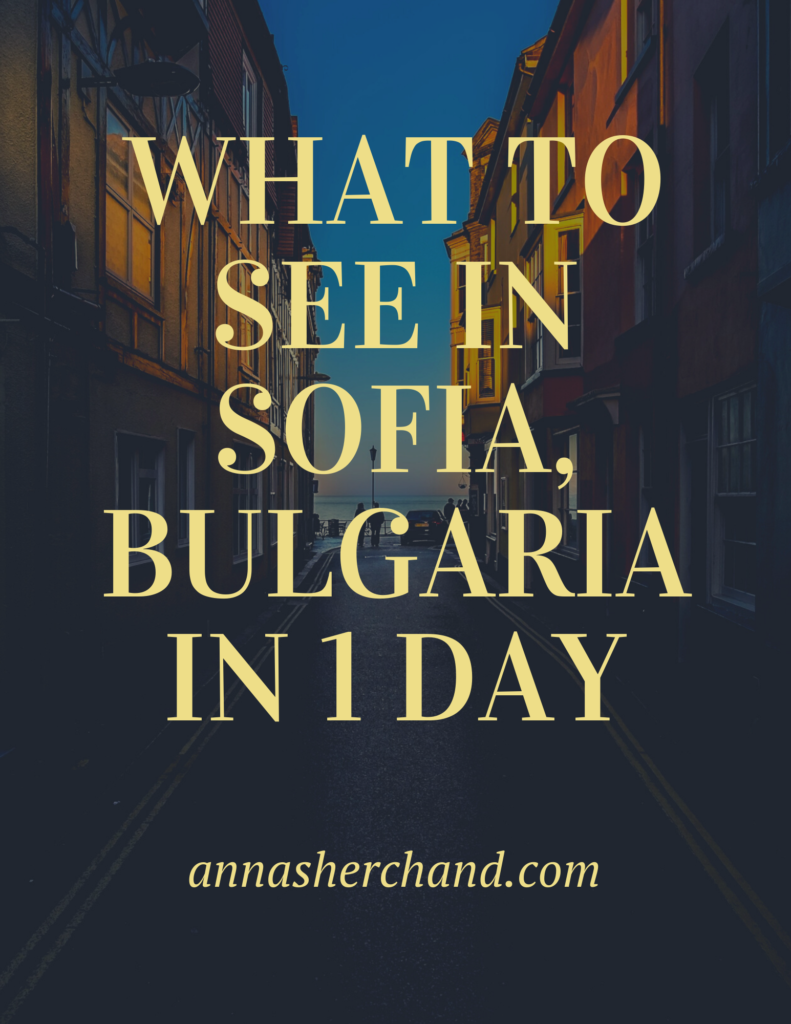 1. Join a free Sofia Walking Tour
Here's my major money-saving tip: Every time you're traveling to a new place, try to find a FREE Walking Tour. But don't forget to tip whatever you feel is appropriate at the end, I would suggest at least 5-10 BG in Sofia. I was told the guides don't get paid by the company and they are volunteering their time. So, only fair we tip them what we can. Of course, sometimes the tours don't go perfectly but you get to learn a lot of history and meet a lot of people. So, it's fun!
Sofia walking tour is a free two hours day tour that gives you a full impression of Bulgaria's history. The meeting point is at the Palace of Justice (near Serdica Metro) for 10 am. (they also run another one at 11 am, 2 pm and 6 pm) When I went, the guide spoke excellent English & had a wicked sense of humor, as well as a wealth of knowledge on her city history. No pre-booking is required & there were about 15 – 20 people on my tour.
There were numerous stops throughout the tour but these were my favorites. Also if you don't want to be in a group, just include these must-sees in your solo Sofia itinerary.
King Liberator Square and the National Assembly, St. Nikolai Church, The National Art Gallery (outside), The National Theater, St. George Rotunda, The Presidency and the Ministry Council, The Synagogue (outside), Banya Bashi Mosque, The Old Public bath, The National Palace of Culture and many more.
2. Visit St. Alexander Nevsky Cathedral
I cannot write this 'What to do in Sofia in One Day' Itinerary without including this church. The tour may take you there but it will be for a short 5 minutes. So I suggest coming back to properly see this largest church in Bulgaria. It was named after St. Alexander Nevsky and is one of the most touristic places in Sofia being the second largest Orthodox church in the Balkans. It's beautiful inside-out and the domes are plated with actual gold!
3. See Saint Sofia church
Sofia wasn't named after the Martyr Saint Sophia instead it was named because of this church. Back in the day, people from far away would walk all the way to get to the city and when they arrive at this church they would say ok we arrived in Saint Sofia Church then as time went on they stopped saying saint than the church and started saying just Sofia. Another recommendation is the Russian church in the city.
4. Find the yellow pavement
There is a high chance you might miss this spot so, glue your eyes on the pavement on the opposite side of the St.Alexander Nevsky cathedral. They are one of the main symbols of central Sofia and are pretty cool things to find!
5. Shop or stroll along Vitosha Street
Vitosha Street is one of the most popular streets in the city centre usually buzzing during the evening time with people chilling and chatting over a beer. It is where locals meet up, travelers take pictures, and shop. You'll find fancy fashion boutiques, cafes, and tons of restaurants. If you are not into shopping, just go once to check out the view of the Vitosha Mountain at the end of the street. It is worth it and on the other end of the street is the beautiful view of the St. Nedelya church. It is a busy spot but it has that feeling of Sofia right here!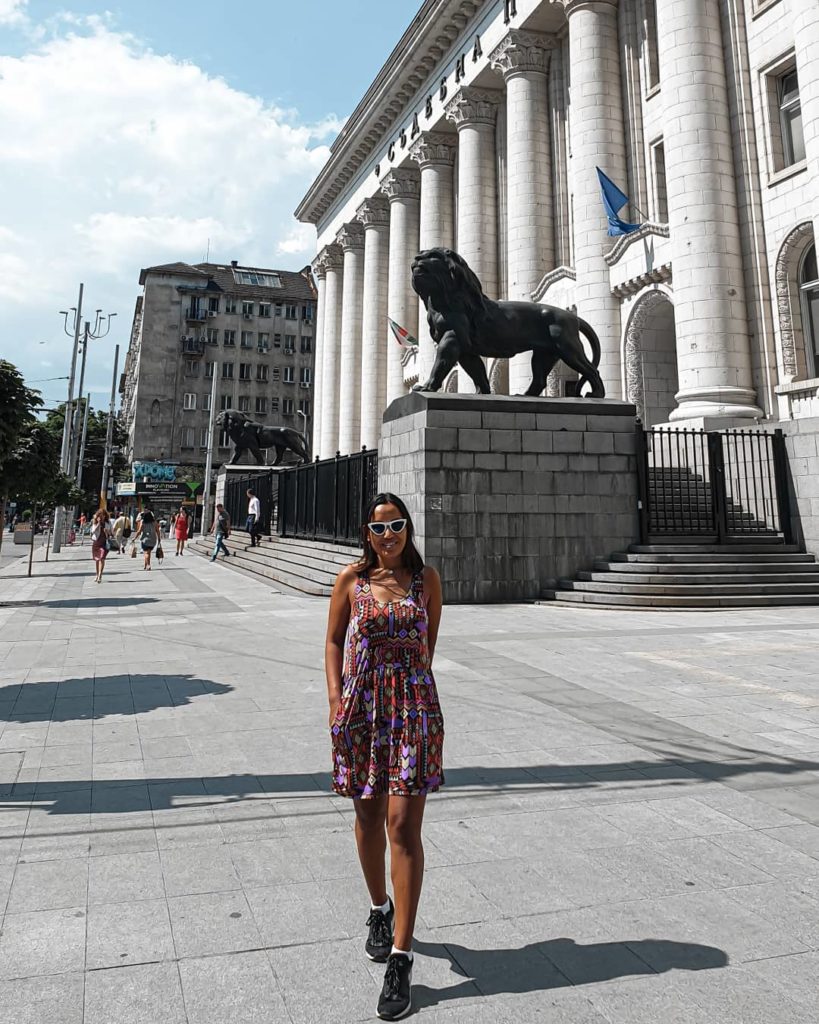 6. Fill up your water bottle at the Central Mineral Baths
My accommodation Hotel Sofia was 5 minutes from this spot. Back in the day, this yellow building used to be a public bath located in the center part of Sofia. It was in use till 1986 but now they have turned it into a museum. If you cross the road, you will find the mineral fountains where you can fill up your water bottles for free! Locals believe this water is helpful when it comes to gastrointestinal diseases, kidney stones, liver and gallbladder disorders. It would be hot so, be careful though!
7. Chill at the Ivan Vazov National Theatre
After all the walking around, if you want to find a place or park to chill this is it. This is the largest national theatre in Bulgaria and one of the best places to see in Sofia in one day. When I went, it was closed for some reason, but the small park in front of it is a favorite hang-out spot for Sofia residents of all ages. On saying that though the benches around the park were filled with young couples. It was a beautiful sunny day and it seemed like everyone was out at the park. Great spot to people watch as well!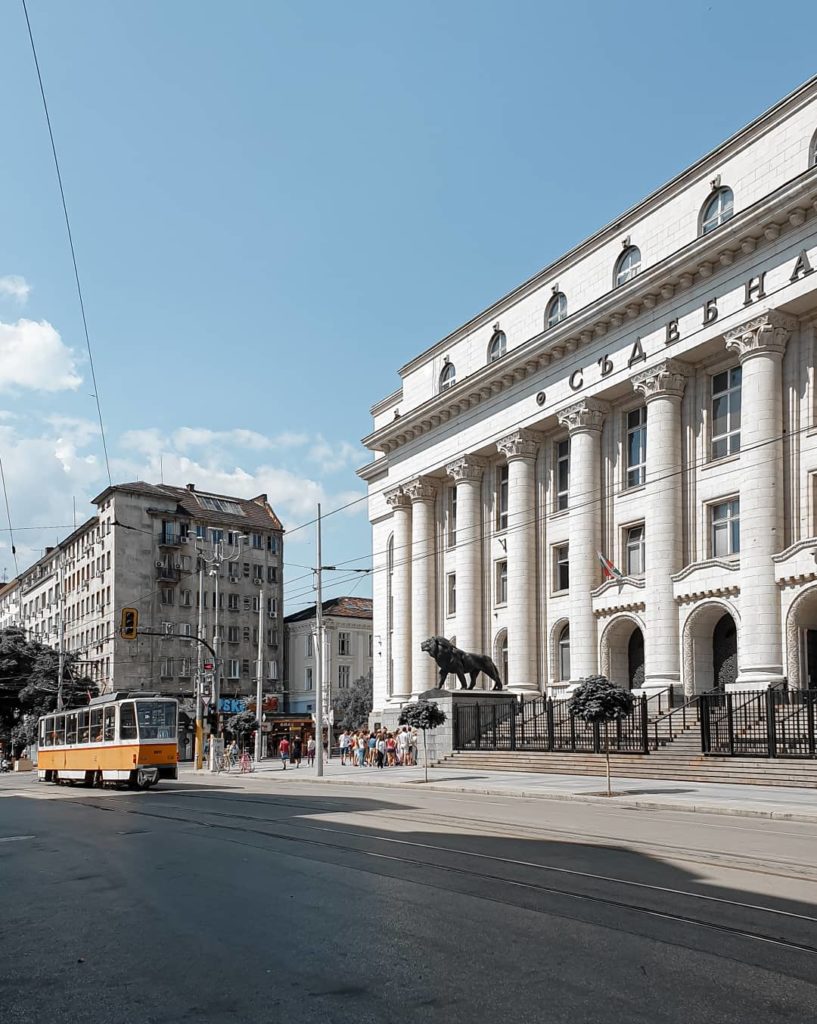 8. Hike up the Vitosha Mountain
Vitosha is now one of the most frequently visited destinations from Sofia. If you are up for some adventure and want to experience the stunning landscapes of the Vitosha mountain, you can do so both in winter and summer season. In the summer, you'll hike through green-lush pastures, rivers, and waterfalls. And in the winter you can ski up the mountain.
Check this tour for a Vitosha winter hike and here is the summer one day trip from Sofia.
9. Take a day trip to Rila Monastery and Boyana Church
UNESCO has listed both of these monuments high on its list. If you travel a few hours away from Sofia and you'll get to see the countryside including these UNESCO-listed places.
I recommend this day tour which includes Rila Monastery, Boyana Church and the origins of the Glagolitic and Cyrillic alphabets, with an opportunity to learn other unique and interesting facts about the role of the monastery in the political and Orthodox history of Bulgaria.
10. Relax at the spa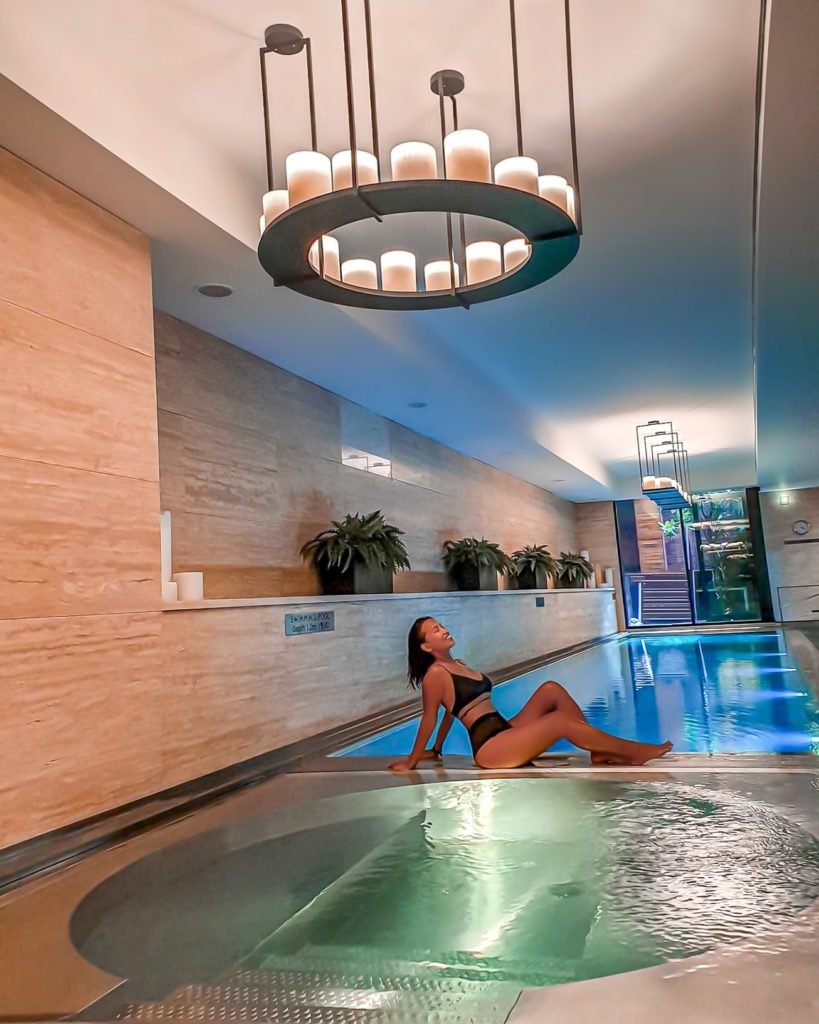 A day full of exploring, calls for a relaxing hour to calm down. The senses spa offers two giant tubs- one cold and another hot, shower with 16 shower hoses, a sauna, and a GYM. This is a perfect place to end your busy day in Sofia, Bulgaria. The best part is you don't have to a hotel guest to use the spa, you can just pay for the day.
Then after you are done relaxing, go upstairs at the Bar which offers the best view in Sofia to pat yourself on the back and toast to remind yourself what a badass solo traveler you been!
11. Eat at the Tenebris – Dark Restaurant
Now, this was a bucket list item for me! Since I watched the La-La land movie, I always wanted to visit a dark/blind restaurant. And as life happens I got the opportunity in Sofia! It was a last-minute decision so I went on my own. It was an incredibly personal experience! While booking the table, you can choose what menu you would like to order but you can't see them while eating of course.
At first, you have to wash your hands and no phone or camera is allowed inside. Your waiter who doesn't have sight will take you inside and that's it. You can see nothing. NOTHING! You are free to ask questions and chat with your waiter but no walking around etc. As I was on my own, I spoke with my waiter for a bit and to understand what it's like and how she was managing her life on the daily basis teared me up! Moments like this in my travels have made me soft you guys! Nonetheless, I recommend checking out this place. They'll show you the pics of what you ate after the dinner though.
It is a great place to support a local business that is employing disabled people. Alternatively, the Bulgarian restaurant next door is pretty good too.
You can watch all this and more on my Sofia highlight on Instagram. Just follow me to watch the rest of the adventures to all the 195 countries in the world.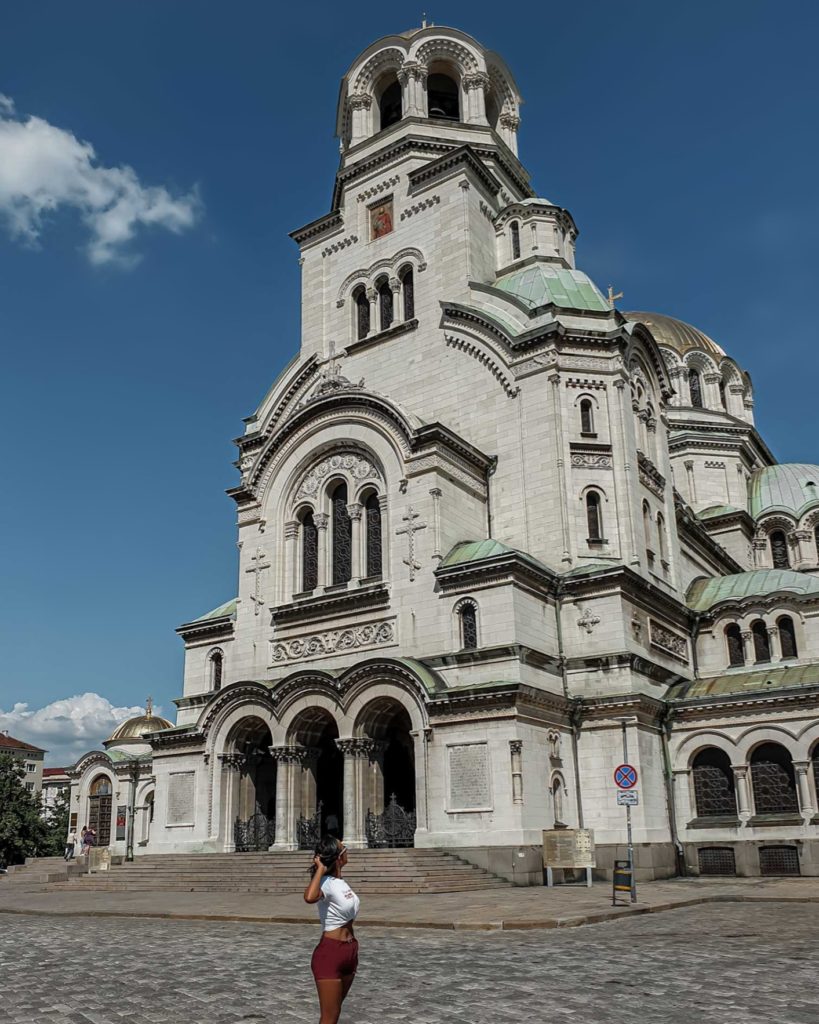 Travel Tips to Sofia, Bulgaria
Where to find cheap flights to Sofia?
I recommend going through the most trusted sites such as Skyscanner or Momodo. to find the cheapest flight rates. I personally use them even after all these years.
Where to stay in Sofia?
Two Options. 1. You can open a new Airbnb account with my link and enjoy a $76 discount for your first booking. Stay in some of the best neighborhoods in Sofia, Bulgaria.
Alternatively, you can check hotel prices and book it through trusted Agoda, or Booking.com
How to arrive in Sofia city from the airport?
There is no uber or any taxi app in Sofia now. So I highly recommend this service.
This transfer service gathers visitors from the same flights and transports you between Sofia Airport and your hotel/accommodation in Sofia. Depending on the number of bookings, the vehicles used are cars, either 8 seater shuttle buses or mini-buses. If you are the only booking for your flight, then the vehicle would be similar to a private taxi transfer. Whatever type of vehicle used, your journey will be pleasant.
The driver will be waiting for you at Sofia Airport Arrivals, and he will be displaying a board with your name. The flight schedules are monitored so in the event of your flight being delayed your driver will be aware and will be waiting for you when you arrive.
What currency do they use?
The currency used is the Bulgarian Lev (BGN) although some tours & more expensive items are quoted in Euro (€). Overall you will find Bulgaria is a very cheap country to travel and most places such as bars & restaurants take cash & credit cards. There are also many ATMs across the city & at the airport.
Do locals in Sofia speak English?
For the most part, locals speak Bulgarian, but most people involved in tourism speak excellent English.
How to move around Sofia?
I am going to suggest three options.
Metro
Metro is a common transport option when in Sofia. It is cheap, clean, easy to navigate & efficient. Each journey costs 1.6BGN. You can purchase tickets from the machines or kiosks at the entrance.
Taxi
You can download the Taxify or "Yellow Taxis" App to order a cab in Sofia. The app works in the same way as Uber in terms of booking & tracking but once it arrives you pay cash at the end of your journey. Make sure they use the meter, so you are not overcharged & ask before you move how much it is likely to be, just in case. OR you can just ask the hotel reception to get you one!
Tram
There is a tram system but I didn't get to experience it as the Metro was so convenient.
Bus
Buses are there for long distances, for example, to go to Plovdiv.
Is Sofia safe for solo female travelers?
Yes! It is completely safe! I walked the city streets alone around 10-11 pm (it was a city center) and never felt afraid. Something I noticed is though Sofia has a major problem with stray animals, especially dogs. They were not threatening but it's worth mentioning as it can be a little frustrating. Do not walk around carelessly with a bunch of fresh meat or prepared food when there are large stray dogs around. Do not flash large amounts of money in public as people are watching. But all this goes for any country. Bulgaria is not only safe, but it's also cheap, beautiful, unspoiled, and the sights to see are incredible!
I have detailed travel resources right here. Save money, learn what and how.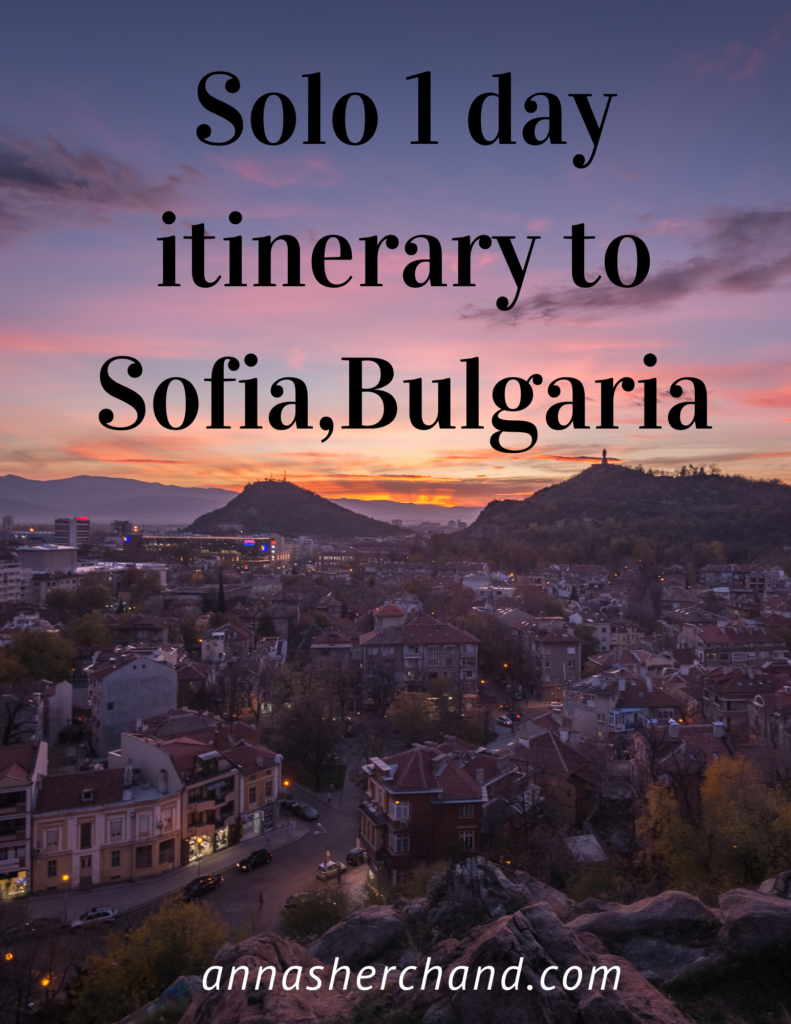 Let me know in the comments-
What to see in Sofia in one day?