If you planning to travel Bruges in December, this article is going to cover everything you need to know before you go. Such as things to do in Bruges in December, if it's safe for solo female travelers, the best places to see in Bruges including hidden spots, where to stay, what to eat, half a day trip ideas, and more. With all the information I am going to give you, I think it is fair to say this Bruges travel guide will be jam-packed with wanderlust!
Bruges or Brugge in the local Flemish language is off the beaten path destination located in West Flanders provenance, just 60 miles (97 kilometers) north of Brussels which is the capital city of Belgium. It is known for its medieval vibes (probably the most well preserved medieval city of Europe), canals, cobbled streets and it was also the city where I tried my first and the best Belgium beer!
Bruges in December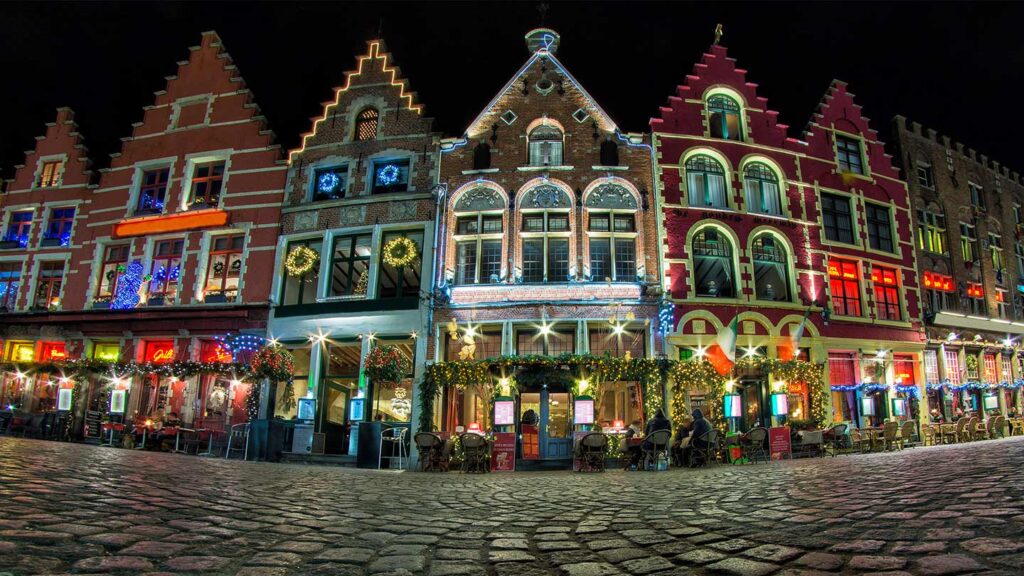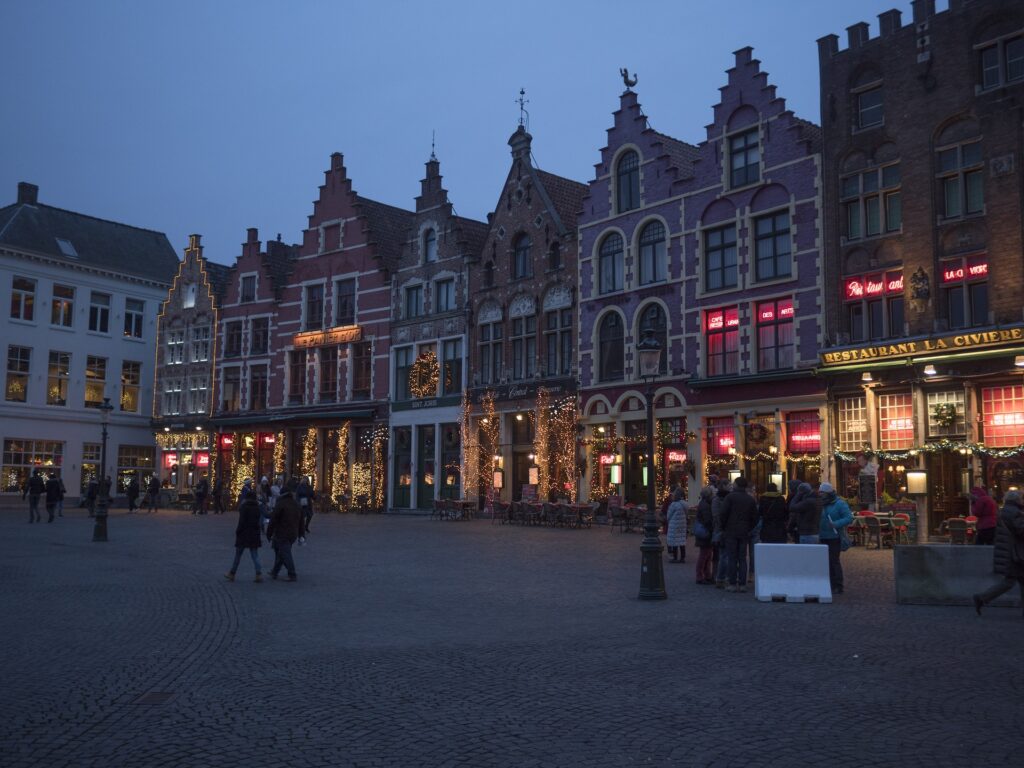 Before the itinerary, here are the FAQs answered for Bruges:
How many days in Bruges is enough?
My suggestion is to spend at least 2 days in Bruges where this guide comes in handy. This should be sufficient time to explore Bruges's main attractions, get the feel for the city, and even take a half-day trip.
Where is the best place to stay in Bruges?
If you want luxury then hotels are the best options or even Airbnb otherwise sticking with hostels would be your best bet with budget travels. What I find with Airbnb is though, you can even wash the bedsheets once you arrive because usually, the apartments come with washing and laundry machine. Either way, to make the most of your time in Bruges in December some of the best neighborhoods to stay are the historic city center, Sint-Anna Quarter, 't Zand, Onze-Lieve-Vrouw Quarter, and Ezelstraat Quarter.
When is the best time to visit Bruges?
Although this article is dedicated to visiting Bruges in December, the winter wonderland, summertime is another great alternative (June to August).
Is Bruges safe for a solo female traveler?
My experience of solo female traveling to Bruges was safe from start to the end. So I would say unless there is a drastic change in the country's political situation, pandemic, or some natural disaster it is safe to travel to Bruges. Just remember to apply a general rule of thumb i.e. Don't walk down that dark alleyway on your own, respect the culture, don't argue about religion or men, dress modestly, trust your instincts, don't be afraid but be cautious.
Local currency
The official currency is Euro in Bruges. However, these days almost all establishments accept debit or credit cards. Remember to consider bank fees from your bank and the ATM withdraw fee while you do your budget.
Do I need a visa for Bruges?
If your passport is from Australia, you do not need a visitor visa to enter Belgium because it falls under the Schengen zone that allows Aussies to stay up to 90 days in any 180-day period. Passport should be valid for at least six months beyond your stay. That being said, if you are flying into the country the authorities may ask for the return ticket. I highly recommend checking the Belgium Embassy website for the most current visa information that applies to you.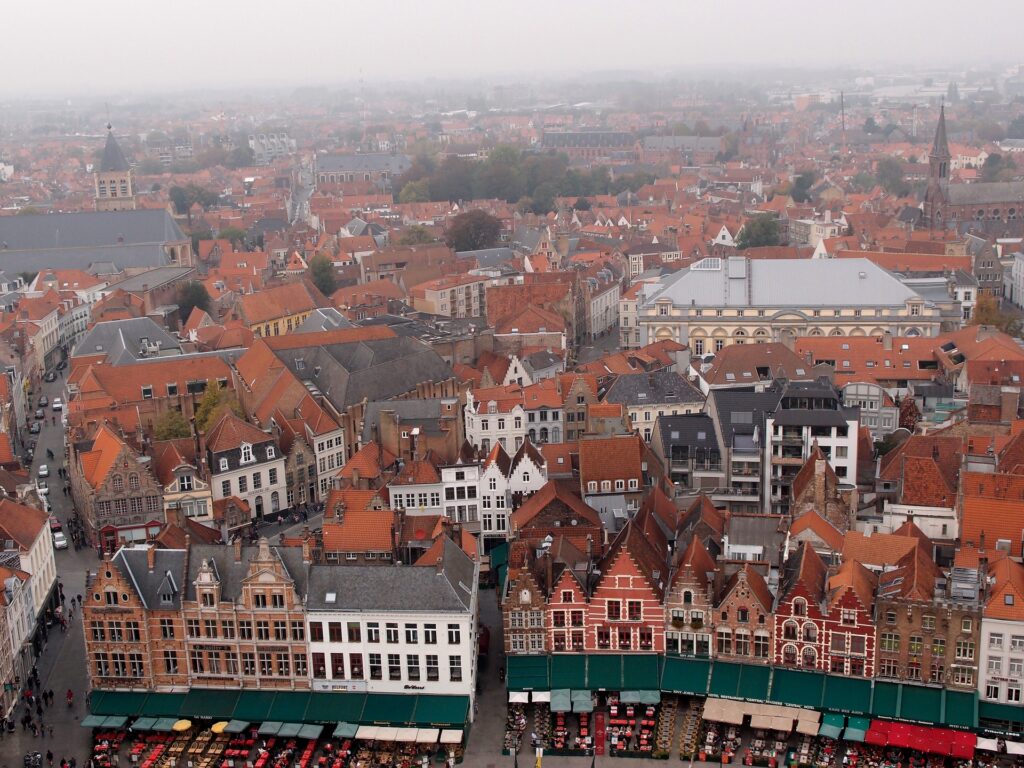 How to get to Bruges?
By Train/Bus
The best option is to take a train to Bruges. As an example, you could buy a train ticket from Brussels to Bruges costs $16 – $23 and takes 1h 2m. There are direct trains from Brussels Airport every hour. You could even try a carpooling app Blabla car in Europe for some land transport.
An alternative would be to get a bus tick from the Flix app $3.99!
By Plane
There are five working airports in Belgium and 1 265 KM away from Bruges which is called Ostend-Bruges International Airport. It is located close to Ostend on the Belgian coast and is a very small airport with very few flights, mainly domestic. Recommend to search via Skyscanner to check the latest flight pricing.
By Ferry
There's no direct ferry to Bruges but there is a way, sort of! From Dover in the UK, you can sail to France, and then the city is just 47 miles from Dunkirk port.
Must-Have Travel Apps for Bruges
Google Translate for easy communication on the local language and it's extremely simple to use!
Flixbus app to travel to Europe very cheaply including other cities in Denmark other than just Copenhagen. It has a comfortable seat, wifi, and snacks onboard.
Google Maps because it offers very good coverage of Bratislava, including Street View. Google Drive, Calendar for time management, and storing pictures. An alternate is Xplore Bruges for the offline map of Bruges.
Interparking for finding parking space in Bruges.
Uber for carpooling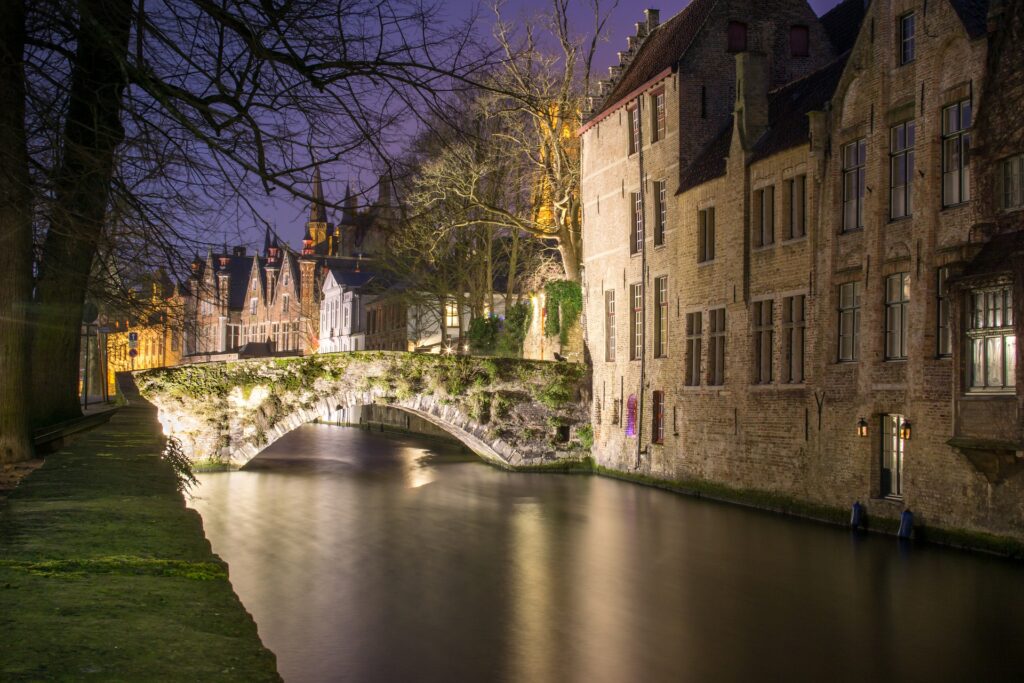 How to get around Bruges?
The first option I always suggest is to walk around the new city because it offers so much more with the sights, sounds, surprise conversations with the locals, and more. It is also very easy to walk around in Budapest because all the main attractions aren't too far from each other.
Bruges is much smaller than Antwerp and Brussels and there are more historical buildings within the entire city, including a castle! From the Bruges train station, it is an easy 20 minutes walk through interesting streets of the city to reach the Markt square or you can even take a bus (buy tickets at the train station, Lijnwinjkel shops and eShops as in the bus is expensive). There is plenty of public transportation that goes to all parts of the city during the daytime.
People, language, Simcard
The locals here are called Brugse zotten and based on my short experience I found them to be a smart, curious, and friendly bunch. They love their waffles, chocolate, and beer. The official language is Flemish but most of the locals have a decent command of English and French is widely used also.
You can pick up a sim card at the arrival hall at Brussels Airport (level 3). At the Base Shop, they only sell a Base sim card, and at the Relay book shop, they only sell Orange sim cards for Belgium. They will ask for your passport or photo ID for registration. Alternatively, in the Market square, you'll find a large electronics stores called FNAC, they have their own cell phone department. Just make sure your mobile phone is SIMlock free.
Belgium's country domain is .be, and country-code is +32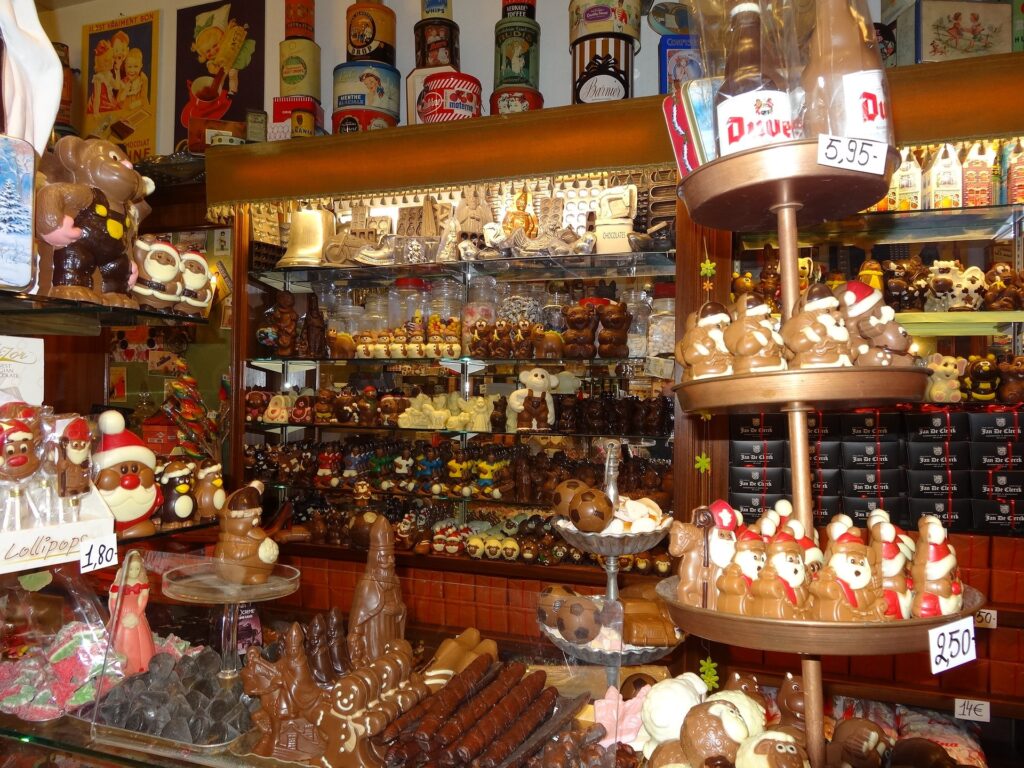 What to eat in Bruges?
Bruges in December itinerary wouldn't be complete without eating some local treats! Here are my recommended meals Frites. Frites, hot chips, fries, (in fact fries were first discovered here!), traditional Flemish stew (Carbonade flamande/stoofvlees or stoverij), Asparagus, Belgian waffles, and creamy Belgian Chocolate in chocolate shops.
As you know most countries have a signature drink. Belgium is no different. So in my books, the must-try drink in Bruges is Belgian beer or mulled wine perfect for the season. Recommend checking out The Potato bar and Bruges Beer Museum to learn about how beer is made and then try beer tasting platter there!
Where to eat in Bruges?
Generally speaking, eating out in Budapest is expensive starting with 14 euro for a meal but there are some budget-friendly options too. Bruges is a foodie paradise. Head to one of the two green carts/mobile trucks in the Markt square for your fix (or there's even a Frietmuseum!) of fries, Bonte B for fine dining, Rock Fort for seafood, Assiette Blanche for seasonal French-Belgian classics and local specialties, and De Bottelier with fun interior to name few.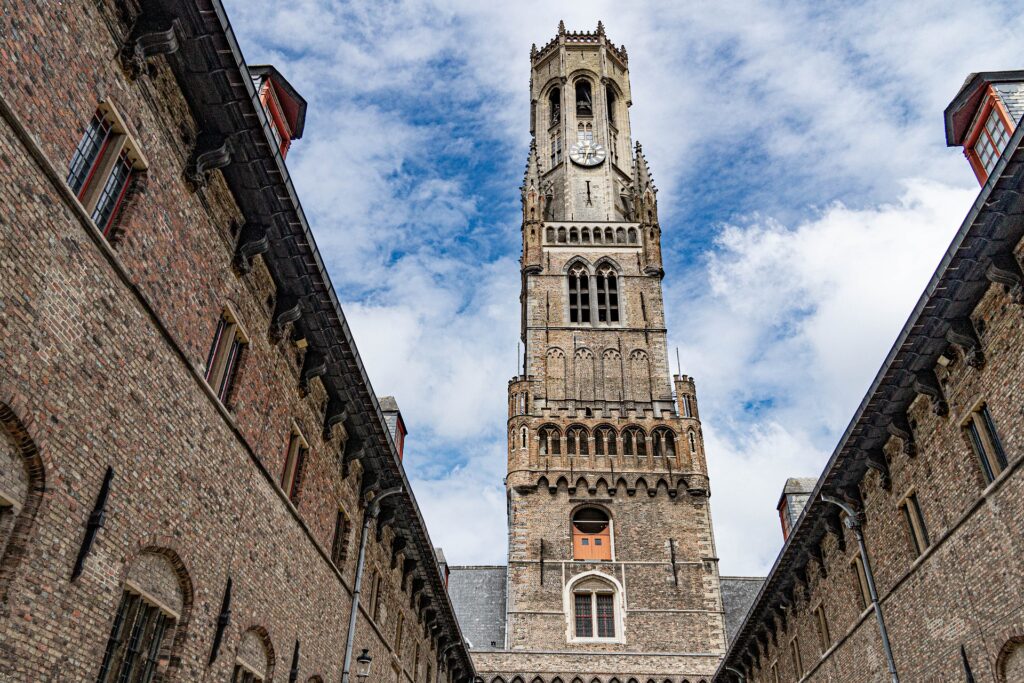 Bruges in December
Now that we got the practical tips out of the way, let's get into the best places in Bruges in December.
Best places to visit in Bruges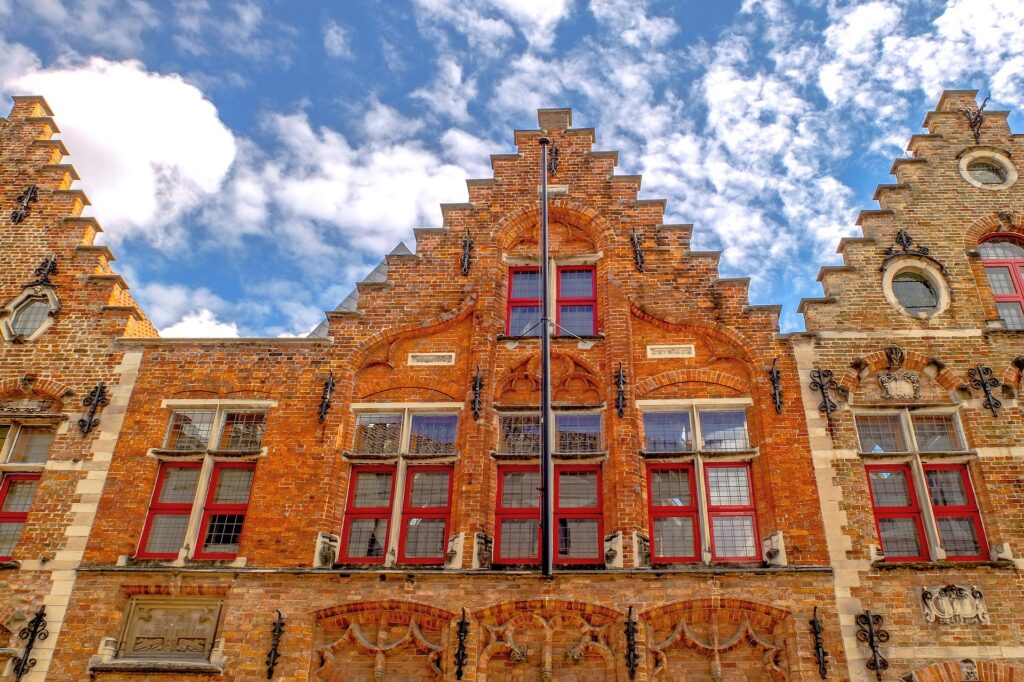 If you end up staying in the historic city center, you will be close to all of the major attractions and you'll be able to easily walk to all of the sights including the Bruges Christmas markets, ice skating rink, ice sculpture festival, old chocolate house, Belfort (belfry) Tower, The Markt, Begijnhof (Beguinage), and Burg Square.
If it's your solo trip to Bruges, and you would like to meet other fellow travelers I consider joining a walking tour, meet other travelers and get familiar with the city with the help of licensed, professional guides. There are many types of walking guided tours available from the public to private tours ranging from 1 to 3 hours.
Alternatively, you can venture out on your own but whether you choose to join the tours or end up exploring on your own, here are the must-see places in Bruges you shouldn't miss: Oud Sint-Jan, Walplein, Jan Van Eyckplein (Jan Van Eyck Square), Burgplein (Burg Square), UNESCO world heritage such as the Bruges Begijnhof (beguinage), the belfry, the entire historic center of Bruges and the Procession of the Holy Blood. Bruges not only has a valuable architectural heritage and history, but it is also famous for its brick-Gothic buildings.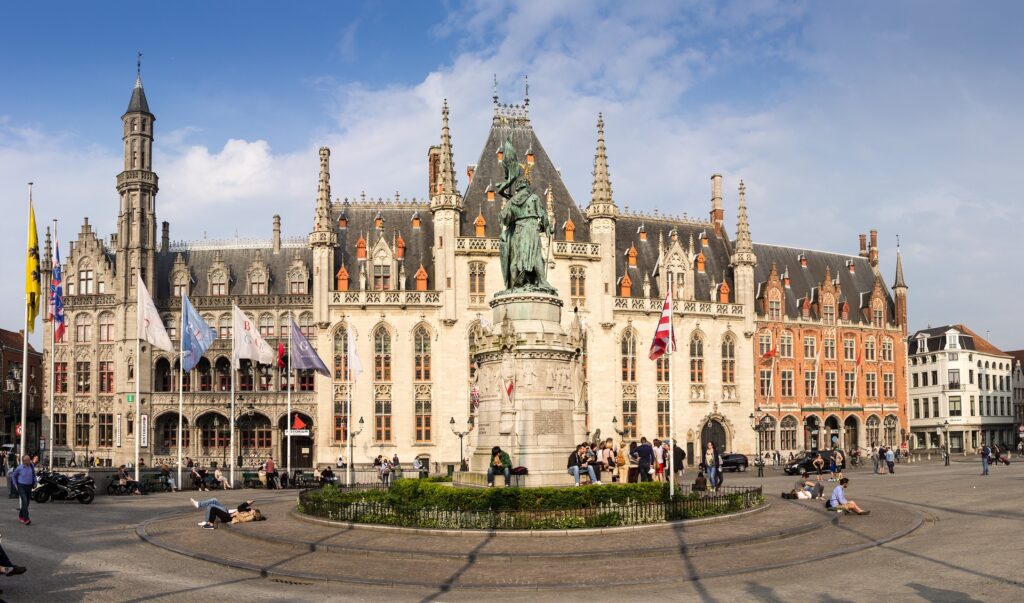 The original and integrated medieval fabric of the city has also been retained. Also recommend world heritage site Rozenhoedkaai, The Flemish primitives, Hansa Quarter, Canals of Bruges, O.L.V.-Kerk Museum (Museum of the Church of Our Lady), Almshouses, Grote Markt, Minnewater park and lake (Lake of Love), Bonifaciusbrug (Bonifacius Bridge), and don't miss the Christmas decorations in the city along with the carriage rides.
Something worth adding here is that Bruges crafts some of the most luxurious lace in the world. suggest to pop into one of the lace shops dotted around the city to buy a lace souvenir, or better yet visit the Lace Centre to learn more about the history of lace in Bruges.
Bruges also boats tons of castles per square inch than any other country in the world! About 50 of the 470 castles in the Flanders region are based around Bruges. So make sure to check some of them out. Although Bruges may be small, it has over 80 bridges making it easy to navigate the city and get from one side of the canals to the other. So that is something to look at and because of the number of canals and bridges, Bruges is known as 'Venice of the North' also. Another activity I can recommend is you can even visit Windmolens (windmills)- Sint-Janshuismill windmill was built in 1770, the oldest windmill in Bruges! And head to Rozenhoedkaai for the best place to watch sunsets in Bruges.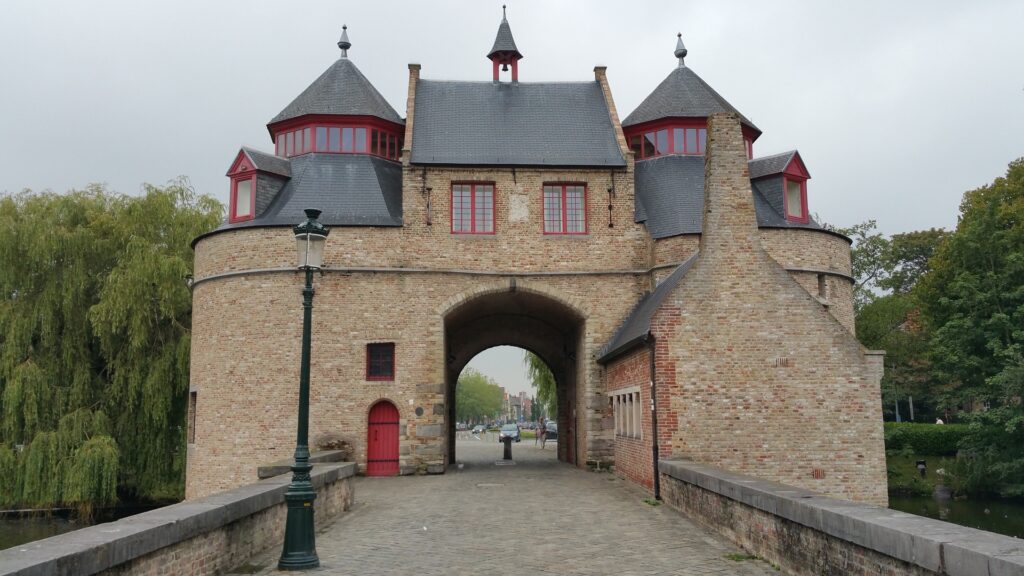 Half-day trips from Bruges
If you have managed to see must-see places in the center on the first day, there are some day trips from Bruges that are recommended. Such as Brussels 1 hr train ride- kill two birds with one stone, Ghent, Knokke-Heist Beach, Torhout, Ypres, Kortrijk, Dunes in Zeebrugge, Ostend Harbor, and Beachfront, Blankenberge, and Zwin Nature Park.
With unique medieval architecture, UNESCO sites, and a foodie heaven Burges seems to become more alive with each passing year. I hope this Bruges in December article helped you in planning your travels.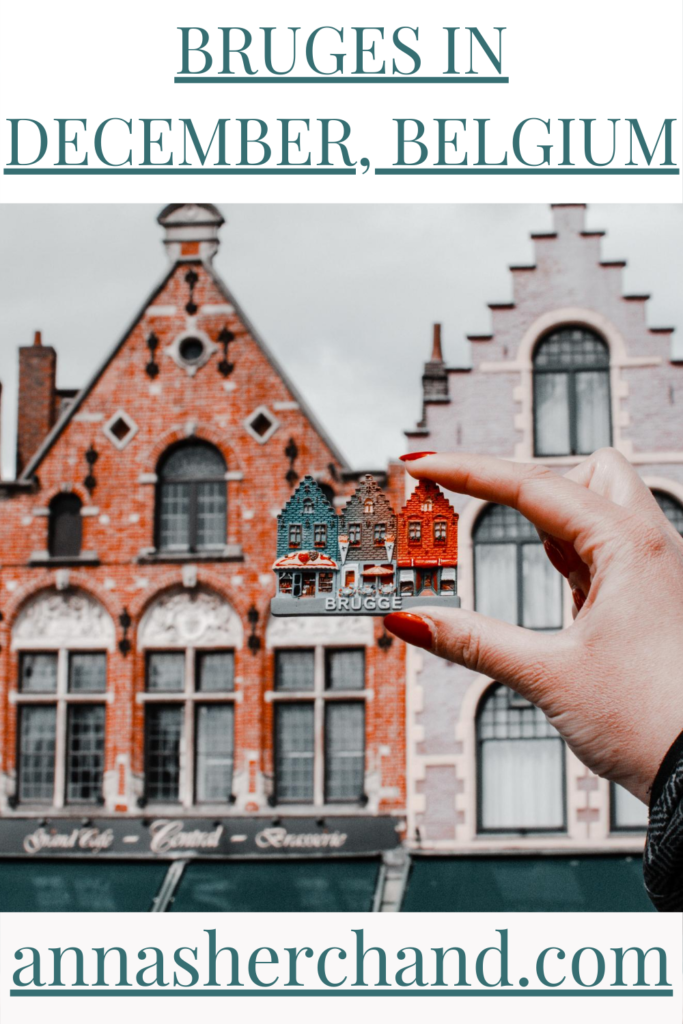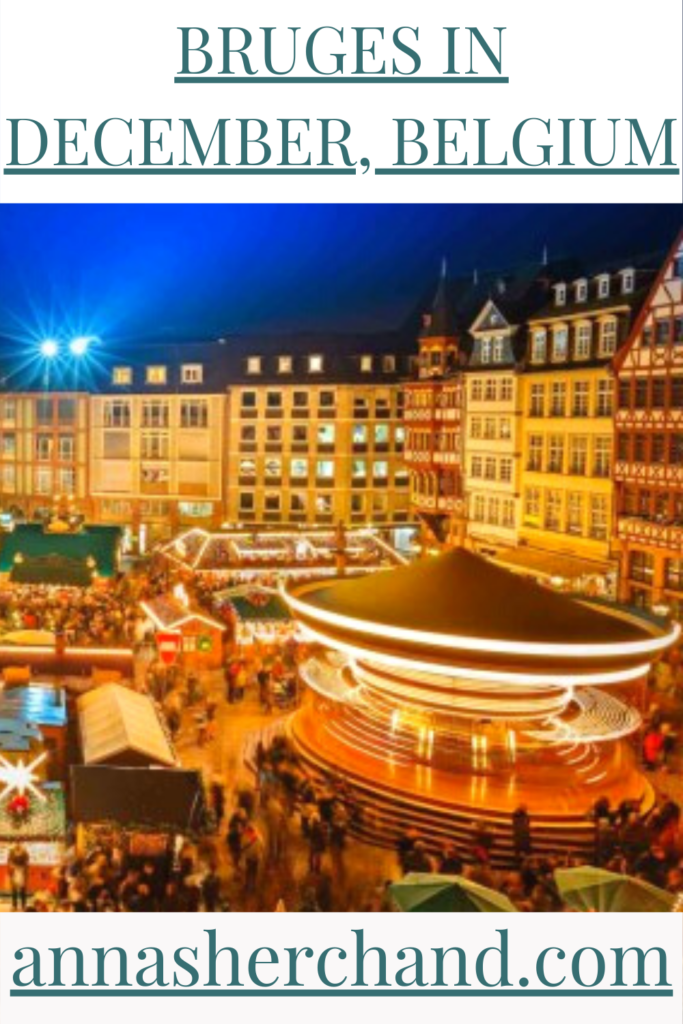 Let me know in the comments: