Looking for 5 days Switzerland itinerary? I got you 🙂 This article covers all the travel tips before you travel to Switzerland and then the five days itineraries of course including the best places to see in Switzerland, where to stay, what to eat, the best time to visit, activities, and more. If you are traveling to Switzerland for the first time, this article will help you plan better. This is going to be a jam-packed solid 5 day Switzerland itinerary but there is enough room for you to pick and choose where you want to go first.
Switzerland is full of beautiful landscapes and unforgettable nature which is why it is one of the most sought-after travel destinations in Europe. Originally it used to be called Helvetia though and geographically, similar to Nepal it is also a landlocked country bordered by Italy to the south, France to the west, Germany to the north, and Austria and Liechtenstein to the east.
I am super excited to relive my solo traveling to Switzerland and share how I hiked two countries in one day and helpful tips for you too.
5 days Switzerland itinerary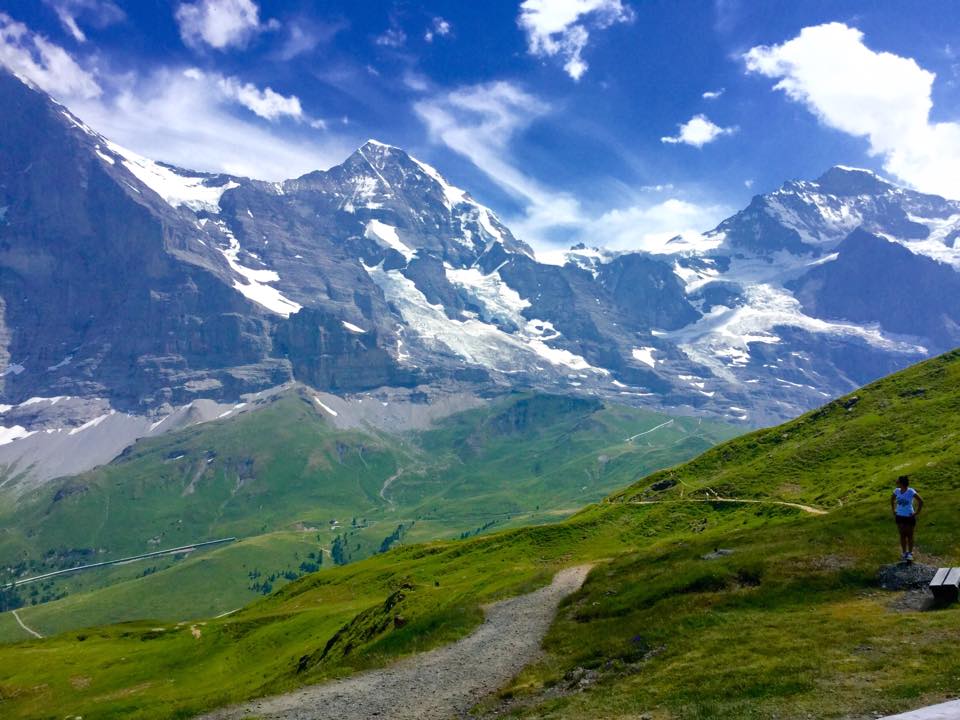 Before I share the itinerary in detail here are the most wanted travel tips to Switzerland.
When is the best time to visit Switzerland?
The best times to visit Switzerland are between early spring to late summer because during these months usually the climate is warm-sunny and there are tons of events and festivals. Plus it's a great time to visit the outdoor hiking, camping, markets, and harbor. Alternatively, if you are into winter activities, Nov-December would be the best for snow.
Where to stay in Switzerland?
If you want luxury then hotels are the best options or even Airbnb otherwise sticking with hostels would be your best bet with budget travel. Recommend booking hotels and hostels through trusted Agoda, or Booking.com. Always read recent reviews and check pictures if any and of course location of the place.
How many days in Switzerland is enough?
Although I like staying until my visa runs out in each country but if you are time-poor, I would suggest spending at least 5 days to a week. This should be enough time to explore a couple of main cities and perhaps take a day trip or two.
Do I need a visa to Switzerland?
If your passport is from Australia, you do not need a visa to enter Switzerland because it falls under the Schengen zone that allows Aussies to stay up to 90 days on an arrival stamp in any 180-day period. Your passport should be valid for at least six months beyond your stay. That being said, the authorities may ask for the return air or ferry ticket. I highly recommend checking the Swiss Embassy website for the most current visa information.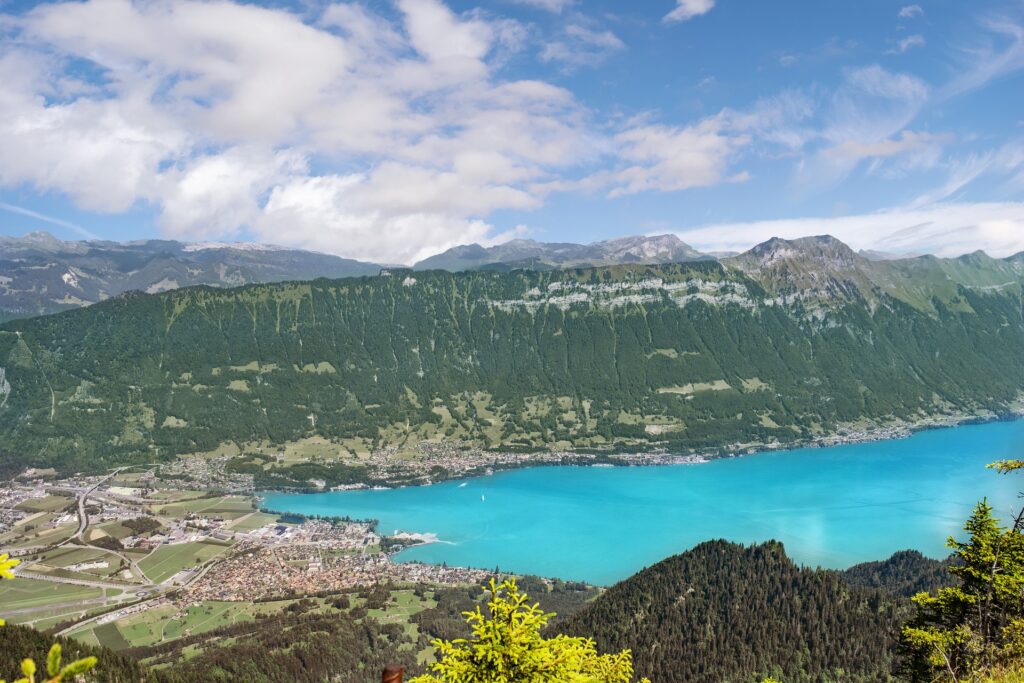 How to get to Switzerland?
By Plane
There are seven airports in Switzerland that serve domestic and international flights and a number of private Swiss airports. The busiest airports in Switzerland are Zurich, Geneva, and Basel. Recommend checking Skyscanner to compare the best prices.
By Ferry
Alternatively, you can travel to Switzerland by ship, boat, and ferry: Rhine cruises take you to Basel from Germany, Austria, France, and Italy.
By Train/Bus
If flying or taking a ferry is not your style, you can also travel overland to Switerzland which is the second most common way people go to this beautiful country and which is also what I did. Look up Flixbus or train tickets or you can even use a car share ride Blabla car.
Day trip from Zurich to Liechtenstein
How to get around Switzerland?
Switzerland has an established public transport system served by incredibly well-connected trams, buses, funiculars, and trains. That said, the train is the best way to travel in Switzerland and is the most preferred method for locals and Flixbus also offers a few routes around the country. One of the nicest surprises was when I figured if I still had a balance left on my train card and I was leaving the country, I could return it at the train station and get the balance in the card back as cash! Out of 49 countries, I traveled to this was the first and last country that offered this!
Alternatively, you can buy a Swiss Travel Pass which is basically free unlimited traveling for 3, 4, 8, or 15 consecutive days. Trains, buses, boats, and city transport are free in it and cable cars, cogwheel trains, and funiculars are discounted by 50% (details and exceptions here), and free entrance to museums also.
Then once you are in a new city/town I always suggest is to walk around where you can because it offers so much more with the sights, sounds, surprise conversations with the locals, and more.
Uber is present in Zurich, Basel, Geneva, and Lausanne. Here is the $10 off your first ride on the Uber app. Use code 'k7zapn' to sign up. Enjoy! https://www.uber.com/invite/k7zapn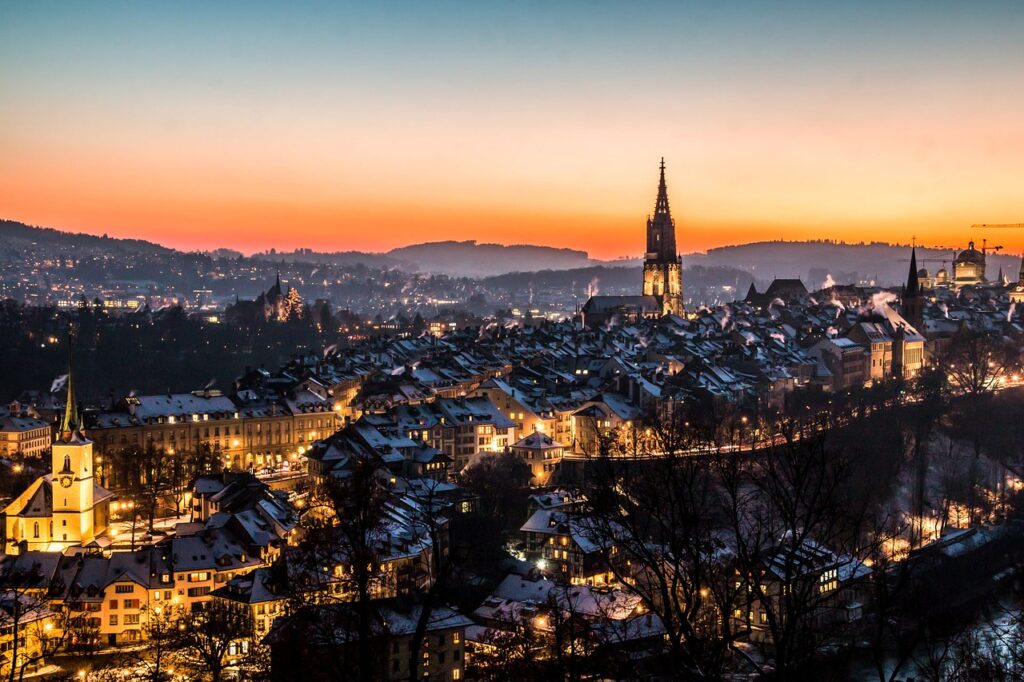 Is Switzerland safe for a solo female traveler?
My experience of solo travel to Switzerland was safe from start to end. So I would say unless there is a drastic change in the country's political situation, pandemic, or some natural disaster it is safe to travel to Helsinki. Just remember to apply a general rule of thumb i.e. Don't walk down that dark alleyway on your own, respect the culture, don't argue about religion, dress modestly, trust your instincts, and don't be afraid but be cautious.
Local currency
In Switzerland, the currency used is the Swiss franc, usually indicated as CHF. You will find some shops, bars, hotels, and restaurants accept payment in both CHF and Euros but you will get the change back in CHF. Remember to consider bank fees from your bank and the ATM withdrawal fee while you do your budget.
People, language, Simcard
Based on my experience I found Swiss people to be super considerate, and kind, and they love their chocolates. They are a friendly bunch but not super easy to get close to as they often have established social circles which is understandable. Locals speak swiss as it's their official language but they also speak German, French, Italian, and Romansh. Each of them is spoken in different regions and most speak English in tourist-friendly destinations.
You can pick up a sim card from either Swisscom, Salt (ex Orange), or Sunrise, all 3 service providers with their own network in Switzerland at Zurich or other airports. A prepaid SIM card for Switzerland is easy to buy, install and use, just make sure your phone is SIM-lock-free. Another cool thing I found in Switzerland is you can even rent a Wifi hotspot for high-speed internet wherever you go and use your SIM card or a mobile hotspot to use the internet on the trains.
Switzerland's country domain is .ch, and country-code is +41.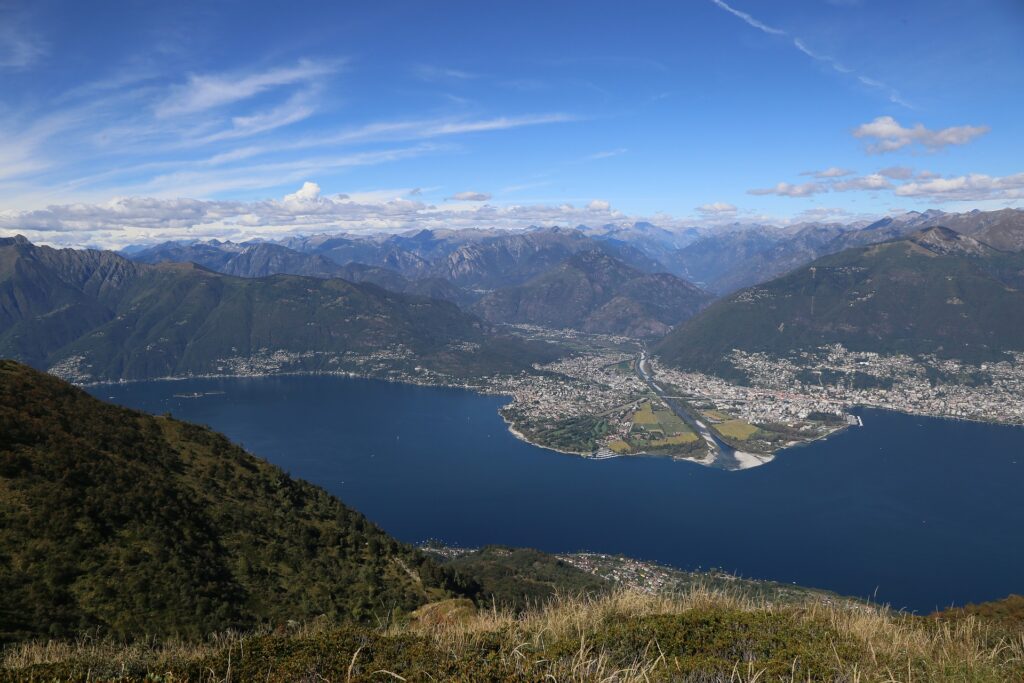 Must-Have Travel Apps for Switerzland
Google Translate for easy communication in the local language and it's extremely simple to use!
Flixbus app to travel to Europe very cheaply including other cities in Denmark other than just Copenhagen. It has a comfortable seat, wifi, and snacks onboard.
Google Maps because it offers very good coverage of Bratislava, including Street View. Google Drive, Calendar for time management, and storing pictures.
Swiss Federal Railways (SBB) is a quick and simple way of checking out live train times while in Switzerland.
Postbus app for all Switzerland's public transport options, as well as journeys by bike, car, and car-sharing.
WIFI Finder works off Google Maps for its mapping data, this app pinpoints speed-tested public WiFi hotspots by location and can be used offline thanks to downloadable maps.
Switzerland Mobility's website details hiking, cycling, mountain biking, canoeing, and rollerblading trails all over the country, including topographic maps and public transport connections. Download and store maps for use when you don't have a mobile signal, and design personalized tours, storing details including hiking time, elevation, distance, and altitude.
Rega App If you are going hiking or climbing, Download this essential app from the Swiss air rescue service Rega and enable the GPS on your phone. With two clicks, Rega could save your life!
PostBus to reach places other buses just can't, taking you into the smallest villages and up the windiest and most scenic mountain roads. Download the app for real-time departures, ticket offers information and in-app ticket booking. Save your favorite journeys and receive up-to-date information on delays and detours.
Eat.ch for all the food delivery right to your accommodation!
What to eat in Switzerland?
5 days Switzerland itinerary wouldn't be complete without trying their food! The must-try food in Switzerland is Cheese fondue, Raclette, Rösti, Birchermüesli, Swiss chocolate, Swiss cheese, Swizz Pizza- Flammkuchen, Zürcher Geschnetzeltes, Nusstorte, and Basler Leckerli, and Älplermagronen.
As you know most countries have a signature drink. Switzerland is no different. So the must-try drink in Switzerland is absinthe which is about 70% alcohol. The birthplace of this alcoholic drink is Couvet (Val-de-Travers of Switzerland).
Switzerland itinerary for 5 days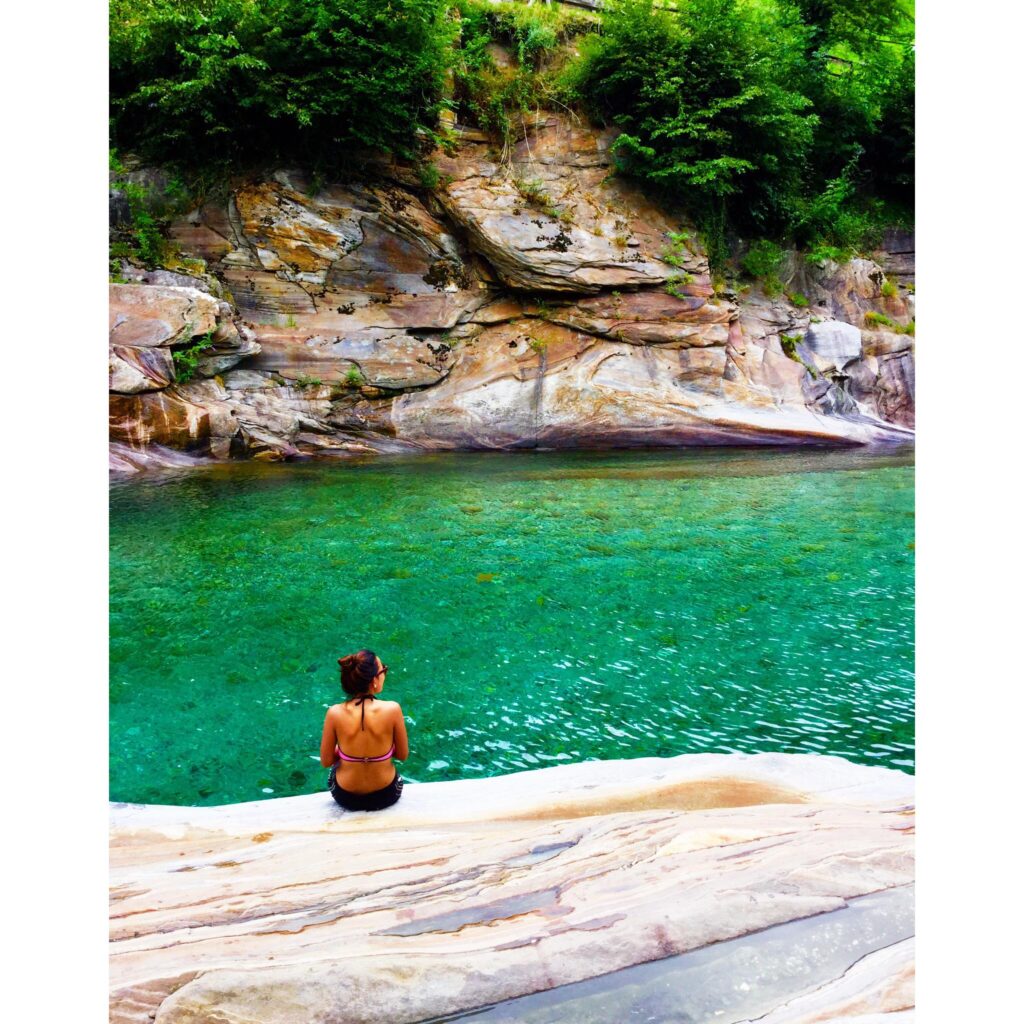 I started my Switzerland travels from Italy. ie I took the train from Lake Como to Lake Maggiore in Locarno which cost $27 – $40 and took 1h 50m. So my route was like this – Lago Maggiore -Locarno, Lauterbrunnen, Interlaken, Bern, and Zurich. I actually spent a month traveling in Switzerland but I hope from this 5 days Switzerland itinerary, you can grasp the idea of where you would like to spend your 5 days in Switzerland the most.
If you are flying into the country you may most likely land in Zurich. If so, you can skip Locarno and start your trip from Zurich down south. Perhaps spend a day there then 4 days in Interlaken which also covers the Lauterbrunnen area or from Geneva or Bern you could directly go to Zermatt, the Swiss Alps for some snow activities to make the most of your 5 days. Alternatively, you can follow my route, skip parts you don't want, and do what you want. Ultimately I want you to be able to use this 5 days Switzerland itinerary as you see fit.
Lago Maggiore, Locarno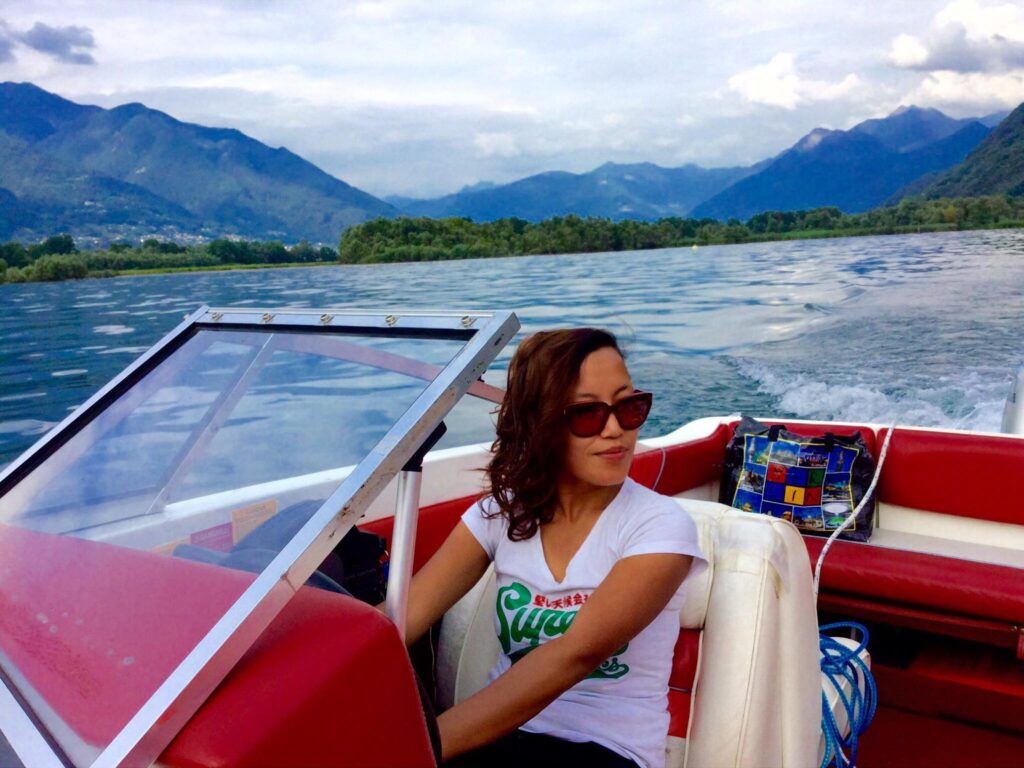 Locarno is Italian speaking resort town south of Switzerland and borders Italy. It is known for its sunny climate and laid-back lifestyle. However, it also offers great hiking opportunities with the giant mountains that surround the Lago Maggiore.
I am grateful for the opportunity I had then, to stay at one of the swiss summer homes in the mountains which led me to go for stroll one day and I couldn't stop! I kept walking and walking and following the signs on the trees (they had white and red marks on the trees to guide the hikers on the right path (again something I have never seen anywhere else and I hike everywhere!) going up and down the trials, I arrived at the viewpoint. Lago Maggiore looked stunning from there but because I started the hike with no prep I had no battery on my phone camera. So I wrote a note with my name and email, explained what happened, and if anyone finds it to send me a picture from this exact viewpoint and left it in between the rocks. Then instead of going back the same way, I decided to return through a different path. It took me all afternoon and evening to arrive back in the town of Lago Maggiore! Later I found out I had started hiking in Switzerland, crossed the border to Italy, and had returned back to the country the same day! 😀
If hiking is not your style, you can do the following things in Locarno. Wander around the Old Town, stroll along Piazza Grande, Valle Verzasca, Bungy Jump where 007 was filmed, Meet birds of prey at Falconeria, Visit the Gambarogno Botanical garden and Explore Val Bavona, Take a cruise on the lake, hike, bike and eat in Cardada. The Swiss part of Lake Maggiore is surrounded by the towns Locarno, Ascona, Brissago, and further small villages, which are all worth exploring if you have the time.
Interlaken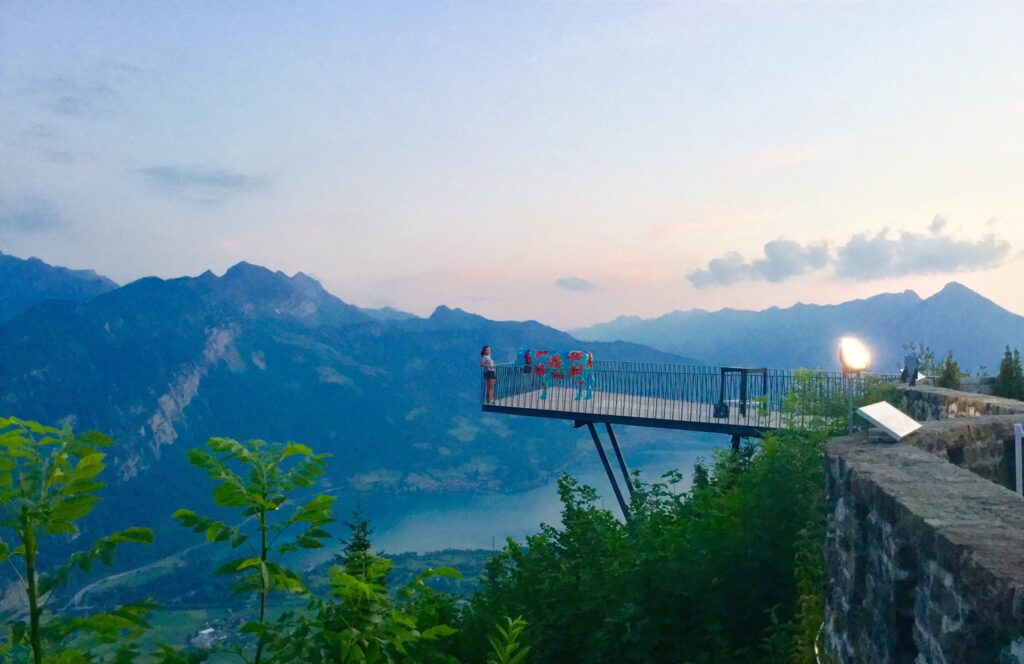 All the best 5-day itinerary for Switzerland includes Interlaken. The best way to get from Locarno to Interlaken without a car is by tram and train which takes 4h 7m and is operated by Swiss Railways (SBB/CFF/FFS) and arrives at Spiez station. It is one of the most stunning places I have been to in Switzerland and recommend it best for hiking also. Check out the following spots to see it for yourself. Harder Kulm, Hohematte Park, Alpenrose Landscape Gardens, the Schynige Platte Botanical Alpine Gardens, Swissraft-Activity (all five best for outdoor activities too), Interlaken Tourismus, Rugenbraeu Brewery, Oberhofen Castle, make some chocolate at the Funky Chocolate Club, St. Beatus Caves, Schlosskirche and White Water Rafting on Lütschine River.
You can even take day trips from Interlaken to Jungfraujoch, the heart of the Bernese Alps, Grindelwald (the prettiest town), and Bernese Oberland.

Lauterbrunnen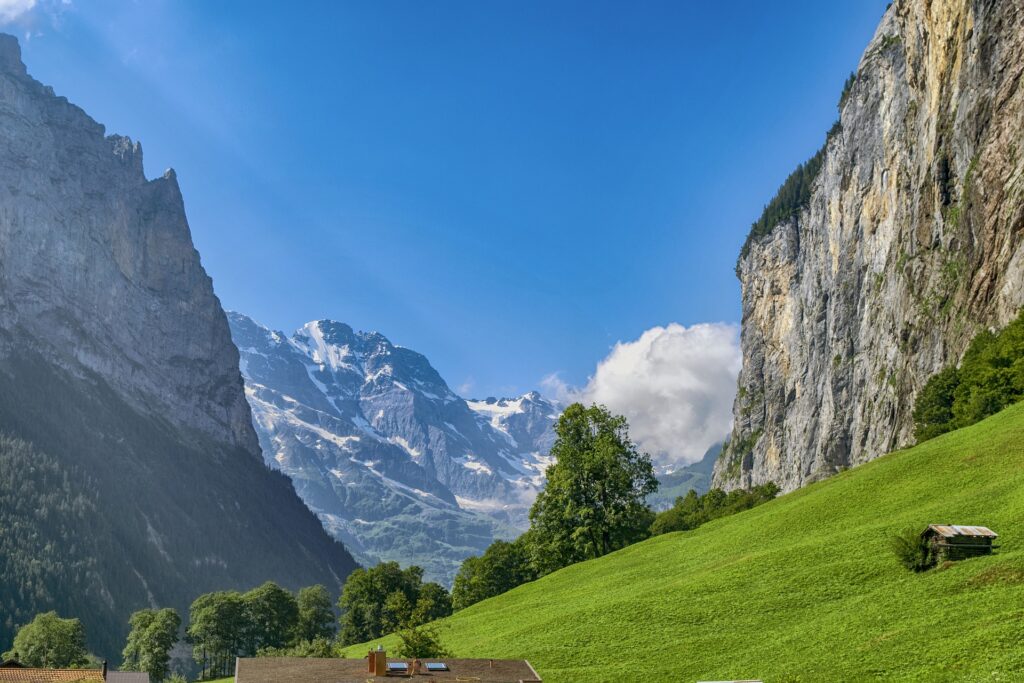 Although I didn't go to Lake Geneva and only passed by Lake Lucerne on the train, the places that I visited such as Lauterbrunnen were more of a high priority on my route. It takes an average of 20 minutes to travel from Interlaken Ost to Lauterbrunnen by train and tickets start from €3.30 when you book in advance. Lauterbrunnen prides itself on its numerous and extraordinary natural beauty spots. It is one of my favorite places in the whole country.
You could get a discount with the swiss pass but either way, don't miss these must-do activities in Lauterbrunnen. Hit the hiking trails, Paragliding, Skydiving, Mountain biking, Trummelbach Falls, Lauterbrunnen valley waterfalls, Lauterbrunnen Village, Staubbach Waterfalls, take a train to Visit the highest railway station in Europe, Jungfraujoch, stargazing (it was here I witness milky way for the first time in my life!), Discover the hamlet of Isenfluh, Visit Mürren to eat the traditional cheese fondue, Take an excursion to the Schilthorn, Enjoy the activities at Birg, Take the train to Wengen, and check out all the stunning viewpoints. You could even visit Lucerne on the train 2 hours away. Don't forget to show your Swiss Pass or Eurail pass when purchasing gondola tickets, so you can get a significant discount.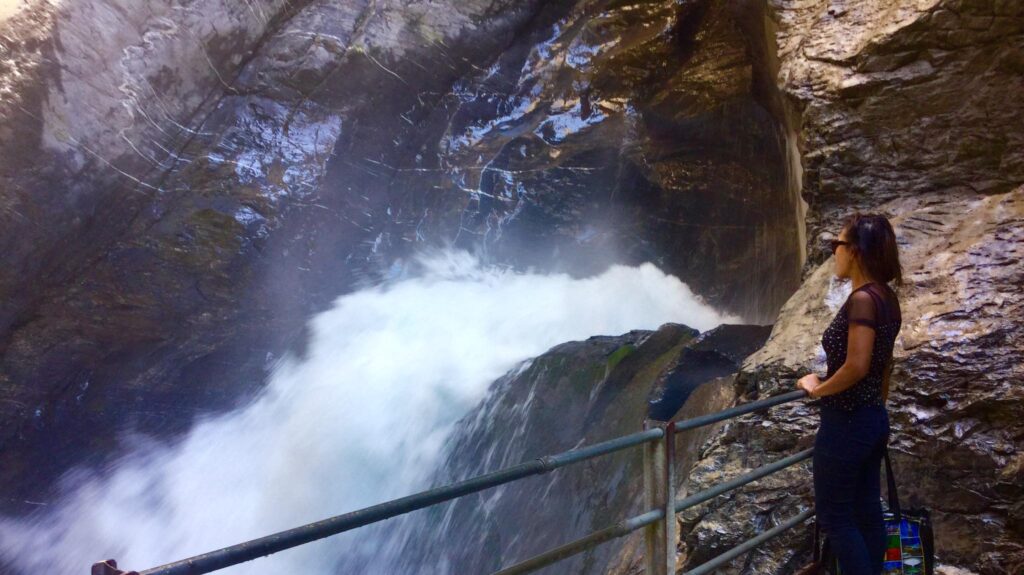 Bern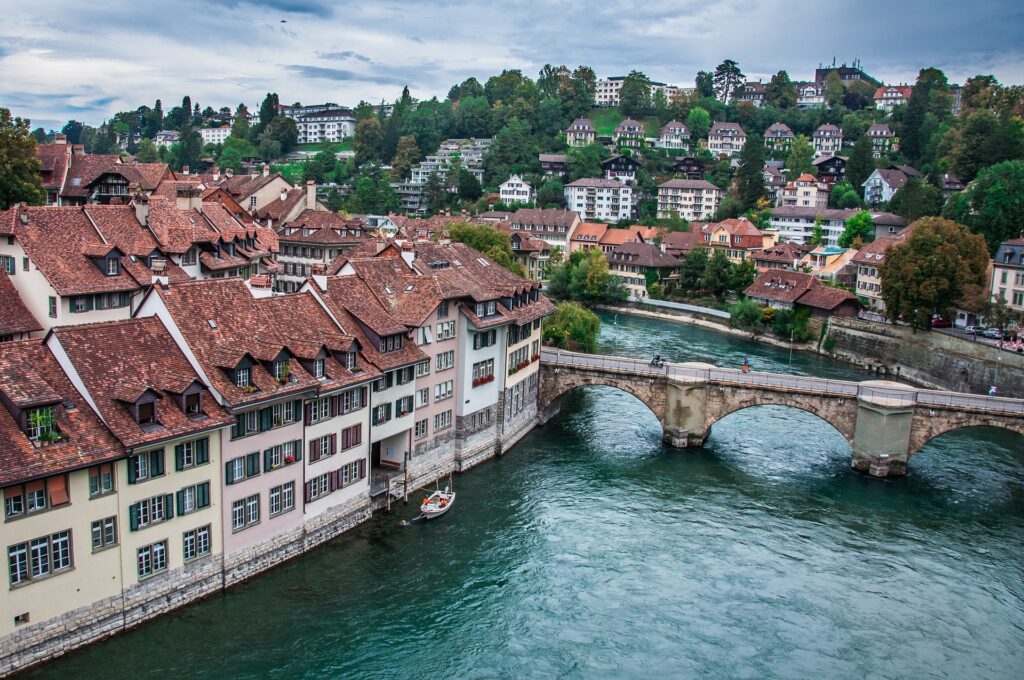 Bern is the capital of Switzerland and Zurich is the largest city. From Lauterbrunnen, it takes 1.5 hours to get to Bern and it has easy access to the Alps and the country's most popular Alpine locations. If you are in Switzerland in August, don't miss their national day on August 1st with fireworks and yummy food!
The must-see in Bern is Oldtown, Aare River, Rose Garden (Rosengarten), Gurten, Cathedral at Munsterplatz / St. Vincent (Munster Kirche), Clock Tower, Tierpark Dählhölzli, Barenpark, Kunstmuseum, The Einstein Museum and the Historical Museum of Bern, and Paul Klee Center.
Alternatively, there is a hop on hop off bus that runs for 1-2 hours and can be joined from several bus stops. This is a great way to make sure that you will see all of the most important sights in Bern.
Zurich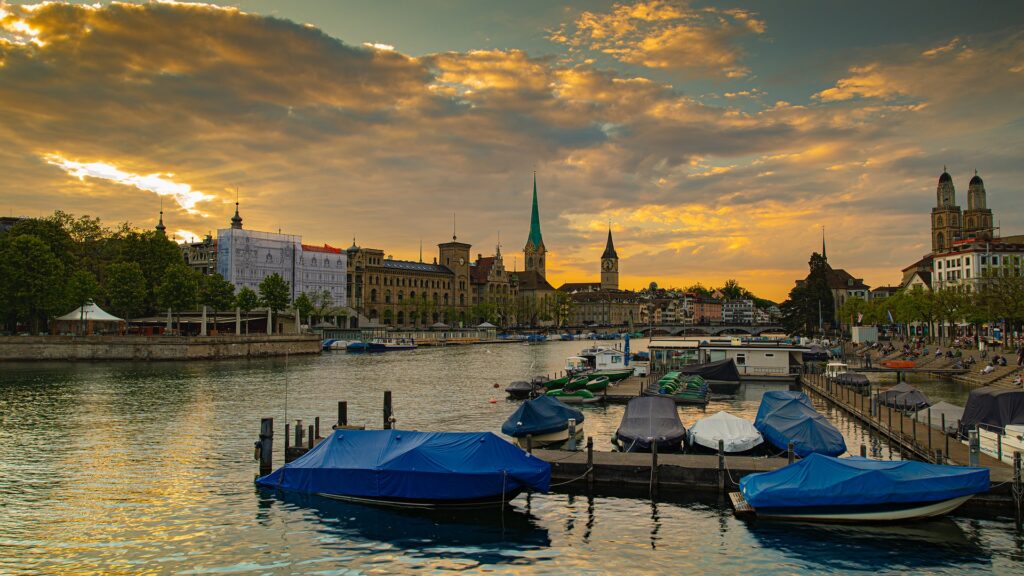 After stopping at Bern, I went to Zurich. The average journey time by train from Bern to Zurich is about an hour, with around 106 trains per day costing $22- $102. Alternatively, with the above-mentioned car share apps, you could get there in $12 but the hours will be the same.
The best places to visit in Zurich are Altstadt (Old Town), Lake Zurich, Uetliberg Mountain, Zurich Zoo, Museum of Art (Kunsthaus Zurich), Lindenhofplatz, Platzspitz, Limmat, Zürich-West, Swiss National Museum, Grossmünster, Bahnhofstrasse, Niederdorf, Rietberg Museum, Money Museum, Beyer Clock and Watch Museum, Fraumünster, FIFA World Football Museum, St. Peter Church, Pavillon Le Corbusier, Zürich Opera House, Outdoor Swimming (One, the Frauenbad am Stadthausquai is for women only, while the male counterpart is the one at Schanzengraben), Schanzengraben, Zoological Museum, Cabaret Voltaire, Dolderbahn, attend Street Parade on 2nd Saturday in August, Zurich Opera House, Kunsthaus Zurich, Im Viadukt, and stroll along Zurich, the financial hub of Switerzland.
For a breath of fresh air in Zurich, visit the following nature & parks. Rieterpark, Zürich Botanical Garden, and Zurich's Chinese Garden.
Best place to watch sunsets in Zurich
If you have been following me for a while you know I am a sunset lover and it is a high priority in every new country I visit. Zurich, Switzerland is no different. Here are some places I recommend for watching sunsets in Zurich, Quaibrücke (bridge), Uetliberg Mountain or Felsenegg, Zurich Thermal Baths at Hürlimann Areal, Top of Grossmünster, Karlsturm, Käferberg/Waid, Jules Verne Panorama Bar, Clouds Bar & Restaurant, Lindenhof, Trail Loorenkopf and Polyterrasse.
Day trips from Zurich
There are many places you can explore from Zurich as a day trip or half-day trip. Such as Rheinfall (Rhine Falls), Jungfraujoch, the Bernese Oberland, Lucerne, Mount Titlis, Eastern Swiss Alps, and Liechtenstein, Schloss Vaduz, Bern, Stein am Rheinor, Schaffhausen or even Heidiland and Liechtenstein (Two Countries in One Day!)
I hope this 5 days Switzerland itinerary article helped you in planning your travels.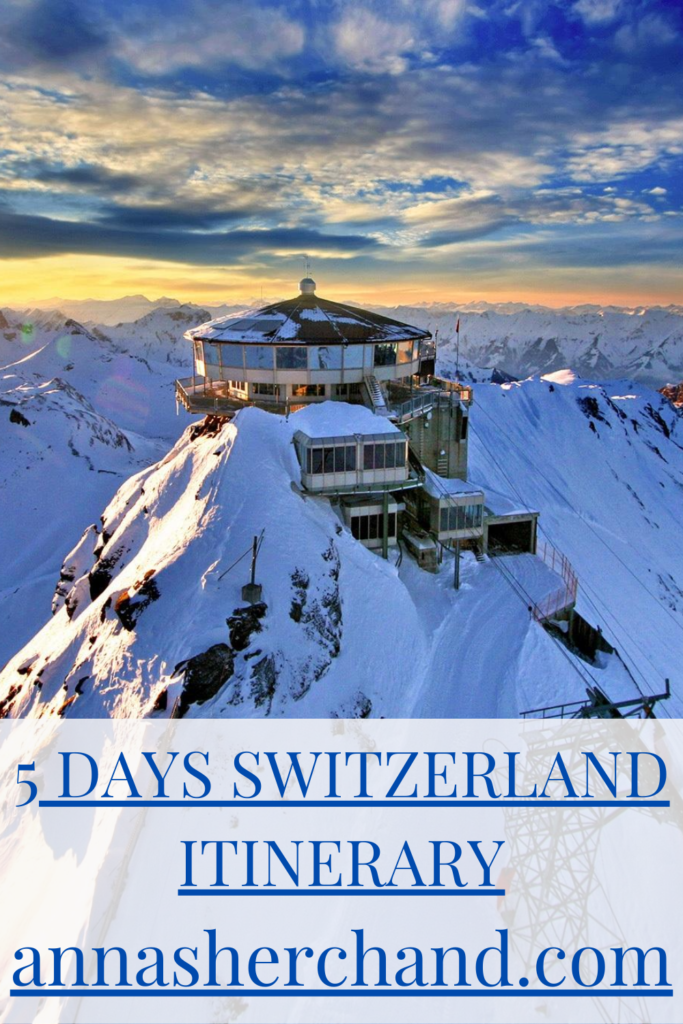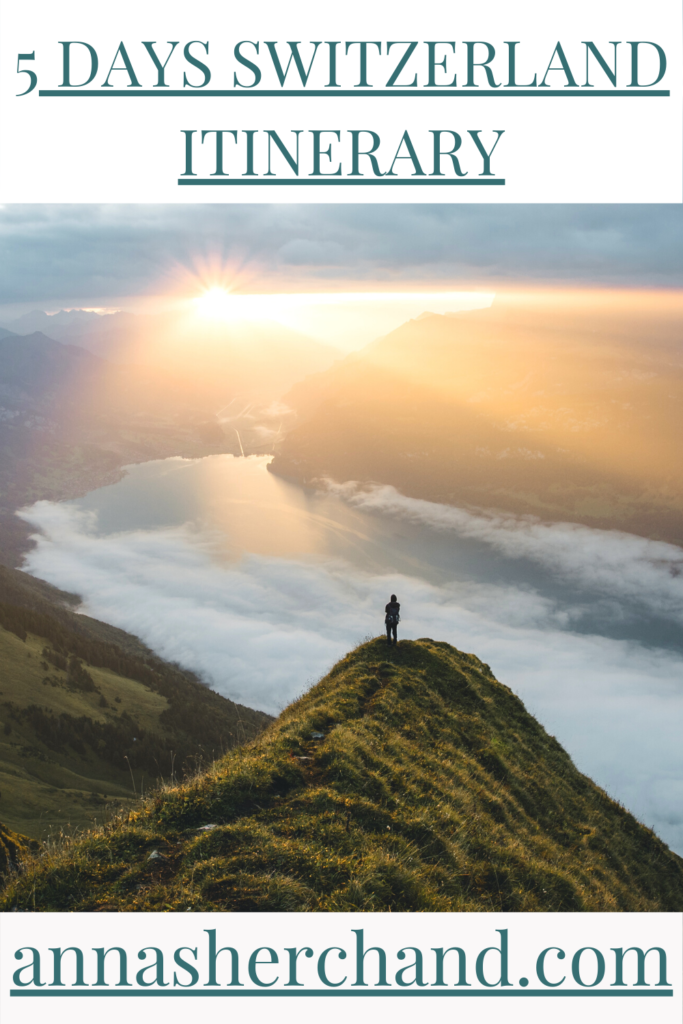 Let me know in the comments:
Exciting 5 days Switzerland itinerary