If you're looking for traveling to Japan, here is the Japan 3 week itinerary that will have you dreaming about it and packing your bags straight away. I went to Japan back in 2014 and it was my second international travel in life EVER! And it seems like many moons ago, but the information here is all fresh and updated every year. So you can use this itinerary for your future Japan travels.
I will also be sharing the names of the best Japanese food to try. so keep your eyes peeled! But first,
Japan 3 week itinerary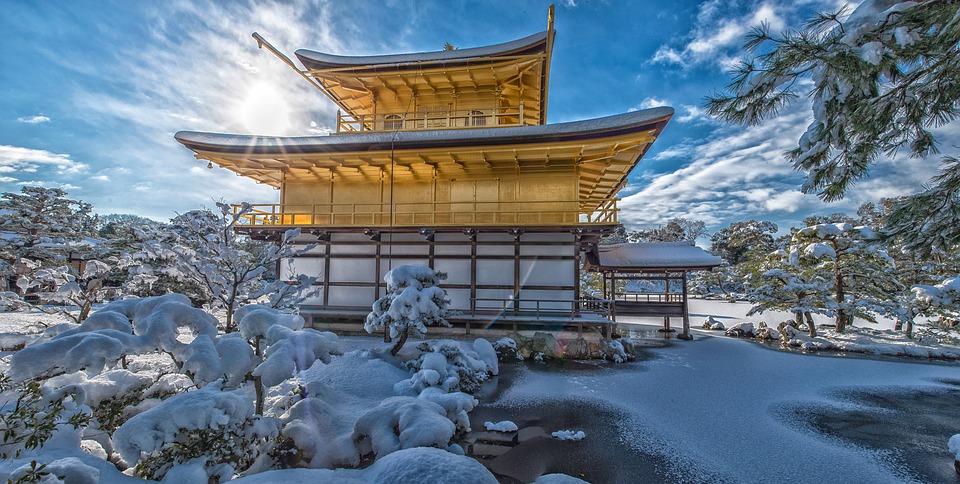 What are the travel tips for Japan?
Buy a rail pass
The most important thing that I recommend you do before you fly to Japan is to buy a Japan rail pass (JR Full Rail System Pass 7, 14 or 21 Days) or West Japan: 7-Day Railway Area Pass. If you didn't buy beforehand at least consider buying it within the first couple of days of your arrival because this is the easiest way of getting from place A to B unless you have a car and you're driving in Japan or catching flights everywhere.
Book Accommodations in advance
I recommend booking accommodation in advance just to be sure of it. Check hotel prices and book it through trusted Agoda, or Booking.com
Check the essential visa
Check if you require the visa requirements before you go because every country has different rules and regulations that we have to follow. As an Australian passport holder, I don't need a visa to go to Japan because basically it was on arrival visa stamp on the passport but you may need a visa depending on your passport. In a nutshell, if you are one of 68 countries with a visa exemption arrangement with Japan you can skip this process and buy your flights right away as I did.
Download these apps Now
Something that I always recommend in travel itineraries is also downloading the must-have apps before you depart your country. Such as
a. Google Maps you can also pre-downloaded, either the entire map of Japan or the places that you prefer to visit and you can actually follow that map offline as well as long as you download it beforehand.
b. Google Translate the app helps with your communication in Japan because not everybody speaks English there.
c. Hyperdia is the third app I would recommend, basically this helps to check your train schedules in Japan.
d. Navitime this app is for great to check on subway and train schedules for Tokyo and Kyoto. Even the locals use it so it's great.
Buy insurance if you can afford
I don't advise anything on insurance because for many years I myself traveled without any insurance but yeah if you got the money get the insurance probably will save you a lot of money if something was to go wrong.
When is the best time to visit Japan?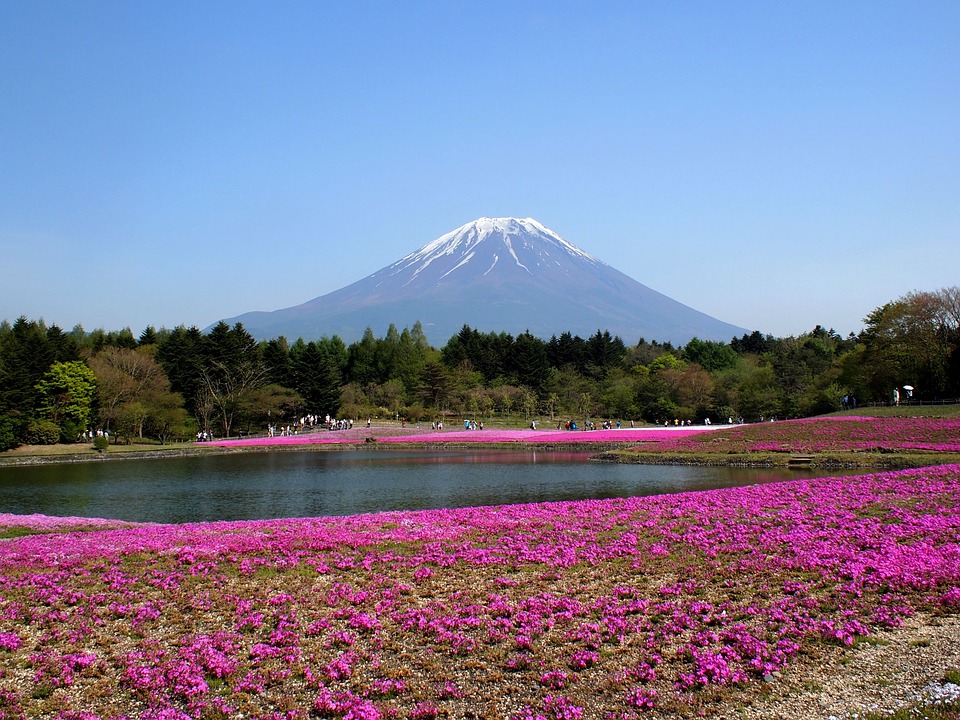 There are four different and distinct seasons in Japan.
Spring: March till May
If you are into the cherry blossom festivals consider visiting Japan mid-March to mid-April because that is when you can get the best Instagram shots with the cherry blossom season in Japan. Although it could be crowded and accommodation would be expensive it will be worth it because that is the perfect time and weather for the cherry blossoms in Japan.
Summer: June to August
If you are not into hot weather then you shouldn't go to Japan between June and August because that is the time when it is unbearably hot there and is the typhoon season also. So you do not necessarily want to be in Japan at this time.
Fall: September to November
If you are into autumn weather, fall time is a beautiful time to visit Japan. It is when the leaves change color and the countryside is covered in yellow-orange and red. Although it could be a little bit chilly it is mild and more enjoyable.
Winter: December to February
If you are into snowboarding, skiing, and all the other winter sports then you should visit Japan in wintertime. It is also a low season there, so the accommodation will be slightly cheaper and tourist sites will be less crowded.
Now that we got the essential visa, flights, accommodation, and travel hack out the way. Let's focus on making this trip one to remember a lifetime!
Japan three week itinerary
1st week in Osaka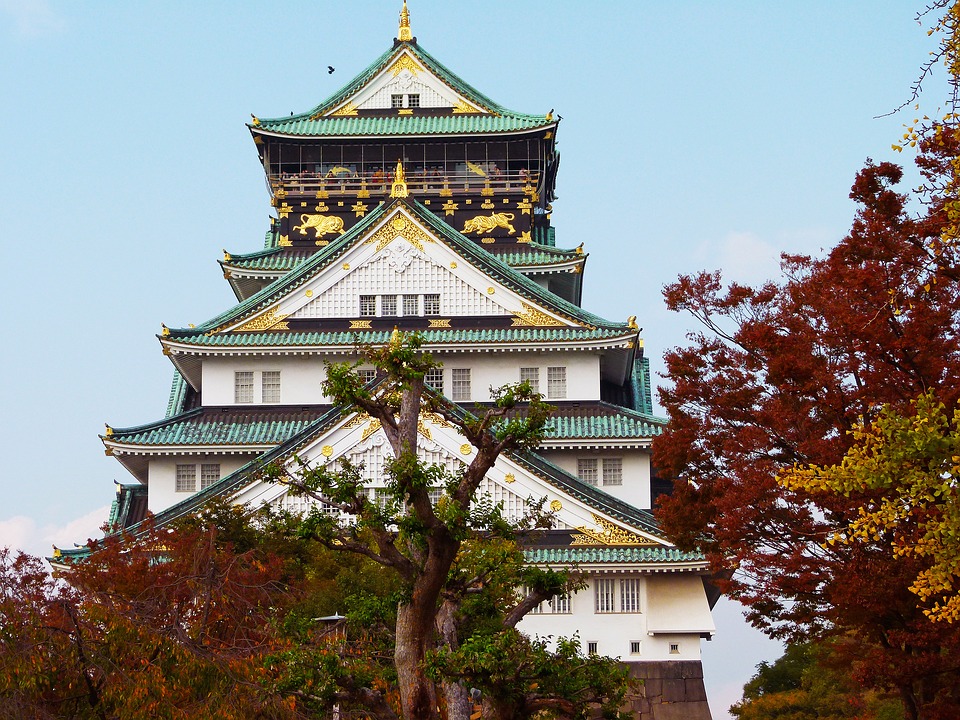 I believe any Japan trip would be incomplete without Osaka. It is laid back city with more culture that offers tasty foods! I highly recommend going to Dotonbori which is the most famous food district in Osaka and eat the Japanese takoyaki and okonomiyaki. Other highlights in Osaka include Osaka castle UNESCO World Heritage site, Kaiyukan Aquarium, Umeda Sky Building, National Bunraku Theater, Universal Studios Japan, Universal City Walk, and Minami (Namba). Osaka Castle Park, Kemasakuranomiya Park, Osaka Aquarium Kaiyukan, Nakanoshima Park and Nagai Park is a great option for some outdoor activities.
Another half of the week, if you feel like getting out of the hustle and bustle of the city, I recommend taking day trips to Mt. Gozaisho Ropeway, Nabana no Sato for Illumination and Begonia Garden, head to Kyoto by bus, or visit deer park in Nara, and try authentic wagyu beef in Kobe! (I did all 3 and loved everything about it) Although I will be recommending a few more days in Kyoto (more on that below) You can learn about traditional Japanese life and culture in these beautiful places even on a one day trip.
2nd week exploring Tokyo and Hakone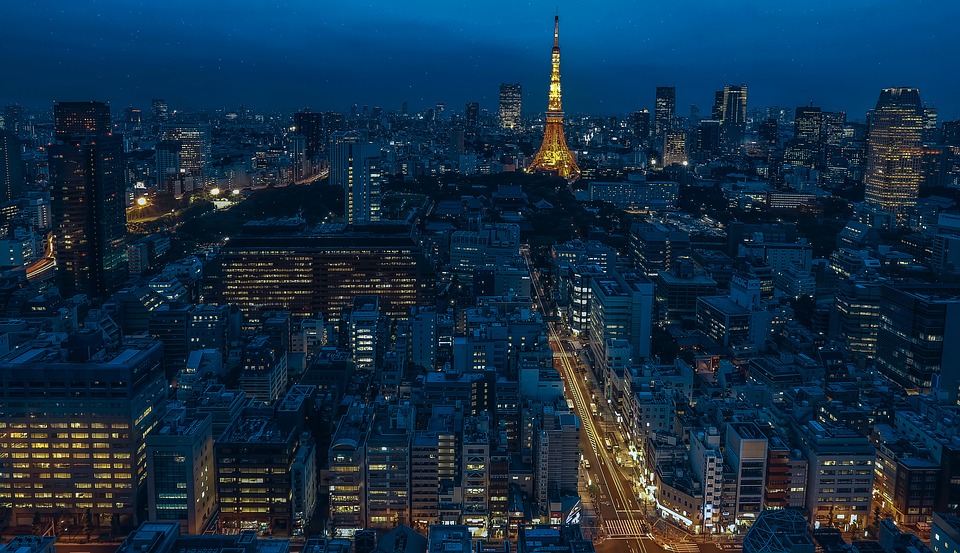 This 3 week Japan itinerary also includes must-see Tokyo, the capital city of the Japanese nation. Because of the difference in time zones, if you find yourself wide awake in the wee hours of the morning- Get up and head for Tsukiji Fish Market which typically opens 5-6 am!
After a breakfast of fresh sushi, head to Hama Rikyu, one of Tokyo's oldest Japanese gardens (opens at 9 am), from which you can board a ferry for a cruise up the Sumida River to Asakusa, where you can visit Sensoji Temple and shop for souvenirs along Nakamise Dori. Afterward, see the Tokyo National Museum, the world's finest repository of Japanese art and crafts. Then in the evening, head to Ginza for a stroll through a department store, and then try to attend a kabuki play.
Visit the Edo-Tokyo Museum for a colorful portrayal of the city's tumultuous history, followed by a stroll through Akihabara, with store after store offering the latest computers, cellphones, cameras, and more. Next, go to Harajuku to see Meiji Shrine (it is Tokyo's most popular shrine, and if this is your first time in Japan, you'll see the Torii gate here), followed by shopping at Oriental Bazaar, great for Japanese souvenirs. End the day with Shibuya crossing and eye-popping views from the 45th-floor observatory in Shinjuku's Tokyo Metropolitan Government Office, followed by a stroll through Japan's most notorious and craziest nightlife district, Kabuki-Cho. Also, don't miss the Hachiko statue at the Hachiko Exit outside Shibuya train station. (great story of dog and human there for you!)
I found Tokyo to be really crowded but also really inspiring! I mean they are super-advanced in technology. Just take at their toilet bowl for instance! I could choose the type of music I want to listen to, the pressure of water, volume of the songs all while minding my own business! That is taking tech to the next level! Then there are restaurants where robots will serve you and interesting dogs, cats cafes too.
Then you go a few hours outside Tokyo and you could see the traditional Japanese life with no luxury at all. That brings us to, Hakone.
Hakone
The other part of the week, I recommend taking an early train to Hakone Yumoto. The gateway to the wonderful Fuji-Hakone-Izu National Park (if possible, leave your luggage at Odawara or Hakone Yumoto Station and travel overnight only with a small bag). Here you can travel through some of Japan's most scenic countryside via a circuitous route that includes a three-car streetcar, a cable car, ropeway, and a boat, while seeing such sights as the wonderful Hakone Open-Air Museum and, if you're lucky, the elusive Mount Fuji. Be sure to schedule some time for a dip in a hot-spring bath, and spend the night in the Fujiya Hotel, one of my favorites in all of Japan, or in a Japanese inn.
Last week: visiting Kyoto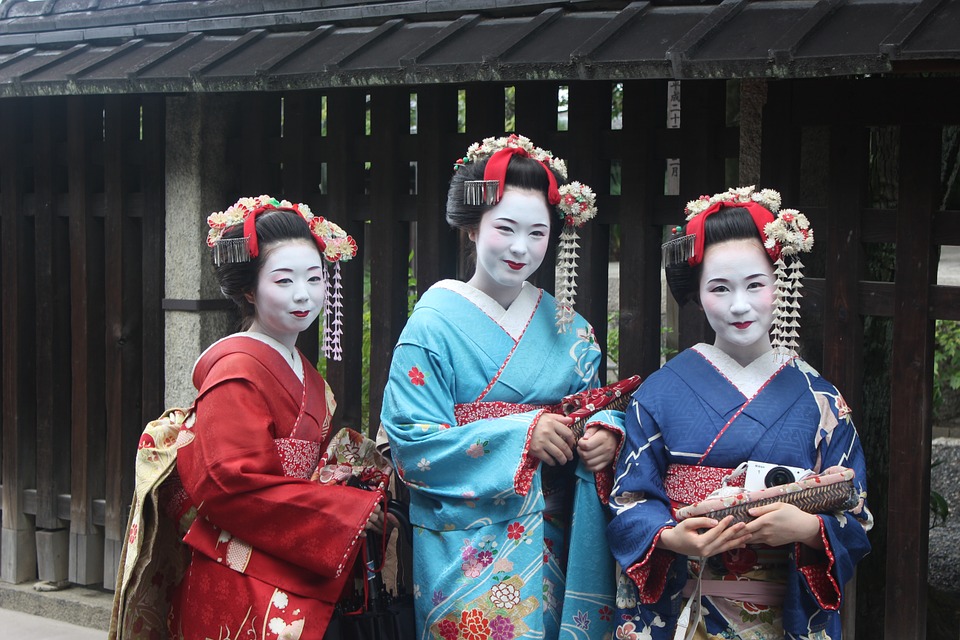 I suggest completing your Japan 3 week itinerary through Hakone, returning to pick up your luggage, and then transferring in Odawara for the 3-hour Shinkansen bullet train to Kyoto. Bus to Nijo Castle, the Golden Pavilion, and the Kyoto Imperial Palace (on Sat. Sun. & national holidays, visit Higashi Honganji Temple instead).
From the Kyoto Handicraft Centre return to Kyoto Station and then board a local bus Kiyomizu Dera Temple. From the stop walk up this attractive winding road lined with colorful souvenir and craft shops. Kiyomizu Dera is famous for its giant wooden Butai (stage) overlooking panoramic views of Kyoto and its main hall purely constructed of wood and supported by huge columns and beams without the use of a single nail, screw or bolt.
In the evening board a subway from Kyoto Station to Shijo Station and walk towards Gion which is Kyoto's famous geisha district, one place in Japan where you may see Maiko or Geisha walking between appointments. As darkness falls watch the traditional lanterns gradually come to life as you wander down tiny alleys housing a variety of restaurants offering tempting cuisine. End the day with a stroll through Kyoto's central shopping area, topped with a stroll through the Pontocho nightlife area.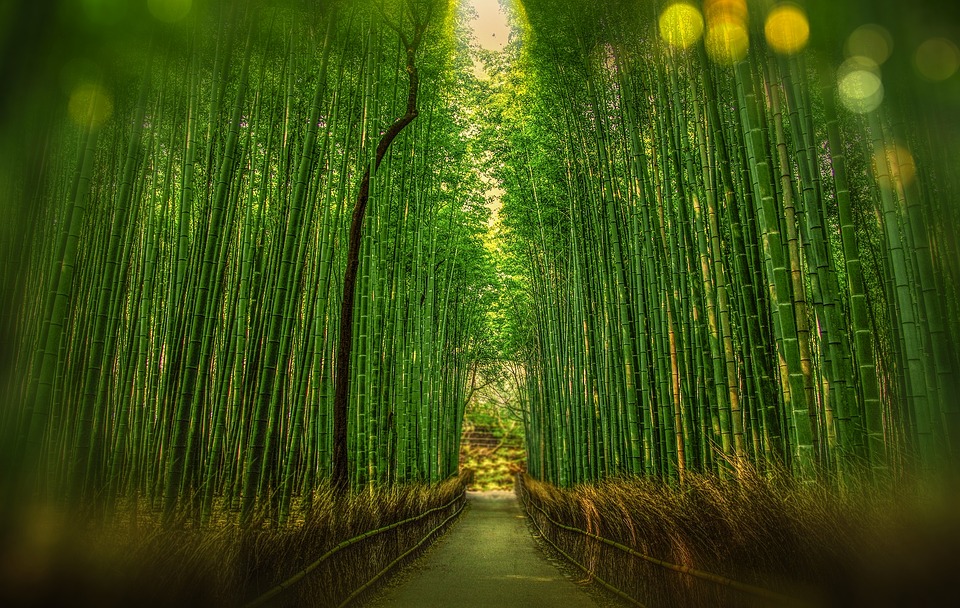 Three weeks in Japan would not be fun without some self-guided tour. I suggest starting the day with a self-guided walk through eastern Kyoto, seeing Sanjusangendo Hall with its 1,001 wooden statues, Kiyomizu Temple, and Heian Shrine with its garden, followed by shopping at the Kyoto Handicraft Center.
Kyoto's other main attractions include, Fushimi Inari Shrine, bamboo forest, Nijo Castle, former home of the shogun; Kyoto Imperial Palace; Ryoanji Temple with its famous Zen rock garden; and the Golden Pavilion. In the evening, head for Gion, Japan's most famous geisha quarters, followed by an evening performance at Gion Corner with its cultural demonstrations.
Japan is well known for its polite language, delicious food, amazing history, Mt Fuji, unrivaled technology, and Samurais. But nowadays it is also becoming famous for many other things. such as Anime, Sumo, Cherry Blossoms, and Sushi which brings to the food section!
Here are some of the Japanese food that I highly recommend you try during your time in Japan.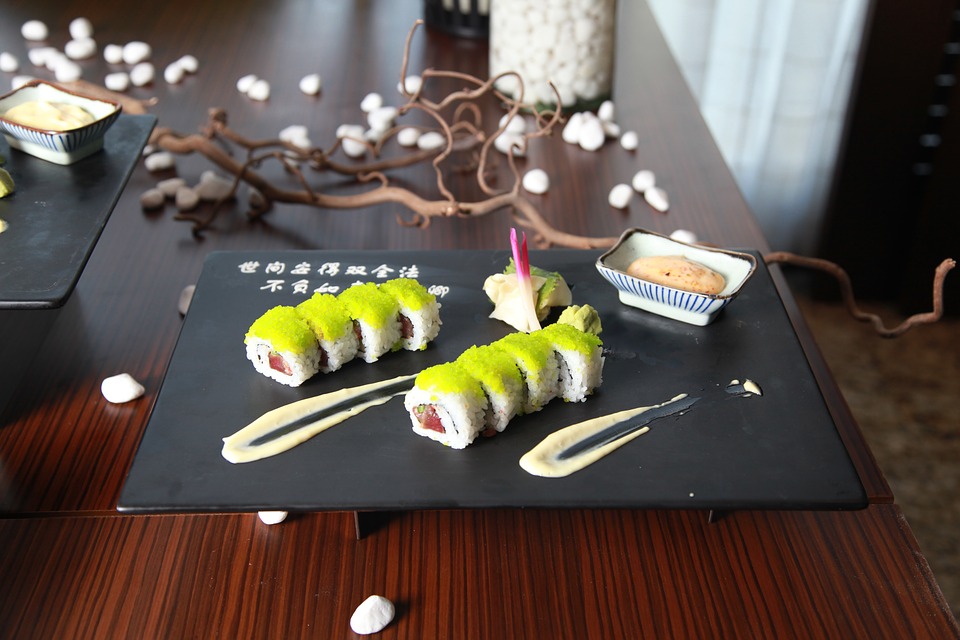 All types of Sushi, Donburi, Octopus balls (i know it sounds weird lol) Raman noodles, Udon noodles (both cold and hot), soba noodles, wagyu beef, fish, okonomiyaki, yudofu, Unagi (eel), Kaiseki meal, Tempura (all kinds), Tamagoyaki, Onigiri, Yakitori, Ochazuke, tonkatsu and sake of course!
I hope you read all the way to the end of this Japan 3 week itinerary and it gave you an insight into what the japan travels look like!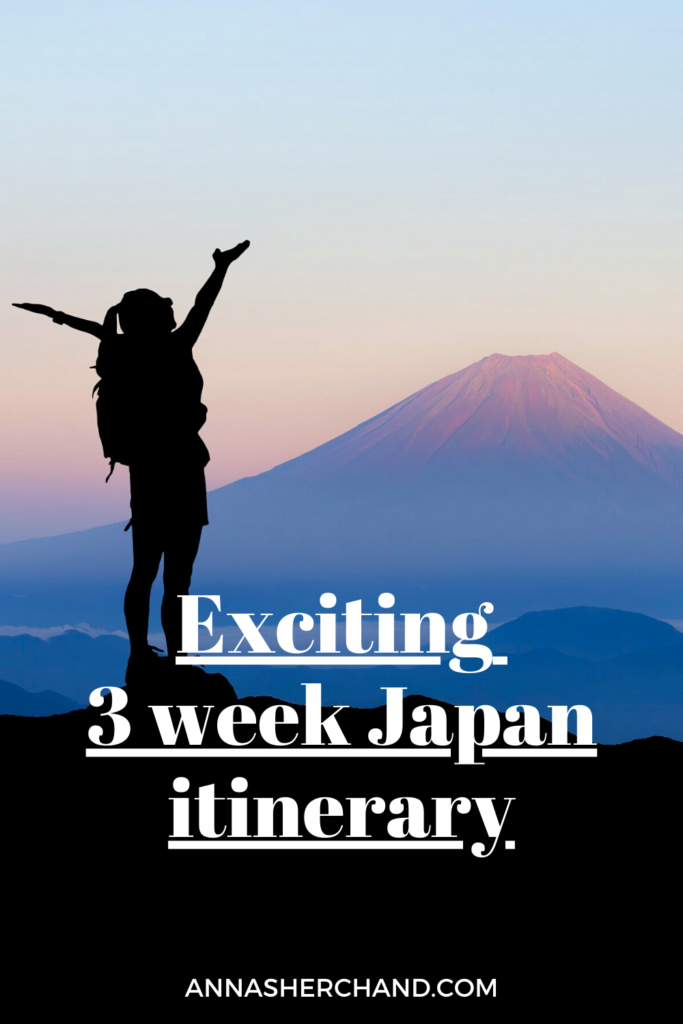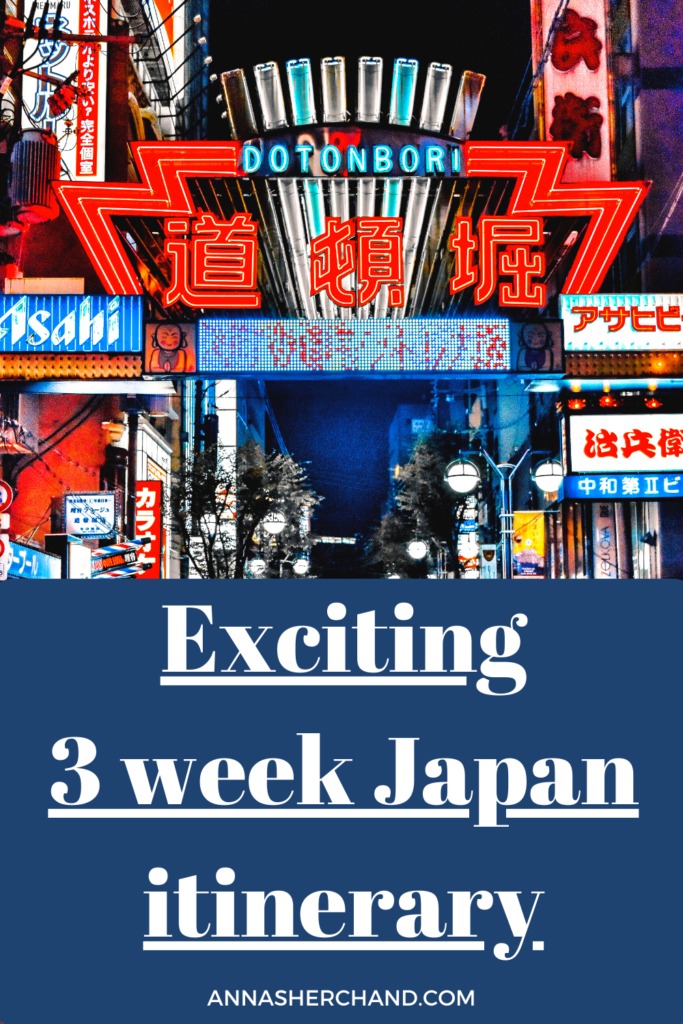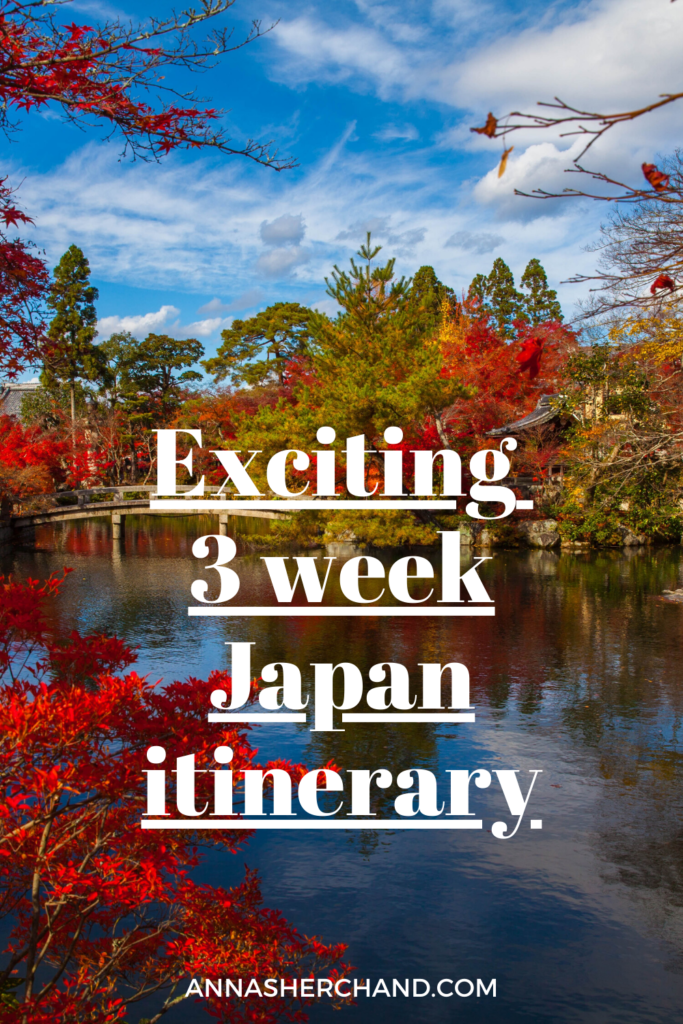 Let me know in the comments:
Japan 3 week itinerary for first-timers