If you are looking for things to do in Sydney Australia in June, I got you! These activities are solo travelers as well as group and family-friendly. I will also be giving some travel tips to Sydney in between the article, so watch out for that!
Sydney is the capital of New South Wales and one of Australia's largest cities. It is a beautiful coastal city and June falls during the winter season in Sydney. If you don't know Australia has basically four seasons. Every season offers something different to experience in Australia. Below are months and weather guides but keep in mind, Australia is Southern hemisphere so, it would be the exact opposite of northern hemisphere temperature. For example during Christmas and New year sun is at 30 degrees+ in Australia!
Summer – the three hottest months December, January, and February.
Autumn – the transition months March, April, and May.
Winter – the three coldest months June, July, and August.
Spring – the three transition months September, October, and November.
For transport, you can use code k7zapn for $10 off your first Uber ride and use code WT7BSQD2 for a $20 Didi discount which is a rivalry to Uber. There are trains, buses also available of course, just buy an Opal card at the convenience stores and top it up with the $ amount to use in public transport.
Top 12 things to do in Sydney Australia in June, July & August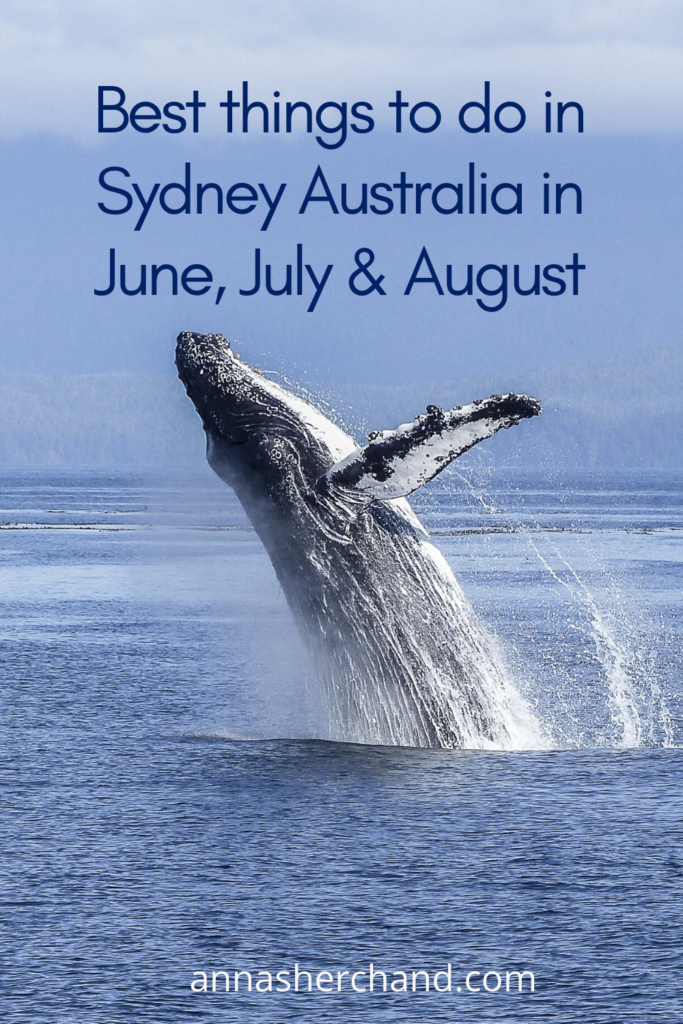 If you can, plan your travels to Australia during the summer. Otherwise, the rest of the year isn't bad either. Australia is one of the best places for solo traveling, family road trips, and solo trips for females are increasing daily with its less crime rate also. Now without further ado, let's begin!
1. Visit the Sydney Opera House
One of the top things to do in Sydney Australia in June would be to visit the Sydney Opera House. It is a famous landmark known worldwide and is only a few minutes walk from the circular quay station. It is far more interesting to see it from the inside though. I recommend booking the Opera House Tour to appreciate this architectural beauty inside out.
Looking for accommodation? I recommend using booking.com and sorting with price, then consider the ones with highest reviews plus within 1km of center/old town in order to be between all the actions.
For tours, I recommend using get your guide and walking tours available in most places
2. Climb Sydney Harbour Bridge
This was my bucket list and I finally had the chance to do it last year! I recommend booking it for a sunset climb because you will see a day view of Sydney, sunsets, evening and a bit of night view as well.
3. Admire the Bondi Beach infinity pool
Even in June, Bondi Icebergs Pool looks awesome! No wonder it is the most photographed ocean pool in Australia. The 50-meter saltwater pool is a popular spot for swimmers, photographers, and sunbathers and a starting spot on the Bondi to Coogee walk. There is a fee of $7 to enter and you can enjoy the pool, and sauna all day.
4. Visit Museums and Art Galleries
If you have never been to Art Galleries, try either of these in Sydney (walking distance from Circular Quay) I especially like going to The Art Gallery of NSW and the Museum of Contemporary Art. They usually have interesting exhibitions happening. You can be an art critic as you see the gallery unfold different artists' meanings of art! There is also a cafe downstairs at the back if you want a bite or a full-on lunch!
5. See the Vivid Sydney
Vivid is Sydney's festival of light, music, and ideas that happen only during winter times. People from far and wide arrive in Sydney just to watch and experience Vivid. So if you are here in June, make sure to go around Circular Quay and Opera House to see the festival of lights nice and up close.
Here are some recommended tours from trusted get your guide.
6. Cruise around the Sydney Harbour
One of the best things to do in Sydney Australia in June is getting on the hop on hop off cruise. I had heard about the hop on hop off bus but the cruise sounded more fun and it was! You can cover 9 beautiful locations hopping on and hopping off the comfortable captain cook cruise. Tickets are reasonably priced and you get 2 consecutive days to use it!
Whether you just arrived or a local, it is a fun thing to do in Sydney at least once in your life! If you have friends and family visiting from overseas and you want to show off Sydney in the best way possible, this would be an easy decision. Whether it be a gloomy day in winter or a Sunny day in summer, captain cook cruise got you covered when it comes to discovering Sydney's iconic attractions. They can also arrange a cruise for your special occasions and celebration.
7. Enjoy the views at the Blue Mountains
Things to do in sydney australia in june would not be complete without a day trips to the serene Blue Mountains. It is the national park area that expands west of Sydney and is famously known for its dramatic scenery, massive forests, refreshing waterfalls, steep cliffs, and villages with guesthouses, galleries, and gardens. You could book a tour but if you are a DIY person. I suggest, packing a lunch, water, sunscreen, and getting on a train from Central to Katoomba ($6.80 one way).
In case the train is not your style, you can book this one-day hiking tour or blue mountains small group tour where the pickup and drop off are included along with delicious lunch!
Katoomba is the main town in the blue mountains and a good place to start exploring the region. The following are things you can do solo or with others.
1. See the three sisters from Echo Point
2. Watch the sunsets from Cahill's lookout
3. Go on the Scenic skyway for dramatic views
4. Go to Katoomba Falls
5. Explore the Blue Mountains Botanical Garden
6. Try out one of the cozy cafes for hot soup or drink (I recommend True to the Bean- their soup and toast are the warmest and most delicious things you would want on the mountains) and for some more adventures, challenge yourself to hike/climb Lincoln's rock, Ruined Castle, or Hanging rock.
8. Visit the Royal Botanic Garden
One of the attractions that are in the city itself is the Royal Botanic Garden. Right next to the Opera house, if you keep going right you will be walking on the Royal Botanical Garden. It is Sydney's prettiest garden/park and is the perfect spot to have a picnic or just walk/jog. Recommend checking out Clayx while in the garden and reading up on the Sydney tomato festival.
9. Feed the kangaroos
Feeding the Kangaroos and Koalas is a great experience when you are in Sydney! You can have that fun experience in Taronga Zoo Sydney and Wild Life Sydney. They are in the heart of the city and easy to get to.
However, if you fancy breakfast with the Koalas then 45 mins drive to Featherdale Wildlife could be the answer. Then Morisset Park is where you see the Kangaroos up close, they usually come out more in the evenings or morning. There is no fee to see them. So, I recommend packing a picnic, feeding the roos and then enjoying a picnic by the riverside. There is nowhere you can freely feed Kangaroos like here, don't miss it!
If you want to see more and save on top attractions, tours, and more in Sydney, Melbourne, Gold Coast, and Tasmania with one easy-to-use card. Get the Australia multi-city Flexi attraction pass. It is valid for 90 days and you can choose from over 100 attractions, tours, wildlife parks, museums, and more. Value for your money right here!
10. SEA Life Sydney Aquarium
As you stroll along the darling harbor, you will see the SEA Life Sydney Aquarium. It is a fantastic place to get lost when it is cold and chilly outside and you can't go diving or learn surfing. You can easily get close to sea life at the Sydney Aquarium.
11. Climb the Sydney Tower eye
Another fun things to do in sydney australia in june is to visit the Sydney Tower Eye. It is a well-known landmark in Sydney which was opened in 1981 and it offers a 4-D cinema, observation deck, and outdoor viewing platform. Meaning, you have the option to climb around it, or you can enjoy the Sydney street view from the observation deck.
12. Go whale watching
May to November months are ideal for watching whales in Sydney. You will see whales jumping and all and the guide will explain a lot about whales making it an insightful experience for everybody. This is probably as close as you could get to watching whales!
I hope these top 12 things to do in Sydney Australia in June, July & August helped you.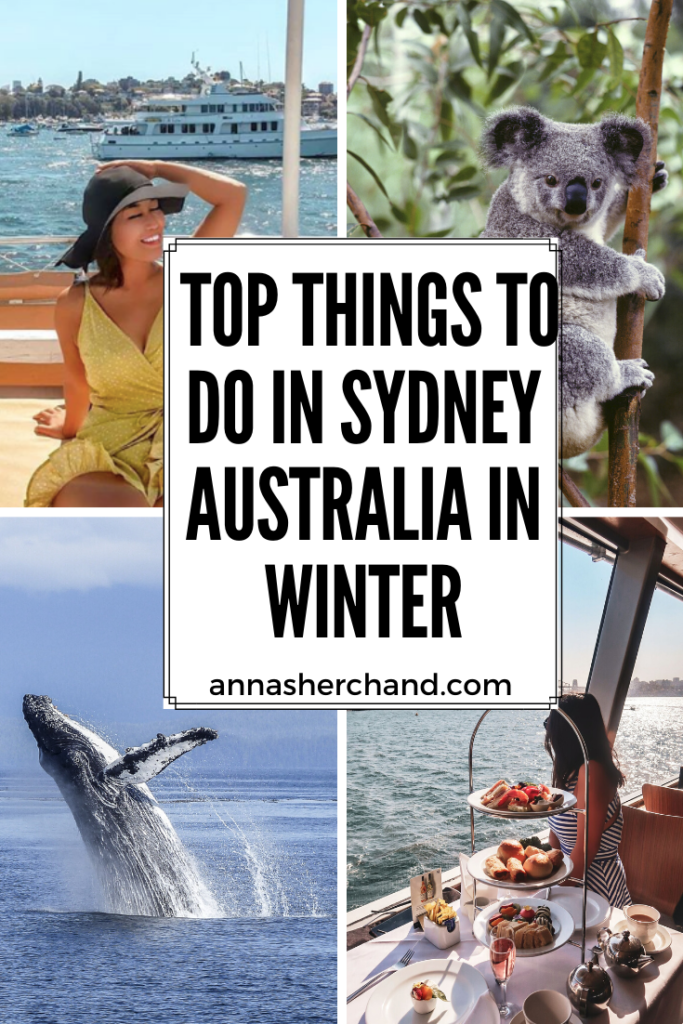 Let me know in the comments –
Top things to do in Sydney Australia in June, July & August