Planning a visit to Berlin, Germany? Lucky you! Berlin the capital of Germany has it all, from the amazing culture to the great parties to its rich history. Berlin is one of the best cities to visit in Europe. In case it is your first time visiting Berlin, here is a weekend in berlin itinerary that covers why visit Berlin city, things to do in Berlin, and more.
Berlin is most notably known for the famous berlin wall, opera houses, architecture, historical landmarks like checkpoint charlie near Friedrichstraße, Memorial to the Murdered Jews of Europe, and nightlife. There is so much to do and see here. I recommend planning at least three full days just to scratch the surface of Berlin!
What to do on a weekend in Berlin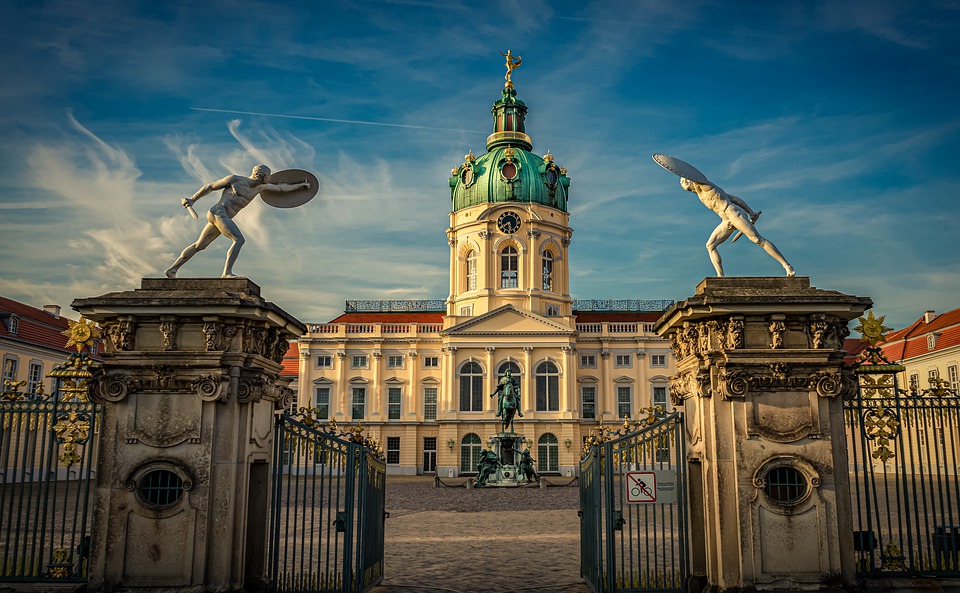 How to get to Berlin, Germany?
The best time to visit Germany is from May through September, when the weather is pleasantly warm, with temperatures typically in the low to mid-20s. Especially during the peak of summer, expect thick tourist crowds and accommodation and airfare rates to be at the highest prices of the year.
As you would imagine, the capital has multiple airports that serve both international and domestic flights. There are direct flights from global cities such as New York, Chicago, Toronto. Luckily, fellow Europeans also prefer traveling by air when visiting Germany, as a result of low-cost airlines.
Some prefer traveling the old fashioned way, by train. However, it will take longer and probably cost you more than using a direct flight. However, if you are on a tight budget, then consider taking a coach/bus. The ride will be long and uncomfortable, but you will save money in the process.
When is the best time to visit Berlin?
May and October are the best months to visit Berlin. In other words, just before the peak season like late spring to early summer and late summer to early autumn are when lines are shorter and there are fewer tourists to get in the way of the views. So that is the perfect time to visit Berlin as well but regardless of the month of visit, you will be treated to a host of enjoyable activities, food, and architecture.
Where to stay in Berlin?
Berlin has a wide variety of neighborhoods, streets, and hotels for solo travelers of all kinds. However, the three best places to stay in Berlin are Prenzlauer Berg, Charlottenburg, Friedrichshain.
What to eat in Berlin?
Berlin is a melting pot of art, culture, history, and cultural scenes. Some of the best food you can try in Berlin is Currywurst, Schnitzel, Döner Kebap, Konigsberger Klopse (meatballs), Eisbein (Pork Knuckle), Berliner Pfannkuchen (Doughnut), Senfeier ( mustard eggs), Vegan schnitzel with a german beer ofcourse!
Where to eat in Berlin?
The Berlin food scene has plenty to offer in the way of food and drinks. Start by enjoying the best street food at the Kumpel & Keule. If street food is not your thing, try the fancy restaurants of Panama, and Kin Dee. For vegetarian solo travelers, consider dining at the Kanaan.
Berlin in a weekend Travel Hack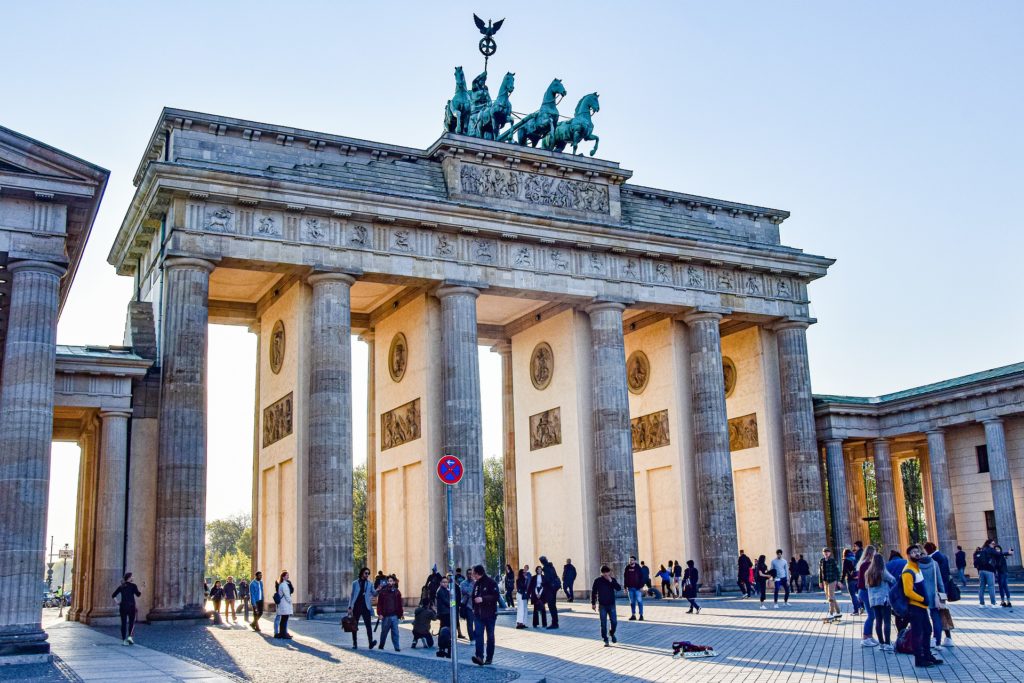 Whether it's a long weekend in Berlin or only a standard weekend, I recommend getting a Berlin Welcome Card.
The Berlin WelcomeCard, available as 48-hours, 72-hours, 4-day, 5-day, or 6-day option, offers a great, cost-effective means to explore the city in-depth. Travel on public transport in fare zones Berlin ABC and receive exclusive discounts of up to 50% with over 200 participating partners.
Whether you're taking a city tour or visiting a museum, theater, or restaurant, when you use the Berlin WelcomeCard, you can see all Berlin has to offer at an amazing price. You'll also receive a pocket-size travel guide with lots of tour suggestions and insider tips. Each WelcomeCard includes free transport for up to 3 children between 6 and 14 years old. Children under the age of 6 generally travel for free.
Enjoy discounted rates for the following activities and attractions:
• Sightseeing tours
• Guided city tours
• Bike tours
• Boat rides
• Various attractions
• Museums
• Theater/stage performances
• Restaurants & bars
• Shopping & souvenirs
• Fun, sport & relax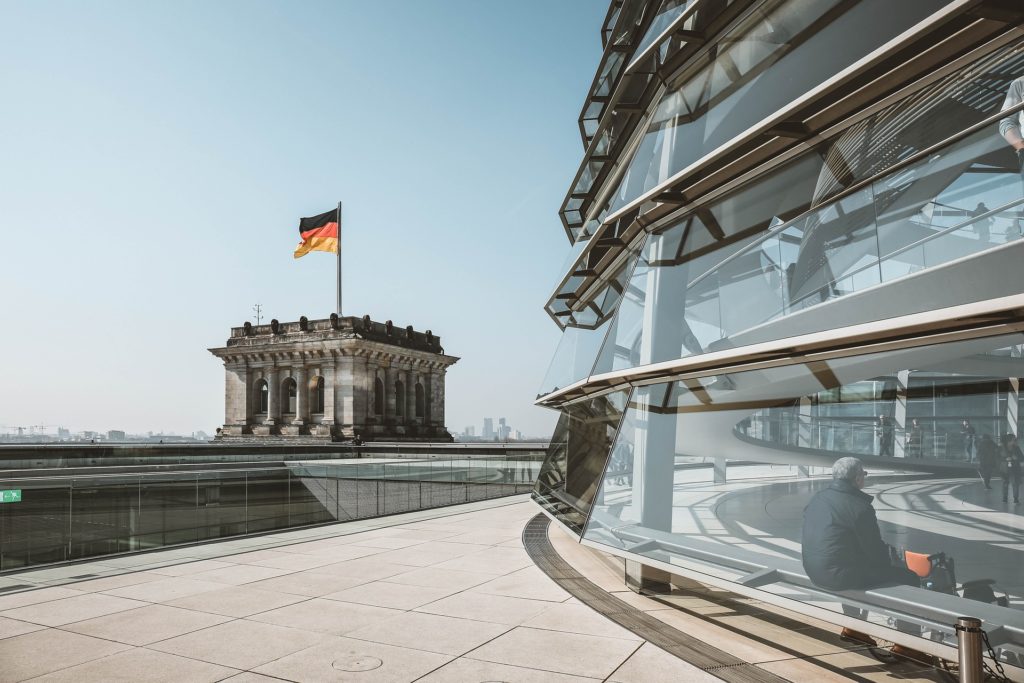 Visit sights and attractions, such as the following:
• AquaDom & SEA LIFE Berlin
• Berlin Dungeon
• Olympiastadion Berlin (Olympic Stadium)
• Berlin Dom
• German Spy Museum
• Madame Tussauds Berlin
• Legoland Discovery Centre Berlin
• Tierpark Berlin
• Anne Frank Center
• Charlottenburg Palace
• Comedy tour Berlin
• German Opera
• Friedrichstadt-Palast
• TimeRide Berlin
• TV Tower
• Botanical Garden
• German Historical Museum, German Museum of Technology
• Asisi Panorama "Die Mauer"
• Panoramapunkt
• DDR Museum
Fork & Walk Tours Berlin and many more!
And of course, you should not miss the following free sights and locations when visiting Berlin:
• Brandenburg Gate & Unter den Linden
• Reichstag & German Parliament (pre-booking required)
• Checkpoint Charlie
• East Side Gallery
• Gendarmenmarkt
• Kurfürstendamm
• Potsdamer Platz & Alexanderplatz
• Berlin Wall Memorial
Things to do in a weekend in berlin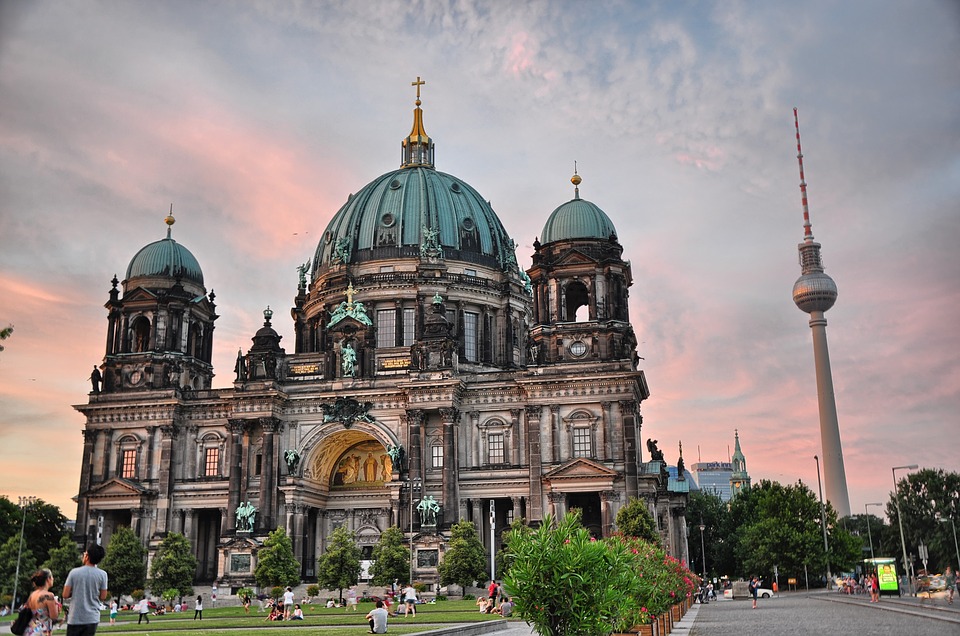 The Berlin Cathedral
Weekend trip to Berlin wouldn't be complete without visiting the Berlin Dom or Berlin Cathedral is one of the country's most visited landmarks. The church is laced with impressive decorations and ornamental designs, that will blow your mind away.
Brandenburg Gate
As mentioned earlier, Berlin is full of historical landmarks. One of them is the Brandenburg Gate or Brandenburger tor in german. The monument is a symbol of division between Berlin and the rest of Germany during the cold war. Consider taking a walking tour of the landmark on your city break and also don't miss the Potsdamer Platz.
Pergamon Museum
Located in the Museum island in berlin is the Pergamon Museum. You will learn about Germany's rich cultural and historical stories which house thousands of artifacts.
Things to do in Berlin Weekend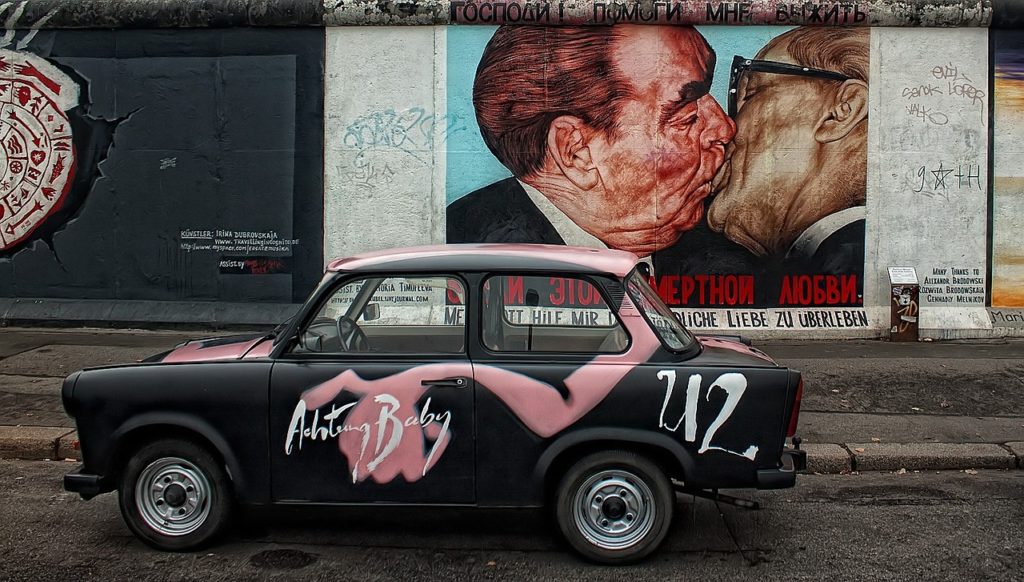 Visit the Berlin Wall
The Berlin Wall is one of the most recognizable landmarks in the world. On your brief stay in the German capital, buy tickets for the Berlin Wall tour. Alternatively, you could visit the wall for free, without the help of tour companies.
Visit the Marx-Engels Forum
In the heart of Berlin lies a beautiful and historic public park, the Marx-Engels Forum. The park is named after Karl Marx and Friedrich Engels, authors of The Communist Manifesto of 1848. The perfect place to unwind after a long day of touring the capital.
Visit the Neue Wache Memorial
Germany has suffered in the hands of war and dictatorship. Neue Wache Memorial is a place dedicated to remembering those victims. Consider taking a walk down memory lane and visiting the memorial.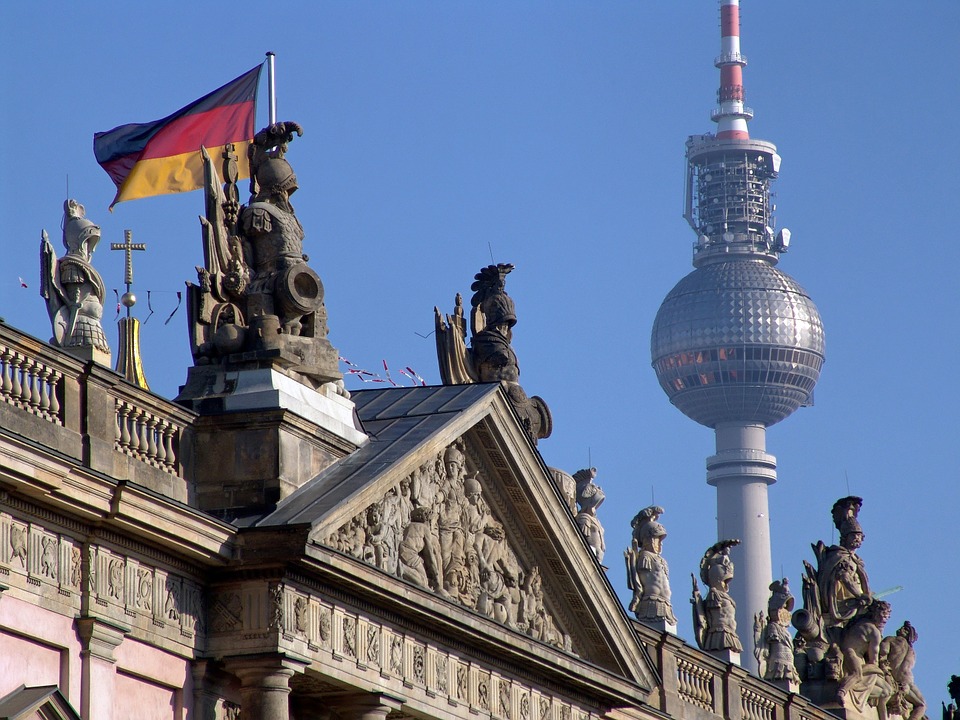 Discover cool german beer gardens
Visiting Berlin wouldn't be complete without trying the german beer or at least visiting one beer garden. Some of the best places are Café am Neuen See, DogTapBerlin, Fischerhütte am Schlachtensee, Schleusenkrug, Golgatha Biergarten, Zollpackhof, Luftgarten Bier & BBQ, Brachvogel, Prater, or Park Café.
Some other places worth visiting with a walking tour or self-guided tour are Reichstag Building, Memorial of the Berlin Wall, Pergamonmuseum Museum Island, and Friedrichstadt-Palast.
Go outdoors
If you are after a bit of open space and greenery head to any of these parks.
Britzer Garten, Treptower Park, Tiergarten, Pfaueninsel or Wannsee.
Day Trips
If you are thinking about exploring but further than the capital city, I recommend following places that are great day trips from Berlin. The Memorial Tour: Visit Sachsenhausen Concentration Camp (licensed guide),
Private Tour to Sachsenhausen Concentration Camp Memorial (With Licensed Guide), Sachsenhausen-Oranienburg Memorial Tour From Berlin, Full day in Potsdam with lunch included Potsdam, the City of Palaces – Private with public transportation from Berlin.
And that is your weekend to berlin guide. I hope it gave you an idea of what to do in Berlin Germany.
I wish you a weekend in Berlin to remember!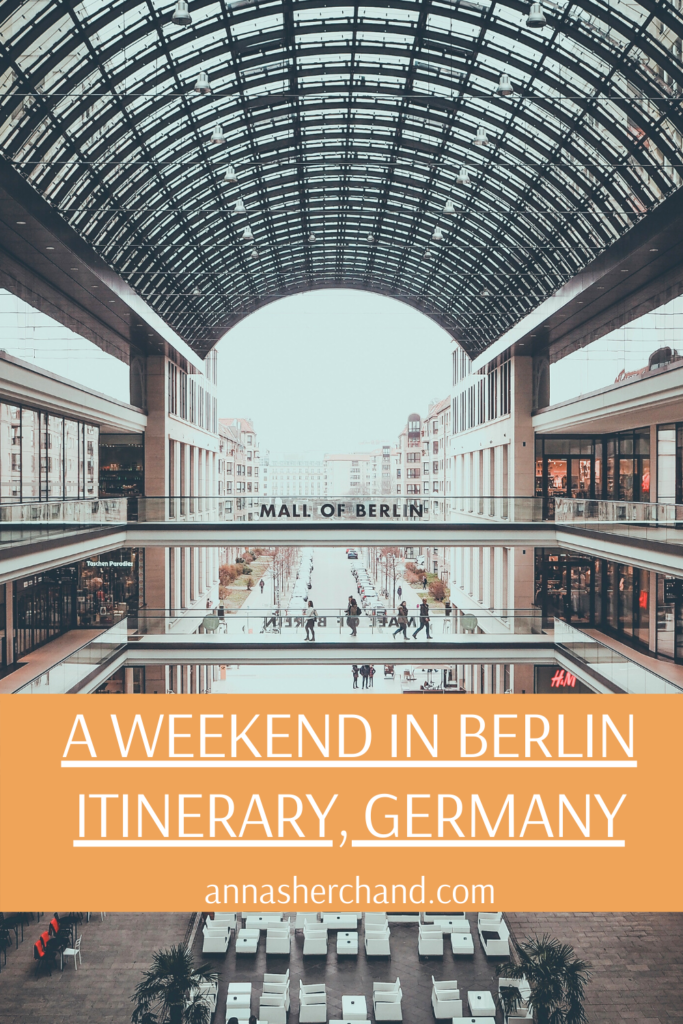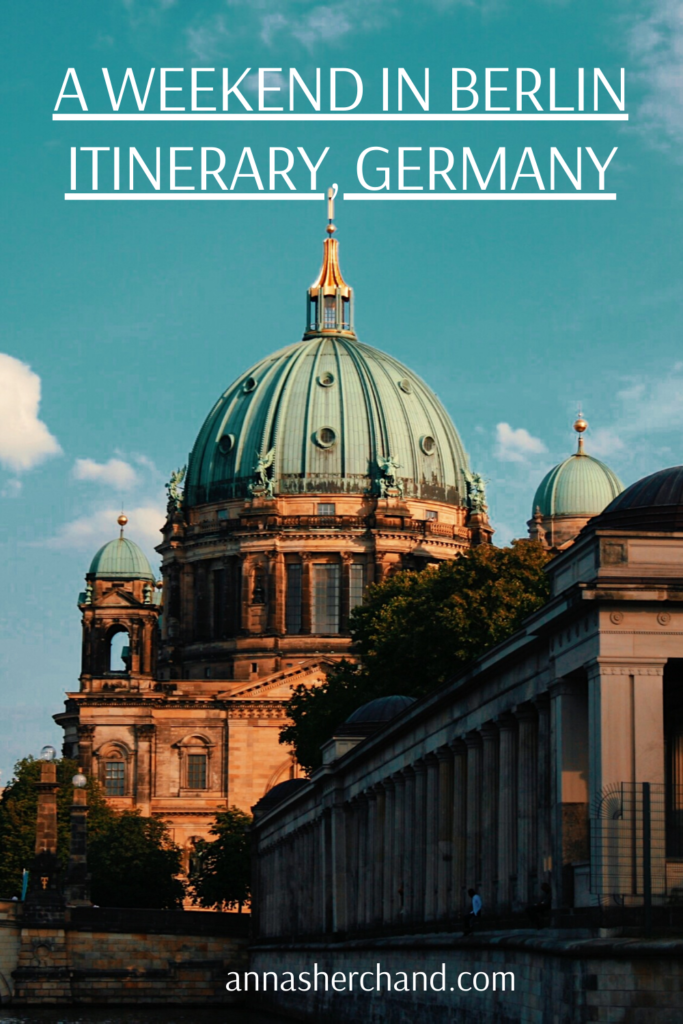 Let me know in the comments:
A weekend in Berlin travel guide