Looking for 3 weeks in Nepal itinerary? I got you! Nepal is truly a beautiful country full of mountains and lakes, tasty food, and interesting culture and traditions. It caters to backpackers, mid-tiers, and luxury travels. Whether you are 16 or 60, there is something for everyone! Today I will be sharing what you can expect to see, do, and experience in 3 weeks' time. I haven't put a time or day stamp on it which I should give you flexibility on when you want to do these things.
Although you could easily spend months and years in Nepal, 3 weeks is an ideal timeframe and I think absolute minimum to see its beauty. There are many things to do here anything from mountain climbing, rock climbing, trekking, to paragliding dream come true for thrill-seekers. Also, price isn't expensive, locals are kind, internet works, and the food is great! Throughout the post, I will also be sharing travel tips to Nepal and recommended tours. It will be helpful, so keep an eye out!
3 weeks in Nepal itinerary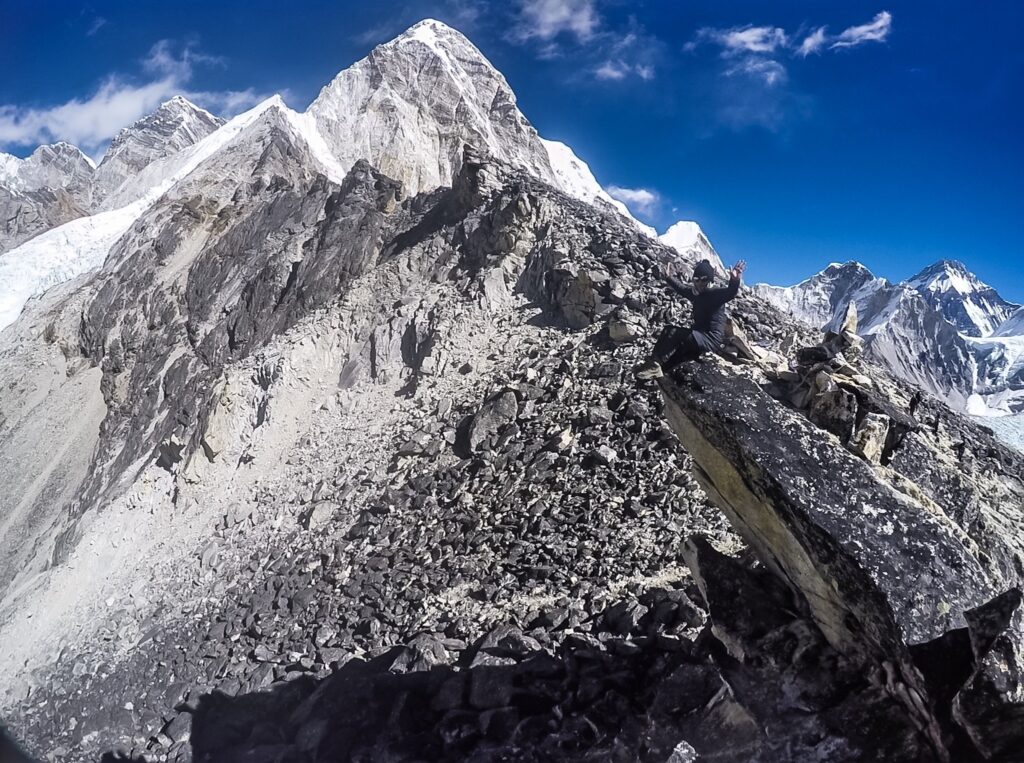 1. Trek Annapurna base camp and see Mount Fishtail
If you think you aren't ready for Everest, you can practice Nepal trekking in thin air with Annapurna base camp first. Mount Annapurna (8,091m) is the world's 10th tallest peak and base camp sits at 4130m. The trek offers you the natural beauty of the Himalayas including a panoramic view of Annapurna Range, sunrise, and sunsets from Mt fishtail and Mt Annapurna base camps, Ghandruk village, and the lifestyle of people living in high altitudes which is above 4000 meters. It can be done in 8 days guided or solo from Pokhara but if you are in Kathmandu, add a day of flight before and after.
Suggested Annapurna Base Camp Tours
Day Hike at Annapurna Foothills
10 Day Annapurna Base Camp Trek from Pokhara
Annapurna Base Camp Helicopter Sightseeing Tour
Daily Annapurna Base Camp Helicopter Tour with Hotel Pickup
1 Hour Ultra Light Flight in the Himalayas
Pokhara: 7-Day Trek to Annapurna Base Camp and Hot Springs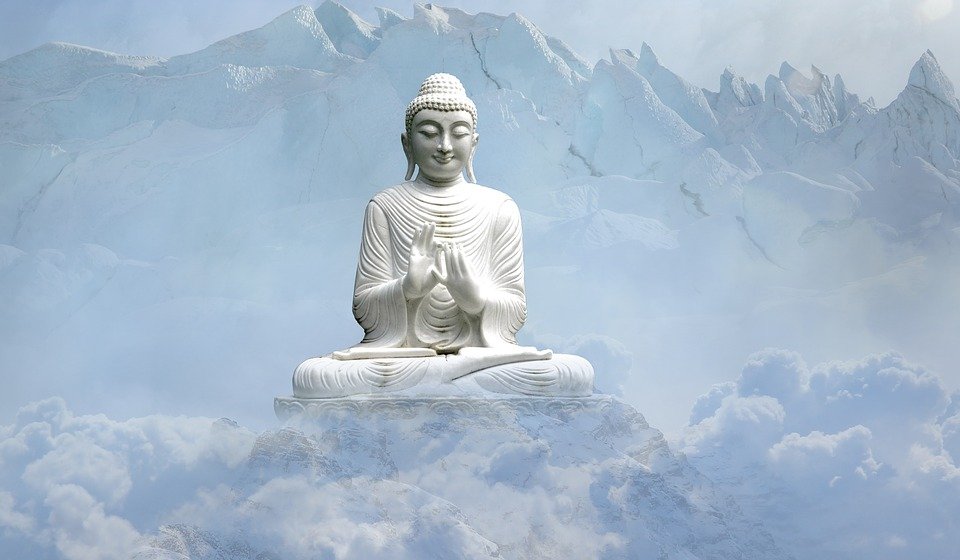 2. See where Buddha was born
Yes, the Buddha statues you see everywhere in the world, he was a real person. His real name was Siddhartha Gautam which later on changed to Gautam Buddha. He was born as a prince who gave up everything including his wife and son to understand himself, life and more. The rest is history. You can't see much of his home now but there are some ruins that you can visit before it all disappears.
So, the birthplace of Buddha is called Lumbini and it is famous in Nepal and aboard for obvious reason. Every year thousands of pilgrims visit here to worship, meditate and learn at the site.
Besides that, you can also visit the following major attractions in Lumbini.
Maya Devi temple/pond, Ashoka pillar, Bodhi Tree, Myanmar Golden Temple, World Peace Pagoda, Dharma Swami Maharaja Buddha Vihar, China temple, Lumbini Museum, Cambodian Monastery, and Royal Thai Buddhist Monastery.
How to best experience Lumbini?
Kathmandu: 6-Day Kathmandu and Lumbini Tour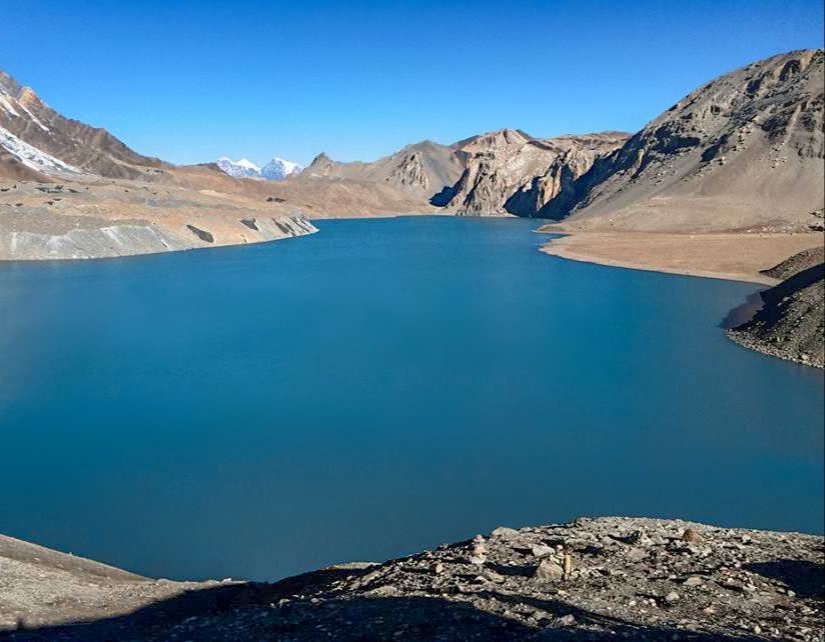 3. See the highest altitude lake
Situated at an altitude of 4,949 m above sea level is Lake Tilicho. It is the world's highest altitude lake. Getting there can be rough as you have to trek along the landslides affected area but once you get there, you may not want to leave with the jaw-dropping view and stunning blue lake.
From Kathmandu, it takes a minimum of 5 days to arrive at Tilicho Lake or 15 days if you want to take it slowly via the Annapurna region. You can either ride a motorbike yourself or 4×4 and trek from Lukla. From Pokhara and Jomsom, add 2 more days to the trip. This stunning lake is 100% worth the hassle!
You will need ANCAP and TIMS – The trek starts at Besisahar or Bhulebhule and you follow the AC route as far as Manang where the trail splits.
Please message me on Instagram for Tilicho Lake private tour operator.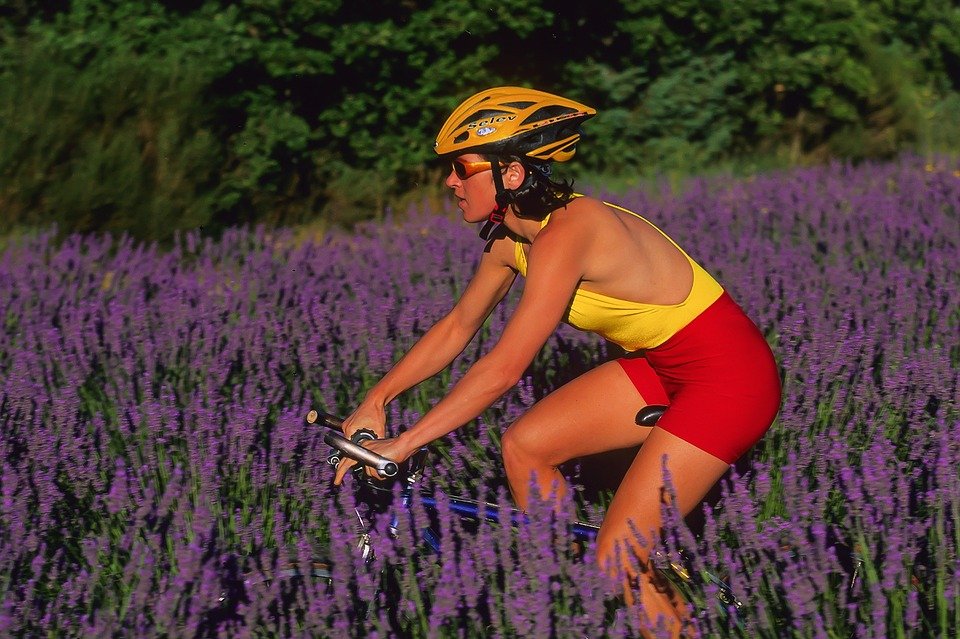 4. Go off the beaten path Mountain biking
Not many are aware of mountain biking sport in Nepal but it is the fastest-growing sport in the country. You can do great singletrack and/or multi-day adventures throughout the Himalayas. There are many amazing trails that make it possible to go mountain biking in just about any part of the country. But I recommend first, Annapurna Circuit which is best done in April/May or in October/November, second Upper Mustang which offers a unique desert landscape and Tibetan culture. It is geographically isolated hence offers more off the beaten path experience than the previous route.
Finally, Pikey Peak starts from your base at Salleri, the gateway to the Everest region. It is a newly opened route for trekking and biking. So, you will have most of the trail to yourself. Take advantage of the Nepal tourism year and get there before everyone!
Best time to trek Mount Everest Base Camp, Nepal
Recommended Mountain bike tour in Nepal?
Kathmandu: Full-Day Mountain Biking Tour
5. Climb the tallest mountain in the world
Nepal is home to the tallest mountain in the world Mount Everest. And if that is not enough, out of 14 Nepal got 8 tallest mountains in the world. Trekking in Nepal is a bucket list for many. Especially climbing Mount Everest or even just Everest base camp trek (EBC) is a dream come true. Base camp trekking can be done in 2 weeks if everything goes to plan. Just be careful about the altitude sickness and getting a guide or porter is recommended. However, if you are more of a DIY kind of person, you can trek the Himalayas solo as well.
Wondering what else to see up to the Everest Base camp region? I recommend Tenzing Hillary Airport (world's dangerous airport), Lukla markets, Namche Bazaar, Tengboche Monastery, Sherpa culture, Peak Climbing, Everest Base Camp area itself mainly the expedition site, and Kala Patthar for that once in lifetime sunrise and sunsets. Writing this post about visiting Nepal in 2020 has got me all excited about my coming travels to Nepal!
How can I go see Everest and Everest Base Camp trek tours?
From Kathmandu: 1-hour Panoramic Everest Flight
Everest Base Camp: 3 Hour Helicopter Sightseeing Tour
From Kathmandu: Private Everest Base Camp Helicopter Tour
Most wanted Everest Base Camp Trek
Kathmandu: 14-Day Everest Base Camp Trek
Mount Everest: 15-Day Base Camp and Kalapathar Trek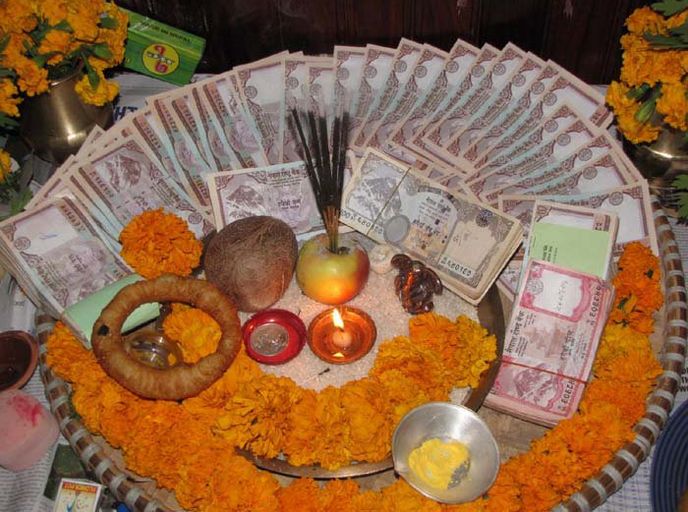 6. Celebrate the major Nepali festival
Nepal is like a festival central! There is something happening every month, you just have to dig a little deeper. However, during the month of October is the main festival all Nepalese celebrate. It is called Dashain, it honors a great conquest of the gods over the evil demons. During Dashain, the symbol of power, Goddess Durga is worshipped.
Traditionally it goes on for fifteen days, among which the most important dates are the first, the seventh, the eighth, the ninth and the tenth. Families get together, the elders give blessings and money or gifts to younger ones. It is like Christmas! You would be lucky to experience this festival with a local family. Also, bear in mind most offices are closed on Dashain.
Suggestion on how to experience this?
The best way is to befriend the locals so they will invite you to the celebration. Alternatively, maybe join the following tours and you might get lucky! If not, don't forget weatherwise, Dashain and Tihar is the perfect time to go trekking!
Momo Cooking Class with a Home Chef: Nepal's Favorite
From Kathmandu: 3-Day Trek to Nagarkot via Chisapani
Kathmandu: 16-Day Kanchenjunga Base Camp Trek
Followed by another festival called Tihar, more on that below.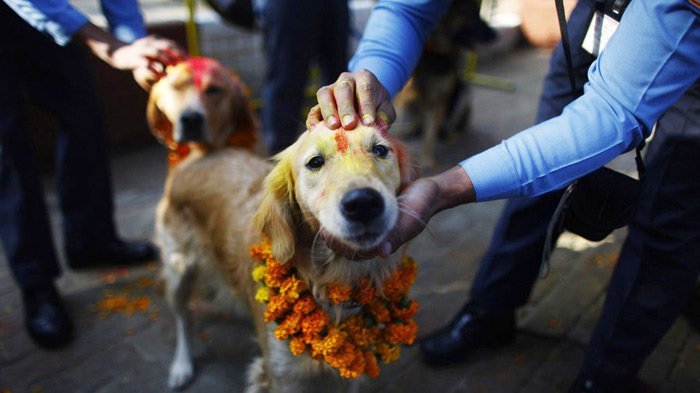 7. See the crows, dogs, and cows getting worshipped in the city of lights
If you love animals especially dogs, cows, even birds like crows! You must go to Nepal to witness a traditional festival called Tihar. It falls right after Dashain. Tihar lasts for 5 days and each day is dedicated to one special thing. On the first day of the festival, Nepali people honor and worship crows, (Legend has it that, when you hear a crow outside your house, news is coming your way. So, people want to make sure crows are happy and would bring only good news!), the second day is for dogs, the guardian of the house and social security so, people want to keep them happy, the third-day cows and Laxmi, the goddess of wealth and luck gets worshipped. This is the night, the whole city comes to life with beautiful lights, candles, and decorating their houses with flowers inside out. The reason why Tihar is called the festival of lights.
Young people would go around the neighborhood singing Tihar songs like Bhailo and Deusi for blessings. In return, the house owner gives them money, fruit, and sweets. Then the fourth day is different for each culture. For the Newari community in Nepal, they perform Mha Puja to worship themselves and celebrate with family. Farmers perform Goru Puja for their ox. And finally, on the fifth day, it is time to worship your siblings. Sounds weird right? But this is the day the brothers and sisters give gifts and put on a tika on the forehead with blessings. If you want to witness 1 festival in Nepal, I would recommend visiting for Tihar.
Kathmandu 3-Hour Guided Kumari Trail Walk
Kathmandu: 19-Day Upper Mustang Trek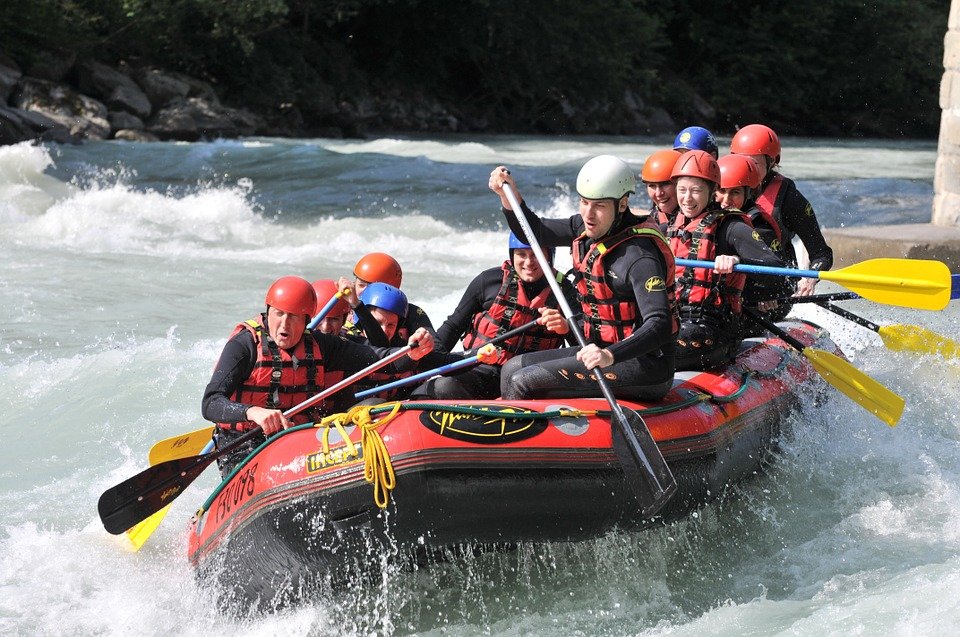 8. Experience wild white water rafting adventures
Nepal is rich in rivers. Hence one of the best sought after places for rafting and kayaking. You can choose from Trishuli River (1 up to 3 days rafting/kayaking), Seti River (2 days rafting trip), Bhote Koshi River (1day rafting trip), Kali Gandaki River (3 days rafting trip), Marsyandi River (1 to 2 days rafting/kayaking trip), Sun Koshi River (7 to 9 days rafting trip), Arun River (9 days rafting adventure combining with trek), Karnali River (10 days whitewater rafting and kayaking), and Tamur River ( 10 to 11 days rafting adventure combining with 4 days trek).
Some travel agents may have different offers too. Rafting trips can range from easy, medium to difficult. You will also get the chance to relax in bug-free beaches for camping. The thrill of rafting in wild Nepali rivers is exciting and not something you will forget that easily. All these outdoor adventures are also some of the best reasons to visit Nepal. By the way, if you want quotes for Visit Nepal 2020 captions to go with your Instagram pics? Subscribe to know when it's out.
Recommended water rafting Tours in Nepal
From Kathmandu: Trishuli 2-Day River Rafting Tour
From Kathmandu: Trishuli River Rafting Day Trip
From Pokhara: Half-Day Upper Seti Rafting Experience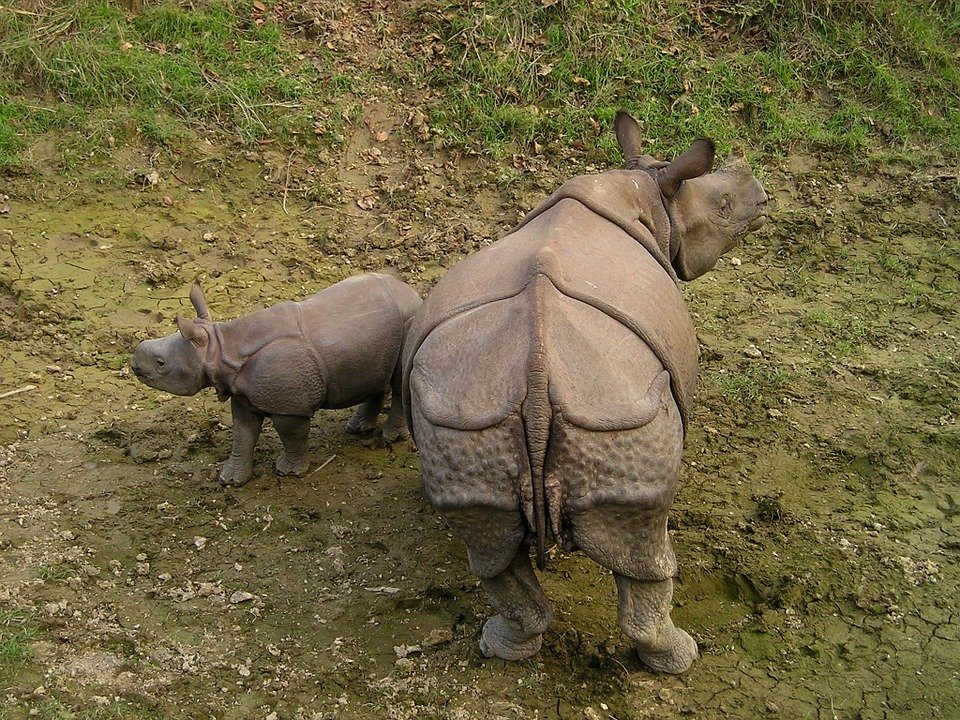 9. Go on a wildlife safari
Change the scenery from the majestic mountains, wild rivers to the vast jungle in the south. Enjoy spotting the tigers, rhinos, elephants, crocodiles and other wild animals in Chitwan National Park or Bardia National Park. The latter is less heard of so, more off the beaten path offering the rugged experience. I recommend heading South of Nepal between October and March.
Alternatively, if wildlife safari is not your thing, I suggest the following tours.
Scenic Ranikot Day Hike from Kathmandu or Bhaktapur
Pokhara: 30-Minute Tandem Paraglide
Kathmandu: Panauti and Bhaktapur Day Trip
Pokhara: 4 Day Private Trek Tour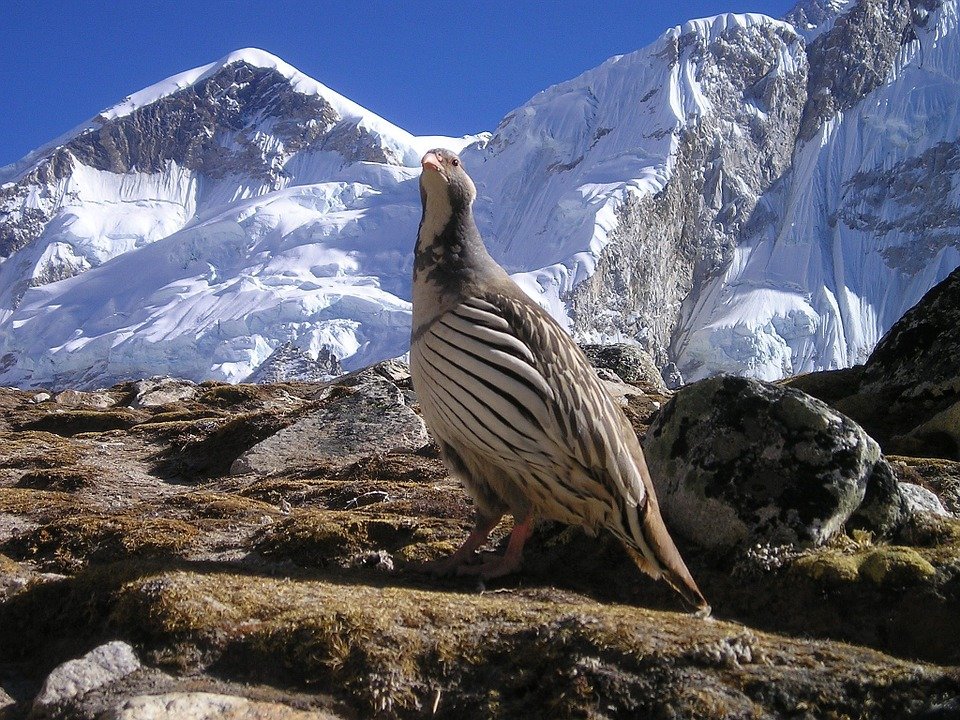 10. Learn a skill
Gain a rare insight into the traditional Buddhist culture and learn about Thanka Painting. It is a colorful painting integral to the Buddhist culture. A Thanka, meaning "flat painting," can be found In every Buddhist monastery and home, and they are often used for religious purposes.
During this workshop, you will have the opportunity to make a small Thanka yourself, which after the workshop you can take home as a unique souvenir. It is a fascinating religion through art. Make your own Thanka, and understand why they are an integral part of the culture during this painting workshop.
The workshop will take place at a real Thanka Painting School; you will learn the basic techniques and more about the history of these traditional paintings. Once you have a basic understanding you can unleash your creativity and have the freedom to make what you like. During the workshop, a delicious, locally-prepared lunch will be served.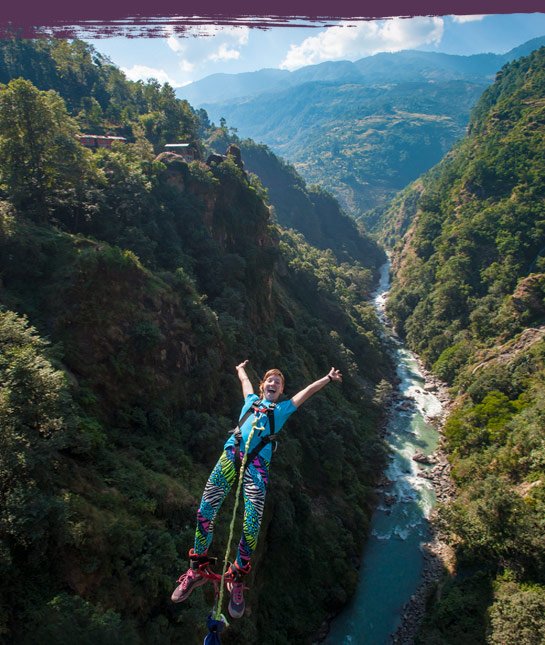 11. Do the Bungee jump and Canyon Jump
Nepal is all about peace but is also full of adventure if you know where to look. Nepal boasts the second-highest bungee jumping place in the world, approx. 160 meters and the canyon swing, a 240-meter free fall at 150 kilometers per hour!
You can get bungee jump and canyon jump off your bucket list with half the price you would pay in the developed country. Safety is not comprised and pieces of equipment are modern. Do it and experience the thrill of a jump over one of the fast-flowing deep rivers in Nepal. You may want to go with another person in case of an emergency though!
Book your Bungee Jump adventure here.
12. Fly like a bird
Bungee is too much for you then take a notch down and try Paragliding. You will fly like a bird with a beautiful lake below and mountains around you. You can do it in 5 different places. Such as Pokhara, Chapakharka, Kot Danda valley which is also a picturesque, Godavari, and Phulchowki near Kathmandu. Paragliding season starts from November to February but I recommend doing it between November to December due to the start of the cold season in December.
1 Hour Ultra Light Flight in the Himalayas
Another option: Pokhara: Zip Flyer Tour
13. Eat Chitlang Cheese and homemade wine
Let me share a short story, a Nepali local went to France to learn cheese and winemaking. Since he returned to Nepal, he has been running Nepal's only one goat milk cheese factory in his village called Chitlang. It is little out of the way but the lush greenery along the way with beautiful pine trees, fresh goat milk cheese, and wine makes it worth day the trip. Perhaps you can also compare how good the cheese and wine are really!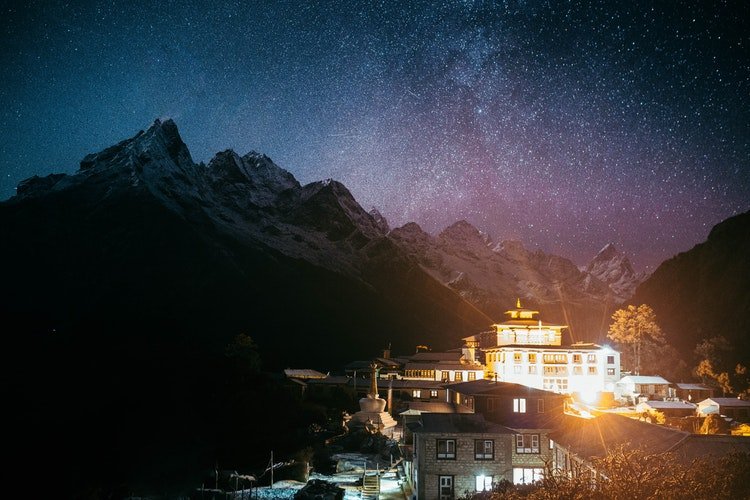 14. Check out the UNESCO Heritage Sites
There are 4 World Heritage Sites in Nepal. 1. Sagarmatha National Park ( Everest region), 2. Chitwan National Park (wildlife area), 3. Lumbini – the birthplace of Lord Buddha and 7 sites in Kathmandu Valley counted together as one. Kathmandu Nepal would be a good starting point to explore this beautiful country. I already mentioned 3 of the above.
So, the 7 sites in Kathmandu are Kathmandu Durbar Square, Bhaktapur Durbar Square, Patan Durbar Square, Swayambhunath (monkey temple), Pashupatinath, Boudhanath, and Changunarayan. Even if you are not in history or sites, these places will make your trip worthwhile. So do yourself a favor and see them all.
Recommended UNESCO Heritage sites tour
Kathmandu: 1-Day Private UNESCO World Heritage Sites Tour
Kathmandu: Private Full-Day Tour
From Kathmandu: 6-Hour Private Patan and Bhaktapur Tour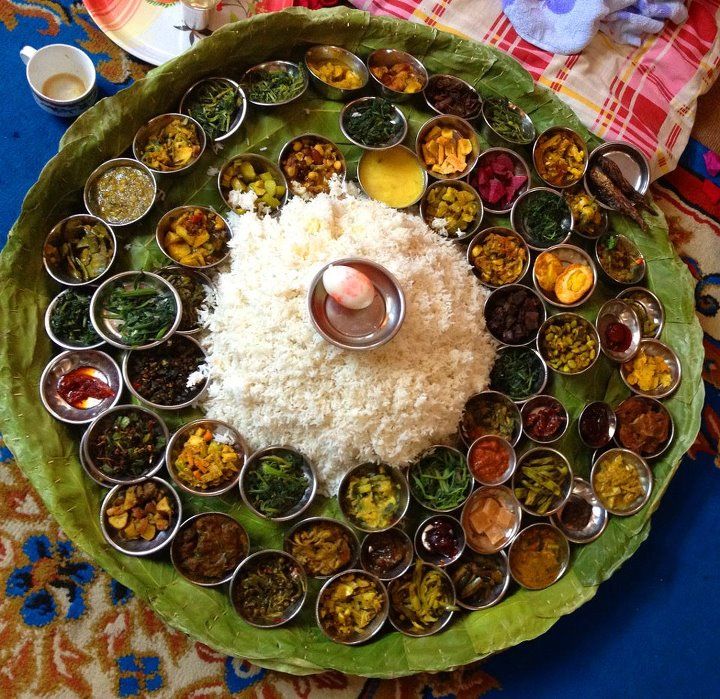 15. Eat authentic Dal, Bhat, momos and more
According to the United Nation's estimate, currently (2019), Nepal has 29.3 population. Under that Nepal has 126 castes and ethnic groups speaking over 120 languages. And what's more, fascinating is all those ethnic groups have their own distinct cuisines, cultures, languages, and beliefs. It would be hard to try and find all those cuisines but you can easily find the national dish. It is called Dal, Bhat which is rice, lentils and it comes with loads of different side dishes including meat, vegetables, and pickles. It is a must when you are in Nepal. Another dish to put on your list is Momos which is dumplings and what makes it different from Chinese dumplings is the special sauce that comes with it. Your Nepal travel won't be complete without trying these two dishes. And I hope you get to try special ethnic food also.
Recommended Cooking class in Nepal?
Nepalese Cooking 4-Hour Workshop in Bhaktapur
Buffalo culinary experience while in Kathmandu.
16. Help Nepal
Nepal was hit hard by the massive earthquake in 2015. They are still rebuilding houses, hospitals, temple complex, religious sites such as monkey temple, Pashupatinath temple, and many tourist attractions like the Annapurna region! Traveling there would be the best way you can help Nepal and its people. As it helps to boost the economic state of the country and local people can work to get paid.
After the earthquake, all the affected areas and buildings have been thoroughly checked by the Nepali Government approved engineers.
Something worth adding here is, the buildings with a red stamp represent dangerous and best left unentered. Having said that though there are very few buildings with red marks as most of these are broken down and replaced with new buildings.
If you see a yellow mark, don't worry, it represents minimal damage and a green stamp on the front means that the building is safe and has not sustained damage from the earthquake.
The Tourism board of Nepal has also checked every trekking route and currently, all 35 main hiking routes are declared safe to travel, and national parks cleared for visits.
As most of the old sites are rebuilt or near completion of major heritage sites and the expansion of Tribhuwan International Airport and construction of Gautama Buddha Airport in Bhairahawa, Nepal tourism board is planning to welcome everyone from around the world with visit Nepal 2020 campaign. If you been wanting to visit Nepal, this would be a great time to book the flight as tours and activities would be at a special price.
Studies show there are about a million visitors/ tourists go to Nepal for tourism purposes, Himalaya tour, and a small percentage for volunteer reasons. Nepal as a tourist destination lives up to its fame and more.
If you look at the Nepali national flag below, you'll notice it is different than the flags of the rest of the world. It is the only 2 triangles flag in the world that carries the sun and the moon and the blue on the border symbolizes peace which also makes for a great souvenir. In your Nepal visit, make sure to get one!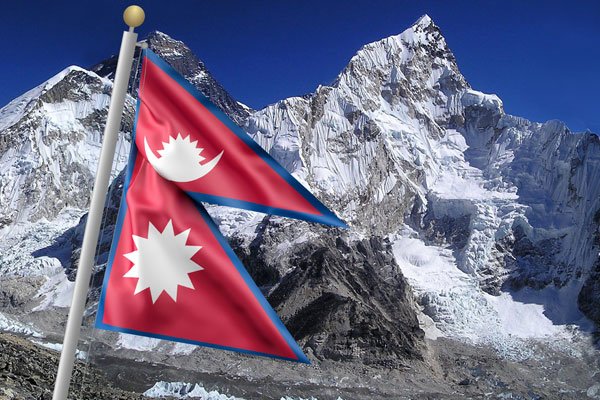 When is the best time to visit Nepal?
If you are visiting Nepal in Winter ie December to February, expect cold days. Nepal in Spring/Summer – March to May (is the second-best time to visit and trek; spring brings warm weather and spectacular rhododendron blooms)
Nepal in Monsoon (Rainy) – June to August (The monsoon rains (mostly at night) bring landslides, and clouds often obscure mountain views) low season hence things should be cheaper
Nepal in Autumn (Fall) – September to November (Clear skies and warm days make autumn the peak season)
Hope this article was helpful and made it easier to understand the advantages of visit Nepal 2020.
Also, long shot but if happen to be in Nepal during Valentine's day and not sure what to do there. I've got you covered.
And if climbing Mount Everest is not your cup of tea, you can still see it with a classic Everest Helicopter ride. Click here for more info.
Is it safe to visit Nepal?
After the massive earthquake in Nepal year 2015, many people were asking this question and they still are! Having born in Nepal, traveled, trekked and lived there myself, from my personal experience the simple and short answer is yes. It is safe to visit Nepal for males, females, all genders as well as non-binary travelers.
The general rule of thumb for traveling is to be applied though. Such as not walking alone in the dark alley at midnight, buying health insurance, not carrying all of your valuables while exploring, and to be conscious of your surroundings at all times. Besides that, nobody can predict when the next earthquake or natural disaster will happen. So, best to travel while you can.
What is the best way to travel from airport to Airbnb/hostel/hotel?
I personally never have had any problem using the following service.
Where to stay in Nepal?
If you need to book accommodation, use this $90 discount for your first booking with Airbnb. Sign up with a new email and stay at some of the finest homes in Nepal!
Alternatively, you can check hotel prices and book it through trusted Agoda, or Booking.com
Want to save more money, read this travel resource.
Where to book cheap flights to Nepal?
Find the cheapest flights through most trusted sites such as Skyscanner or Momodo.
Few handy words
Hello – Namaste
How are you – K cha? (informal) , Tapailai Kasto cha? (formal), Sanchai (fine and well)
How much – Kati ho?
How many- Kati wota?
Food – Khana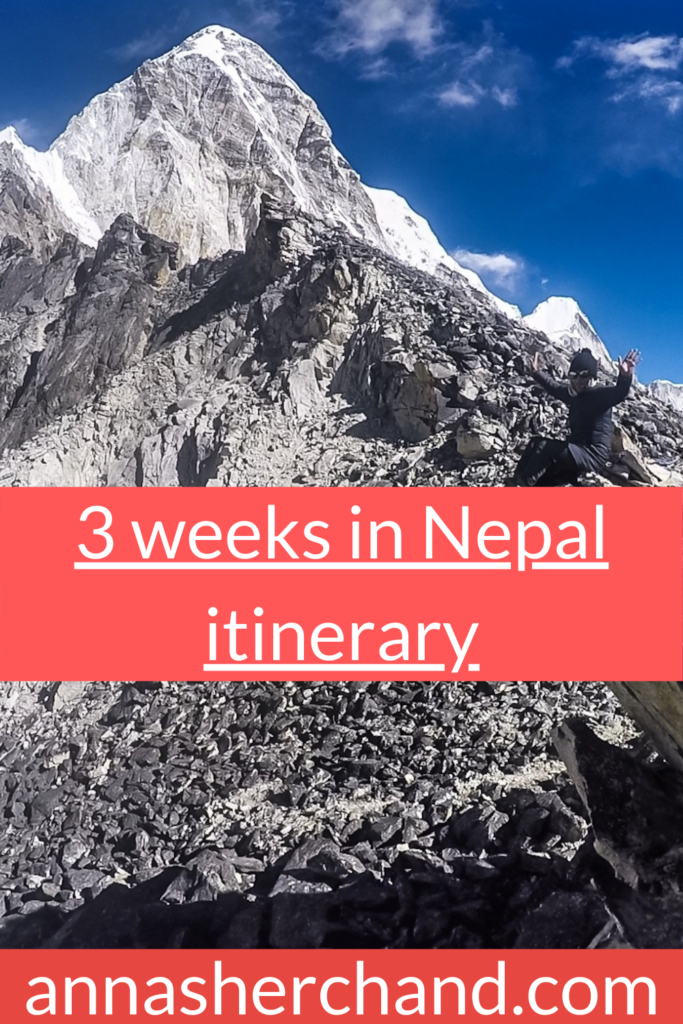 Let me know in the comments if you
3 weeks in Nepal itinerary